Decorated Life is reader-supported. When you buy through links on our site, we may earn an affiliate commission. Learn More
13 Boho Nightstand Ideas for a Cozy Bedroom
Boho style is one of my favorites. It's a beautiful blend of textures, natural woods, and the comfiest furniture.
If you're in the market for a nightstand for your bohemian bedroom, you're in luck. In fact, there are so many good options it might be hard to make a final decision.
Here are 13 of the best boho nightstand ideas for a cozy bedroom.
Try Solid Wood in a Classic Shape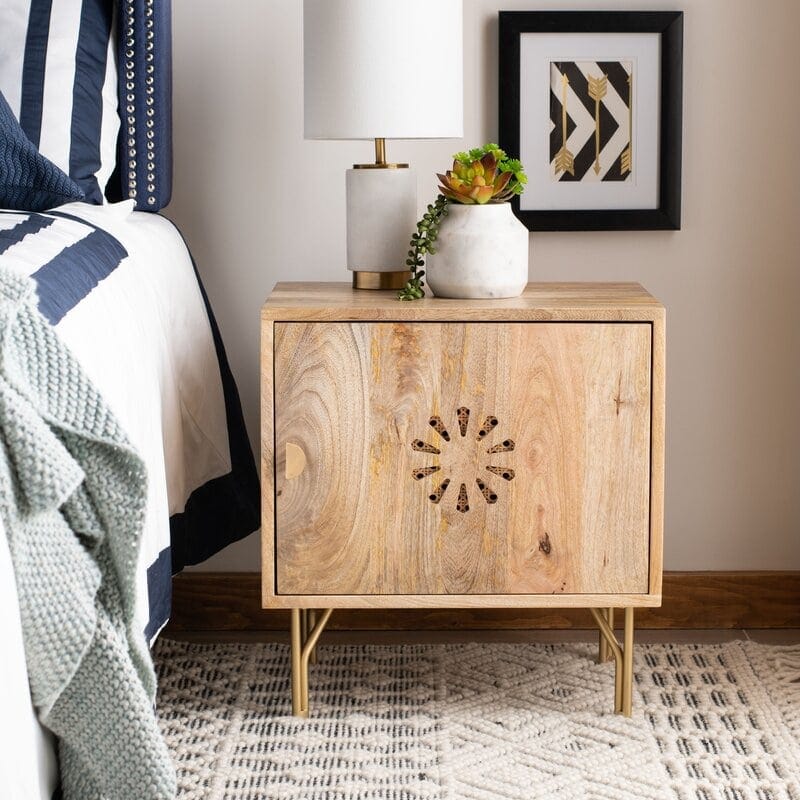 If you're looking for a simple option, this is one of my favorites. This boho wood nightstand has a very simple silhouette that lends to a relaxed-style bedroom.
This bedside table is solid wood with a subtle floral pattern and natural cane behind the cutout. You can use this for any bohemian or modern boho bedroom.
Bring Interest to the Room with a Carved Nightstand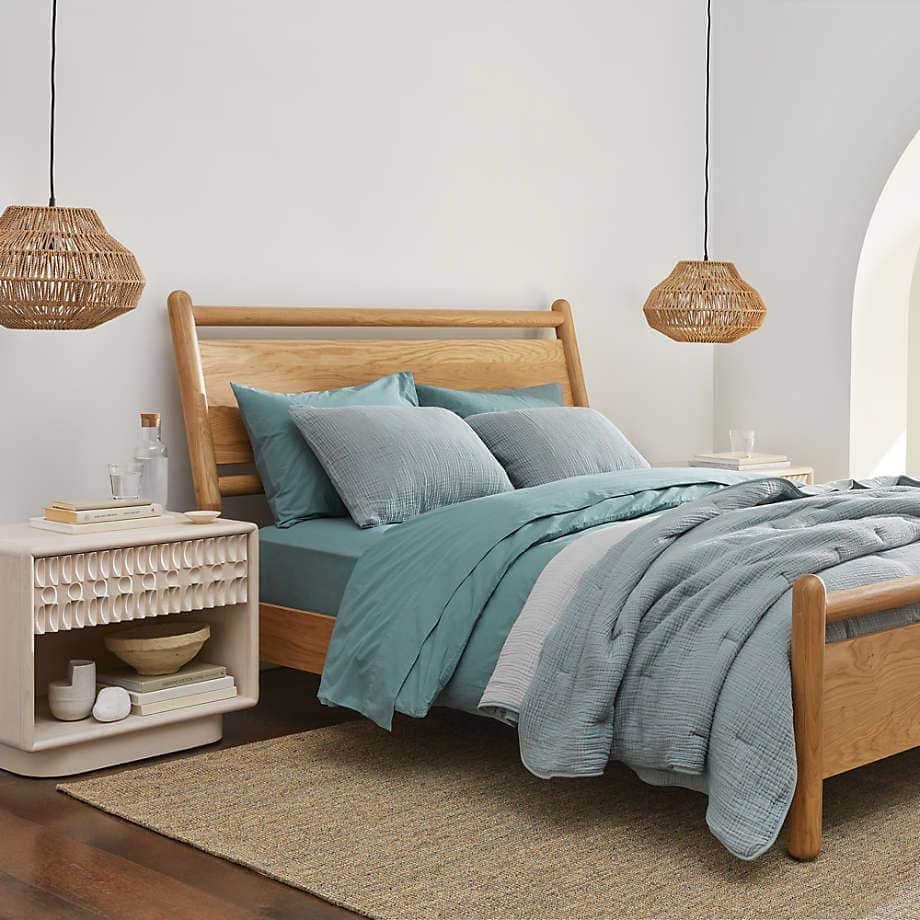 Looking for an ornate bedside table? This option is a simple shape with a more ornate carving. While it doesn't demand full attention, it still brings interest to the room.
The wood on this nightstand is bleached ash with ash veneer. The design mimics Moorish tile. You can use this nightstand no matter the color or type of wood on your bed.
Use Black for Modern Boho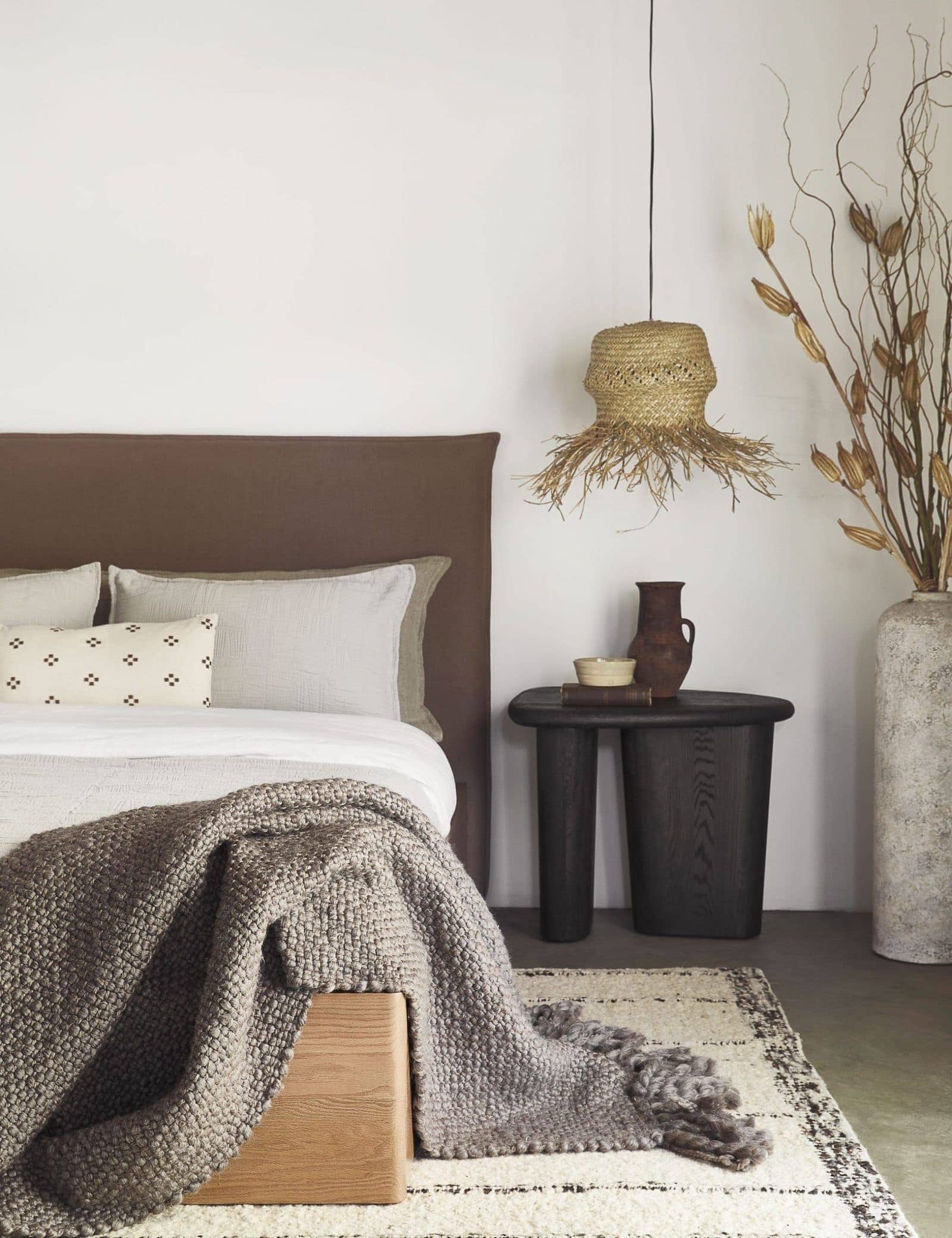 If you prefer a cleaned up streamlined boho style, try a black bedside table. The black stand lends to a much more modern vibe, but it still looks boho because the wood grain shows through, and it's an organic shape.
When going for a modern bohemian nightstand, look for wood options stained black or tables with a mix of materials.
Bring Color to Your Room with this Bohemian Nightstand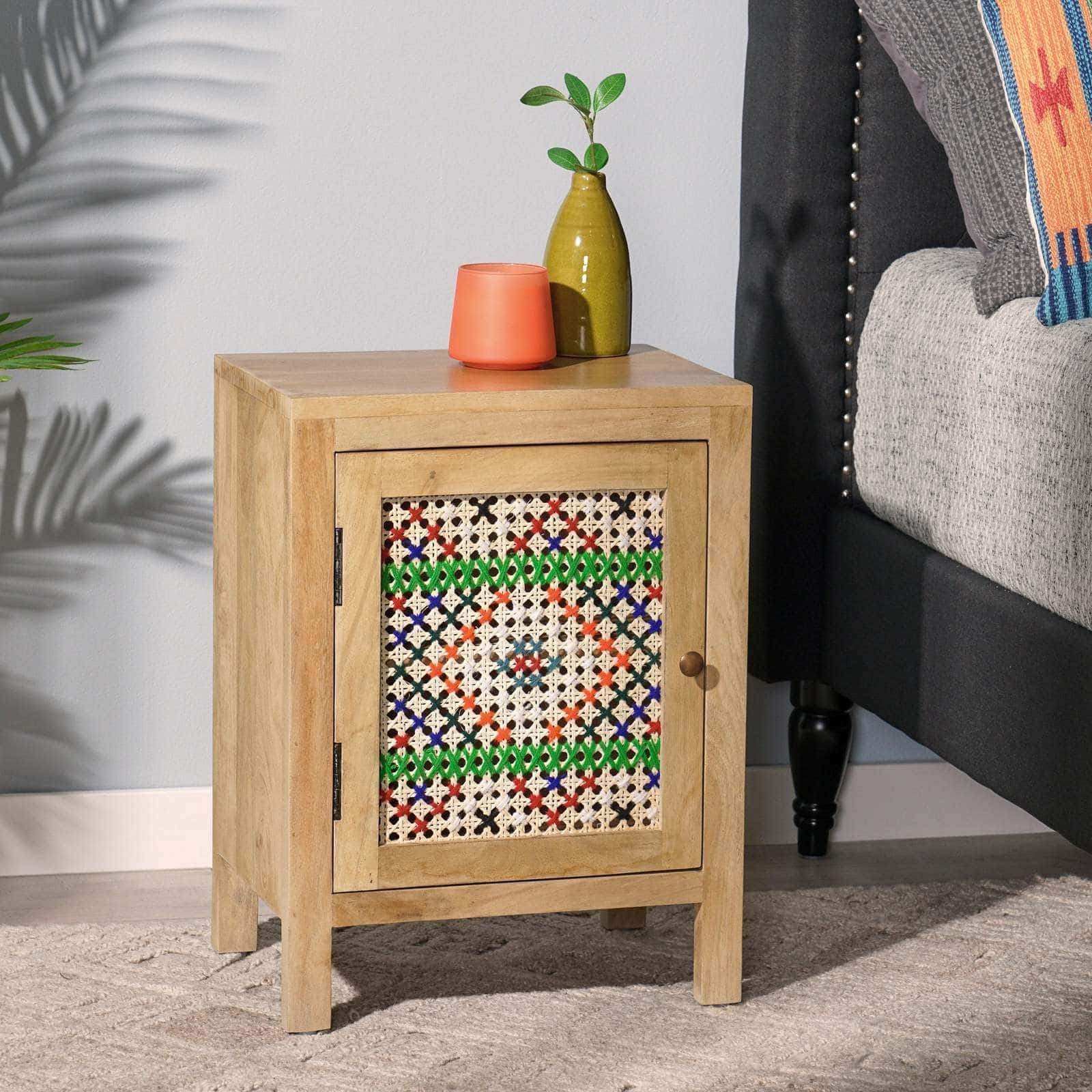 Bohemian color schemes can be bright with all kinds of colors and textures. If that's the vibe you're going for, consider a bohemian nightstand like this one.
This nightstand is mango wood with a cane front and wool accents. Once the door opens, there are two shelves and plenty of room to store your bedside supplies.
Go Retro with a Curved Bedside Table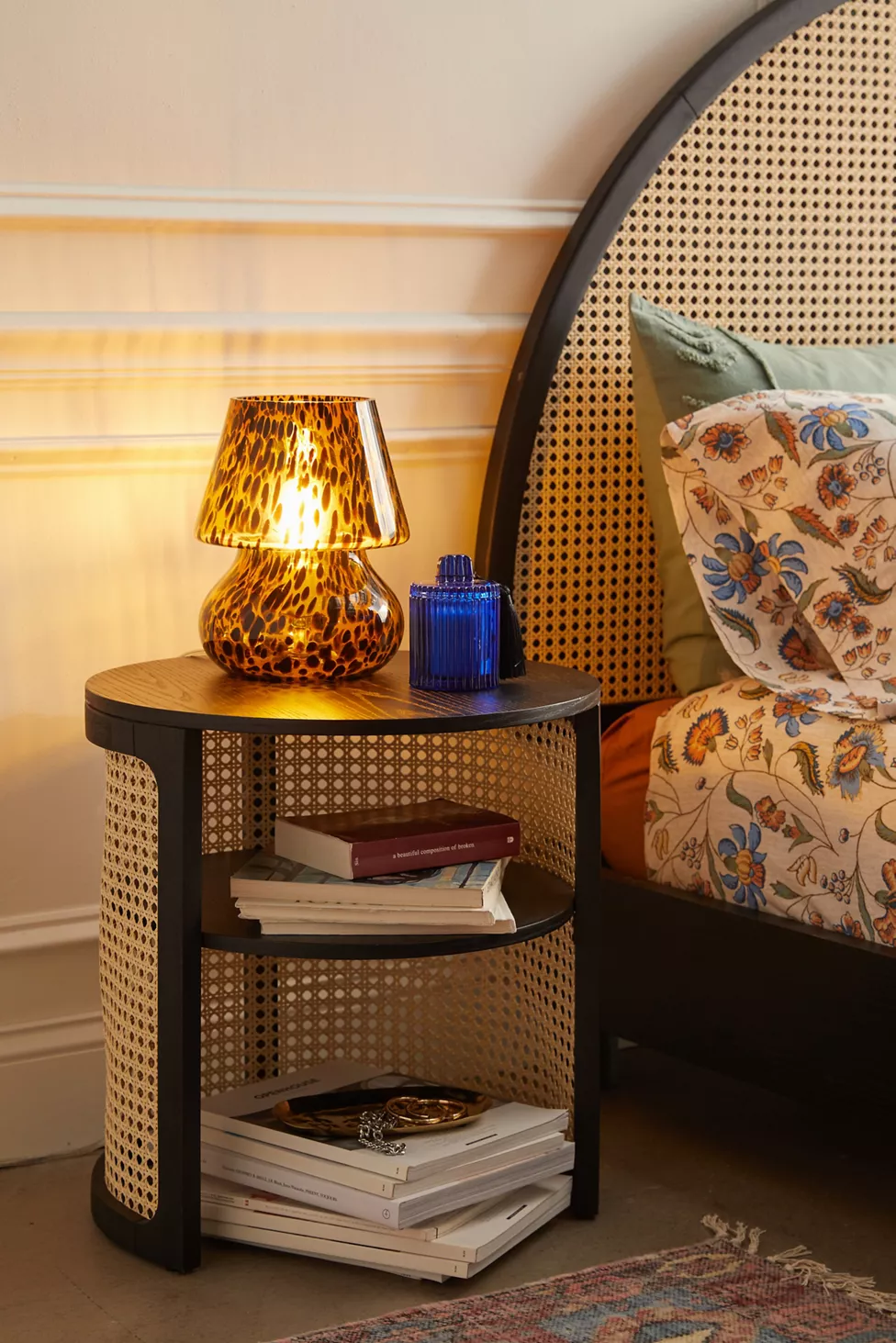 If you like a bit of vintage flair, try this boho bedside table from Urban Outfitters. This table is black with a wood-look panel on it. The mix of materials is very boho, while the curved silhouette gives this table a retro feel.
You can pair this nightstand with any type or color bed. Or, you can even splurge and get the matching bed if you prefer a coordinating look.
Pull Texture into the Room with Wicker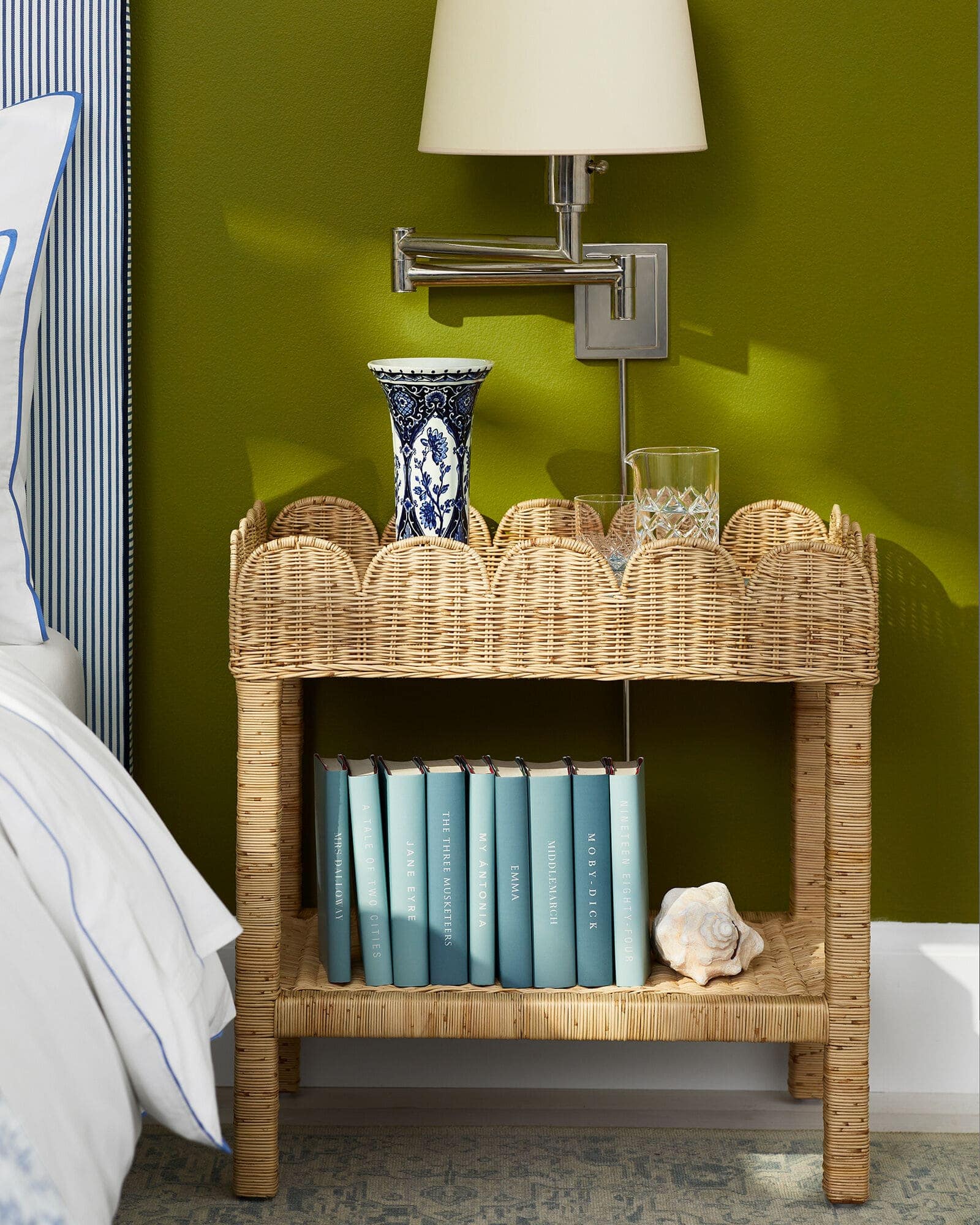 Need an easy way to pull texture into the room? Try a wicker side table. Wicker, rattan, and natural cane are all three prominent elements of boho design.
You can effortlessly match this wicker table to your current bedroom set. Plus, it has plenty of space to hold your books, remotes, and whatever else you keep at the bedside.
Add Moroccan Vibes with a Tasseled Nightstand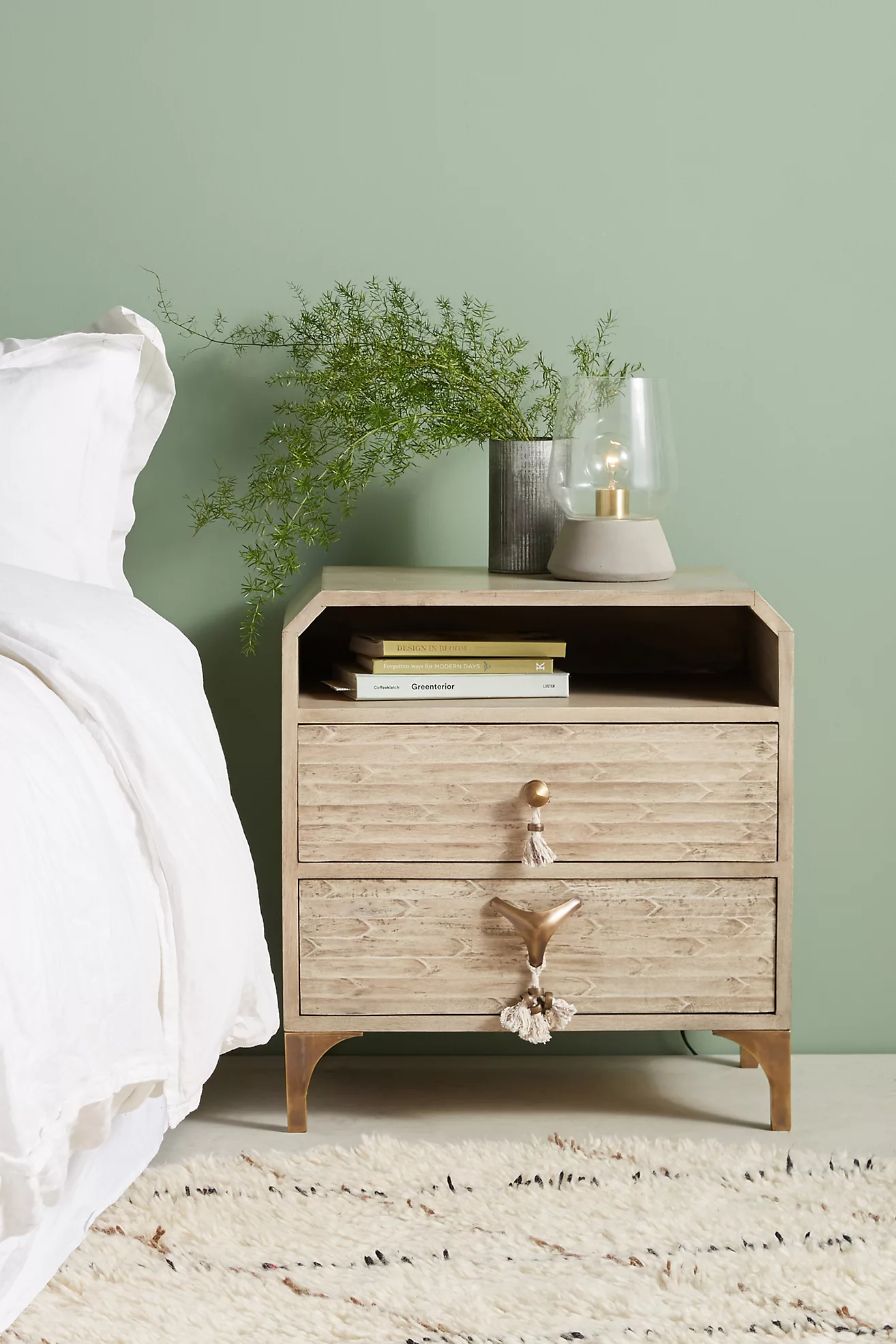 Moroccan rugs have long been a staple in boho design. Now you can amplify that look even more with this Moroccan horseman-inspired nightstand.
This bohemian bedside table has a hand-carved look with tassels that mimic those on the bridles and saddles of Moroccan horses. The wash on this nightstand is a light gray, so it will match nearly any bedroom decor.
Match Any Bedroom Furniture to this Eclectic Nightstand
Need a piece that's super easy to match to any furniture? This solid wood nightstand is a great option.
Because of the light mango wood variations, you can match this with any type of boho room. The drawers feature a hand-carved design, and the two different knobs add an eclectic touch. Plus, this piece is great for anyone needing a lot of bedside storage.
Keep It Simple with White and Wood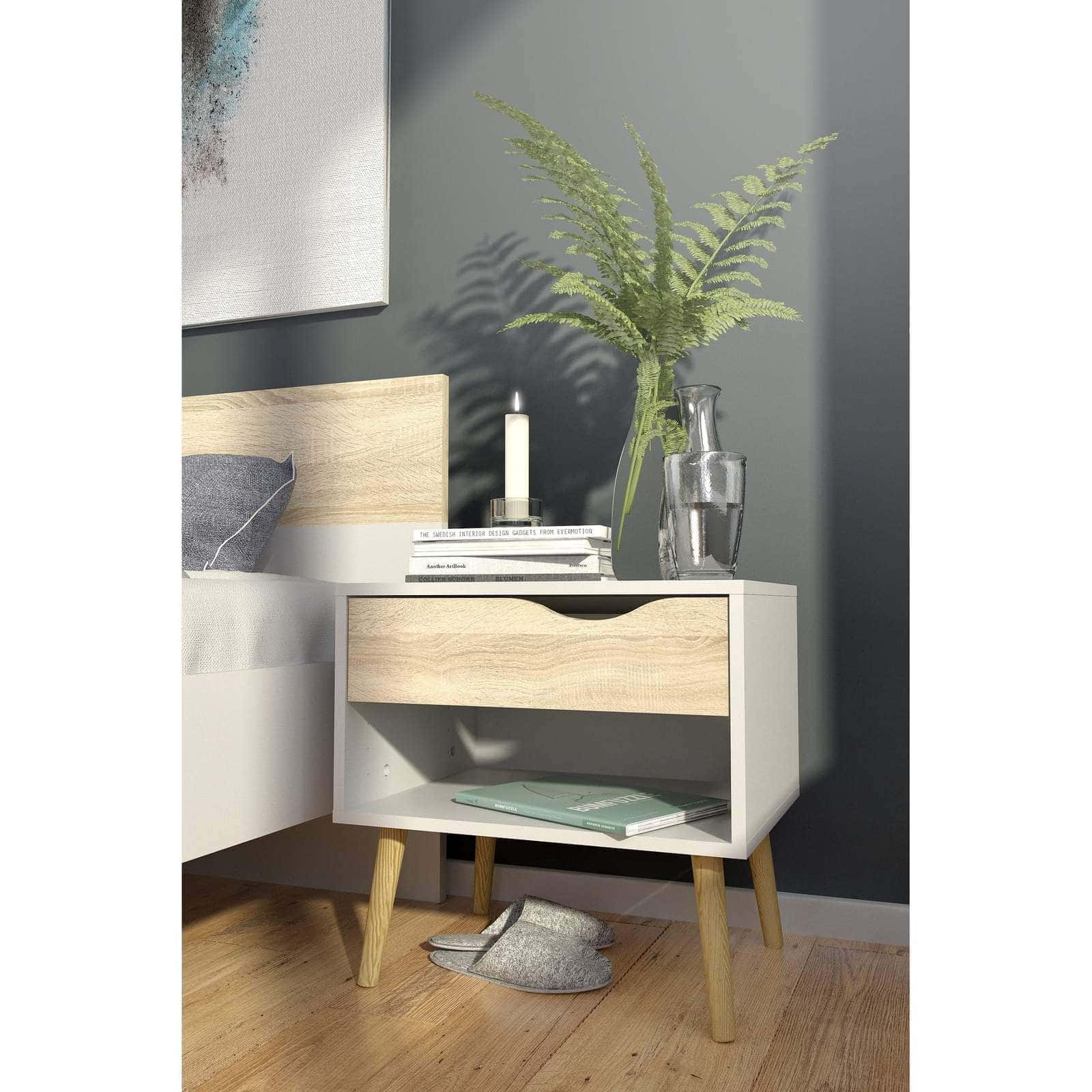 If you already have a lot going on in your bedroom, an ornate or hand-carved bedside table may not be your cup of tea – and that is perfectly fine. There are still plenty of simple boho options for you to choose from.
One simple option is this one – a mix of white and wood. This nightstand also comes in black and complements any boho or mid-century modern bedroom.
Be Unique with a Floating Nightstand Shelf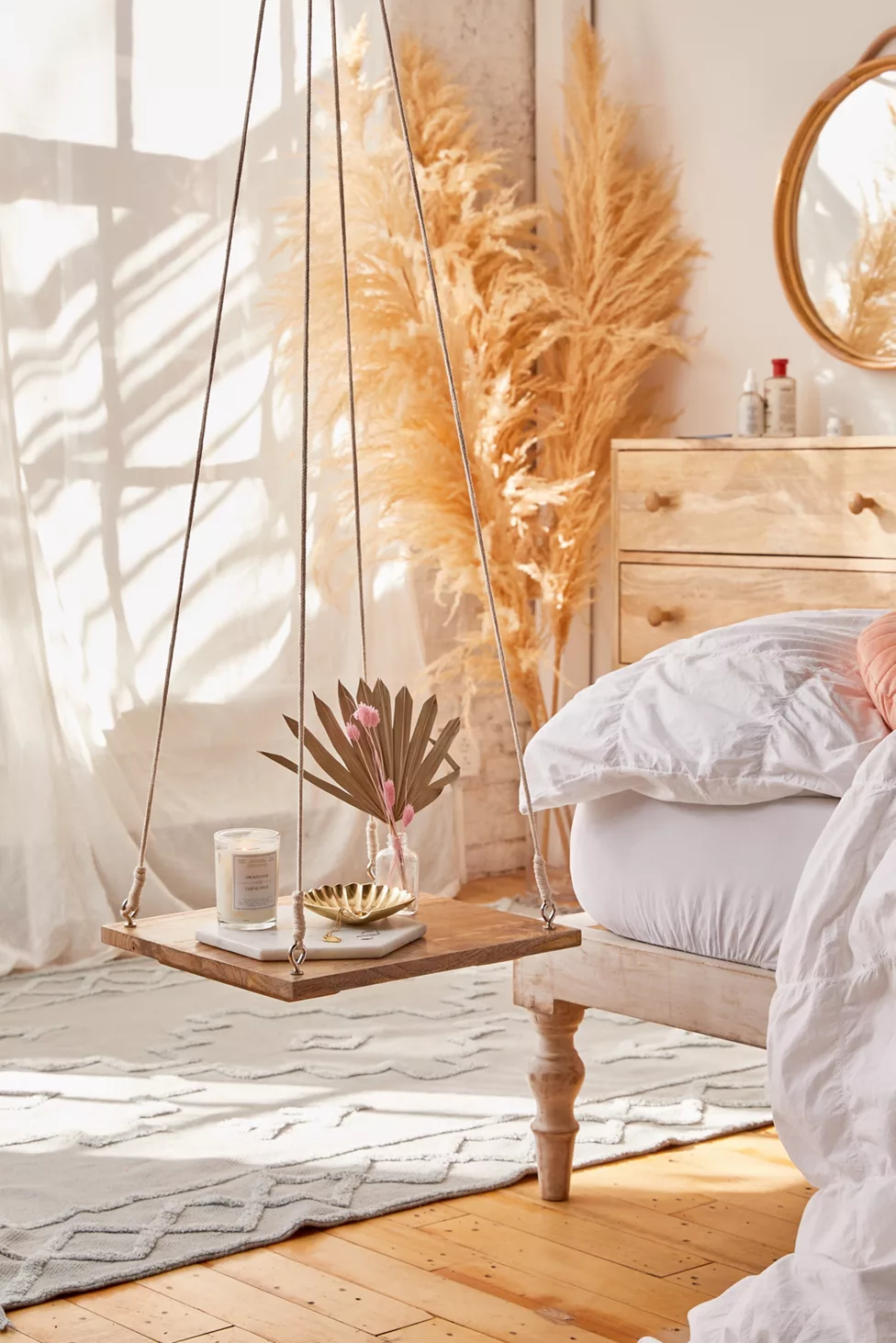 Not into traditional bedside tables? Try a floating nightstand shelf.
While this nightstand shelf doesn't give you near the storage as a traditional option, it's great if you're just looking for a place to sit a book or glass of water. Plus, it's the perfect solution for tiny bedrooms.
Glam It Up with a Scroll Inlay Bedside Table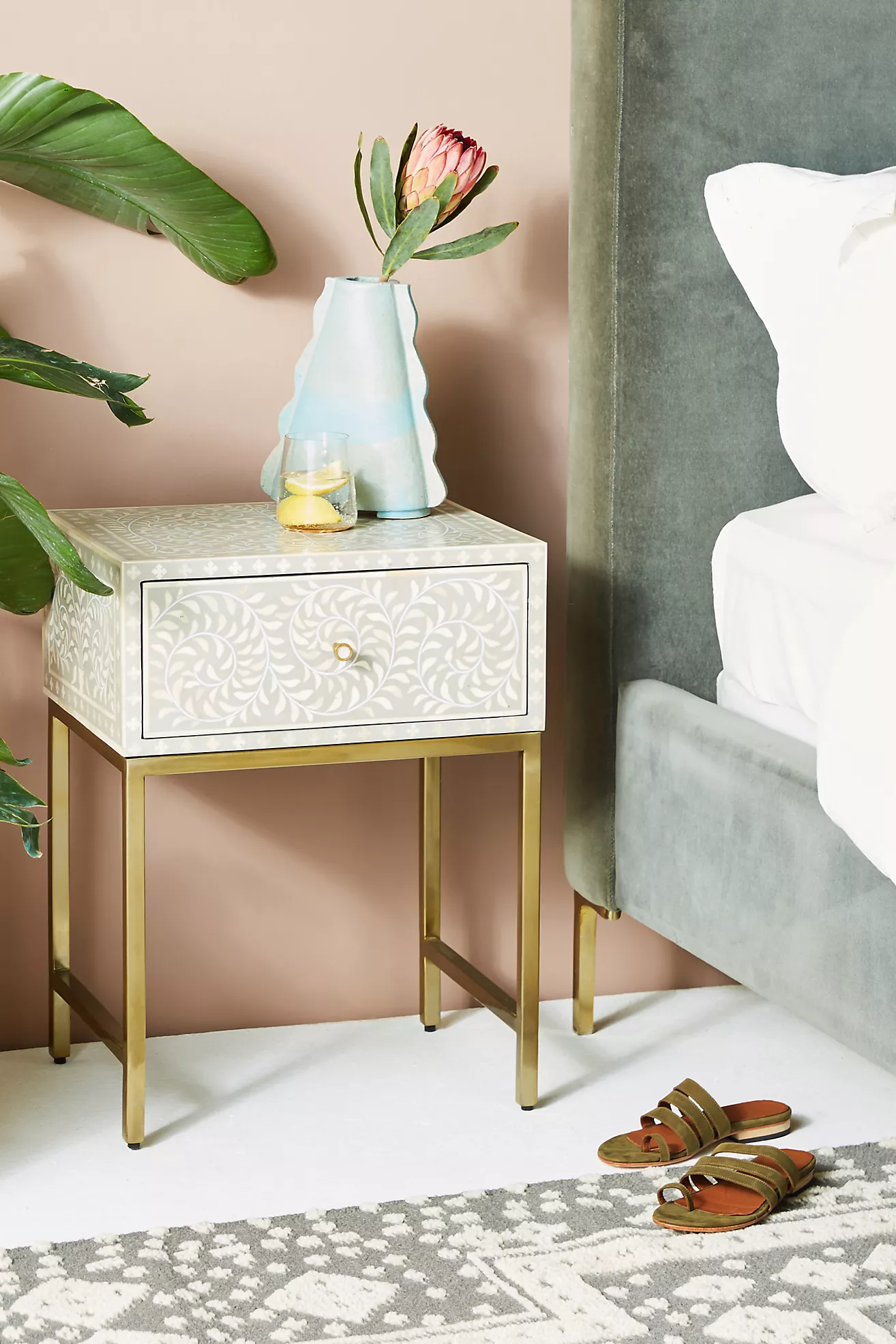 If you're looking for a boho glam nightstand, I love this option from Anthropologie. This bedside table features a scroll inlay on the drawer and top, which is perfect for boho. In addition, the brass frame gives it a very glam or modern feel.
You can pair this nightstand with a colored or wooden bed. It will match just about anything.
Pull Off Modern Boho with a Scale Pattern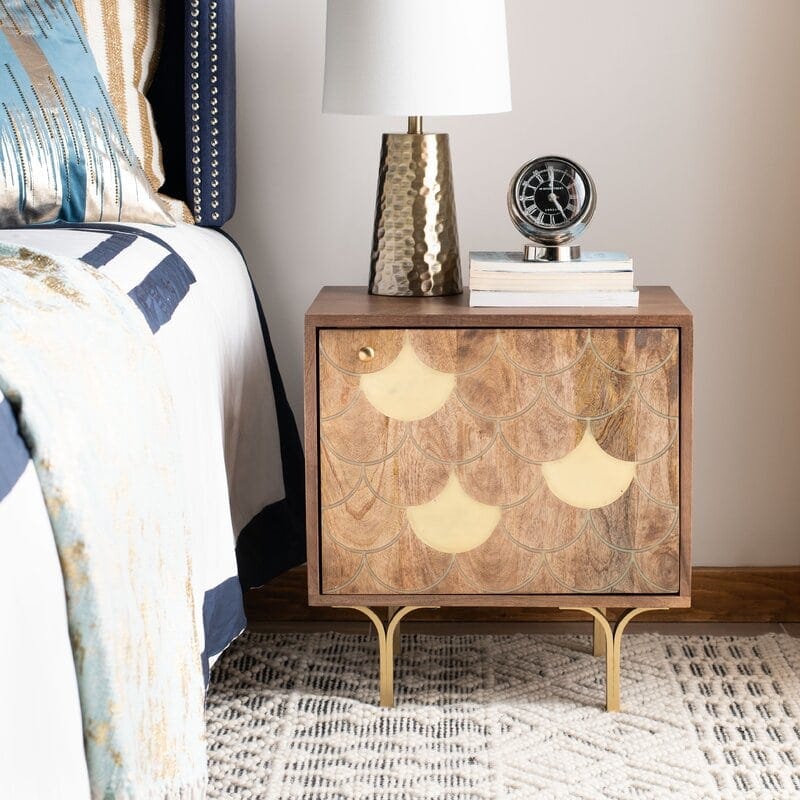 Here's another great modern boho nightstand for the bedroom. This option has clean lines, brass legs, and a unique scale pattern.
The frame is solid wood and stained in a light walnut finish. There's plenty of variation throughout the grain and color to add the perfect amount of texture to the room.
Take Your Bedroom to the '70s with This Nightstand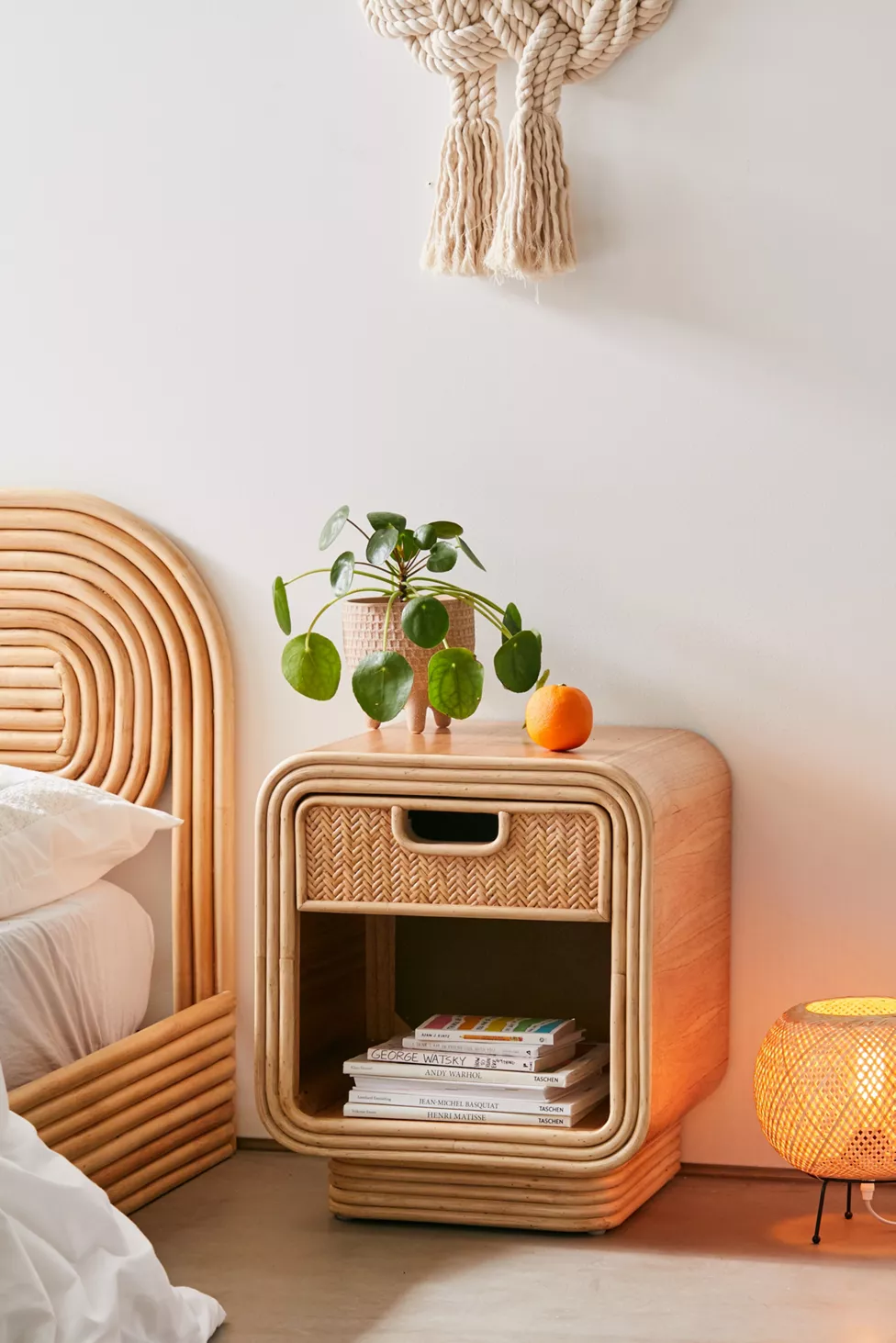 Are you obsessed with boho looks from the 1970s? If so, you can achieve the look with this nightstand from Urban Outfitters.
This nightstand is a combination of rattan, Mindi wood, and mahogany. The drawer has a chevron weave, while the frame has super cool, rounded edge loops.
Final Thoughts
Boho nightstands are stunning. If you're not sure what to get, look for something that's a light wood, hand-carved, and has a fun shape.
Most of these nightstands will effortlessly pair with whatever bedroom suite you already have. If you want to play it safe, try wood on white or a wicker option. If you're feeling bold, go for the colorful nightstands or those with patterns.