Decorated Life is reader-supported. When you buy through links on our site, we may earn an affiliate commission. Learn More
First Light by Benjamin Moore
If you spend much time in the home decor world, you're going to see lots and lots of neutrals. White, off-white, gray, greige, beige–all kinds of colors that aren't really colors.
What if you're looking for something that's actually a color? But wait–if you venture too far outside the circle of trusted neutrals, won't your home become an eyesore?
Don't worry! Not all colors are too risky. If you want to dip your pinky toe into the world of color, then I have just the pink for you.
First Light, Benjamin Moore's Color of the Year for 2020, is the gentle pink of a perfect sunrise. This super-light color offers a refreshing alternative to popular neutrals and infuses your home with warmth and personality.
Let's wake up to First Light and find out more.
What Color is First Light?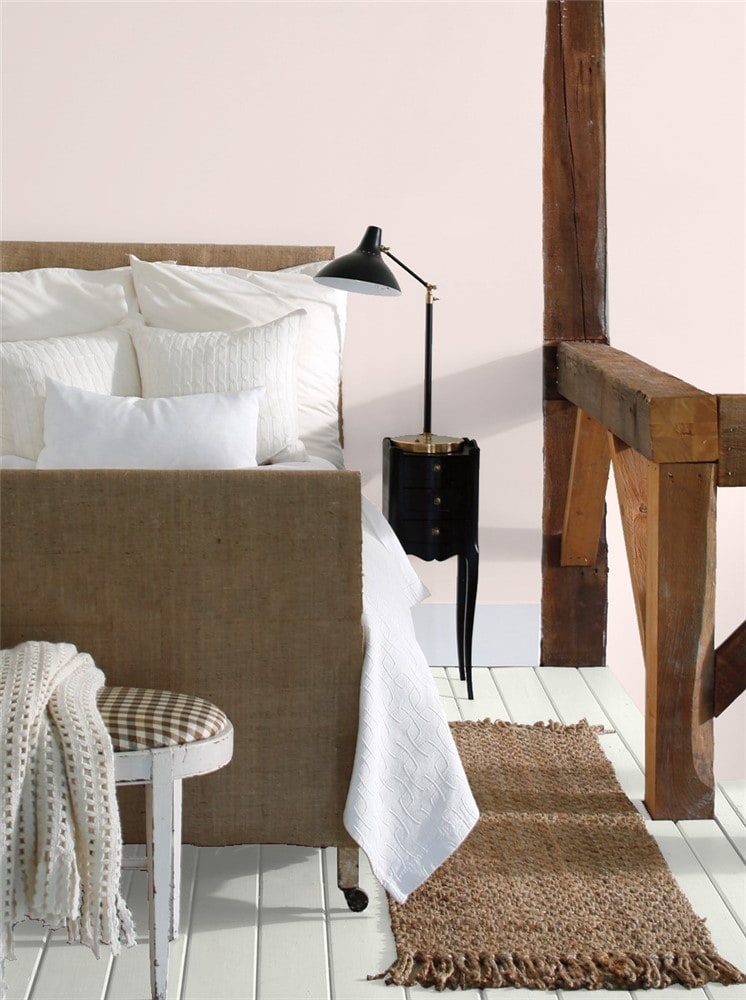 First Light is a pale blush pink. It could be thought of as a pastel pink, or even an off-white that has a color tint. It's a pink with enough lightness and balance to function as a neutral color.
LRV of 75.86
First Light has a light reflectance value (LRV) of 75.86.
Light reflectance value is a scale designed to measure how bright a color is, and ranges from absolute black at 0 to sheer white at 100. The higher the number, the brighter the color.
First Light is a light enough color that it technically crosses into the off-white range. Off-white colors typically range from about 73 to 82, with numbers above 82 being true whites.
However, First Light has enough color to it that it does not read as just white, so keep that in mind when you're planning its placement.
What Undertones Does First Light Have?
First Light has light gray undertones, which help to balance it out and make it a more neutral color.
Is First Light a Warm Color or a Cool Color?
First Light is a warm color, as a member of the pink family. Its gray undertones help cool it down, making it more refreshing than a warm color usually is. That's where it gets that sense of neutral balance we've been talking about.
Where Can You Use First Light?
First Light is light enough to be used in any room of the home, and it can help brighten up dark or small spaces.
When considering your placement of First Light, keep in mind that its pink undertones will reflect onto nearby walls, especially if you pair it with a white paint. It can also bring out pink undertones in other colors.
First Light is a natural choice for a gentle, feminine look in a bedroom, nursery, or powder room. Flowing lines and soft textures in the decor will enhance this look.
To make First Light more gender neutral, pair it with bolder colors, and consider styles such as mid-century modern or American southwest.
Let's take a look at First Light in action and gather inspiration for our own projects.
Living Room
The blues and golds in the decor elements of this living room take center stage with a subtle blush of First Light on the walls.
First Light echoes the pinks in the southwestern style carpet in this living room, giving the space cohesiveness.
Kitchen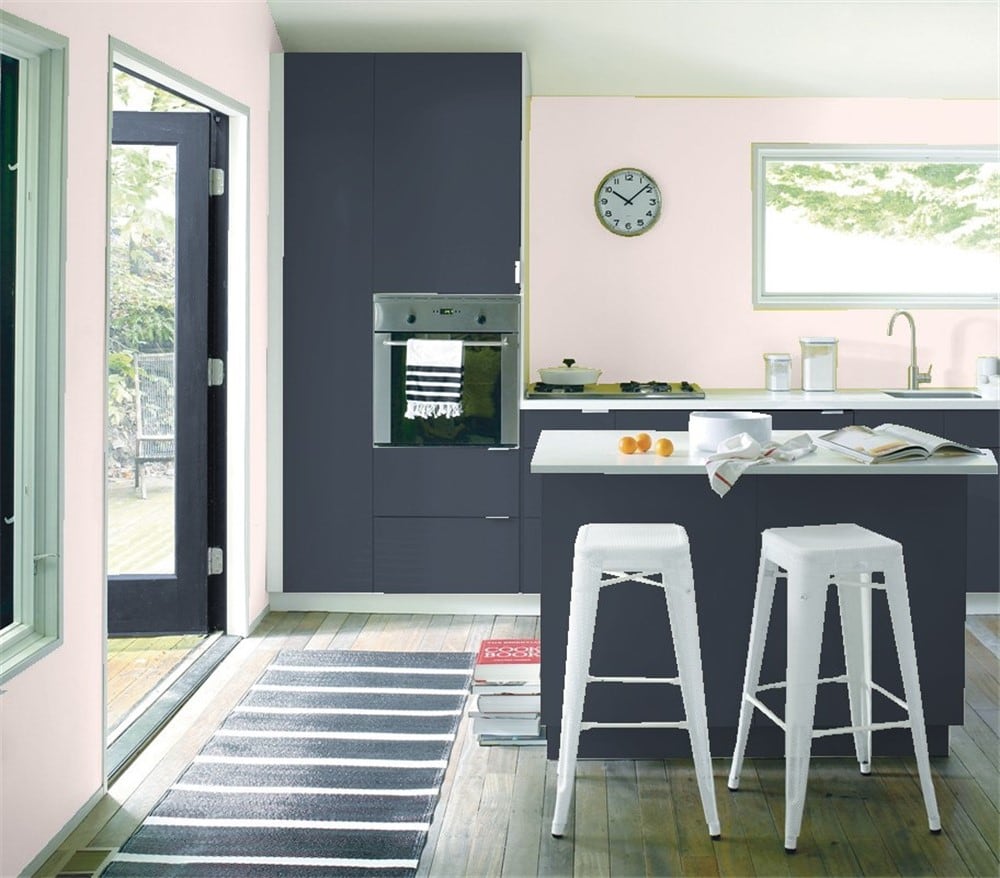 First Light walls join forces with Hale Navy cabinets to create a cheerful and charming kitchen with a subtle retro vibe.
Dining Room
First Light offers a warm and fun twist on what might normally be a beige or gray wall in this modern dining room.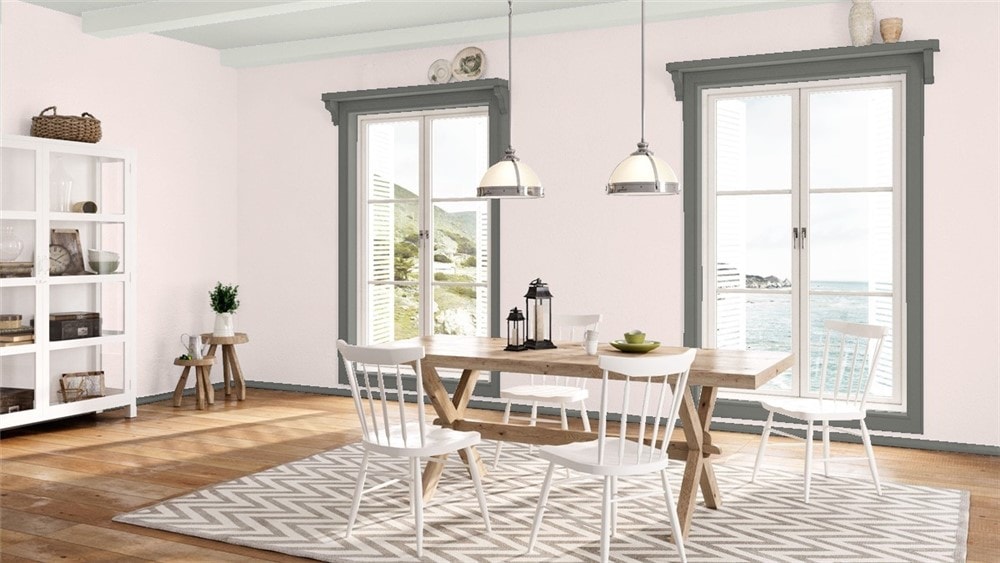 If grays are still your thing, First Light can work with them, as it demonstrates in this dining room with Amherst Gray and Gray Owl.
Bedroom
Elegant gold and crystal pair with soft First Light in this romantic bedroom.
Neutral decor and bright natural lighting brings out a peachy side to First Light in this bedroom.
Bathroom
First Light adds personality and brightness to this vintage-style cottage bathroom.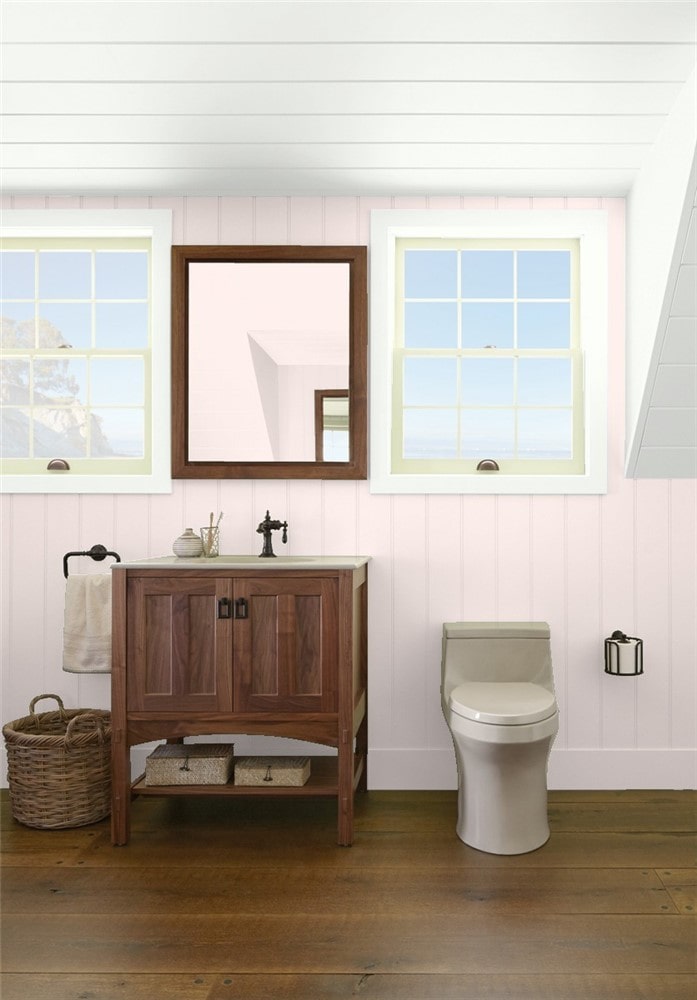 First Light brings out the warmth in the woodwork of this charming farmhouse style bathroom.
Playroom
This playroom is cozy and fun with First Light on the walls.
Laundry Room
Small, dark spaces like laundry rooms can really benefit from First Light's cheerfulness.
Lobby
This hotel lobby is embracing the popularity of First Light with a style that's both retro and trendy.
Front Door
First Light is an eye-catching front door color that won't overpower.
Exterior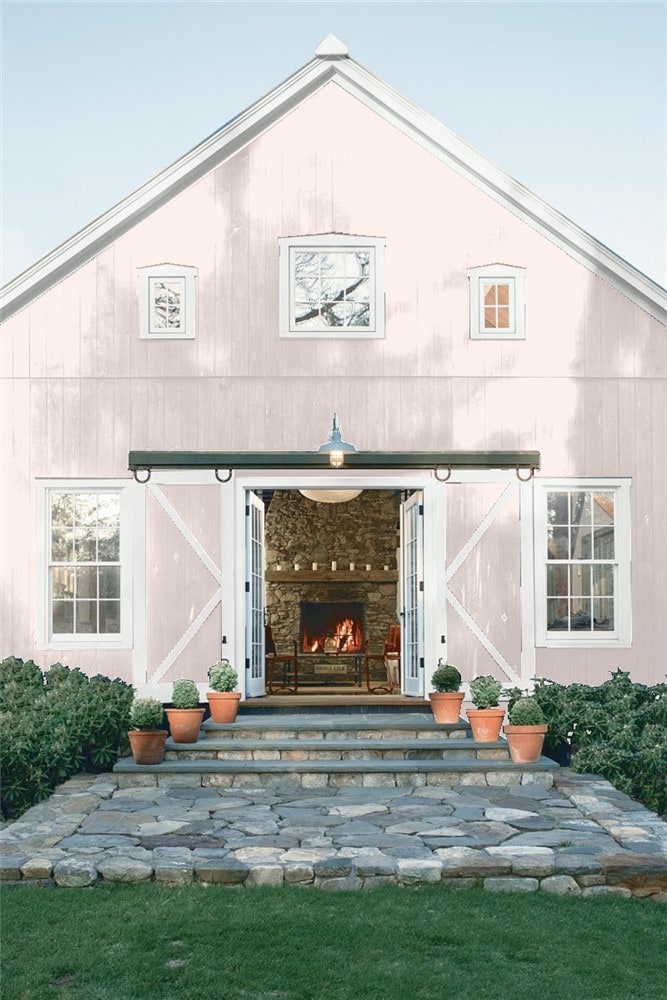 First Light may be an unconventional exterior color choice, but it's a fun one! It also has enough body to stand up to sunlight.
Coordinating Colors for First Light
First Light is a soft blush pink, and its gentleness allows it some versatility when coordinating with other colors.
Neutrals are a great place to start with First Light, especially because of its gray undertones. First Light can pair with light or dark grays, so consider charcoal grays and also the greige family.
Your favorite whites will keep First Light looking airy and bright. Just be mindful of warm whites that have pink undertones, or whites that will reflect back First Light's pink–make sure you don't get an effect that's too overwhelming.
Black is a chic option to pair with any pink color, and the look of your space can change dramatically depending on whether First Light is your primary color or black is.
Getting into some of the colors that pull double-duty as neutrals, First Light looks great with inky blues, such as navy blues and indigo blues.
If you want to go full-bent into bright colors, consider lemon yellows or leafy greens as nature-inspired color companions for First Light.
Here are some coordinating color ideas for First Light to help you get your palette started:
How Does First Light Compare With Other Colors?
First Light vs Proposal by Benjamin Moore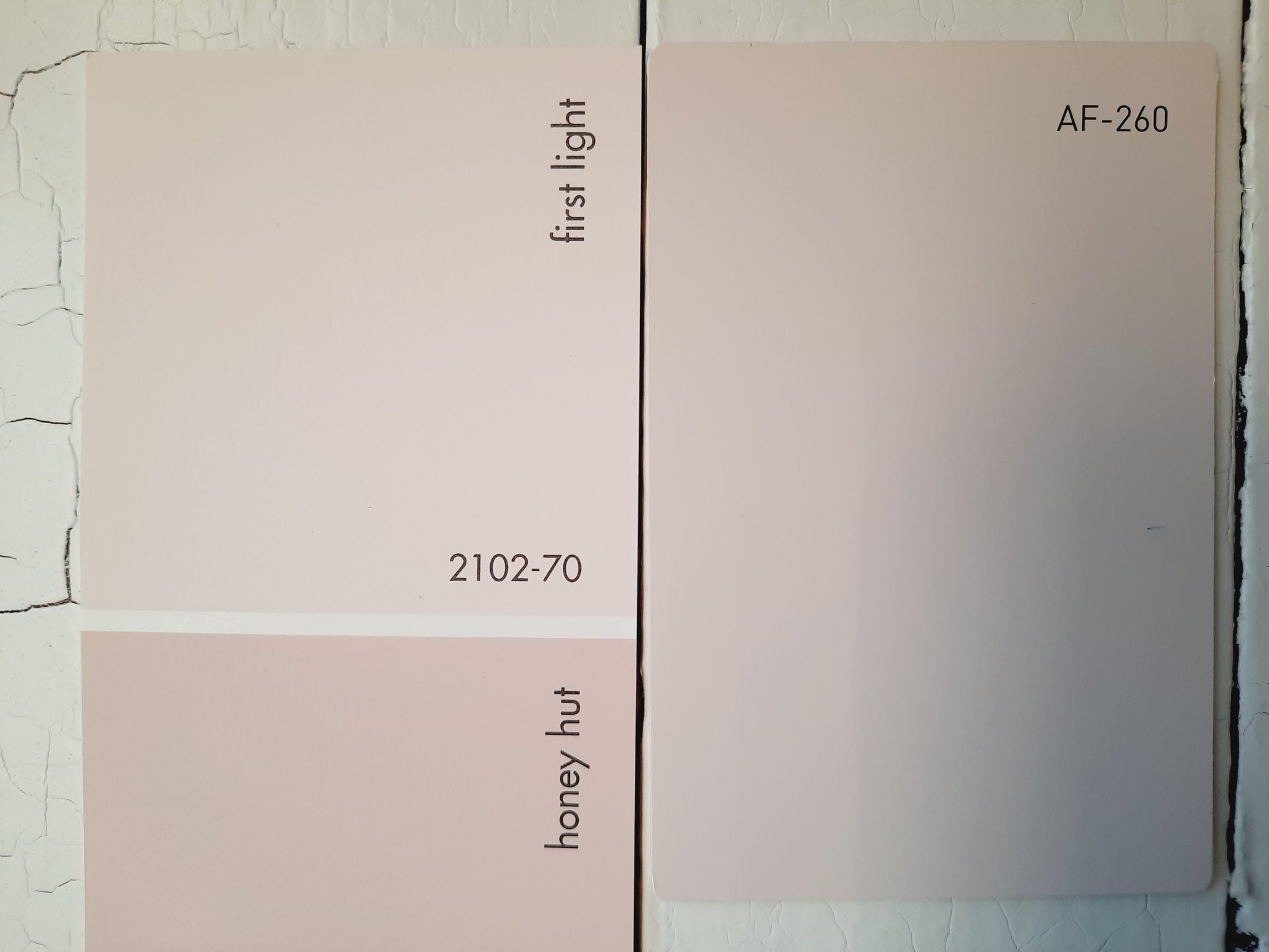 Proposal is a soft pink blended with gray. It's cooler than First Light, which brings it more towards the neutral center of the palette, and makes this color come off less pink. It's also a few notches darker than First Light, with a LRV of 70.47.
First Light vs Pink Ground by Farrow & Ball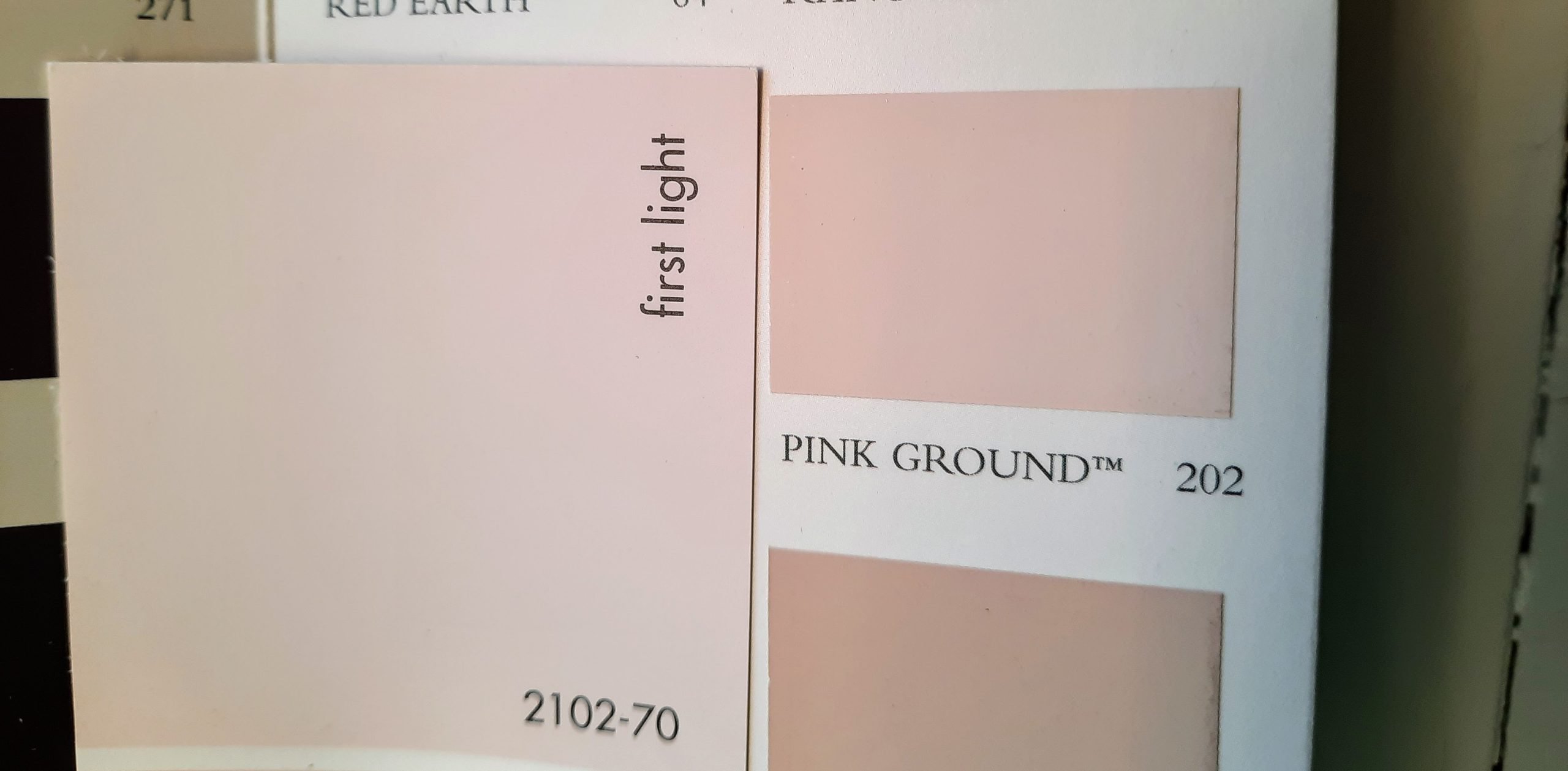 Pink Ground is a light pink that's got more yellow and brown to it than First Light. Comparatively, it has a peach look, versus First Light's blush color.
First Light vs Abalone Shell by Sherwin Williams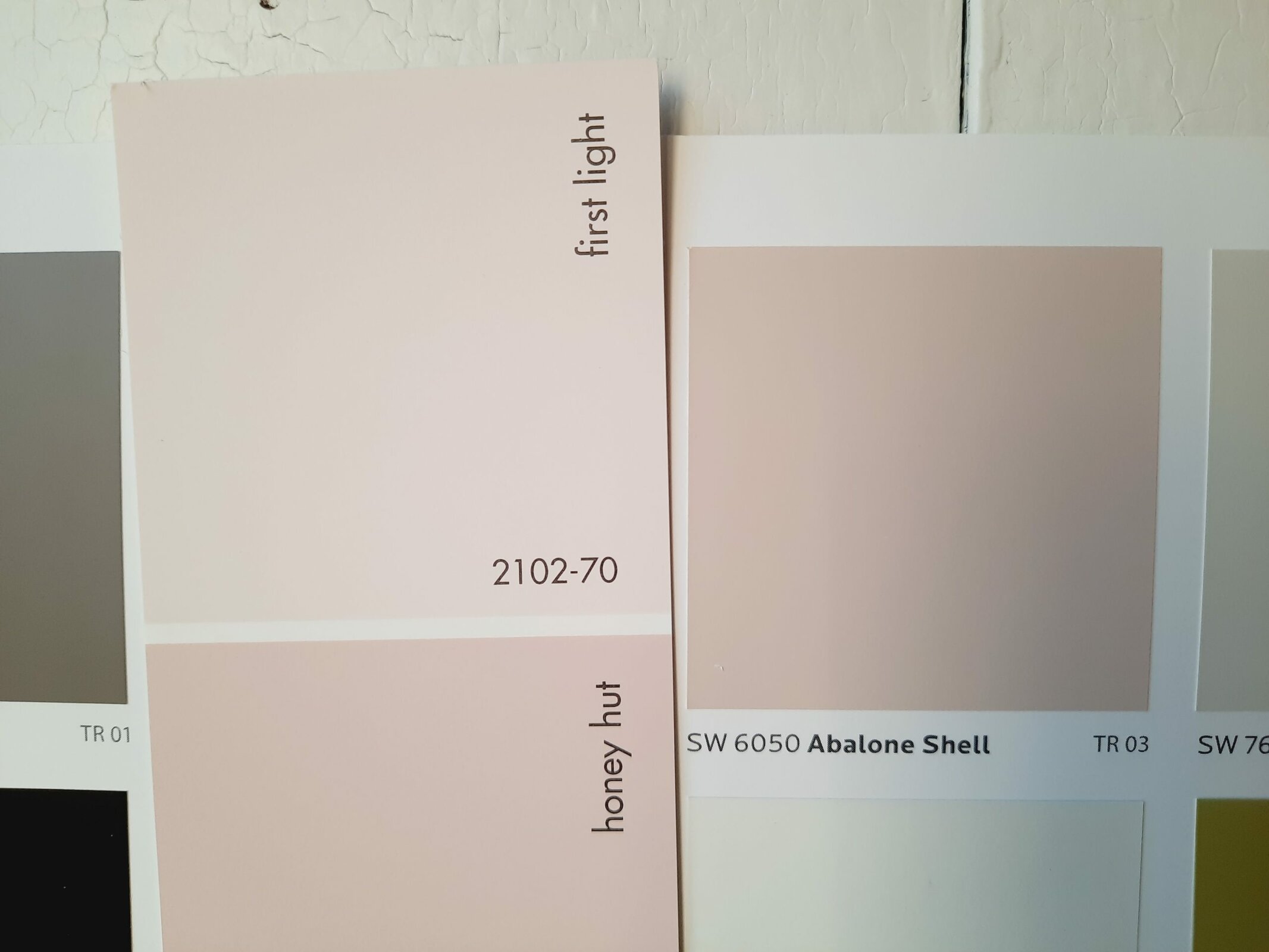 Abalone Shell is a beigey pink that leans into its identity as a neutral. It has more beige in it than First Light. It's noticeably darker, with a solid mid-range LRV of 60.
Final Thoughts
First Light is a pastel blush pink that's soft enough to use like a neutral. This versatile color offers your home warmth and personality without overpowering your space. It's a snap to coordinate with other neutrals, and is amazing paired with gold. Part your curtains and let in some rosy rays of First Light to your next home refresh–this is a color that won't bite.