We independently select these products — if you buy from one of our links, we may earn a commission.
10 Ideas for Curtains to Match With Gray Walls
Gray is becoming an extremely popular wall color, from soft, pale grays to a deep, dark gray, it's a neutral background that a lot of people are going with to create a basic palette on which to add some color or patterns, regardless of the decor style.
One thing you might be struggling with is the curtains since they're right against the wall so you want to make sure what you pick will complement the gray walls instead of clash with them.
Soften the Look With a Light Grayish Blue Curtain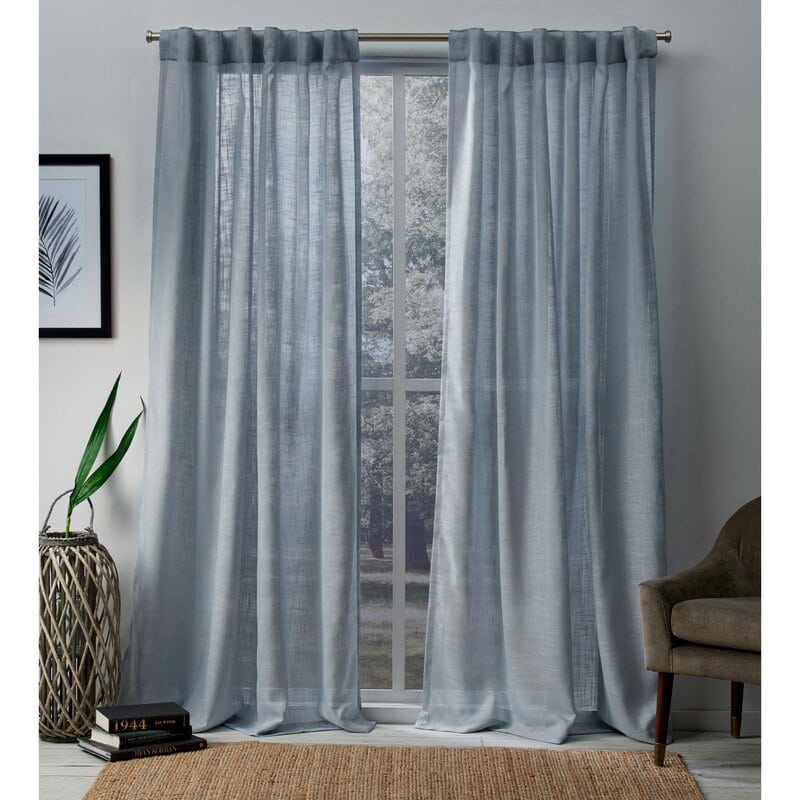 This pale blue and gray curtain with white design serves to soften up the look of the steel gray walls. It creates a feeling of freshness and light because it's made of thin, simple fabric.
This example shows that you can find undertones in the gray paint color of the wall and use it to match with your curtains. Because this gray is cold instead of warm, it pairs well with a color like this blueish gray.
Play With Linen or Burlap With a Fringe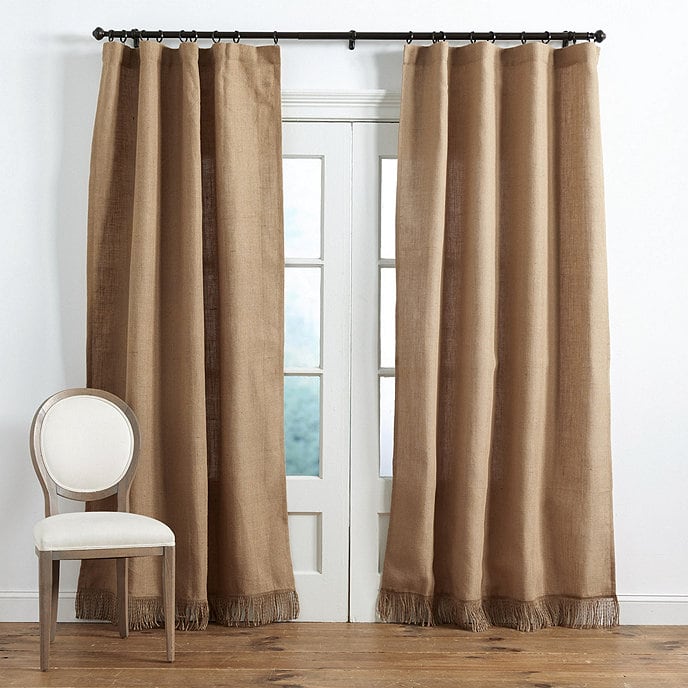 Another option for gray neutral walls, especially ones with warmer tones, is to go with a beige linen or burlap curtain, like the one pictured here. To keep it from looking drab, it has a lovely fringe running along the bottom that adds a bit of elegance.
This curtain is very see-through, which is an excellent choice if you want to keep light flowing through and make sure the room is bright and cheerful.
Teal Curtains Add a Splash of Color
A color that is frequently matched with gray is teal because it adds a bright pop of color and it's dark enough to still appear stately. It's a good idea if you can also incorporate a few other accents of the same color in the room.
If you haven't yet been convinced of the advantages of gray walls, check out this awesome article that outlines why you should be jumping on this style train.
Lighten Things Up With Sheer White Panels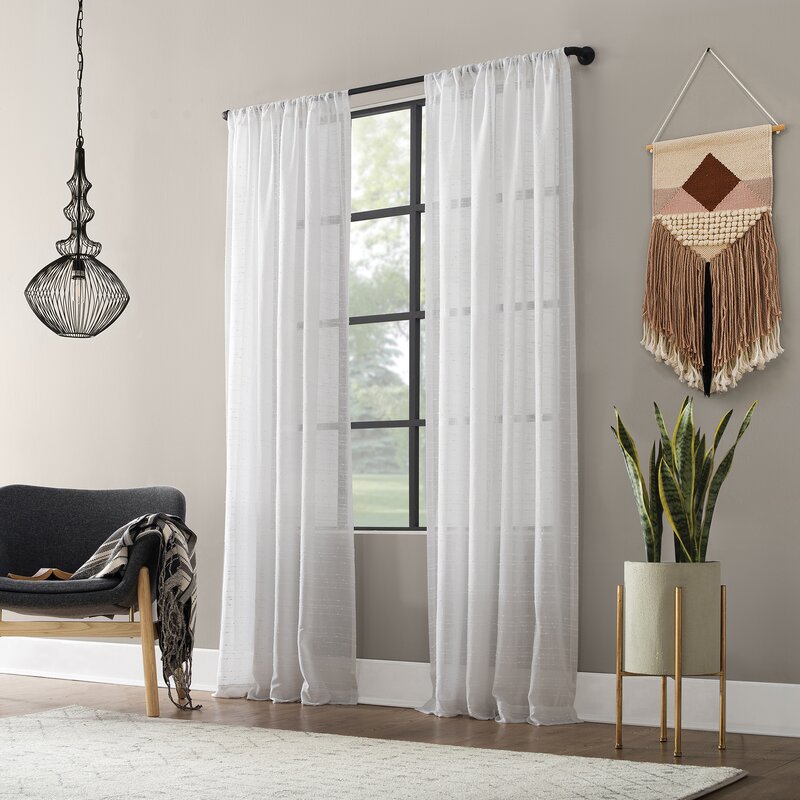 Sheer and light white curtains are an excellent way to brighten up a room that's painted in light to medium gray. It can work for a variety of decor styles from farmhouse to coastal or even Scandinavian, especially if they're simple without frills.
As we can see in this example, the white curtains are very see-through, but they work to soften up the room a lot and allow tons of natural light to flow in.
Bring In Some Pattern With White and Gray Curtains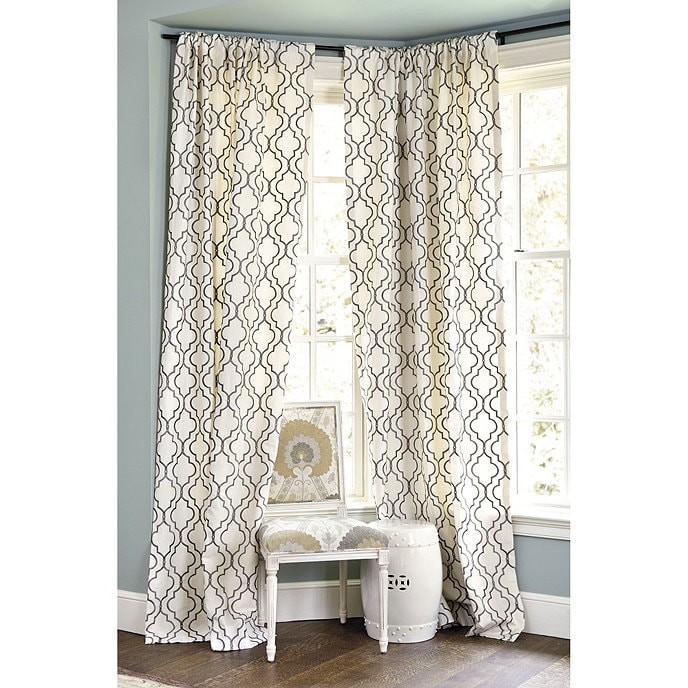 All the curtains we've seen so far have been one solid color block, but patterned curtains can also work really well with gray walls. These curtains are in an ivory shade with a decorative pattern in gray lines across the panels.
The light gray lines tie the room in together while the pattern adds a bit of spice and a focal point to the room, especially if the room is mostly done in neutral tones.
Channel the Coastal Look With Pale Blue and White
I love this option because it involves combining two curtain panels in different styles and colors. First, thicker light blue panels are hung on both ends of the curtain rods, and in the middle, there are two delicate, see-through white and extremely pale blue panels with flower detailing.
It creates a flowy and unique look, with a lot of freshness and a delicate appearance, perfect for a beach house or coastal decor style.
Add Some Contrast With Darker Charcoal Gray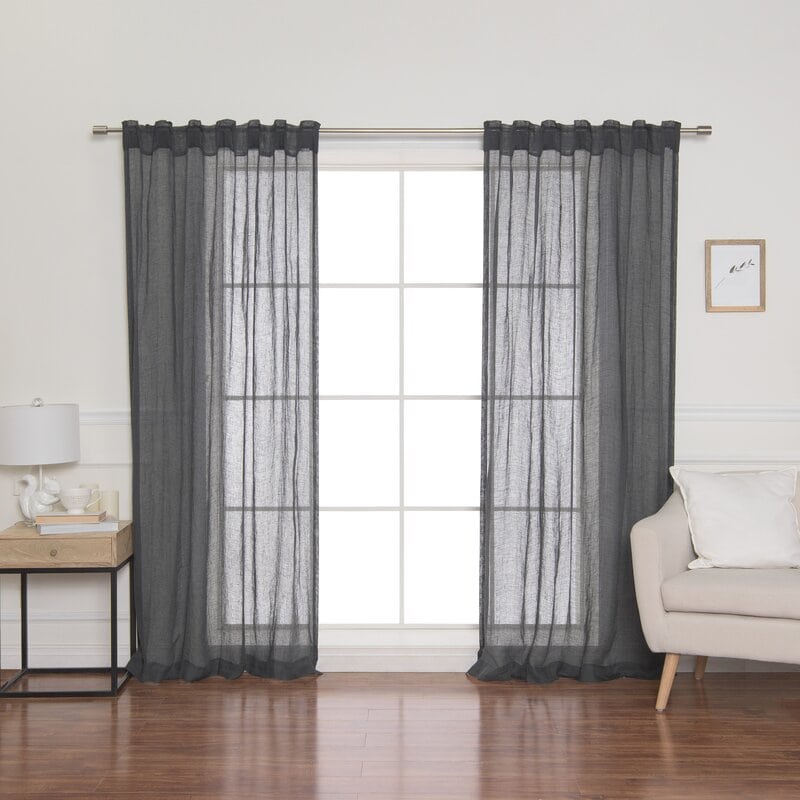 Why change it up from gray if the color is working for you? You can match gray walls with gray curtains too if you want.
What would be important here is to pick two vastly different shades of gray, like these extremely pale walls and dark charcoal curtains.
It's excellent for an office space or modern living room, like the one pictured here, and it allows you to choose a different colorful focal point for the room.
Stay Neutral With a Thick Ivory Curtain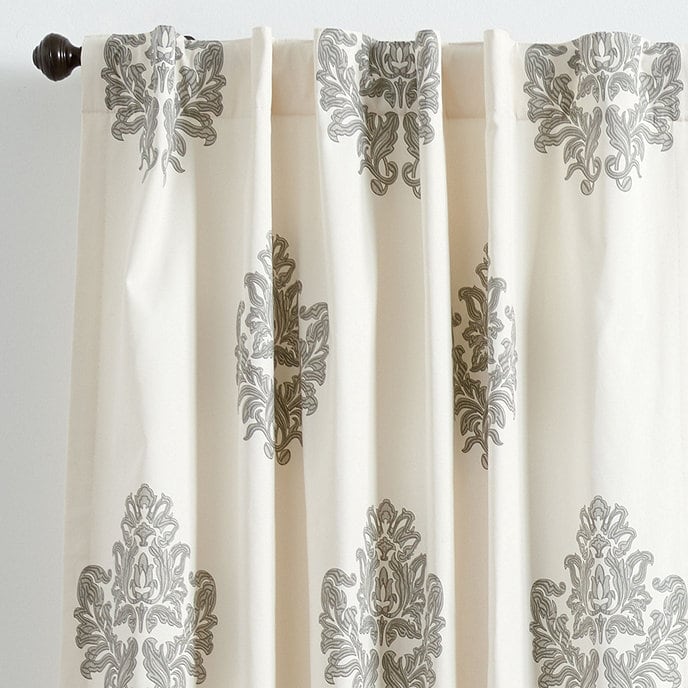 Ivory is a color that can pair really well with gray walls, especially a rich, thick ivory curtain like the one here. It adds some warmth to the room, and the delicate gray detailing in this example ties it in to the gray walls.
The Spruce has a really useful guide on the dos and don'ts of decorating with gray, whether it's your walls, furniture, or other aspects of the room.
Look for a Lovely Pattern With Splashes of Color
With darker gray walls or medium charcoal, consider getting white curtains with splashes of color, especially if they're incorporated in a nice pattern like the one pictured here.
The thick gray strokes of the flowery pattern match the walls, while the blue and yellow touches add some color and draw the viewer's eye in. With an option like this, you'll want to add other touches of yellow and blue in the room.
Go for Simple White Striped Curtains
For those who prefer minimal touches or the monochrome look, this curtain style may be the one for you. The pure white curtain with thin black stripes looks simple and stately and it's just right for a modern living room or bedroom.
It doesn't have a lot of warmth to it, so it's best to avoid that in the farmhouse or country-style rooms, but it's great for people who want to spice up a regular white curtain.
Final Thoughts
The fabric, color, and pattern that you choose for your curtains can have a massive impact on your room, so it's important to think about what would look best. Gray is a popular wall color since it's timeless and neutral and a perfect backdrop to a stylish room.
When choosing the right curtain, consider the undertone of the gray paint, if it's warm or cool, and choose a complementary color. Or, stay in the neutral theme by getting white, ivory, or gray curtains.
Finally, think of the fabric you want for your curtains, whether light and gauzy, boho with a fringe, or heavy and stately. Happy decorating!