Decorated Life is reader-supported. When you buy through links on our site, we may earn an affiliate commission. Learn More
Modern Black and Gray Living Room Ideas
Black and gray is one of the best combinations. This neutral duo plays utmost versatile and timeless – and can easily be paired with any other hue, texture, and pattern. A living room is where you spend the most quality time with your friends and family – chatting, lounging, reading a book, and even relaxing. And right when you're doubtful about the color palette, this combo is what you must look forward to.
Sleek and refined, crisp and clean – the black and white living room is also one of the most popular and admired by homeowners. And you would never regret it! So, here is a list of the 10 best modern black and gray living room ideas to watch out for!
White Walls with Black Furniture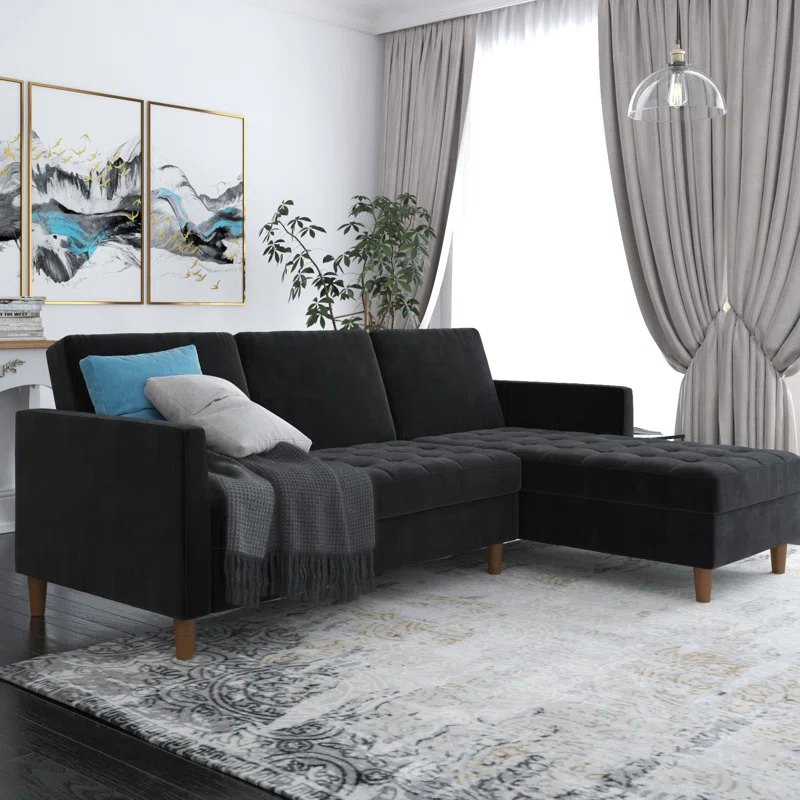 A living room with white walls and focal black furniture will ultimately transform the vibe of your space. It doesn't necessarily grab all the attention but at the same time, make your living room feel homely, refined, and classical.
In a modern living room, curtains tend to play a major role in adding a sense of sophistication and luxury. And that's why you can try out these floor-touching sheer curtains that add a rich statement to the living room.
Modern Rustic Living Room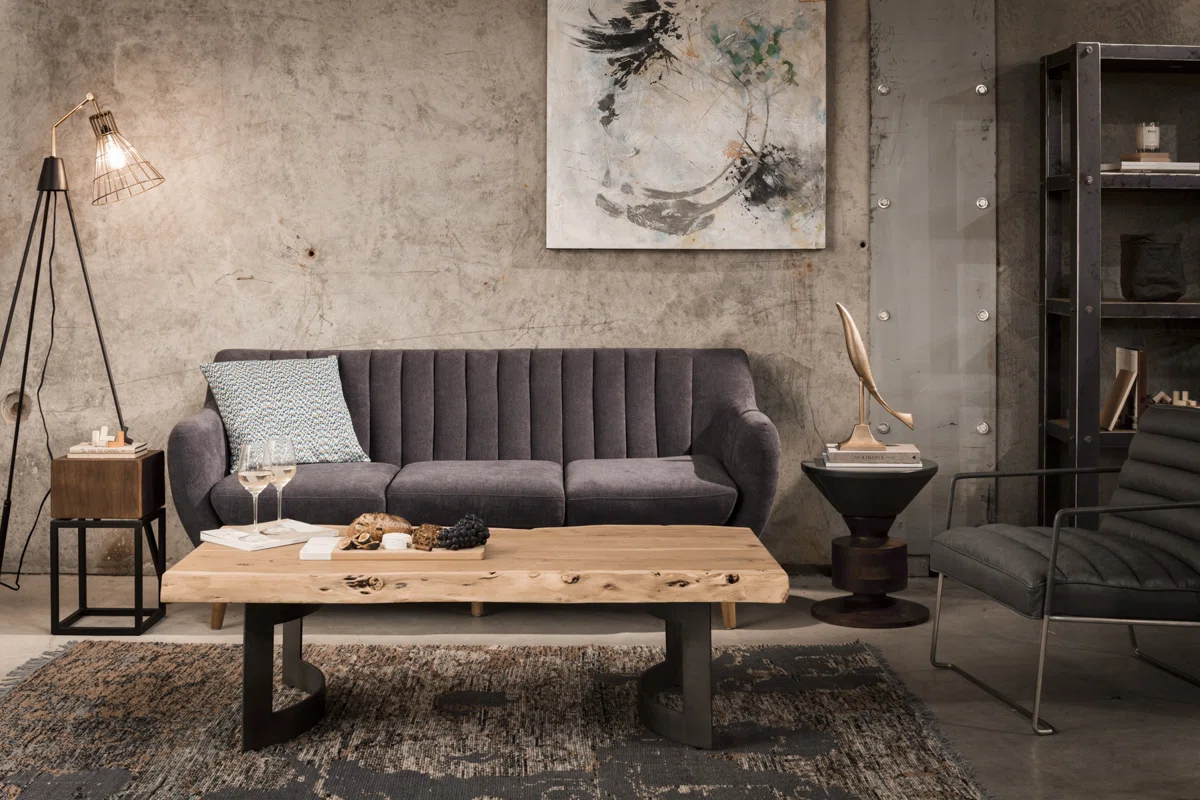 A blend of modern and rustic style is alluring and exquisite. Hence, if you have an admiration for a modern backdrop with rustic features – this is a great gray and black living room inspiration to look forward to. With an exposed concrete finish, you can also seamlessly style a black couch with a raw-finish wooden coffee table.
On the other hand, to neutralize the bold and dramatic look, you can consider adding a focal piece of canvas artwork with a subtle white base.
All Gray Living Room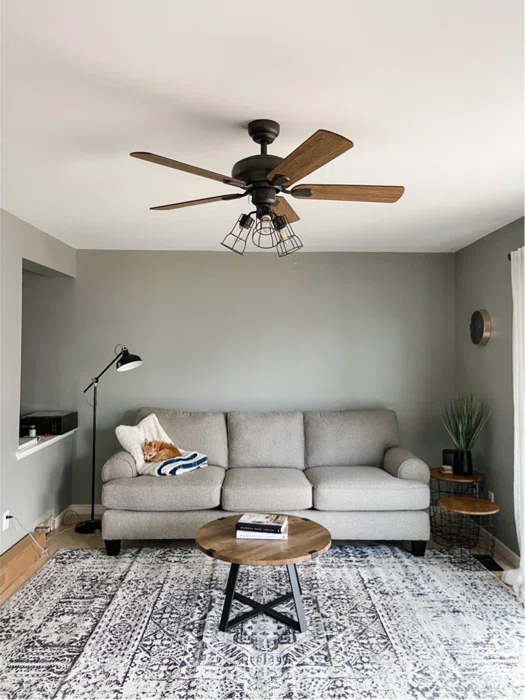 An all gray living room is absolutely timeless and stunning. Hence, playing with the various shades of gray in the form of furniture, walls, rugs, and curtains is a great way to achieve a magnificent palette. And especially for interior design styles like minimalism, contemporary, and modern – this is something to look forward to!
However, you can also add a touch of a black hue with the help of furniture legs and lighting fixtures in your living room.
Quirky Modern Living Room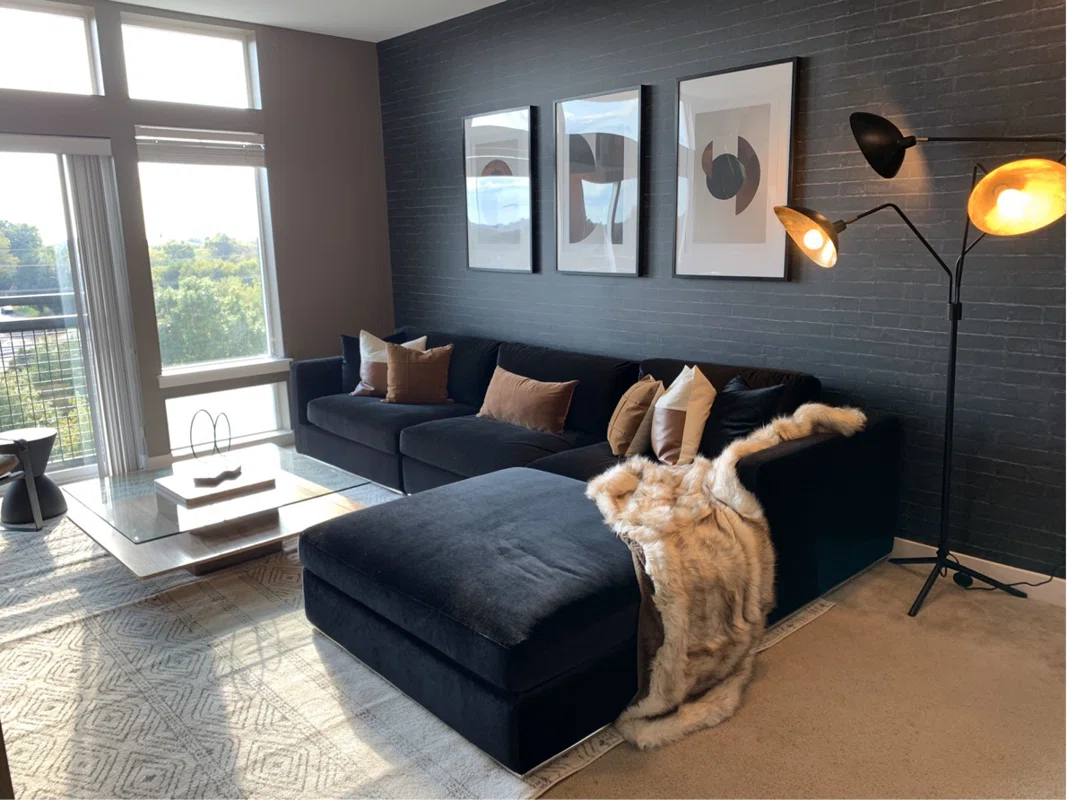 You don't necessarily have to achieve a clean and sleek look in your black and gray living room. Well, sometimes, you can add pops of hues like burnt umber, dark beige, and brown to create an eclectic and stark effect.
And let's face it – a combination of the black accent wall and black couch is never a bad idea. So, isn't this modern living room something that you would love to snuggle in?
Airy Black and Gray Living Room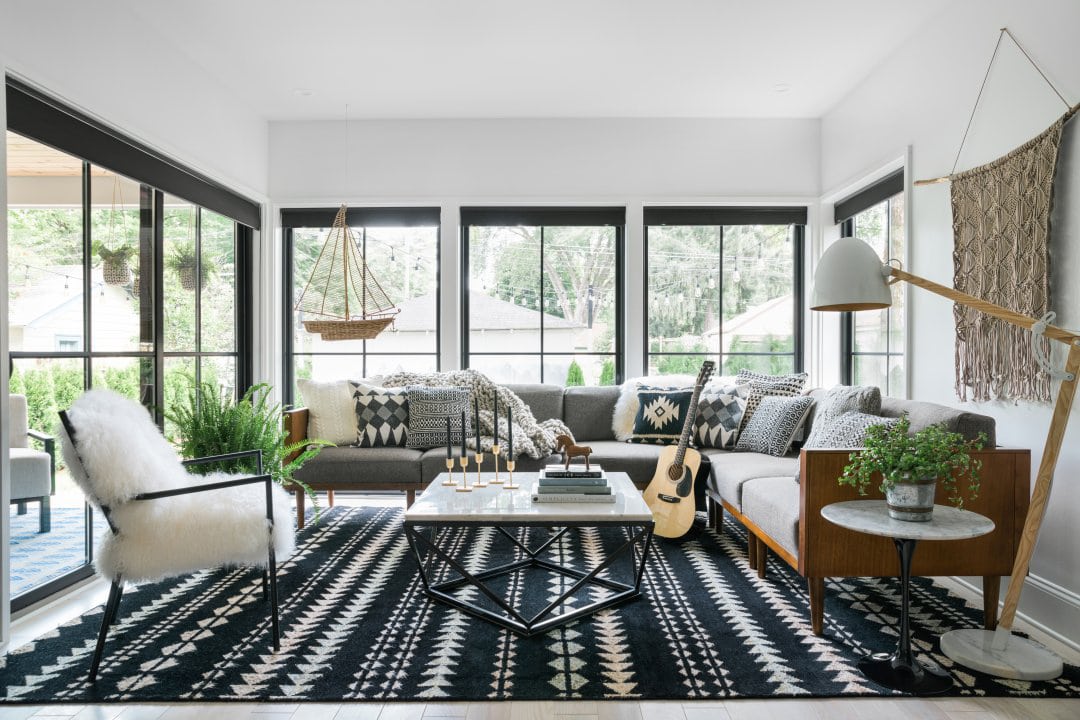 It's not necessary for your black and gray living room to be dark, bold, and daring. Sometimes, you can absolutely achieve an airy and lively look with these overpowering hues on board. With the pure white color on the walls, you can style a gray couch with a notable black window frame and a large area rug.
Lastly, don't forget to add a few patterns like zig-zag and textures like faux or fur to further complete the palette. This way, you get the best of both worlds!
Minimalist Black and Gray Living Room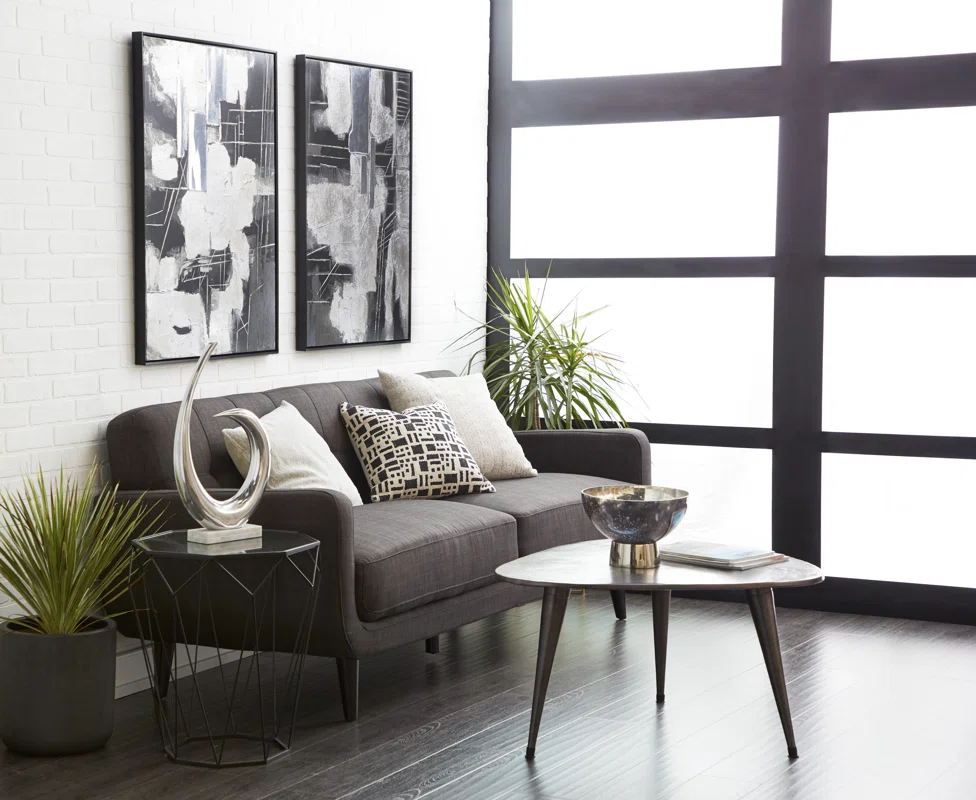 A combination of dark hardwood floors, white walls, dark gray furniture fabric, indoor plants, and black window frames will never go out of style. Sleek and minimal – this modern gray and black living room is something to look forward to.
Furthermore, let's not ignore the metallic centerpiece that steals all the attention. With a dark gray couch, you must have a black and white patterned throw pillow that adds a sense of depth to the room.
Gray Walls with Black Furniture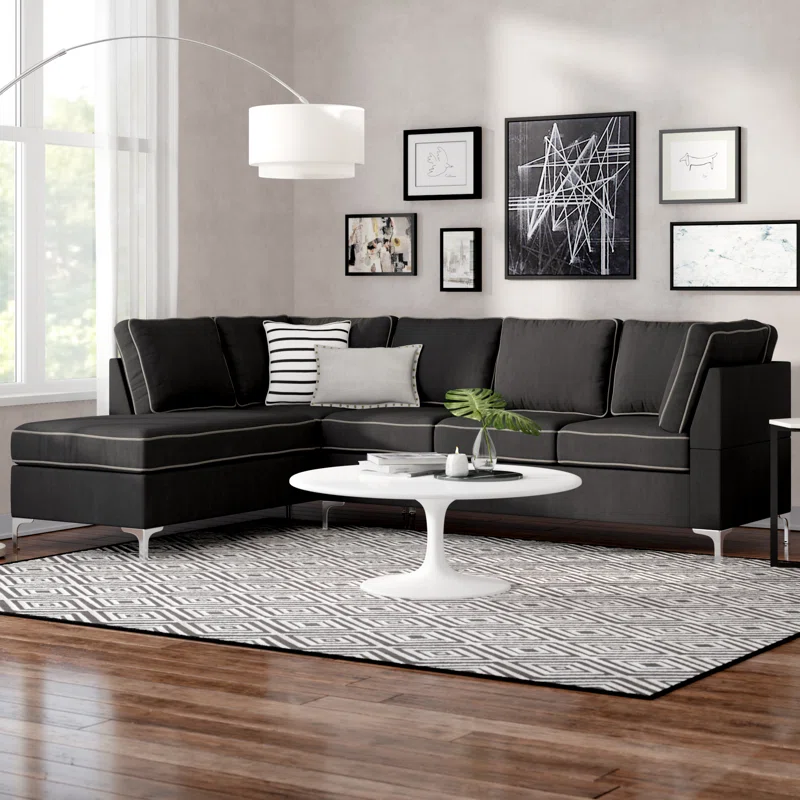 This enticing black and gray living room features a bold black couch, light gray walls, monochromatic pair of artwork, and a patterned gray area rug. Well, there are various advantages of styling a black couch – mainly that it is easy to maintain and easy to clean.
Furthermore, don't hold back from styling a white arched floor lamp, round white coffee table, and patterned throw pillows.
Gray and Black with Wooden Textures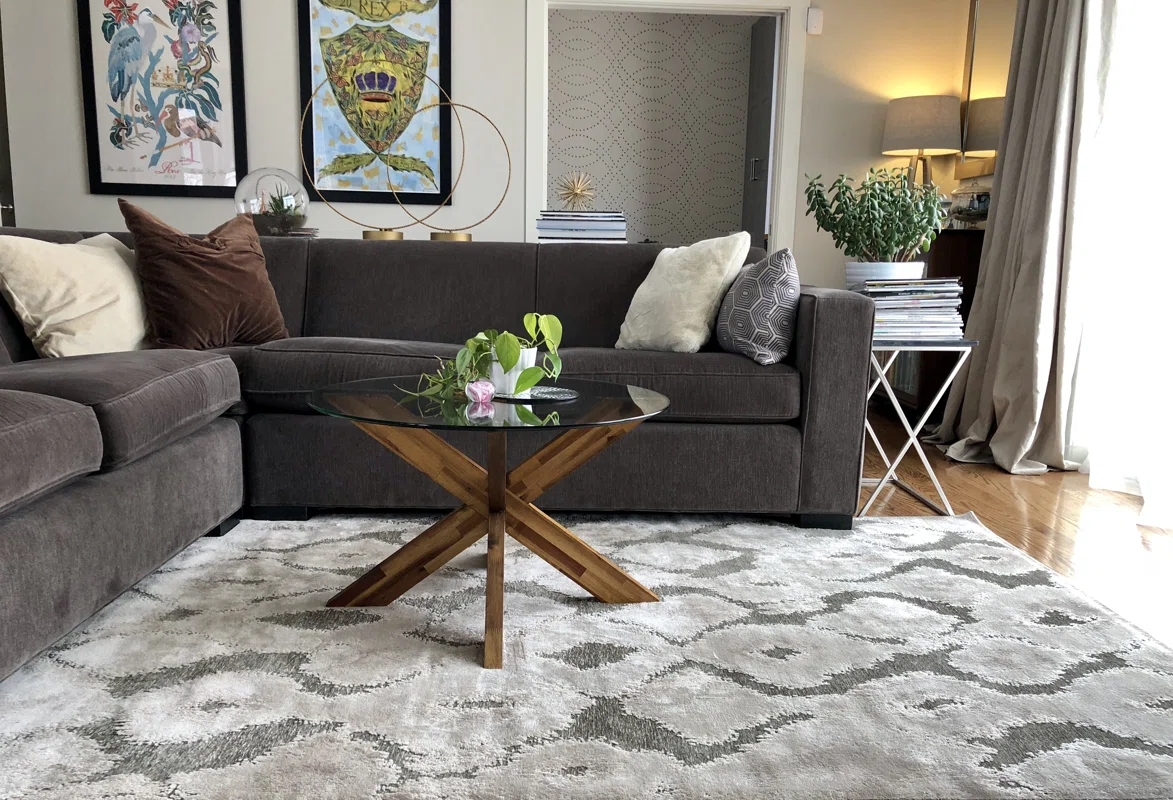 Whether you have a modern style or mid-century, this gray and black living room has the utmost charm and delight. And also if you have a maximalist style, you can absolutely style centerpieces, indoor plants, novels, sculptures, and artworks.
Moreover, the rich walnut textures will further complete the palette. Believe it or not, you will never get bored of this panorama as it will always spark a sense of energy into your room.
Modern Contemporary Living Room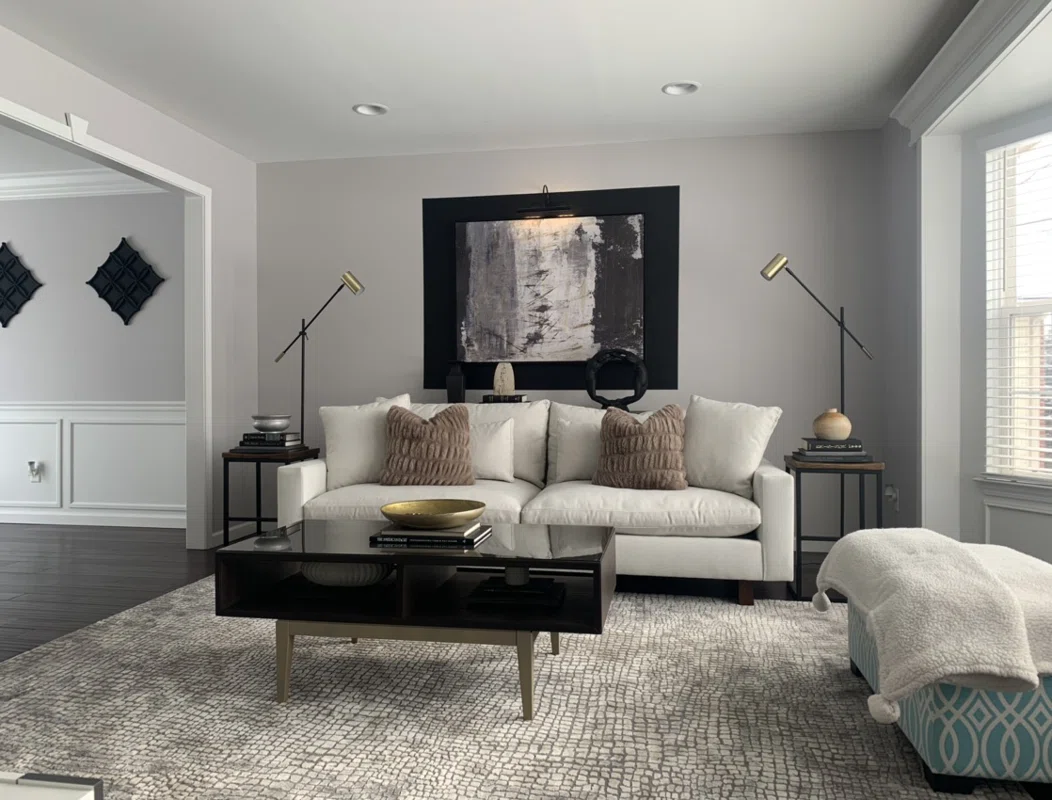 The combination of black, warm and cool gray, and white will always create a flabbergasting experience in the living room. This clean white couch has a beautiful gray backdrop with a black-framed artwork for a perfect contemporary appeal.
Furthermore, adding tinges of gold through lighting fixtures, centerpieces, and furniture legs will further add a pop of visual interest and contrast. Silver on the area rug is equally appealing and pleasing!
Warm Black and White Living Room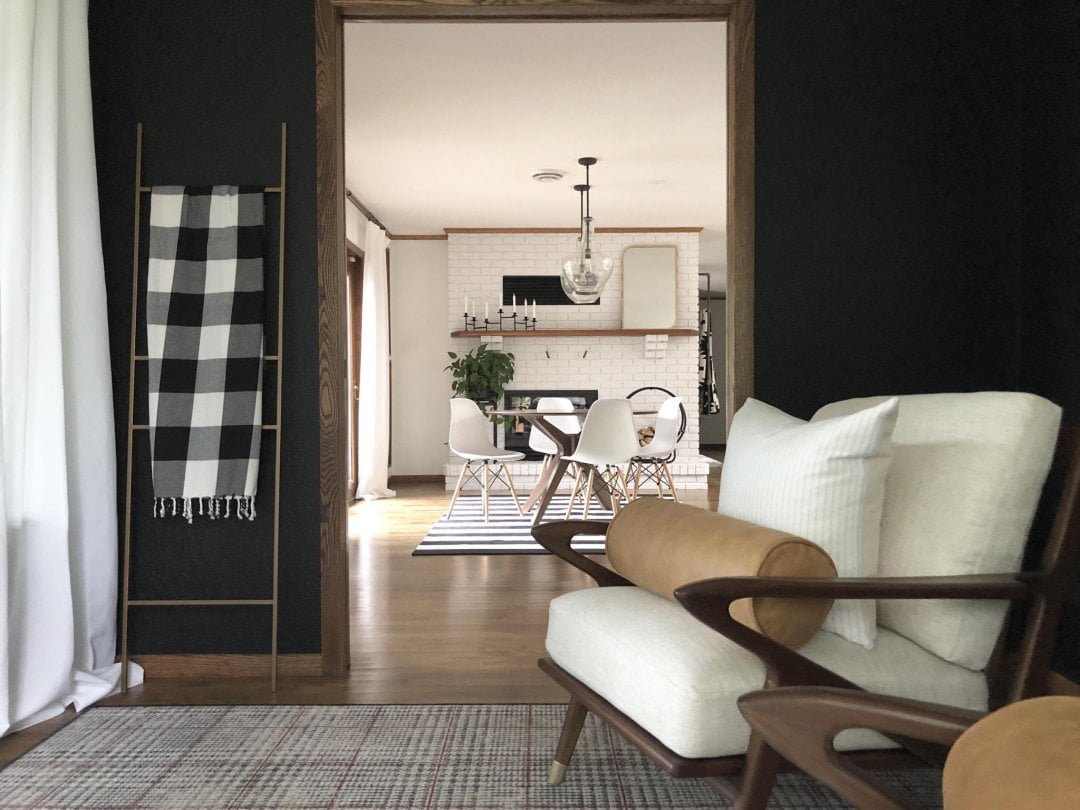 Your black and gray living room doesn't necessarily have to be chilly, cold, refined, and sleek. Sometimes, it can be warm, cozy, and welcoming – all with the help of warm neutrals, warm rustic wooden textures, fresh indoor plants, and solid hardwood floors.
And if you have an empty wall in your living room – it's time to rest that ladder against it and hang a buffalo plaid blanket to grab attention.
Summing It Up
It's time to make the living room a cozy yet sophisticated corner in your home. And a black and gray palette is the way to it! Whether you plan to paint the walls in black and let the furniture in gray or vice versa – this palette will never go out of style. So, are you intrigued by any particular modern black and gray living room design? Well, do let me know in the comments below!