Decorated Life is reader-supported. When you buy through links on our site, we may earn an affiliate commission. Learn More
Should Your Kitchen Floor be Darker than Your Cabinets?
Your flooring and cabinets are two central components of your kitchen design – which probably has you wondering how to coordinate them.
One common question we get is whether the kitchen floor should be darker than the cabinets.
And luckily, the answer is no.
Your kitchen floor should contrast your cabinets, but that doesn't mean it needs to be darker. Instead, if you have dark cabinets, go for a mid to light floor; if you have light cabinets, go for a medium to dark-toned floor.
Here are some more tips for coordinating your kitchen floor and cabinets.
How to Coordinate Your Kitchen Floor with Your Cabinets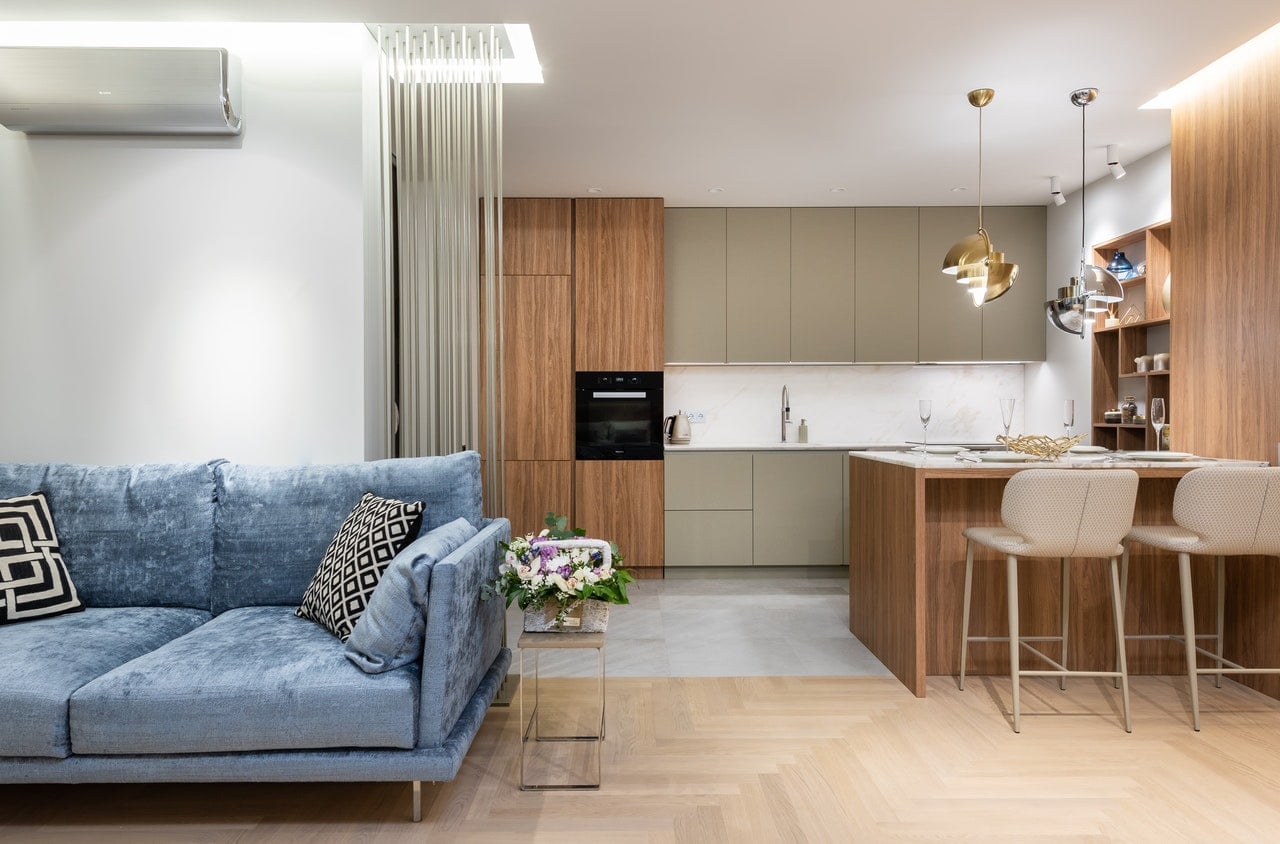 You can follow three basic rules to ensure your kitchen floor coordinates with your cabinets.
The first rule is the most important: contrast the colors. The biggest kitchen design mistake is matching your floors to your cabinets.
The other two rules are either/or – coordinate or complement.
If you have wood cabinets, coordinate using a wood floor with similar undertones. Or, choose a complementary flooring color based on the color wheel.
Here's more on each rule.
Contrast the Color
If you want your kitchen floor and cabinets to coordinate, you need to contrast the colors.
Your floor should always be at least two shades lighter or darker than your cabinets. For example, if you have honey oak kitchen cabinets, don't use that shade on the floor. If you do, your kitchen will look very blocky and, visually, fall flat.
Use Similar Undertones
When choosing a hardwood floor to go with a wood kitchen cabinet, matching undertones is essential.
For example, natural oak cabinets have warm undertones. You can coordinate by using a warm oak floor stained a medium brown. If you want a lighter floor, you could use a warm-tone white oak.
If you're going wood-on-wood in your kitchen, pay attention to the cabinet undertones. Then, choose a floor with similar undertones but a different shade than the cabinets.
Use Complementary Colors
If you have painted cabinets or are choosing vinyl or tile rather than hardwood, look for colors that complement each other.
(To find complementary colors, check out the color wheel.)
If you have hardwood floors in your kitchen that look a bit orange and need a cabinet to pair them with, based on color theory, blue would be the best choice. This is because blue complements orange, making your flooring look intentional rather than a design blunder.
Examples of Kitchens with Darker Floors than Cabinets
If you want your kitchen floor to be darker than your cabinets, here are some examples you can look at.
White Cabinets with Warm Wood Floors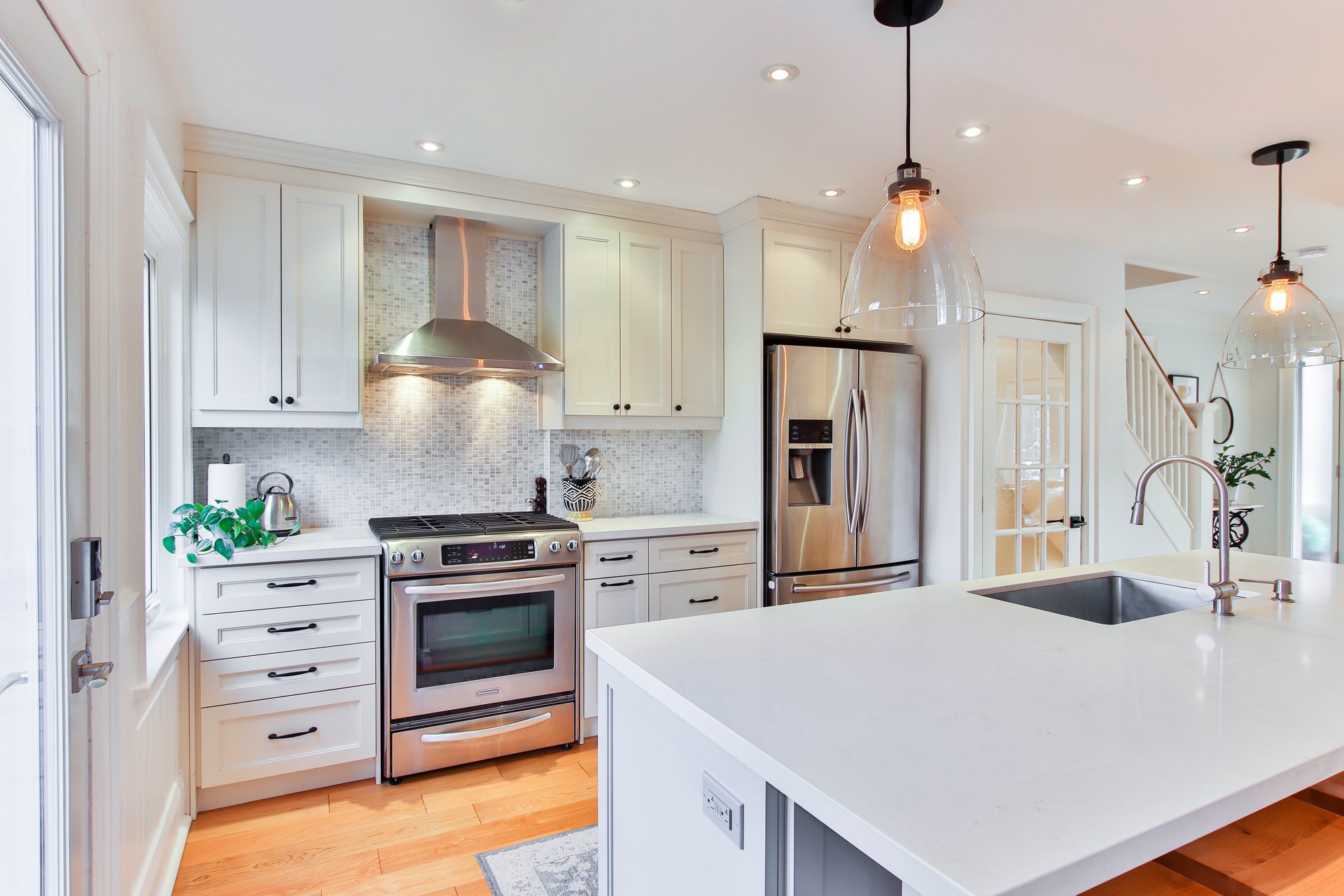 If you use white cabinets in your kitchen, your floor will naturally be darker than the cabinet color. The homeowners warmed up the white in this kitchen by adding a warm-tone hardwood floor.
Any mid to dark wood floor will coordinate if you have true white cabinets.
Green Cabinets with Red-Toned Wood Floors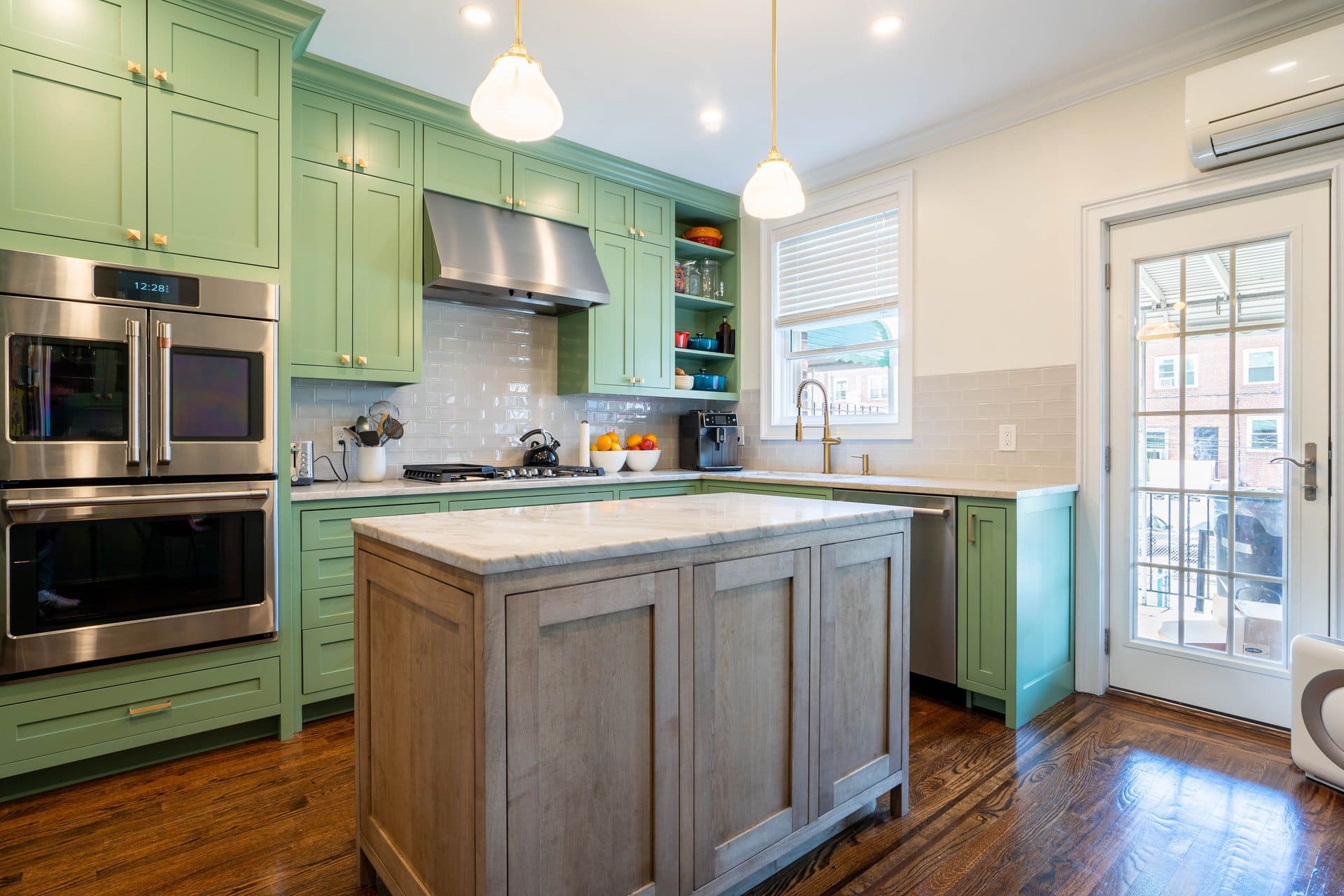 If you have a colored cabinet, one of the best things you can do is find a hardwood floor with complementary undertones.
In this example, the floor has a slightly warm red undertone. Even though the red undertones are subtle, they complement the green cabinet beautifully.
Wood Cabinets with Hardwood Floors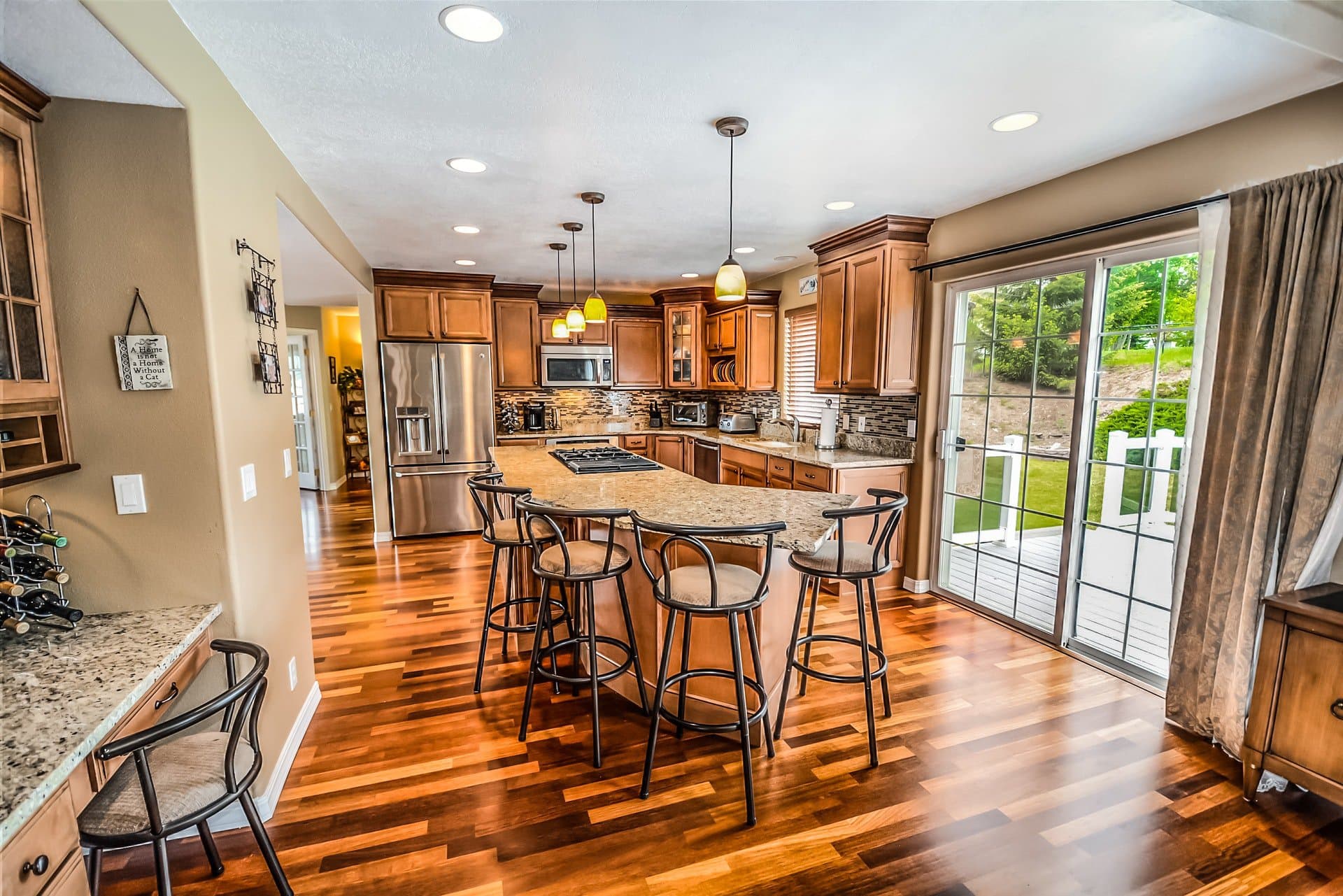 Wood cabinets and wood floors can be hard to get right, but the homeowners have perfectly executed the look in this example. They used a hardwood floor that has strips of the cabinet color running throughout.
The floor and cabinets are warm-toned, but the multi-shade floor helps create visual interest.
Examples of Kitchens with Lighter Floors than Cabinets
Right now, floor trends favor light options, making inspo pics of kitchens with light floors much easier to find. If you're thinking of going with a light kitchen floor, here are some examples.
Black Cabinets with a White Floor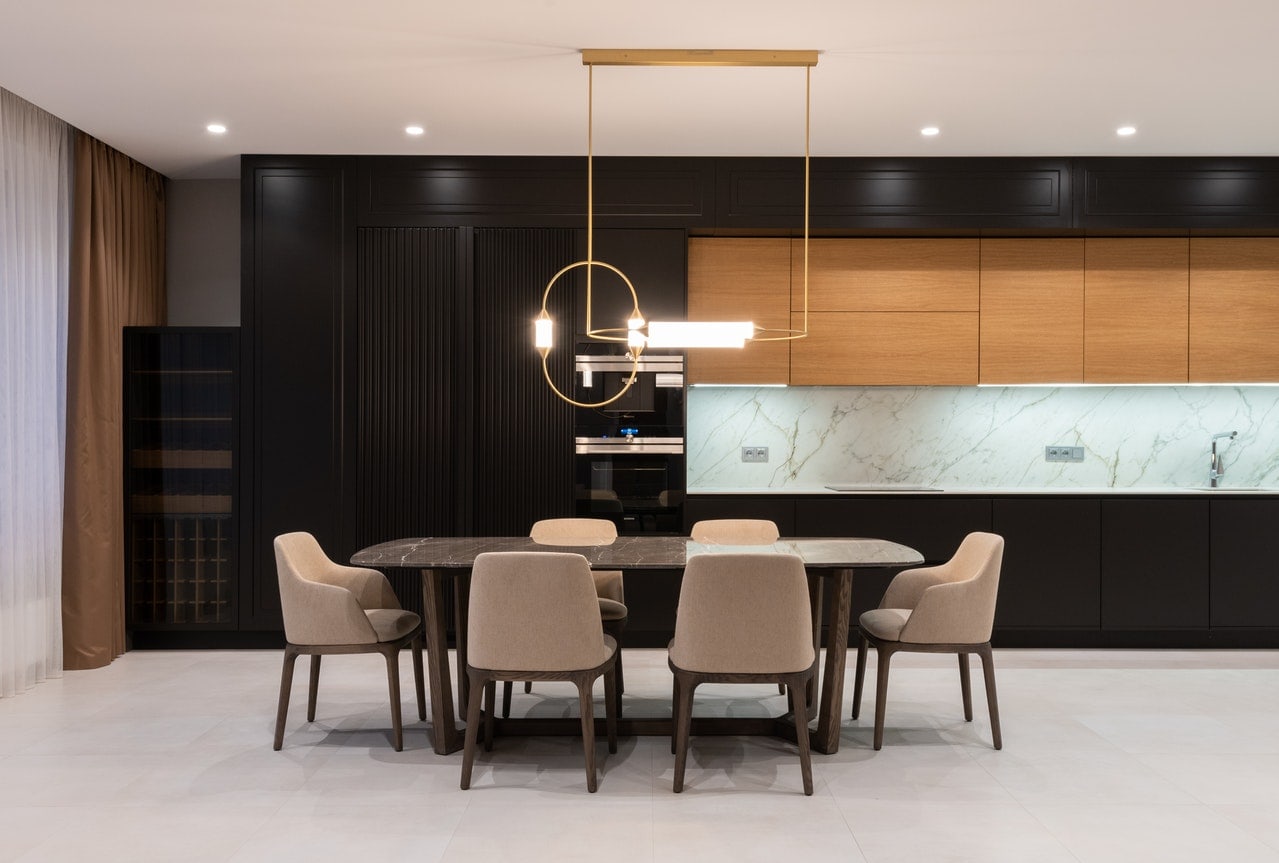 Black and white is a classic color combo. It looks high-end and will never go out of style. So if you have black or charcoal cabinets, one floor color to consider is white.
You can go with a white vinyl, tile, or marble floor.
Dark Cabinets with White-Washed Oak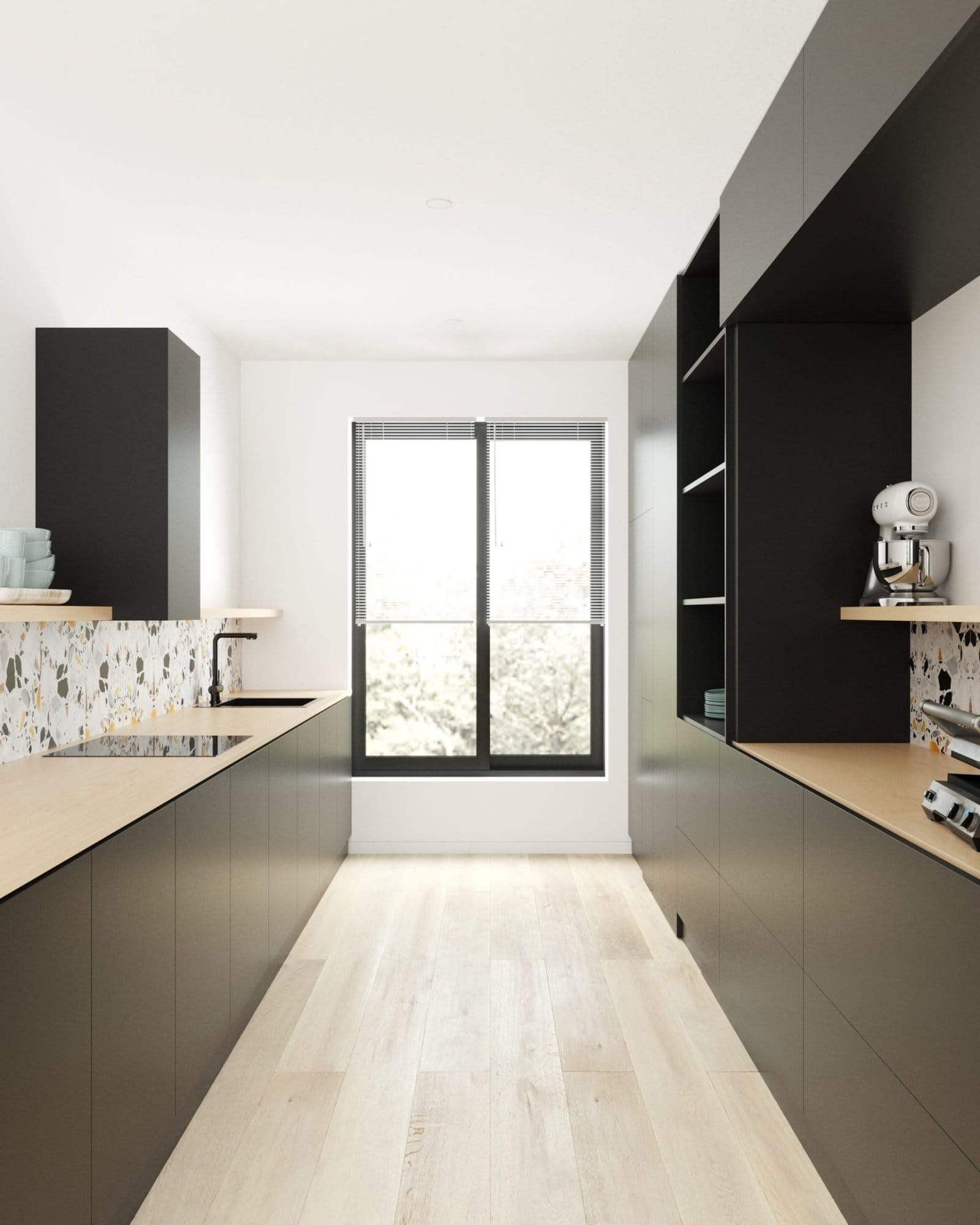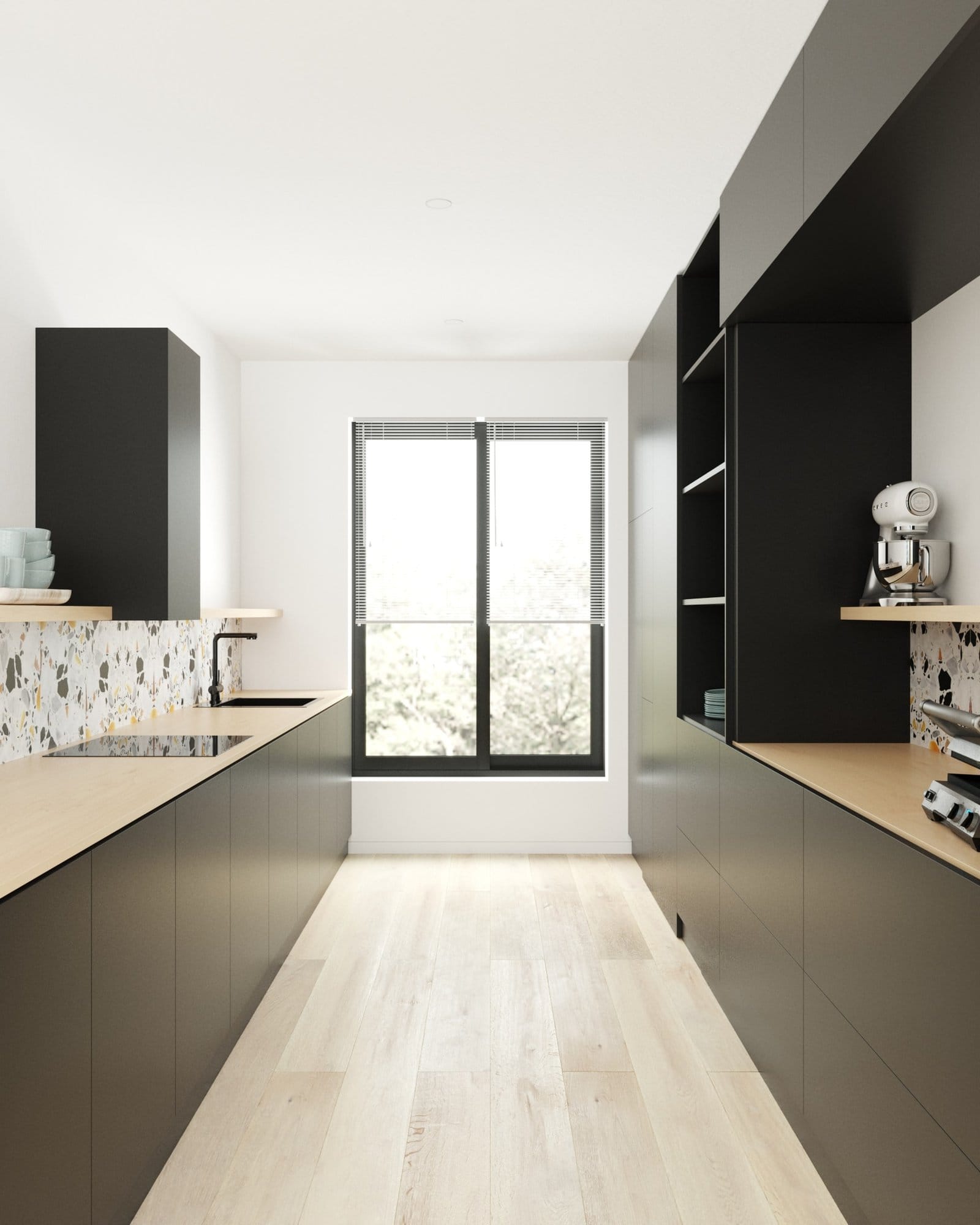 If you're going for a modern look, try a dark cabinet with super-light or white-washed wood. The look is high contrast and very contemporary.
But since white-washed oak is neutral and one of the most popular flooring options right now, you could use it with just about any cabinet color.
Blue Gray Cabinet with Pine Floors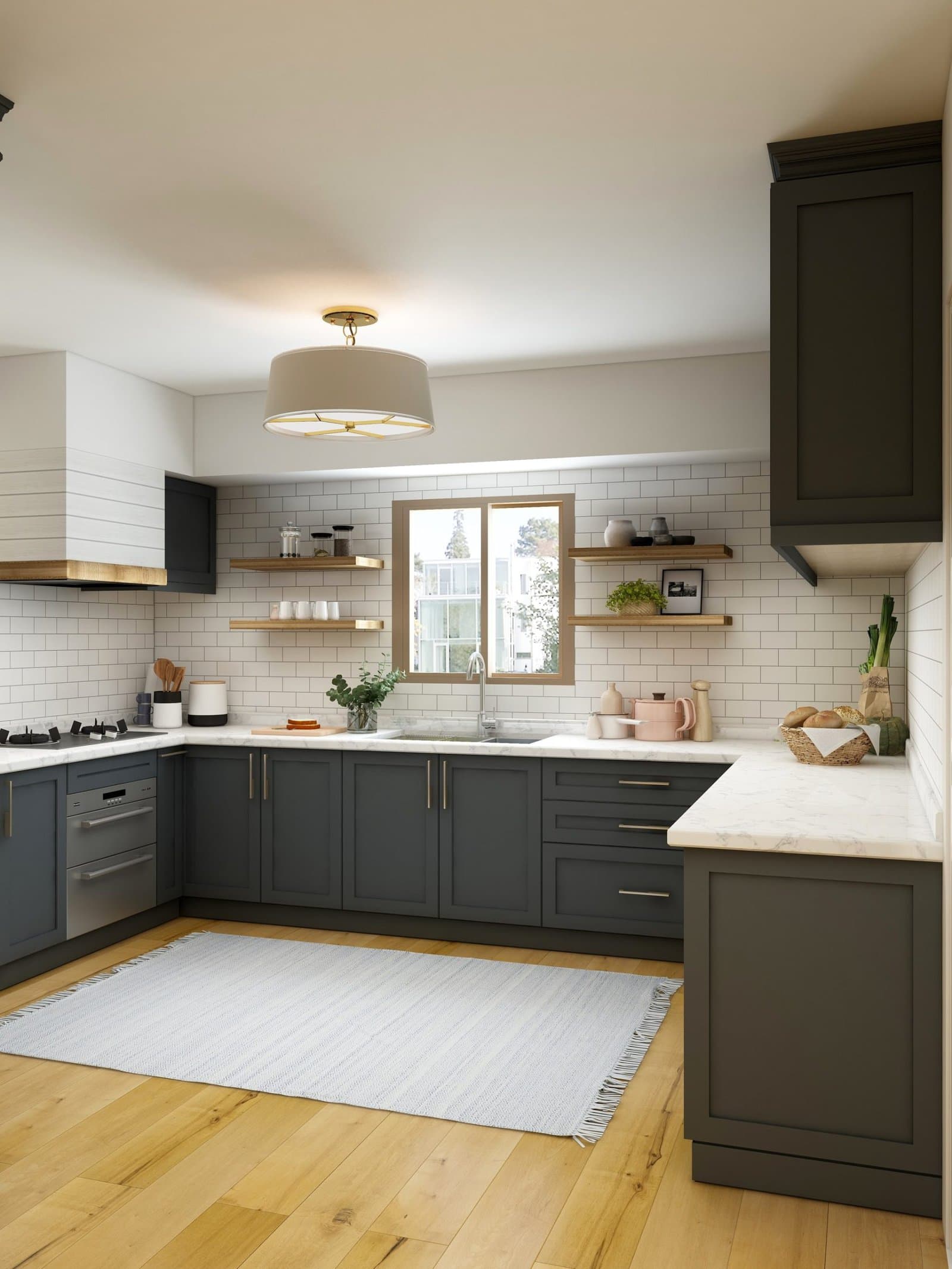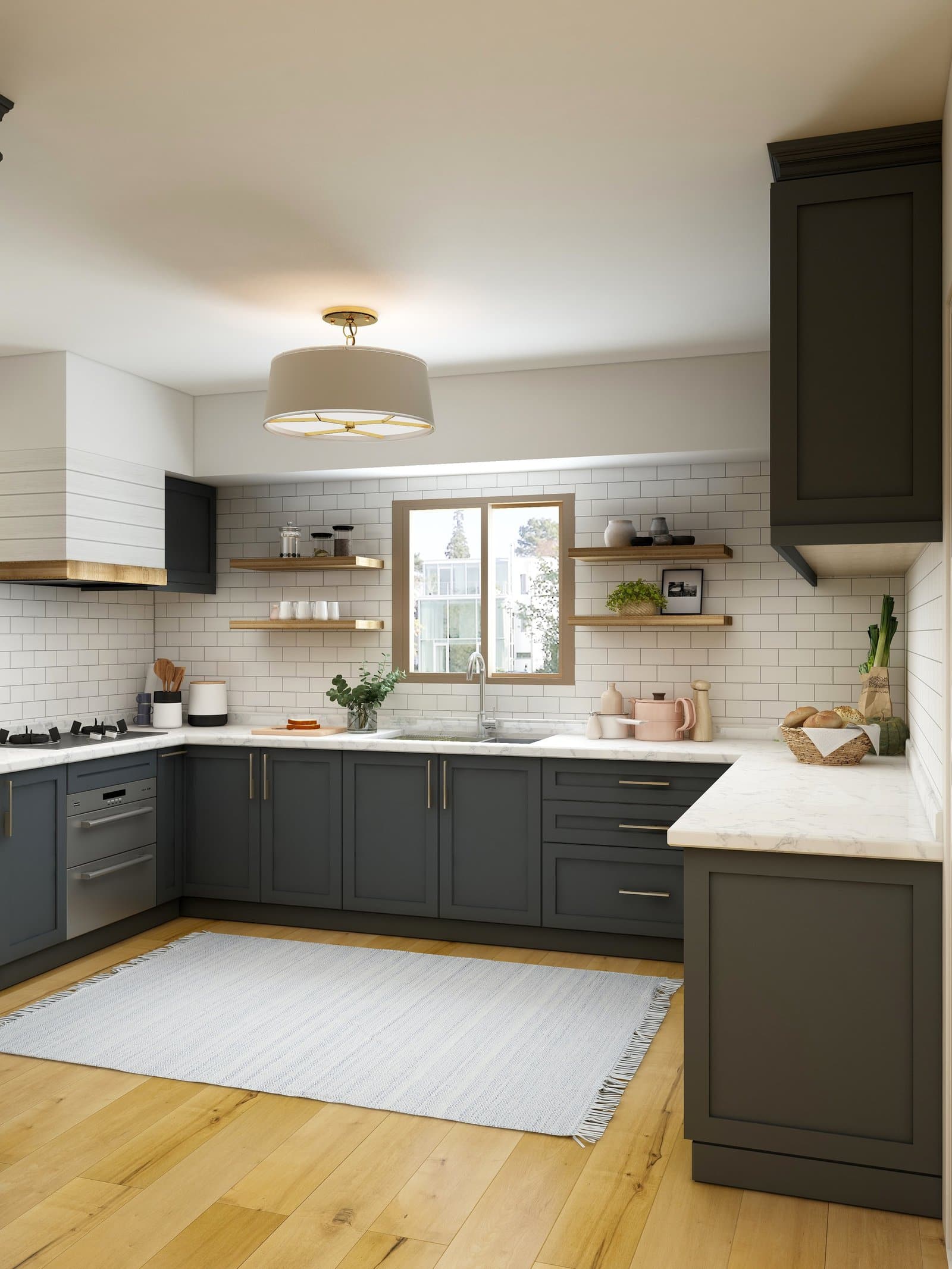 A yellow or mildly orange pine floor is one of the best flooring choices if you have a blue-gray cabinet. The color combo is stunning, as witnessed in this picture.
If you currently have orange or yellowish floors that you want to look better, go with a blue-toned cabinet.
Final Thoughts
If you're still wondering if your kitchen floor needs to be darker than your cabinets, it doesn't. The most critical mistake to avoid is matching your cabinet and floor colors. Doing so will make your room fall flat.
When coordinating your cabinet and floor, go at least two shades lighter or darker. For wood cabinets and wood floors, match the undertones. Otherwise, use complementary colors.