Decorated Life is reader-supported. When you buy through links on our site, we may earn an affiliate commission. Learn More
What Color Hardware for Navy Kitchen Cabinets?
Navy cabinets are very popular, and it's easy to see why. They give kitchens a modern vibe and can feel moody or classy.
But what color hardware goes with them?
While many hardware colors go with navy cabinets, you need to choose wisely. The hardware you pick will have a major influence on the look and feel of your space.
Want some inspo pics? Here are ten of the best hardware colors to consider.
Go Modern with Black + Gold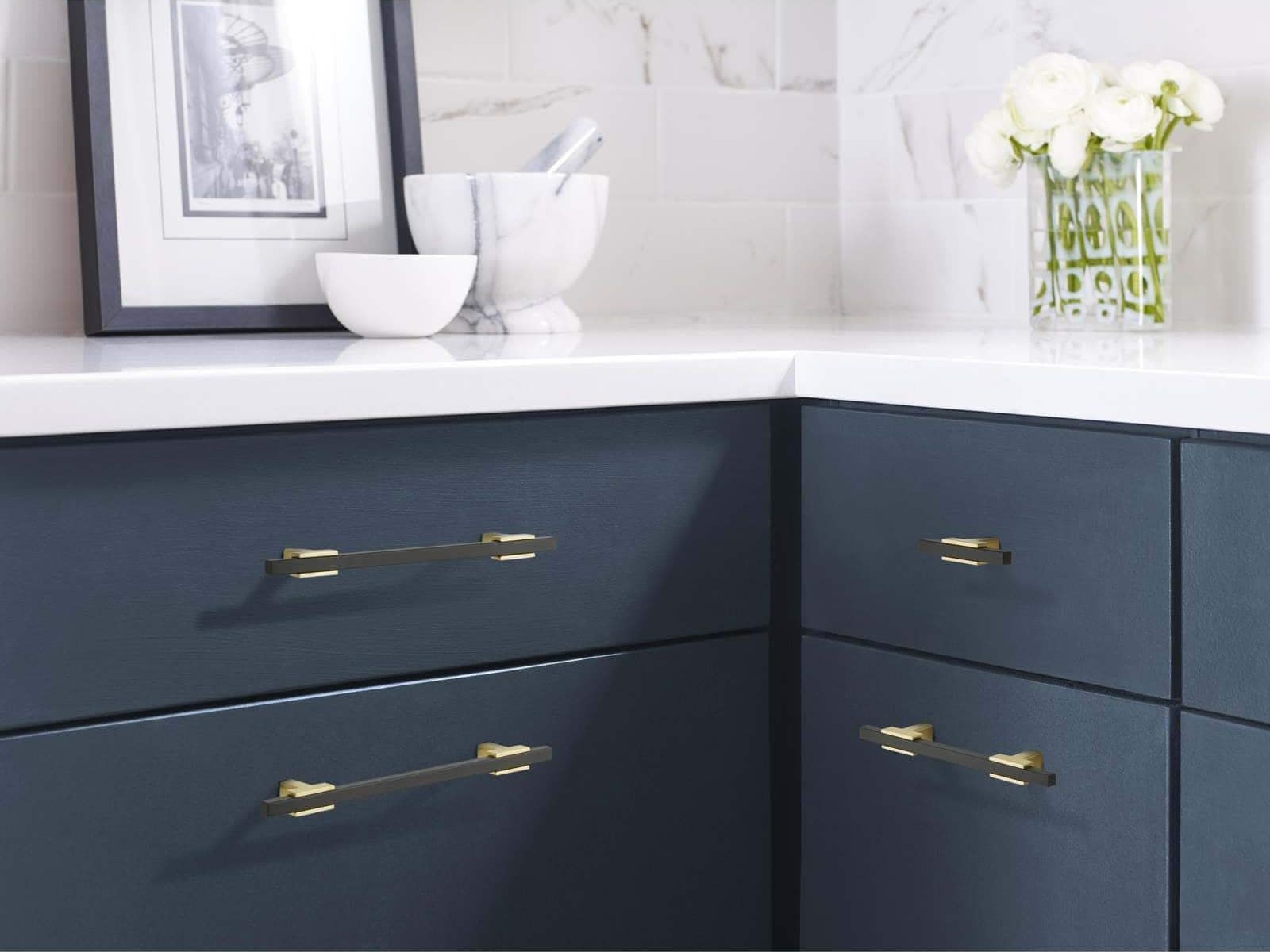 A navy cabinet with black hardware is a classic and low contrast look. If you like that look but want more visual interest, use a pull like this – a mix of black and gold.
These pulls from Overstock are 3 ¾ center-to-center. They feature a black bar over a simple gold piece for a modern take. You can use these on your cabinets and drawers or mix them with a gold or black knob.
Add Elegance with Champagne Bronze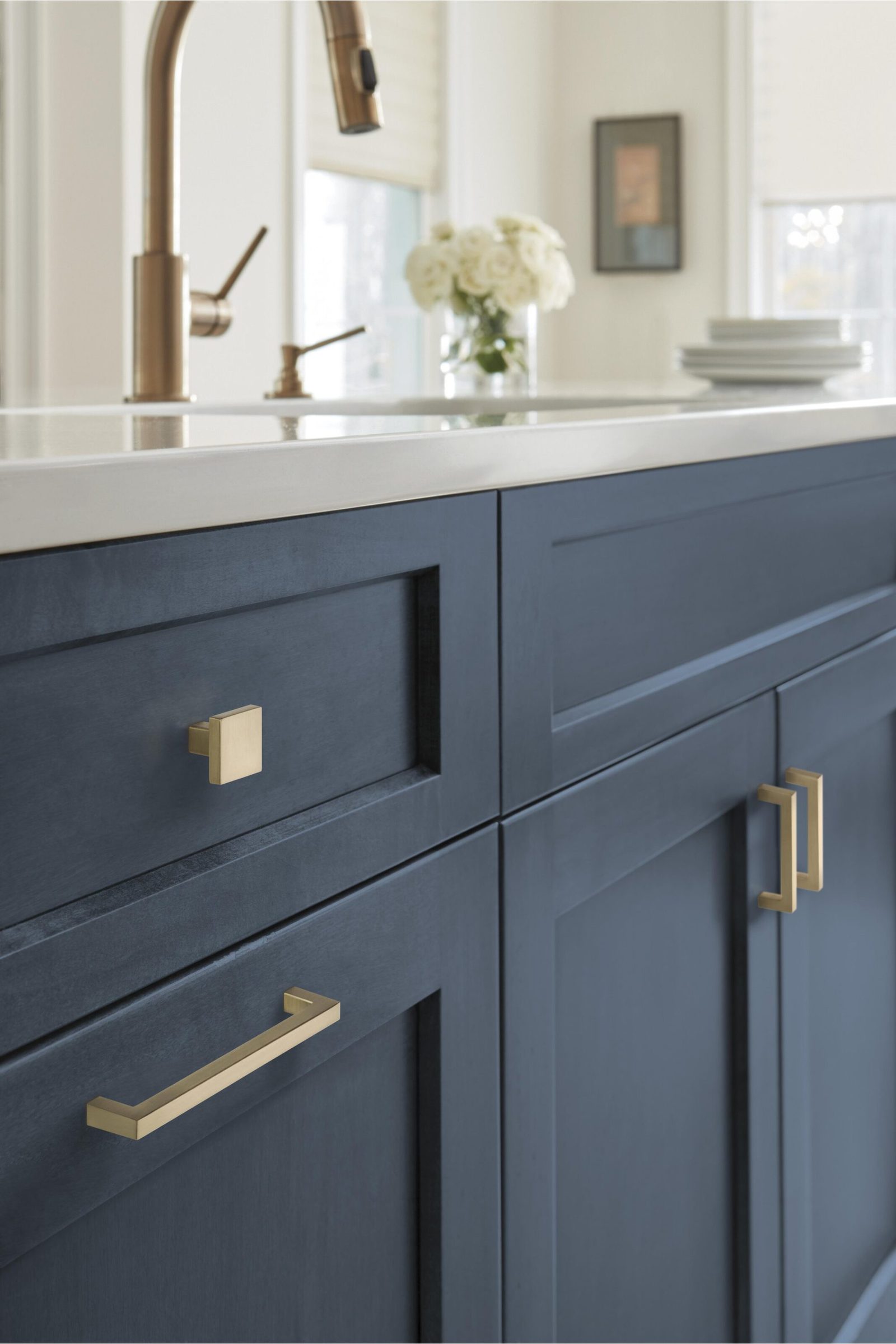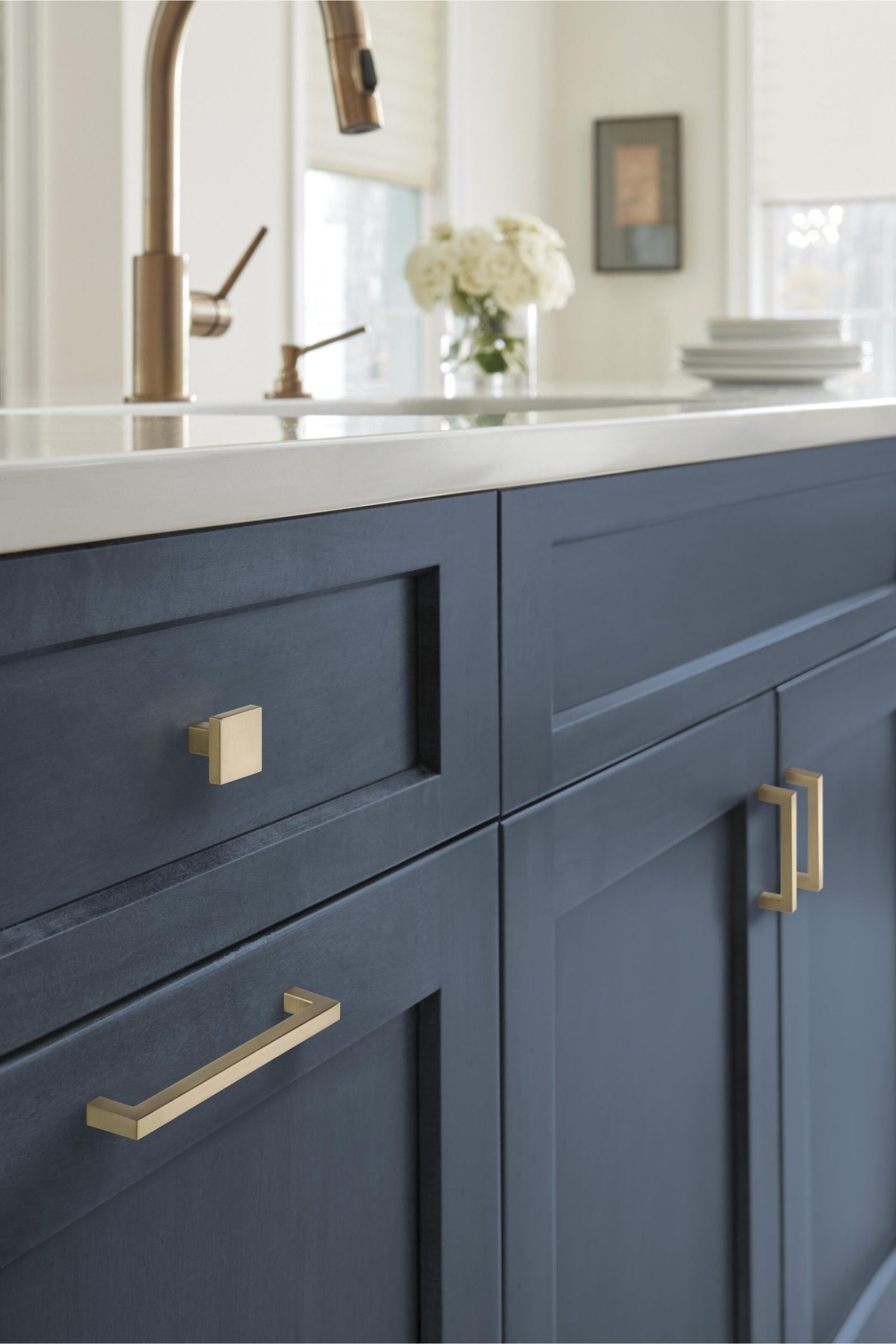 When it comes to blue cabinets, you want contrast between your cabinet color and hardware. But that doesn't mean you have to go with something stark. Instead, consider champagne bronze for a bit of softness.
You can find these champagne bronze pulls from Wayfair in sizes ranging from 3 ¾ inches all the way up to 8 13/16 inches. They will give your kitchen an elegant look.
Use a Mix of Brass Knobs and Pulls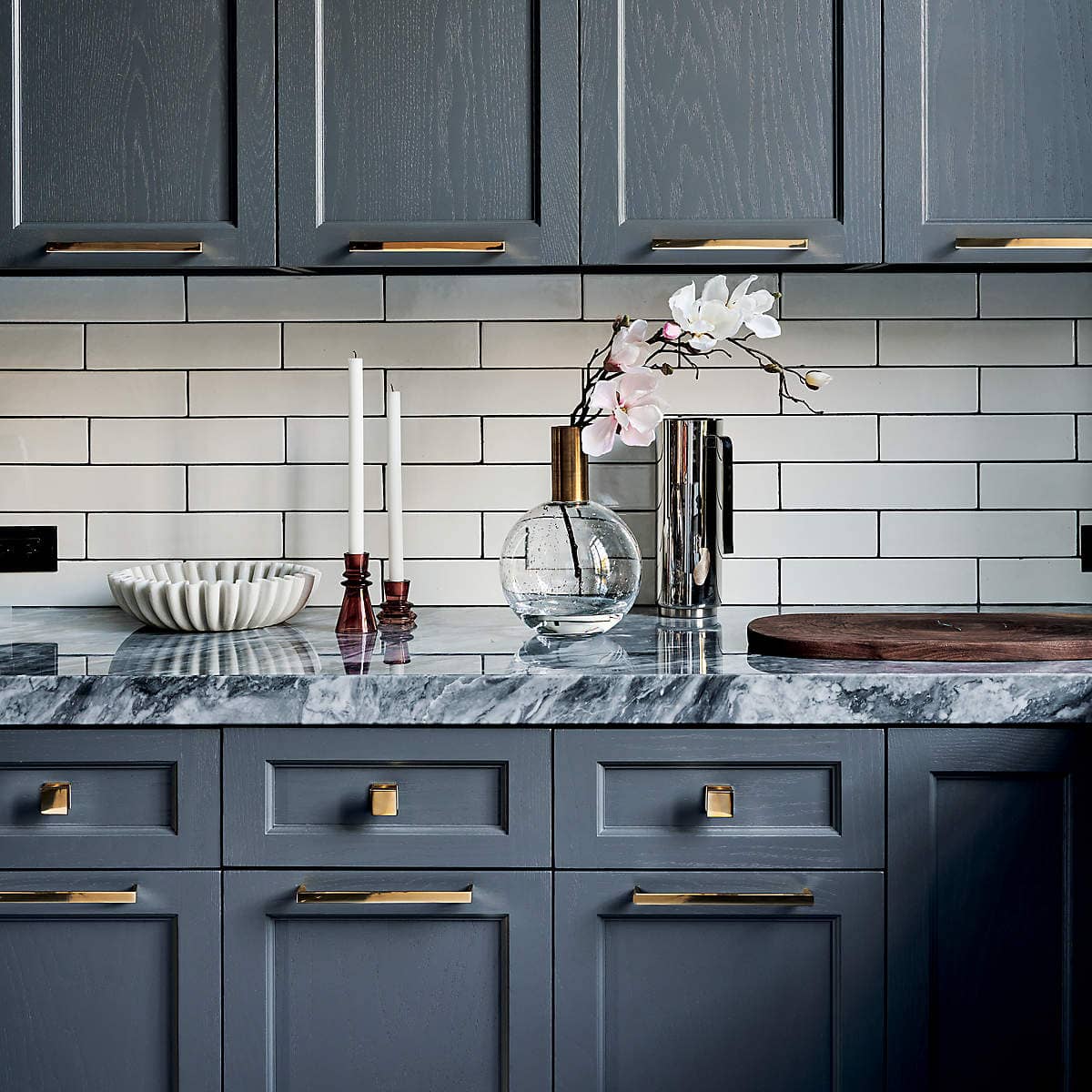 Brass hardware is a timeless option that is heavy-duty and will last for decades. It can give your kitchen a high-end look and pops against a navy cabinet.
These brass knobs are from CB2. You can get them in polished brass or brushed brass, depending on the style you like best. CB2 also has other brass knob and handle styles that will coordinate.
Contrast Navy with a Satin Nickel Pull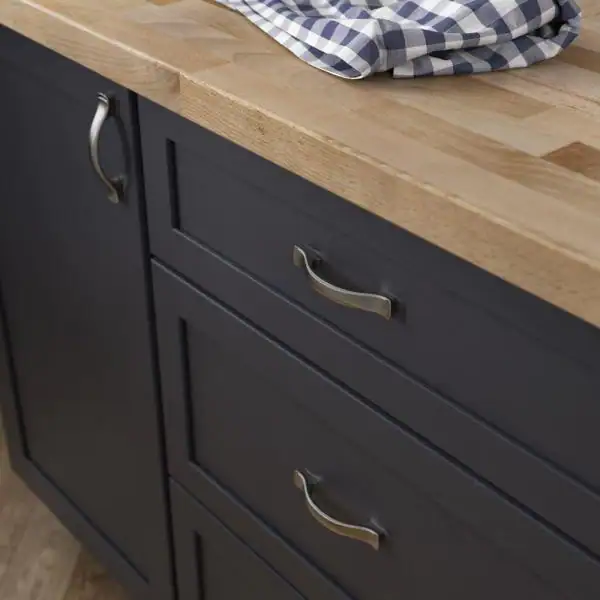 One of the most popular hardware options for blue cabinets is satin nickel. Satin nickel pairs effortlessly with navy and can look modern or casual, depending on the style of handle you go with.
These arched handles from Home Depot are suitable for traditional, country, or modern farmhouse-style kitchens. You can use them on your drawers and cabinets or mix and match with a satin nickel knob.
Consider an Antiqued Brass Knob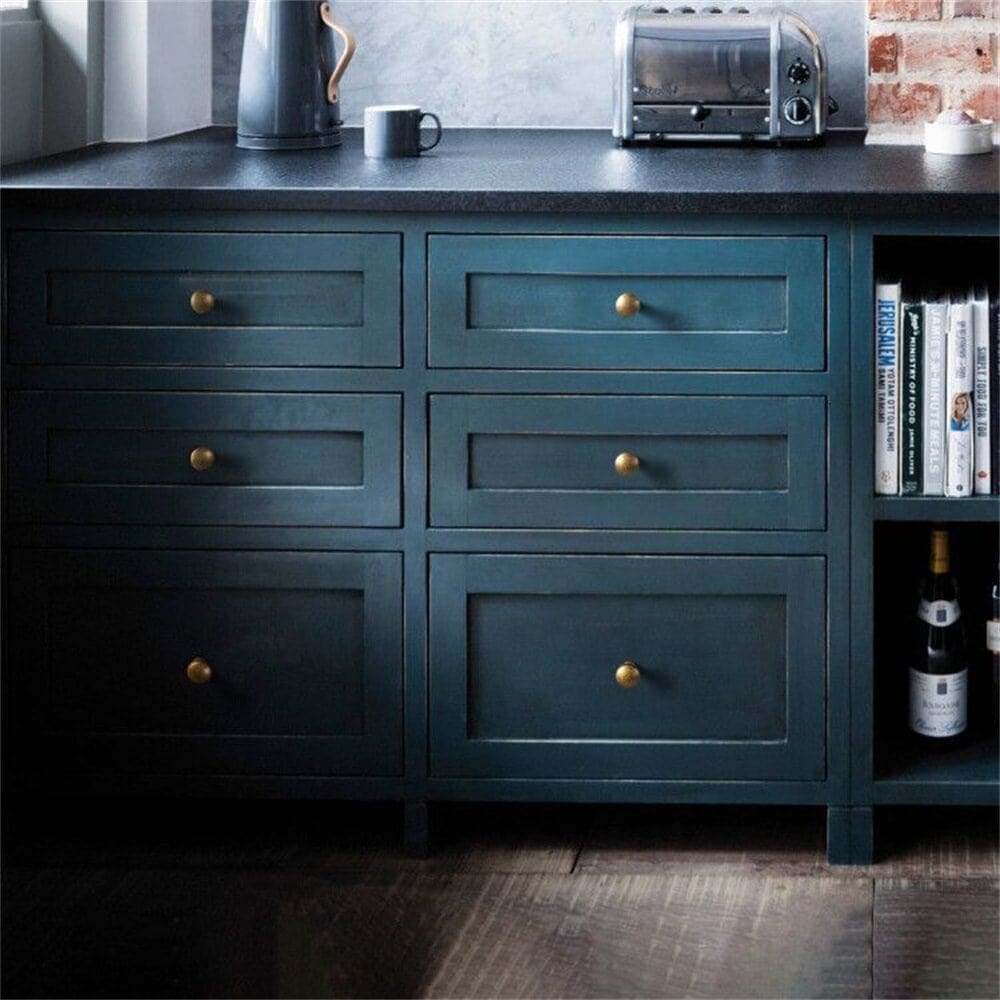 If you incorporate antique pieces into your kitchen design or want a lived-in feel, consider using an antiqued brass knob.
Brass, on its own, is very high-end. But it looks like it's been part of your kitchen for decades in an antiqued finish. You can use this with a solid navy, but it may look best if your cabinets have a bit of distressing to them.
Get a Transitional Look with Oil Rubbed Bronze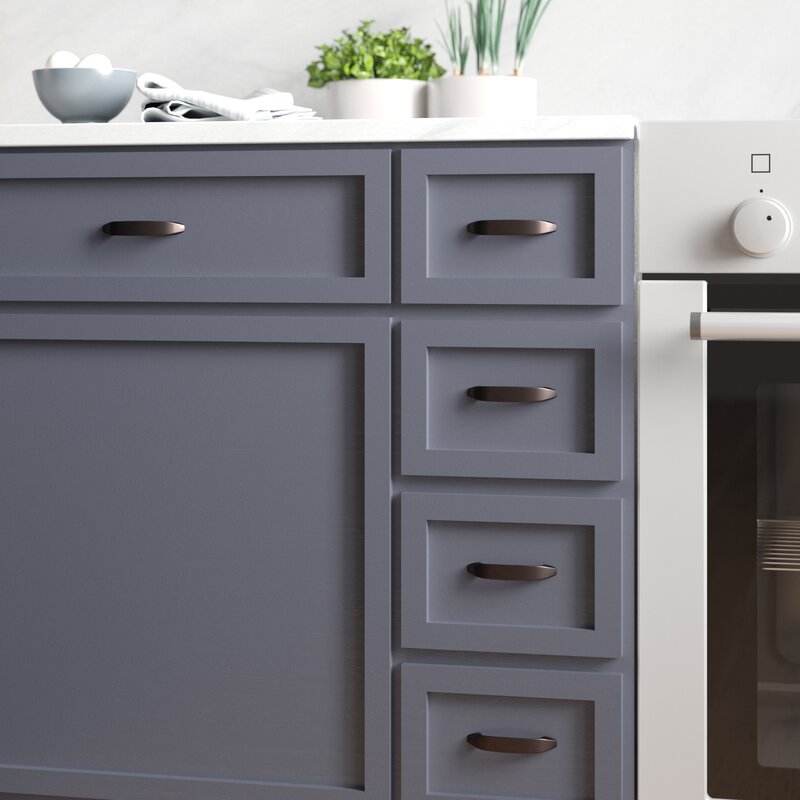 Are you worried that oil-rubbed bronze is out of style? It's not. While it's true that trends favor matte black right now, oil-rubbed bronze is classic.
If you want dark hardware that still offers warmth, this pull is the way to go. It looks modern without being cold and complements the coolness of blue cabinetry.
Use a Centered Bar Pull for a Modern Look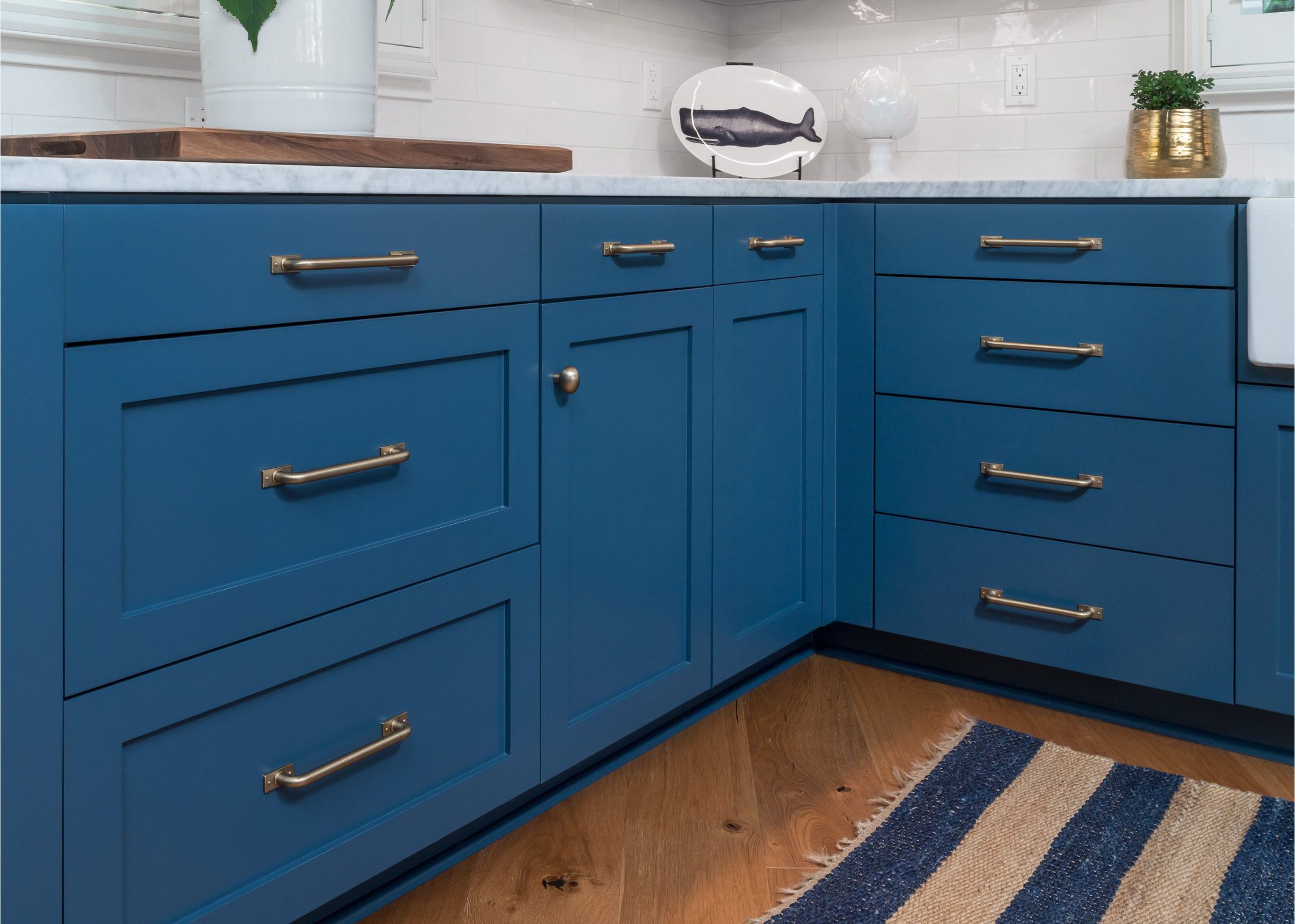 Centered bar pulls are an easy solution for a modern look. And if you want one with texture, be sure to check these out.
From Wayfair, these pulls are not entirely smooth. Instead, they have a hammered metal texture and come in several colors. You can get them in satin brass, satin nickel, matte black, and oil-rubbed bronze.
Soften Your Kitchen with Satin Brass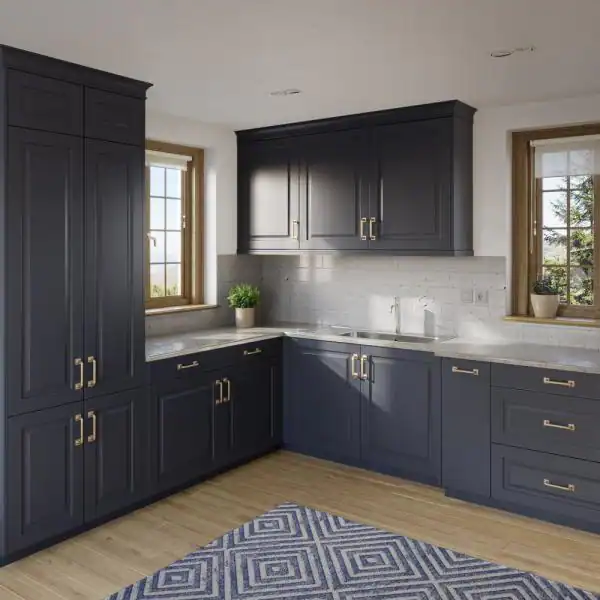 If you don't like the contrast of silver or nickel but want a metallic, satin brass is a softer option. This color hardware works well for modern and minimal kitchens.
These pulls from Home Depot are 3 ¾ inches long. You can also find knobs in this finish from the same manufacturer if you want to use a combo of pulls and knobs in your kitchen.
Go with the Gold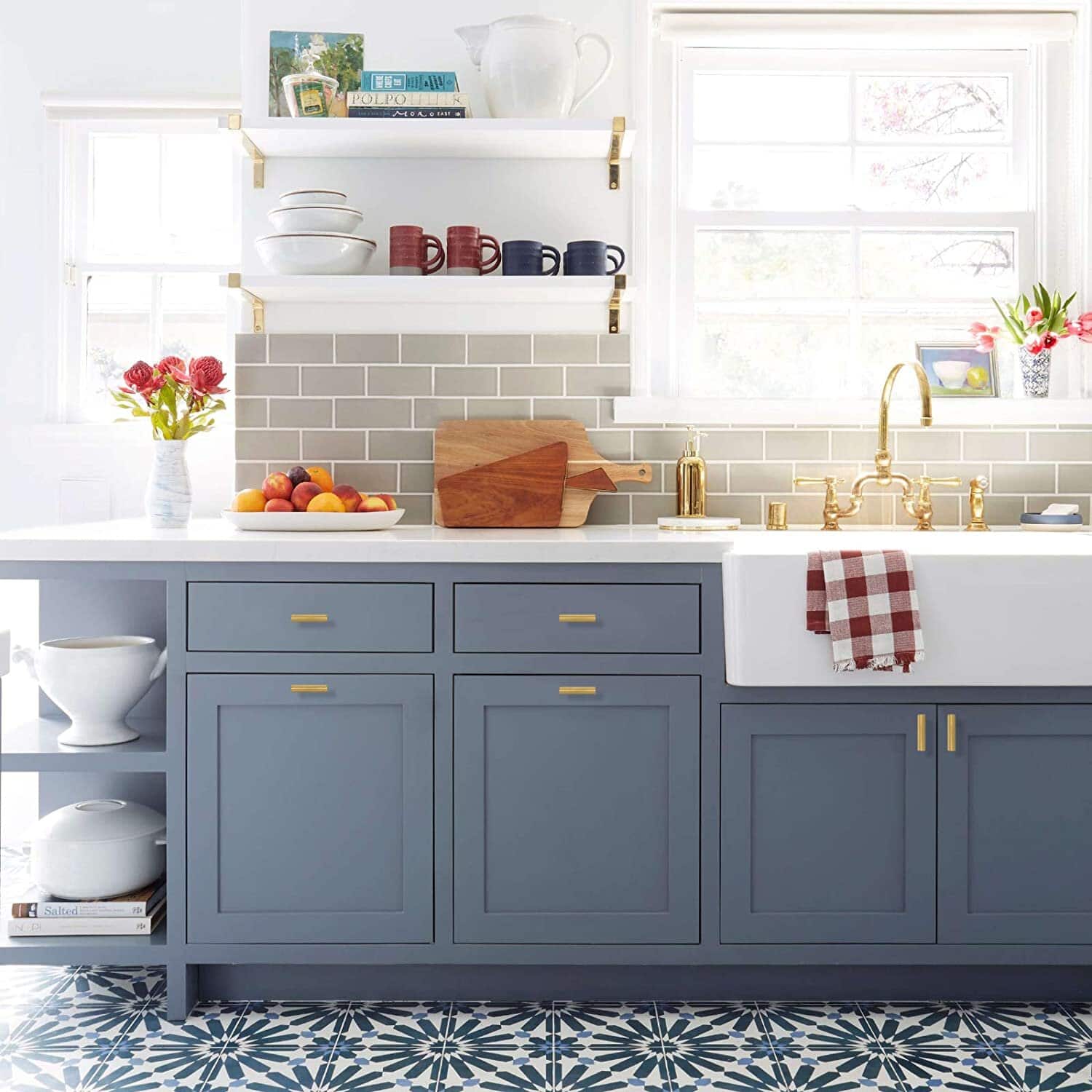 There's no doubt about it – gold hardware looks amazing against a navy background. And the great thing about gold is that it matches just about any decor. Depending on how you decorate, gold hardware can work with country, modern, farmhouse, or boho-styled kitchens.
You can find these gold pulls at Wayfair. They're only two inches long, so they can take the place of knobs on doors and drawers.
Complement Navy with Silver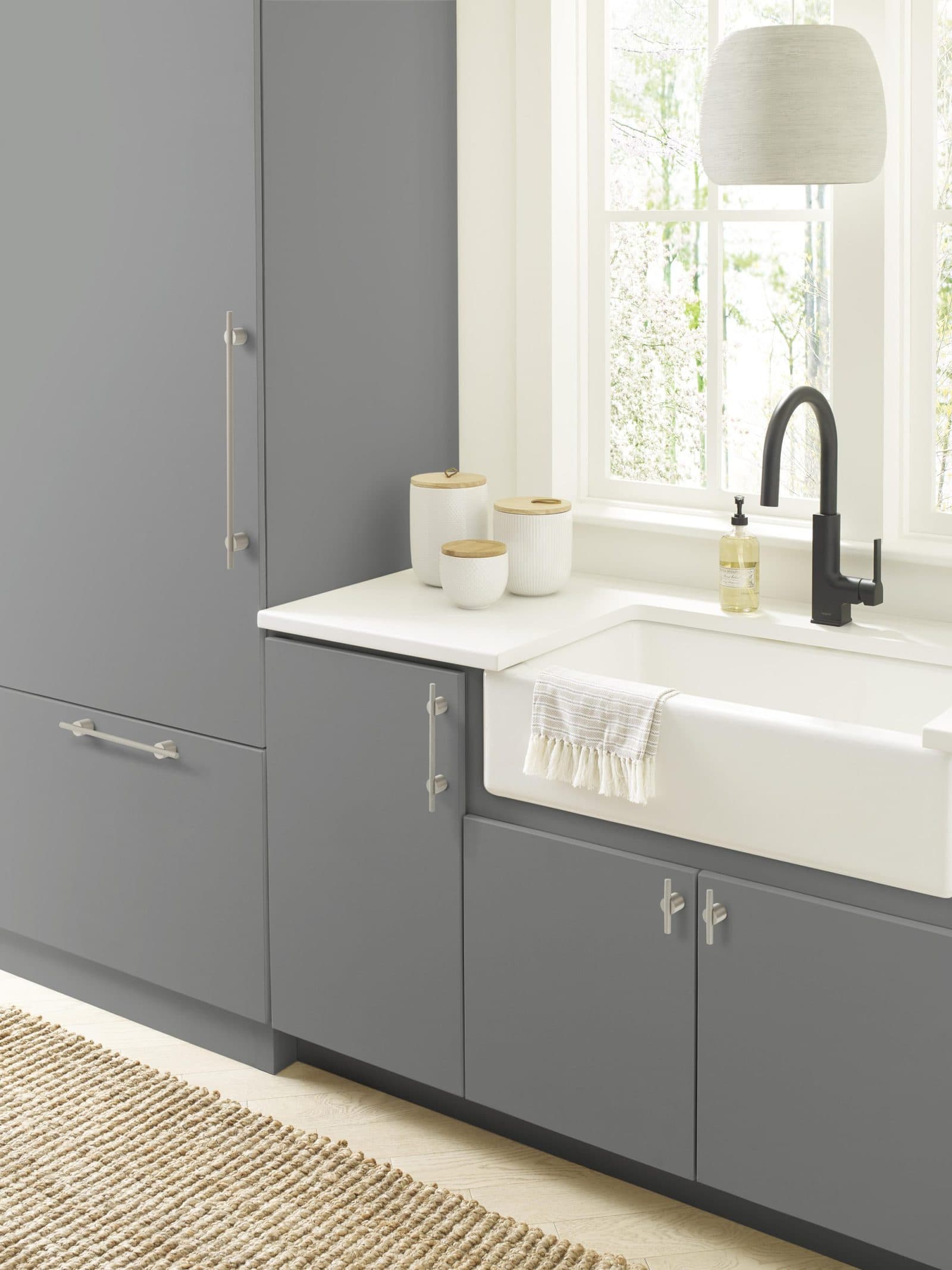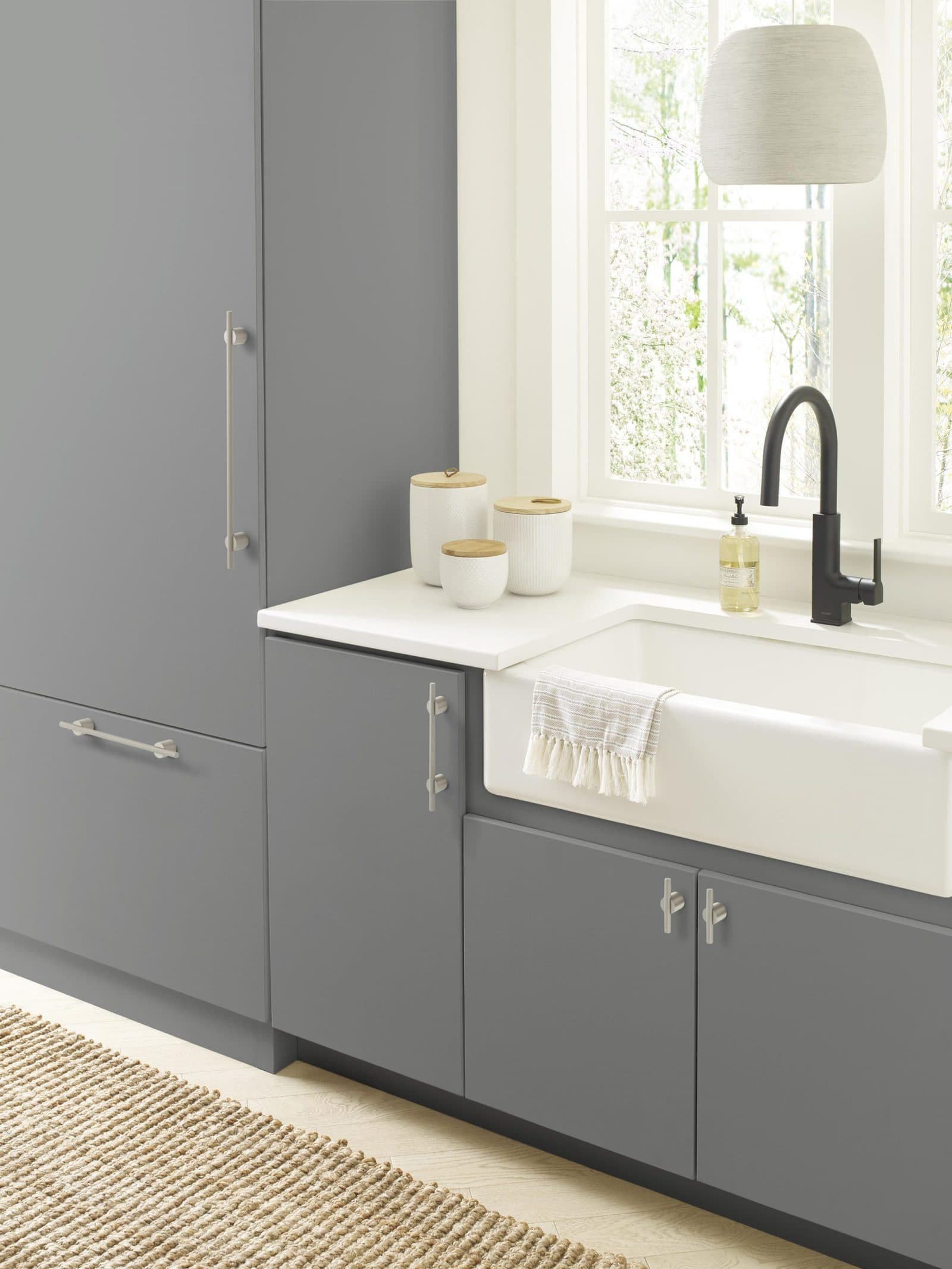 Silver provides high contrast against navy. So, if you want something that pops, this is a nice finish to consider.
These pulls from Wayfair have a textured bar, combining a modern and art deco look. They're much different than your average bar pull and will add dimension to your cabinets. If you don't want silver, you can find them in six other finishes.
Final Thoughts
Navy cabinets are beautiful. They are modern and can look moody, high-end, or even appropriate for farmhouse style, depending on how you decorate.
The hardware you choose will significantly impact the way your cabinets look. If you're unsure what to choose, consider ordering a few of your favorite pulls and see how they look against your cabinetry before committing.