Decorated Life is reader-supported. When you buy through links on our site, we may earn an affiliate commission. Learn More
20 Trendy Boho Kitchen Decor Ideas for 2023
When you ask ten different people what they think a Bohemian design consists of, you'll get ten unique answers. And when asked for our favorite Boho kitchen decor idea, we couldn't limit it to just one.
As we'll show throughout this collection of decor ideas, many boho designs look best when combining elements of different themes, materials, colors, and finishes. Check out these 20 Boho kitchen decor ideas for a broad view of what design choices you can make in your home.
Wrangle a Rustic Vibe with a Drum Light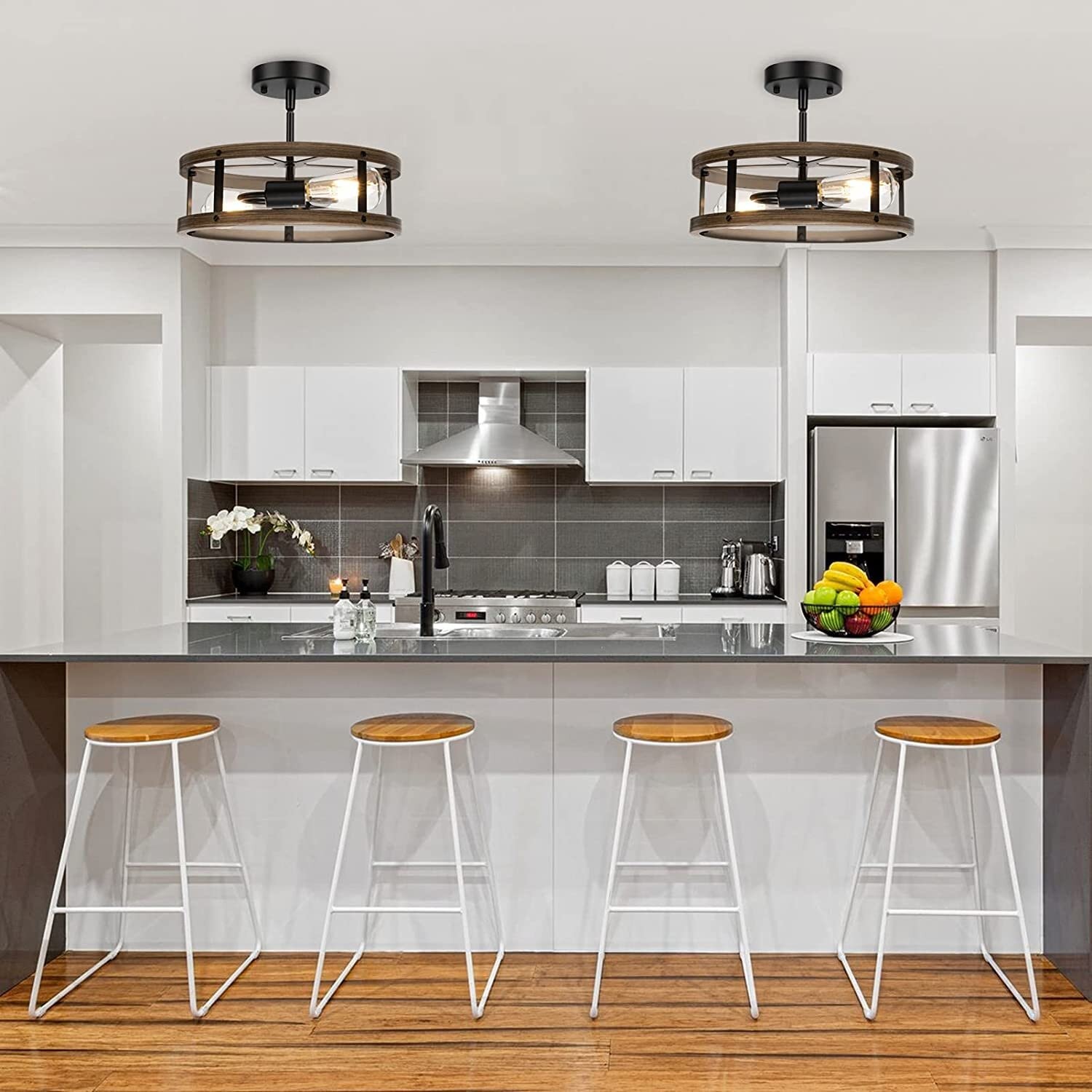 For rustic boho kitchen lighting, we enjoy the look of a semi-flush caged drum light fixture or two placed over the island or dining table.
This two-bulb round ceiling drop-mounted lamp in a textured wrought iron and wood for a mixed material drum silhouette can fit any boho kitchen design from modern to rustic.
Pick Plush Pattern Print Chairs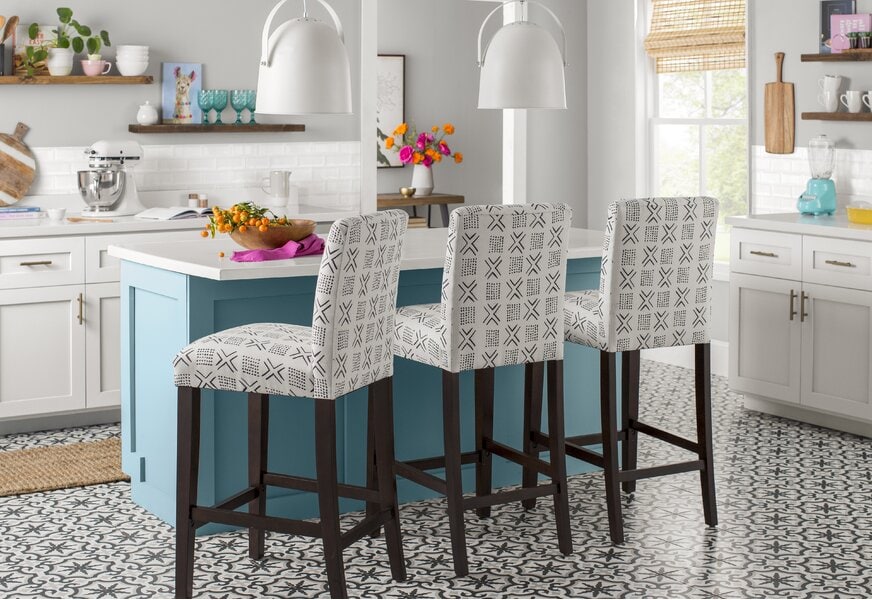 Increase the eclectic refinement of your boho kitchen design by pairing the modern classiness of lots of white cabinets and counters with open shelving uppers in a dark brown for contrast.
Mixing a central island in a pale color – like this cool blue – and high-rise dining chairs in a white upholstered fabric with thick padding and abstract brown print completes a boho dream.
Make a Mosaic with Hexagon Flower Tile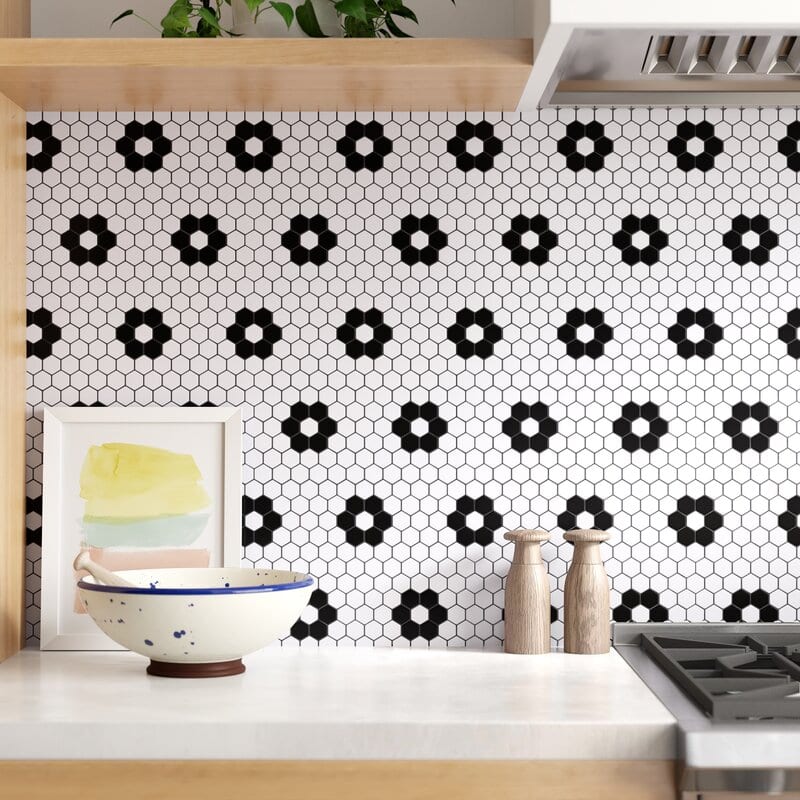 Flowers are a popular Boho theme, and there's plenty of ways you can incorporate them into your kitchen decor. Check out how stylish your kitchen can look using a flower pattern mosaic print in a classic black and white pattern.
What we love most about this bohemian kitchen design is the versatility of the hexagon shape of the black flowers and matte white porcelain tiles. The timeless look will work for any vibe, making it easy to redecorate in different themes later on without changing the backsplash.
Choose Eclectic Mid-Century Modern Chairs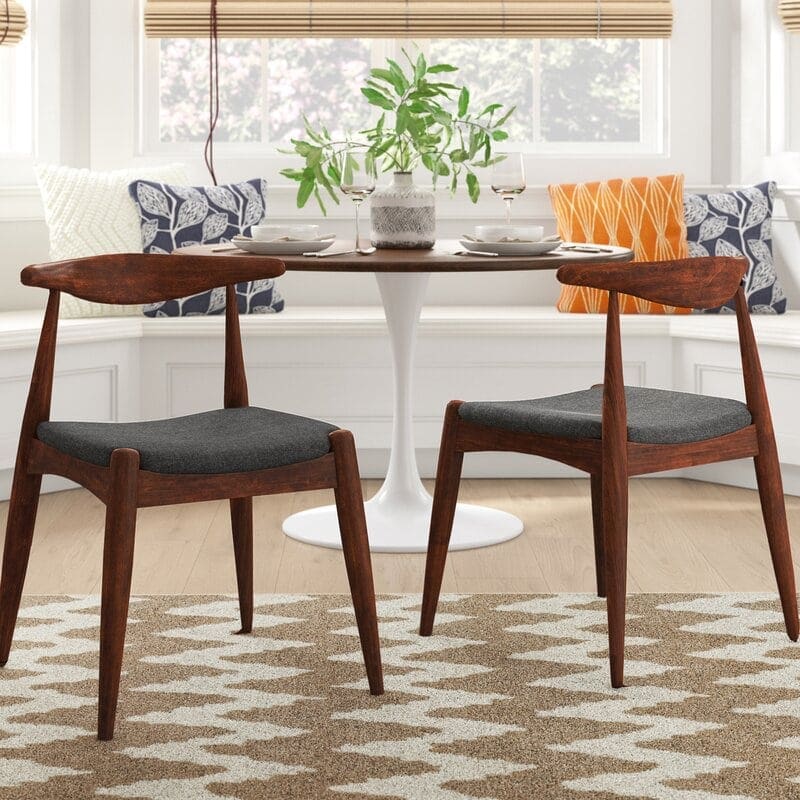 When you choose to decorate your kitchen in a boho theme, you get to blend all your favorite pieces into one design without having to worry about matching.
You can combine traditional flooring with a colorful island, white cabinets with vintage backsplash patterned pillows and a floor rug in bright colors, a thin minimalist table, and mid-century modern chairs.
Buy Some Backless Bar Stools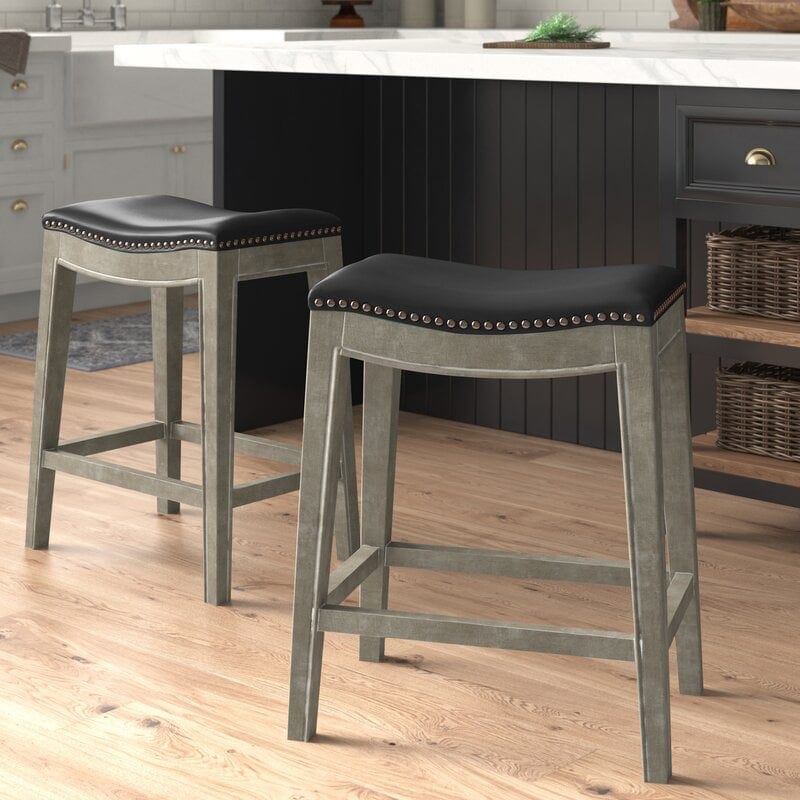 For boho-chic kitchen seating around an island, bar, or peninsula, you can get an awesome aesthetic with a backless saddle seat barstool.
This stylish seat offers a casual vibe complements of a birch wood base with a full footrest and faux leather upholstery seat complete with nailhead trim.
Indulge in the Joy of a Jute Rug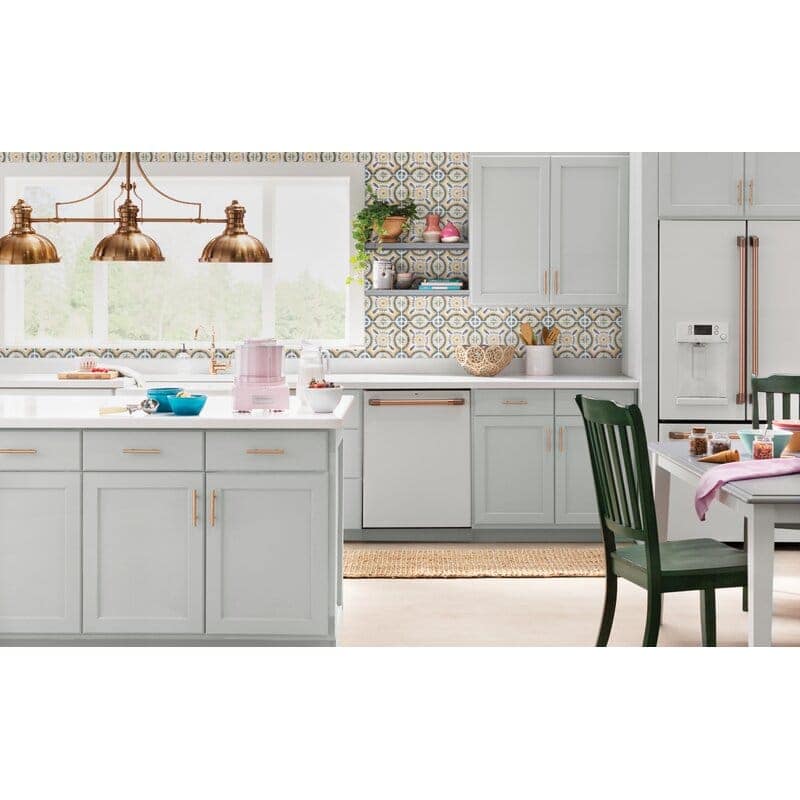 Another popular element of the Bohemian theme is working with natural materials, like jute – an organic natural plant fiber.
We're Boho-crazy for using a natural jute area rug to protect your kitchen floors from abrasions, water, and other dangers. This stylish, understated artisan jute area rug also gives you a comfy place to stand for a minimalist boho kitchen vibe.
Get Wicked Lighting with a Wicker Pendant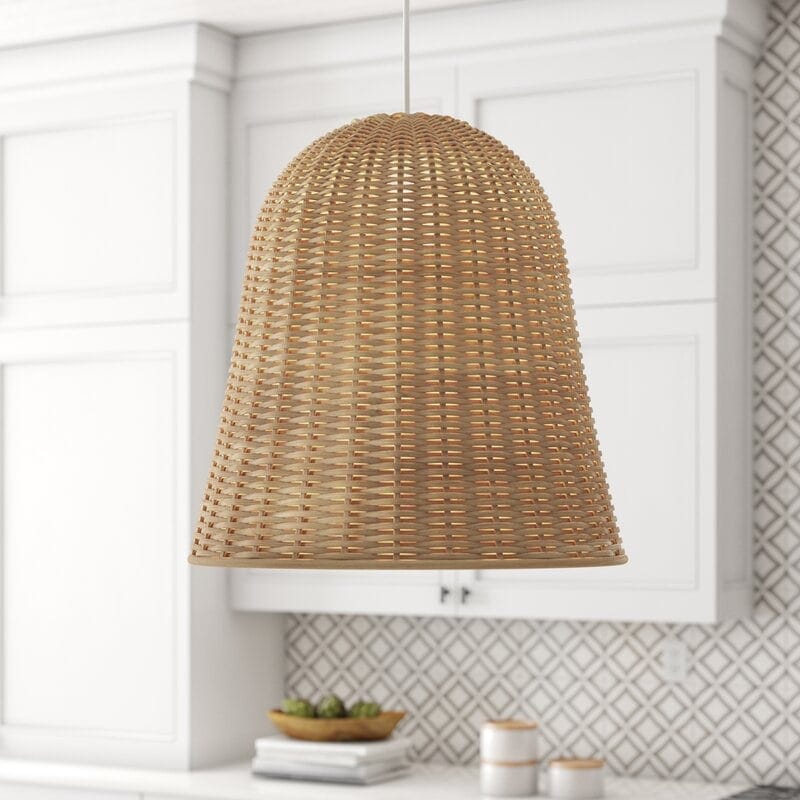 Traditional meets eclectic when choosing a pendant light in an understated bell shape and a natural brown wicker finish.
The simple woven design and natural color make this light the perfect choice for an earthy boho kitchen to go over an island or a table to illuminate the dining area.
Play with Patterned Tiles in Monochrome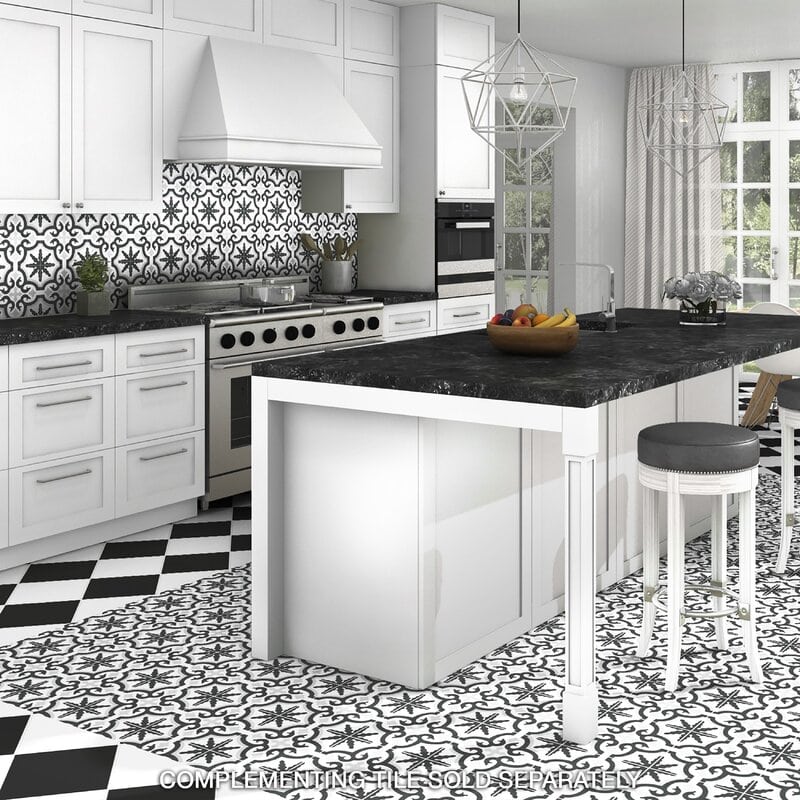 When you have a predominately white boho kitchen, adding monochrome-colored pattern tiles can give you a funky transitional feel.
We love using large square tiles with a snow-white satin glaze base printed with various lines and shapes that form snowflake patterns surrounded by simplistic European arcs in light ash gray and asphalt black.
Do a Distressed Mixed Material Dining Table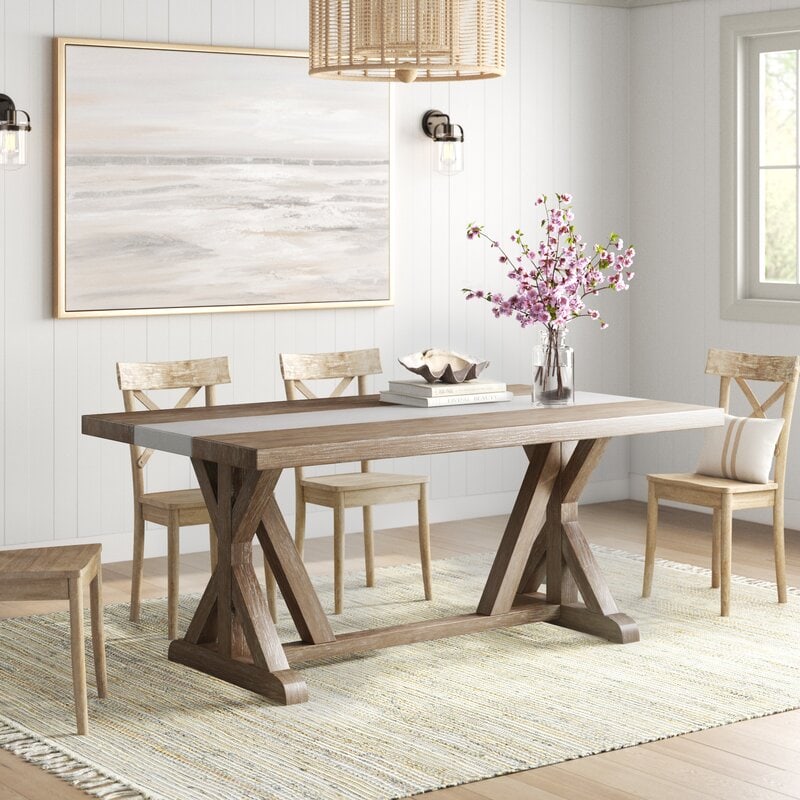 Mixed colors and recycled materials like reclaimed wood are popular compounds in a successful Boho design. This rustic table features everything from a weathered brown wood finish to scores and gouges for an authentic vintage feel.
Then there are the X side accents and open trestle base supporting the fixed rectangular tabletop with a concrete strip running the length, separating the two wood sides and providing some color contrast. And add some open-frame wood chairs, gold decor accents, and a neutral fringed rug to tie it all together.
Nice and Neat in Swirls of Matte Nickel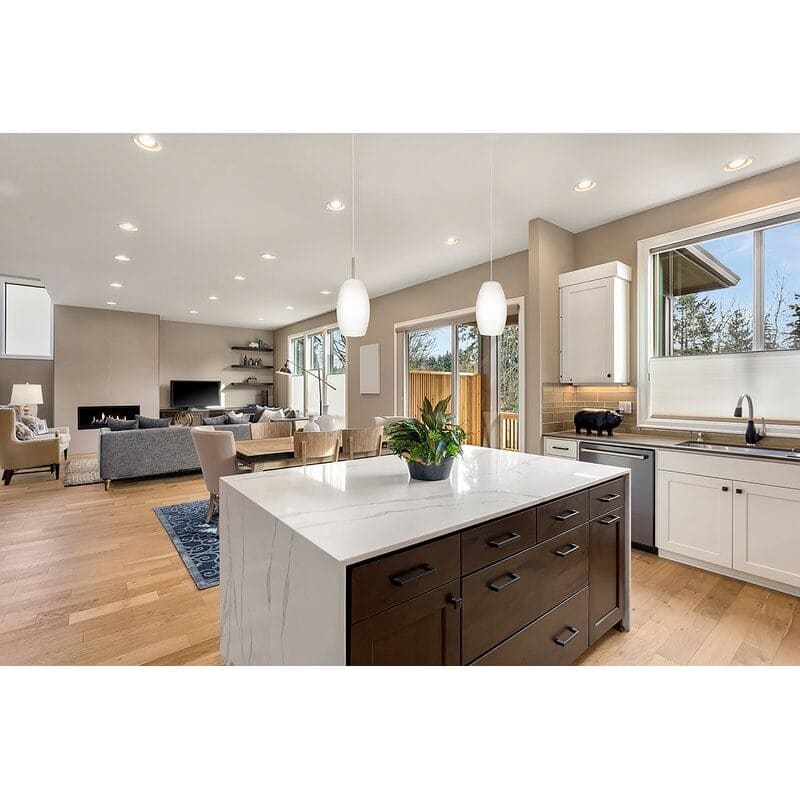 You can achieve an understated powerhouse decor piece with the simple inclusion of a delicate upside-down curved glass shade protecting a single small bulb.
The classic shape and size make this cylindrical pendant perfect for placement over a table or island. And the swirl pattern brushed into the frosted matte nickel finish works for any look from boho onward.
Blend Beachy with Bohemian for a Beautiful Light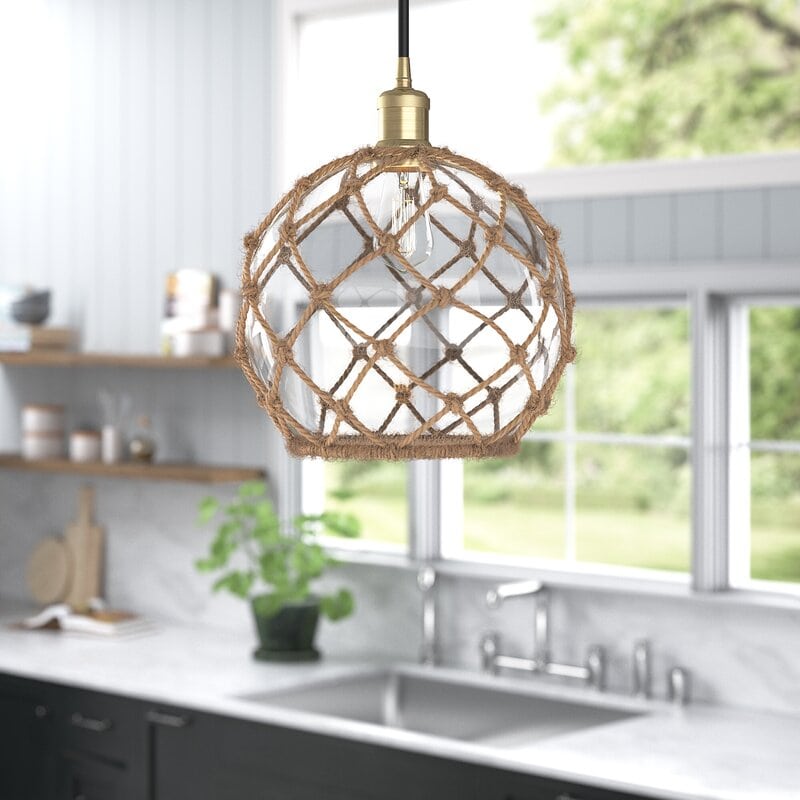 When you combine elements of bohemian style, like a clear round globe surrounding a single Edison bulb, with coastal pieces, such as a knotted open rope shade, you get pure magic.
This drop-down pendant light casts ambient light throughout the room, creating interesting plays of rays bouncing around the kitchen for a more exciting environment.
Buy a Beige Oriental in a Running Rug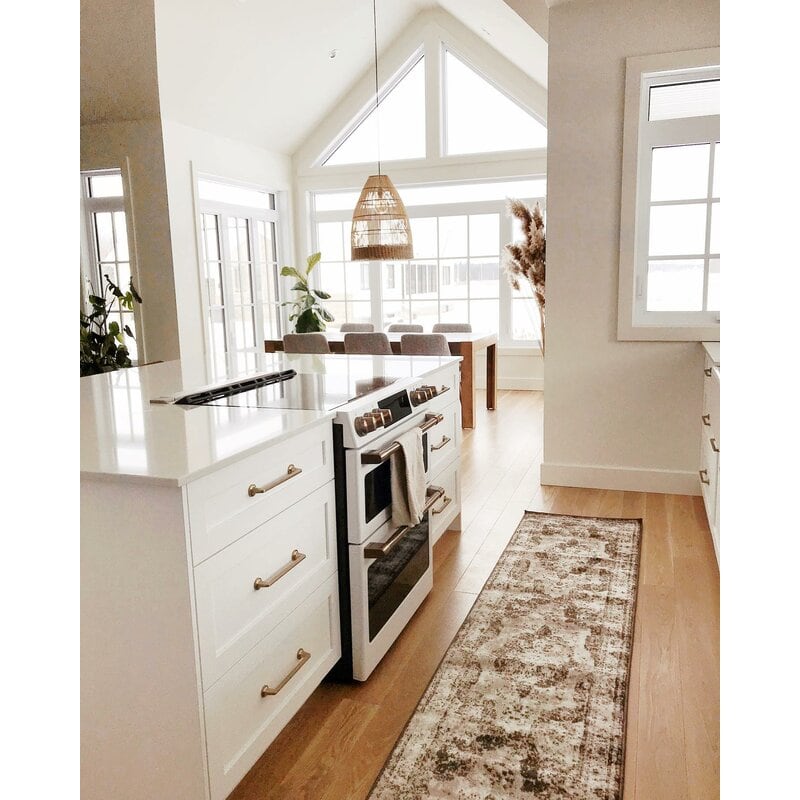 Oriental rugs are loved for their classic design and style, with bold patterns in multiple colors. And runners are a favorite choice for kitchen area rugs because the long length and narrow width are great for placement in tight spaces like between an island and the cabinets.
You can try this area rug in a classic runner shape and an Oriental-inspired pattern for a natural Boho look. The dark brown area rug with a distressed beige base and neutral lines is perfect for blending into the beauty of rich wood floors and white cabinetry.
Increase Workspace and Storage with an Incredible Island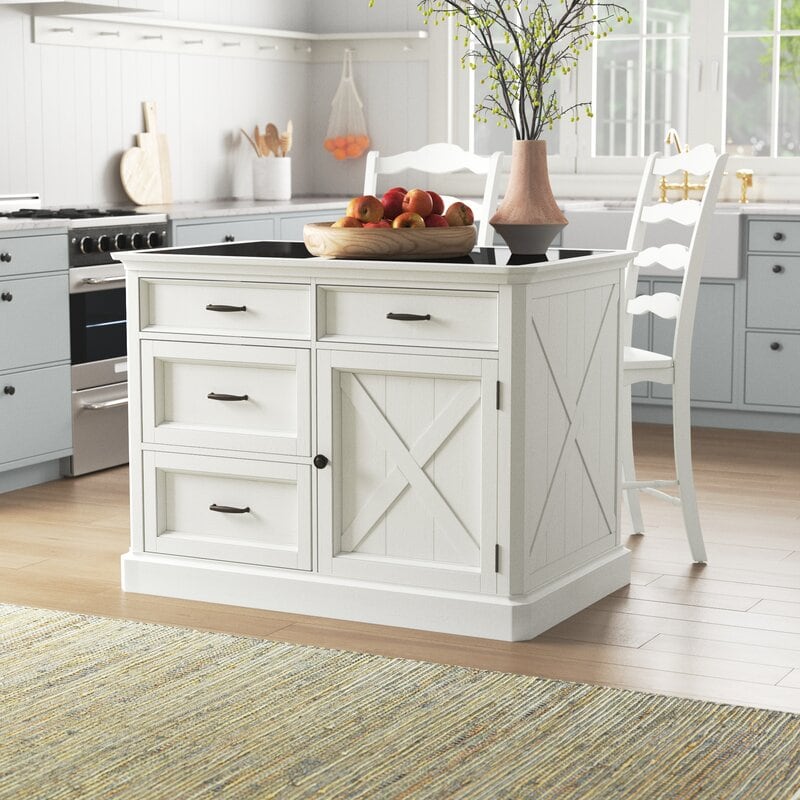 A kitchen island is always a useful addition to give you additional room to store things, have more room to work and provide extra seating.
This classic hand-rubbed white mahogany island features a granite countertop in slate gray, four drawers with brushed nickel hardware, a single farmhouse-inspired X cabinet door that hides two interior adjustable shelves, and two matching stools.
Implement an Island with Incredible Storage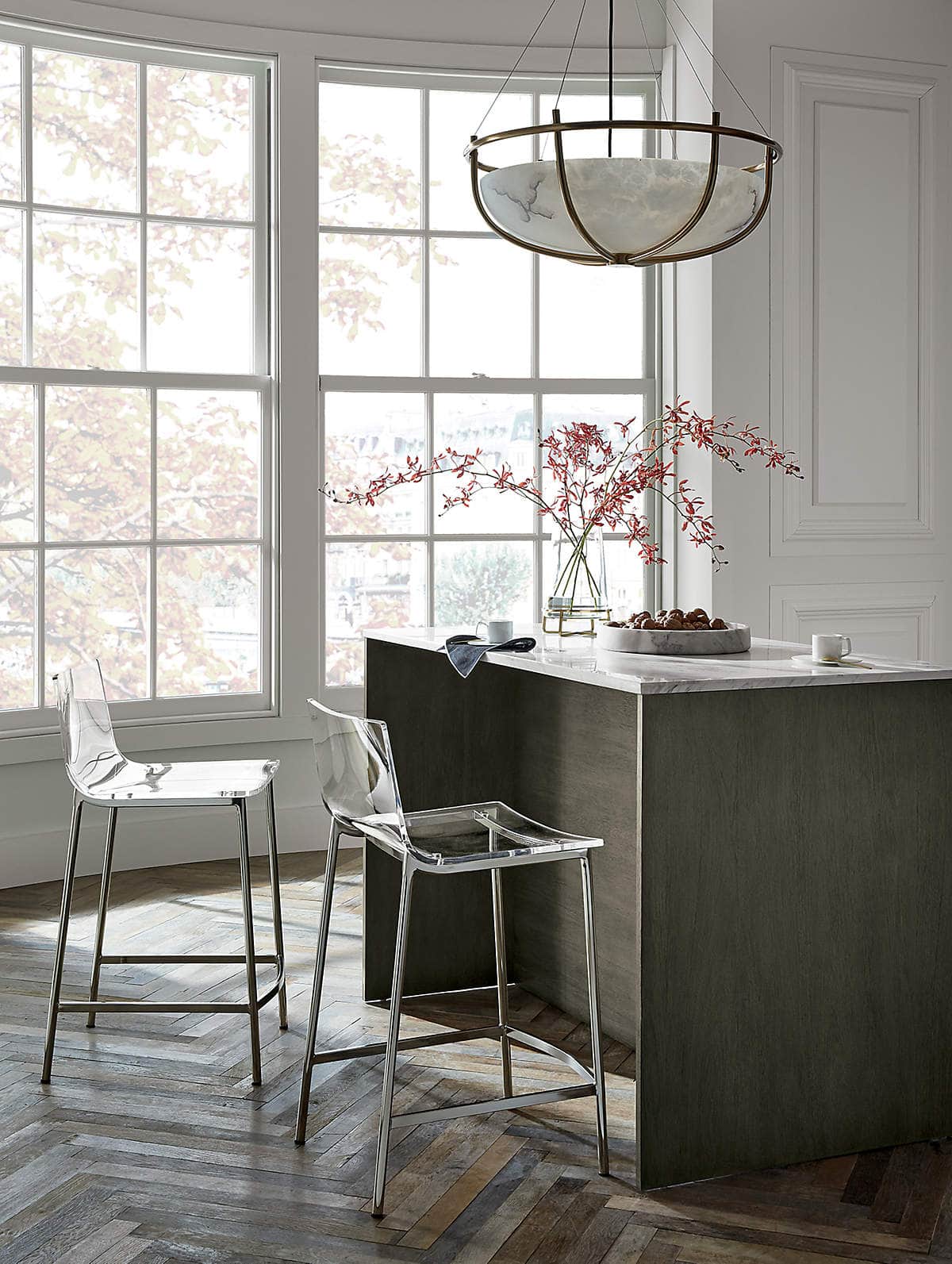 Placing an island central to your kitchen increases the amount of surface space where you can work and can often add additional seating, like this overhanging honed white Volakas marble slab with gray veining.
This modern upscale glam island also features a wood frame in a rustic gray wash with a recessed wall on one side for adequate leg room when dining. And on the other side, there are two drawers, four shelves, and cubbies to store wine and small dishes.
Be Beautiful with a Black Beehive Light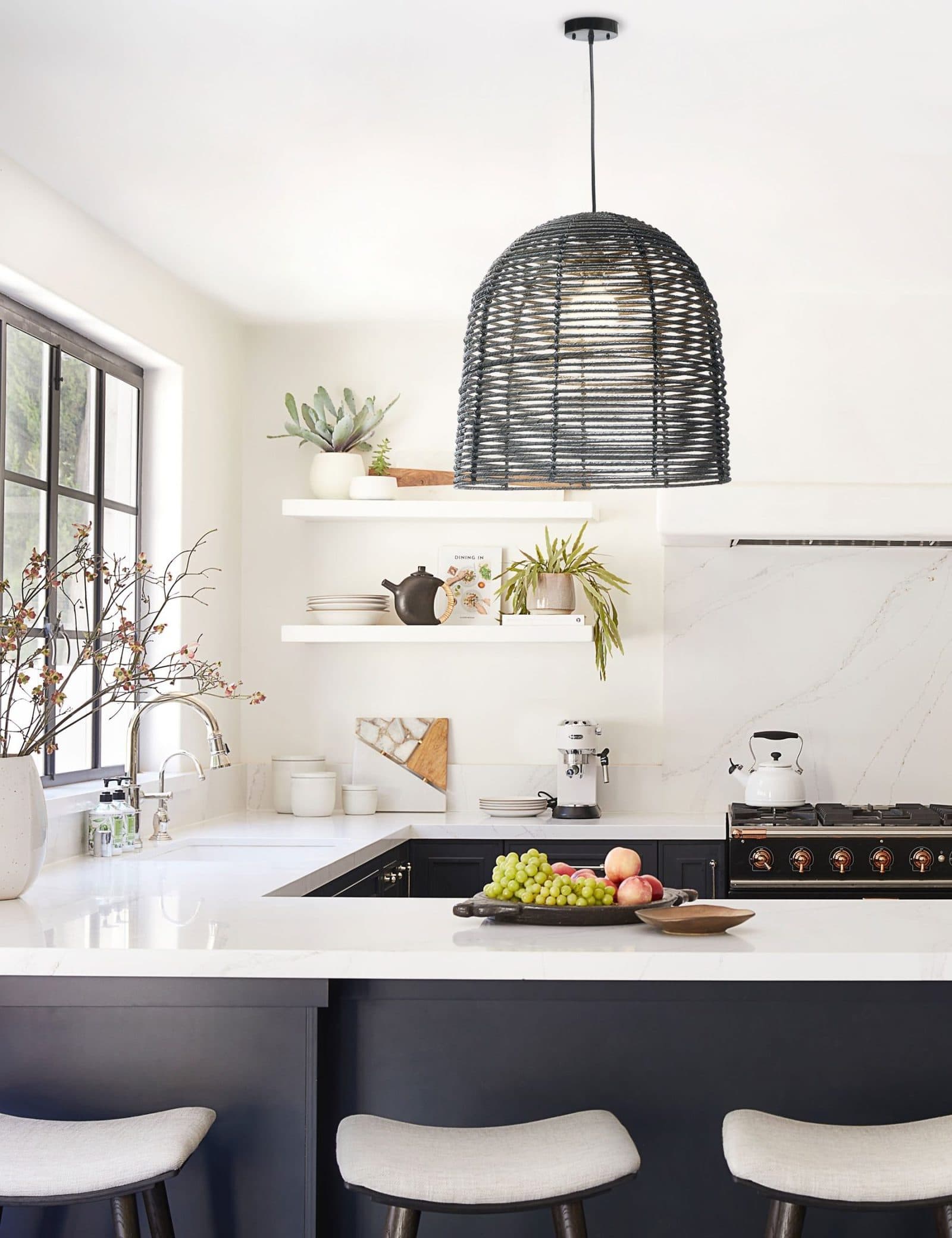 Create a modern boho kitchen vibe with the simple touch of overhead light in a jute material with a textural open-weave layout.
You can give your kitchen an upgraded elegance with the use of this minimalistic, monochromatic beehive-shaped light fixture in a black jute material.
Go with Glossy Multicolored Backsplash
To stick with the popular Boho trend of bright colors and eclectic designs, we fell head over heels for a backsplash in multiple shades of blue with a gorgeous glossy finish.
The elegant small subway shape of each multi-colored tile to form a conjoined mosaic patchwork gives this backsplash a bright nuance that's perfect for creating a colorful bohemian kitchen.
Crazy for a Chic Single-Bulb Chandelier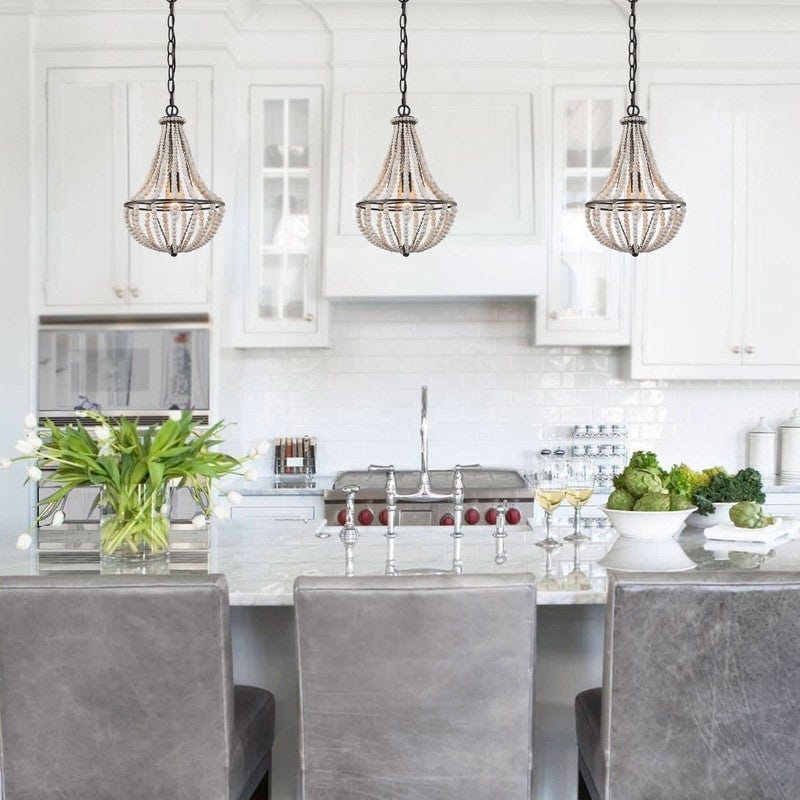 A single-bulb pendant chandelier can be the perfect companion for a boho-themed room. This hanging light fixture features a metal frame surrounded by a decorative shade of natural color wood beads.
The drop chain design and small fixture size make it easy to use a single pendant chandelier for small kitchens or combine multiple pendants in a row for large island coverage.
Enjoy Eclectic Eco-Friendly Seats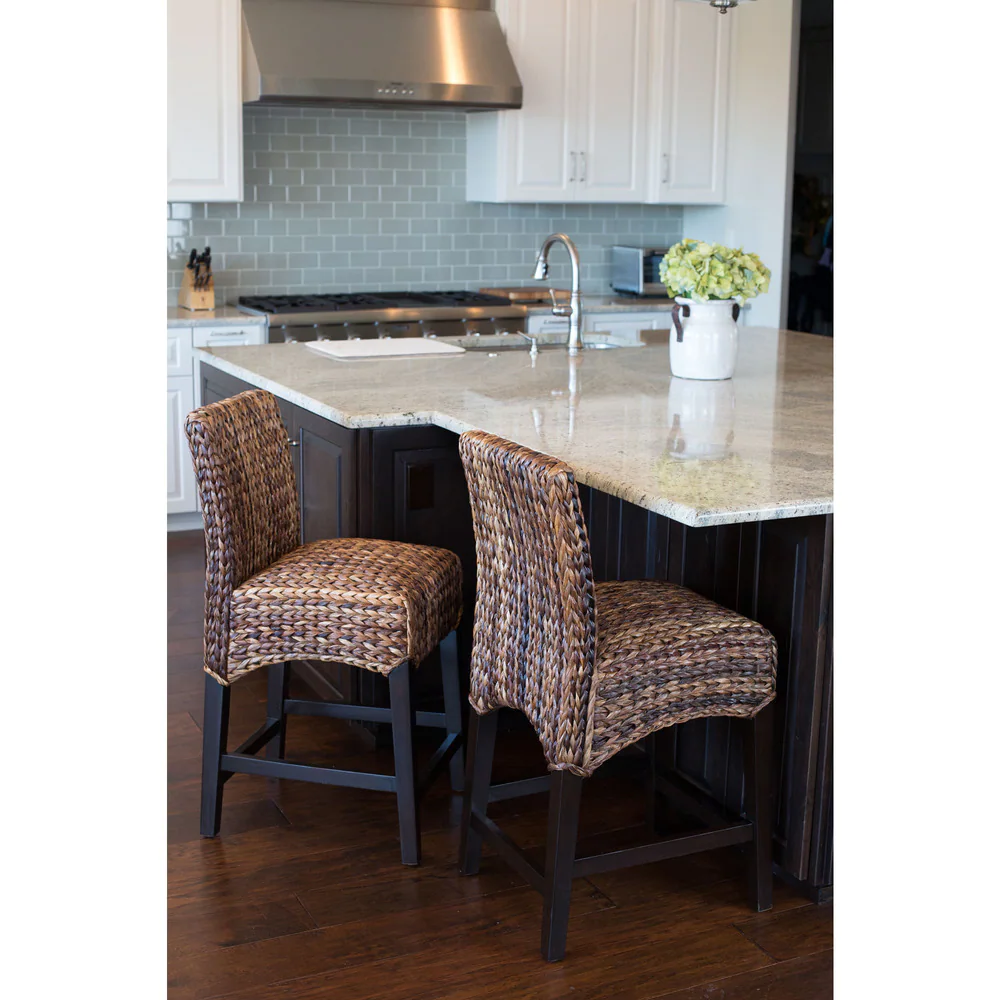 These eclectic-style stools are exquisite for placement as counter seating for bohemian kitchens. The back and seat are a natural woven seagrass with an espresso-colored mahogany frame with a built-in footrest that sits at counter height.
The blend of abaca and seagrass creates a striped pattern that varies from dark brown to faded beige for a rustic, bohemian feel.
Add an Arched Pantry for Additional Storage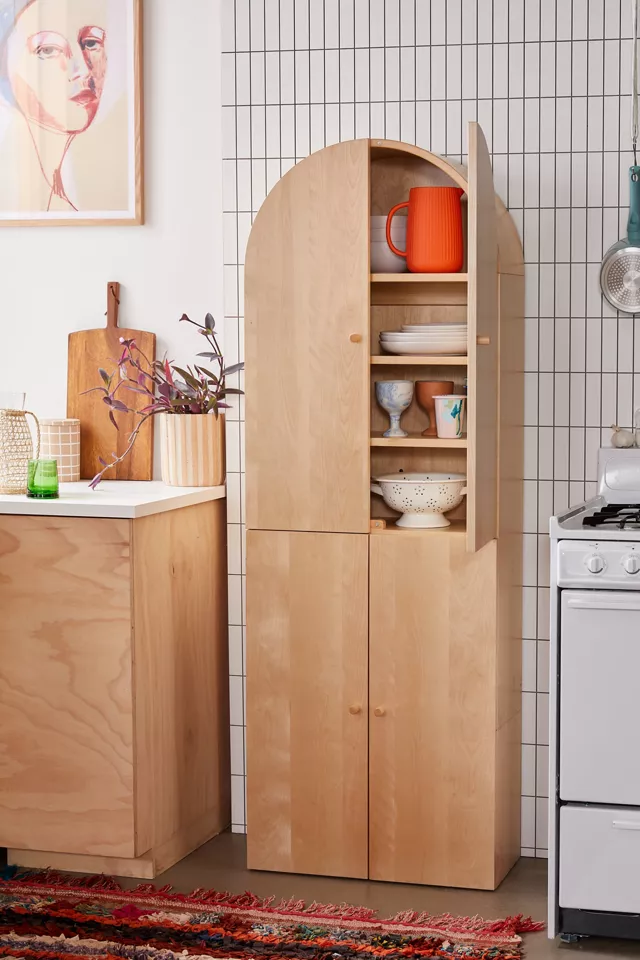 If you have a spacious kitchen but limited storage, you may be in the unique position to require a stand-alone storage cabinet.
To capture an authentic boho kitchen decor feel, choose cabinetry with plenty of storage and style. We're gaga for this arched kitchen pantry, offering bokos of storage in the form of seven shelves discreetly hidden behind four doors with peg knobs.
Appreciate the Beauty of an Abstract Area Rug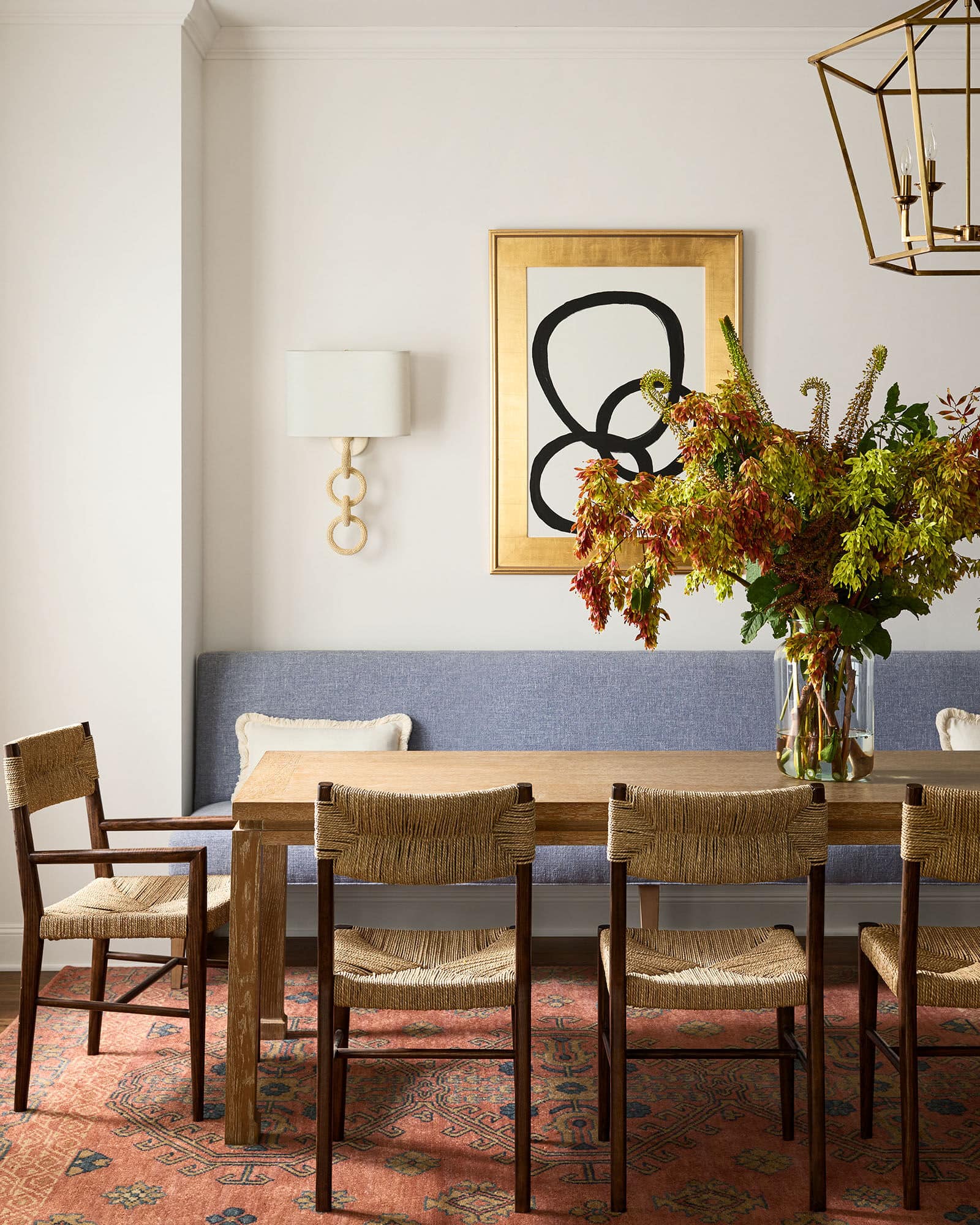 You can achieve an awesome boho vibe with an artisan area rug in various gorgeous shades of terracotta in an Oriental print.
This vintage-inspired rug is a blend of traditional and modern with bold colors on a faded Turkish surface for an awe-inspiring visual for Boho eat-in kitchens.
Final Words
The size of your kitchen will play the ultimate role in which design elements you choose to incorporate into your boho design. We've given you twenty boho kitchen decor ideas to demonstrate the different paths you can take when decorating your kitchen.
Now that we've shown you our favorite ideas how about returning the favor? Share your ideas and pics in the comments section!