A kitchen island commands center stage of your kitchen. It is a grand feature, and that's a lot of pressure on a piece of furniture. Apart from looking substantial and beautiful, it needs above all to be functional.
You can get a functional bare-bones island using stock kitchen cabinetry with a laminate top from $650. You can even create your own like the plywood cabinets above covered by a large white metal table for less. Add the two together and you have a kitchen island. Large, spacious and for a fraction of the cost. 
Use two of these cabinets ($109 ea) with a table on top to create a unique island
It is when you add a cooktop, sink or wine cooler that the price can move into the thousands. You can limit the project by using lower cost affordable materials and narrowing your list of features to the ones you need the most.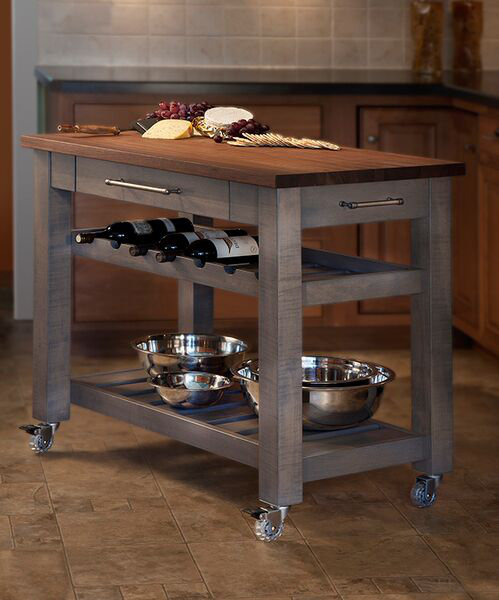 Stand alone islands cost less – walnut top $669 with limited functionality
Costs aside, there are practical design elements to include. If you are planning to design, build or buy a kitchen island, no matter how big or small, here are 12 things to consider.
1. Room To Move  
A kitchen island just doesn't work if there isn't enough room to move freely around it. Make sure you have 36 to 48 inches of space around each side. This will help with any foot traffic without others have to squeeze or shuffle by when you are working.
Source: Hometalk
2. Kitchen Island Trend 
The National Association of Home Builders says 80% of home buyers consider a kitchen island essential. If you are doing a full kitchen renovation, make sure you allocate enough funds in your budget, especially if you need plumbing for an additional sink or wiring for an oven or dish washer. If you are planning to resell your home soon, budgeting is important so you don't overcapitalize your investment. 
3. Would You Like Chairs with That?  
If you are looking to use your island as an informal space for dining, school or office work, you need at least 24 inches of width per person. Likewise, leave a clearance of 9 to 13 inches between the knees and the bottom of the counter. The style of chairs or stools you use will depend on the design of the island, and whether it is a continuation of the counter or a two tier multi-level island either to the side of the island or as an adjunct before it.