10 Creative Ways to Incorporate Emerald Green in Your Bathroom
Whether planning a complete bathroom renovation or a simple refresh, there are many ways to incorporate emerald green into your bathroom design. There are endless possibilities for bringing this beautiful jewel tone into your bathroom space from tile to paint to fixtures.
And while emerald green is often associated with luxury and opulence, it can also be used in more down-to-earth, approachable designs. Keep reading for some emerald-green bathroom design ideas to inspire your next project!
Modern Tile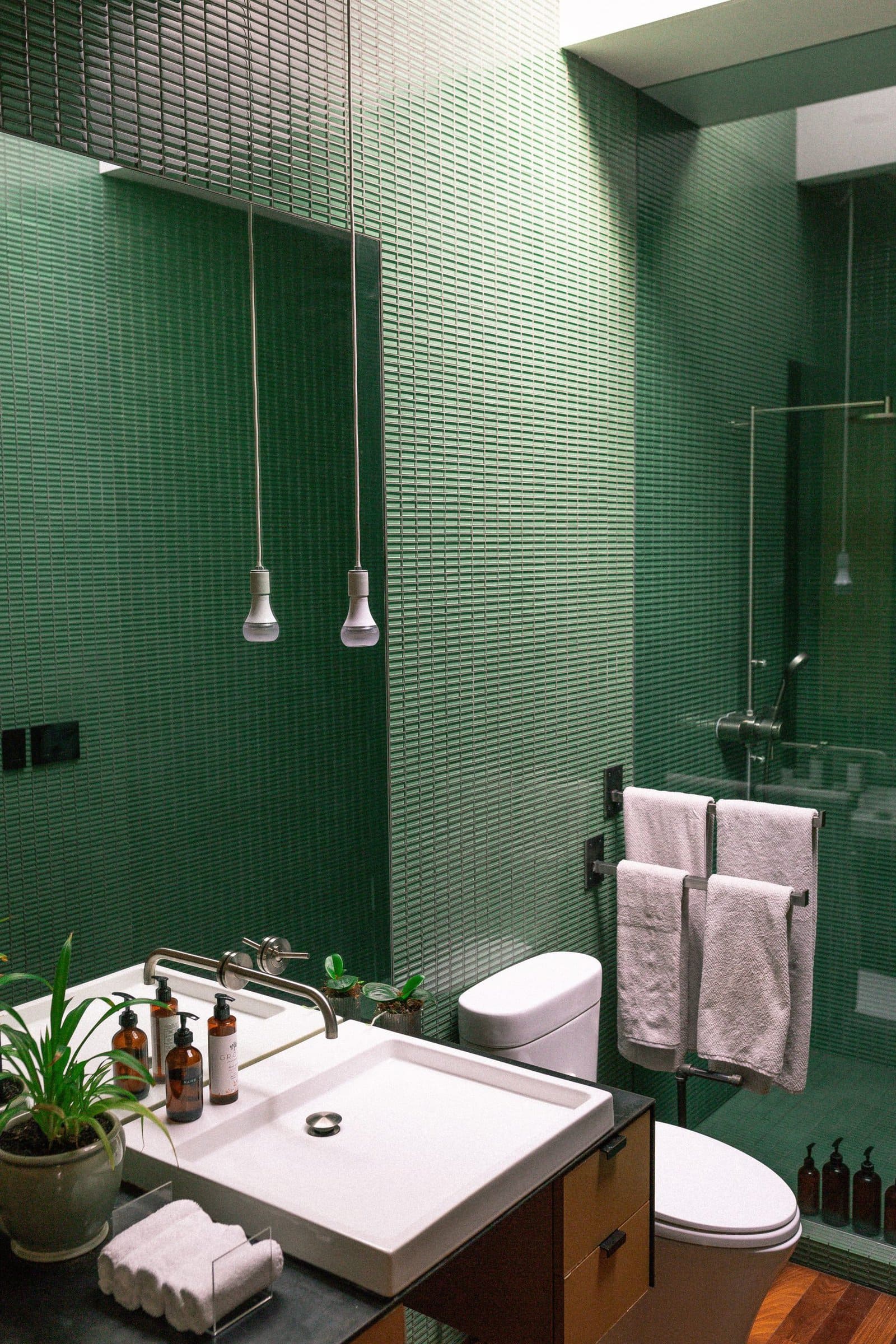 A subtle pop of emerald green here and there may be enough for some, but if you're the kind that loves to make a big statement with your home decor, then consider a bathroom like this one, covered floor-to-ceiling with deep emerald green. Whether you use tile, wallpaper, or paint, the results are sure to be stunning.
The advantage of covering your bathroom walls with tile is that you will have a waterproof surface that gives it texture and dimension. But it can be pricey and difficult for beginners to install. Wallpaper can add an interesting pattern to your bathroom walls, while the paint is cheap and easy to apply.
Make sure that you break up all that green with other colors in your furniture and decor. For one, white sinks, flooring, shower curtains, or towels are a great way to do that. You can also add some wall art in contrasting colors like orange or pink to give the room a brighter and friendlier feeling.
A Splash of Green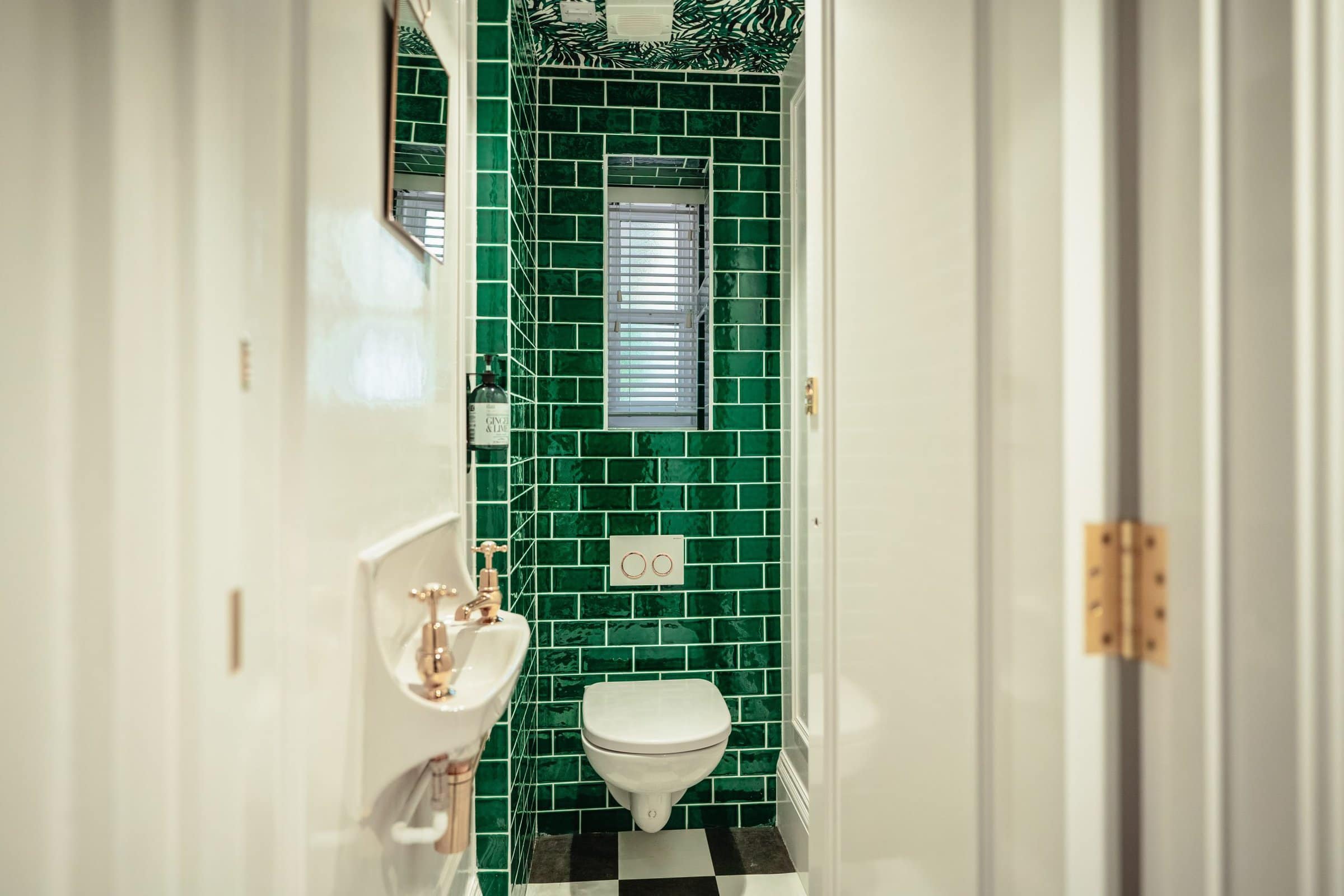 When you've got a small bathroom like the one in this example, you may be worried that you can't add a darker color like emerald green, since it might make the room appear smaller. But that's actually not the case— in fact, emerald green is an excellent addition to any small bathroom.
The trick is to add the color in small bursts, rather than completely covering the room in it. Start with white walls and make sure not to cover any natural light that you have with heavy blinds or curtains. Then, add an emerald green accent wall.
You can add color with patterned wallpaper, some paint, or large subway tiles, like the ones you see here. The green jumps out at you, and fills the room with color, without overwhelming the small space. A mirror or two will help reflect the color throughout the room, and a few gold decor accents add a touch of glam!
Contemporary Boho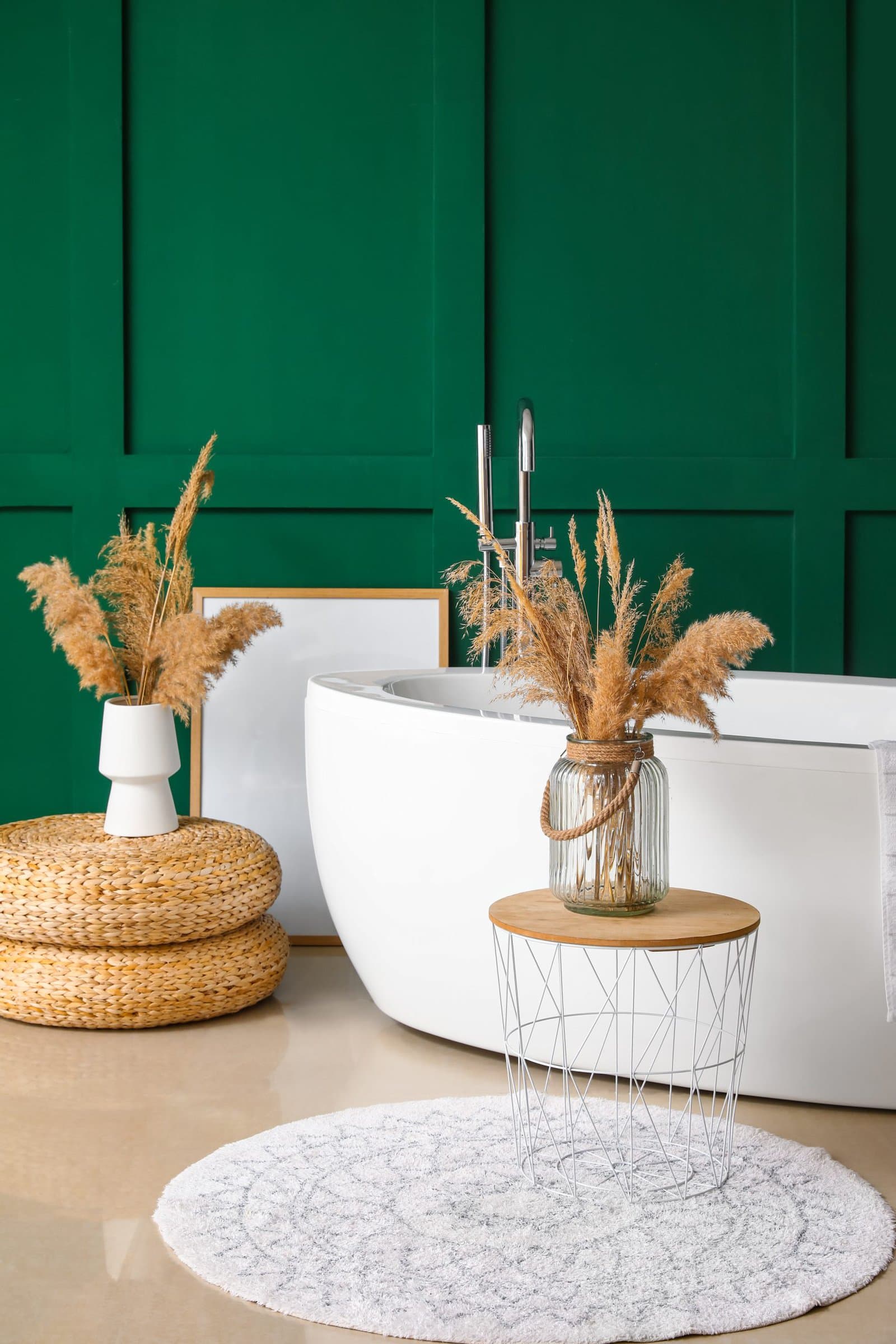 It's common to see emerald green used in sophisticated and luxurious designs, but that doesn't mean you can't use it for a natural or boho look as well. Check out this example and see how emerald green can transform a boho bathroom!
The trick with Bohemian-inspired bathrooms is to create a balance between bold color, modern bathroom furniture, and natural decor elements to create a space that's not only calming and stylish but also lighthearted and laid-back.
Try adding woven elements like a bath mat, rattan ottomans, or a wooden side table next to your bathtub. Houseplants are a staple if you want a Bohemian feel, but you could also put dried flowers and grasses into a ceramic vase if you want to add some warm colors.
Shower Surround
If you want your emerald green bathroom to feel a little bit more subtle, don't paint your walls green or cover your bathroom in green decor. Instead, color your bathroom in neutral colors like black, white, beige, or gray, and save the emerald green for the interior of your shower.
This trick works whether you have a standard tub hidden behind a shower curtain, a large walk-in shower, or one with big, glass doors. The green tiles separate the shower space from the rest of the room, while still adding a fun "surprise" pop of color.
This picture shows a beautiful example of how green shower tiles can bring a fun element to any bathroom. To give the shower a more custom feel, why not add a gold faucet and shower head, or line the floors with some unique stone tiles? A bathroom-friendly plant won't hurt, either!
Emerald Green Floor Tile
Rather than covering your walls in emerald green, which can darken up small bathrooms, why not cover the floors instead? With emerald green flooring, you can incorporate this beautiful color without overwhelming your space or darkening it.
To decorate a bathroom with emerald green floor tiles, start with walls in a soft, neutral color, like white or beige. Some laid-back boho decor will help keep the room feeling bright and relaxed, so incorporate woven baskets or rattan shelves. And finally, houseplants are a great way to add life and color to a bathroom!
Just be careful with the kind of tiles that you choose, especially if you're decorating a bathroom with a shower in it—tiles that are very slick can be dangerous when wet. Instead, go for ceramic or stone tile with a bit of texture, or make sure to add a rug in the high-traffic areas of the room.
Monochrome
If you're not afraid to take a risk or two when designing your bathroom, then why not fully commit to an emerald-green bathroom and cover your bathroom from floor to ceiling in the color? It's an unexpected but incredibly stylish twist on a classic color scheme.
To start, paint your walls and bathroom vanity the same shade of emerald green. Not only will this give your bathroom a consistent color scheme, but it will also help make your bathroom appear larger because the vanity will blend into the walls.
Then, install tile flooring in a matching color to bring in a bit of texture and pattern. You can complement all the green in the bathroom with gold or copper accents, which will help balance out the cool-toned green with warm tones.
Subway Tile Accent Wall
Subway tiles have become one of the most popular tile trends in recent years, and there's no sign of it slowing down! They are a popular choice not just because they have a classic style, but because they look great in a variety of colors and designs, including bright emerald green.
When it comes to grout, choose a bright white color to contrast against dark green. If you really want your tiles to stand out and make a big statement, choose only one wall to cover, like the side of the shower in this picture. Then, paint the rest of the walls a dark color like gray or black to highlight the green tiles even more.
Subway tiles are generally flat ceramic rectangles, but they don't have to be. For a more unique and custom look, choose rectangular tiles in textured glass, which will give your shower wall dimension and reflect light back into the room.
Herringbone Tiles
Arranging your bathroom and shower tiles in a more creative way can add visual interest and texture to the room design. Rather than straight across or up and down, consider arranging your tiles in a herringbone pattern.
A herringbone pattern involves arranging tiles in a diagonally overlapping pattern that resembles the skeleton of a herring fish—hence the name. Herringbone tiles are a great way to add an interesting modern pattern to your bathroom that still feels classic and works with a variety of design styles.
Add some emerald green ceramic tiles to your shower surround, and consider adding it to the area behind your bathroom sink as well. You don't have to add the tiles all the way up the wall; instead, add tiles halfway, and paint the rest of the walls with a complementary shade of white, beige, or gray.
Walk-In Shower
Emerald green is one of those colors that you just want to surround yourself with, so why not do just that by lining your walk-in shower with emerald green tiles? Whether they're ceramic subway tiles or glass, they're sure to make a stunning impact on anyone who sees them.
Start off by choosing the right lining for your shower floor, so that the green tiles don't clash or overpower your space. A neutral tile in ceramic or stone will work nicely— pick tiles in a shape that's different from the green wall tiles, to add another layer of contrast. The white hexagon tile flooring in this bathroom helps to soften up the bold green.
With green tiles like these, you can go in one of two directions: lean into the luxurious aspect and add gold futures to your shower, or soften the look with natural elements like a wooden stool or some houseplants that do well in humid climates. Either way, the tiles are bound to be the star of the show!
Malachite Tile
Sure, the color emerald green usually makes you think of, well, emeralds, but emeralds aren't the only stone that comes in a beautiful green. If you're looking to shake up a traditional emerald green bathroom with some unexpected color and pattern, consider malachite.
Malachite is a mineral made up of copper carbonate. It's a stunningly rich green color that looks beautiful in home decor. Malachite tiles like the one in this bathroom are an easy way to add color and a luxurious touch to your bathroom design. While genuine malachite tiles can be pricey, they certainly make a big impact.
If your budget won't stretch for real malachite tile, there are plenty of options out there on the market for faux malachite tiles that look just as beautiful but for a fraction of the price. For the biggest impact, pair it with black and gold decor to create a luxurious and timeless look.
Conclusion
Turns out, there are so many different ways to incorporate emerald green into your bathroom, no matter what your personal style, budget, or bathroom layout is! For such a bright and daring color, emerald green is surprisingly versatile and perfect for a variety of different design styles and tastes.
Decorating an emerald green bathroom isn't as difficult as it may seem, as long as you remember a few simple tips. Remember to balance the green out with neutrals, add a touch of luxury with gold decor and fixtures, and think of how you can add the color to your bathroom design in unexpected ways. Good luck!