Herringbone Tiles Bathroom Ideas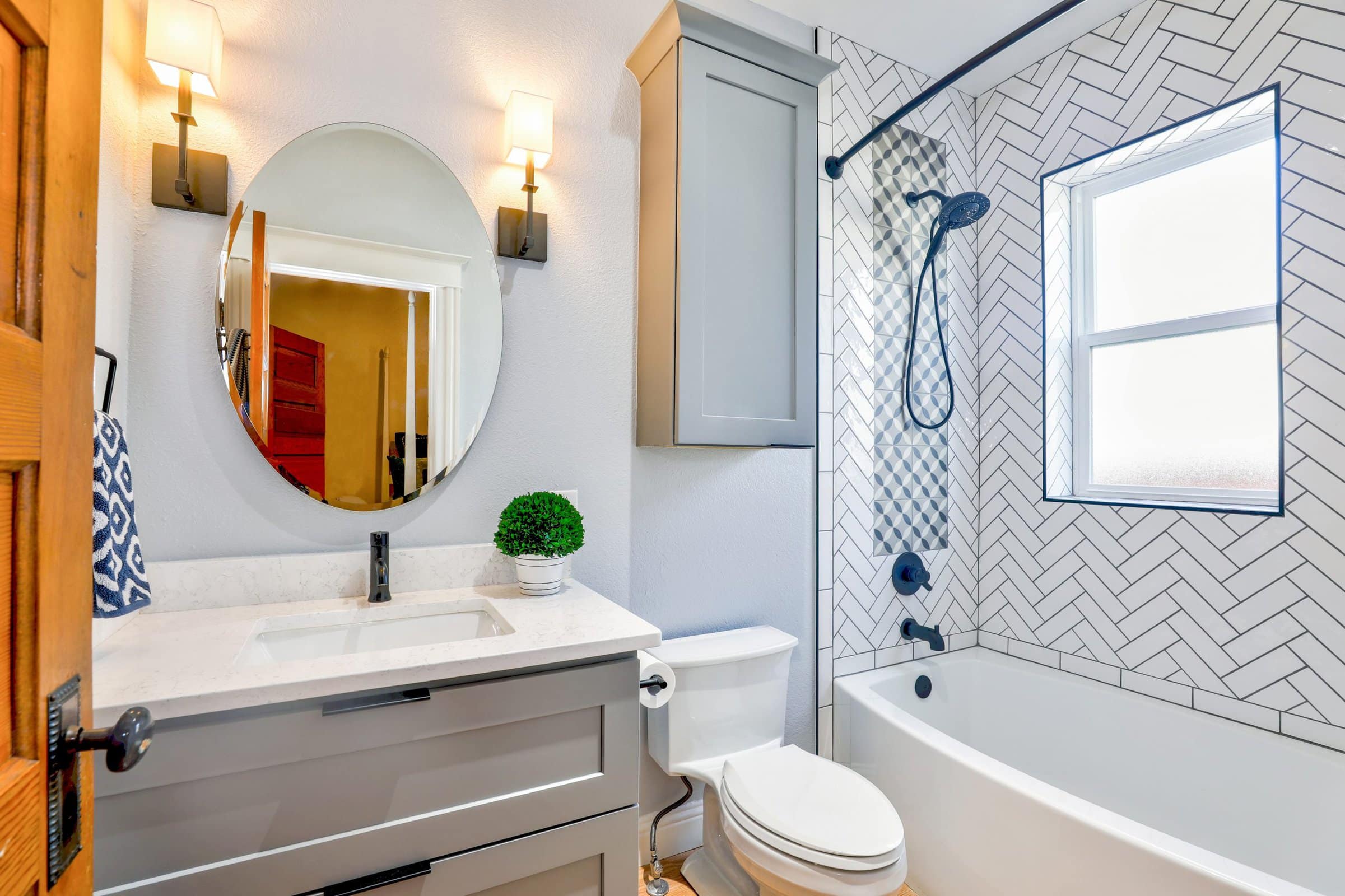 One of the most popular trends in bathroom design right now is herringbone tile. Herringbone tile is a timeless bathroom tile that is named for its V-shaped pattern, which resembles the skeleton of a herring fish. While it's often used on floors, it can also be used on walls to create a backsplash or accent wall. From classic black and white bathrooms to bold and colorful designs, read on to discover a herringbone tile bathroom design that inspires you!
Bold Black Tiles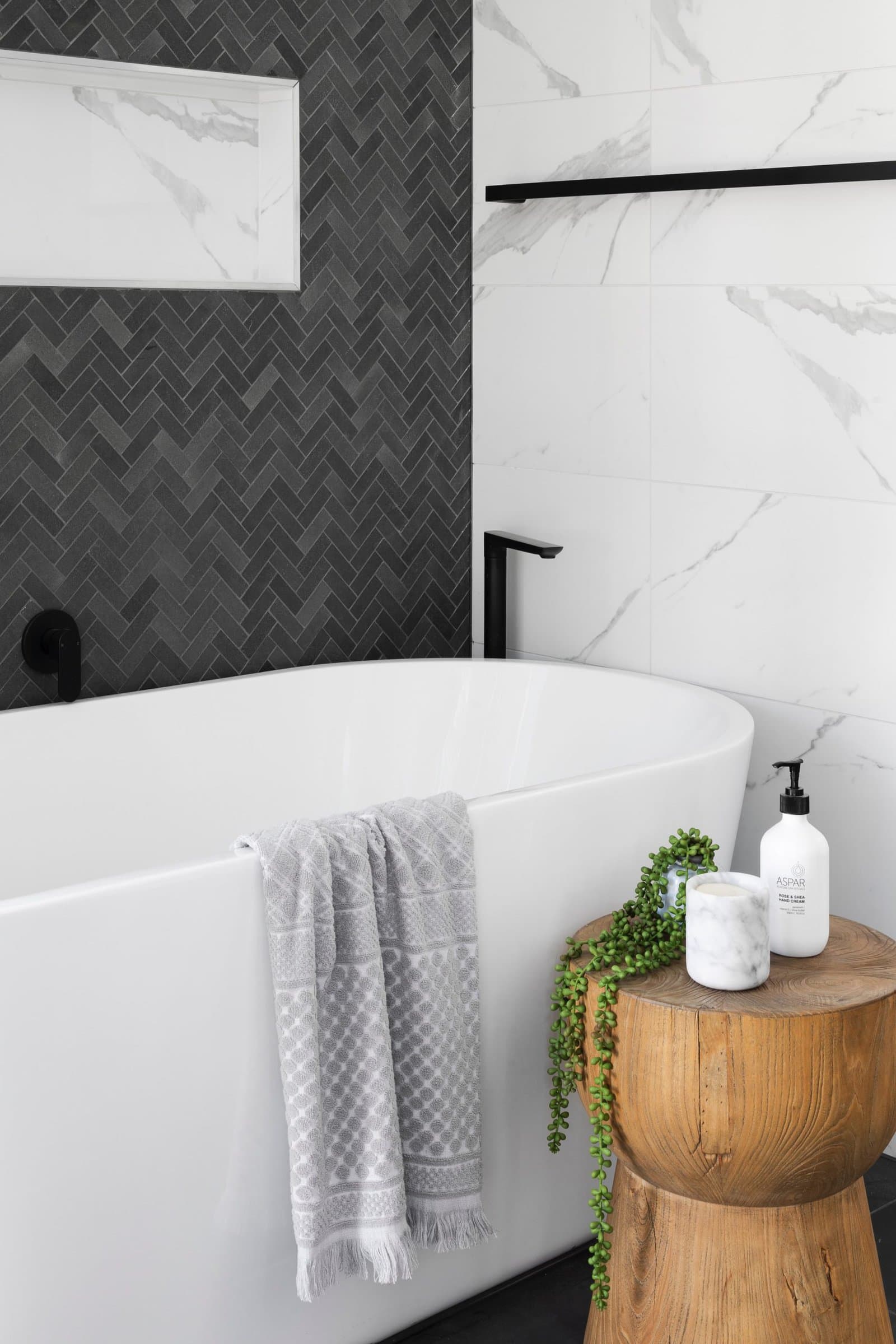 If you've got a white bathroom that needs a new lease on life, then a black accent wall is just the thing to revamp it. But instead of a simple coat of paint, create a modern and luxurious look in your bathroom with a herringbone tile pattern.
When the rest of the walls in your bathroom are a simple white or gray, then the pattern in the black tile will stand out and immediately draw the eye toward the focal point of the room (in this case, it's the bathtub).
One thing to consider is that black can be a rather severe color, so don't decorate the rest of the bathroom with black decor. Instead, soften up the look with natural elements, like bathroom-friendly houseplants or wooden shelves or tables.
Vintage Vibes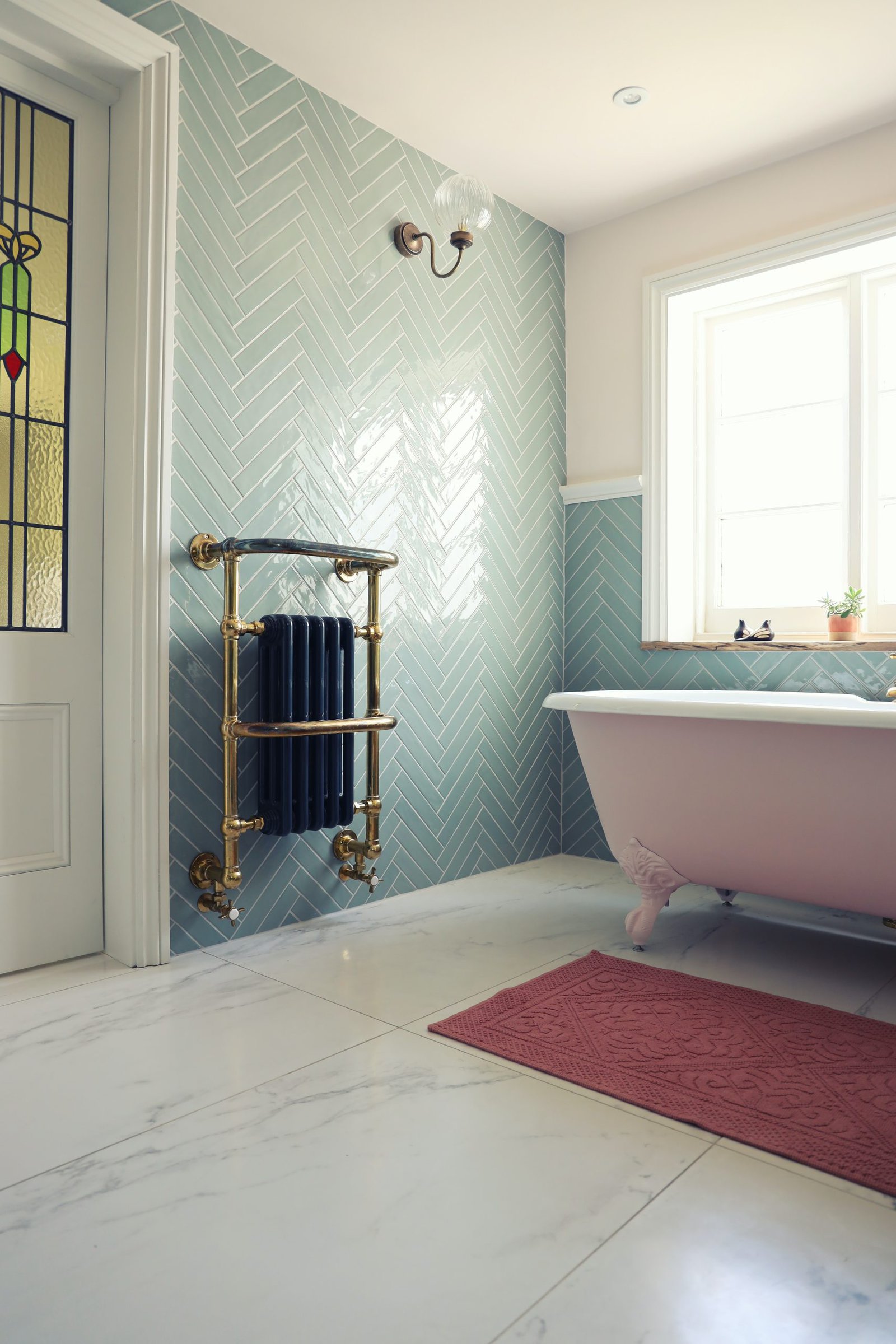 Do you love the look of vintage or retro-inspired bathrooms, but you don't want to feel like you're time-traveling every time you walk through your bathroom door? The trick is to find a balance between vintage elements, like 50's-inspired seafoam green tiles, and a modern twist, like a herringbone tile pattern.
To make your bathroom feel vintage but not outdated or old-fashioned, choose retro colors like turquoise, sea green, or dusty pink for your bathroom. Then, incorporate beautiful vintage-inspired pieces like tiles, lighting, rugs, and more that feel simple, modern, and streamlined.
Finally, to make sure that your bathroom doesn't look too dated, keep it simple with very few decor pieces. Instead of cluttering up the bathroom, let the decor speak for itself, like the herringbone tile walls in this bathroom that stand out because of the lack of additional decor.
Herringbone Tile Flooring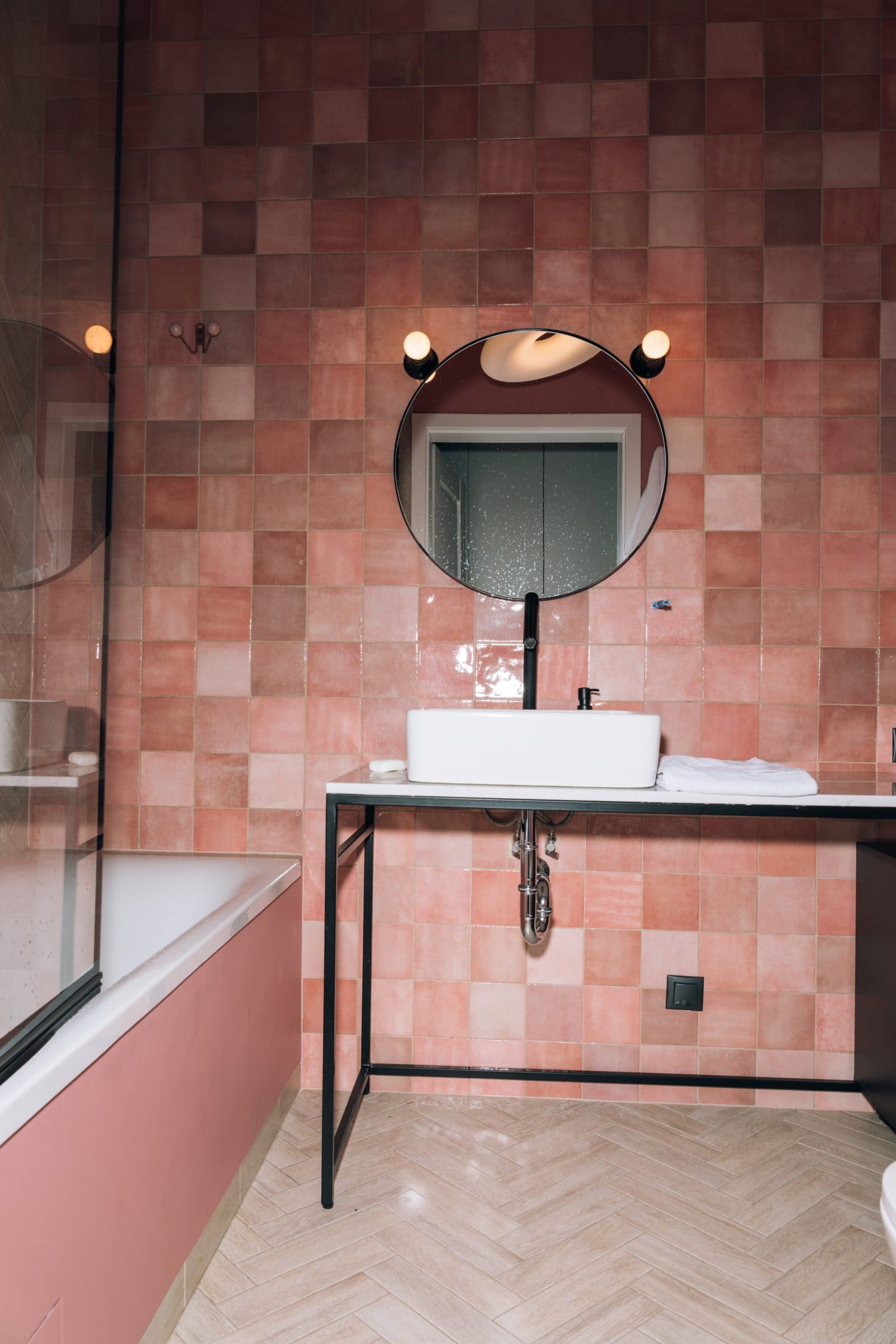 When you think of herringbone tiles for your bathroom, I'm willing to bet you think about tiles on your walls. But if you're looking for something different, consider adding a herringbone pattern to your floors, instead. This is a fun new way to take on the herringbone tile trend in an unexpected way.
If you pick tiles in a neutral color like white, gray, or beige, then they can compliment a brightly colored tile wall, like the bright pink one in this example. This way, the flooring feels unique and custom-made, but it doesn't take away from the rest of the room's design.
When it comes to tile flooring, just be sure to choose tiles that aren't too slippery, since they can become dangerous when wet. Stone, vinyl, or ceramic tiles are good choices for bathroom floors but think twice about glass.
Get Creative with Lighting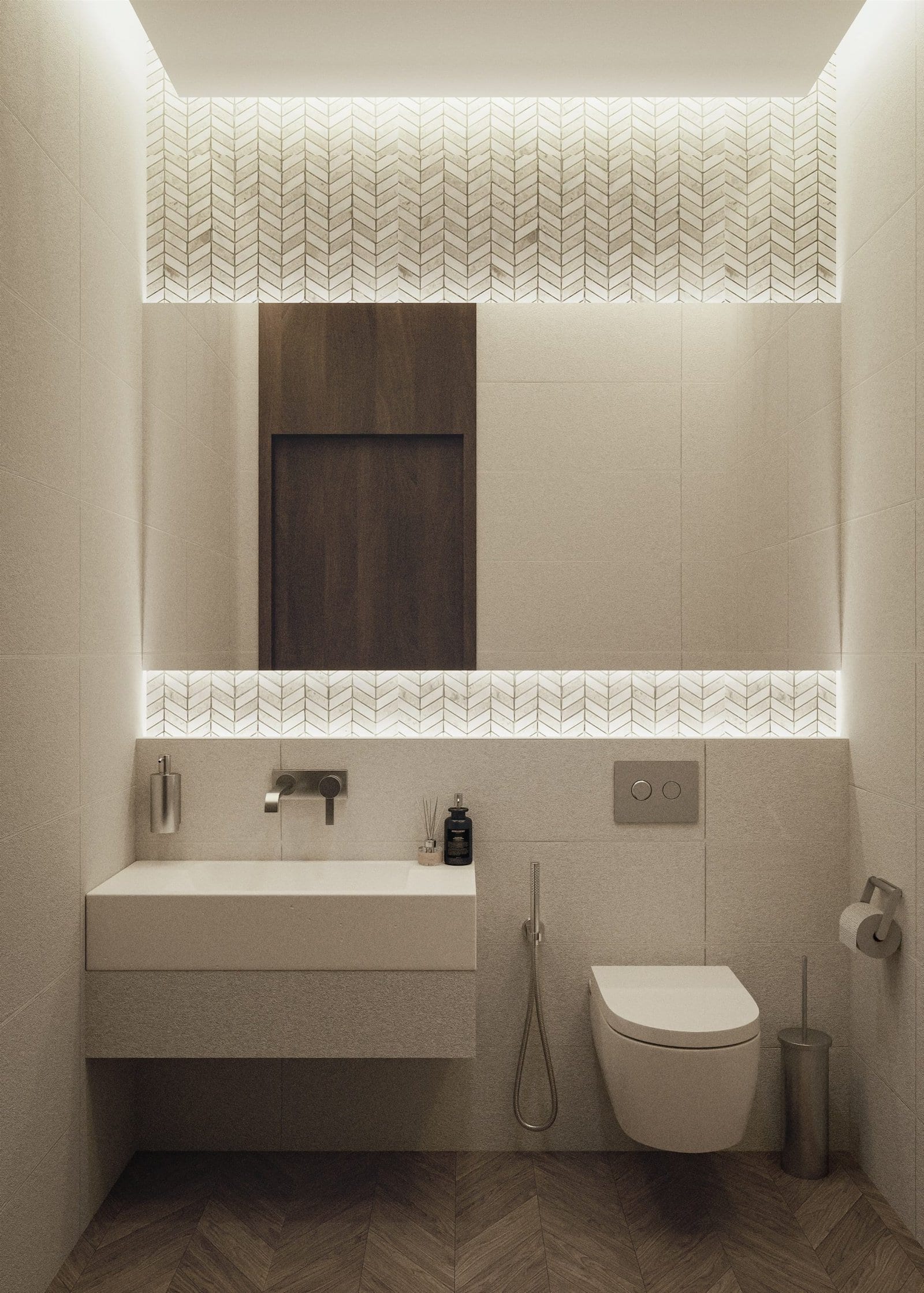 What's one way to spice up your bathroom design? Adding some interesting lighting! By incorporating LED strip lighting into your bathroom design, you can highlight the beautiful herringbone tile design in your bathroom instantly.
To get this look for yourself, start with some simple marble herringbone tiles, and arrange them along a prominent wall in your bathroom (behind your bathroom mirror is a great place for this!). Then, install LED lighting behind your bathroom sink, cabinets, or mirror. You shouldn't be able to see the lights when they're off and they should highlight the tiled area when turned on.
While this look will work with any color or material, it will work best if you choose a lighting color that matches your tiles. For example, the white lights in this bathroom highlight and complement the white herringbone tile pattern.
Horizontal Herringbone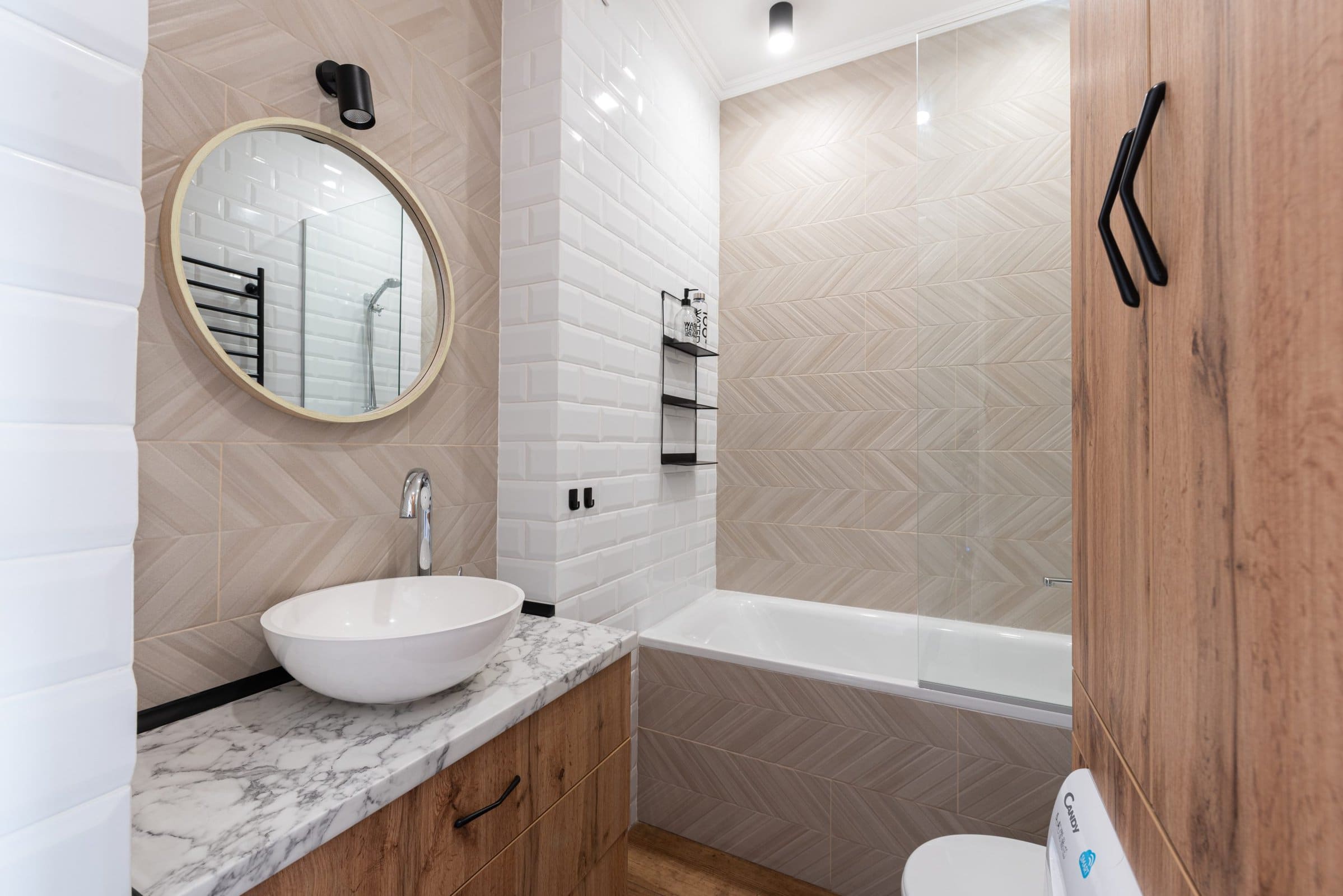 When you see herringbone tiles installed in bathrooms, you'll often see them arranged so that the chevron pattern they create points up and down. But one quick and easy way to update this look is simply to flip the tile arrangement so that the tiles point horizontally, instead.
By arranging the herringbone tiles in a horizontal pattern, you can help make your bathroom appear bigger. The tiles pointing horizontally create an optical illusion that the walls are wider than they actually are.
Try getting this look for yourself by installing horizontal herringbone tiles in prominent areas of your bathroom, like behind the bathroom sink and along the main shower wall, and then accenting those tiles with simple white subway tiles. The contrast brings visual interest to the space without clashing or distracting from the herringbone pattern.
Colorful Glass
If you love a retro look in your bathroom, or if you want to make a big statement in your bathroom, then consider adding large colored glass tiles in a classic herringbone pattern. Large tiles create a more custom feel and shiny glass gives the bathroom a touch of elegance.
As for color, that decision is up to you! Bright colors will have a big impact, and they'll work well against white showers, tubs, and sinks, but dark colors like black, brown, or purple will look dramatic and give your bathroom a moody vibe.
One way to break up all the colors in your bathroom is by using metallic fixtures, like in this example. Gold compliments blue perfectly, so pairing gold faucets, lighting, mirrors, and more against the tiled wall helps to give the room an elegant feel while also highlighting the tile.
Small Mosaic Tiles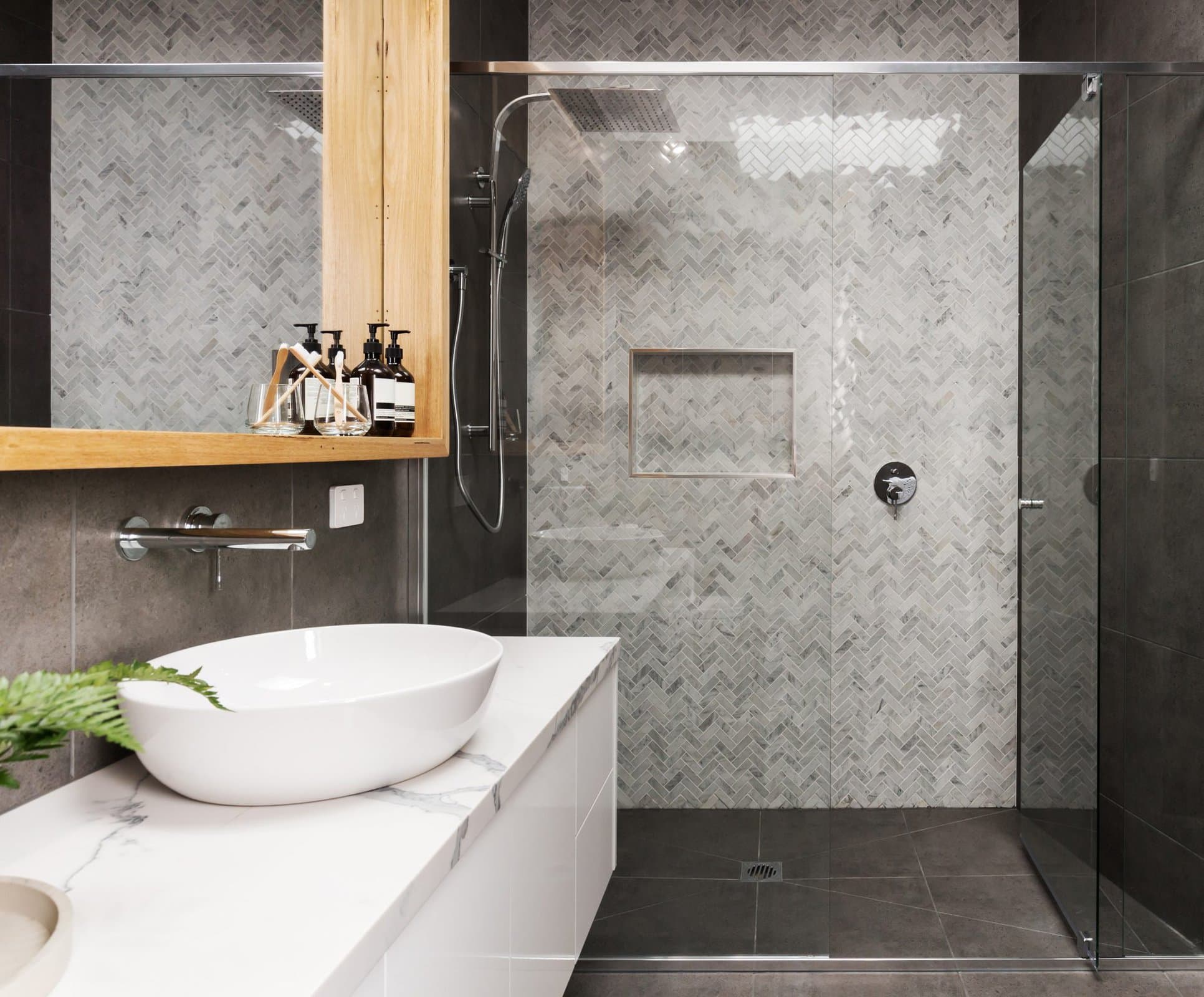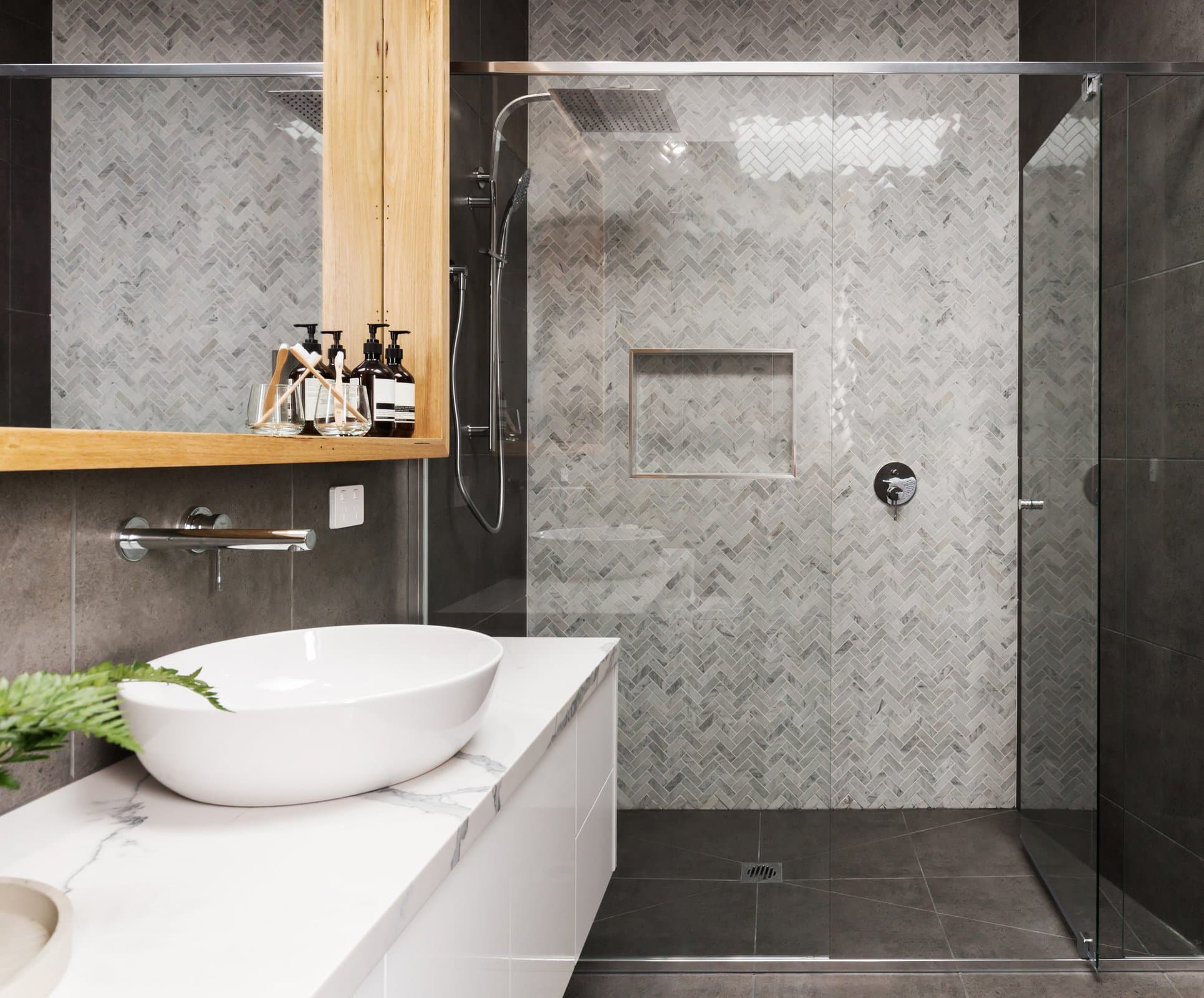 Large herringbone tiles are sure to make a statement in a bathroom, but if that's not your thing, then consider adding a wall of very small tiles in your shower or on the wall against your bathroom sink. Small herringbone tiles are subtle and stylish, perfect for a guest bathroom!
While this look works best with tiles in neutral colors, since too many colors may make the bathroom feel chaotic and unnerving. If you do decide to use small colored tiles, keep them to the same color family to avoid making your shower look too chaotic. For example, try tiles in different shades of pink, green, or blue.
For the ultimate contrast and a stylish, modern look, consider contrasting the small herringbone mosaic tiles against large square tiles in a dark color like the slate tiles in this example. The larger tiles and simple, dark color help to make the herringbone tiles pop and stand out.
Bright and Colorful
There are lots of ways to add lots of color to a bathroom: wallpaper, and colorful shower curtains. If you want to create a bold look in your bathroom, then go with glass herringbone tiles in a variety of different colors.
When picking out specific colors, make sure that there is a balance of warm tones, like oranges and reds, with cool tones, like blues and greens. You should also include a couple of light neutrals like beige or white, and contrast them against darker neutrals like charcoal gray, brown, or black.
If you're struggling to decide on the right colors for your herringbone tiles, look up color palette ideas online, or even just look around your own home for inspiration. What colors do you like to pair together in your wardrobe? What color combinations do you enjoy putting together in the rest of your home?
Remember that if you decide to go with a colorful tile pattern like this one, make sure that you keep the rest of the bathroom design simple and streamlined. Sleek white countertops and sinks, modern lighting, and a minimalist mirror are all you need to compliment this striking design.
Monochrome White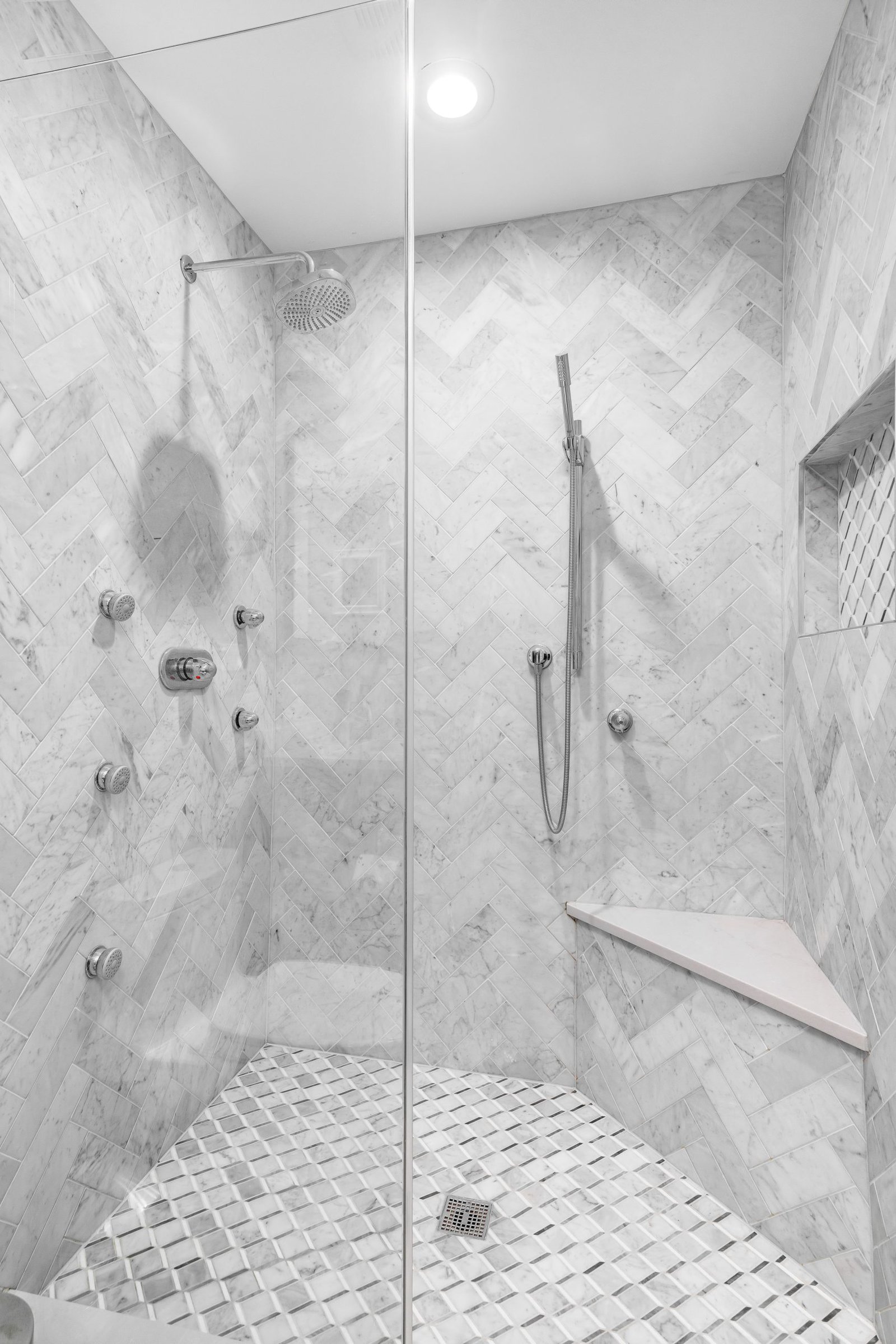 White-on-white designs are popular in modern bathroom designs, and it's easy to see why! An all-white bathroom looks clean and sophisticated, and even a little bit luxurious. If you're considering a white bathroom design, consider how you can add herringbone tiles to give your bathroom a bit of texture and visual interest.
For one, consider tiles that have a subtle marbling texture, rather than flat white subway tiles. This will help break up all the white and have the tiled walls stand out. The herringbone arrangement also gives the tiles a custom and luxurious look that doesn't feel too artificial.
To keep with the theme of white tiles, with just subtle hints of gray here and there, make sure to include silver touches in your bathroom fixtures, lighting, or showerhead. The silver will make the white feel brighter!
A Pop of Color
If you love the look of colorful herringbone tiles, but you're not quite ready to commit to an entire bathroom covered in them, then instead take a look at how you can incorporate tiles on one wall to add a bright pop of color to a neutral bathroom. This is especially effective when showing through a glass shower door!
If you want your bathroom to feel tranquil and have a spa-like quality, choose a color that's slightly desaturated and calming, like sage green, sea blue, or dusty rose. If you prefer to make a big design statement, then consider jewel tones like emerald green, or a bright orange or pink.
To contrast, the colorful herringbone tiles, consider doing what the designer did in this example and adding basic white subway tiles on the other shower walls. This will not only highlight the colored tiles and create an accent wall, but it will also make the herringbone pattern pop out against the more standard horizontal arrangement.
Grayscale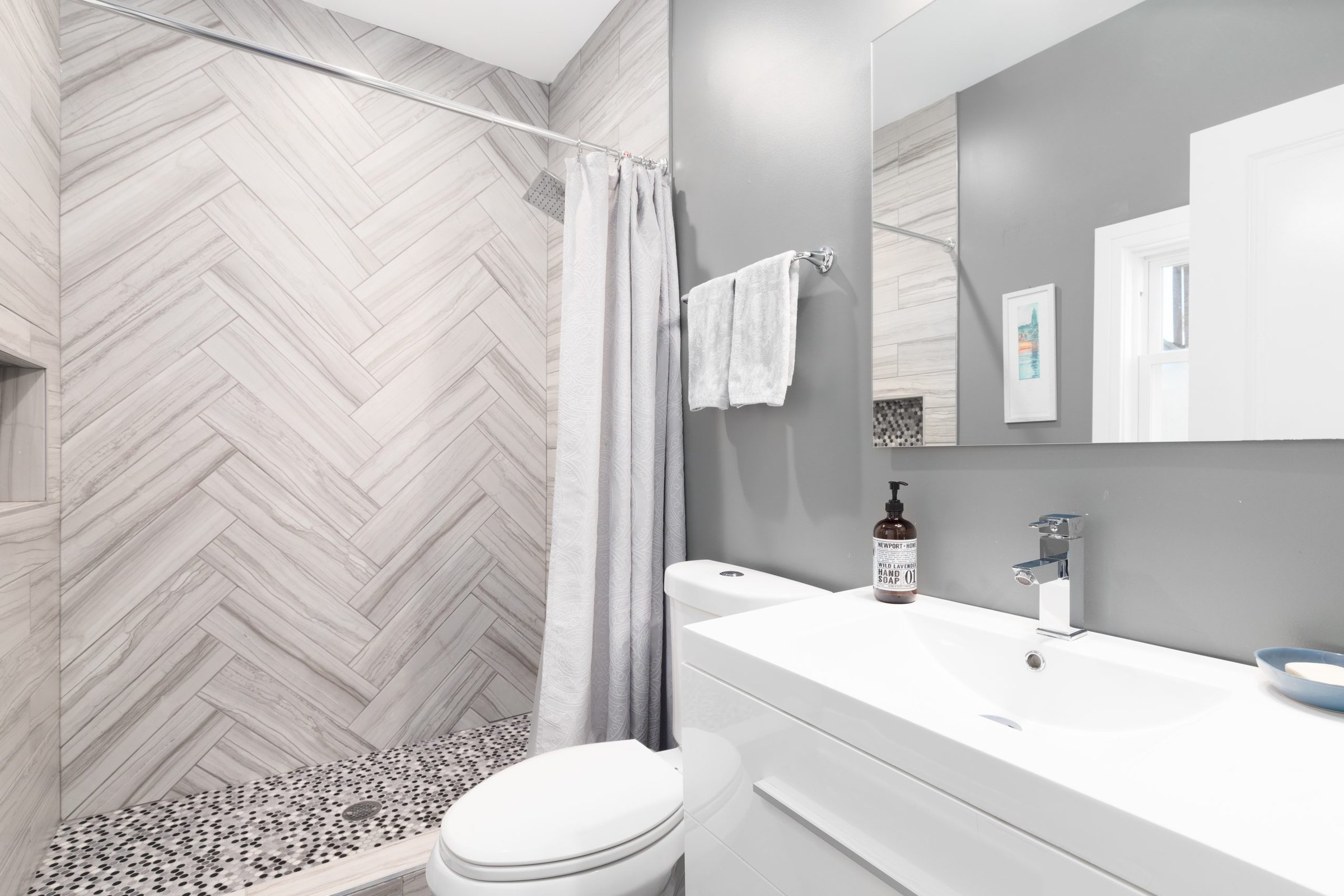 Rather than choosing white tiles to compliment a white bathroom, consider adding some textured gray tiles instead. This beautiful bathroom shows how a few streaks of gray can give your shower tiles some movement and dimension, and keep your bathroom from feeling flat.
To get this look, choose tiles in a streaked or marbled pattern, with lots of shades of white and gray. You don't want tiles that have a specific and definite pattern; instead, choose ones with an organic pattern that doesn't easily repeat. Try to arrange the tiles at random so that the pattern feels natural.
The herringbone pattern helps to mix up the white and gray pattern in this bathroom; rather than all the gray streaks pointing in the same direction, they point in opposite directions as the tiles are placed. This movement in the design immediately draws your eye toward the shower in this example.
Conclusion
If you thought there was only one way to do herringbone tiles in your bathroom, think again! This classic tile pattern can be utilized in so many creative ways to give your bathroom a modern refresh. Simply by changing the size or color of your tile, you can completely transform the look and feel of your bathroom space.
One of the biggest advantages of bathroom tile is that it's easy to experiment with to create a look that's unique to your home. Don't be afraid to think out of the box when choosing your own bathroom tiles!