29 Farmhouse Lighting Ideas for Amazingly Rustic Appeal
When you want a rustic and charming look for your house, think about farmhouse décor.
There are many ways in which you can implement the décor and lighting is an important aspect of that.
If you want to change the lighting of your house, make sure you check these farmhouse light fixtures that aren't just stylish but also carry a rustic appeal. And the best part is that these lighting styles are compatible with all kinds of decors.
Shabby Chic Iron Chandelier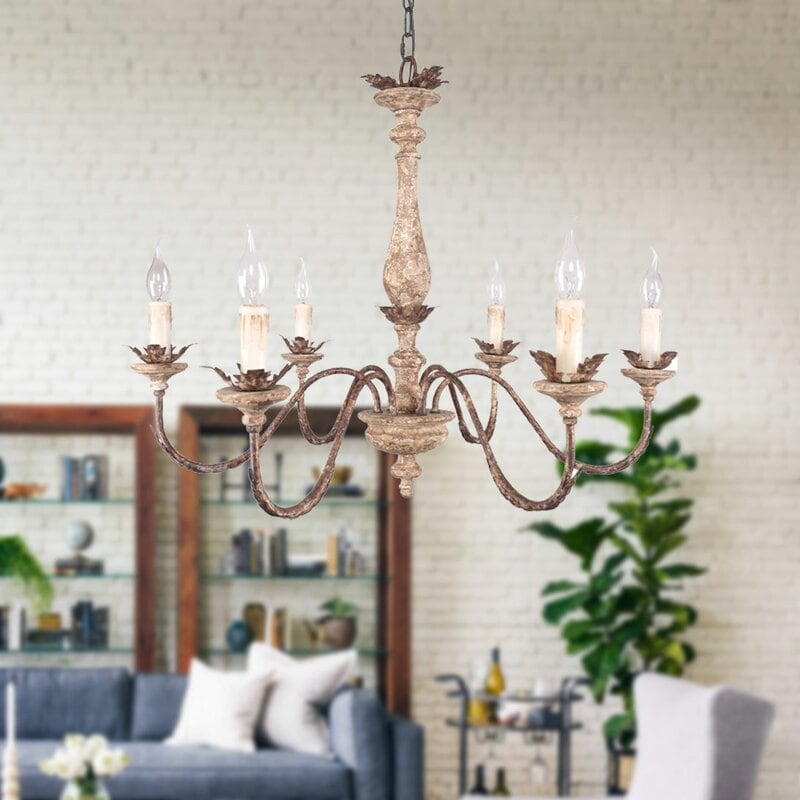 This weathered iron candelabra chandelier is beautiful and ideal for a dining area. With six candle spaces, it spreads a uniform glow on the table so the room looks illuminated in the evening. The wooden dining table and chairs carry a traditional look that's very farmhouse-type.
The looping scrolls of the iron chandelier look beautiful and yet simple. The tray on the dining table is white and carries fresh flowers to make the room look more vibrant.
Beautifully Rustic Pulley Hanging Light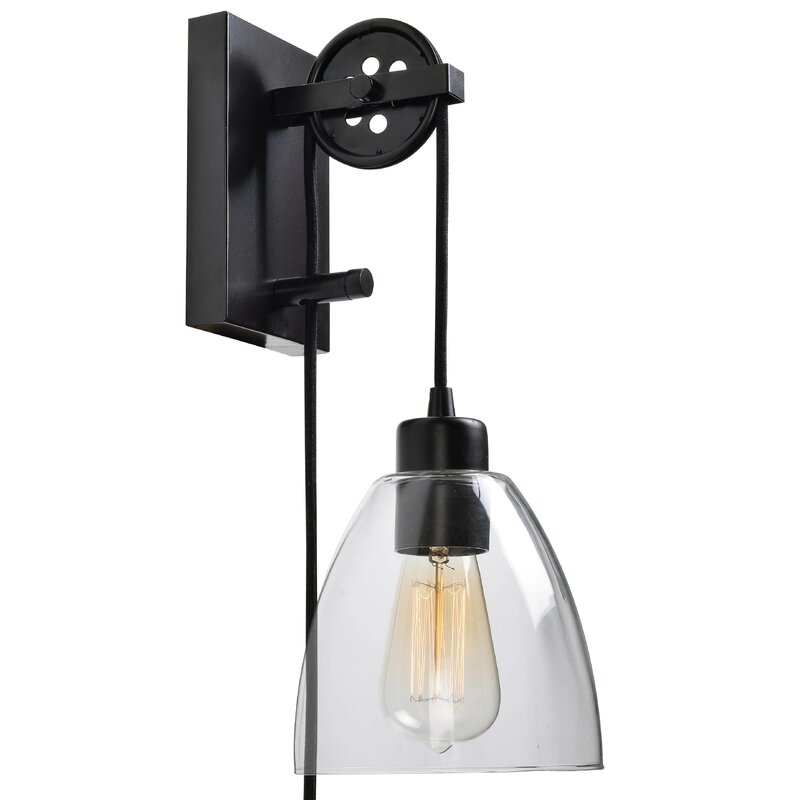 Pulley hanging lights have an industrial appeal that also gives a countryside touch to the area it's installed.
It's beautiful enough to be installed in the living room but will also look good in the bedroom or hallway. Heck, it can also be used in the porch area. Thanks to the pulley setup, you can change its location according to the area you want to illuminate.
The most beautiful part about this lighting is that it can suit absolutely any type of décor – farmhouse, country, rustic, industrial, steampunk, or any other, so if you even have to change your décor, the lights can still be the same.
Bathroom Light Sconces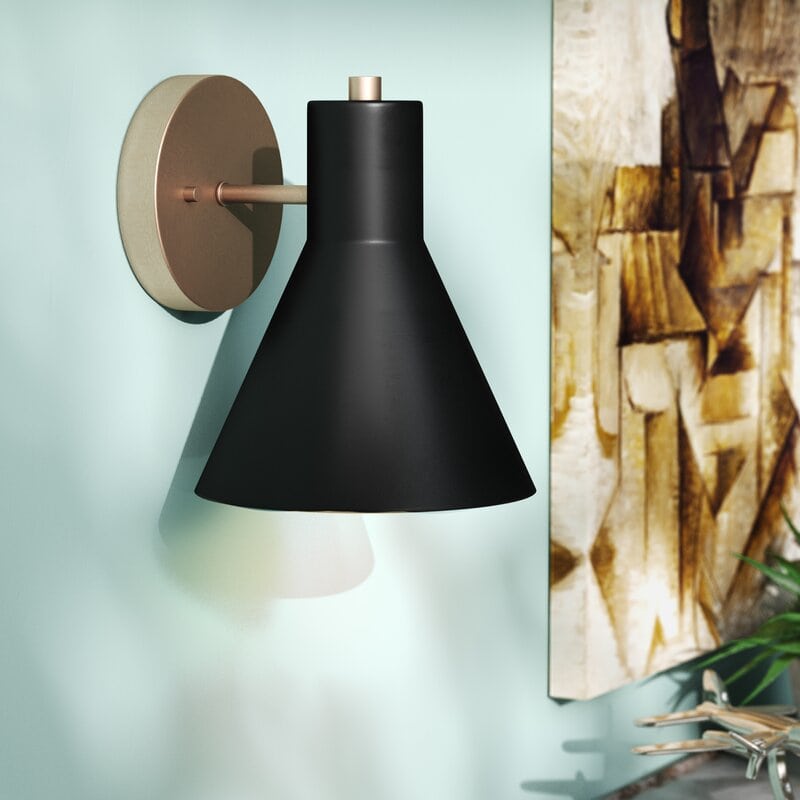 These black light sconces make sure that you get a good look at the mirror and can admire your beauty when you're in the bathroom. If vanity is a crime, these sconces will be your partners.
Beautifully black with white bulbs, they cast a soft glow that brings out your best side. The black fixtures create a beautiful contrast against the white wall.
If you're always looking for the right kind of lighting to take a selfie, this is what you need.
Beautiful Rustic Wooden Pendant
This pendant chandelier light is made to look like a candelabra with 10 candles that cast a beautiful glow to the coffee table below it. Made of wood and wrought iron, it has a farmhouse type rustic charm.
While it's beautiful enough to be used in the living room, it can also be used as farmhouse kitchen lighting.
When you're craving for that vintage look, wood and wrought iron can combine to create magic. And since it looks like a candelabra, it brings back the memories of the bygone era. Ah, the feelings of nostalgia.
A Glass Light Fixture
A glass fixture will make sure the light isn't obstructed in any way and reaches every part of the room.
This spherical glass fixture is minimalist and innovative and has a delicate look. It's bright enough to be used in the study room and doesn't cast a sharp glare. It has versatile looks and can be used in a contemporary or a traditional layout.
It looks like a glass bubble hanging from the ceiling and gives a beautiful touch to whichever room it is used in. if clear glass isn't your style, you can get a frosted glass fixture instead.
DIY Lighting with Ladder and Mason Jars
Create your own designer lighting by using an old ladder and some mason jars. Depending on the area you want to illuminate, about 8-12 jars would be enough.
An old ladder will give that shabby chic look to the room. Use a pulley to hang the ladder horizontally and use burlap rope to hang mason jars from there.
Place pine cones in a basket below the light and you'll get beautiful décor without spending too much. This fixture will be amazing in the dining area where you need to illuminate the entire space when you sit down to eat.
Wrought Iron Orbit Pendant Light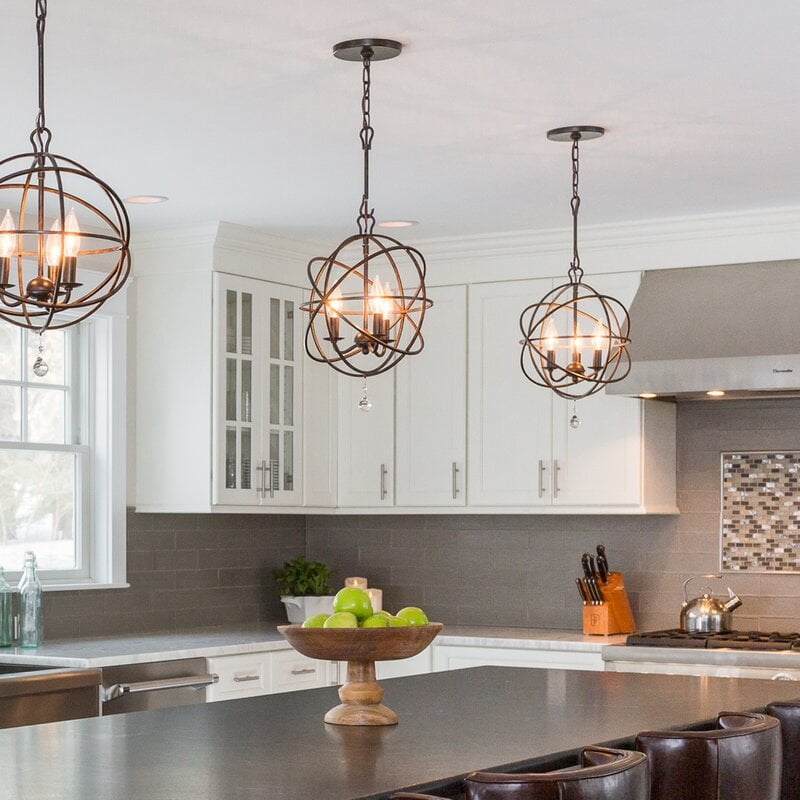 They are elegantly charismatic and give a farmhouse appeal to the room. They also have a shabby chic appeal and can be the focus of attention when your guests are here.
You can use multiple of them to create the perfect farmhouse dining room light. Or you can use them inside the kitchen.
These fixtures are versatile and can be used in absolutely any space. Place some fresh flowers under these lights and create the perfect décor.
A Shabby Chic Table Lamp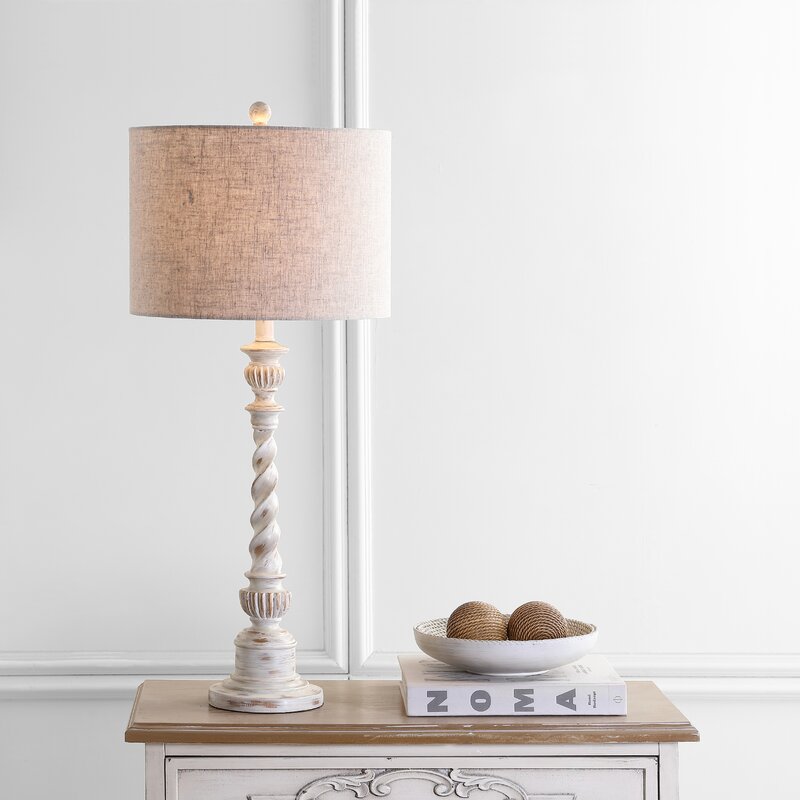 This table lamp creates the perfect shabby chic aura that you need in your living or dining room.
Place it on the coffee table or the side in the kitchen, it can be used absolutely anywhere. If you want a farmhouse appeal in the bedroom, place it on one of the side tables.
Since table lamps can be used anywhere, it can also be a part of your farmhouse hallway lighting. It gives a warm glow that will illuminate the space where it's kept and create a cozy ambiance.
Rustic Country Kitchen Lighting
This rustic lighting made of tin gives a very unique farmhouse appeal that's difficult to miss.
It's a perfect addition to any type of décor. Want to know where to put them up? Wherever you want your house to look the most stylish. While they are great for the kitchen, they can be used anywhere.
Put them up in strategic locations and they will light up even the dullest corners. You want your bedroom to appear cozy or your kitchen to look charming – these lights will be the right option for your farmhouse style house. These lights have the power to bewitch your guests.
Stylish Chicken Wire Lighting
This pendant light looks amazing with exposed wooden beams and gives a rustic appeal that will remind you of the days you spent in the countryside as a kid. It's the perfect way to get attract the attention of guests while keeping it minimal. Whether you have a European style home or a contemporary minimal one, these lights will look good everywhere.
They go well with the steampunk look as well as the industrial décor. They are lightweight and durable and will last for years to come. You can place a lightbulb inside or a candle, depending on the look you want to achieve.
Cross Framed Box Chandelier
Modern farmhouse lighting needs something minimal and unique. Like this island box chandelier that's made of wrought iron and is ideal for adding industrial flair to your living room.
It will look good in a modern and contemporary space but if you have a more traditional setup, you'll need another option.
It has a warm glow and allure that's enough to make the room illuminated with a warm and cozy glow. This chandelier has provision for 8 bulbs but you can get a smaller version as well, depending on the place you want to install it.
A Unique Bubble Chandelier
Whether you're looking for old farmhouse lighting or a new one, this one will go in all types of decors.
It's made to add pizzazz to the space it's used in. Capable of bringing alive even the dullest space, these lights will make your nights (and days) brighter. These little bubbles will bring a different farmhouse style to your house.
Bubble lights are available in several types and the number and sizes of the bubbles will vary. Get a designer look in your living space with this unique country lighting to add romance and glitz in your life and to woo your guests.
Wrought Iron Circular Disk Frames
Instead of having complete disks, these lights have just the borders and there are small light bulbs installed on them. These are ideal for uniform lighting that casts a soft glow instead of bright light.
If you're installing them in the living room, you'll need multiple lights. This living room has two fixtures but you don't have to stop at two.
Depending on the size of the living room and the level of illumination you want, you can install three or four of them too. The black wrought iron lights are looking wonderful with the white décor and are acting as accent pieces.
A Light Fixture with a Rectangular Wooden Base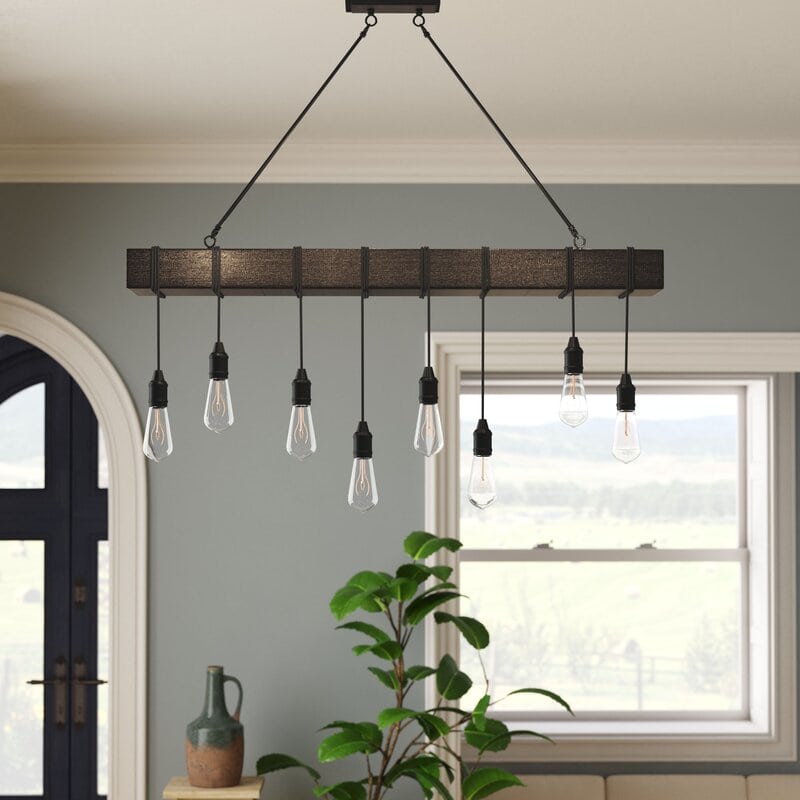 This lighting is stylish and extraordinarily beautiful.
The raw wooden look gives a glamorous farmhouse appeal and the lights hang at different distances, providing illumination to several things in the kitchen.
These lights don't just make the room brighter but also serve as conversation starters.
Crystal Chandeliers
The best way to enjoy a glass of wine is to create the right environment and sip on it while enjoying the space you're in.
If you have a European décor, this crystal chandelier is an absolute must in your house.
It's designed in such a way that they scatter the light in an even way. The delicate design of this light makes it a popular choice.
A Bell Jar Cover Light Fixture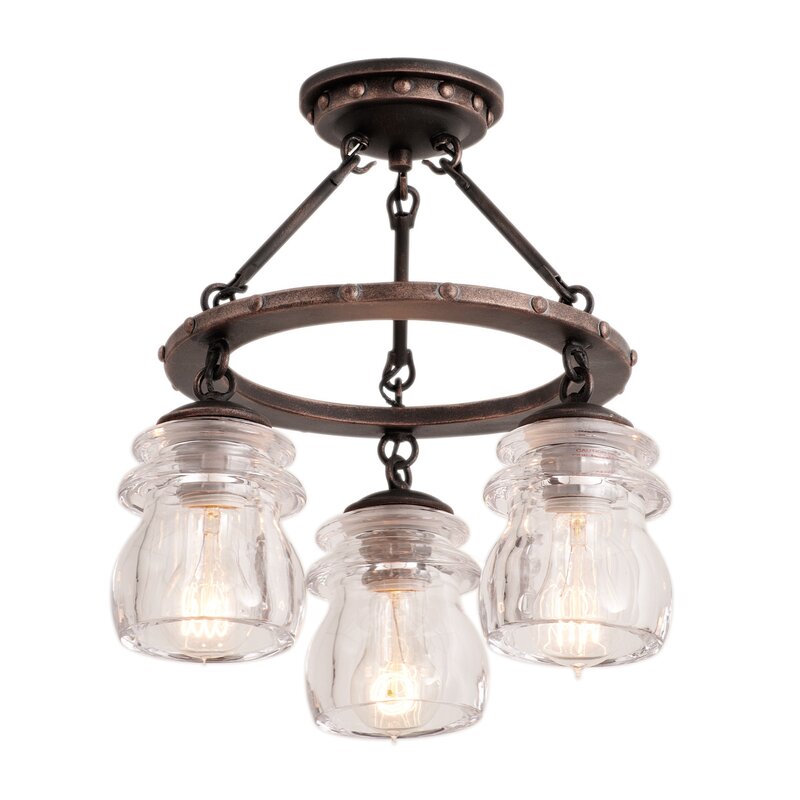 They are securely fixed to the ceiling with the help of chains. Since a large part of the fixture is made of glass, it gives a very delicate look to the place. Keep some wine glasses below these lights and you'll have the perfect French ambiance.
With fresh flowers on the table, this is certainly a place that belongs to someone who takes pride in their interior décor.
Large Bulbs in Mason Jars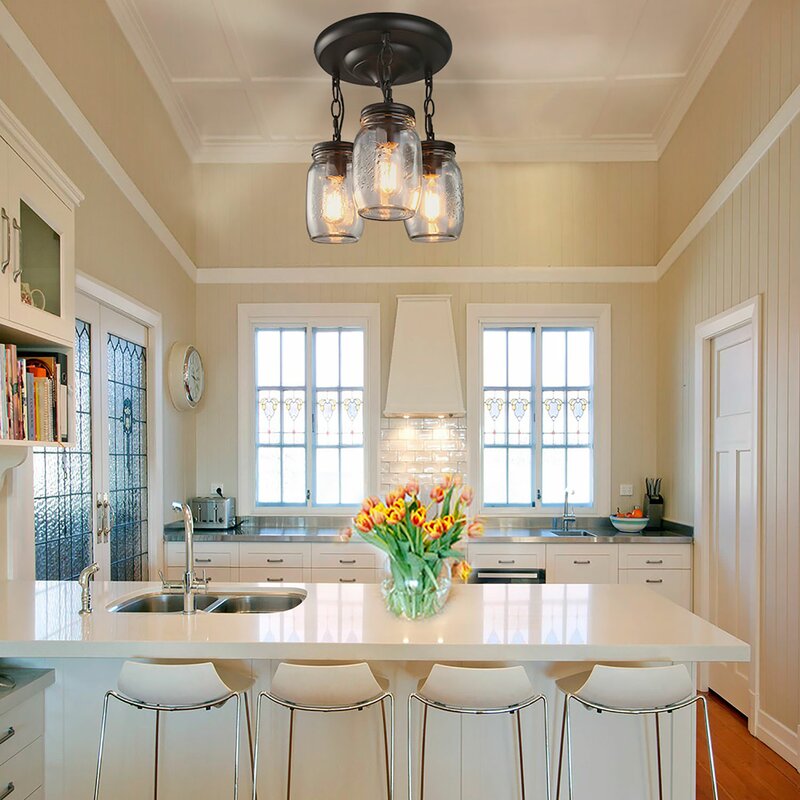 Mason jars are always attractive. Whether you're putting fairy lights in mason jars or using mason jars as light fixtures, they make everything look better. This farmhouse light fixture uses mason jars and large bulbs to create an amazing look.
The bulbs are large enough to fit the entire jar. The jars are fixed to a wooden base with thick cables. The jars have copper colored lids that make the fixture look amazing.
It's an amazing light that can be made at home if you're a DIY expert. It is stylish and minimalist and can be made by spending less.
Recessed Lighting in Wooden Beam
A track lighting but instead of a metallic bar, it's a wooden beam. The LED lights are recessed into the wooden beam that acts as a track to hold the lights together.
The beam hangs from the ceiling using iron chains. If you're looking for something rustic and unique, this is the perfect look to try. And it can be created in a weekend DIY project as well.
The raw beam isn't just rustic and beautiful but also robust and won't go anywhere for years to come. And you don't even have to buy expensive wood for the lighting. Cheaper wood variants would work just as fine.
Twin Lantern Hanging Lights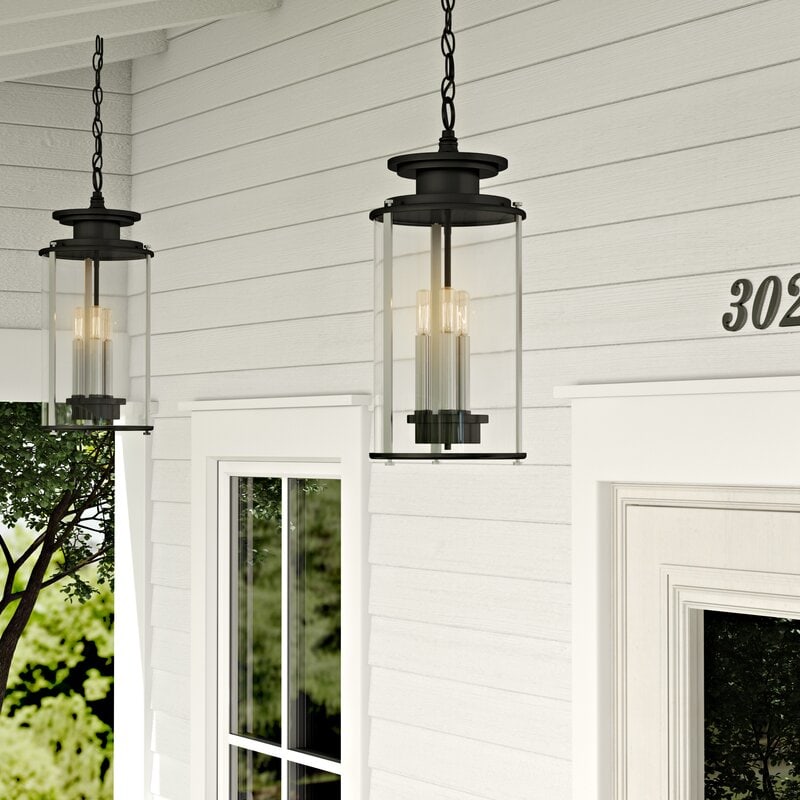 Bring out the old vintage charm with these lanterns. But instead of being placed in a corner, they hang from the ceiling. The chains create an antique look that's beautiful and vintage.
It's a chic farmhouse look that will make you feel you're in the countryside. The décor of the room is in accordance with the lights. Get the whole retro look in your home with these lights.
Burlap Shade Sconce Lamp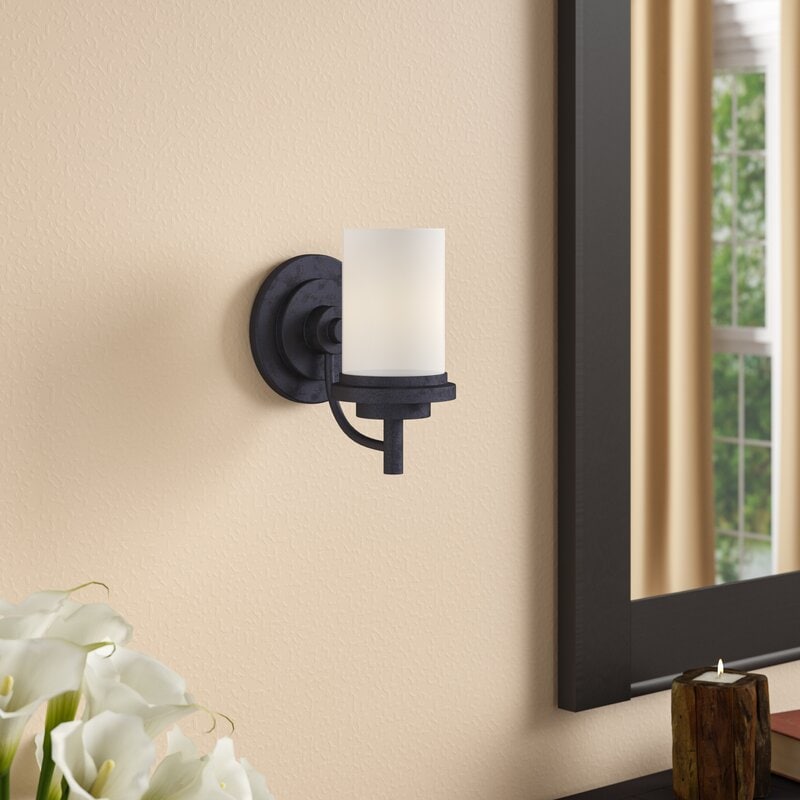 Shade lamps are often used to keep on the table or as floor lamps. This shade lamp is used as a sconce and gives a unique look. Whether you're looking for a farmhouse style or shabby chic, this lamp looks good in both types of décor.
Since these lamps are sconces, you can use them in pairs on both sides of a door or a window. The look of the sconce gives it a rustic appeal and it goes well with the mirror right next to it.
Single Mason Jar Wall Sconce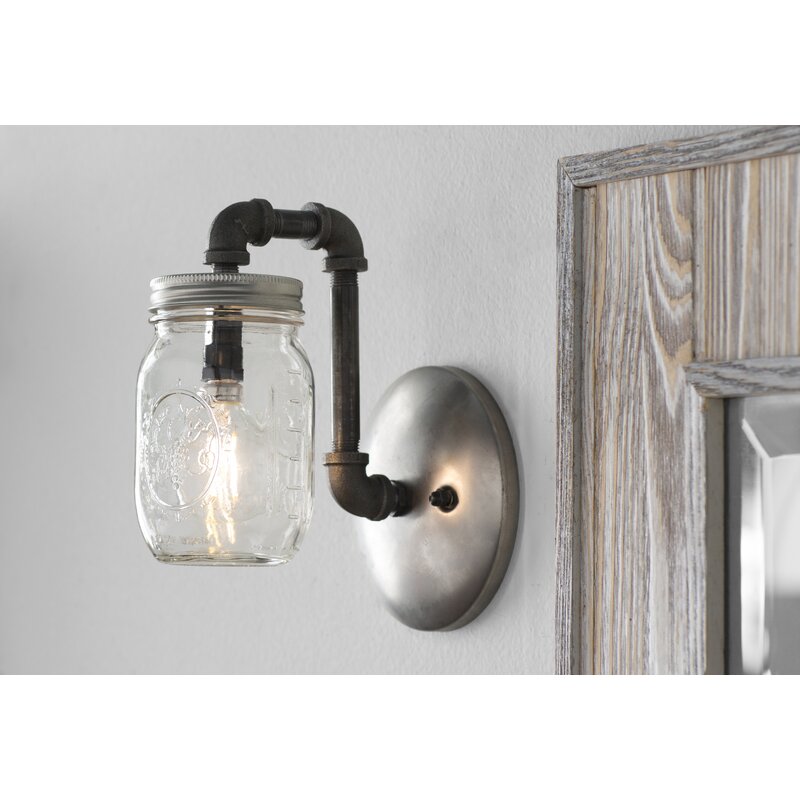 You can use multiple mason jars or you can use a single mason jar as a sconce. A simple concept that looks very beautiful.
Hide the cords under the wall and achieve a polished look. The pipe makes the lamp look amazingly beautiful and it has the power to attract the attention of anyone who visits.
It can also be created easily by setting aside a few hours for a DIY project.
A Colorful Look with a Fabric Covered Chandelier
An elegant chandelier that's vintage style but instead of using it as it is, wrap different colored fabrics around it so it gets a colorful appeal. A candelabra chandelier that works on electricity, this light fixture will turn heads with its pastel shades. And since it has a beautiful glow, it will turn dull evenings into bright ones.
If you have an all-white house and want an accent piece, this chandelier could be it. If you don't want to wrap fabric around the light and still want the colors, you can paint the chandelier in different shades.
A Frame Box Chandelier with a Golden Touch
A frame box candelabra chandelier that's ideal for the dining area, it illuminates a large space, thanks to the carefully placed candle shaped light bulbs. It's golden in color and gives a royal touch to the place. Add opulence and luxury to your home with this minimalist chandelier that has a modern appeal and yet will suit an elegantly intricate décor.
The arrangement hangs from two chains that are also golden and the color is uniform across the fixture. It's open lighting but if you want, you can place glass panels in it to give it a closed look.
Cables Wrapped Around a Wooden Beam
A wooden beam is hanged from the ceiling using iron chains and light bulbs hang from it. But instead of the bulbs installed on the beam, they are hung loosely and just wrapped around the beam. It as a casual and minimal appeal and yet looks trendy and classy. The dark wood looks good with the dark cables that are wrapped around it.
The bulbs cast a soft yellow glow below and this is ideal lighting for a large hall or the dining area. Since there are many bulbs, the arrangement has good luminescence and can brighten the entire area. Depending on your needs, you can increase or decrease the number of bulbs that hang from the beam.
Edison Bulbs in Metal Cages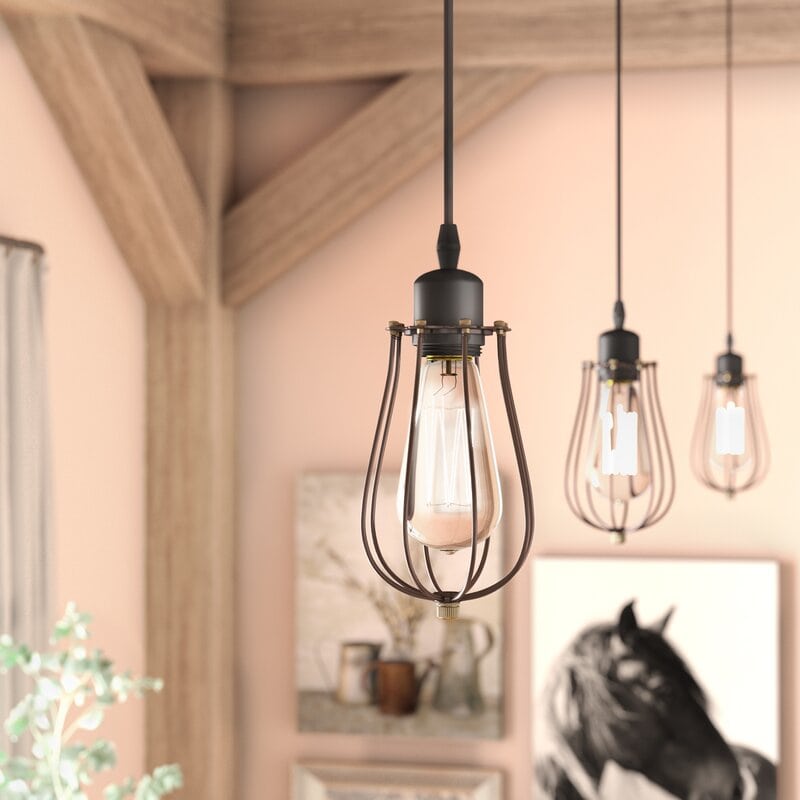 Wrought iron metal cages are fixed on a square wooden base and are fitted with large Edison bulbs to give an industrial or steampunk look.
The best part of this fixture is that it goes with a number of décor themes including farmhouse. While the arrangement itself if beautiful, you can make it even more beautiful by adding technology to it.
Use a dimmer to lower the glow of the bulbs. When you want to work under the light, use it at full brightness and when you want a romantic setting, keep the light to a minimum. Adjust the light levels depending on your needs and time of the day.
A Simple and Small Fixture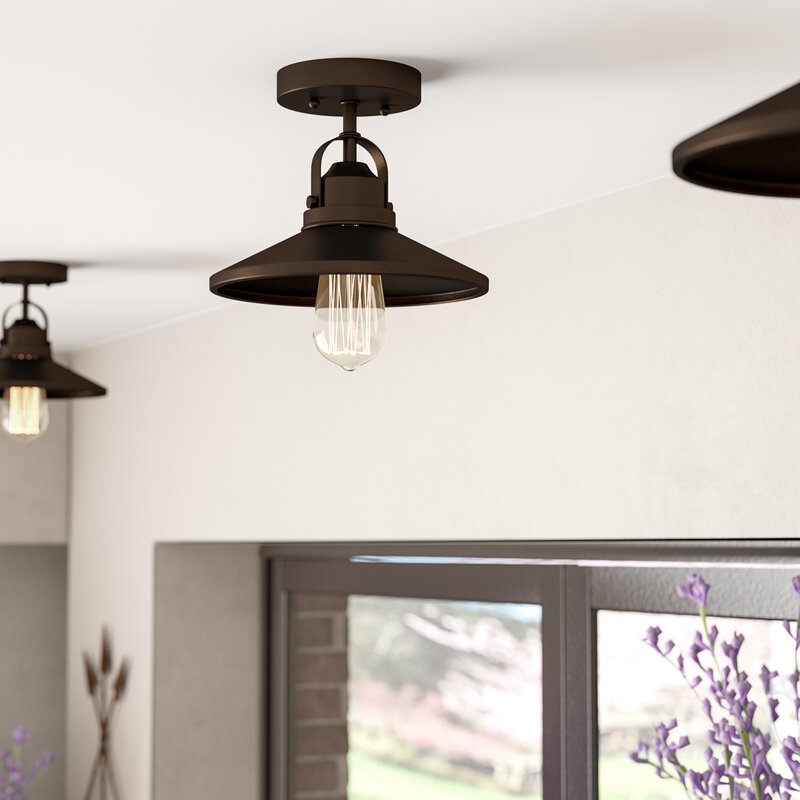 This tiny little light fixture is simple and yet carries a farmhouse appeal. The oil-rubbed metallic finish of the light gives it a sophisticated appeal.
Made of bronze, this light fixture looks beautifully antique and has the power to illuminate the hallway or any other place of the home.
While it might not be the focal point of the room, it's simple and does its job well of brightening up the place and looking stylish. While it can be in any color, black generally looks good on these types of fixtures. Since it's simple, it looks good on all types of décor.
Modern Farmhouse Appeal with Cubical Jars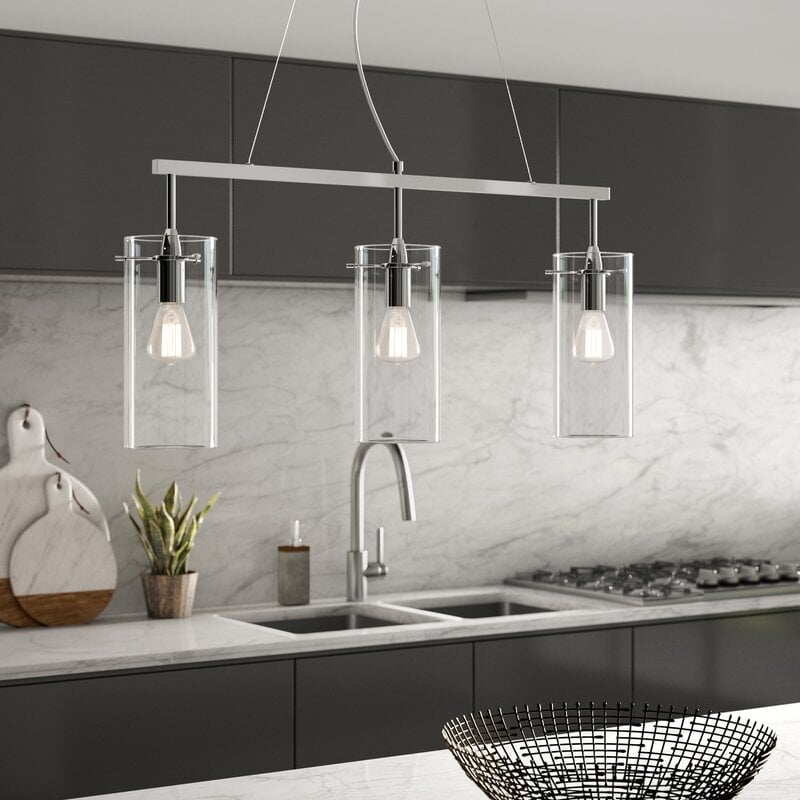 While this design does have a retro appeal, it's more modern and comes with glass shades that are cubical in shape. The hanging bar is plain and simple, giving the fixture a minimalist appeal. If you're looking for farmhouse lighting that goes well with your minimal décor, this light is the one.
It has three Edison bulbs and you can go for a bigger fixture depending on your needs. There are light with more bulbs as well. If you have a large dining area, it's best to have a fixture that supports at least 5 bulbs.
Farmhouse Lighting with a Lot of Personality
These intricate cage lights are screwed on to wooden planks that are tied together with burlap ropes.
The entire fixture hangs from the ceiling with the help of iron chains. The setup is intricate and carries a lot of personality. While it is modern looking, it also has a rustic charm that makes it go well with the farmhouse décor.
This lighting can be used anywhere but is advised to be used in the living room because it's absolutely gorgeous and draws attention towards itself. The Einstein bulbs are big in size and this is why even four of them are bright enough to illuminate a big room.
Two Bulbs on the Opposite Sides of a Pulley
We've seen one bulb installed on a pulley. Here are two bulbs that hang on either side of a rope that is wrapped around a pulley. You can change the length of each bulb and the distance at which it hangs by moving the pulley wheel.
The bulbs are enclosed in glass cases and it gives a very farmhouse as well as industrial appeal. The bulbs hang by their cords and you can unwrap it a bit to change the lengths of the cords. Even if you don't have a dimmer, changing the length of the cable can change the brightness of the room.
DIY or Purchased
The best thing about farmhouse lighting is that it can either be purchased from the market or even made at home in just a few hours. Since farmhouse lights have a rustic appeal, it's easy to create them in your house. If you're creative enough, make your farmhouse lighting. If not, get them from the market. They all look beautiful!