Unique Bookshelf Lighting Ideas to Enhance Your Reading Area
If you love to read then you'll want to show off your own beautiful library and bookshelf displays. You also might want a cozy reading nook with good lighting to get stuck into your latest page turner.
There's a wide choice of lighting for bookcases with some options you might not previously have considered.
Think about how you can arrange and light up your bookshelf. Make it the centerpiece of the room with some useful and innovative lighting ideas.
Under the Spotlight
You'll need to have electrical know-how or employ an electrician to fit them, but spotlights will shine some light on your gorgeous book display.
Either fixed to the wall with a long arm bracket, or attached to the top of the bookcase, this is a classic look with simple metal lampshades.
You can experiment with the number of lights you fix, depending on how much light you need. And the traditional spotlight is only the beginning, you may get inventive with more modern wall light designs.
Delightful Fairy Lights
Fairy lights add a touch of fun and romance, and are versatile to arrange as you want for the look you want to achieve on your bookcase.
Whether gently strung and looped around your bookshelf, or fixed into rigid lines along the shelves, this is a cheap and simple way of adding soft lighting to your book display.
Bookshelf Picture Lights
Picture lights will add softness to a modern scheme or coziness to a more traditional room.They can be fixed either on the wall above your shelving, or within the bookcase.
A picture light with a brass finish gives a classic, period feel to your display, and can focus the gaze on particular items.
Having lights fitted professionally will look sophisticated but you can also get a quick fix by fitting a battery operated picture light, many of which work by remote control.
Reading by Candlelight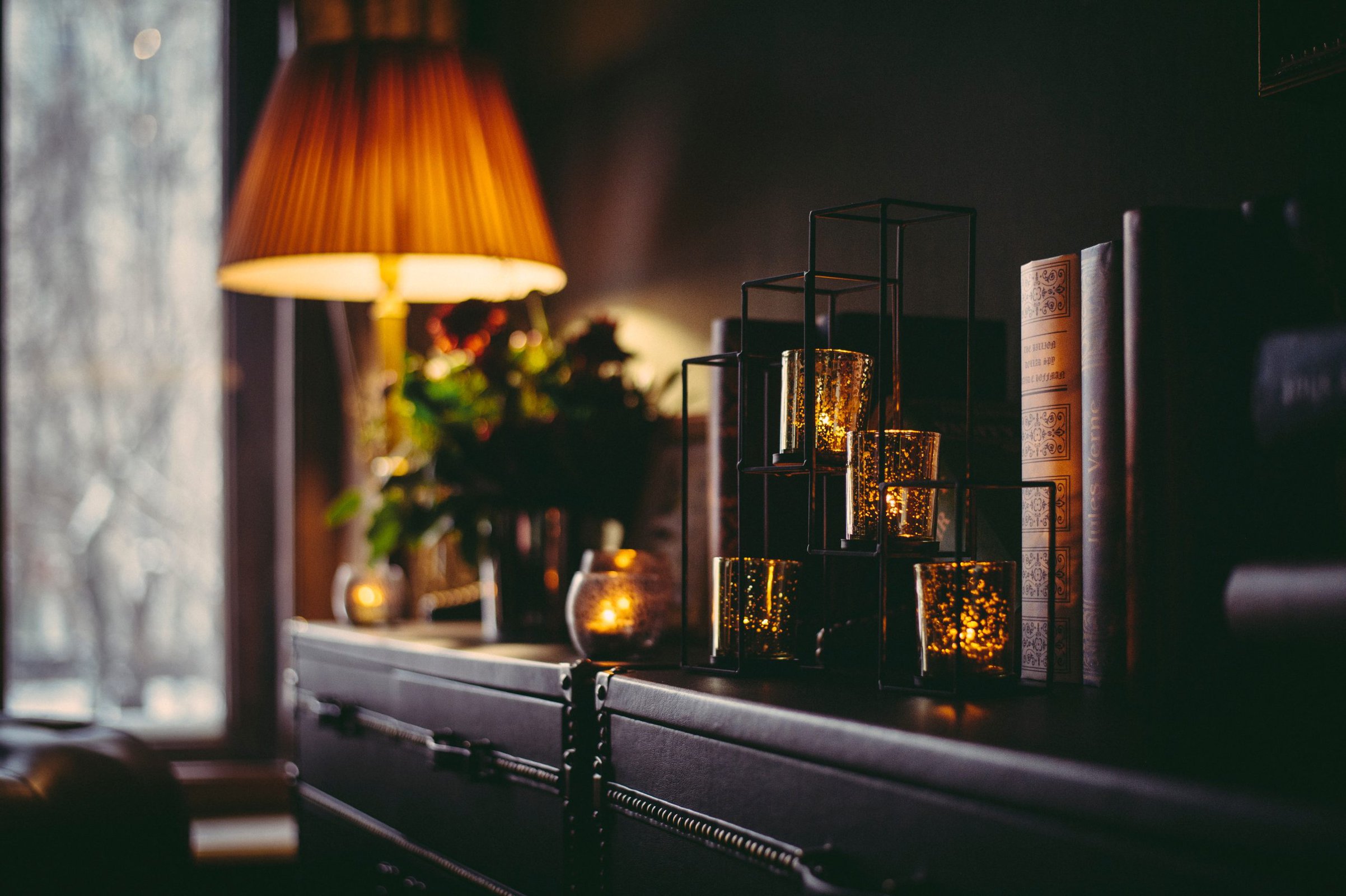 There's something appealing about the life of a real flame. So long as you consider safety in terms of keeping loose fabric or paper away from a naked flame, then you could put candles on your bookshelf.
Tealights in glass votives add a dramatic touch and draw attention to a particular area of your bookshelf. Perfect for when entertaining, these lights will add a gentle glow to a dark color scheme.
Use as many as you need. A couple of candles will be a feature, many more will give a good source of light.
LED Lighting on Your Bookshelf
For those who are more cautious and like the idea of candlelight but want a safer option, then an LED candle is a perfect choice.
These days there are some very realistic looking LED candles with 'moving' flames and they come in a range of colors to suit your decor.
You could put one light on each shelf, or place in a group of two or three for a muted display to illuminate your favorite reads.
Underneath the Lamplight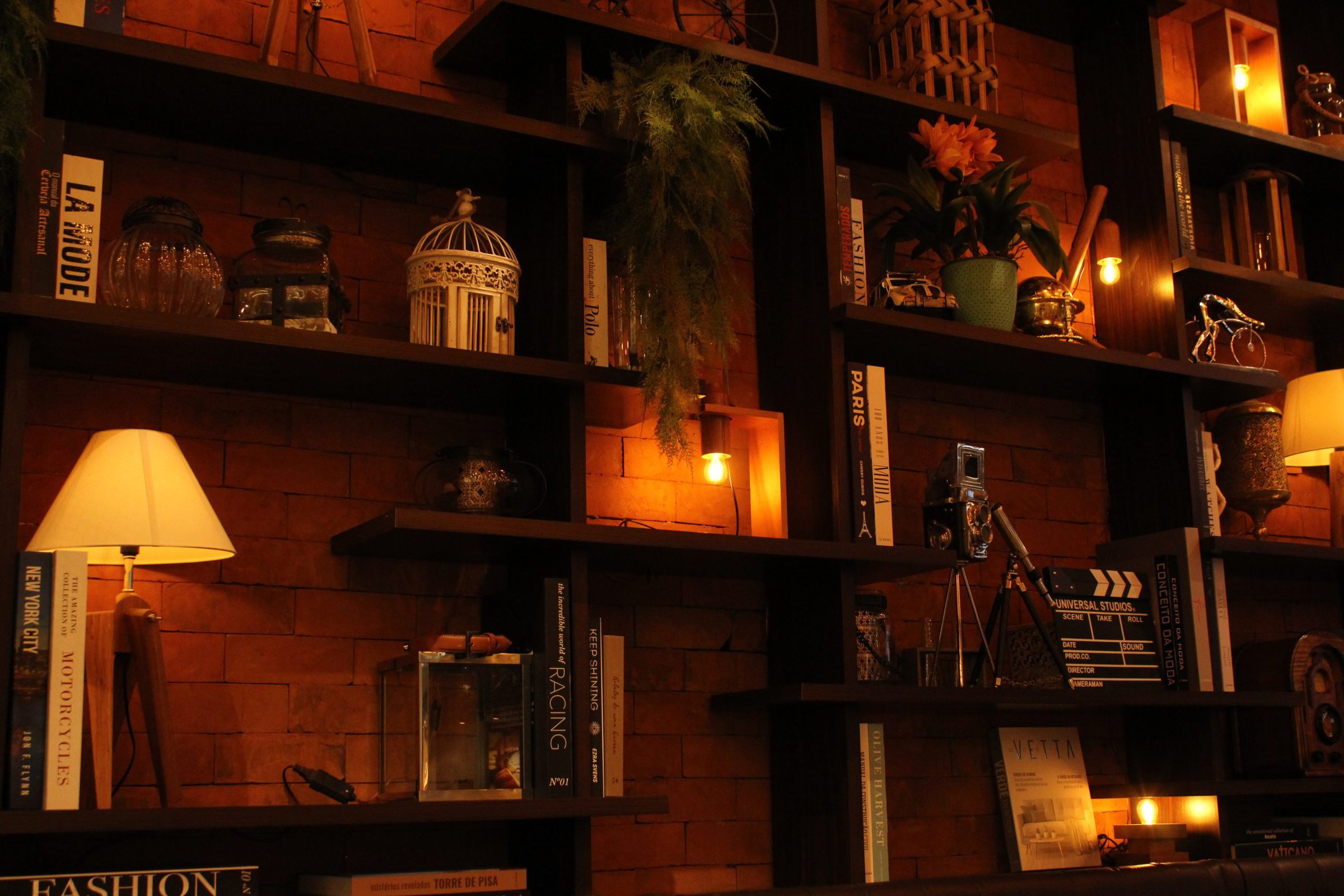 For period elegance, a few table lamps will look fitting on a traditional bookcase. Easy to install, you may even repurpose existing lamps, for a simple yet dramatic look.
For a little theater, consider using sculptural lamp bases in wood or plaster with warm yellow lighting. For a modern touch, keep the lamp and the shade white, and fit a white light bulb.
Can Lights Can Light Up Your Bookshelf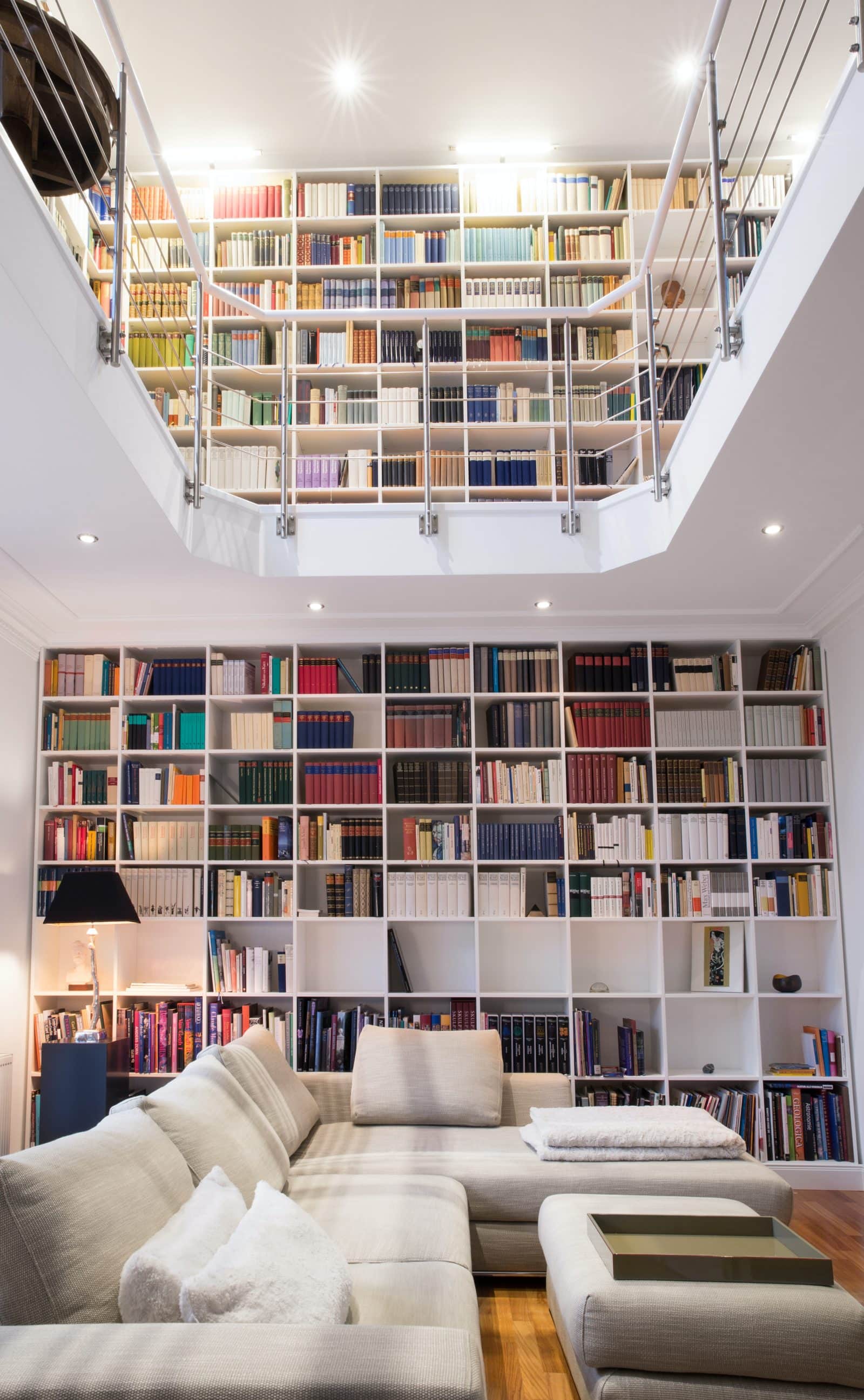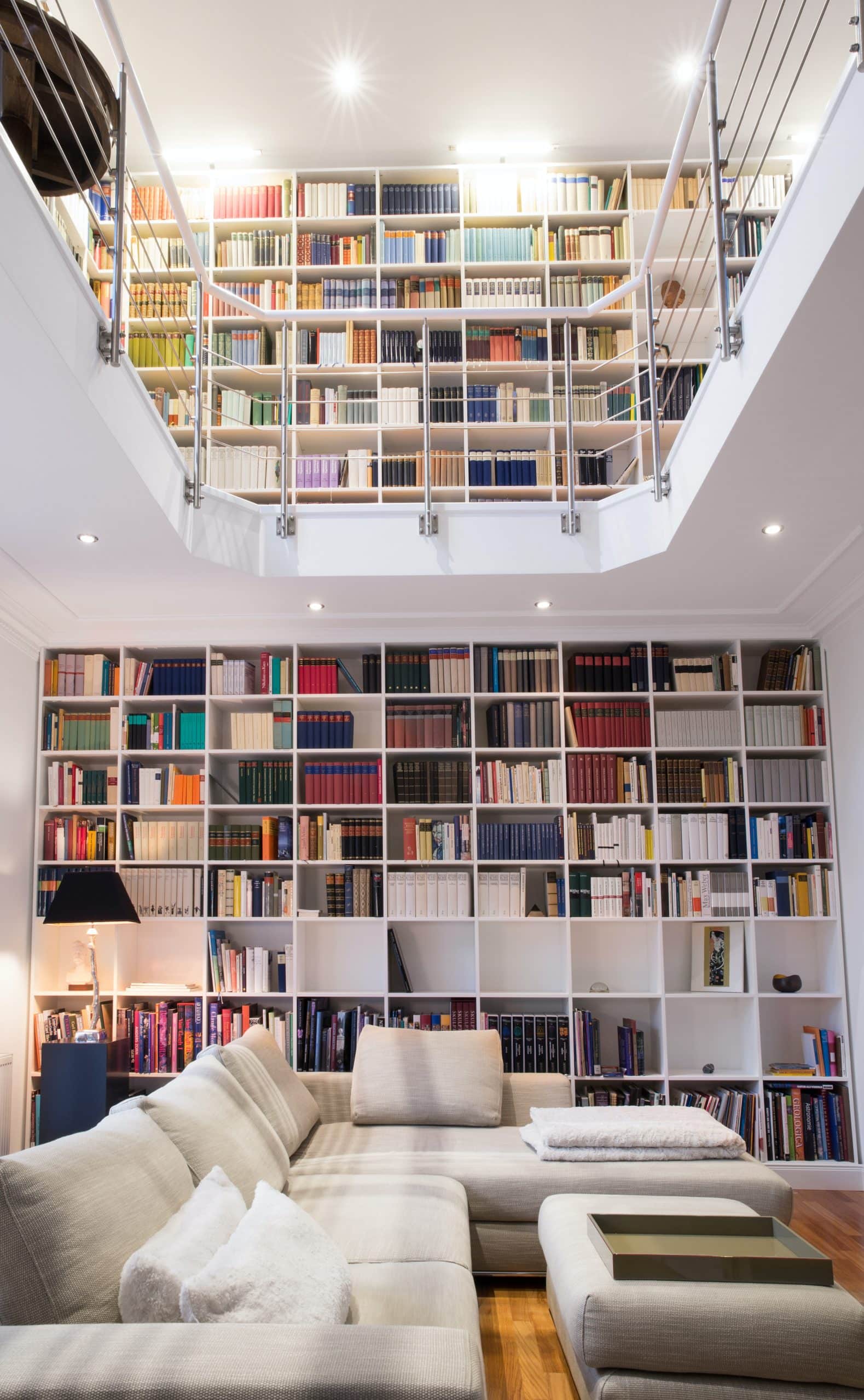 You might not have two floors of home library yourself but a great way of adding modern lighting over your bookcase is to fit can lights. Also known as recessed lights, these are best fitted by a professional and will give you a classy, clean look.
Positioned in the right place they will throw a bright light over your best books and light up your designer display.
Lights for a Designer Look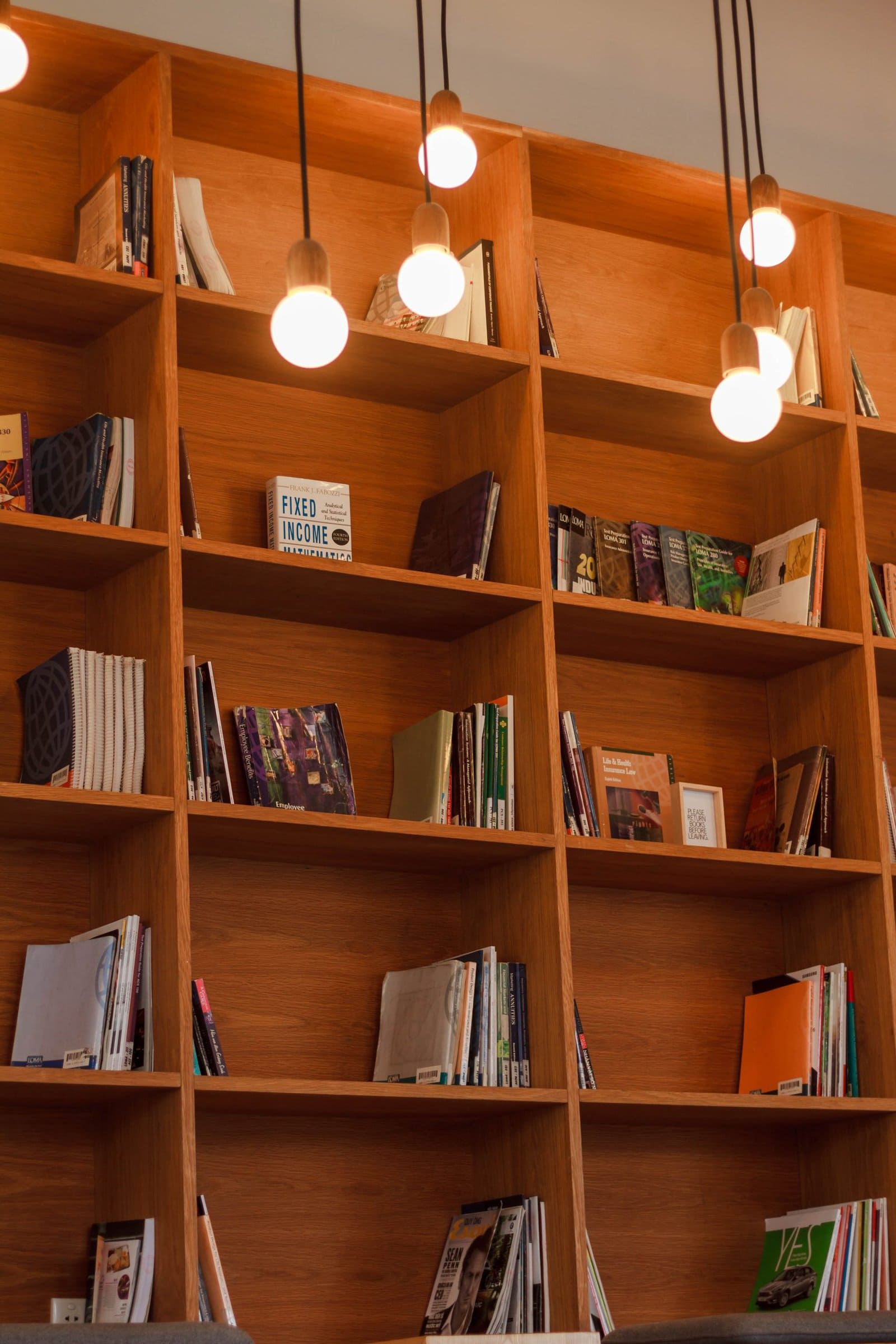 This is a choice of design for someone who doesn't need to regularly access their books as the lights might get in the way, but designer lighting hung low can add a real statement.
Choosing a simple but bold lighting design, which is an artwork in itself, will not only look awesome but it will also give you a good practical light for your room, and for when you want to browse your shelves.
Consider the layout of the room as this will not work in a main thoroughfare. But if you love the look and have the space, this is an original way of lighting your bookshelf at home.
Concealed Strip Lighting on Your Shelf
Strip lighting is a lovely way of lighting individual sections of a storage unit or bookcase. You can have electric lights professionally fitted or for a cheaper, instant solution, you can buy adhesive lights. These usually have magnets attached for ease of removing the unit for charging.
Strip lights will fit under the shelf in the way you might expect to see under a kitchen cabinet. As the units are slimline, they will be hidden from view.
This is a wonderfully modern look and you can choose how many lights you want to switch on at a time according to the ambience you want to create.
Festoon Bookcase Lighting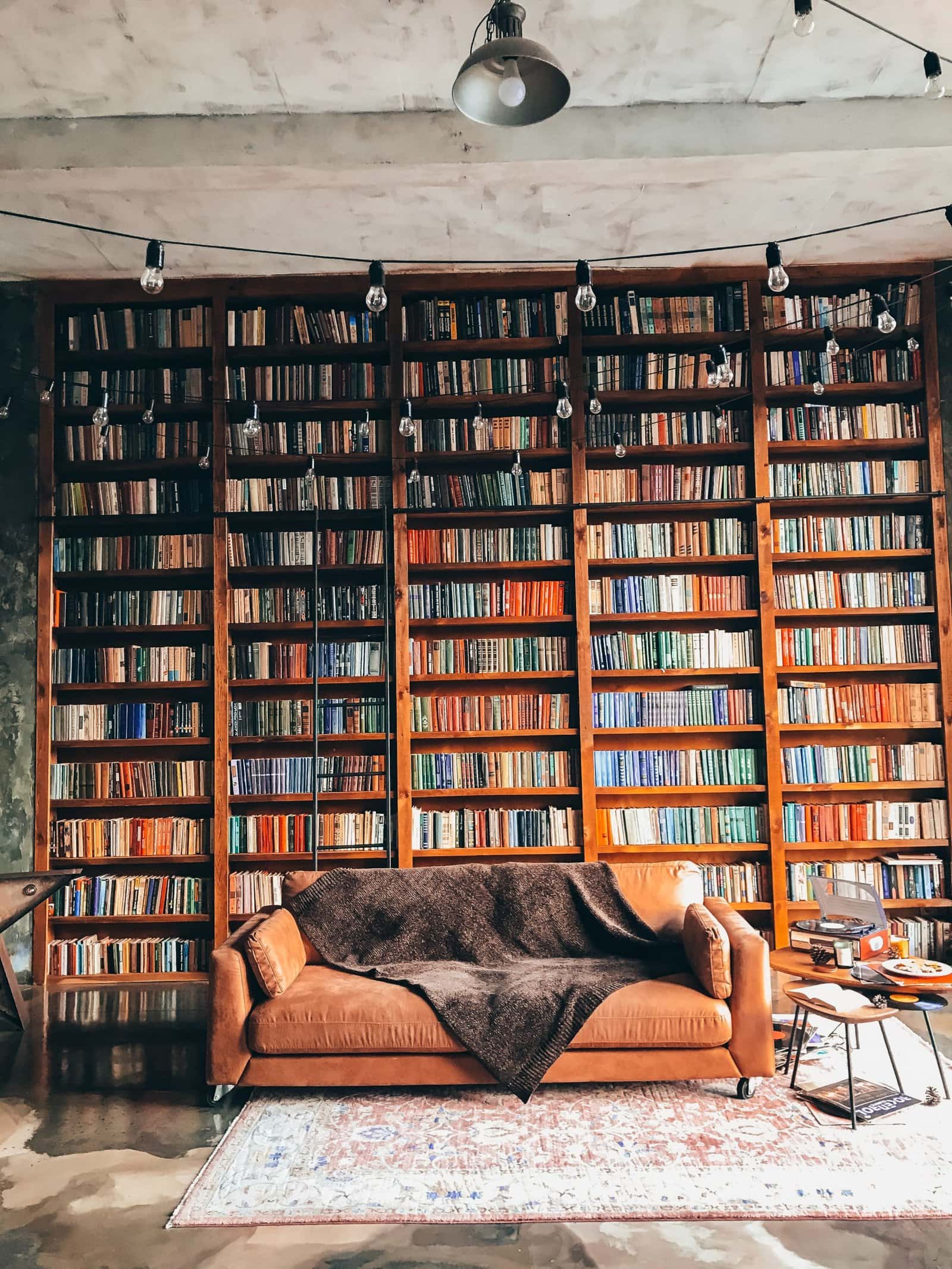 Usually the reserve of outdoor parties and entertaining, festoon lights are a clever and unusual way to light your bookshelf.
Effortlessly chic, all you need is a string of festoon lights and some imagination to create some lovely shapes, as well as creative after dark lighting.
Just right for when you have friends around if your bookcase is in your living room or dining area. Wow indeed!
In Summary
While there are some obvious and traditional bookshelf lighting choices, you may be surprised at how simple these sophisticated ideas are to replicate, even if you're not a professional electrician.
With some imagination and creativity there are some innovative ways of lighting your home library, from sculptural lamps and lights, to strings of fairy lights and festoon lighting.
When you've taken the time to create a beautiful display on your bookshelf it's worth putting a little thought into how this will look at night. You can impress visitors with clever lighting features in your home.