Decorated Life is reader-supported. When you buy through links on our site, we may earn an affiliate commission. Learn More
20 Kitchen Farmhouse Backsplash Ideas
New trends continue to emerge as spinoffs of existing ideas throughout the years, much like our favorite TV shows. In interior design, nothing is more open to interpretation than the farmhouse fad.
The kitchen and bathroom are two of the most common spaces where the farmhouse themes are always popular – the backsplash in particular. A backsplash's main purpose is to protect the walls around sinks from moisture and around the stove area to prevent grease damage. Check out these twenty farmhouse backsplash ideas to see various styles.
As you'll see, farmhouse backsplash can include design elements of industrial, modern, rustic, contemporary, turn-of-the-century (circa the early 1900s), coastal, vintage, and minimalist.
Modern Matte Subway Tile in Black and Blue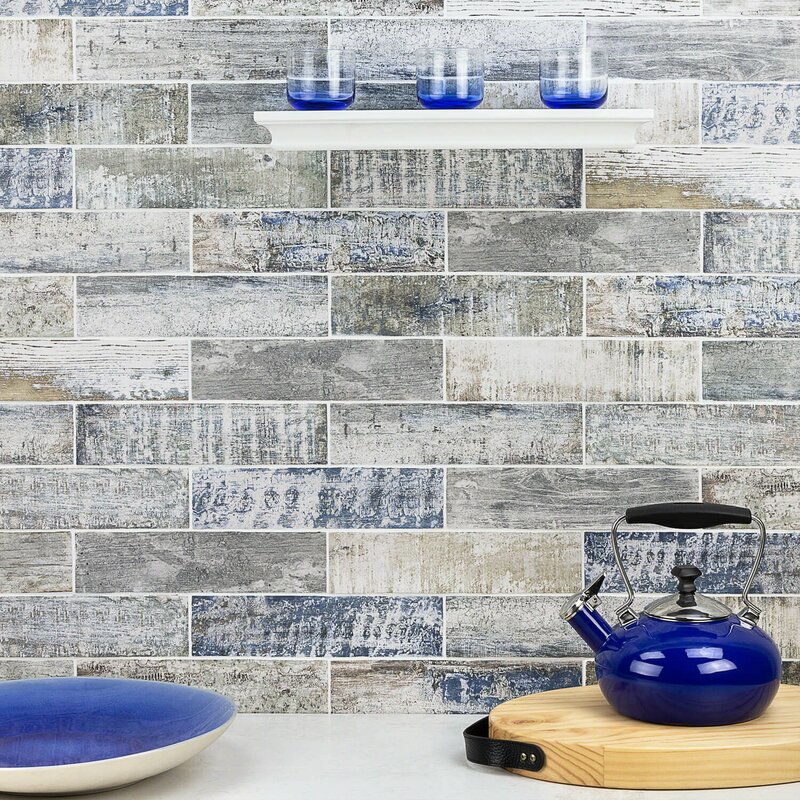 A lot of farmhouse designs incorporate materials that are aged and often reused. In this kitchen, the use of ceramic subway tiles invokes a warm, homey feel.
And the distressed, matte finish gives the singular blue, black, brown, and gray ceramic tiles a rustic, lived-in appeal guaranteed to brighten your kitchen.
Sleek Stylish Subway in White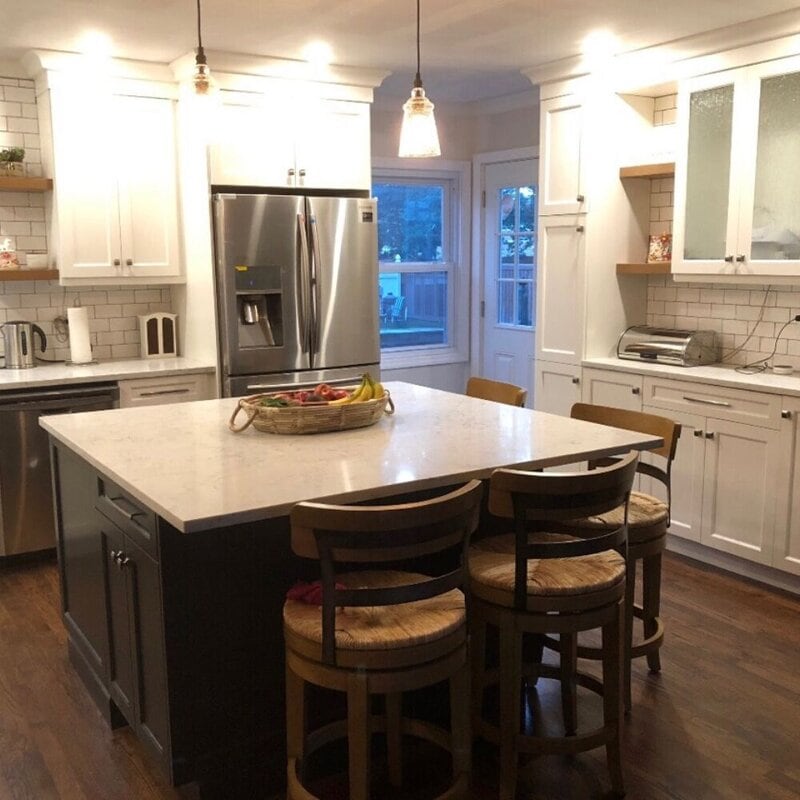 Nothing screams farmhouse harder than white subway tiles, with their classic clean look and bright neutral color reflecting light around the room.
And one of the best things about using white subway tile for your farmhouse theme is that the timeless design will never go out of style.
Icy Blue Lantern in a Ceramic Tile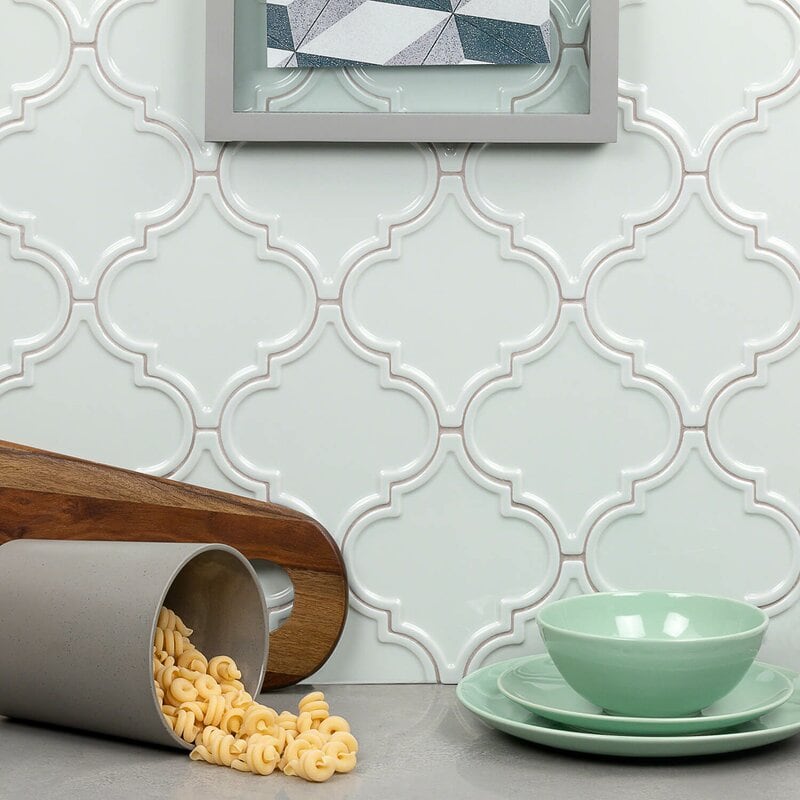 Another fantastic farmhouse kitchen tile backsplash idea is to use lantern-shaped ceramic tiles in a cool, icy blue – nearly white – hue.
Choosing a light off-white gives you just enough color tint for personality and design without too much of a punch in the face.
Pretty in Patterned Geo-Floral Blue and White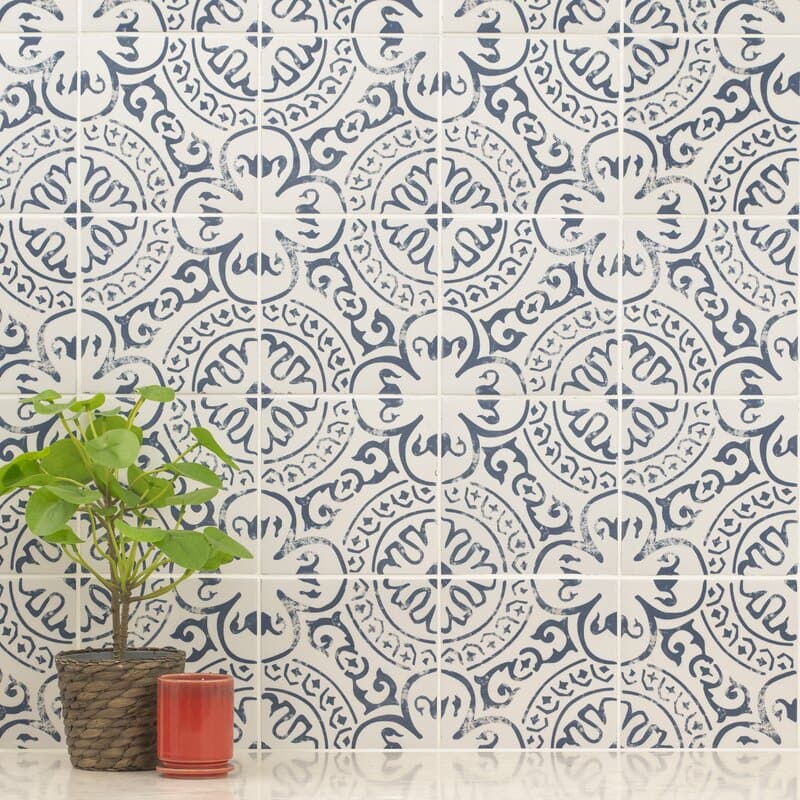 For a vintage farmhouse country kitchen backsplash, think in terms of colored patterns. You can create an outstanding visual in your kitchen using a backsplash in a stamp-like geo-floral design.
And it would look even more stunning in a white and blue color palette with a stark white grout and glossy white counters. We can't get enough of these porcelain tiles in aged white and dusty blue.
Classic Color Combo for Modern Farmhouse Feel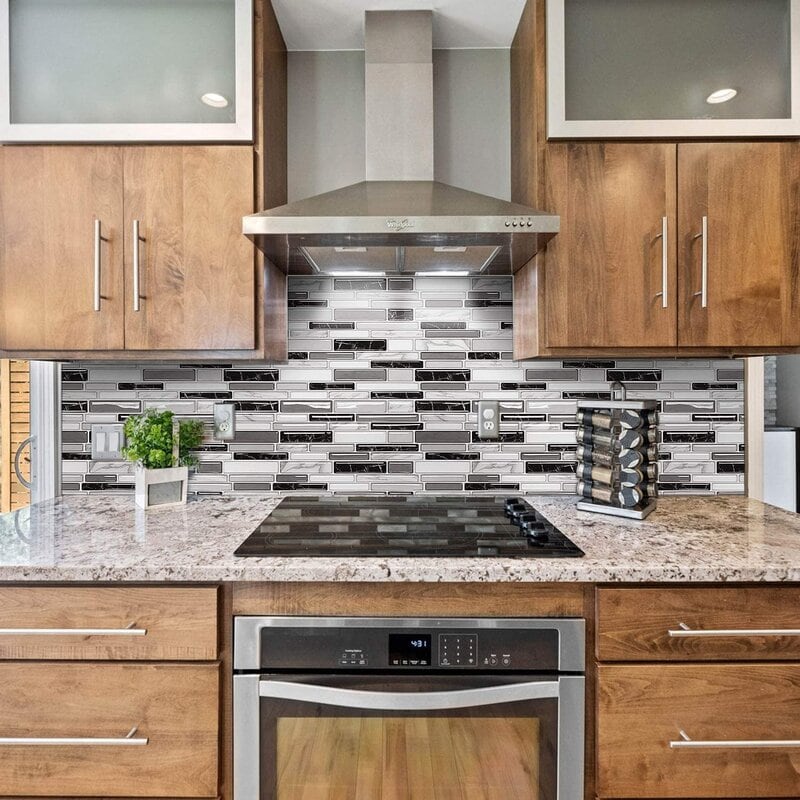 If you're looking for a modern farmhouse backsplash to give your kitchen major visual appeal, there is always the timeless color combination of black, gray, and white.
This 3D backsplash offers a glossy embossed mosaic look in classic thin subway tiles. In addition, you can enjoy a bold vintage palette that reflects light, making your kitchen look larger. And the peel and stick application makes this backsplash perfect for DIY installation.
Light and Bright Gray and White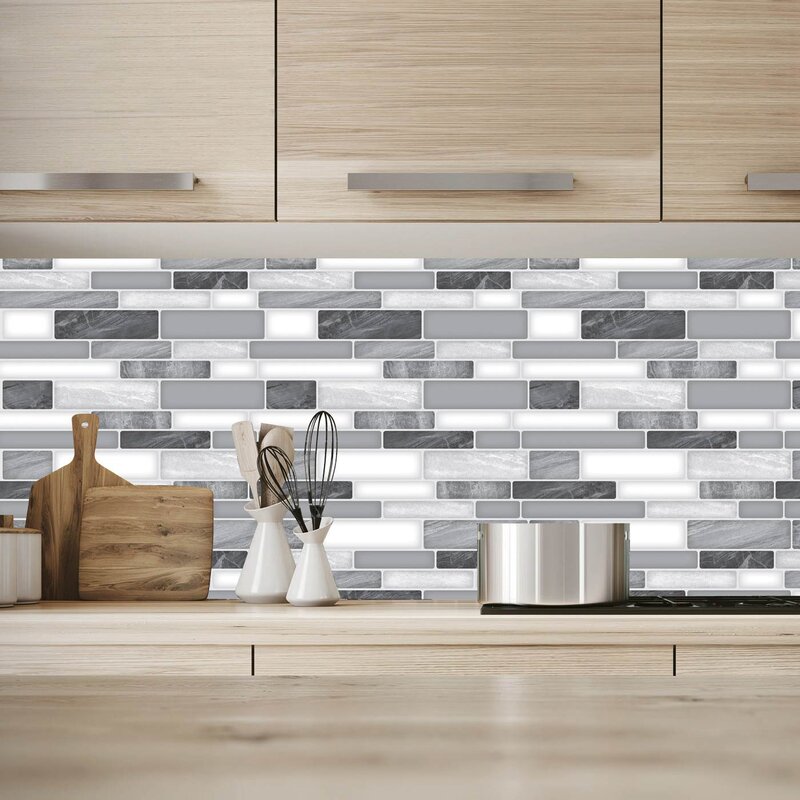 If bold and shiny farmhouse designs aren't your preferred tastes, you can go with a lighter palette in a glazed sheen for your small subway tiles.
This thin mosaic pattern of different hues of white and gray, with a few tiles in darker shades of black and charcoal gray, mixed in, can give your kitchen a cozy, modern feel.
Try Some Tic Tac Tiles in Lots of Grays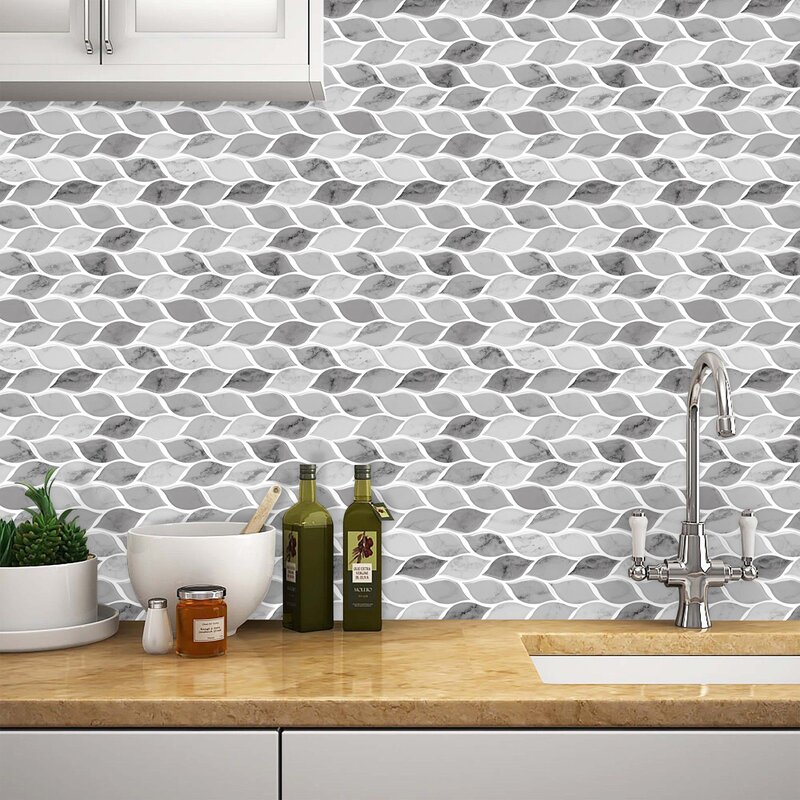 Give your kitchen a stylish rustic upgrade with glazed tic tac tiles in an oval leaf pattern of various shades of gray with some white pieces featuring heavy gray veining.
You can create an unusual and incredibly beautiful visual play of light and dark color patterns with a farmhouse country kitchen backsplash in a fun foliage shape.
Make It a Multi-Color Mosiac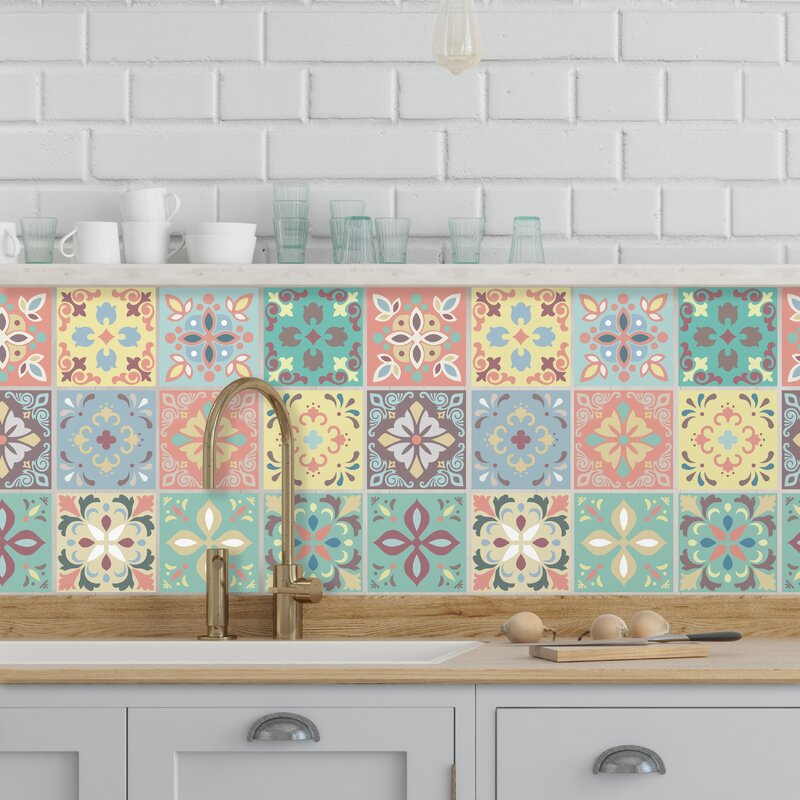 If you appreciate the beauty and quality of a patchwork quilt, you may enjoy replicating the color mix-match with pastel mosaic tile backsplashes.
This multi-color backsplash design features matte mosaic square tiles in gray, blue, pink, yellow, green, purple, and neutrals like cream, tan, and white to create a truly country feel.
Hang a Two-Tone Hex Tile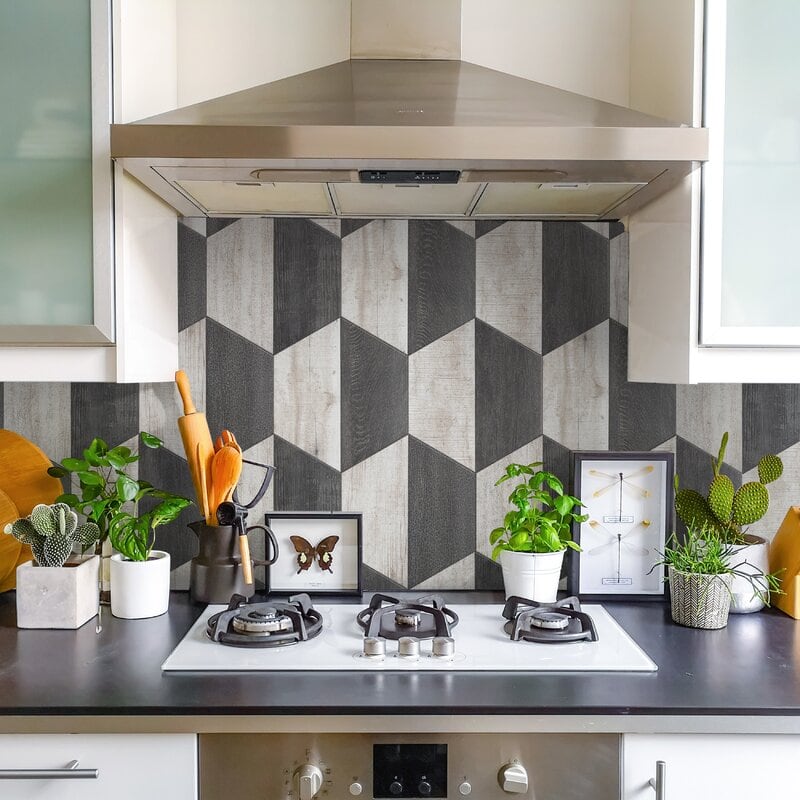 You can create fantastic visual effects using a backsplash in a two-tone tile in a distressed wood look. This hexagon backsplash has a textured surface with light gray and charcoal halves.
The realistic woodgrain detail lines and alternating color scheme with a scored grout line make this porcelain backsplash fantastic for creating a unique pattern on your farmhouse kitchen walls.
Fall in Love with Large Backsplash in Azul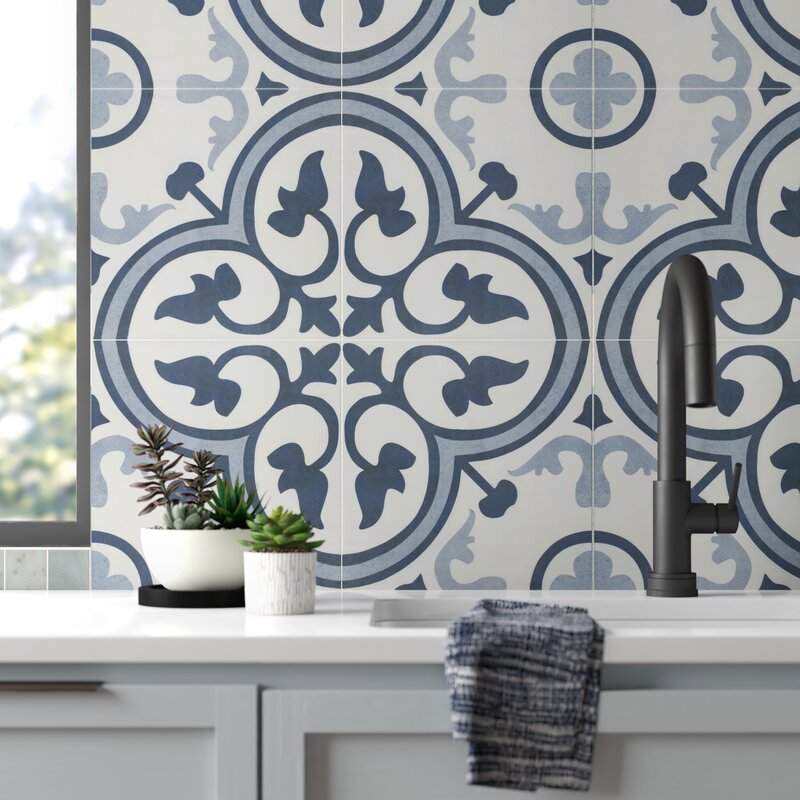 Try a large print tile in an old-world floral pattern for a fun and visually striking old-timey farmhouse kitchen backsplash with white cabinets. 
We're crazy for the drama created with these glazed snowy white tiles featuring stunning denim blue florals framing centered blue-gray arcs to create a colorful patterned contrast in a weathered, speckled finish.
Try an Ivory Travertine Tile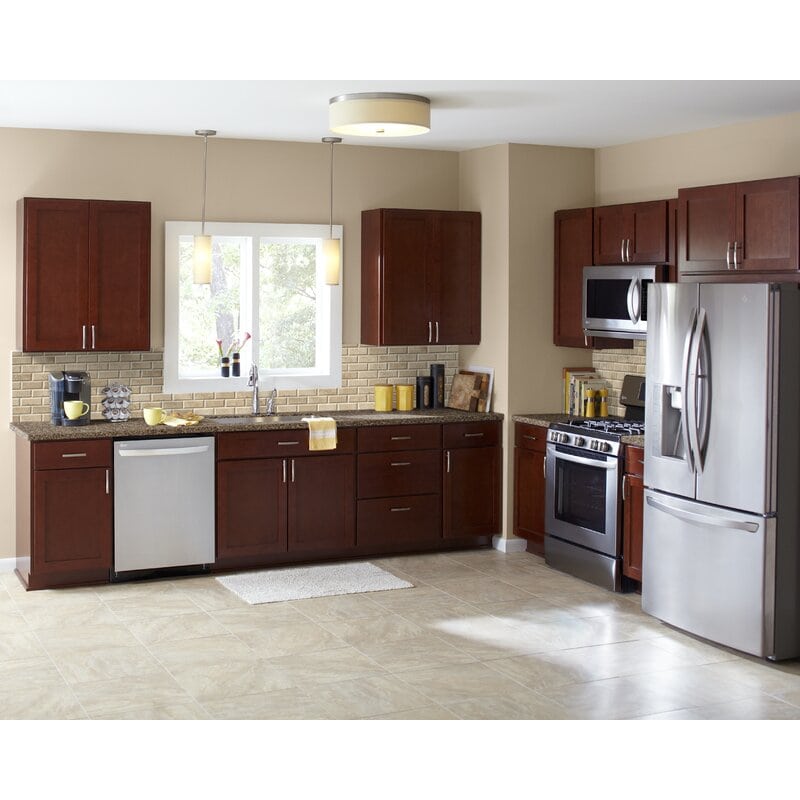 For a Tuscan-inspired farmhouse kitchen, you can choose to work with a natural stone backsplash, such as this ivory travertine mosaic tile.
This mesh sheet tile features a beveled edge and random variations in color, finish, and shade for an upscale, rustic feel. We love this look for a light-themed farmhouse kitchen brick backsplash. 
Totally Trippy for Tile in Teals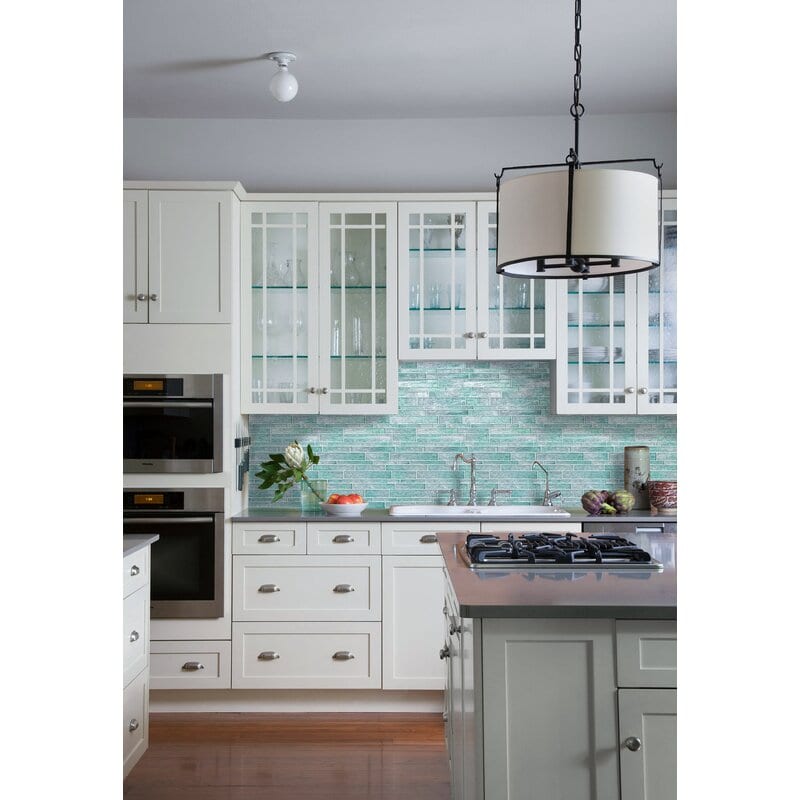 Another popular farmhouse color trend is teal and jeweled and watercolors of similar shades. We adore these thick glass mosaic tiles in shades that make you dream of tropical waters and balmy breezes.
These random rectangular shapes and light to dark color variations make these polished mosaics fantabulous for modern farmhouse kitchens and bathrooms.
Create a Copper Kitchen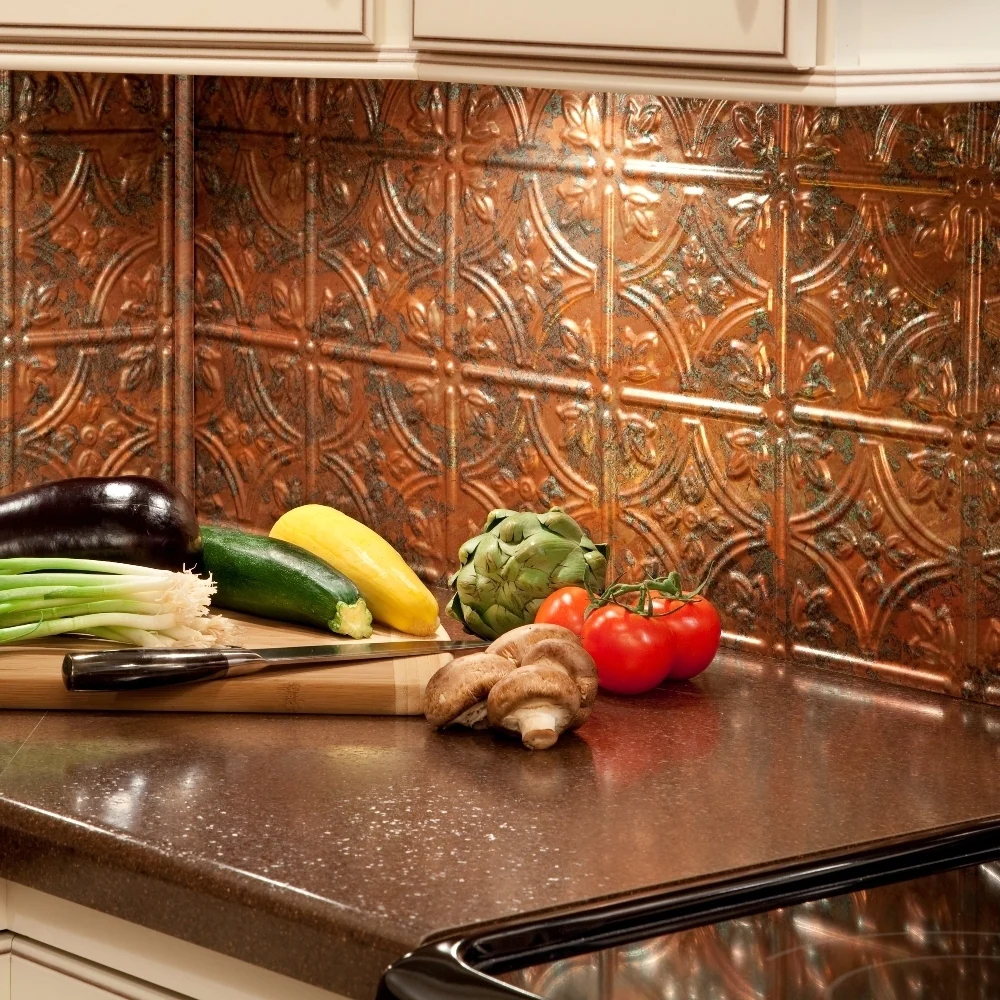 If you're looking to give your kitchen a turn-of-the-century vibe, consider going old school with the look of aged copper. This brassy metallic material has a dulled burnt orange color with irregular lines of greenish-blue patina.
Choosing real deal copper panels can get pricey. But luckily, you can get the same aesthetic for a bargain price by picking plastic panels in a copper color with an embossed print.
Traditional Meets Trendy in Natural Tones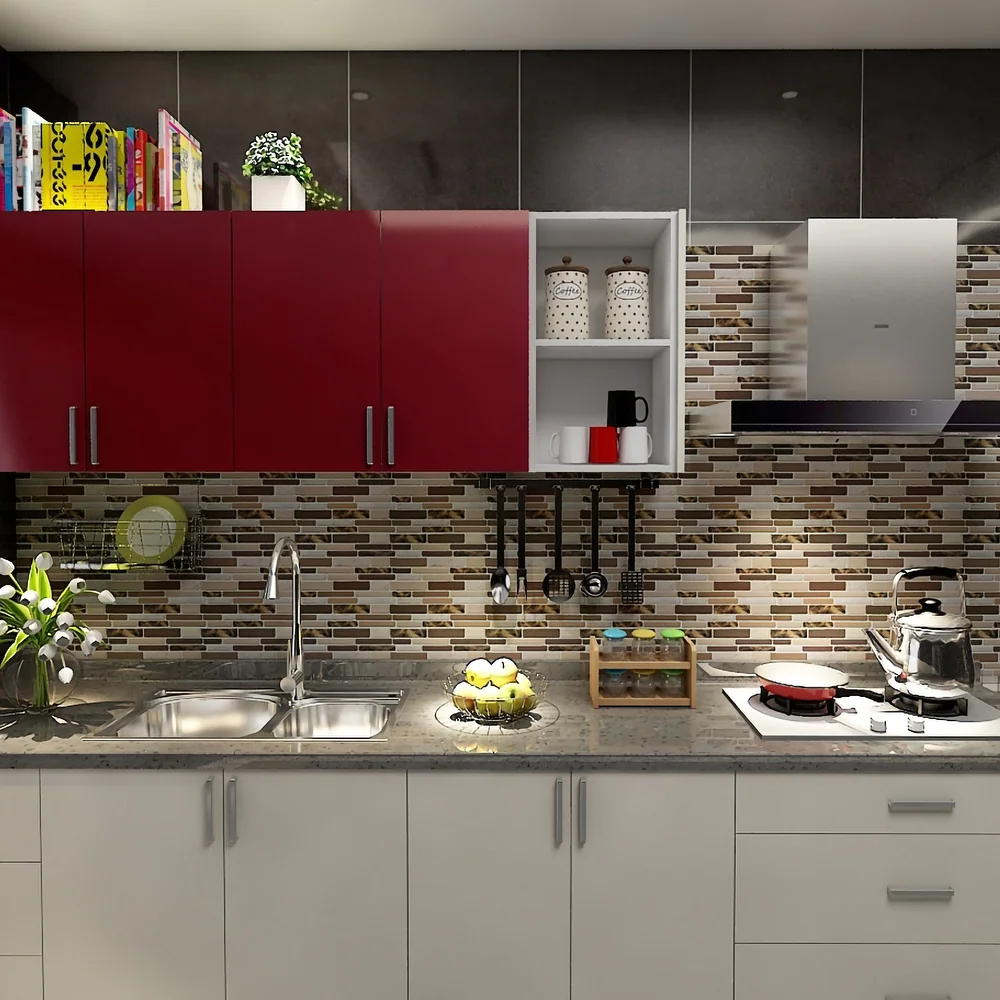 Give your kitchen a trendy yet traditional upgrade by choosing a simple subway tile in natural earth tones like rich browns, neutrals like tan, ivory, and cream, and pieces with stone veining.
This understated color palette can work for any farmhouse kitchen design, whether modern, traditional, rustic, mountain, country or contemporary.
Matted Metal in a Mini Honeycomb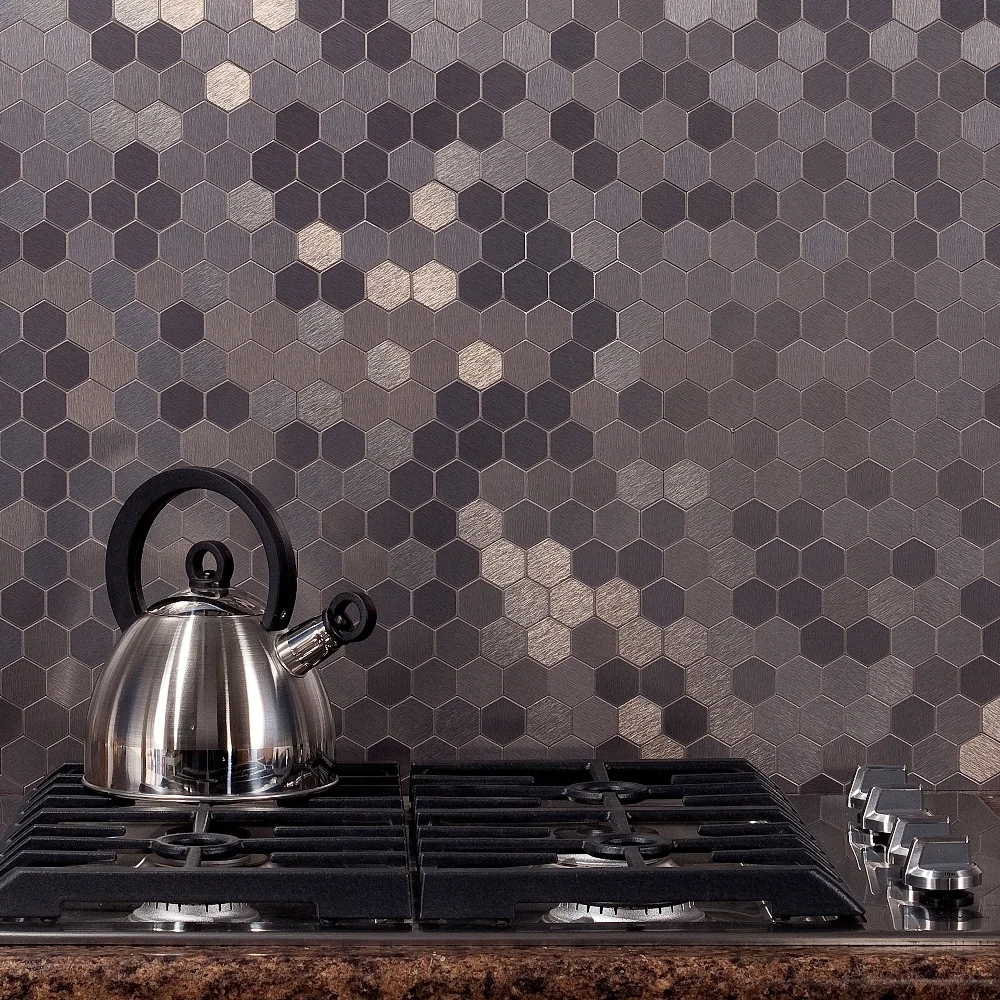 Another option for a metallic farmhouse backsplash is matted metal, meaning most of the surface isn't shiny or polished. Instead, laying a random pattern of mini hexagon tiles in a brushed stainless color can give your kitchen walls depth and texture.
Give your farmhouse kitchen (or bathroom) a major appeal that can also work with industrial pieces for a rustic commercial nuance.
Medium Marble Honeycomb in a Mixed Palette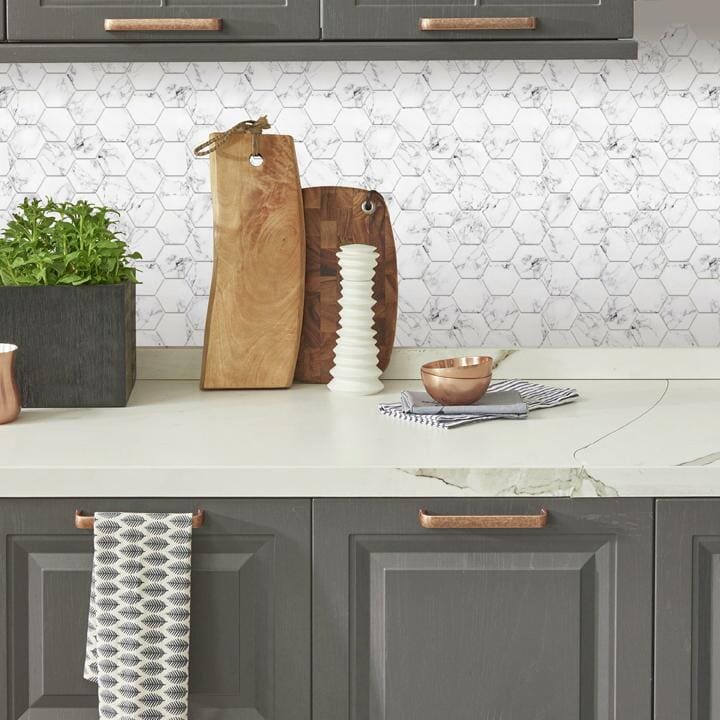 If you prefer the look of a glam farmhouse kitchen in bright white, try a modern backsplash in solid white marble.
These small hexagon tiles have delicate gray veining for a chic, upscale feel. And the glossy surface enhances the trendy honeycomb style.
Make a Mosaic with Glasses in Blue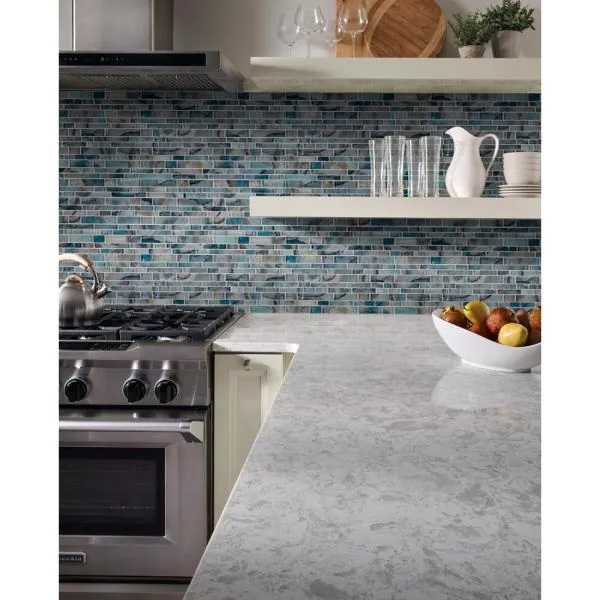 When working with farmhouse designs, you can go simple with neutrals or bold with blues. For a coastal farmhouse feel, we love using glass tile in various hues of blue.
We love this mosaic in interlocking tiles of abstract shades of gray, brown, and blue with a medium sheen and mixed finish.
3D Embossed Panels in Shiny Silver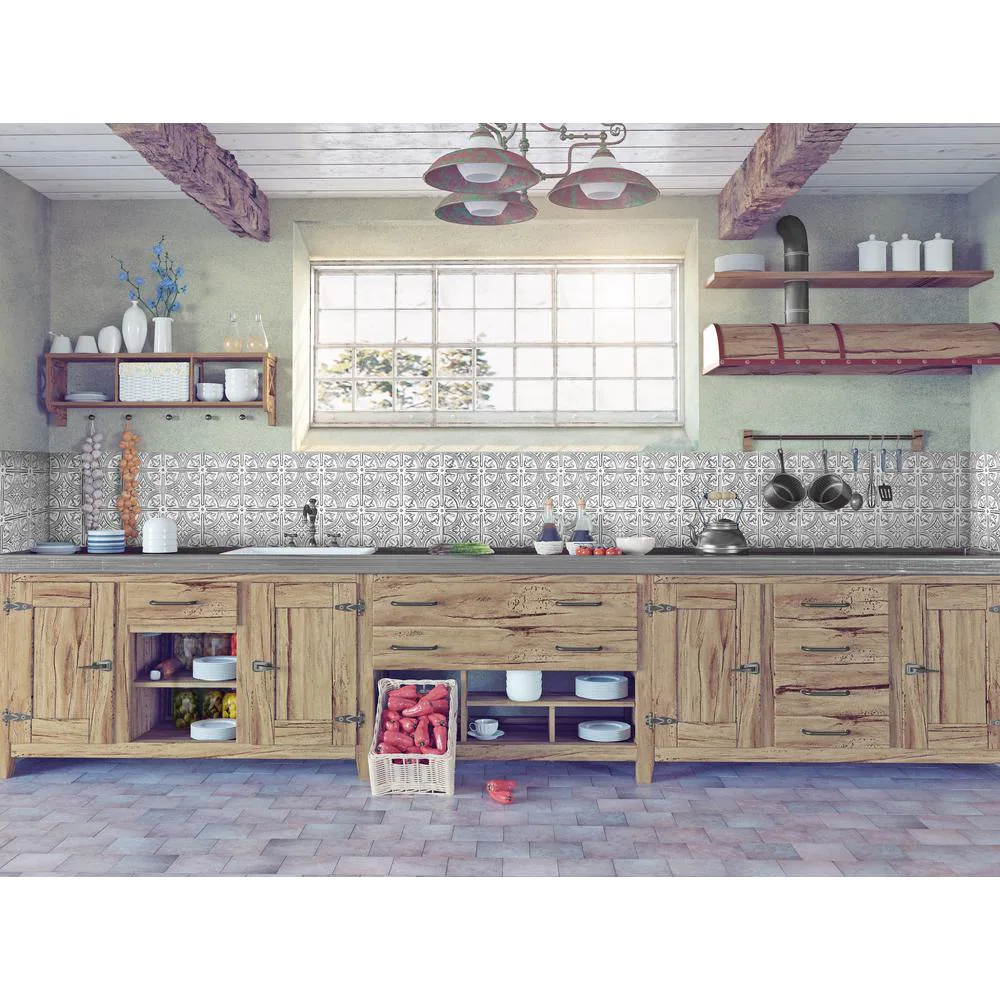 Appreciate the look of large decorative metallic panels with 3D embossment without the costs and problems associated with real metal with these faux crosshatch silver panels.
This textured look can work for many farmhouse vibes, from industrial, old-world, rustic, modern, or turn-of-the-century.
Arabesque In Plenty of Plum and Taupe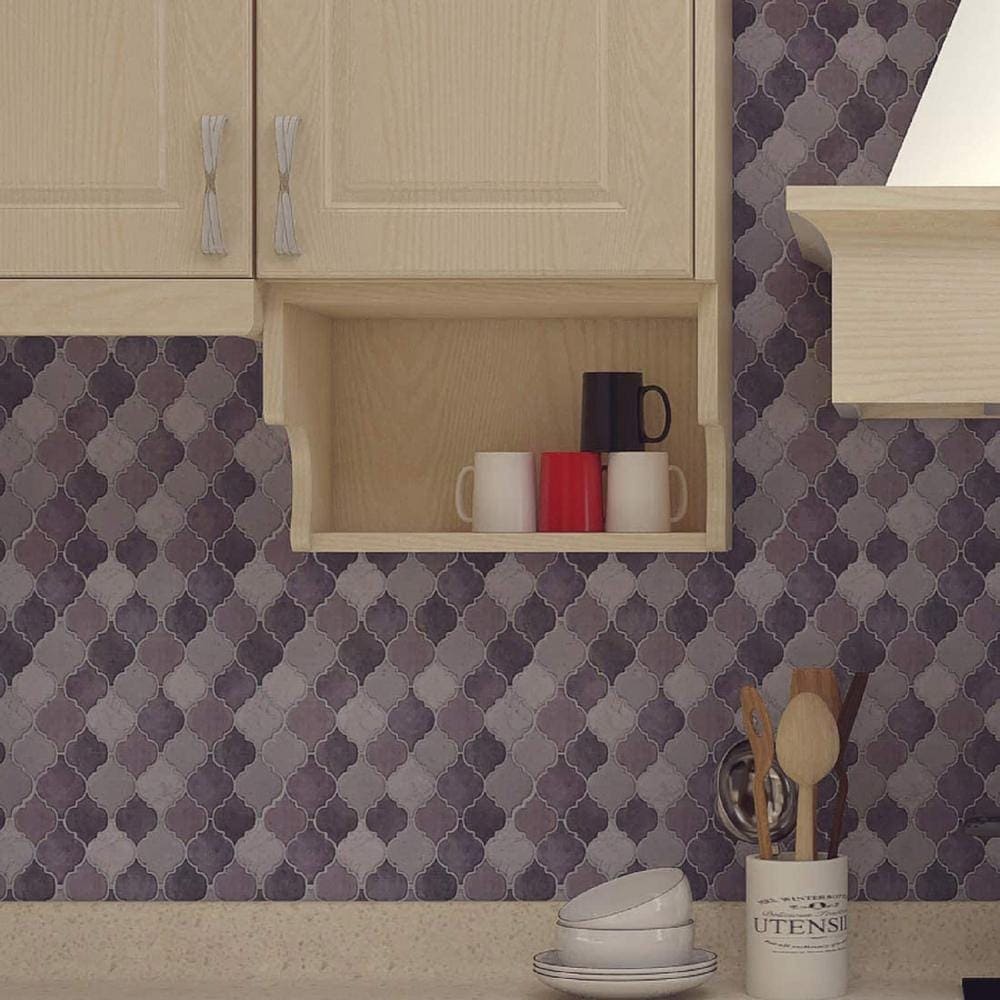 If you like bold color usage, like taupe-based shades, you can get a modern aesthetic to your farmhouse kitchen – and bathrooms – with an arabesque-shaped tile.
The flat edges and color variations and contrasts of light and dark purple, gray, silver, and black can look awesome alone. Or you can soften the look by adding some white arabesque or marbled hexagon tiles.
Go for Gold Thermoplastic Panels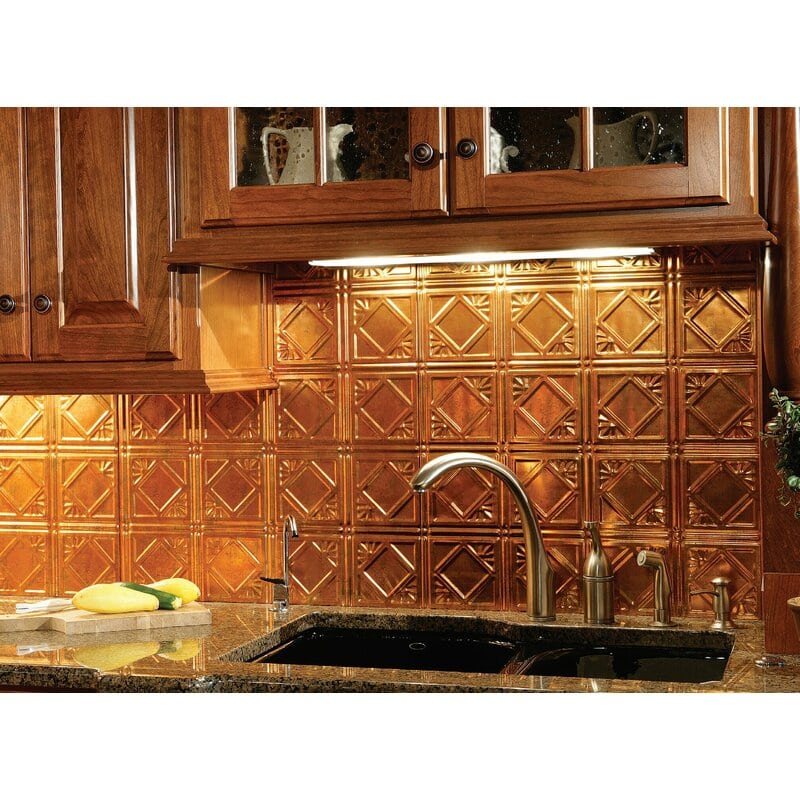 A common theme for old-school farmhouse kitchens is to use backsplash tiles in shiny metal materials, preferably aged with raised detail work.
We love the warm farmhouse industrial feel you get when adding these decorative thermoplastic panels to your kitchen in a muted gold tone.
Which Farmhouse Backsplash Is Your Fav?
And there we have it – 20 creative backsplash ideas that you can use for your farmhouse design. Whether you want a classic subway in plain white, natural stone in neutrals, glass mosaics in multi-colors, or fancy designs and geometric patterns, we've covered it all.
Which farmhouse backsplash idea made you envious enough to start pricing your next remodel? We'd love to hear about it in the comments.