Decorated Life is reader-supported. When you buy through links on our site, we may earn an affiliate commission. Learn More
15 Best Stools for Kitchen Island
In recent years, kitchen islands have seen a huge surge in popularity. Perhaps you're constantly on the go and don't necessarily have time to sit down at a dining table, or maybe you want to spend time with a loved one while they're cooking dinner.
Kitchen islands are the perfect addition to any kitchen because they're so versatile. Your options for design choices are endless too; the days of boring seating have gone, so you can match your seating to any style of kitchen. Here are some of the best stools for kitchen islands to help you gain inspiration.
Sleek and Simple Kitchen Island Stools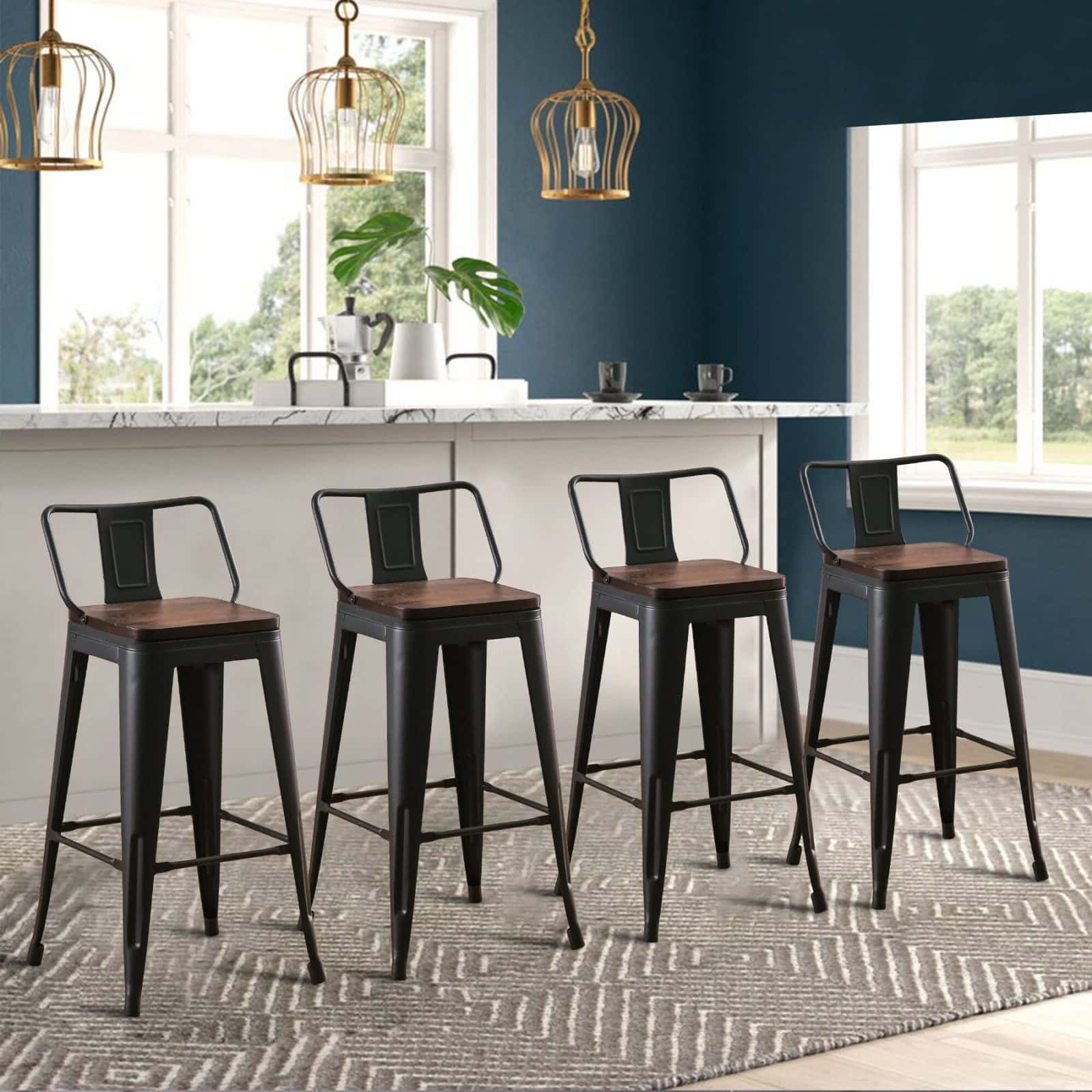 If you're looking for the best kitchen island bar stools, then these are going to be a safe bet. These basic black bar stools look modern but minimalist so will go with almost every kitchen design.
The wooden seat helps to elevate what would otherwise be a very simple design into something a little more refined. These bar stools are the perfect option if you're planning to redecorate your kitchen in the future and want stools that will last.
Woven Cane Counter Stools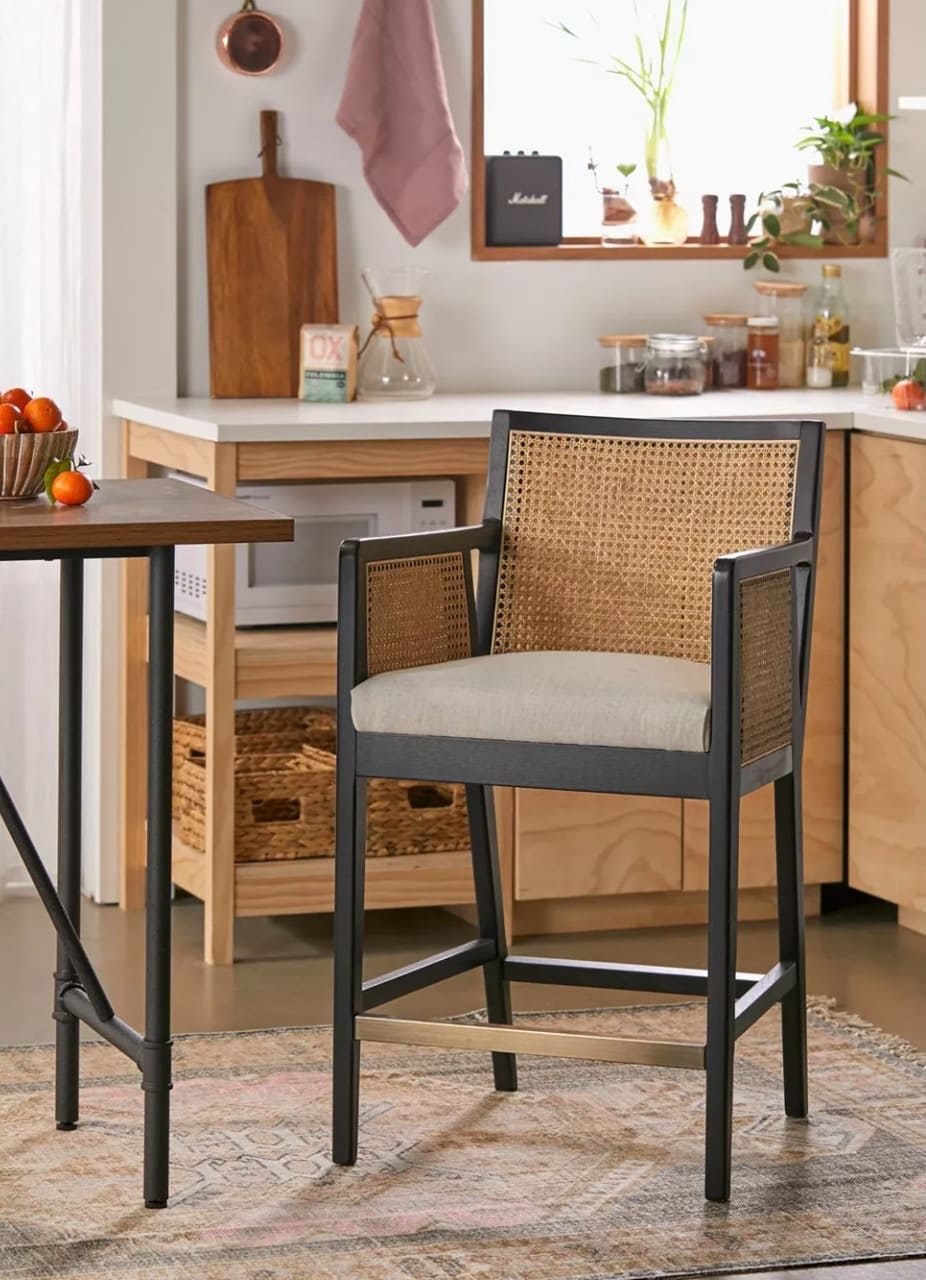 These gorgeous woven cane counter stools are perfect if you want to achieve a relaxed boho feeling in your kitchen. Featuring a comfortable seat upholstered in linen, these stools will definitely make you want to linger over your morning coffee.
A sturdy backrest and high arms provide support, while the lacquered frame and cane detailing balance the boho-luxe look perfectly.
If in Doubt, Grey Goes with Everything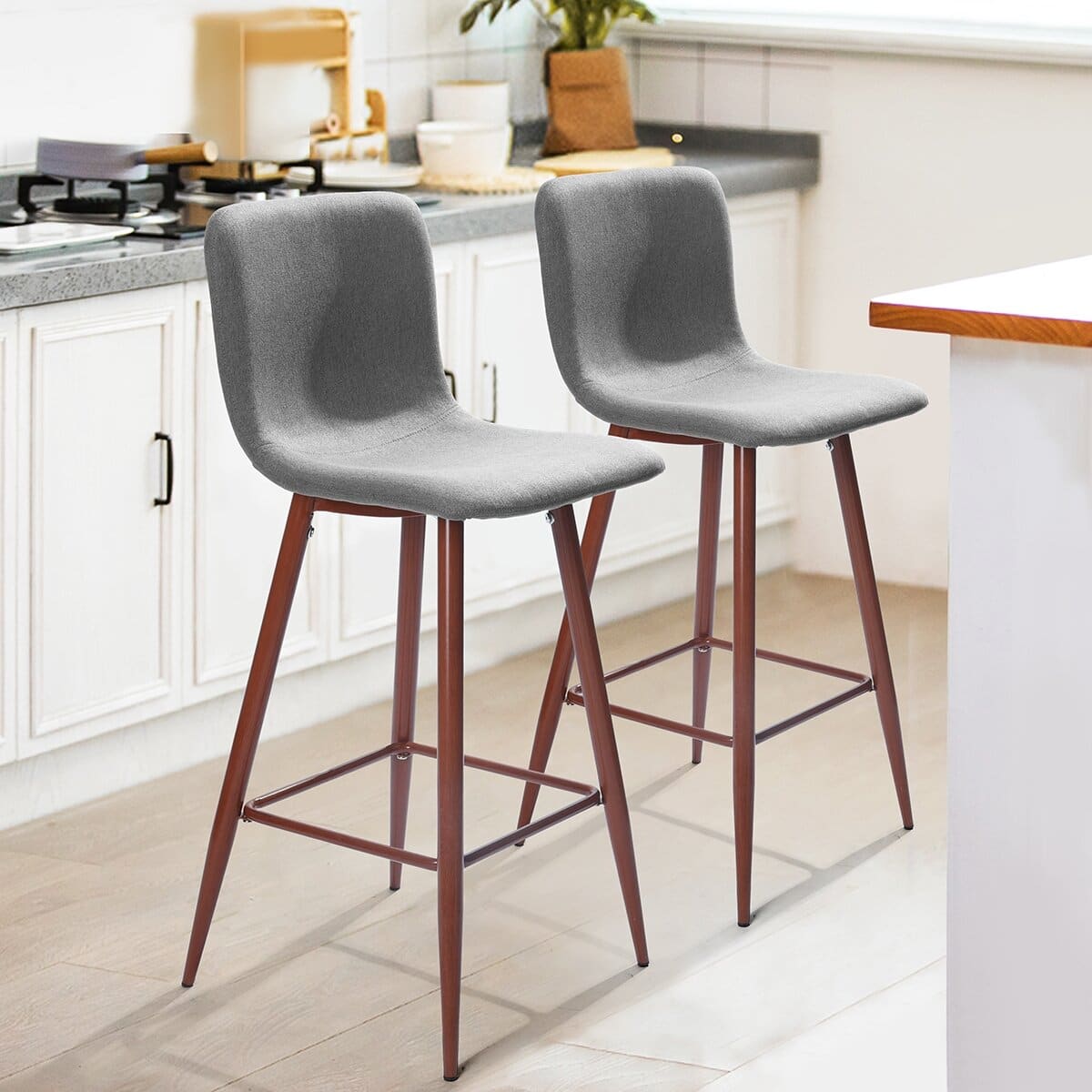 If you're looking for something affordable that goes with everything, you're often met with plain wooden bar stools that won't be very comfortable. These grey fabric kitchen island stools with backs are both comfortable and functional.
The seats are padded, and the cool-toned fabric would match almost any style of kitchen design. The sleek wooden legs also help the stools to blend into the rest of the kitchen, rather than being a statement – perfect if you want something to go with everything.
Leather Swivel Stools add Elegance with No Effort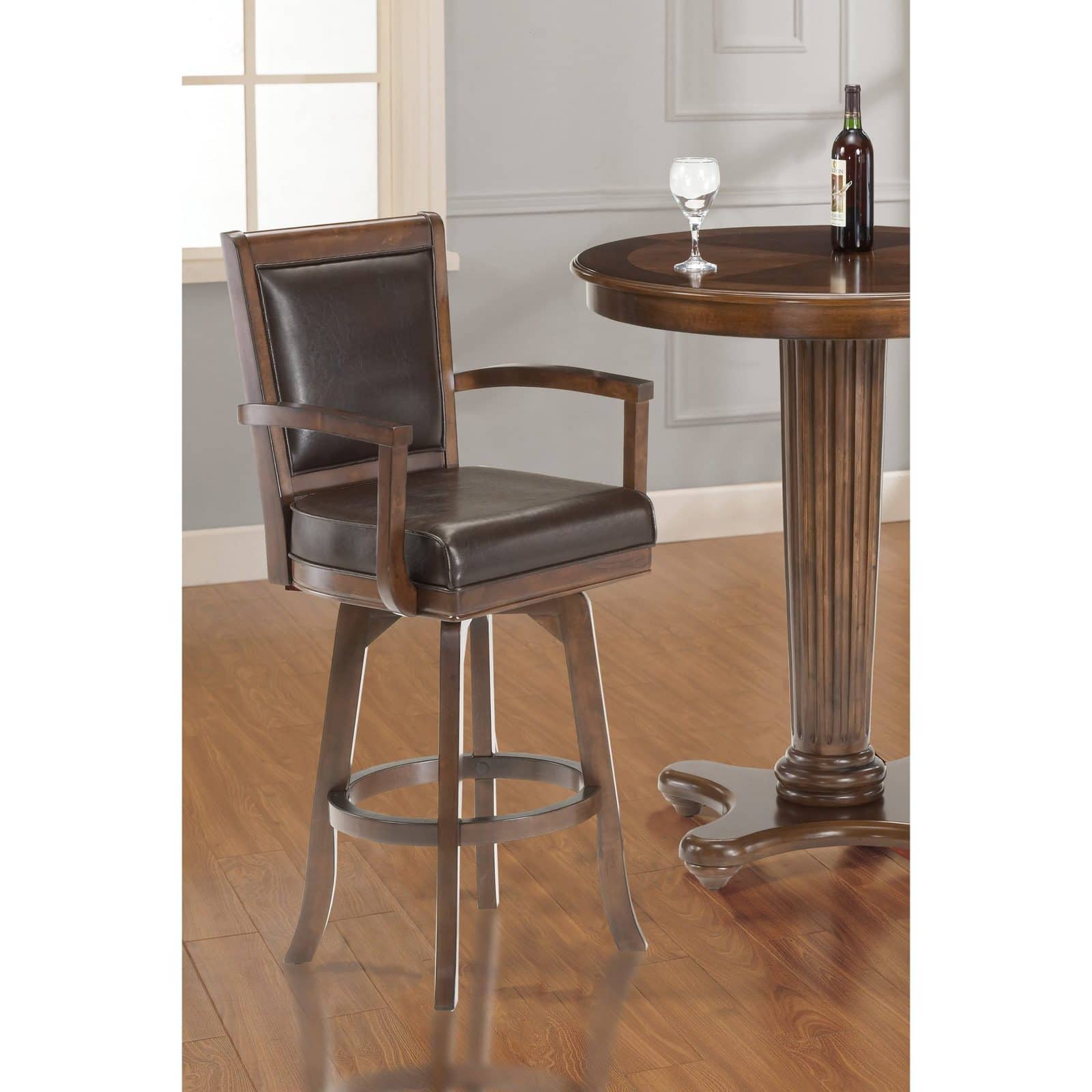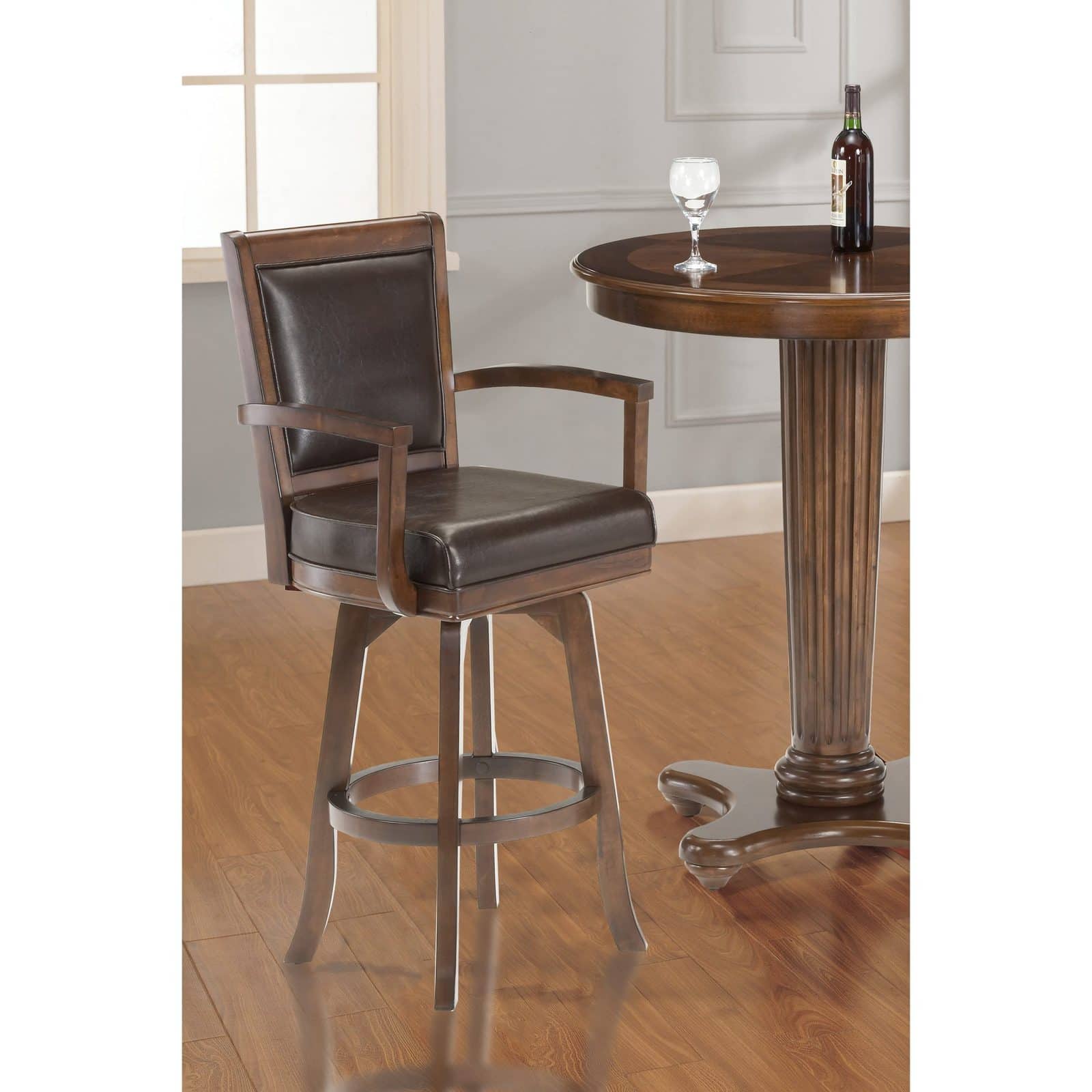 While a lot of kitchen island bar stool designs are very similar, if you look hard enough you will absolutely find something unique. These wooden swivel stools are an incredible combination of class elegance and modern luxury.
The seats are cushioned and the chairs have a high back so they're guaranteed to keep you comfortable over breakfast. These swivel stools would pair perfectly with a traditional wooden kitchen, or you could even go for something modern with a darker color scheme to create a kitchen design that's worthy of being printed in a magazine.
Add some Personality with Plush Pink Swivel Bar Stools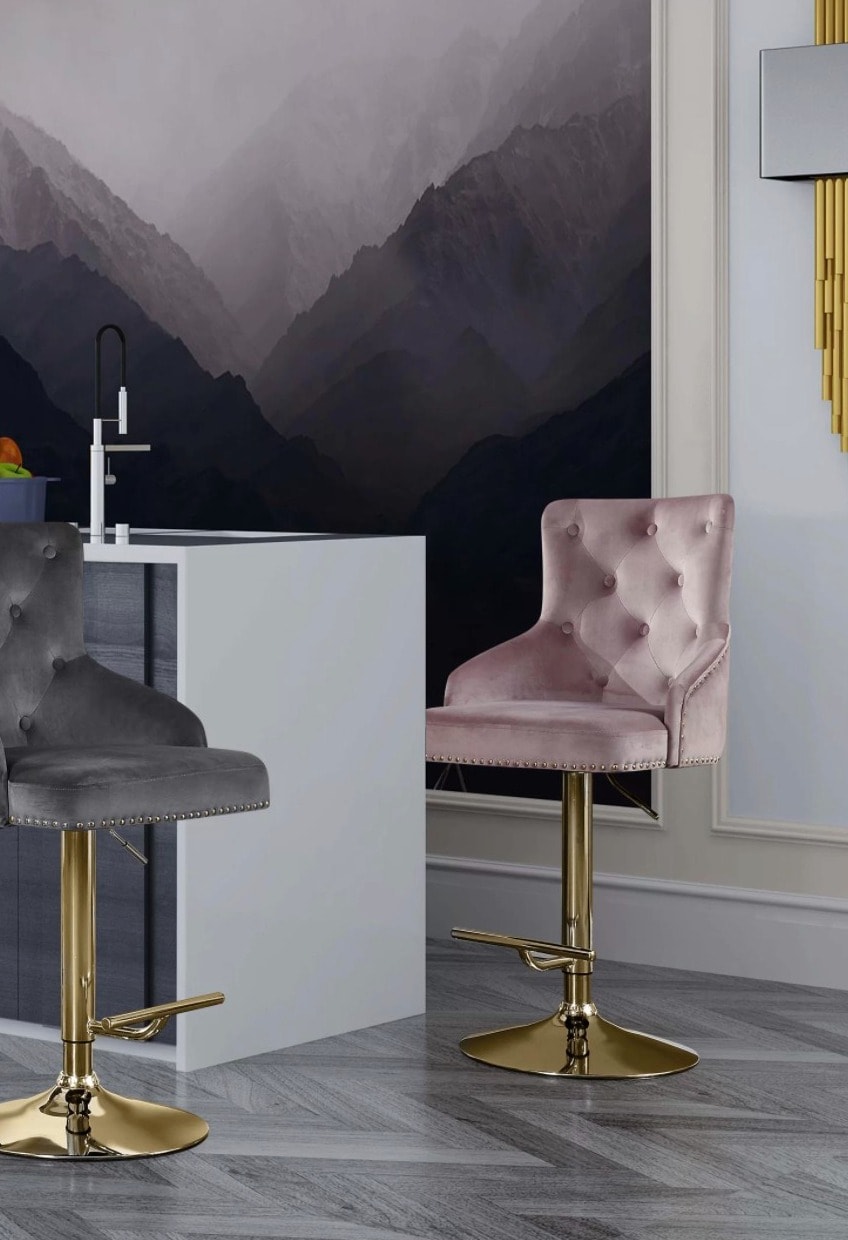 No one said that kitchens should only be black, white, grey, or made of wood. If you're the kind of person that loves a little color, then why not opt for these plush pink swivel stools?
The gathered back and rivet details on the seat make these kitchen island bar stools look incredibly elegant—they wouldn't be out of place in a country home, a luxury condo, or a modern apartment kitchen space!
Traditional Wooden High Chairs for Kitchen Islands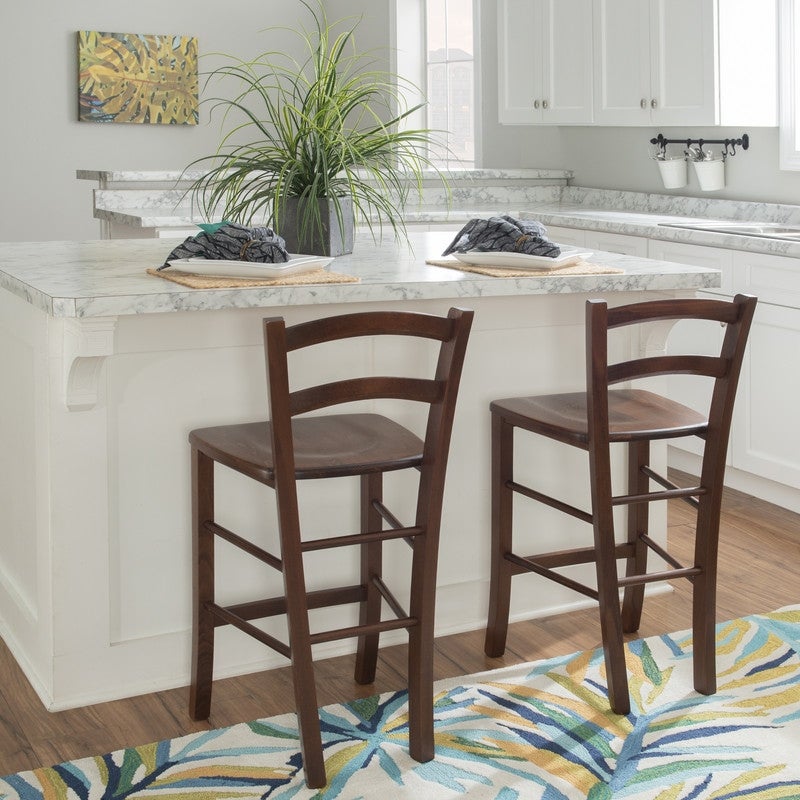 If you have a more traditional-style kitchen you may be wondering if a kitchen island and bar stools would look out of place, but it will fit perfectly as long as you choose a design that compliments your kitchen.
These wooden high chairs look like traditional dining chairs but are taller to reach a kitchen island. If you have a darker-colored wooden kitchen, then opting for these stools would be a great choice too, blending in with the rest of the kitchen perfectly.
Add some Colour to your Space with these Yellow Kitchen Island Bar Stools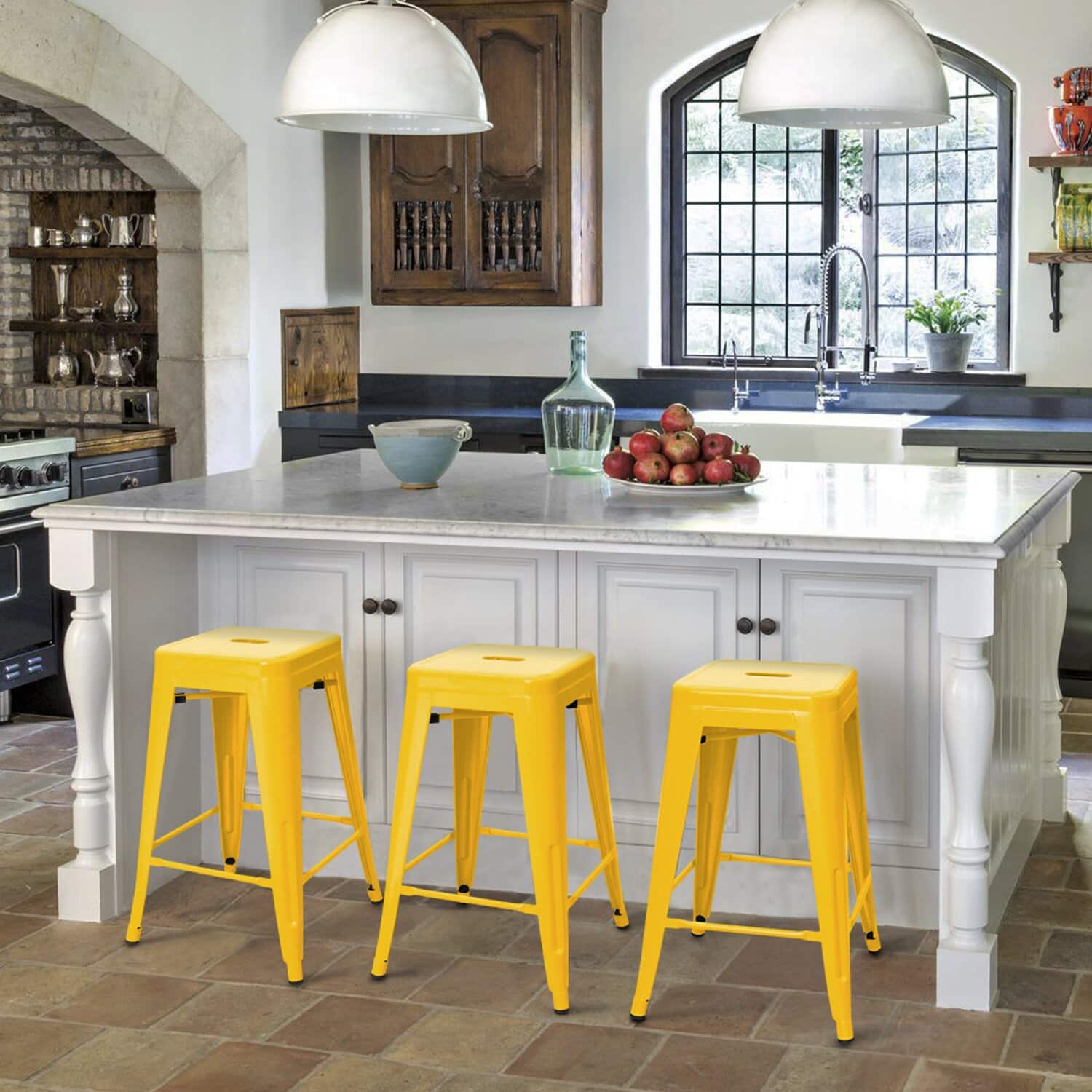 If you're obsessed with bright colors and love injecting a little personality into every room, there's no need to tone this down in the kitchen. While it's true that a lot of stools for kitchen islands are quite neutral if you know where to look it's possible to find bar stools that match your personality.
These bright yellow kitchen island stools would look great in a white kitchen with lots of colorful accents and are an easy way to add some personality without completely redecorating.
Add Some Luxury with these Faux Leather Counter Stools with Backs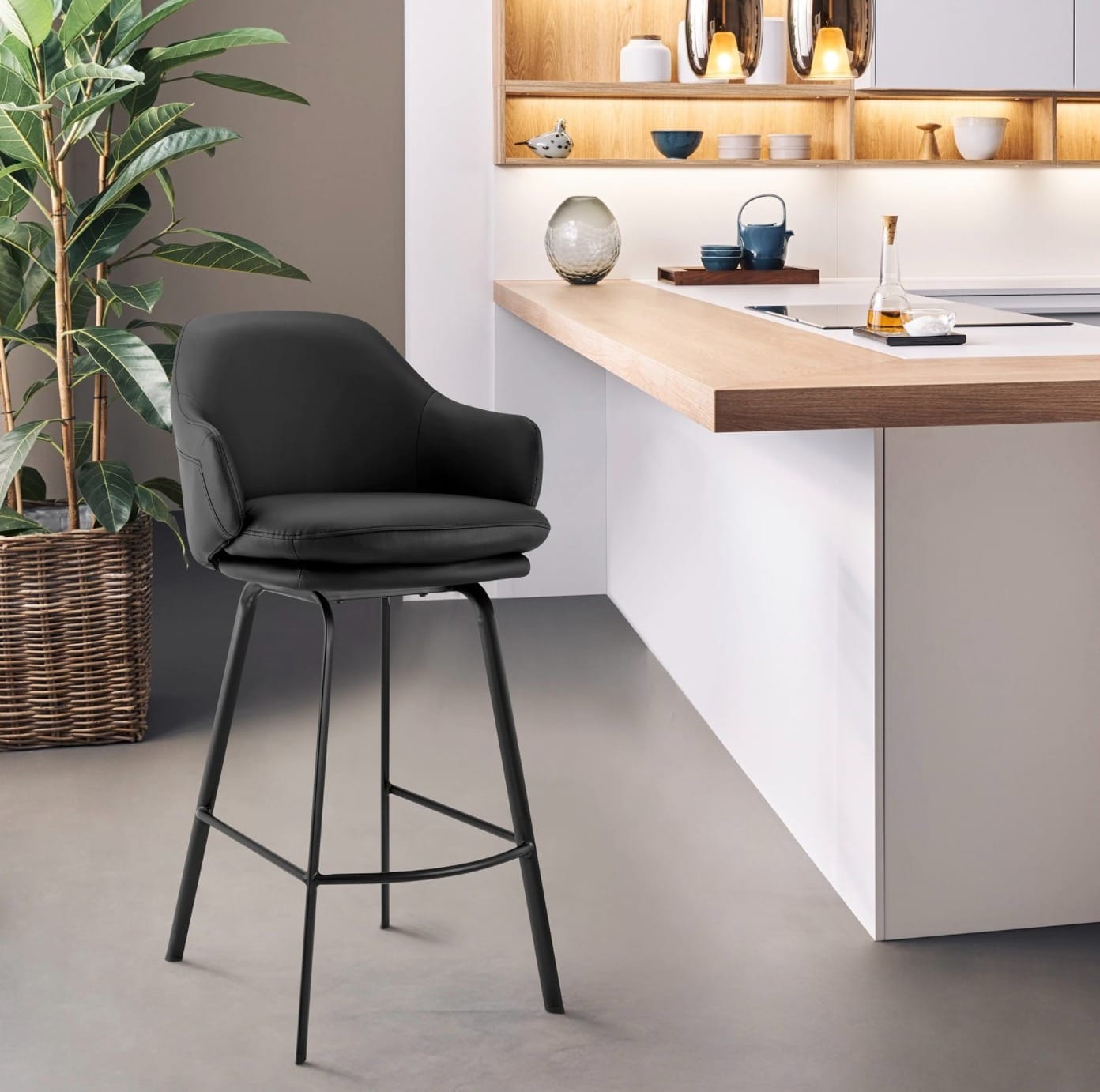 These leather swivel stools are simple, but the materials used make them feel high-end. They're perfect to add a little luxury to your kitchen space.
Pair them with a minimalist black and white themed kitchen or go for all neutral tones to create a space that feels more like a high-end cocktail bar than your kitchen.
Save Space with Compact Kitchen Island Bar Stools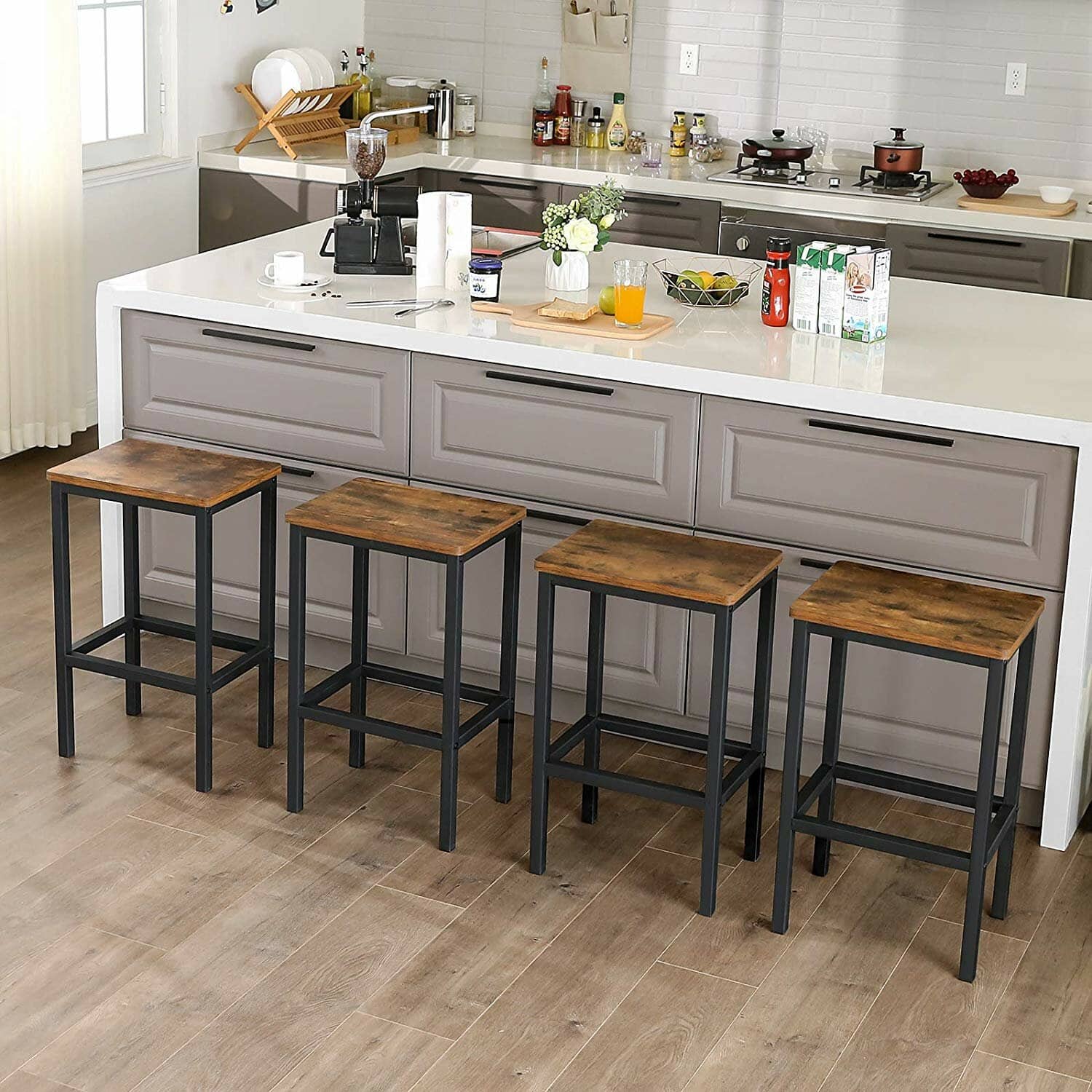 If you live in a smaller space, you may feel like you don't have room for bar stools. Modern apartments often come with open plan living that leaves you without room for a dining table.
Adding a high table at the end of your kitchen area will give you space to relax without crowding the room. If even this would be too much then these compact bar stools would stand against the wall without getting in the way – just pull them up to the countertops when you're ready to sit down for dinner.
Add a Modern Flair with these Black Kitchen Island Bar Stools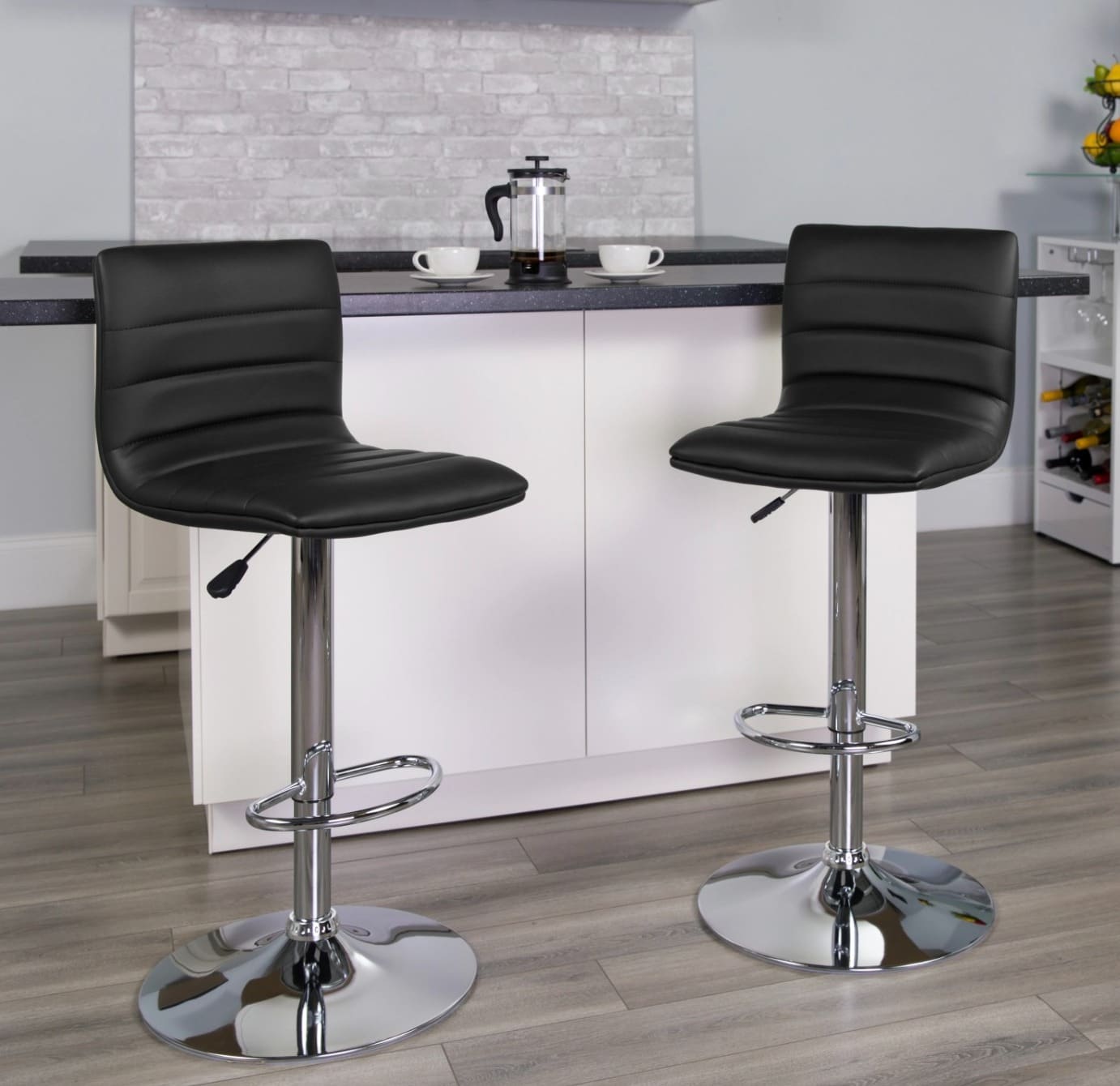 Look at any inspirational homeware magazine and you're bound to find a black and white kitchen with a breakfast bar and high chairs that wouldn't look out of place in a modern hotel restaurant. However, it's actually very easy to recreate this look in your own home with these faux leather pleated counter stools.
Go for a monochrome kitchen and add these to your kitchen island for a modern hotel-at-home style. They're adjustable too, so they'll fit perfectly in every kitchen.
Elevate your Kitchen with Brushed Gold Wire Kitchen Island Bar Stools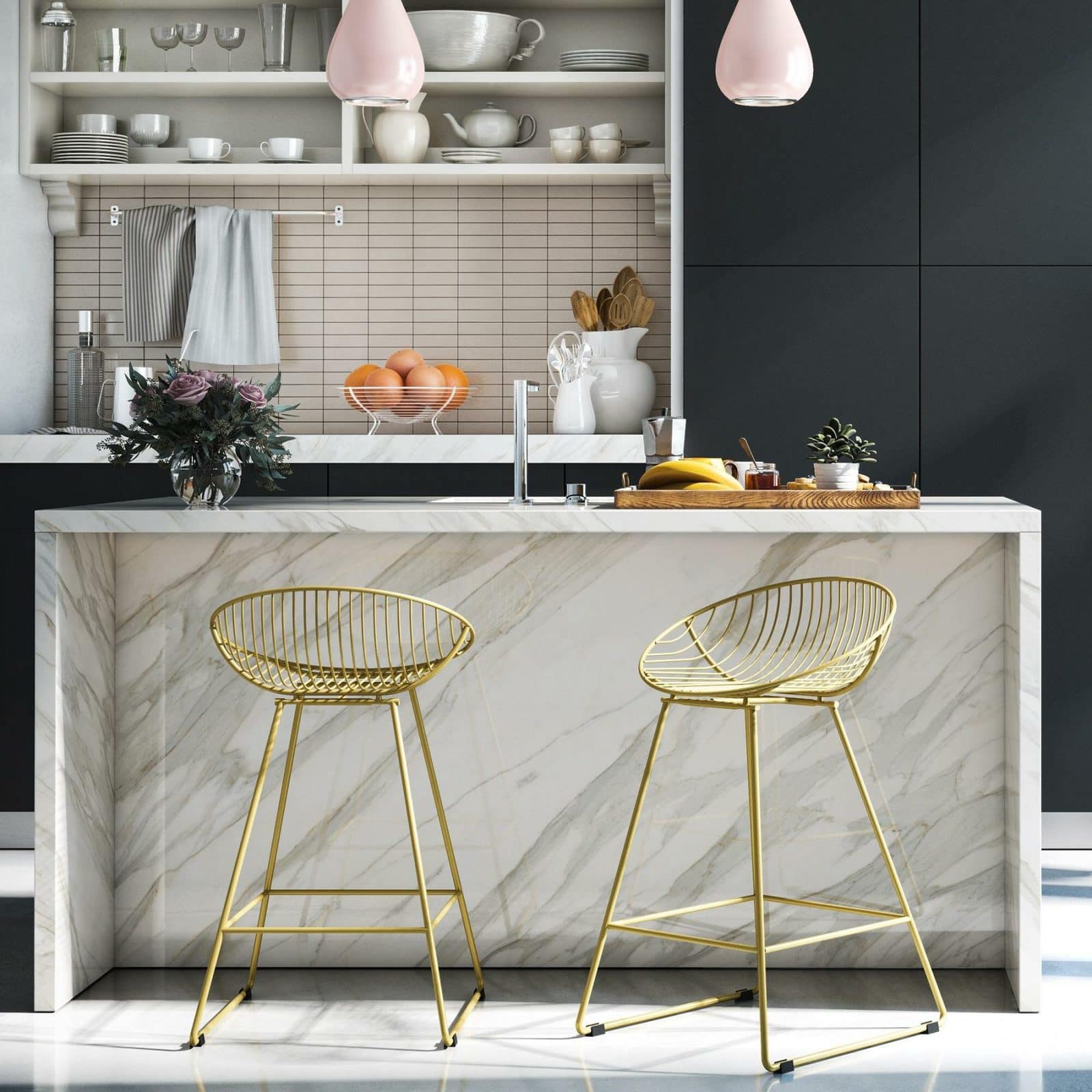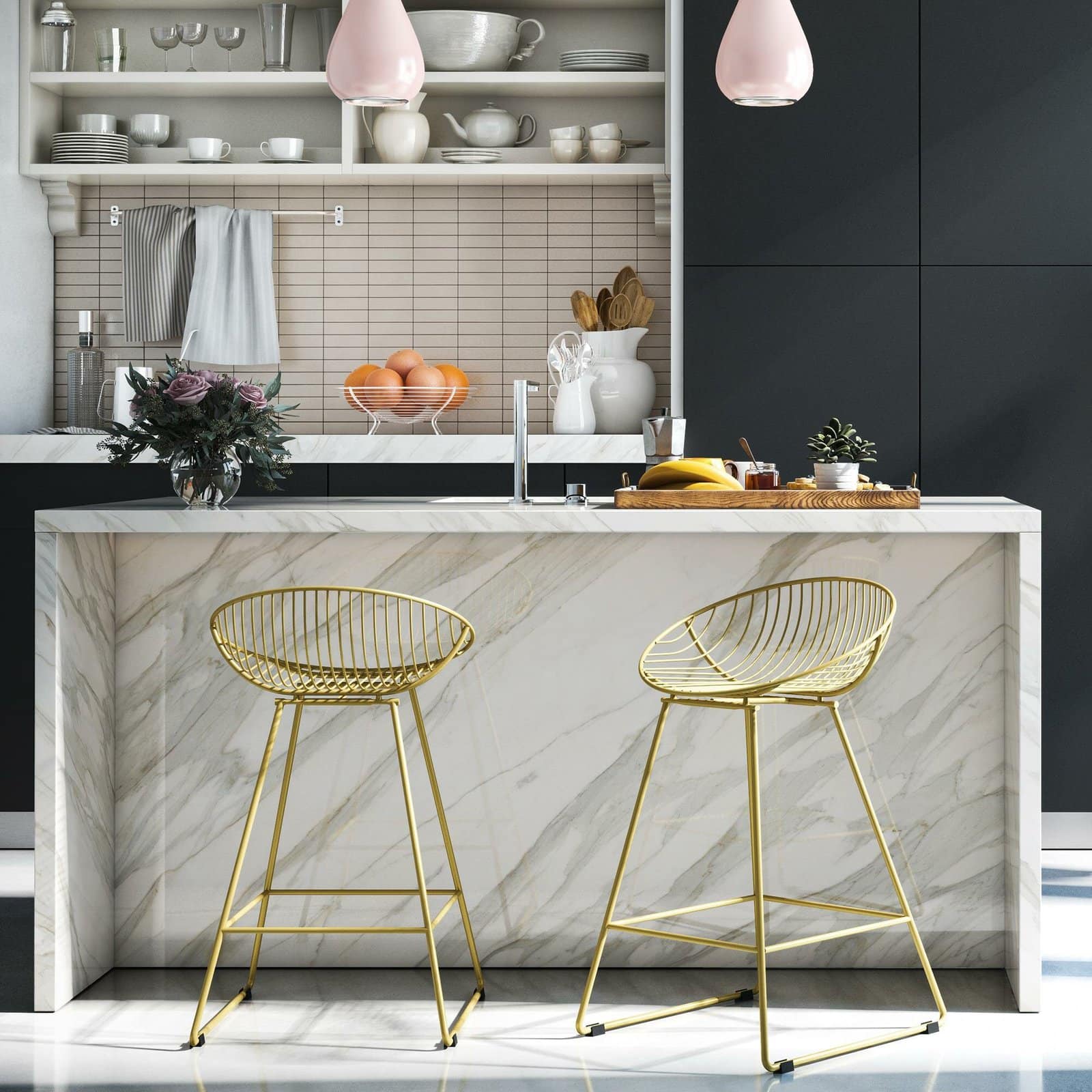 If you're looking for something that makes a statement without taking up too much space, these elegant brushed gold wire stools are the perfect choice. The wire design keeps the design looking modern and light, but the brushed gold adds a touch of luxury to your kitchen.
These kitchen island bar stools would look great with an all-white kitchen or marble counters. If you want to carry the gold theme throughout the kitchen on a budget, try switching the cupboard door handles out for gold knobs.
Industrial Glam Metal Kitchen Island Bar Stools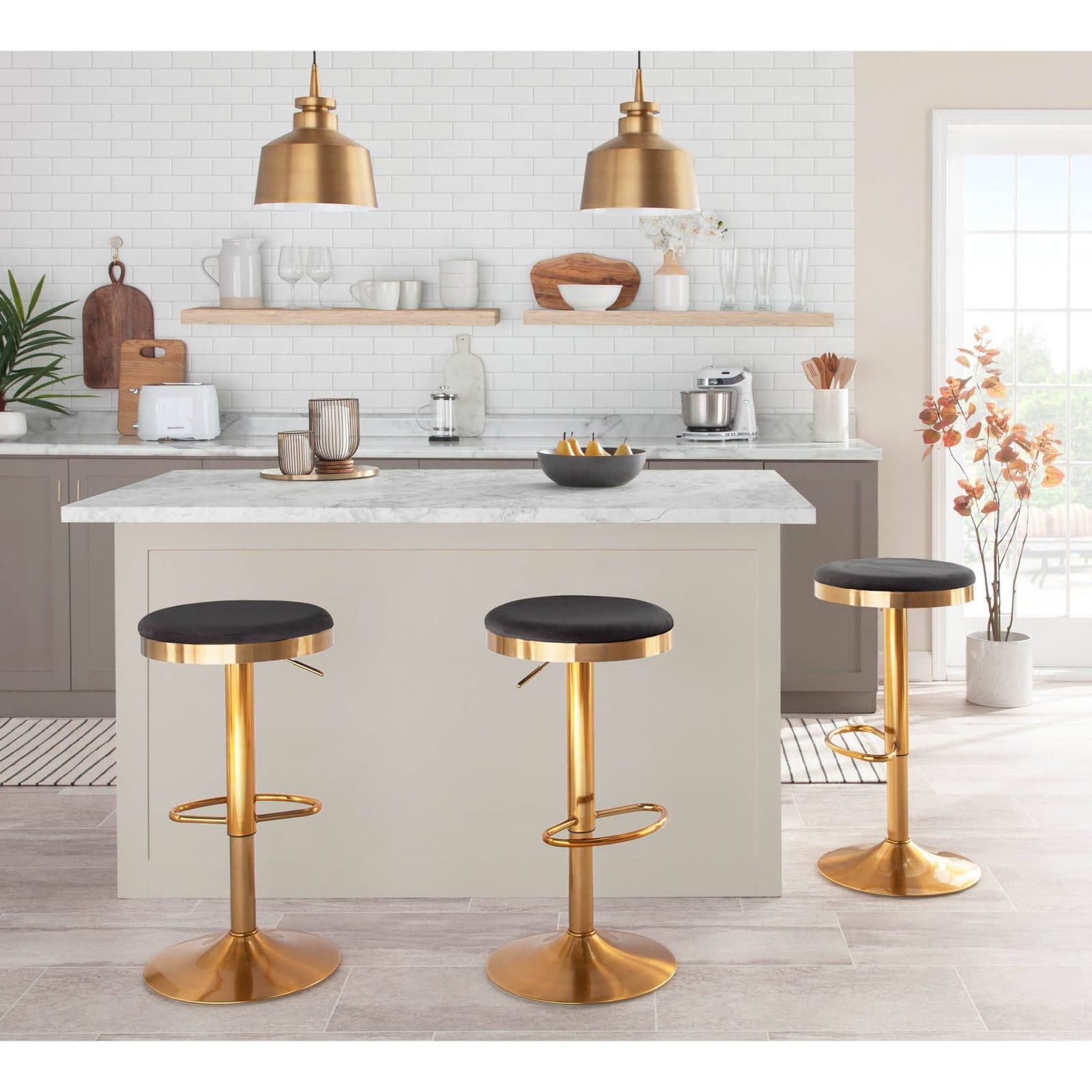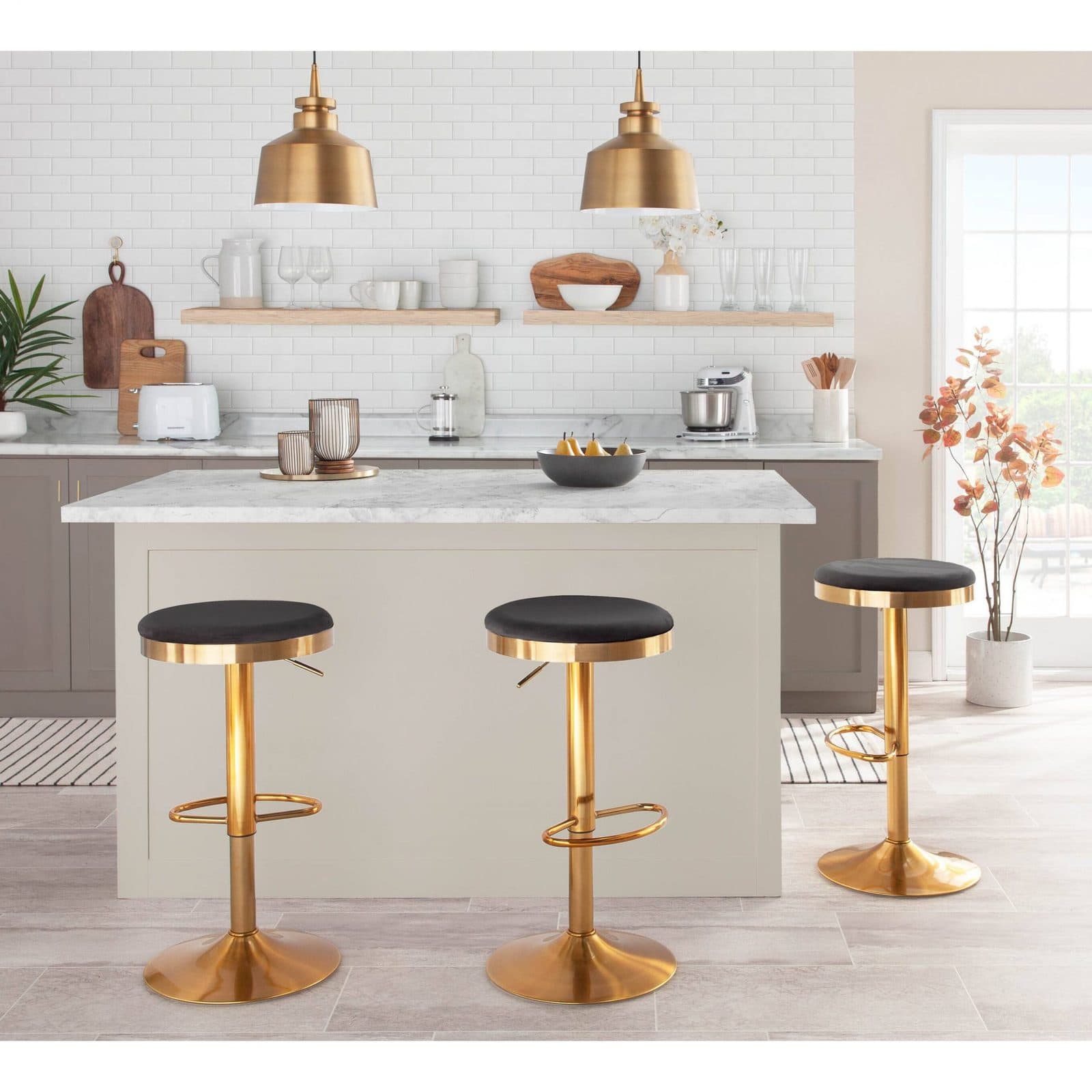 Trending kitchen designs have seen a shift to more of an industrial style in the last few years, using materials that wouldn't look totally out of place in a professional kitchen.
Opting for brushed metals and open pan racks above the kitchen island puts practicality at the forefront, and these brushed gold swivel stools are the perfect addition. Their simple design adds to the industrial feel of the kitchen, while the gold color brings a little elegance.
Dining Chair Style Kitchen Island Stools With Backs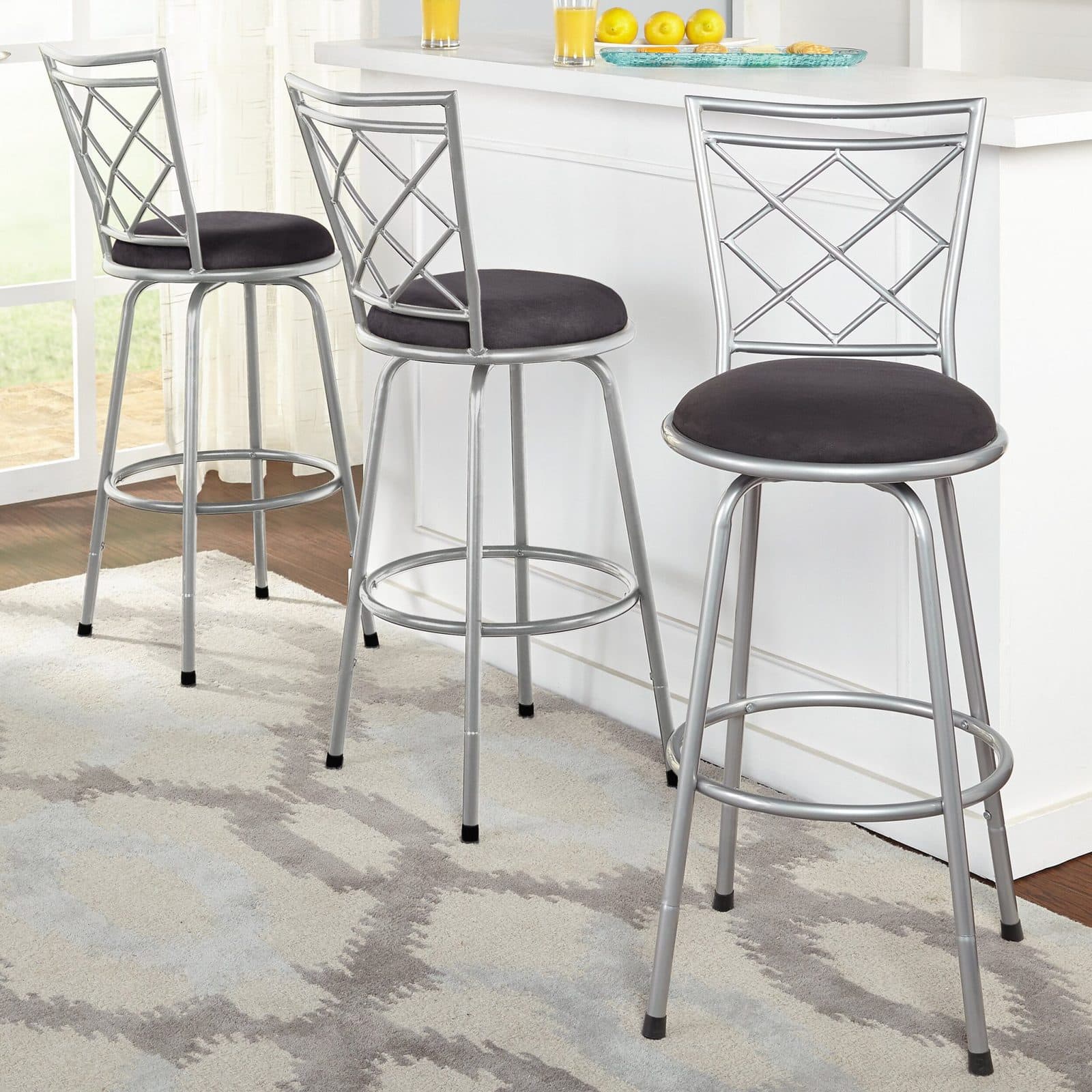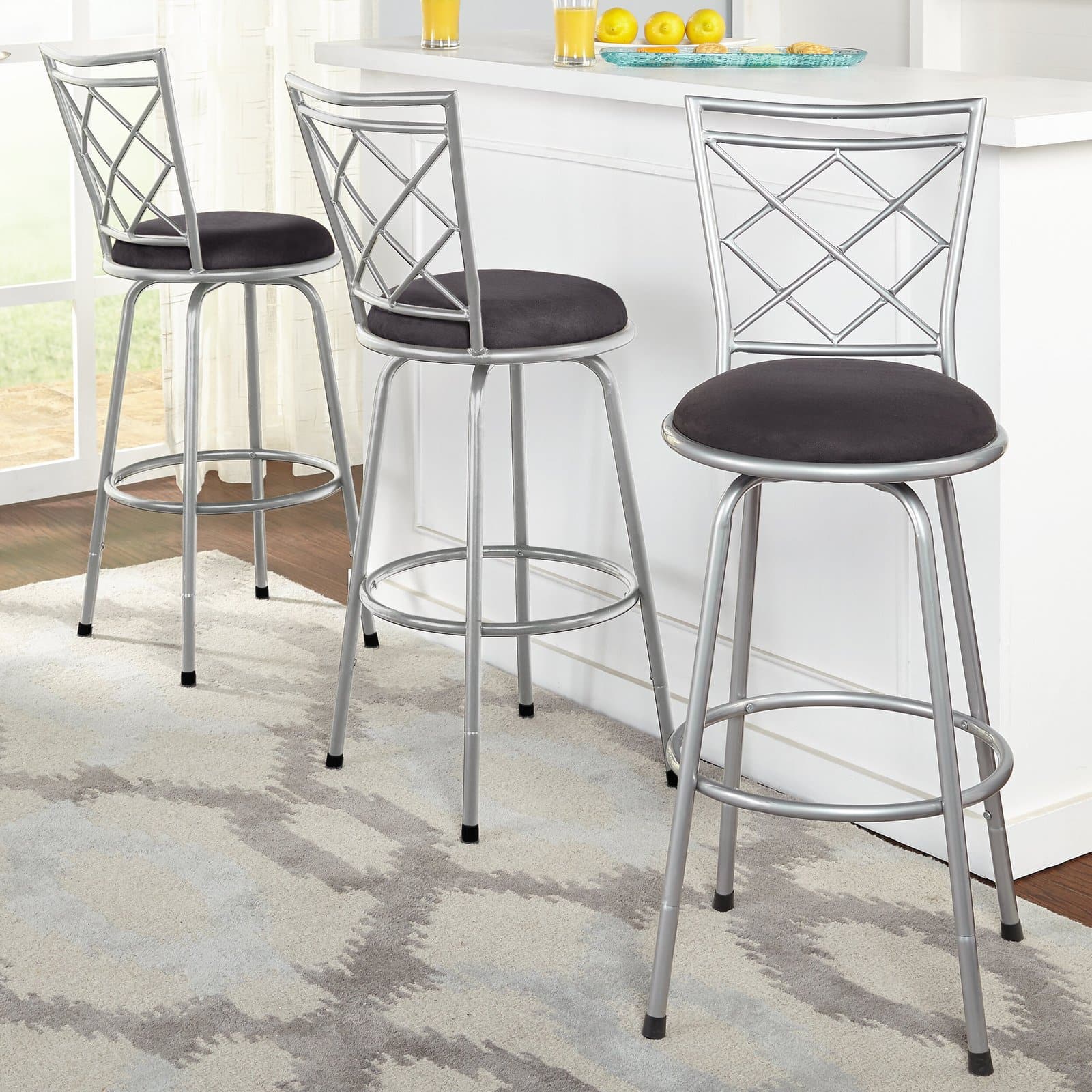 If you want something that blends the modern kitchen design trend of having an island with more traditional styles, then these adjustable swivel stools would be a great option for you.
The patterned back and traditional four legs give the feel of a standard dining chair, but the adjustable height and swivel design adds practicality and makes them one of the best bar stools for kitchen islands.
Glam Blue Velvet High Chairs for Kitchen Islands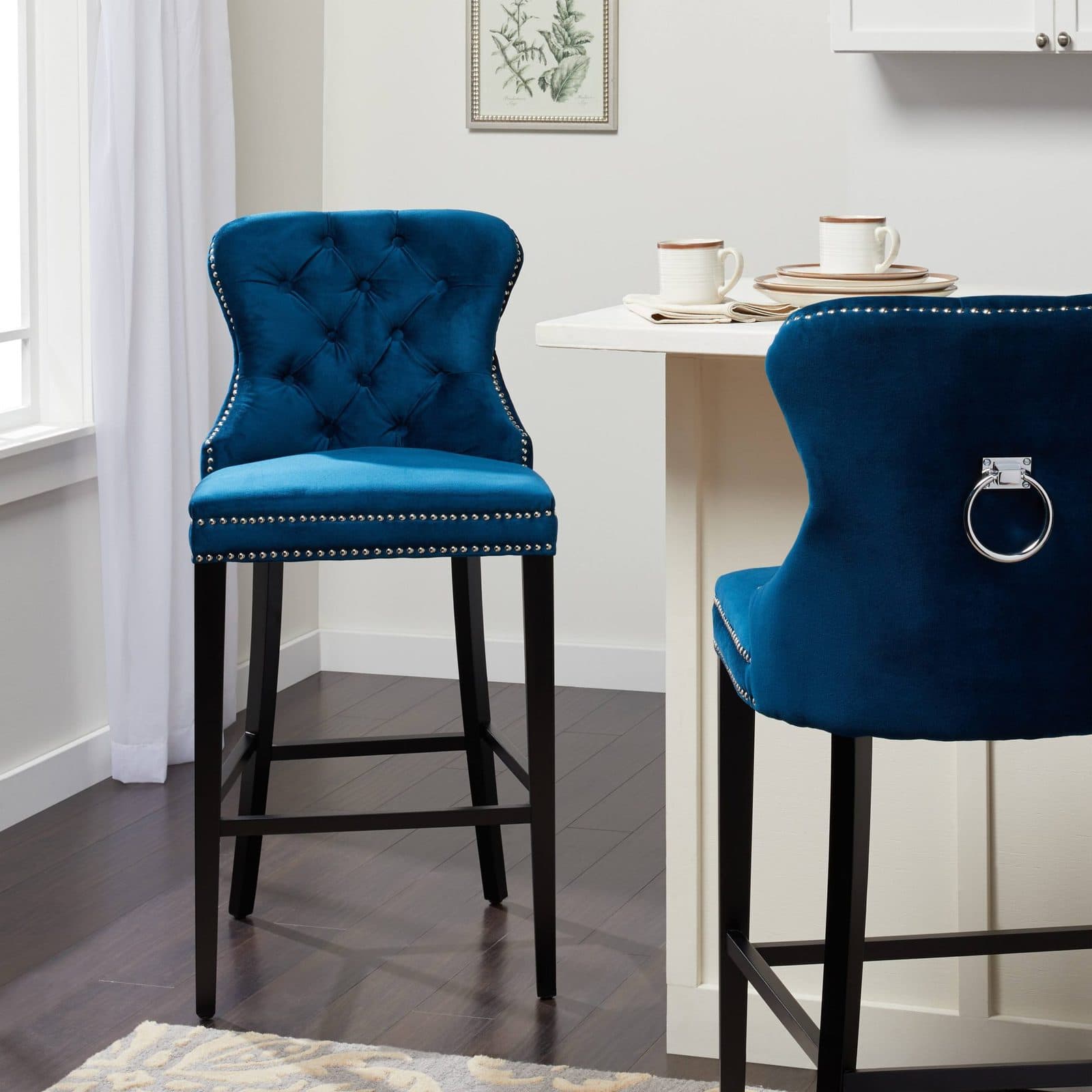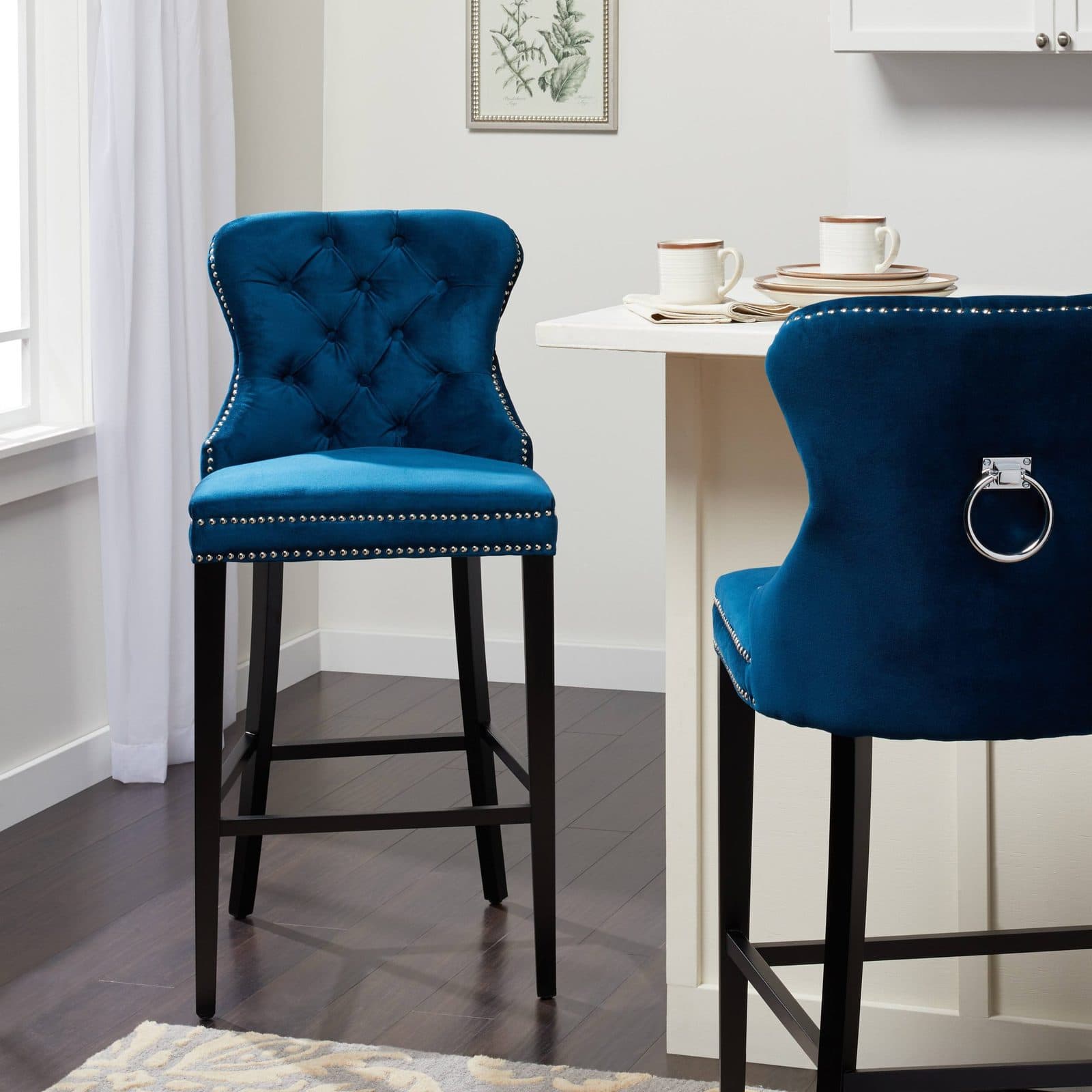 If you have space in your kitchen, then why not use that to your advantage and choose something that really makes a statement.
Velvet is a material that's often reserved for hotels or high-end bars, so why not bring that sense of luxury into your own home? These opulent blue velvet high chairs will make even the dullest kitchen feel like it's been curated by an interior designer.
Geometric Adjustable Height Swivel Stools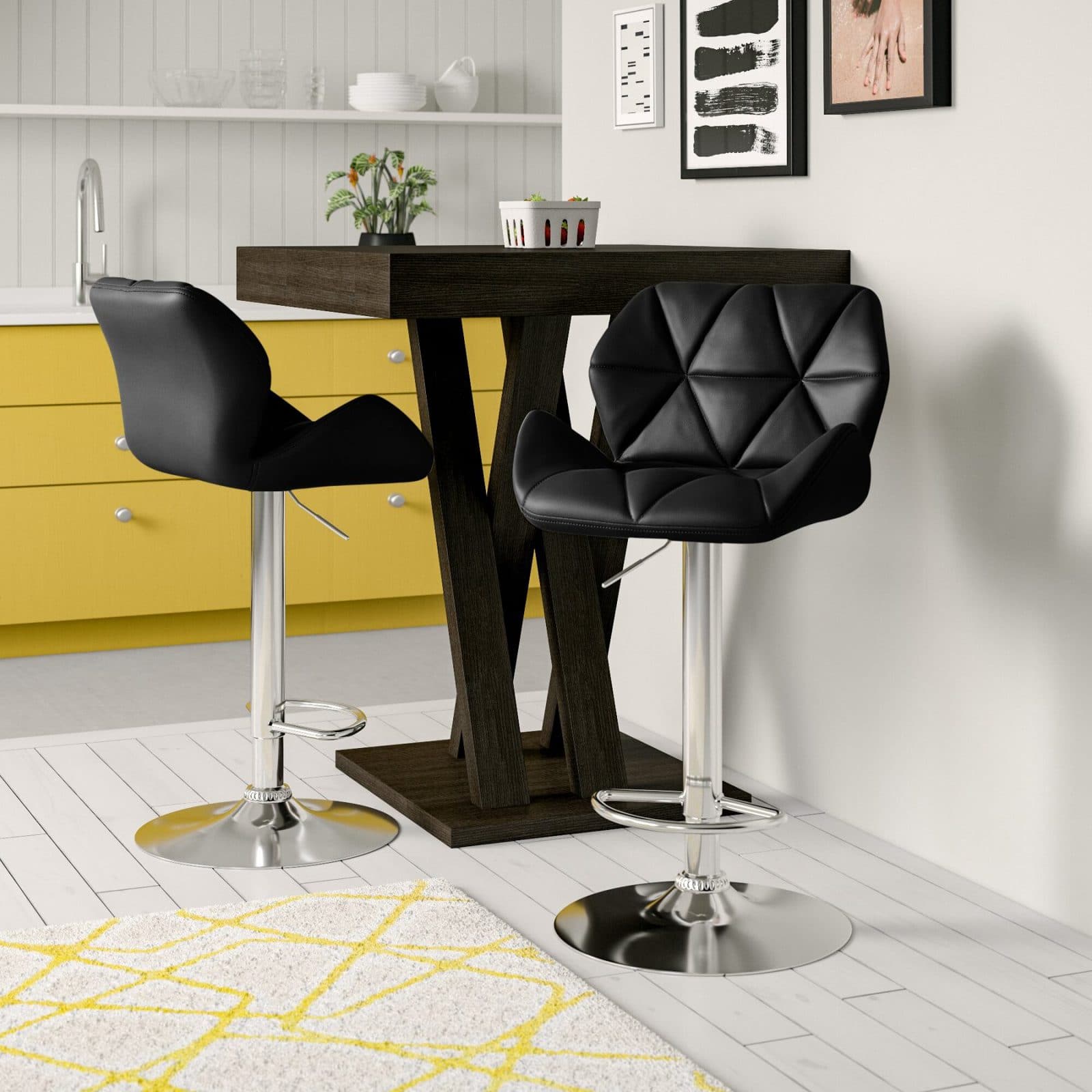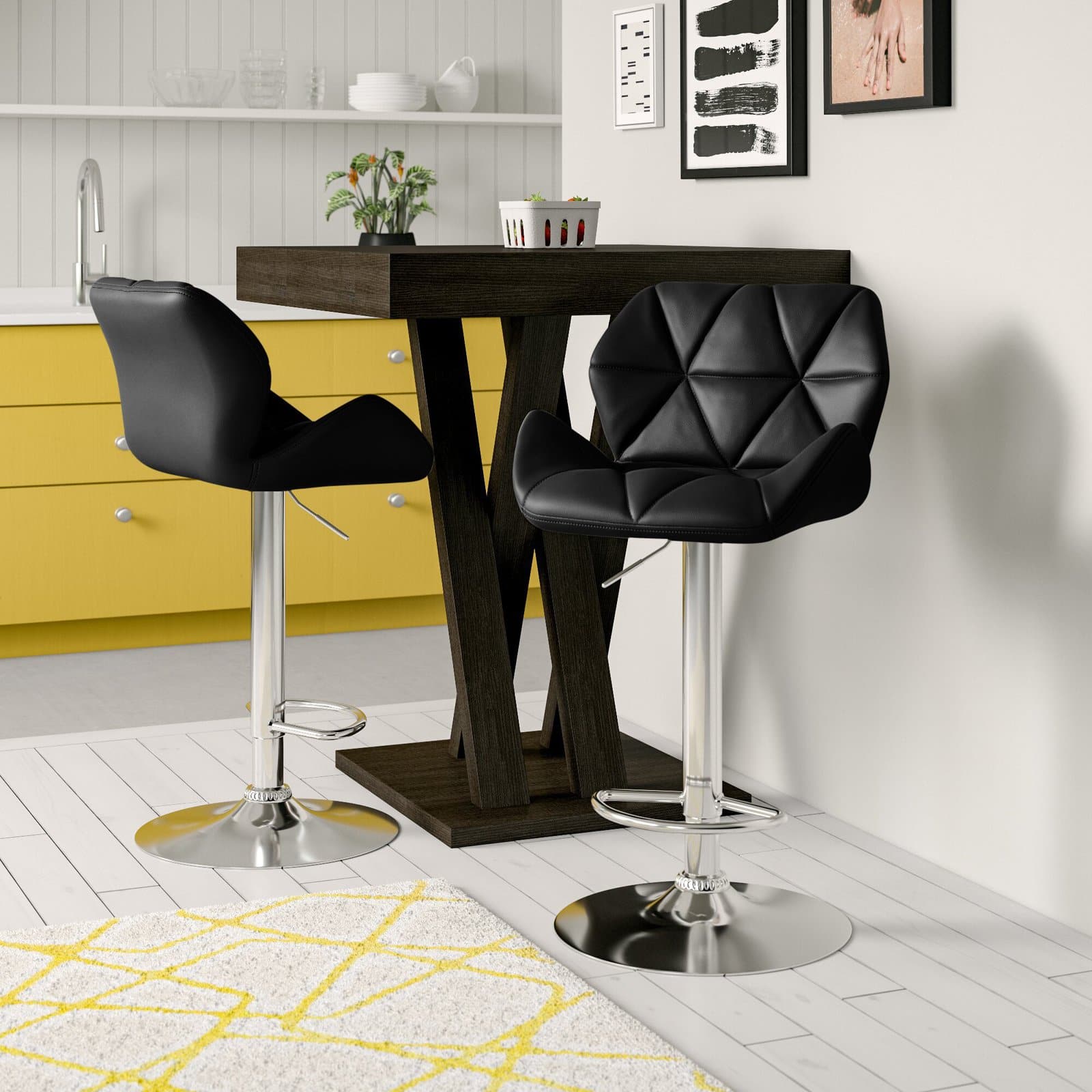 These geometric patterned faux leather stools have been a staple in kitchens for years, with good reason. These swivel stools come in just about every color and fabric that you could imagine so they'll look great whether you have a sleek all-white kitchen or rustic wood.
It's this versatility that makes these geometric swivel stools one of the best bar stools for kitchen islands.
Final Thoughts…
Kitchen islands have become hugely popular in recent years due to their practicality and simple style. If you're short on space and need somewhere to eat dinner, kitchen islands are the best option. They're also a great option if you're always in a rush!
Kitchen islands are incredibly versatile so it's no wonder that there are so many options for bar stools to match. When shopping for bar stools for kitchen islands the choices can feel overwhelming. There are so many different styles, colors, shapes, and sizes, but that just means you're sure to find the perfect design to match your space.