Decorated Life is reader-supported. When you buy through links on our site, we may earn an affiliate commission. Learn More
Modern Gray And Yellow Bedrooms
Yellow – the color of optimism, positivity, happiness, warmth, and sunshine makes a number one choice for the bedrooms. Since this personal space deserves to make you feel calm and composed and at the same time, welcoming and energetic – the classic duo of yellow and gray can simply not be ignored. And let's not forget – this combination has proved to be quite quintessential and exemplary in the past years!
Pantone's Color of the Year 2021 – Ultimate Gray and Illuminating are all about a sense of warmth and hopefulness. Similar is for the bedrooms. Well, there are various ways to have the most fun with gray and yellow, altogether! Excited to know how? Let's have a look at these classic 20 modern gray and yellow bedroom ideas to take inspiration for!
Gray Traditional Bedroom with Yellow Curtains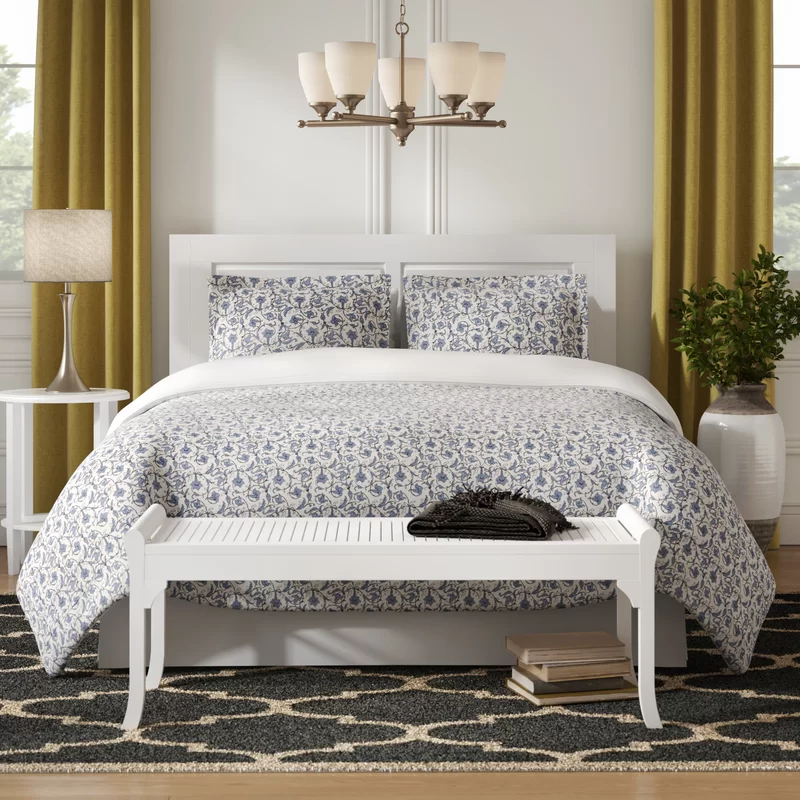 Yellow has the potential to create a striking and eye-catchy appeal. So, if you don't want to overwhelm your space with too much yellow, you might as well choose it just for the accessories. And when giving your bedroom a sense of perspective, don't hold back from these flabbergasting yellow curtains.
Furthermore, you can add tinges of gold to the lighting fixtures and also furniture frames.
The Fun-Loving Bedroom Panorama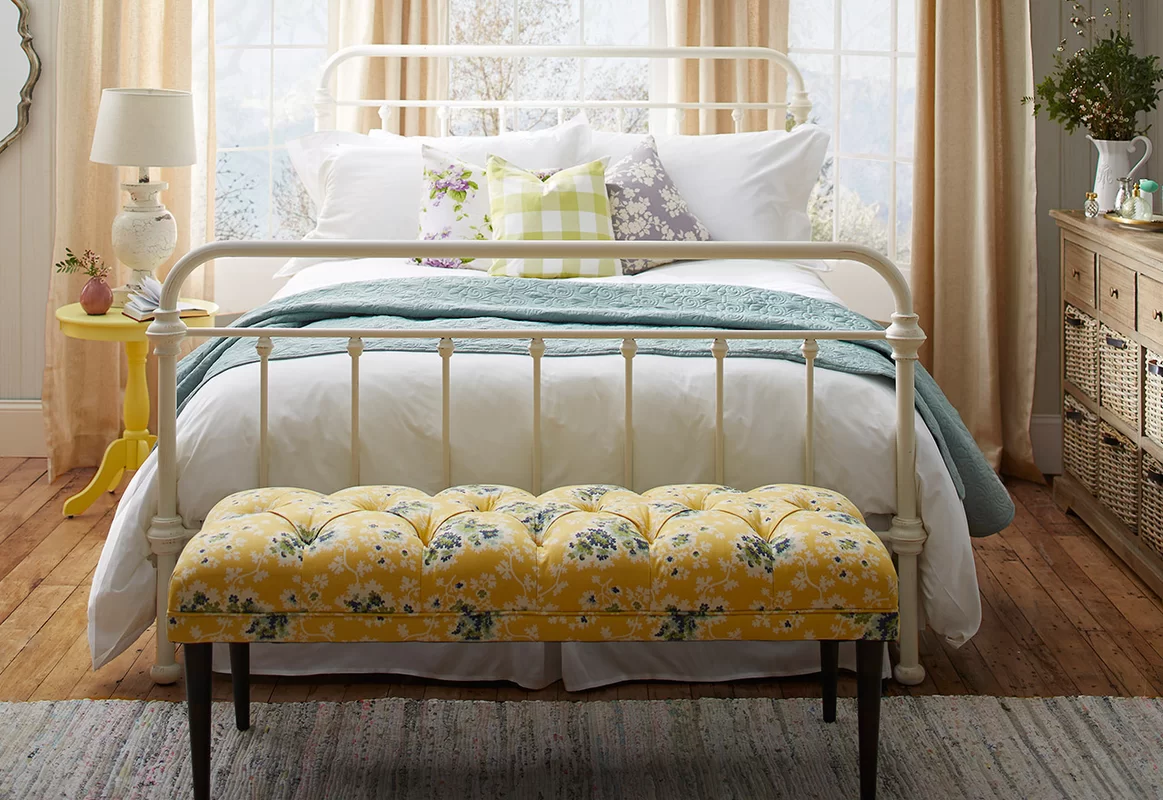 It's time to make your bedroom extra playful, fun-loving, and cheerful. Hence, pairing the yellow with deep floral imprints, shades of lavender, and icy blue in amalgamation with gray walls is something to watch out for.
With hardwood floors, you can also best add a gray area rug and several other wooden textures on the dresser and sideboard. Lastly, don't forget to add a large indoor plant in the corner for a perfectly refreshing vibe!
Moody Gray and Yellow Bedroom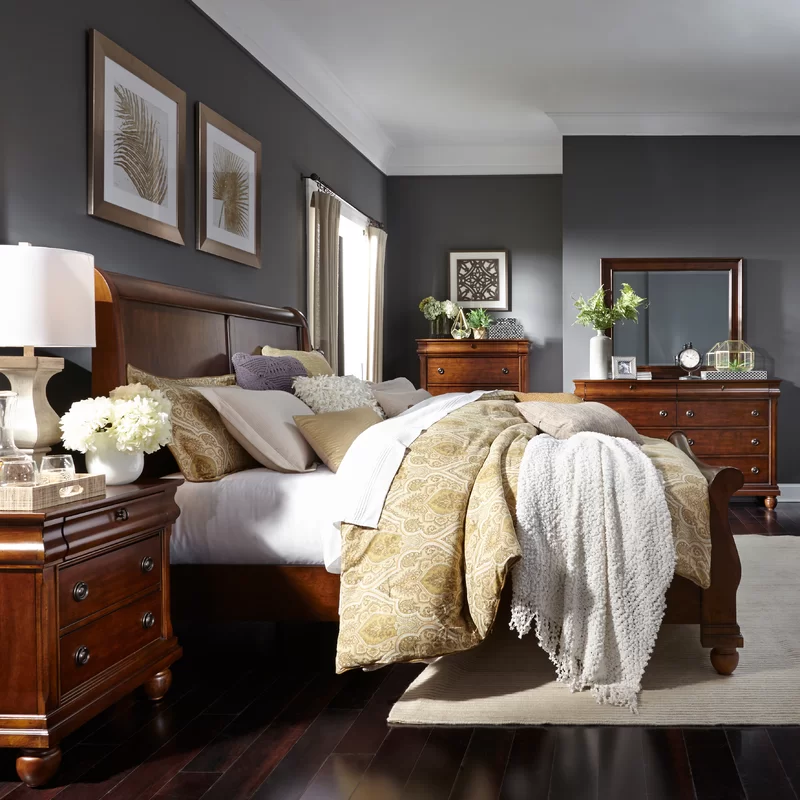 Especially for a traditional, contemporary, and modern-style setup – the classic and timeless combination of dark gray and yellow will never make you feel bored. It's also quite ideal if you have a large space and scale to deal with – along with ample natural lighting that pours in.
To further add a statement of luxe and elegance, you can add walnut finish on the wooden textures to play a bold accent. Lastly, pick shades of lemon yellow for the duvet or bed cover!
Style with Yellow Wallpaper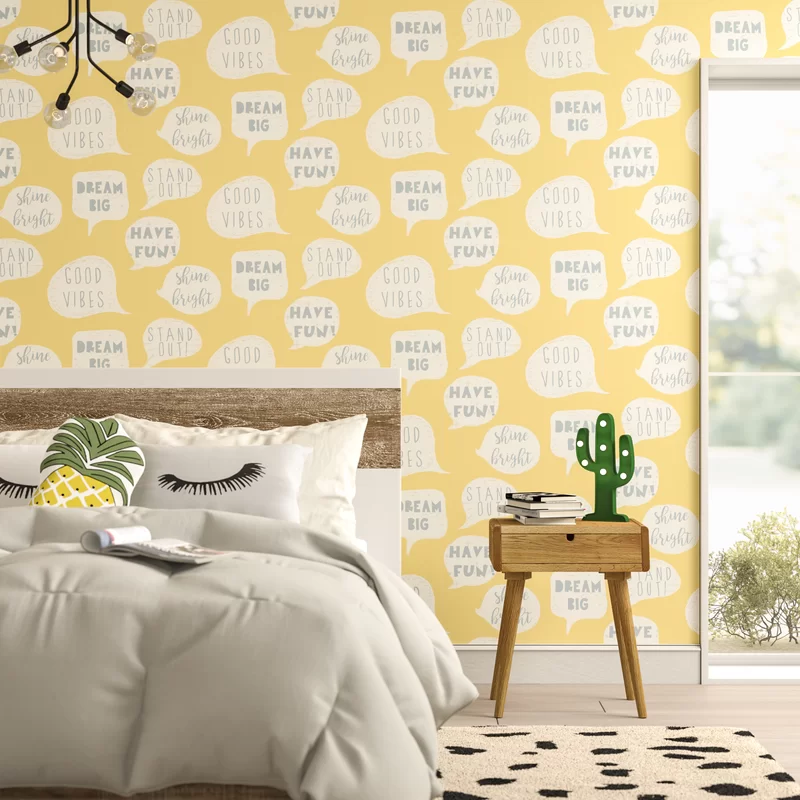 This stand-out yellow wallpaper makes your bedroom feel more lively, energetic, welcoming, and friendly. You don't necessarily have to throw a splash of bright yellow paint color on the accent wall at all times. Well, in some cases, you can choose a peel-and-stick wallpaper to play fundamental and focal.
All this while, choose a light gray hue for the bed cover, duvet, and throw pillows to play subtle and soothing.
Fall-Inspired Gray and Yellow Bedroom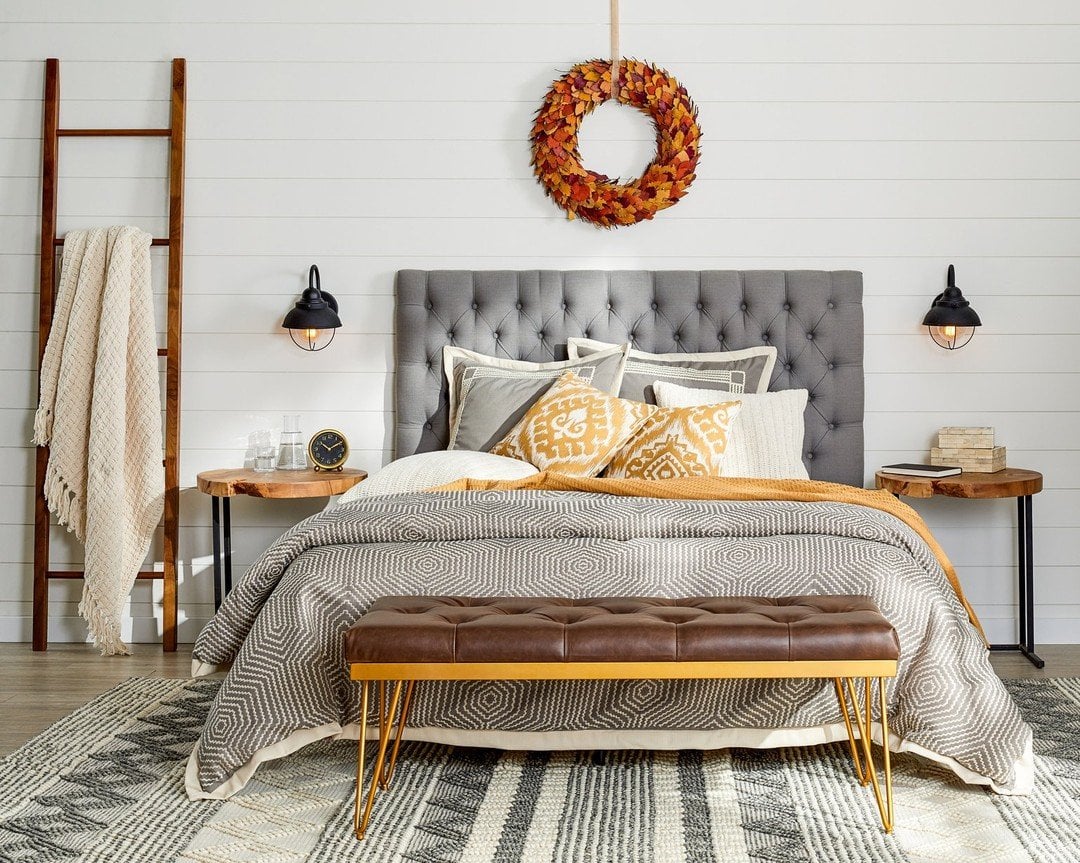 It's time to give your bedroom a perfect thematic experience! Well, some shades of yellow can truly merge with the fall vibe to give your bedroom a perfect touch of nature and authenticity. This transitional bedroom beautifully showcases a light to the dark tone of gray with contrasting pops of mustard – which is absolutely flabbergasting!
Secondly, for a panorama like this, it's a must to choose clean white for the backdrop!
Glam Monochromatic Bedroom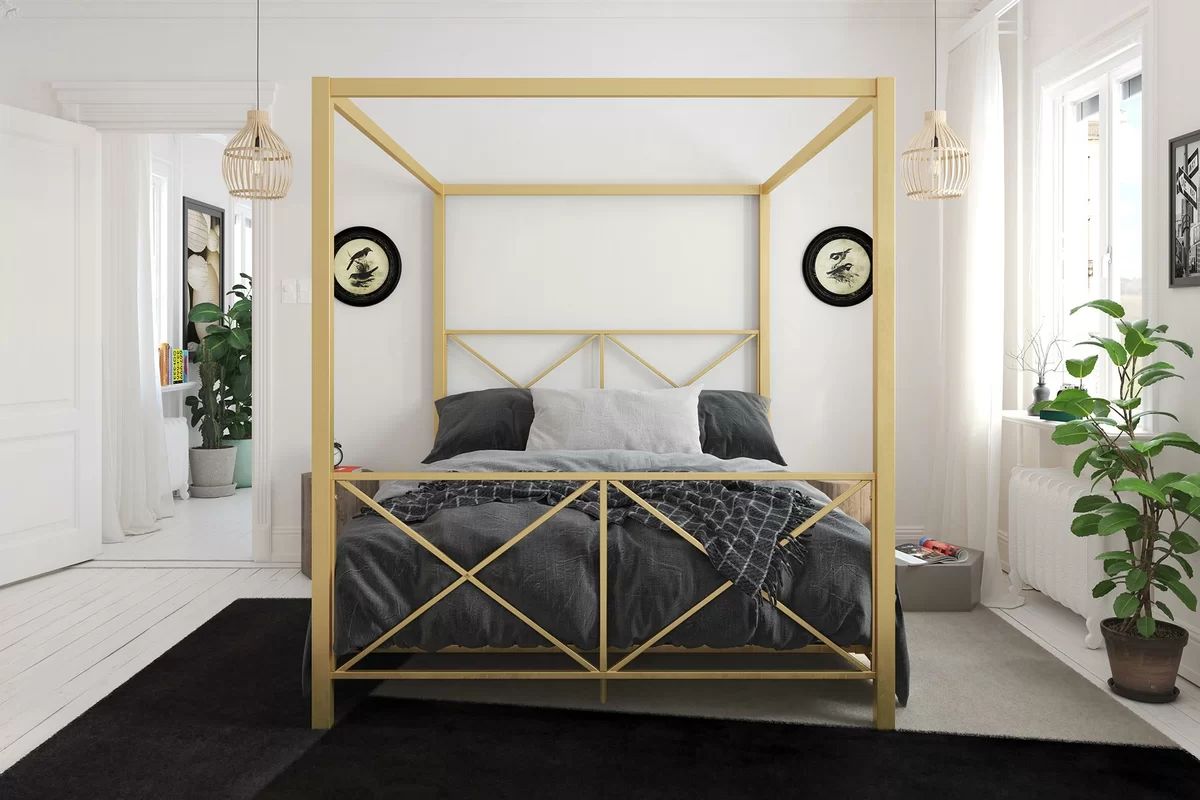 Is it necessary to throw a splash of yellow on the walls and bedding every time? Well, if you like the brightness of yellow but hate the starkness of this color – you can make use of this gold-tinted canopy frame for a perfectly glam, dramatic, and sleek appearance.
You can choose a simple and clean white for the background and shades of light and dark gray for the bedding as well as wall accessories.
Throw a Yellow Blanket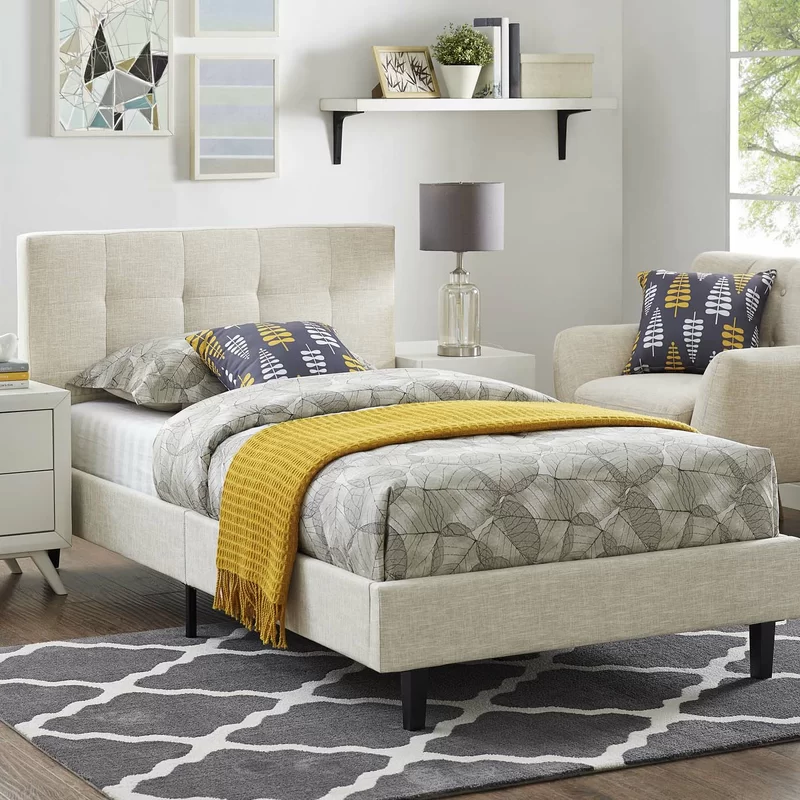 This modern and contemporary-style bedroom flaunts off the beautiful shades of light and medium-toned gray with a beautiful amalgamation of navy blue and yellow. It doesn't feel too overpowering – hence, a perfect way to add a stark and eye-catchy appeal while the room still feels calm, soft, and composed.
To further add a statement of flair and fun, you can add refreshing pops of greenery and indoor plants to achieve a rejuvenating vibe.
Gray and Yellow Traditional Bedroom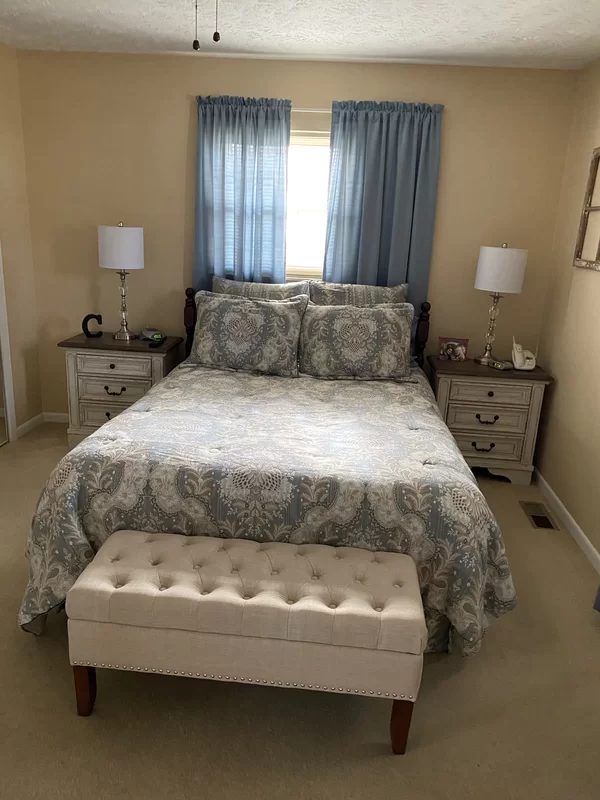 Yellow is the number one color choice for traditional interior design styles. And just in case you reside in a colder region (where it snows frequently) – this color is a great way to infuse warmth, sunshine, and welcomeness. Yes! Color psychology it is.
You can consider painting all the walls in yellow and further choosing a subtle hue like light or medium-toned gray for the bedding and accessories.
Style with Gray Wallpaper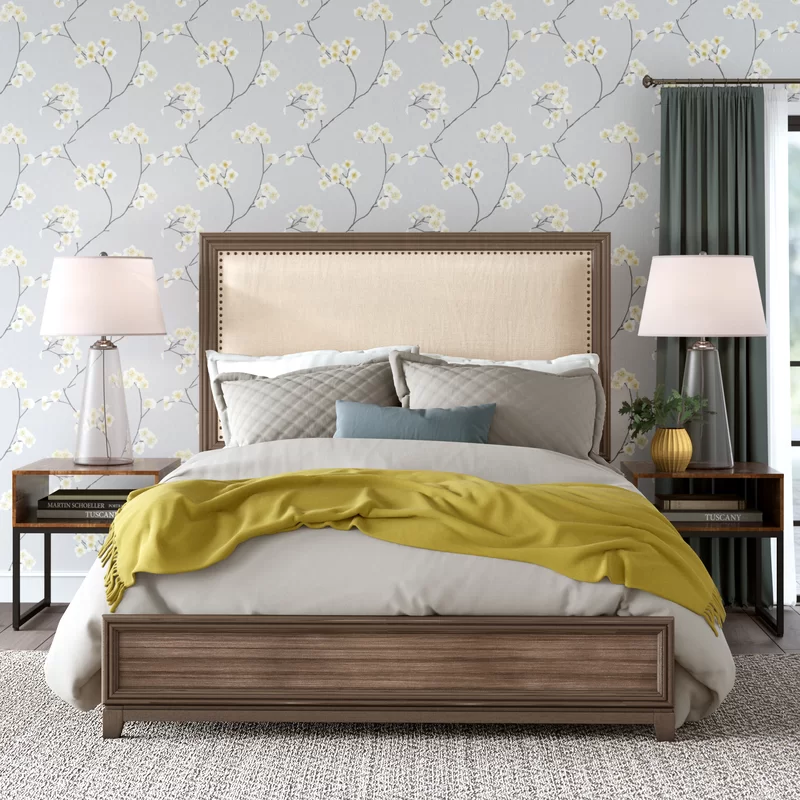 If a yellow wallpaper is too overwhelming for your bedroom, it's preferable to choose a gray-toned roll that feels quite subtle, soothing, and versatile. It doesn't make your space feel loud and at the same time, gives that perfect timeless touch to the bedroom.
With this gray hue on board, you can add a pop of yellow on either the throw blanket or pillows for a perfectly contrasting palette. This way, you can even update the yellow with another hue – if you get bored, down the line!
The Bright Yellow Bedroom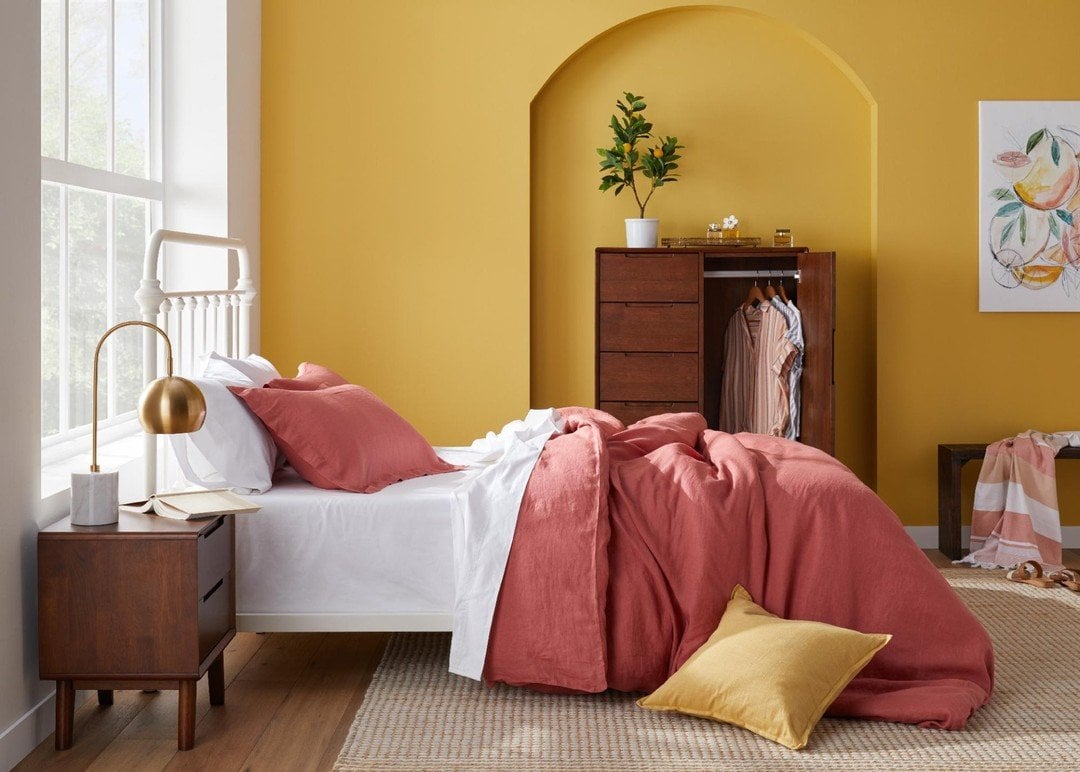 For a bold and bright hue of yellow in your bedroom, there are a few aspects to keep in mind. First and foremost, ensure that there's ample natural light pouring in – so your bedroom feels refreshed, lively, and airy. And secondly, calm down this stark yellow with the help of light gray on the headboard, bedding, and accessories.
This is a great color combo to keep in mind for Eclectic, Maximalist, and Art Deco interior design styles.
Mid-Century Modern Gray and Yellow Bedroom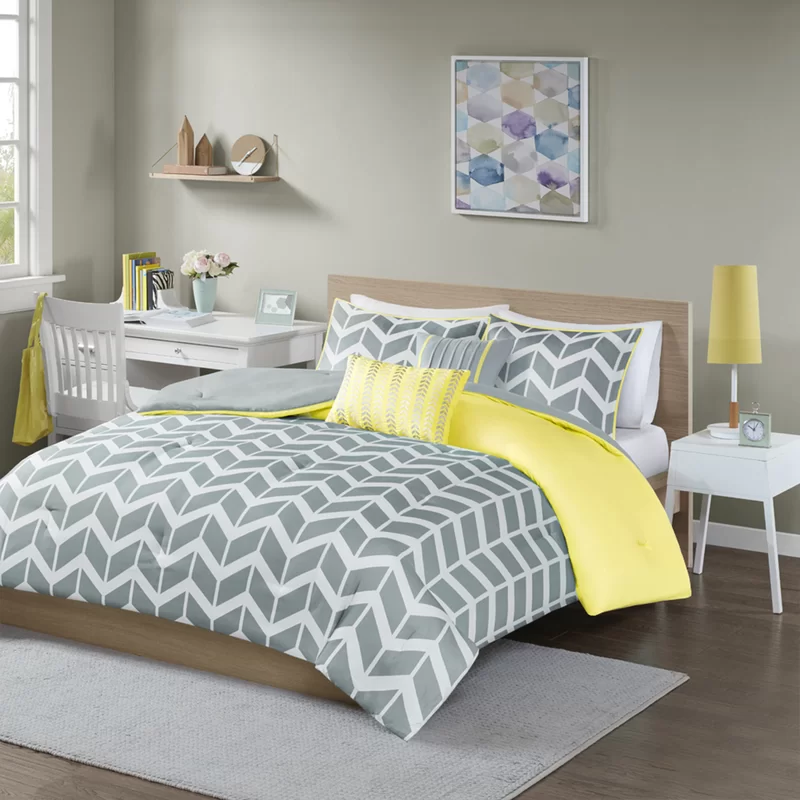 It's time to style with gray, white, and yellow, patterns and textures! And when speaking of practicality, distinctiveness, and a state-of-the-art appeal, this gray and yellow bedroom idea is what you must have your eye on. Showcasing a beautiful zig-zag pattern on the gray duvet, the sense of depth and drama is further enhanced.
And all this while, ensure a crisp and clean gray on the backdrop wall with a crisp white hue on the curtains.
Let the Yellow Duvet Play Subtle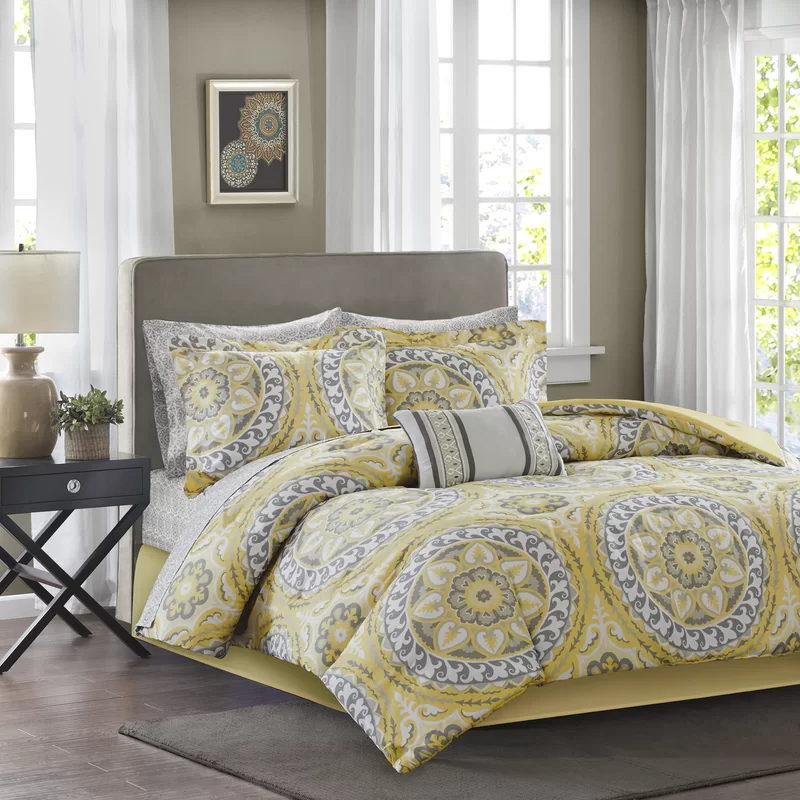 One of the greatest benefits of a yellow duvet is that you get the opportunity to refresh the color palette of your bedroom, every season. So, if yellow is quite likely to make you feel bored and monotonous, you can simply upgrade the comforter to give your bedroom a brand-new look.
At the same time, gray plays an all-time versatile role. You can easily pair it with any color palette!
The Luxe Gray and Yellow Bedroom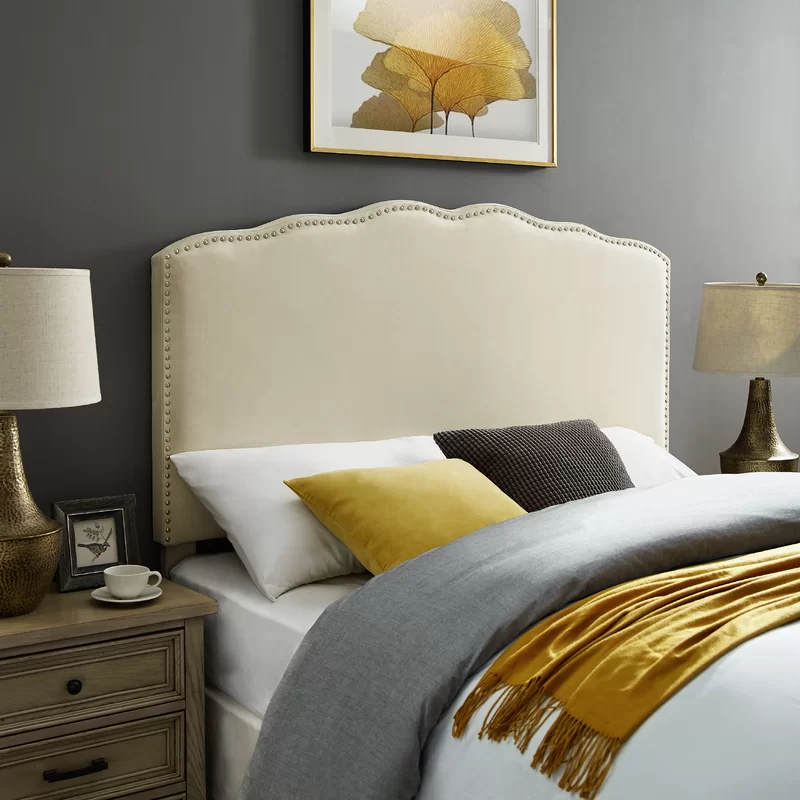 If you want to add a statement of luxury and opulence, it's best to add mustard or golden yellow accent with the help of throw pillows, blankets, and focal artwork. To further facilitate a sense of richness and splendor in the room – it's a must that you choose a dark gray paint color for the walls.
This glam bedroom design also features a shade of beige that plays a perfect base on the headboard and table lamp shades.
Focal Yellow Nightstand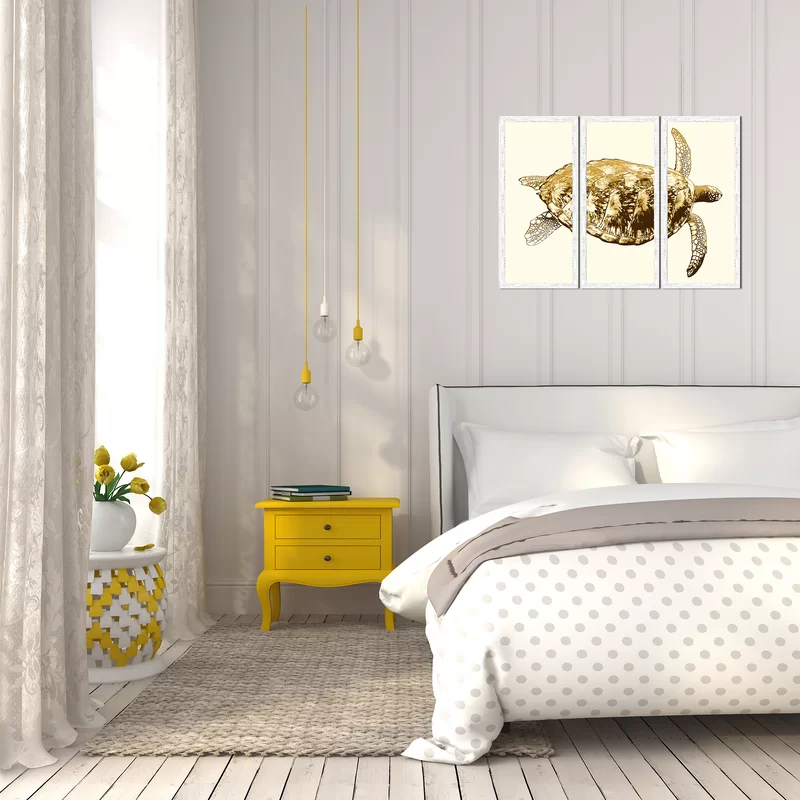 It's time to play extra artsy, eye-catchy, and joyous in the bedroom! And especially with an intriguing and contrasting hue like mustard yellow, it's going to further look outstanding when used as an accent on the frame of the nightstand. It grabs attention – and at the same time, makes your bedroom feel extra lively and optimistic!
And all this while, you must choose a light cool or warm gray color on the backdrop – walls, bed frame, bedding, and artwork.
Bohemian Gray and Yellow Bedroom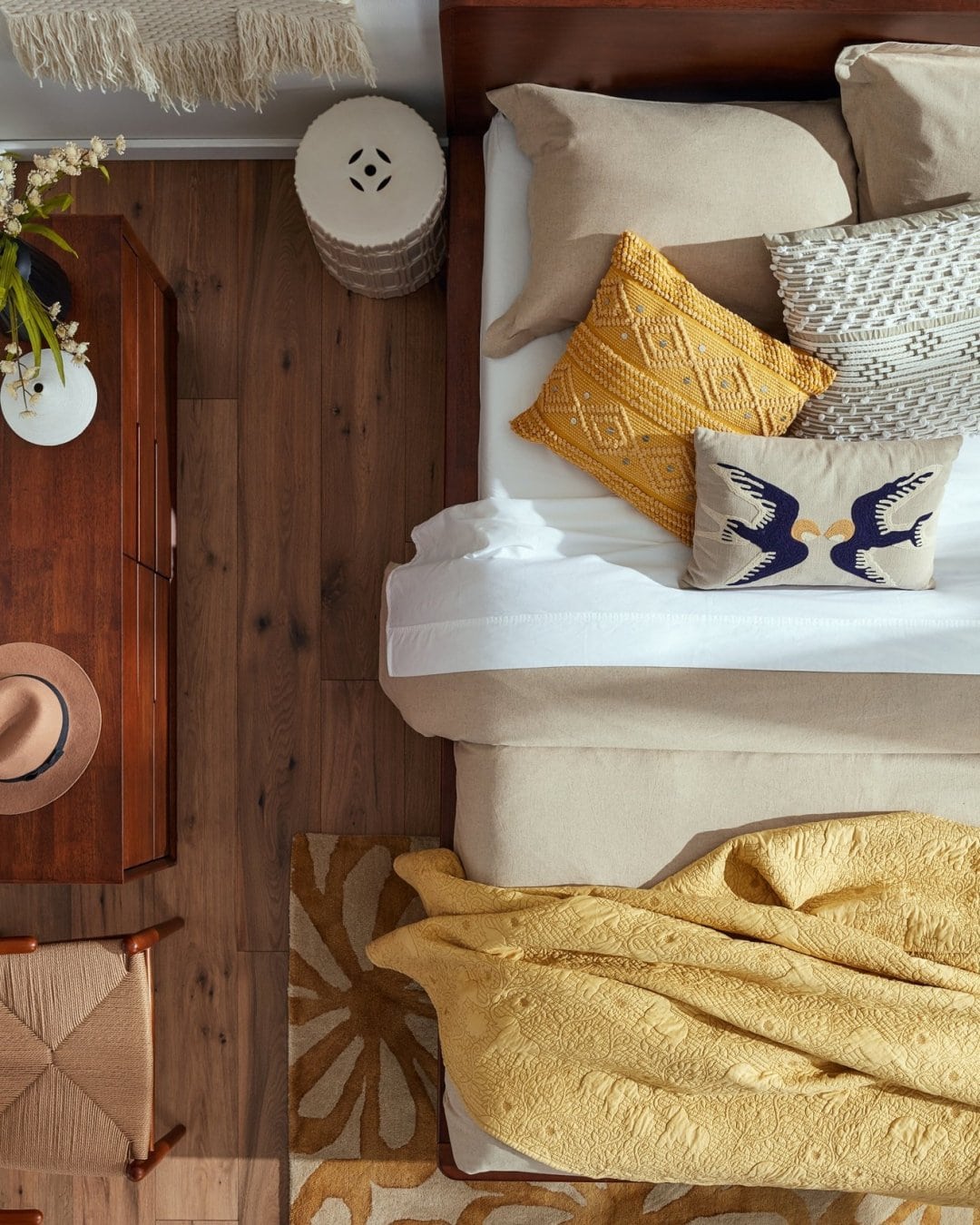 Are you a free-spirited being who admires a carefree life? Well, if you have an admiration for the flamboyant mixture of hues, chic patterns, and textured material backdrops – it's quite likely that you're a boho soul. And if yellow and gray is your style – you can absolutely create an Eclectic and Bohemian style.
This bedroom features a beautiful array of macrame pillows, lush hardwood floors, yellow bedding, ample indoor plants, and wooden textures. And you can definitely take inspiration from that!
Add a Third Wheel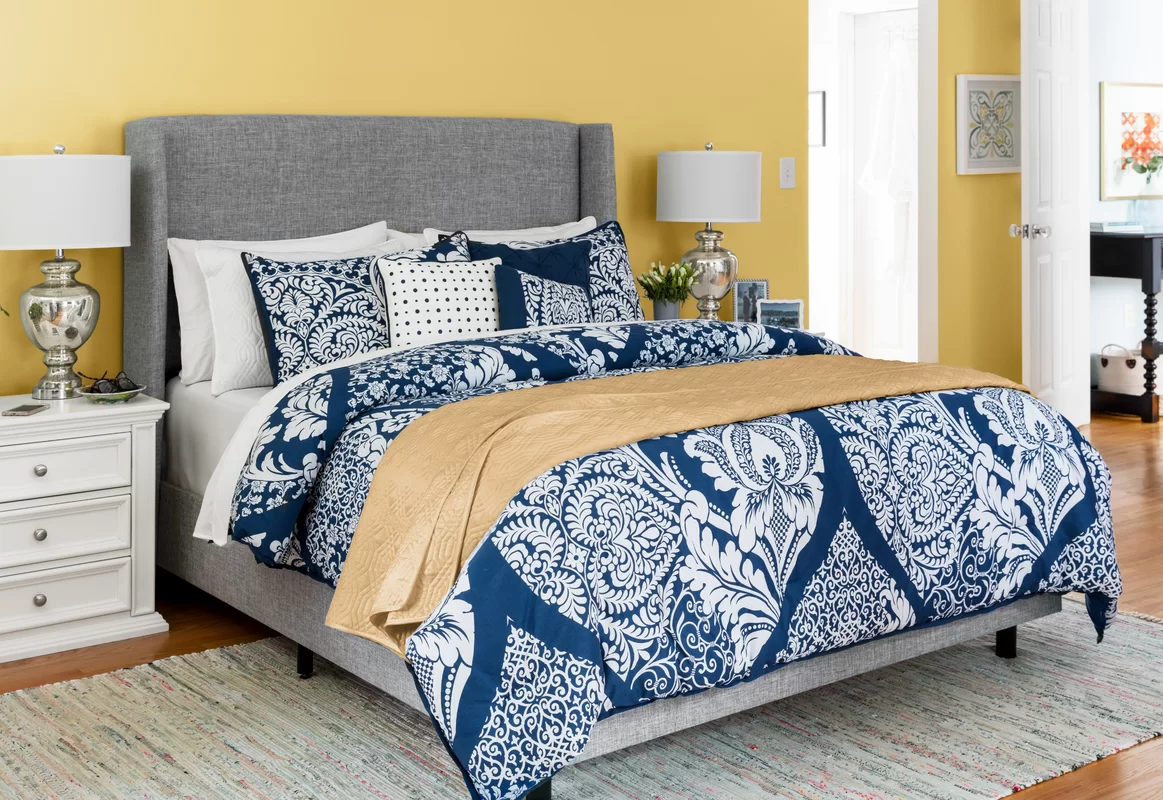 Apart from yellow and gray, another hue that feels equally mesmerizing is navy blue! It offers a great accent to the bedroom and makes the space feel balanced and hierarchical. Furthermore, you can add a tinge of white and light gray to play a soothing base.
Secondly, let's not ignore the beautiful patterns and intricate textures on the comforter set! It tends to grab attention and at the same time, makes a great example for a modern gray and yellow bedroom setup.
Modern Farmhouse Gray and Yellow Bedroom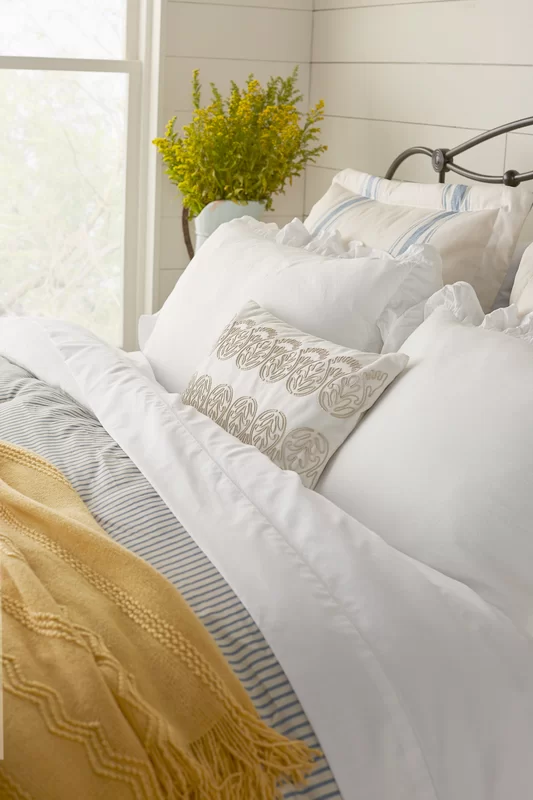 Do you have a modern farmhouse interior design style? If yes, this bedroom backdrop is something to take inspiration from! It feels light, airy, and spacious – and at the same time, throws a splash of beautiful yellow and gray.
So, you can choose a very light tone of gray for the walls and bedding, while a very little yellow on the artwork, bed cover, pillow, or throw blanket!
Modern Gray and Yellow Bedroom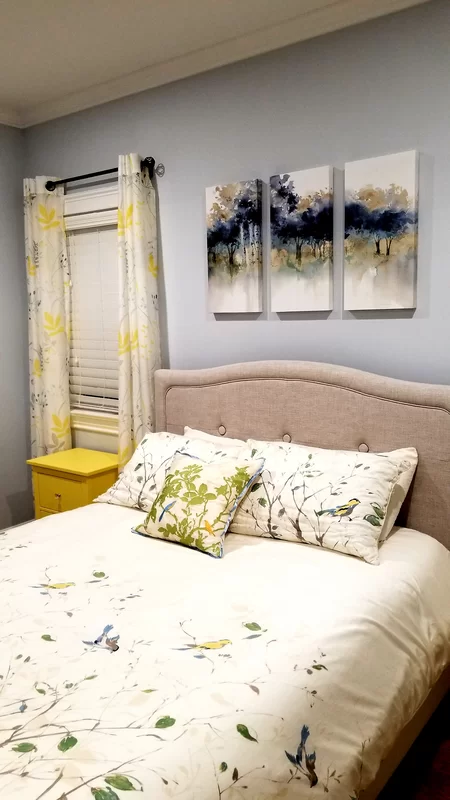 It's not necessary for the gray and yellow to play dominant and focal at all times. In some bedrooms, you can cohesively add an accent of gray and yellow to your space and further add tinges of white and beige to play a major role.
Have a look at this bedroom! Isn't it so appealing? The floral-patterned curtains and bedsheets are what grab the attention the most!
Glam Gray and Yellow Bedroom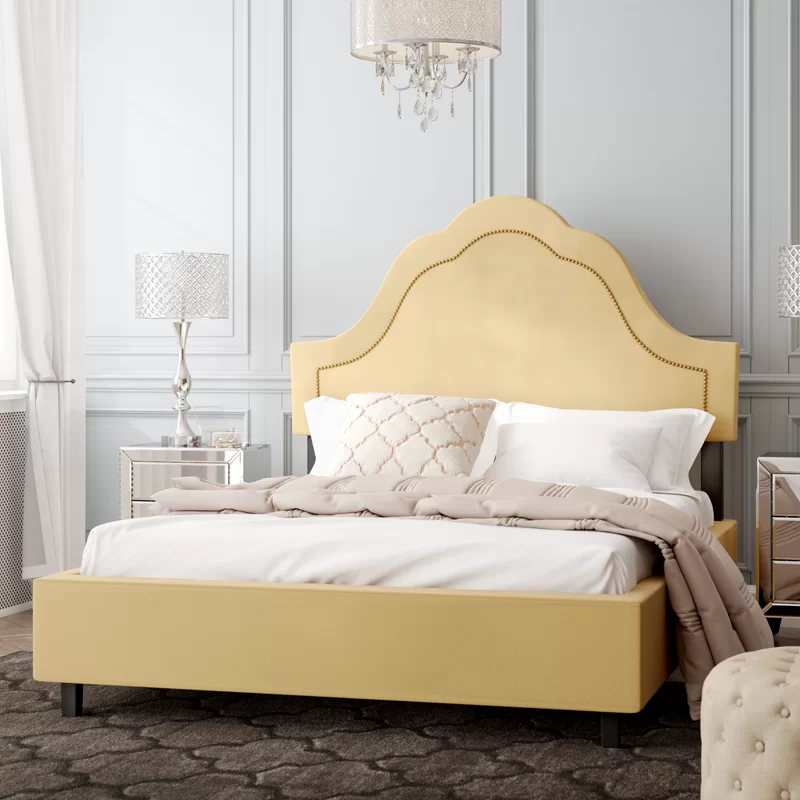 For a quirky Hollywood glam look in your bedroom, try using the dazzling grays on the wall paneling and a focal yellow bed in the forefront. This way, you're contradicting the two opposite hues and further adding a sense of depth and character to the room.
To further streamline the look, add beige-hued patterned throw pillows and a couple of faux and fur on the bed and area rug to create a cohesive look.
The Exquisite Gray and Yellow Bedroom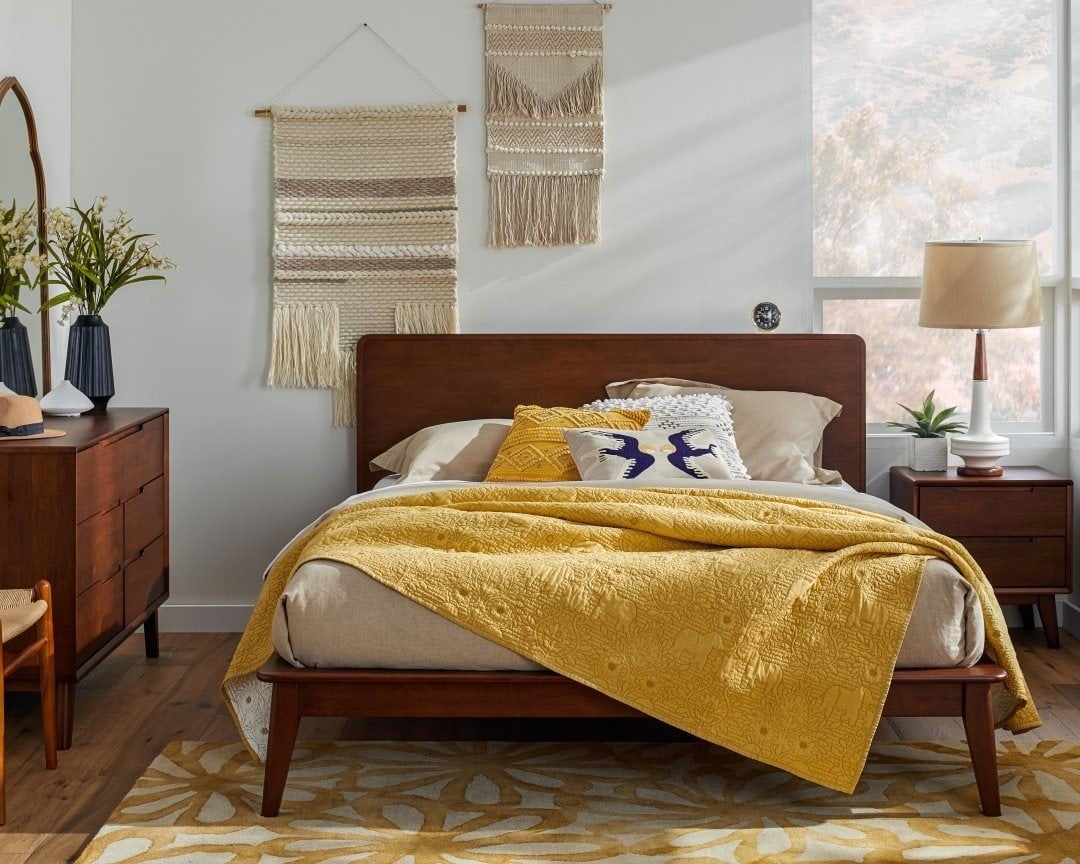 This is a one-of-a-kind bedroom backdrop you'll never regret! It's fun, playful, and cheerful – and with the perfect touch of boho, you would definitely want to come back to it, again and again! After all, this is what a bedroom is expected to offer, right?
So, with a cool gray paint on the wall, you have the opportunity to style a yellow comforter and throw pillows. You can also add tinges of soft white on the macrame wall hanging artwork to add a soothing effect.
Summing It Up
A gray and yellow bedroom is quite a versatile choice for you. It can truly offer a wide array of moods – quirky, cheerful, modern, elegant, glam, or farmhouse! And it all boils down to the kind of vibe you're aiming to create. So, did any of these 20 modern gray and yellow bedroom ideas intrigue you? Well, do let me know in the comments below!