Bedroom Sconces Ideas for a Cozy and Chic Look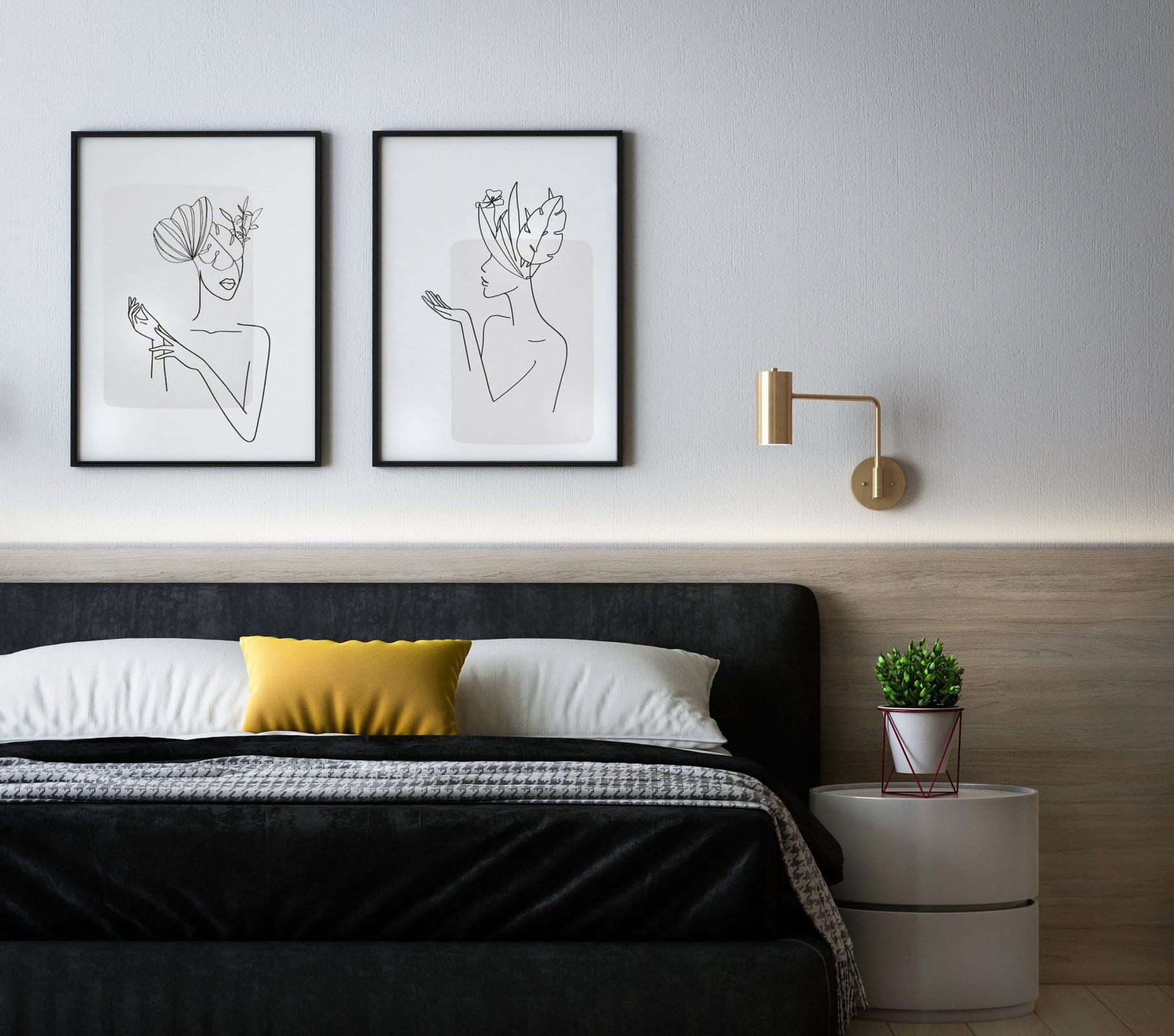 Lighting is one of the most important— but often overlooked— elements to consider when decorating your bedroom. The right lighting can completely make or break the relaxing atmosphere in your room, so picking the right lighting elements is crucial.
But what about wall sconces? Are they a good choice for bedrooms? Read on to discover all the different ways that you can embrace wall sconces in your own bedroom design and give your bedroom an instant upgrade!
Built-In Headboard Sconces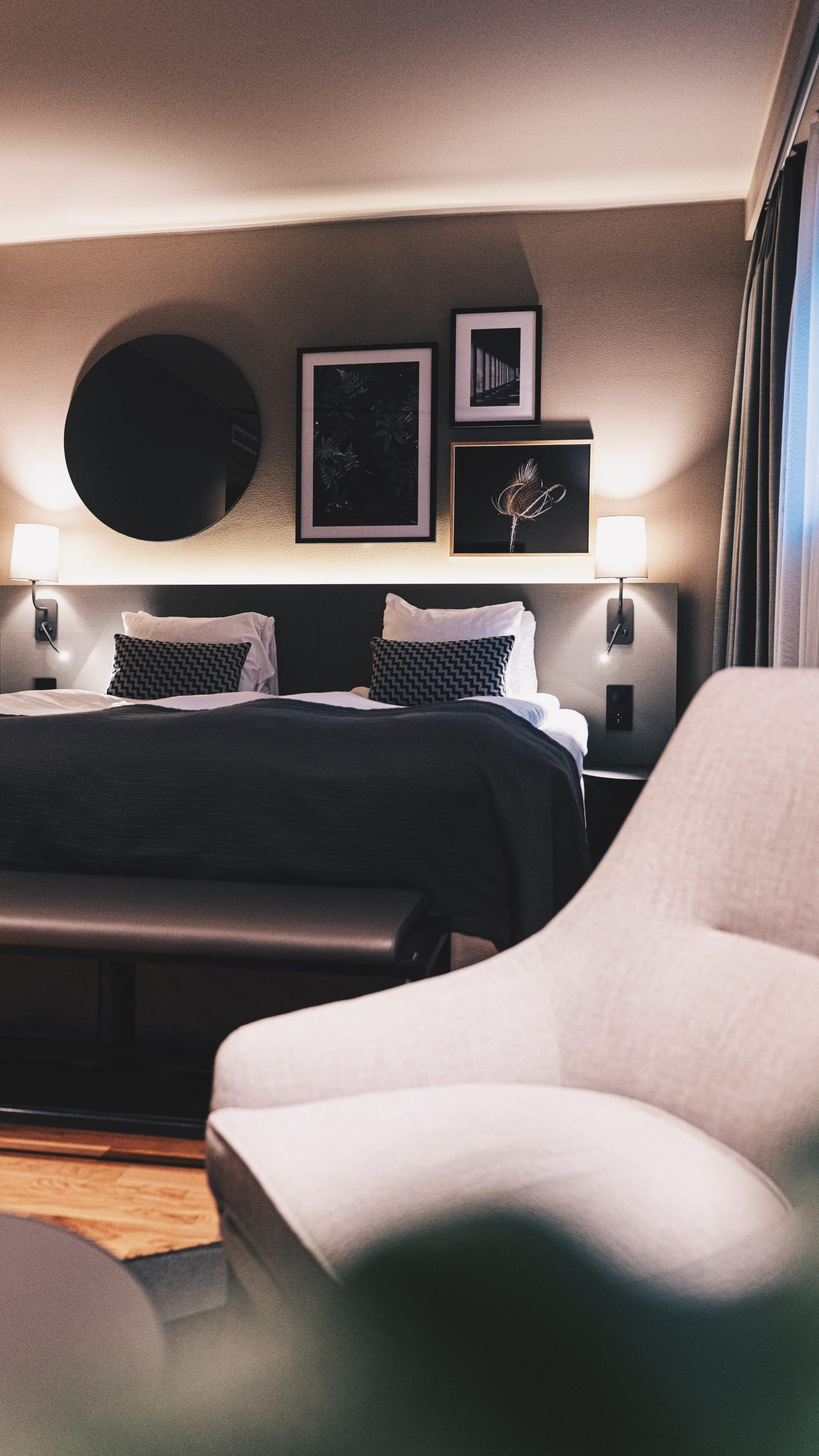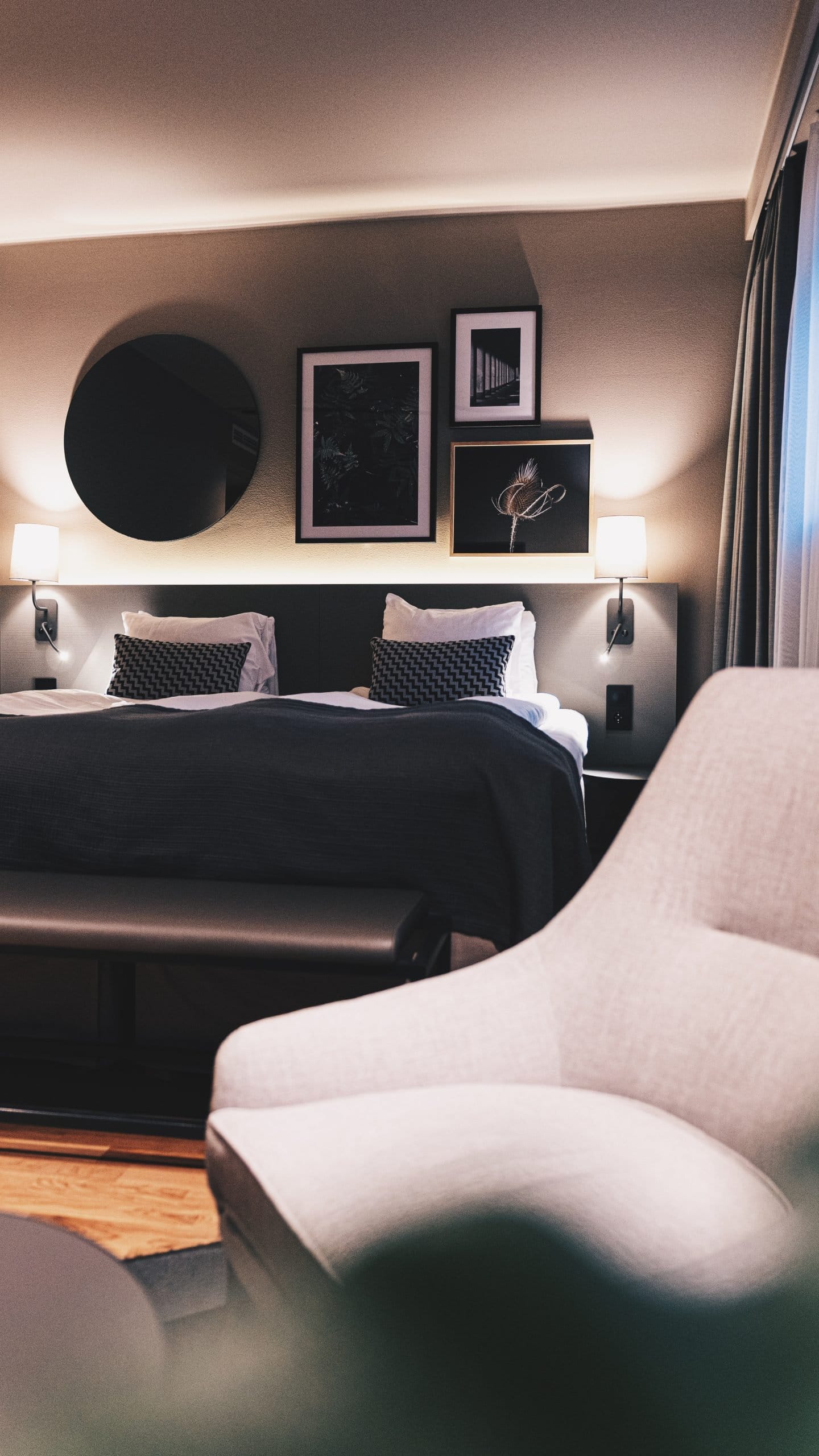 Looking for a unique take on bedroom sconces? Try taking a hint from a stylish boutique hotel and install the wall sconces directly into your headboard! This unique lighting approach not only looks great and provides lots of bedside light, it's also a fantastic option for rentals where you can't install new lighting.
This idea may work for you if you have a smaller bedroom and don't have much wall space to install separate sconces. You may also want to try this method out if you're going for an oversized headboard look as you see in this image.
You have a few options if you're considering a built-in wall sconce— you can choose a sconce that contrasts sharply with the headboard, or you can go with one that blends into the background. Either way, make sure that the light is not obstructed and that the sconces provide adequate lighting to your bed.
Downturned Spotlights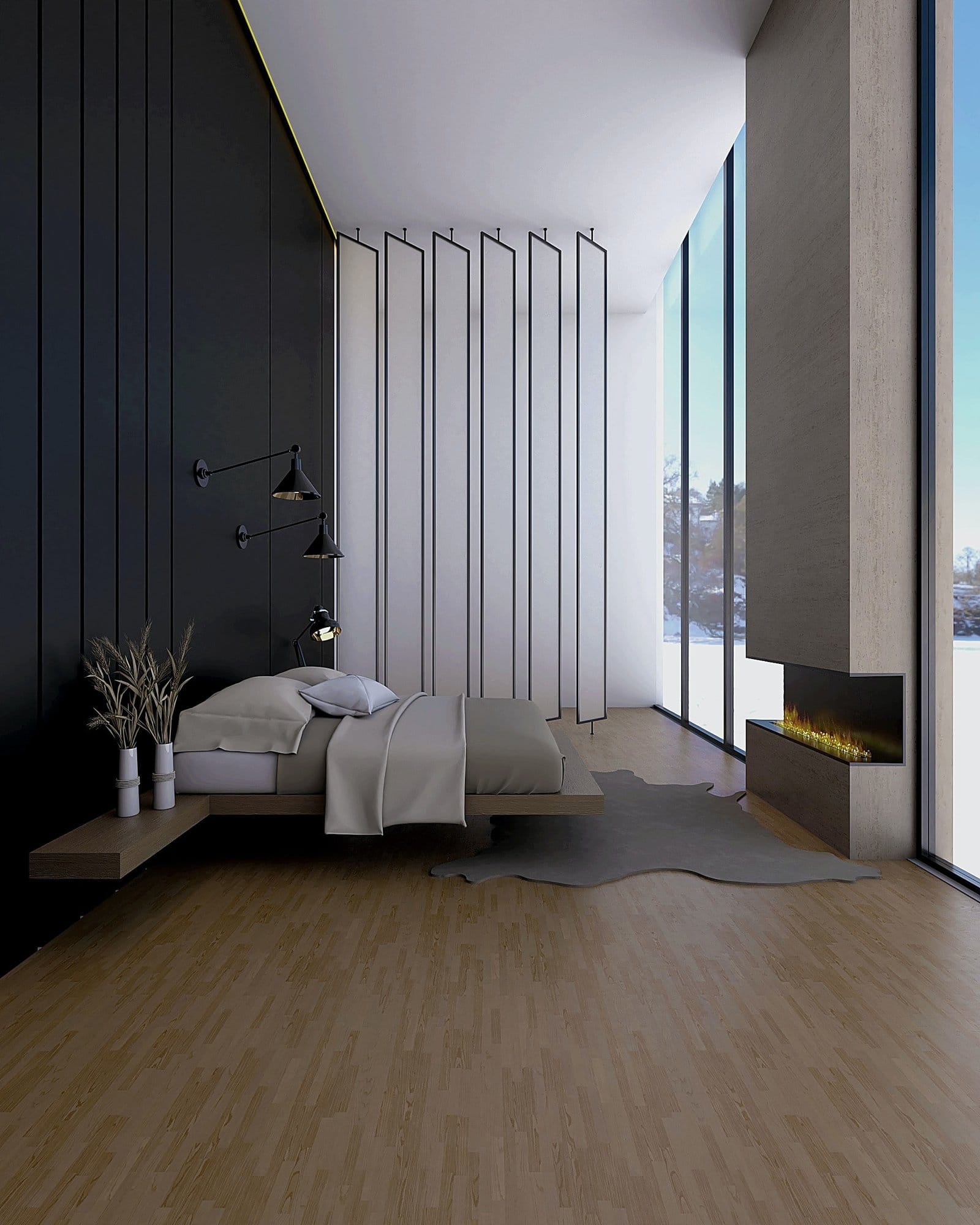 If you've got higher ceilings or large, empty walls behind your bed, then consider filling up some of that wall space with a few large downturned spotlight sconces. They're convenient, stylish, and work well with a variety of decor styles.
Downturned sconces don't do much to lighten up an entire room, but they do make great bedside lighting. That's because the light is more focused and pointed. If you tend to read a lot in bed, then spotlights like this are an excellent choice.
The style of sconce you choose will depend on the decor style that you have for the rest of your bedroom, but there are a few approaches you can take. For one, try choosing sconces in a color that blends into the wall color behind your bed.
Modern and Minimalist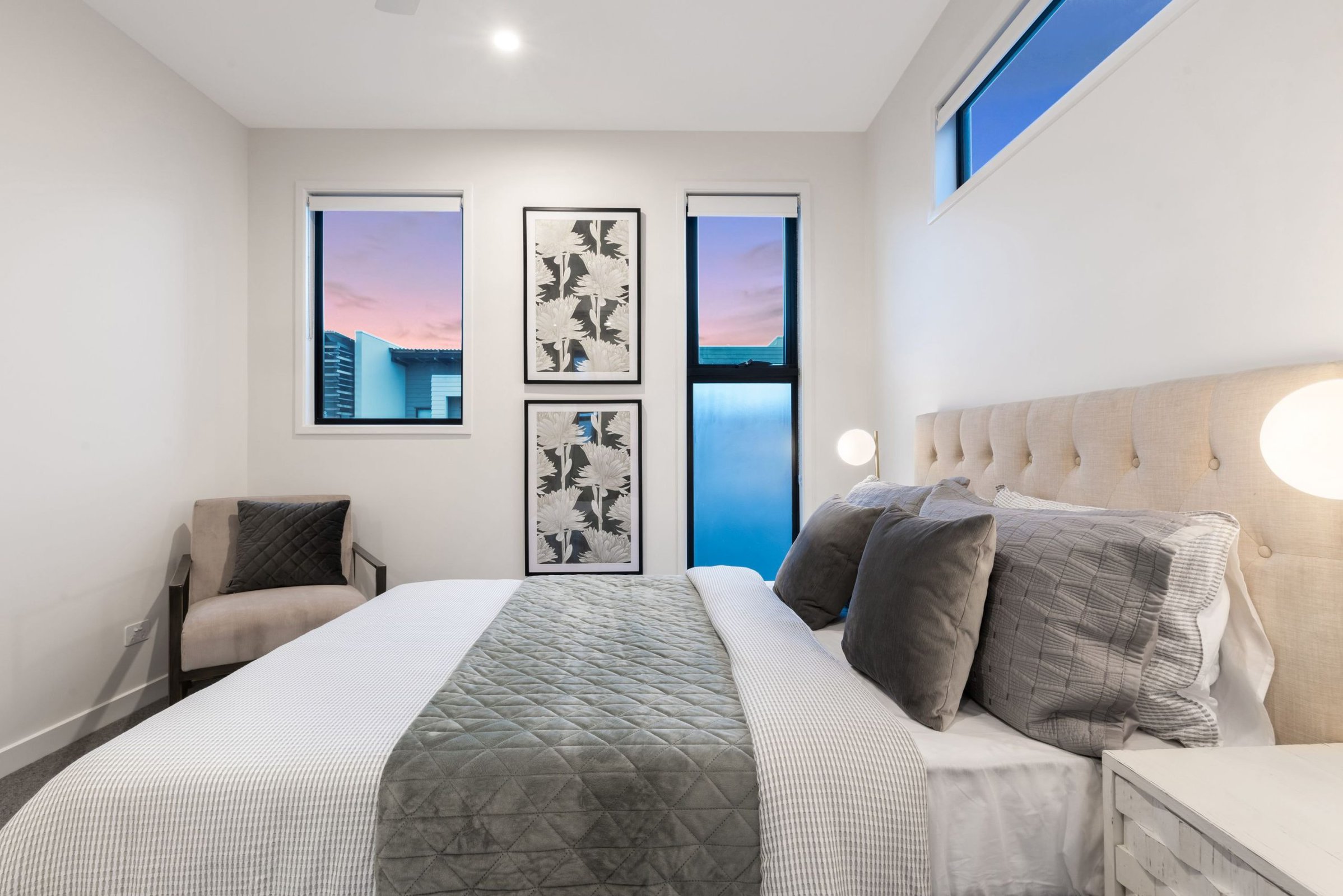 Sometimes when you're choosing a lighting fixture, simplicity is the best approach. Since the bed is the main focal point of any bedroom, you might not want your wall sconces to distract from it. If that's the case, then a simple and minimalist wall sconce might be the right choice for your bedroom.
Choose a wall sconce with a simple shape that works well with your chosen design style. A small globe light like the one you see in this example can give you plenty of light, but it can also blend into the background if you have a neutral wall color.
For lights like these, consider choosing a dimmable LED smart bulb, so you can remotely change the brightness, warmth, and color of the light. That way, you can easily change up the look and atmosphere of your bedroom, but you don't have to have a large or distracting lighting fixture.
Small and Subtle Sconces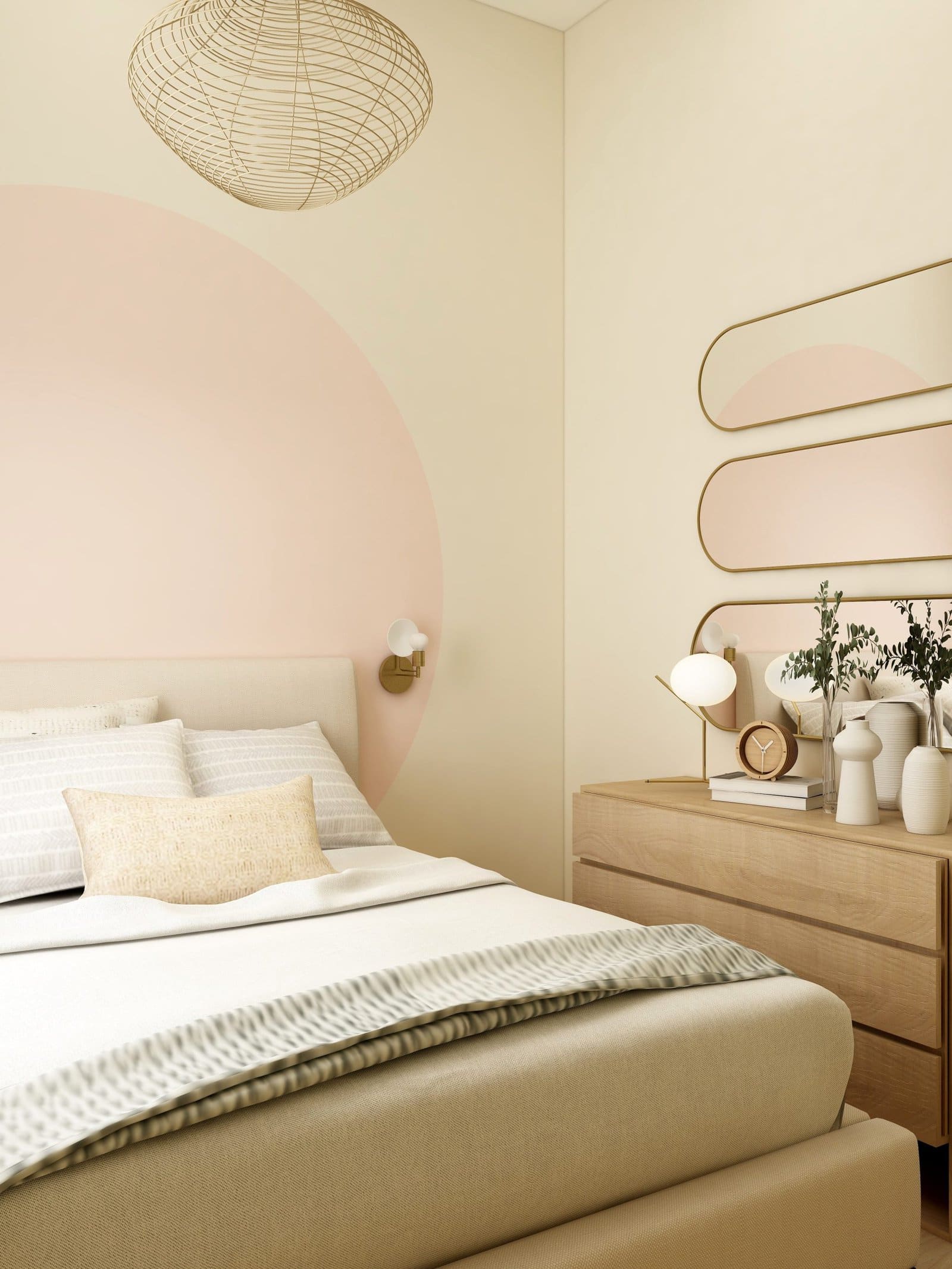 If you love to settle down at night with a good book, or simply want to add a touch of lighting near your bed at night, then you don't need to go overboard with a large or overcomplicated sconce lamp. Instead, remember that less is more and choose a small single-bulb sconce.
If you need all the light you can get, then you may want to go with larger sconces that provide more light. But if your bedroom already has lots of natural light and overhead lighting options, then adding a small sconce near your headboard is the better option.
A small sconce like the one in this image is a great choice if you want an alternative to a bedside lamp. It works especially well in small bedrooms where you might not have the space for a nightstand.
Artistic Abstract Sconces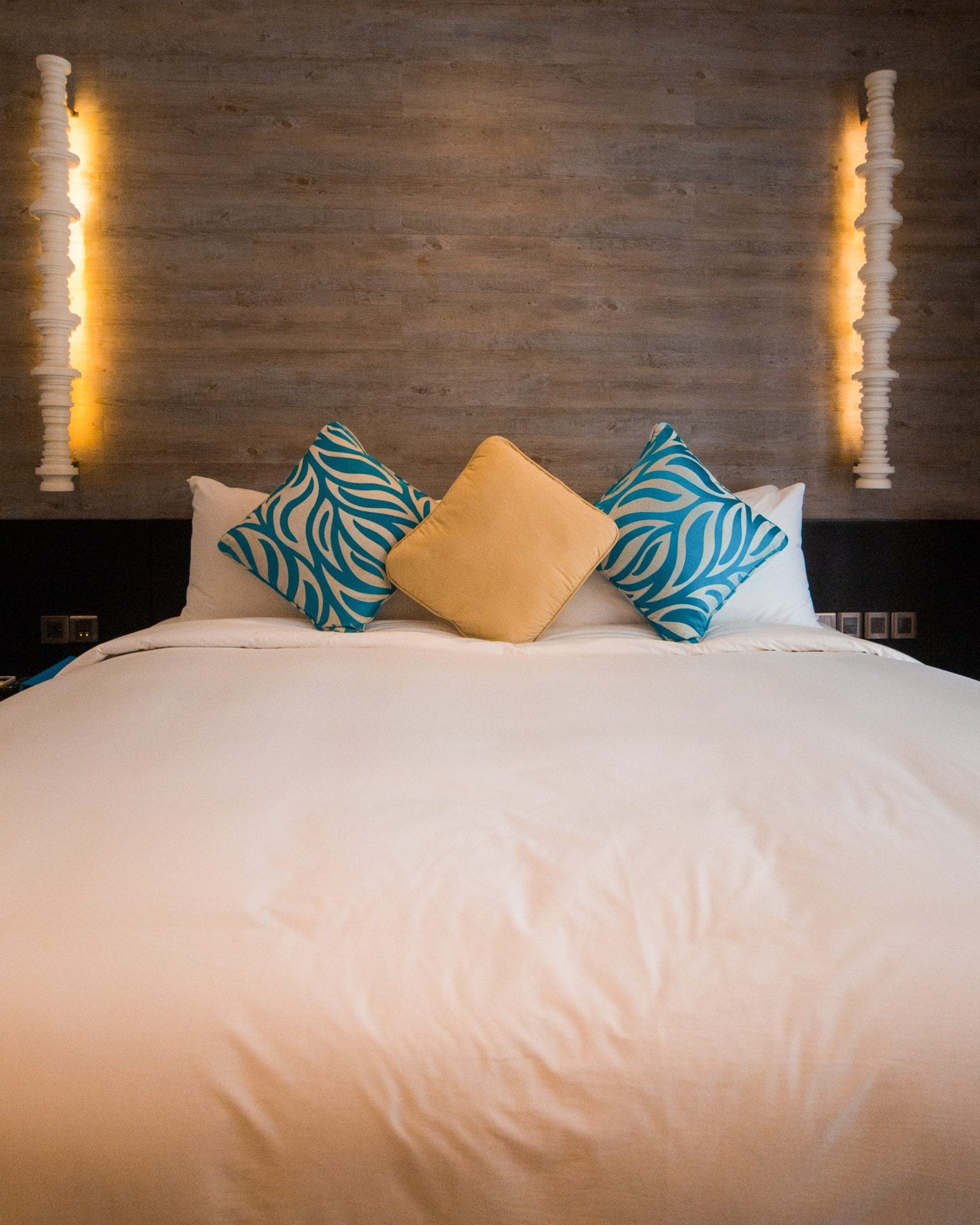 Sometimes wall sconces can serve as a small bedside light. Other times, they can be the main lighting fixture in your bedroom and make a big design statement. Take a look at this example to see how a couple of long abstract sconces can brighten up a room.
This look is a great idea if you don't have a large headboard behind your bed. Large sconces like these take up a lot of space on the wall and can serve as a focal point by themselves.
To get this look for yourself, choose sconces that reflect light towards the wall, and that have an interesting or abstract silhouette. Make sure you consider how the sconces contrast against the back wall— such as vertical sconces against horizontal paneling, like in this example.
Small and Traditional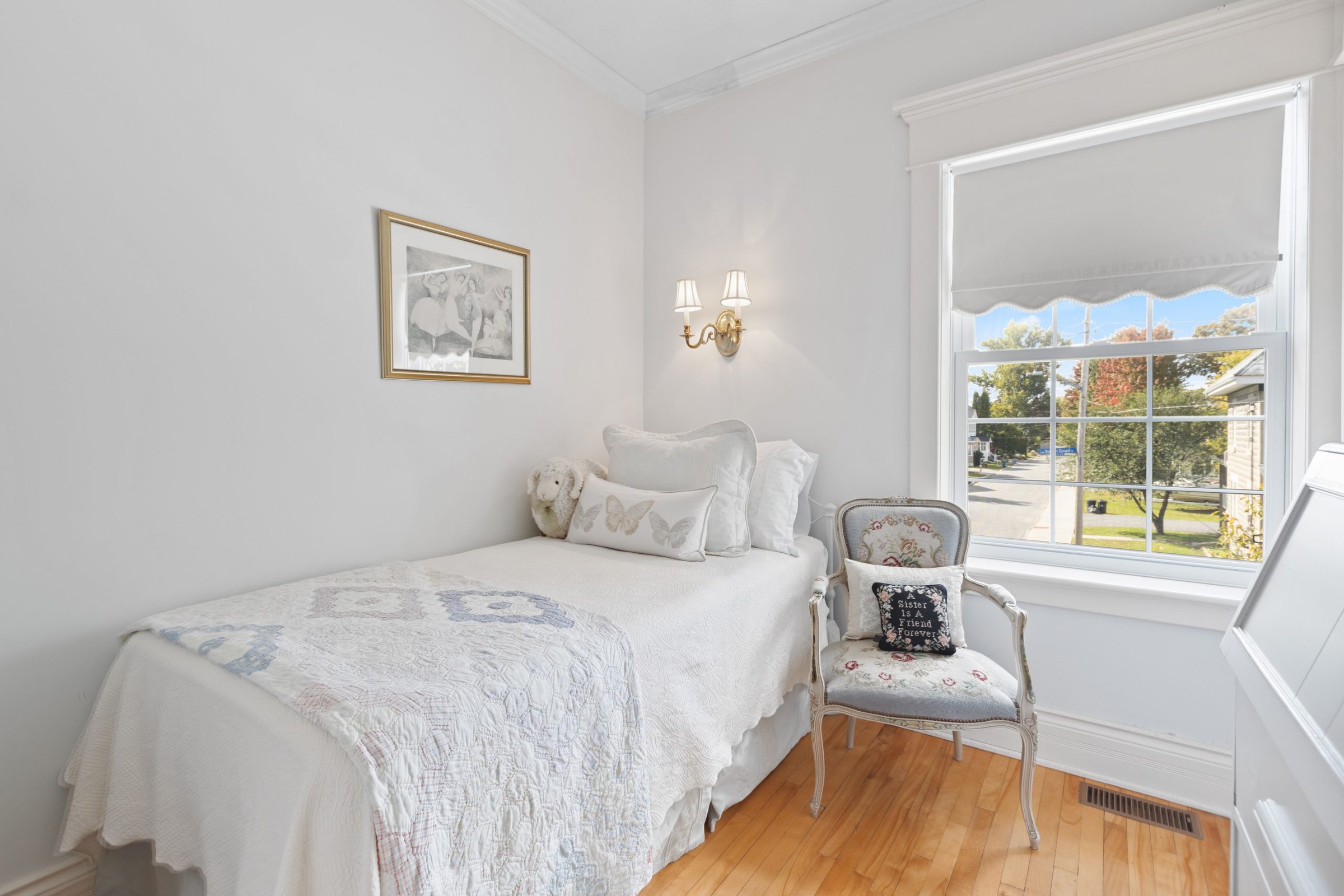 If your bedroom has big windows with lots of natural light, then you may not feel like you need wall sconces. But even in well-lit bedrooms, wall sconces can help provide a bit of style and a lot of atmosphere.
A traditional double-headed wall sconce with classic lampshades is a good choice if you're looking for a more decorative sconce. It likely won't provide as much light as other sconce styles, but it will provide more than a single-bulb light and it will look great in a traditionally styled bedroom.
Choose a wall sconce with a light-colored lampshade to allow the light to travel as much as it can. You may also want to pick a sconce in a bright metallic shade like brass or chrome to add just a touch of glam to your bedroom, depending on the style you choose.
Minimalist Single-Bulb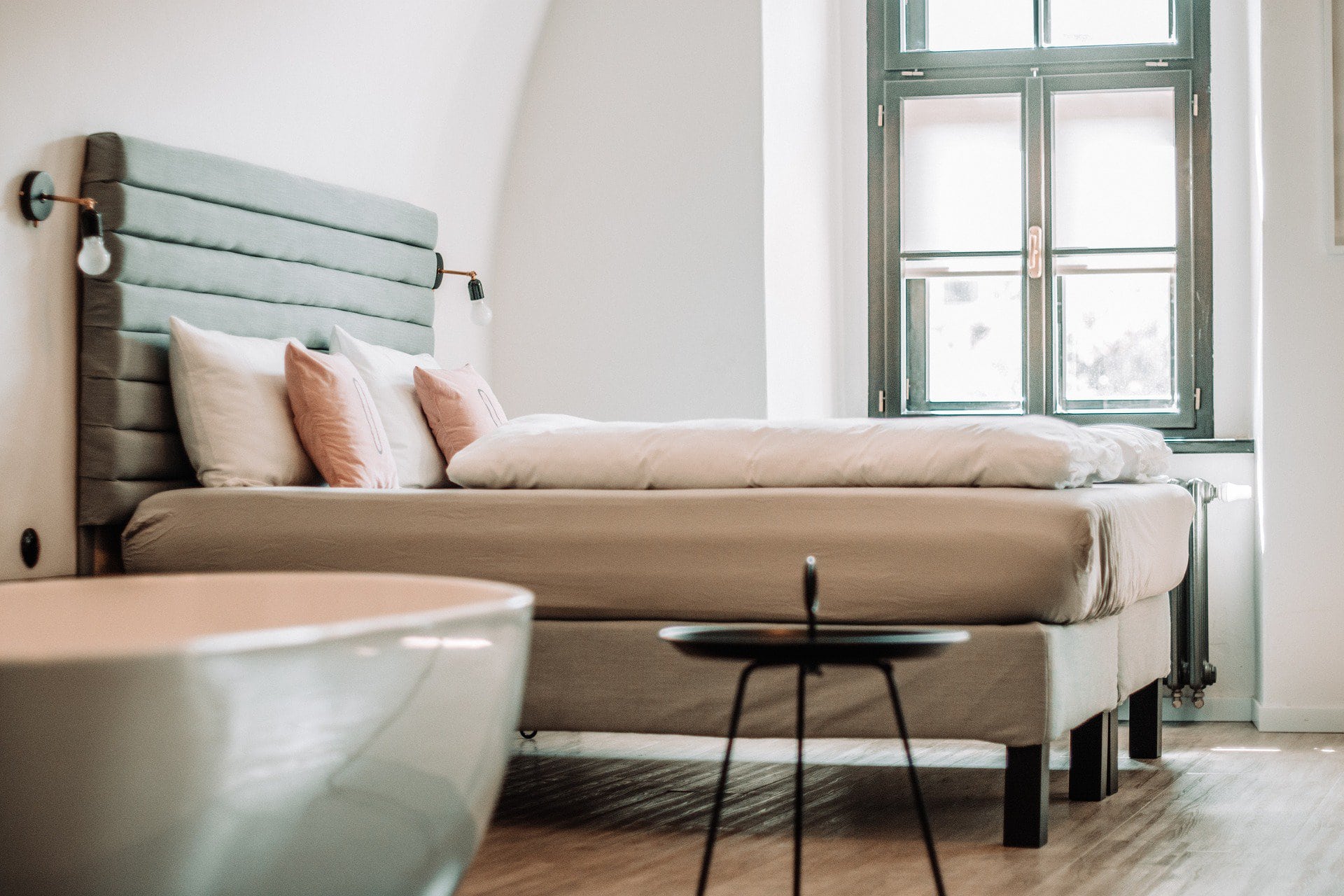 When it comes to minimalist style, you don't have to resign yourself to a blank, boring bedroom with no character or personality. At the same time, simplicity is key, so choose a wall sconce that provides plenty of light but no unnecessary details.
A simple sconce that comes out slightly away from the wall is a good choice for a bedside lighting solution, but keep in mind that they may be a little bright or harsh if they're installed right next to your head, with no lampshade to diffuse them. A dimmable bulb could be a good solution.
Single light bulb designs are great for a more masculine or industrial bedroom decor style. They're simple and streamlined, but they have just a touch of vintage charm as well. For more decorative flair, choose Edison-style light bulbs— they're available in modern LED versions but still have the look of classic halogen bulbs.
Multiple Sconces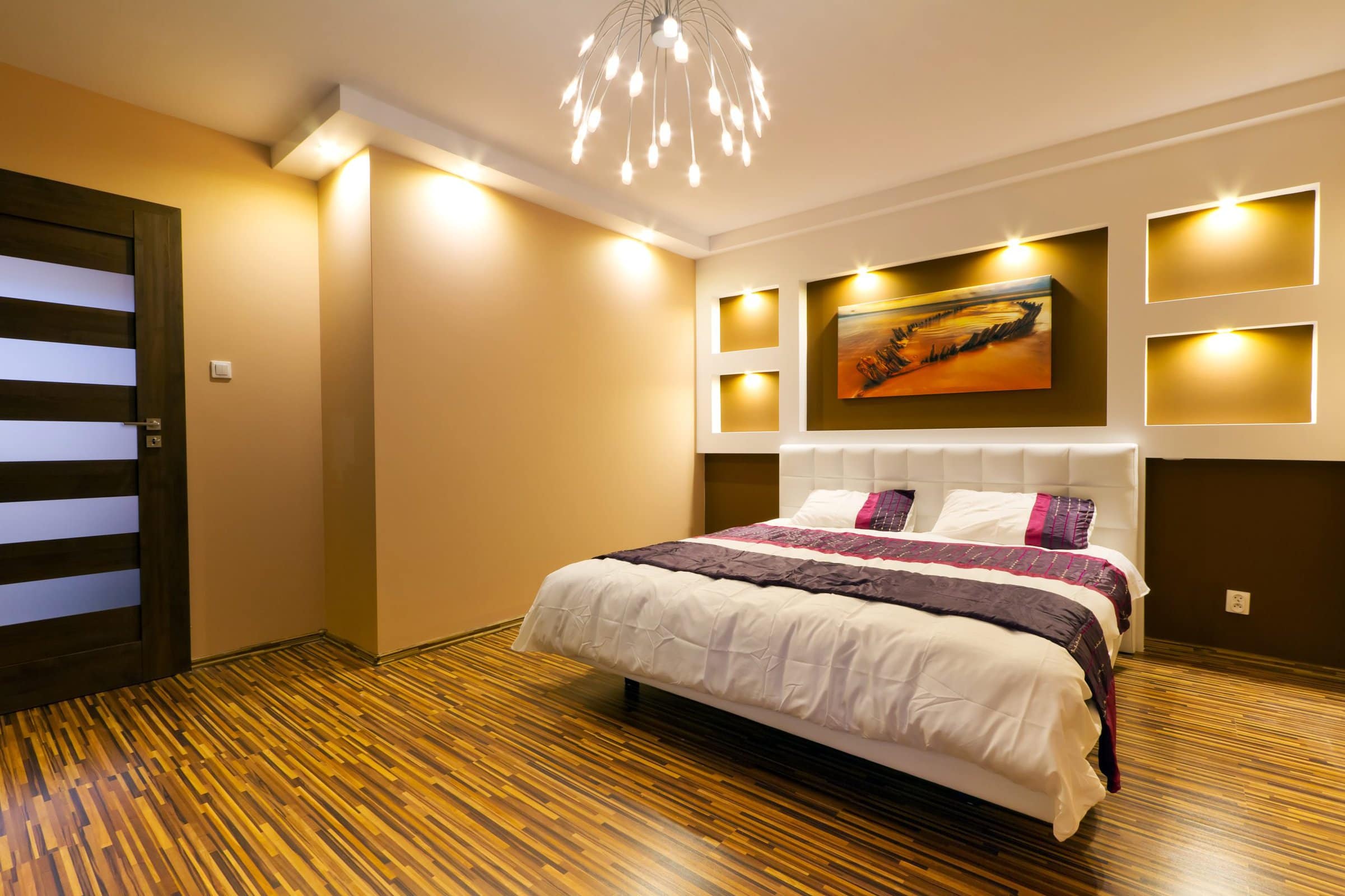 When it comes to bedroom wall sconces, you'll normally see one on each side of the bed. But this is not a hard and fast rule, and if you're willing to put the work in to install them, why not consider adding several sconces to your bedroom wall?
This approach will work very well if you're in a smaller bedroom with no overhead lighting fixtures, or if you want to make a creative or dramatic statement with your lights. Colored LED light bulbs would look amazing on a wall of sconces like this one!
To keep the lighting design from looking too chaotic, be sure that all of your sconces are evenly spaced away from each other in a grid, and that they're far enough away from each other. Too many lights can overwhelm the space, so don't overdo it.
The Lap of Luxury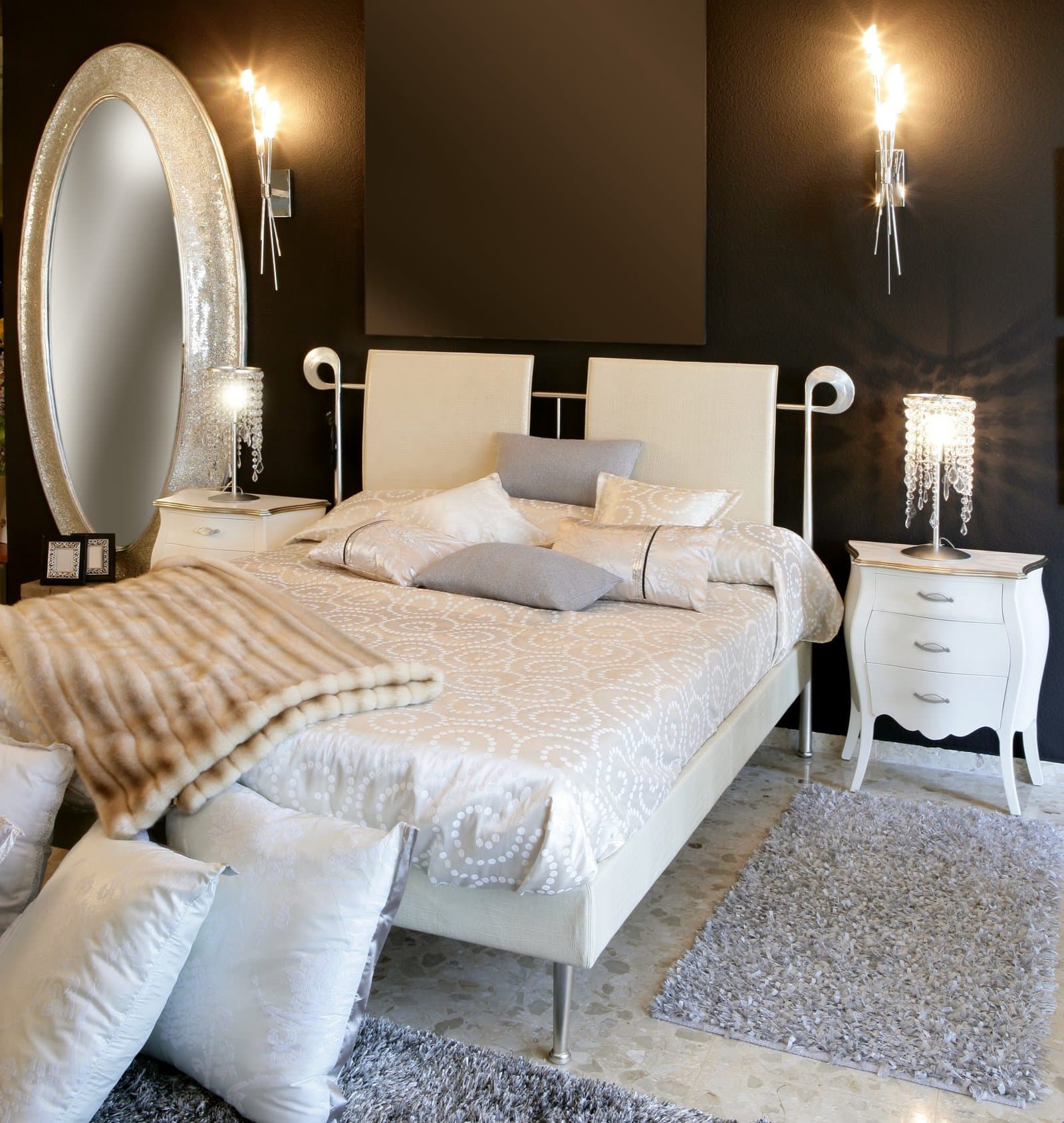 Wall sconces are not generally thought of as a particularly glamorous lighting fixture— generally, we think of crystal chandeliers as a kind of luxurious light. But you'd be surprised how classy and elegant wall sconces can be, especially in modern bedroom designs.
To choose the right wall sconce for your formal or glam bedroom, first start with the shape. Sconces with a modern, abstract, or artistic shape like the unique ones in this example. The scones should look like a work of art, even when they're not turned on.
Metallic finishes are a must when it comes to luxurious bedrooms, so choose mirrored or chrome wall sconces to help bounce light around the room and brighten up dark walls. Contrast the sharp metallic wall sconces will throw pillows, blankets, and rugs in soft colors like white or beige.
Go for the Gold
One of the best ways to add a touch of glam or luxury to your bedroom is to add metallic tones like gold. The color gold is a classic symbol of wealth, so a few well-placed gold pieces can elevate any room design, no matter how casual.
Try adding gold wall sconces to your bedroom near your bed. The sconces will serve as a kind of gold frame on either side of your headboard, as well as brightening up the area around your bed.
To keep your bedroom from feeling too garish, simply contrast the luxurious gold elements in your bedroom with more casual materials and colors. Soft neutrals like eggshell, beige, and tan, as well as dusty colors in soft blue, pink, or green, can tone down all the gold and keep your bedroom looking cozy.
Tasteful Transitional
It's easy to feel overwhelmed with all the choices out there when it comes to bedroom lighting. But if you want to make sure that your bedroom doesn't go out of style in a few years, then consider decorating it in the transitional style.
The transitional design style focuses on using lots of natural materials, neutral colors, and classic shapes to create a truly timeless design. The point of a transitional bedroom is that it will still look fresh and stylish years from now, because it doesn't look too dated.
When it comes to your wall sconces, combine modern and vintage elements. Choose a vintage distressed brass or copper finish that deliberately looks a bit aged, but pick a silhouette that feels more modern, like the small mid-century inspired sconces in this example.
Small Bedroom, Big Statement
If you have a very small bedroom, with just enough space to fit your bed and maybe a dresser or chair, then you may want to consider wall sconces as a space-saving solution. Wall sconces can brighten up your bedroom just as well as floor lamps, without taking up valuable space.
Make sure that you choose wall sconces that don't sit too far away from the wall, since this can become a hazard if you don't have much room to move about. Instead choose lamps with no sharp edges that sit close to the wall, like the small globe lights in this picture.
You may also want to consider contrasting your sconces against an accent wall— since you won't have much room for decor in a very small bedroom, make a big statement with your bedroom wall sconces by choosing ones with a brightly colored or metallic finish.
Conclusion
As you can tell, there's not just one way to light your bedroom with wall sconces. The sheer variety of the different colors, shapes, and styles available on the market means you can find a wall sconce that perfectly suits your bedroom decor and lighting needs.
Remember to focus on where you need the light to go when choosing your sconces— do you need a spotlight for reading, or do you need more general lighting? Once you're sure of what you need from your lights, then have fun with finding a stylish sconce that fits your personality and style!