Decorated Life is reader-supported. When you buy through links on our site, we may earn an affiliate commission. Learn More
15 Best Sherwin Williams White Trim Paint Colors
White is one of the most preferred colors for interior trim. One reason is that as a neutral color, white goes with anything. Another reason is that white comes in a huge range of looks, depending on the pigments used to give the white its unique tint.
We're going to look at the best Sherwin Williams white for trim to demonstrate how you have many options when choosing a paint color for your space. We'll feature pure cool whites, warm yellow-tinted, smoky gray-based, and subtle off-whites.
Snowbound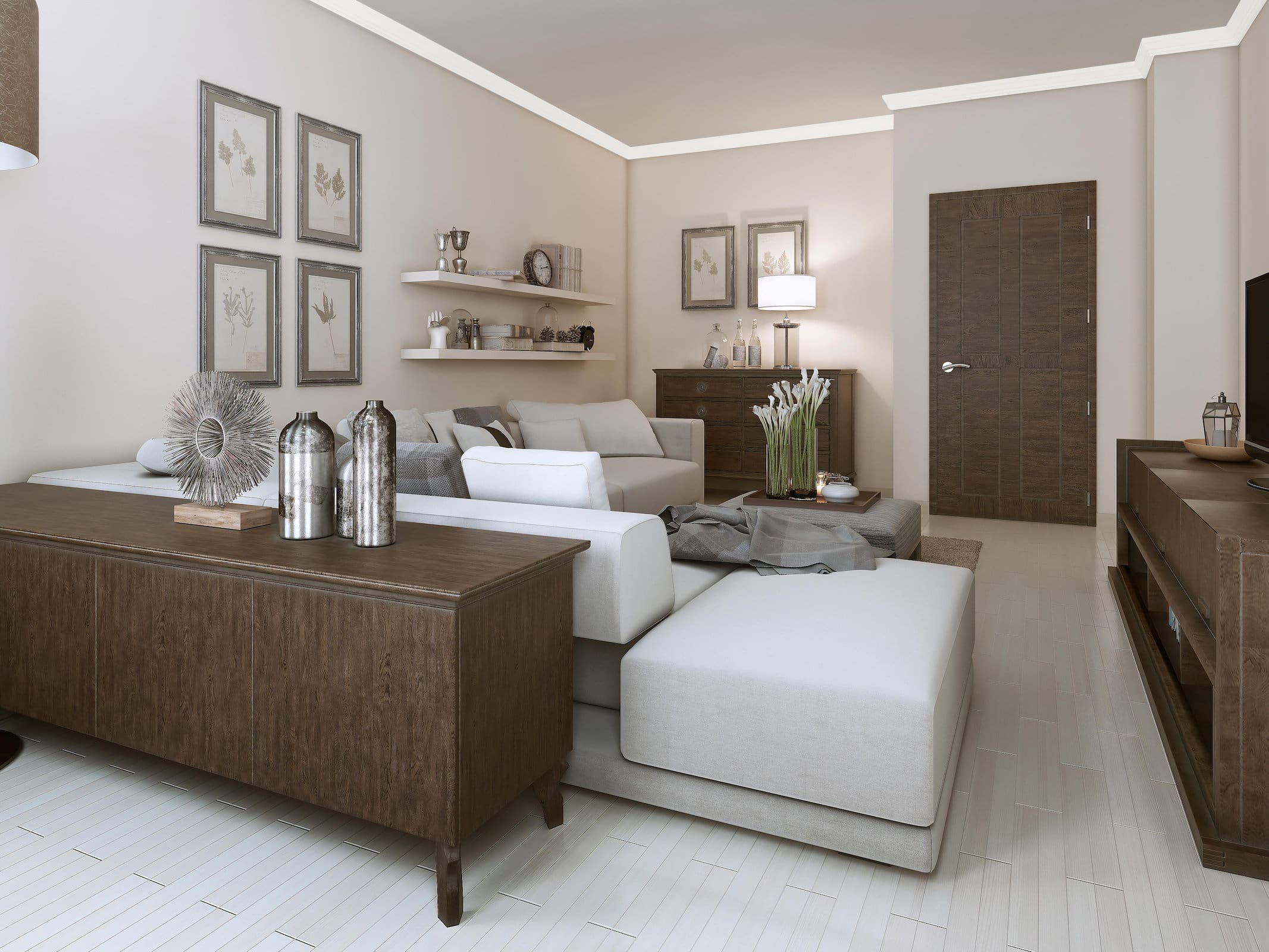 Snowbound is a softly shaded white with a light reflective value (LRV) of 83 that gives this dusty pink lovely pink notes that pair excellently with other cool-toned colors.
However, the tinting of this color means it wouldn't look as good with colors and whites that have yellow undertones. In addition, this color seems incredible when used as a monochromatic all-over color for the trim and walls. To add contrast, play around with the finish, using satin on the walls and a semi-gloss for the border.
Alabaster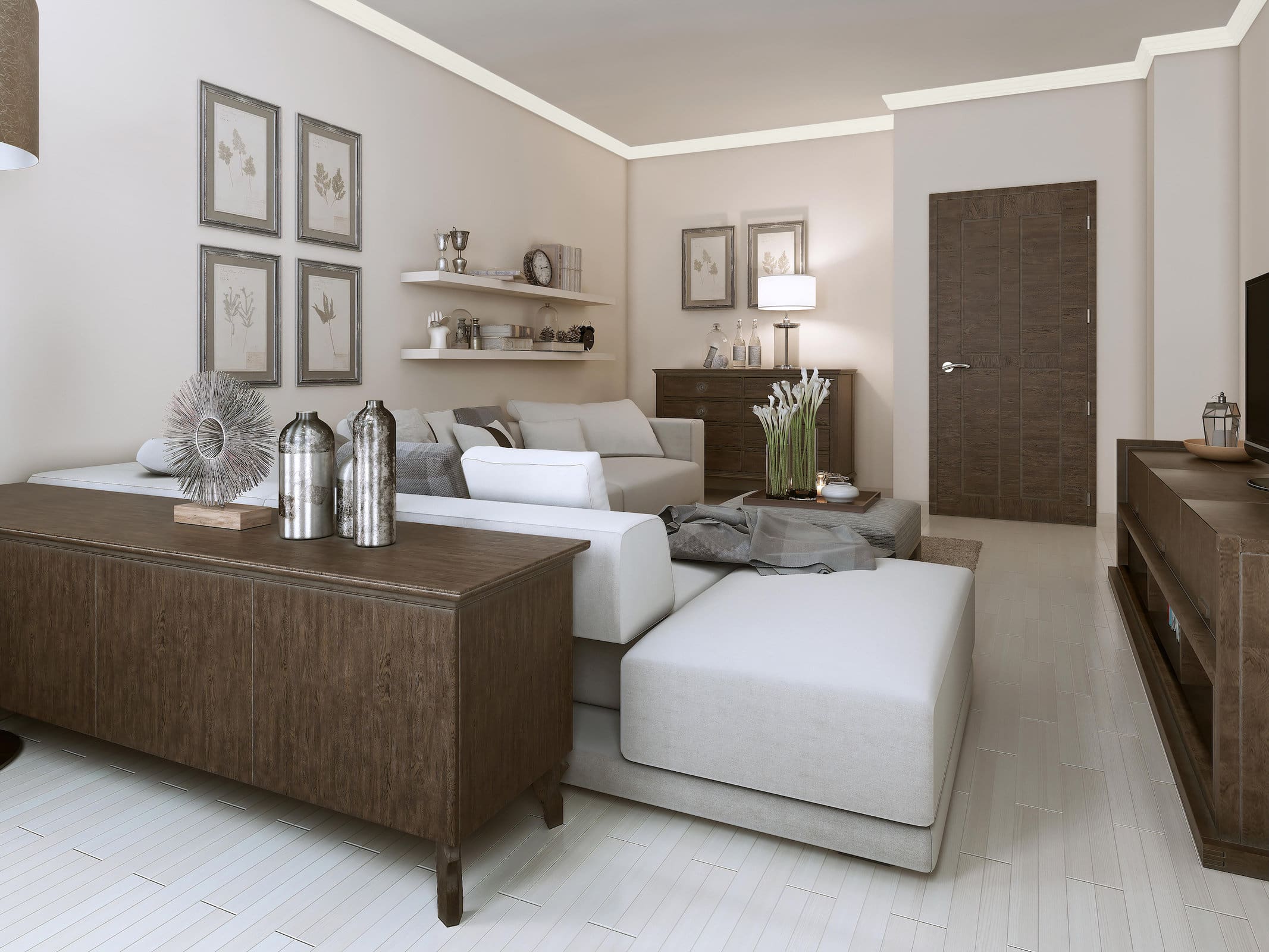 Alabaster is a soft off-white with pale green and cream pigments that give this white a dusting of color to lower the LRV to 82.
This versatile white can look as great on your trim as it would for your cabinets or wall color or as an accent to colors with warm undertones. It looks warmest in rooms with west or south evening light, although it looks superb in northern-facing spaces.
High Reflective White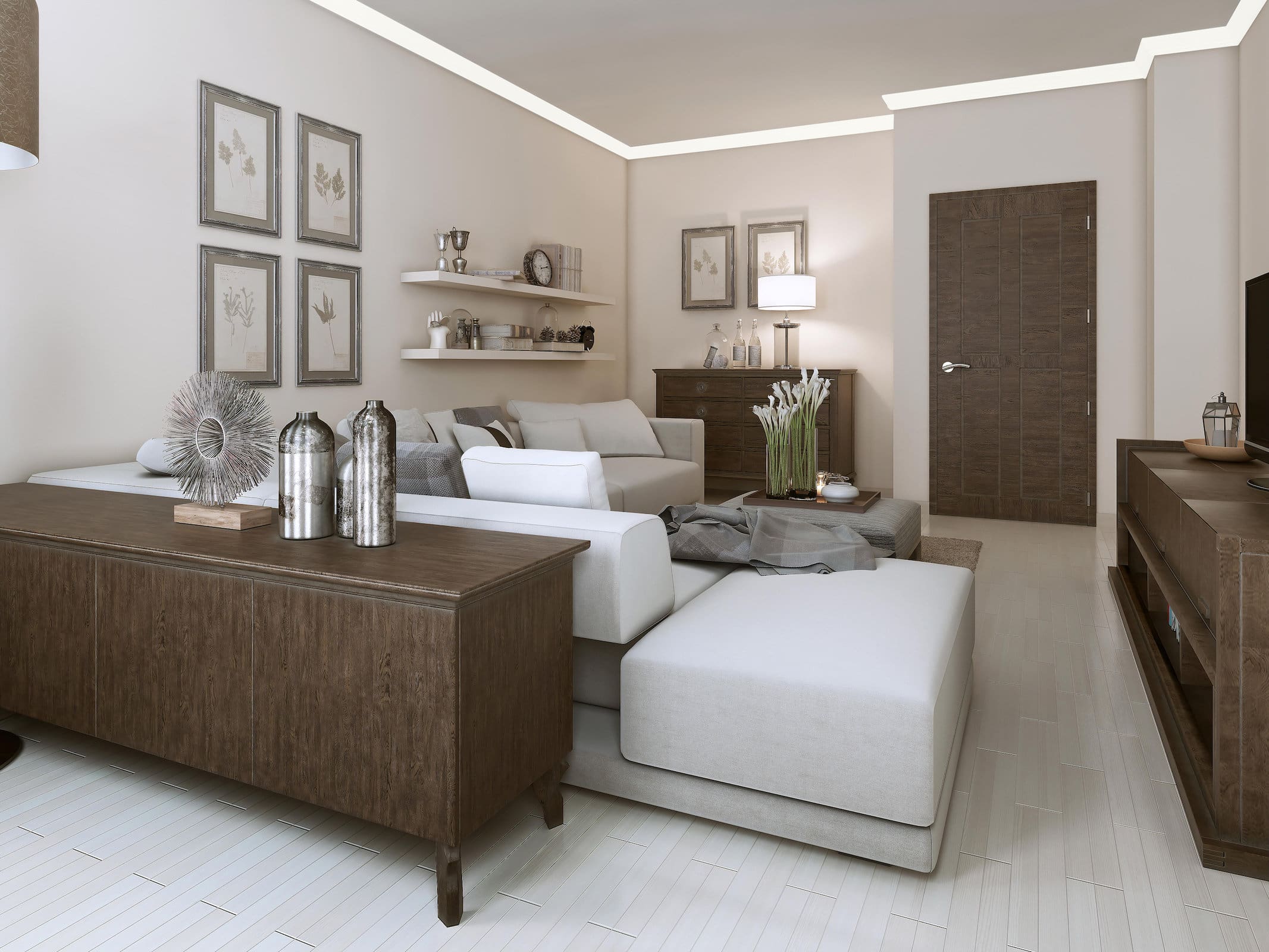 High Reflective White gives you a crisp, cool white with a high LRV of 93, making it the whitest white in the SW collection. But you get faint tints that add warmth without going too far yellow.
This white pairs fantabulously with grays, but you'll want to be careful about the colors used near this white. It can take on influences based on the color of the walls or floor. Avoid this white if you have golden extra-warm undertones.
Pure White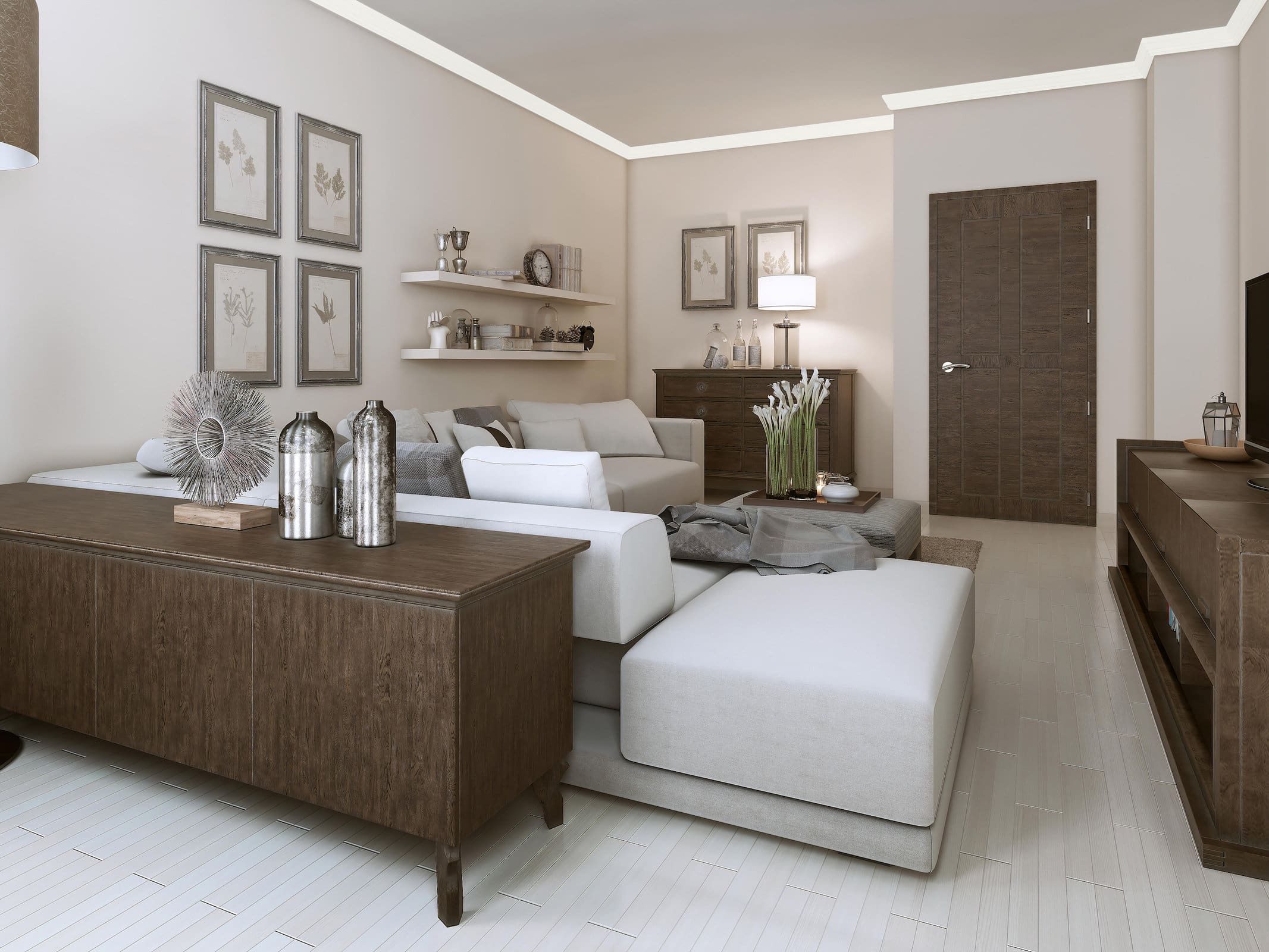 Pure White is one of SW's most versatile shades of white, with a softness enhanced by the use of yellow and black pigments that create a fine balance between not too creamy but not too stark.
However, it doesn't have so much color tinting that it becomes off-white. The great thing about this shade is that it gets influenced by the surroundings and lighting. So you can enjoy trim that looks different colors depending on the lighting and time of day. It's also a good choice for walls and cabinets.
Extra White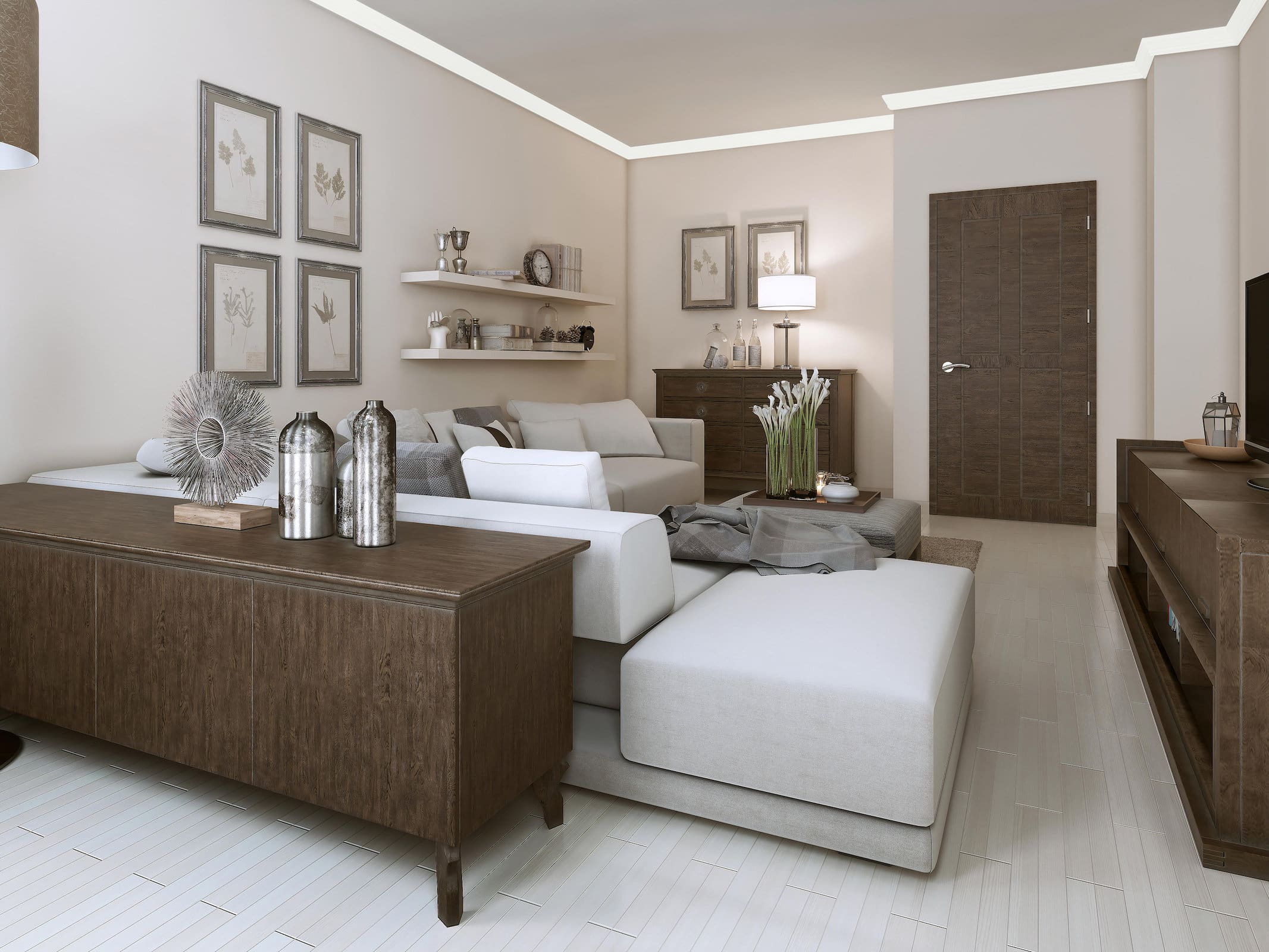 Extra White is a crisp, clean trim color that can add a stark contrast against any nearby colors, so your trim gets noticed.
This white has an LRV of 86, making it one of the top bright, neutral whites with no pigmented undertones. As a result, you can use it against any color you want to contrast against or highlight.
White Heron
If you prefer a white with a bit of smoky tinting to give your trim a versatile punch of color, try a lower LRV shade like White Heron.
This earthy, natural neutral white has the faintest amount of gray pigments to add shadows that pull this color right into the middle of an off-white category that soothes the eyes.
Whitetail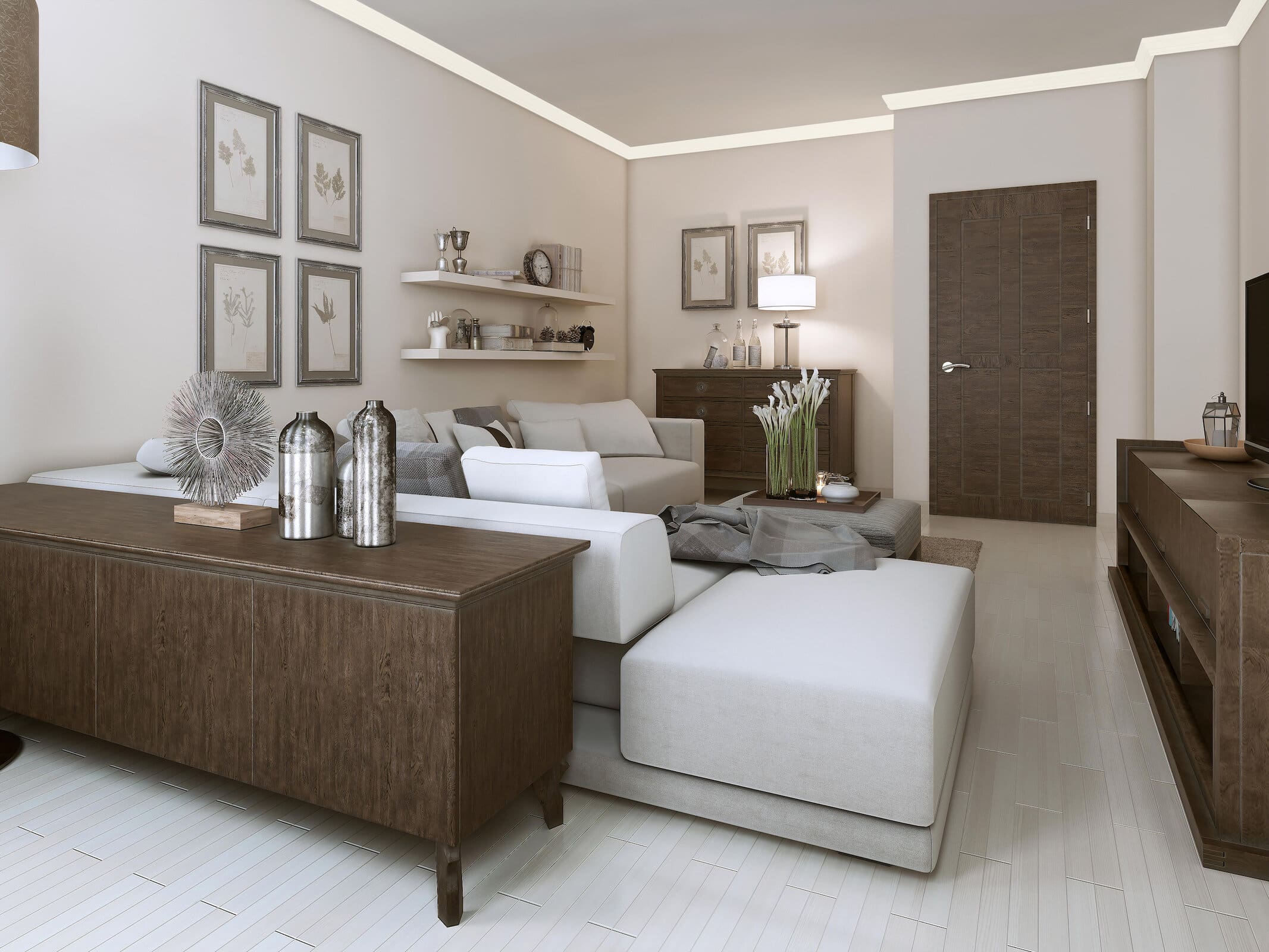 Whitetail is a high LRV (86) shade of white with delicate pigmenting that can give this shade an extremely light beige tint. This warm color is fabulous for when you want a textured, colored white trim.
Use Whitetail when you want a bright and reflective white without feeling cold, stark, and harsh on the eyes. The beige tints make this color excellent in rooms with lots of bright natural lighting, as it won't become a washed-out white.
Creamy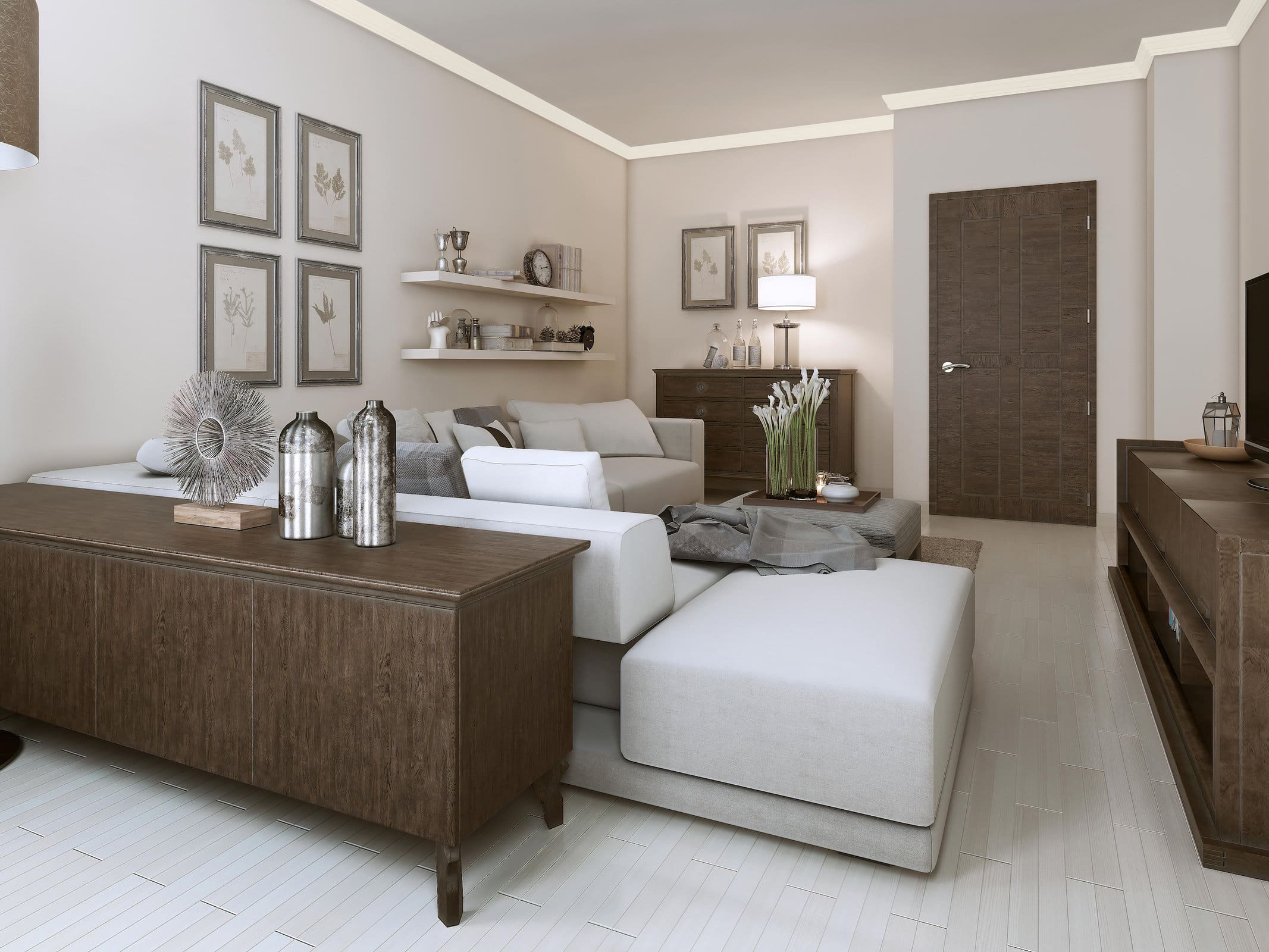 Creamy is a cozy, soothing off-white with soft, rich tints that make this color lean more towards beige than yellow. Due to the warmer tone and subtle coloring, it looks best in bedrooms or bathrooms, although you can also use it for the main white for all the trim in your house.
This darker shadowed roasted off-white has an impressively high LRV of 81, meaning you'll benefit from brightening up your space while having a charming glow.
Ice Cube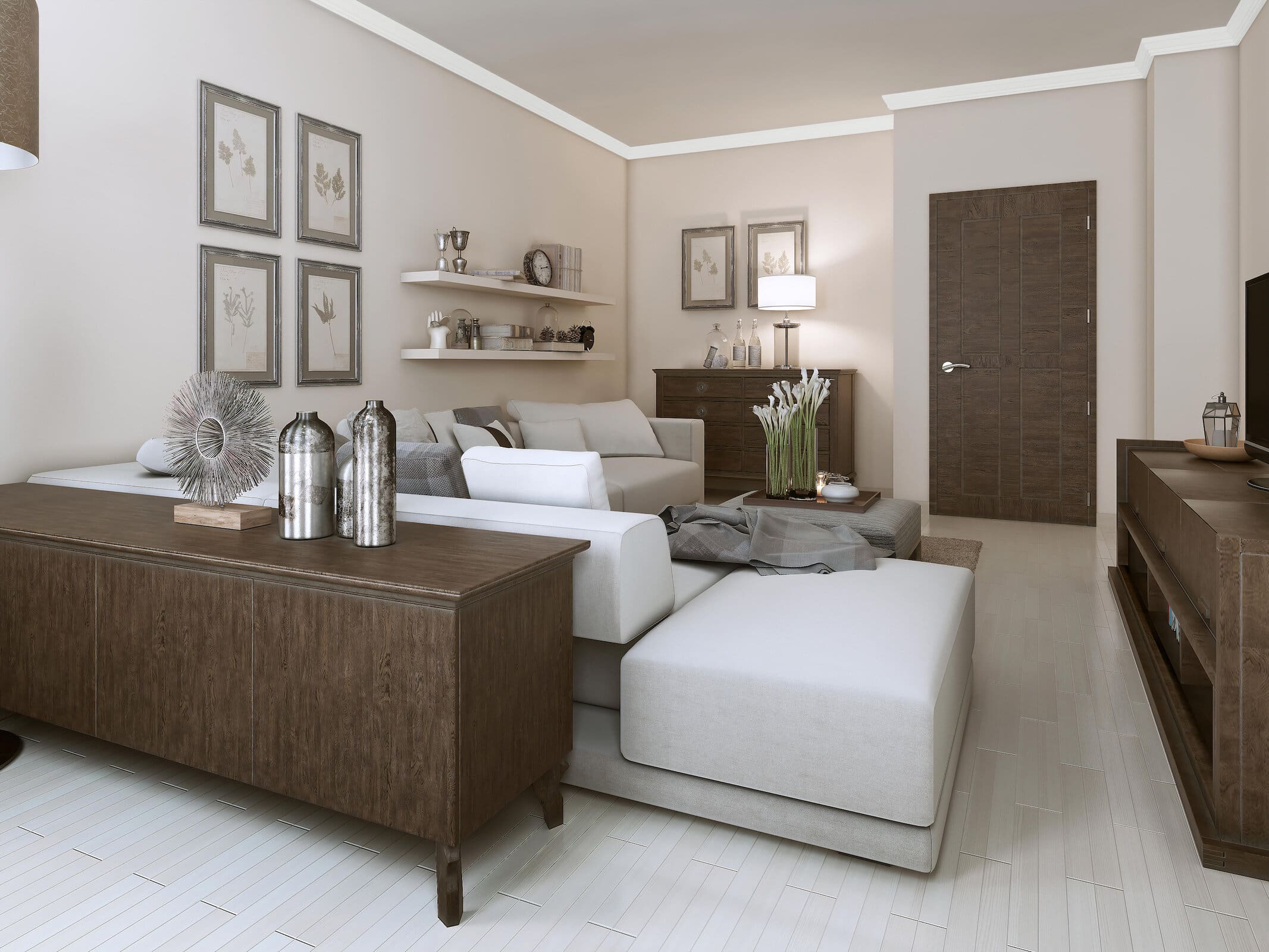 Ice Cube is a dustier, lower LRV (77) off-white that can make an interesting contrast when used for trim color. This cool-toned white has subtle coloring that takes a few shades out of the white category.
There's just enough light gray shading that you can use this color along with a stark, true white like Pure or Extra to create a monochromatic contrast. Use this color for achieving a minimalist, zen, or rustic vibe.
Eider White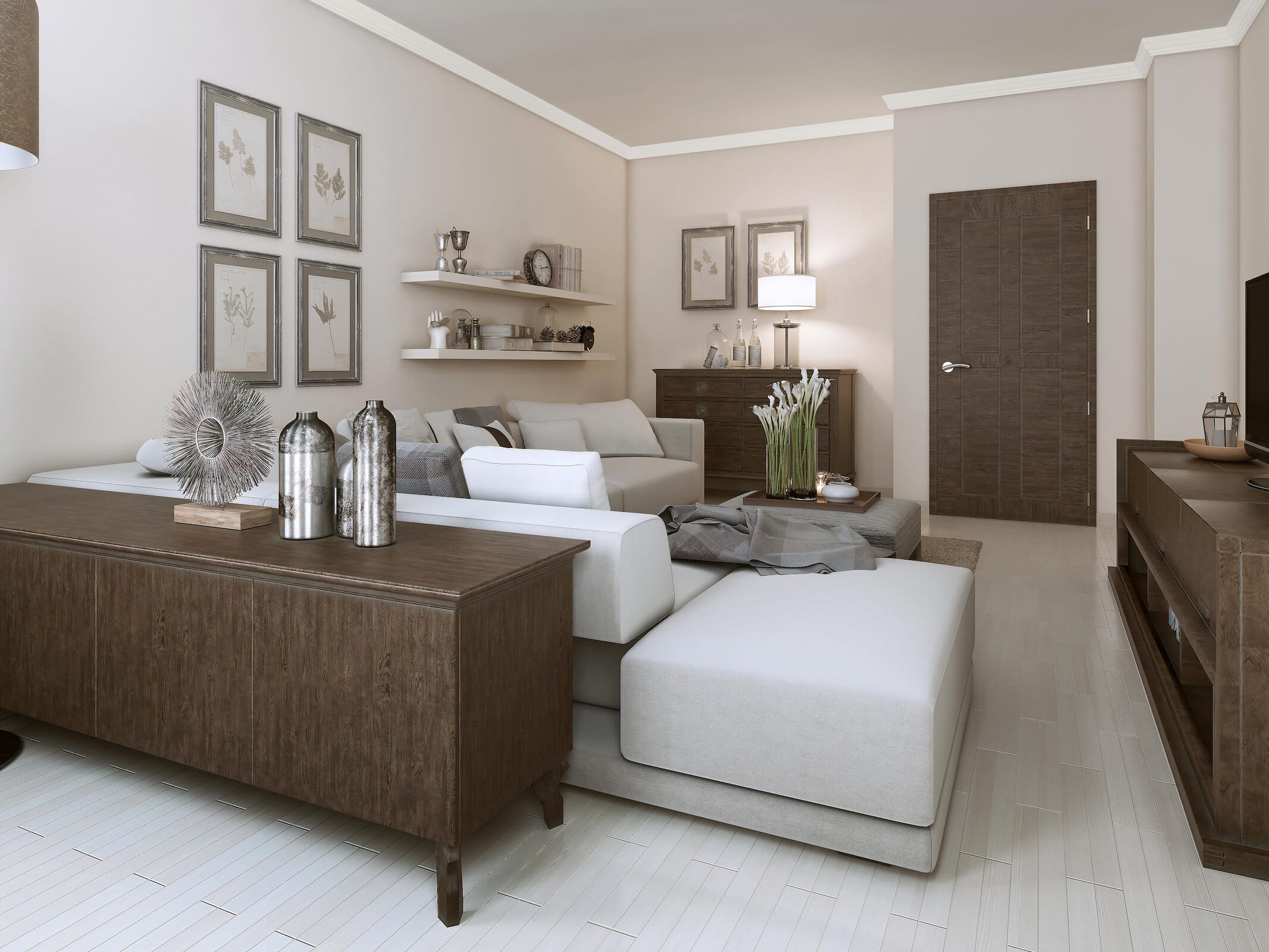 Eider White is another cool-toned off-white with soft light gray tinting. A dull LRV of 73 means this color can contrast against bright whites while having enough shadows to create interesting effects when used for trim.
This color is a superb choice when you want a lighter, barely-there-colored white with influences from the greige (gray-beige) family. In addition, the subtle shading makes this tinted white the perfect trim choice for rooms with bright lighting that can wash out pure whites.
Ceiling Bright White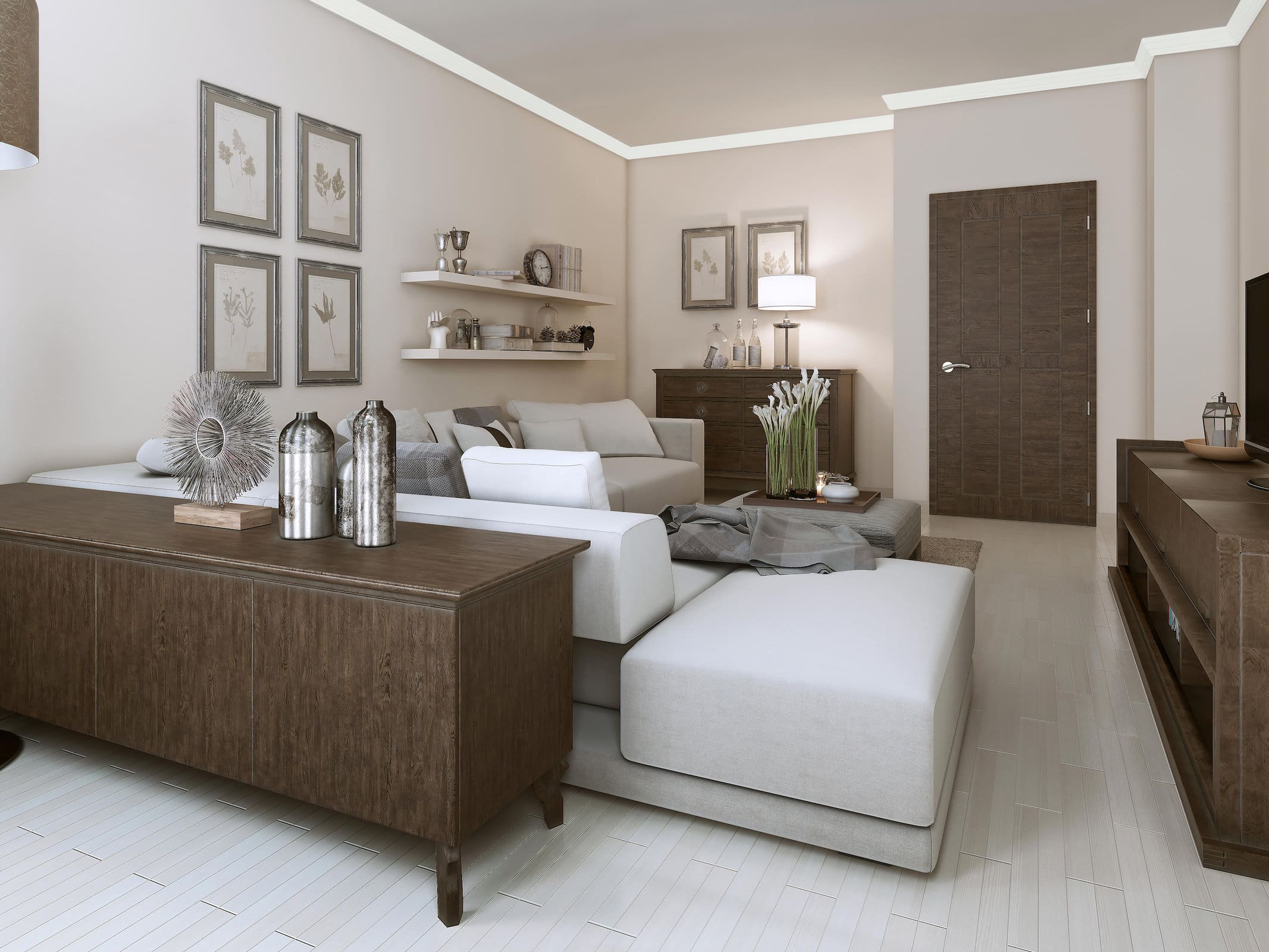 Ceiling Bright White is a crisp, cool shade of white that can appear slightly grayish-blue, depending on lighting and nearby color influences.
The higher LRV of 83 means this chilly white can tone down brighter whites for contrast. It looks best in rooms where you've used lots of cool colors, but it might look slightly out of place with warm tones.
White Flour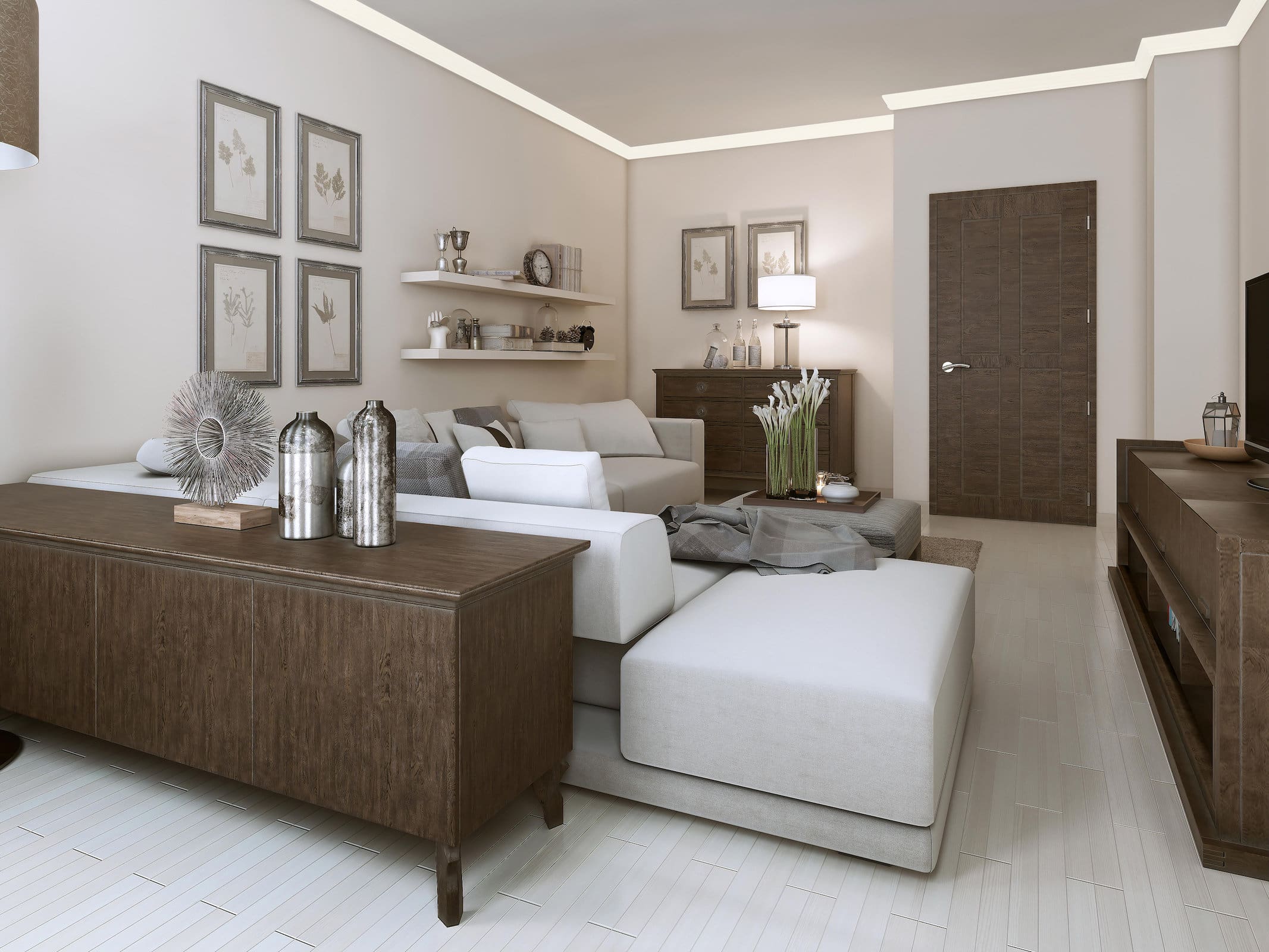 White Flour is a shade of white that's pigments shy of falling into the classification of cream. This version of neutral white has interesting orange undertones that add cozy warmth.
An impressive 87 LRV means the subtle, off-white will reflect nearby colors and light around your room for an inviting, energetic palette.
Ibis White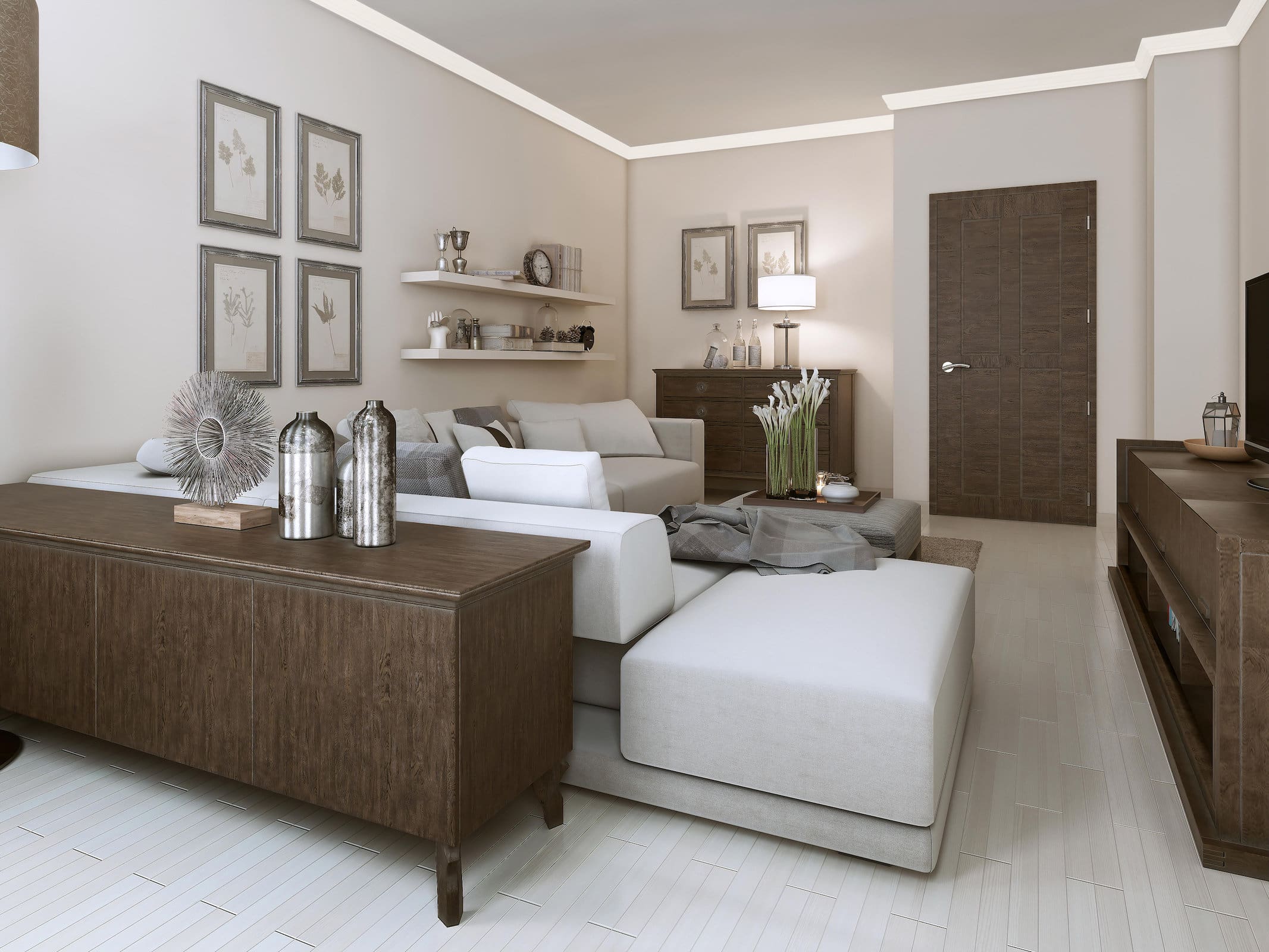 Ibis White features an 83 LRV and plays things differently in terms of pigmented undertones compared to other shades of white.
Rather than having gray or yellow-based pigments, Ibis has an earthy, red hint that stands out as a white trim color. This warmer white can go smoothly with other warm-based colors. But you'll want to use care when pairing with cool temp colors.
Dover White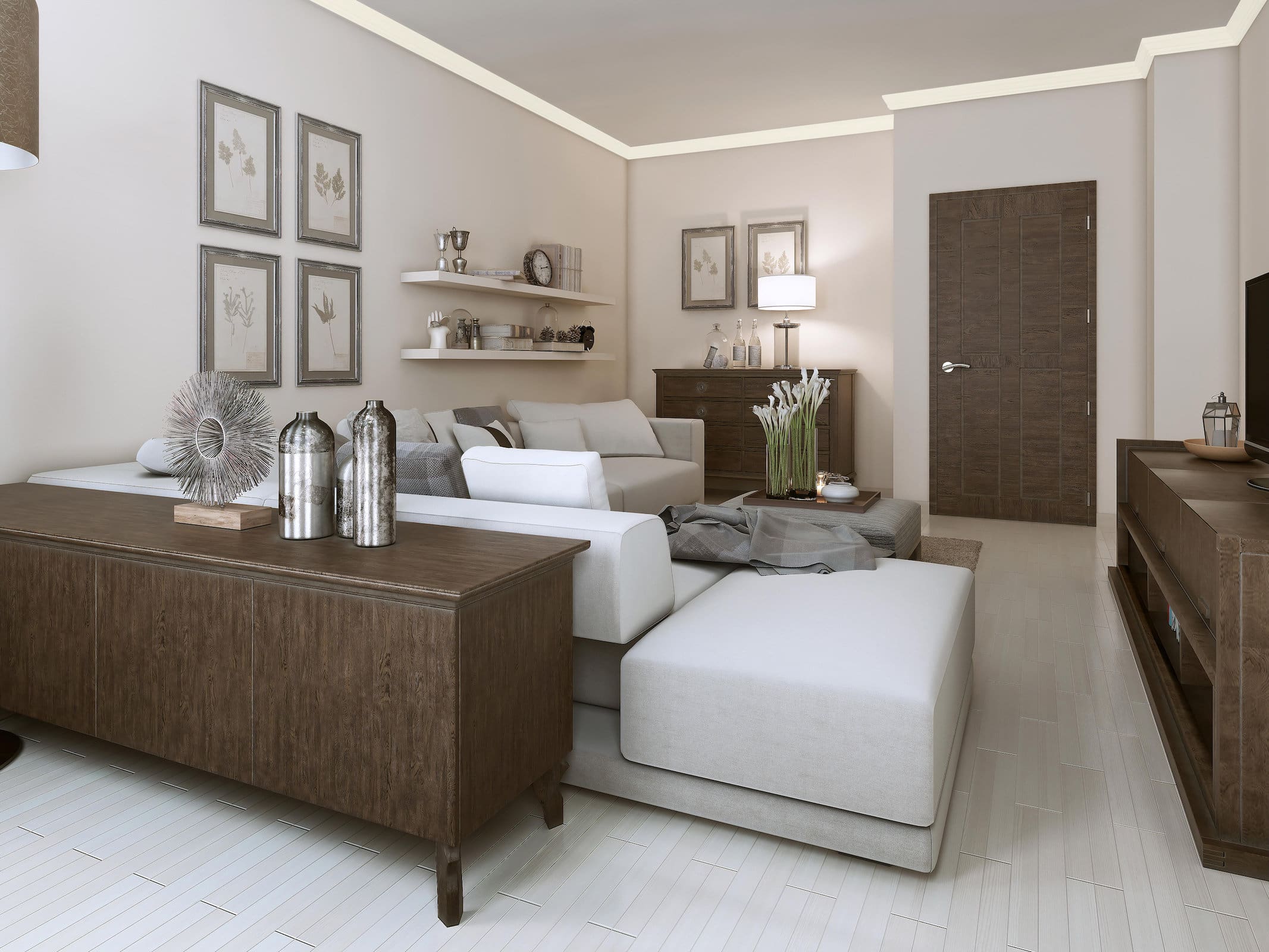 Dover White is the perfect selection for a soft, creamy white. This warm-toned shade has hints of gray and yellow-pigmented undertones that add an aura of beige off-white.
You can use this shade when you want a warm temperature, tinted color for your trim to offset a brighter white wall color. Or tone down bold, warm colors like yellow, orange, and red, which might not pair well with a stark white.
Nebulous White
You can use the beauty that is Nebulous white for the trim color for a neutral, warm color palette. This shade of shadowy white has smoky gray tints that lower the LRV to a medium 73.
This warm-toned shade of white can pair well with warm neutral off-whites like cream, beige, and ivory. But it can also go with bright whites or other earthy neutrals like sage, dusty blue, and coral.
What Sherwin Williams Whites To Avoid
While there is a massive selection of whites to pick from in the Sherwin Williams brand, there are some whites that you would want to avoid for your trim color.
Stay away from:
Creamy
Antique White
Roman Column
Paperwhite
These off-whites can be tricky to match with wall colors because the tones keep them from being clean, nice whites.
Wrapping Up
When deciding on what white you want to use for your trim color, you'll need to consider the permanent colors in your space and their temperature and tones. It's also important to think about the lighting, including the direction of natural sunlight through the windows.
These factors can affect the shade of white you choose for your trim color. For example, your space may look better with a cool, non-tinted white. Or you may have a situation where you'd do better using an off-white with gray, tan, beige, pink, or green pigmented tinting.
Before choosing a paint color, try out Samplize, where you can get stick-on paint samples. This new and improved way of testing different colors in your home makes it easier than ever to get the perfect shade without the expense and hassle of painting test strips in all the areas you want to try the color out.