Decorated Life is reader-supported. When you buy through links on our site, we may earn an affiliate commission. Learn More
What Coffee Table Goes with a Brown Leather Couch?
Brown leather couches are one of the greatest investments for a living room space. Not only are they durable and easy to clean, but they go with a lot of different styles.
Fortunately, they also match many different types of coffee tables.
If you're having difficulty choosing a coffee table, here are 13 options that pair well with a brown leather sofa.
Give Your Room a Fresh Feel with Glass and Gold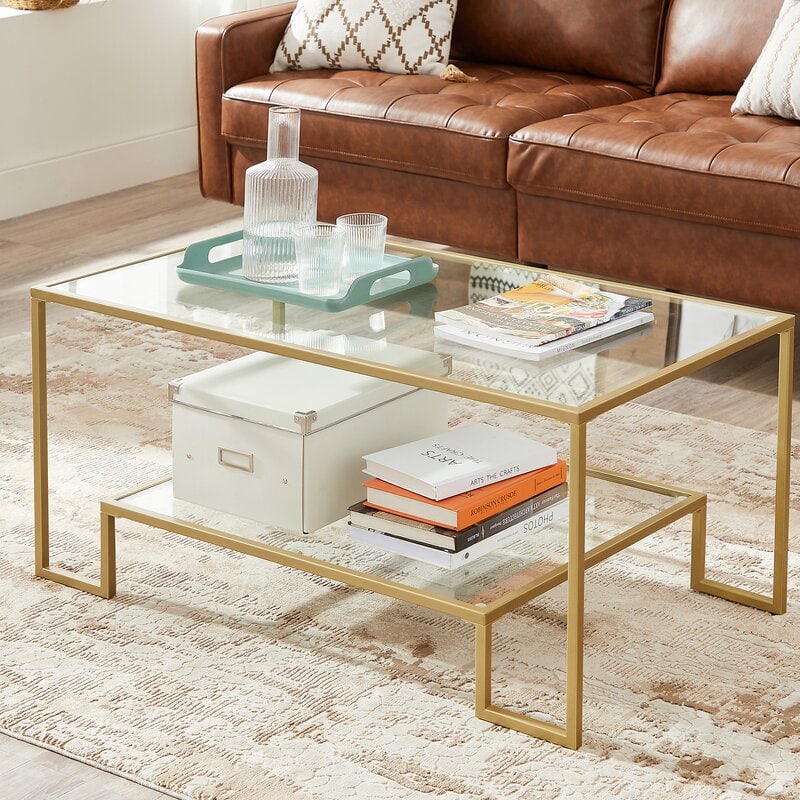 If you want a light and airy look in your living room, get a clear table. Two solid options are glass or acrylic.
If you prefer a more high-end look, go with a glass and gold table like this one from Wayfair. While the gold frame gives this table a glam look, it also pairs well with modern, Scandinavian, and minimal styles. It even has a bottom shelf to provide you with extra storage.
Make a Statement with a High Contrast Floating Table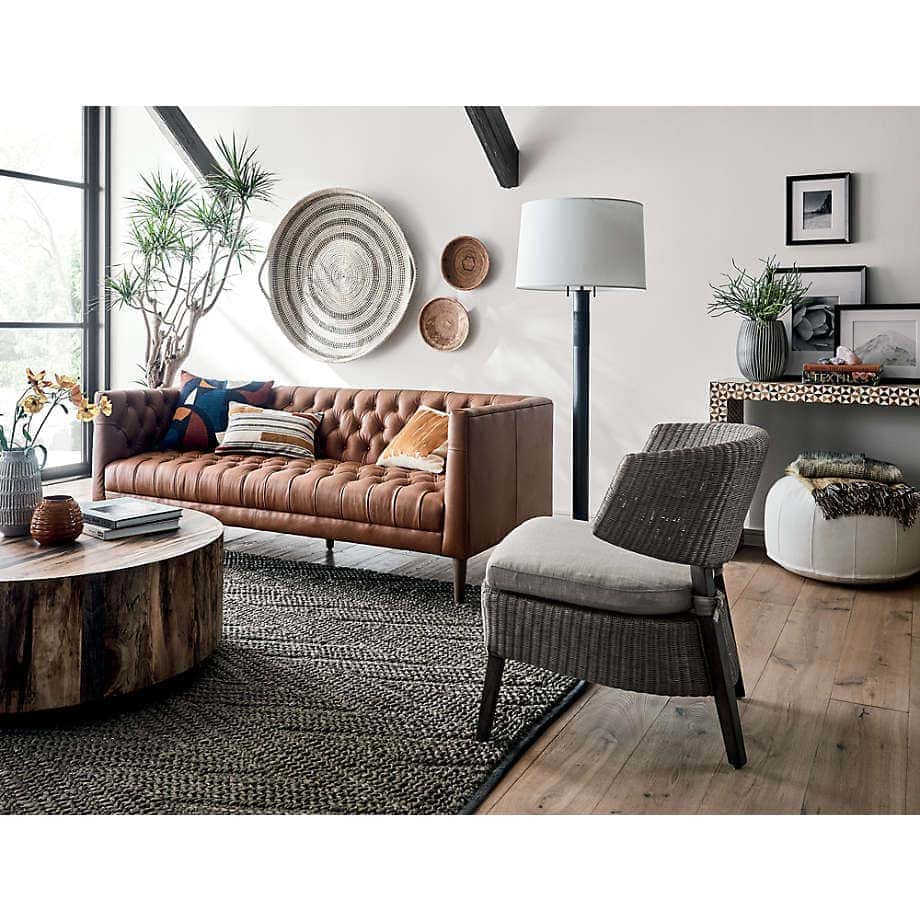 Do you prefer an earthy look in your home? Try a wooden coffee table. This table from Crate and Barrel is one of the most versatile choices – it's rustic but still ultra-modern.
This table comes in three finishes: Ashen Walnut, Natural Yukas, and Spalted Primavera (pictured.) It also comes in two sizes, including a 40" round option and a 53" rectangle.
Get a Boho Look with Wood + Marble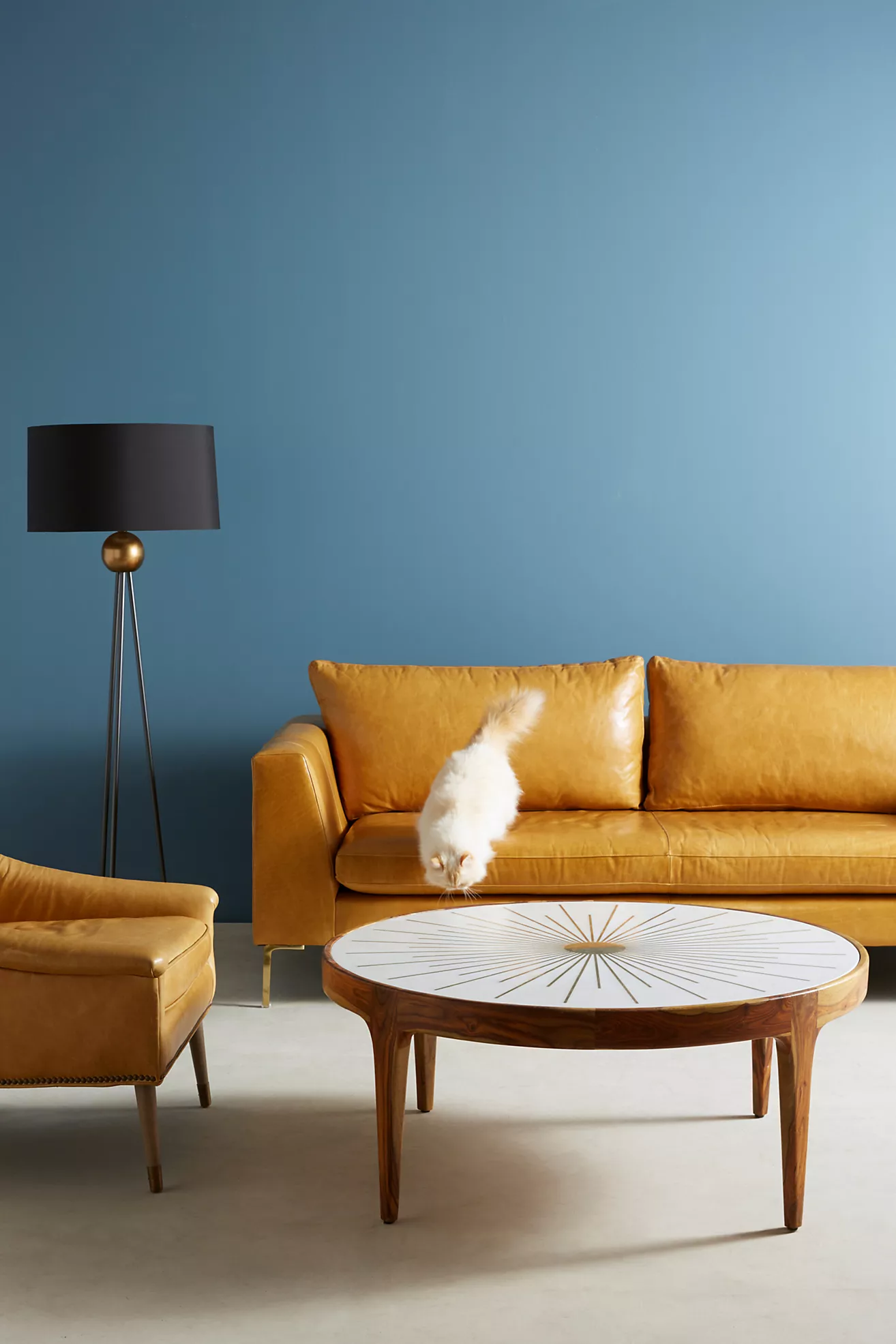 Bohemian style is full of different textures and patterns. And this table packs a punch with both of those design elements.
From Anthropologie, this piece has a beautiful Indian rosewood frame with a marble top and sunburst brass inlay. It's an excellent choice for adding interest to your room without being too overpowering.
Eliminate Sharp Edges with a Drum Style Table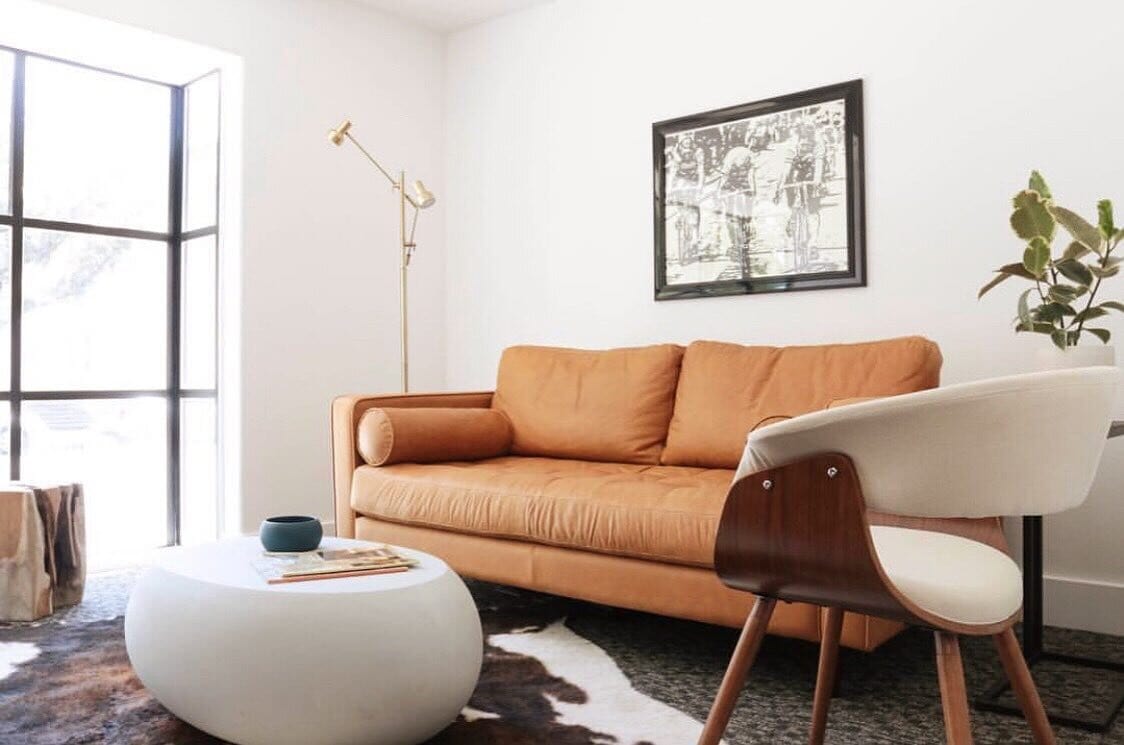 Coffee tables with corners can be a hazard for toddlers and small kids. So, if you're trying to eliminate sharp edges, consider a drum-style table.
You can find tables like this at Wayfair in many finishes and colors. For a clean look, consider pairing a white table with your sofa. Or, try something brass to coordinate with boho or glam style.
Try a Round Table with a Sectional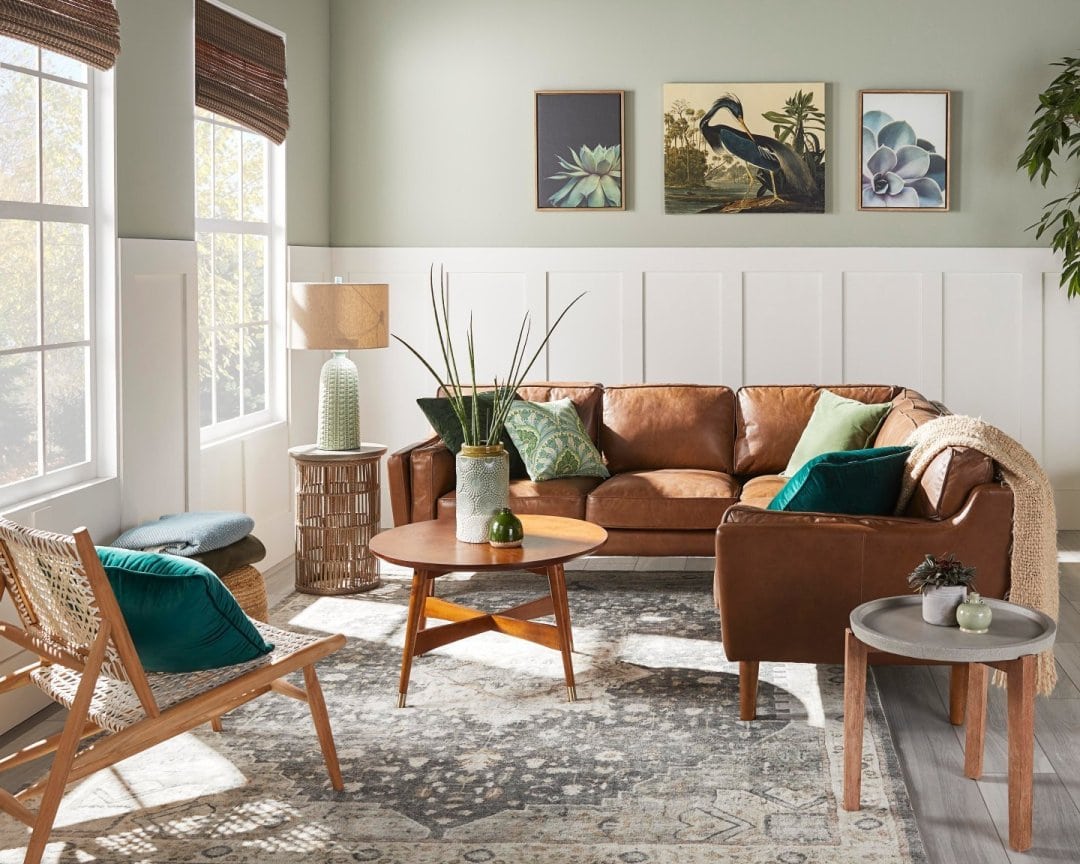 Finding a rectangle table with the perfect dimensions is challenging if you have a brown leather sectional. Fortunately, using a round table is an easier solution.
Round tables help to balance out more petite L-shaped sofas. For a traditional look, try a wooden table like pictured. You can also use a round drum table for a more modern or boho vibe in your space.
Add a Mid-Century Modern Touch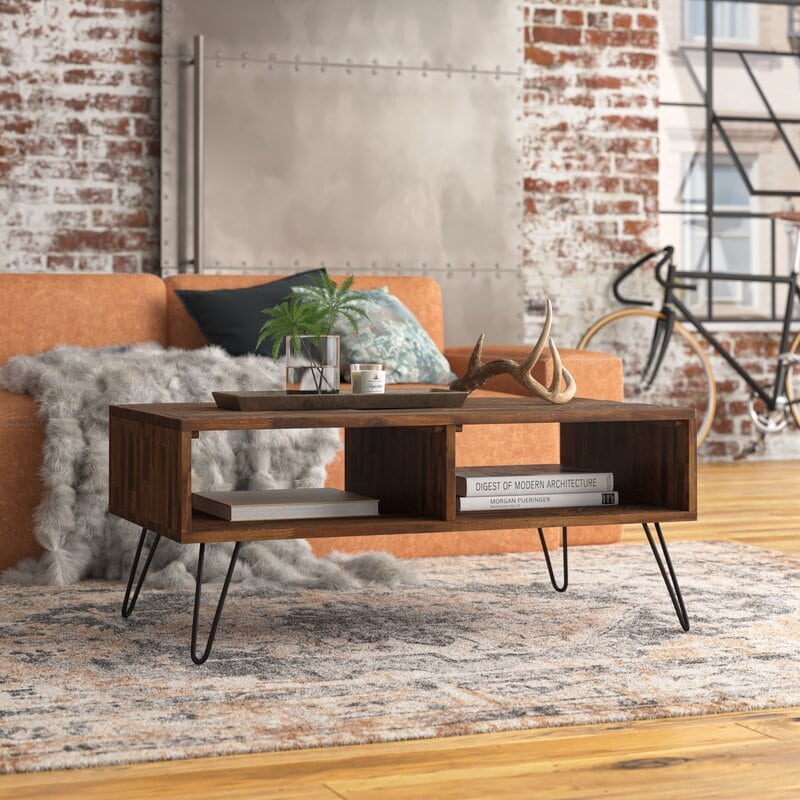 If you're looking for a coffee table for a brown leather sofa that has a mid-century modern flair, look no further.
From Wayfair, this coffee table is sturdy with solid wood construction and black metal hairpin legs. It's a well-made piece that will match any sofa color. It's also an excellent option for small spaces since it offers extra storage.
Brighten Your Room with Whitewashed Wood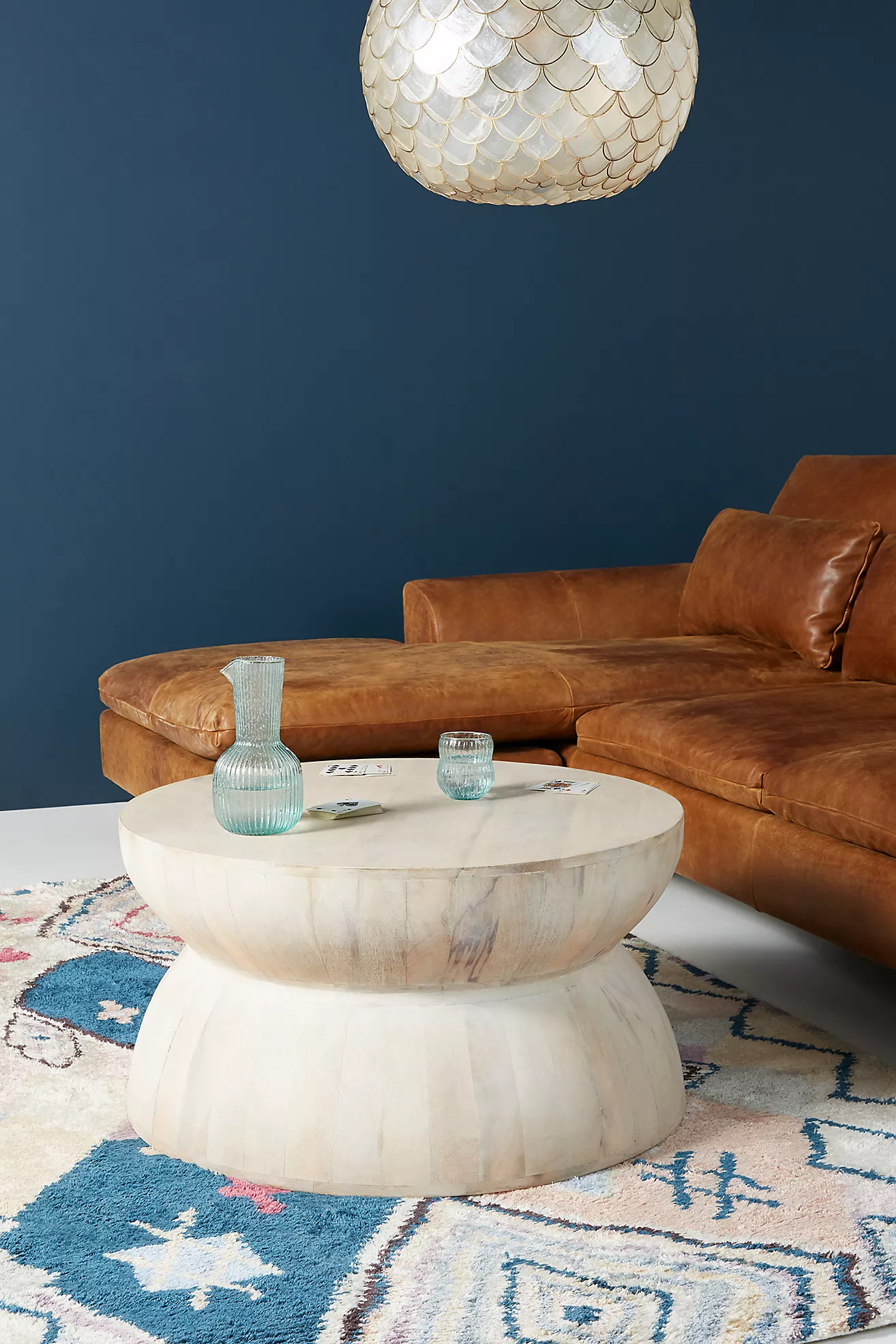 Consider a whitewashed coffee table if you're going for coastal vibes or would like to brighten your space. Whitewashed wood has the beauty of natural wood-grain while reaping the benefits of being brighter.
You can find this hand-carved table at Anthropologie. Its finish and unique hourglass shape will pop against your brown leather sofa.
Go Minimal with Acrylic
Is minimal or ultra-modern aesthetic important to you? If yes, you can't go wrong with this acrylic coffee table from CB2.
It takes up very little visual space making your room look open and bare. The table's actual dimensions are 44" W x 24" D x 16" H. It's made of ½ inch thick acrylic and easily wipes clean.
Use a Criss Cross Table for a Farmhouse Look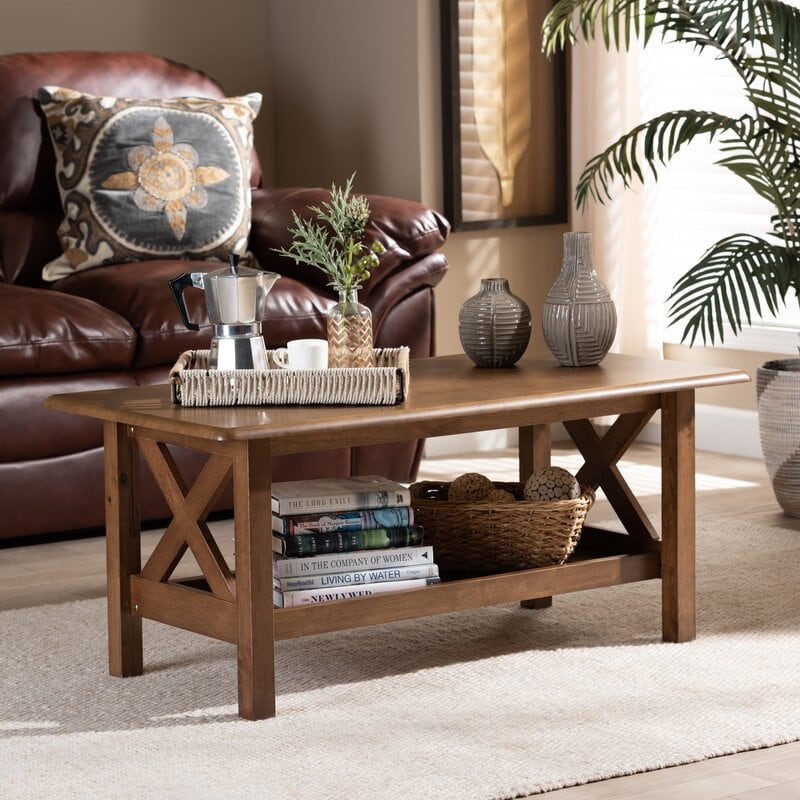 Are you looking for a farmhouse coffee table for a brown leather couch? While there are many options, one fail-proof method is to find something with an 'X' detail.
This coffee table from Wayfair is solid wood with a brown walnut finish. The criss-cross side panels dress it up and give it the perfect farmhouse touch.
Warm Up Your Room with Reclaimed Wood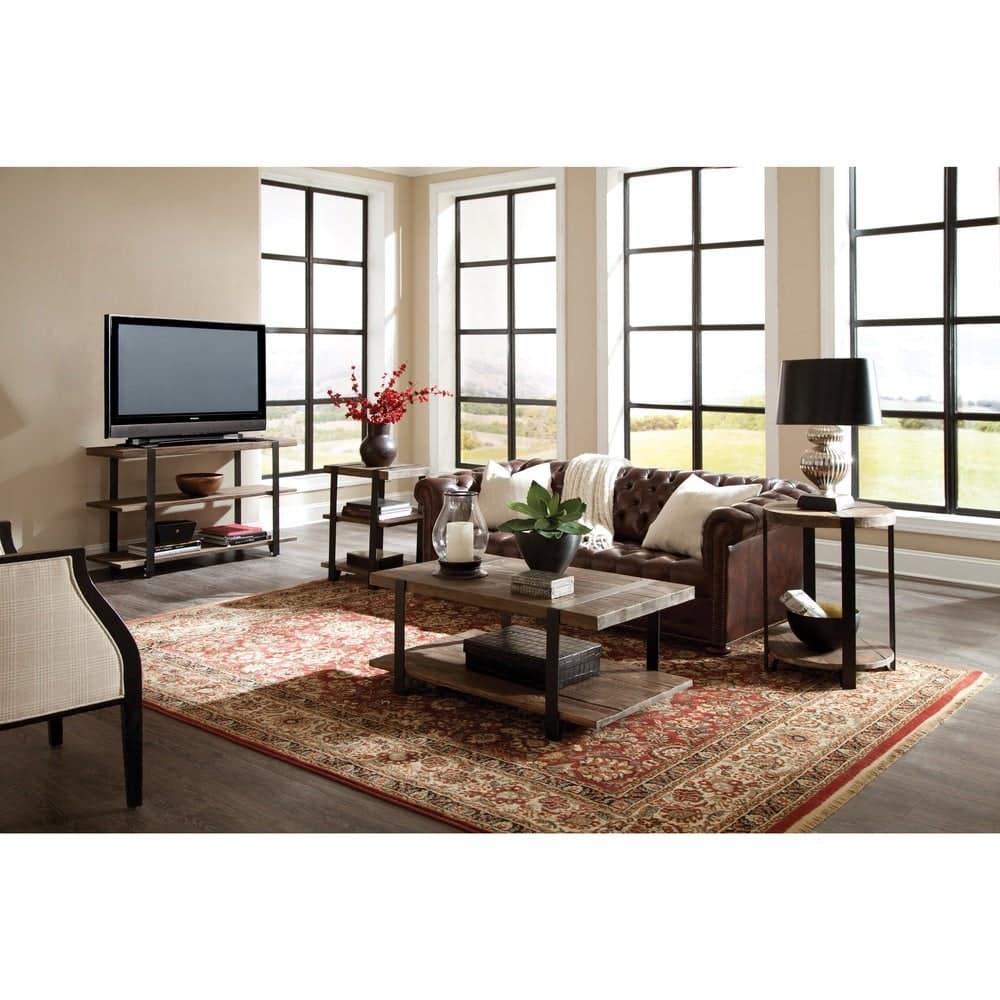 Reclaimed wood is great for adding warmth to a space. So, if you're looking to create a cozy, rustic atmosphere, consider a table like this.
From Overstock, this table is solid wood with metal construction. You can find it in a rectangle and square shape. Since the square version is much smaller, you could use it as an end table.
Keep it Simple with a Basic Round Table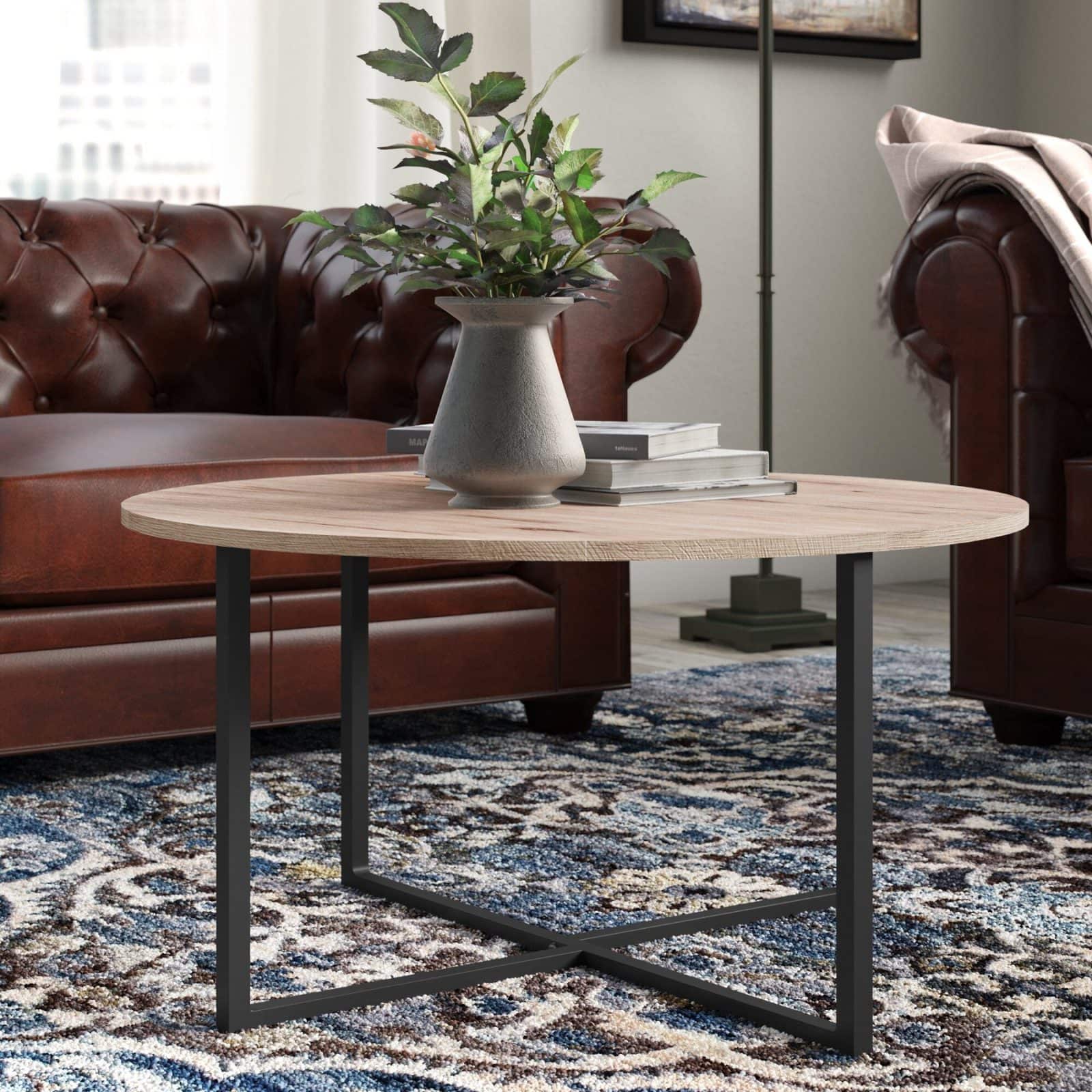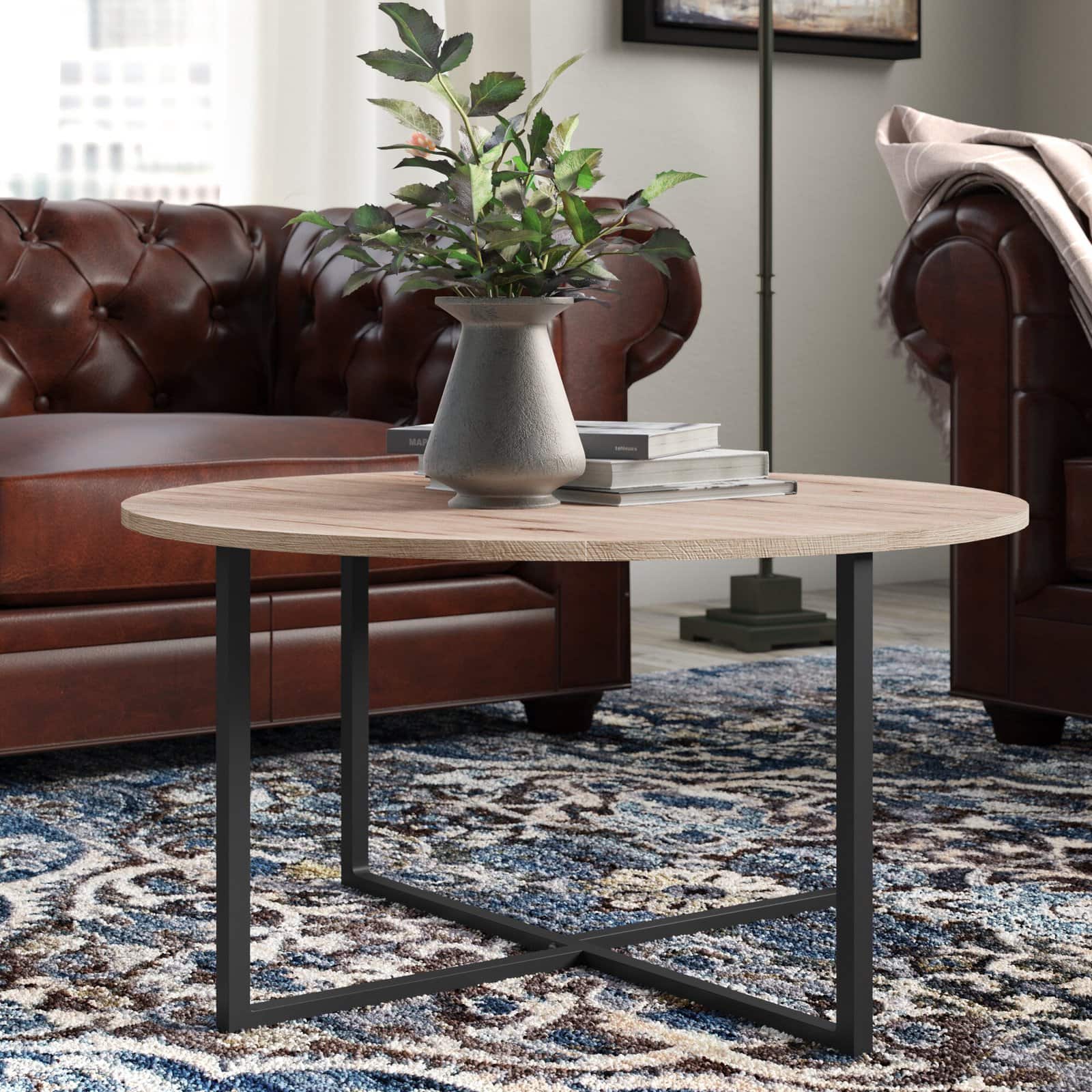 Do you like to keep your design clean and simple? Then try a basic round table. It will match your brown leather sofa while still looking pulled together.
This table from Wayfair has a manufactured wood top and black metal legs. While the design is on the modern side, this table will work with all types of decor. And it's relatively inexpensive.
Add Color with a Moroccan Inspired Table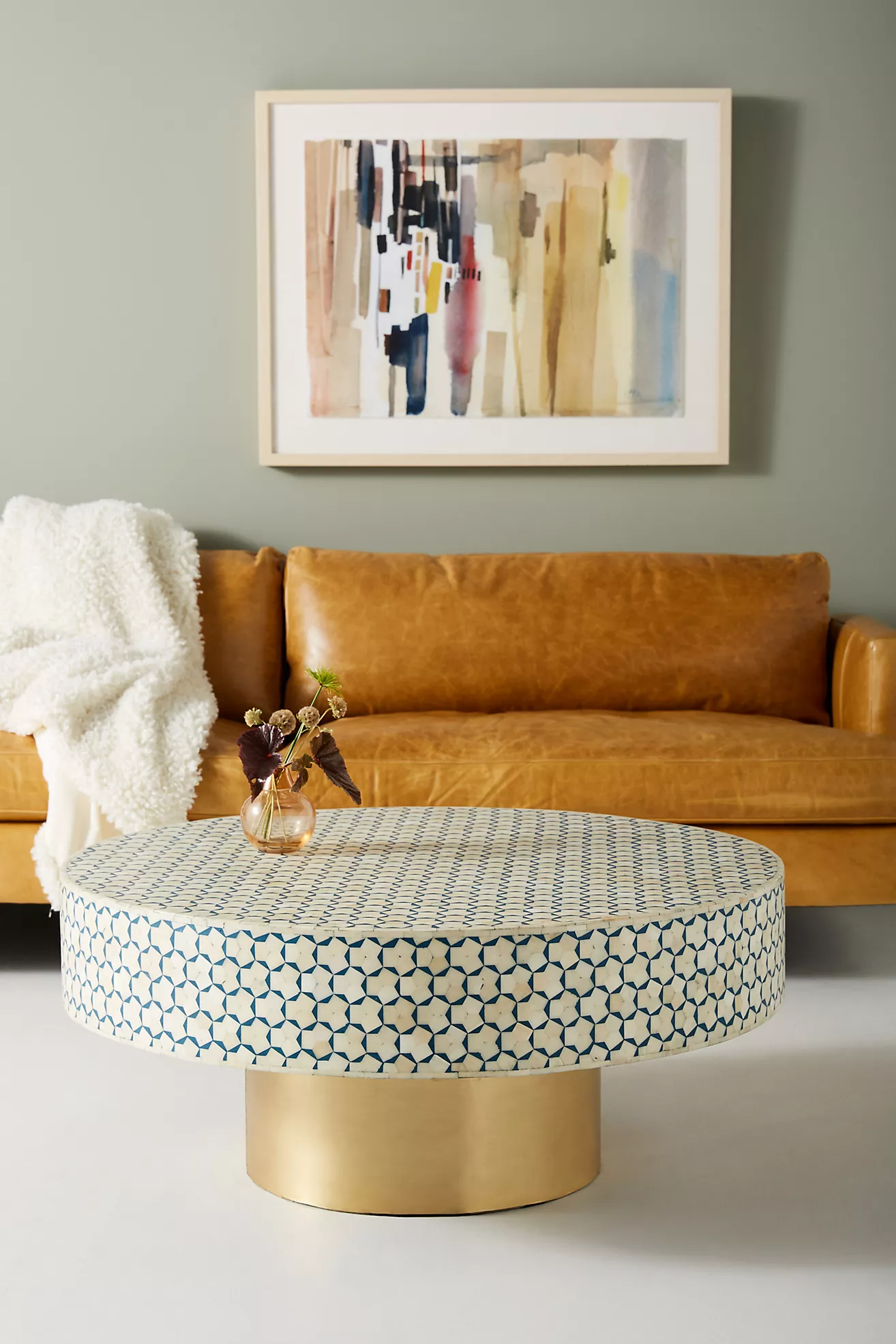 A brown leather sofa is a perfect backdrop for color. And if you want to bring that color in through your coffee table, you can.
A Moroccan-inspired coffee table like this from Anthropologie will help you add color and pattern to your room. This piece has a brass base and a bone inlay for a high-end but fun look. Use this table for a glam, boho, or modern living room design.
Pull Off a Clean Look with a White Table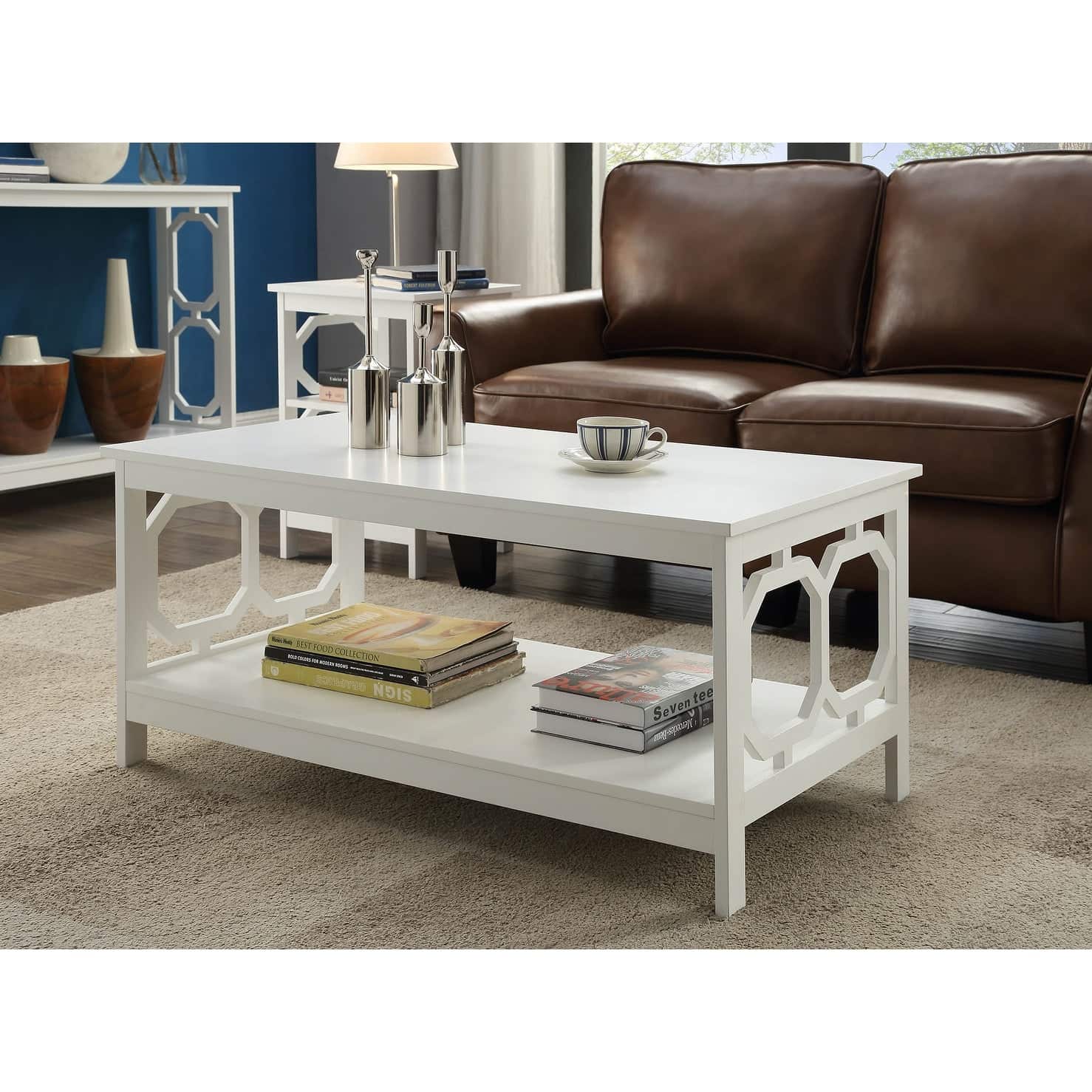 If you like your living room to look bright and clean, ditch the regular wood table and choose something white. Adding white furniture is the easiest way to instantly make your room look more fresh and cheery.
If you like modern farmhouse style, go with an option like this from Overstock. Pick a table with clean lines and no pattern if you prefer a more modern look.
Final Thoughts
Brown leather sofas are one of the most versatile living room furniture pieces. They match many different decor styles and equally as many coffee tables.
Stick with a wood table if you're trying to achieve an earthy, farmhouse, or rustic look. Try something clear, patterned, or with a bone inlay for glam or modern. And if you want to keep it basic, opt for a simple table that's a wood and metal combo.