Decorated Life is reader-supported. When you buy through links on our site, we may earn an affiliate commission. Learn More
What Color Curtains to go with a Brown Sofa? The Options Might Surprise You
Hanging curtains around windows is a sure way to style up a room, bring in some color, and even make the space look a little bigger. But, it's a big task because the curtains need to work well with the room as a whole, including everything from the wall art, to accents, to the furniture.
If you're trying to decorate your living room, your largest piece of furniture will be the couch, so the curtains definitely need to work with it, however that may be difficult depending on the color – specifically if it's brown.
It may seem like there aren't a lot of color options for curtains for a living room with brown furniture, but there are more opportunities than you may realize.
Crisp White Cotton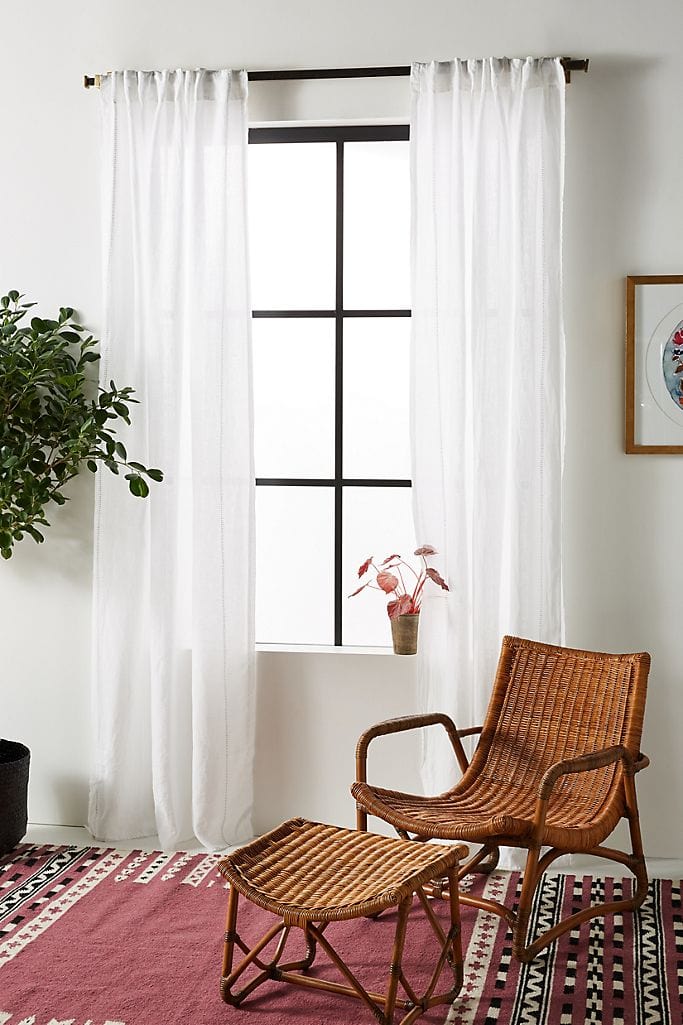 The most obvious color to complement a brown couch is white. They work well together and create a warm room as opposed to the more stark contrast of black and white.
White curtains are especially helpful if your brown sofa is in a room that doesn't get much light because they will help brighten the space a bit and even reflect some natural light. The color pairing balances each other out well.
Rich Grey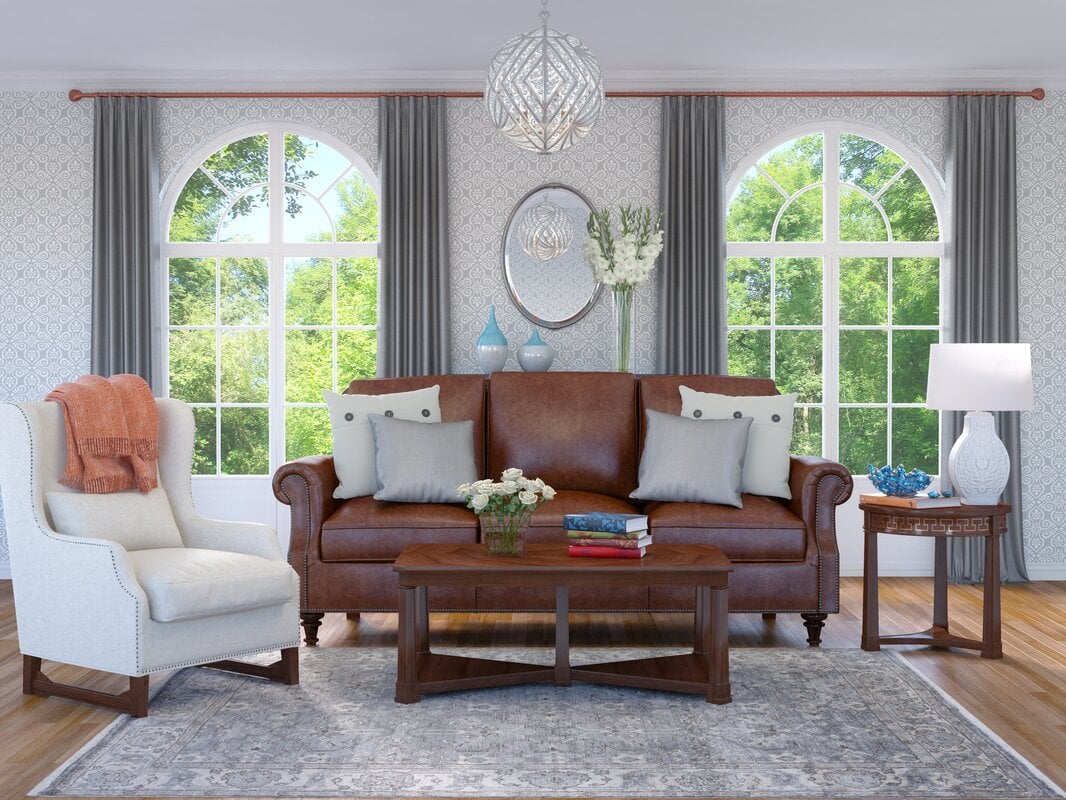 Grey may not be the first color you think to pair with your brown sofa, but as you can see in this picture, they can play off each other to create a really pretty space.
You'll want to play around with different shades of grey to figure out what works best with your specific couch. There's no hard and fast rule here, so have some fun with it!
Patterned Cream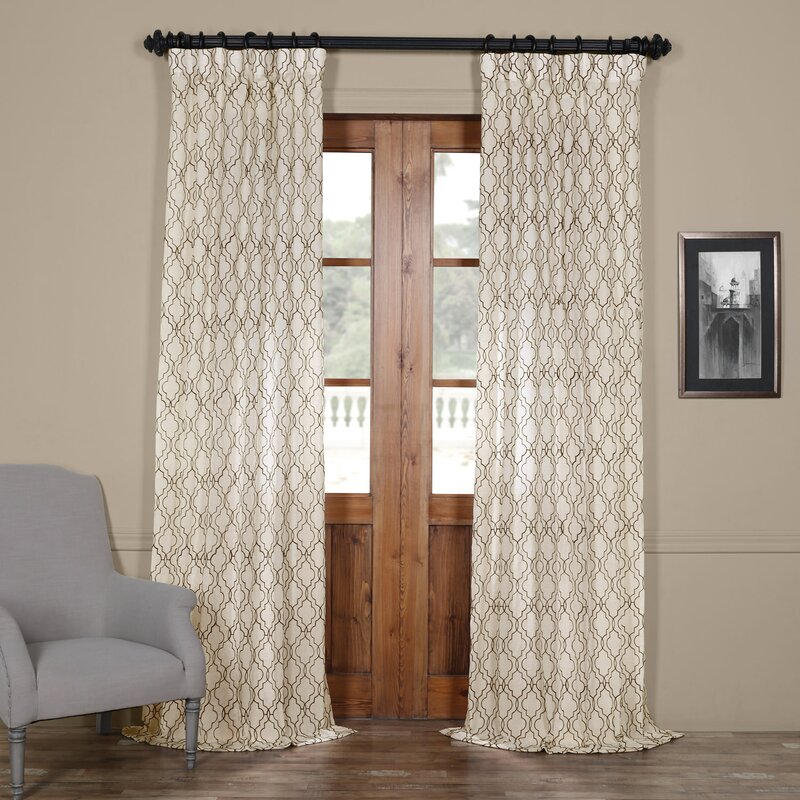 Like white, cream always goes well with brown. But, you can mix it up a little bit by hanging cream curtains that have a pattern.
While there isn't a couch in the photo above, you can see how well the curtains work with the warm brown of the doors behind them. The combination really pulls out the pattern and adds some variety and character to what would otherwise be a pretty standard look.
Deep Teal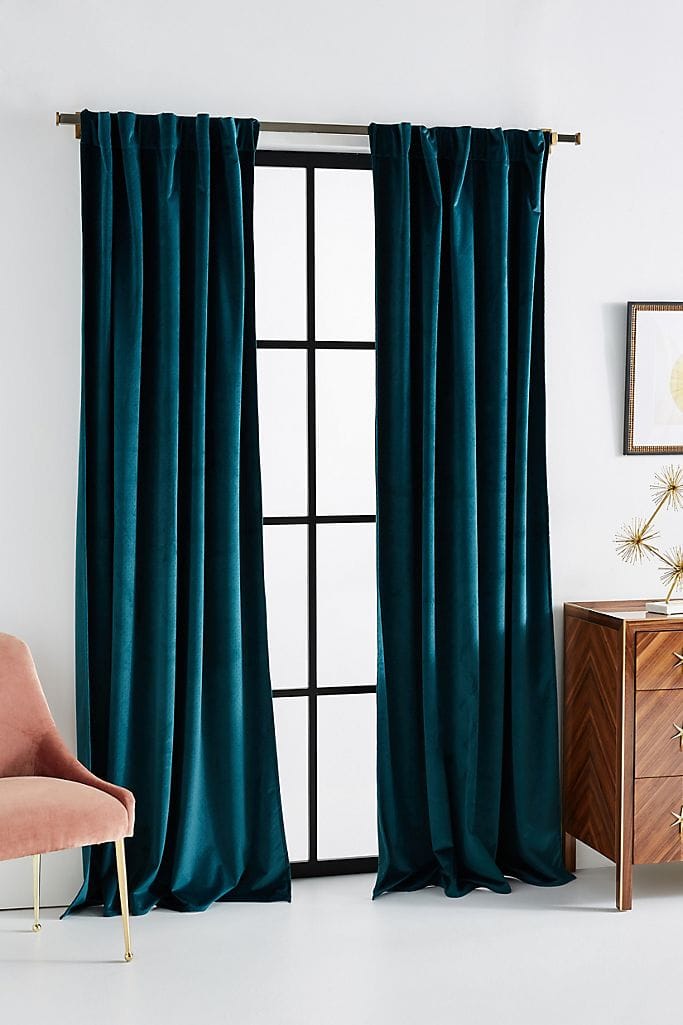 Look at how gorgeous these velvet deep teal curtains look against the brown console table to the right of them. It is an unlikely pairing that looks incredible.
As beautiful as these curtains are, since they're so dark they're best for living rooms that get a lot of light. If you hang them in a darker room and pair them with a darker couch, you may end up with a living room that feels like a dungeon.
Different Shades or Sheer Brown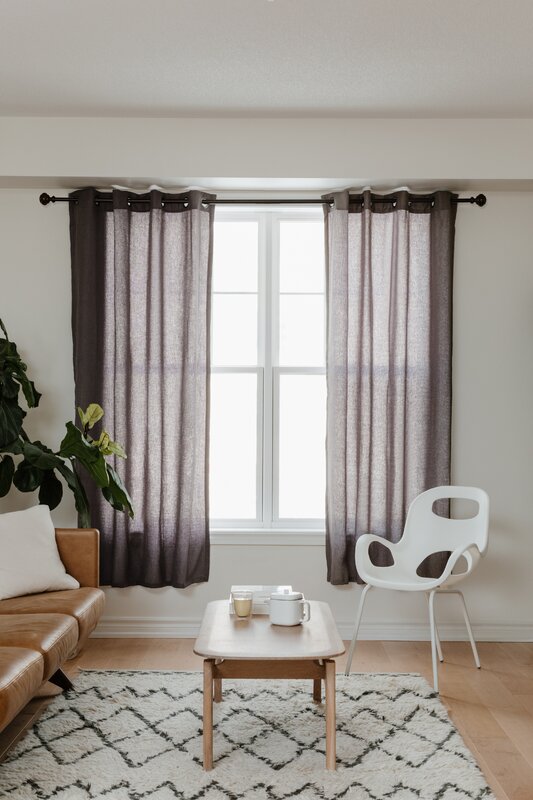 If you're a big fan of the color, there are ways to implement brown curtains that match brown furniture without making the room just look…brown.
If you're going for a hard match, opt for more sheer curtains, like the ones in the picture above, because they'll allow a lot of light to filter through them to set them apart from the couch a little bit. Or, you can also pair a dark brown couch with light brown curtains (or opposite) because the different shades will work together rather than just blend in.
Black Buffalo Check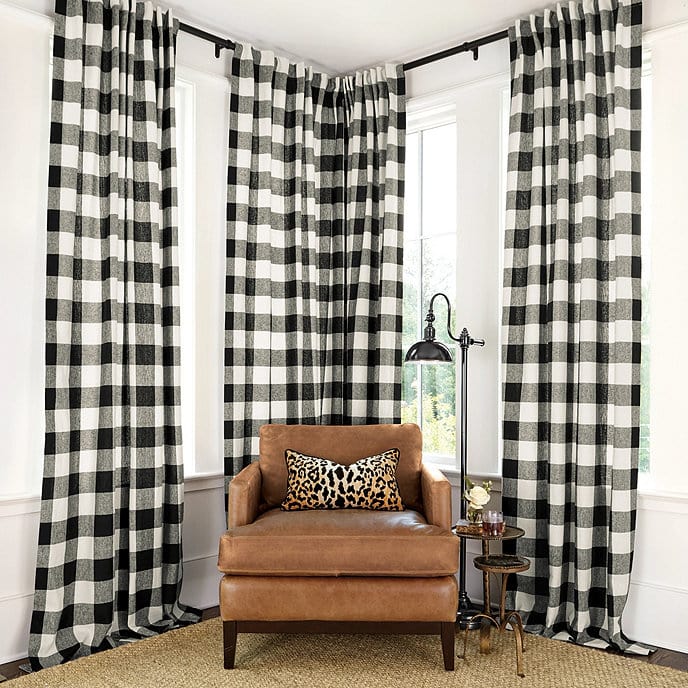 A Black buffalo check pattern is a huge trend right now, and if you have a camel colored couch, a set of curtains with that pattern will look absolutely stunning with it.
You can see how well they work together in the photo above. It creates this rich, warm, cozy space that makes you just want to snuggle up with a blanket and a fire.
Navy Blue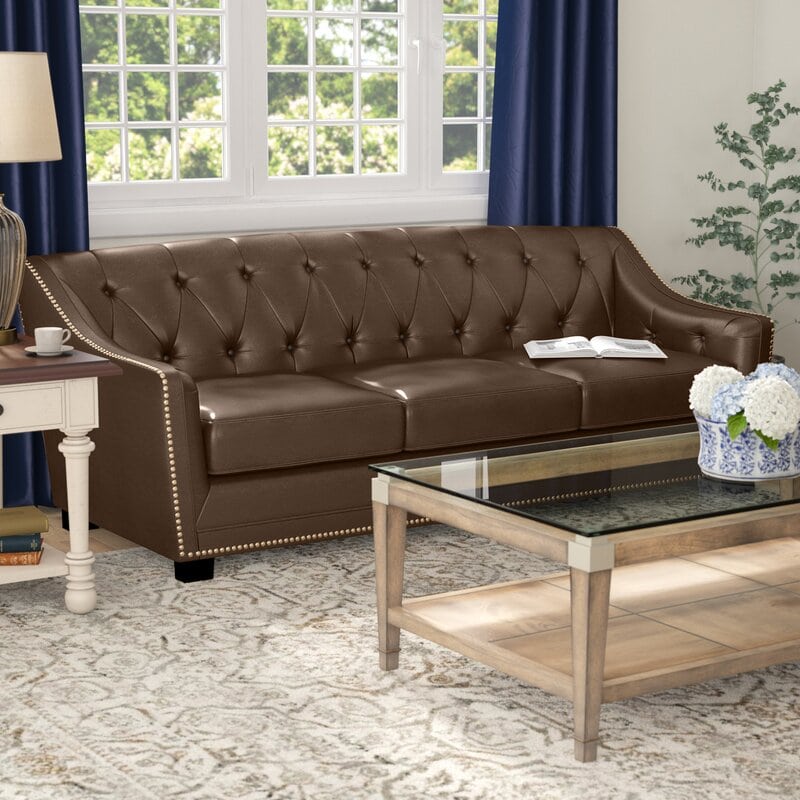 What color curtains go with a brown sofa no matter its shade? Navy blue.
Much like white or cream, navy blue looks fantastic next to dark brown, light brown, camel brown, and basically every other shade! However, unlike white or cream, it also adds actual color into the space and gives you something to work off of when you're adding in other accents.
Mustard Yellow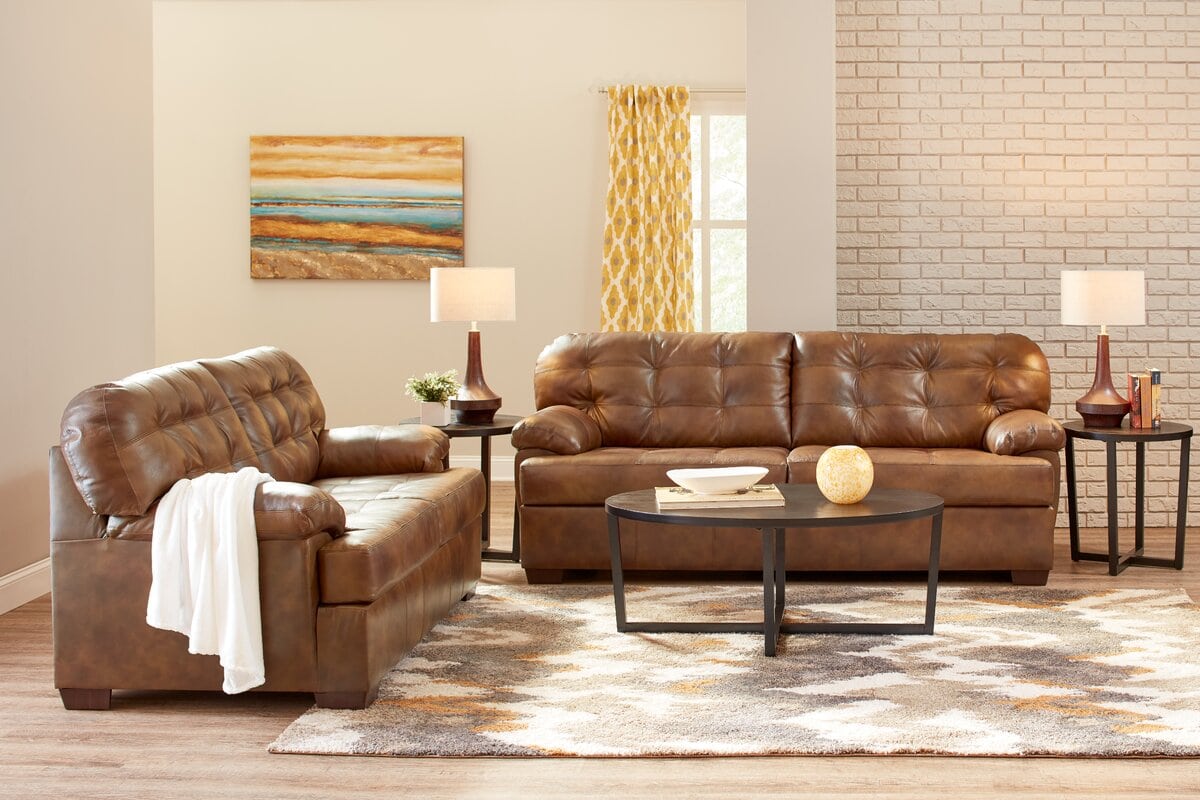 If you really want some color, but still want the space to look nice, hang some mustard yellow curtains in your living room with a brown couch.
It will create a nice pop of color, but without being overly dramatic since it's still a darker shade. Mustard yellow is a great way to add in some character while still being conservative.
Textured or Blended Neutrals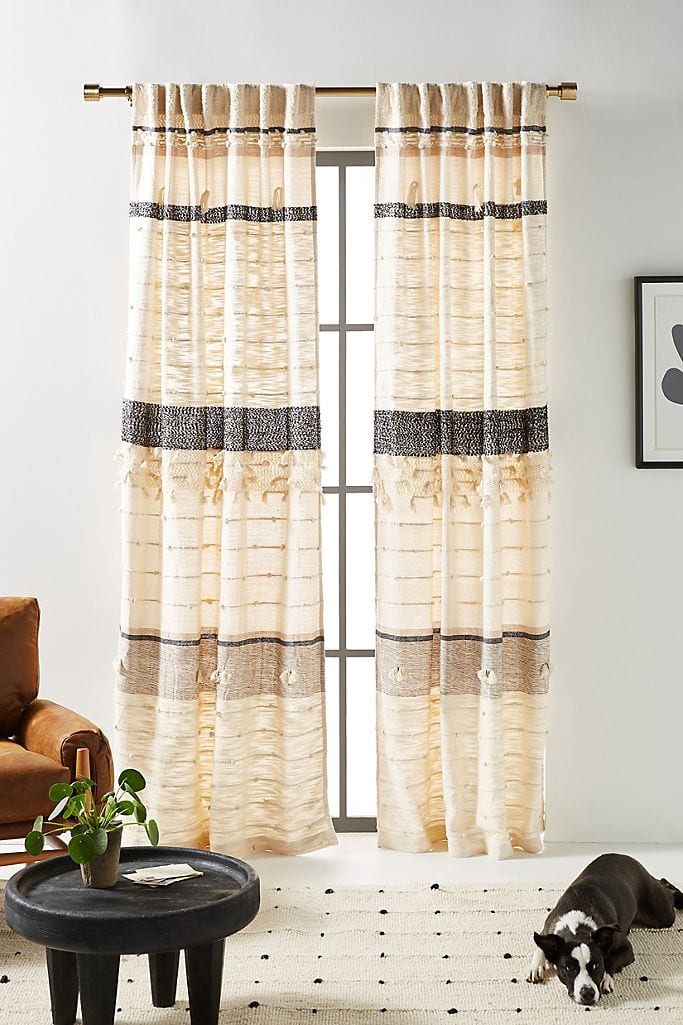 If you're not a fan of tons of color or you are trying to go for a more boho look, you can still hang cream colored curtains without being dull – you just need to find the right set.
Look for something with various textures or shades of the creams and neutrals you want to use. These curtains, for instance, have a lot of character but still only consist of grey, cream, and black colors. Neutral curtains don't have to be boring!
Burgundy
One of the prettiest pairings is a deep burgundy and brown. Hanging burgundy curtains in a room with a brown couch will make the space feel warm and rich.
Toss in a rust orange or mustard yellow throw pillow in the mix and your living room will look like the trees in autumn.
Vibrant Colors
Maybe your brown couch was passed down to you, and it's temporary but you need to just make it work for now until you get a new one. If you're not a fan of the brown and prefer a lot of color, then don't be afraid to get colorful with your curtains!
In this picture, the brown chair and brown walls look absolutely amazing with the magenta and navy blue curtains to the left as well as orange and white ones to the right. It's a great example of using what you have and making it your own. 
Metallic Silver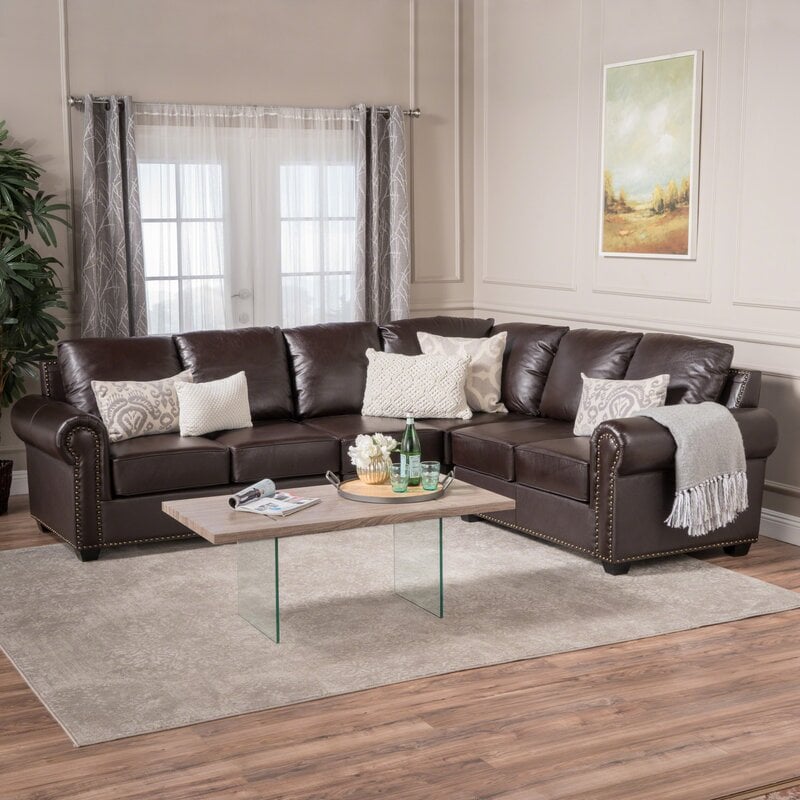 Okay, this may not seem like a pairing that would work well, but a splash of metallic silver paired with a brown couch will create a pop of cool as well as a little texture and variety.
Typically, gold is mixed with brown, which is a beautiful pairing of course, but silver is less expected and more unique. A little goes a long way, though, so find some curtains with small silver accents like the ones in this photo.
Light Blue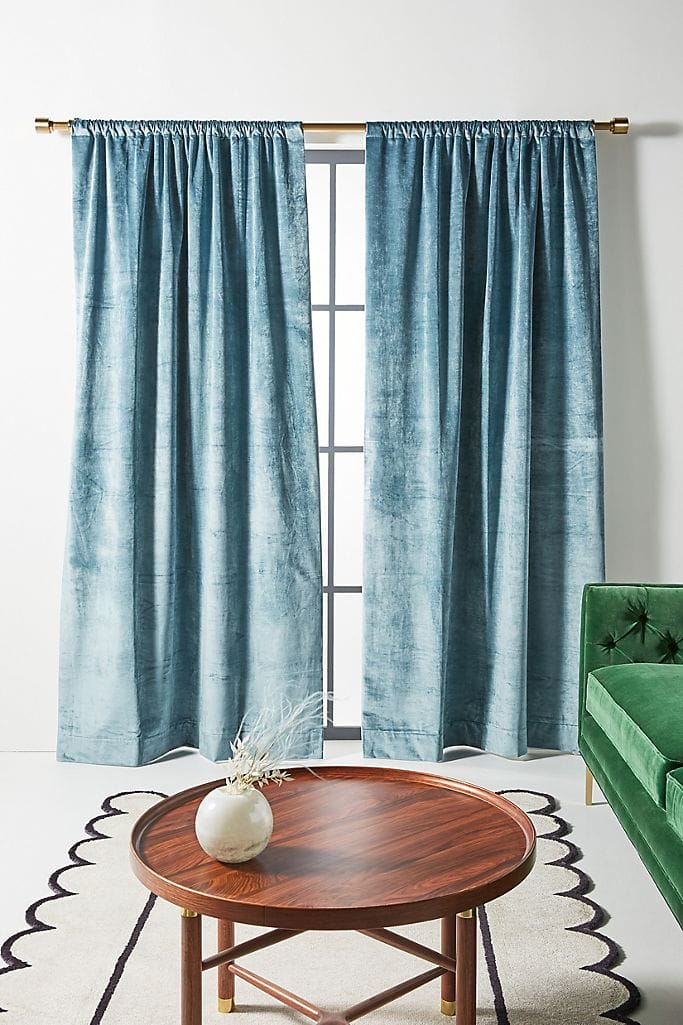 The brown table backed up to the light blue curtains in this photo looks absolutely fabulous.
What's even better about these curtains specifically is that the velvety texture softens the two cooler colors up a bit, so it creates a really inviting space.
Green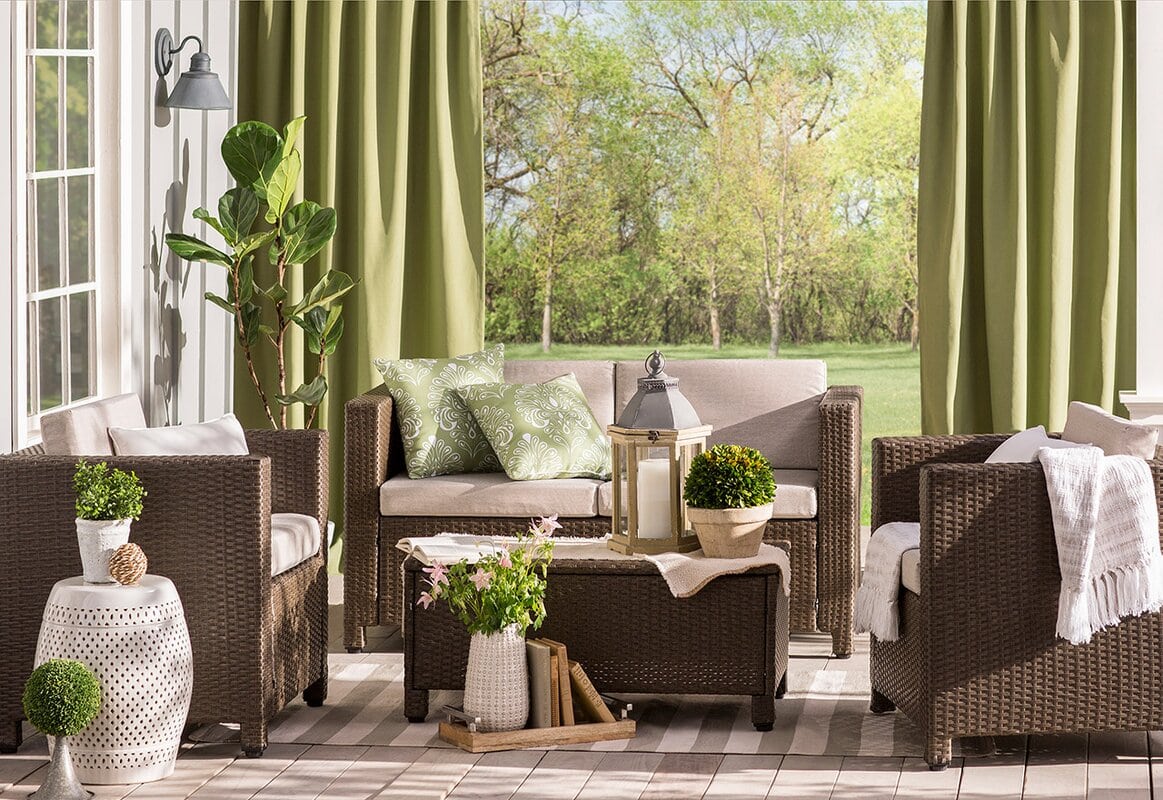 Sure, this brown couch is an outdoor one, but the color combination works no matter what room your sofa happens to be in.
Green and brown almost always look great together because they create a naturey vibe (which is really in style right now). Hang some green curtains in the room with your brown couch, add in some white accents and a macrame wall hanging and you have one trendy, beautiful room.
Final Thoughts
Whether you love your brown sofa or hate it, it's a focal point in your living room so you need to work around the color in order to create a cohesive space.
When choosing curtains, if you're not into the neutral hues, there are so many other beautiful colors that go with brown sofas to choose from. Brown may not be as versatile a color as grey is, but there is still a lot of room for creativity.