Decorated Life is reader-supported. When you buy through links on our site, we may earn an affiliate commission. Learn More
What Color Curtains Go With Beige Walls? – 15 Ideas
Whether you've moved into an apartment with standard paint or enjoy the light airy look of beige, you'll need to find ways to compliment the color with decor. Thankfully, the neutral color looks good with just about anything, but like with all neutrals, some colors still look a little better than others.
One home accent you may want to consider are window treatments. There are a lot of options for curtains to match beige walls, in fact there are so many it can seem overwhelming.
So, we've narrowed down the list to show you some of the best colored and patterned curtains for beige walls.
Bright White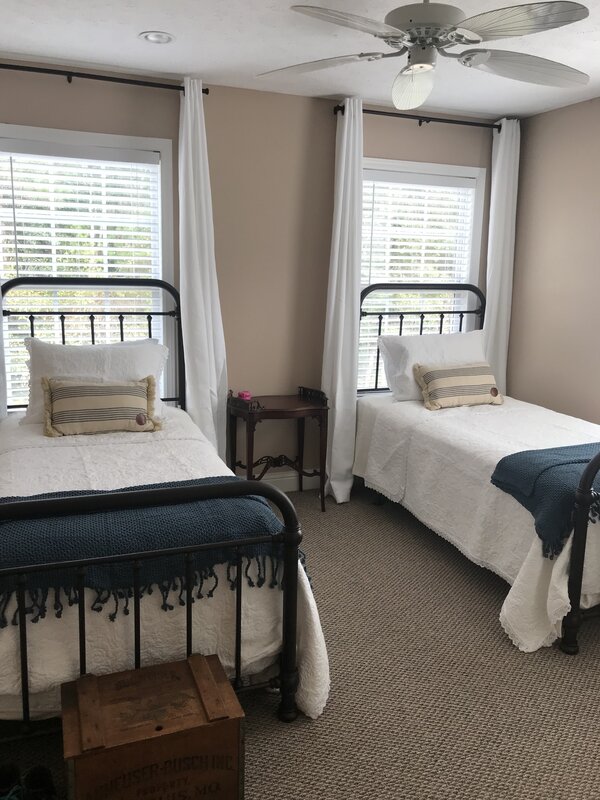 If there is one color curtain that will look good in just about any room, it's bright white! They're classic and brighten things up, even a room with light beige walls.
To make them really stand out, consider mounting a curtain rod with an oil rubbed bronze finish. The dark color will contrast well from the beige wall and the white curtains.
Dark Blue Floral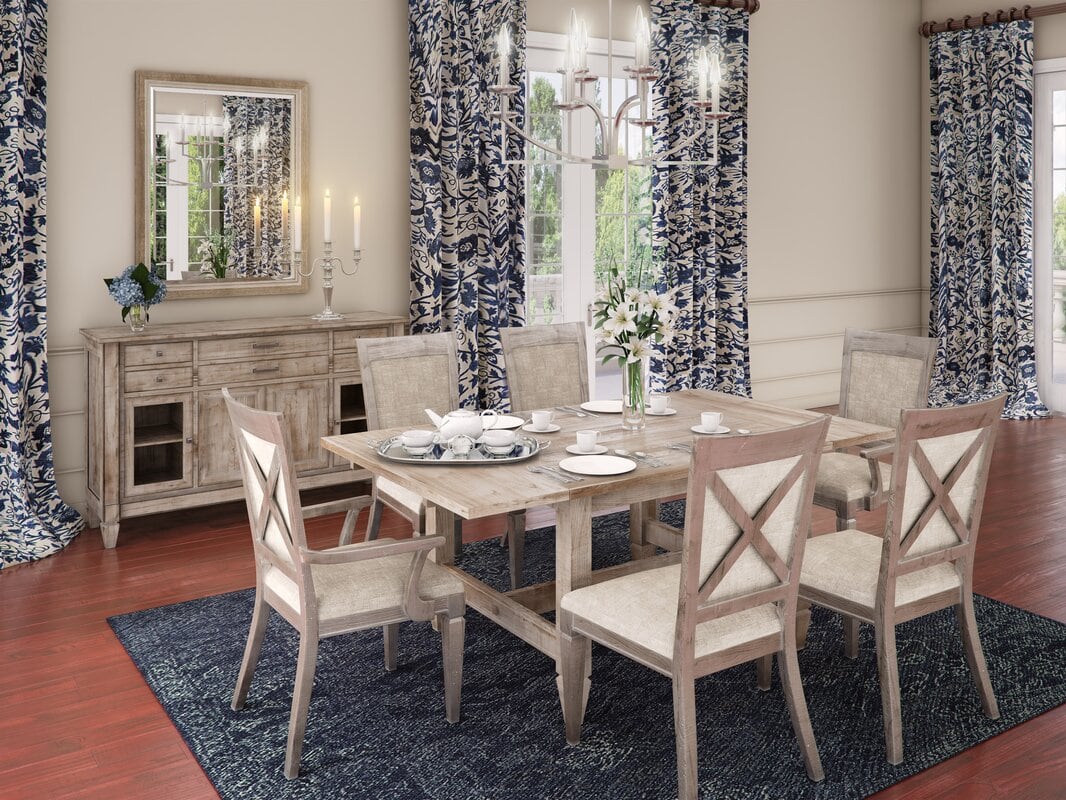 For a little bit of color, but not too much, try something like these dark blue floral curtains. The pattern brings some variety to the room but the generous white space doesn't make it too overwhelming.
Add in some other warm touches into the room like metallic gold or mustard yellow to get a really stylish and cozy look.
Sheer White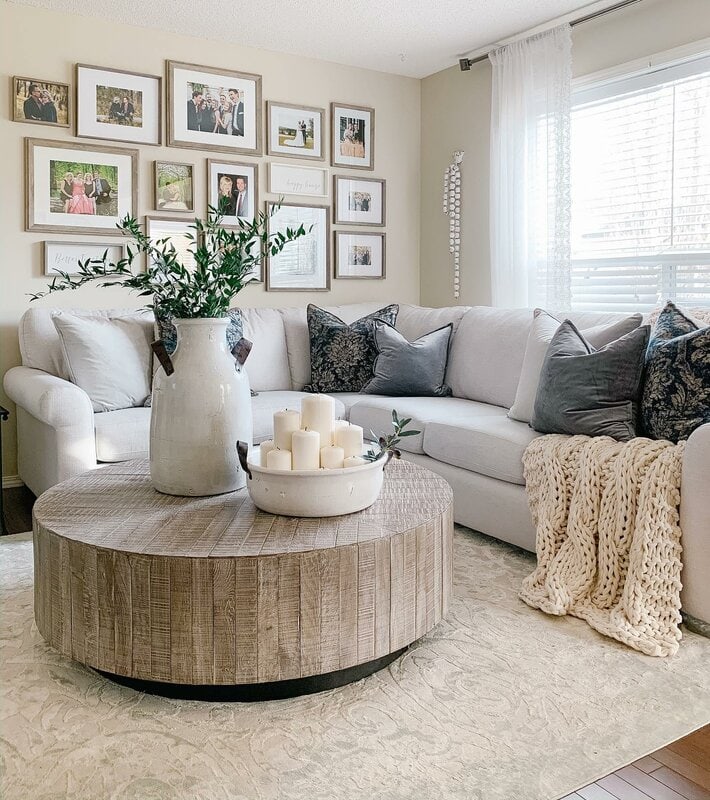 Beige walls do not automatically equal a bright room. Depending on the room's direction, it may not get a lot of sunlight, so you won't want to hang dark curtains to draw even more attention to that.
White sheer curtains are a good option for a room like this. They look great with beige walls and they don't block sunlight much. They allow the room to still have a finished look without sacrificing sunlight.
Neutral Linen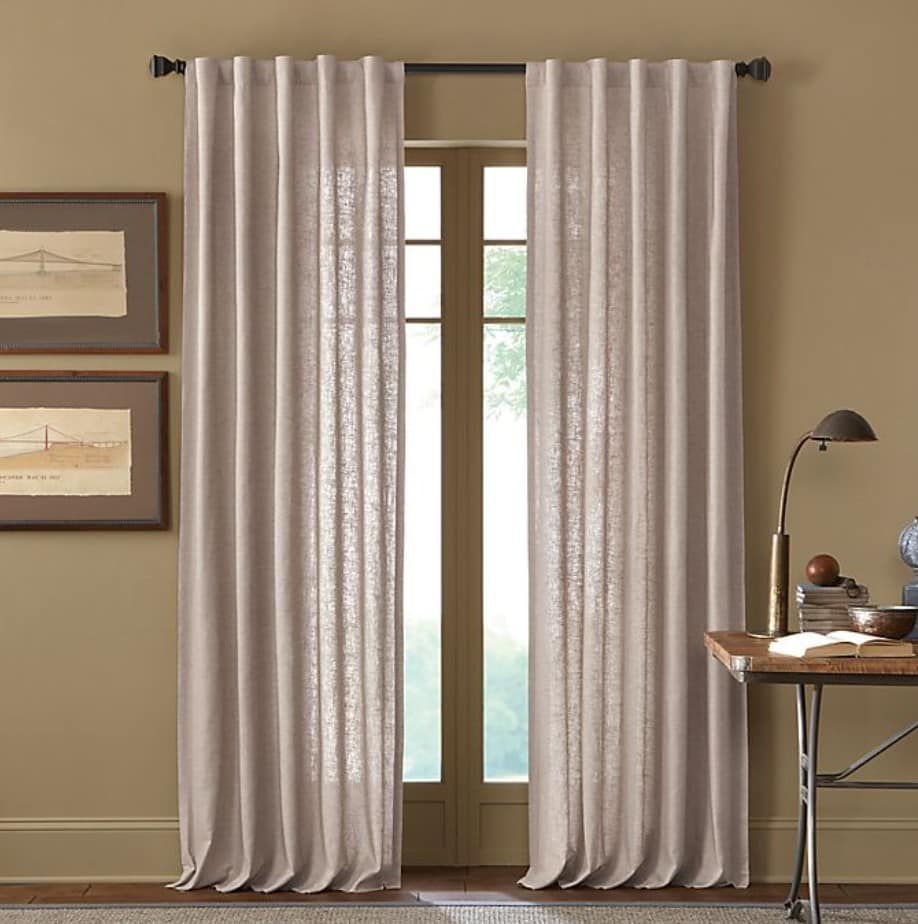 Linen curtains look fantastic with beige walls because they add a little texture to a space that may otherwise seem a little bland.
These curtains in particular look great with beige walls because they're a neutral shade. This allows you to decorate the rest of the room with a variety of accent colors without the risk of clashing.
Burgundy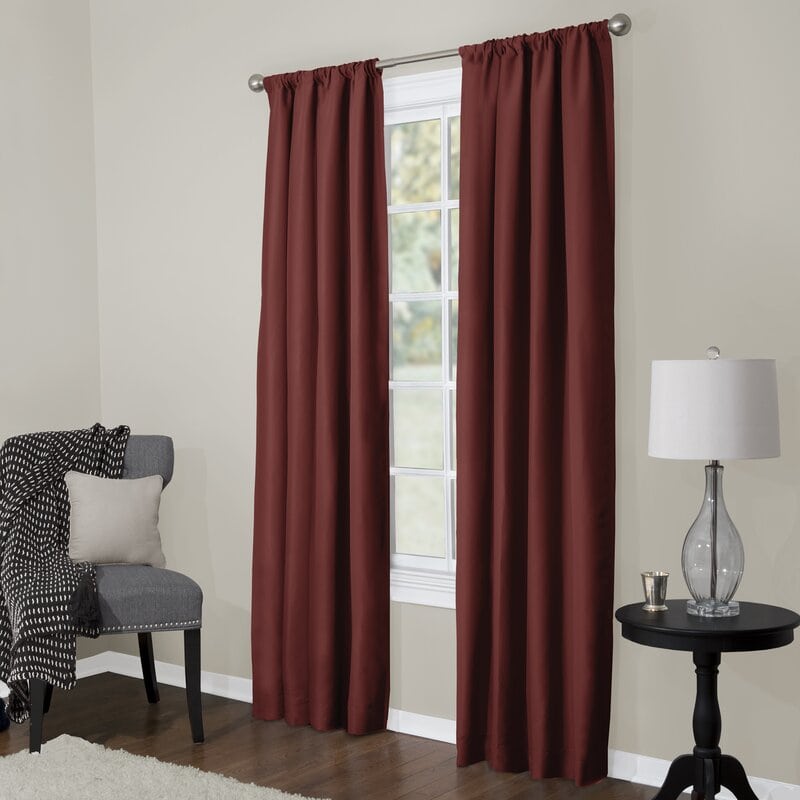 If you have a room with a lot of light, burgundy is one of the prettiest curtain colors for beige walls.
The rich hue pops from the light background and is a great option for anyone who wants to decorate with autumnal colors.
Mauve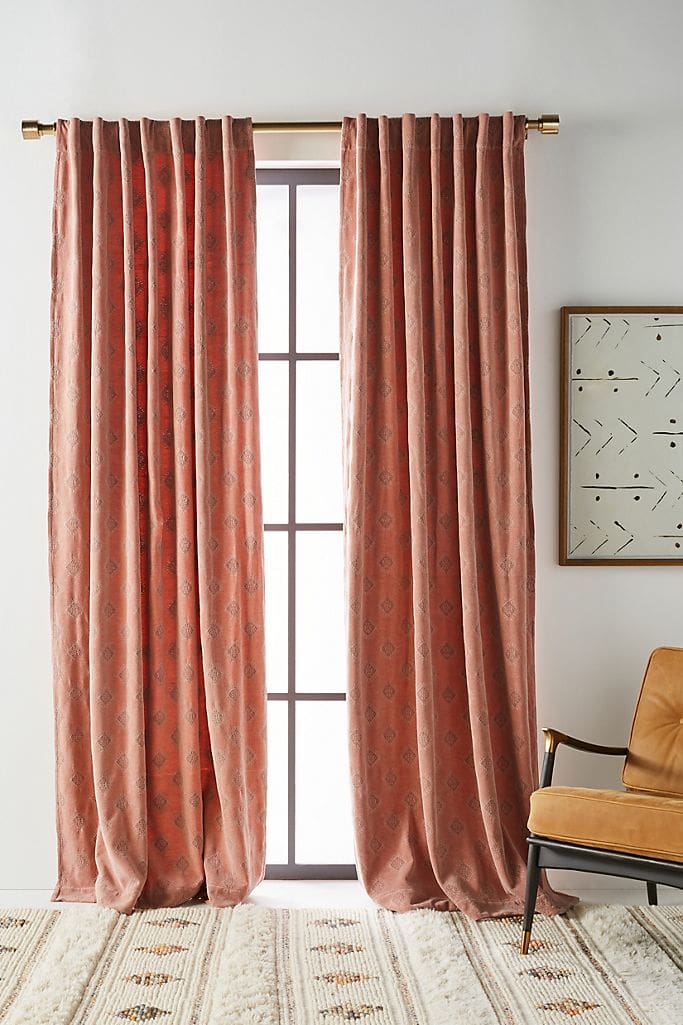 Mauve may not be the first color that comes to mind for curtains for light beige walls, but it's certainly one that should be considered!
Look at the curtains in this photo and how they pop from the wall without being over the top. It's a subtle burst of color that further softens the beige and creates a welcoming environment.
Natural Burlap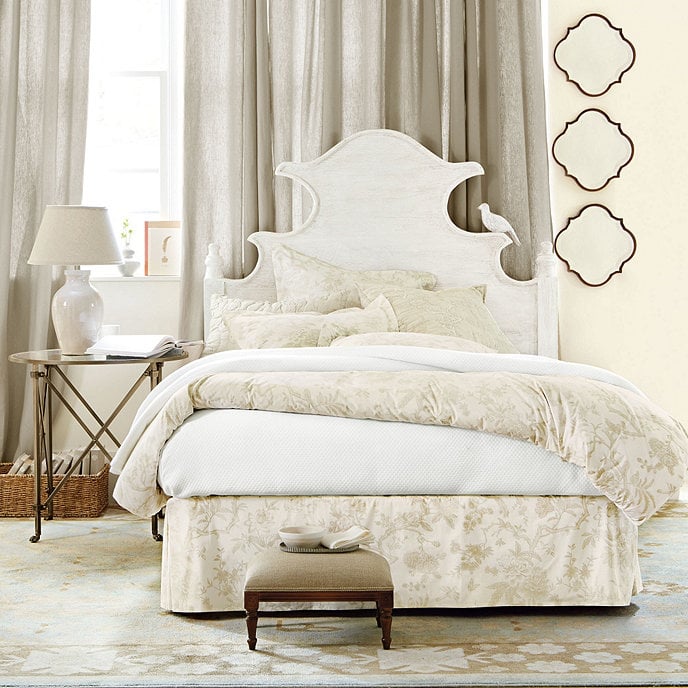 If you like the farmhouse or rustic aesthetic, some burlap curtains against a beige wall fit that look. The darker natural shade of the burlap stands out against the beige without clashing, which wouldn't necessarily be the case for a grey wall.
To really bring the aesthetic in, toss a few navy blue buffalo check throw pillows into the room and add in some small accents like cotton stems in a vase.
Subtle Stripes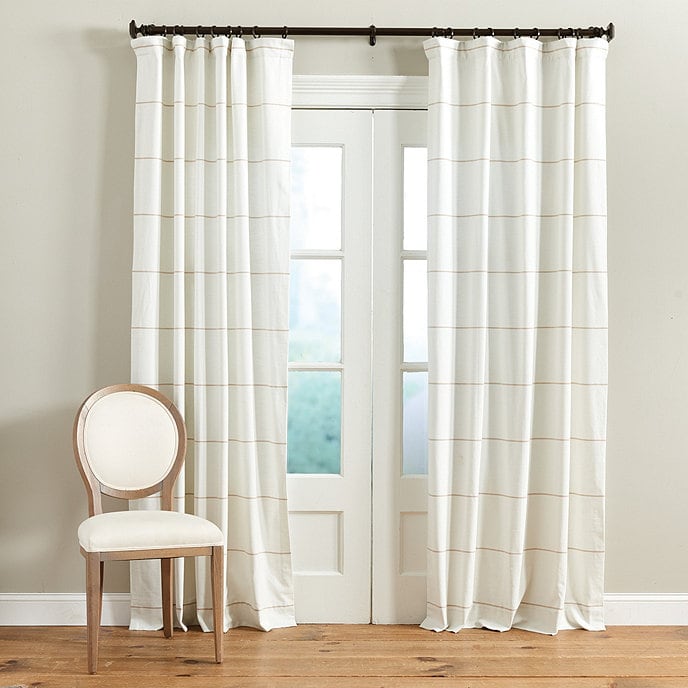 While they may be classic, plain white curtains can seem boring to some people. So, you can add some character by finding curtains with a subtle pattern, like these.
The natural colored stripes against the white add just a little bit of texture and variety that stand out without being overly bold. If you want them to stand out a little more, find some accents that pull that color out and accentuate it.
Charcoal Grey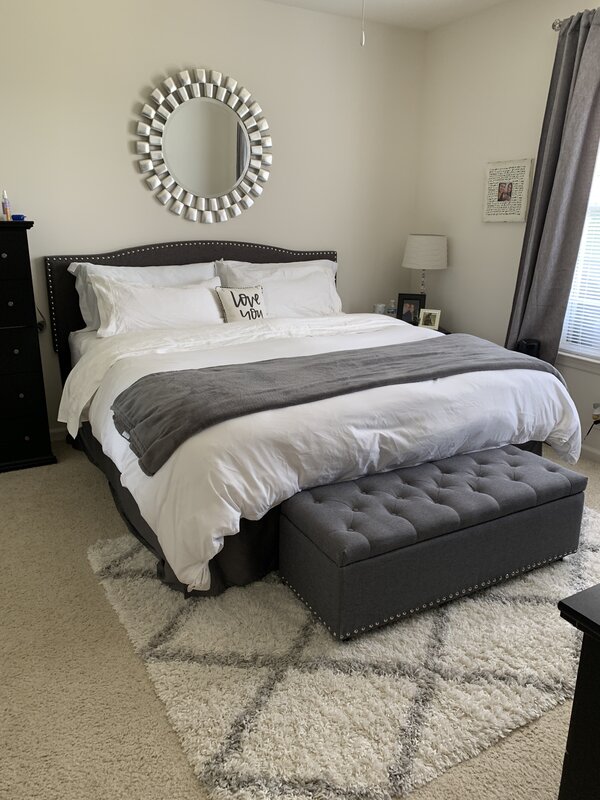 Grey is still a huge trend in home decor, and you can still play into that trend with beige walls because charcoal grey looks fantastic against them.
In this picture, you can see how they mixed the silver, grey, white, and beige seamlessly. Everything looks really modern and sleek, especially with the gorgeous rug at the end of the bed.
Sage Green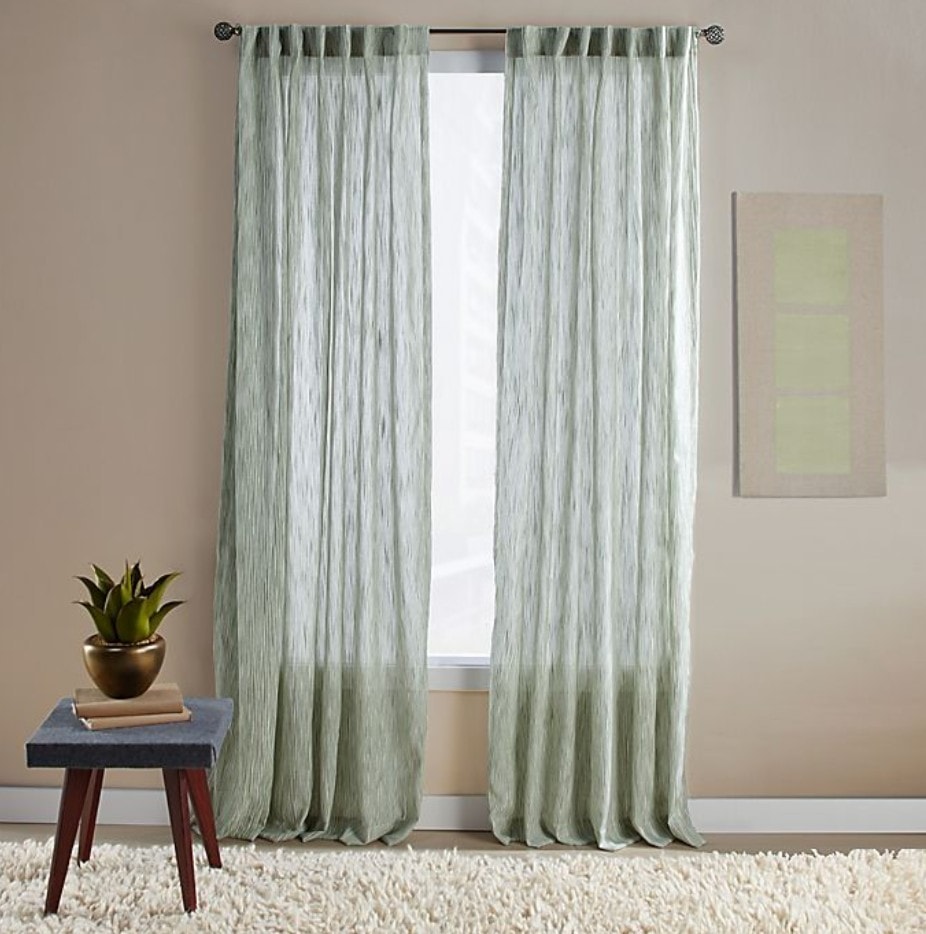 For something a little brighter, sage green looks incredible with beige. The pastel shade adds even more brightness to the room and opens it up to other complementing colors like a light blue or bright white. 
Take a tip from this photo and complement the color with some green plants. Throw in some macrame accents and you'll have a gorgeous boho look.
Navy Blue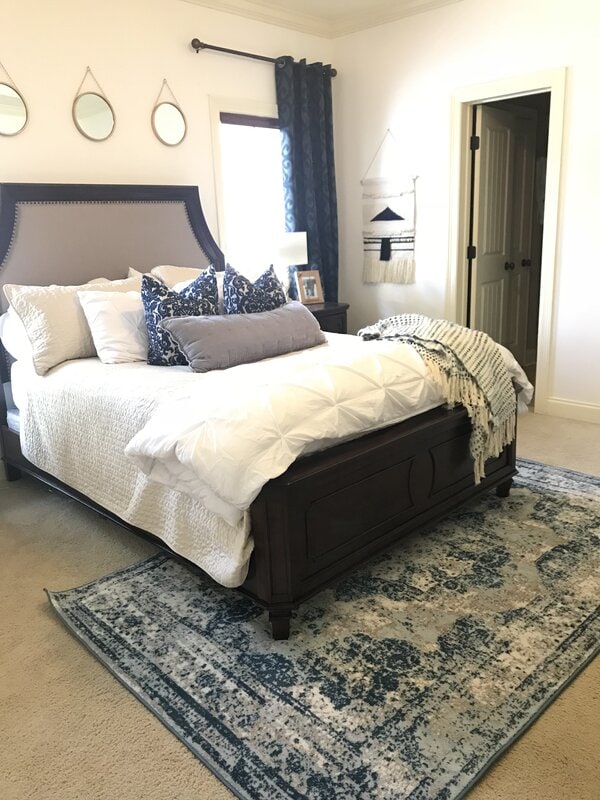 Navy blue is one of those colors that pairs well with just about anything, beige walls included. So, a set of navy blue curtains is a safe decor bet.
If you hang solid navy blue curtains, try to balance things out with some white accents, like in this room, which also has touches of grey that all pull the room together and create a really pretty aesthetic.
Taupe Medallions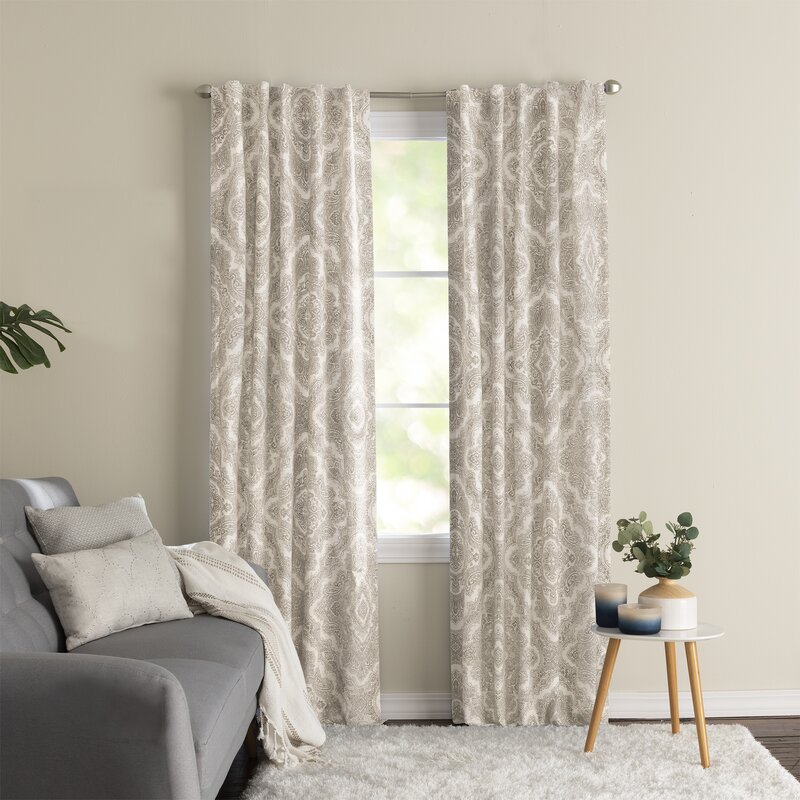 One easy way to seamlessly use grey in a room with beige walls is to add in some taupe touches to balance the two colors out so that they complement each other instead of working against each other.
These taupe curtains do that perfectly, as you can see with the grey couch and beige walls. It all blends together well without clashing because of the taupe accents.
Black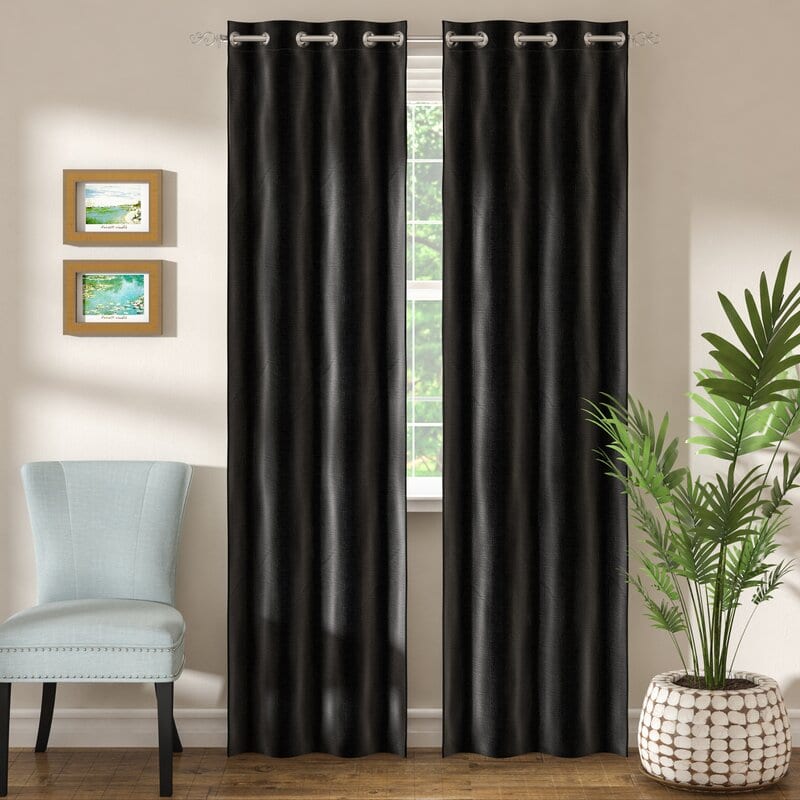 If you're a fan of the contrasting colors decor style, get brave with some black curtains against light beige walls.
To do this, make sure you have some softer accent colors, like the light blue chair in this photo. The bright green plant also helps tone things down a bit to create a cozy, warm space.
Natural Floral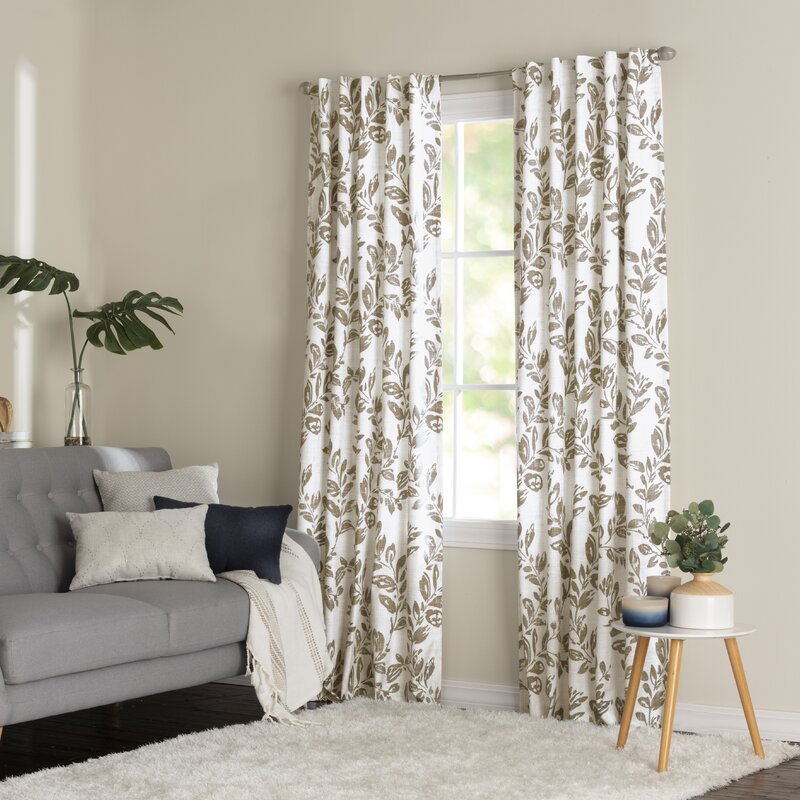 As already noted, taupe is the best accent color for a room where you want to blend grey and beige together. And, if you want a little bit of a bohemian look, go with a set of curtains with a floral or leafy pattern, like in this photo.
The entire space looks very stylish with the green plants, grey couch, navy blue throw pillow (that pulls the blue from one of the small vases), and curtains. This look can easily be recreated in a room with beige walls.
Light Blue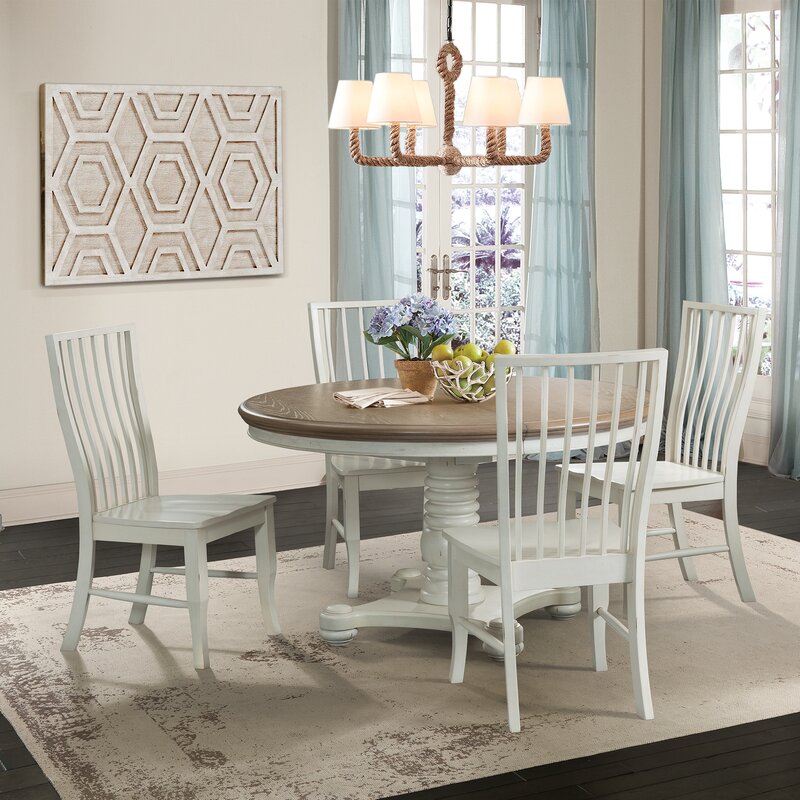 Another great curtain color option for a room with beige walls is light blue. It creates a light, airy look, as you can see from this picture.
You can play up the light airy feel with some white accents, or you can tone it down by adding in some navy blue touches.
Final Thoughts
Decorating a home can be a lot of fun. Choosing furniture and accents that match your style should be enjoyable and you shouldn't be stressed out over things like finding curtains for a beige room.
Remember, beige is a neutral which means just about any color can work with it, so you don't have to feel limited in choices. Focus on finding pieces that make you feel happy and at home, beige walls and all.