Decorated Life is reader-supported. When you buy through links on our site, we may earn an affiliate commission. Learn More
What‌ ‌Color‌ ‌Front‌ ‌Door‌ ‌Goes‌ ‌with‌ a ‌Yellow‌ ‌House‌? ‌-‌ ‌15 ‌Ideas‌ 
Yellow is a bright, fun color that inspires happiness and cheer. When used for the color of your home, it can create a welcoming, inviting nuance.
To add some contrast and personality, paint your door a different color. For example, when wondering what color the front door goes with a yellow house, there are multiple options, including shades of red, blue, green, yellow, and black.
Check out our fifteen ideas for what color to paint the front door of your yellow house to get some inspiration on which design might look right for your space.
Bohemian Black by Sherwin Williams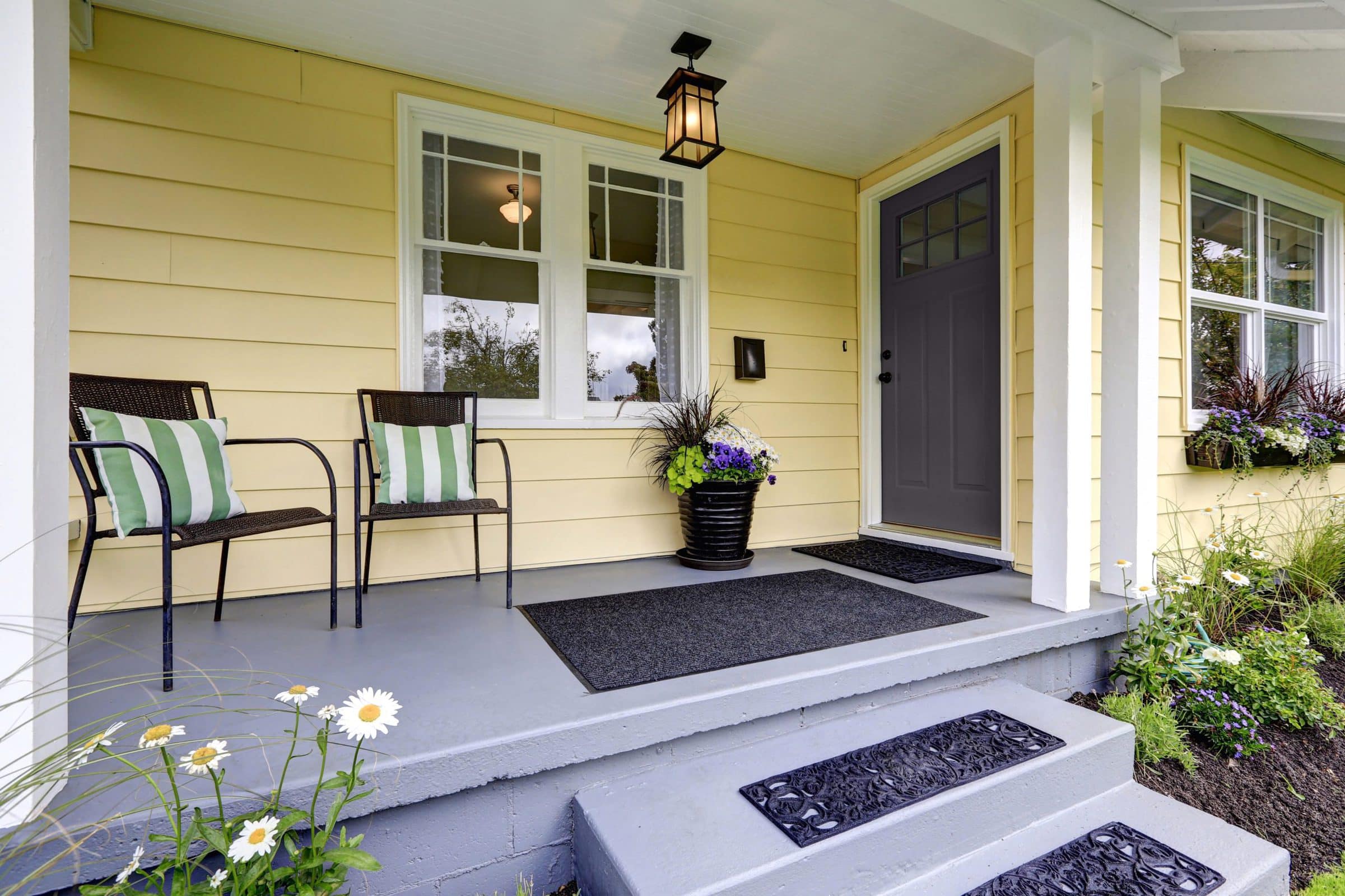 Black and yellow are popular color combinations. Just ask bumblebees, the Pittsburg Steelers football team (technically black and gold), or Wiz Khalifa. Using the palette of a yellow house black door on your home can create a sleek, modern entryway.
We're intrigued by the look of using a pale yellow for the house and Bohemian Black by Sherwin Williams for the door. This shade of black has undertones of mauve, brown, and purple with an LRV of 4 and a hex value of R:59 B:60 G:55.
Forsythia by Sherwin Williams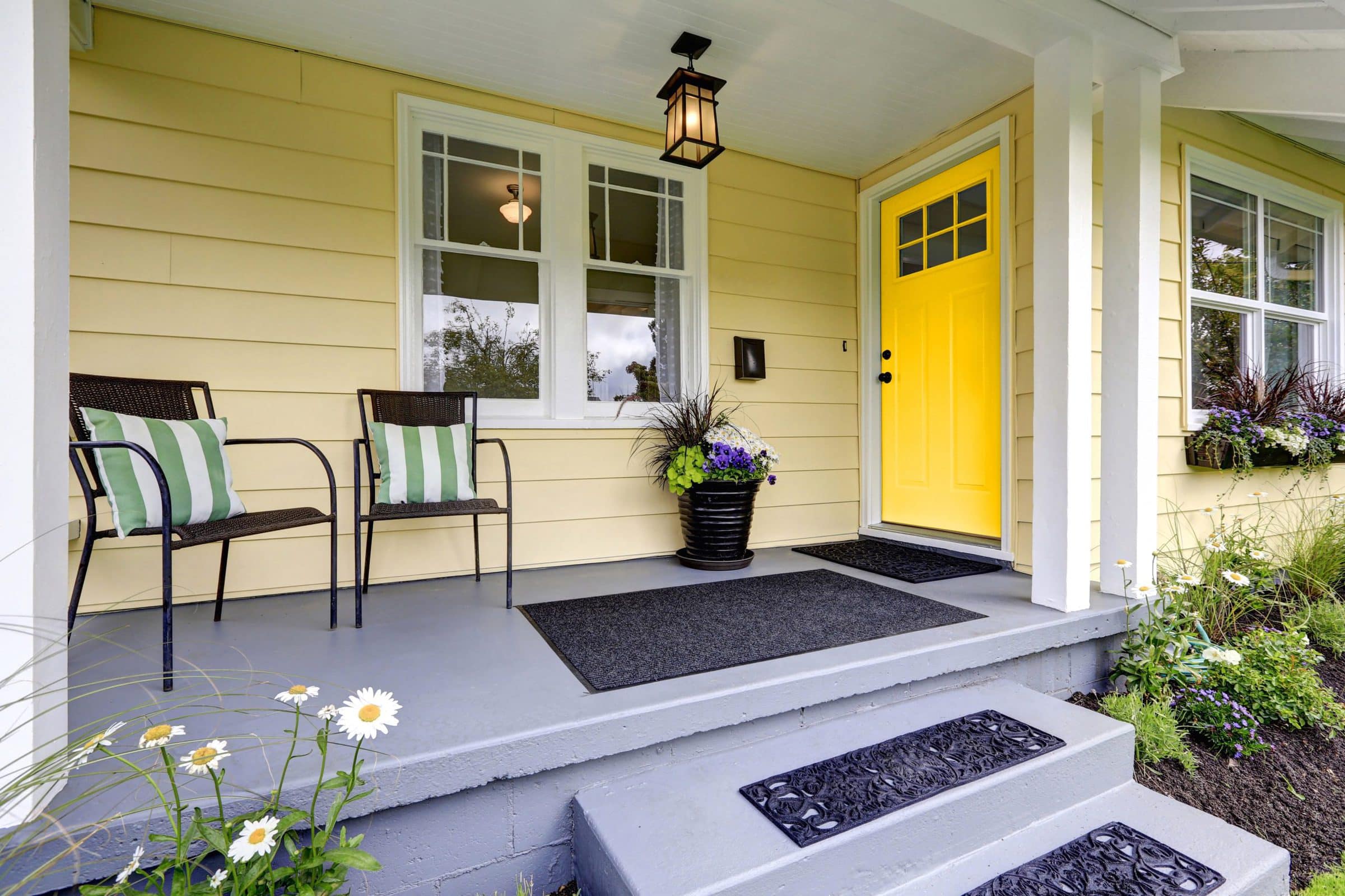 Forsythia Yellow by Sherwin Williams is a bright, cheerful shade of yellow that's like the sunshine on overdrive. When you have a light yellow house, adding a darker, more brilliant yellow can give a nice contrast.
This rich shade of yellow has darker undertones that can look faintly orange in some lighting. An LRV of 63 and a hex value of G:200 R:255 B:1 give this yellow a welcoming, modern feel.
Nifty Turquoise by Sherwin Williams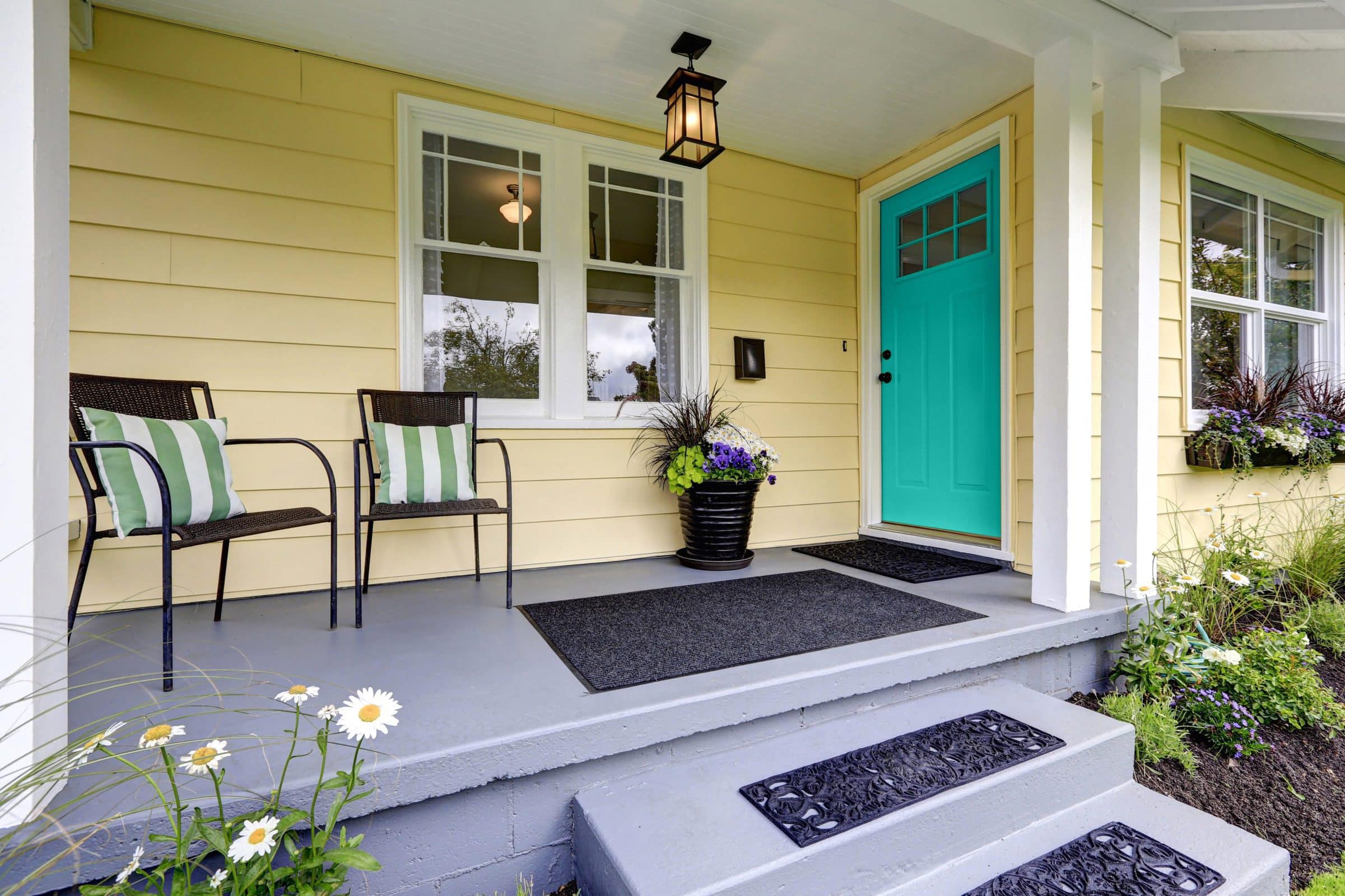 Many people love to use Turquoise for a front door, as this luxurious jewel-toned shade of green stands out while being compatible with multiple colors.
Sherwin Williams' beautiful blue-green shade Nifty Turquoise has a lower LRV of 21 with a hex value of R:1 B:135 G:145. Choose a dark or light shade of yellow for the house with an off-white accent for the trim like Shell White.
Osage Orange by Sherwin Williams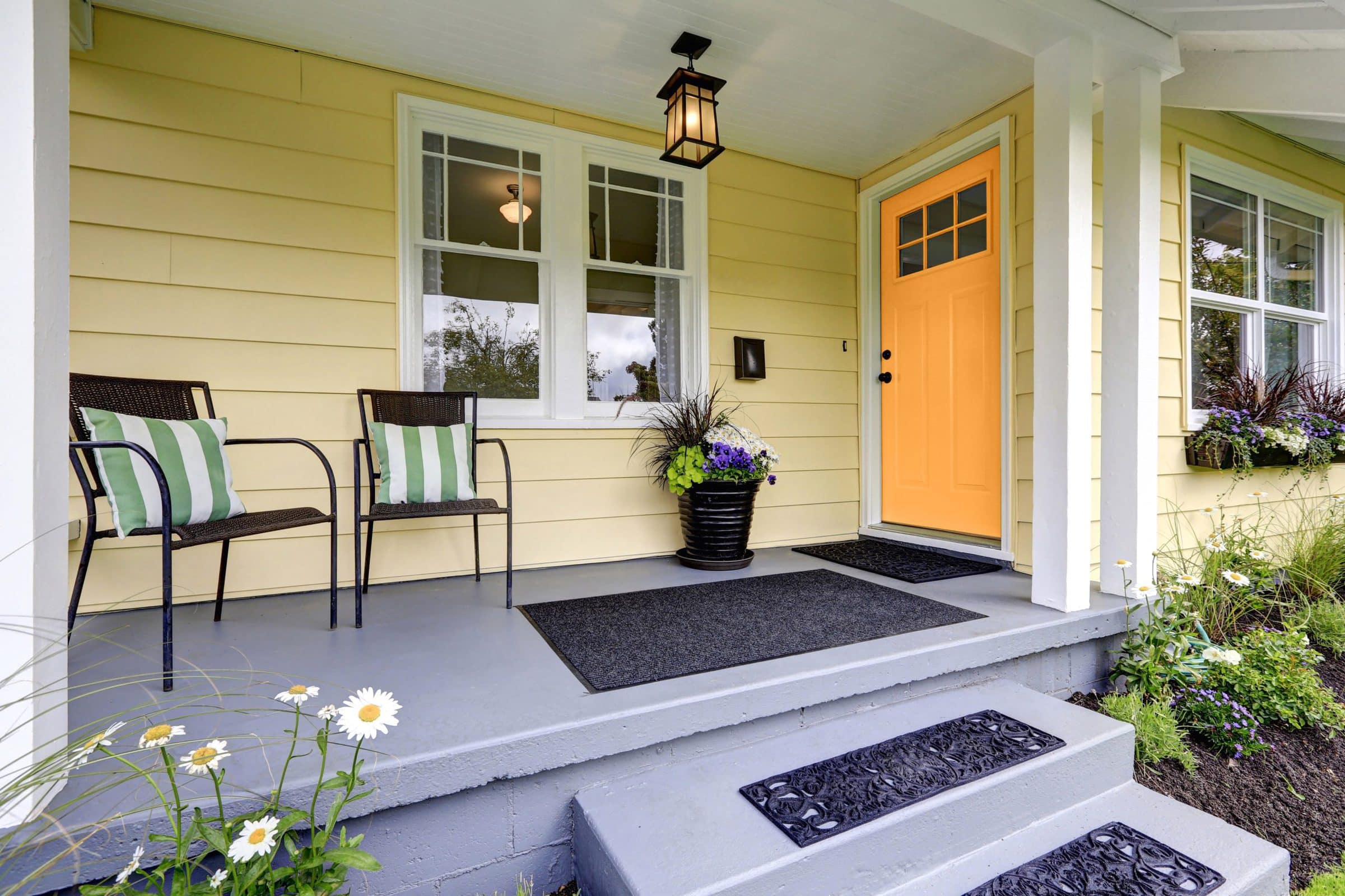 Take your cue from the fruit bowl and go with a yellow house and a striking orange front door. The similar color palette feels tropical and inviting, while the play of light on dark adds a lovely contrast.
We're over-the-moon for Osage Orange by Sherwin Williams, mixed with a light to dark yellow for the house's exterior. The medium 45 LRV and R:244 B:69 G:160 hex value give this orange a bright color with undertones of yellow.
Passionate Purple by Sherwin Williams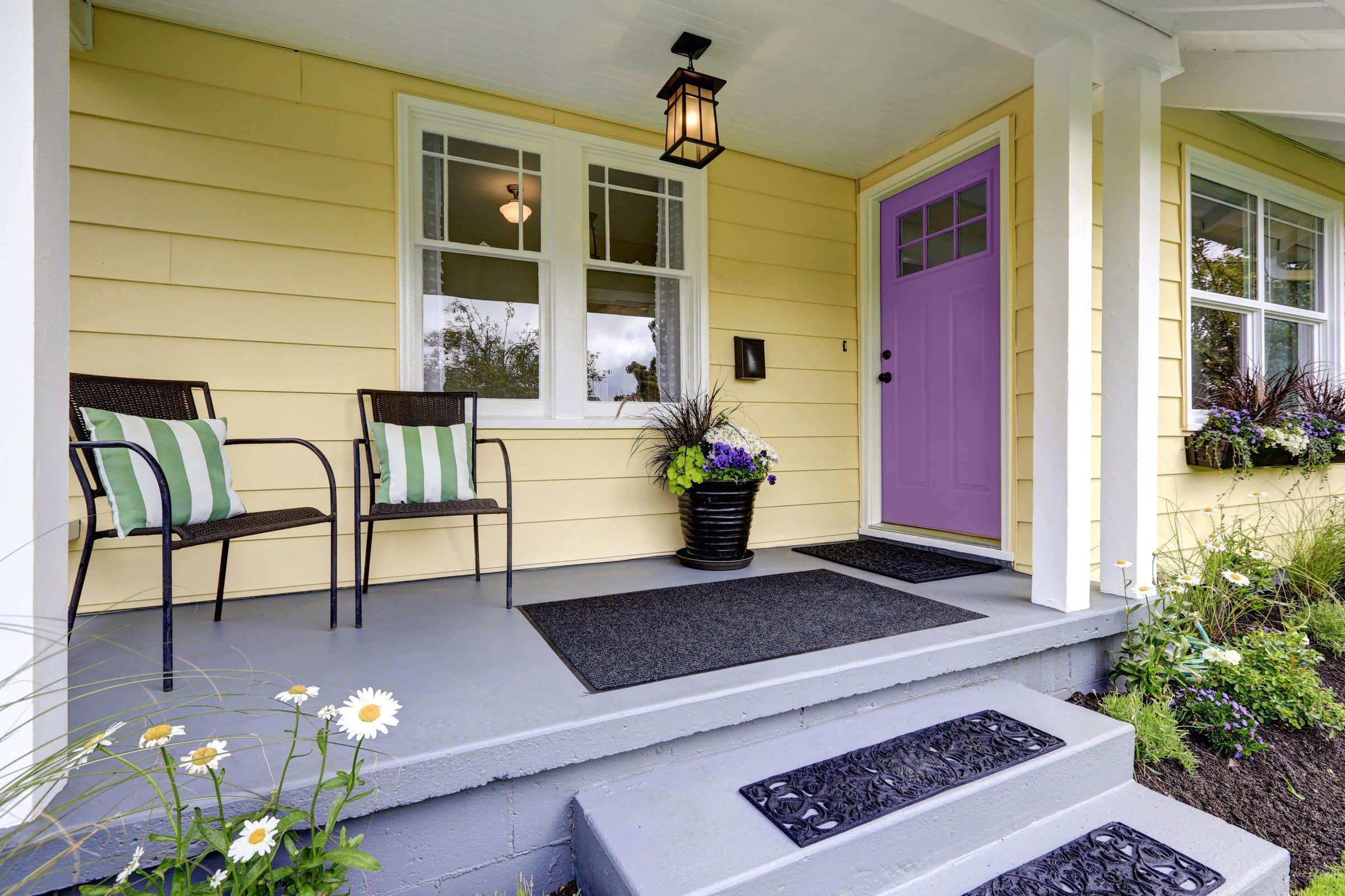 Yellow and purple create a complementary pairing, especially when paired with a house's exterior – yellow siding with a purple door.
A dark purple looks best, but it doesn't have to be loud and bold. We're fond of the lightness of Sherwin William's Passionate Purple, a 12 LRV with a hex value of B:132 R:121 G:84.
Retro Mint by Sherwin Williams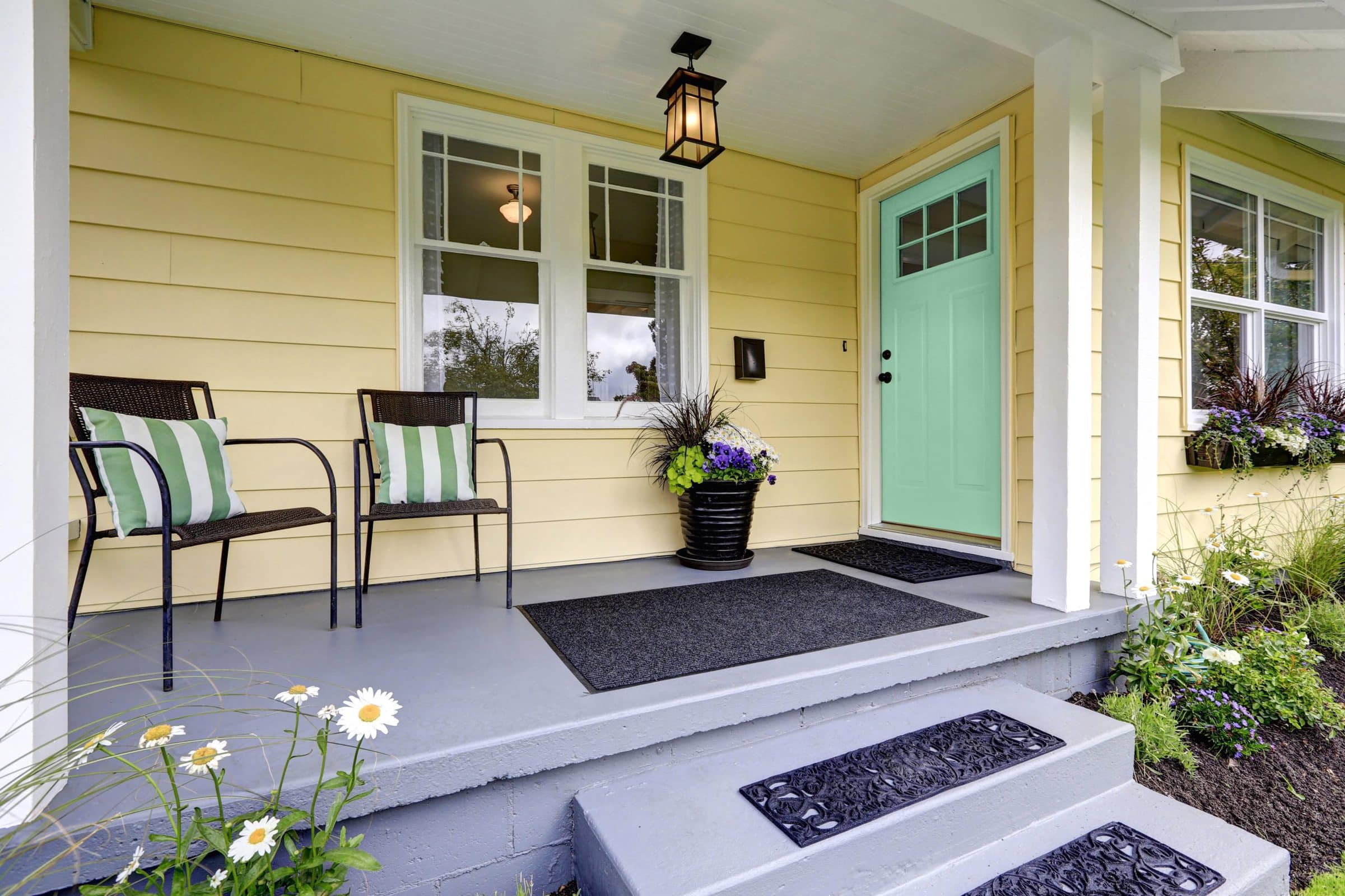 Embrace a retro vibe by combining a soft buttery yellow house with a cool, light green front door. There's something unique and special about Sherwin William's Retro Mint.
This classic mint color has a medium LRV of 54 and a hex value code of B:177 G:205 R:159 for a shade of green that's cool, crisp, and calming.
Bricktone Red by Benjamin Moore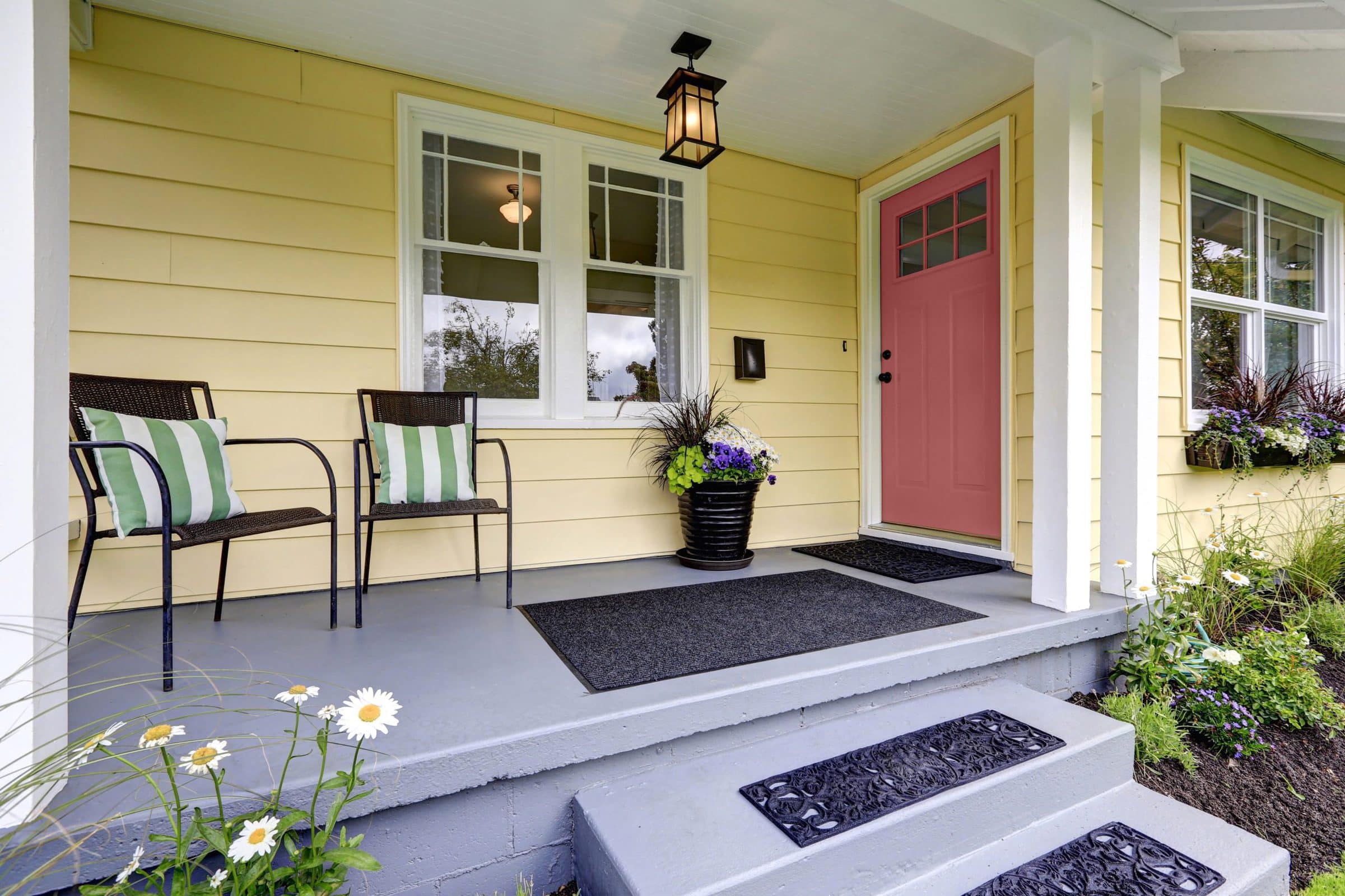 Embrace an earthy, natural look by painting yellow houses with red doors. Of course, any shade of red would work, but we like a shade that's rusty or burnt.
Benjamin Moore's Bricktone Red is subtle but powerful, with a warm dark body and a low LRV of 12.67. This earthy red brings to mind the rustic bricks of a fireplace or industrial buildings of times long past.
Symphony Blue by Benjamin Moore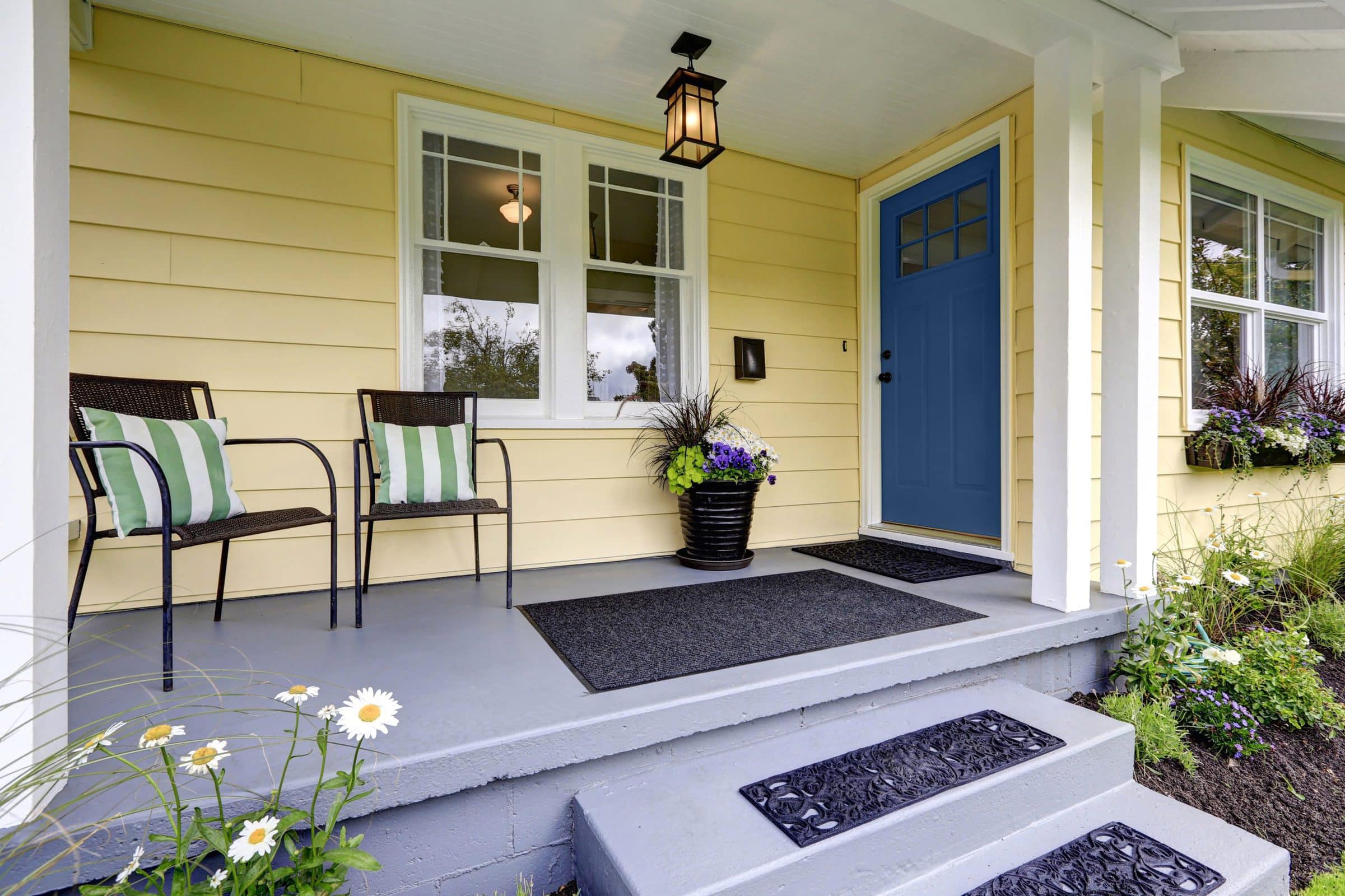 Give your front door major personality and style by choosing a dark, rich blue like Benjamin Moore's Symphony Blue to pair with a subtle light yellow.
This ultra-dark, low LRV (4.09) paint color is heavily saturated for a bold blue door choice that will give your home's entryway an incredible curb appeal.
Pike's Peak Gray by Benjamin Moore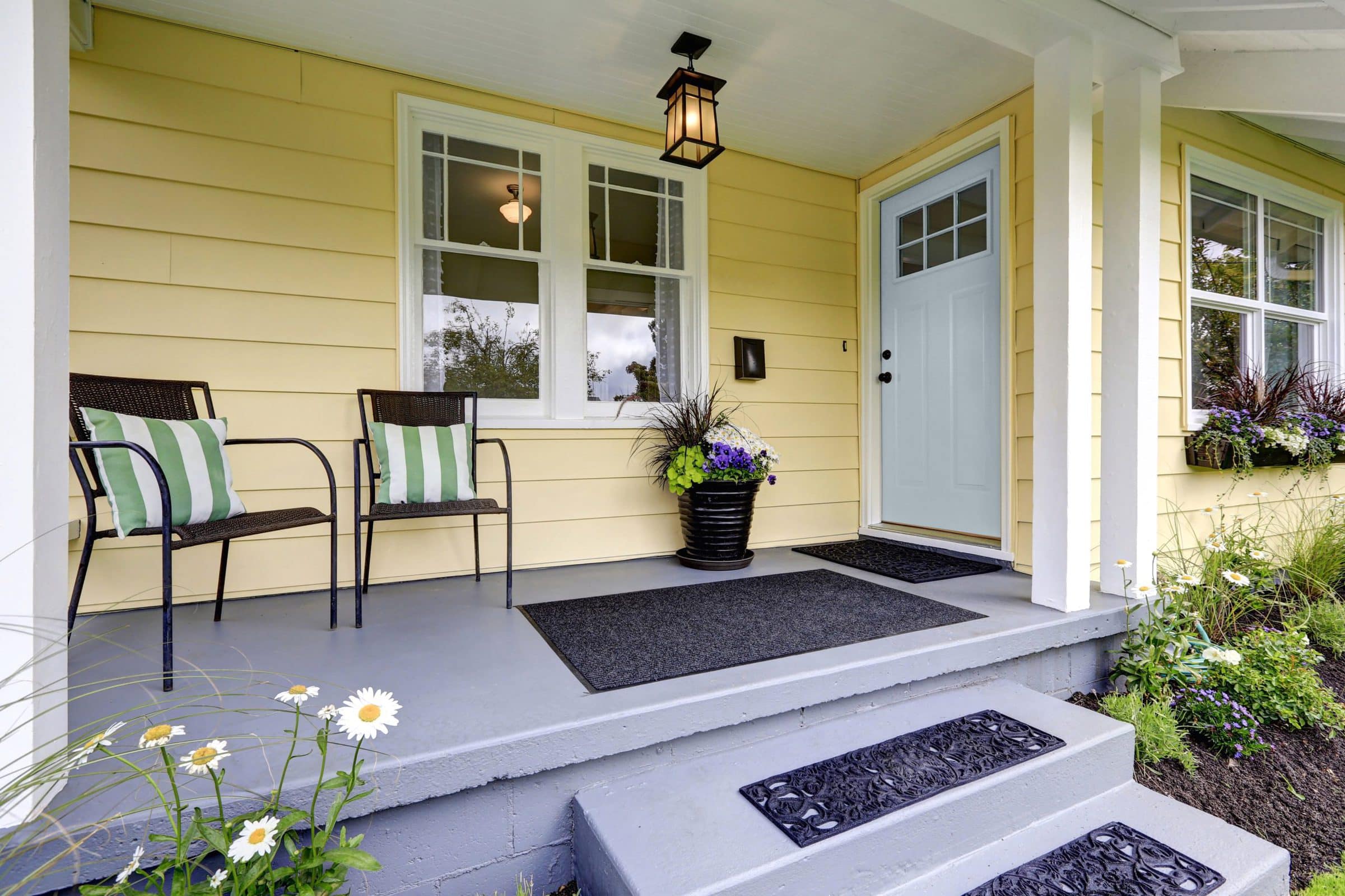 Tone down the warmth of a yellow house with a cool-toned door, like a gray. We're obsessed with using gray for an accent color because it goes with anything. And with so many variations, this color can change looks depending on the lighting, nearby colors, or direction.
A fabulous shade of gray for a front door color on a yellow house is Pike's Peak Gray by Benjamin Moore. Although classified as gray, this chameleon features undernotes of purple and blue to give it a stormy lavender feel reminiscent of a Colorado mountain nature scene.
Hidden Valley by Benjamin Moore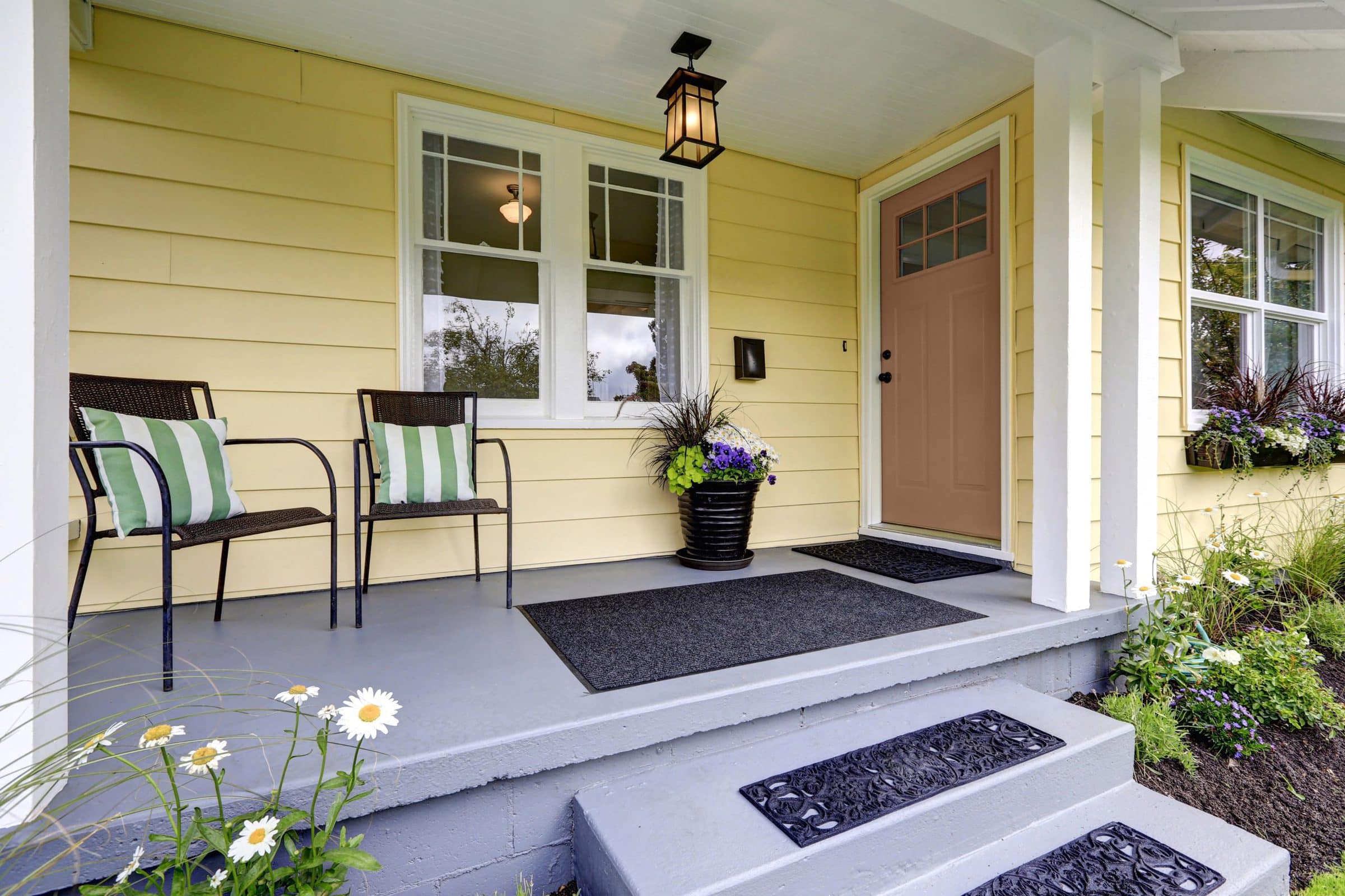 Give your yellow house an earthy look by choosing a brown door. You can go simple by keeping a wood door in its natural brown tones.
Or you can paint your door a brown color, like our favorite by Benjamin Moore, Hidden Valley. The name might remind you of Ranch salad dressing, which is white, but this shade is all rich, cocoa brown with mauve, gray, and red hints.
Warriors Yellow by Benjamin Moore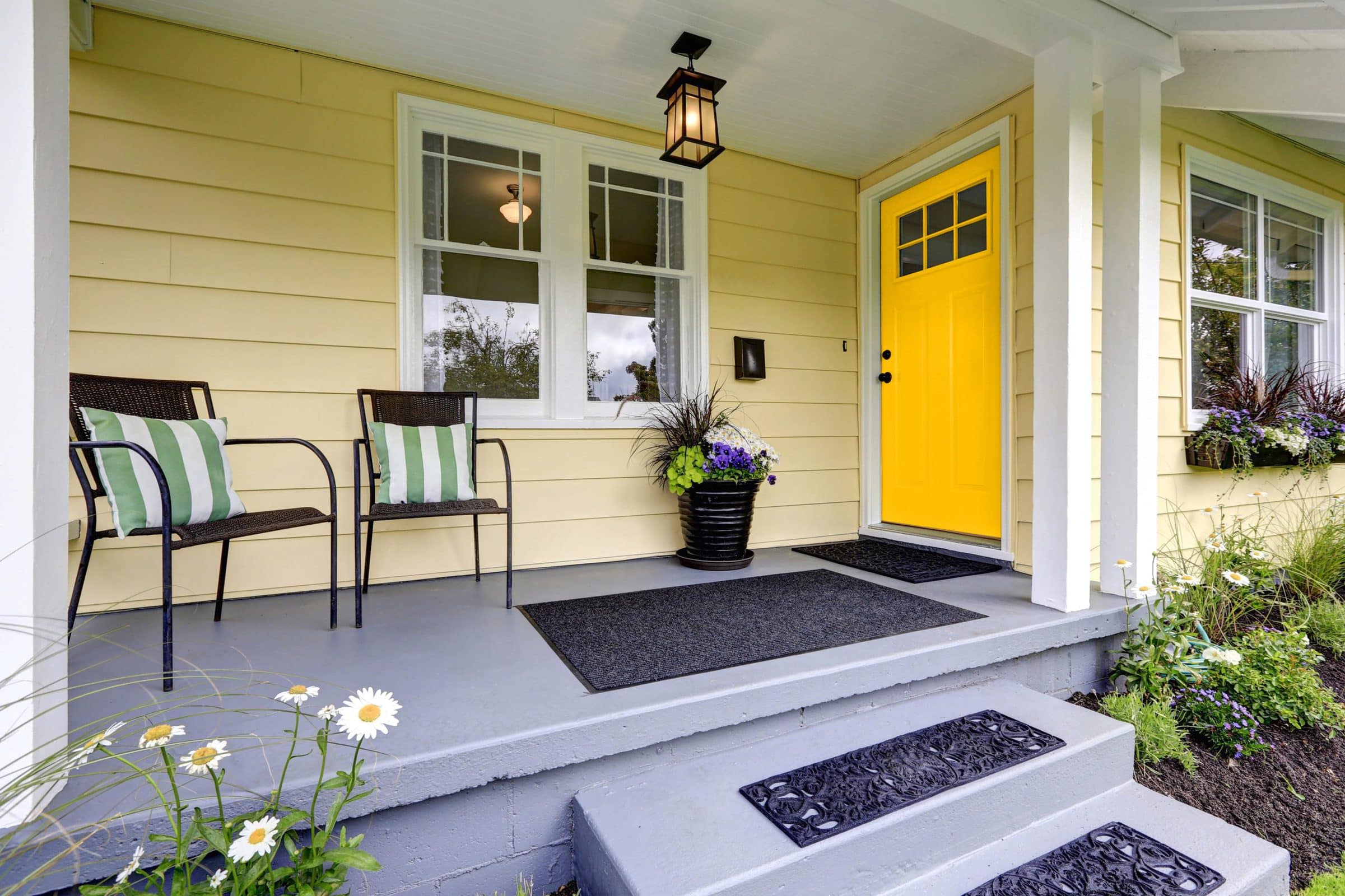 When choosing a front door color for a yellow house, one option is to go with the same color. A yellow-on-yellow color scheme can look refreshing and bright.
To get a bit of contrast when using the same color, choose a yellow a few shades different than the house. Warriors Yellow by Benjamin Moore is a bright shade of goldenrod that makes this color stand out when used for a front door.
Venom by Behr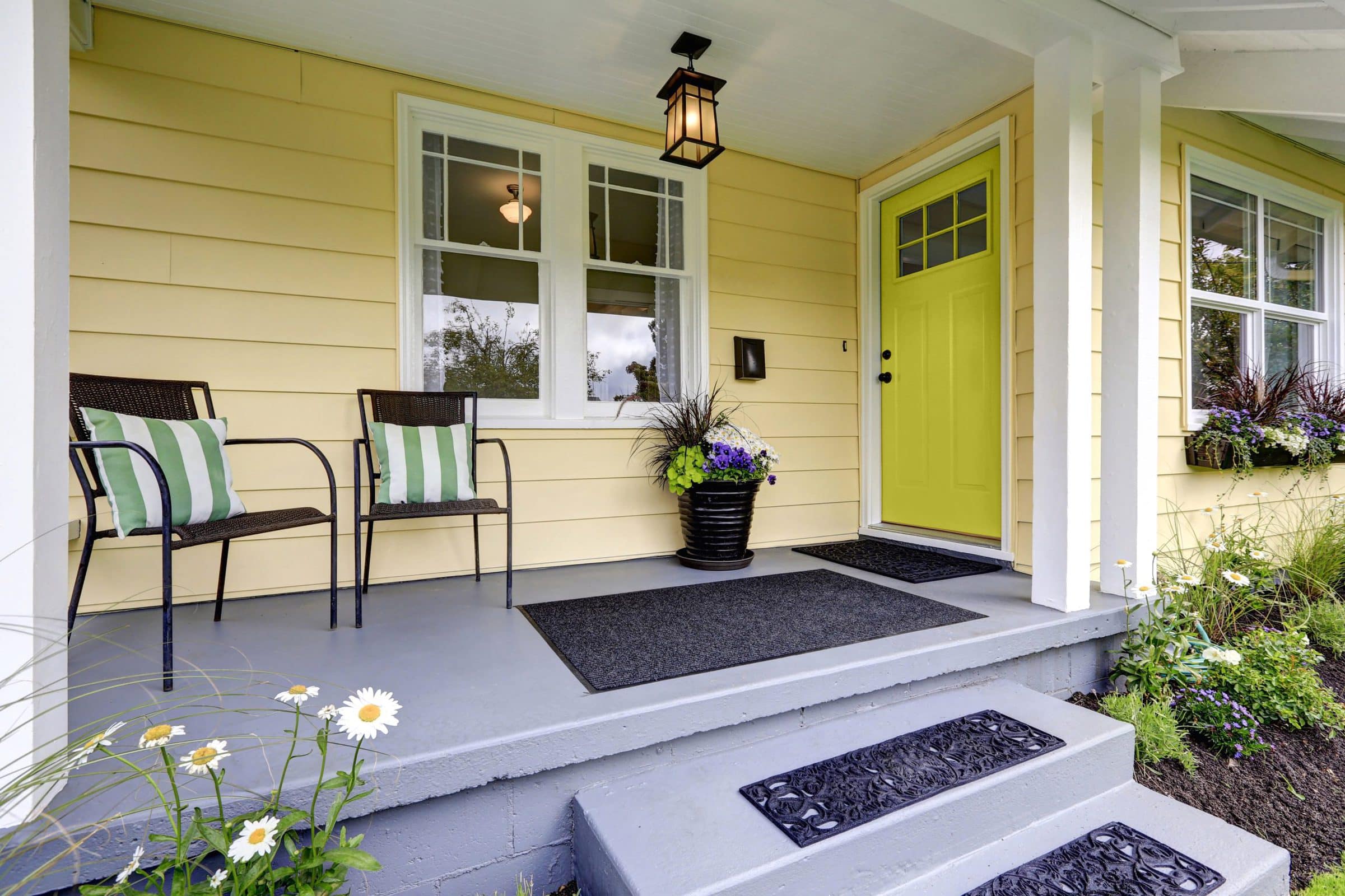 If you want to inspire a tropical feel, try a citrus color scheme – lemon and lime (neon green and yellow). Your conservative neighbors may disapprove, but you can be sure there will be many fans of the contemporary vibe.
We're here for the funky eye-popping nuance you get when you choose a bright funky green like Venom by Behr for the door color of a yellow house.
Stiletto Love by Behr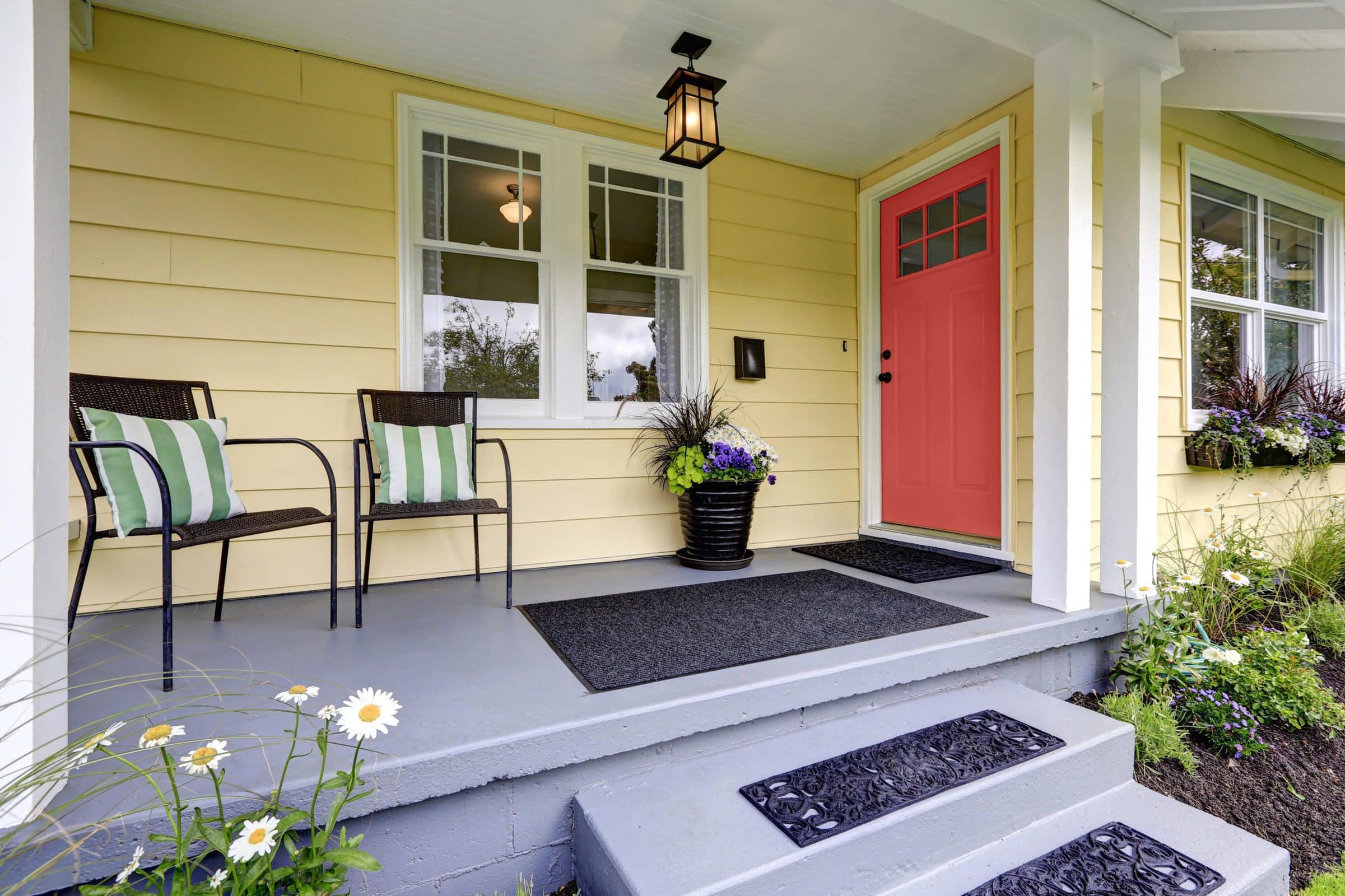 Red and yellow is a complementary color combination that can look striking for the entryway of your home. A soft buttery yellow can pop against a rich dark red like Stiletto Love by Behr.
This low LRV (15) shade is dark, dense, and warm, enriching the hues of a pale yellow, making it look darker and more noticeable.
Railings by Farrow & Ball
If you're looking for an interesting way to jazz up your yellow house, you can use a modern approach, like painting your front door black.
We're loco over the magic of Farrow & Ball's Railings, a soft black that has more blue hues than black notes. A Full Gloss finish can give your entrance a dramatic, commanding look, while an Eggshell finish looks more relaxed and welcoming.
St Giles Blue by Farrow & Ball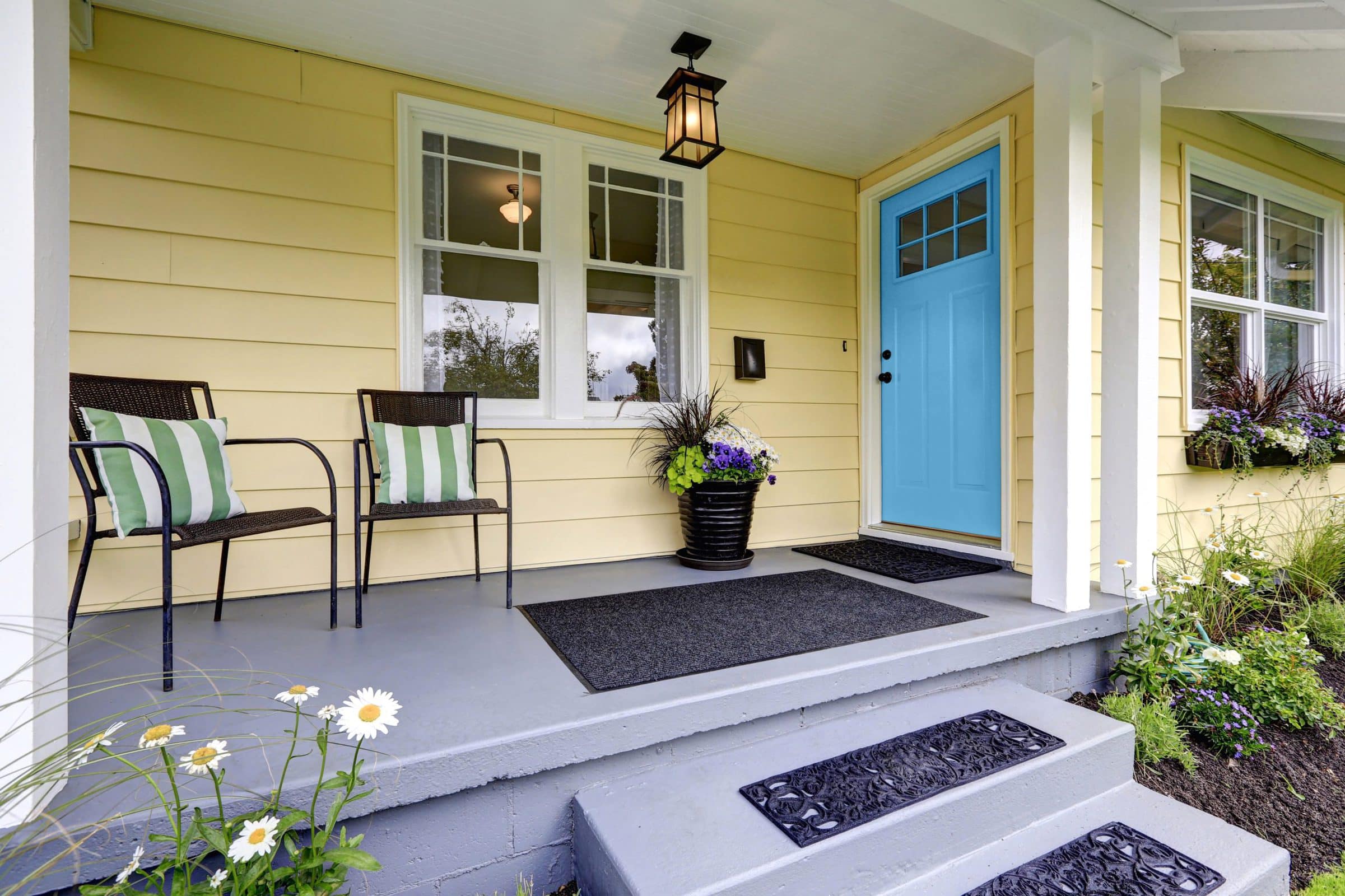 We love the welcoming, sunny vibe you get when you pair yellow houses with blue doors. We are in lust with the gorgeous aesthetic of a bright, vivid shade like St Giles Blue by Farrow and Ball.
This striking shade offers a timelessness not found in other blues. You can trace the history of the color back to the 17th century, where it first appeared in the St Giles House hall (Wimborne St Giles, Dorset).
Final Words
One of the easiest and most effective design tricks to give your yellow house more personality and curb appeal is to paint your front door in a different color. We've given you fifteen colors to try from most colors of the rainbow.
Which color idea is your favorite? Tell us in the comments.