What Color Should You Paint Your Stair Railing?
Your stairway will ordinarily be in your hallway and therefore the first impression when someone steps inside of your home. It's important to keep your paintwork looking fresh, but what color is going to work best on your stair railing?
Whether you are starting a whole new scheme and the stair railing color is a part of it, or you have existing decor that you are happy with but need a refresh for your railing, you can experiment with accompanying colors.
You'll want to think about the amount of natural light you have, and whether you prefer a subdued look or if you want to make a big impact with your staircase.
Cool, Classic White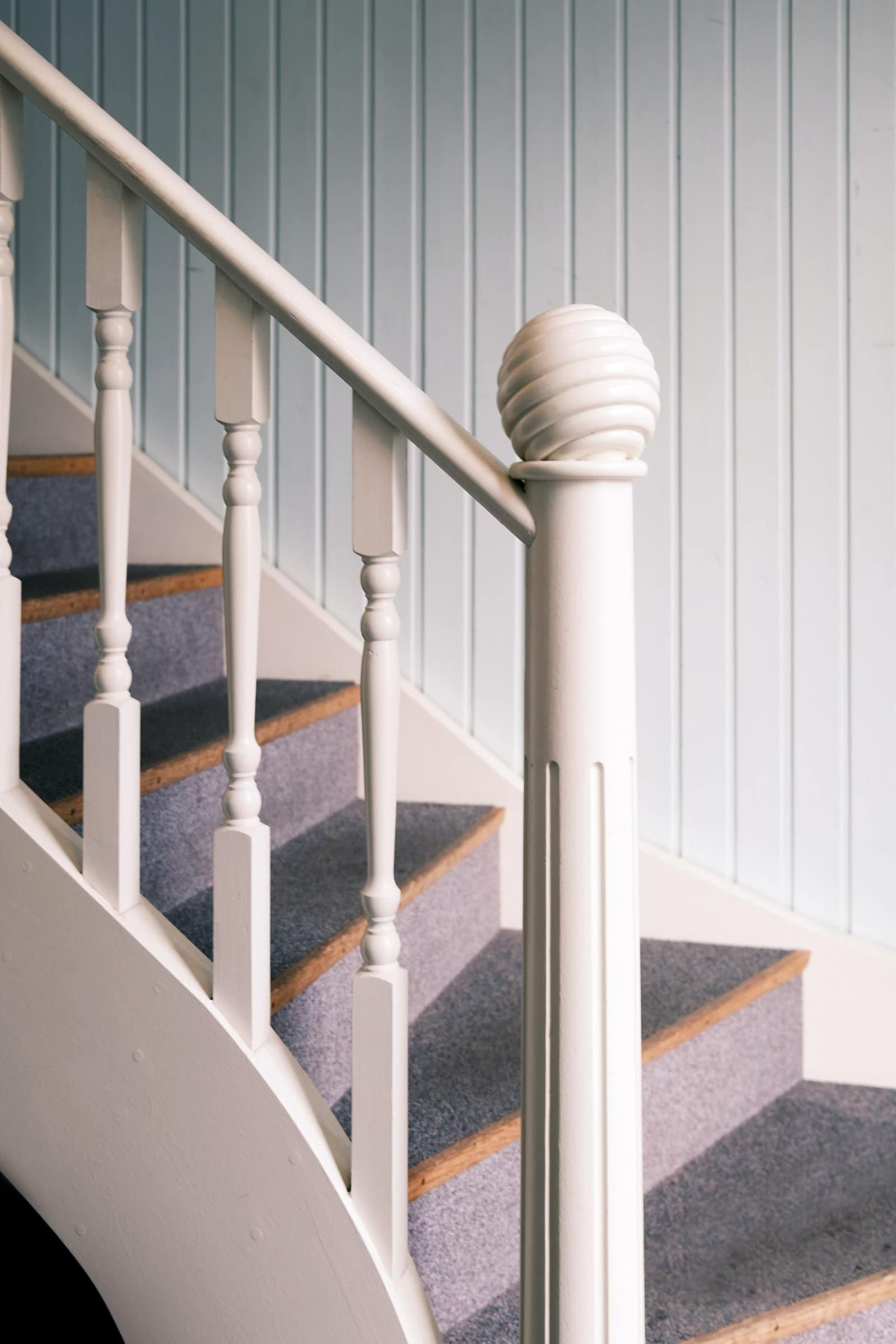 If you have a dark hallway or landing then white and bright on your staircase is the way to go. Crisp white never goes out of fashion and will be easy to maintain, as it's easy to buy paint when it needs a fresh coat.
It'll look good against carpet or hardwood, and you can bring in color through your decor and artwork. So if you think you might like to try a new wallpaper or bold wall color soon, sticking with a classic white for your stair railing is a good choice.
Black is Right on Trend
Black detailing is hugely popular and rightly so. It gives a kind of solidity and occasion to a room. Match it with other black accents like picture frames or hardware details such as door handles.
Black is a classic stair railing color and if done well in a gloss paint, can give the impression of a metal railing. Very reminiscent of a Parisian townhouse.
Gray Stair Railing
Gray is the new black, or maybe the new beige, as a modern classic neutral. You can choose an urban battleship gray or a warmer, green-toned pale gray. Both contrast well with wood if you are retaining this in the railing, or you have wooden floors or stairs.
Use it if you love it. As it is so current, it may start to look dated in a few years and you might have to decide whether to update according to the next fashion. But if it works with your decor, against brights or pastels, then go for it and embrace the trend.
Always Believe in Gold
For those of you who have a metal stair railing, particularly in an Art Deco design, then painting it gold will give you a look of luxury in the entrance to your home.
When painting metal be sure to use a specialized paint and make sure you properly prepare the surface.
Gold looks fabulous styled with a black balustrade. Walls of dark blue or green will look very decadent against a gold finish.
Elegant Green on Your Staircase
With artwork on the wall in pink and red tones and a staircase painted blue, a dark green stair railing looks sophisticated yet seriously hip.
Take a look at a paint color card and see how the paint you like holds up in the natural light on your stairway and hall, and also in artificial light. Then buy a tester pot to check how the paint looks on your railing.
You may find you choose a color you'd not previously considered. Especially one that contrasts with or complements your existing decor to make the color pop.
Pretty in Pink
Against a white wall and staircase, a bright pink will liven up any dull space. Magenta is the Pantone color of 2023 so you will be bang up to date with this look.
When painting, you need to prepare the surface and use the right paint. This guide should help give you a tip top professional finish for your stair railing.
Two Tone Zone
Turquoise and White Stair Railing
To update a white stair railing you could choose a complementary color to use only on the bannister. This will add interest and sharpen the look.
A turquoise or pale blue will be cool so is a good pick for cooler climes where you want to take down the heat.
You could of course choose to go bolder and paint the spindles in another color than white. It'll depend on your decor and whether you want to go for a traditional or modern scheme.
Gray and Yellow Staircase
If you like an industrial look and have lots of metal and gray tones in your home, then you can add a whole load of zing with yellow spindles.
Make sure you rub down and prepare the surface of your stair railing. This kind of architectural urban minimalism will need to be pristine for maximum design impact.
Multi-colored Stairway
Blues and Greens Should Never Be Seen
There's an old phrase about not matching blue and green that we would like to throw out the window! These hues work well together.
Here, you can blend tones gradually from a blue to a green by painting the first spindle blue and adding more yellow as you go so that each becomes greener. Or you may prefer to carefully pick your paint shades.
This look has a coastal look and is a surprising scheme where we mostly expect to see one uniform color on the stairs, usually a neutral. So, if your walls are white and you want to add some character, this is a sure fire way to go about that.
Mixing it Up
You can opt for a rainbow look, painting each of the seven colors of the spectrum or you can be a little quirky by picking vintage colors and randomly painting your spindles.
This theme adds a lot of character and is a fun way to use up existing wood paint. See how you can amaze yourself and your guests.
In Summary
It could be that you've never thought further than painting your stair railing white. Like, that's just what you do, right?
In fact, no color choice is wrong, it's about what's right for you and your home. So take a look at the rest of your decor for inspiration, see what colors you can pick out. Then replicate them or contrast them.
For a real talking point, go for the colors of the rainbow, or a bright two-tone. For calm and classic painting your stair railing white or black, or the new neutral, gray will tone in with most color schemes.
Close your eyes and imagine what you want to see when you open the door. Like it? Then it's time to get your paintbrush ready for some creative stair railing ideas.