Decorated Life is reader-supported. When you buy through links on our site, we may earn an affiliate commission. Learn More
10 of the Best Behr Bathroom Paint Colors
Bathrooms are like a mini-retreat within our homes, where we go to feel clean and refreshed. The best colors for this room are cool and soothing, like the water in our baths and sinks.
Many bathrooms are smaller and darker rooms within the home, so lighter colors are a good choice for a primary wall color. Dark colors offer contrast and are great for areas like board and batten, vanities, and cabinets.
In this article, I'll show you the best bathroom colors from Behr, including their bestselling bathroom colors. We'll also take a look at Behr colors in the bathrooms of real homes, to get inspired for bathroom makeovers.
A serene and revitalizing new bathroom is just a paint can away!
Very Navy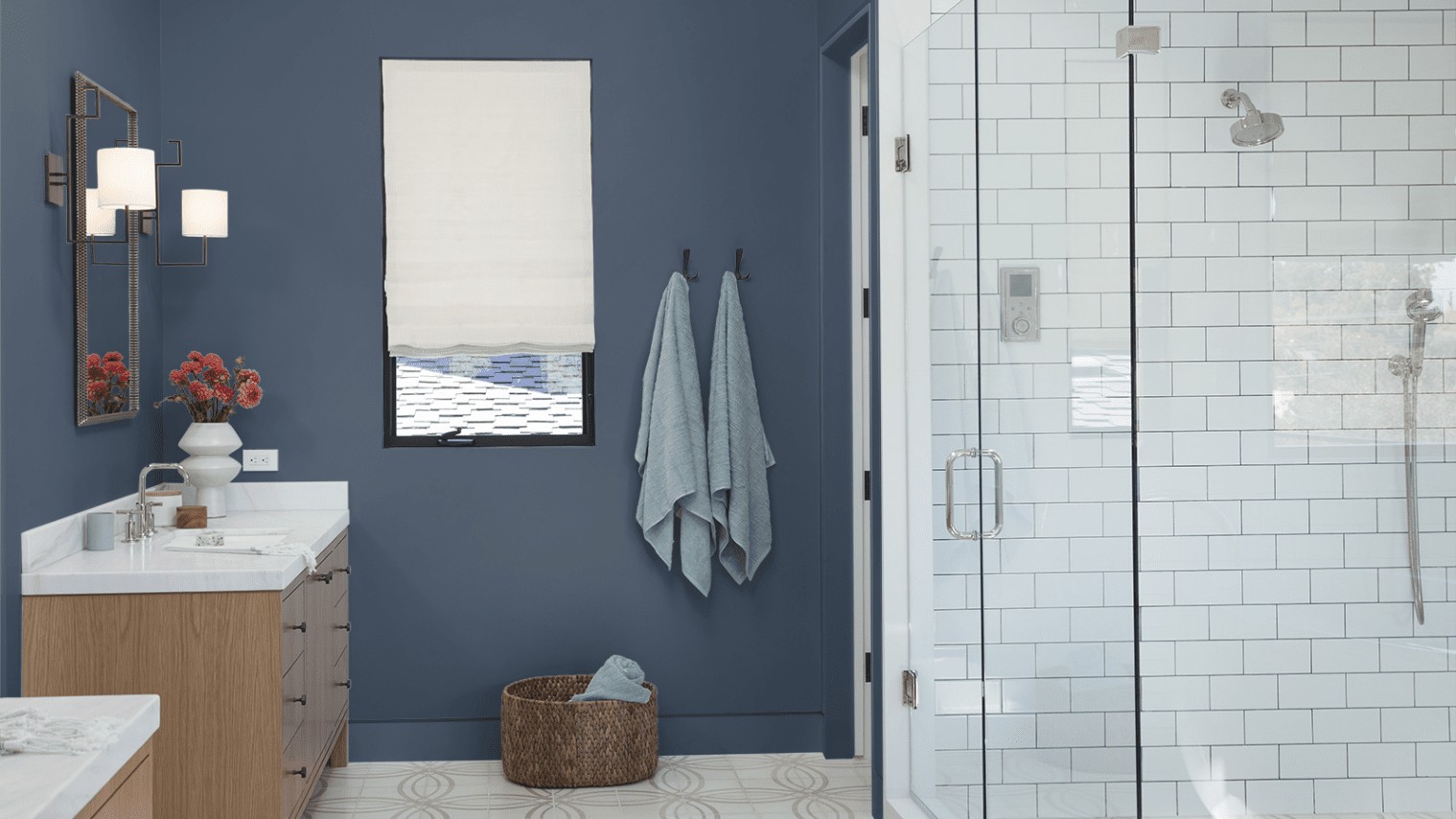 Navy blue might just be the most popular bathroom color out there, especially when paired with white walls and gold metalwork. Very Navy is, in turn, one of Behr's most popular navy blue colors. This is a traditional navy blue with slate gray undertones. Its LRV is 6.
Swiss Coffee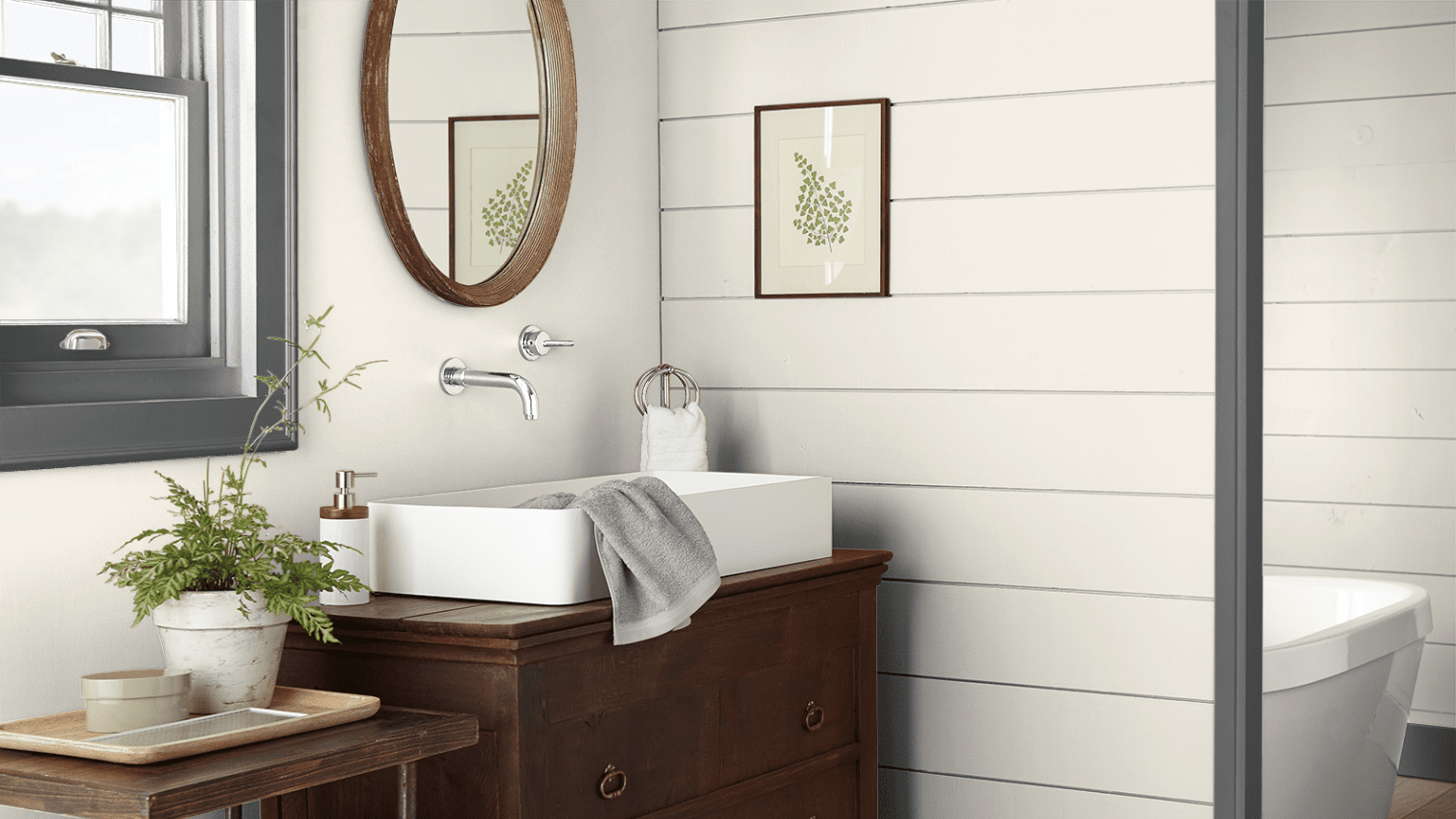 Swiss Coffee is a light neutral color that's hard to pin down–but that makes it easy to use! As a super-light taupe with just a hint of color to differentiate it from white, Swiss Coffee offers a little warmth and earthiness while filling a room with light. Its LRV is 84.
Jojoba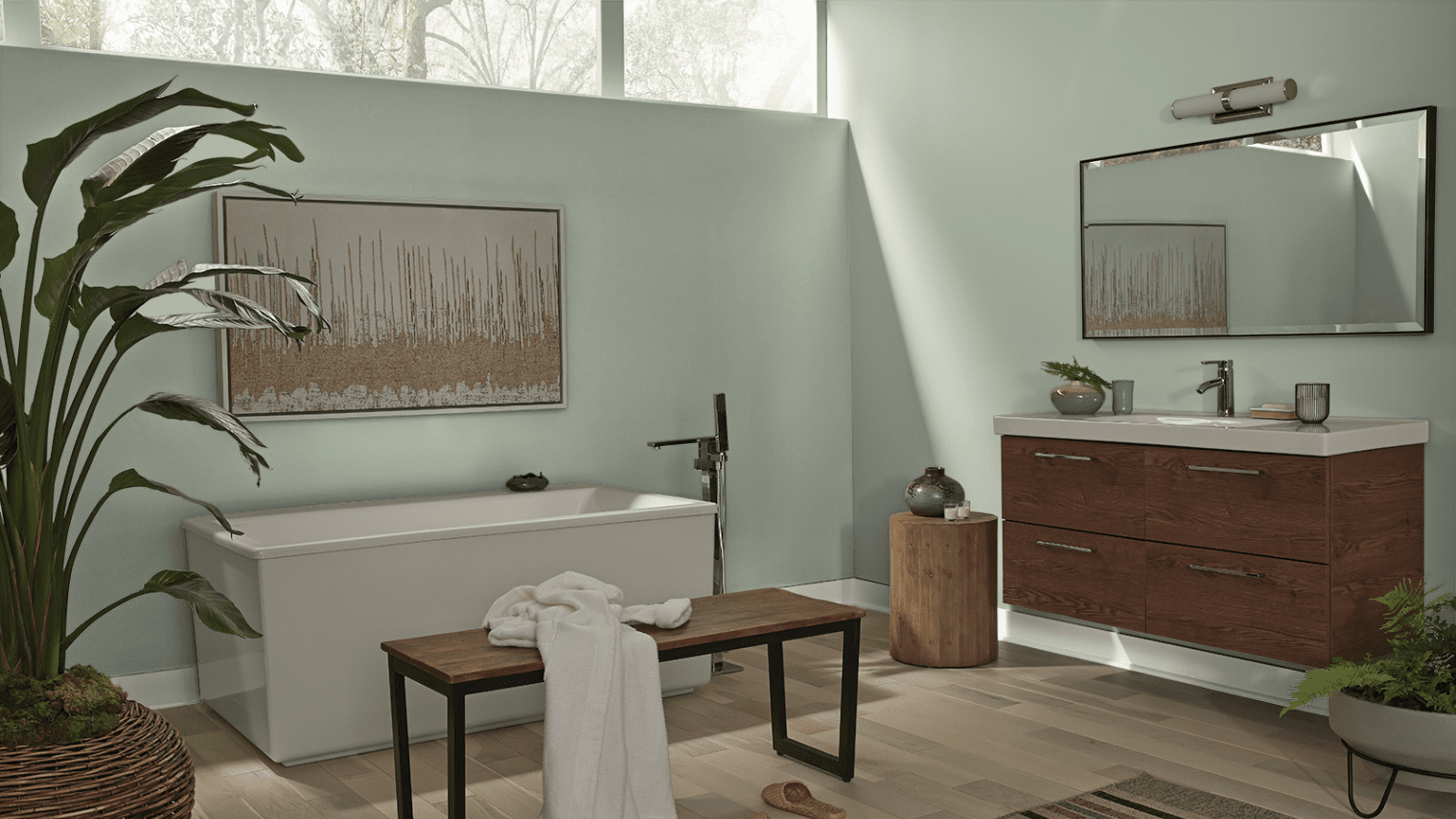 Jojoba is a warm, earthy, pastel green. Behr describes it as a therapeutic color that evokes tranquility. It has yellow-green undertones. Jojoba is a great choice to pair with natural woods. It has a LRV of 47.
Peacock Feather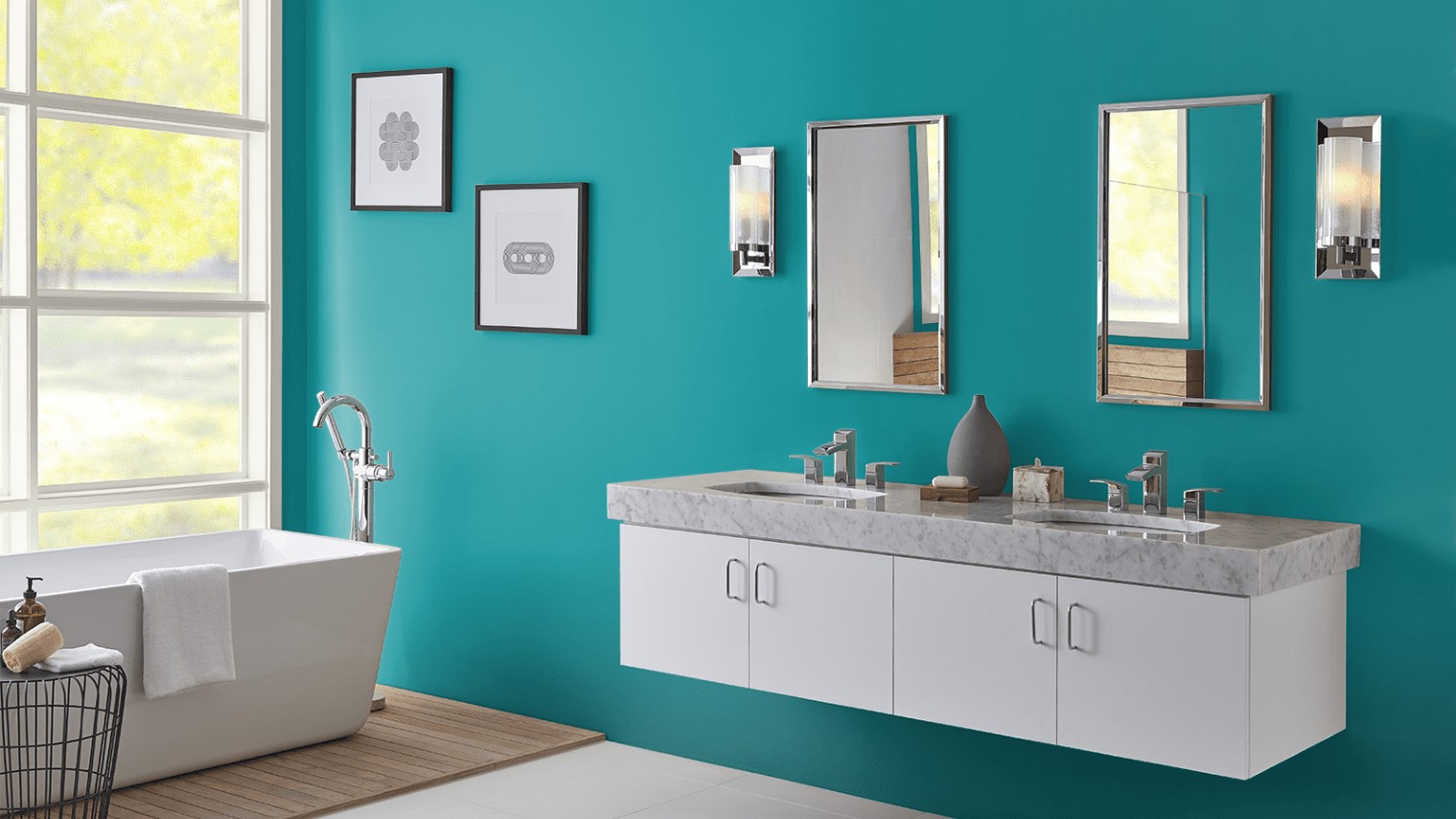 Peacock Feather is a lovely mid-tone teal that brings to mind the plumage of the bird it's named for. As a water-hued color, it's a natural fit for a bathroom. Peacock Feather has a LRV of 23.
Breezeway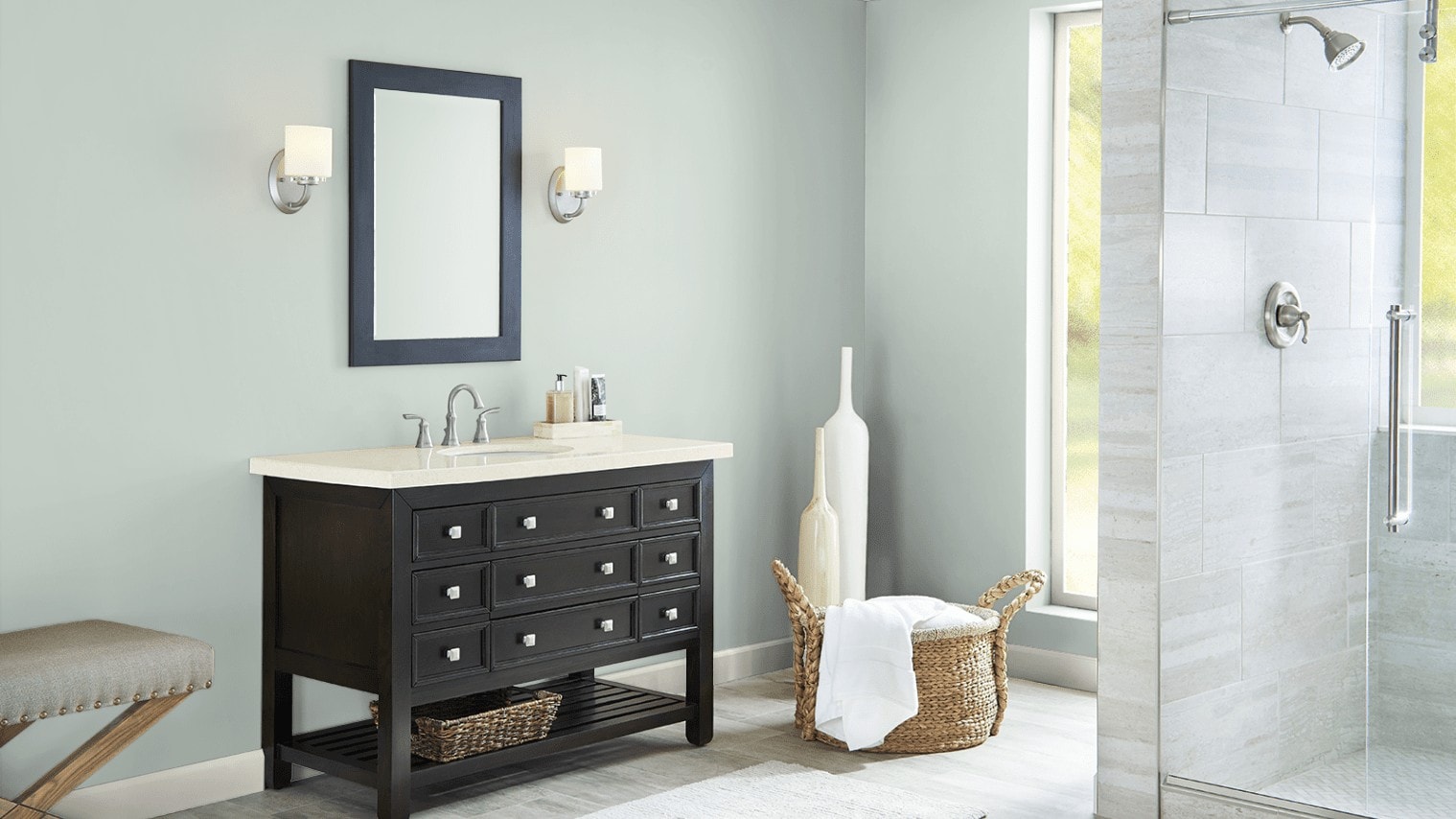 Breezeway is a light and airy seaglass green that offers an uplifting, cooling influence. It's very fitting for a home spa experience. Breezeway is Behr's 2022 Color of the Year. It looks beautiful with whites, grays, and natural materials like wood or stone. Breezeway keeps things light with an all-purpose LRV of 66.
Peaceful Blue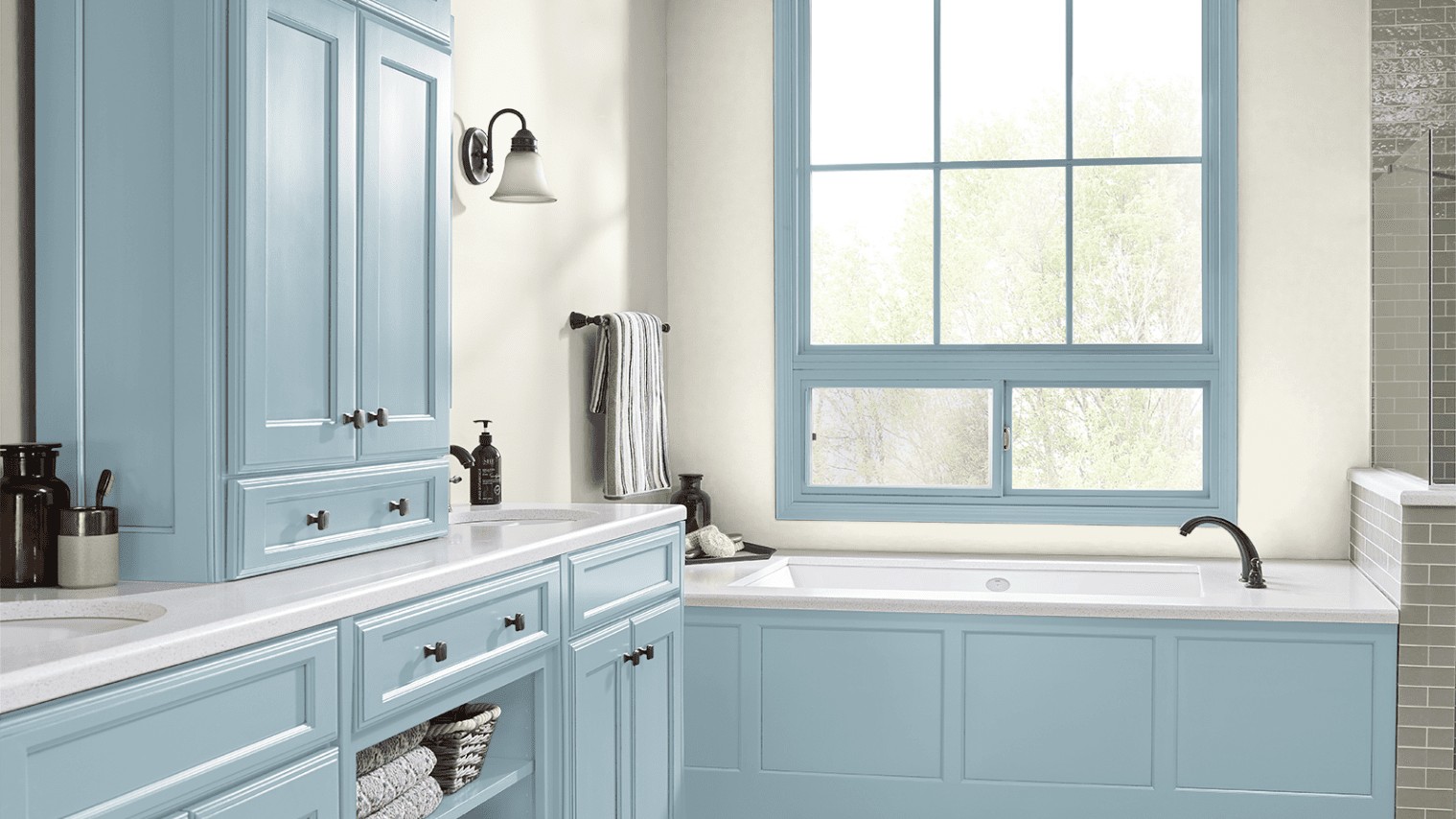 Peaceful Blue is a subdued medium-toned gray-blue. This is a darker color that excels as a choice for bathroom cabinets or vanities. Peaceful Blue has a LRV of 44.
Dragonfly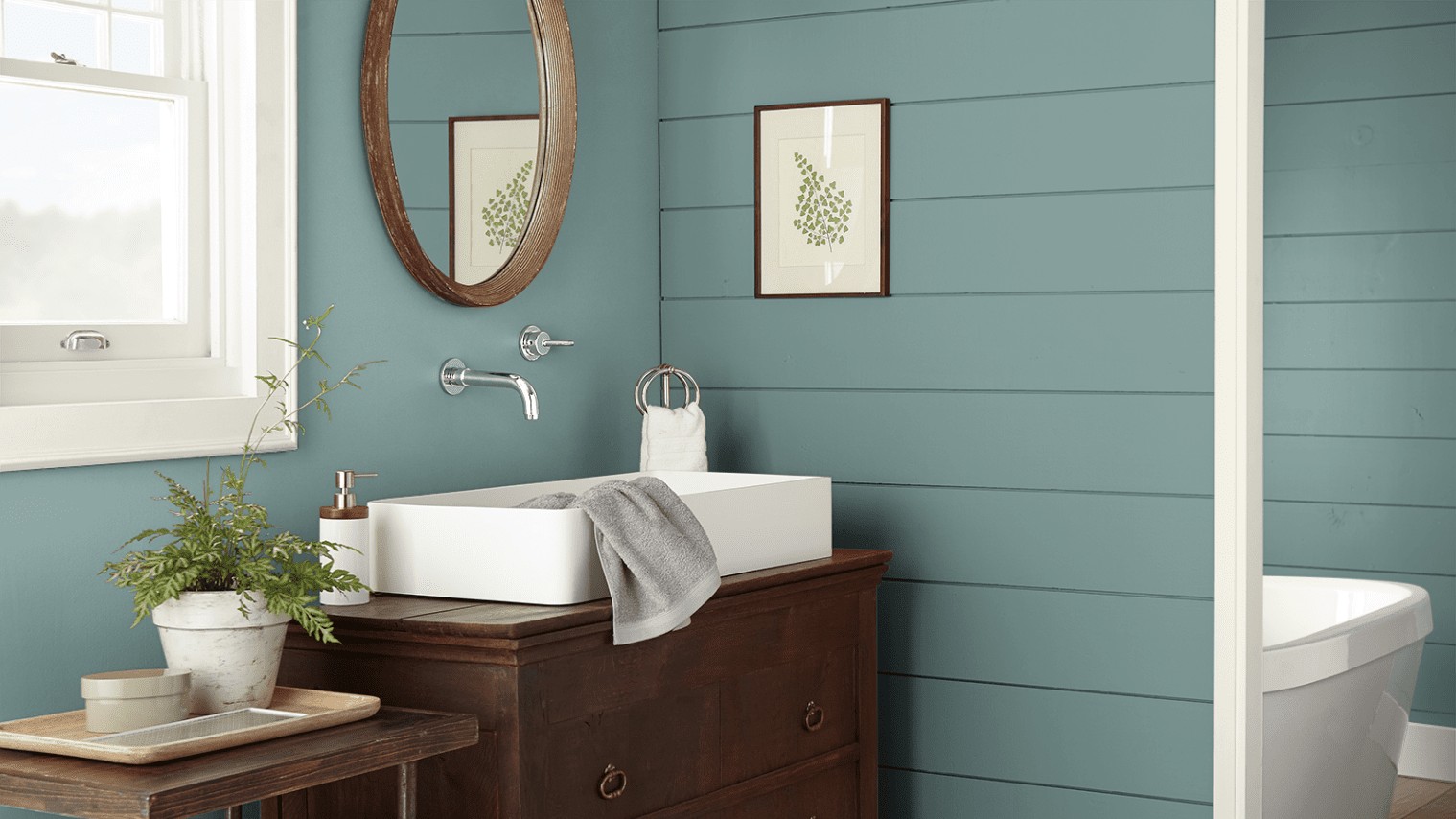 Dragonfly is a cool blue-green with gray undertones. This more mild take on teal can give you a more subdued touch of the tropical in your decor. Its color is reminiscent of flapjack succulent plants. Dragonfly has a LRV of 26.
Hush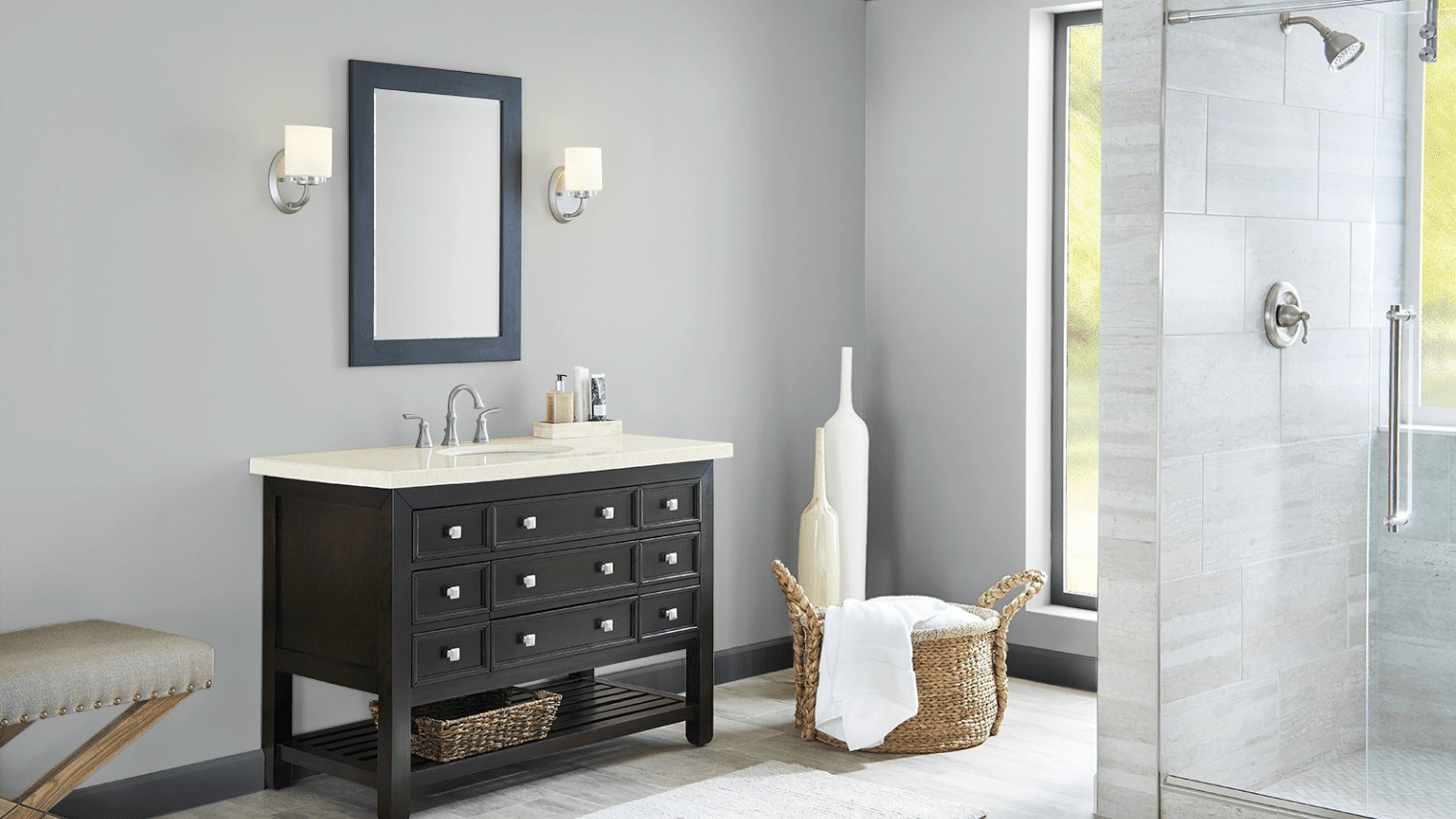 Hush is a mid-tone classic gray that's among Behr's bestselling bathroom colors. Most bathrooms don't get a ton of light, so this might not be your best primary wall color choice, but it would look great balanced with a white, such as in a board and batten setup. Hush has a LRV of 54.
Cameo White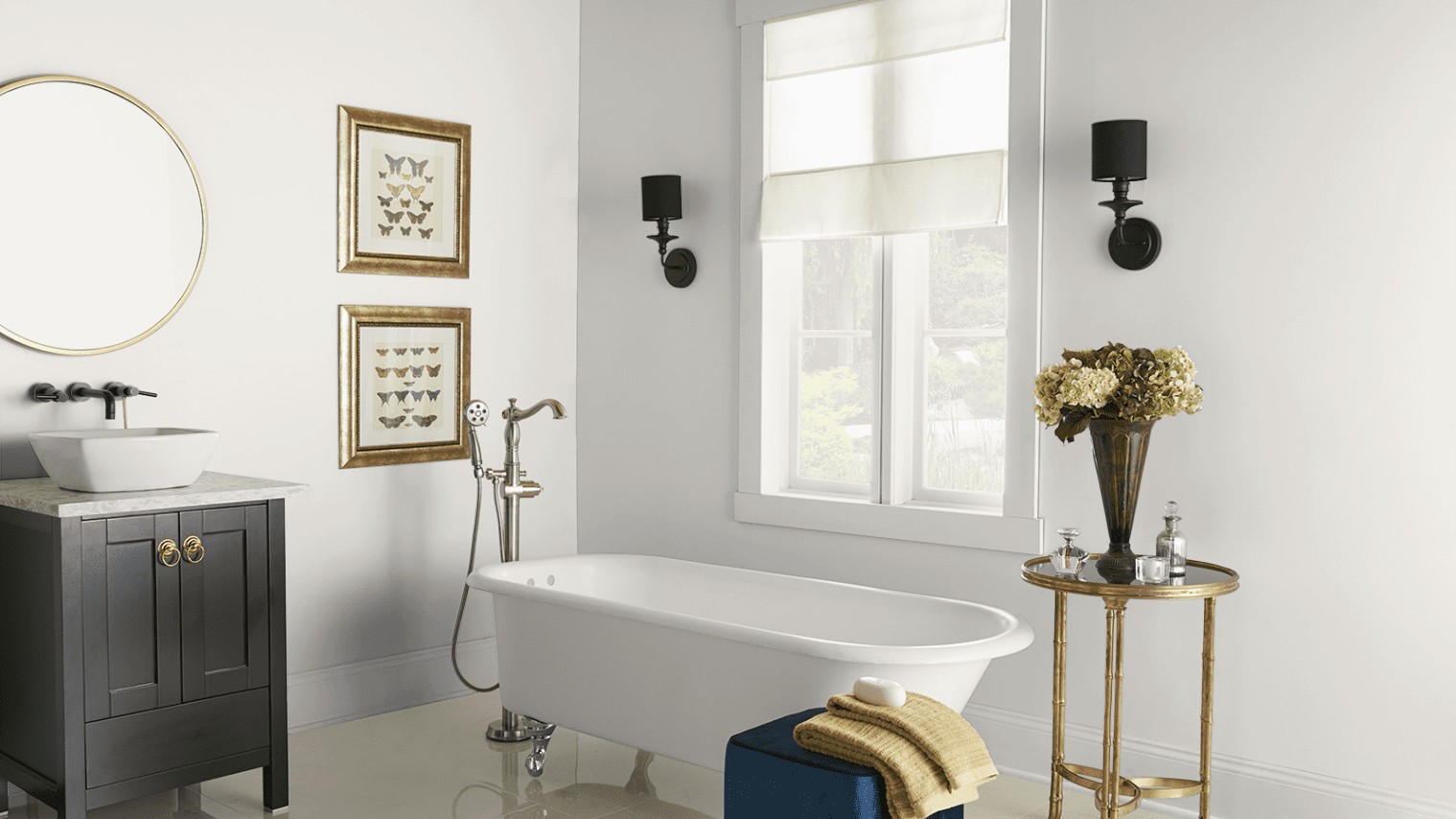 Behr says that Cameo White is one of their bestselling colors for bathrooms, setting it above other favorite whites. It's a slightly warm white with a taupe tint. Cameo White straddles the divide between off-whites and pure whites, with a LRV of 81. Whether it looks like one or the other depends on your bathroom's lighting situation.
Seaside Villa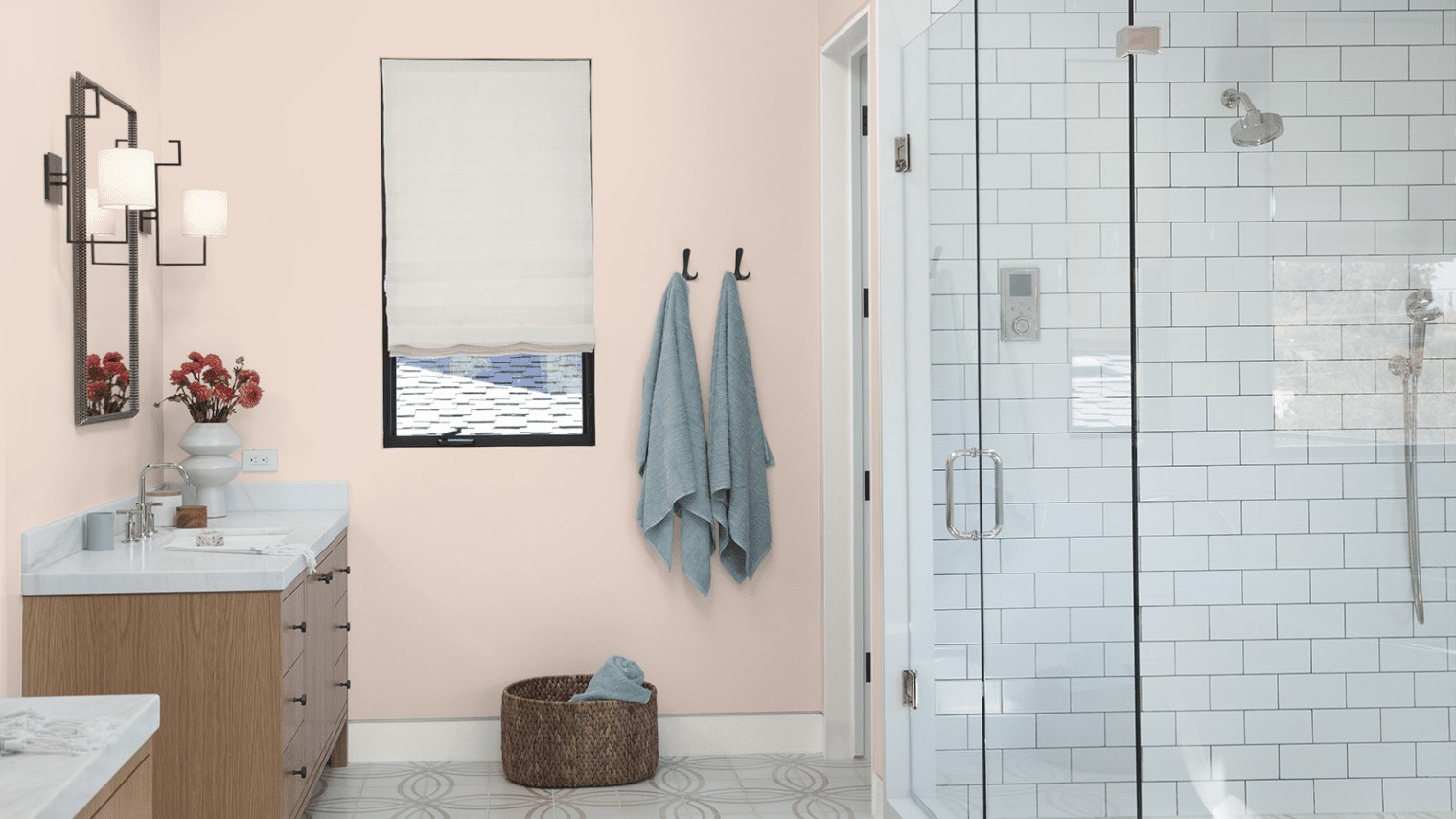 Seaside Villa is a soft peach-pink that adds a cheerful pop of color to a bathroom. It's a fun choice for a wall color, and it can pair nicely with white, black, gray, blue, or green, giving you plenty of options for the rest of your palette. Seaside Villa has a LRV of 69.
Behr Colors in Real Bathrooms
Now that we've gone over some of the best color options for bathrooms, let's check out these colors in action! The eye-candy here should help kick-start ideas for your own bathroom refresh.
Peaceful Blue is a pretty choice for a bathroom vanity color.
Swiss Coffee is just the right neutral for mixing and matching different woods in this rustic bathroom.
Dragonfly, with its watery blue-green tones, is a refreshing and relaxing bathroom color.
Very Navy picks up the blue undertones in this gray shower tile, giving the bathroom more depth.
Cameo White with black makes for a simple-yet-sophisticated color scheme for this modern bathroom.
The soft pink of Seaside Villa is a fun alternative to white walls in this bathroom with retro vibes.
Wait, So What is LRV?
LRV stands for Light Reflectance Value. It's a way of measuring how light or dark a color is. The scale runs from absolute black, which is 0, to sheer white, which is 100. The LRV numbers are provided in this article so that you can easily compare the colors on the list to each other.
Final Thoughts
Any of these bathroom colors are soothing, stylish, and ready to turn your home's bathroom into a spa experience.
Not sure what to choose? Stick to lighter options if your bathroom is on the small side or doesn't get a lot of light. A combination of neutrals can give you more versatility later on if you change your mind.
Love a dark color, but feeling unsure about using it in your bathroom? Balance the dark color with a light companion on the upper walls or ceiling to keep the room from feeling too cavern-like.
After you've covered the basics, it's just down to whatever colors resonate with you the most. Have a great time relaxing in your new home spa!