Decorated Life is reader-supported. When you buy through links on our site, we may earn an affiliate commission. Learn More
12 Best Small Bathroom Lighting Ideas
Lighting is important in every room. But I'd dare say it's even more important in bathrooms than in most other spaces, especially if it's the bathroom you get ready in every day.
You might think that because of your small bathroom, your lighting choices are limited. But that's not true – you have just as many good options as those with big bathrooms do.
If you need some inspiration, here are the 12 best small bathroom lighting ideas.
Put a Wall Sconce on Both Sides of Your Mirror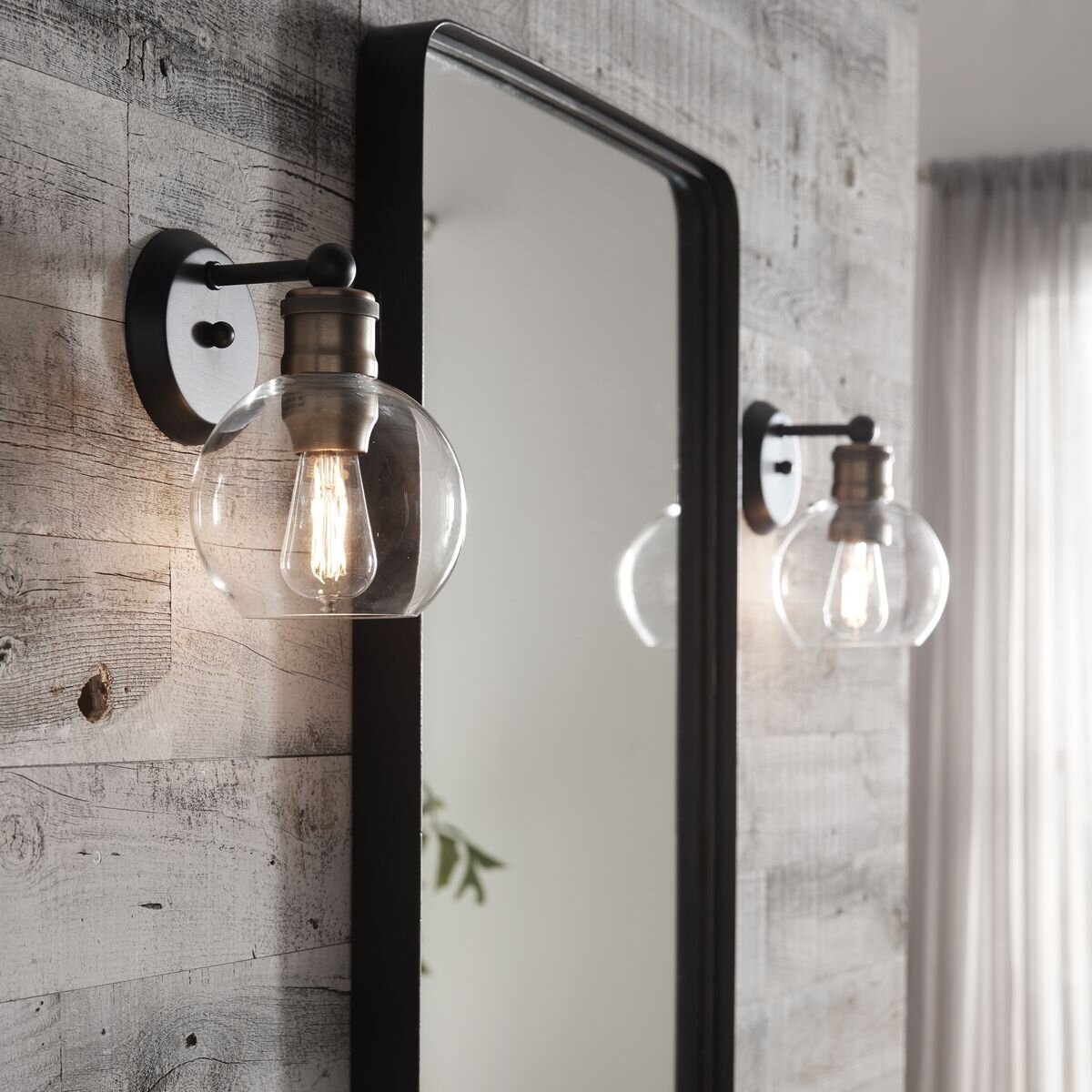 Putting wall sconces on both sides of a mirror is my favorite idea for lighting a small bathroom. These fixtures are all I have in the small bathroom I use most often, and they provide plenty of light.
If you like this idea, you can go with a modern fixture like pictured. These sconces come in antique bronze with black or in polished nickel. These work for farmhouse, traditional, and casual designs.
Illuminate Your Mirror with a Three-Light Fixture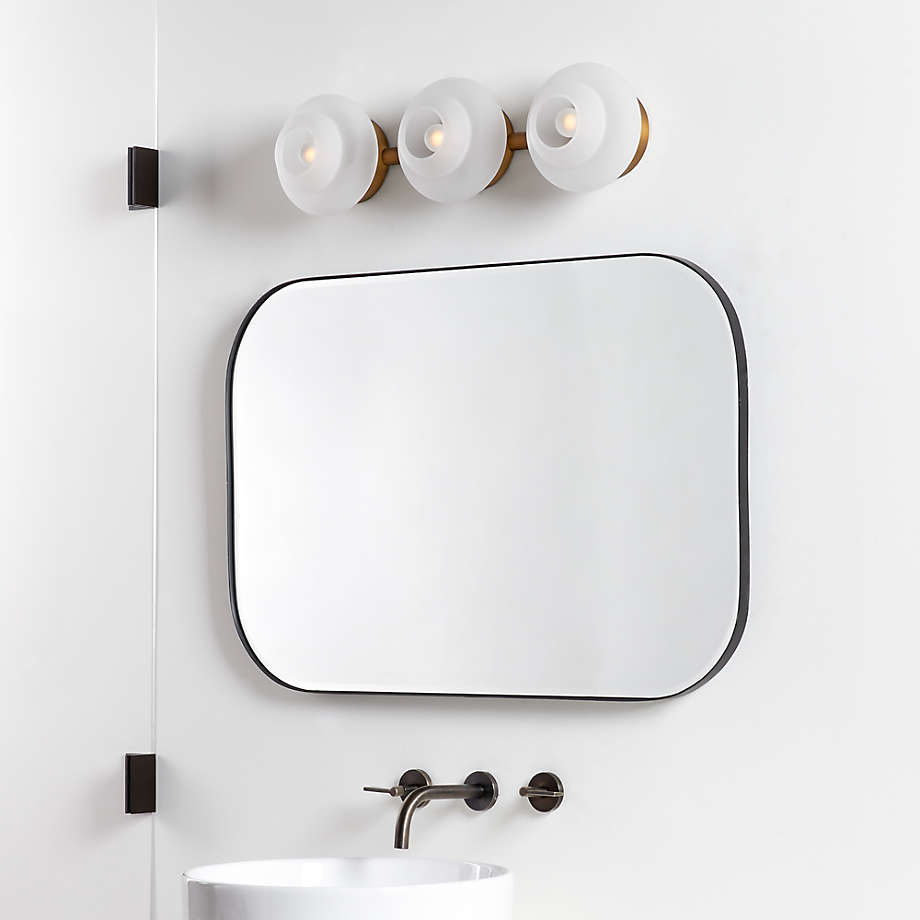 Even the smallest bathrooms have space for an over-the-mirror fixture. You may not get the huge, long set of vanity lights you always hoped for, but you can find something to work.
This three-light sconce from Crate&Barrel is one of the best light fixtures for small bathrooms. It measures 26.5" wide, which is compact enough to fit over most mirrors and fits three light bulbs to give off plenty of light.
Try a Lighted Medicine Cabinet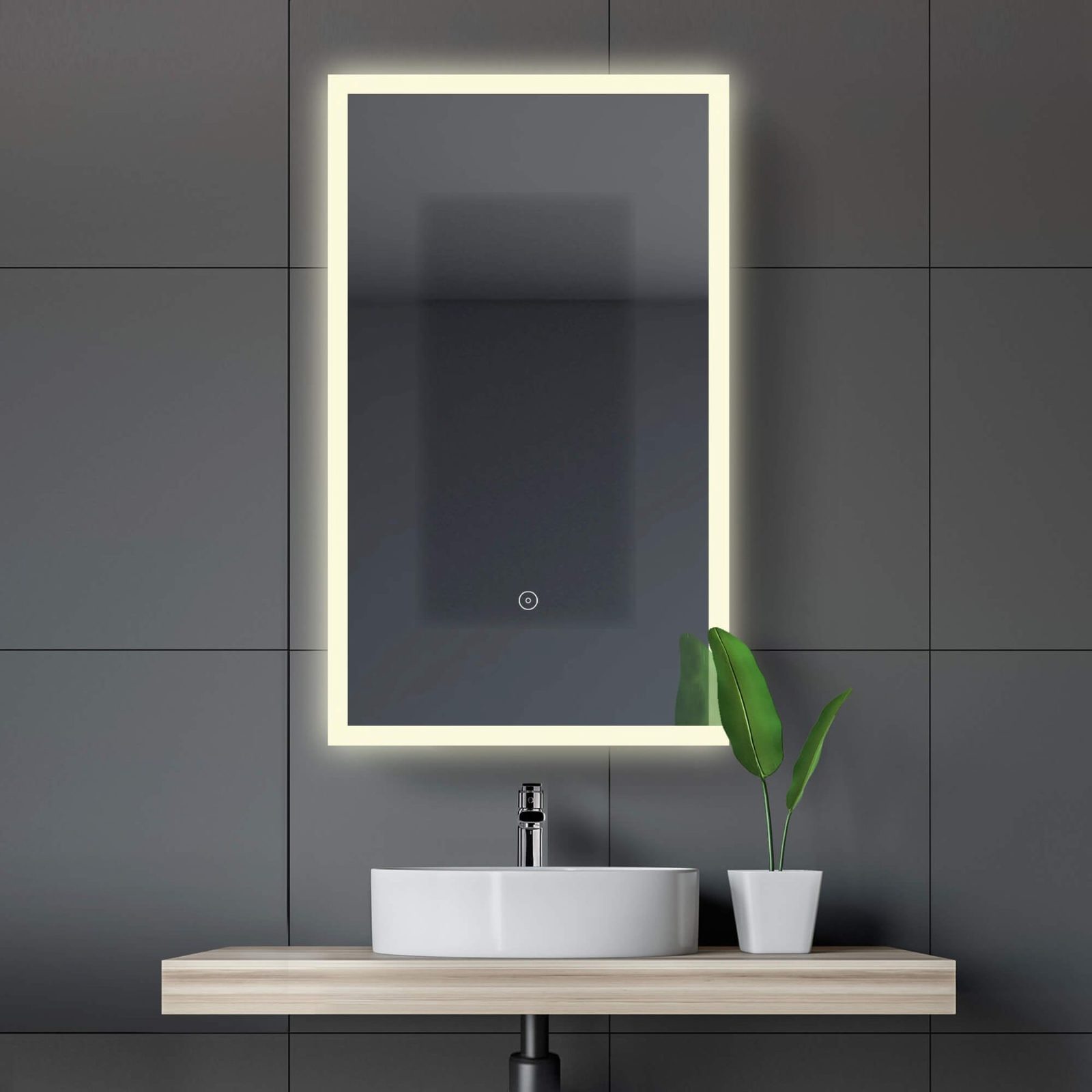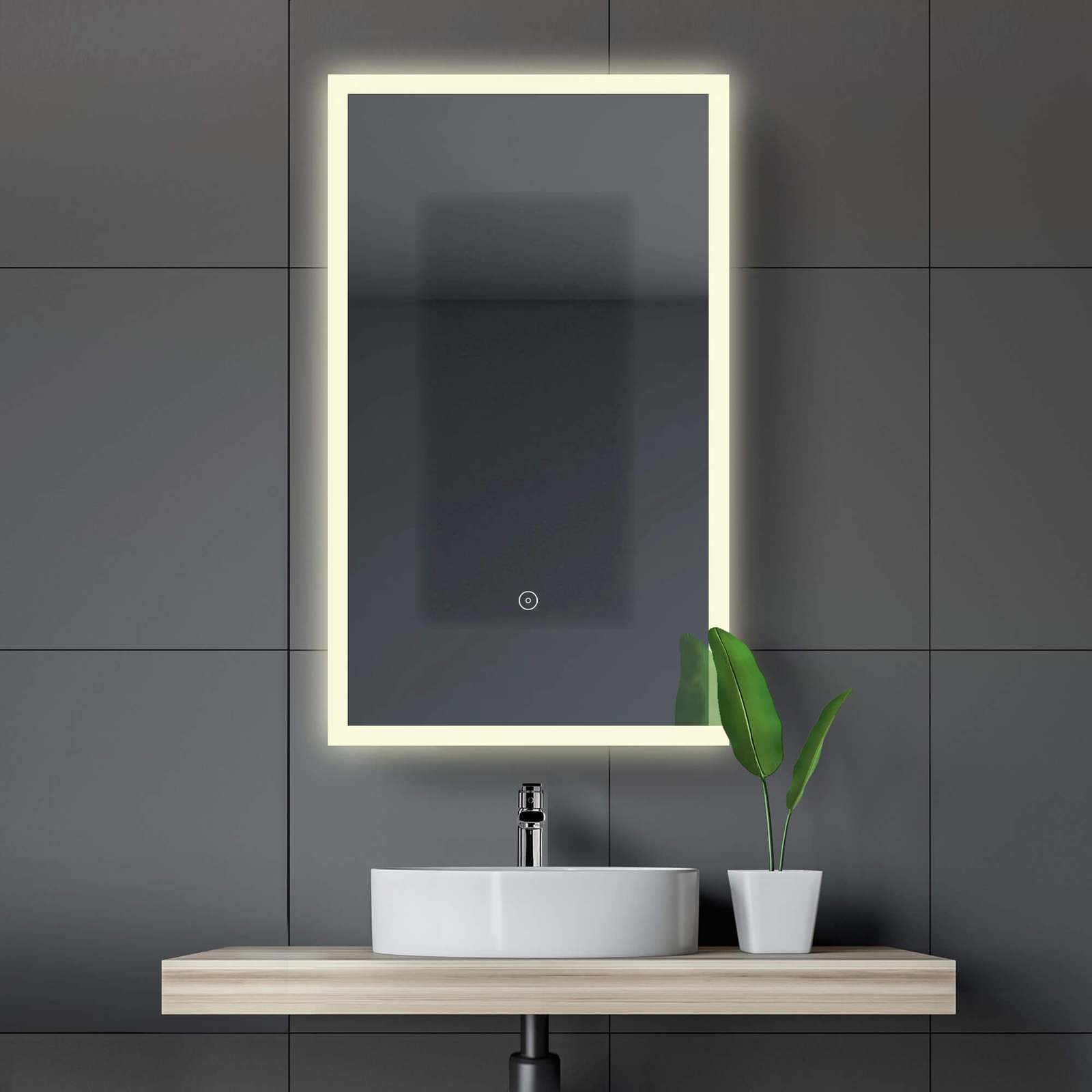 If you have no space for sconces or just don't like the look of them, you can go ultra-modern by choosing a lighted medicine cabinet like this one. This cabinet not only provides you with ample light to get ready in the morning, but it has adjustable shelves, anti-fog technology, an on/off button, and a wireless cell phone charger.
This medicine cabinet can be recessed or installed directly against the wall. However, it does need to be hard-wired.
Get a Modern Farmhouse Look with this Two-Light Fixture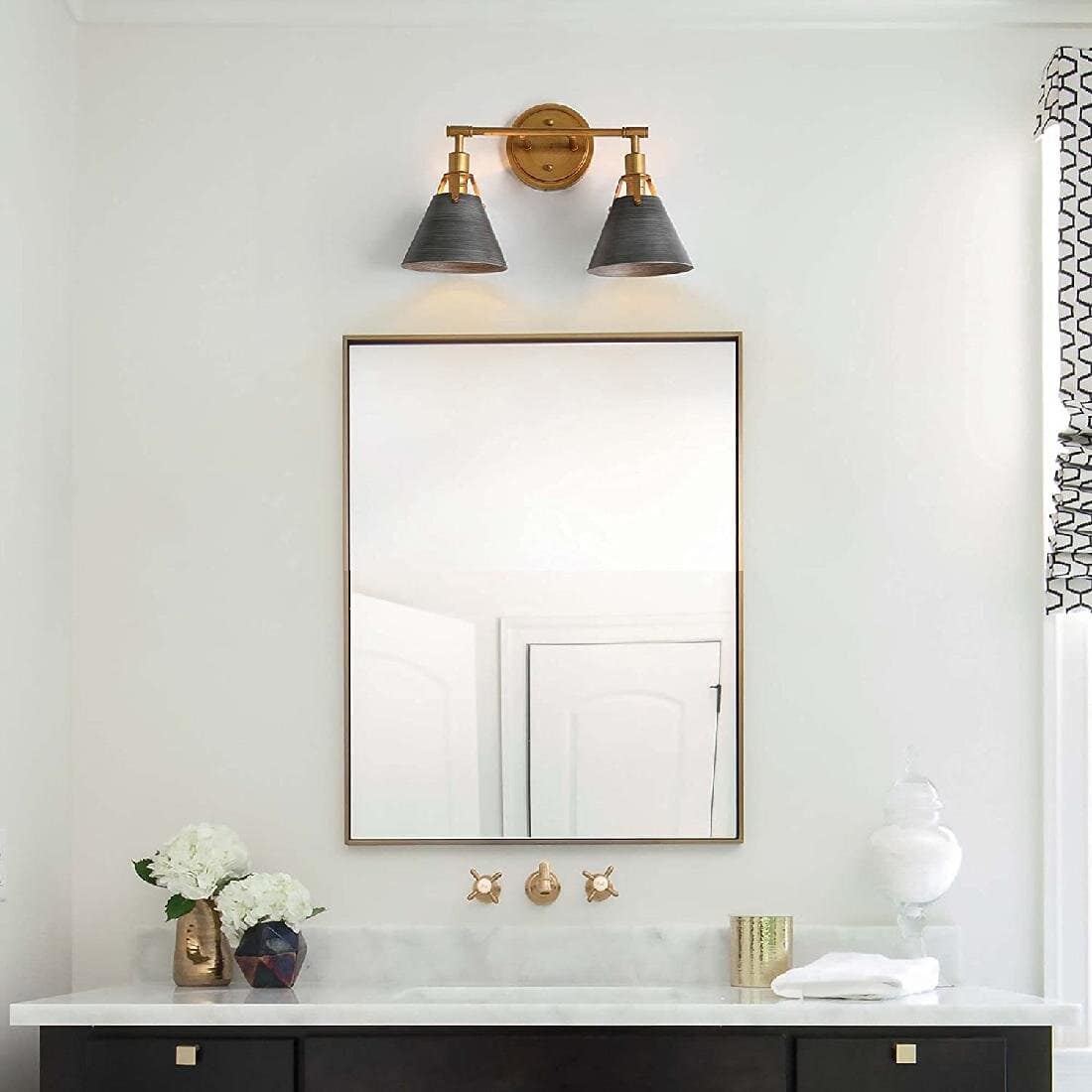 The farmhouse look is still one of the most popular right now. So if you're trying to pull off a modern farmhouse vibe and need small bathroom lighting, this fixture is ideal.
This two-light sconce features antique gold with a black/silver finish. This would look great hanging over a black or gold mirror.
Go Glam with an Antiqued Style Light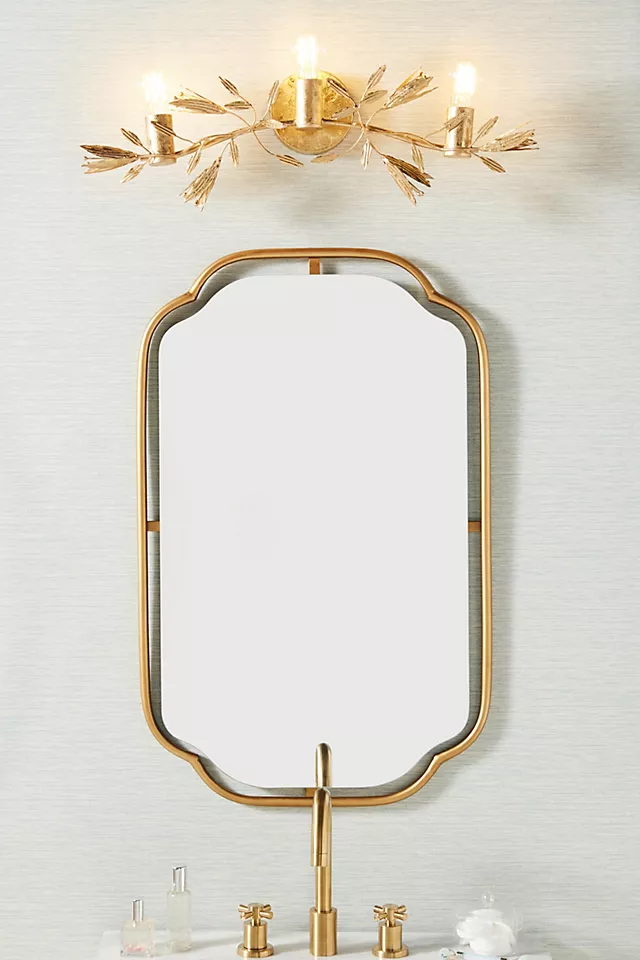 Small bathrooms are a great place to make a statement. And if you're looking for a light-fixture pretty enough to talk about, this is a solid choice.
This light has space for three 60-watt bulbs. It has a gold finish and a sculptural shape that gives it glam antique vibes. This would look great in bathrooms with dark paint or wallpaper.
Keep it Simple with an LED Bath Bar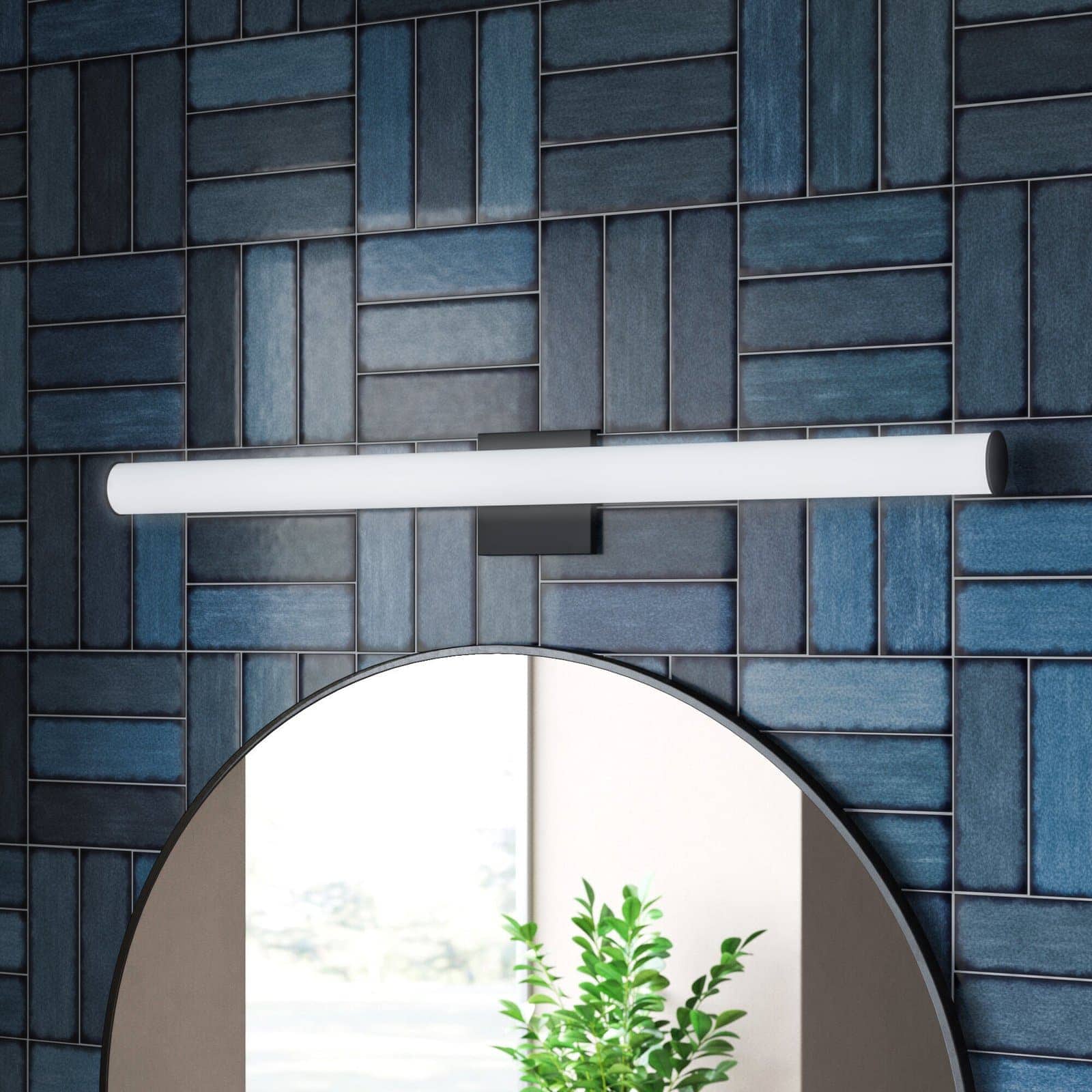 LED bath bars are a great option when it comes to the best lighting for small bathrooms. This is because even though they're super slim, they give off a lot of light.
This one comes in three finishes, including black, polished, and satin nickel. You can find these bars in a variety of sizes, so there will be one that fits your bathroom, even if it's tiny.
Use an Exhaust Fan Light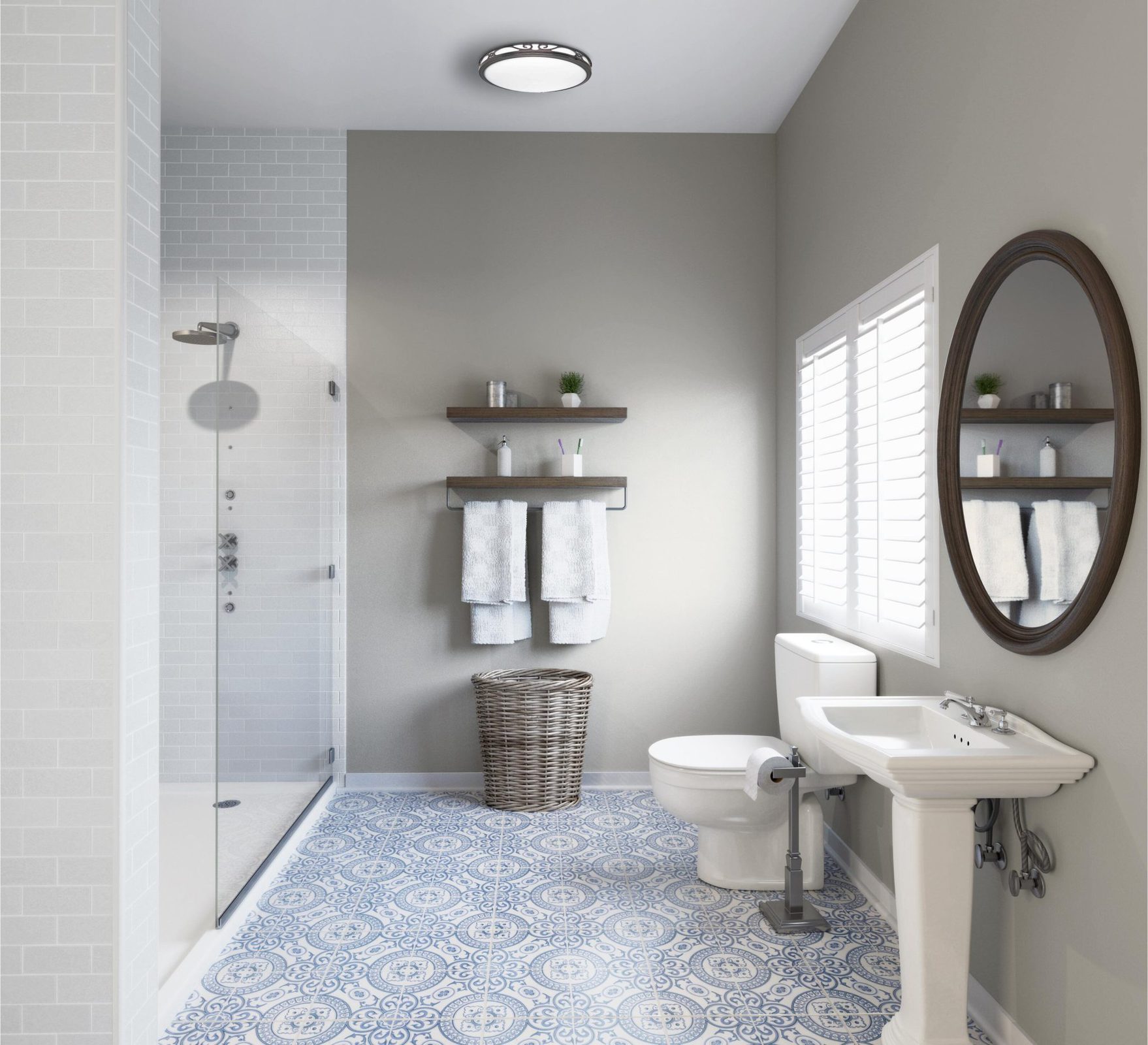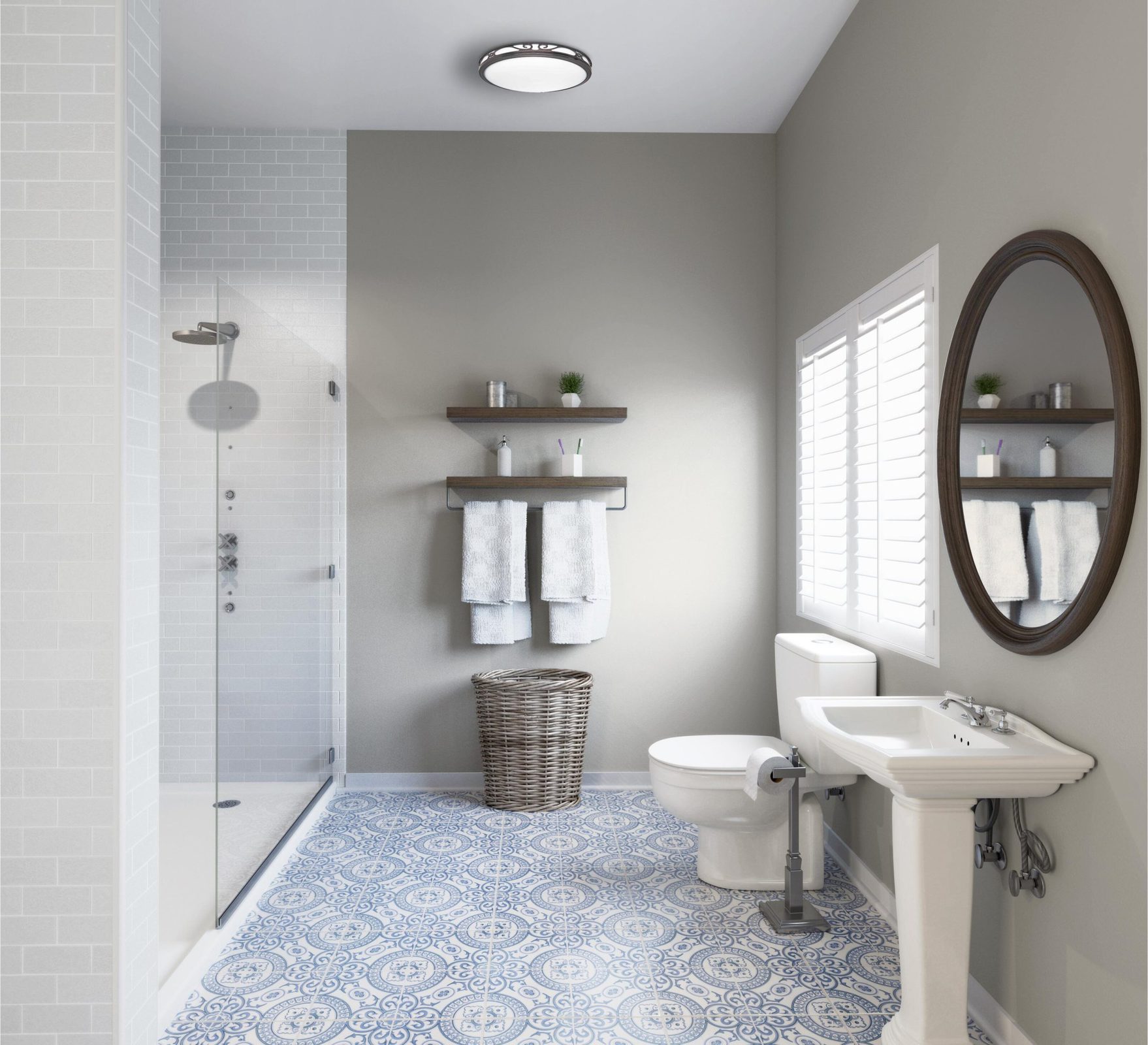 If you have an exhaust fan in your bathroom, you don't have to sacrifice light. Instead, you can opt for a 2 in 1 fixture like this one from Hunter Home Comfort.
While you might not be able to see it, this light has a built-in exhaust fan. It also has a cool night-light feature, which is excellent if you have kids. The style of this light is pretty simple and will go with most decor.
Look for White Shades if You Like Scandinavian Style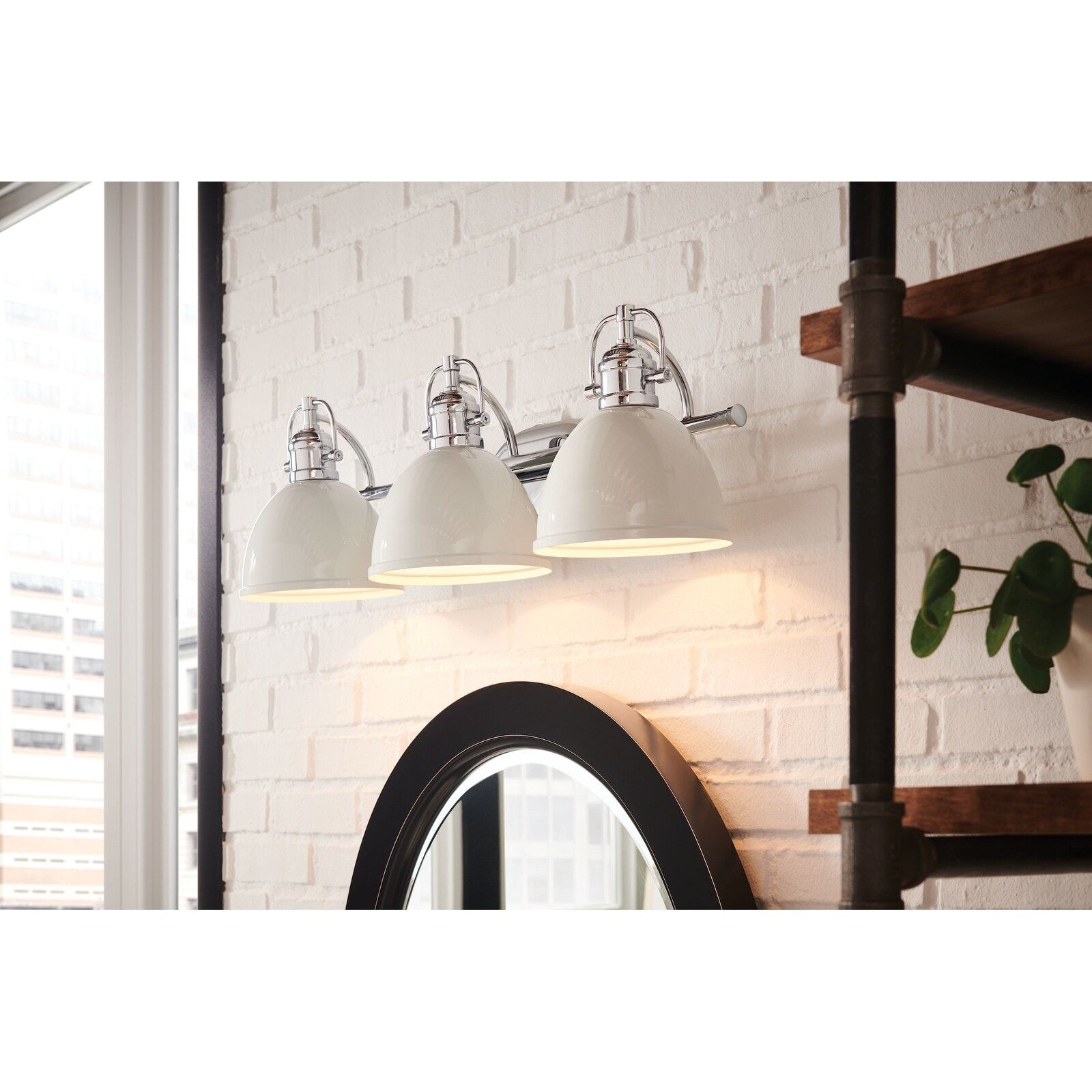 Looking for the best vanity light for small bathrooms that won't be going out of style anytime soon? Try this steel fixture painted white. This wall mount holds three lights, so it gives off plenty of brightness while still being able to fit in small spaces.
This fixture is best for minimal, Scandinavian, and industrial-style bathrooms.
Swap Out Sconces for Small Pendants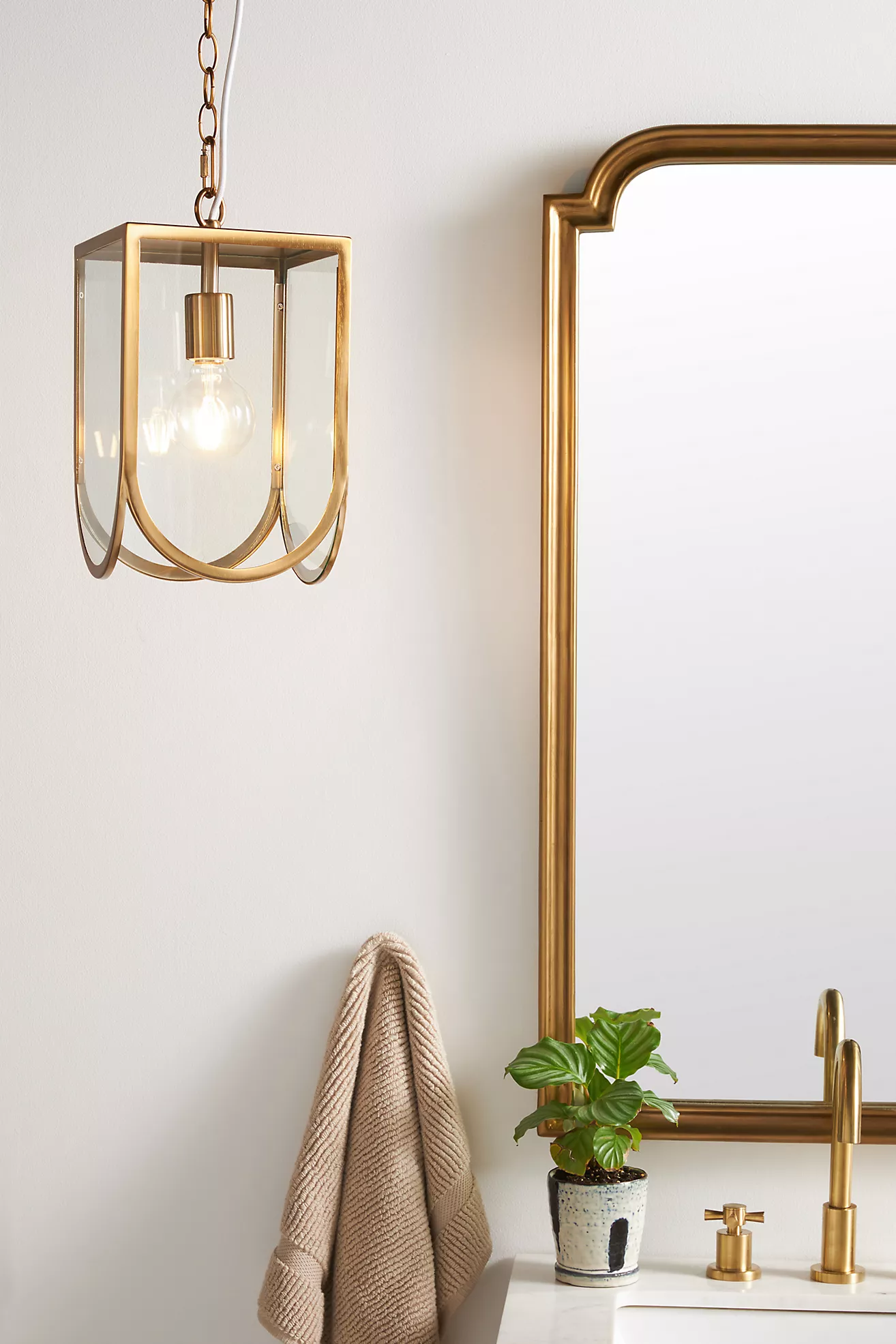 I'm not going to lie – using a pendant in the bathroom is a bit unconventional. However, it looks gorgeous and, when done right, can replace your standard wall sconces.
To pull off this look hang two small pendants on both sides of your mirror, where a sconce normally goes. Alternatively, if your bathroom is tiny and you only have room for one, try to position it in a corner near the vanity.
Mimic Natural Light with an LED Panel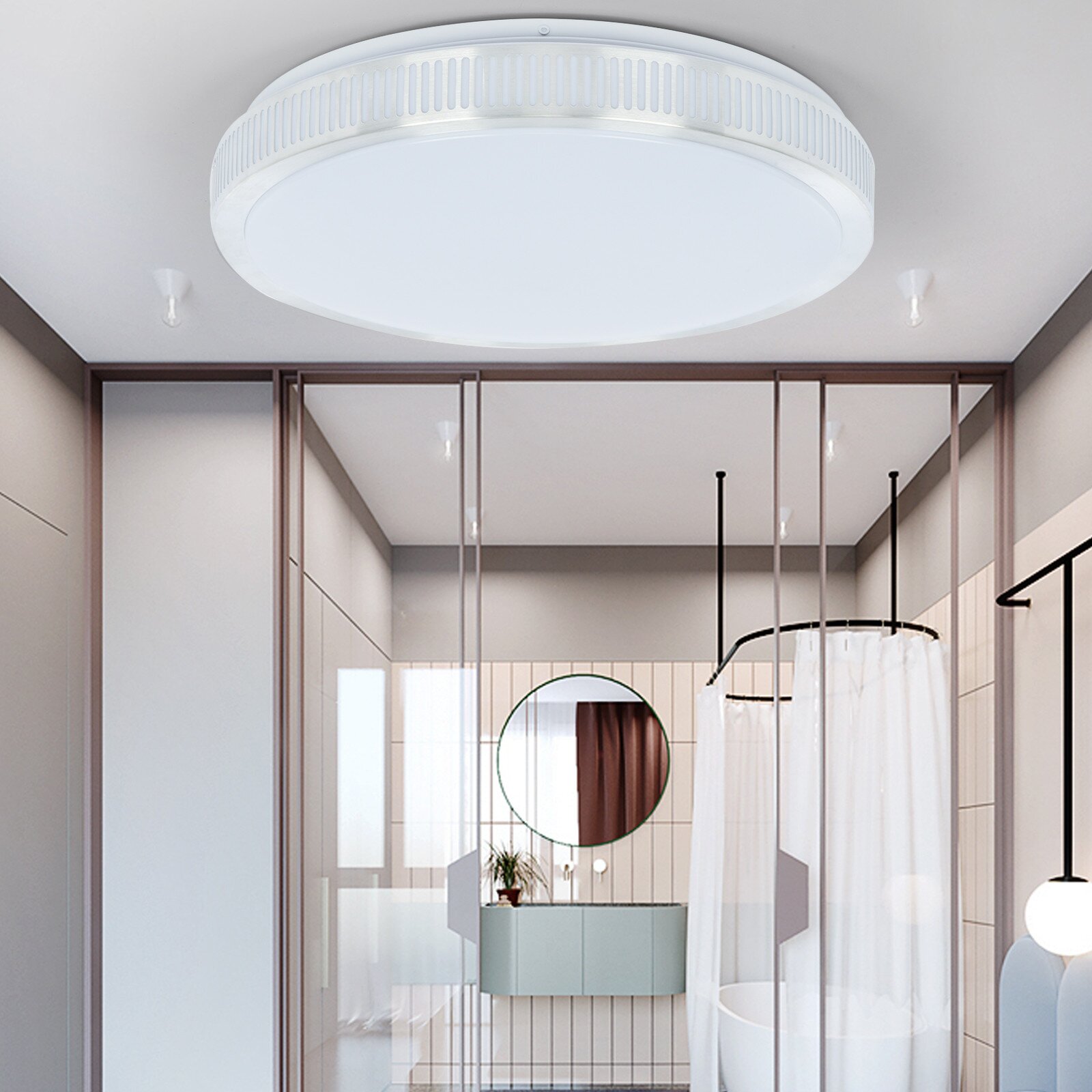 The biggest problem with windowless small bathrooms is that they feel dark. The best solution is small bathroom ceiling lights that mimic natural light.
This LED panel light from Wayfair provides light that is easier on the eyes and better resembles natural lighting than standard fixtures. It measures about 15 inches in diameter, so it can fit even if you don't have much ceiling space.
Opt for Versatile Vanity Lighting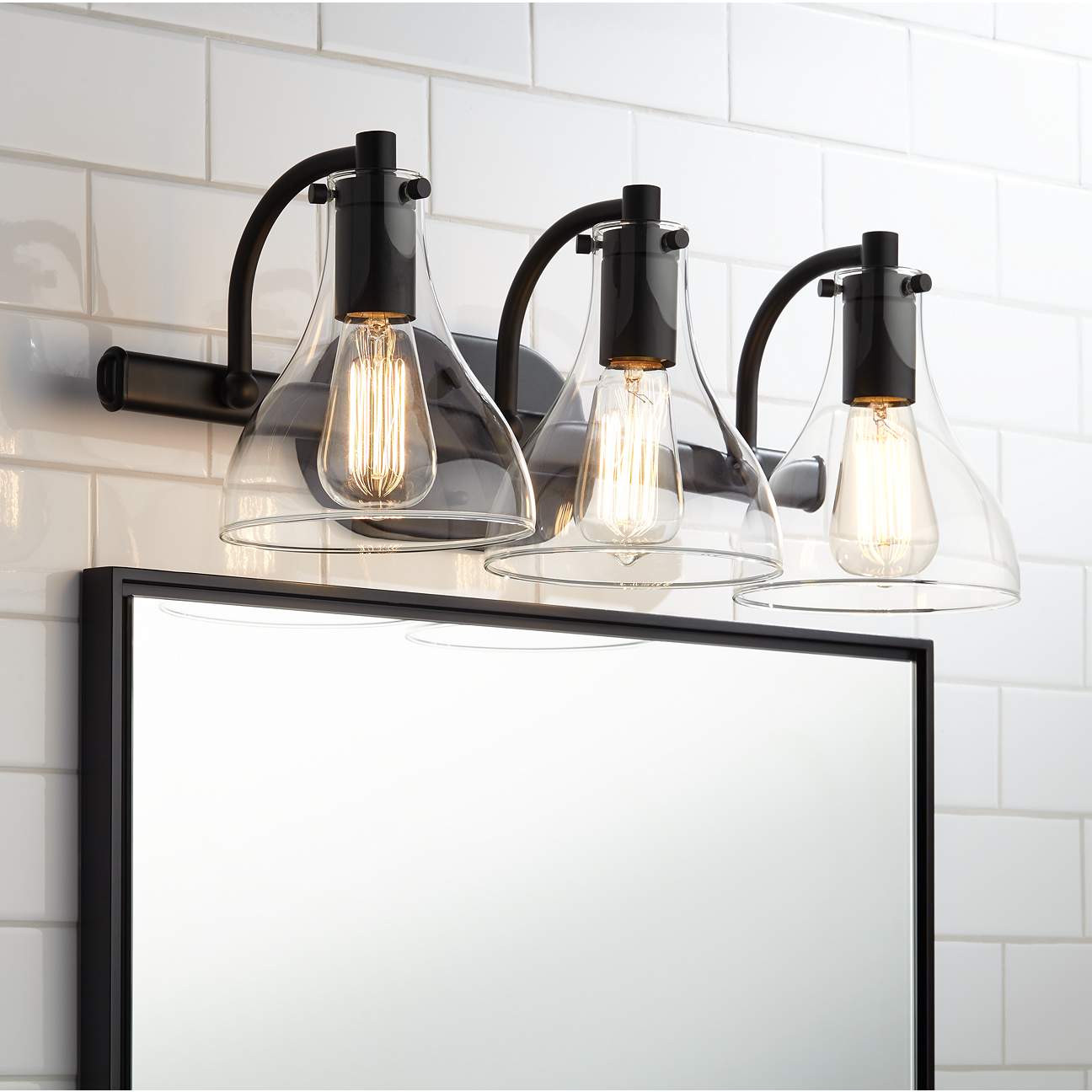 Over-the-mirror lights work for bathrooms of all sizes. If you're worried about picking a vanity light for a small bathroom because you're afraid it will go out of style, or you'll grow tired of it, try a fixture like this.
This fixture is a combo of high-quality glass and steel with a black finish. It has a contemporary design but will seamlessly blend with any style. This will work for modern farmhouse, traditional, modern, eclectic, and even boho.
Pick Your Favorite Flush Mount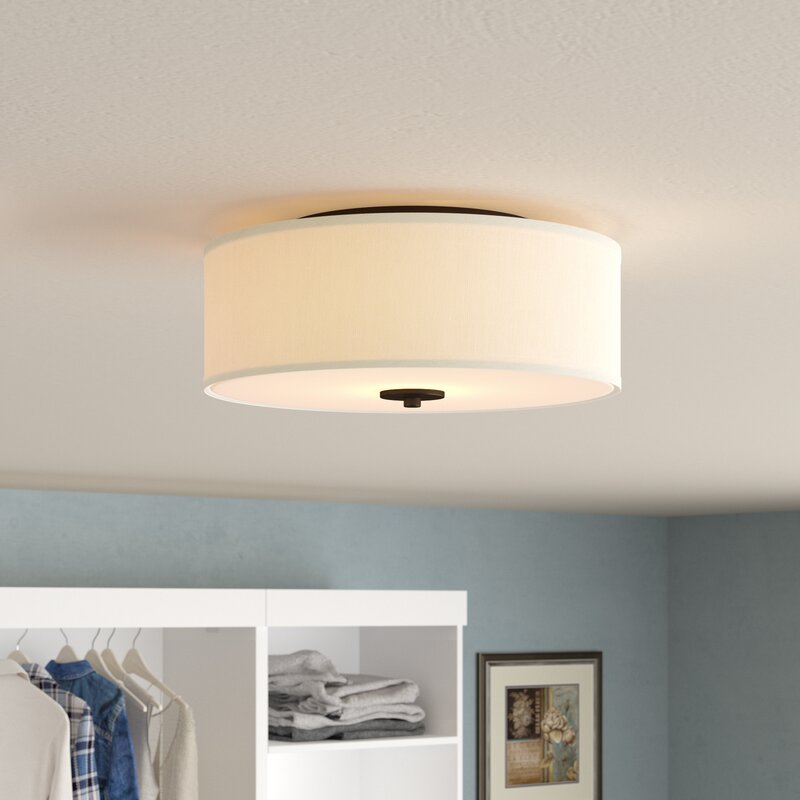 Many of us believe that bathroom lighting is only for over-the-mirror fixtures, sconces, or fan combos – but that's not the case. If you're working with a half bath or bathroom that already has an exhaust fan, your other ceiling lighting can be anything you want.
I like flush mounts as bathroom lighting. (Just make sure the light is "damp-rated" before buying.) The option pictured is bathroom safe and works for traditional and casual styles.
Final Thoughts
A small bathroom is a perfect place to let your lighting choices shine. (Literally.) You can try beautiful ceiling fixtures, over the mirror vanity lights, and wall sconces.
If you're looking for something a little out of the box, try a lighted mirror or a LED bar light. Both of these lend to a very modern feel.