Decorated Life is reader-supported. When you buy through links on our site, we may earn an affiliate commission. Learn More
17 Best Boho Dining Room Ideas to Use as Inspiration
Boho dining rooms are perfect for entertaining and relaxing. Their mix of materials gives off casual vibes making them a great gathering place.
The biggest key to achieving boho style is mixing and matching natural materials. As a result, you'll often see lots of wood, rattan, and greenery in bohemian dining rooms.
If you're looking for some easy ways to get this look, here are the 17 best boho dining room ideas to get you started.
Use Interesting Chairs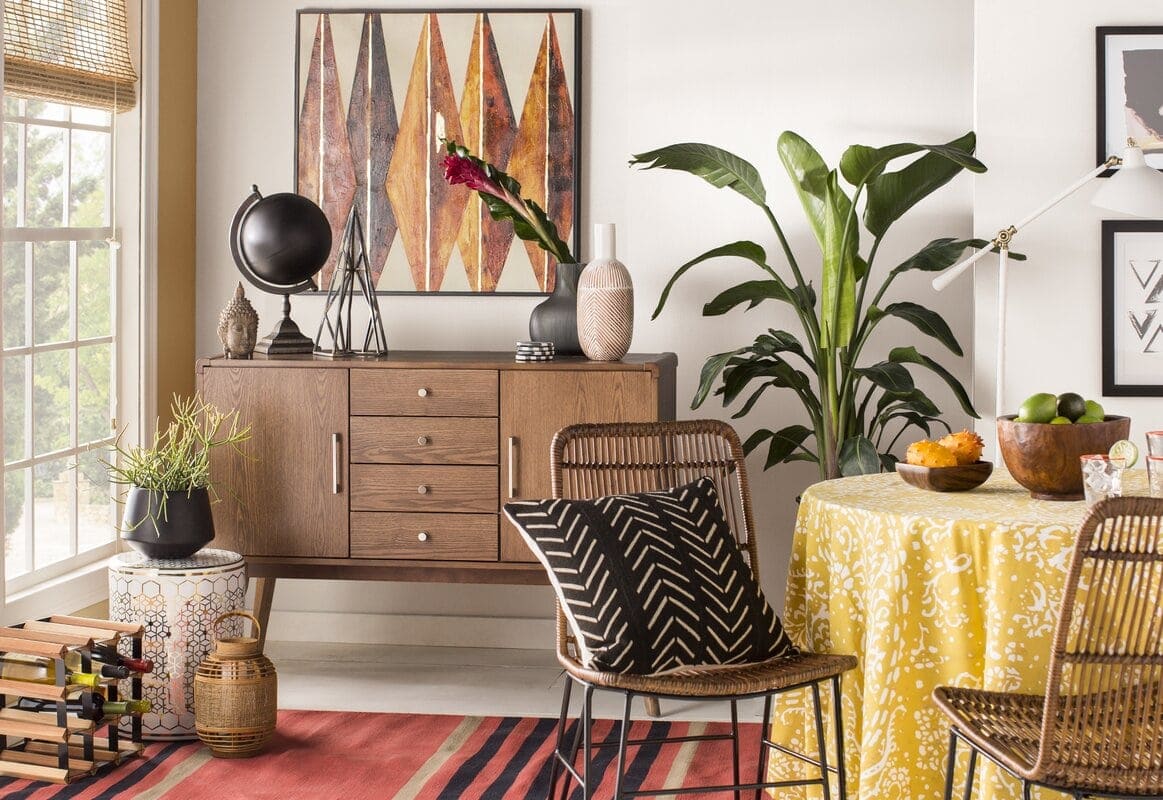 If you're trying to achieve boho style, in most cases, it's best not to match your chairs with your dining set. Instead, create a mix and match style by choosing a solid wood table and bringing in chairs made of rattan or wicker.
The collected look brings a much more casual bohemian dining room feel than matching sets do.
Bring in a Light Wood Boho Dining Table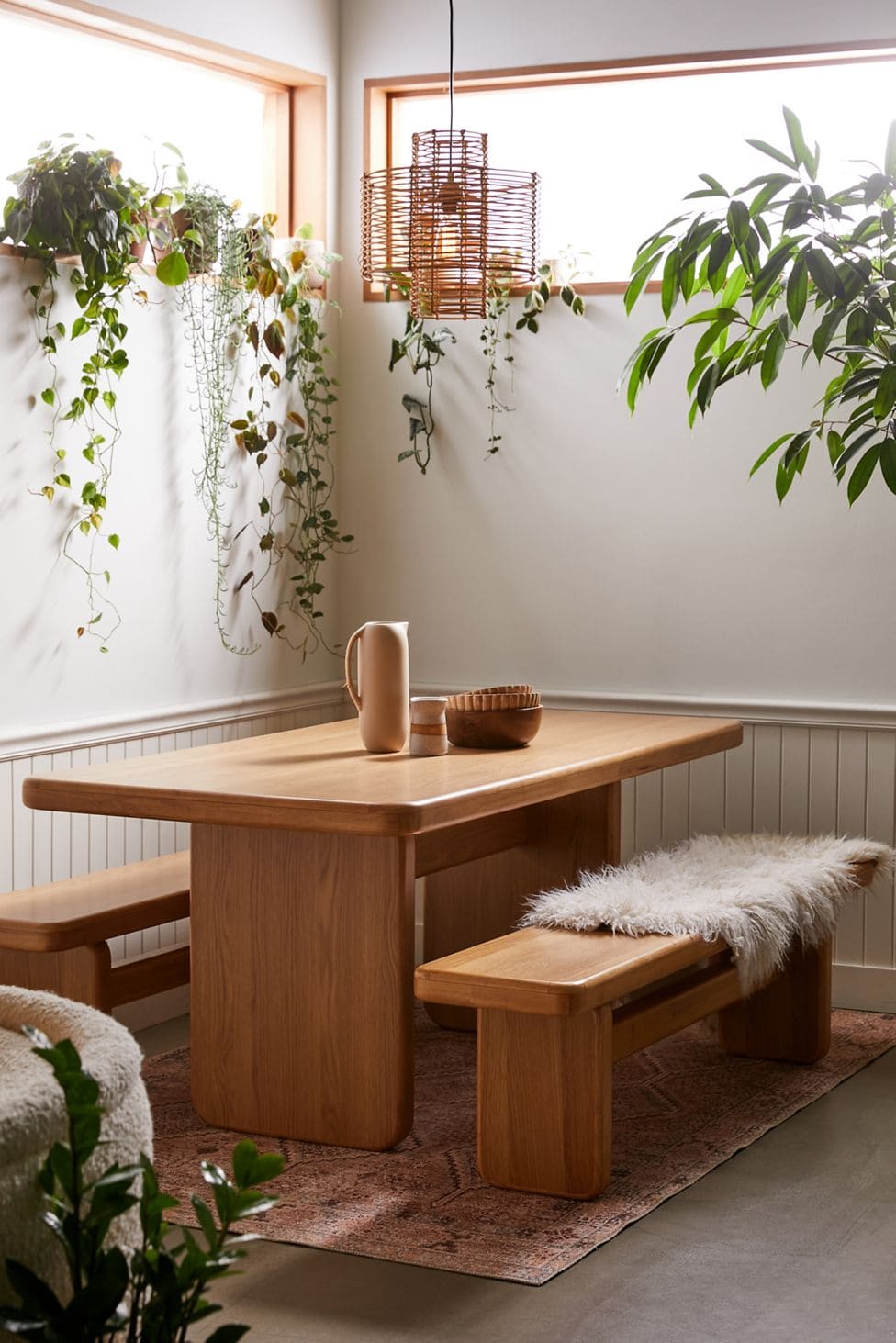 When it comes to boho dining tables, those made from natural materials are best – which usually means wood or marble-topped.
A light wood table like the one pictured works perfectly. This option from Urban Outfitters is great for small dining rooms and eat-in kitchens. You can keep the benches and add seating at the ends for a mix n match look.
Make a Statement with a Jute Chandelier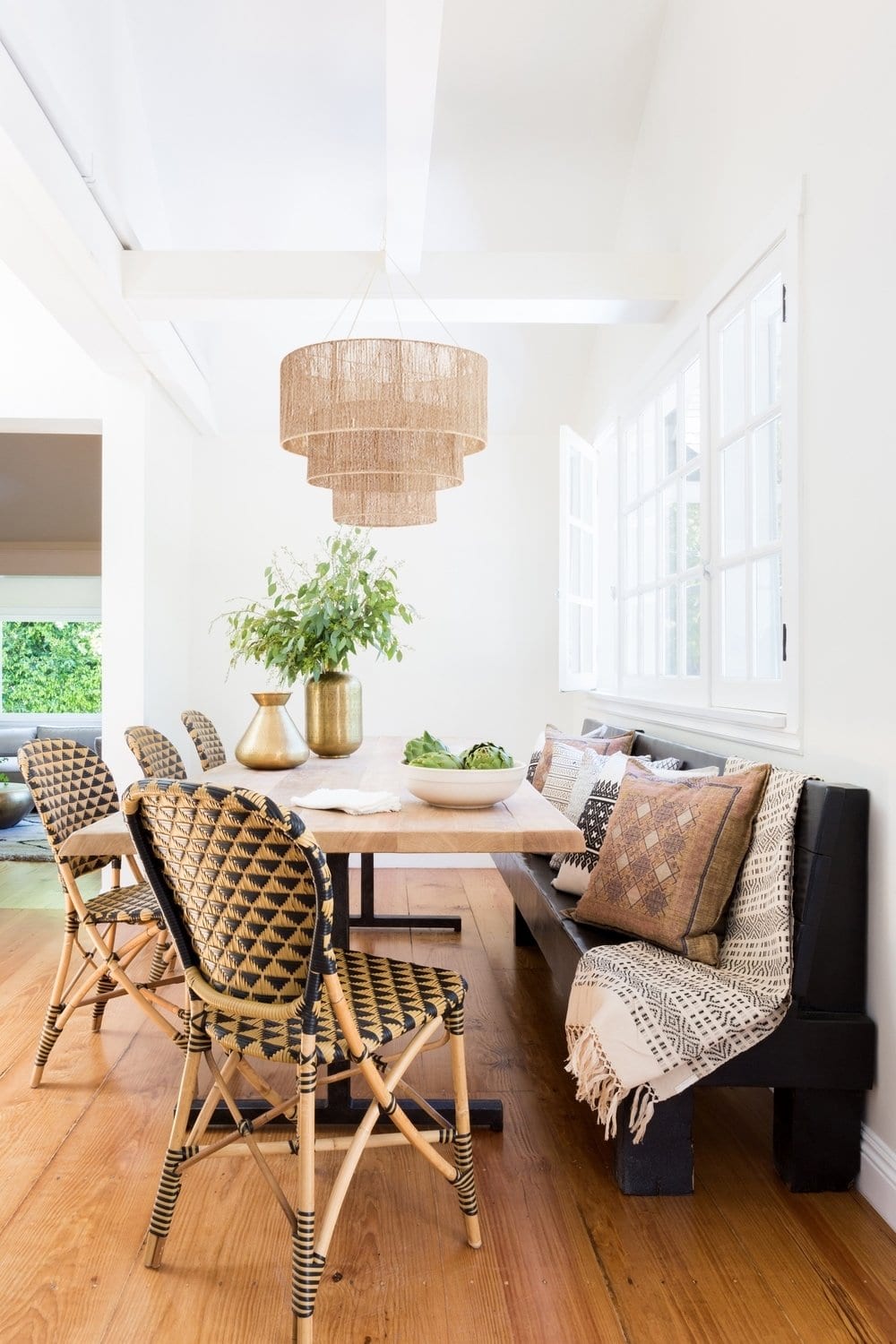 If you're going for a boho minimalist dining room, keep your walls white, your furniture light, and make a big statement with your chandelier.
When you choose a chandelier as pretty as this one from Lulu and Georgia, you don't need to put anything on the walls. Instead, this jute chandelier will be the perfect focal point in your dining room.
Opt for a Two-Toned Chair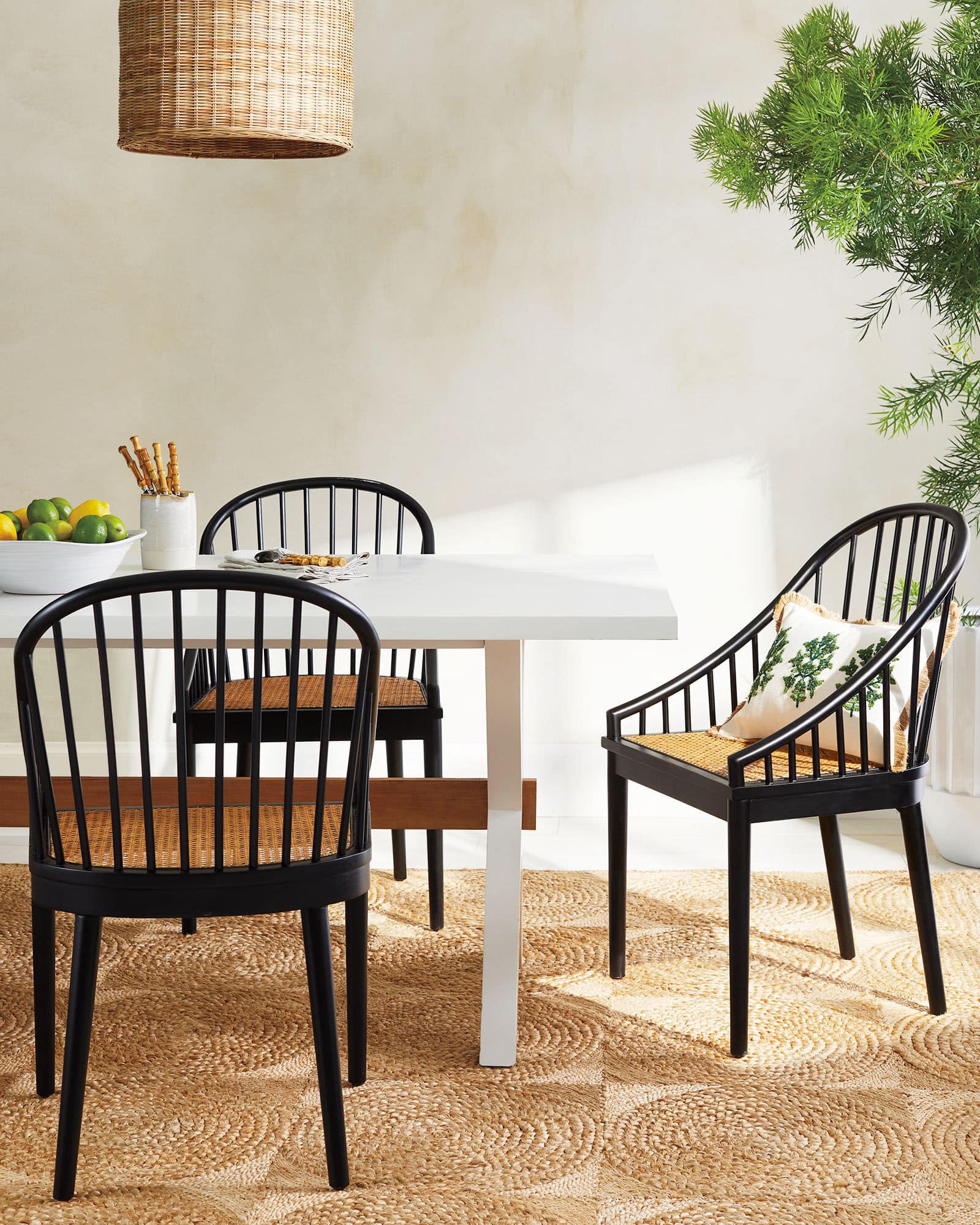 Two-toned chairs like these from Serena & Lily are perfect for completing a boho dining set. The black and wood create a beautiful contrast, while the handwoven seats bring texture to the room.
Chairs like these would pair excellently with light to medium-toned wood tables as well white tables.
Put Vases on Your Table for Easy Boho Decor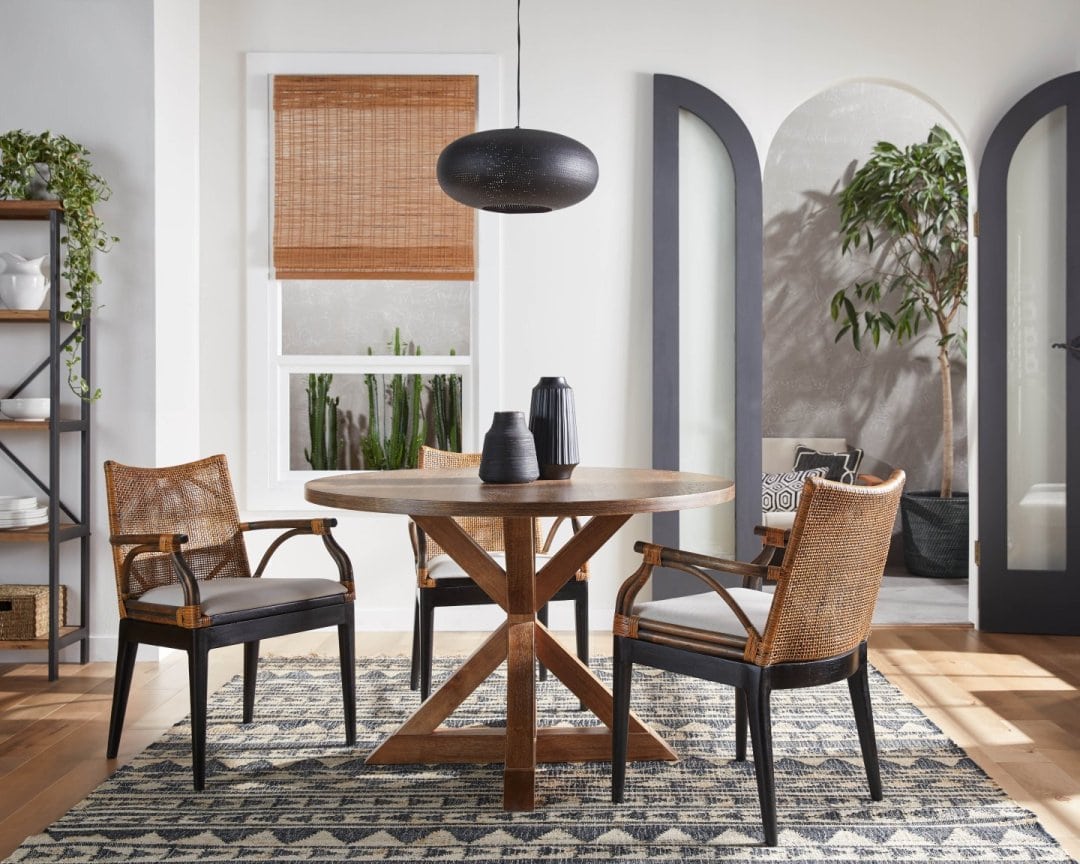 Place some vases in the middle of your table if you already have your room set up but are looking for bohemian dining table decor ideas. You can use black vases like pictured or mix it up and use several vases with different colors and finishes.
Put dried flowers or branch clippings in the vases for easy table decor that you can switch out seasonally.
Hang Nature-Inspired Artwork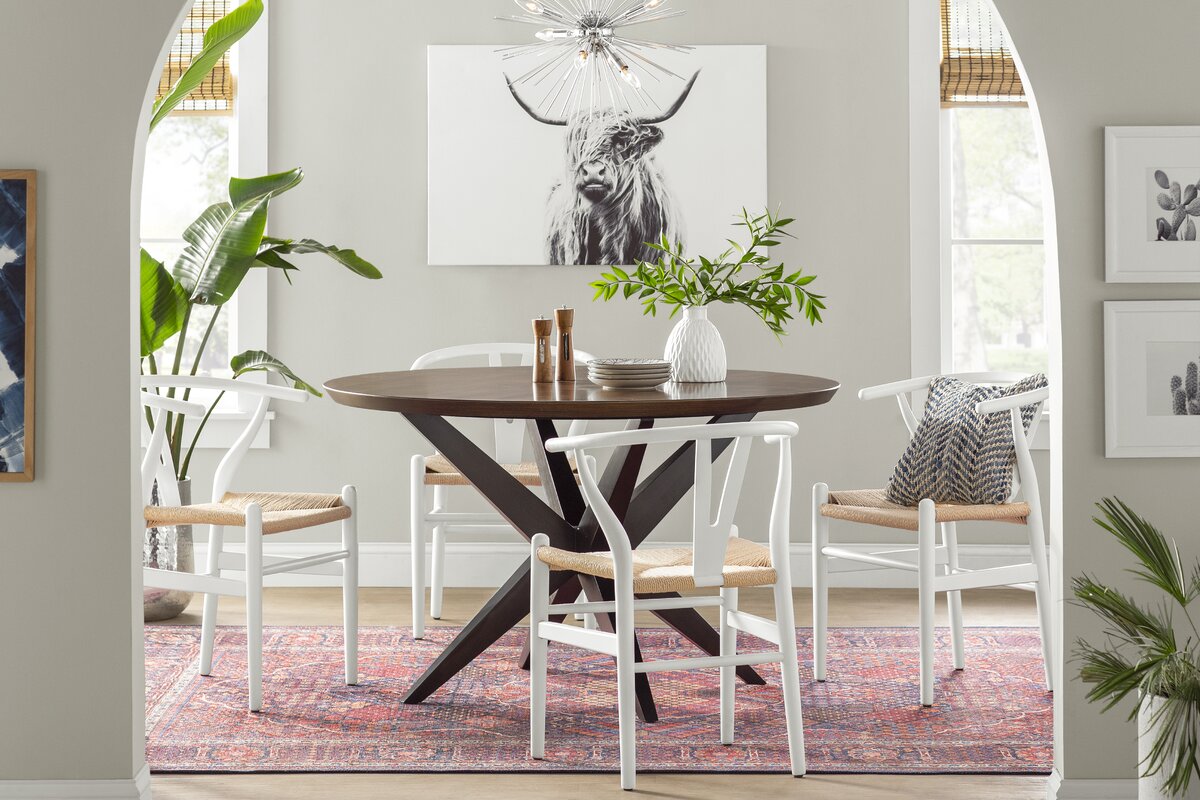 Need artwork to fill your walls? Consider adding some nature-inspired prints. For example, beautiful prints of animals like shown above work well for boho-chic dining rooms.
If you don't like the cow prints, consider prints of flowers or plants. Go large scale or create a collage of several smaller photos.
Bring in a Bar Cart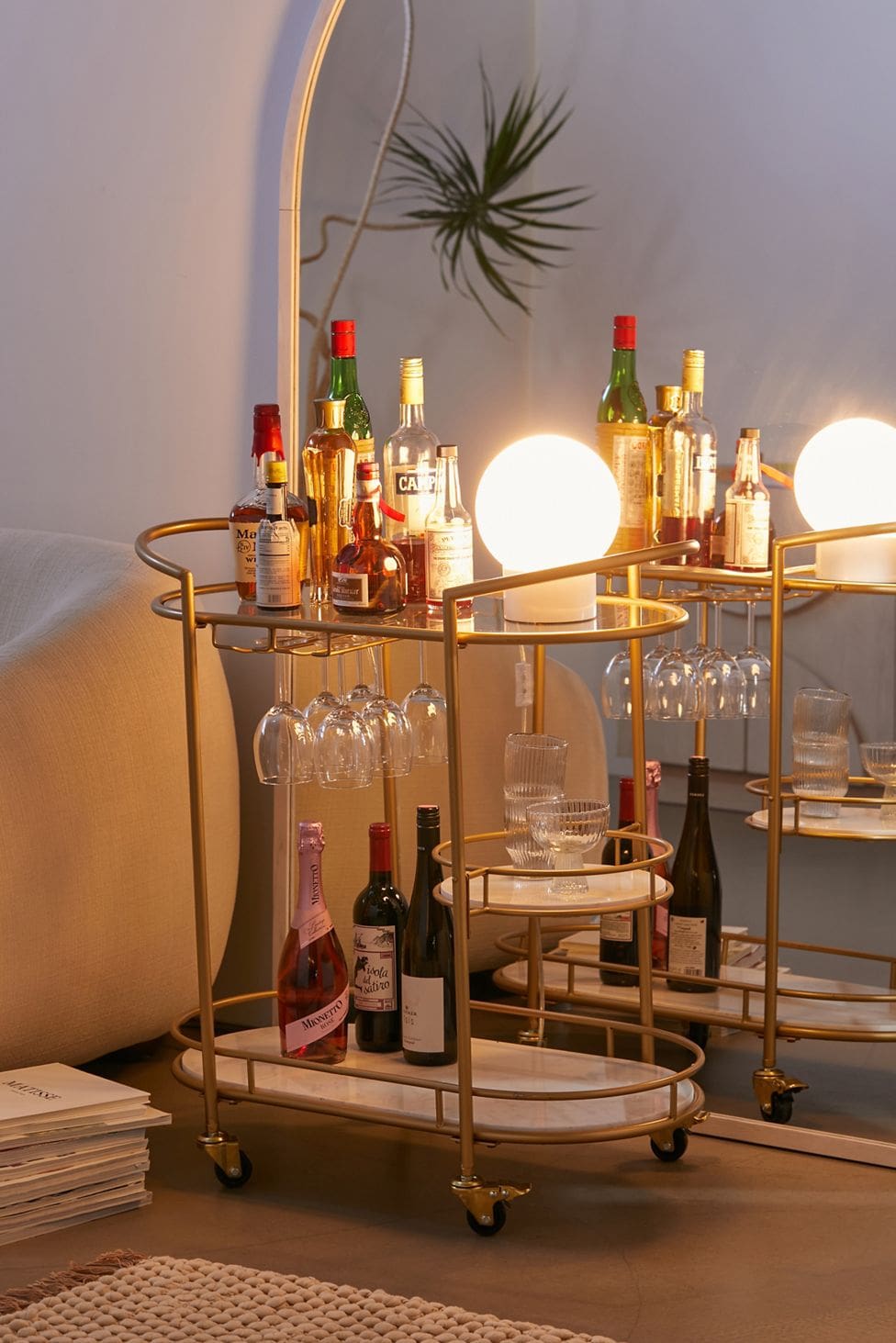 Bar carts are perfect accents in any dining room. Look for a rattan or marble cart for a boho room, then layer on the drinks and add a few plants.
This marble bar cart from Urban Outfitters is small enough to work in even the tiniest spaces.
Anchor Your Dining Set with a Large Rug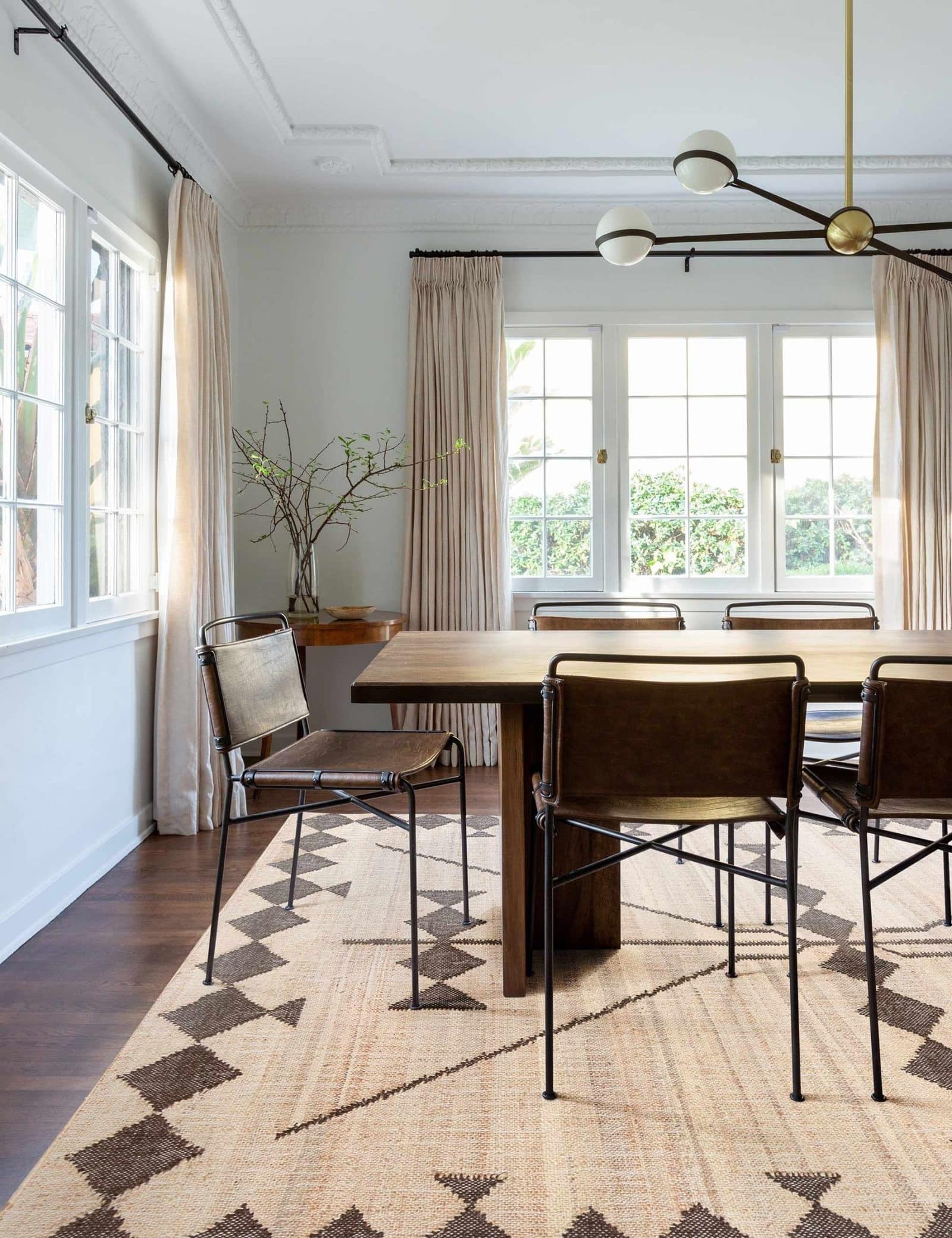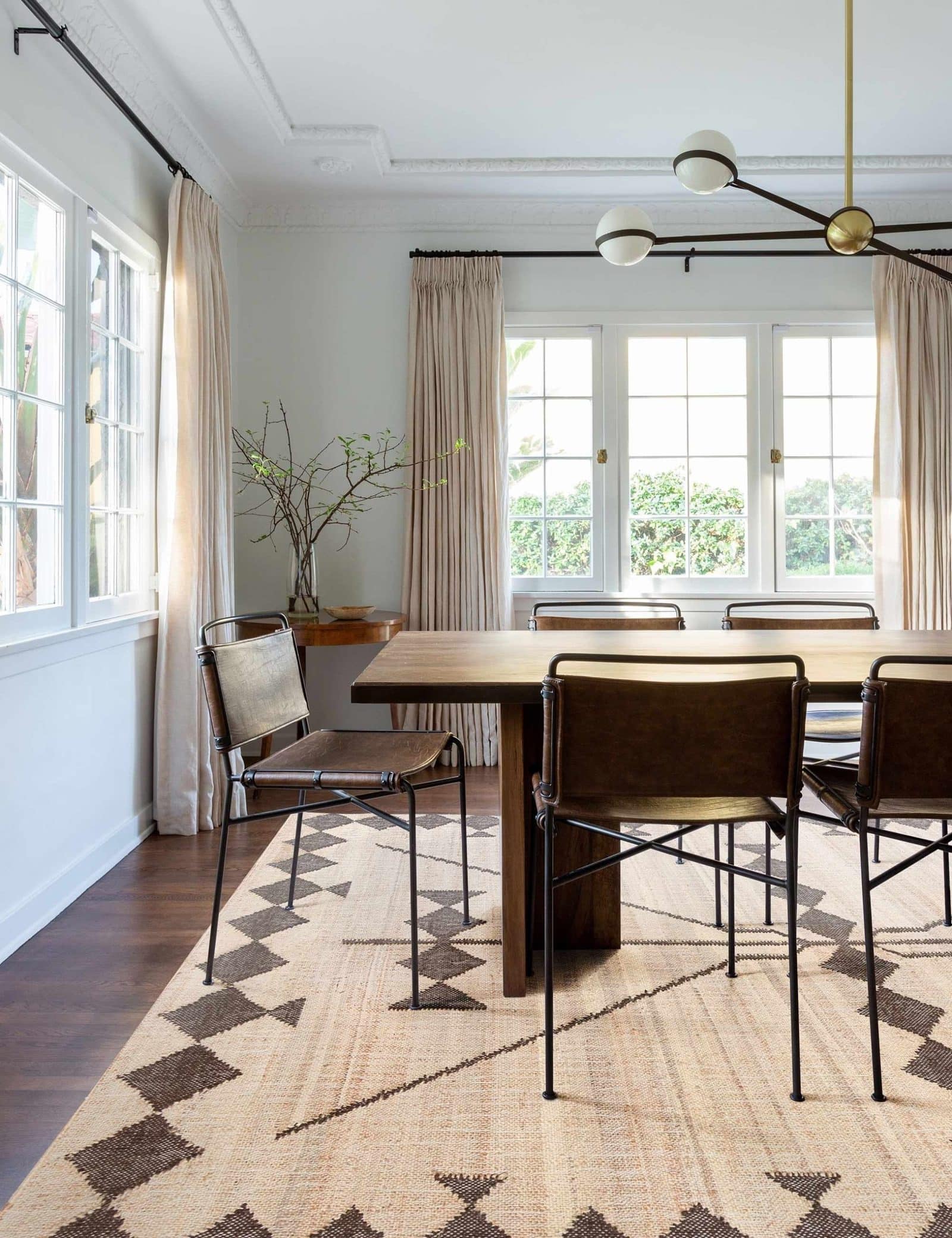 If you want to put an area rug under your table, you have a few options. You can choose a warm earthy rug like the one pictured or go for a natural material like jute. Moroccan-style rugs also go great in boho dining rooms, especially if you like a more colorful look.
When choosing a rug, make sure it's large enough to fit under the table and chairs with several inches to spare.
Add Pattern with Wallpaper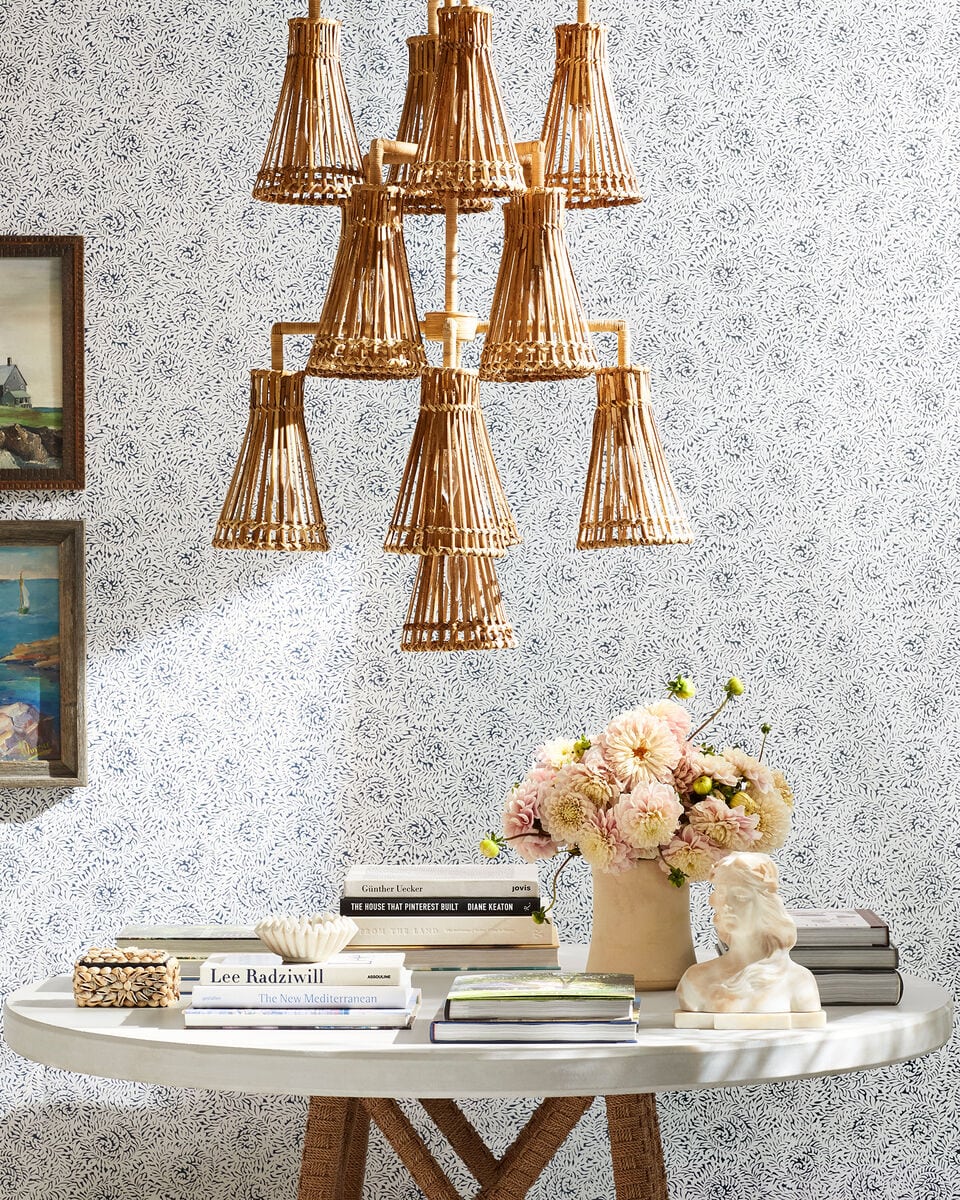 There are a couple of ways to go about boho design. One way is with white walls and lots of natural elements, and the second is with bright colors and lots of natural features. If you prefer the latter, consider wallpaper to bring in pattern and color.
You can place the wallpaper on one wall to create an accent or use it to cover every wall in your dining room.
Center a Pendant Over Your Dining Set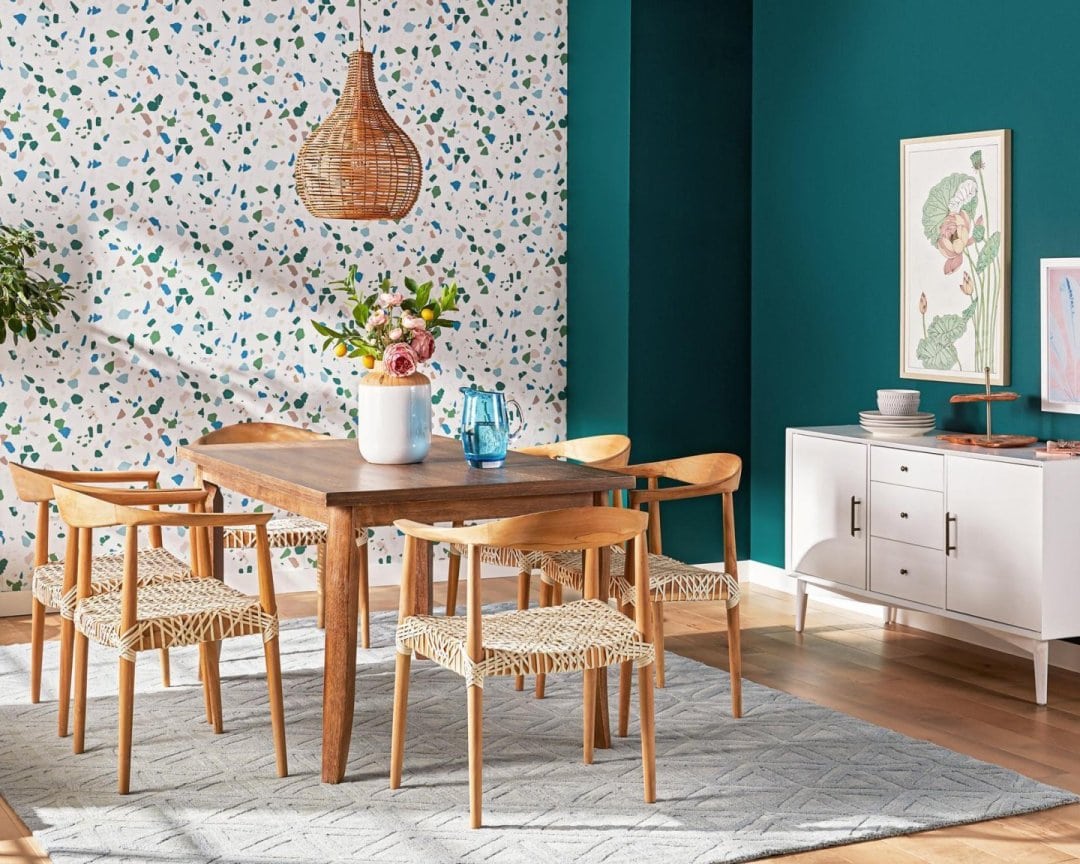 Skip the traditional ceiling mount light fixture and go for a hanging pendant light. For maximum effect, choose a pendant that has a shade made from natural material.
You can go for a reed material like this one or a rattan pendant painted black, white, or left in its natural state.
Use Upholstered Chairs for a Boho Chic Dining Room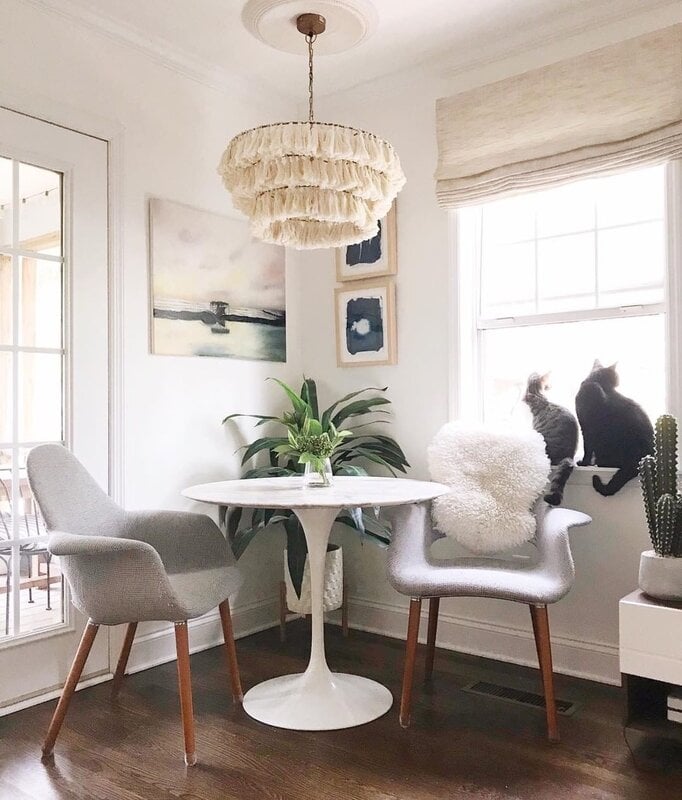 Are you going for boho chic? Ditch the wood chairs and use upholstered versions instead. Upholstered chairs, like these wing-back options, give off a very glam vibe. When you pair them with other boho elements, you create a boho-chic dining room.
Consider picking chairs in a bright color or contrasting them to your table color for a stunning effect.
Pack in the Plants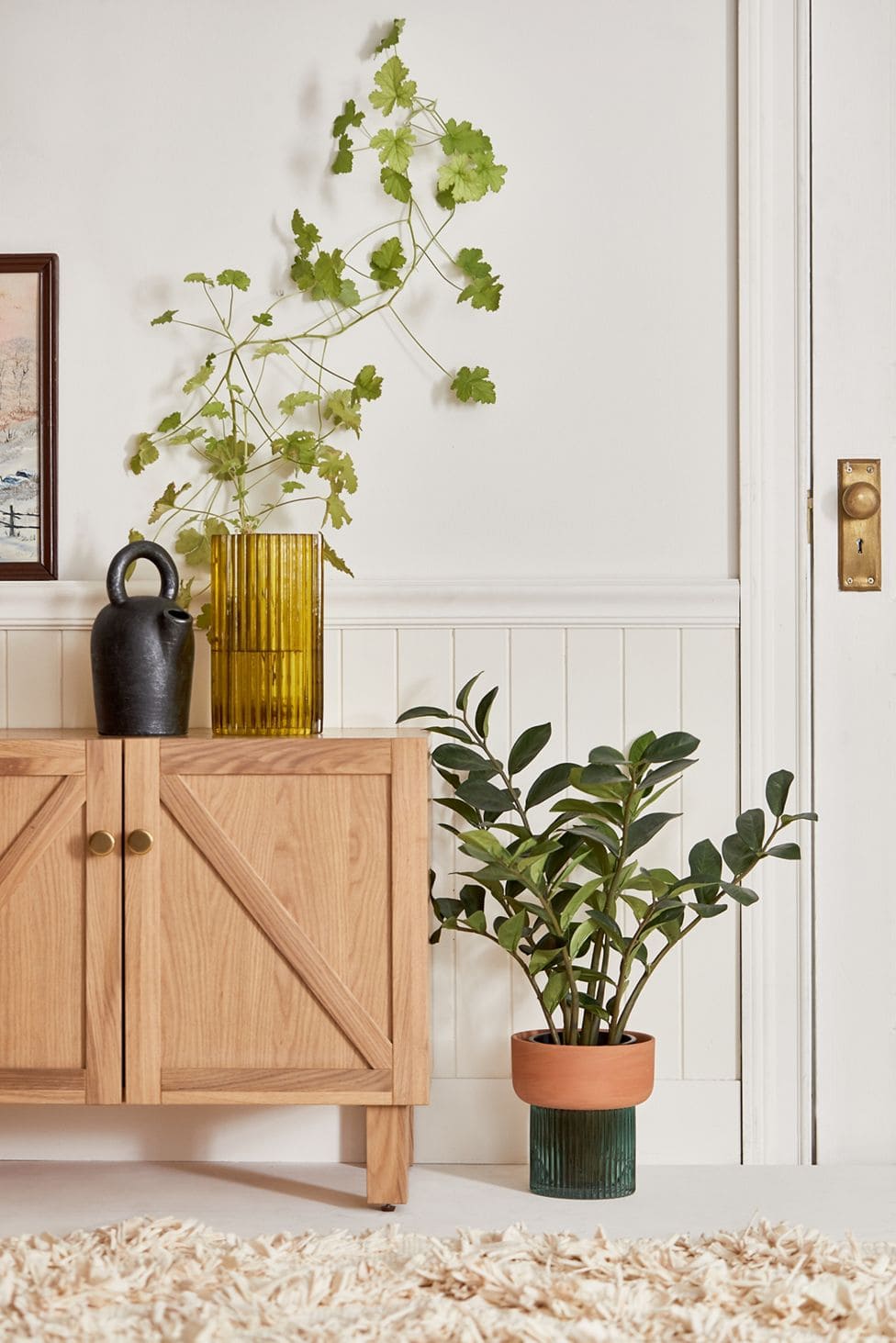 Every good boho dining room has at least a couple of plants in it, and yours should be no exception. If you're worried about killing a plant or forgetting to water it, consider a self-watering planter like this one from Urban Outfitters.
If you're new to house plants, start with ones that are easy to care for. Good options include snake plants and Pileas.
Mix Light Chairs with a Dark Table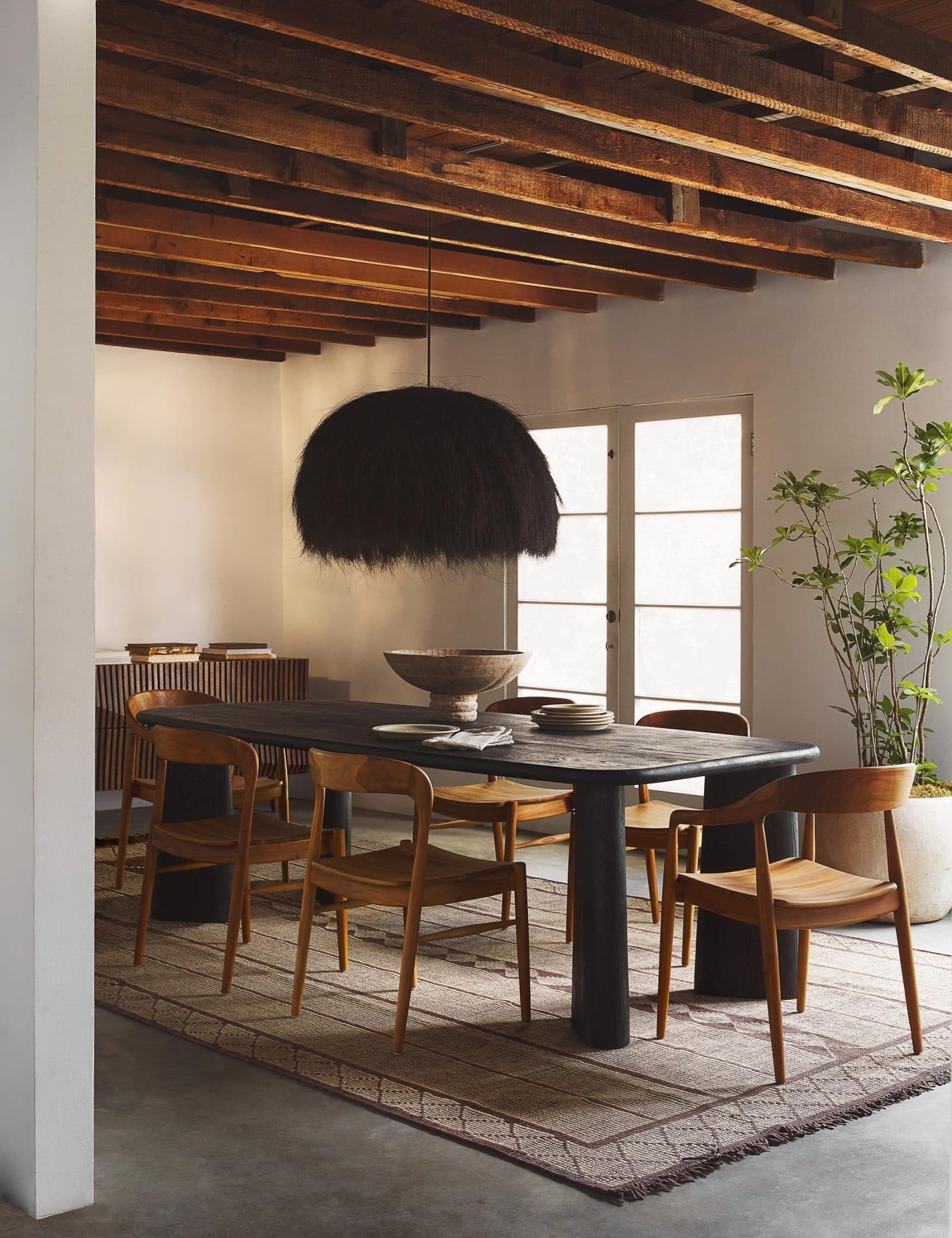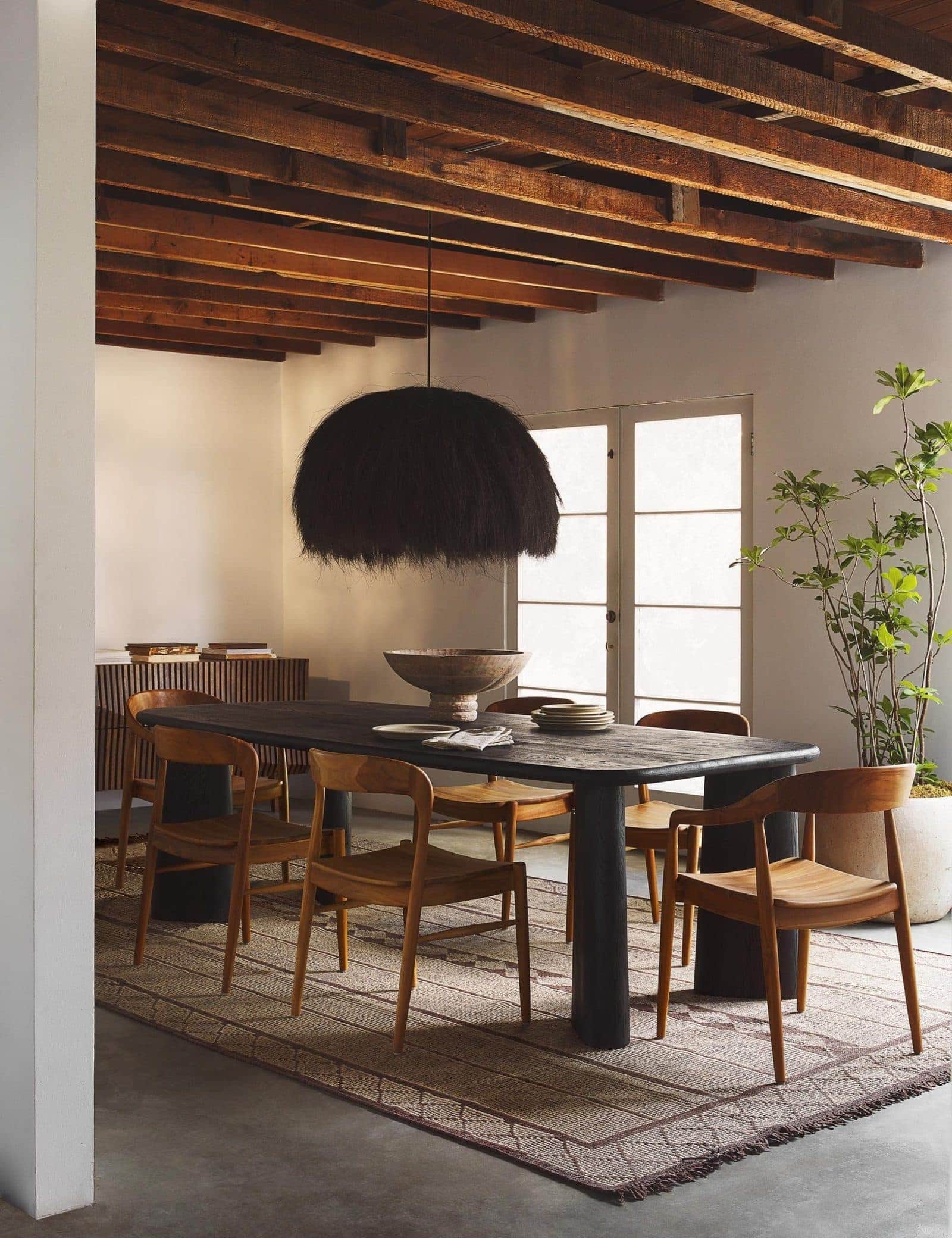 If you want the focal point of your room to be your dining set, consider choosing a dark wood table and pairing it with light wood chairs.
This table from Lulu and Georgia is made of oak and has been stained a dark color. Paired with the lighter wood chairs, it provides a beautiful contrast and is the main star of the room. This is an excellent option for a rustic, bohemian dining room.
Bring in Texture with Rattan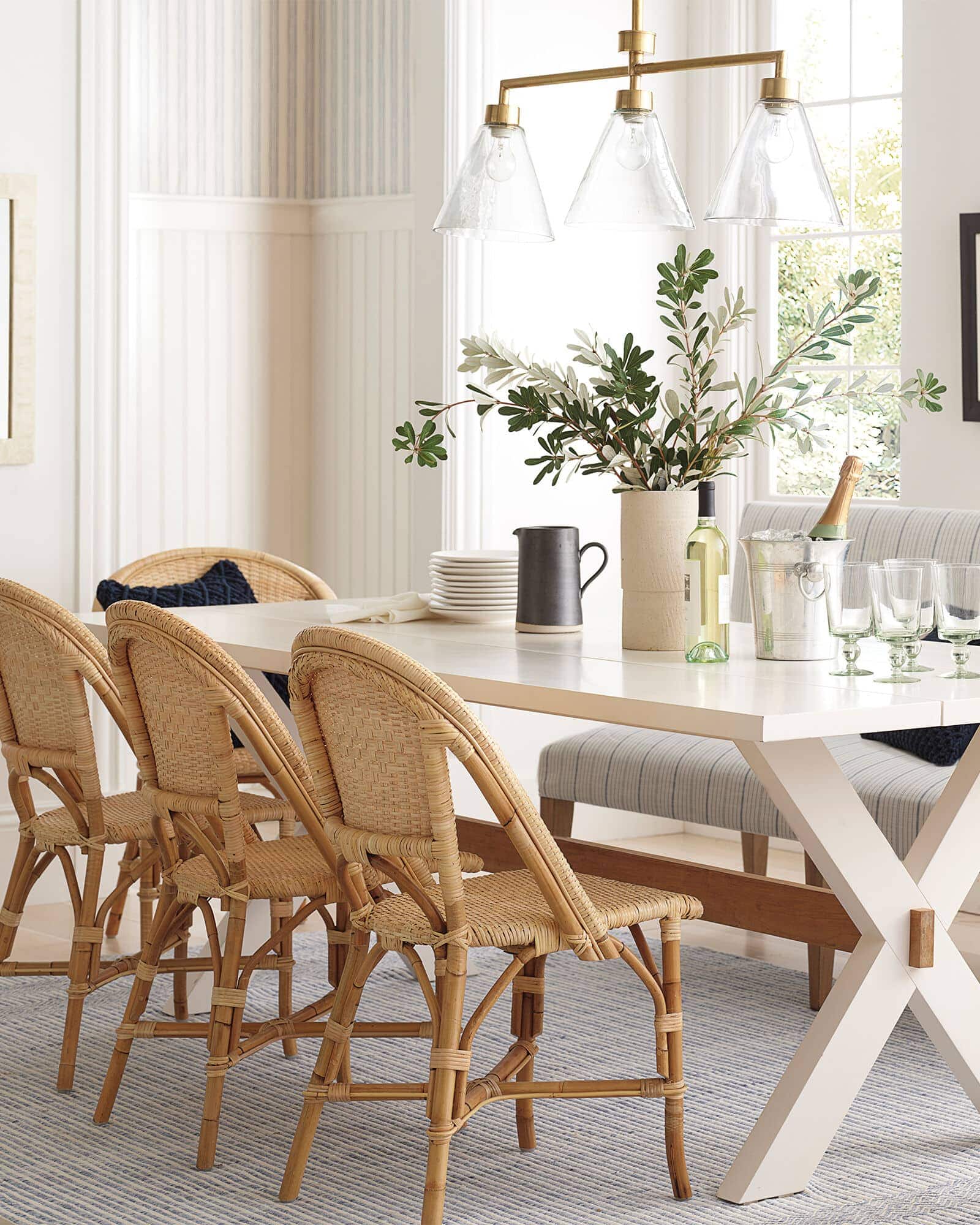 Rattan and wicker are huge elements when it comes to boho style. And one of the best ways to bring in rattan is through your dining chairs.
You can line your dining chairs with options like these from Serena & Lily, or you can use them on either end of the tale.
For a Small Space, Try a Breakfast Bar Set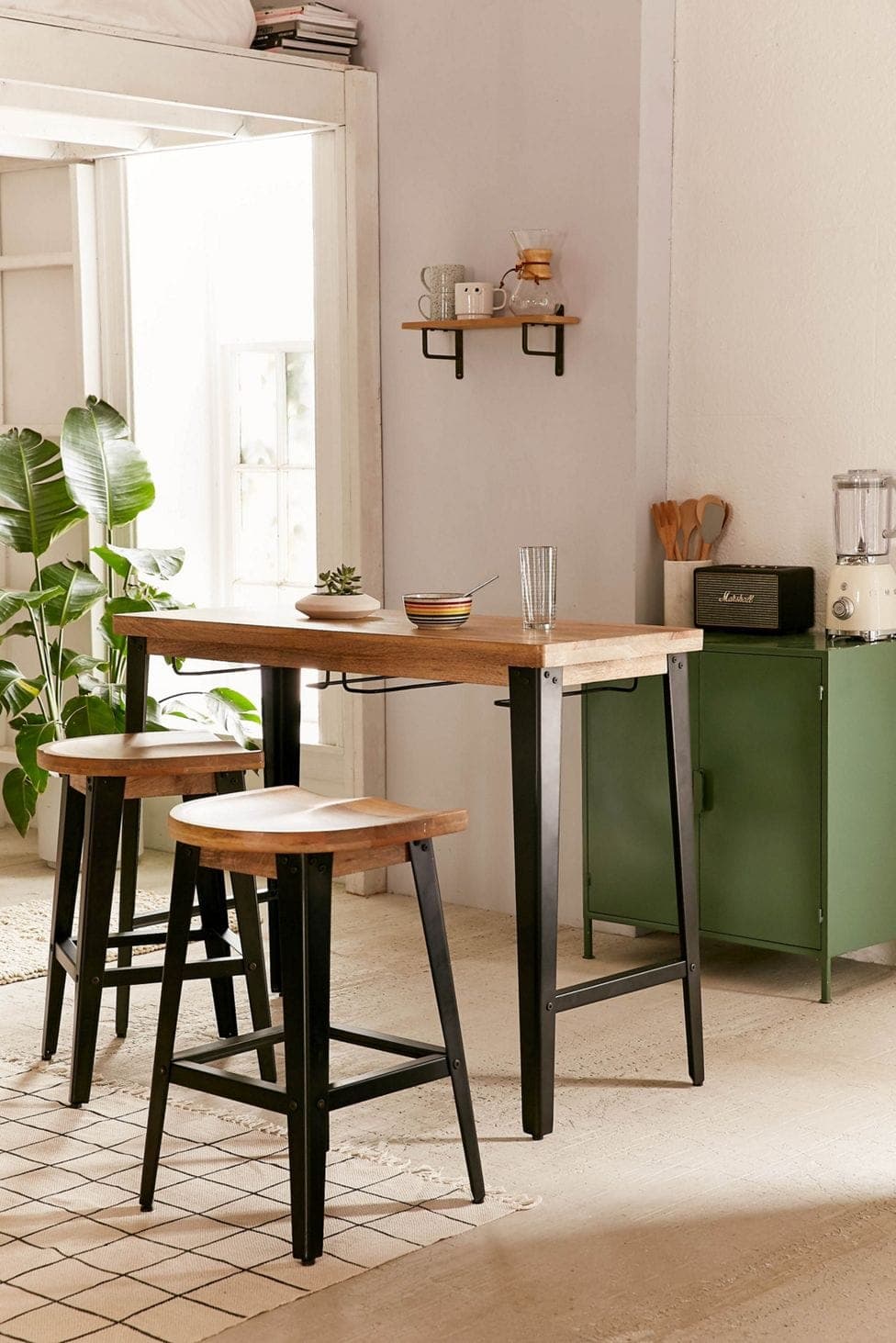 Need a boho dining table for a tiny space? Try a breakfast bar set. This set from Urban Outfitters comes with a small bar and two stools. The collection already has the perfect contrast of black metal and wood.
This is also an excellent choice for an eat-in kitchen.
Go Bold with Your Wallpaper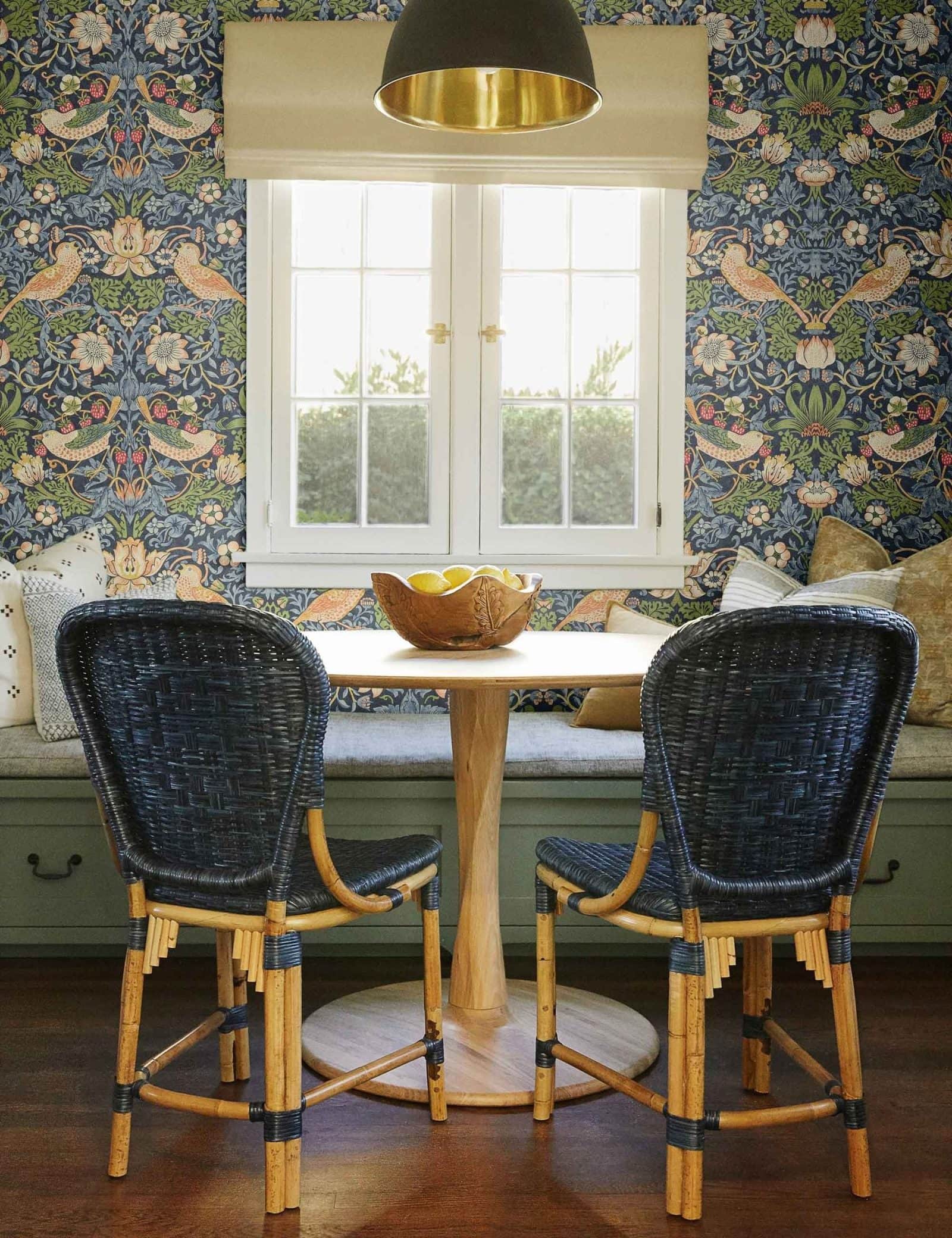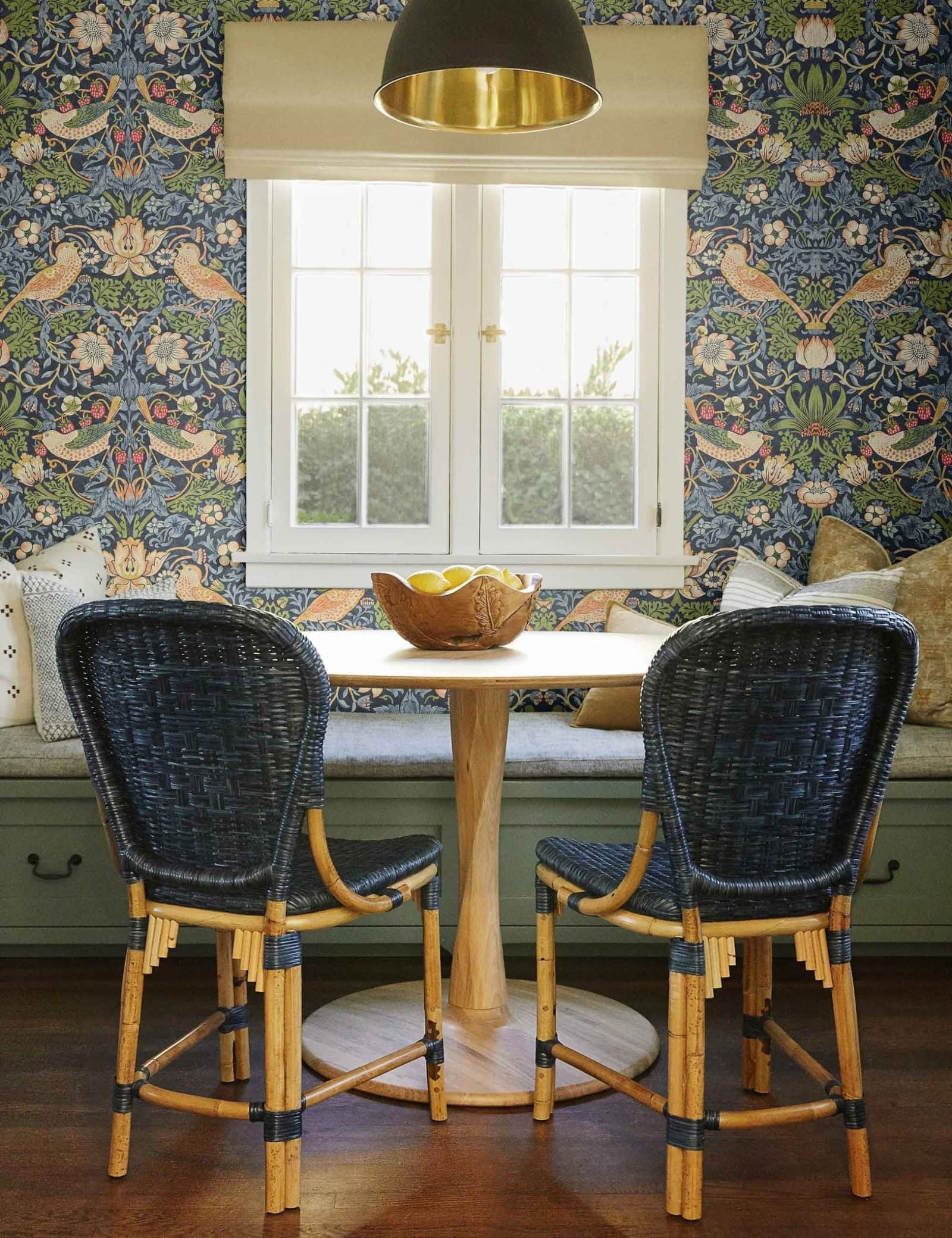 Wallpaper is a great way to bring in color and pattern. Consider going bold with a design like pictured above. You can coordinate your furniture like shown in this room or contrast by using dark wallpaper and lighter chairs.
If you're unsure about wallpaper, you can try a peel and stick variety that's easy to put up and take down.
Set the Mood with Candles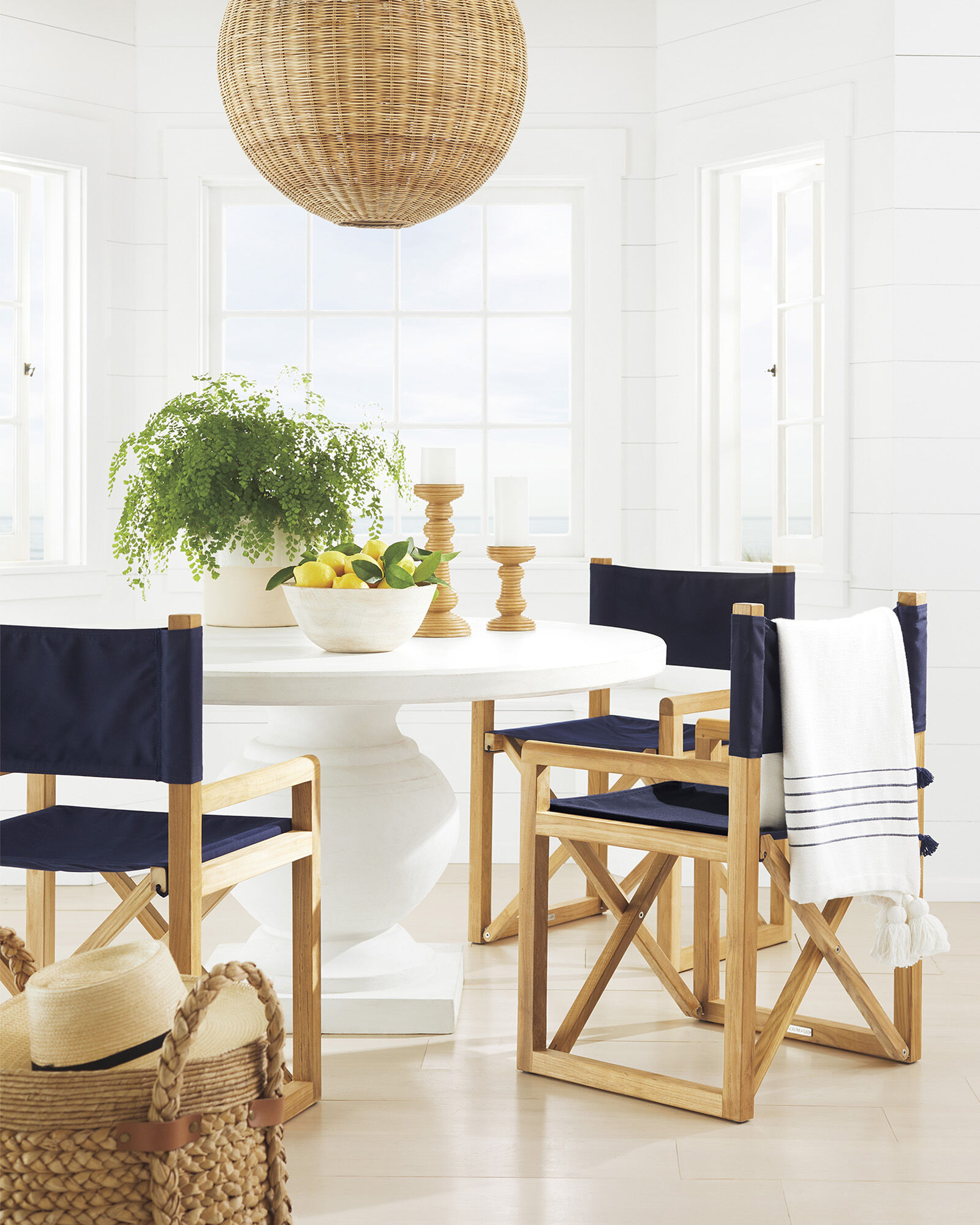 If you're looking for more table-setting ideas, try rattan candlesticks. This option effortlessly pairs with any type of boho style.
You can also add a plant and bowl of fruit to the table. Or, if you prefer a minimal look, just place the set of three candlesticks in the middle.
Final Thoughts
These 17 boho dining room ideas can help you create a beautiful room you'll love to entertain in. If you're working with a blank canvas, start by choosing your table, then bring in chairs of a contrasting shade.
Other elements to consider are wicker, rattan, and lots of plants. When you mix and match with these materials, you'll be able to create a cohesive boho-inspired room.
.