Decorated Life is reader-supported. When you buy through links on our site, we may earn an affiliate commission. Learn More
15 Best Colors to Paint a House With a Green Roof
Green roofs can look charming and elegant for your home's curb appeal. But not matching the paint to a green roof can cause a clashing design. Also, you have more limits on what color of siding goes with a green roof, as green isn't a neutral that goes with everything.
You'll get the best aesthetic with fresh color palettes for a green roof, like white and off whites, grays, browns, yellows, and red undertone colors. But, you can get creative with variations of these shades, like these 15 best colors for a house with a green roof.
Arcade White by Sherwin Williams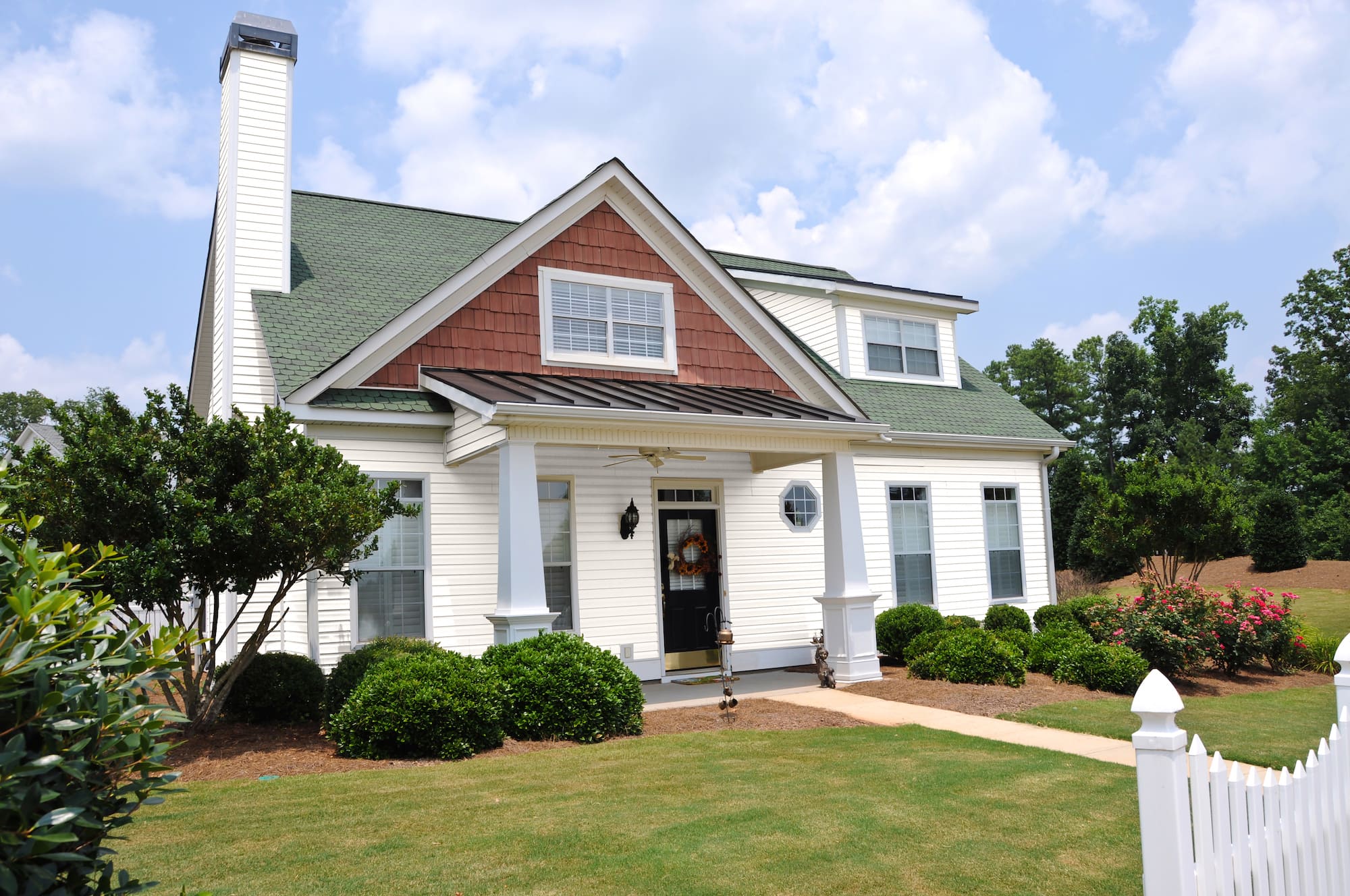 Every shade of green goes great with bright blank neutrals like Arcade White. This variation of white has a slight smoky tint that pops against a green roof.
In full sunlight, this color radiates warmth and welcoming vibes. And it's the perfect base to use green, brown, or gray for the trim, shutters, doors, and other accent features.
Lazy Gray by Sherwin Williams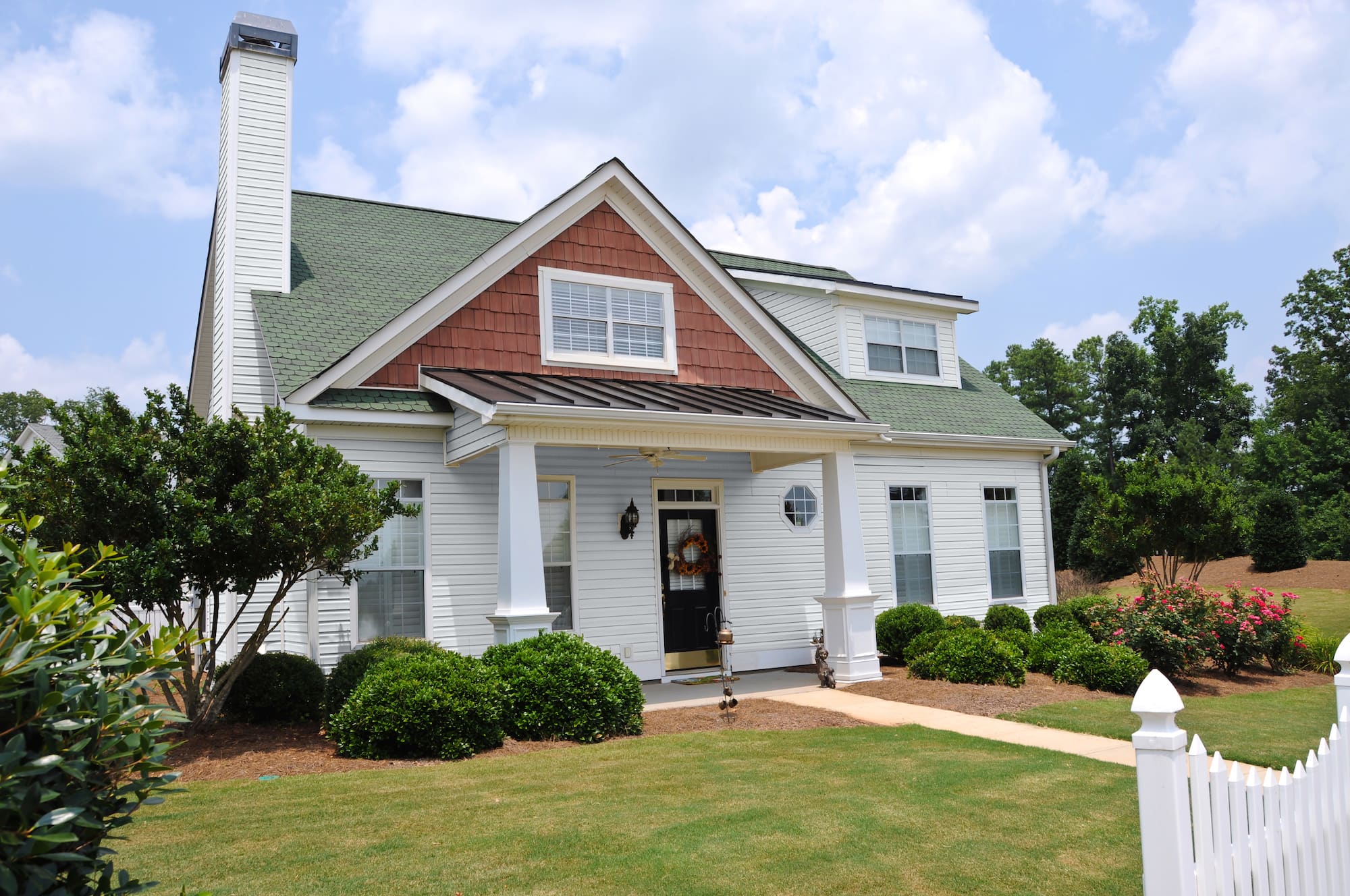 Grays is another neutral that can give your green roof curb appeal. Lazy Gray is a smoky gray that adds a complementary colored tint for green shingles or metal panels.
The medium 53 LRV prevents this color from being too dark or light. The cool temperature of this color gives the gray-beige and blue undernotes.
Cotton White by Sherwin Williams
Cotton White is a warm-toned variation of white with light beige and brown undertones. These hints of color give this white more of a cream appearance.
Cream and green look fantabulous together and can maximize curb appeal for homes where you want to blend in with nature. Then use grays like Daydream and Mesmerize for accents.
River's Edge by Sherwin Williams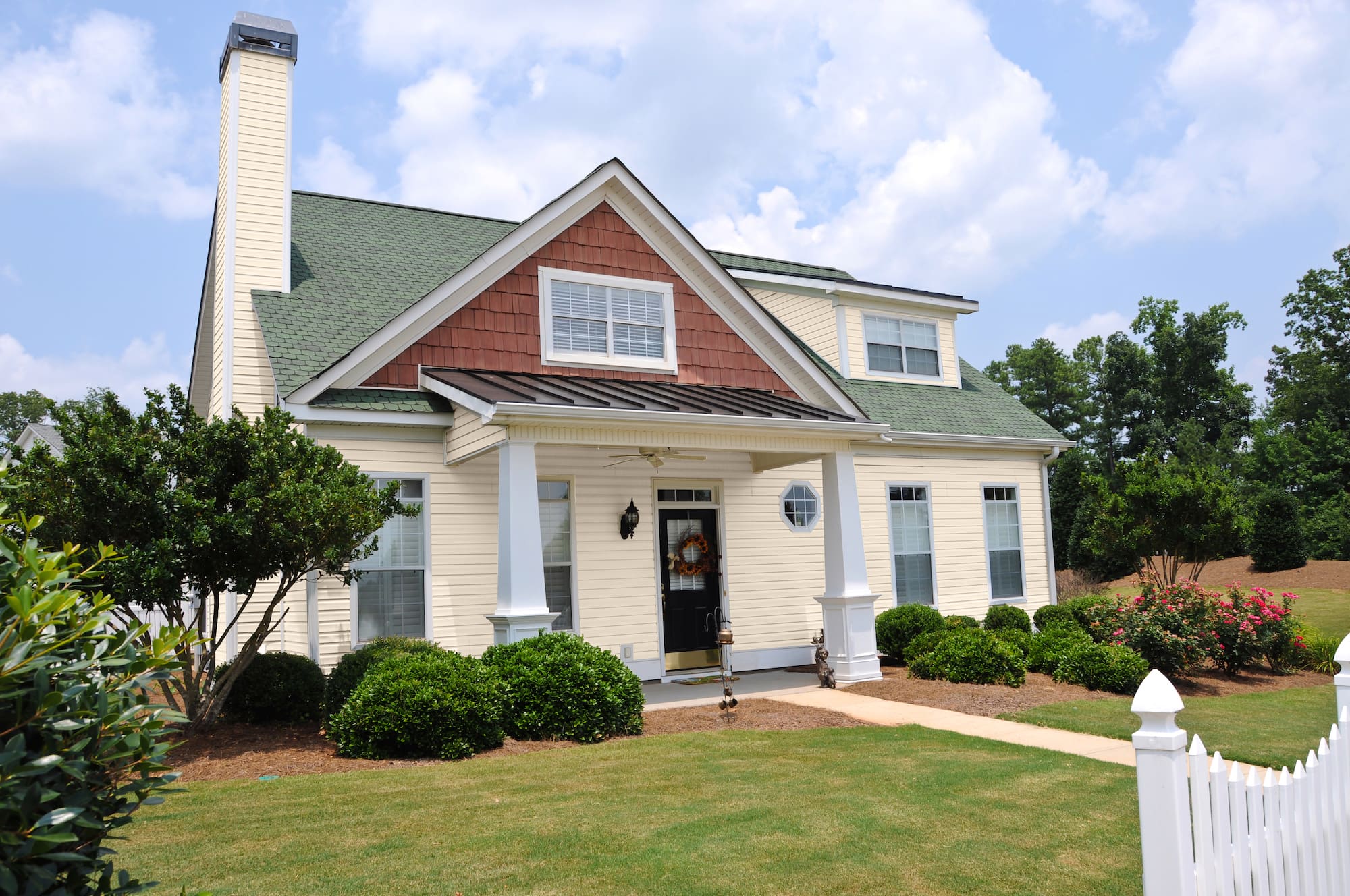 River's Edge is a tan with brownish-beige undernotes that gives character to your exterior. When used for the siding on the house with a green roof, you get the maximum curb appeal.
A medium LRV of 63 helps this darker-toned tan look lighter and brighter. And faint traces of red notes add a warm temperature that compliments green roofs.
Tiki Hut by Sherwin Williams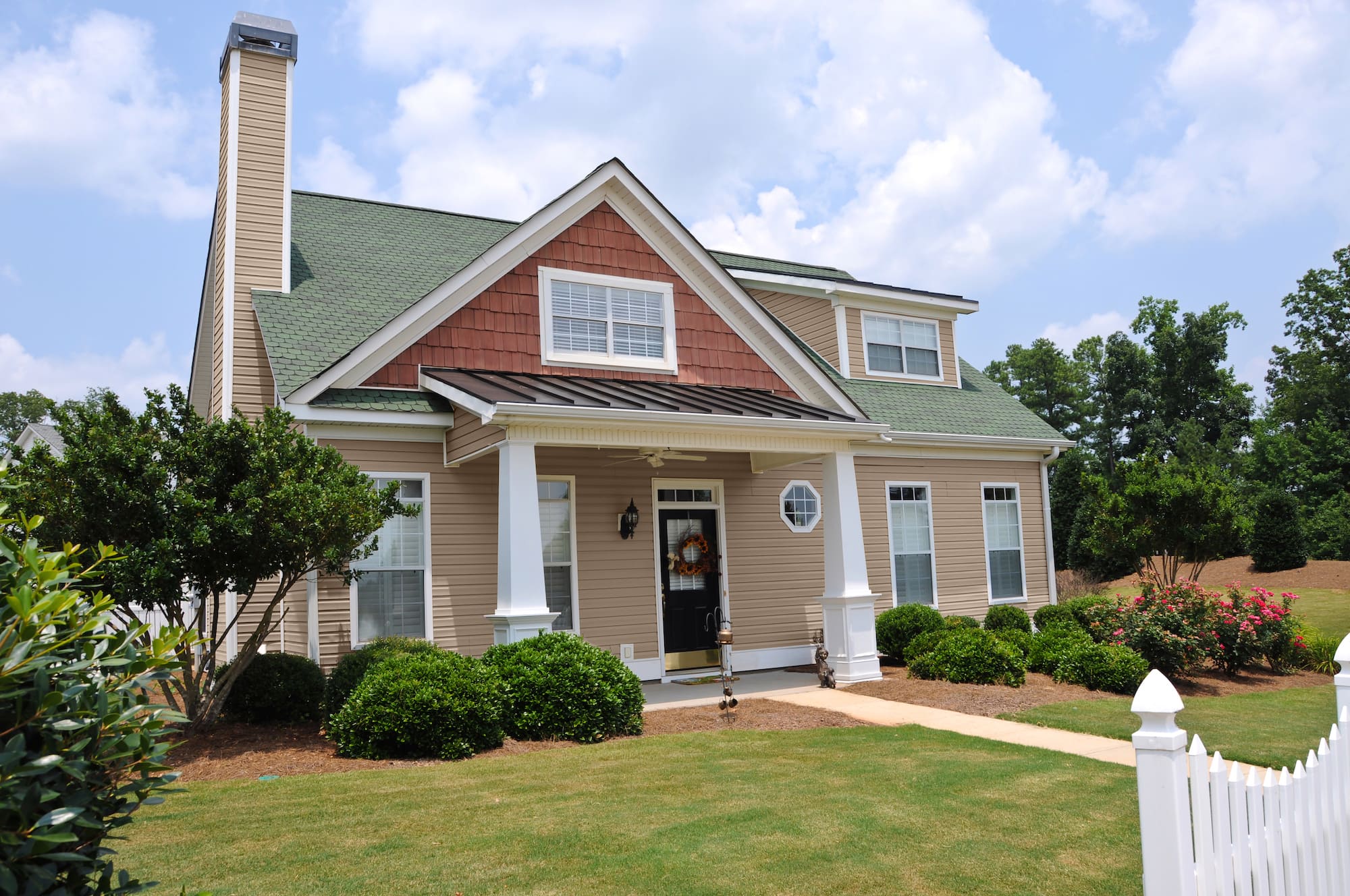 Tiki Hut is a dark brown color that adds a rustic charm to homes with green roofs and red cedar shingle siding. This brown has red and gray undernotes that warm your exterior for better curb appeal.
Add accent colors like Loggia, a tinted beige, or whites like Aesthetic or Marshmallow if you want to tone down the drama from the darker siding and roof.
Roman Column by Sherwin Williams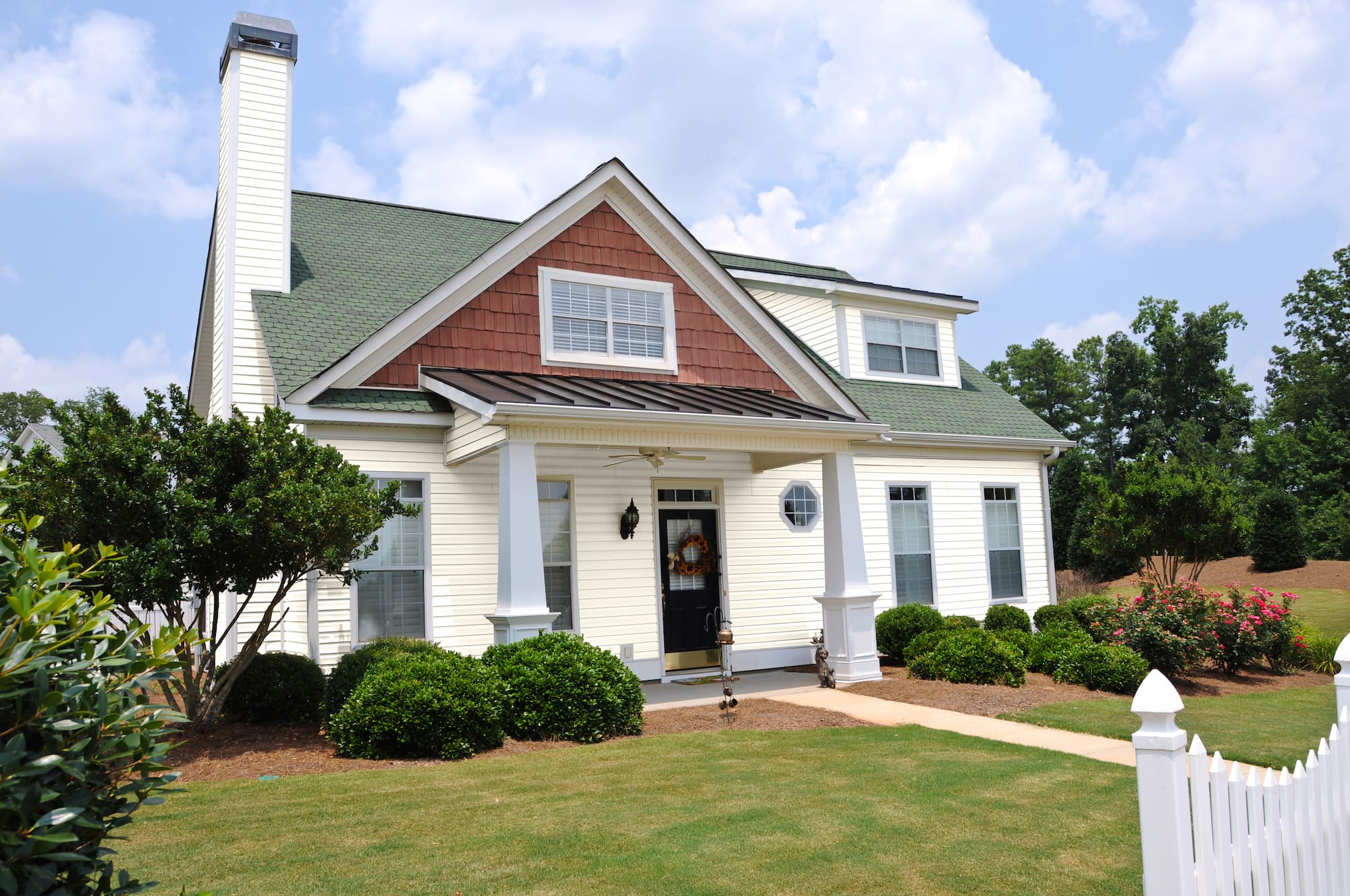 For a lighter exterior with a green roof, think about a creamy neutral like Roman Column. The name brings to mind ancient coliseums of cities lost to the times.
Your house's exterior is sure to look just as regal and majestic with this neutral color. It's the perfect base for a green roof, with color accents in lighter Alabaster or darker hues like Downing Earth or Relaxed Khaki.
Ambiance by Benjamin Moore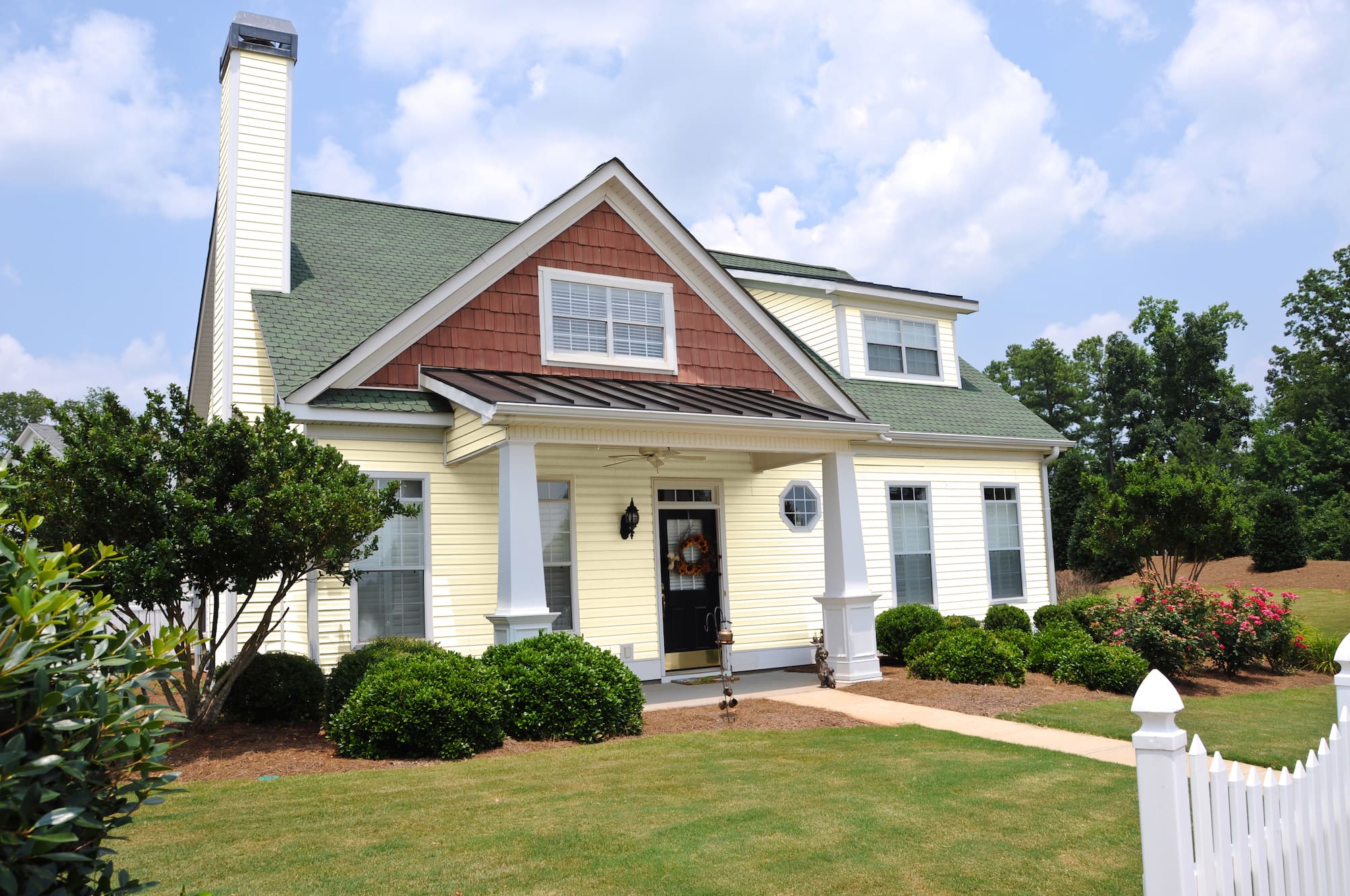 Give your home a refreshing, warm-toned vibe that adds a welcoming touch with a muted yellow. We're obsessed with the aesthetic you get with Benjamin Moore's Ambiance.
This smoky butter resembles a blend of beige and cream, with a bit of sunshine to brighten it up. Ambiance will give your home ambient curb appeal when matched with a green roof.
Acadia White by Benjamin Moore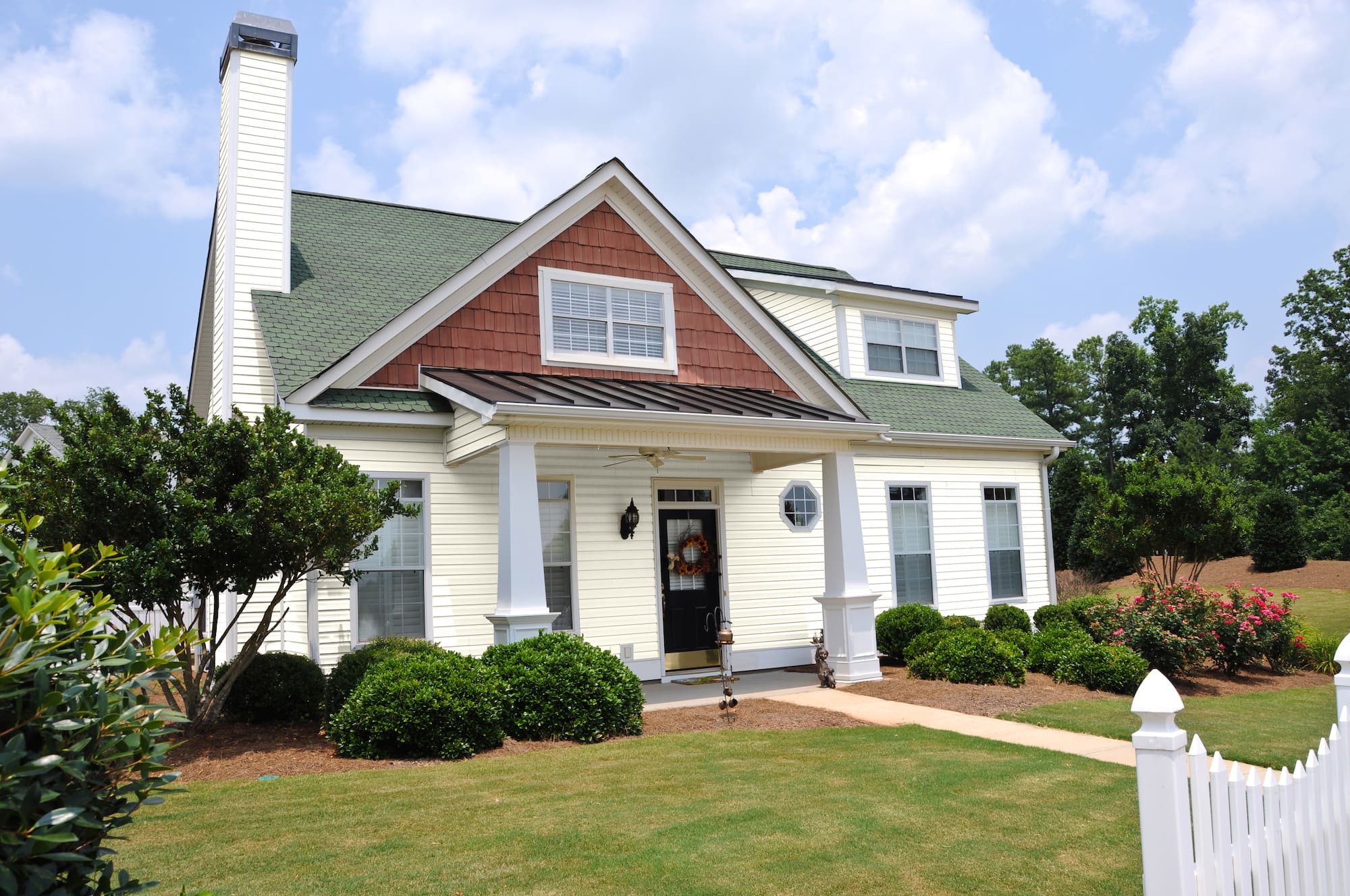 Acadia White – also called Ivory – is a beautiful blank neutral for a traditional or classic exterior with a green roof.
We're hypnotized by the play of shadows that give this white tinted undernotes. So your house will look a bit gray or a bit beige or tan, depending on your lighting.
Wickham Gray by Benjamin Moore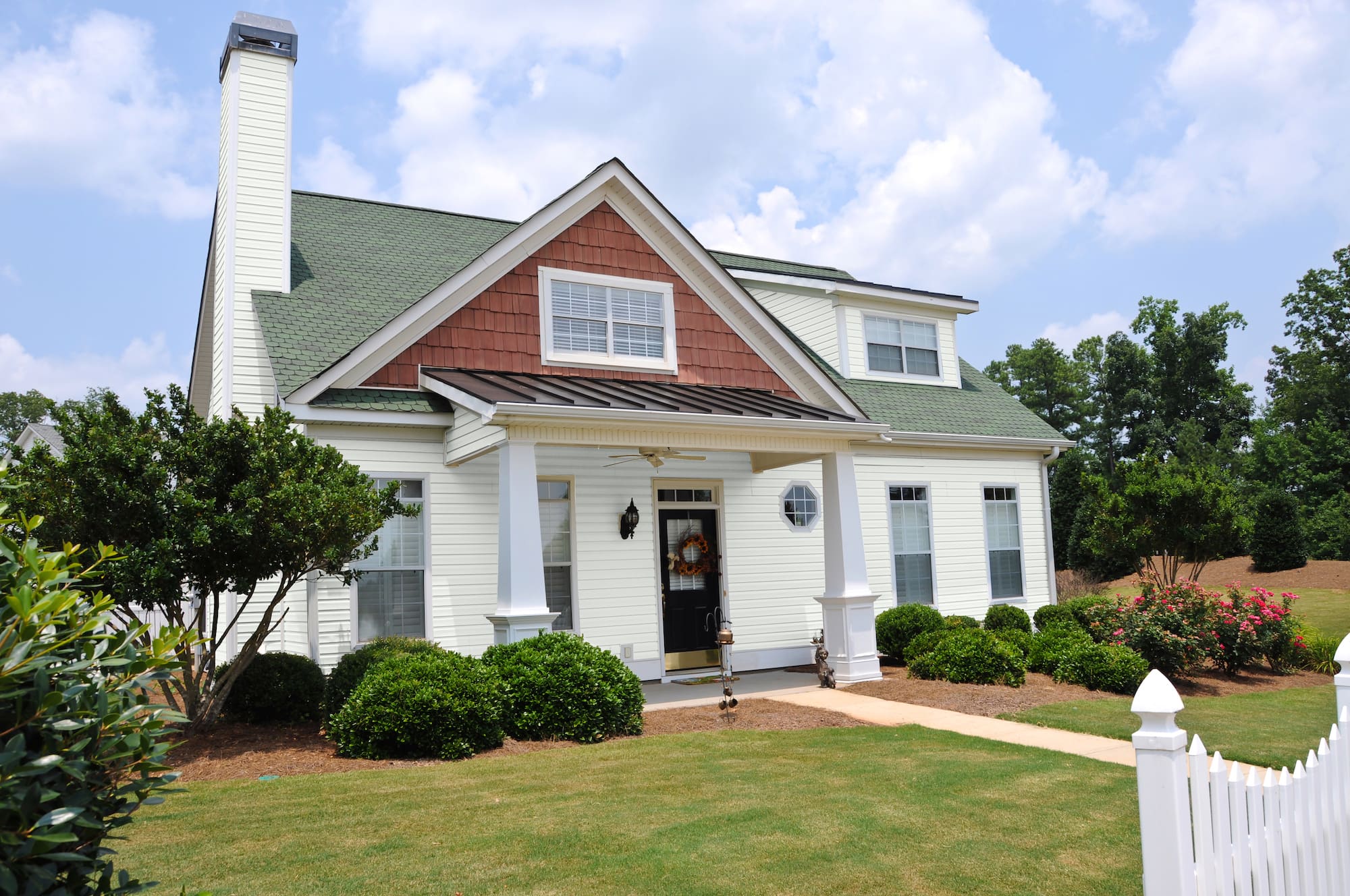 We're nuts for Benjamin Moore's Wickham Gray for a gray and green color combination. WG is a soft gray that almost resembles greige gray-beige.
This timeless shade is in the historic color collection, inspired by a historic landmark. So when you paint your exterior Wickham Gray and add a green roof, you're working with a color palette that will never go out of style.
Fairview Taupe by Benjamin Moore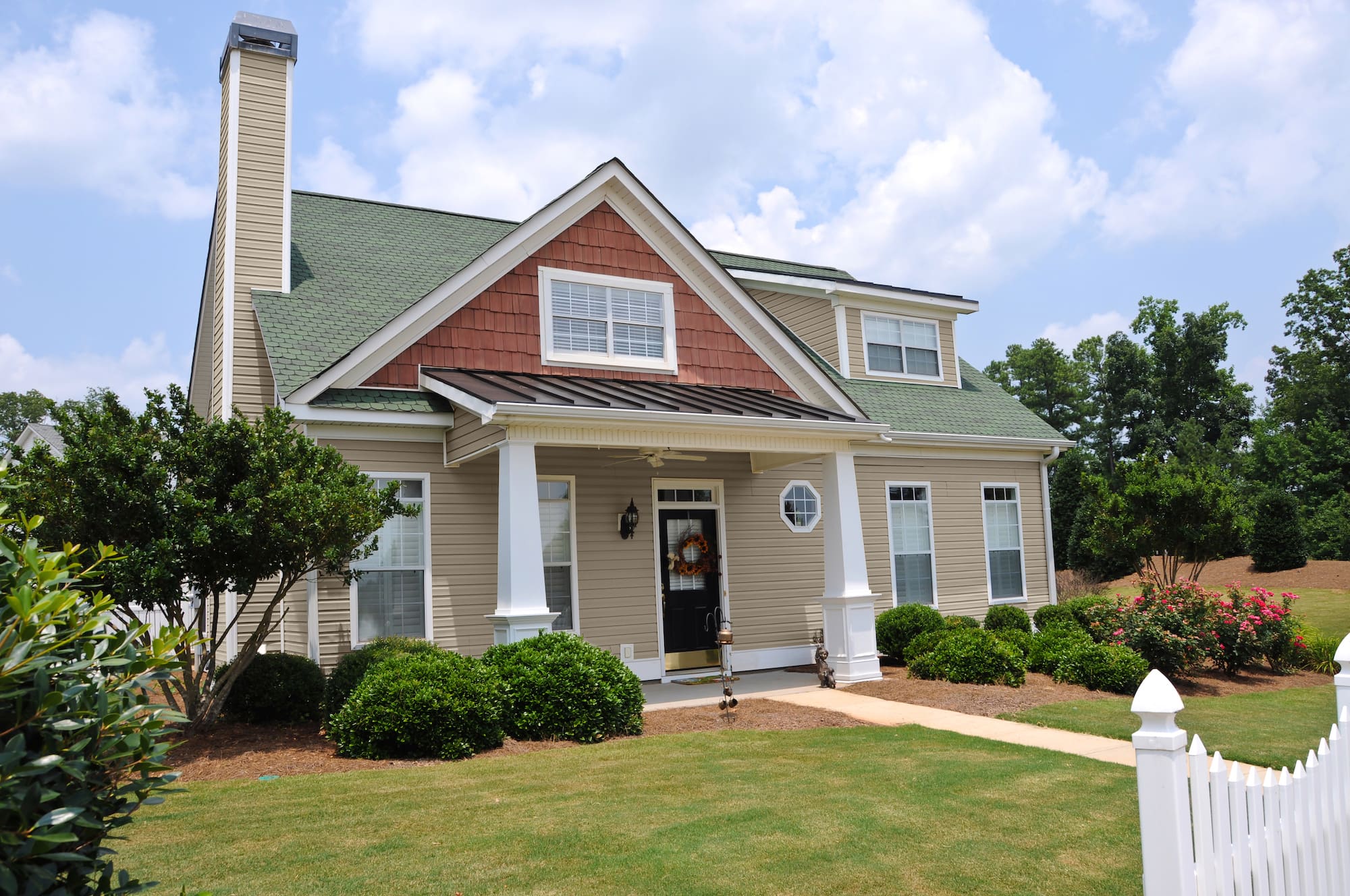 Fairview Taupe is a dark, dirty neutral with refined pigmentation. This color has heavily shaded saturation, giving it a low 16.33 LRV.
You'll give your exterior a bold yet balanced look with a brown with gray, purple, and reddish undertones. Put against a green roof, and you get a graceful palette that's perfect for introducing accent colors, like Abalone, Smoked Oyster, or Hazy Skies.
Gloucester Sage by Benjamin Moore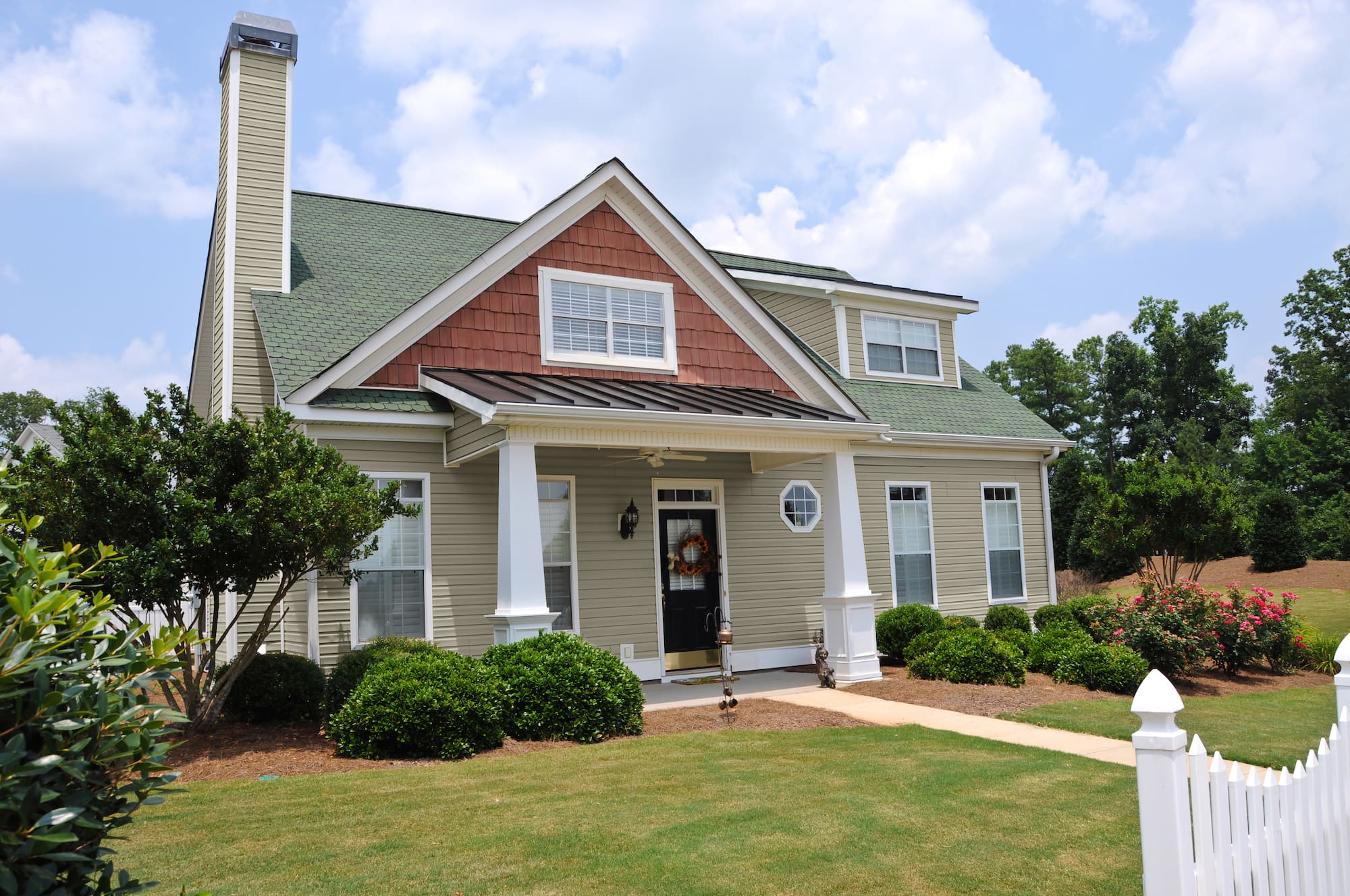 Another way you can go with an exterior color palette for green roofs is a monochromatic theme of green on green. Gloucester Sage is the perfect color for the green on top of the green palette.
Part green, part brown with a dark hue and a low LRV of 17.84, this sage variation brings swampy moss-coated trees and vintage ironwork accents to mind.
Taupe Tease by Behr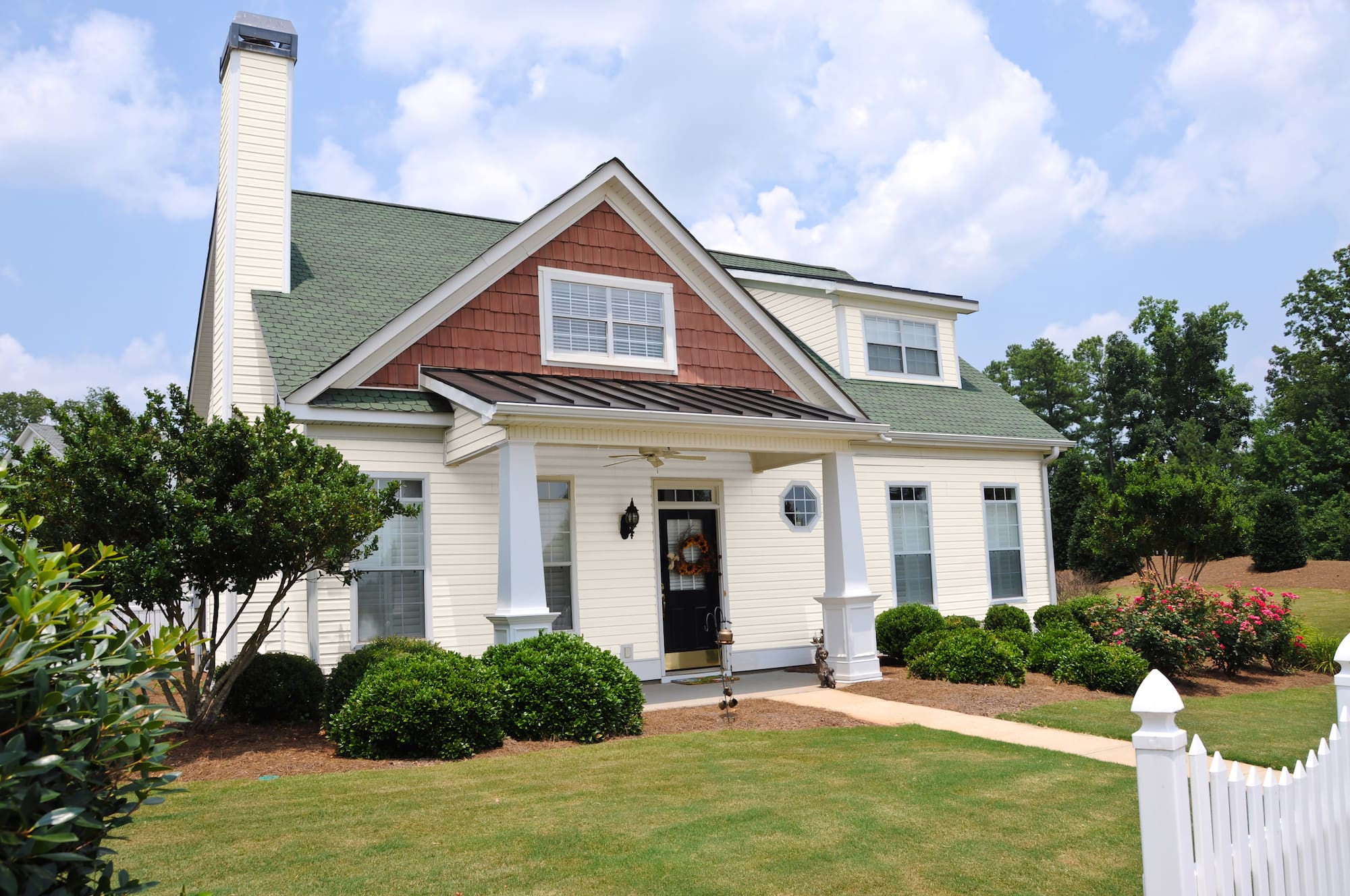 Taupe Tease is a lighter shade of taupe that can give your exterior a breath of freshness. This neutral blend of cream, tan, and faint brown traces offers subtle tinting and a medium 70 LRV.
We're fascinated by mixing a dirty tan with slight purple undertones with the richness of green shingles. Adding a dormer with a red cedar wood shingle face enhances your curb appeal.
Brook Green by Behr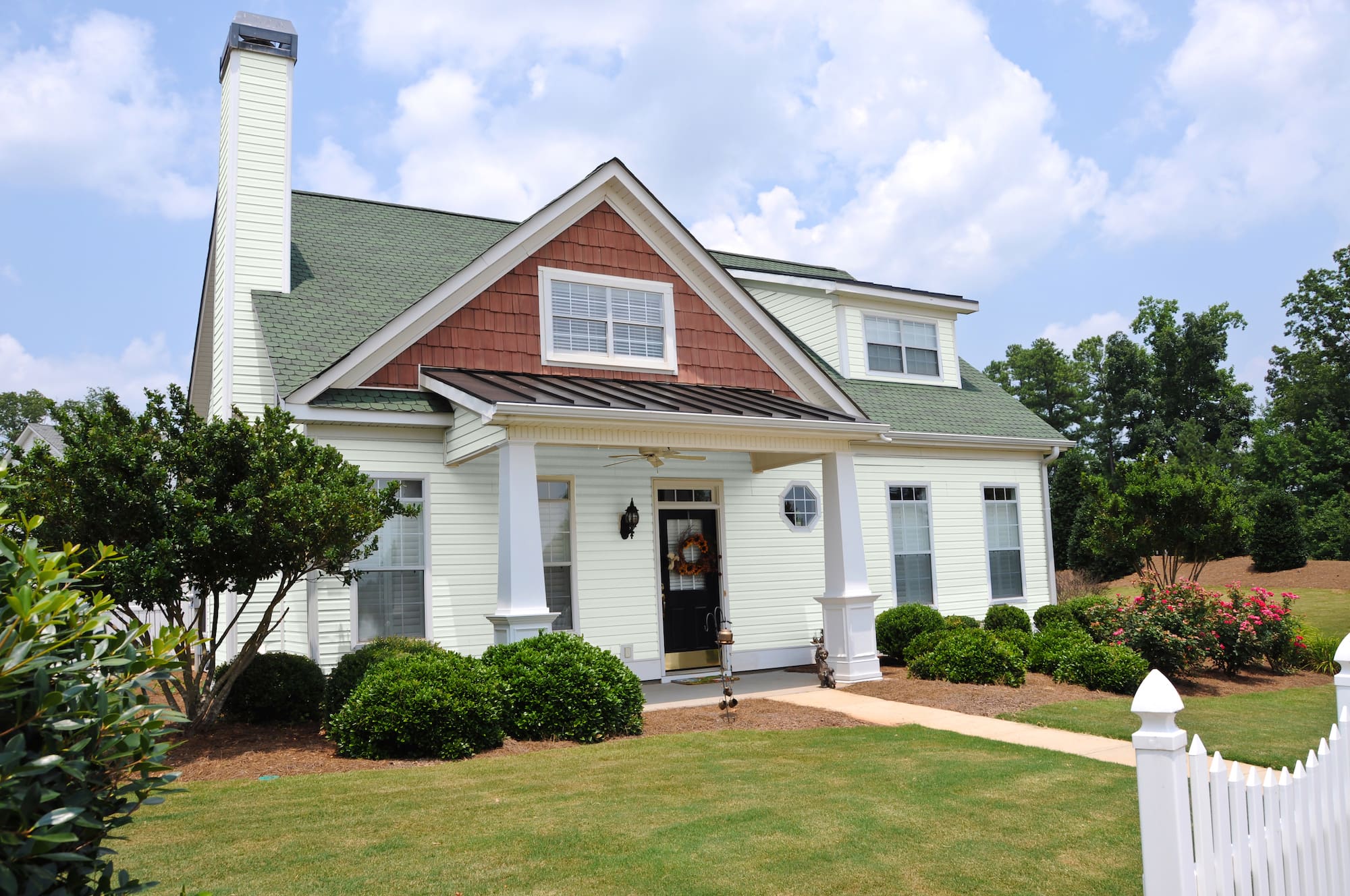 Behr's Brook Green is a popping shade of green for a contrasting monochromatic look. More gray than green, this cool color offers a different hue against a darker green roof.
Brook Green looks like an authentic green-gray that flops in look based on lighting and accents. A medium 68 LRV helps this color bounce light around for a traditional, welcoming curb appeal.
Elephant's Breath by Farrow & Ball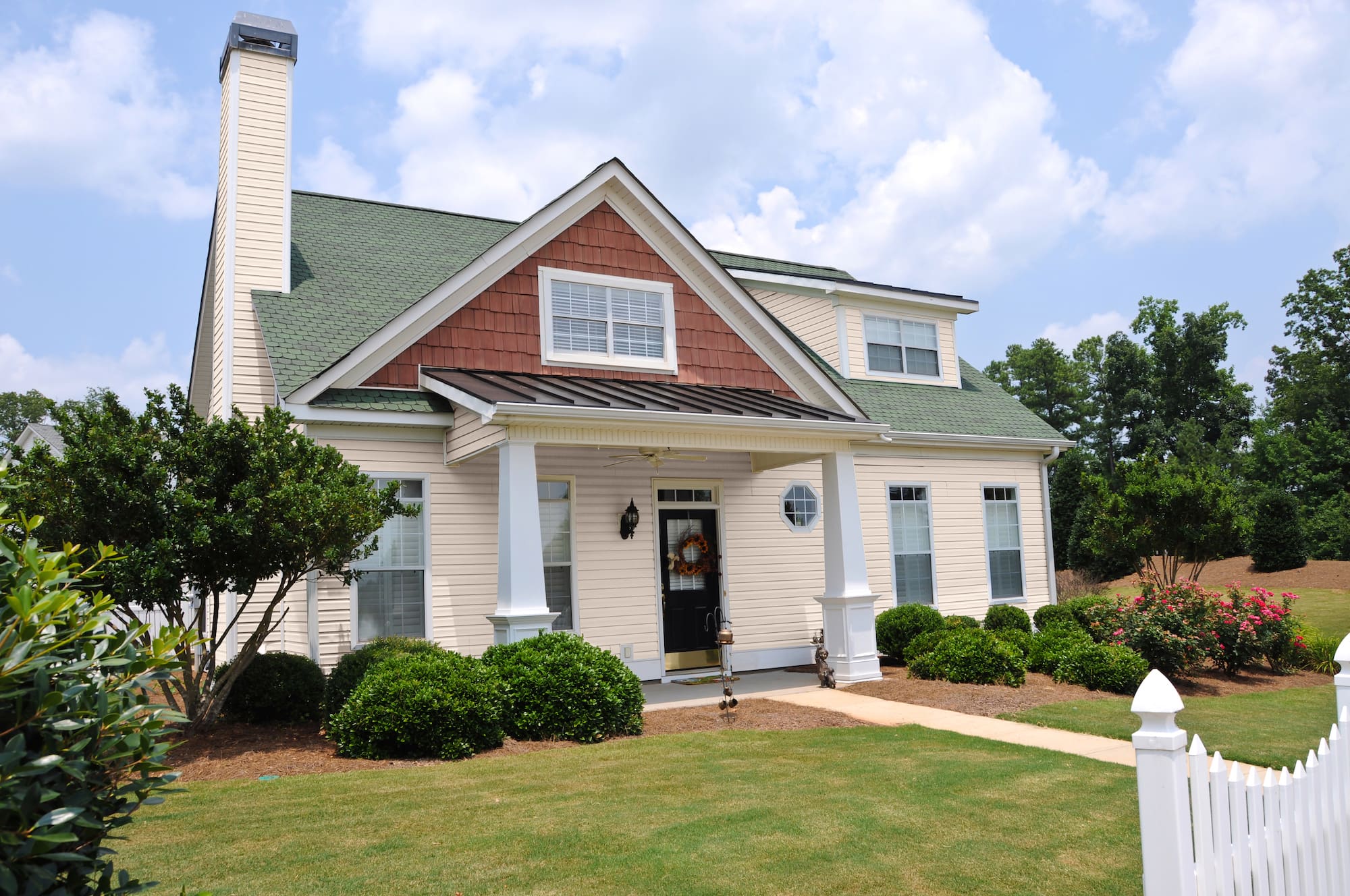 Elephant's Breath is a mid-toned contemporary gray that can make your exterior look more purple in some lighting. In addition, this gray has faint magenta undertones that can make this color look lilac in cool, west light.
Adding this mauve-based gray to a house with a green roof gives your home a modern, updated look. Keep your palette natural by choosing earthy colors like gray and brown or contemporary in white, cream, and beige.
House White by Farrow & Ball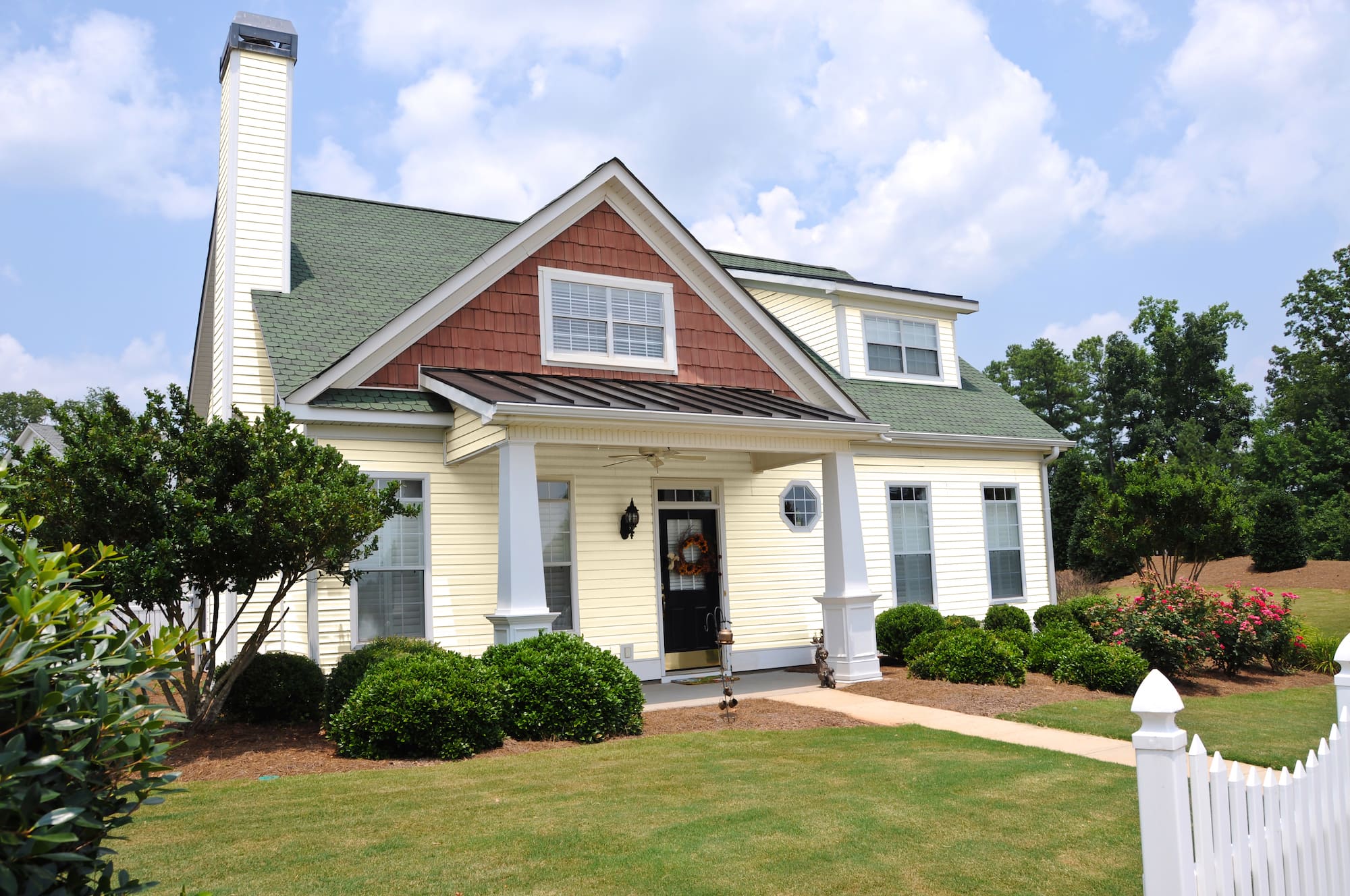 House White is a shade of off-white that can do fabulous things for your home's exterior. Faint green undertones give this white a fresh, citrusy feel.
This color works for homes of all architectural styles and times, remaining timeless and stylish for decades to pass. Similar to cream but with darker green undernotes, this white gives your home a fresh pop of lightness.
In Closing
When you have a green roof, you have fewer options for exterior house colors than with other colors. Your best color choices to go with green include different shades of green in alternate hues for a monochromatic palette. Other options include neutrals like whites and off-whites, beige, brown, and taupe.