Decorated Life is reader-supported. When you buy through links on our site, we may earn an affiliate commission. Learn More
12 Farmhouse Kitchen Ideas on a Budget
A farmhouse kitchen is the heart of the home. It's often where the family gathers to spend time together and share stories and wind down after a hard day at work, while enjoying a lovingly prepared home-cooked meal together.
If you're looking to create your own farmhouse style kitchen there are lots of easy changes you can make that don't involve tearing down your kitchen and starting from scratch.
These farmhouse kitchen ideas on a budget are all easy to implement, giving you that rustic farmhouse feel without breaking the bank.
Use Open Shelving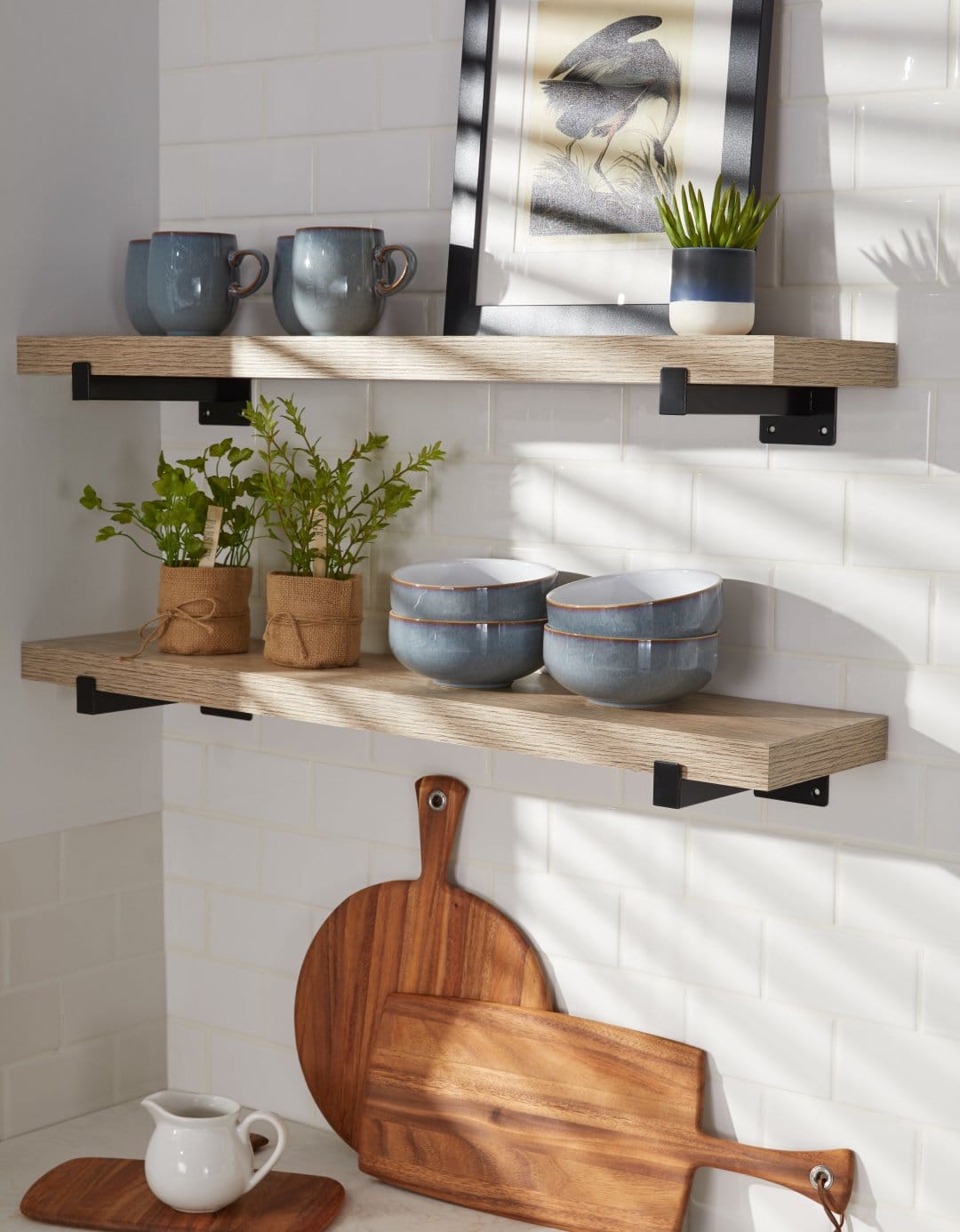 Open shelving will help to create a farmhouse vibe in your kitchen, as well as providing additional storage. You can use open shelves to display items from your kitchen that you love, such as bowls, recipe books, plants, and anything else you would want to have out on display.
These chunky wooden shelves on black metal brackets are an easy way to give your kitchen a rustic feel. They are easy to install, and can simply be added to any wall where you don't already have shelves or cupboards, so if you're trying to create country kitchen designs on a budget, this is the way to go!
A Country Style Runner Rug
This gray and natural toned hand knotted runner rug is the perfect addition to a farmhouse kitchen, adding warmth, texture, and a touch of rustic charm. This gorgeous runner is made from 80% wool and 20% cotton, so it feels lovely and soft underfoot, and provides just the right amount of cushioning.
The grid design is quite modern, while the thick material and color palette gives it a country feel, so this would work in both a modern farmhouse and a traditional farmhouse style kitchen.
Glass Storage Jars With Wooden Lids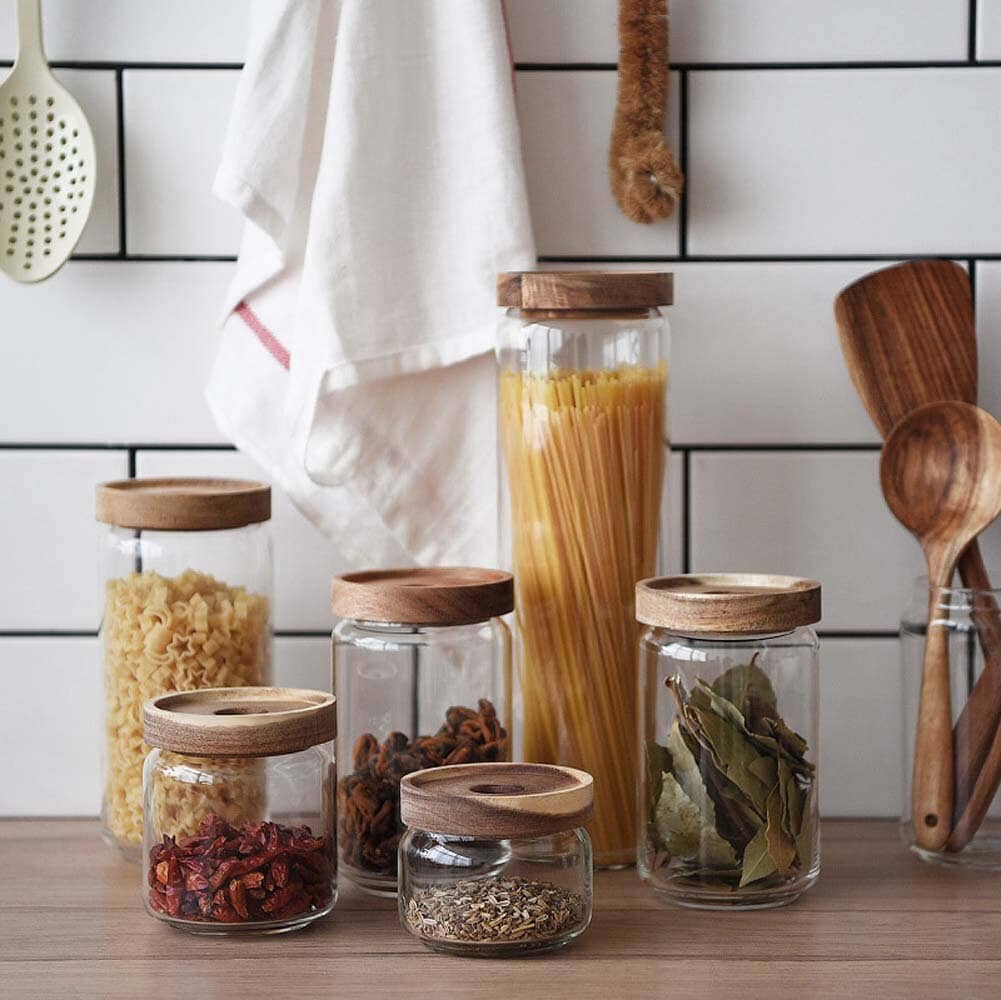 Glass storage jars are a great way to get the country kitchen look on a budget! You can use clear glass storage jars to store any fried foods such as pasta, flour, lentils, herbs and spices, and more.
Having dried foods out on display in glass jars enables you to easily see what you have, and makes your food into a decorative feature rather than something to hide away. These canisters have beautiful acacia wood lids, and are completely air tight, so your food won't spoil.
Retro Analog Kitchen Scales
This gorgeous analog kitchen scale is the perfect accessory to create a farmhouse kitchen look. Available in a range of colors, this high-quality scale will look great on your kitchen worktop, even when it isn't being used.
This is a must-have for anyone who loves baking. It features an easy to read analog dial, and a large weighing bowl that takes up to eight pounds.
Keep Your Bread Fresh With a Vintage Style Bread Box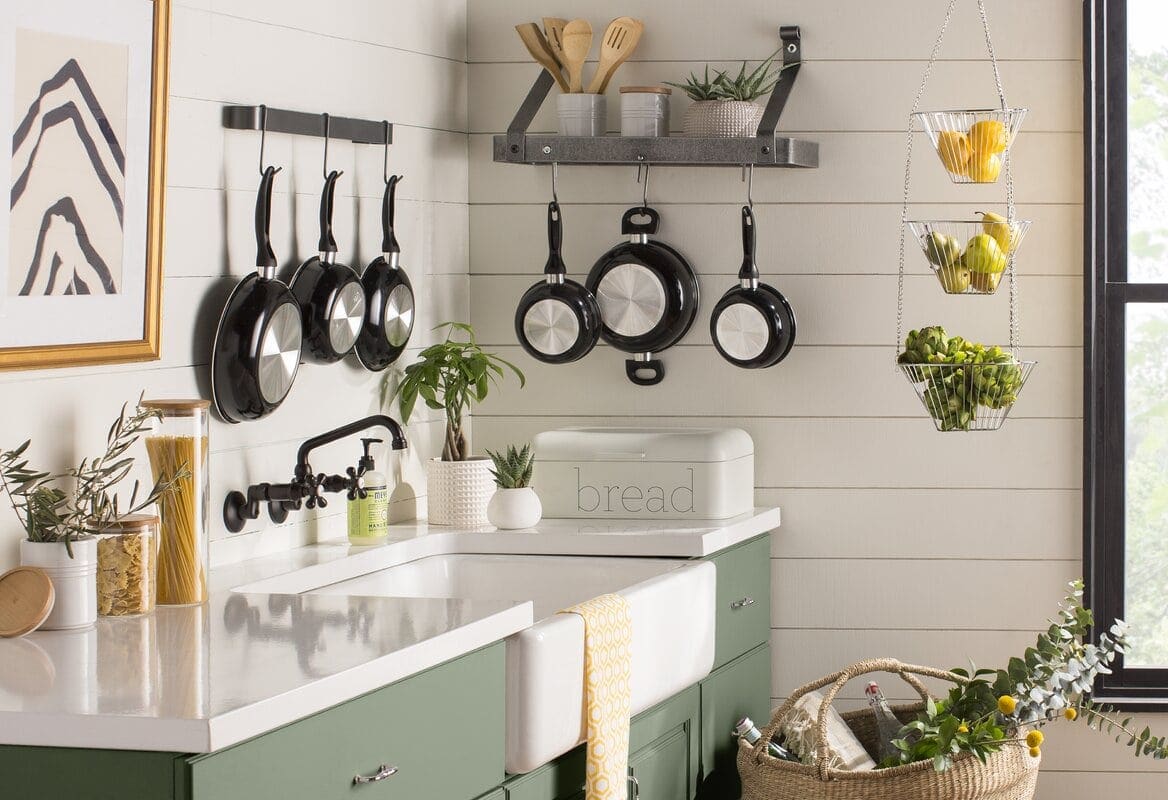 A vintage style bread box can help to give your kitchen that classic farmhouse look. These days bread comes wrapped in plastic, so bread boxes haven't been used as much, but with home baking making a comeback, this stylish bread box is the perfect solution for keeping your baked goods fresh.
This metal bread box is perfect for a modern farmhouse kitchen, with a white finish and chic modern black lettering.
Add Some Statement Pendant Lighting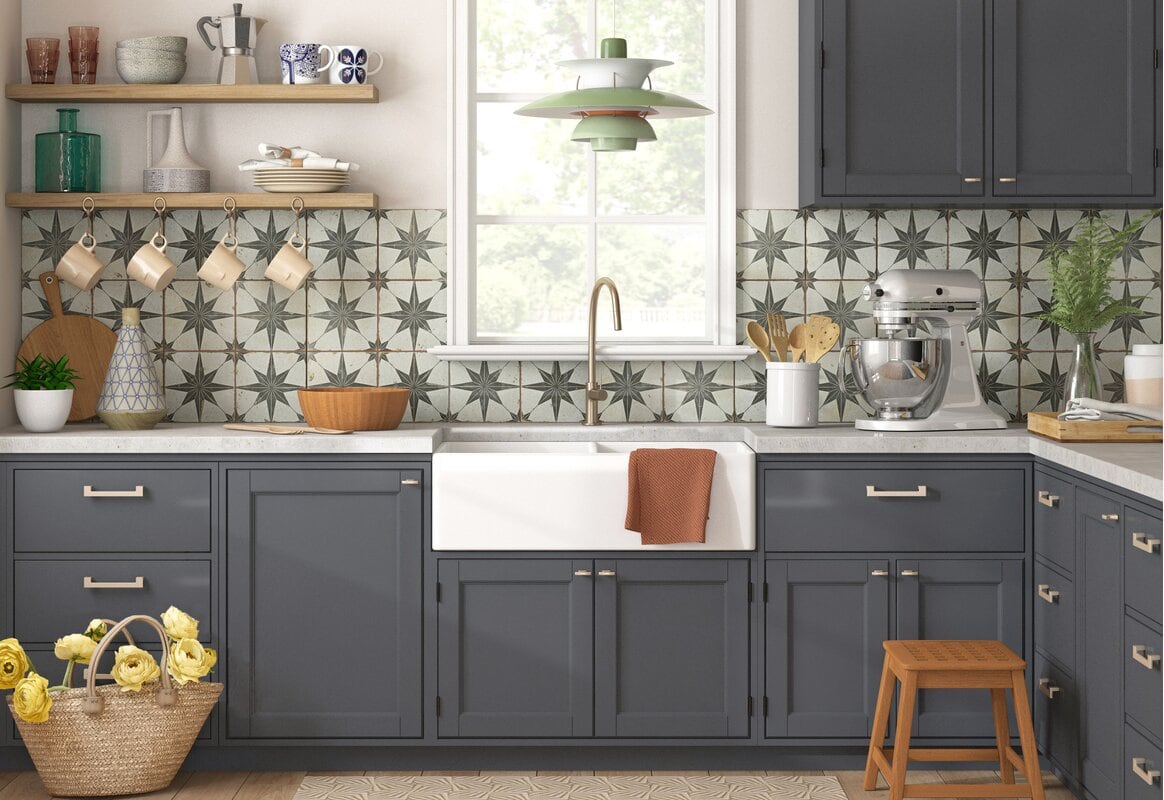 Farmhouse kitchens usually include a variety of lighting, whereas modern kitchens tend to stock with simple spot lights. A statement pendant light will give your kitchen an instant farmhouse feel on a low budget.
This style of pendant light used to be used in factories and agricultural settings, and will bring a touch of rustic industrial charm to a farmhouse kitchen with it's sleek powder coated gray finish.
A Chunky Wooden Table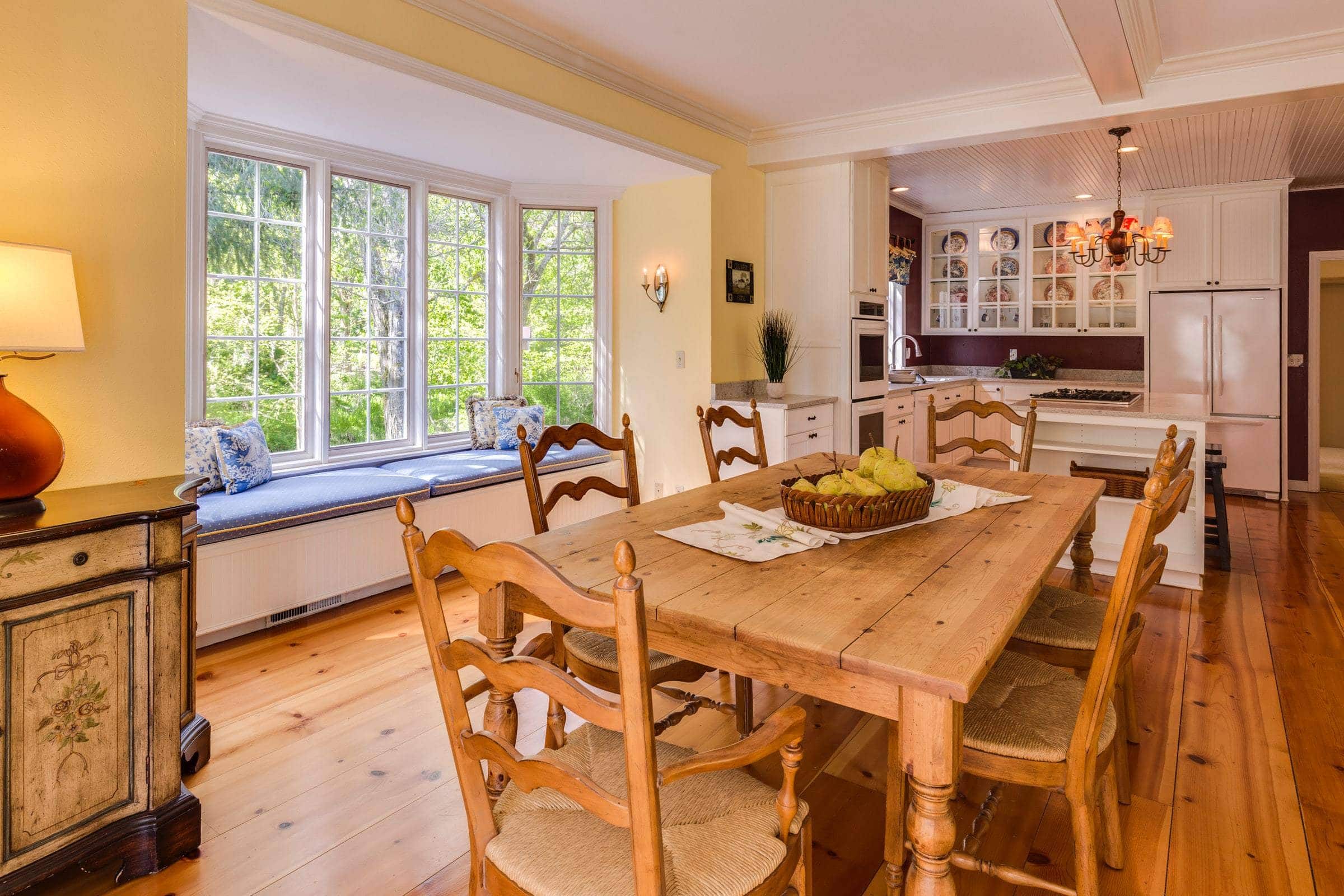 Nothing says traditional farmhouse kitchen quite like a chunky wooden table, and tables like this are built to last a lifetime so they are definitely a worthy investment.
In farmhouse kitchens most meals are eaten at the kitchen table since it's the heart of the home, and it's also somewhere you can sit to socialise, read the paper, or do homework. This chunky wooden table has a warm rustic charm to it, and would look perfect in a farmhouse kitchen!
Add a Butler Farmhouse Kitchen Sink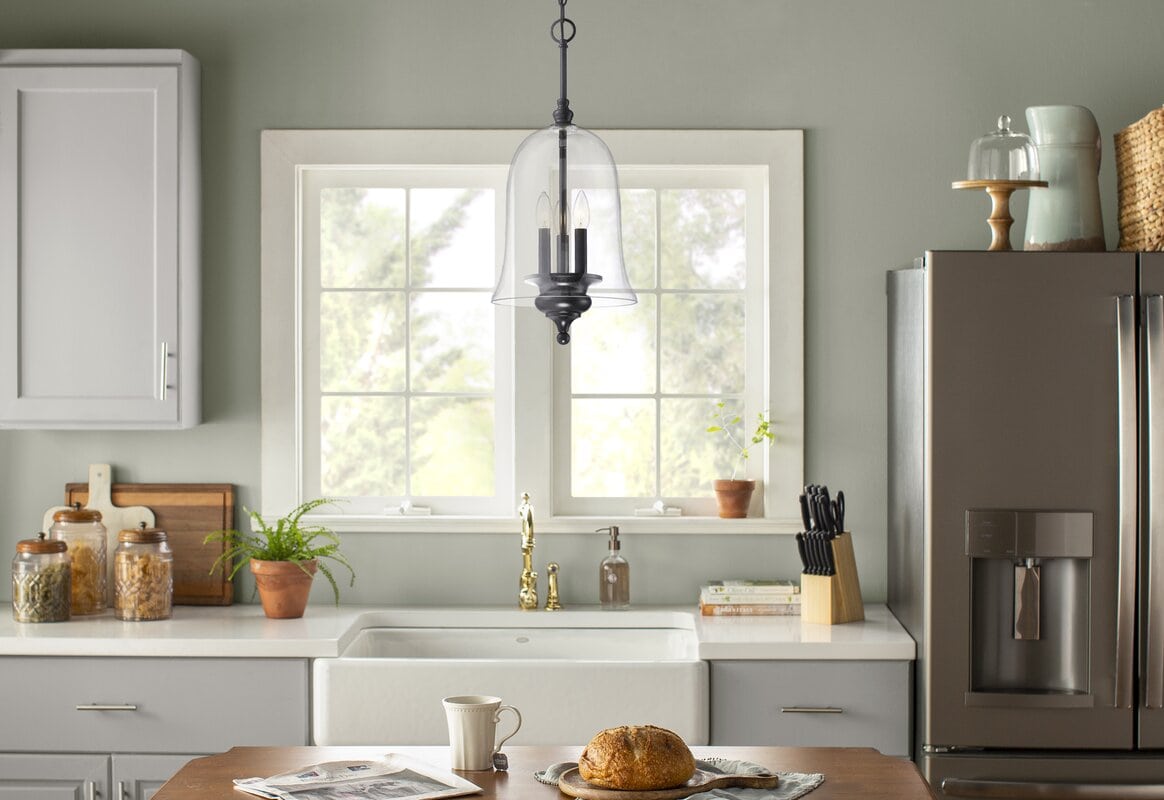 If you're thinking of changing your kitchen sink to give your kitchen more of a farmhouse look, then a butler sink can make all the difference giving your kitchen an authentic country feel.
Butler sinks are a classic feature of farmhouse kitchens, and their wide deep design means they provide plenty of space for washing dishes, vegetables and anything else you need.This Derryberry butler farmhouse kitchen sink is built to last, with a sturdy fireclay construction.
Keep Chopping Boards and Utensils on Display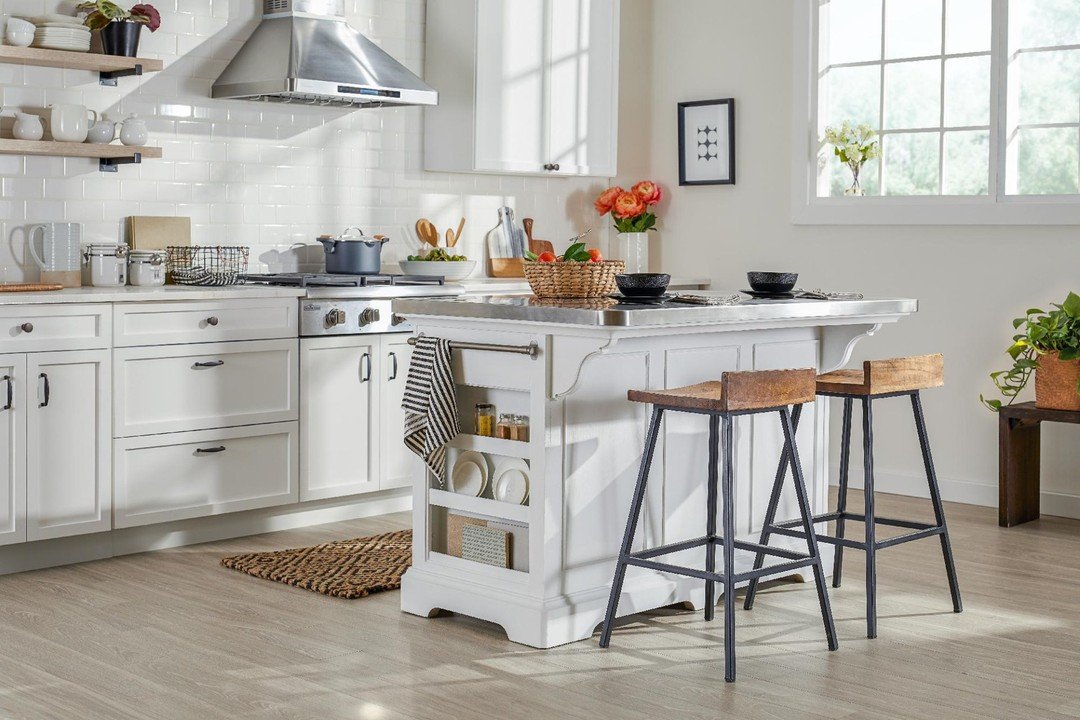 Rather than hiding cooking utensils and chopping boards away in cupboards, keep them out on display to give natural wooden accents to your kitchen. Wooden chopping boards look great standing up against the wall, as the wooden tones add a natural warmth to the kitchen.
When choosing utensils, go for ones made of bamboo or wood (rather than plastic) and display them in a stoneware jar for a country kitchen look.
Use a Wall Mounted Pot Rack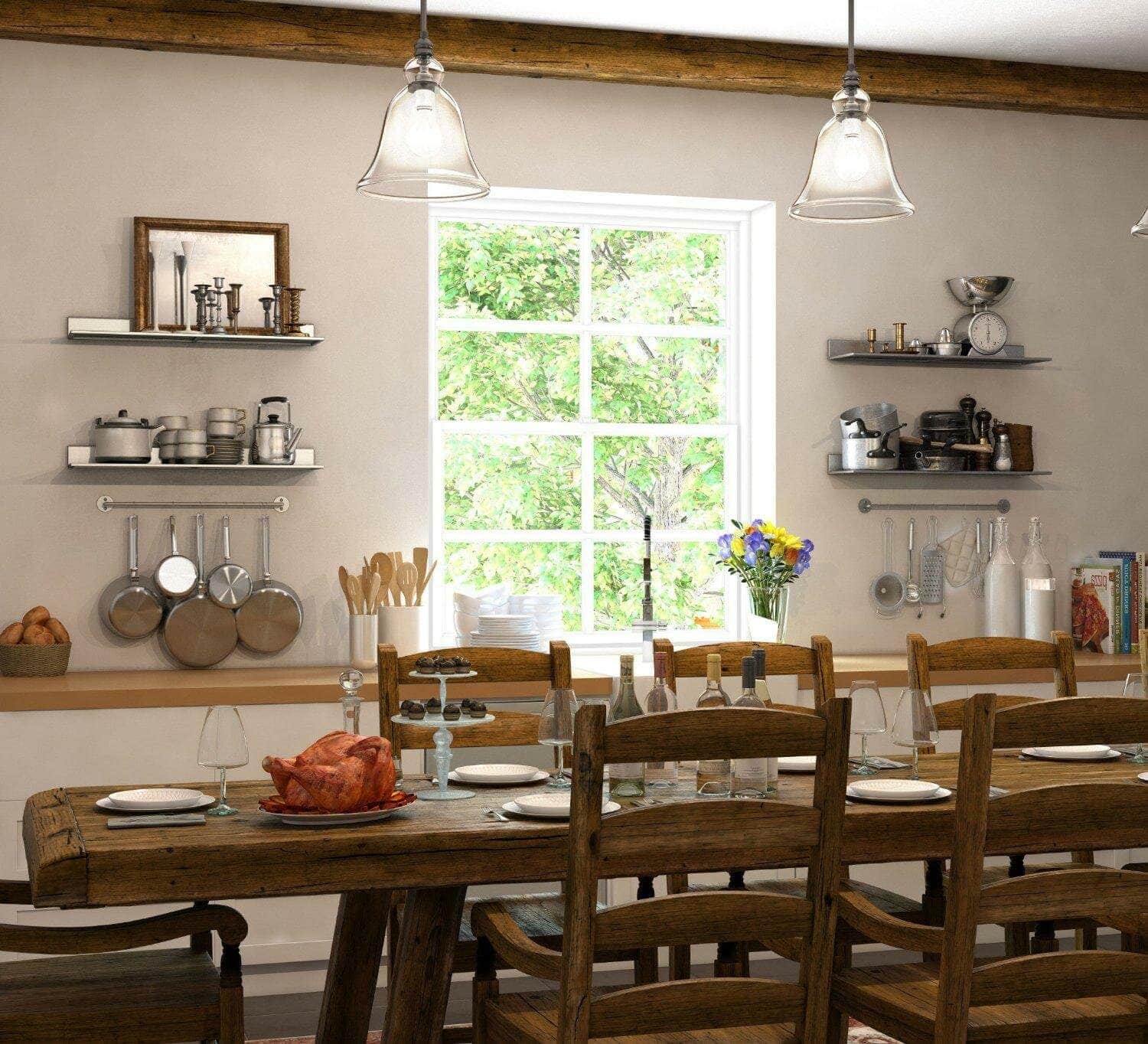 Save space and create a farmhouse kitchen look by using a wall mounted pot rack to hang your pots and pans on the wall. This works especially well if you have a matching set of pots and pans!
This pot rack can also be used to hang utensils, mugs, and anything else you would like on display but not taking up space on your cooking surface. This is one of the best country kitchen ideas on a budget!
Create a Breakfast Bar With Rustic Bar Stools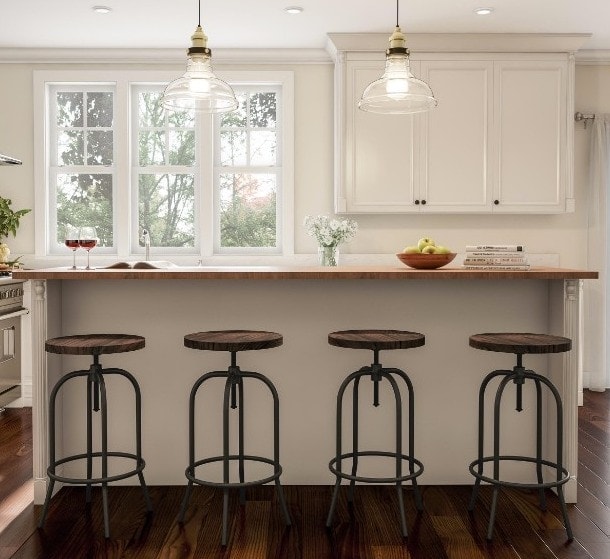 To create a 'breakfast bar' style area, use these rustic bar stools up against your kitchen island or countertop. These gorgeous stools will add some rustic charm to your farmhouse kitchen.
They are fully height adjustable, so they will be suitable for all members of the family to use. Featuring a solid wood seat and a sturdy iron frame and footrest, these stools are as comfortable to use as well as stylish.
Add in a Kitchen Island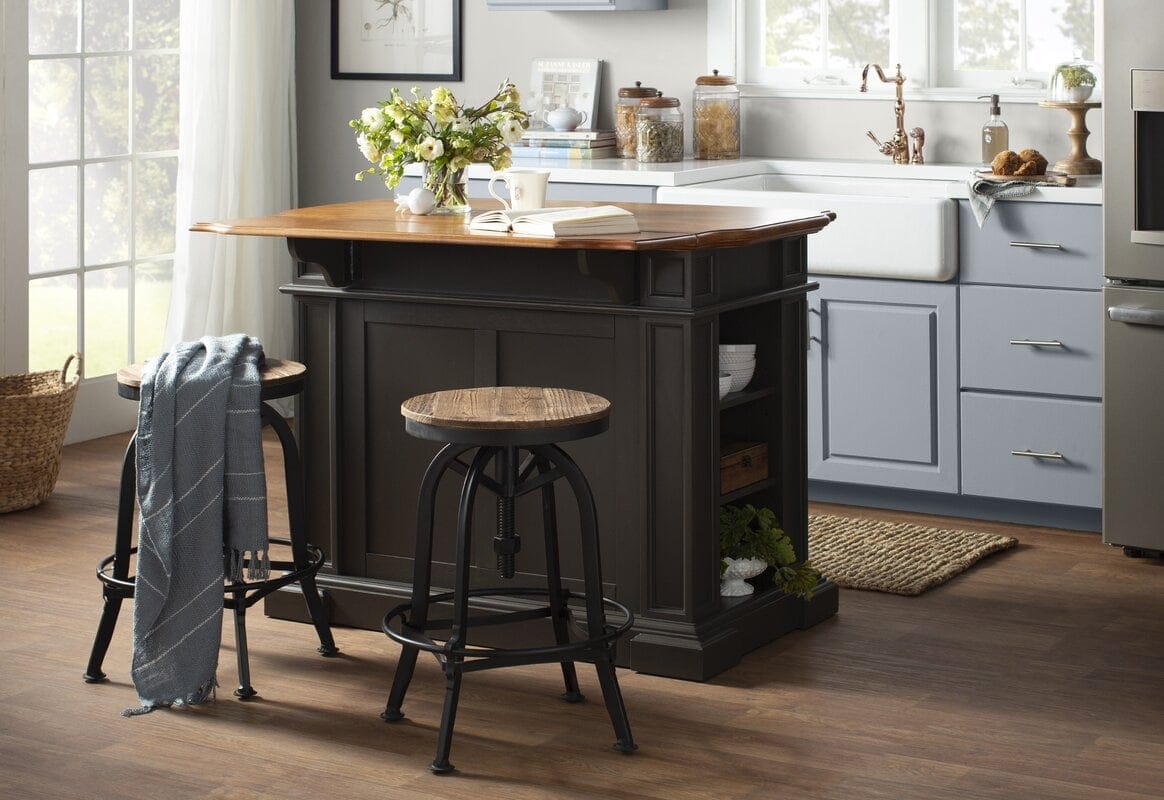 An easy way to get the farmhouse kitchen look without buying a whole new kitchen is by adding in a kitchen island. Kitchen islands are very versatile, giving you extra preparation space for food, as well as providing extra storage for things like wine, fruit and vegetables and recipe books.
This kitchen island has an extendable leaf, which you can use to sit at for breakfast, coffee with friends, or simply to hang out and relax with a book.
To Sum it Up…
If you've been looking for country kitchen decorating ideas on a budget, hopefully you've found some ideas here!
The main thing to remember about farmhouse kitchens is that they are designed to be the heart of the home – full of character and country charm, so don't be afraid to mix and match, and use thrifted items and antiques, don't worry about things needing to match!
Try to include some seating if you have the space, as farmhouse kitchens are sociable spaces for the family. If you don't have room for a large table, use stools to create a seating area on one side of your kitchen island!