Maximize Your Stairway's Potential with These 7 Wall Sconces Ideas
Decorating your stairway with wall sconces is a great way to add style and personality to your home. Not only do wall sconces add style, but they can also be functional. If you place sconces on either side of your stairway, they will provide light for both ascent and descent. This can be especially helpful if your stairway is not well-lit.
If you're wondering how to incorporate wall sconces into your stairway decor, take a look at these ideas for some inspiration!
Elegant Formal Stairway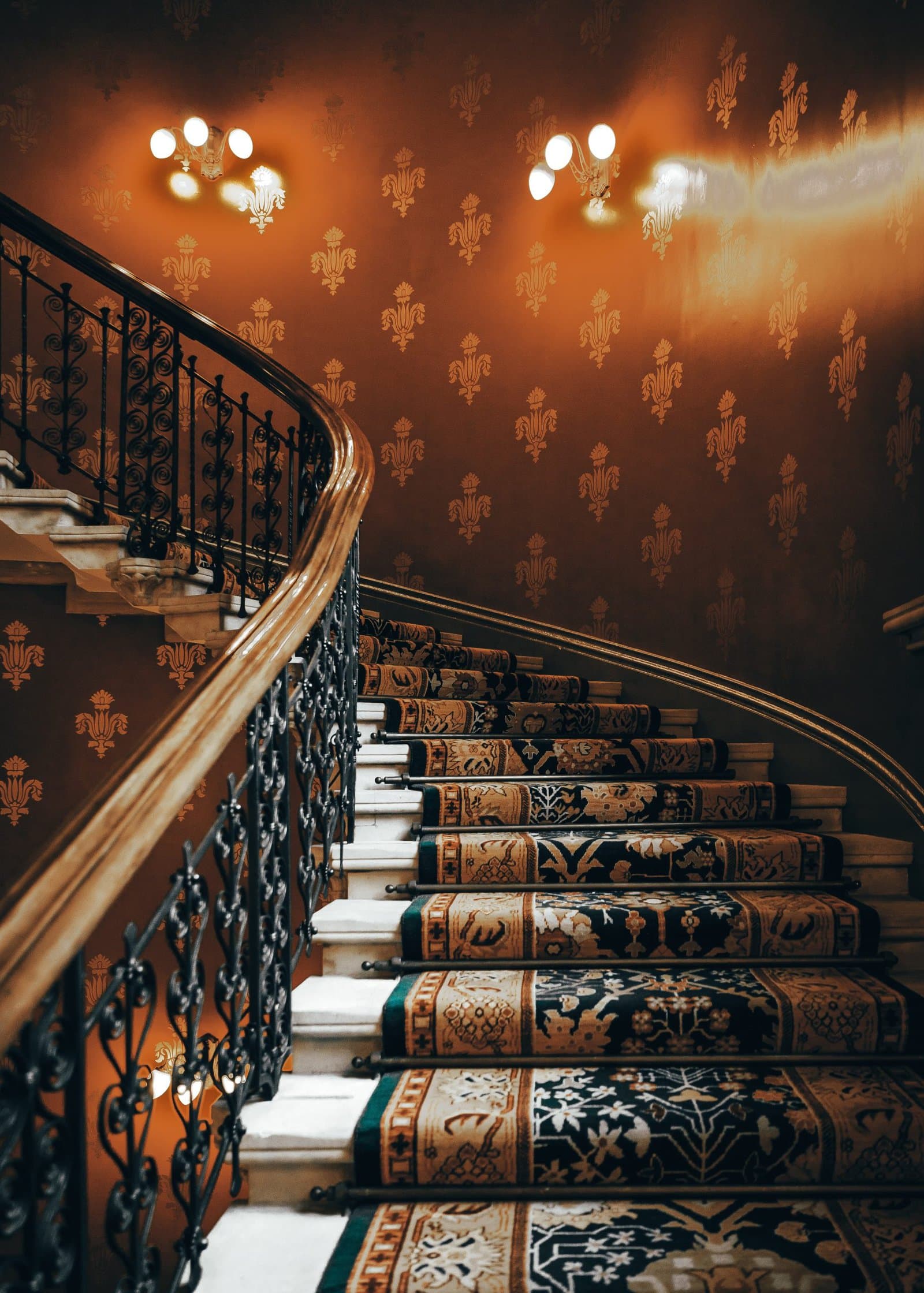 Wall sconces are a convenient lighting choice for staircases, but they can also serve a more decorative function, as well. If you have a large formal staircase in your entryway, then wall sconces are just the thing you need to keep it well-lit and looking beautiful.
Formal staircases usually have lots of elegant details, like patterned wallpaper and rugs, as well as ornate banisters. Make sure that you and your visitors can see them with a few well-placed wall sconces with multiple heads each.
You want to choose sconces that are large and bright enough to help you see, but not so big that they clutter up your wall or feel too heavy in comparison with the rest of your decor. Sconces with metal scrollwork or detailed, ornate glass shades will perfectly accent your more formal staircase.
Convenient Foot Lighting
Not all wall sconces need to be purely decorative, or even really noticeable. You may just want to have them for purely practical purposes. And wall sconces are a fantastic way to light up a staircase, especially at night.
We all know that walking up and down stairs in the dark isn't the safest thing to do, so make sure that your stairs are properly lit at night with small, minimal wall sconces that can be installed down low, close to the stairs so that you can easily see each step.
When you have a wall sconce that close to the floor, it's often better to stick to a simple design that doesn't stick out too far away from the wall, since it can quickly become a tripping hazard. Also, make sure you choose a wall sconce that doesn't have any fancy or ornate detailing that could be prone to snagging pant legs or scratching feet. A simple, minimal design is all you need!
Glamorous Gold
If you're looking to make an impression with your entryway staircase, why not take a look at the flashy wall sconces in this example? Not only do they pop away from the white walls with their brilliant gold color, they're also the perfect mix of vintage style and modern practicality.
By installing sconces down low with the light pointed directly at the stairs, you have a stylish and practical way to keep your family and guests safe as they move around the house at night. But that doesn't mean that you have to hide your wall sconces or make them blend into the wall— choose a slightly eye-catching design to dress up a somewhat plain staircase!
Just be sure to consider any tripping hazards when installing your sconces. A wide sconce that sticks out away from the wall, like the one in this picture, could present a problem if your staircase is especially narrow. But it's perfect for wide staircases where there's plenty of room to move about.
Classically Elegant
Wall sconces are usually installed near eye level, so you're more likely to notice them, even when they're located along a staircase. That's why it's important to pick wall sconces that not only provide lots of light but have a timeless shape that will look great for years to come.
A wall sconce in a classic, streamlined shape and simple lampshade will work perfectly when you're going for an upscale traditional look. Try choosing sconces in either silver or gold to add a touch of glam to the space, without overdoing it.
Simple and Sophisticated
Sometimes the simplest option is the best option, and that can almost always be said for your lighting. Wall sconces can make an excellent decorative element in your staircase, but they can also become a huge hassle if they're too large, complicated, or detailed.
Sconces that stick out away from the wall too far can become either tripping hazards, or get in your way when you're trying to walk up or down the stairs. Instead, stick with a classic shape that's still close to the wall, with minimal details that can get snagged on clothing or tripped over.
If you have white or neutral walls, then choose sconces in a darker brown or bronze color that will contrast, but not clash. Stay cautious of choosing black sconces, since they can seem a bit severe for a traditional staircase.
Double Light
What's better than one wall sconce? Two wall sconces! Or rather, a wall sconce with two separate heads. If your staircase needs a lot of extra help when it comes to lighting, then a double-head wall sconce will help brighten up the space without taking up too much extra room.
Double-head wall sconces come in all kinds of styles, from more traditional shapes like the one in this picture to more modern and minimalist designs. Since you have two lights per sconce, you can get away with fewer sconces along your staircase wall, so feel free to choose larger sconces, if you like.
If you find that you need even more control over the lighting on your staircase, then consider getting smart LED light bulbs that are connected to an app, so you can change not just the brightness and warmth of your lights, but the color, as well.
Light Up Dark Corners
You might think of wall sconces as a great way to light up the steps on your staircase, but have you thought about using them to light up corners on your staircase landing instead? If you have a bedroom, bathroom, or hallway off of a staircase landing, then you'll want to make sure it's well-lit and visible.
Rather than traditional wall sconces on the walls of the staircase, try installing sconces directly into the corners of your staircase landing, as you see in this picture. For an even better effect, make sure to choose a wall sconce that allows light to pass through both ends.
Finally, consider choosing a wall sconce that matches the wall color of your staircase. Or, why not paint your walls to match the sconces? Doing so will help the sconces blend into the background during the day, and they won't darken up the corners of your staircase at night.
Vintage Industrial
Sometimes, wall sconces are simply meant to blend into the scenery, and they aren't necessarily meant to be part of the decor of the room. But If you're going for a specific look for your staircase, like the vintage industrial style in this example, then you want wall sconces that will match that theme.
Industrial-style lights like the ones you see here are great for staircases that have a slightly vintage feel. They work well when paired with textured wood-panel walls, or with other pieces of decor like black-and-white photography. Choose dark brown or black metal to contrast with white walls.
If the lights point down towards the floor, like the sconces in this picture, then make sure to install them quite high so that they evenly light up the staircase, without leaving any shadowy area near the corners. The higher you hang the sconces, the more the light will diffuse throughout the room.
Conclusion
It may not feel like you have many options when you're trying to install wall sconces to your stairway. But in fact, there are countless ways to incorporate sconces in creative ways to not only light up your stairs but give your entryway or stairway landing a welcoming and cozy atmosphere.
Remember not to just choose your sconces based on looks; make sure that the shape doesn't present a tripping hazard or get in the way as you move past them. And make sure that they give enough light where you need it, whether that's the bottom of the stairs or along the ceiling. Good luck!