Decorated Life is reader-supported. When you buy through links on our site, we may earn an affiliate commission. Learn More
Two-Tone Kitchen Cabinet Ideas 
Two-tone kitchen cabinets feature two cabinet colors. Typically the lower cabinets are a dark shade, and the uppers are lighter or white.
One of the biggest benefits of using a two-tone design is that it visually breaks up the space. This setup allows you to play with color or texture and create a one-of-a-kind design.
If you're considering a two-tone kitchen, here are 20 ideas to use as design inspiration.
Get a High-End Feel With Charcoal and White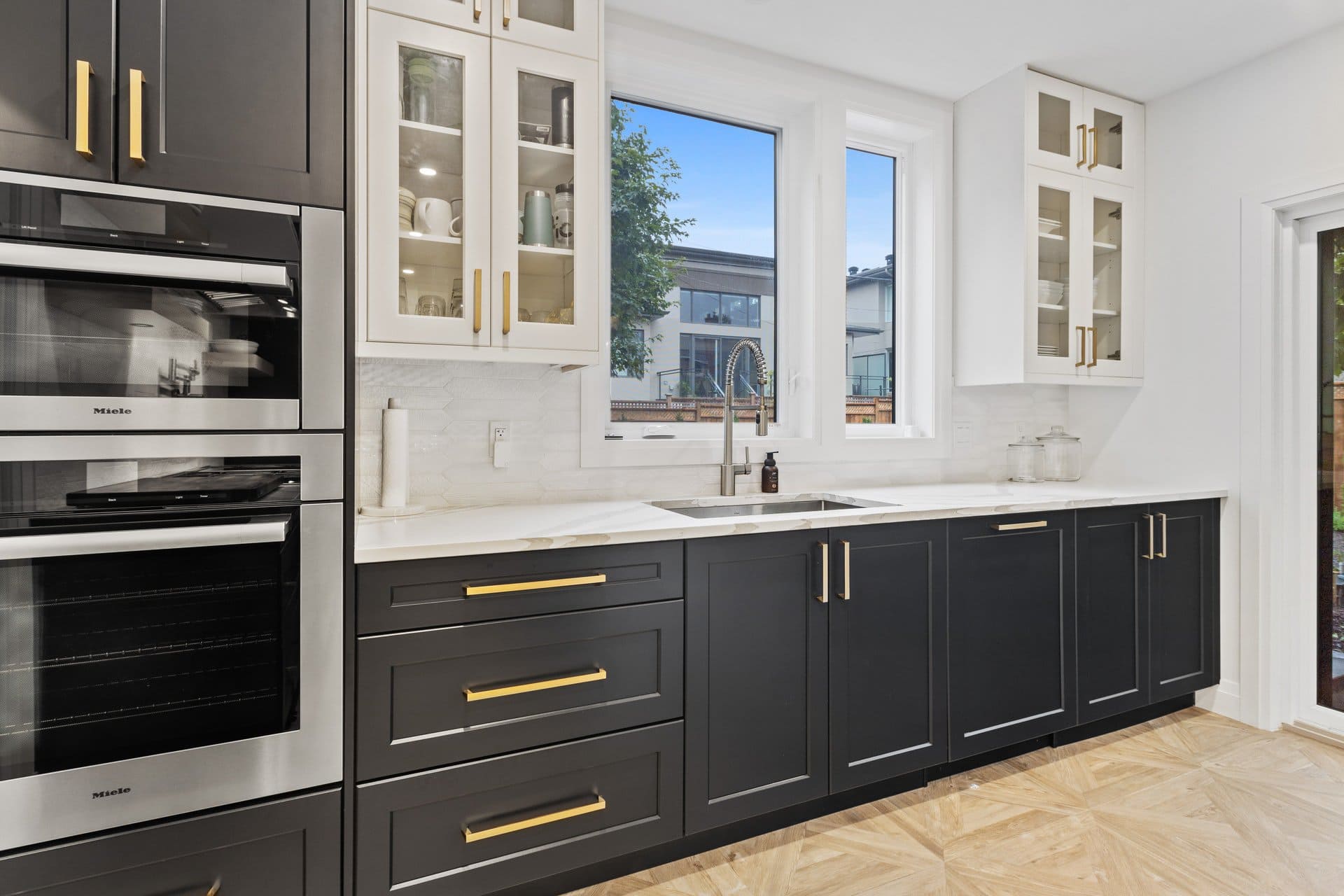 The typical two-tone kitchen features a dark cabinet on the bottom and a lighter cabinet on top. This design can make a kitchen more open and is an excellent choice for small rooms.
The kitchen featured in this photo uses simple shaker-style charcoal cabinets on the bottom and white upper cabinets with glass fronts. The coordinating hardware ties the look together.
Pull in Colors from Your Countertop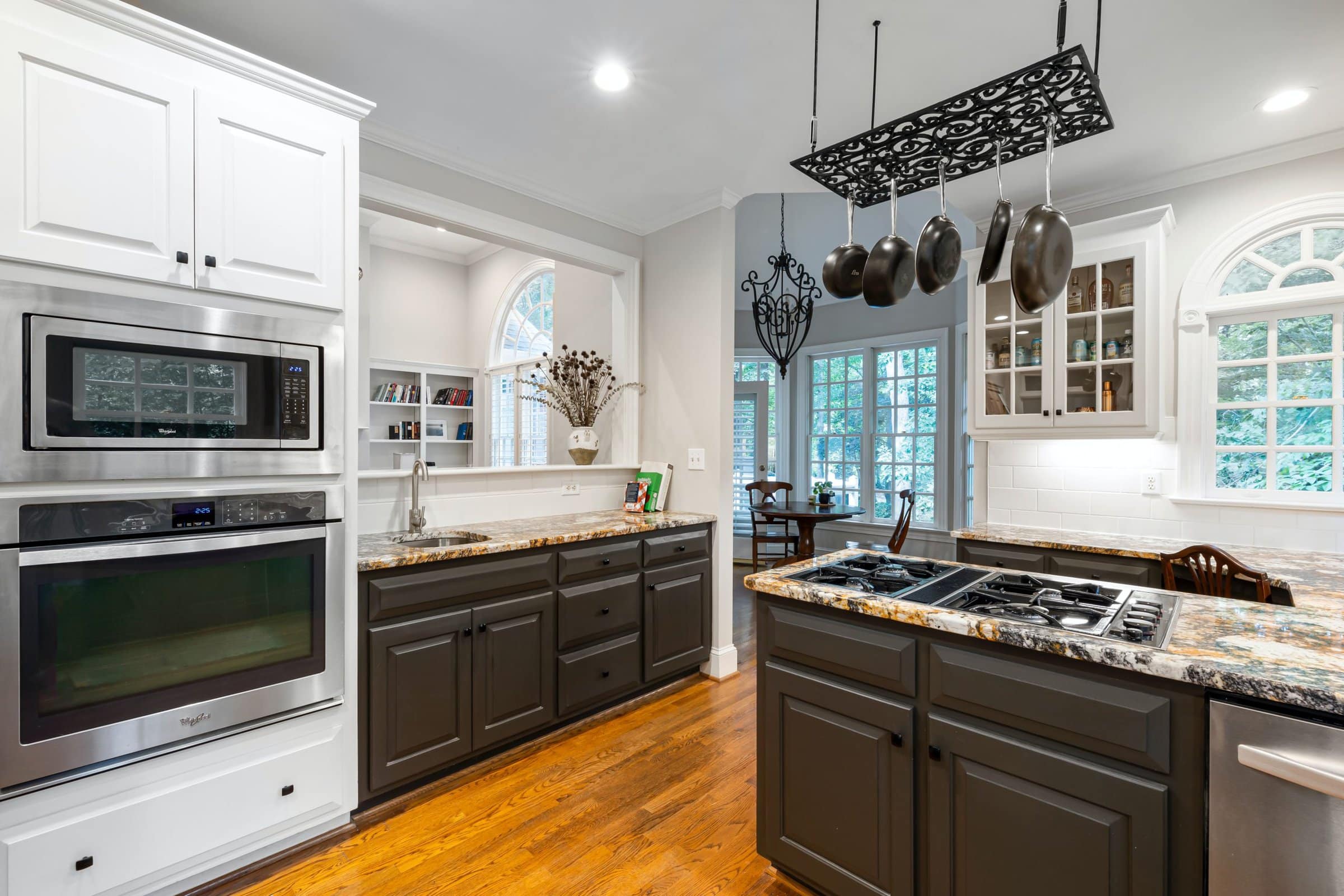 If you're unsure what color cabinets you'd like, turn to your countertops for inspiration. In this kitchen, the brown and white on the cabinets come from the stone counters.
You can use any color you'd like if you have a solid counter. For example, consider white for your uppers, and choose a color that looks good against your countertop for your lower cabinets.
For an Easy Modern Look, Try Wood and Taupe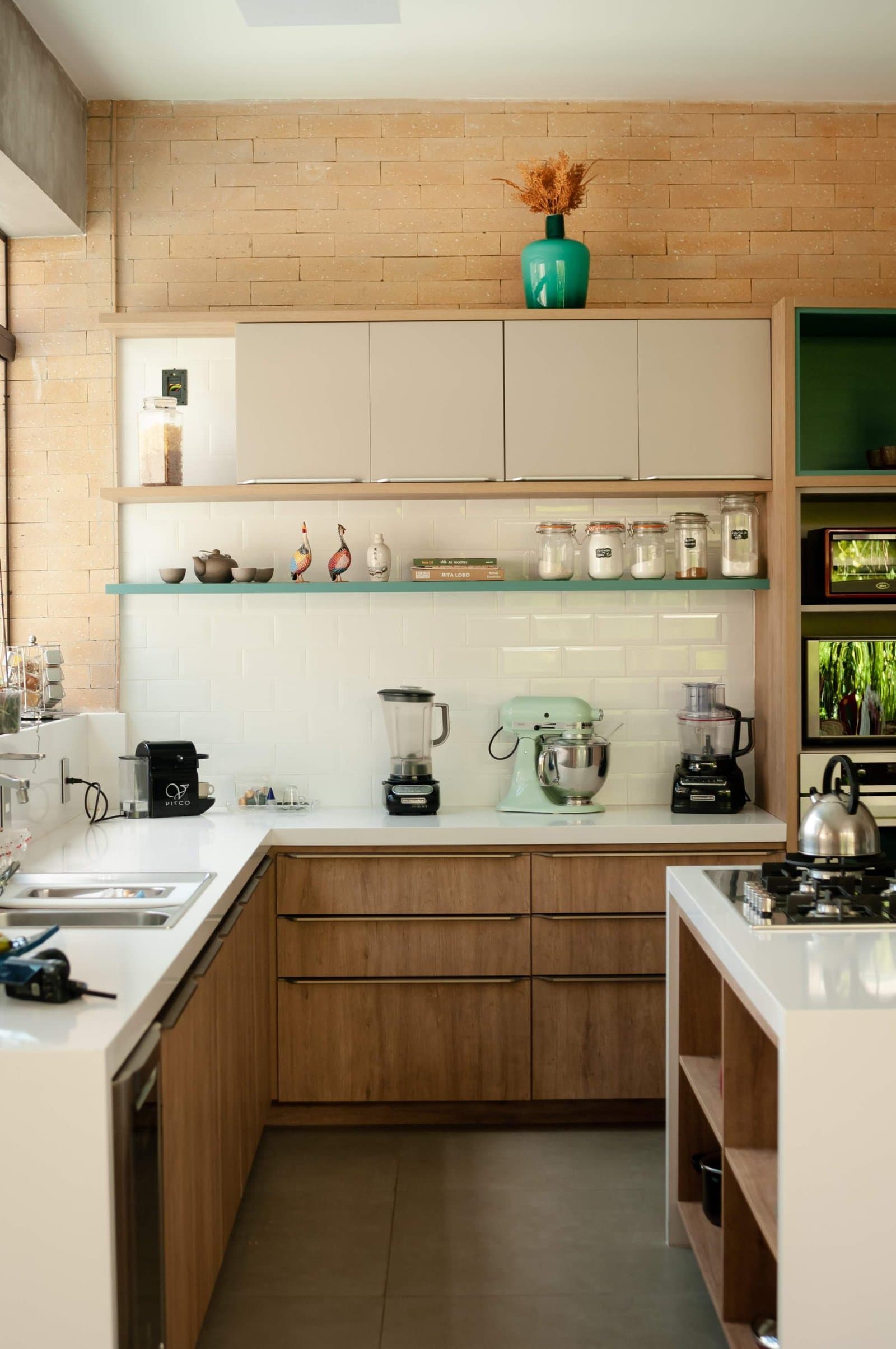 Do you prefer a wood cabinet? There are plenty of two-tone matches, including taupe.
Taupe is a great upper cabinet color if you want a neutral room. It blends effortlessly with wood but offers a modern touch. You can brighten up the space or add a bit of color through your backsplash.
Pair a Minimal White and Wood Cabinet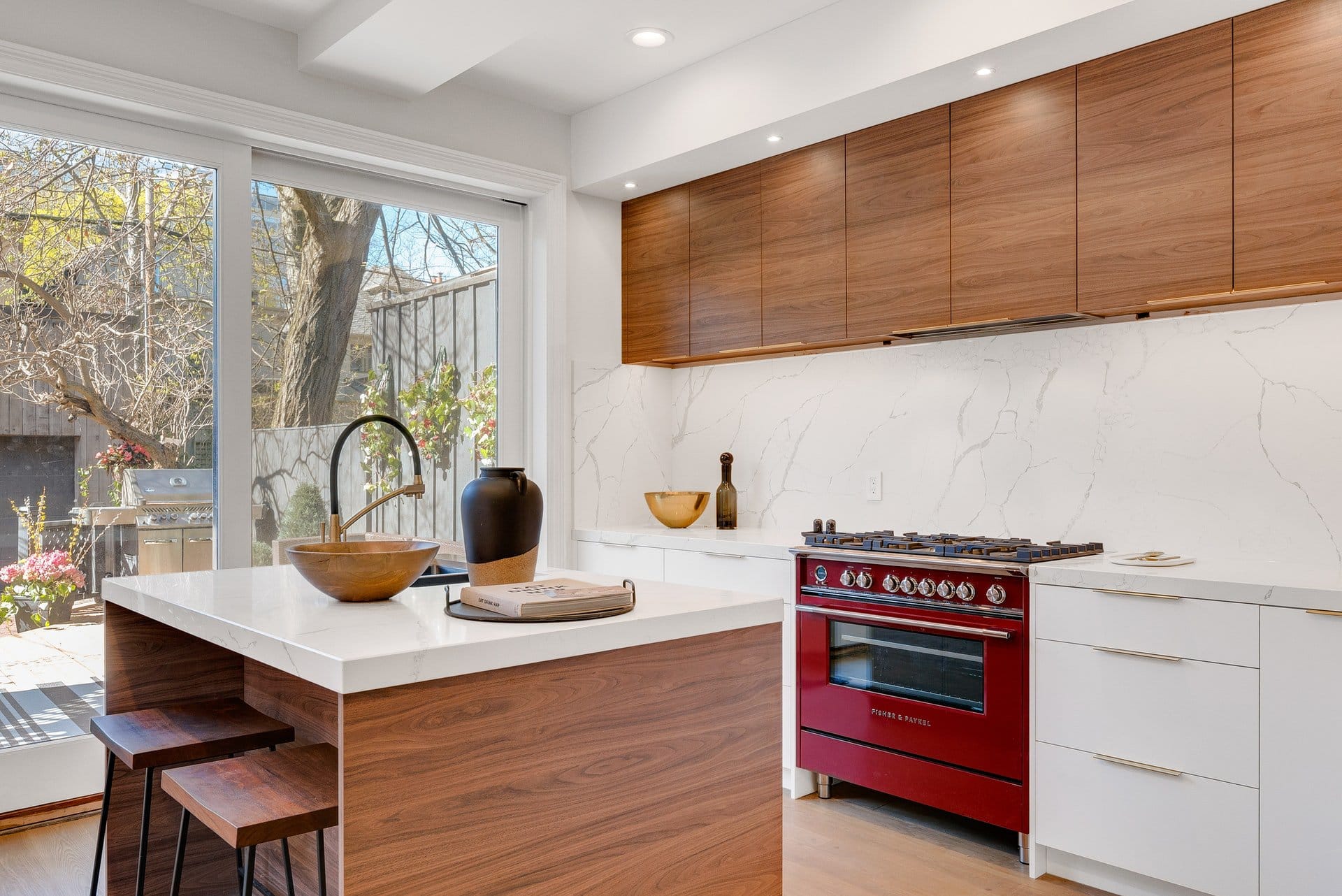 Minimal style is all about doing more with less. Minimal designs are uncluttered and use streamlined furnishings, and barely-there hardware like these cabinet pulls.
If you like the look, stick with simple cabinets. You can imitate this kitchen with white on the bottom and wood on top or flip-flop the design.
Vary the Door Colors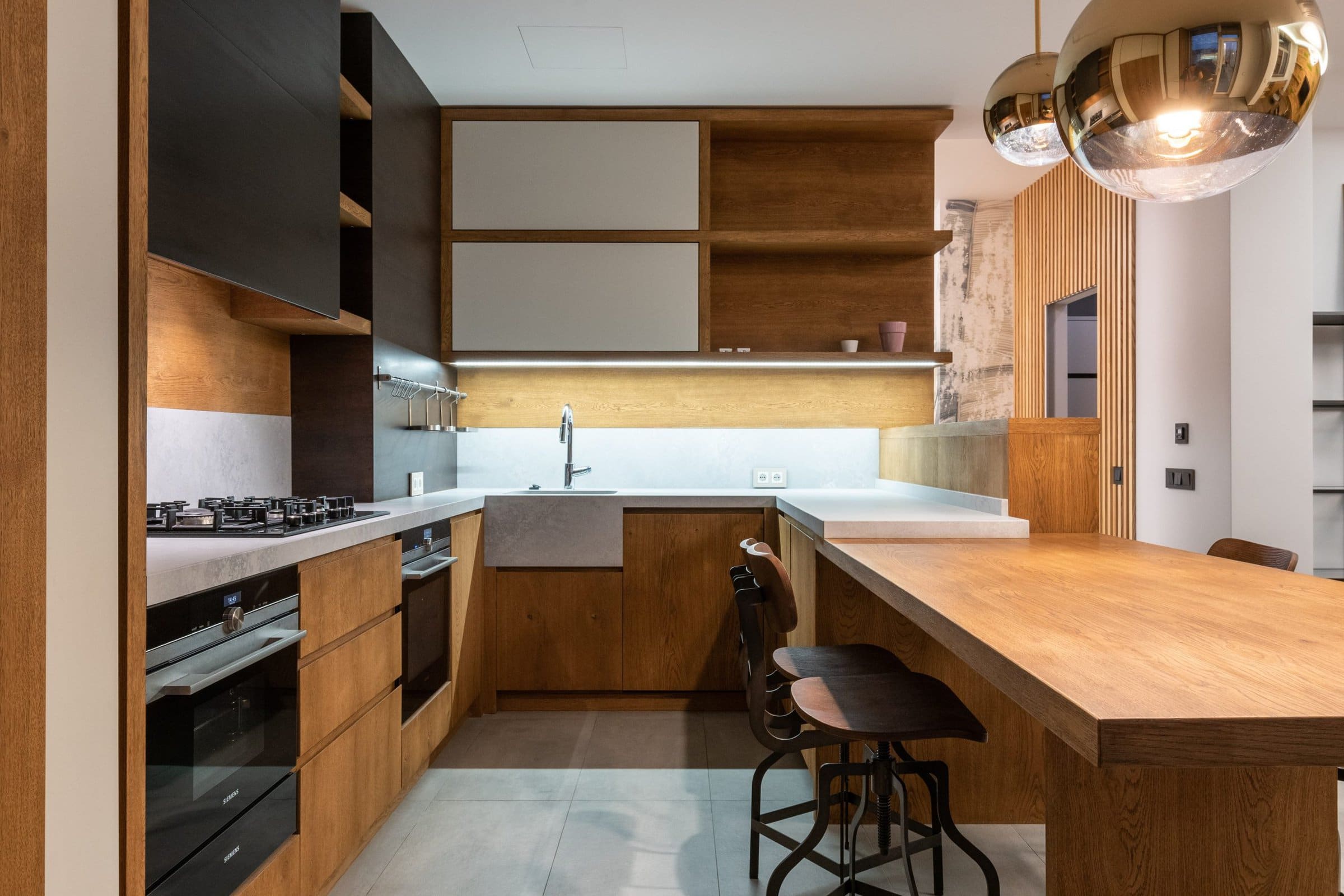 If you want a less drastic approach to a two-tone kitchen – this is it. Instead of using different cabinet colors, keep the box of the cabinets the same and swap out the doors.
This style works best for a modern kitchen with flat cabinet doors and exposed frames. Swapping door colors is a great way to get the look without total commitment.
Make a Statement with Coordinating Crown Molding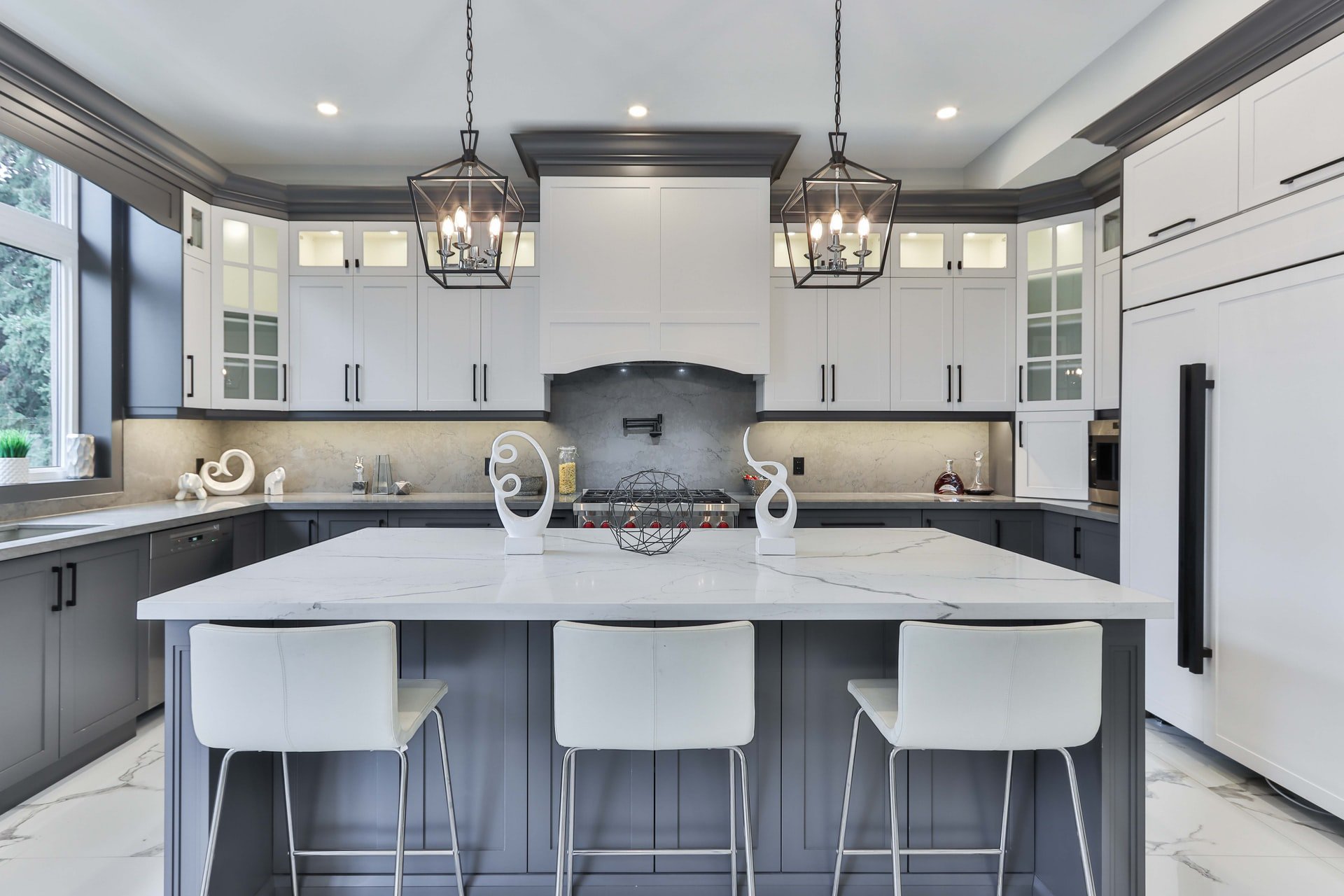 Want a way to make sure different color cabinets look good together? Add crown molding to the top of your uppers.
One of the biggest worries of using a two-tone cabinet scheme is that the colors won't flow properly. You can fix this by bringing your bottom color to the top with the addition of crown molding.
Keep it Simple with Neutral Materials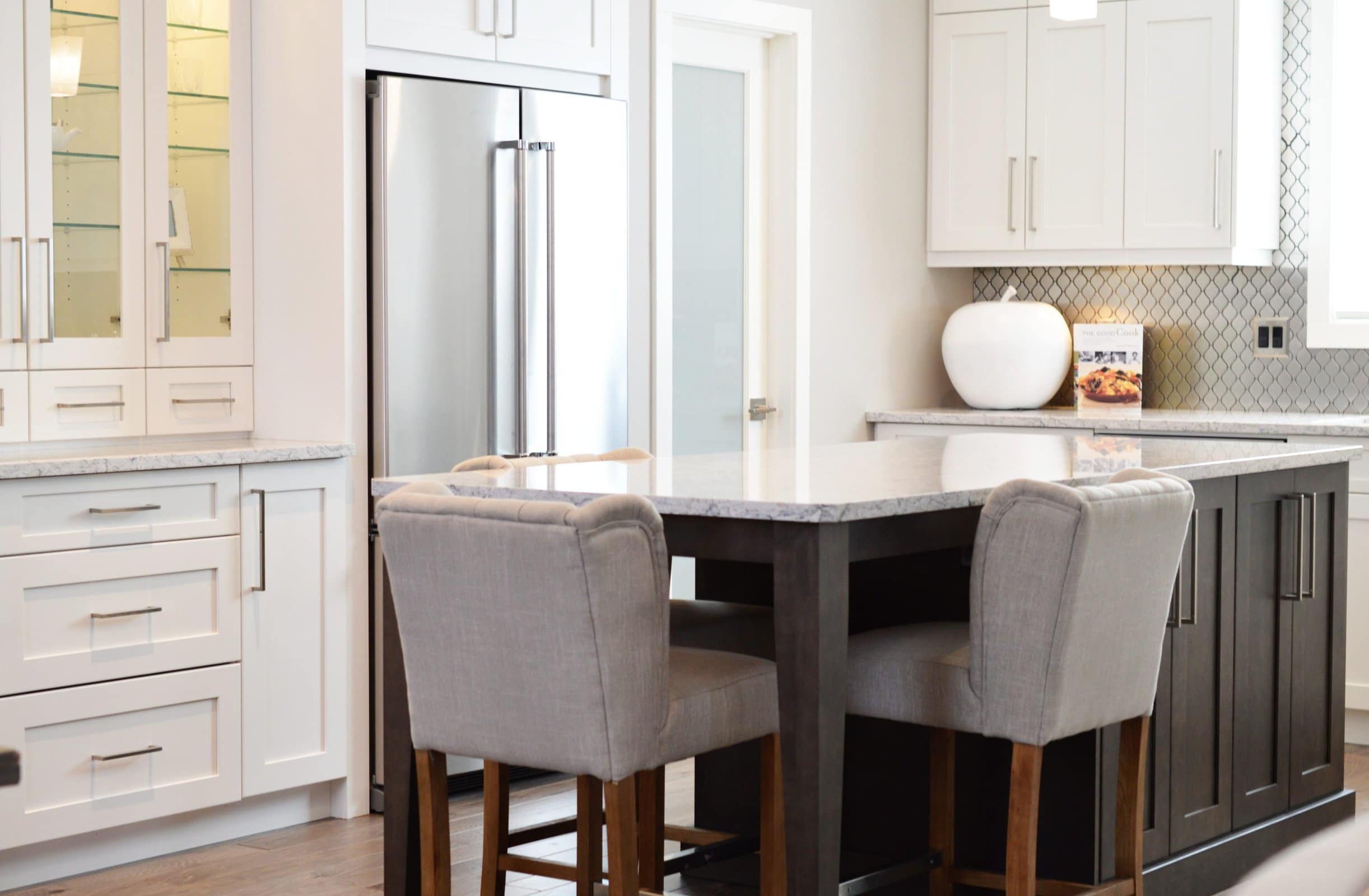 A neutral color scheme will never go out of style. If neutrals are your favorite, consider a mix of wood and white.
A wood island or lower cabinets work well to ground the room, while white upper cabinets make the space look bigger. Use the same hardware on both cabinets.
Mix White and Gray
White and gray work for many contemporary, farmhouse, and traditional styles. In this sleek modern kitchen, glossy gray and white cabinets mix.
The stainless steel appliances and chrome cabinet pulls add to the modern look, while the white backsplash brightens the room. This cabinet and counter combo also works well for mid-century modern style.
Add a Splash of Color with Vibrant Blue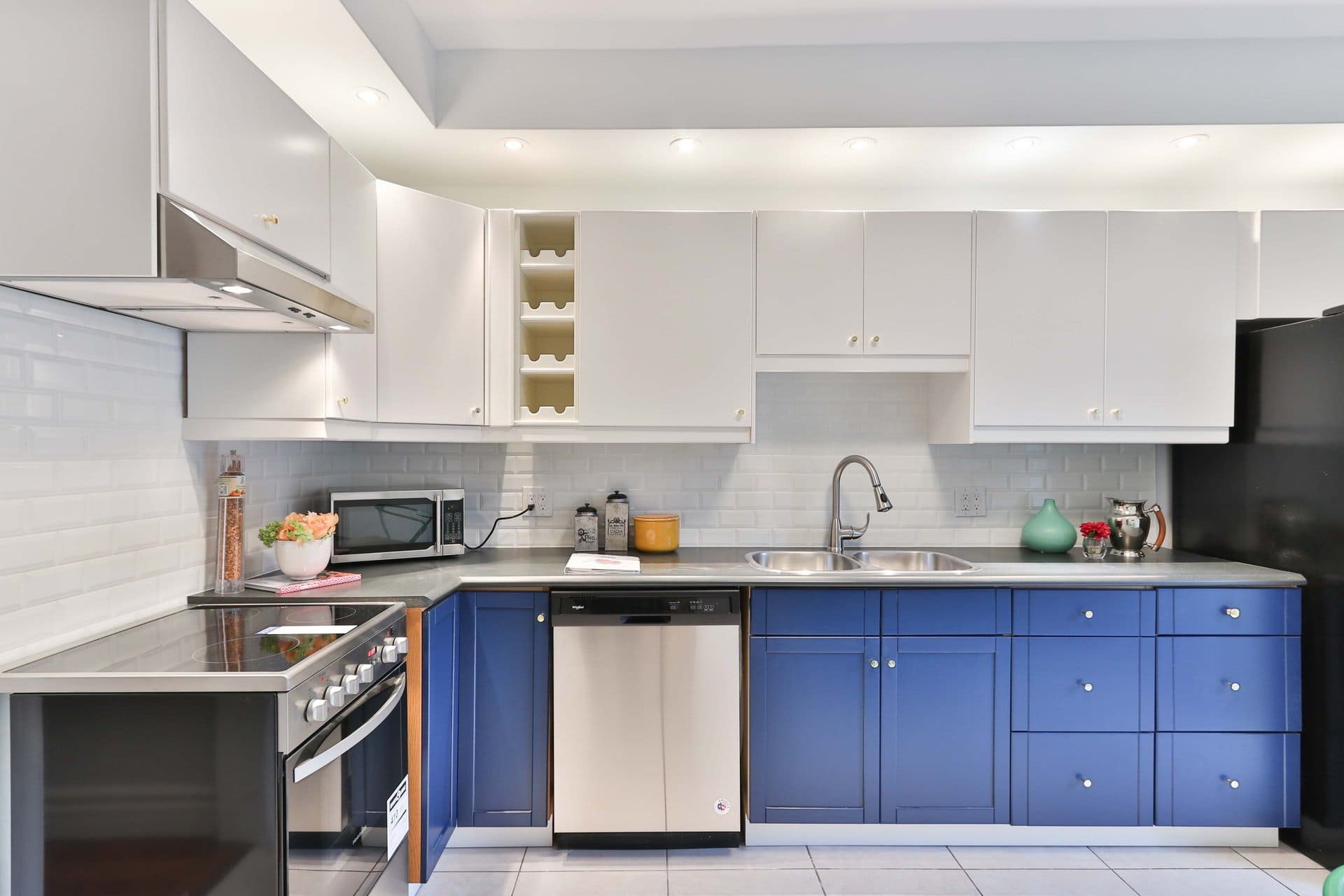 A two-tone kitchen gives you a perfect chance to try a bolder color you wouldn't ordinarily use. You can pick any color and use it on your lower cabinets.
In this kitchen, the vibrant blue lowers make the space feel cheery. The decor is minimal, but the small pink and teal accents add a feminine touch.
Create a Retro Kitchen with Royal Blue Lowers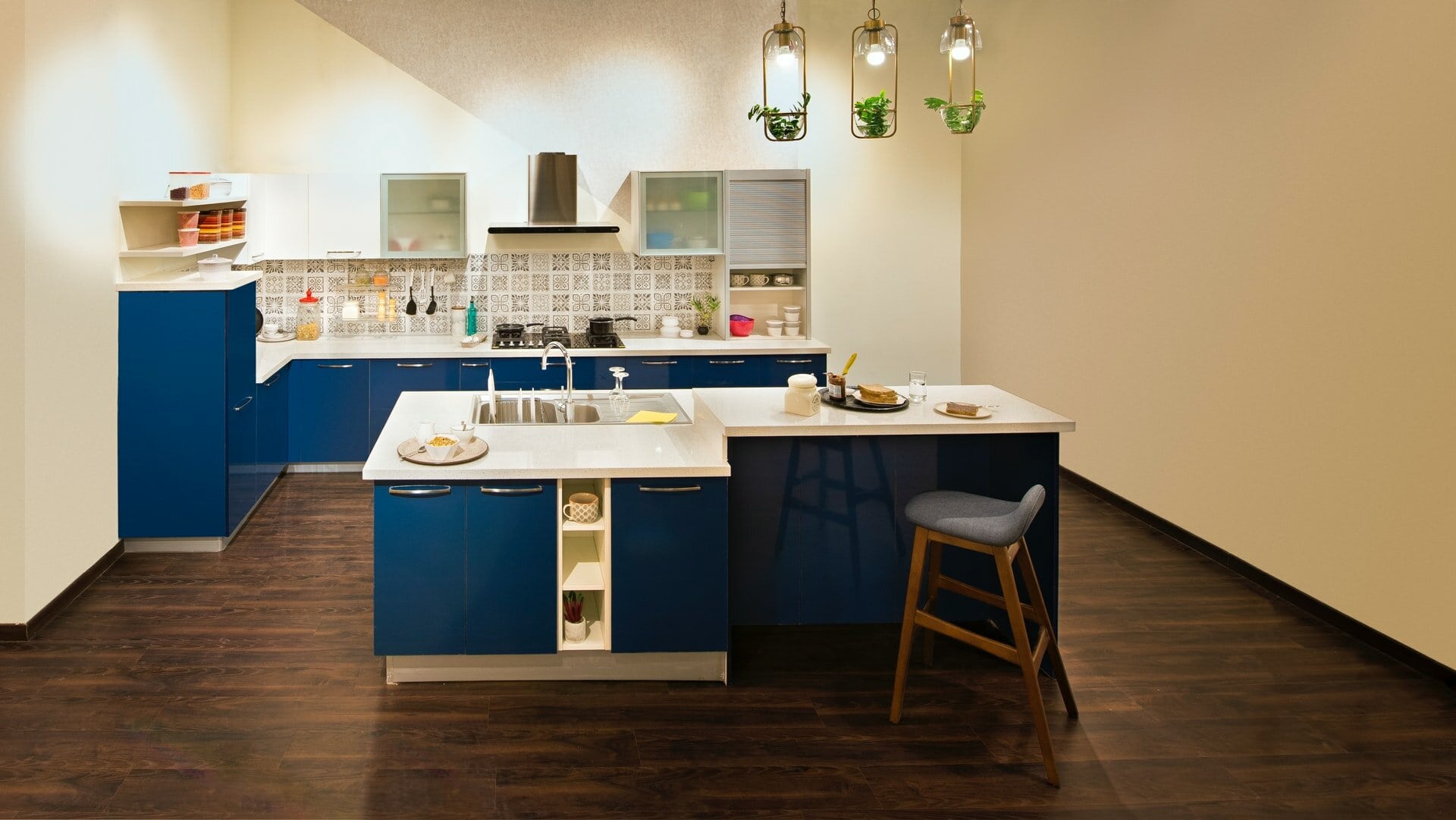 Want to pay homage to 1960s and 70s style? Create a modern retro kitchen with blue lower cabinets and a patterned backsplash.
The streamlined style of the cabinets gives a retro look, while the blue adds a modern touch to the room. The homeowners then use a mix of white cabinets and acrylic doors in an eclectic but well-styled space.
Put Wood on Bottom and White on Top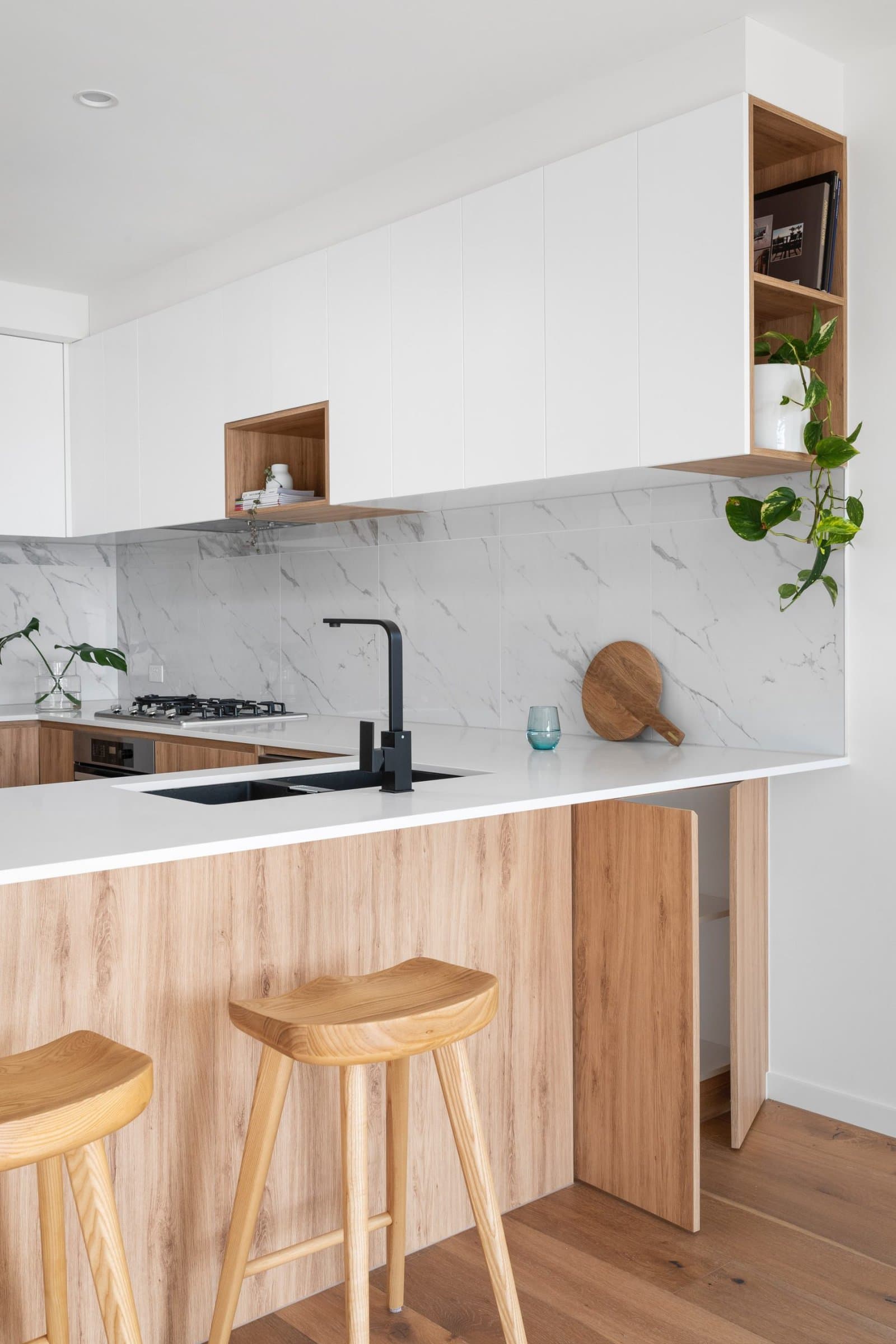 It's hard to deny that a light wood lower cabinet and white upper cabinet pair perfectly for a clean and modern look.
You can carry the modernity by placing a wood shelf on the end of your white cabinet as this homeowner did. If you're not a fan of the light wood, switch it out for something you like.
For a Unique Look, Try Deep Purple and White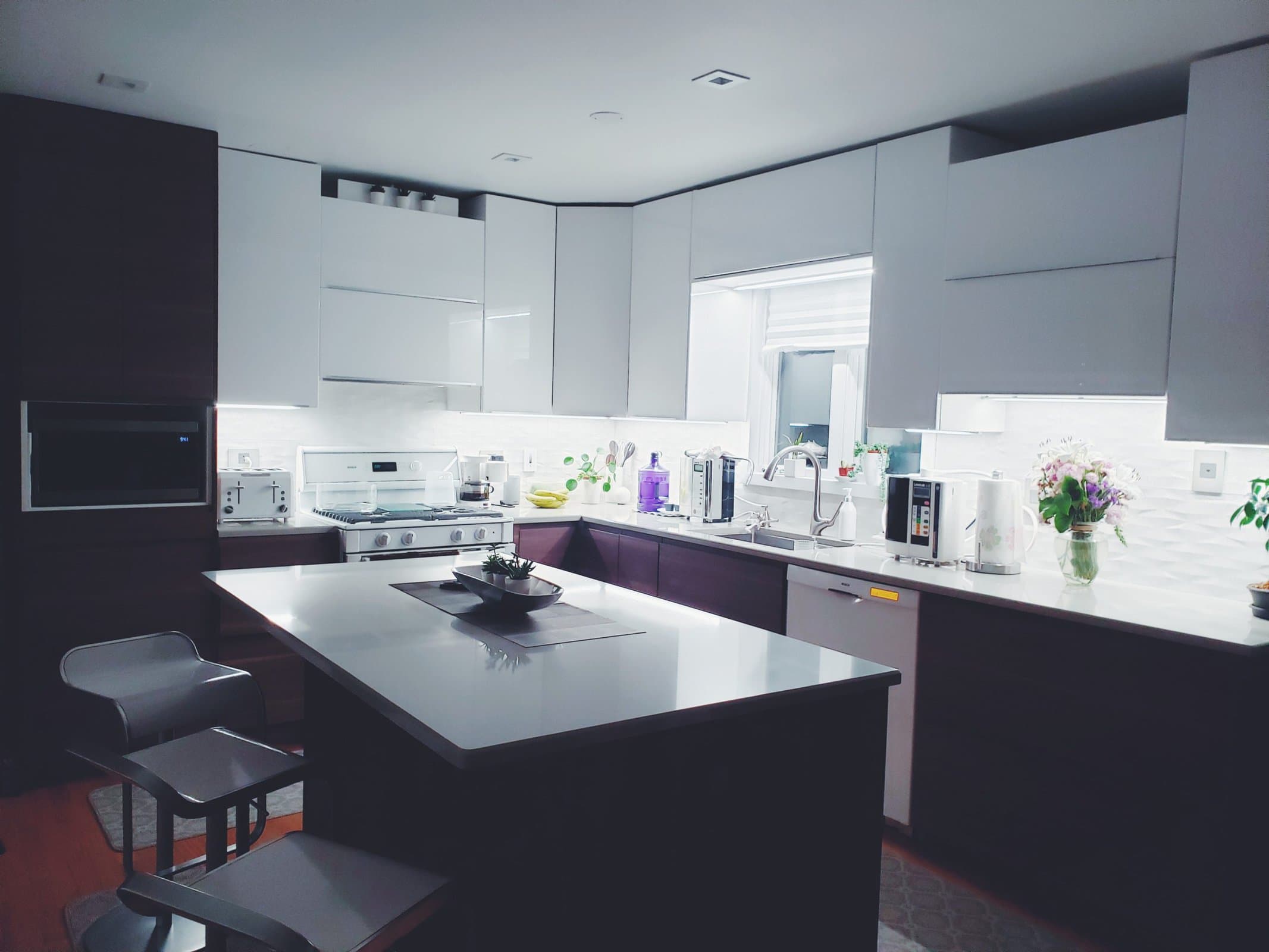 If you want a unique space, skip the trendy colors and go for a bold look. This kitchen features a deep purple lower cabinet and a sleek white upper cabinet.
The purple gives the room a glam but moody look. If you want a one-of-a-kind space, don't be afraid to use your favorite colors.
Get a Modern Look with Black and White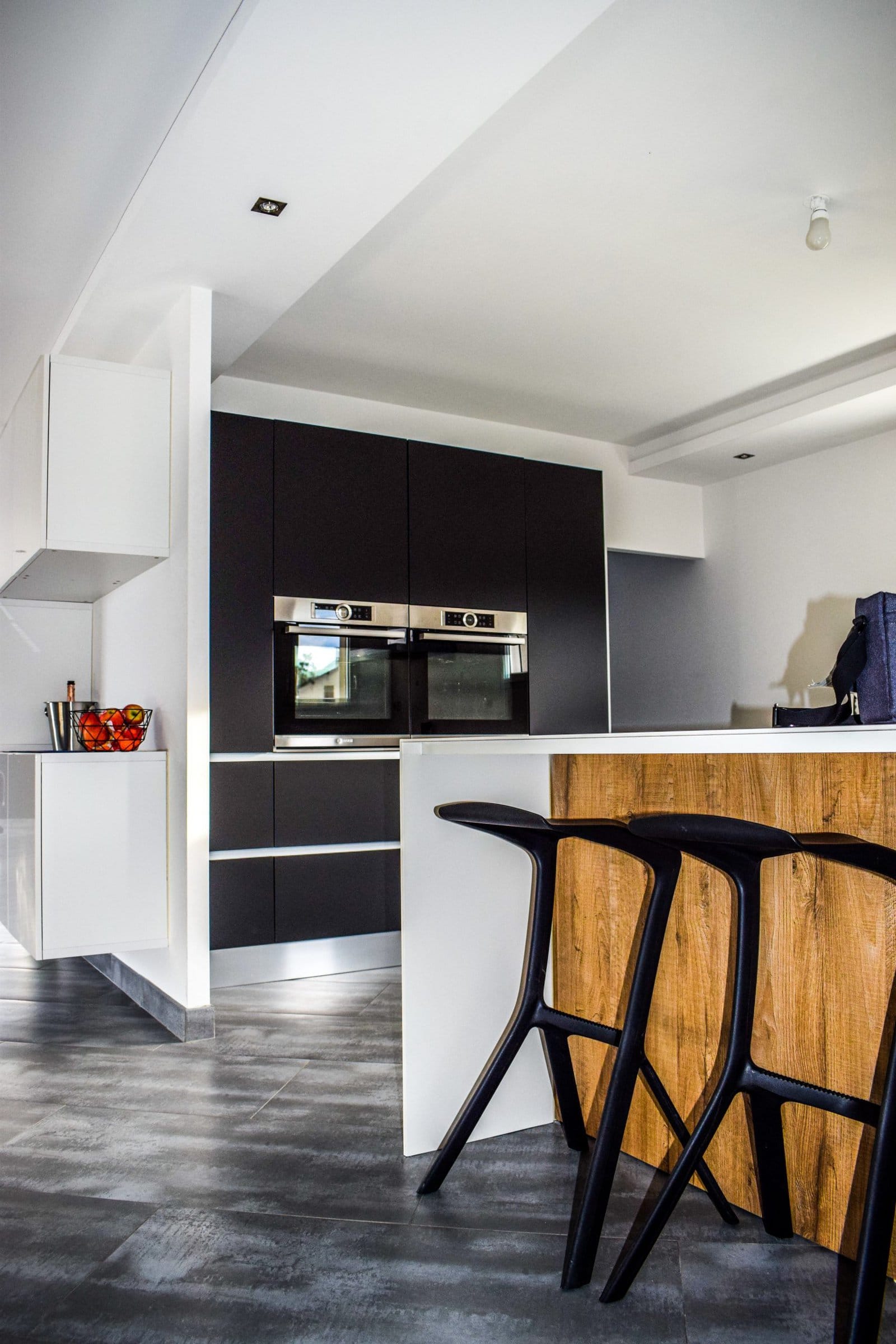 Color combinations don't get any more timeless than black and white. So, try black and white two-tone cabinets if you want something that won't fade out of style.
In this kitchen, the use of streamlined cabinetry makes the design modern. But, don't let it fool you – you can use black and white for any style, just use different materials.
Try Accent Trim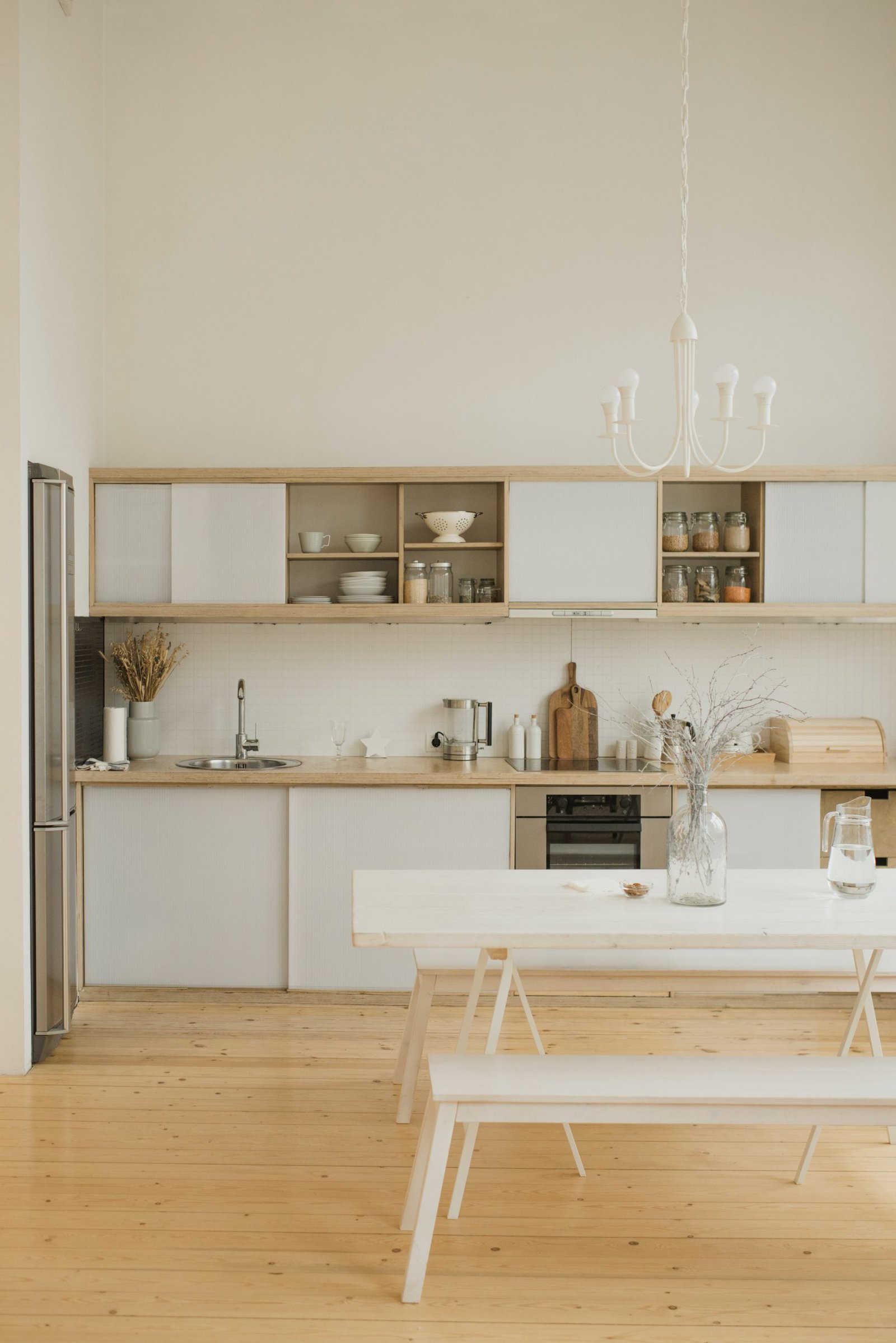 Want to test the waters before you commit to different colored cabinets? Try using another color trim piece.
This kitchen features white cabinets that have natural wood molding. By doing this, you get the two-tone look but in a more subtle way.
Experiment with Your Island Color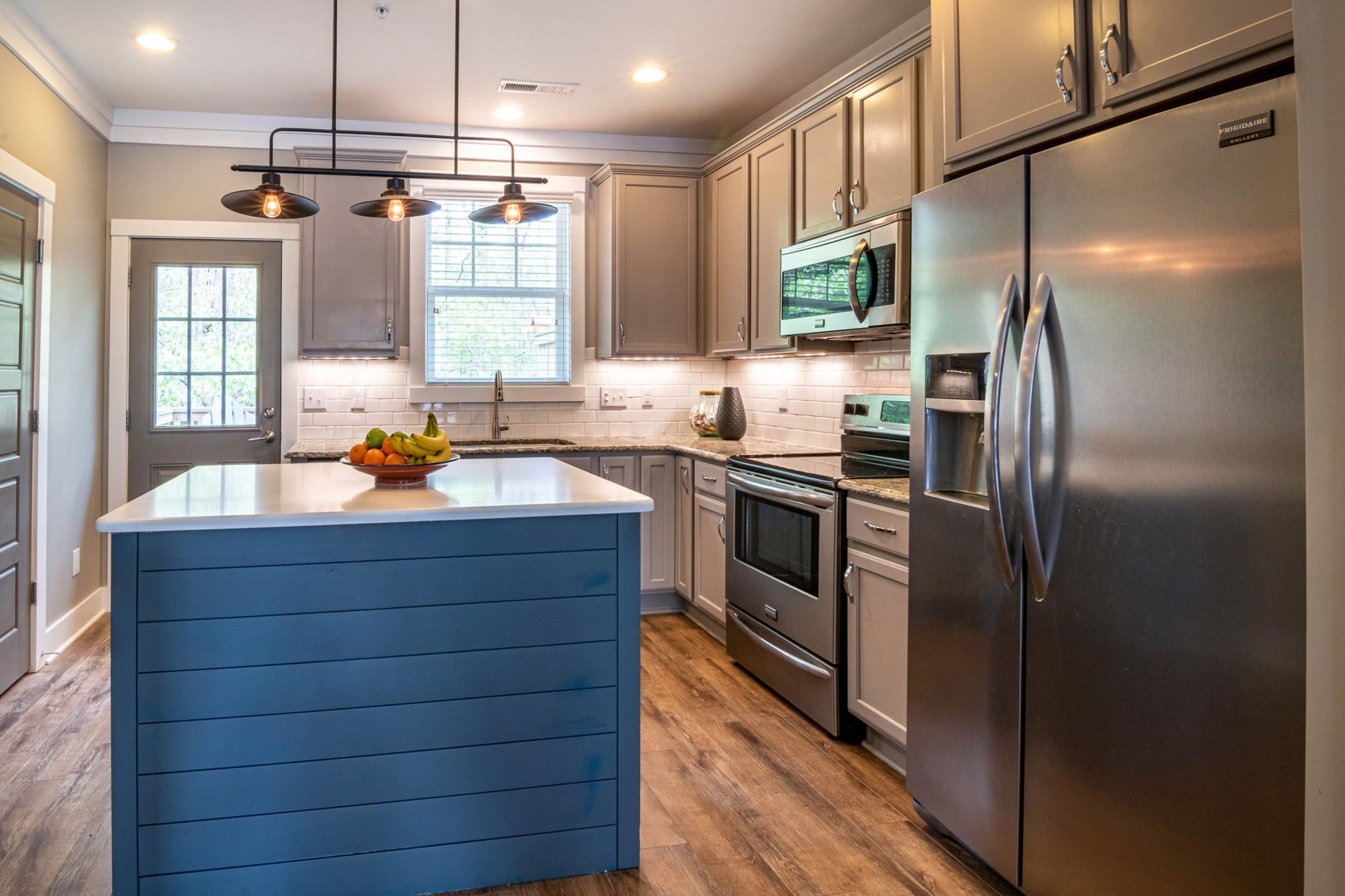 Another way to ease into the two-tone cabinet look is by picking a different color for your island. Painting your island a different color than your cabinets will make a statement without being as drastic.
You can do like this homeowner and choose your favorite bold color or try something soft or neutral.
Combine Gray and Wood Grain for a Masculine Feel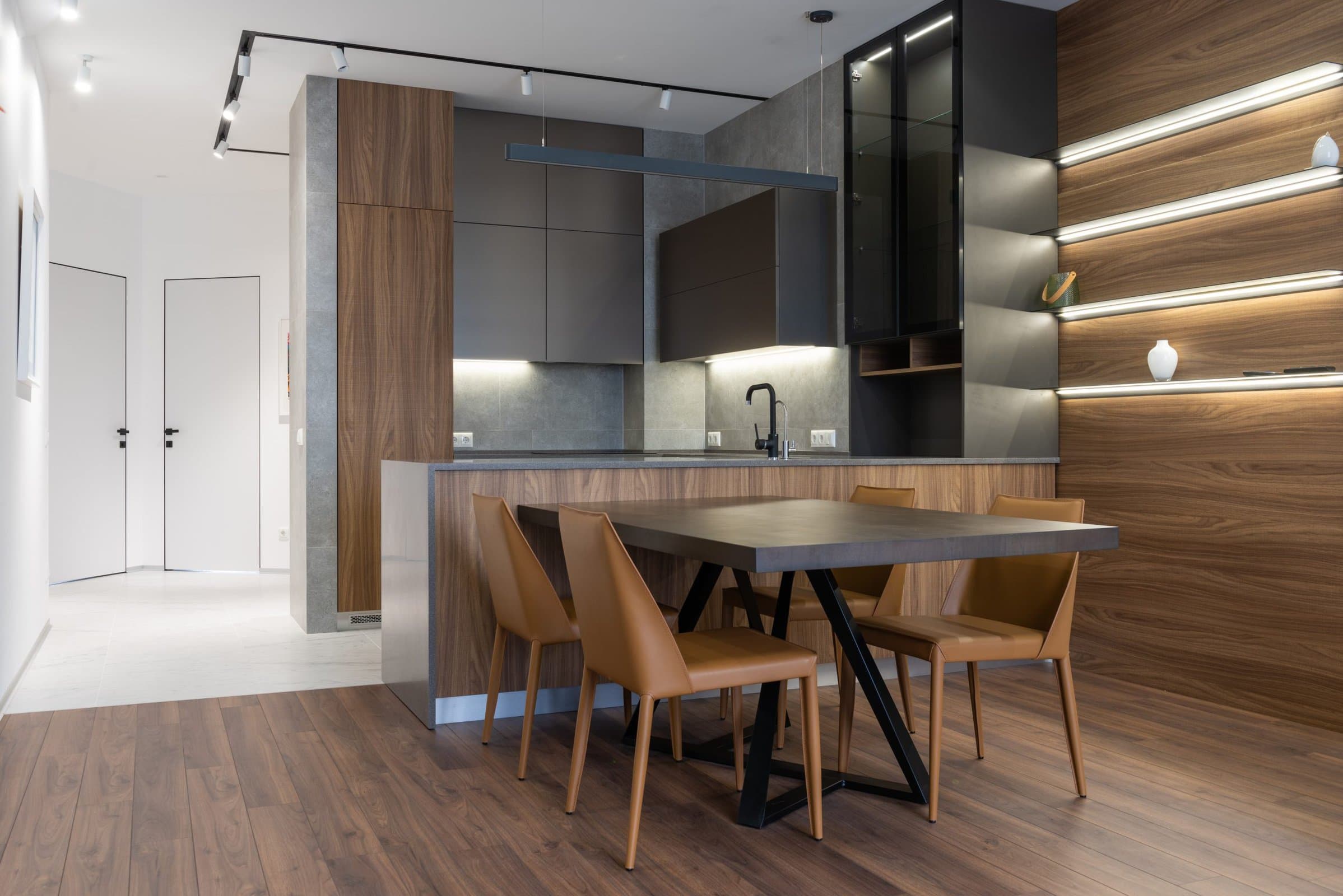 If you want a cool, masculine feel, there's no better option than wood grain and black. This duo provides visual interest, a slightly rustic feel, and contrast.
To emulate this look, find a mid-tone cabinet with a lot of natural wood grain. Then, use a black counter and black upper cabinets.
Stick to a Classic Combo of Black and White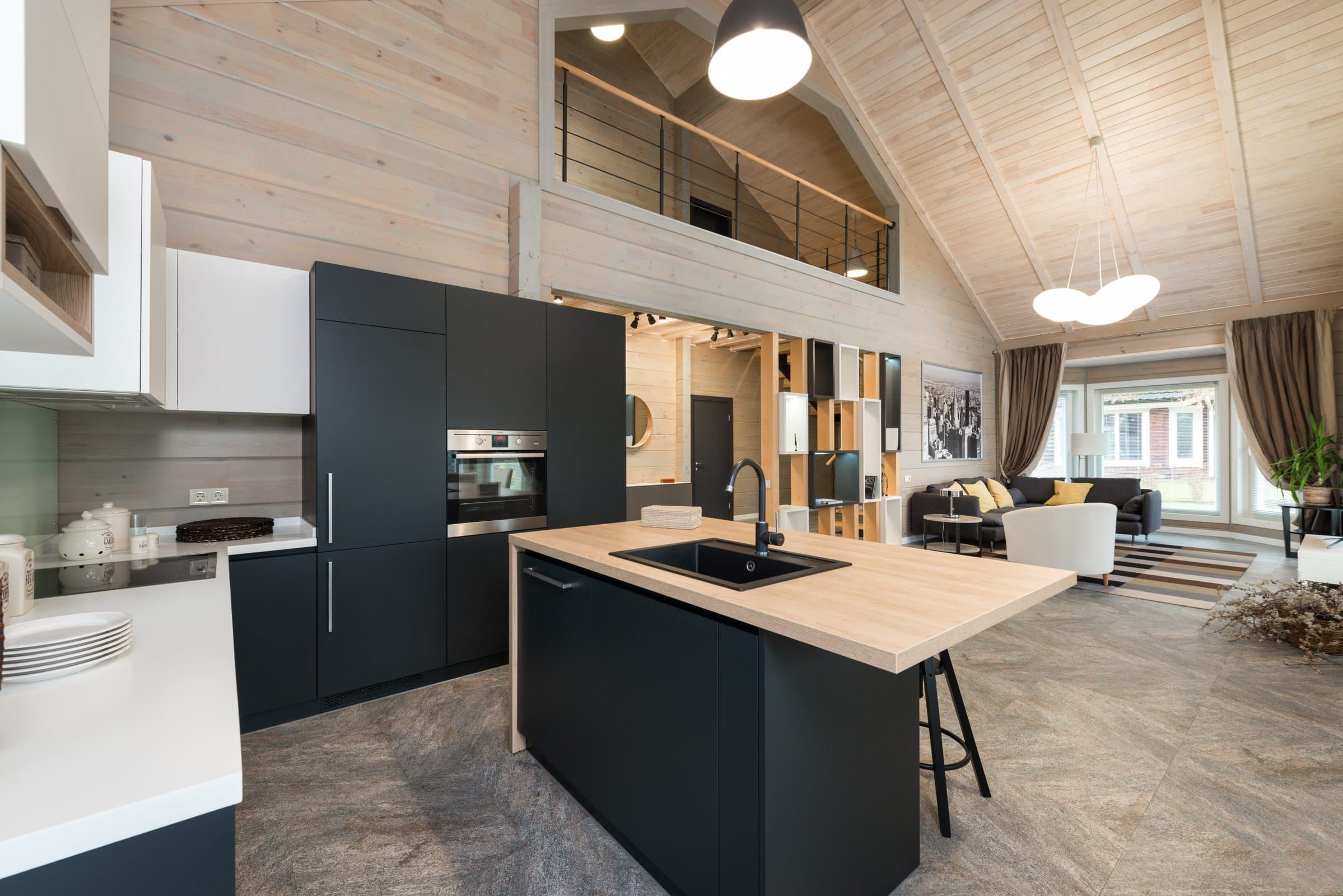 Here's another take on black and white that fits well in modern-rustic design schemes. The black and white cabinets have a minimal design, while the butcher block countertop works as a natural element.
All the wood features in this room keep the black and white from feeling too harsh.
Pay Close Attention to the Hardware You Use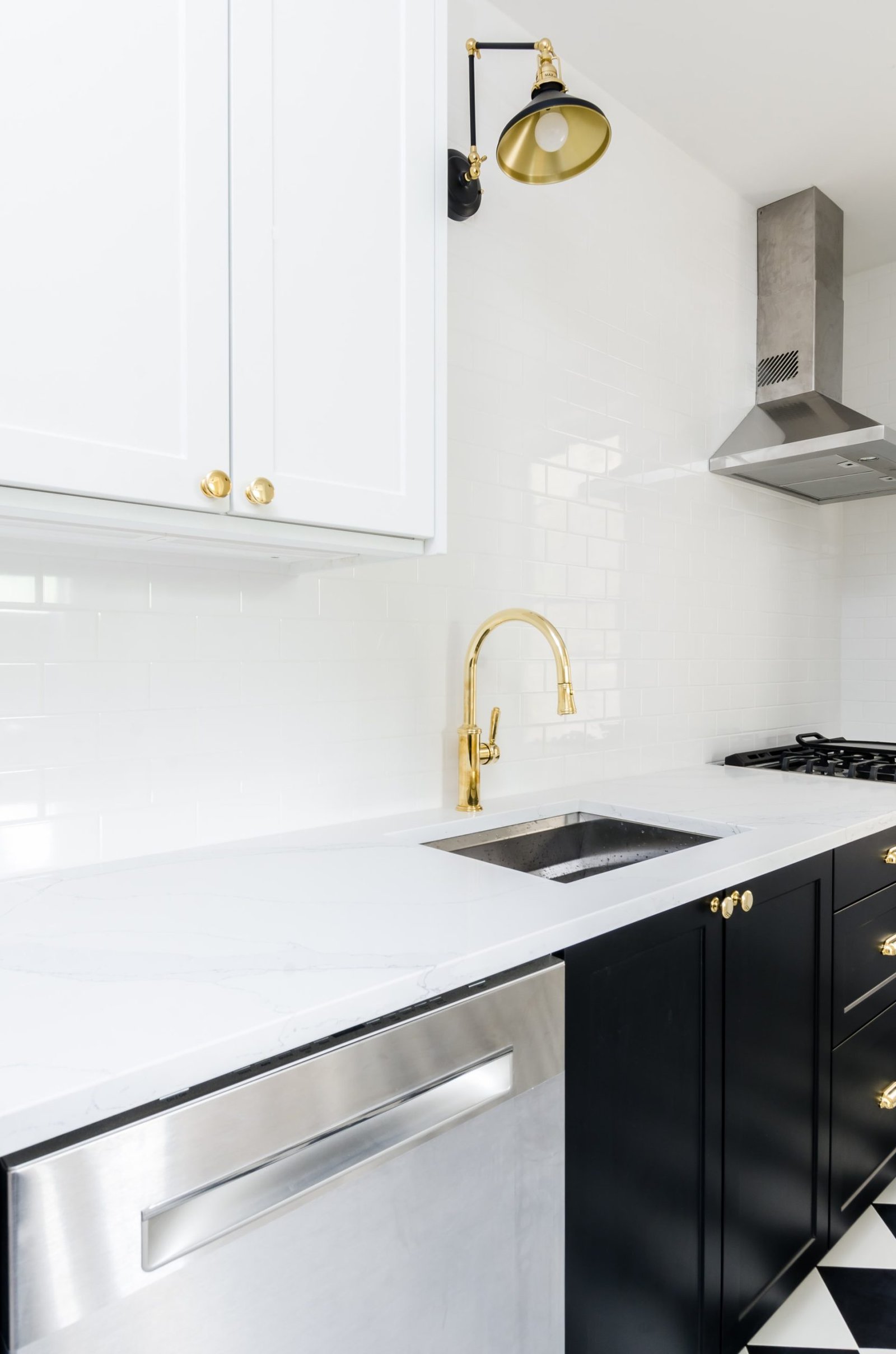 This kitchen is, once again, another take on black and white. Only, instead of looking rustic or contemporary, it looks high-end.
The polished brass cabinet handles and pulls set this design apart from the rest. Even though they're such a small detail, they set the tone for this room.
Change Up the Look with Trim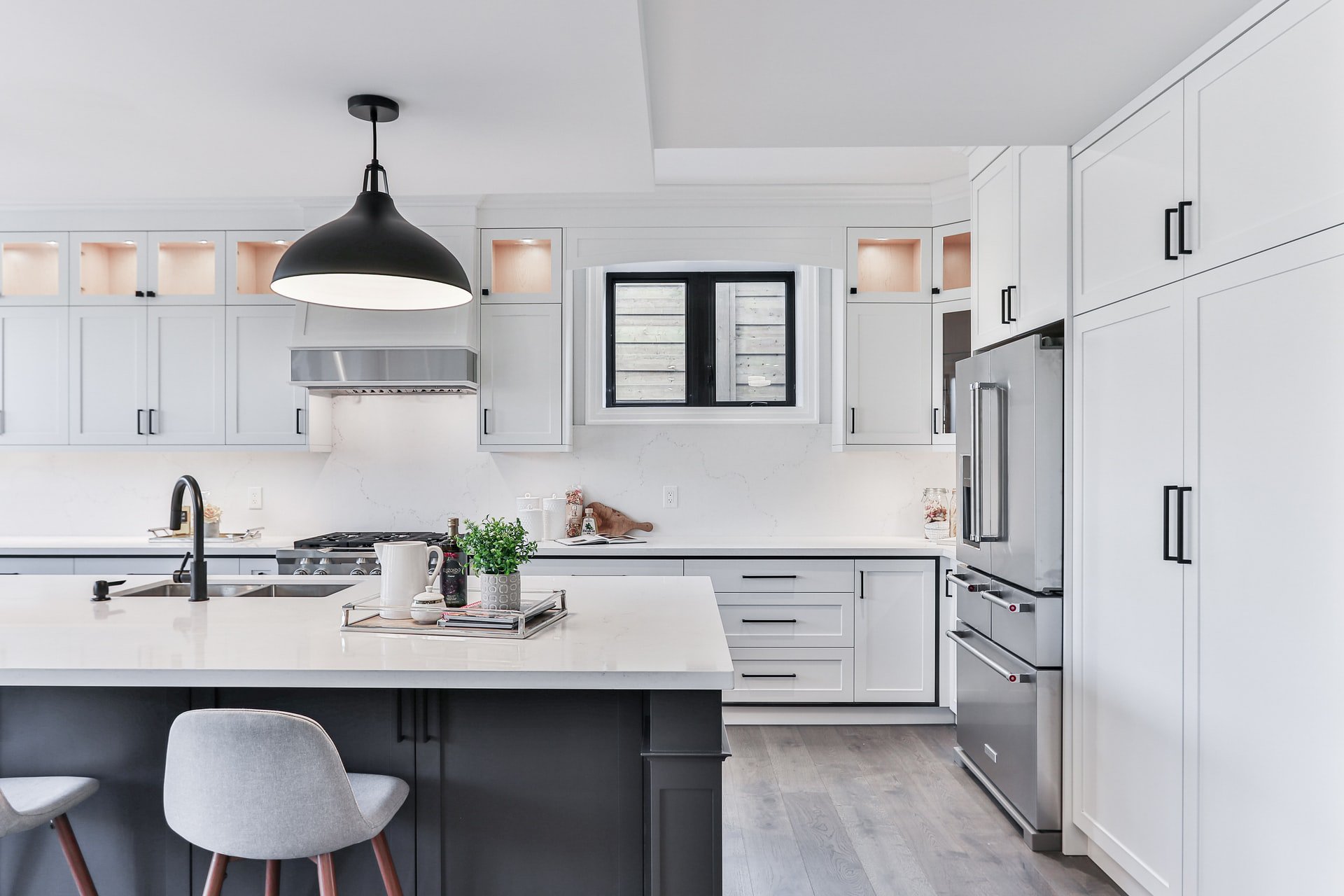 Consider putting trim around your lower cabinets if you're looking for a unique take on the two-tone kitchen. In this kitchen, the white bottom cabinets have a black border, while the uppers are bare.
The black cabinet hardware ties the look together—the island is off-black, which coordinates without perfectly matching.
Use Your Second Cabinet Color Sparingly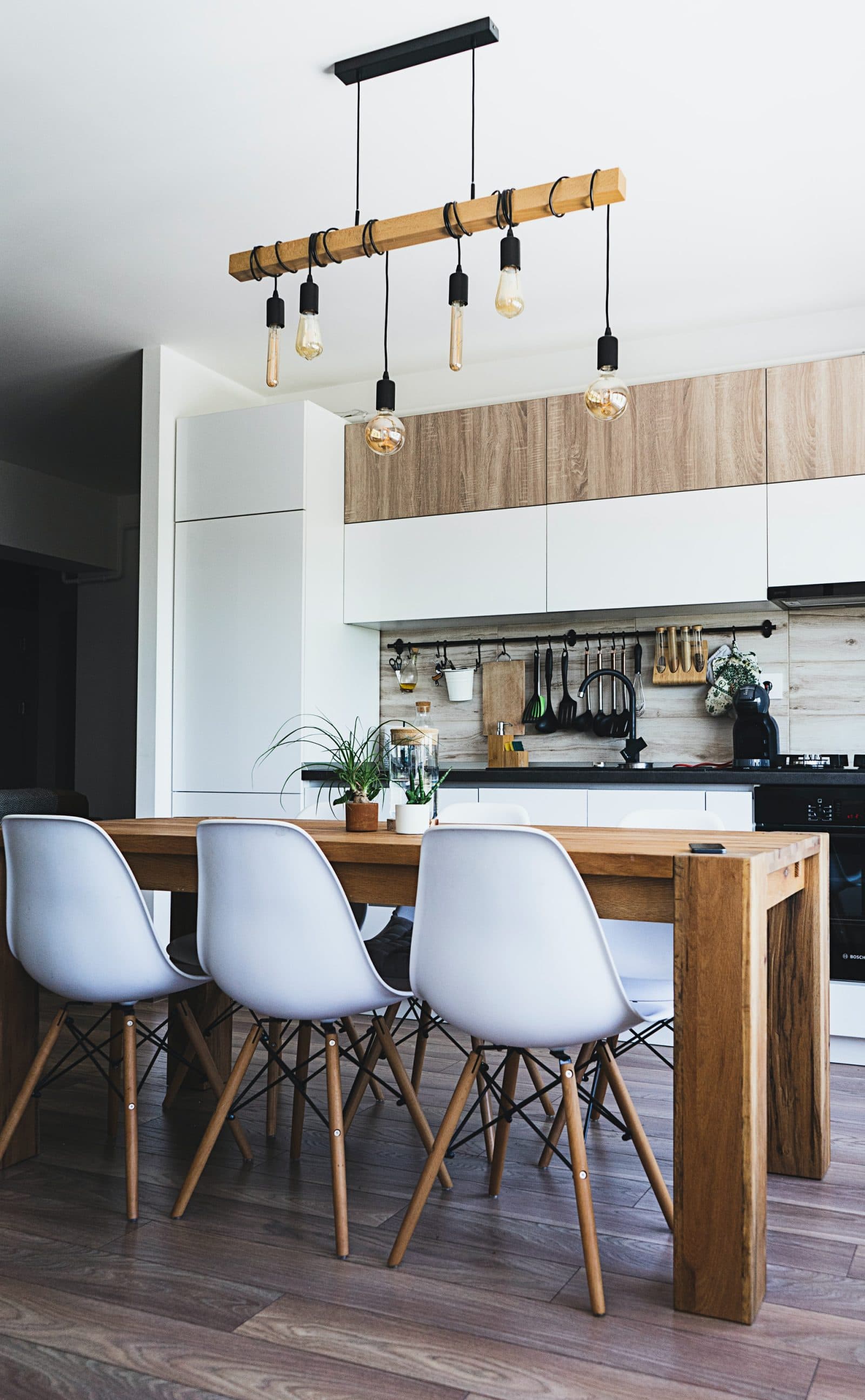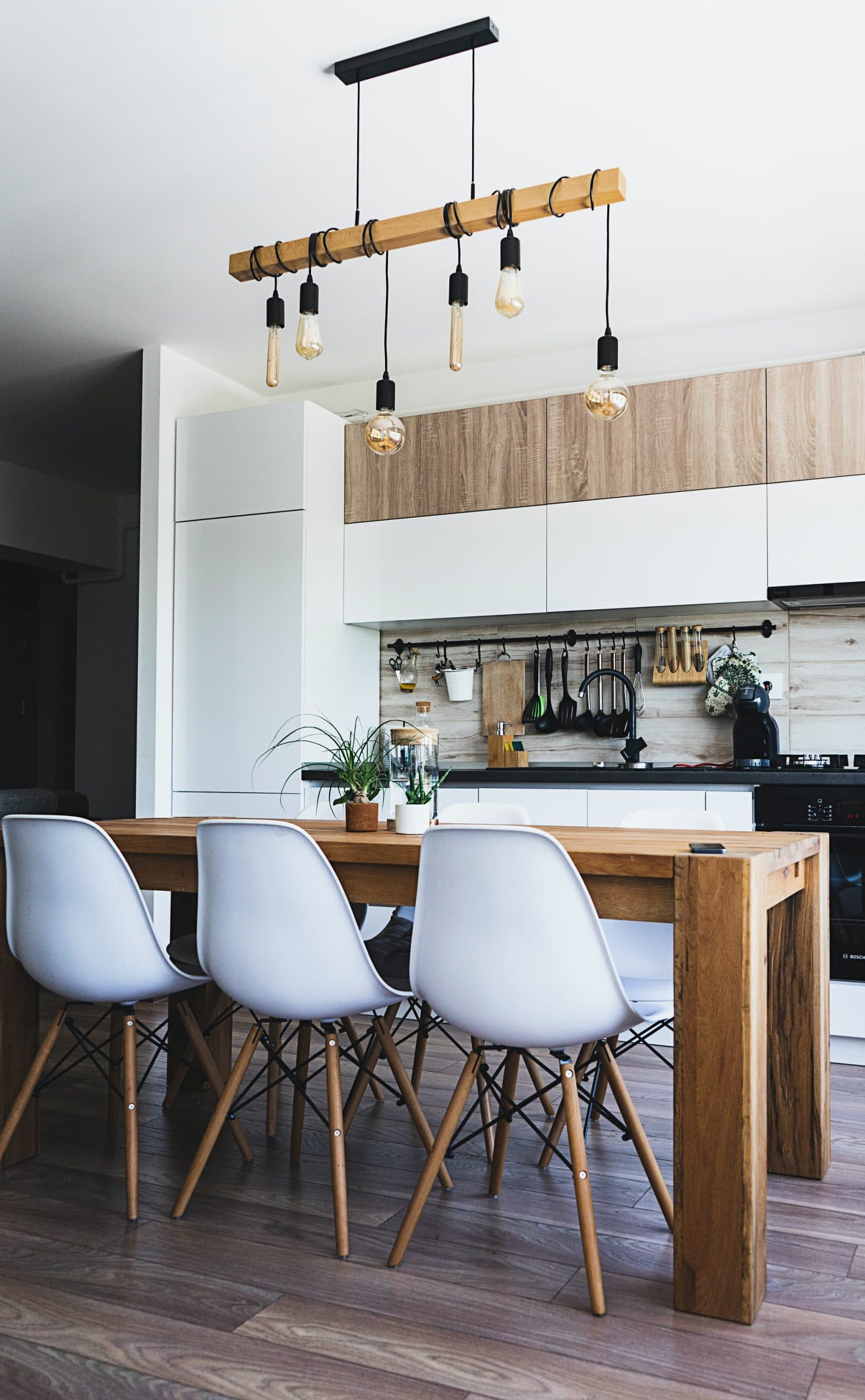 If you want a subtle two-tone look, pick one dominant color and use the secondary color sparingly.
One idea is to use two-tone upper cabinets. Alternatively, you can keep your cabinet color consistent and use your secondary color for floating shelves and trim.
Final Thoughts
The two-tone kitchen look incorporates two different color cabinets. The typical design features a dark color on the lower cabinets and a light or white shade on the upper cabinets.
You can put your spin on this look and create a one-of-a-kind kitchen. The two-tone design works for a neutral kitchen, featuring wood and white. However, you can also use it for a bold kitchen by putting a bright color on the bottom cabinets.