Decorated Life is reader-supported. When you buy through links on our site, we may earn an affiliate commission. Learn More
What Color Hardware for White Kitchen Cabinets?
White kitchen cabinets are a classic.
Depending on the shade of white and style of the cabinet, they work with all types of decor. And fortunately, since white is neutral, all hardware matches.
But, that doesn't mean you should pick the first hardware option you see. The knobs and pulls you choose will significantly influence how your kitchen looks.
Here are 13 hardware colors and styles for white kitchen cabinets to use as inspo.
Get a High-End Look with a Polished Gold Ring Pull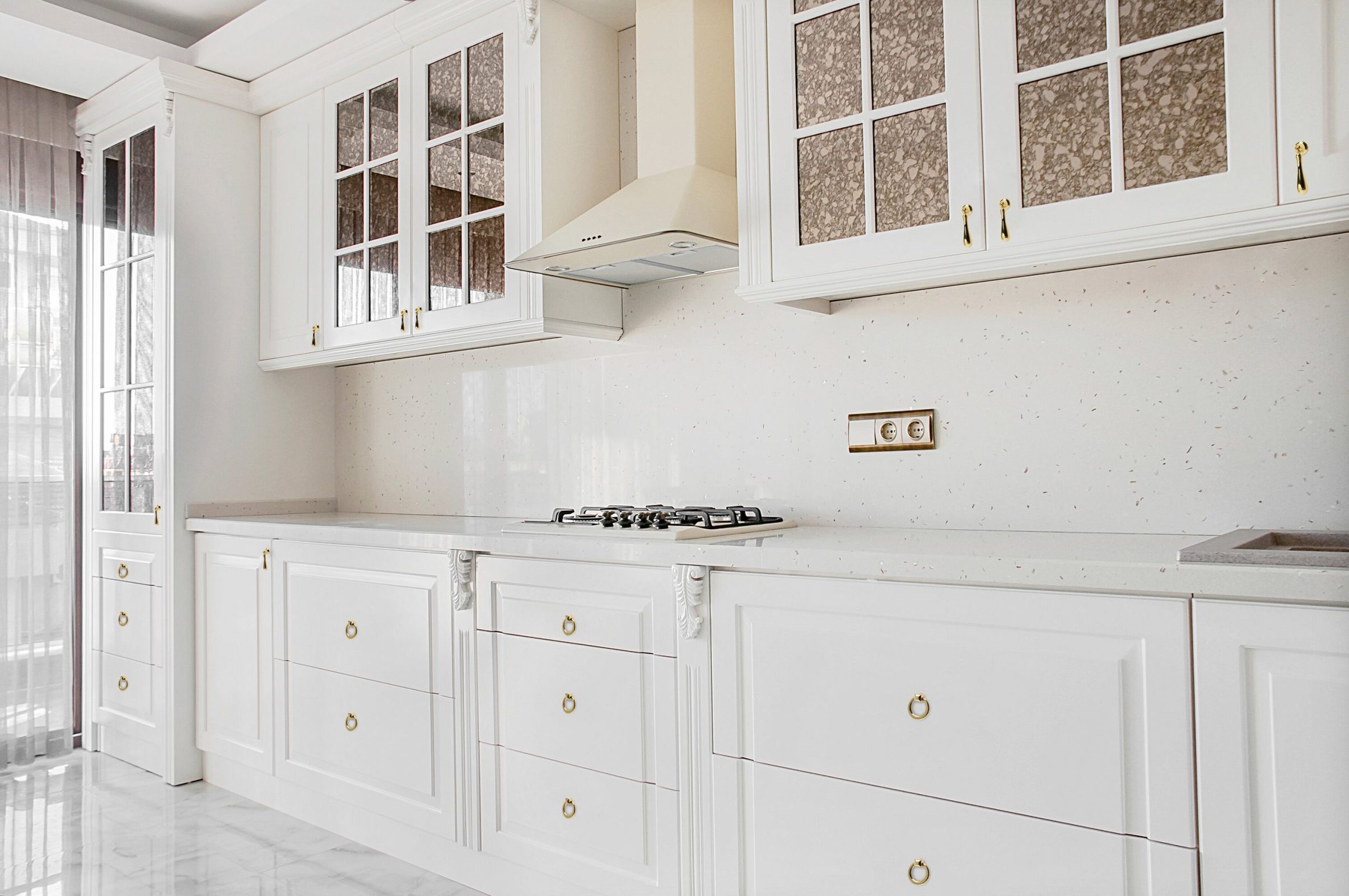 If you're after a sophisticated look you can't go wrong with gold. And while you can find many gold options in standard bar pulls or knobs, using a ring pull adds a little extra to the look.
These ring pulls are from Wayfair and measure 1.9" by 1.6". Since they're on the smaller side, you can use them in place of knobs on your drawers and complement them with a gold bar pull on your cabinets.
Stick with Matte Black for Effortless Style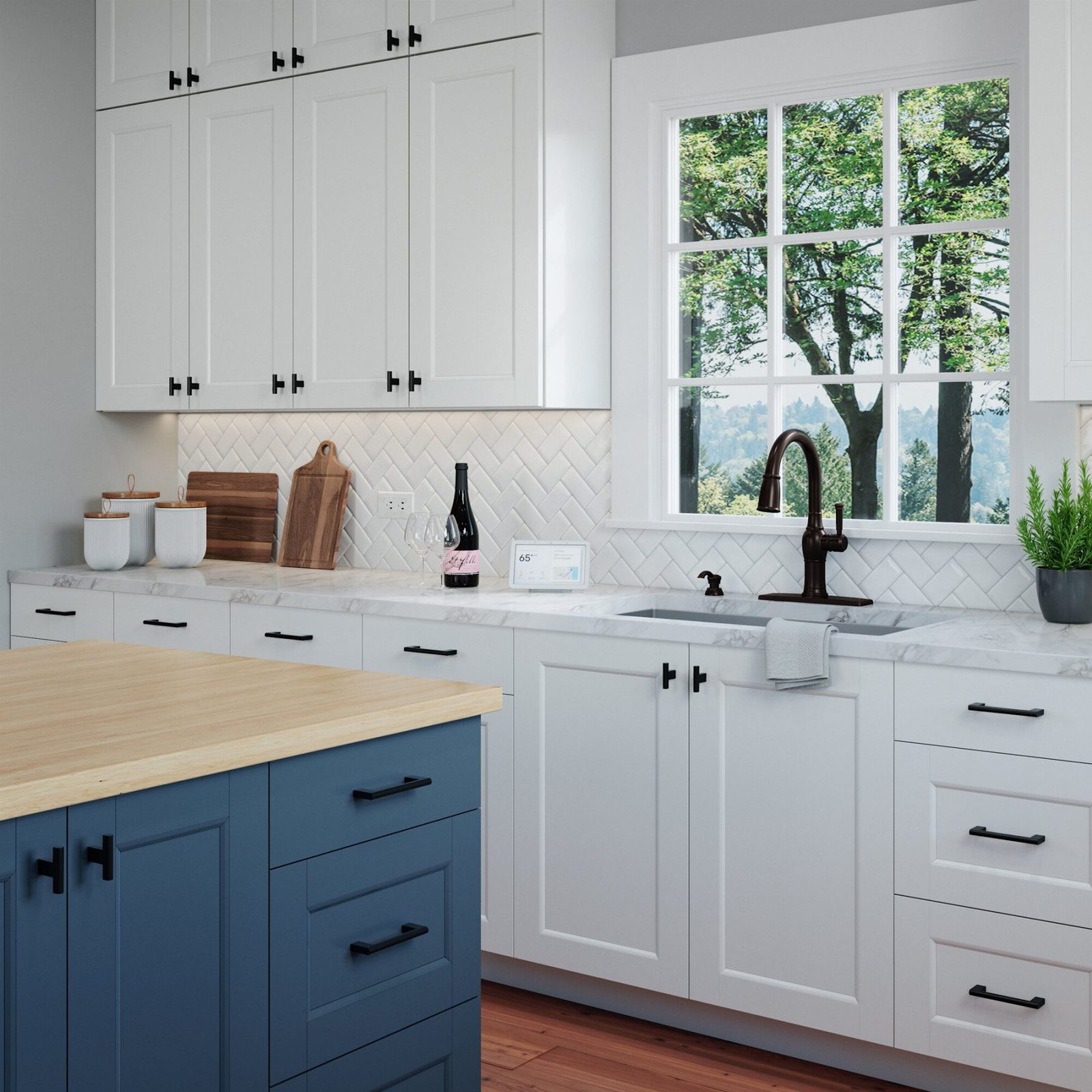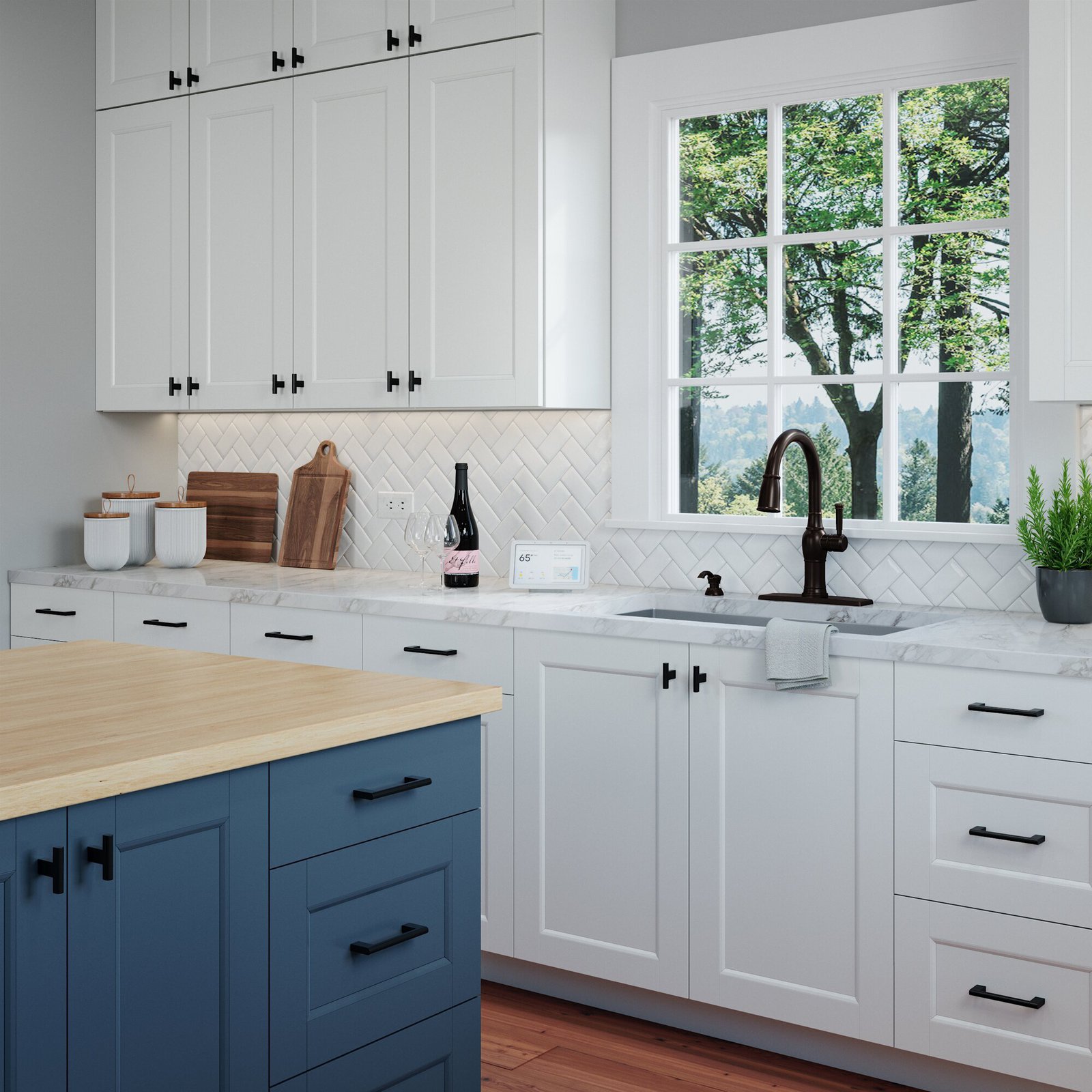 Matte black is the dominating kitchen hardware trend and works well for a clean and modern look.
This 4-inch center-to-center bar pull from Wayfair is basic enough to match most decor styles. It offers contrast to white cabinets, and you can easily find knobs to go with it. If you like the shape of this pull but want a different color, you can also get it in satin brass and satin nickel.
Use a Nickel Half Round for a Traditional Kitchen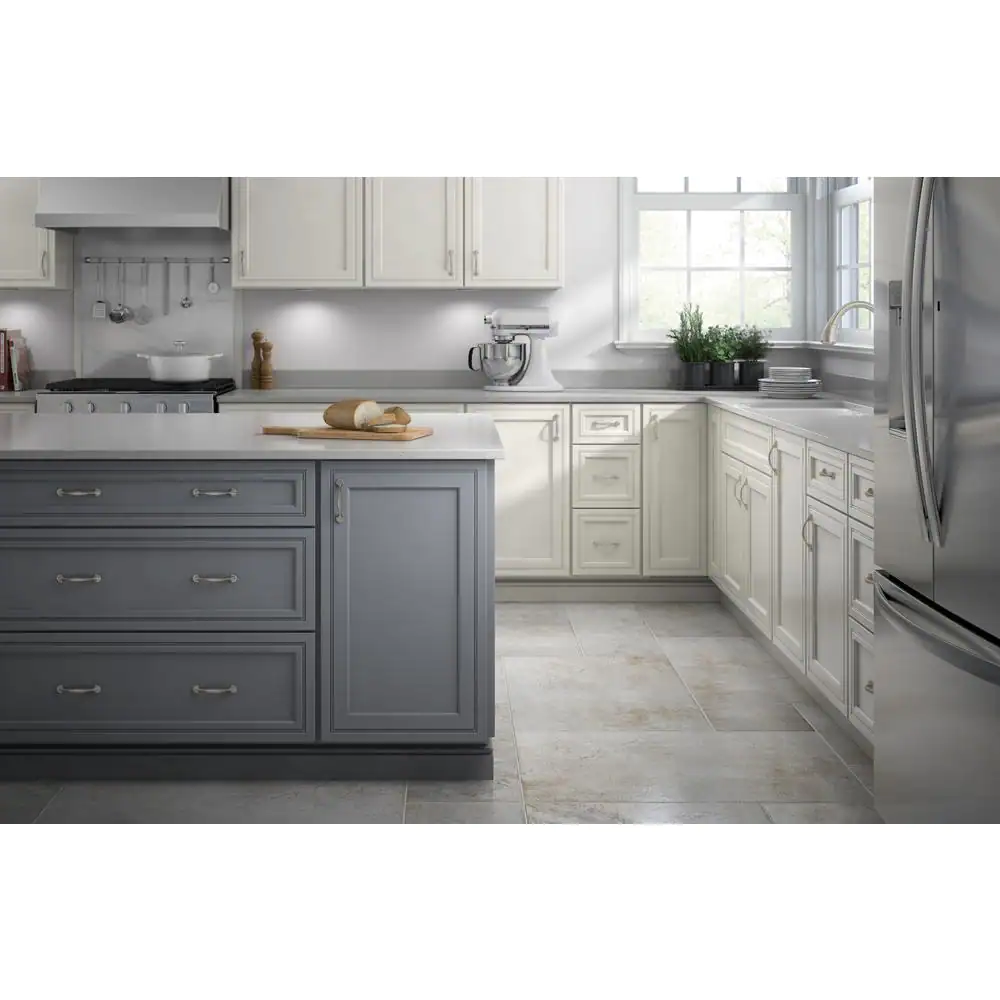 Half-round pulls are one of the best options for traditionally styled kitchens. These pulls look put-together without being overly modern.
You can find this pull from Home Depot in satin nickel, a soft complement to a white cabinet. If you want something very low contrast, a finish similar to this is the way to go.
For a Classy Look, Try a Champagne Pull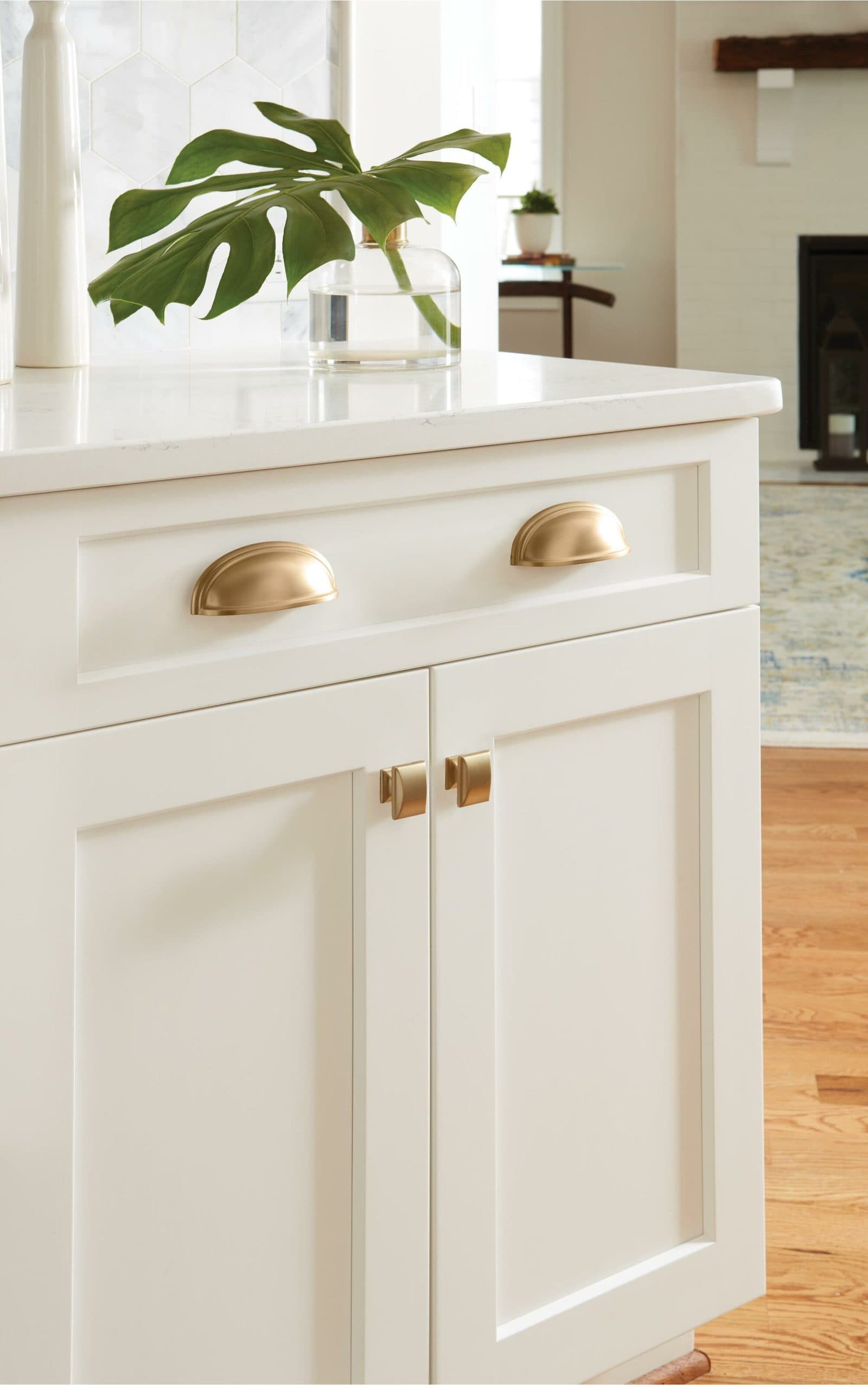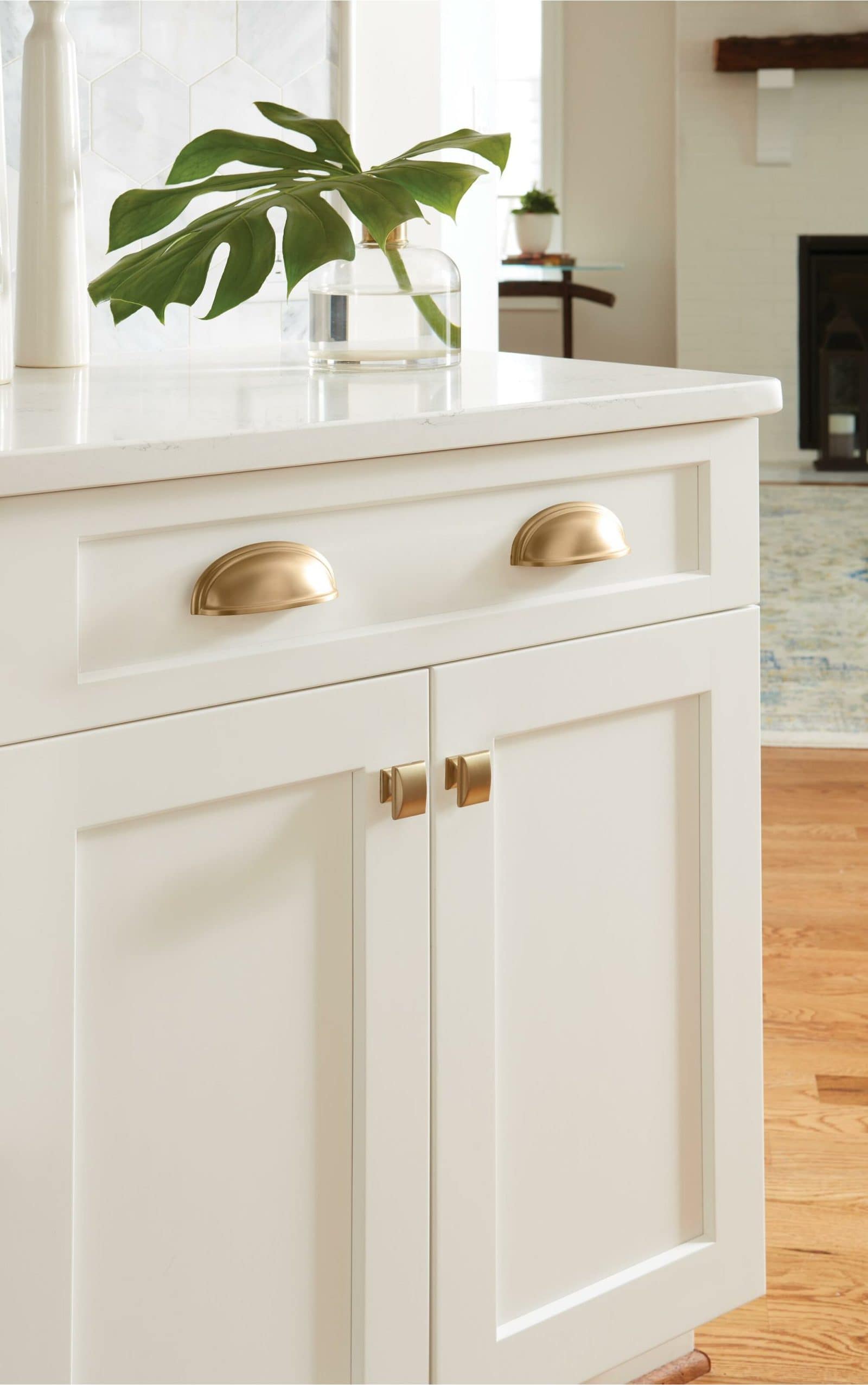 If your home is contemporary or glam and you're looking for a classy pull to coordinate with your white cabinets, try a golden champagne finish.
These pulls will add a touch of glamor to your kitchen without competing for attention with other elements in the room. You can find these in a total of six color options.
Create a Bright and Airy Space with Chrome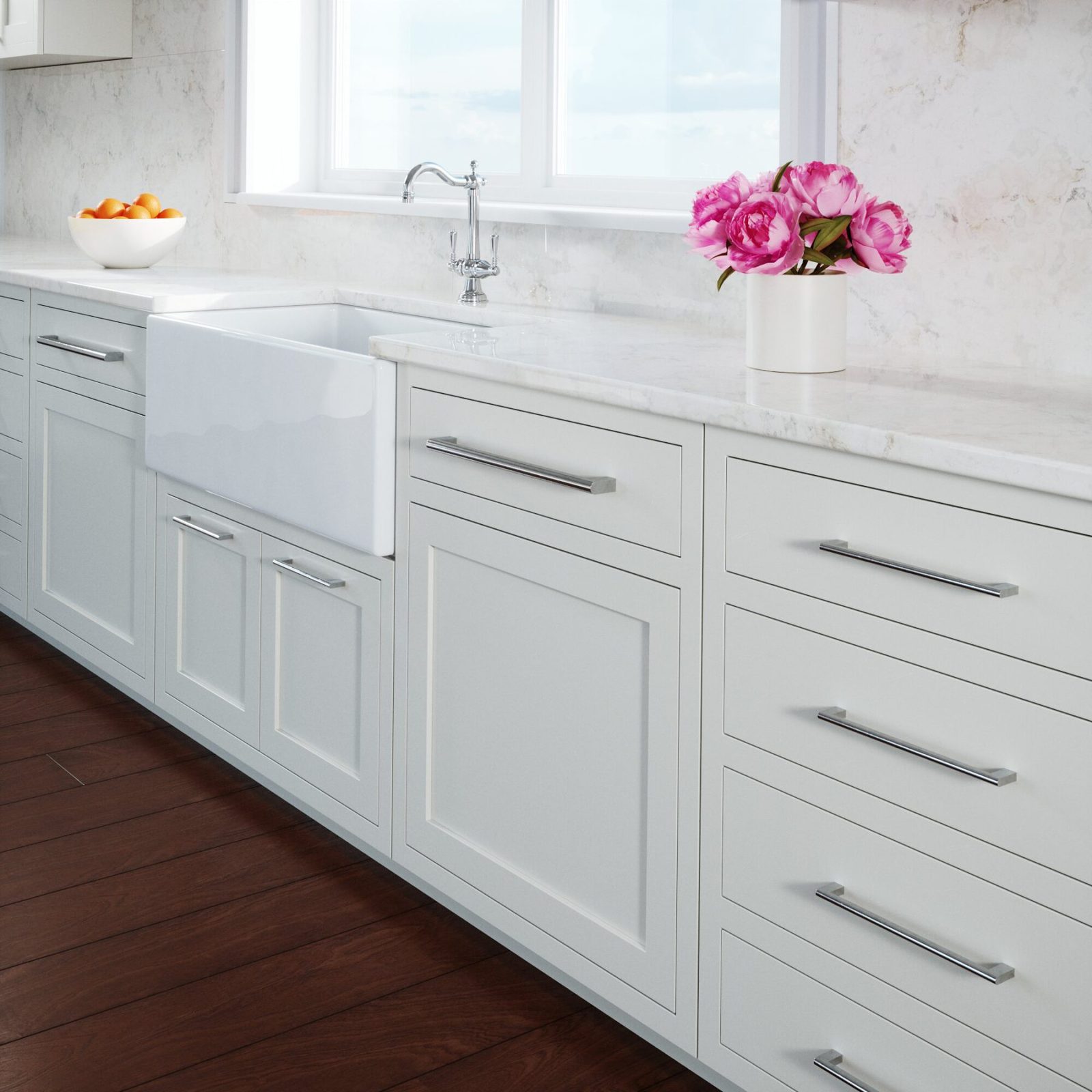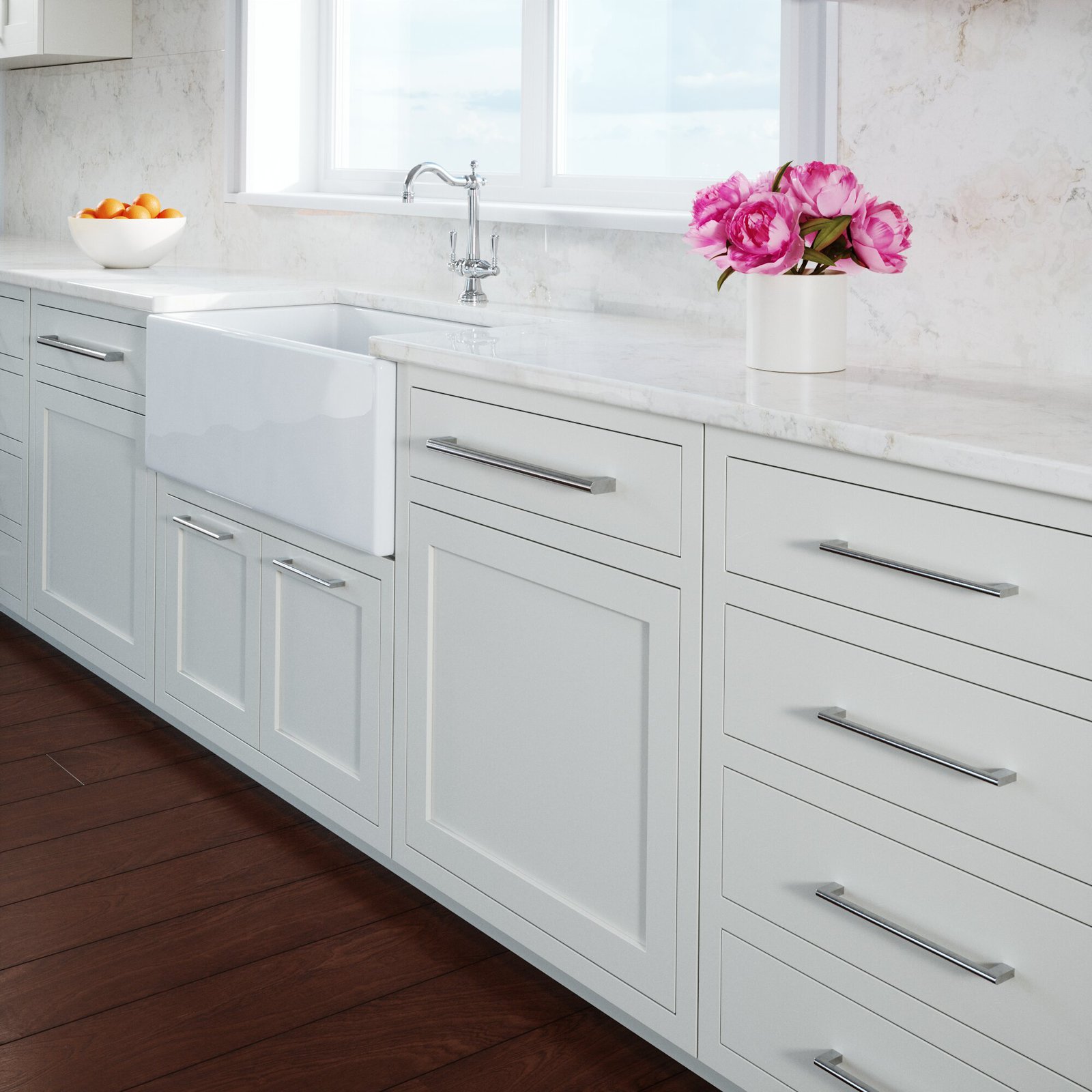 Do you like kitchens that feel bright and cheery? A white cabinet paired with chrome hardware will help you achieve that look.
Chrome is a much higher contrast than the typical satin nickel cabinet pull and creates a brightening effect. You can find these particular bar pulls on Wayfair. They come in several sizes ranging from 4 to 10 inches.
Consider a Center Cup Pull for Modern Farmhouse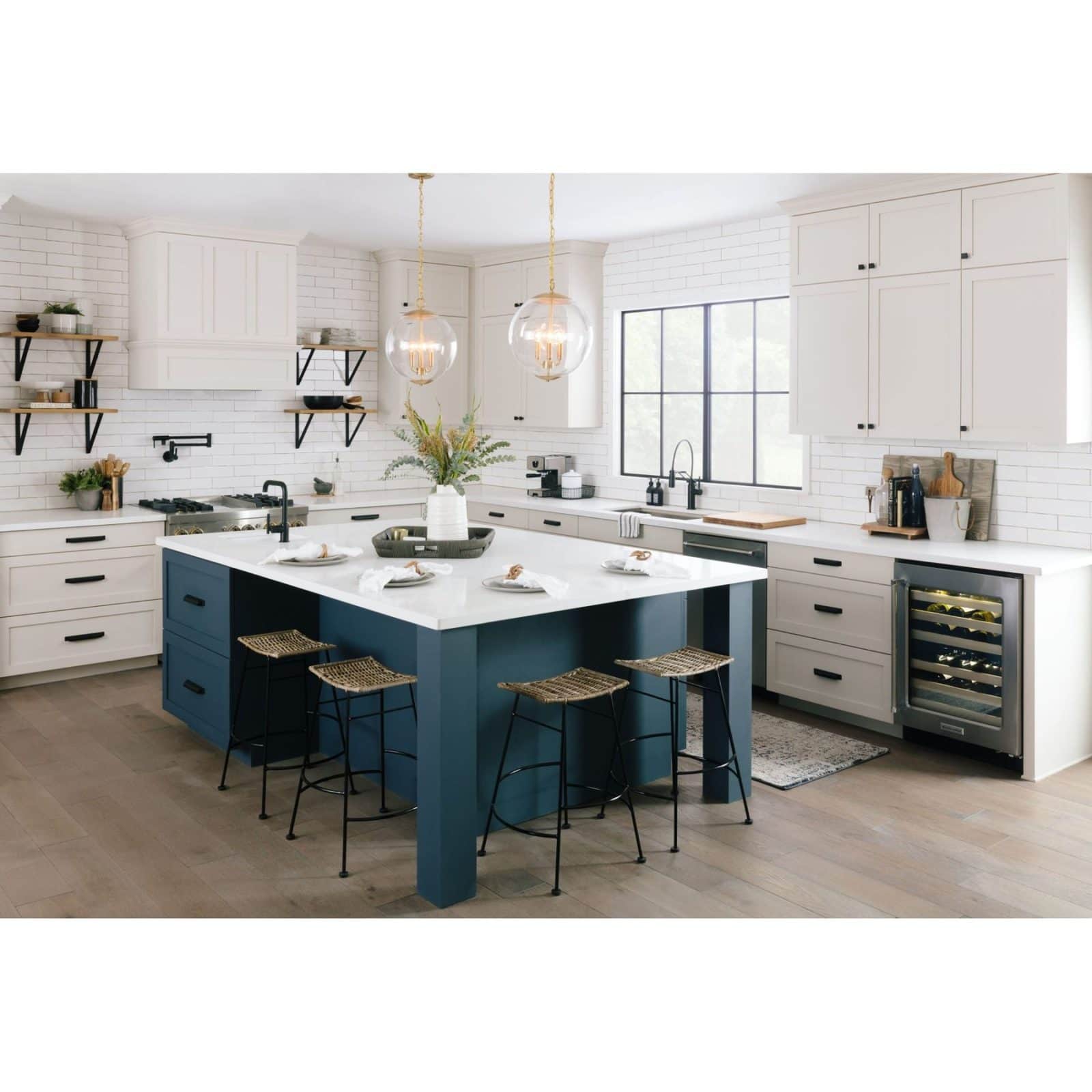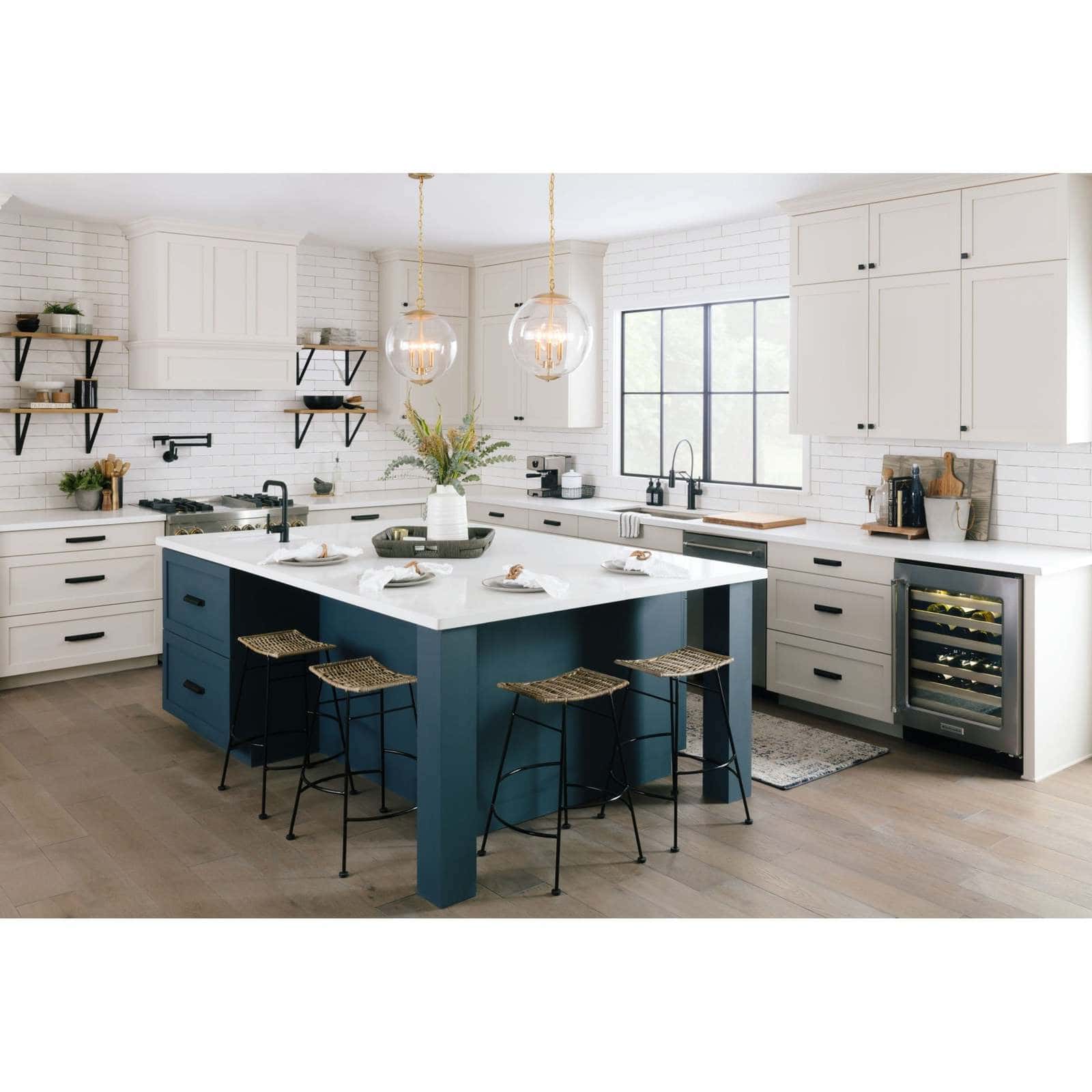 If you want a modern farmhouse look in your kitchen, consider a black cup pull. You can use these pulls on your drawers and then add knobs on your cabinets.
The pull has a modern shape, while the matte black coordinates perfectly with most farmhouse-style kitchens. You can also find these in other finishes, including honey bronze, ash gray, and sable.
Install Finger Pulls for a More Modern Look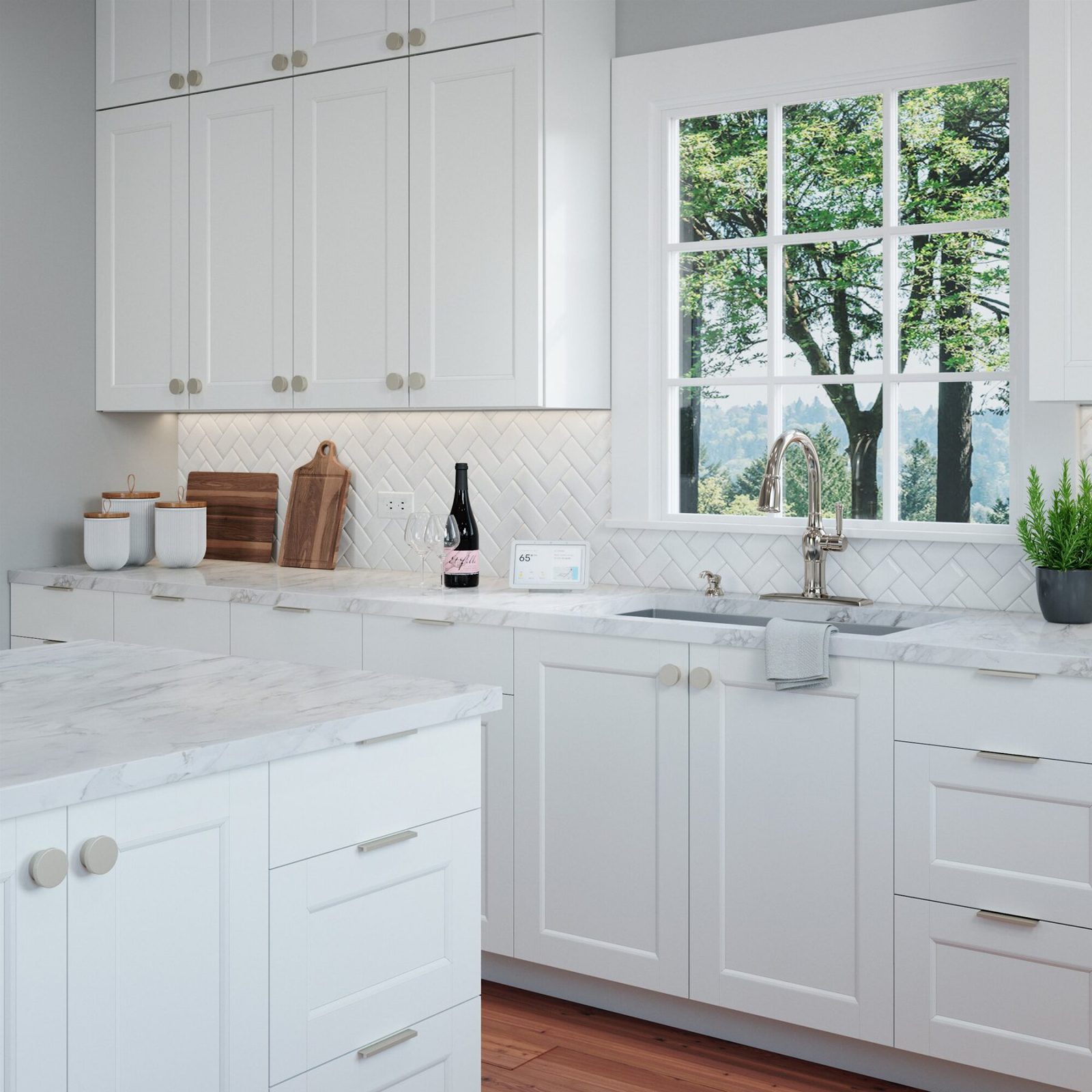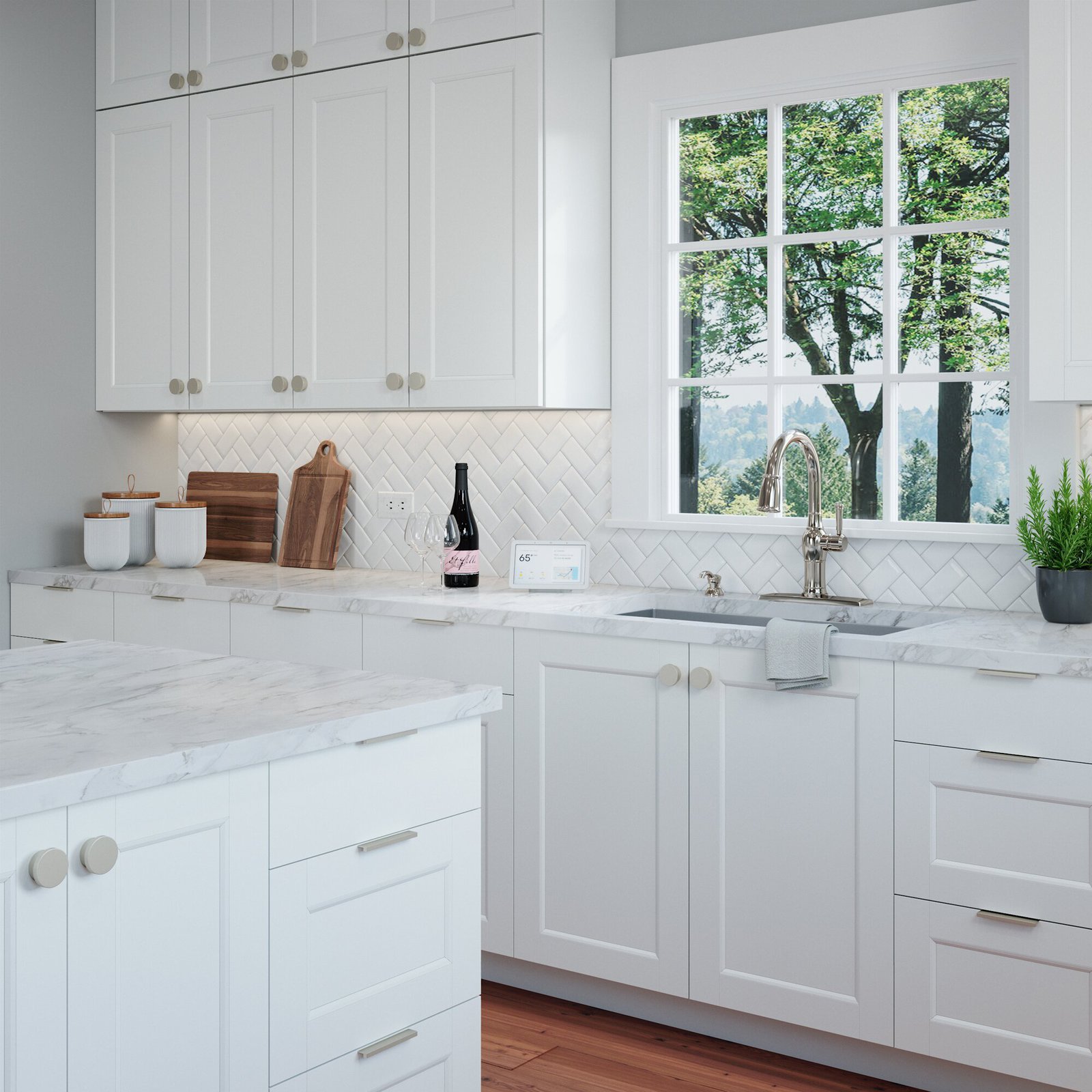 If you're trying to find white kitchen cabinet hardware that's modern but still soft, these finger pulls in satin nickel are worth a look.
The sleek design sits right at the top of the cabinet, while the satin nickel finish offers softness against a white backdrop. You can use these on lower cabinets and drawers and add a different handle on upper cabinets.
Opt for Mixed Metal Handles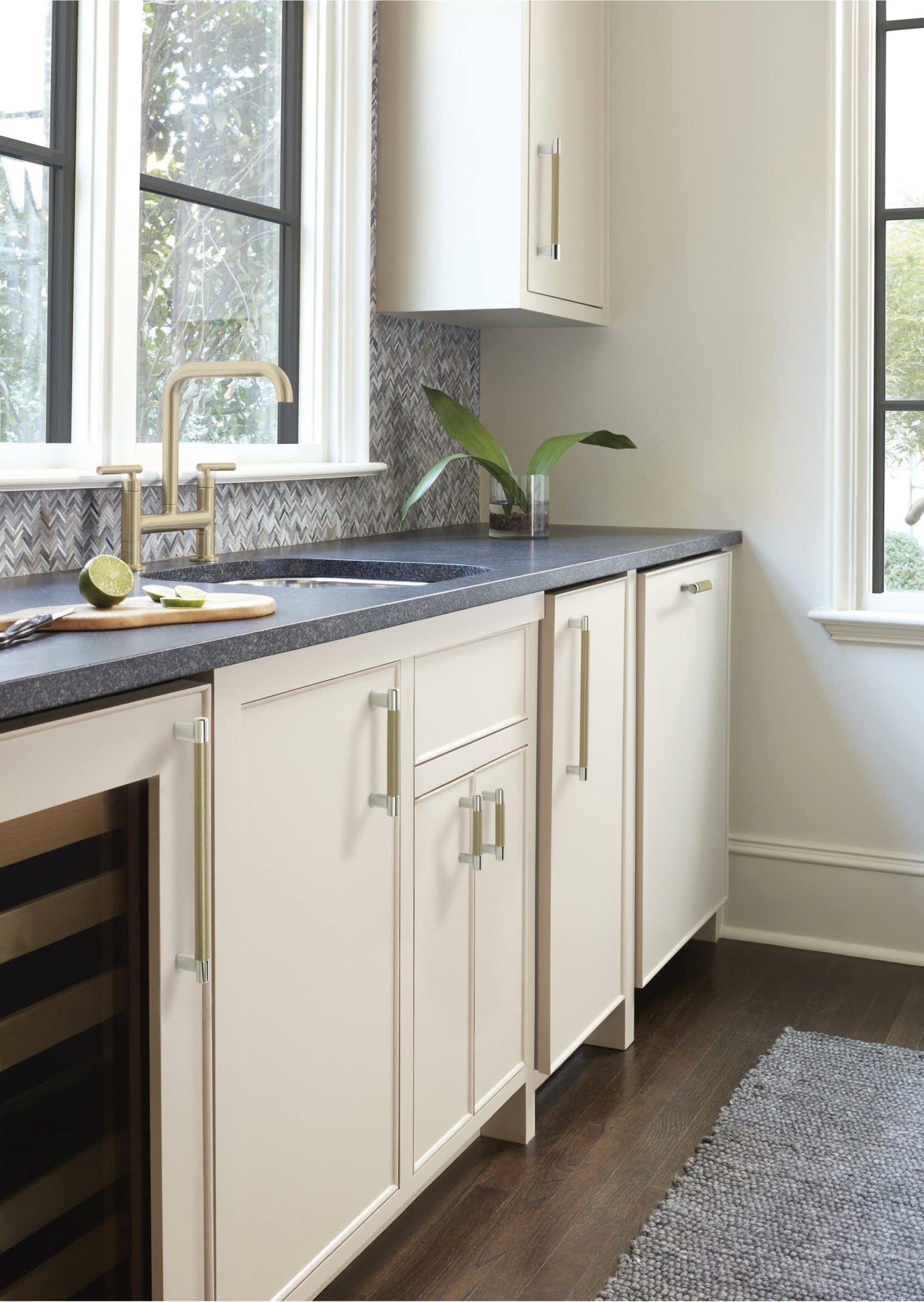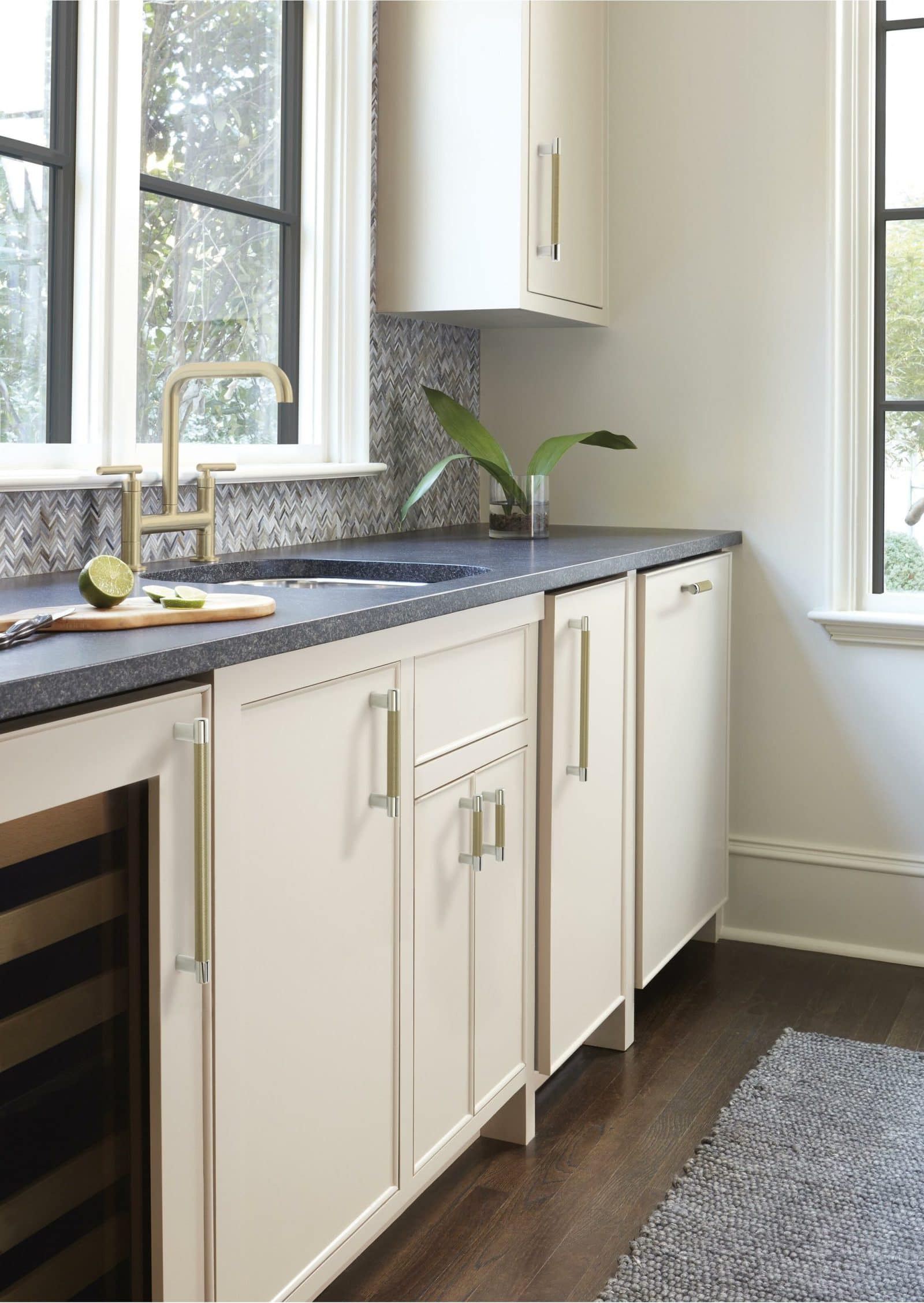 Want something a little more unique or industrial for your kitchen? These mixed metal pulls pack in color and texture.
From Wayfair, these handles feature smooth ends with a textured bar in the middle. You can find them in several color combinations, including polished nickel with gold, polished nickel with black, and more.
Go For Double Handles on Long Drawers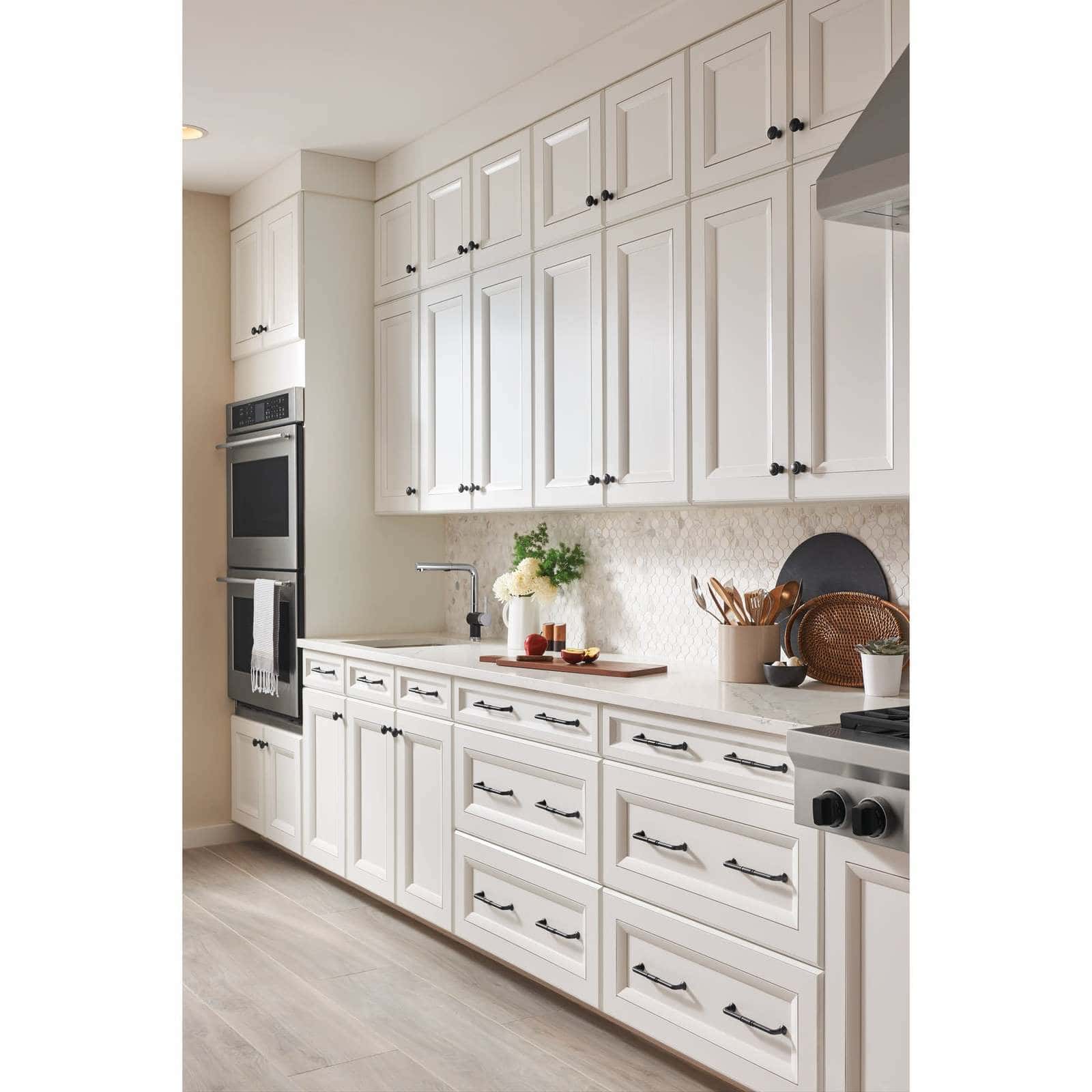 If you have really wide drawers, opt for two pulls per drawer instead of using one extra-long handle. And if you like farmhouse or traditional style, this option is a good fit.
Instead of being completely straight, these pulls feature an accent in the middle. They come in several finishes, including flat black, ash gray, honey bronze, and more. If you go with these, you can find matching knobs from the same manufacturer.
Soften Your Room with Champagne Bronze Pulls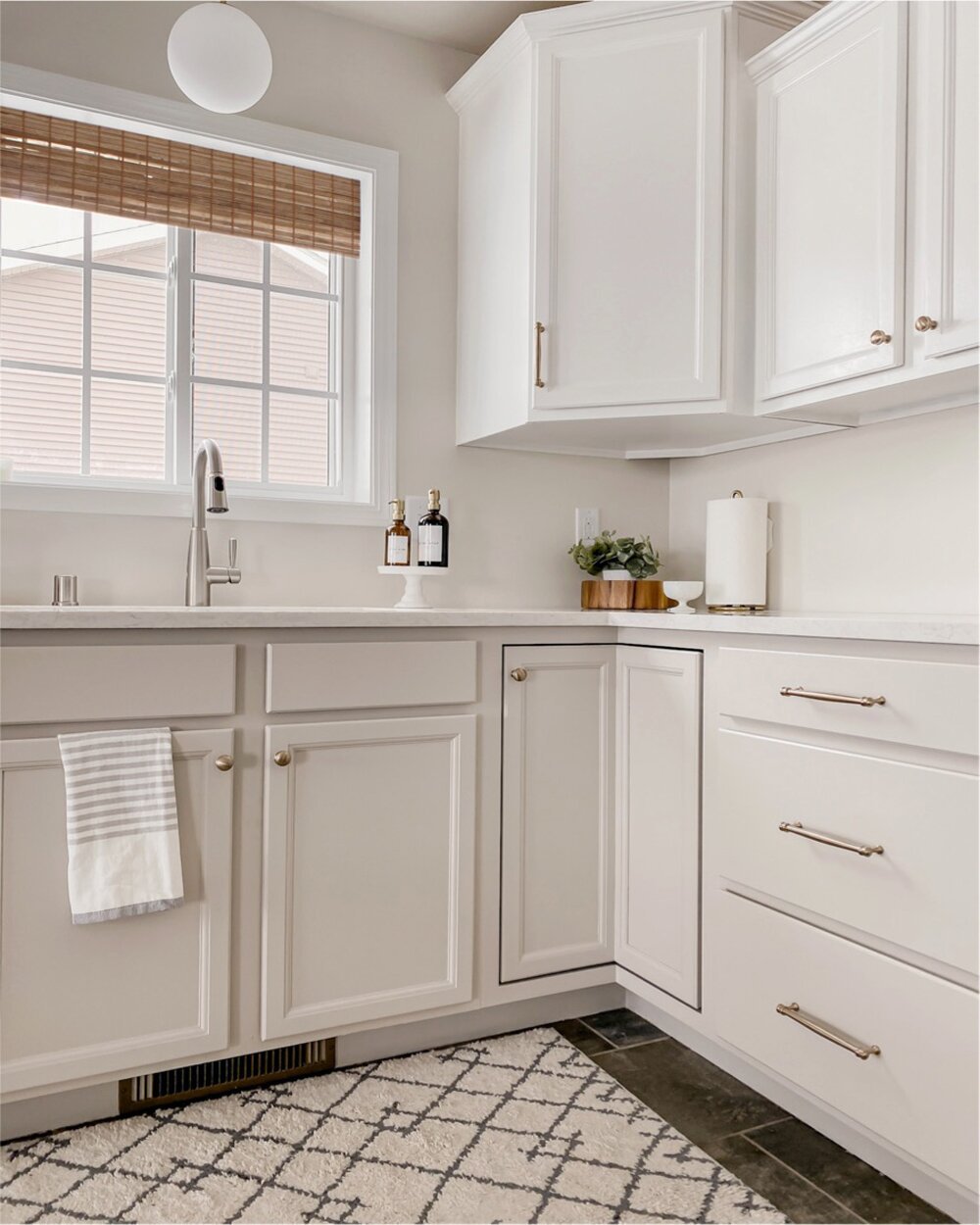 This champagne bronze pull will do the trick if you want to add a feminine touch to your room. Rather than having a streamlined, ultra-modern design, they have rounded edges, which provides a less harsh look.
These come in five sizes that range from 3 inches to 12 inches. So, you can find appropriate pieces for your drawers and cabinets.
Accent Your Cabinets with Copper Hardware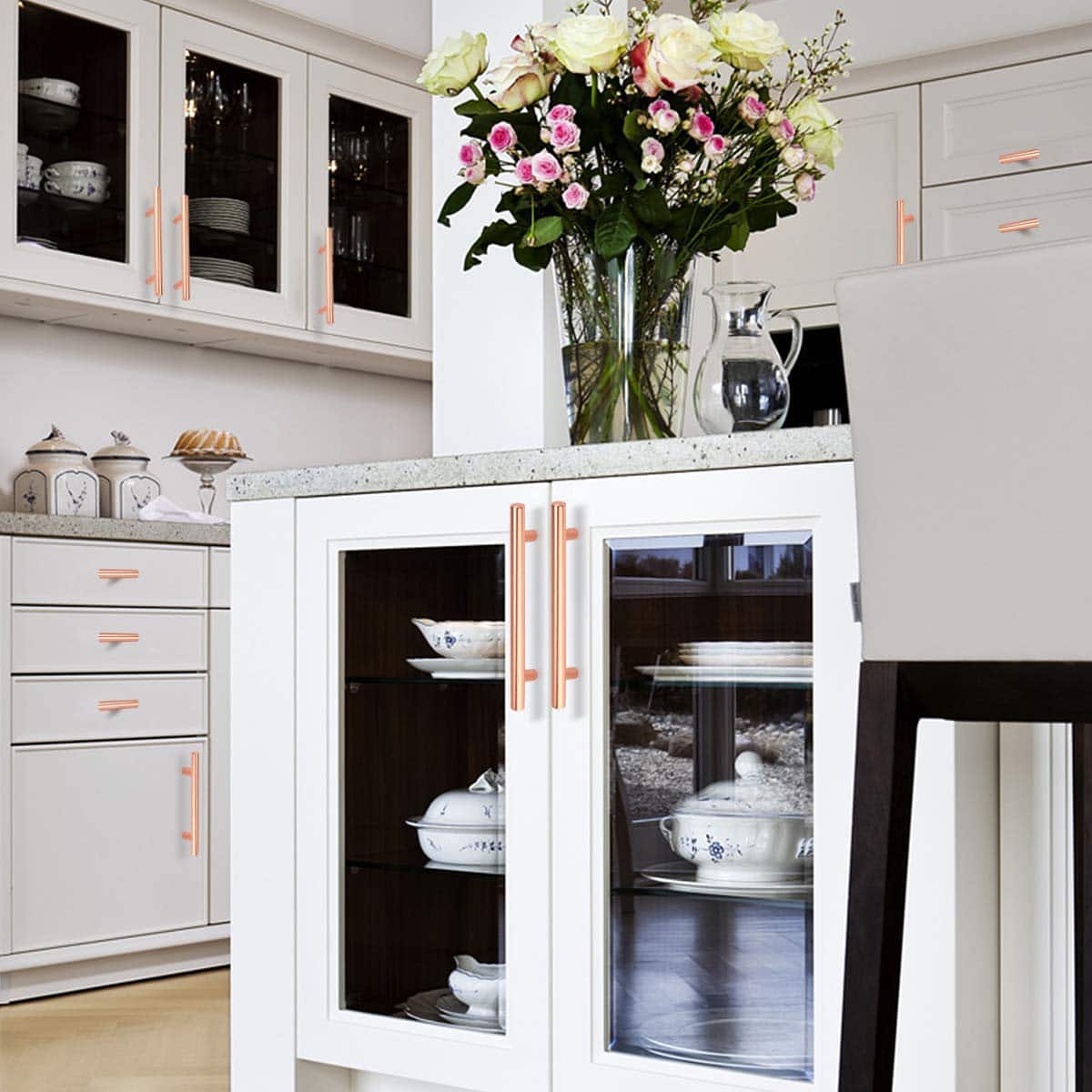 Copper hardware is one of the highest contrast choices for white cabinets. So, if you're looking to make a statement and want a modern design, these are one option to consider.
From Wayfair, these pulls are on the larger size with a total length of 8.8 inches. You can use these as cabinet handles and opt for something different on your drawers. Or, if you want everything to match, you can use them throughout your cabinetry.
Use Gunmetal for a Step Down from Black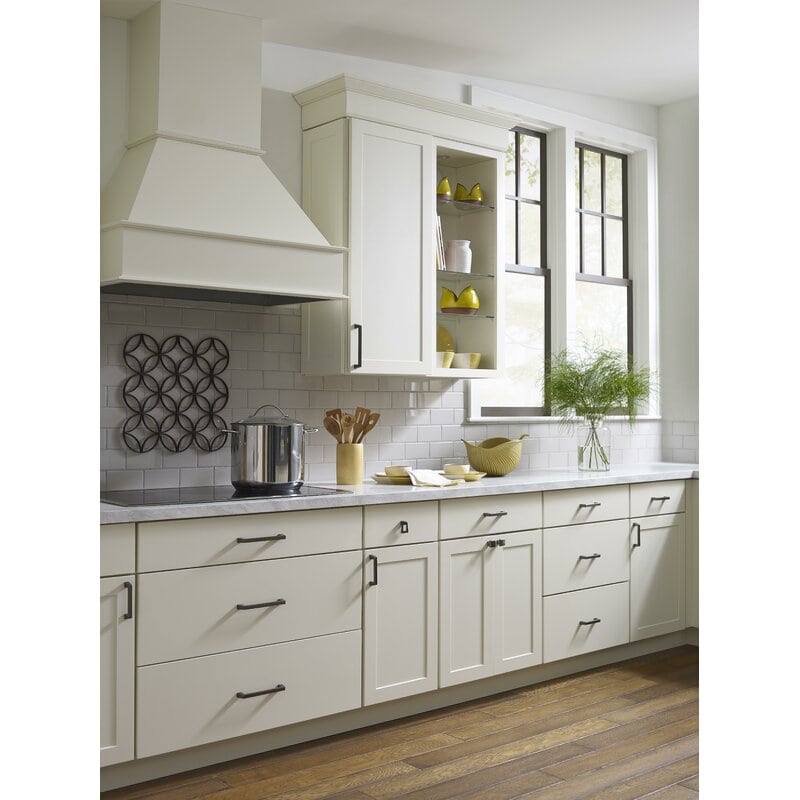 If you want dark hardware but feel like matte black is a bit too harsh, try gunmetal. Gunmetal hardware is a dark gray color that's timeless.
These gunmetal ring pulls are an appropriate size for small drawers. For larger drawers, you can double up and use two. Then, consider adding bar pulls in the same finish on your cabinets.
Get a Country Look with Oil Rubbed Bronze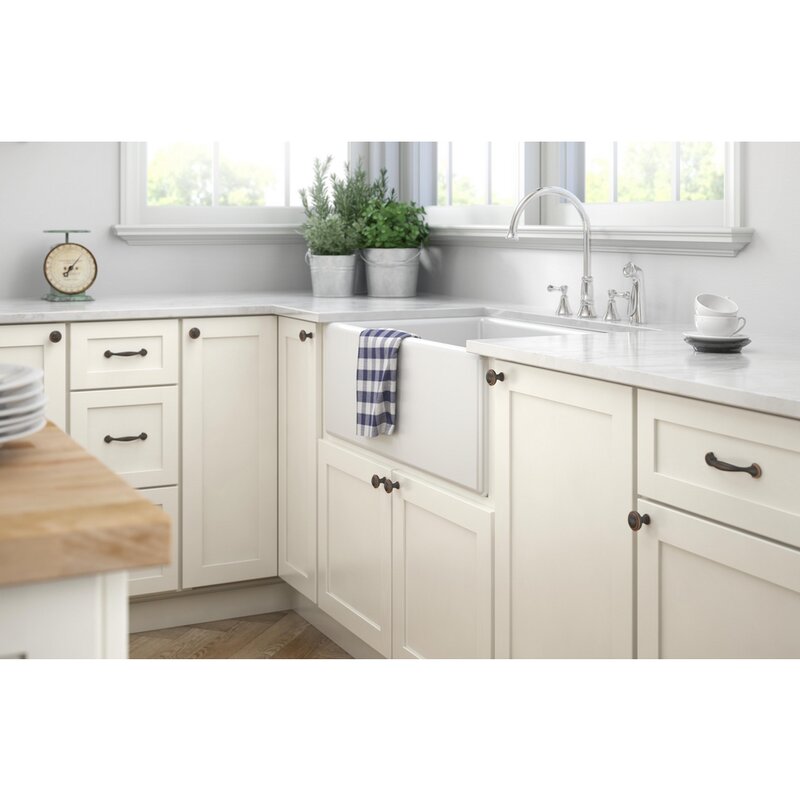 Sometimes flat black hardware can look too modern for farmhouse and country kitchens. If you want something close, consider an oil-rubbed bronze – it will offer warmth and contrast.
These pulls from Wayfair are bronze coated in black with copper streaks throughout. The variation in them will add interest to your space.
Final Thoughts
Just about every color of hardware coordinates with white kitchen cabinets. For an effortless look, go with a flat black. If you want to add softness to your room, try a satin nickel or golden champagne finish.
And remember, the shape of the hardware is just as important as the color. The best thing you can do is order a couple of your favorite choices and look at them next to your cabinets before making a final decision.