Decorated Life is reader-supported. When you buy through links on our site, we may earn an affiliate commission. Learn More
What Color Shutters Go With a Red Brick House? 15 Ideas
Color selection is an important factor when decorating red brick houses. Unfortunately, the rich, warm hues of red brick don't go with every color shutters.
When choosing shutter colors for a red brick house, avoid colors that create too much contrast against the shade of red. Colors will look lighter by at least three shades when used outdoors on a red brick house. Popular colors used for wood shutters on a red brick houses include blacks, grays, whites, blues, and greens.
Quietude by Sherwin Williams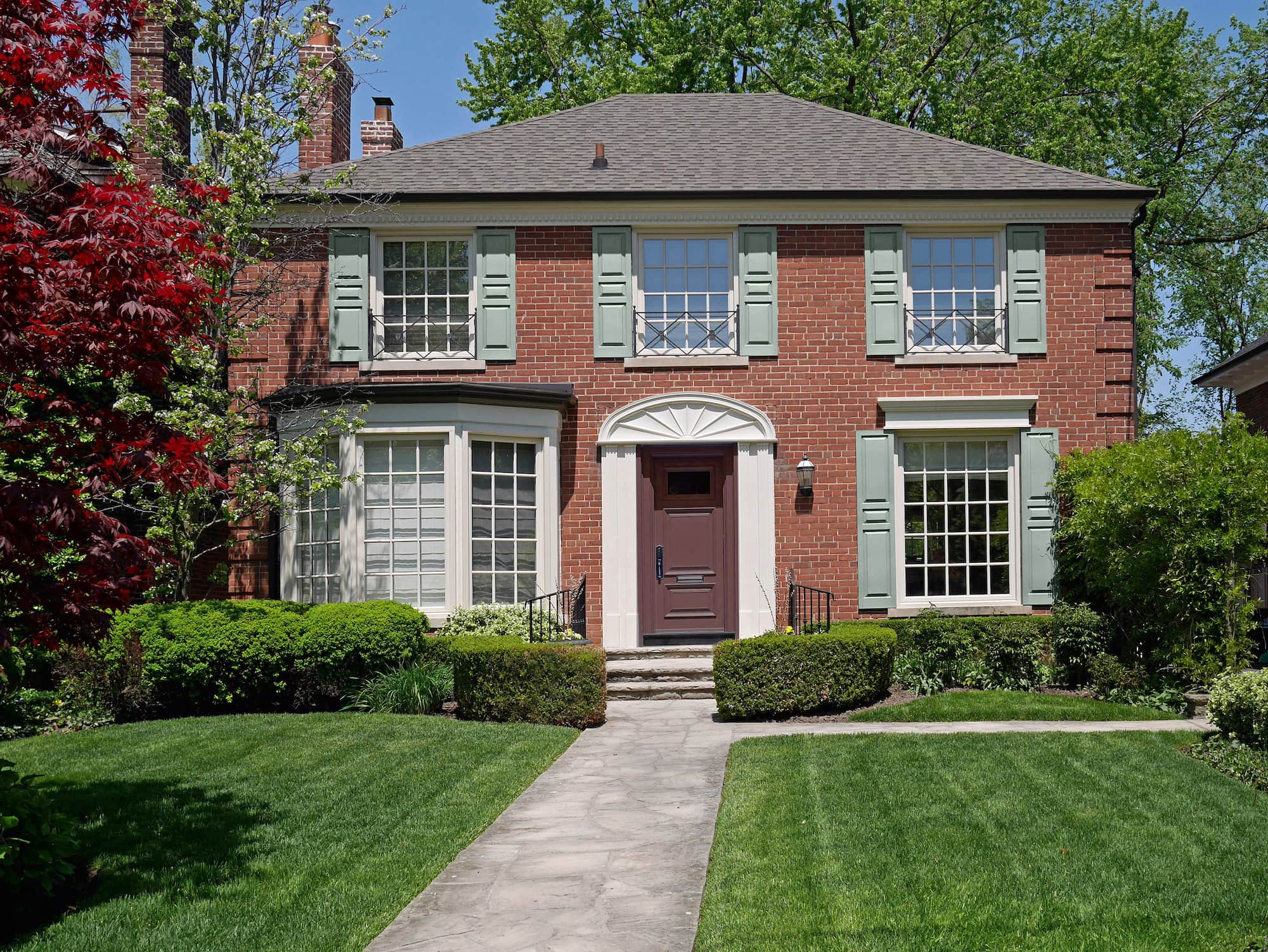 This elegant color combination pairs red brick with a pale greenish-gray like Quietude. This blended shade of cool green has a dusty gloom that looks more rustic against the tone of red brick.
The softness of this natural neutral balances well with accents in other greens like Jasper Stone or Windowpane or browns like Pavestone.
Leather Bound by Sherwin Williams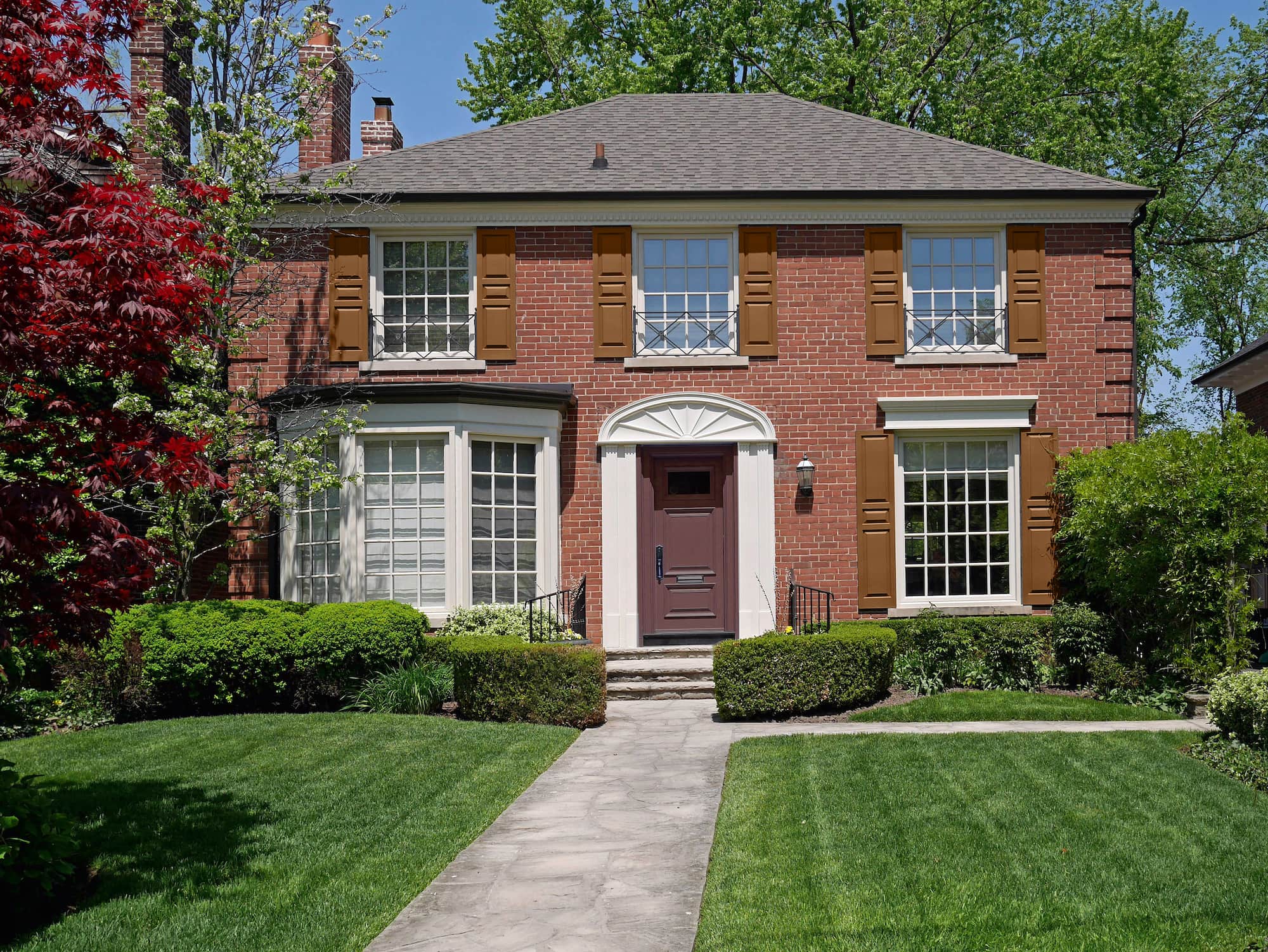 Brown is a suitable shutter color to use on a red brick house. Leather Bound is a lighter brown with slight orange and chocolate highlights.
When matched with a dark burnt red, you can notice subtle hints of red buried in the brown that enhance the color of the brick. Then choose lighter accents for the trim like Biscuit, Homburg Gray, and Antler Velvet.
Grasshopper by Sherwin Williams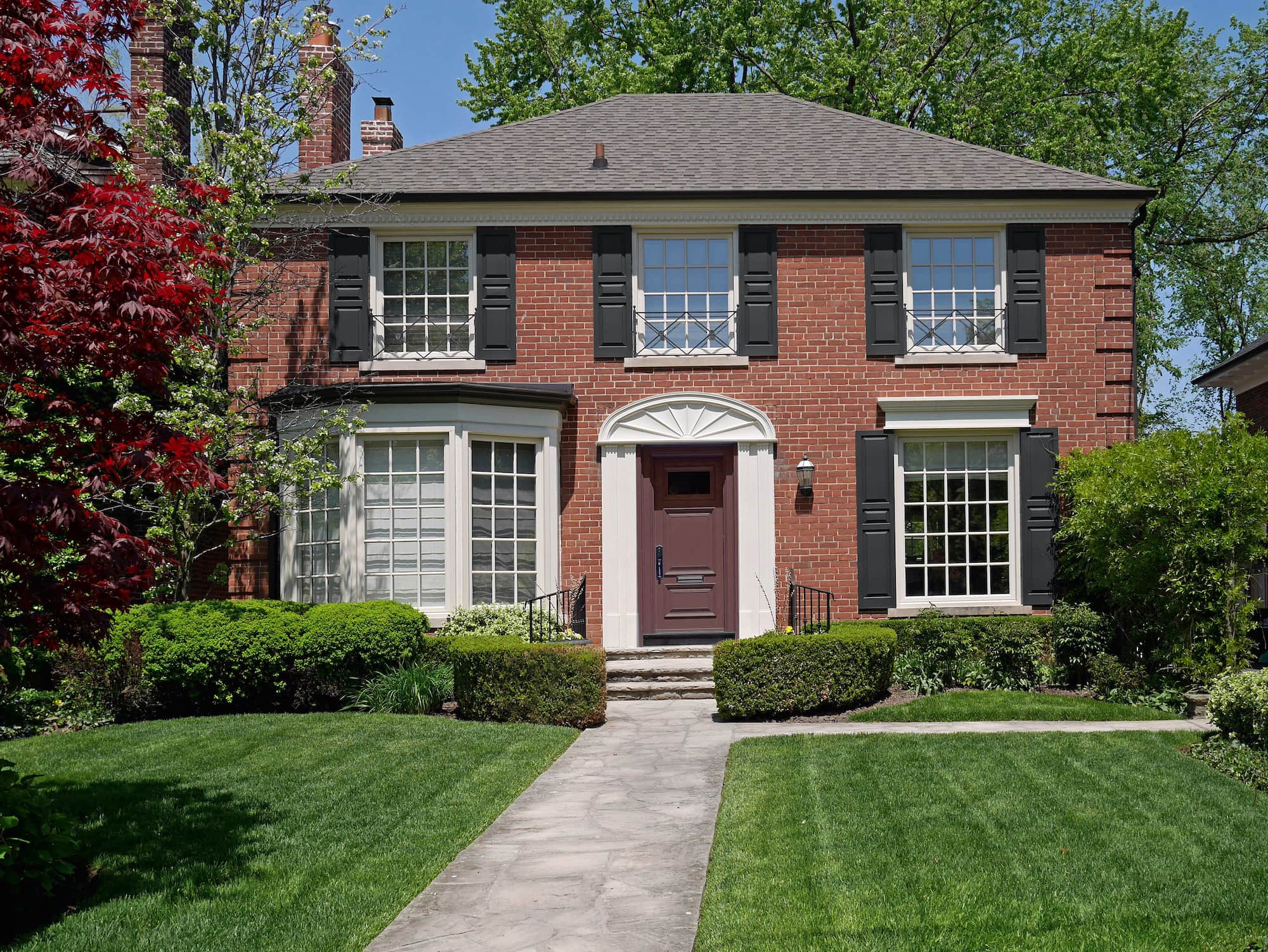 For a bold, modern look, try a stunning color scheme of black shutters on a brick house. We're obsessed with the amazing aesthetic you get with a brassy red brick and shutters painted a dark black shade like Greenblack.
This dense saturated darkness adds a heavy dose of drama that can tone down with trim in Snowbound or Extra White.
Oyster White by Williams
You can also go with a light and bright color palette to tone down the boldness of dark red bricks. We're fond of Oyster White for white shutters on a brick house, a dirty white with smoky tints.
For contrast, use a darker Analytical Gray or a brownish bronze-like Brassy.
Kilkenny by Sherwin Williams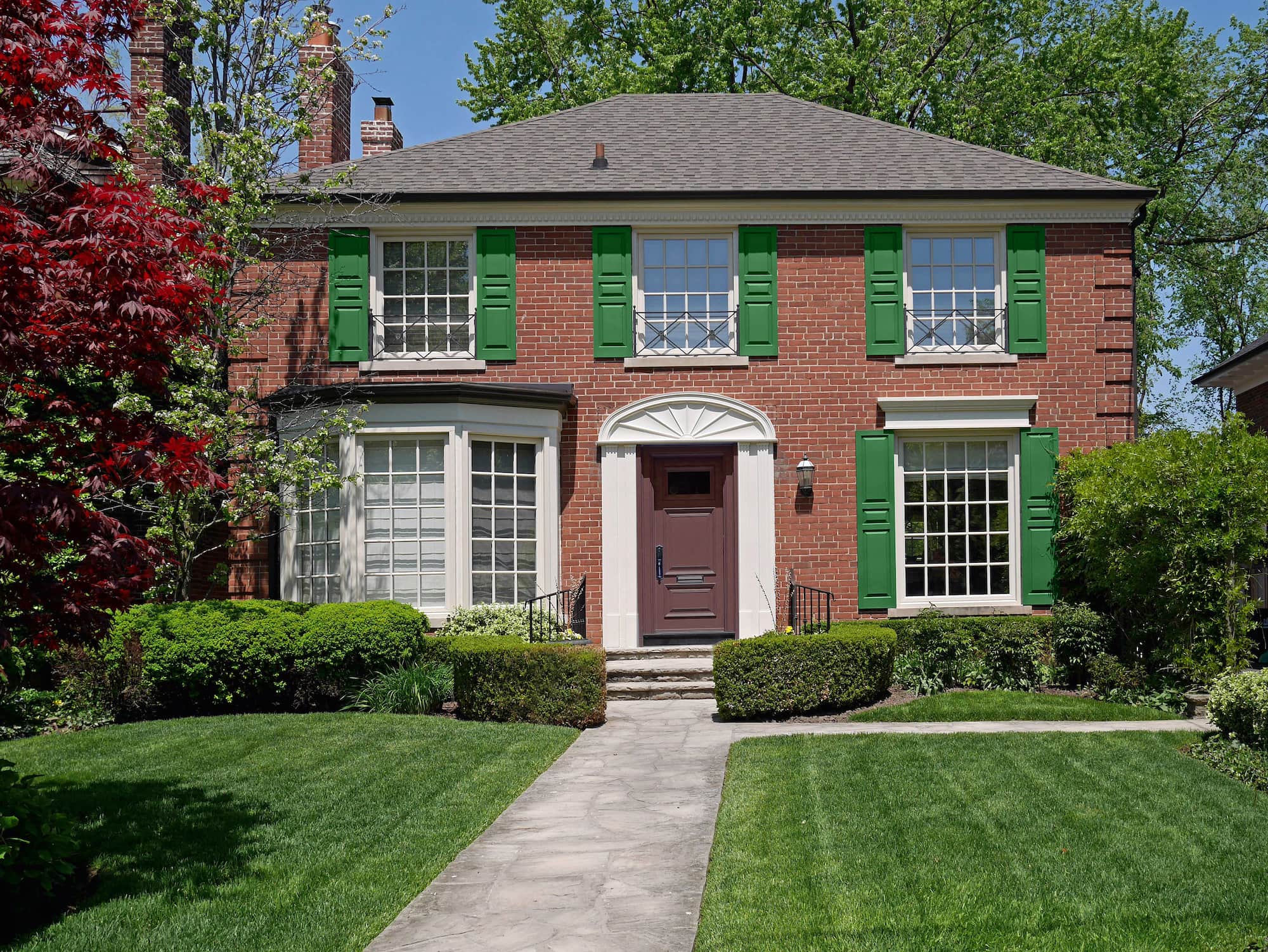 For a more traditional design, go with a red and green color palette using a darker earthy shade of green, like Kilkenny.
This deeply saturated shade can make your home blend into its natural environment of lush green grass and heavy tree vegetation.
Resolute Blue by Sherwin Williams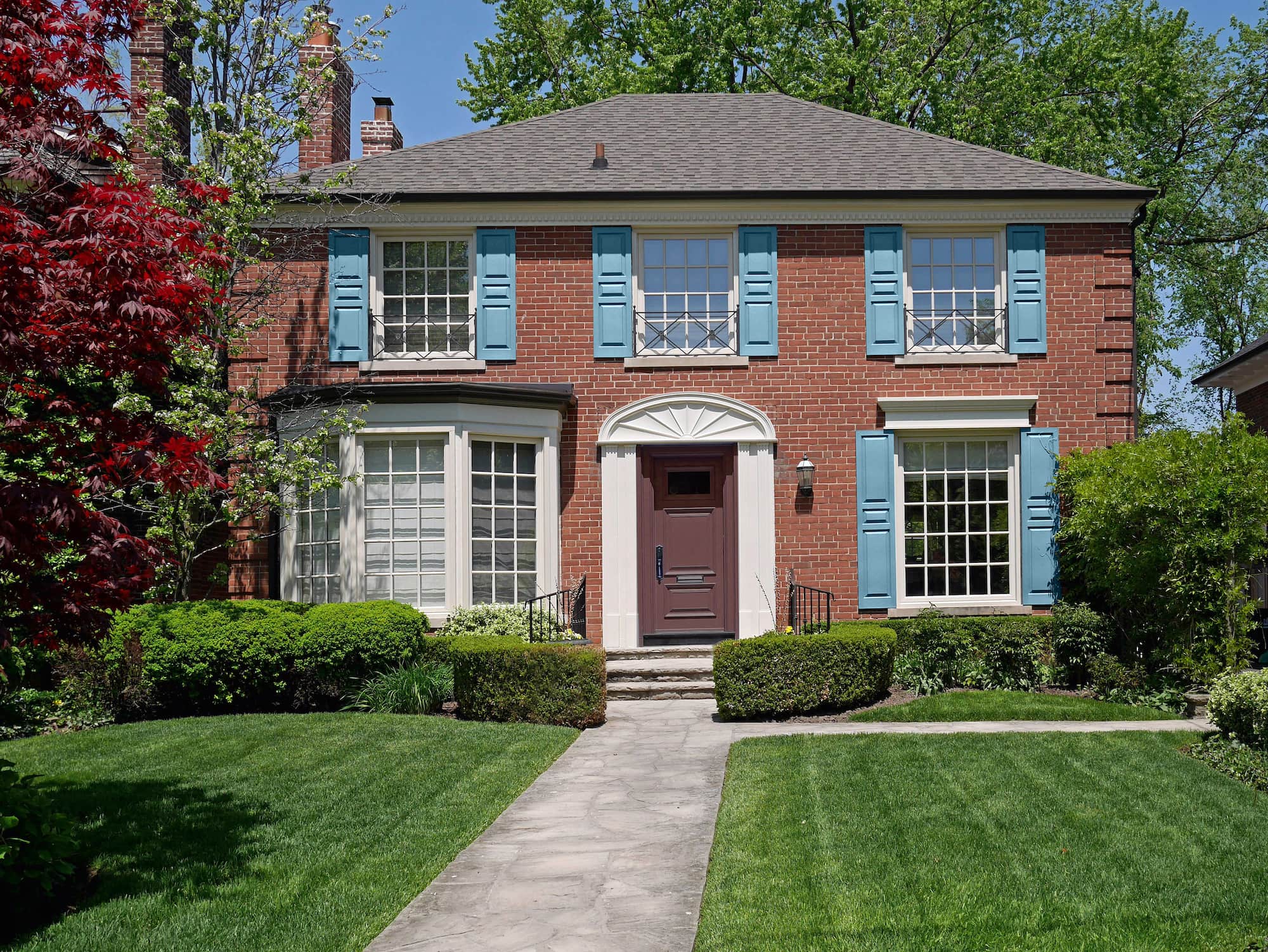 Another color scheme that you can use on a brick house is red and blue. The fascinating thing about this palette is that it can work for any design, from contemporary to modern.
Blues can even look neutral, such as the case with Resolute Blue. This dusty blue has brownish-gray tones that can turn mauve against red brick.
Artic Seal by Benjamin Moore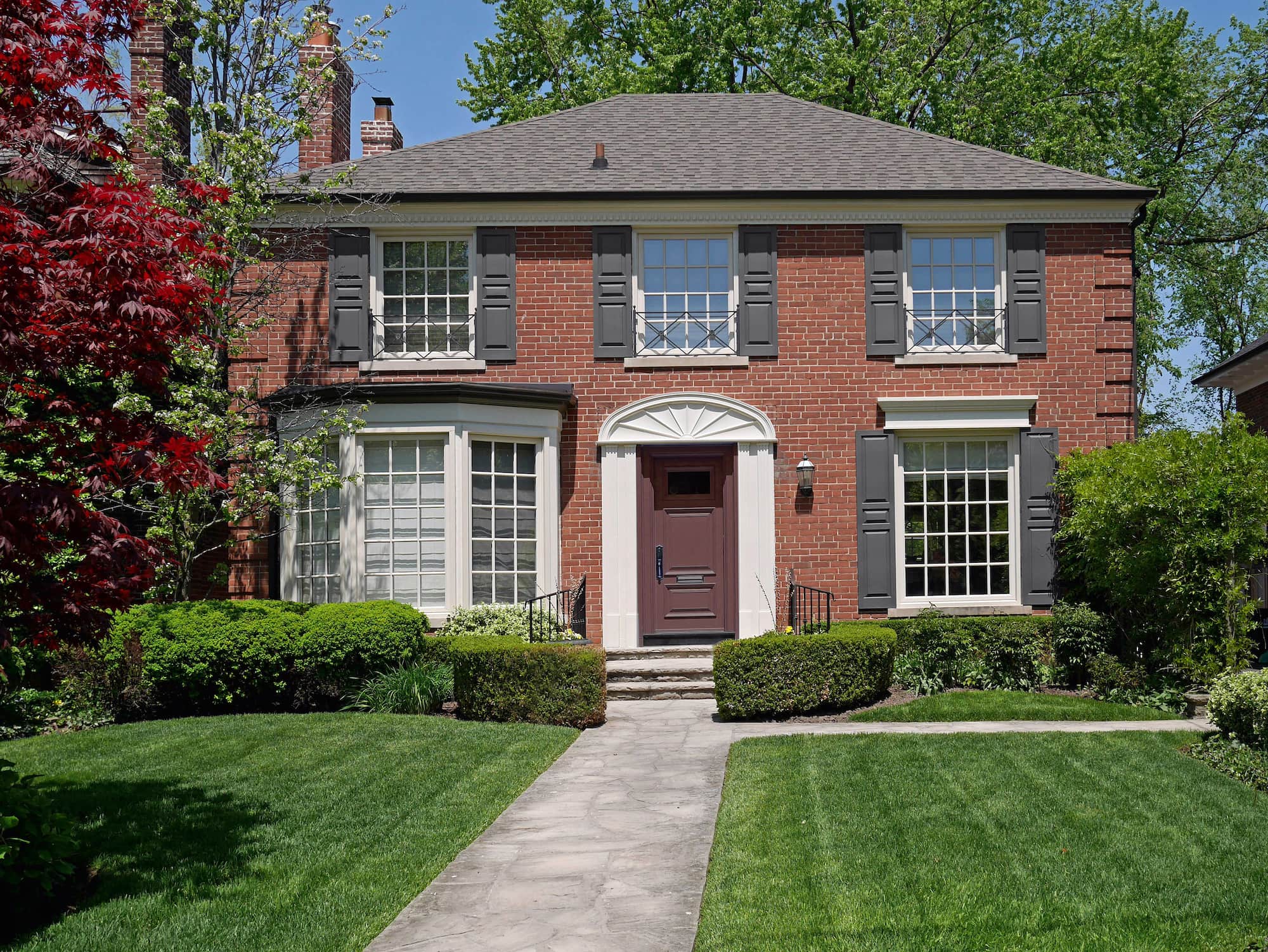 Another neutral color palette that can work for any theme from historic to understated elegance is gray shutters on a brick house, like Arctic Seal.
When used against red, this dark saturated gray has interesting mauve notes. For the trim, go with an off-white cream or beige.
Tropical Oasis by Benjamin Moore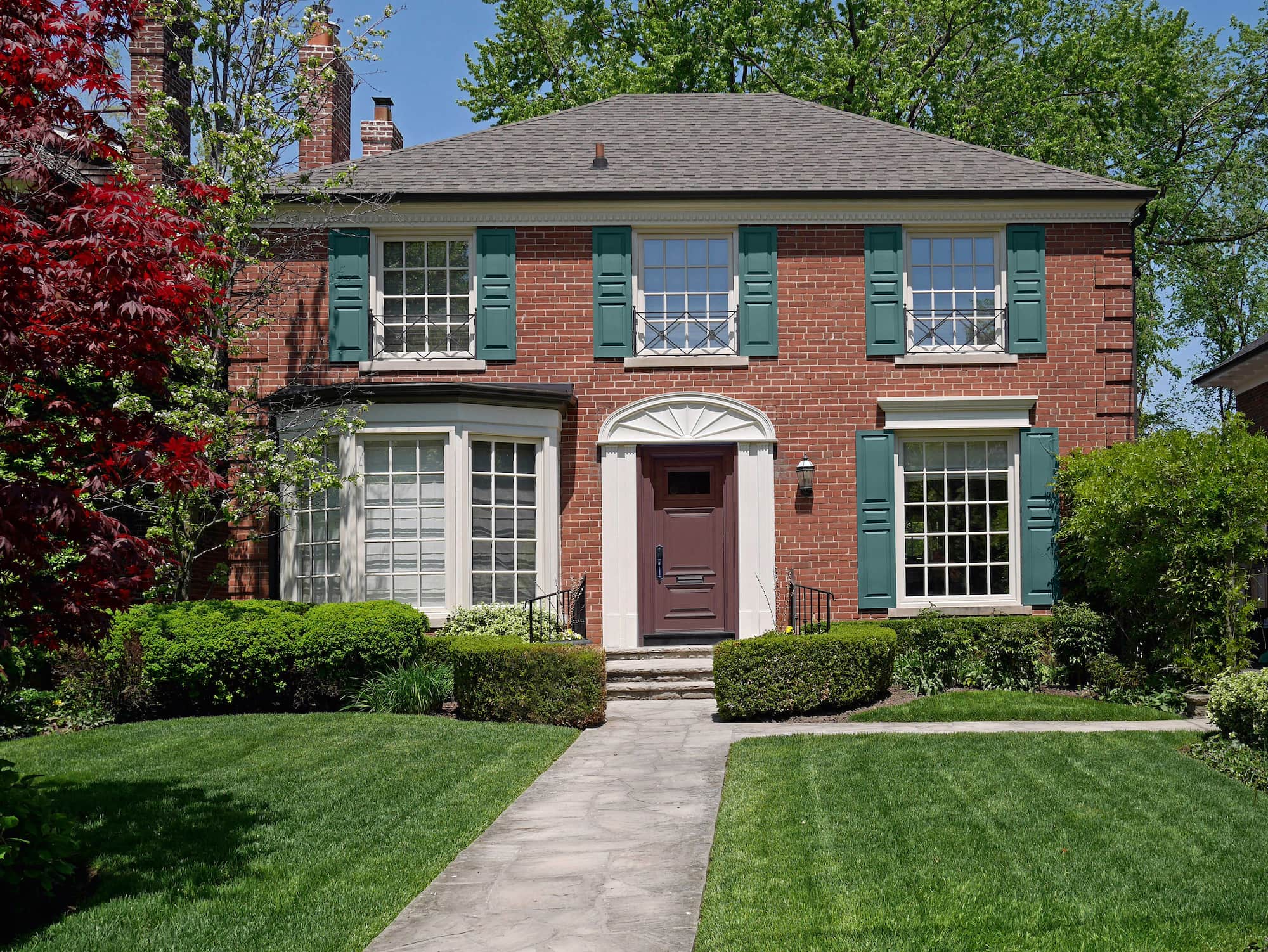 Tropical Oasis is a fascinating color for the shutters on a red brick house. The darkness of this deeply saturated blue-green looks like the darkest shades of turquoise in a deepened saturation.
The richness of this color is an excellent complement to the natural redness of brick.
Paper Doll by Benjamin Moore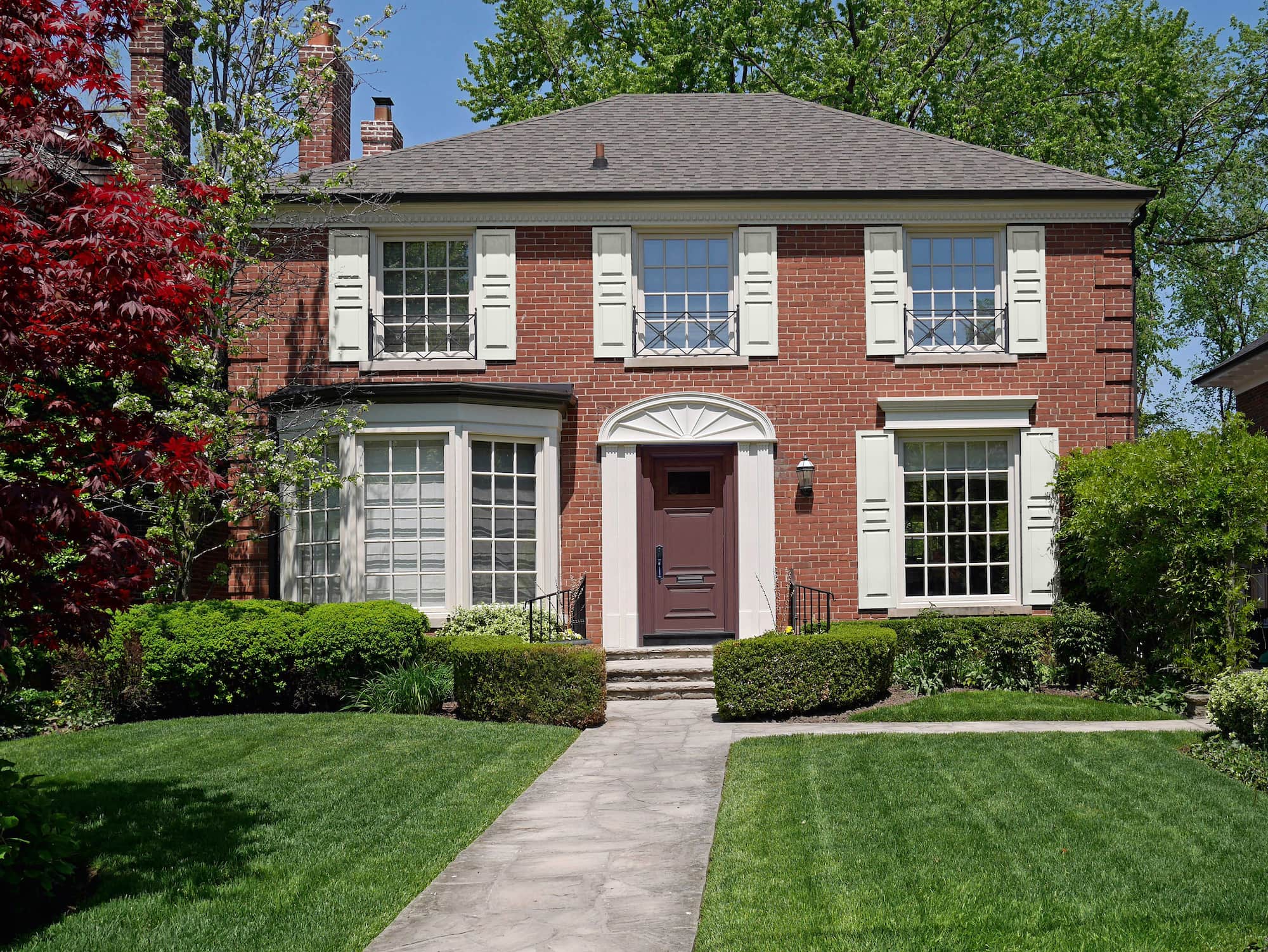 You can get a classic curb appeal for your red brick house by painting your shutters a simple white. Paper Doll is white with gray and brown shadows that can make your exterior pop with curb appeal.
The lightness of the white paired with the faint pigmented tinting works for any architectural structure or theme.
Ice Fog by Benjamin Moore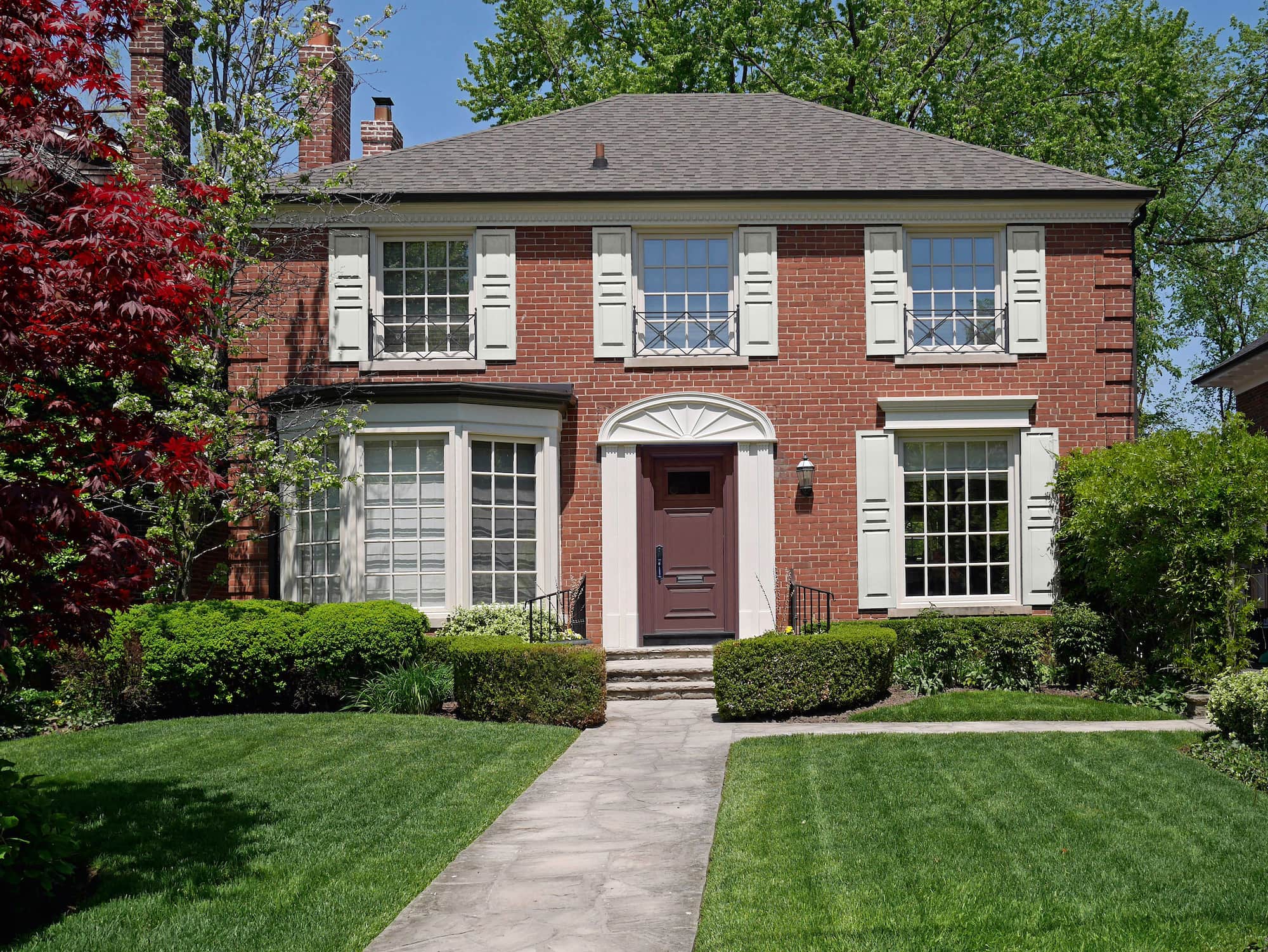 Ice Fog is a soft, bright gray that can give your house subtle pigmentation for a contrast of light on dark. Redbrick can enhance the faint yellow and tan undernotes in this color for an interesting tinted shutter that cools the warmth of the red.
Perspective by Benjamin Moore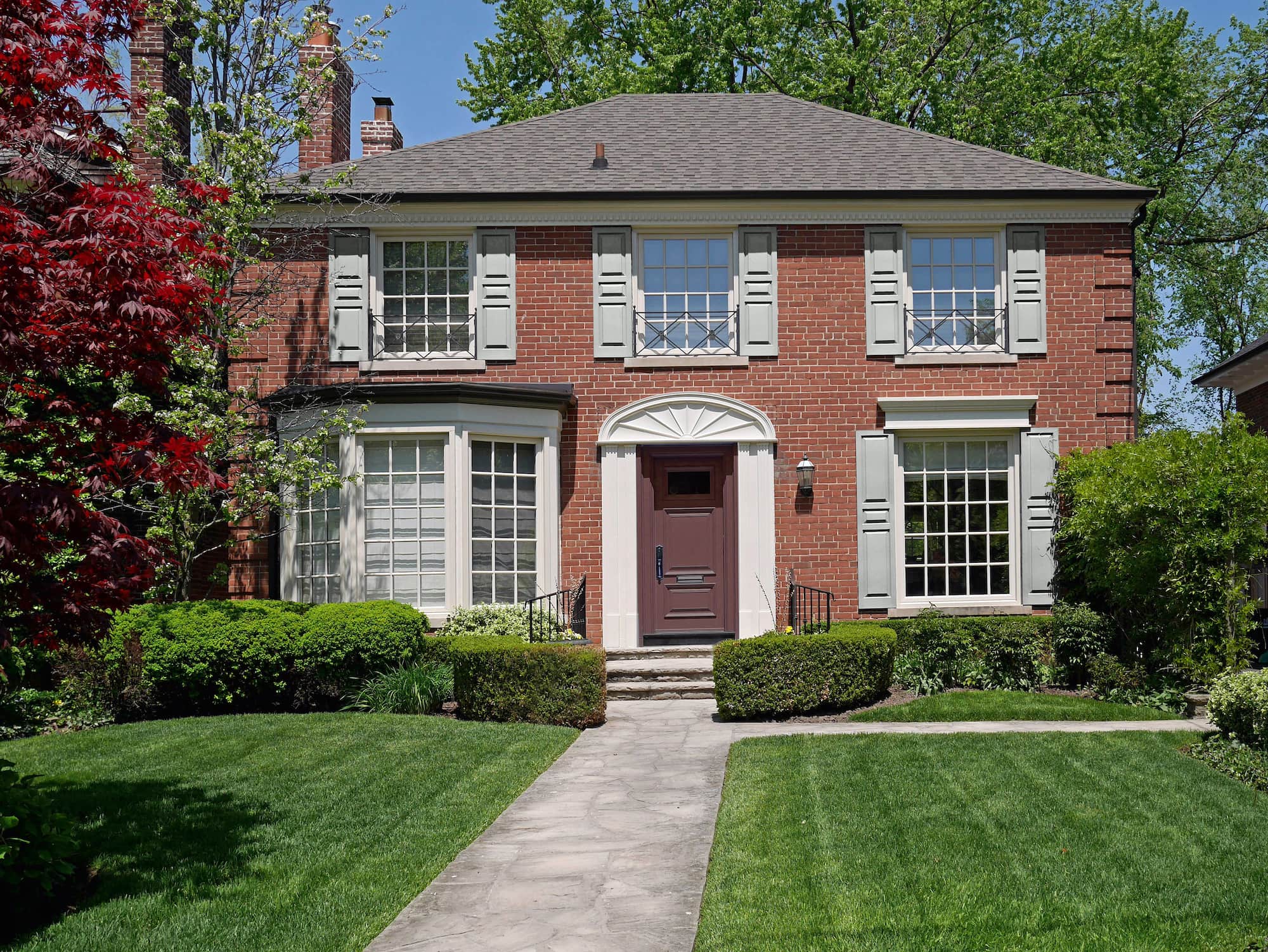 Perspective is a darker shade of cool gray that can go well on a red brick house. This medium tone can pick up lavender and mauve hints when paired with the warm richness of dark red bricks.
In addition, the tinted pigmentation can make your home pop with color when paired with a bold door or blend into the landscape for a more natural look with other neutrals.
Charismatic Sky by Behr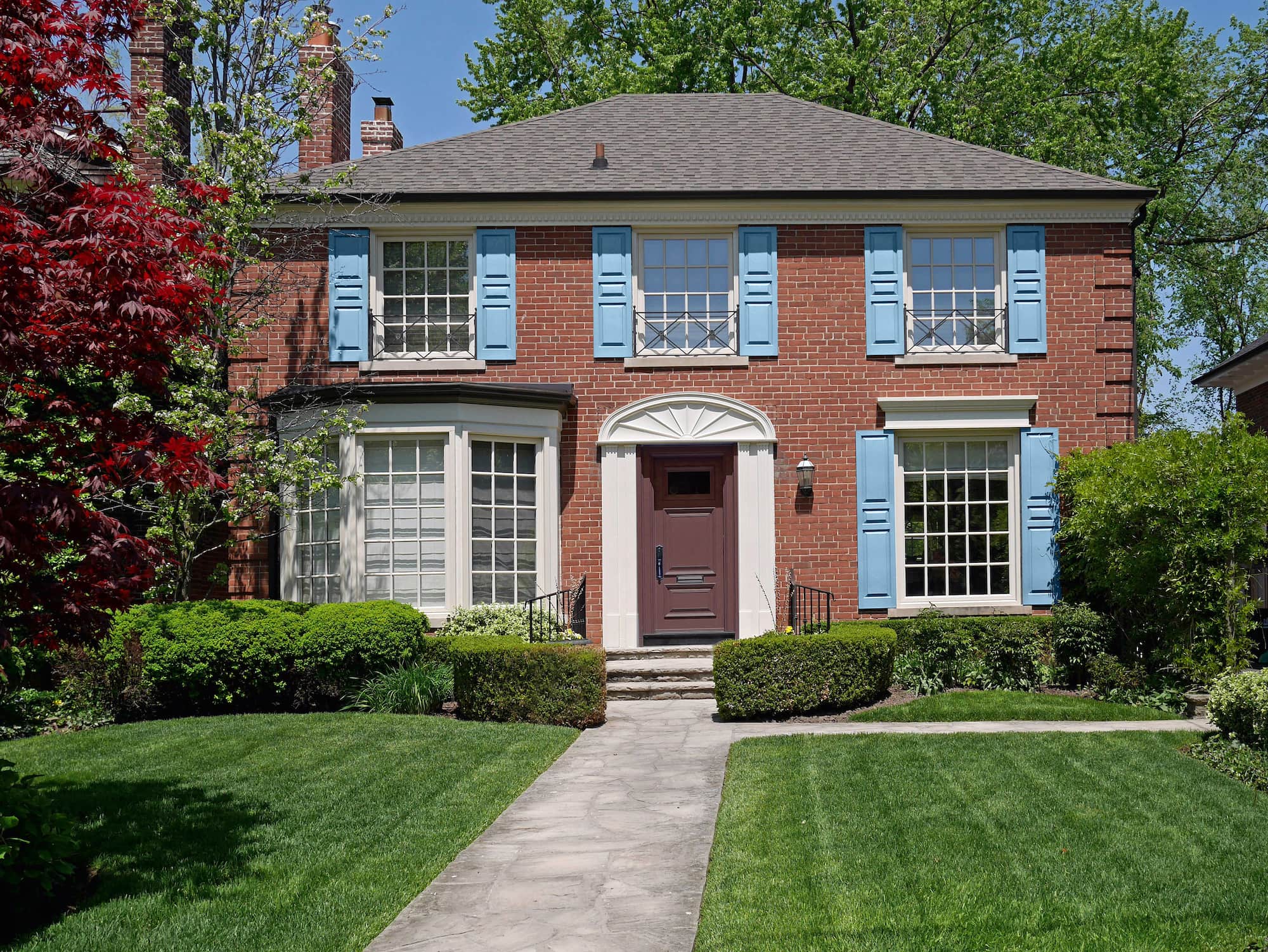 You can use a stormy blueish-gray like Charismatic Sky for the shutters to enhance a red brick house. This medium pigmented color has very light traces of yellow and brown, brought to life by the warmth radiating from red. A two-toned brick in reds and browns can give this blue a deeper saturation.
Cameo White by Behr
Cameo White is a balanced blend of white with just the slightest pigmentation to give it personality. This white isn't a startling sterile white but more of a smoked white with low traces of brown and gray.
When used next to a dark color like red, you get a contrast that evens each other out for a palette working for anything.
Olive by Farrow & Ball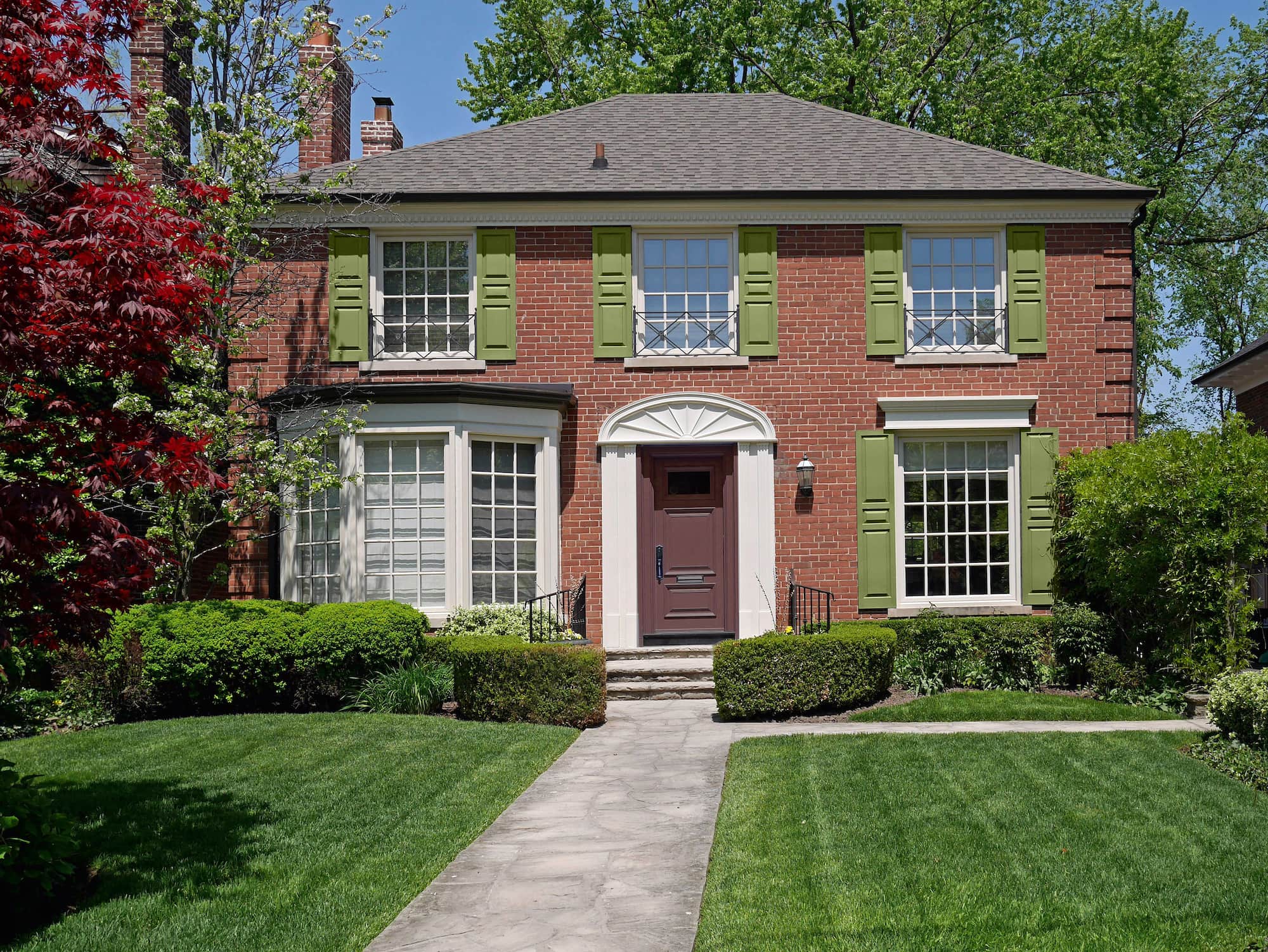 If you like something a bit more earthy and deep, Olive creates an elegant pairing with red brick. This shade of green can look brown when matched with red, giving it a warm heavy saturation.
Olive can look great for traditional, nature-inspired, or European structures. Accents in grays, off-whites, and other neutrals add light to tone down the dark colors.
Chemise by Farrow & Ball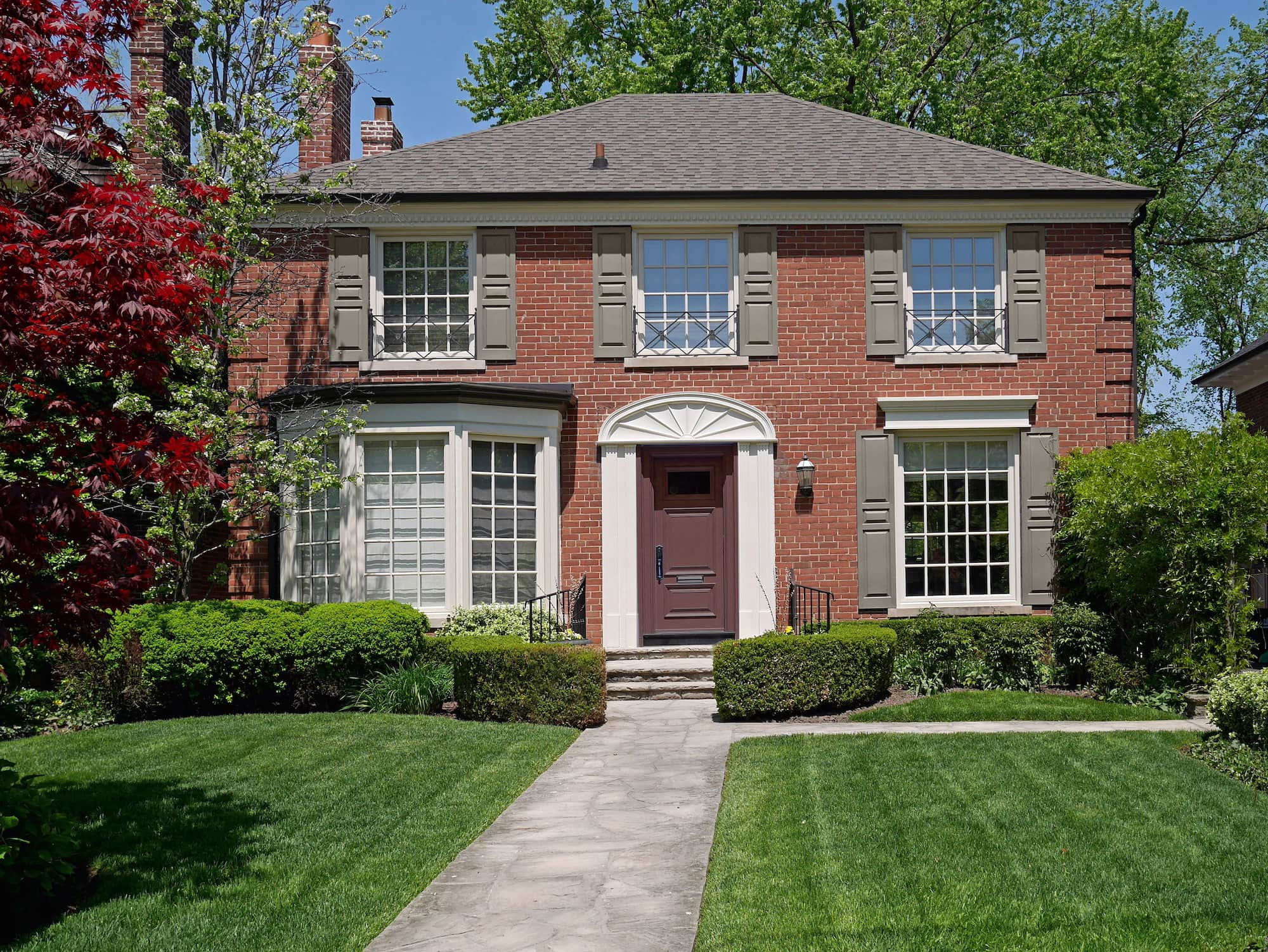 Chemise is a blend of brown and gray that can turn purplish-mauve in certain lightings. When used for the shutters on a red brick house, this chameleon color can even show hints of red.
Despite the darkness, this color works as an awesome neutral, giving you a lot of freedom on accents from bolds like blues or purples to lights like whites and off-whites.
In Closing
The warm richness of red brick might seem like a daunting tone to match with the shutters on your home. But, while you have to use caution on the color you choose, you still have plenty of options. The best colors for red brick include whites, grays, blues, greens, and blends.