25 Farmhouse Bathroom Ideas – Make It Look Unique and Stylish
A lot of us don't pay much attention to bathroom decor. After all, who checks the bathroom, right? Well actually, if a guest is coming to visit for over a couple of hours, they'll definitely use the bathroom. Which is why it's important to take care of the bathroom decor as well.
If your house a certain decor theme, make sure it's continued in the bathroom as well. If you have a rustic country theme in your house, here are some farmhouse bathroom decor ideas that will make even your bathroom look charming.
A Raw Brick Wall in the Bathroom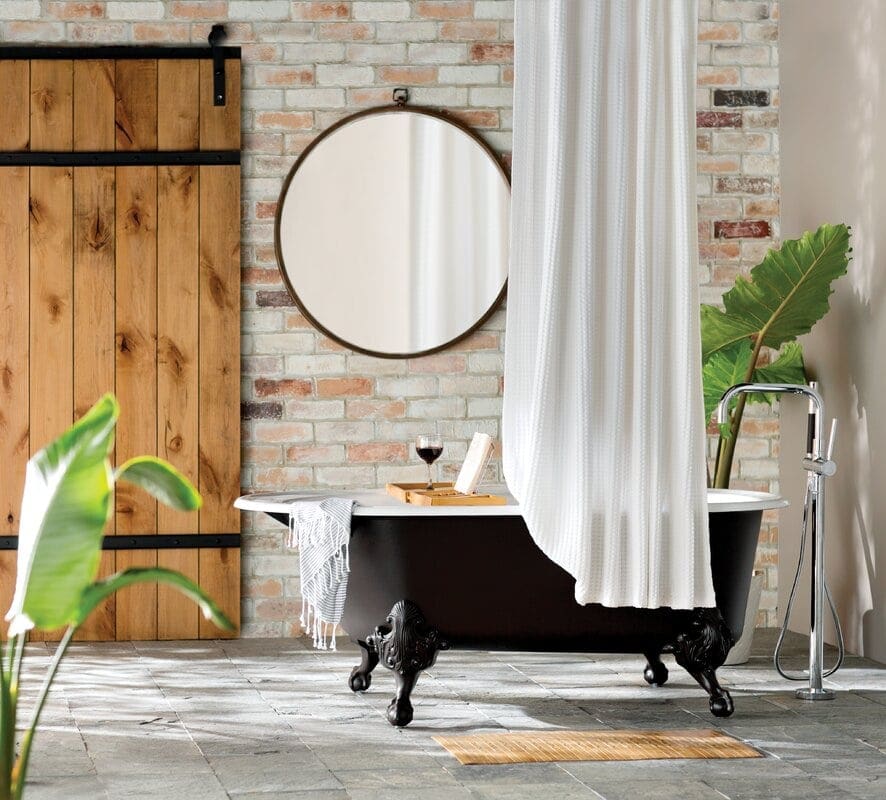 Give your bathroom a rustic touch with a beautiful raw brick wall. Raw brick walls have that charm that's very country like. While it can be used in a farmhouse type decor, brick walls also look good on an industrial or a steampunk look.
That's one thing about brick walls – they look good in traditional as well as modern settings. Whether they are in the living room, bedroom, bathroom, or kitchen, brick walls look unique and amazing and can be used as accent walls. Depending on the location and size of the wall, you can use art pieces on it or just leave it like that.
Get a Shower Curtain with Frills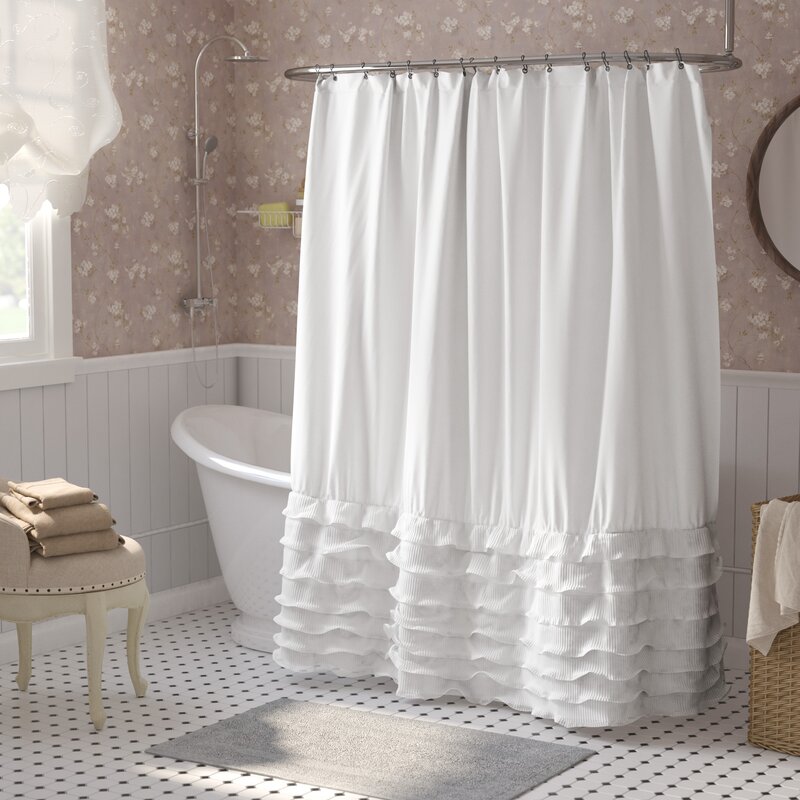 Get that rustic look for your bathroom by placing things that are farmhouse-type. For example, this shower curtain has frills on it. It looks stylish and vintage and gives a very old school approach. The mirror frame is made of raw wood, adding to the farmhouse appeal of the bathroom.
Also, check out the metal basin that looks stylish and has a contemporary touch. And yet, it blends perfectly with the traditional settings. The decor of this bathroom relies heavily on wood, which makes it look even more rustic.
If frills are your thing, you can even get a shower curtain that's all-frills. Why go for a plain shower curtain when you can get a fancy alternative?
A Bathtub with a Farmhouse Appeal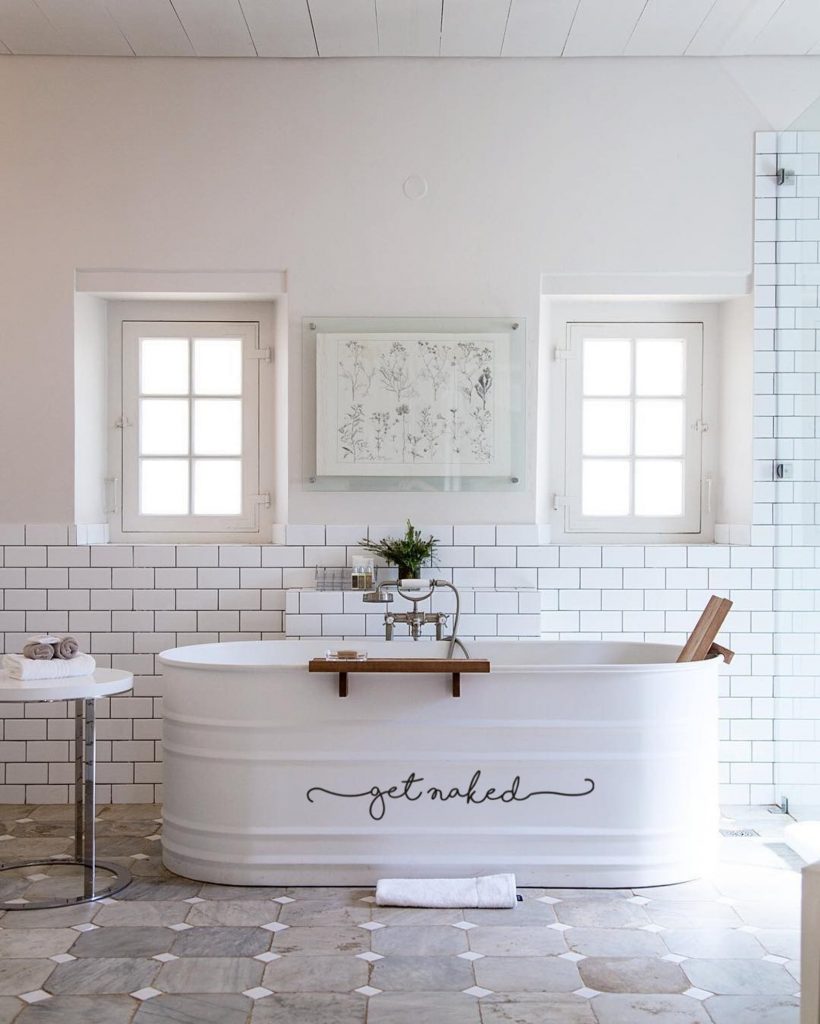 This isn't your traditional bathtub. It has an industrial look to it that is both rustic and unique. If you're trying to create a farmhouse look for your bathroom, this tub is the perfect addition to it.
Also, check out the Get Naked vinyl decal that's cheeky and amusing. The bathroom is entirely white except for the wooden tub accessories. The bathroom demands an accent that's provided by the houseplant placed strategically behind the tub.
The art piece installed on the wall behind the tub could also be used to provide an accent – if it was colorful. The small and plain tiles of the bathroom add a vintage look to the place.
Install a Barn Door
You cannot go wrong with a barn door. In fact, when you think rustic, the first thing that comes to mind is a barn door. Take the farmhouse look to the next level with a barn door. You can use neutral colors that would appear different on different textures.
You can go with browns (the shade of earth) or greys (the shades of stone). When you want a farmhouse look, a barn door will pull it all together and help you create just the right ambiance you were looking for. You can even leave the door unfinished for a raw and rugged look.
Get a Concrete Bathroom Countertop
This bathroom design isn't just stylish and sophisticated but also carries a country like a rustic touch with bare concrete as the countertop material. Plain concrete is minimal and something that wouldn't go out of style.
The grey countertop looks wonderful with the grey rustic frames of mirrors and the dried flower arrangements add to the entire vibe of the bathroom. Smart and sophisticated, this look adds to the rustic charm or your house by carrying out the countryside decor tradition of other rooms.
A Framed Plaque That Says it All
Nothing says farmhouse more than a wooden plaque that well, says farmhouse. Instead of letting people guess the theme of your decor, just place a wooden plaque there that gives a direct hint at the theme you've chosen.
The male/female toilet sign is very unique too. The color of the bathroom is white, which is the perfect color for any room. The houseplant on the basin provides an accent to the place. The circular mirror looks beautiful and adds to the decor of the bathroom, and the lights above the mirror make sure you get an amazing selfie if that's what you're planning to do.
Wooden Shelves Behind Barn Door Style Mirror
Barn doors can be used absolutely anywhere and this mirror is a typical example of that. Installed above the basin, this mirror has wooden shelved behind it. And since it can be moved horizontally, you can slide it to different places to access what's kept on the shelves.
The barn door style mirror can be single or double, depending on your preferences. A double door mirror will be able to hide what's kept on the shelves. But if you want to keep neatly stacked towels, toilet paper rolls, and a couple of houseplants there, there's no need to hide it.
A Basin Like None Other
This basin is not an ordinary one. While the top is made of a metal bucket, the lower part is made from an old sewing machine. If your idea of decor has a bit of a steampunk appeal, this will look just great. Of course, the bucket gives it a farmhouse touch, the sewing machine is that adds an industrial vibe to it.
The faucets can also be industrial looking to complete the touch. This type of basin would go well with the corrugated metal bathroom idea that had a garden watering cane as the showerhead.
A Wooden Wall Makes It More Beautiful
Wooden walls are always a safe bet. Whether you're decorating a modern household or a traditional one, wood is something that's always in. You can make an accent wall of it, or in this case, decorate your bathroom with it.
The wooden wall has a cavity that serves as a shelf. The two wooden stools are also wooden but completely different than the color of the wood on the wall, offering it an accent. When you're designing a farmhouse bathroom, make sure you depend on wood to decorate it. You can also have a wooden wall on one side and a brick wall on the other – as long as you don't overdo it.
A Wooden Ladder in the Bathroom
I have mentioned this style so many times on different occasions. A wooden ladder serves many purposes. It can be used as a stylish towel rack, a place to keep extra toilet papers, or someplace where you can hang houseplants.
It adds a rustic appeal to the bathroom and if you're looking for farmhouse bathroom decor ideas, a wooden ladder will suit perfectly. It is stylish, rustic, minimal, practical, and budget-friendly. There is absolutely no reason for not having a wooden ladder in the bathroom.
DIY Mason Jar Lighting Using Fairy Lights
You just need bathroom hooks to set these up and you're good to go. Really simple DIY project, this needs fairy lights that are stuffed in mason jars. Unscrew the lids and place some flowers on top. It's a beautiful idea to light up your farmhouse bathroom with soft lights.
Wrap the necks of these jars with burlap twine so they're easy to hang. Just keep in mind that the fairy lights will get warm quickly since they're in a small container so they can't be used over a long period of time. This is why they are ideal for bathrooms where you have to use the lights for a few minutes anyway.
Get an Olive Bucket Toilet Paper Holder
You must ALWAYS have extra toilet papers in the bathroom. While they are often staked in the cupboards, you can put them on display as well. Check out this olive bucket that holds several toilet papers. While it's a little rusted, it only adds to the rustic appeal of the bathroom.
Olive buckets were used in yesteryears when people in France and Italy used them to collect olives when it was the harvest season. Because of their vintage nature, they have a unique charm that will add to the ambiance of your farmhouse bathroom decor.
A Toilet Seat of the Bygone Era
Why limit yourself to changing the decor of the walls or the basin when you can change the toilet itself? While the toilet provides all the amenities of the modern one, it is designed like a traditional one with a wooden casing.
Cover the lid and your guests won't even know where the toilet is. Everything including the tank of the toilet is encased in wood and the barrel placed next to it gives it an even rustic appeal – the kind of look you'd want in your farmhouse bathroom. Just make sure you hang the toilet paper in the right location so your guests can know where the toilet is!
Industrial Lights Behind the Toilet
Killer looks that incorporate a rustic and a modern appeal that will look great in your farmhouse bathroom. The background wall is wooden and the reddish brown colors are highlighted with the industrial looking lights that brighten up the bathroom but softly.
The round mirror above the basin is strung with burlap to give it a countryside look. If you have a small bathroom but want it stylish, this is the perfect decor for it. Beautiful lighting can make any room more beautiful. And this bathroom is beautiful as it is – it just came alive with glamorous industrial lights.
A Rustic Looking Bathroom Rug to Add to the Appeal
A somber rug can add to the farmhouse touch of the bathroom. The braids in the rug give the perfect country look and add friction to it so you don't slip and fall.
It's a thick rug that stays in its place so you can sit comfortably when you're on the toilet. A perfect addition to just about any bathroom, it is especially good for farmhouse bathrooms, thanks to its earthen brown color. While the tone of the rug is neutral that helps it blend in, its pleated texture is unique and makes it stand out.
Everything Looks Better with Flowers
Flowers are something that carries a huge range of emotions. They can be used absolutely anywhere, including your bathroom. And no matter which type of decor you're looking for – a rustic farmhouse one or a traditional Victorian era one, flowers can blend it perfectly well.
Check out these flowers in a mason jar. That's one thing about mason jars – they look so amazing that I save all the mason jars I get. Whether it's a pickle jar or a cookie jar, once it's empty, I keep it stored because they give excellent DIY opportunities.
Antique Boot Molds as Bathroom Hooks
When you have an eye for creativity, anything can be used as anything. For example, antique boot molds are being used as bathroom hooks and they don't look out of place. In fact, they look like a stylish addition to an otherwise boring bathroom. Something like this can transform the whole personality of the bathroom.
Very farmhouse-like, these boot molds will be attention grabbers when your guests would want to use your bathroom. These molds were used by cobblers to build boots in the yesteryears. Now they can be used for interior decor.
Over the Toilet Shelves for Art Pieces
While shelves are generally used by homeowners to keep extra rolls of toilet paper and towels, they can also be used for art pieces and houseplants. Some funny signs such as "Hello Handsome" or abstract art pieces can make all the difference between a dull bathroom and an interesting one.
There are houseplants of different sizes on these shelves. If you have open shelves in your bathroom, make sure they are reserved for art and showpieces and the necessities such as towels and paper rolls go in the cupboards. It keeps your bathroom looking fresh and tidy.
Burlap Baskets for Beautiful Bathrooms
Burlap baskets look great and bring a rustic appeal with them to the bathroom. Plus they are practical. Just store anything in there. Undone laundry, extra towels, extra toilet paper rolls – there is so much that can be stored in these baskets. And they don't look unsightly, no, in fact, these baskets look beautiful and add a farmhouse appeal to the bathroom.
You can also use cane baskets instead of burlap. They also give a rustic appeal. Although personally, I prefer burlap over cane. But that's a choice that you have to make depending on your preferences.
Plant a Tree in Your Bathroom
We've seen houseplants in bathrooms but a full grown tree? Yep, if you've got space in your bathroom, you can consider a bonsai or a small tree. This bathroom has some raw area where the tree is growing. The earth is covered by rocks and it gives the bathroom a very unique appeal.
What if you don't have enough area for a tree (or a green thumb for that matter)? No problem, try artificial trees. There are several artificial plants that look exactly like real ones. "Plant" them in your bathroom and get a unique farmhouse like appeal.
A Stone Wall in Your Bathroom
Brick walls and wooden walls look amazing. And so do stone walls. While stone walls might cost more than the other two options, they look more stylish and sophisticated. Natural stone has the power to attract attention and it looks great in all settings – modern, minimalist, traditional, rustic, industrial, or anything else.
A plant placed in the corner of the stone walls looks amazing and boosts the farmhouse appeal of the bathroom. The other walls of the bathroom as not made of stone and stone wall is basically the accent wall here.
A Granite Countertop and a Metal Sink
Metal looks stylish, especially copper. While there are other metals and alloys such as iron and steel, if you're looking for a traditional look, try copper and brass. This countertop is made of granite and the faucet comes with a dark metallic finish.
The sink is made of copper and carries a stylish and antique look. Ideal for farmhouse bathroom setups along with industrial looks, this copper sink might cost a bit extra than a regular ceramic one but it adds a lot of style to the bathroom.
Keep a Wooden Bucket Handy
Wooden buckets are typical to farmhouses. While you may not need it in a bathroom, it's still a great decor addition. Where to place it? A small wooden bucket can be placed on the top of the toilet seat tank. Place some extra toilet paper rolls there and it will look beautiful.
Or if your bathroom is all white, a wooden bucket can provide an accent. Place it in a corner, add some soil to it and grow a plant there. There's a lot that can be done using a bucket. If you also have an olive bucket, keep them together and they will make great accessories for your bathroom.
Get a Rustic Bathroom Cabinet
Cabinets are another accessory that can change the look of your bathroom. A raw wooden cabinet will add that farmhouse appeal to your bathroom. The cabinet can be open or with a door. This open cabinet has enough space for extra towels and some baskets. The small ones can hold your shampoos, soaps, and loofas, while the bigger one can be for toilet paper rolls.
This cabinet will go well with a wooden ladder in the bathroom. This setup adds a countryside farmhouse type charm to any room it's kept in.
Farmhouse Decor in the Rest of the House
It's always best if you continue the theme to all the other rooms of your house. So if you're selecting a farmhouse theme to the bathroom, make sure other rooms share this layout. Or at least the bedroom that's attached to the farmhouse themed bathroom should have the same template.