Decorated Life is reader-supported. When you buy through links on our site, we may earn an affiliate commission. Learn More
20 Farmhouse Bathroom Mirror Ideas 
If you're decorating a farmhouse bathroom, I have some good news – there is no shortage of mirror options. The bad news? Because there are so many options, narrowing down the best choice might be tricky.
Generally, farmhouse bathrooms look amazing with antiqued styles, Barnwood mirrors, or thin black metal frames. And fortunately, you can find variations of each type.
If you need some inspo, here are 20 farmhouse bathroom mirror ideas that even Joanna Gaines would approve of.
Use Black Framed Mirrors for a Modern Farmhouse Look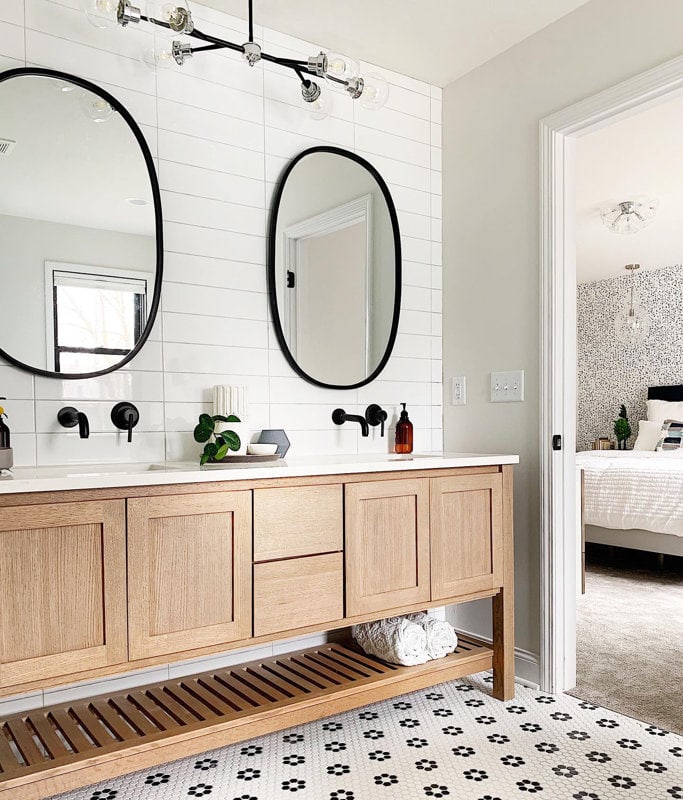 The modern farmhouse look combines the best of both worlds – you get plenty of texture and age with older, natural pieces. And then, modern accents pull the room together for a polished look.
A sleek black frame is a perfect solution if you're after a modern farmhouse mirror. You can use a rounded mirror as shown or a rectangle. Both styles work flawlessly.
Give Rustic Vibes with a Real Wood Frame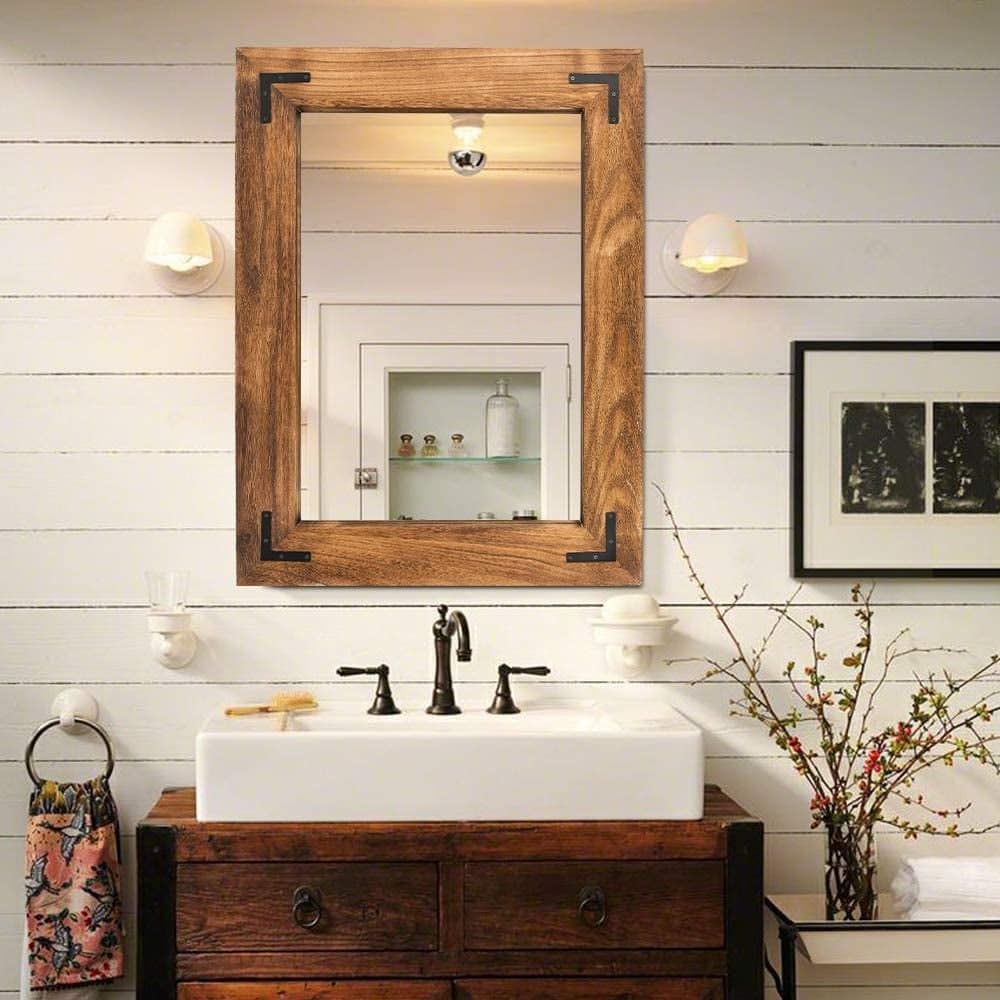 If you prefer a rustic style, you can't go wrong with a wood-framed mirror. Almost all wood pieces enhance the farmhouse look.
This mirror from Overstock is natural wood and comes in three colors: brown, black, and white. Its black metal accents give it a slightly modern look. This mirror would look great over a white or painted vanity.
Create Space with a Mirrored Shelf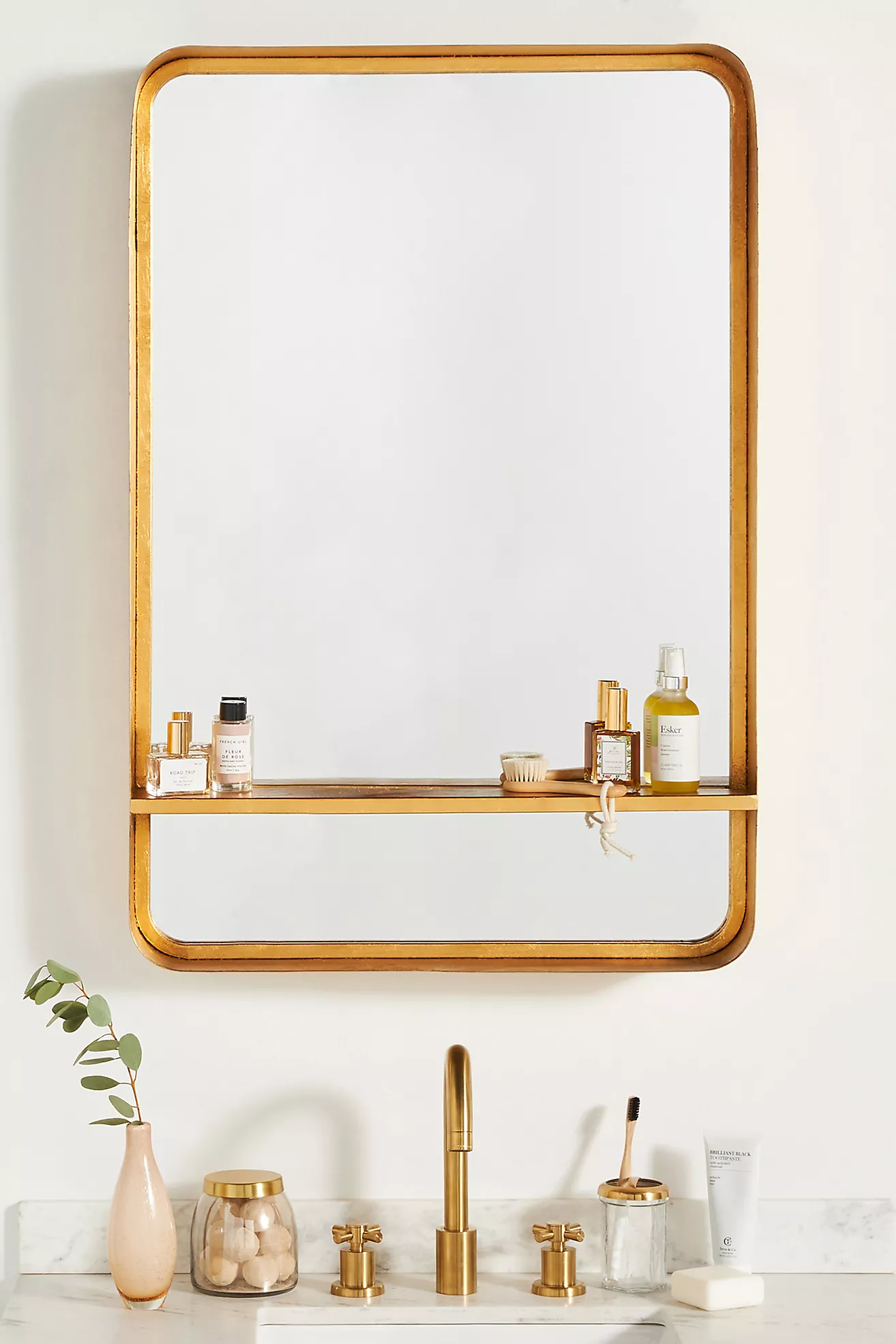 Are you working with a tiny bathroom? Then every square inch makes a difference. So, if you need a place to hold your toothbrush, try a mirrored shelf like this.
From Anthropologie, this mirror comes in bronze or black. The black has a modern farmhouse look, while the bronze adds a feminine touch.
Put Two Round Mirrors Over a Double Vanity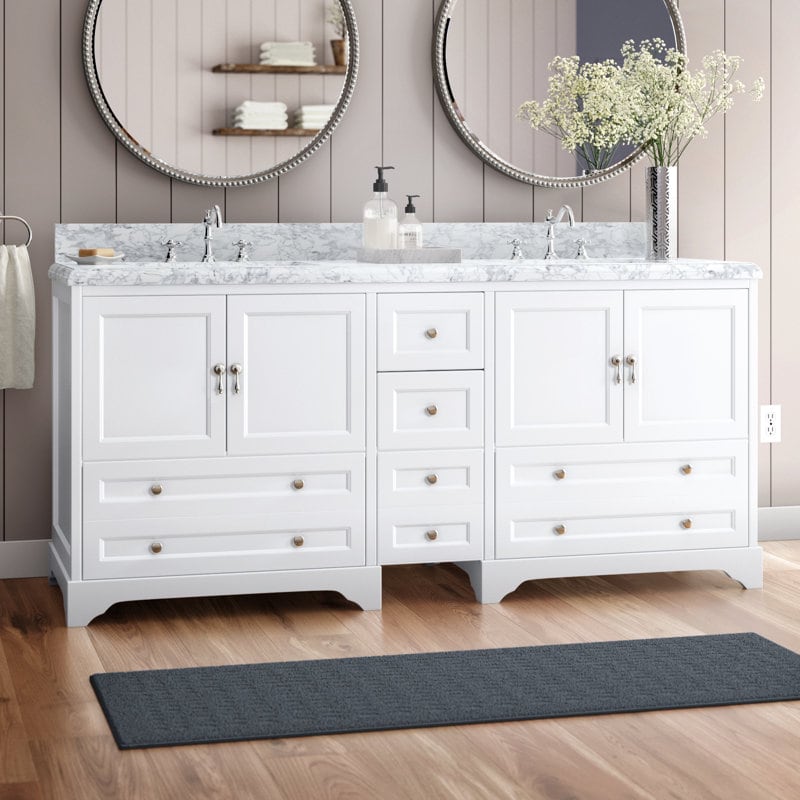 Most builder-grade bathrooms come with one large rectangular mirror. If you're tired of that look, switch it up with two small round mirrors.
I love these accent mirrors from Wayfair for the beaded look around the edges. These would fit modern and antique-style bathroom designs.
Hang a Wood Mirror Over a Painted Vanity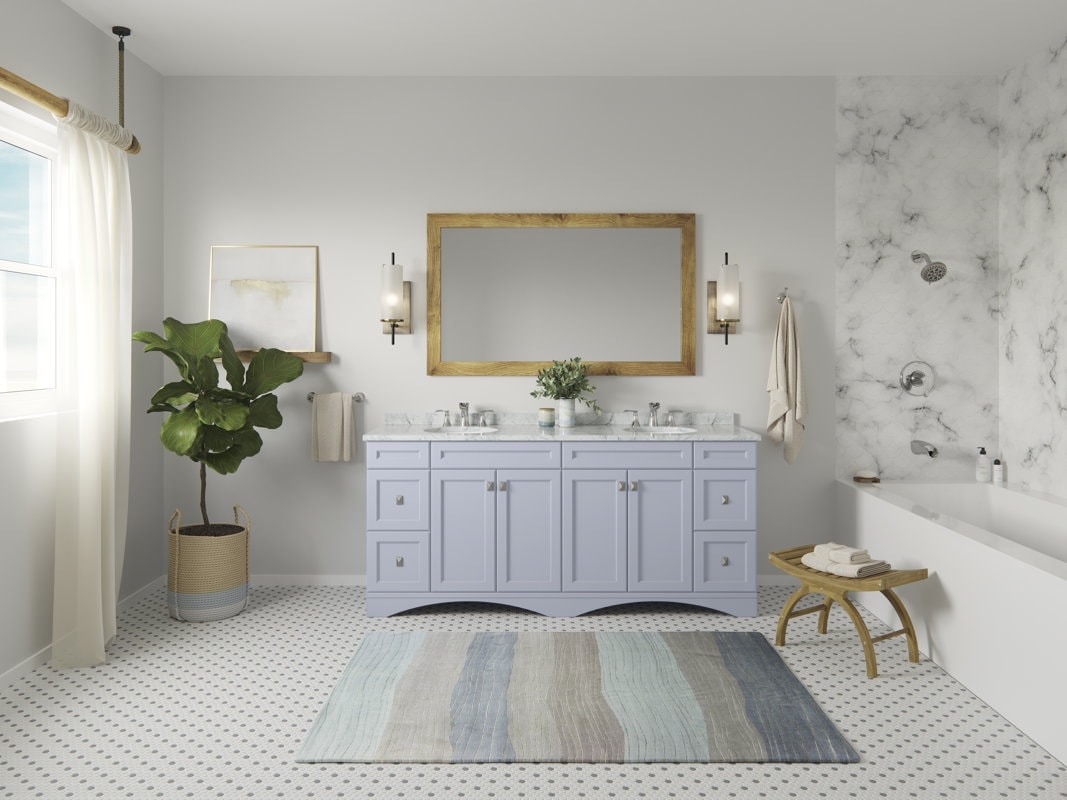 A good farmhouse design has a nice mix of materials. So, if you have a painted vanity, offset it with a real wood-framed mirror.
For a large vanity, consider a long rectangular option like this one. This mirror looks great centered over the counter and is the ideal size for putting makeup on in the morning.
Try an Arched Mirror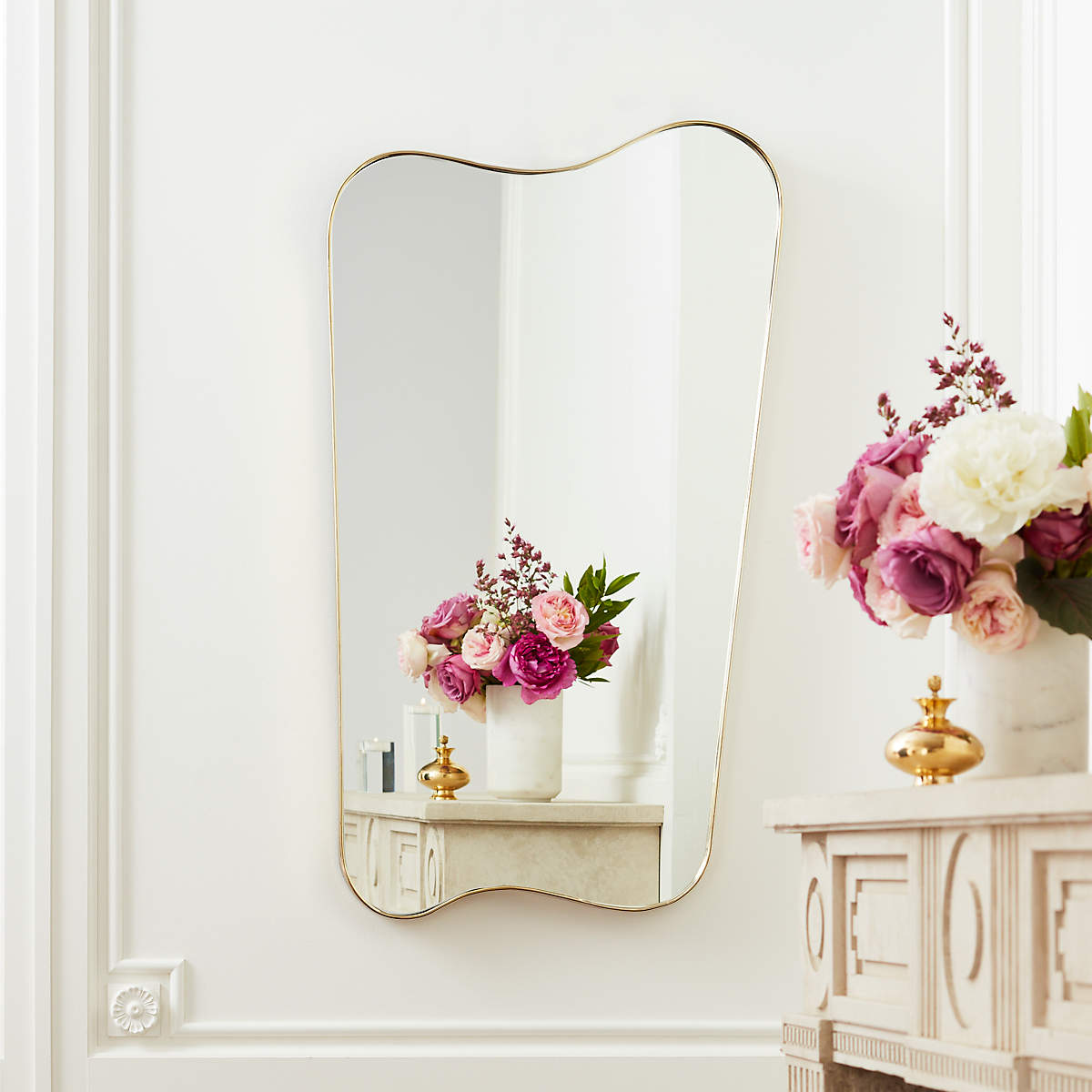 Arched mirrors look very antique, making them well-suited for farmhouse bathrooms. This one from CB2 has a unique style, perfect if you're looking for a fun twist on the classic style.
This gold-framed mirror is best suited if you want your farmhouse bathroom to look soft or even a tad-bit glam. As an idea, this would look great next to floral wallpaper.
Accent Your Bathroom with a Vintage Scallop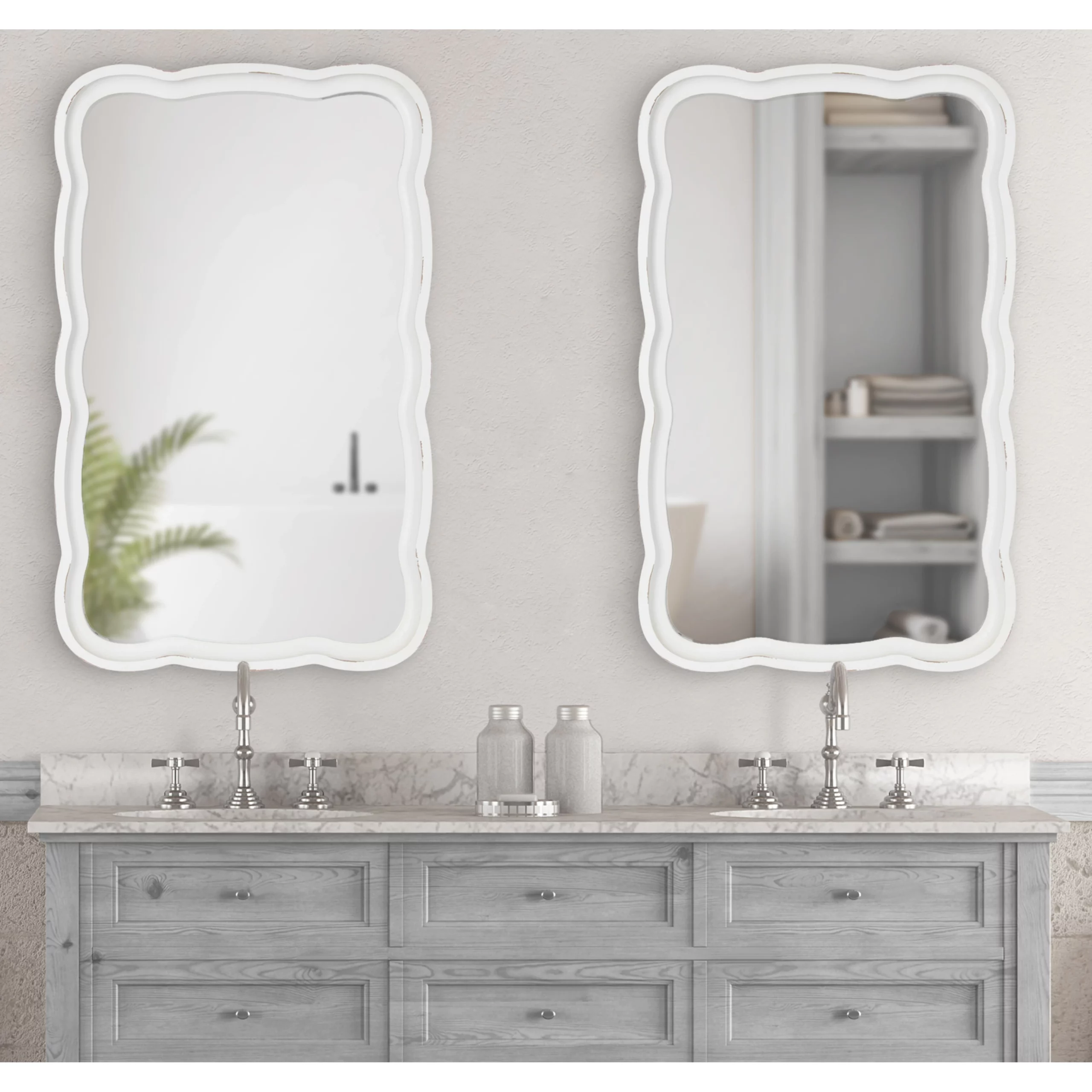 Do you want your farmhouse bathroom mirror to look a little distressed? If your answer is yes and you've been looking for something tall, try these vintage scalloped frames.
The frame on this mirror is wood with a distressed finish that comes in white or brown. The shape and distressing make it look very old and suitable for any bathroom that needs a vintage-looking piece.
Add Character with a Rustic Riveted Mirror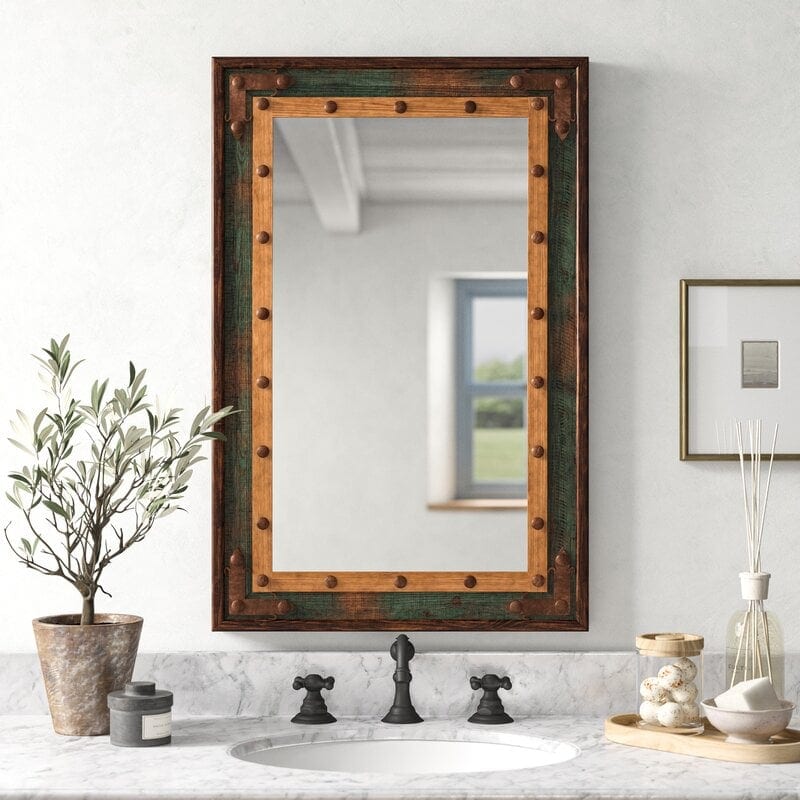 If you're looking for the ultimate farmhouse vanity mirror to add character, this one is hard to beat.
It has a solid wood frame painted turquoise with heavy distressing. It also has faux rivets around the edge that add color and texture. You could use this over a super modern vanity or in a wood-heavy bathroom.
Play it Safe with Barnwood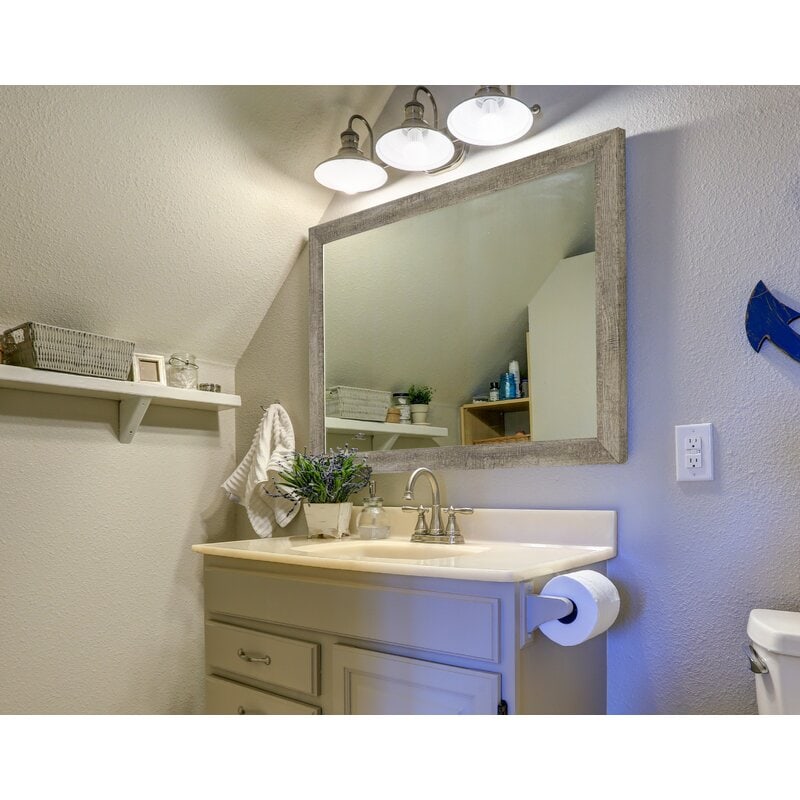 You'd be hard-pressed to find someone who doesn't associate farmhouse style with Barnwood. So, if you want to play it safe, go with a Barnwood mirror.
You can find this mirror from Wayfair in thirteen sizes, ranging from small to large. The frame looks like reclaimed wood and is a sandy color.
For Added Space, Try a Medicine Cabinet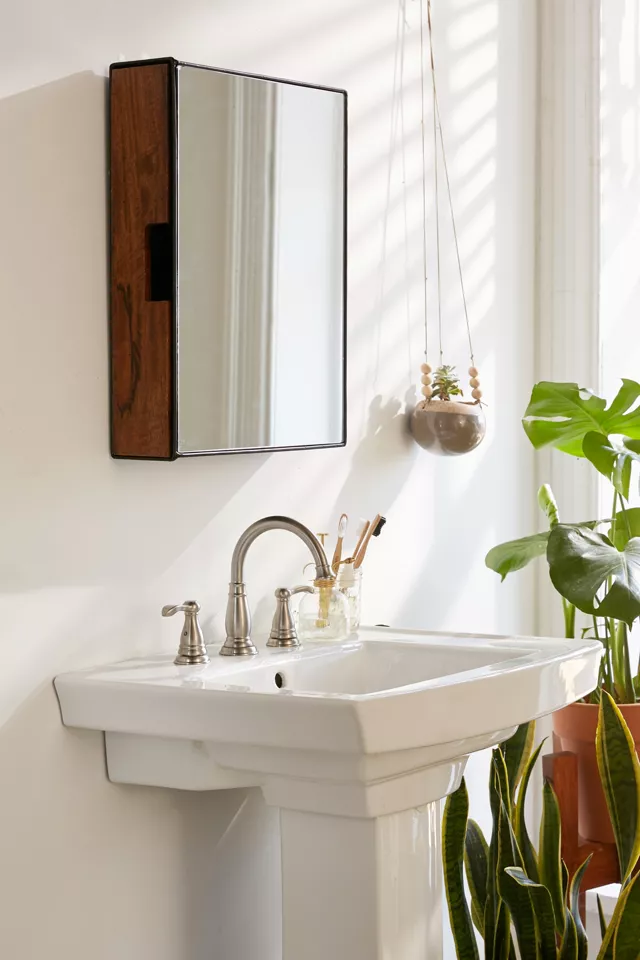 If you need a farm-style bathroom mirror for a small space, try a medicine cabinet. Medicine cabinets can still look stylish while providing ample space for your stuff.
Go with a real wood version like this one for a farmhouse look. It features mango wood, a sliding mirrored door, and three shelves to store your toiletries.
Bring in Natural Textures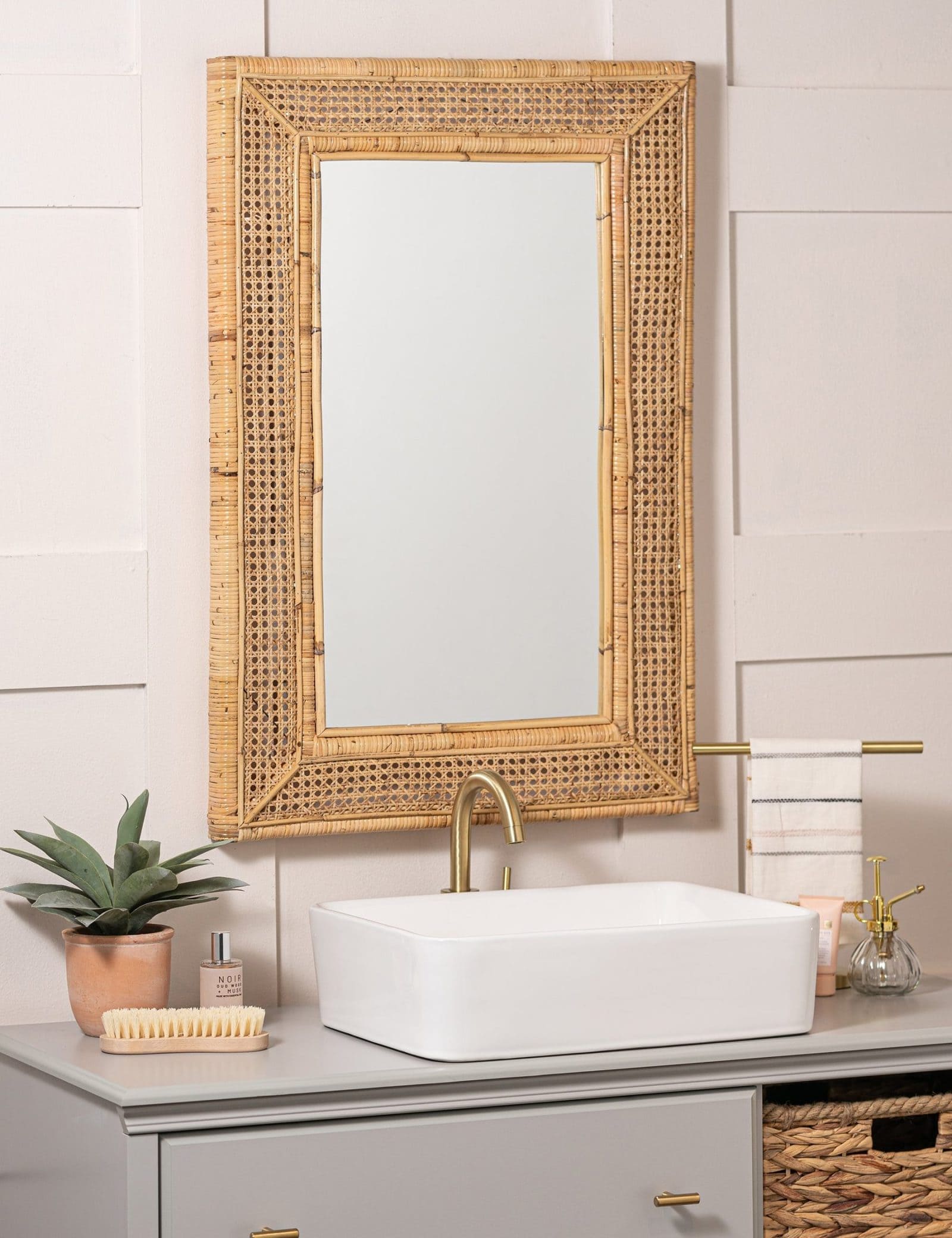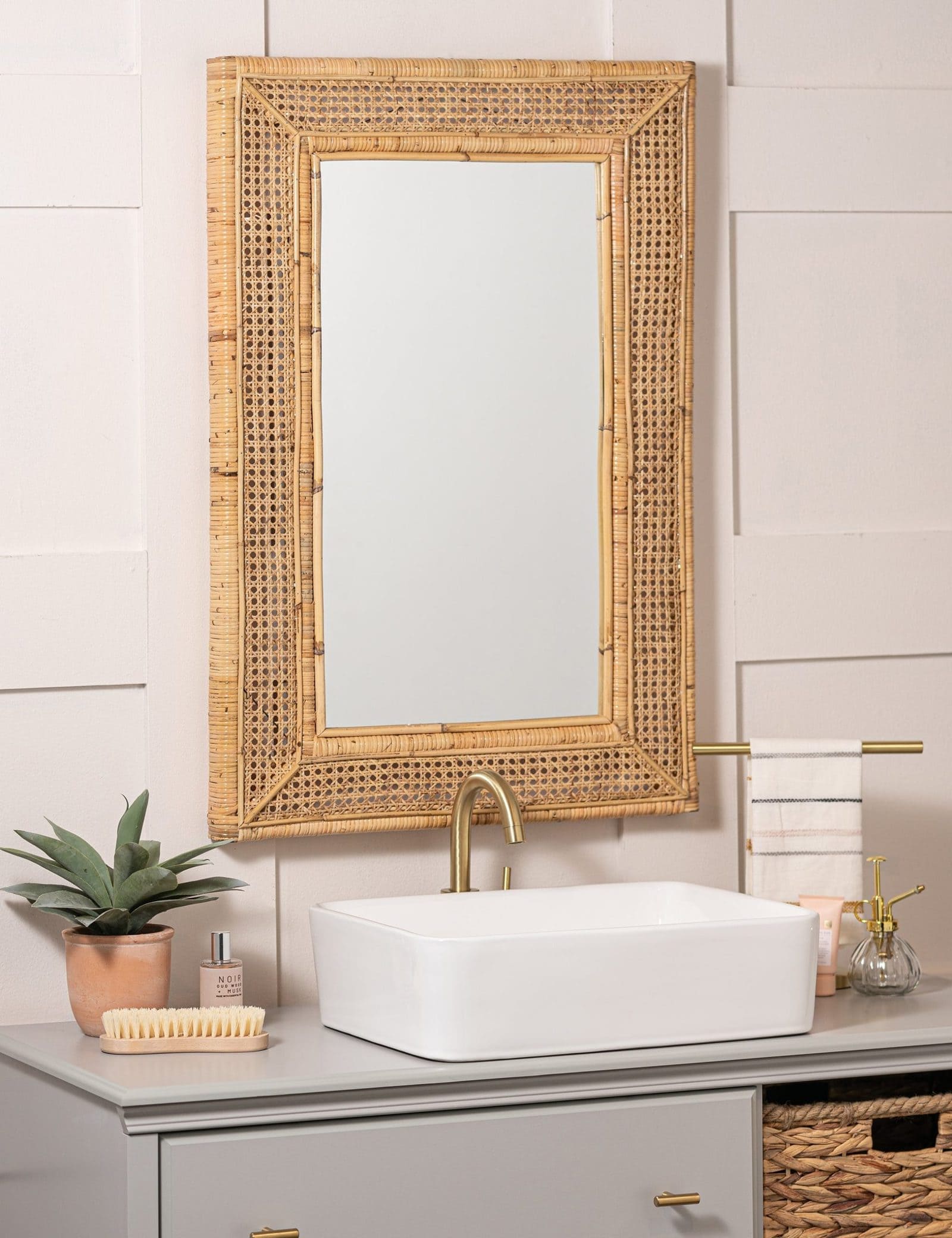 If you're looking for a good alternative to a wooden mirror, try rattan and wicker.
This mirror is from Lulu and Georgia and has a rattan frame with a wicker inlay. It would look fantastic next to a painted or dark vanity. I probably wouldn't use this in an antique-style bathroom but it works great for a modern farmhouse.
Match Your Vanity
If you want the simplest of simple looks, get a mirror to match your vanity. While this doesn't create a ton of visual interest, it's a clean and timeless style.
If you have a dark wood vanity, you can use this almond-colored mirror from Wayfair. It has a solid wood frame and measures 28 inches wide by 36 inches high.
Showcase a Windowpane Mirror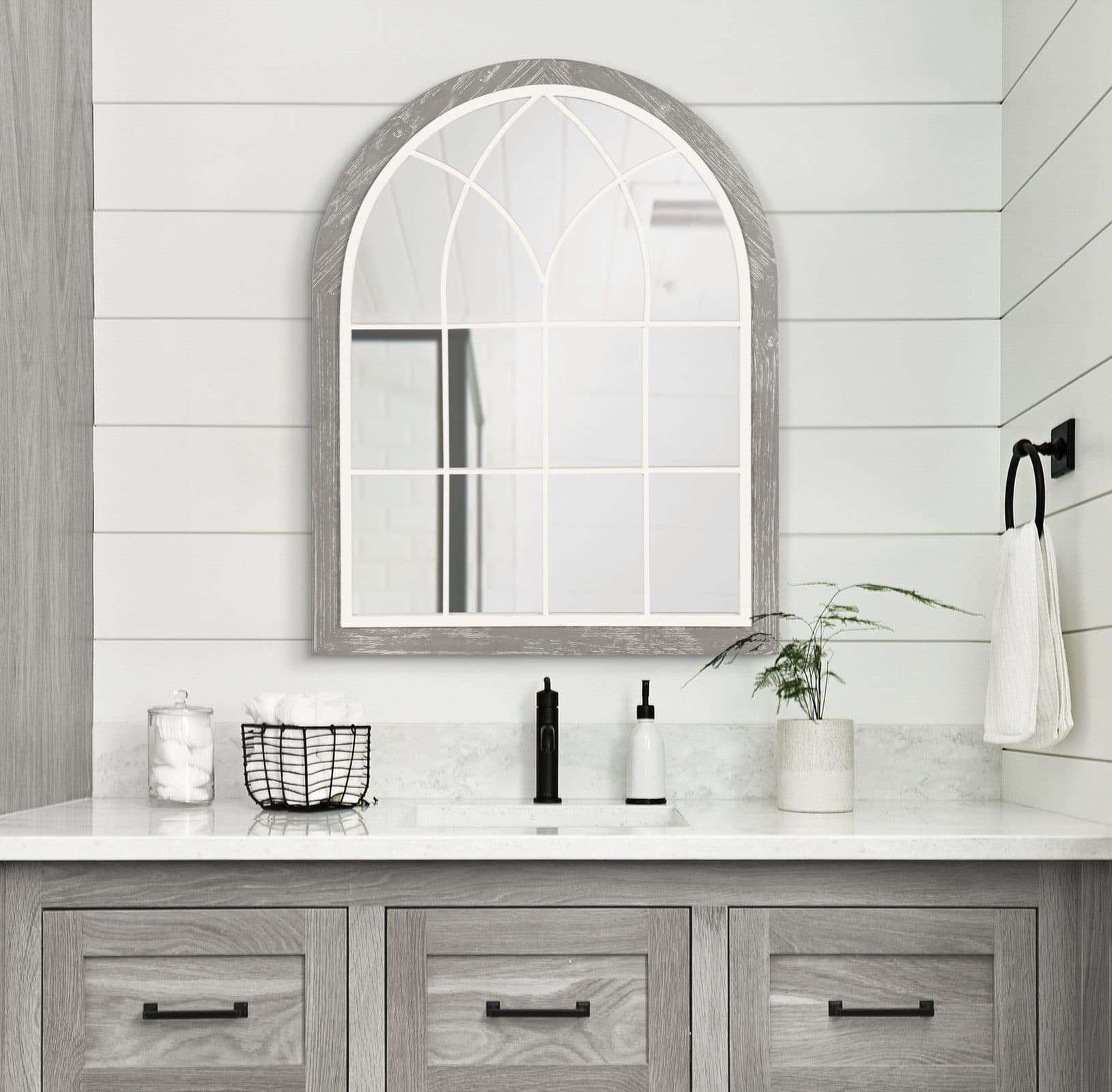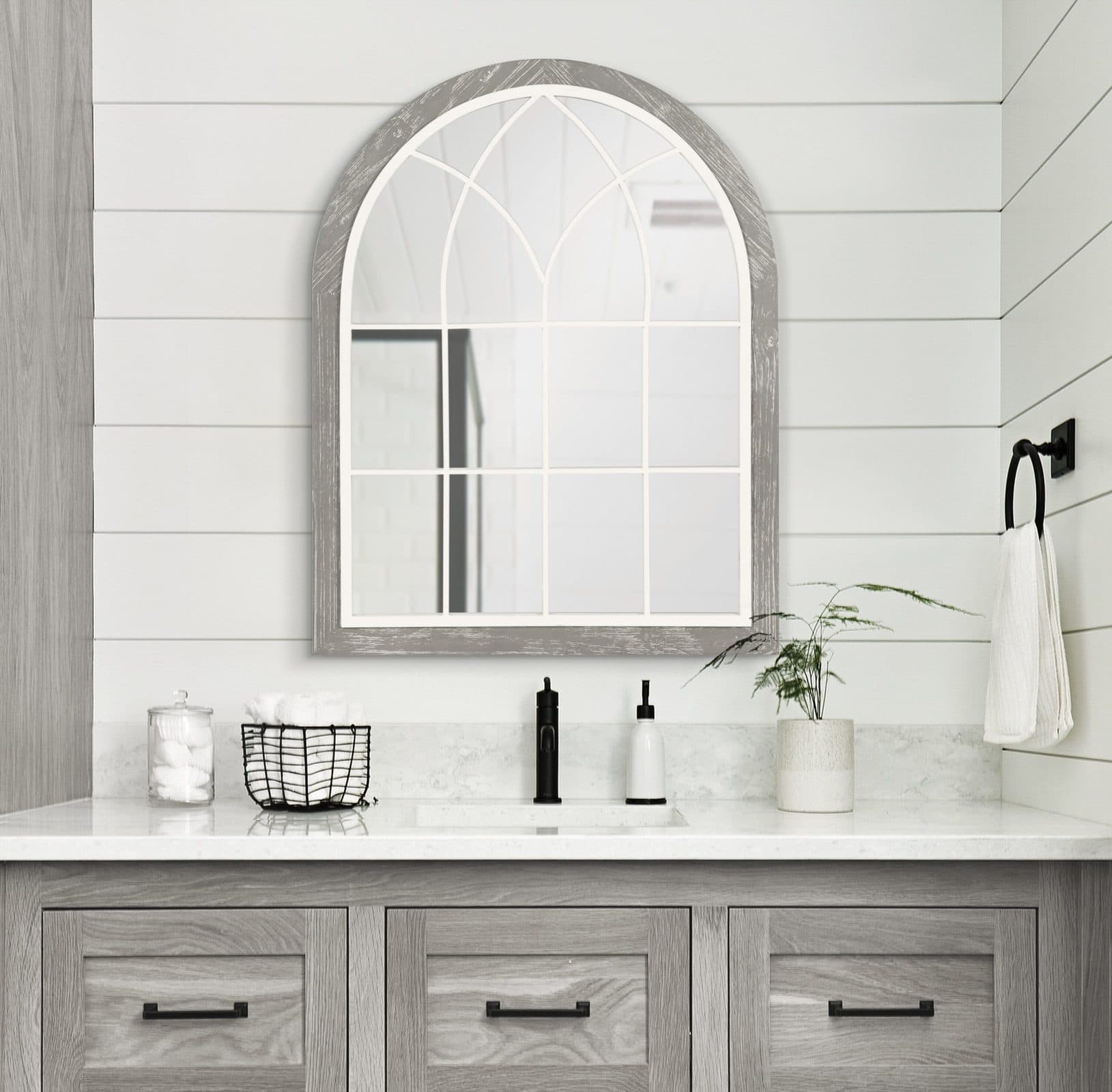 For an authentic farmhouse look, you can't go wrong with a windowpane-inspired mirror. You can use one in rustic or modern farmhouse-style bathrooms.
This mirror from Wayfair comes in brown or distressed gray. It has an arched shape and a hand-distressed look. Depending on how large your vanity is, you may be able to hang two of these.
Hang Your Mirror with Barn Door Hardware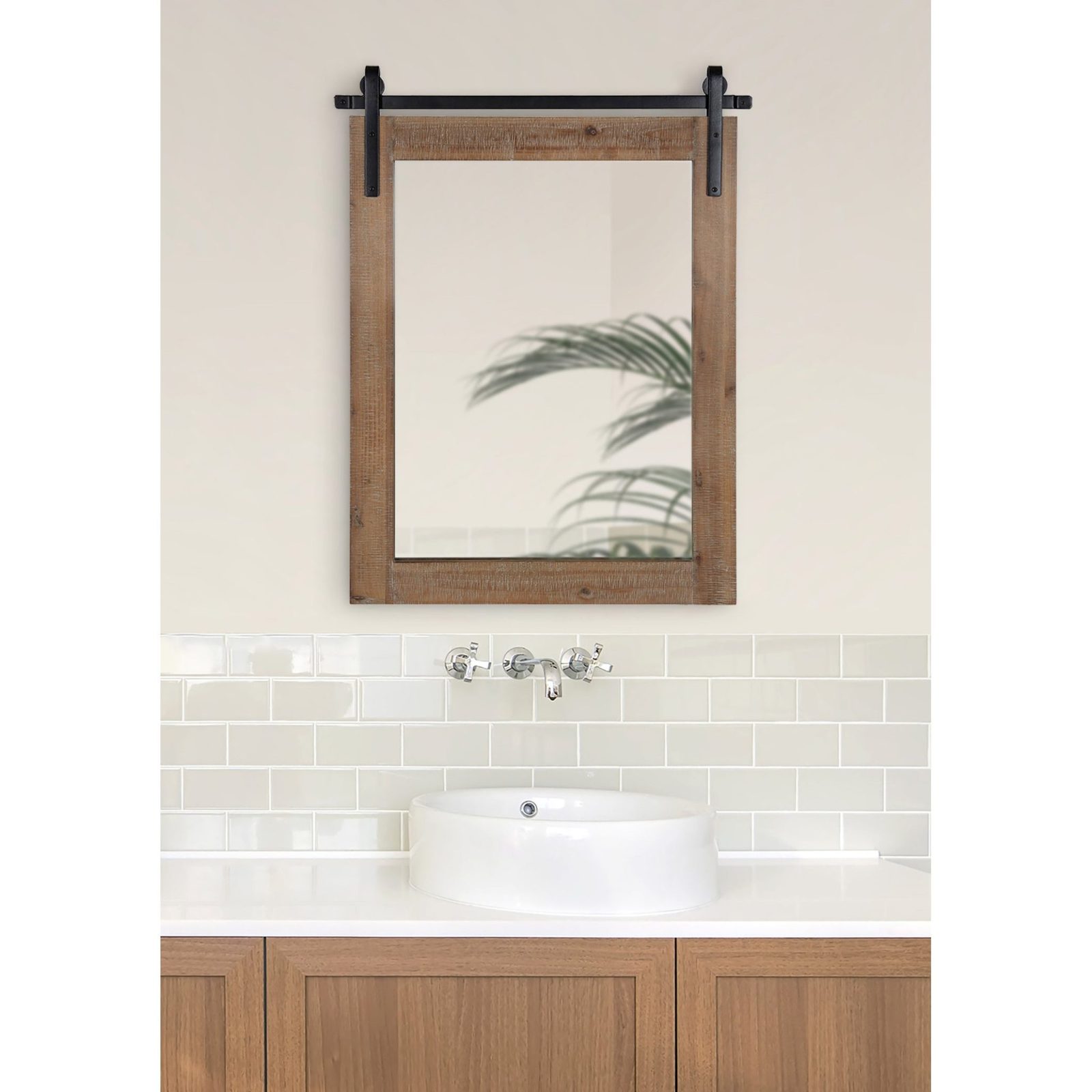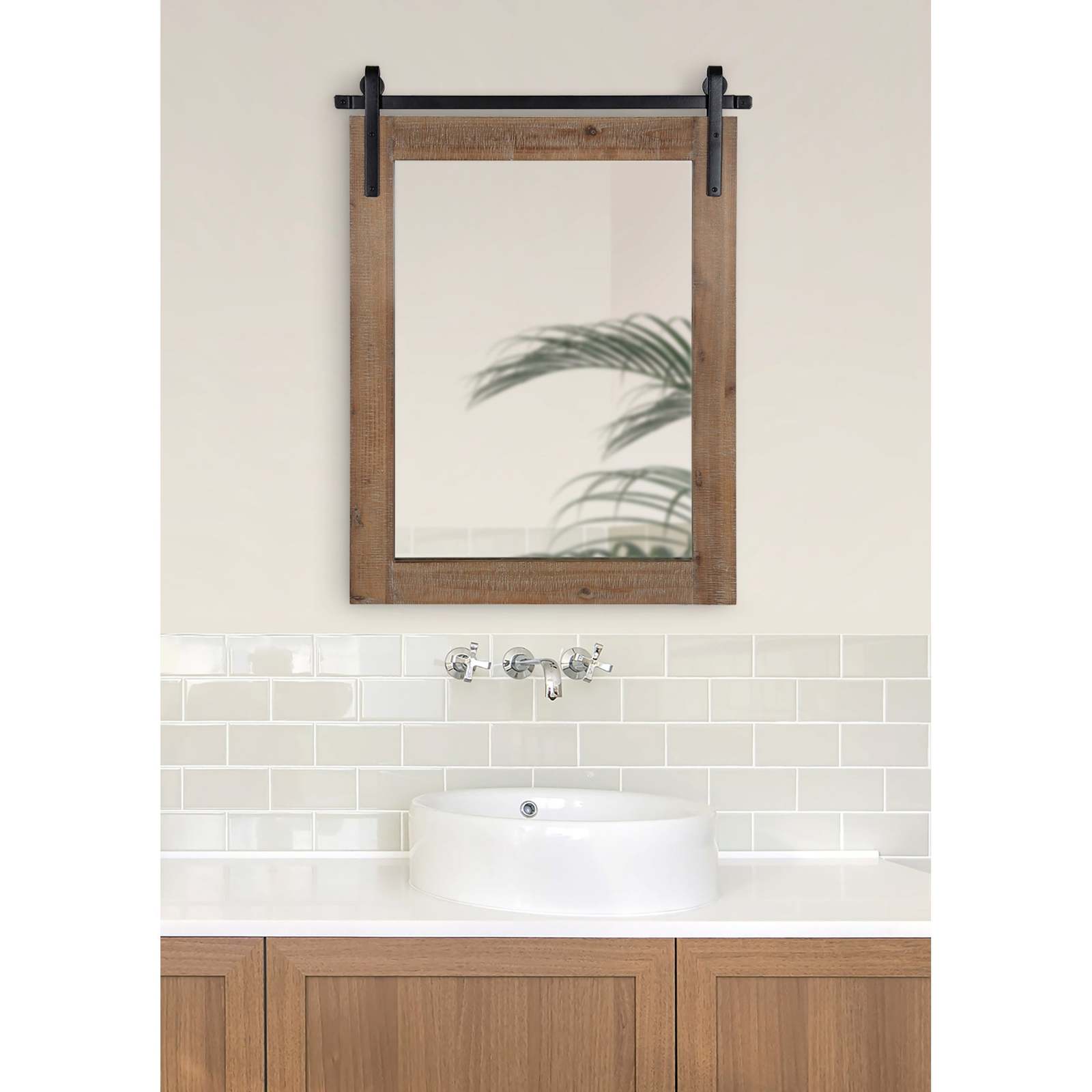 If you've thought about getting a mirror that resembles a barn door, what's stopping you? They go great with farmhouse style and can work in many color schemes.
This mirror from overstock comes in four colors, including black, brown, white, and gray. It also comes in tall rectangle shapes or longer ones that can fill a whole vanity. The hardware comes included.
Keep it Simple with a Thin Frame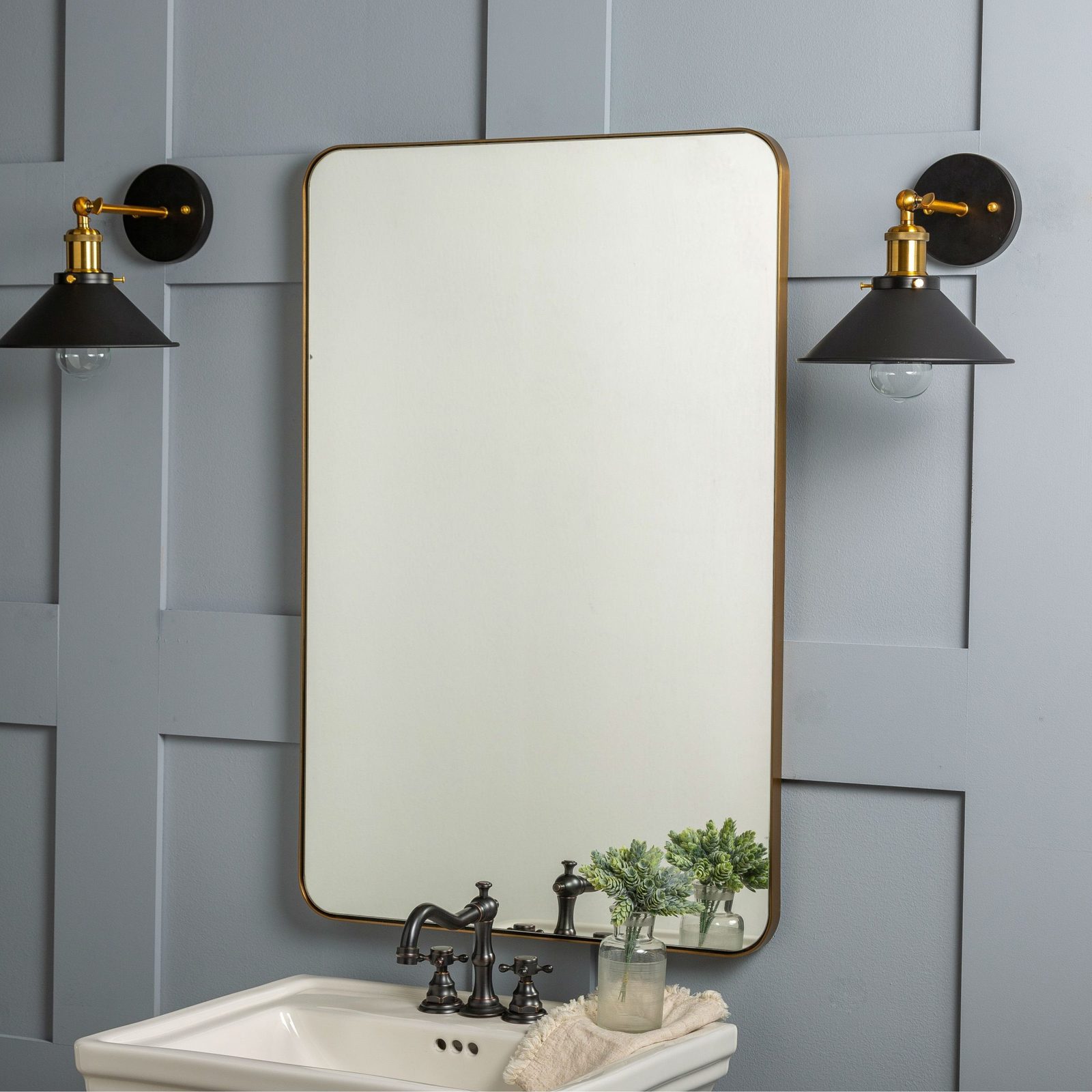 Regardless of the color or shape of the mirror, a thin metal frame works perfectly for all modern farmhouse bathrooms.
This thin metal framed mirror from Lulu and Georgia has rounded edges that give it a simple look. It comes in three finishes: gold, silver, and black. Any of these colors will work in a bathroom.
Try an Ornate Wood Frame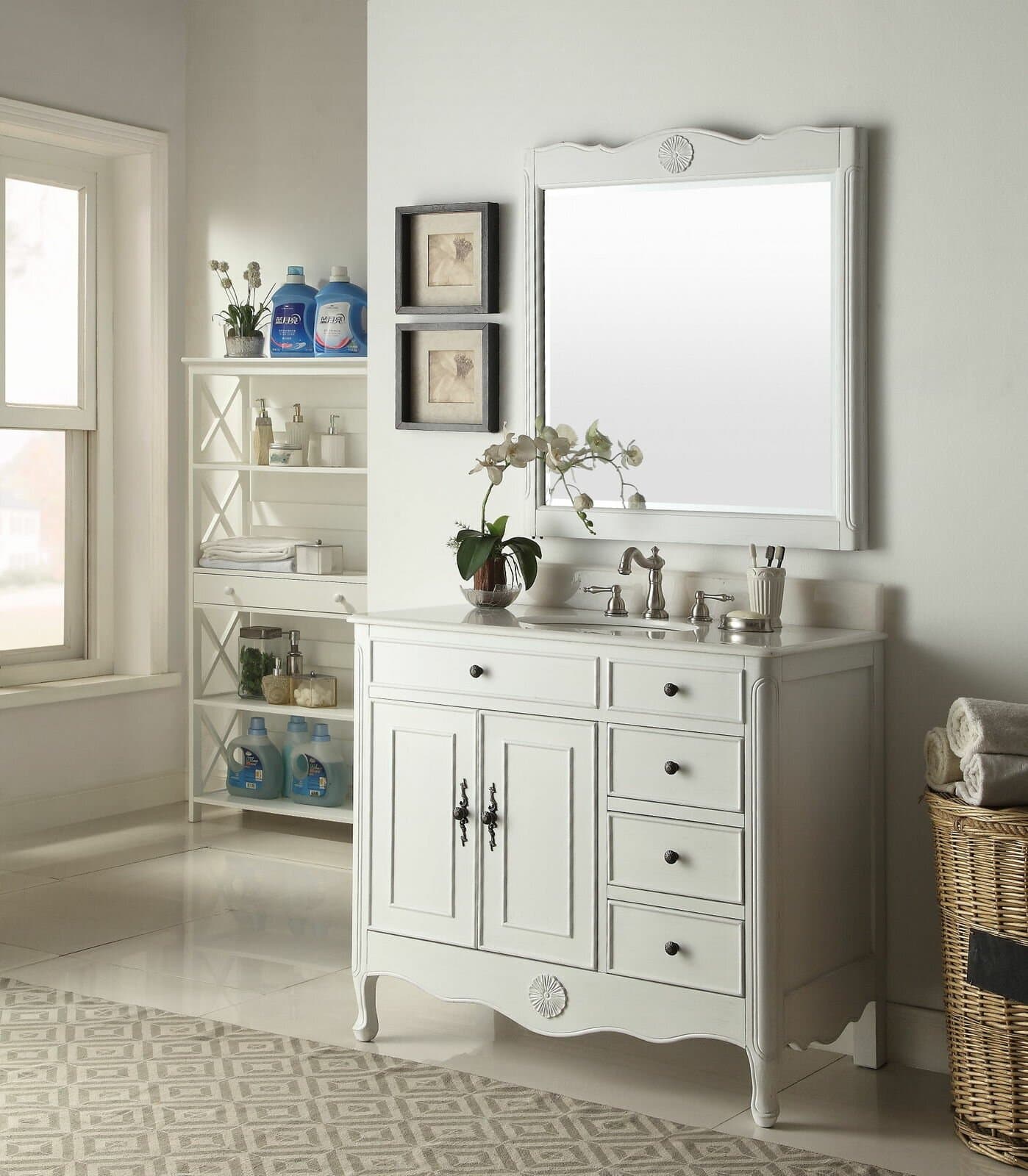 If you don't like the simple look, go for a more ornate mirror. While this mirror from Wayfair isn't over the top, it still has fun details for a more vintage look.
You can find it in three colors – cream, white, and light blue. The frame is wood, but it almost looks like someone has painted it with chalk paint. You can pair this mirror with a similar color vanity or put it over a wooden one.
Use a Round Beveled Mirror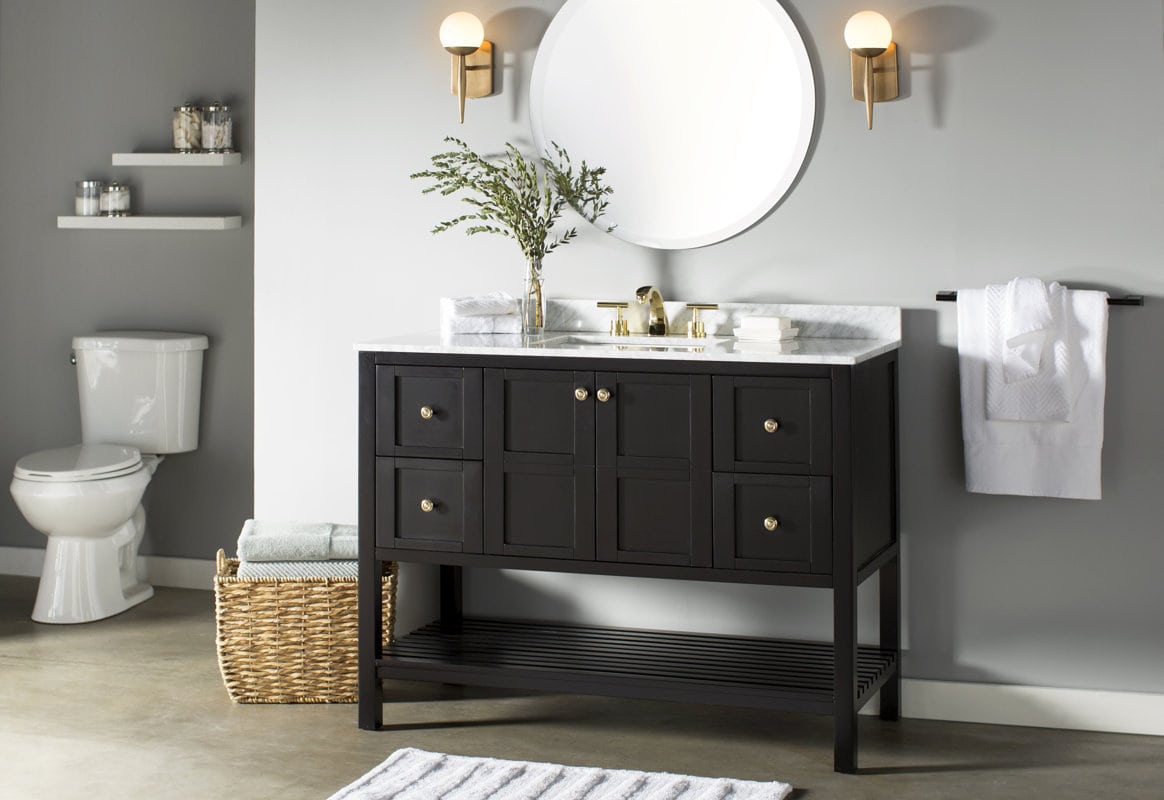 Your farmhouse bathroom doesn't need an intricately framed mirror. In fact, for high-end or modern looks, thin frames and frameless work best.
So, if you want a modern round mirror, this one is a great fit. It has a beveled edge for a timeless look. You could use one in the center of your vanity or put up two if your vanity is long.
Modernize with an Art Deco Inspired Mirror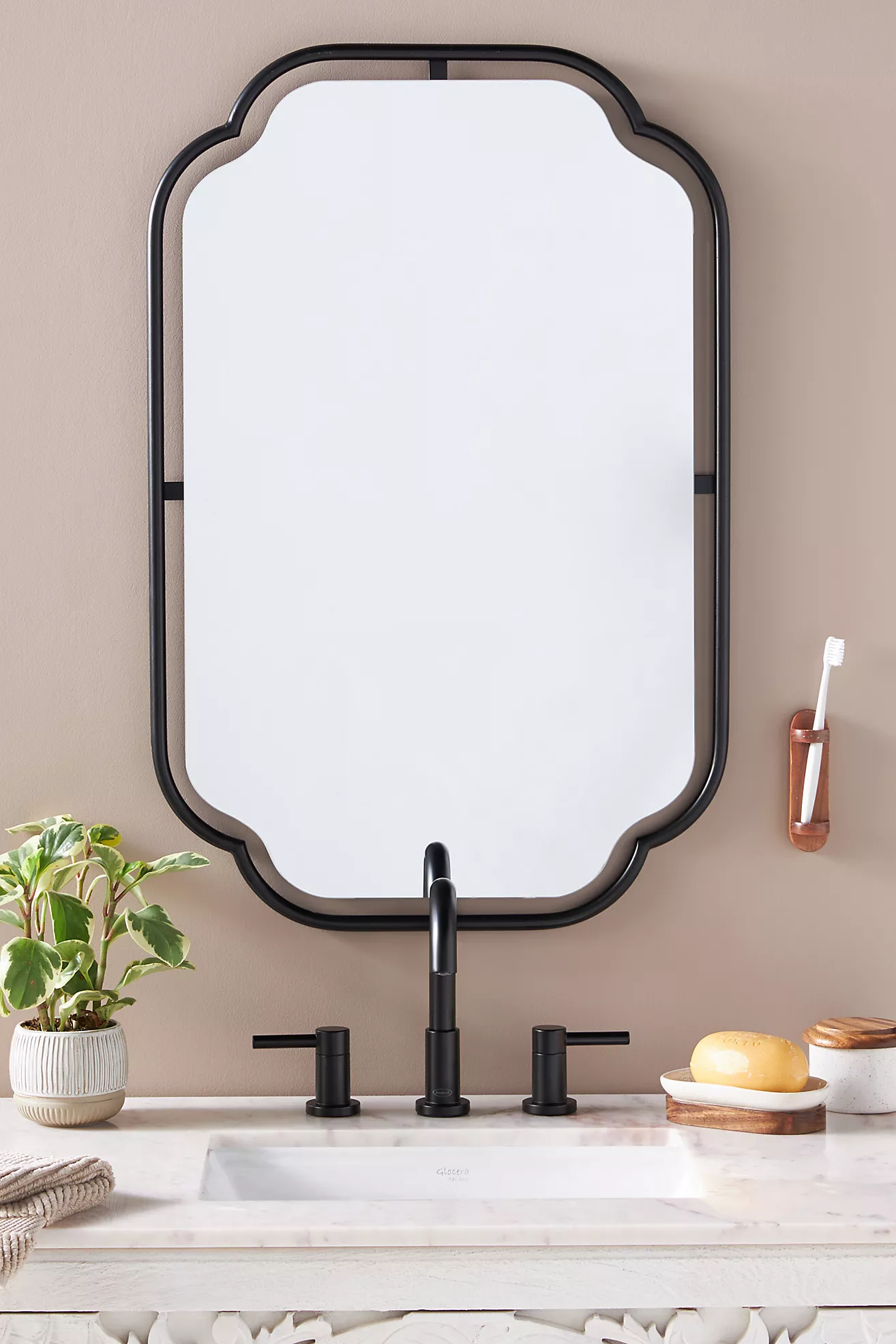 If you like black framed mirrors but aren't a massive fan of the simple, thin frames, try something like this. This mirror from Anthropologie is hand-painted iron with a modern art deco design.
You can pair this mirror with a colored or wooden vanity. The mirror is 34 inches high and 22 inches wide – perfect if you're looking for something tall.
Go with a Rectangular Beveled Mirror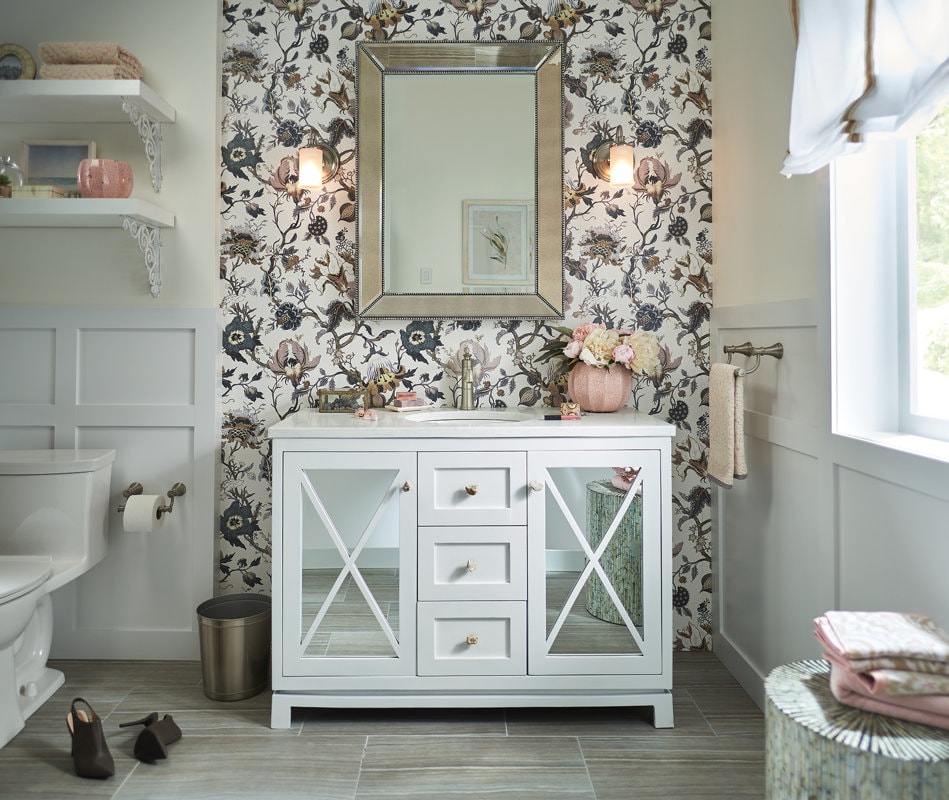 Here's another take on a beveled mirror. Only instead of round, this one is rectangular.
This mirror is a great candidate if you want a simple option without a heavy frame. It can work in modern or more rustic designs, and its timeless look means you can keep it in your bathroom for years to come.
Pull Off a Distressed Look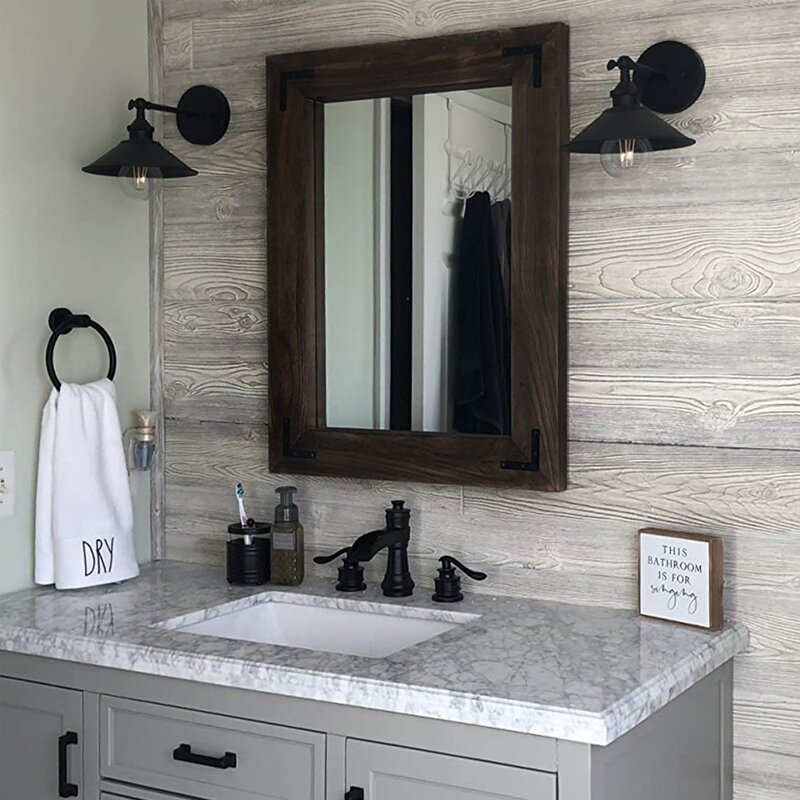 If you like black frames but aren't a fan of metal, try this distressed wood frame. It comes in three different sizes, so there will be something to fit your bathroom.
If you like the frame but not the color, it also comes in white and brown. The frame features black metal accent pieces for additional texture. This would look great in any rustic bathroom.
Final Thoughts
There are many great farmhouse bathroom mirrors. The hard part is narrowing down the perfect one for your bathroom.
If you're going for a modern farmhouse look, thin black or gold frames are safe bets. If you want a more rustic look go with Barnwood frames, arches, or windowpane mirrors.
And finally, if you want a mirror that can work with any style, try something with beveled edges.