Decorated Life is reader-supported. When you buy through links on our site, we may earn an affiliate commission. Learn More
12 of the Best Behr Blue Gray Paint Colors
Blue and gray are both calming and soothing colors that are well-loved for their ability to create a relaxing space. But bringing them together creates a softly muted blue that's more natural-looking, and readily coordinated with other paint colors or decor items.
In this article we'll take a look at some of the best blue-gray colors Behr has to offer. These popular colors cover the range of what blue-gray can do for your home, from wispy and airy to stormy and deep.
Next we'll get inspired with views of Behr blue-gray colors in real homes. When we wrap up, you'll have everything you need to unfurl this serene color in your next home refresh!
Ice Sculpture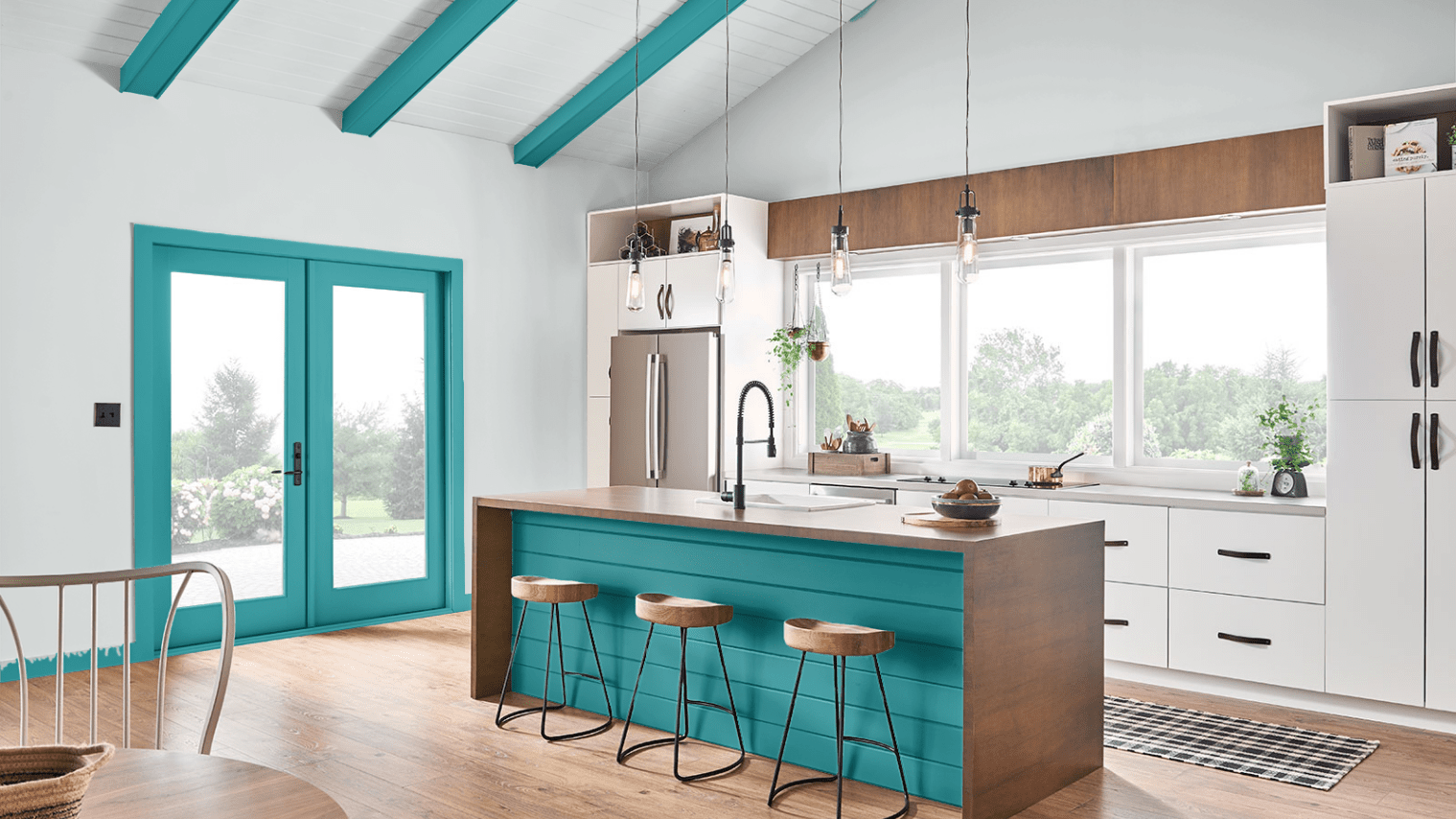 Ice Sculpture is a light gray with just a hint of blue in it. Sitting at 78 on the LRV scale, this is a great color for opening up dark and small spaces. It's also a nice alternative to white if you're looking for something with a little color to it.
After Rain
After Rain is a sky blue tinted with a pearl gray. This is a relaxing color that will gently cool a room. It's a medium-to-light color with a LRV of 68, making After Rain well-suited as a wall color for most spaces.
Peaceful Blue
Peaceful Blue is a subdued medium-toned gray-blue. This is a lovely color for cabinets or kitchen islands. Peaceful Blue has a LRV of 44.
Dayflower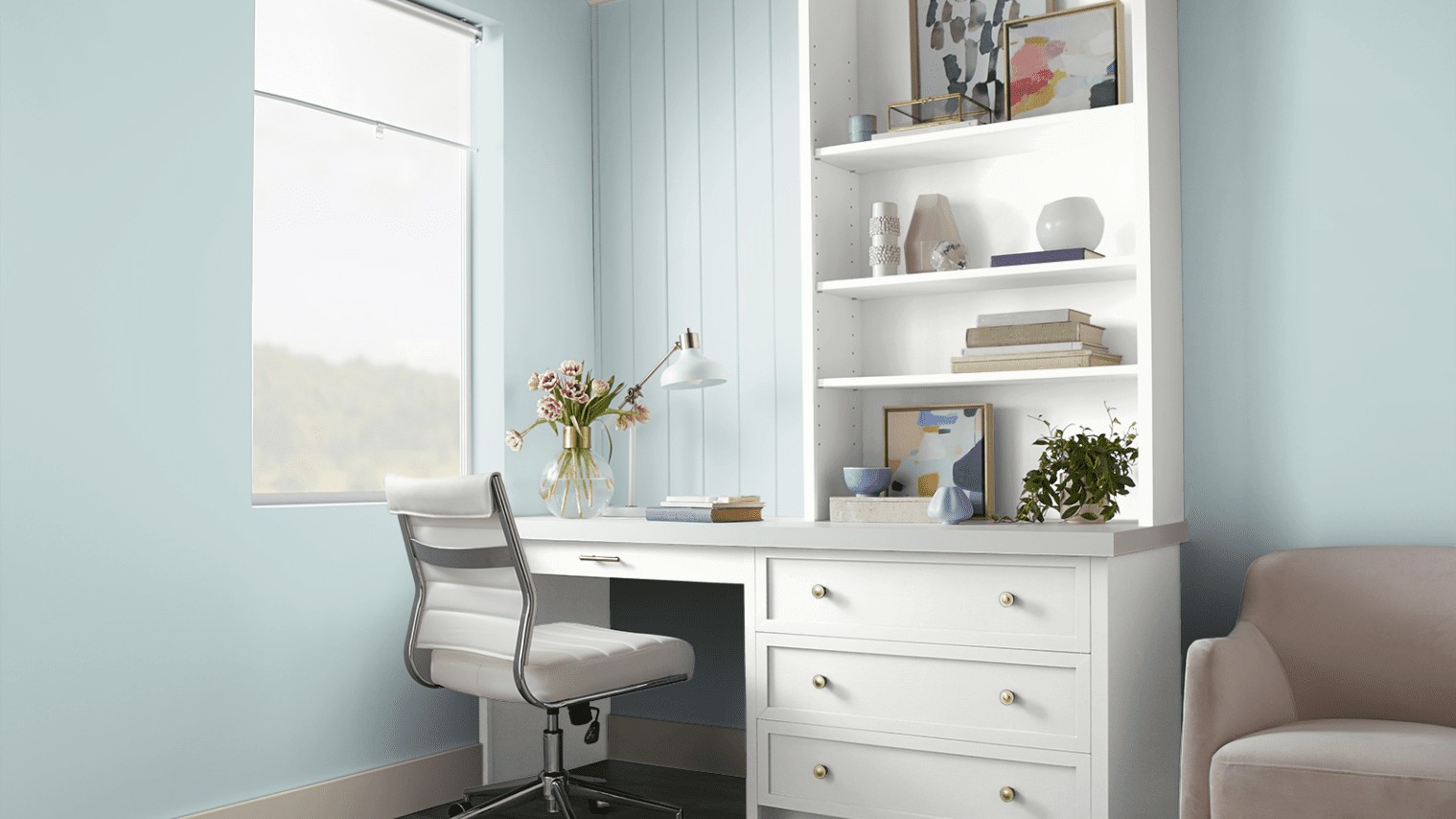 Dayflower is a mother-of-pearl gray blended with a soft, airy blue. It's a natural choice for bedrooms, reading nooks, and other restful spaces. Dayflower was part of the Behr 2021 Color Trends Palette. Its LRV is 58.
Cumberland Fog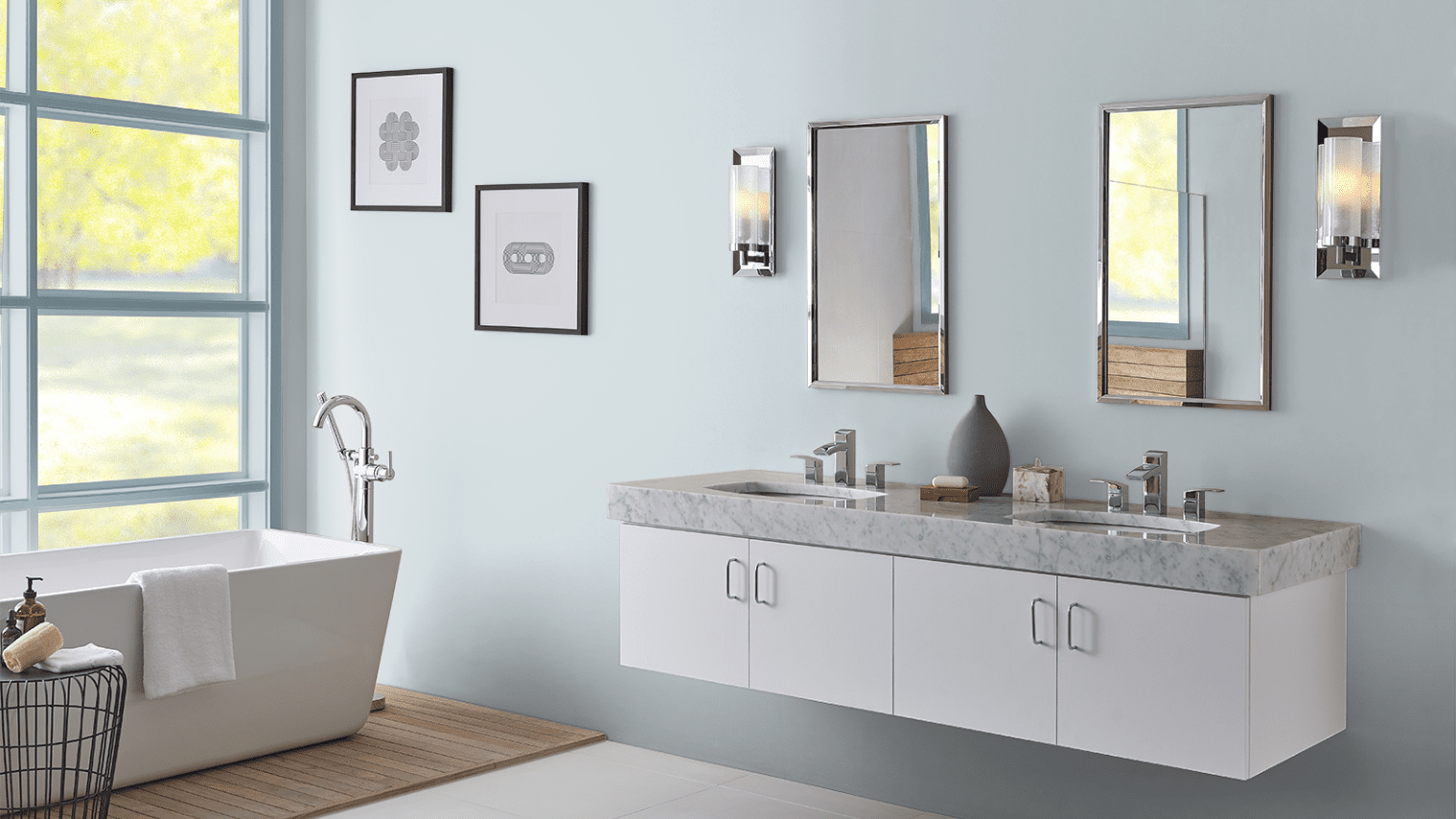 Cumberland Fog is a dreamy light gray-blue that comes across as close to white in brightly lit spaces. It's a popular choice for bedrooms. Cumberland Fog has a LRV of 68.
Teton Blue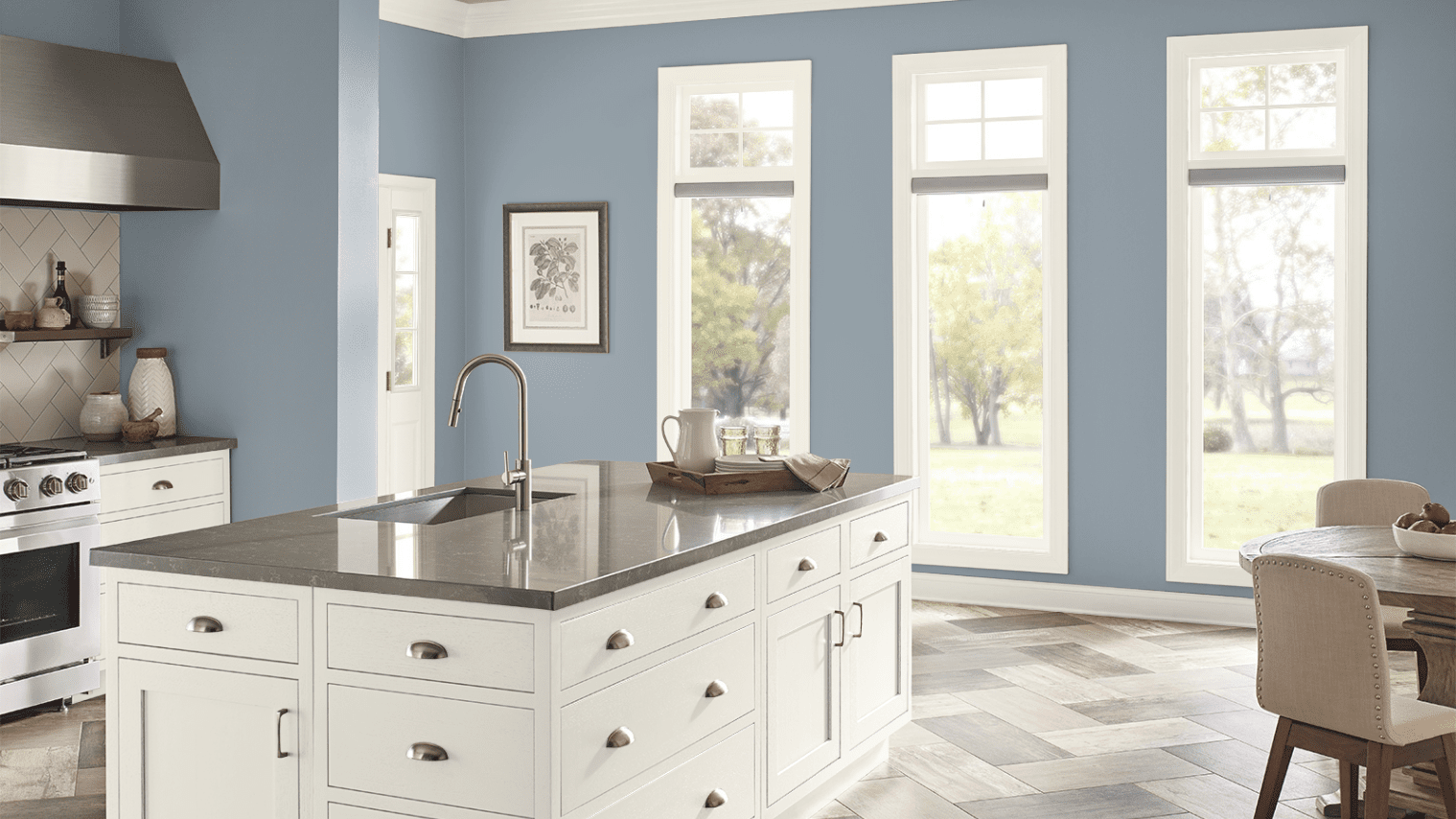 Teton Blue is a medium-toned gray that flashes blue. This is a color that behaves a lot like a neutral, and you can pair it with many different color companions, including greens, reds, browns and tans, and of course, other shades of blue and gray. Teton Blue has a LRV of 31.
Adirondack Blue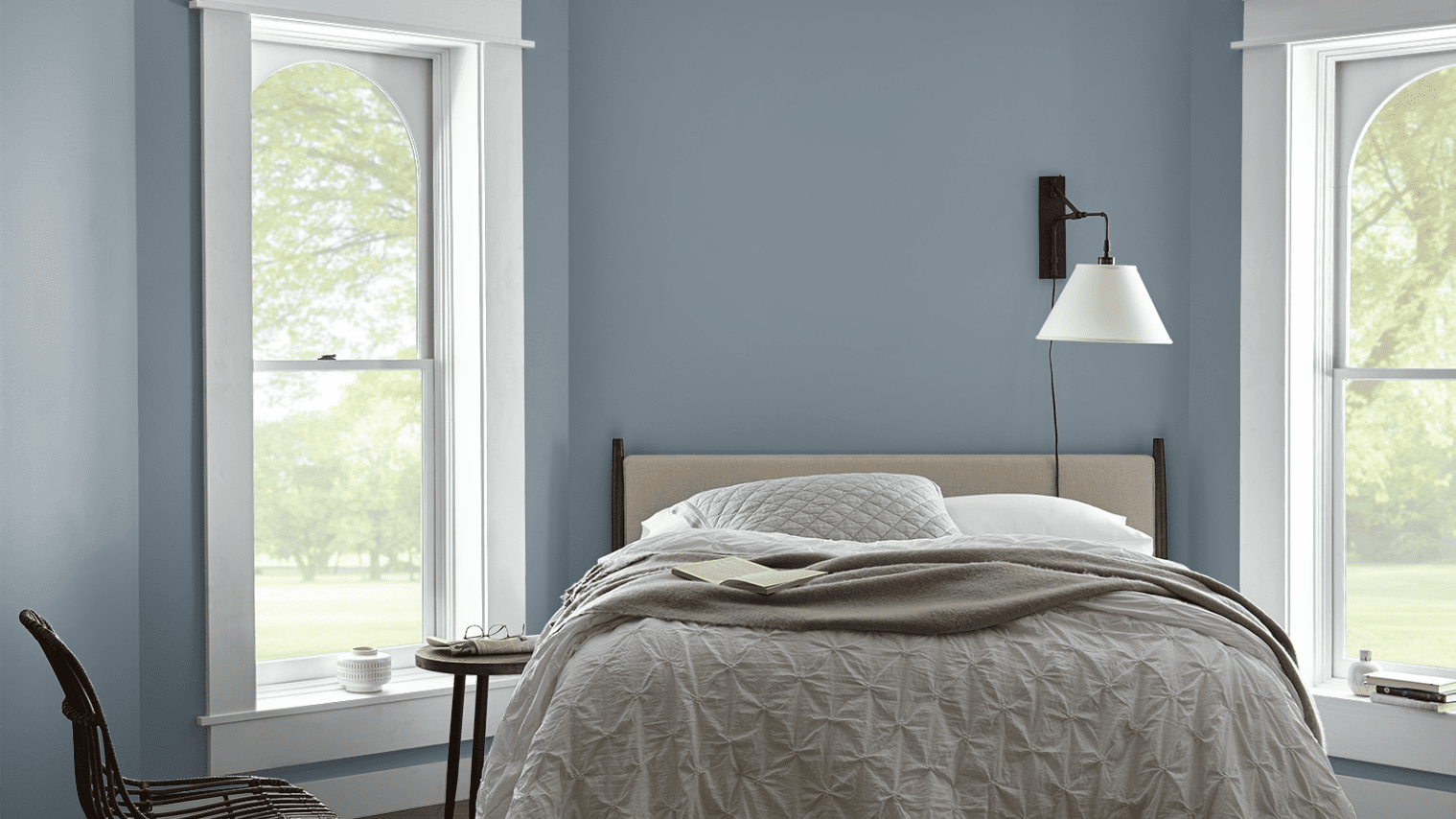 Adirondack Blue is a slate gray blended with blue that's on the darker end of the spectrum, with a LRV of 23. This makes it a great color for things like accents, focal walls, cabinets, or other areas where you'd like more of a contrast. Adirondack Blue is frequently paired with white, but you could try it with very light grays like Ice Sculpture too.
Lyric Blue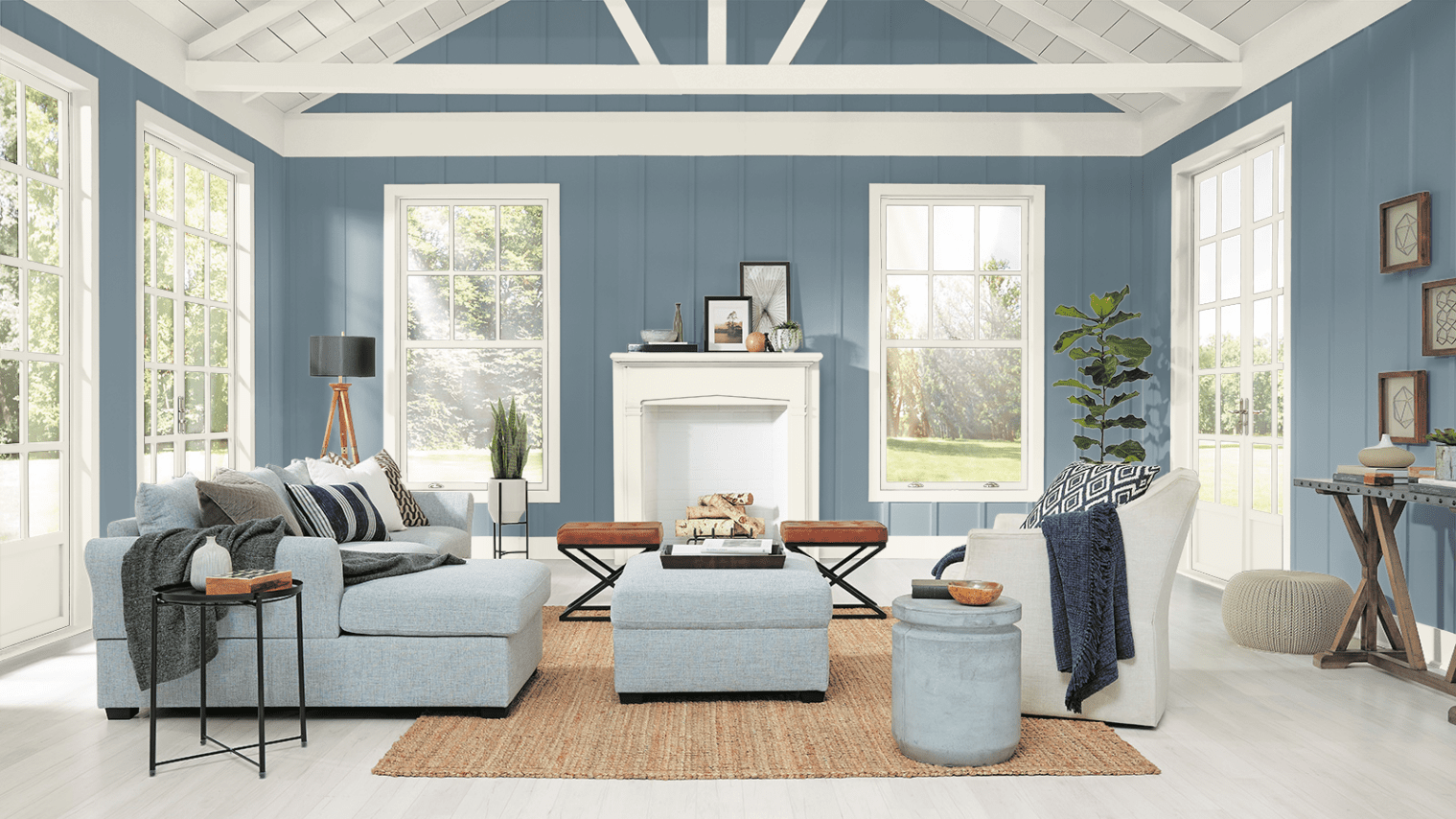 Lyric Blue is a medium-to-dark blue and slate gray blend. This color can really show its blue side, flashing brighter than its gray would account for. Lyric Blue has a LRV of 23.
Charcoal Blue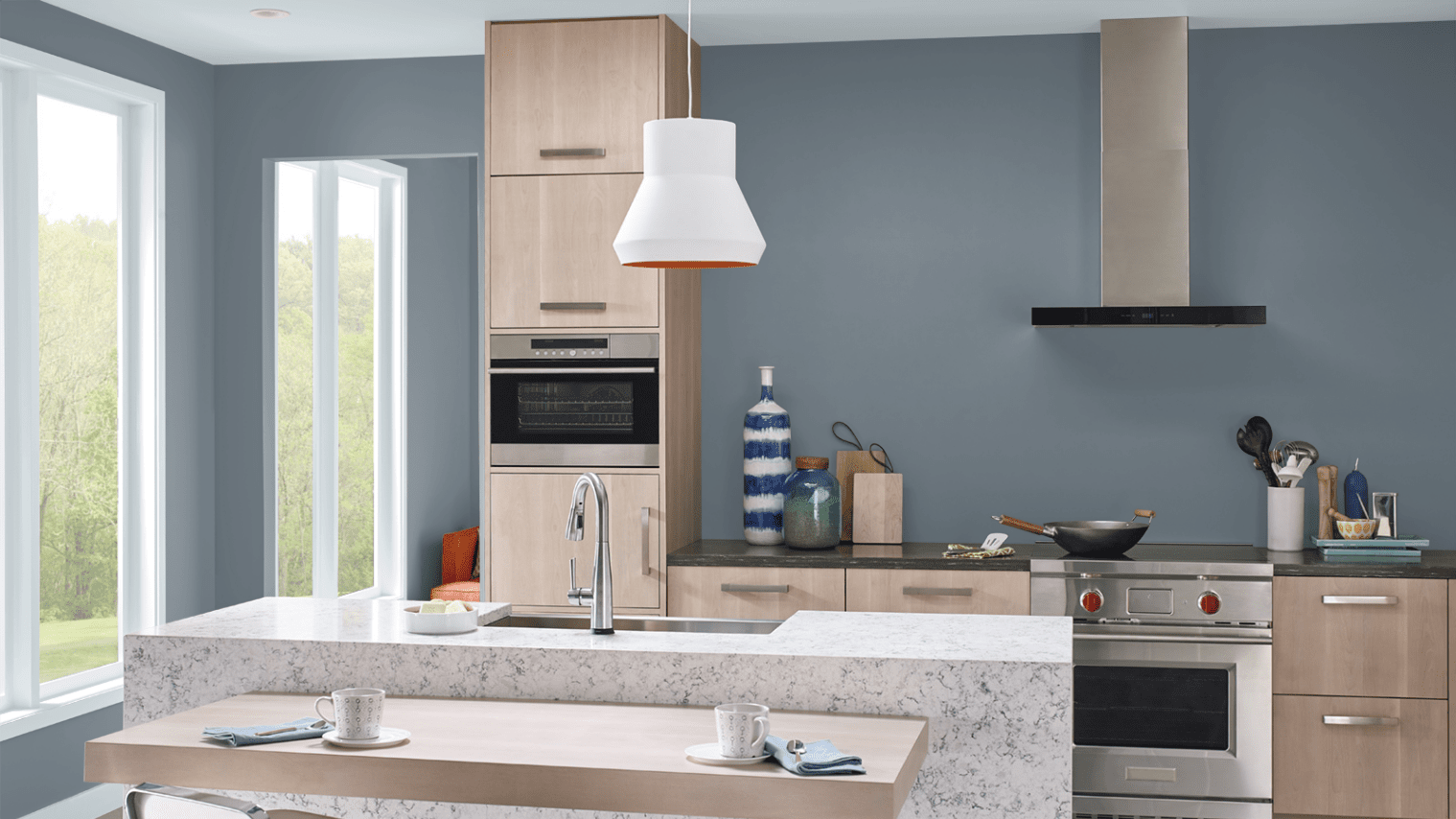 Charcoal Blue is a dark blue-gray that can also be thought of as a navy blue. However, Charcoal Blue is notably lighter than traditional navy blues, and it also has a higher ratio of gray in it. This color offers a beautiful contrast to metalwork. Charcoal Blue has a LRV of 19.
Prelude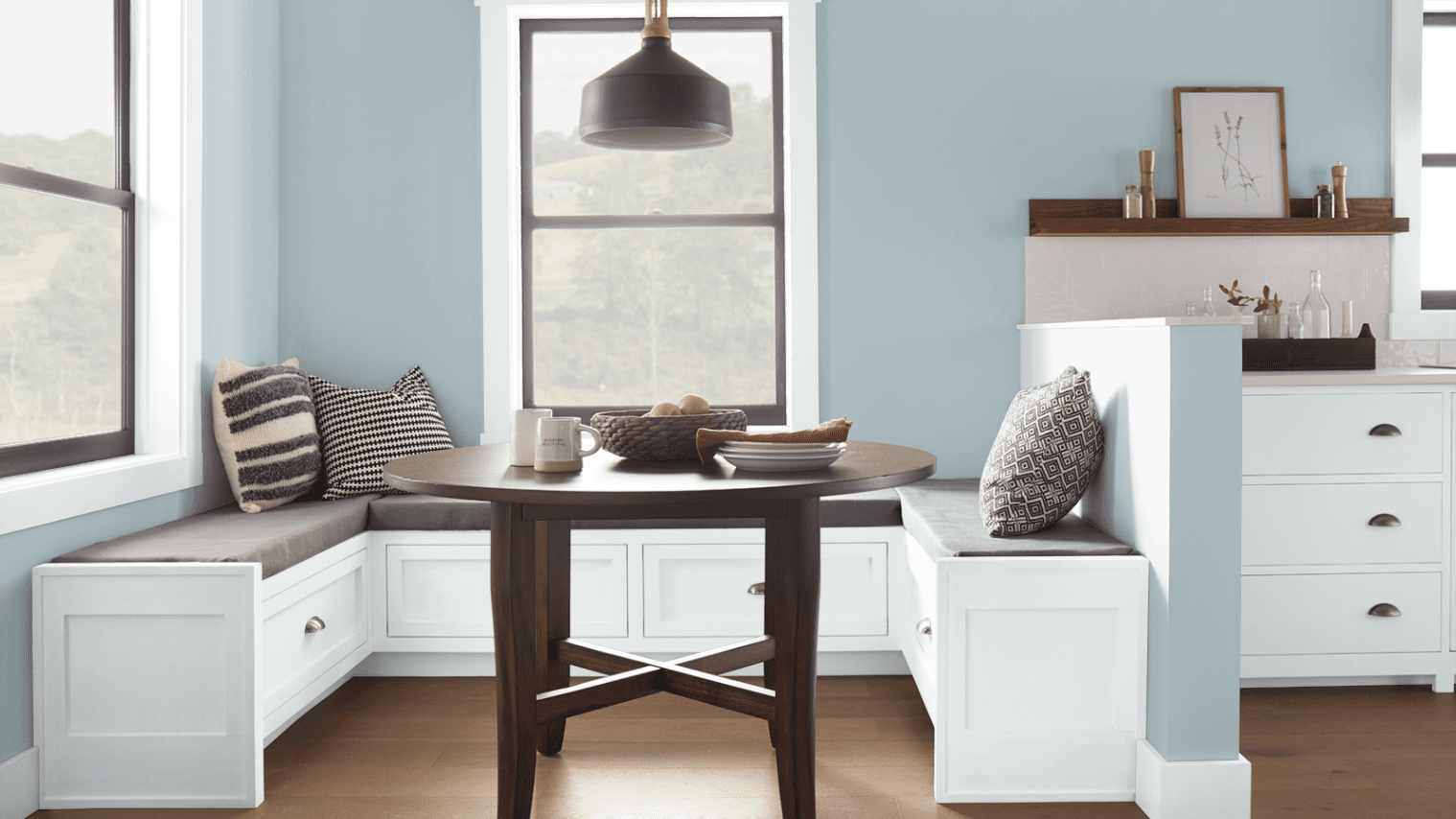 Prelude is a moody blue-gray that can look neutral gray in the right lighting. It makes for a serene wall color, which can be balanced with white in darker spaces. Prelude has a LRV of 47.
Watery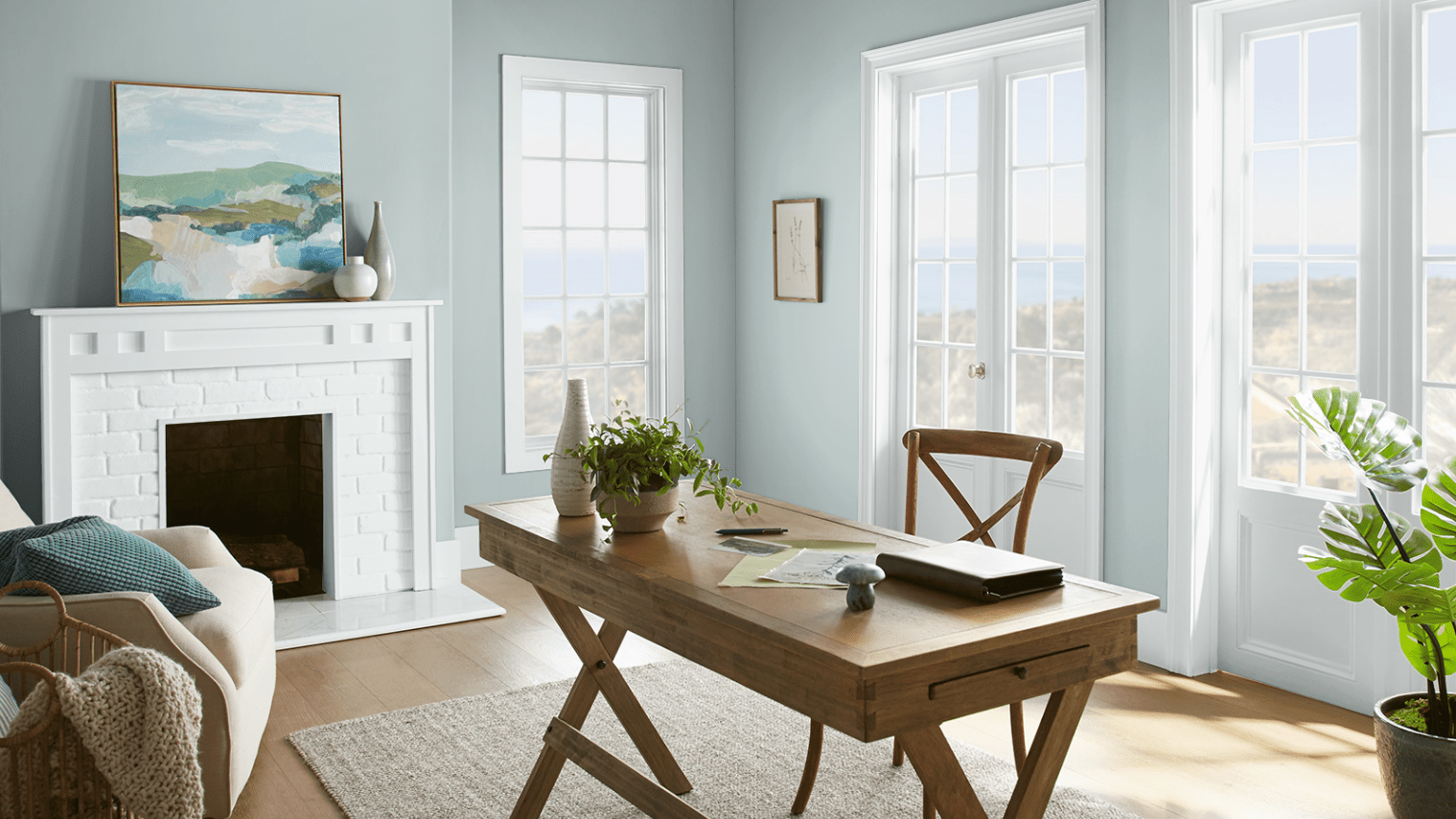 Watery is a refreshing blue blended with a warm gray, which gives this color an unexpectedly cozy vibe. Watery achieves a light and airy look with white trim like Ultra Pure White, or a more earthy look with neutrals like Swiss Coffee or Spanish Sand. It has a LRV of 49.
Blue Reflection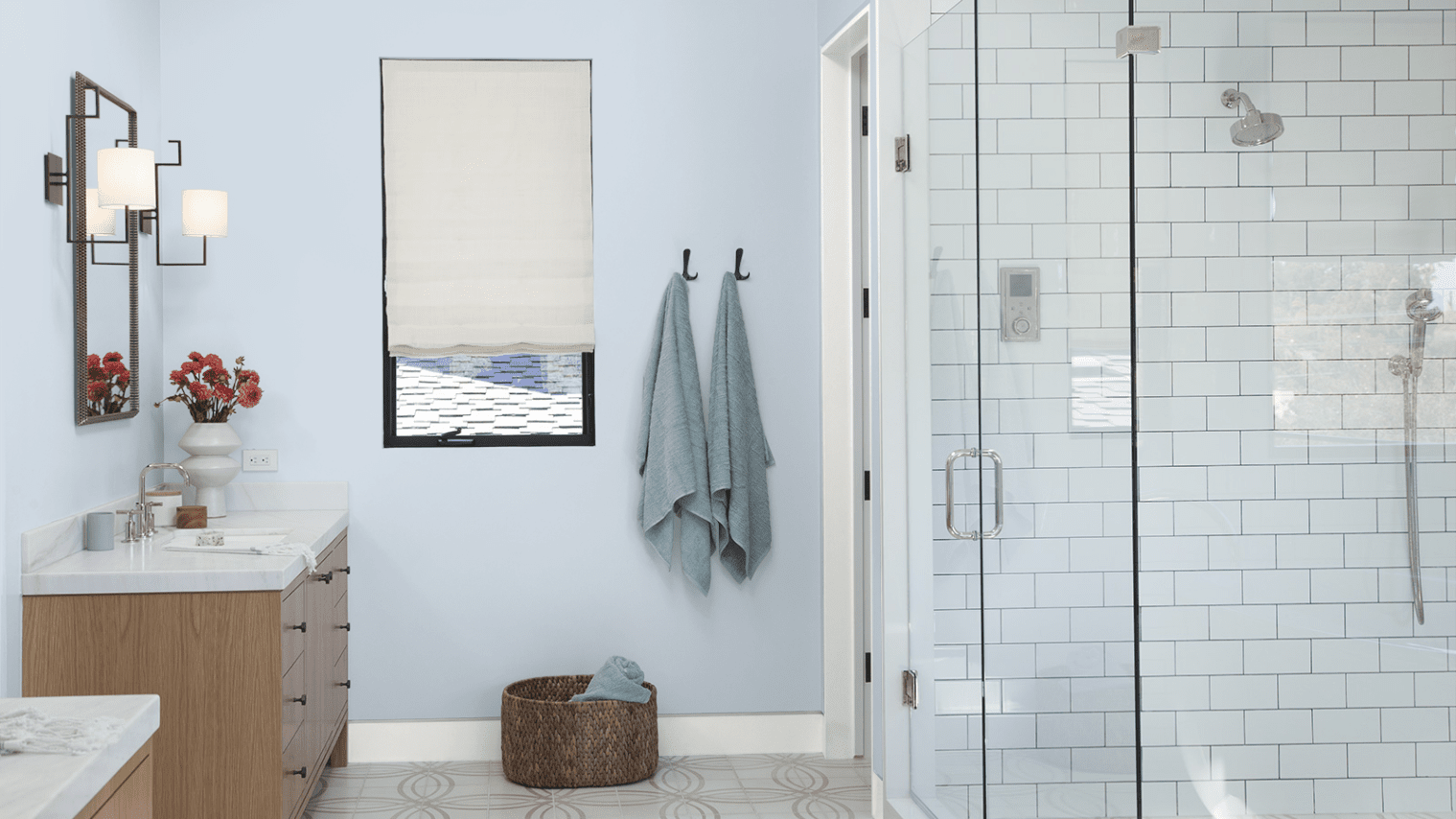 Blue Reflection is a light baby blue blended with a light classic gray. Together the two create a soft color that's great as a serene wall paint. Blue Reflection can lighten up a room while bringing in a pop of color. Its LRV is 67.
Blue-Gray in Real Homes
Now that we've taken a look at the best blue-grays that Behr has to offer, let's take a look at these colors in the wild, and gather inspiration!
Ice Sculpture is light enough to uplift dark spaces like hallways.
Peaceful Blue looks naturally beautiful on bathroom cabinets.
Teton Blue brings cool contrast to this rustic cabin's front door.
Adirondack Blue balances with a creamy white in this hallway and bathroom.
Lyric Blue looks jewel-like in this cozy guest room.
Charcoal Blue looks classic and timeless on this historic home's front door.
The blue in Prelude gives it a depth that adds to its visual interest as a wall color.
In this neutral bedroom, Watery makes for an attention-getting focal wall without being overpowering.
Wait, So What is LRV?
LRV stands for Light Reflectance Value. It's a way of measuring how light or dark a color is. The scale runs from absolute black, which is 0, to sheer white, which is 100. The LRV numbers are provided in this article so that you can easily compare the colors on the list to each other.
Final Thoughts
Blue-grays are soothing and versatile colors that can be used in any room of the home. The grays tone down the blues, creating subdued neutrals and semi-neutrals that coordinate well with many other colors. All together, incorporating these gentle, nature-inspired colors into your home is as easy as choosing your favorites!