Decorated Life is reader-supported. When you buy through links on our site, we may earn an affiliate commission. Learn More
12 of the Best Sherwin Williams Gray Paint Colors in 2023
Gray just might be the most versatile color on the wheel. It's a neutral that can take part in any palette and any style of decor. Gray is the overwhelming favorite for staging homes to sell, and it shows up in best-selling color lists again and again. It's the foundation of the popular and trendy "greige" family–that's a blend of gray and beige.
Grays can come in warm, cool, and neutral variants, and can also be tinted with other colors, such as beige, blue, and green. There's also a whole range of grays, from inky charcoal grays that read nearly black, to whispy smoke grays that are just this side of white.
How do you choose from all that variety? Never fear! In this article, I'm going to highlight the best of the best. These grays are on-trend, able to be used anywhere, and perennial favorites among Sherwin Williams' gray paint colors. We'll also be taking a look at these grays in real houses to show you how to use them.
Just a note before we dive in: if you're not familiar with Light Reflectance Value (LRV), it's a scale used to measure how light or dark a paint color is. The scale runs from absolute black at 0 to sheer white at 100. The higher the LRV number is, the lighter the color is. Many designers feel that colors from about 60-62 are ideal because they can handle a wide range of lighting situations.
Now that you're up to speed, let's check out the best grays Sherwin Williams has to offer!
Repose Gray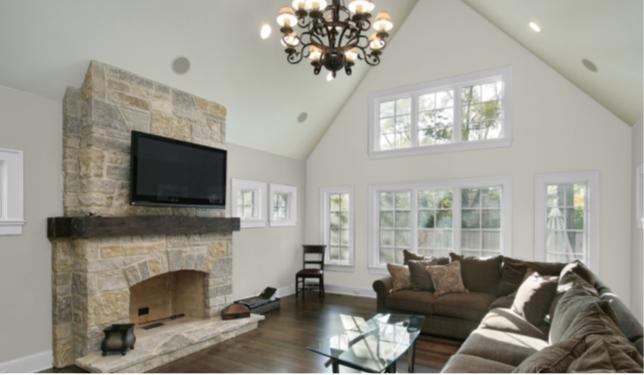 Repose Gray is a popular warm greige that leans a bit towards its beige side. Its LRV of 58 makes it a medium color, and gives it enough body to contrast with white.
Repose Gray is a Great All-Over Color
While Repose Gray is just a few notches darker than that ideal LRV for all rooms, as long as you've got enough light, it makes for a relaxing all-over color.
Mindful Gray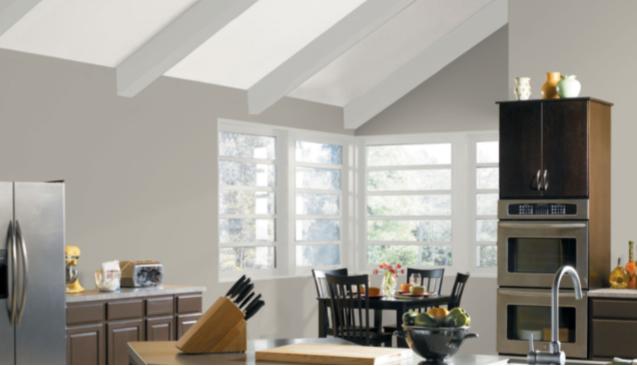 Mindful Gray is one of the darker greige colors, with a LRV of 48. This extremely popular greige is one of Sherwin Williams' top 50 colors. It's a well-balanced neutral without strong undertones, making it easy to coordinate with your color palette.
Mindful Gray is a Strong Exterior Color
Mindful Gray's depth makes it a great exterior color, where it won't be washed out by the strong sunlight. Here it coordinates with Gauntlet Gray and Benjamin Moore's classic, White Dove.
Agreeable Gray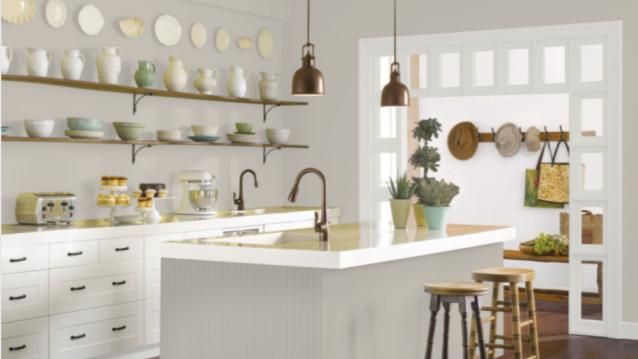 Agreeable Gray is a medium-to-light warm greige that hits that ideal LRV of 60, making it a go-to-neutral for any project. It's part of several Sherwin Williams collections including its top 50 best selling colors. That balanced blend of gray and beige eliminates troublesome undertones, making Agreeable Gray "agree" with coordinating colors easily.
Agreeable Gray Coordinates with Wood
Agreeable Gray's gentle warmth brings out the natural glow in wood.
Lazy Gray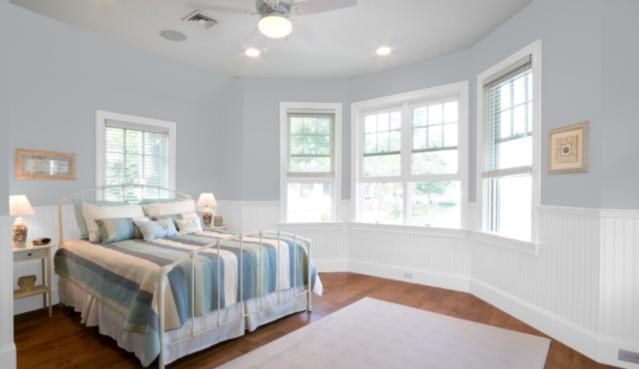 Lazy Gray is medium-toned, cool blue-gray. Like many of the colors on this list, it is one of Sherwin Williams' 50 most popular colors, and featured in several special collections. Lazy Gray leans to its blue side and is excellent for cool palettes. Its LRV is 53.
Lazy Gray Brings Out the Best in Blue
Lazy Gray shows off the navy blues in this bathroom to advantage. Charcoal Blue makes an excellent partner for this color.
Gray Screen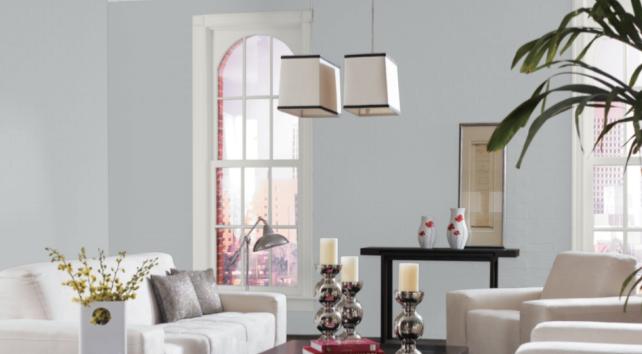 Gray Screen is a medium-to-light cool gray that leans towards its blue, and sometimes green, undertones. This is a sophisticated color that can make spaces look more modern and elegant. It's another top 50 color, and its LRV is 59.
Gray Screen Elevates Black and White
Black, white, and gray is a classic combination that instantly elevates any space. The black metal and white marble in this bathroom look especially luxurious next to the Gray Screen.
On the Rocks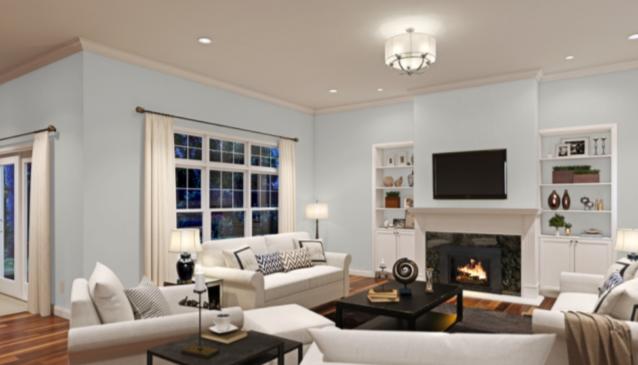 On the Rocks is a medium-to-light gray. It's fairly balanced with just a touch of warmth, and no significant undertones. Its LRV of 62 makes it well-adapted to most lighting situations. On the Rocks is part of the Living Well: Reflect collection, and is another Top 50 favorite.
On the Rocks is Soothing for Meditative Spaces
On the Rocks is part of the Reflect collection because it's a color that makes you pause for a restful moment. It's wonderful for bedrooms, reading nooks, and other peaceful retreats.
Dovetail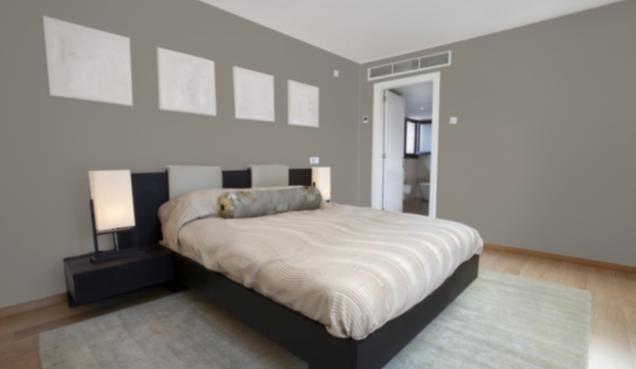 Dovetail is a dark, warm, earthy gray that has brown undertones. With a LRV of 26, it offers strong contrast and is great for things like accent walls and trim. Even though it's a warm shade, try Dovetail with blues: Sherwin Williams recommends Inky Blue. Dovetail is a popular top 50 color.
Dovetail is Great for Transitional Style
Dovetail's earthiness suits both vintage and modern decor, and can work with a nice aged patina.
Passive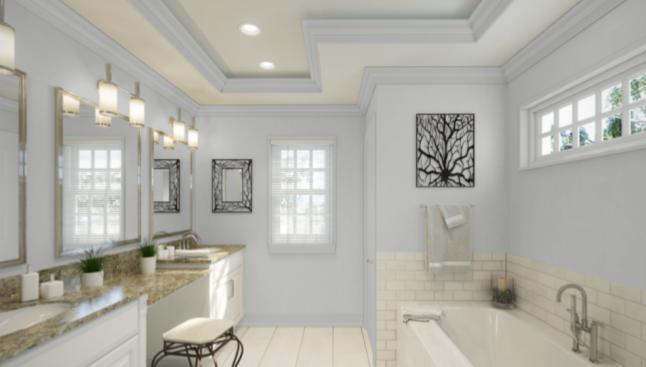 Passive is a medium-to-light cool gray that meets that ideal lighting range with a LRV of 60. It's a balanced color that is easy-to-use, and well-suited to minimalist,industrial, and modern decor. Passive is cool without being too blue, and neither too light nor too dark. It's part of the Living Well collection and it has earned its rank among the Top 50 colors.
Passive Complements Metal Fixtures and Appliances
Passive brings out the beauty of metalwork, making it a natural choice for kitchens, bathrooms, and home offices.
Anew Gray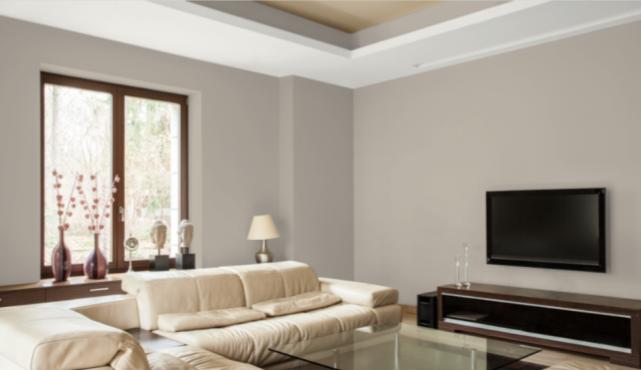 Anew Gray is a medium-to-dark greige with earthy tones that bring to mind clay and stone. It's a popular color, featuring in four collections and earning a spot in the top 50 colors list. Anew Gray has a LRV of 47.
Anew Gray Draws Out a Warm Palette
Anew Gray leans towards its beige side, and works well with warm companions like the furniture and decor in this cozy living room.
Light French Gray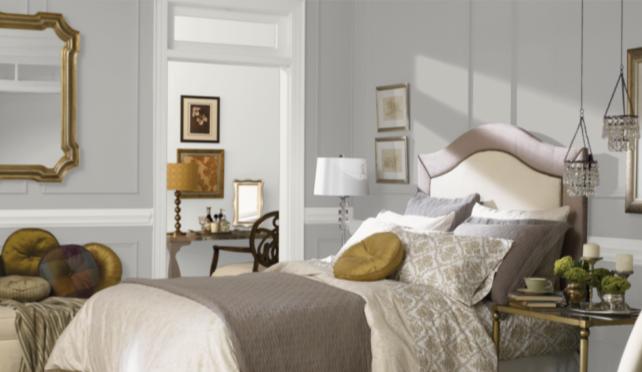 Light French Gray is an elegant color that is equally at home with rustic or refined decor styles. This medium toned gray is a cool color, but has more purple rather than blue in its undertones, so it's not too cold. An extremely popular color, Light French Gray is a part of at least six different collections and is additionally a Top 50 color. Its LRV is 53.
Light French Gray Charms Rustic Decor
Light French Gray picks up the beauty in natural elements, like this stone hearth, making it a perfect companion for rustic decor styles.
Dorian Gray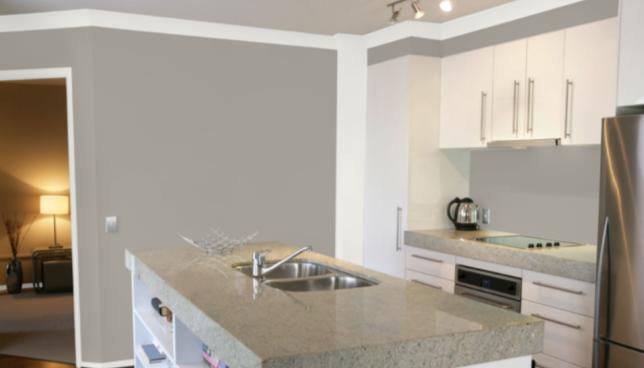 Dorian Gray is a medium-to-dark gray that leans warm, and comes off with chocolatey brown tones. As a darker color, with a LRV of 39, it's great for contrasts and accents. Dorian Gray is a part of several collections and has earned a spot on the top 50 colors list.
Dorian Gray Makes Kitchens Cozy
Dorian Gray warms up rooms and sets off light cabinets so they're glowing and creamy. 
Comfort Gray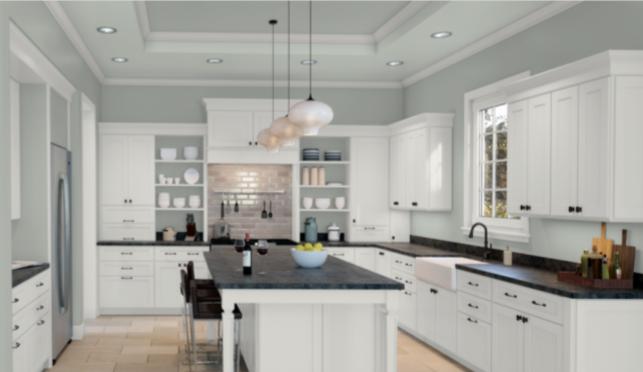 Comfort Gray is Cool for Coastal Decor
Comfort Gray's green tint looks like a sea breeze, and makes it perfect for coastal and beach-inspired styles.
Final Words
Gray is a fantastic neutral that you really can't go wrong with. It's a calming color for any space that can serve as a main color, or step back to complement your favorites.
All of the colors on this list are worthy of consideration for your next home refresh, and are sure to bring results that will impress. They're the tried-and-true favorites of homeowners, designers, and realtors alike. But here's the most important question for your project: which gray is your favorite?