Decorated Life is reader-supported. When you buy through links on our site, we may earn an affiliate commission. Learn More
18 Best Sherwin Williams Greige Paint Colors
It's here, it's there, it's everywhere: it's greige! This is the color people just can't seem to get enough of.
What in the world is greige? Take some gray, take some beige, slap them together, and boom: greige! Why would you do that? Because when you do, you get the best of both worlds: a color that's balanced between its warm and cool sides, with the ability to coordinate with virtually any other color.
With all that greige love, there are some favorites you just shouldn't miss. I've rounded up the most popular and useful greiges from Sherwin Williams that are ready to jump into your next project. Dive in and find your new favorite!
Accessible Beige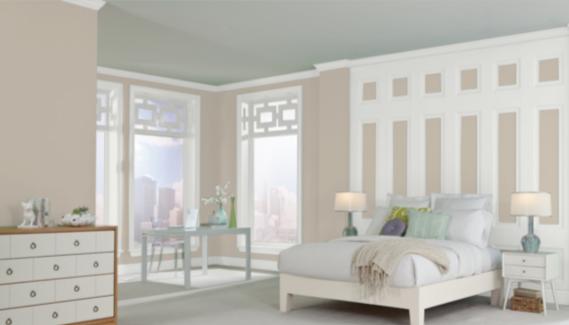 Accessible Beige is a mid-tone greige that strongly favors its beige side. It's one of the top-recommended colors for staging and selling a home.
You can use it as a canvas for any other colors or styles that make your heart sing. Accessible Beige has a LRV of 58.
Accessible Beige is a Great Wall Color
Mindful Gray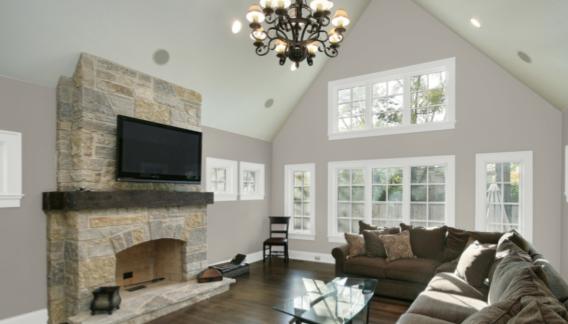 Mindful Gray is a medium-to-dark toned warm greige with a LRV of 48. It leans towards its beige side, giving it a great earthy quality. As a darker color, Mindful Gray is well-suited for cabinets and trim.
Mindful Gray is a Grounding, Earthy Color
Agreeable Gray
What makes Agreeable Gray so agreeable? It's a color that's just right. It's not too warm, but it's not too cold. It's got a decorator's ideal LRV of 60, so it's right under any light. It's an evenly balanced greige color that's right in the middle of everything.
Agreeable Gray Balances a Room
Anew Gray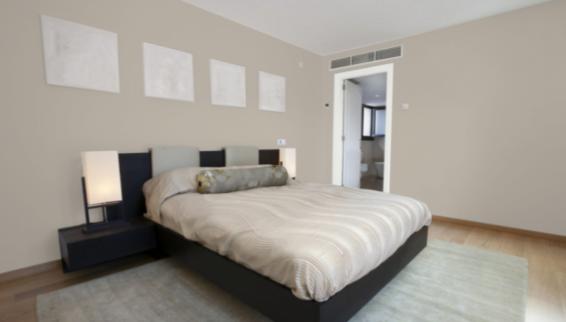 Anew Gray is a medium-to-dark greige with a taupe appearance and purple undertones. This is a strong-bodied greige with enough depth to withstand rooms that get lots of natural light. It's darker than the average greige, with a LRV of 47.
Anew Gray is the Best for Brightly Lit Rooms
Repose Gray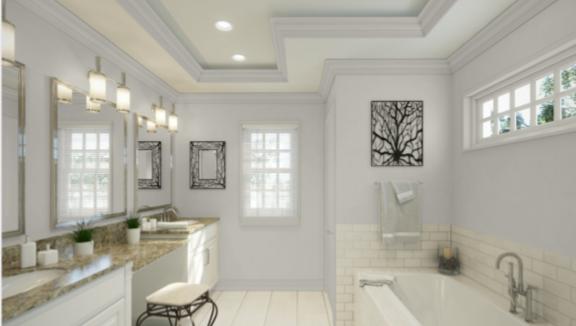 Repose Gray is a medium-to-light greige that's pretty well-balanced. This color looks stunning with blues, which play up the beige side it ever-so-slightly favors. Repose Gray has a LRV of 58.
Repose Gray is a Great Partner for Blues
On the Rocks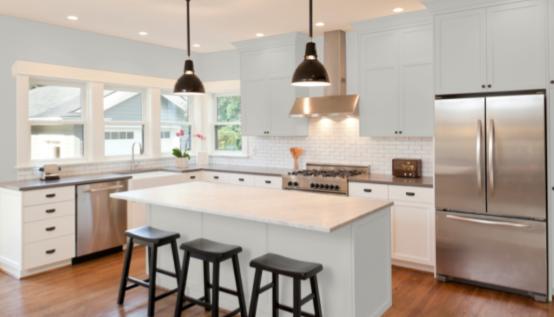 On the Rocks is a pastel gray, but a well-balanced one. It's that balance that admits it into this greige list even though it looks a lot cooler than most greiges. On the Rocks is a nice light color in that decorator's ideal range, with a LRV of 62.
On the Rocks Coordinates Well with Light Woods
Perfect Greige
Perfect Greige is a medium-to-dark greige that definitely leans warm and beige. It's another one that's darker than the average greige, with a LRV of 42, making it a good choice for things like accents, trim, and even exteriors. But balance it with enough light or lighter colors, and you can still readily use it as a wall color.
Perfect Greige is Beautiful with Cream Colors
Mega Greige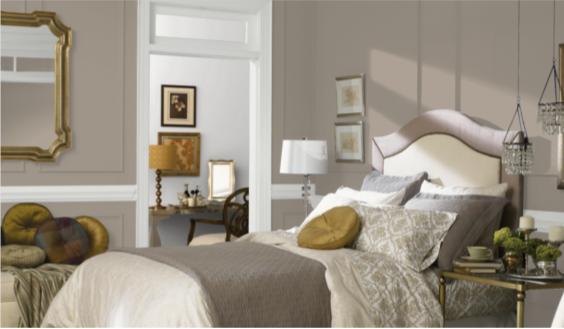 Mega Greige is a dark brown greige that has enough body for strong lighting situations, like exteriors. It can have a somewhat chameleon-like quality depending on your lighting, as seen on the exterior photos below. Mega Greige has a LRV of 37.
Mega Greige is a Handsome Choice on Exteriors
Amazing Gray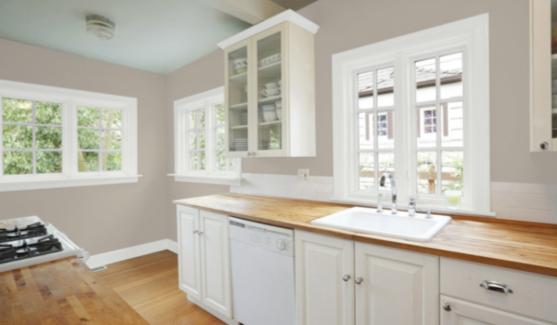 Amazing Gray is a real go-to color thanks to its flexibility. It's balanced between its warm and cool elements and looks really sharp with whites and creams, as well as darker trim colors. Amazing Gray has a LRV of 47.
Amazing Gray Looks Natural with Tile
Alpaca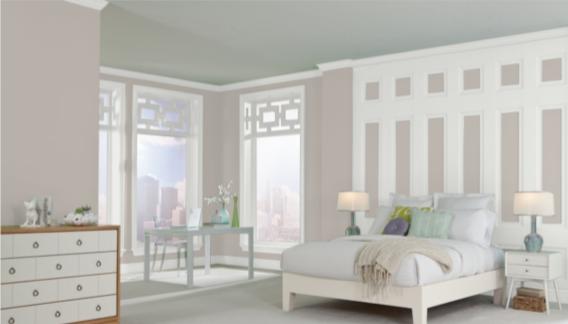 Alpaca is a light-to-medium greige that leans warm. In low light it appears more gray, and in general this color has a bit of a reputation for hopping around between gray, greige, and taupe categories. Its LRV is 57.
Alpaca is a Great Fit for Industrial Style
Passive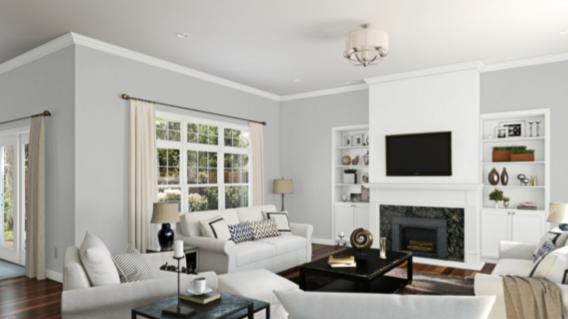 Passive is a light, cool gray with blue undertones. Its LRV of 60 hits that decorator's ideal range that's prepared to tackle all sorts of lighting conditions. Those gray tones can pick up the colors in natural materials like wood and stone.
Passive Complements Rustic Woods
City Loft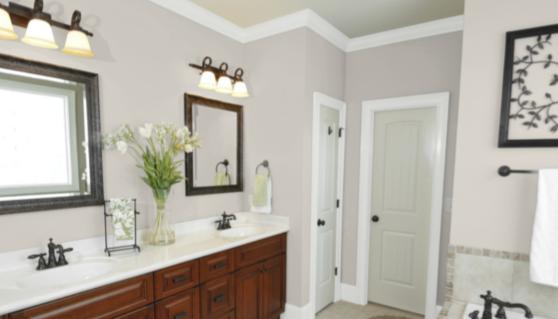 City Loft is a light, warm greige that's easy to incorporate into many different color palettes and decor styles. This color will offer an unobtrusive backdrop for a room while making it brighter and cozier. City Loft has a LRV of 70.
City Loft Lets Your Decor Take Center Stage
Useful Gray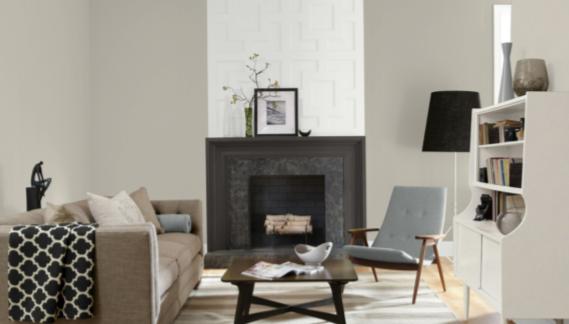 Useful Gray is a nature-inspired greige with green undertones that are uplifting and refreshing. It looks great with decor from nature like flowers or beachcombing finds. Its LRV is 59.
Useful Gray Loves Pairing with Flowers
Gauntlet Gray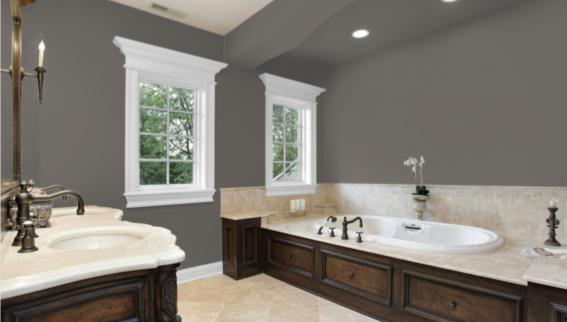 Gauntlet Gray is a deep chocolate-brown greige that makes a strong statement in a room–something you might not realize you can do with this color family! It's a great color for accents, focal walls, cabinets, and doors. Gauntlet Gray has a LRV of 17.
Gauntlet Gray Makes a Statement
Worldly Gray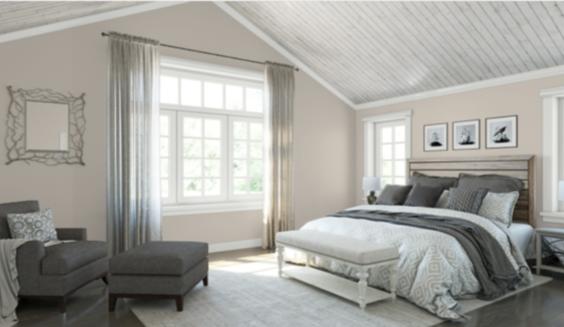 Worldly Gray is a warm greige that's at its best in well-lit rooms. The warm tones in its makeup are a great complement to rich toned woods and colors warmer than itself. Worldly Gray is a mid-range color, with a LRV of 57.
Worldly Gray is Great with Warm Colors
Dovetail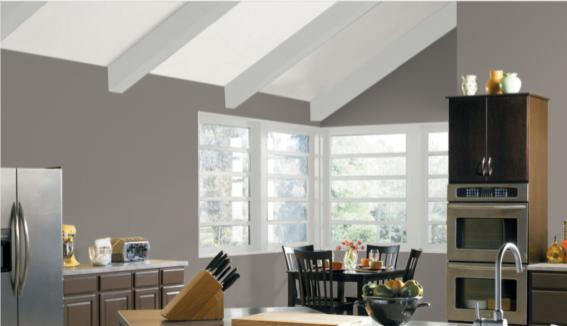 Dovetail is a dark greige that leans towards its warm and earthy beige side. It has a chocolate brown appearance, and occasionally flashes purple undertones. This is a great choice for trim, board and batten, and cabinets. Dovetail has a LRV of 26.
Dovetail is Great for Focal Walls
Requisite Gray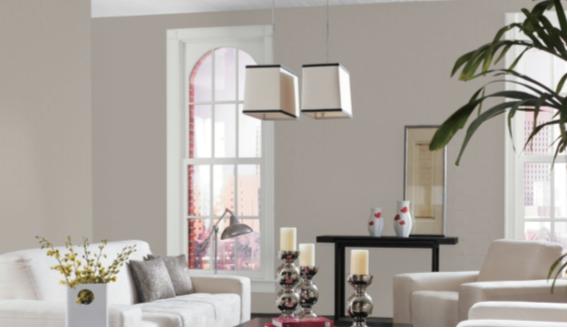 Requisite Gray is a warm, medium-toned greige that leans into its beige. It can serve as the anchor a color palette is built around, and it's a full-bodied greige that makes for a good exterior color. Requisite Gray sometimes flashes purple undertones. Its LRV is 45.
Requisite Gray is Great for Kitchen Walls
Modern Gray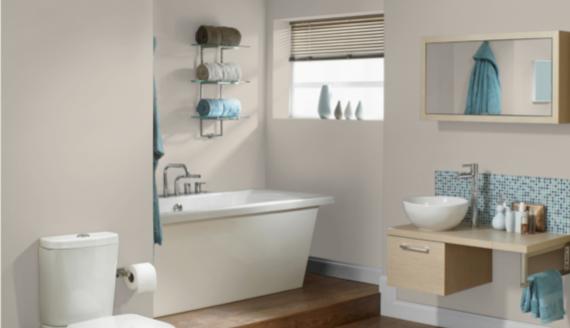 Modern Gray has a misleading name, because this greige color doesn't look very gray at all! This is a medium-to-light greige with everyone's favorite LRV: 62. It has more of a tan tone than some of the chocolatey greige colors we've looked at. Modern Gray makes a lovely contrast color for greens.
Modern Gray Coordinates Beautifully with Greens
Wait, So What is LRV?
LRV stands for Light Reflectance Value. It's a way of measuring how light or dark a color is. The scale runs from absolute black, which is 0, to sheer white, which is 100. The LRV numbers are provided in this article so that you can easily compare the colors on the list to each other.
Final Thoughts
All of the greiges on this list are winners, and they're super-easy to coordinate with the color palette of your choosing. Many greiges are chameleons, so don't forget to sample a large enough area to see what these colors do under your unique lighting conditions. Pick one or two colors that speak to you, and you'll be well on your way to your next home refresh. Enjoy!