Decorated Life is reader-supported. When you buy through links on our site, we may earn an affiliate commission. Learn More
Clary Sage by Sherwin Williams
Clary Sage brings together two things that everyone loves right now: relaxing and bringing nature into our homes. This succulent colored green brings the best of chilling out and connecting to the earth into one smooth shade.
But even if you're not a nature lover, Clary Sage has more than modern day popularity. Decorators from eras-gone-by loved their greens, and Clary Sage can be just the right touch of vintage authenticity for a mid-century or Victorian styled home.
This intriguing blend of modern and vintage, trendy and timeless, makes Clary Sage a color worth a second look.
What Color is Clary Sage?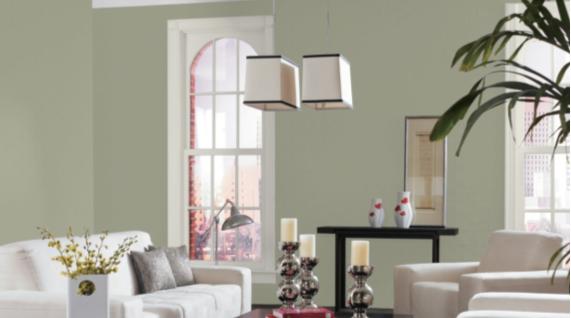 Clary Sage is a yellow-toned sage green, shaded with a light silvery gray. This silver shading is what really makes it look like the sage plants it is named for–that soft silvery fuzz they have on their leaves. It makes this color herbal and refreshing, and gives it a subdued feeling that's characteristic of natural shades.
LRV of 41
Clary Sage has a light reflectance value, or LRV, of 41. Light reflectance value is a scale designed to measure how bright a color is, and ranges from absolute black at 0 to sheer white at 100. The lower the number, the darker the color.
Clary Sage is a medium-to-dark shade of green.
What Undertones Does Clary Sage Have?
Clary Sage's most notable undertones are silver-gray. It also has yellow undertones, but these don't really show up that often–they're more a base component of Clary Sage's green, telling you what family of green it belongs to before the gray is added.
Is Clary Sage a Warm Color or a Cool Color?
Clary Sage is basically a cool color, thanks to its heavy dose of gray. However, its yellow-green base would ordinarily be a warm green. This pushes the color as a whole into a more neutral range than your average green.
Where Can You Use Clary Sage?
Clary Sage is a medium-to-dark cool color, so if you put it on every wall, it can make rooms feel darker, smaller, and colder.
To counter this effect, you have several options. Clary Sage shines as an accent color, for areas such as board and batten, accent walls, and cabinets.
You can balance Clary Sage with large areas of lighter colors, such as white, cream, or light woods. So if you had Clary Sage walls, you might use light ceilings and floors, or lots of light furnishings and decor to break up the areas of Clary Sage.
Clary Sage's strengths are its depth, natural tones, and relaxing vibes. These are excellent for rooms where you want to chill out, like a bedroom, or to refresh yourself, like a bathroom.
This color is deep enough to withstand the bright sunlight of exteriors, or the most well-lit rooms of your home.
Let's all take a breather with Clary Sage, and see how it brings its unique modern and classic spin to home spaces.
Front Door
Clary Sage is a subtle but appealing front door color.
Exterior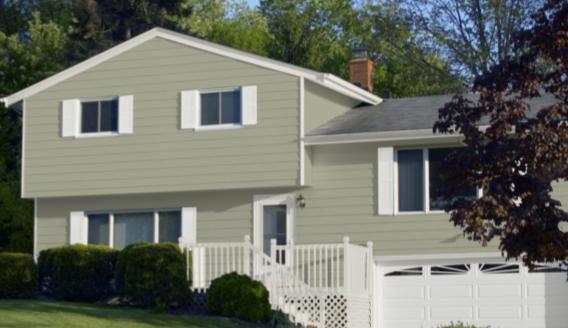 Clary Sage's depth makes it as well-suited to exteriors as it is to interiors.
Living Room
Clary Sage brings traditional style to this 1920s bungalow.
Clary Sage balanced with neutral creams feels cool and refreshing.
Kitchen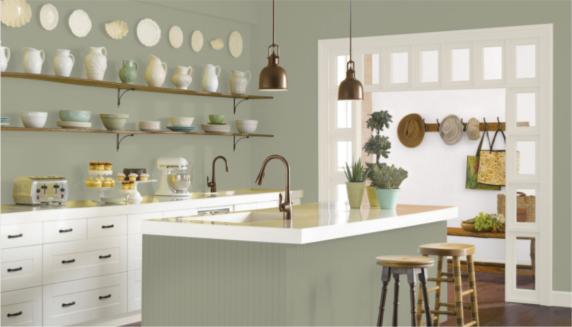 Clary Sage and Dover White partner up in this retro kitchen.
Dining Room
The Victorians loved their greens, so Clary Sage is a fitting backdrop for antiques and antique-styled decor.
Bedroom
Clary Sage balances with custom window treatments and and soft accents in the furniture to create a soothing oasis in this bedroom.
This guest bedroom brings retro elegance with a Clary Sage accent wall.
Nursery
Clary Sage board and batten is a modern and sophisticated color choice for a gender neutral nursery.
Bathroom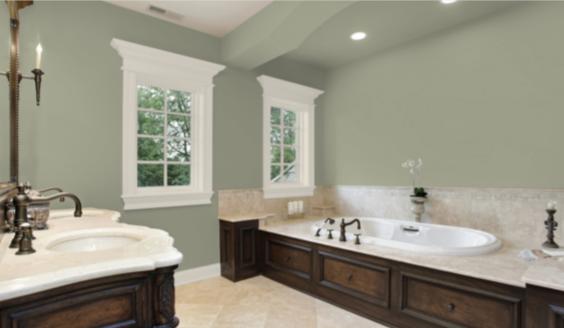 Natural woods look elegant next to Clary Sage walls in this stately bathroom.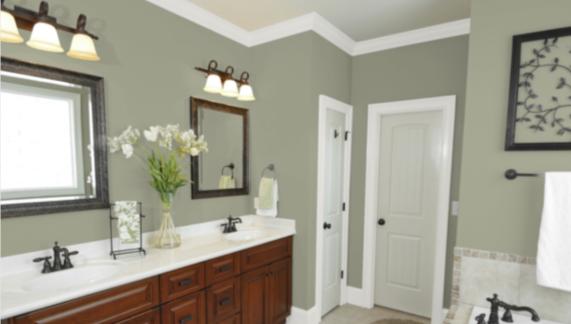 Clary Sage's refreshing and soothing tones make it a natural choice for a bathroom wall color.
Stairway
This stunning traditional staircase is showed off to advantage against Clary Sage walls.
Mudroom
This sweet and charming mudroom found the perfect match between Clary Sage and a botanical wallpaper.
Coordinating Colors for Clary Sage
I have to start things off by mentioning the gorgeous combination that is sage green and cream. These are two colors that were simply made for each other.
Clary Sage and cream bring all-natural vibes that are well suited to many of today's popular decor styles, such as farmhouse, modern farmhouse, cottage, and country.
This is also the perfect pairing for anyone who loves plants or cooking, with the rich, warm feeling of the cream and the herbal freshness of the sage.
You can build on that botanical vibe and pair Clary Sage with colors you would see on flowers in nature, as if Clary Sage were the stem and leaves. A light blue or violet would be pretty choices.
A pairing that might surprise you is Clary Sage and black, but these two can be really interesting together. Just keep in mind the overall dark/light balance of the room. Consider Clary Sage and black together with a white or cream.
Lighter shades of green make a lovely contrast with Clary Sage. Consider pairing it with its paint card neighbor, the light and airy Liveable Green.
Here are some coordinating color ideas for Clary Sage to help inspire you:
How Does Clary Sage Compare With Other Colors?
Clary Sage vs Softened Green by Sherwin Williams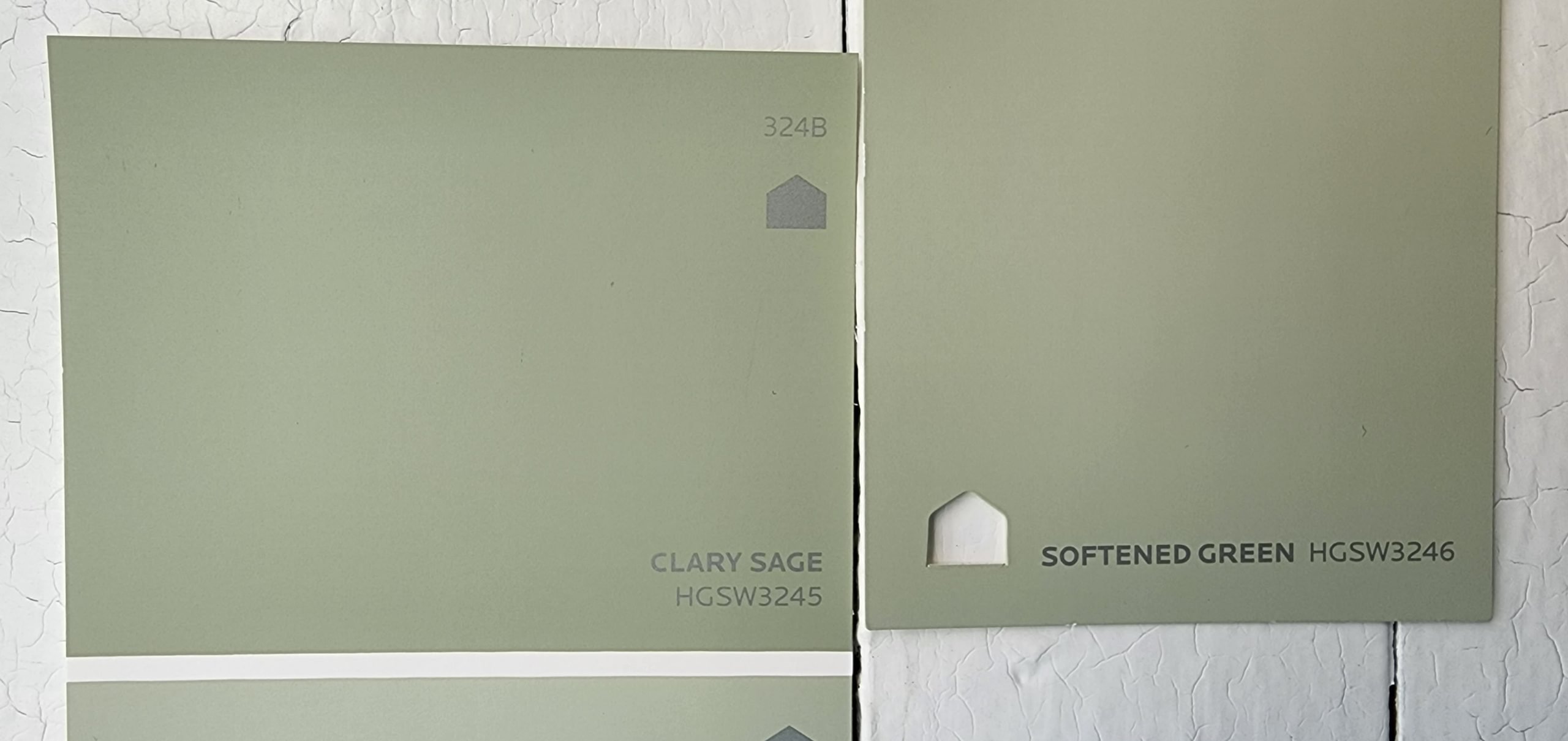 Clary Sage and Softened Green are neighbors on the same paint chip, so the colors are very similar. The biggest difference you'll notice is that Clary Sage is just a little darker. Softened Green has a LRV of 49.
Clary Sage vs Svelte Sage by Sherwin Williams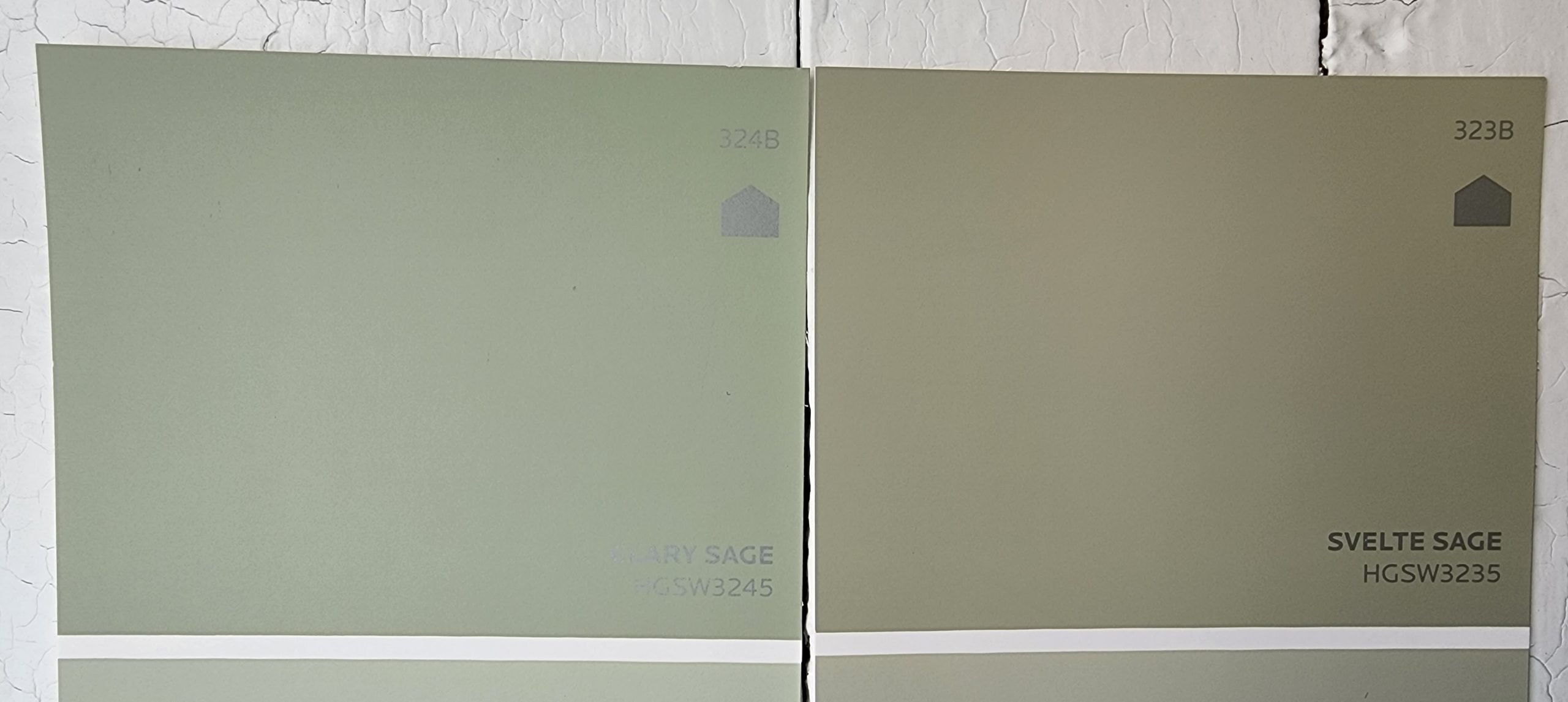 Svelte Sage is a warmer green than Clary Sage, with some definite brown undertones. Both greens still have gray undertones as well. They're identically bright, and both colors have a LRV of 41.
Clary Sage vs Liveable Green by Sherwin Williams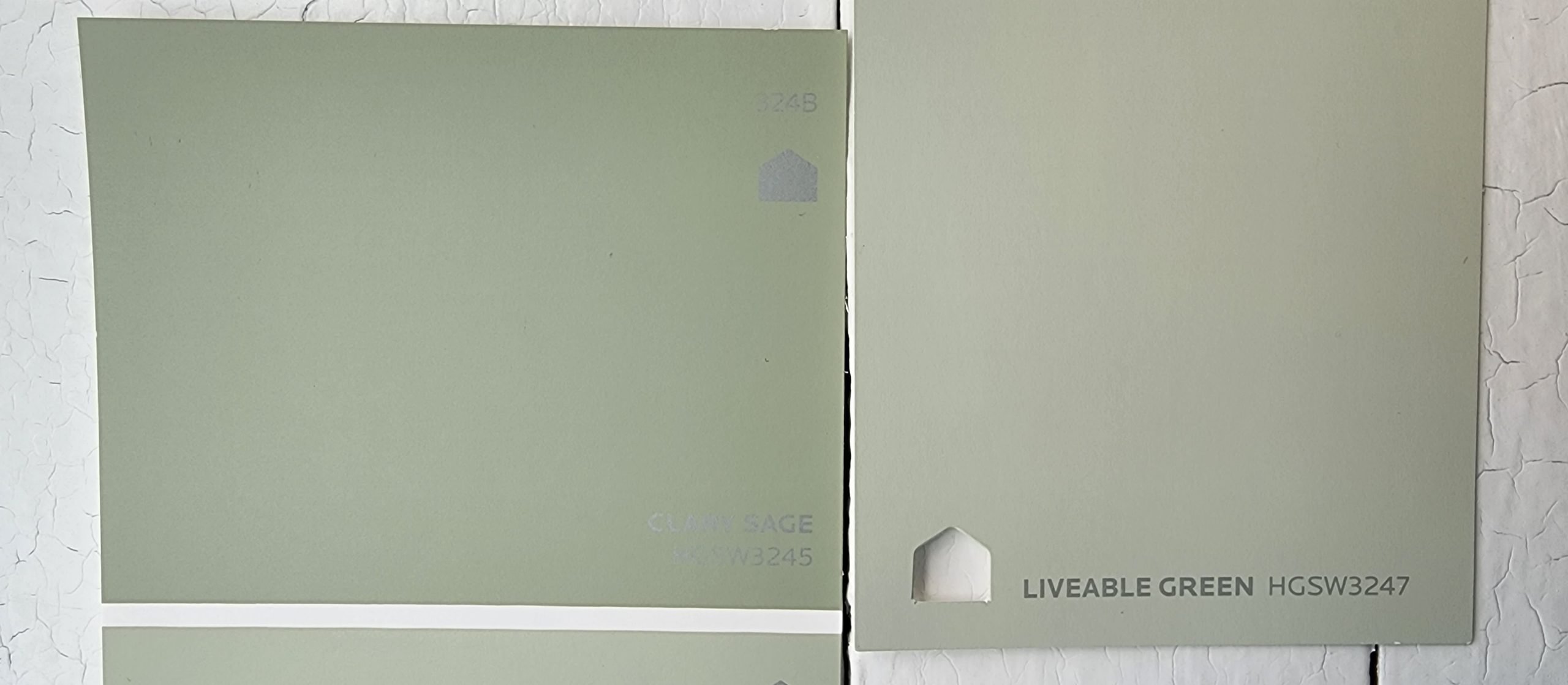 Liveable Green is another color on the same card as Clary Sage, so these colors are closely related. But Liveable Green is a much lighter color than Clary Sage, with a LRV of 61 to Clary Sage's 41. You could definitely use these two as coordinating colors with each other.
Final Thoughts
Clary Sage: cool and comfortable, timeless and trendy. This color has so much to offer. Its warm undertone is something to keep in mind, but that healthy dose of gray helps neutralize this color and makes it easier to coordinate. Modern and vintage styles can take equal advantage of this interesting shade of green. Will Clary Sage be growing in your home garden?