Sage Green Bedroom Ideas for a Tranquil Space
Earthy hues and warm neutral tones were among the trending color choices in 2022, but let's be honest: sage green has a special place in our decor-loving hearts. This evergreen color has an anchoring presence that calms like no other. Aside from being on-trend, it is a versatile color that works well with a wide range of styles and designs.
There's so much you can do with this color once you commit to it, from minimalist modern to boho chic to cozy rustic designs. This color especially blends right into a place of rest, such as the bedroom, where you need soothing hues to set the mood.
With that in mind, are you at all tempted to introduce this cool color palette into your bedroom? If you are, we have some creative ways in which you can optimize this gorgeous color into your space!
Lush Paradise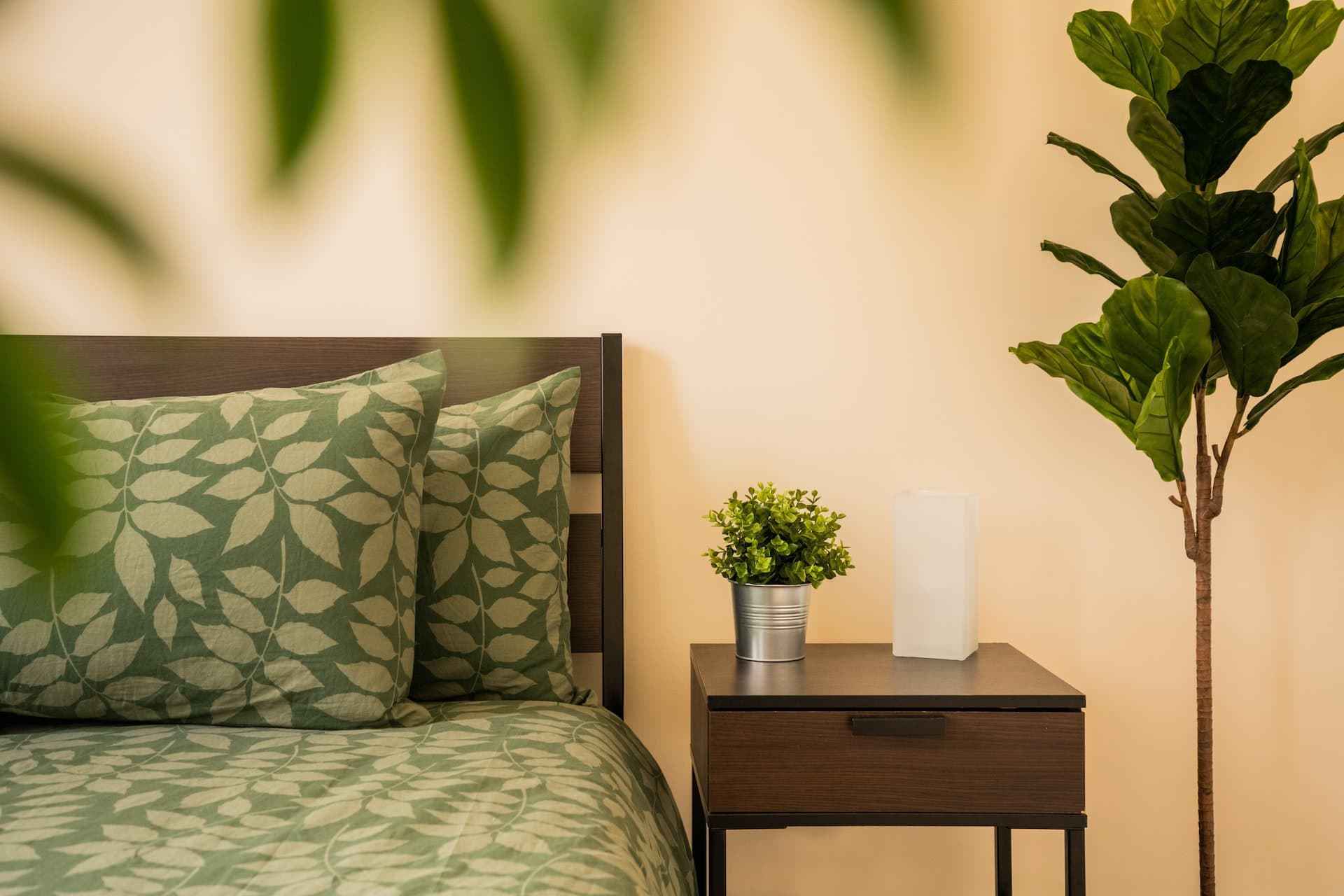 The beauty of sage green is that its harmonious tones connect you to nature. So what better way to leverage its soothing properties than to add some more greenery into the mix?
Bring nature into your bedroom with a few indoor plants like gardenias, snake plants, or Monstera deliciosa. You could also go a more artistic route and add delicate vines or climbers instead.
If you don't want to have live plants in your bedroom, you can replace them with low-maintenance succulents. Display these on a cute shelf on your sage green backdrop wall or on your windowsill.
Another way to incorporate nature into your sage green decor is to add a couple of nature-themed art prints. For added charm, add framed botanical art prints or create your own botanical art from found leaves!
Add candles for coziness to ensure that the lush greenery does not overpower your room's vibe. To transform your bedroom into a natural haven, place votive candles or ornamental candelabras in a safe space and light them after sundown.
Timeless White-and-Sage Green
If you're not used to its vibrant hues, sage green can be a little overwhelming. However, with the right colors and accents, you can balance its striking tones to create a comfortable and aesthetic atmosphere.
Introduce timeless white tones into your bedroom for a safe bet. Sage and white is an evergreen color combination that always looks good, and the best part is that it's simple to pair! Change your linens and pillows to varying shades of white, with small accents of sage green thrown in for good measure.
You can also include texture in the mix. Using crocheted white or embroidered covers for one of your throw pillows, for example, adds character to otherwise boring white bedding.
In the rest of your bedroom, you can alternate between white and sage hues in such a way that they complement each other without competing. For example, white-painted windows and a stained sage green side table create a good sense of visual balance.
Rustic Cottage Vibe
Sage green bedrooms offer the perfect backdrop for setting up a rustic decor yet manage to stand their own. Adding elements like distressed wood, cozy and ornate lamps, multiple throw pillows, and a cozy rug to the space is a nice way to blend a farmhouse style into your bedroom.
You may also want to consider a nice little vintage dresser or a rattan ceiling lamp to create an unpretentious yet elegantly cozy vibe in your room. You can also consider adding stained-white wooden pieces for an antique look.
Splash of Color
While the sage green color looks great on its own, some of us prefer pops of color in our homes to make them feel more welcoming. If you think that simply having sage green in your bedroom is too staid for you, you can change it up by incorporating colorful accents.
This eclectic style allows you to inject small doses of vibrant colors into a space that is predominantly sage-green. You could, for example, add a brightly colored table lamp or liven up the space with bold art prints or framed originals. For added drama, hang a single large framed painting with bold, Pollockian colors on your plain sage green wall. Throw pillows in pastel colors are another option (think canary yellow, navy blue, or light gray hues).
If you have a large bedroom, you can add some pizzazz by placing a coral-colored armchair in the corner. The shades of sage green and coral complement each other beautifully, making this a winning color accent choice.
Consider adding toasty-red terracotta tiles that complement sage green's similarly earthy hues if you want something more substantial than just small accents.
A Spot of Bohemia
Boho-style designs have an effortless charm that enhance the visual appeal of sage green. They also look more casually put together, which is ideal for people who prefer this style to a more austere and sophisticated one.
To get this style right, include several bohemian-inspired elements into your bedroom space, such as quirky macrame hangings, cane ceiling lamps, rattan ottomans, and a smattering of planters.
Balance these textural elements with a gorgeous sage green bedspread with tassels, and a matching sage green duvet in a darker or lighter tone. Choose linen sheets to give your room a breezy, laid-back vibe. To complete the look, add a mismatched collection of calming and abstract artworks in sage green aesthetics.
Pinstriped Modernity
If you're toying with the idea of sage green walls but want them to look more modern, why not add in a patterned element? Pinstriped sage green and white walls are an excellent way to achieve a crisp, contemporary look. This goes especially well in larger bedrooms.
Vertical shiplap walls in alternating sage green tones are a good option for striking a good balance between rustic and modern. To balance out the vertical stripes, keep the rest of the bedroom more or less minimalist in design. Otherwise, the room will appear too busy.
Sage Green and Grey Combo
Sage green and gray are a match made in new-age decor heaven. Both of these colors are neutral yet creative, and muted yet sophisticated.They provide the ideal backdrop for you to experiment with other aspects of your room's design.
You don't have to use both colors in equal amounts. To achieve a well-rounded look, reserve different parts of your space for both colors. For example, you could paint the walls behind your bed a soft gray color. The bedspread could be a lovely minty sage green color. Consider putting a gray-flecked white rug on the floor to add some variation.
Another way to combine these colors is to paint your walls a lovely sage green and frame the windows with white curtains. Adorn the floor with a large patterned gray rug and add a mix of gray and geometric sage green pillows to the bed. For a subtle modern look, hang a matte gray pendant light from the ceiling.
Delicate Sage Green Wallpaper
Sage green wallpaper designs create a zen-inspired atmosphere in your bedroom. They're also a great way to introduce this color into your space in a more artistic way, especially if you're not completely sold on the concept.
You can make the wallpaper as simple or as quirky as you want. For a calming effect, choose delicate floral prints or leafy, botanical prints. A wallpaper print of Van Gogh's famous Almond Blossoms painting, which was originally painted in sage green hues, is another cool idea.
Because you're going with printed wallpaper, it's important to keep the rest of the room simple.
Consider contrasts such as soft white or beige bed sheets and clean furniture lines to allow the sage green wallpaper to shine through. For added character, place a standing lamp against the wallpapered backdrop.
Sage Green Accents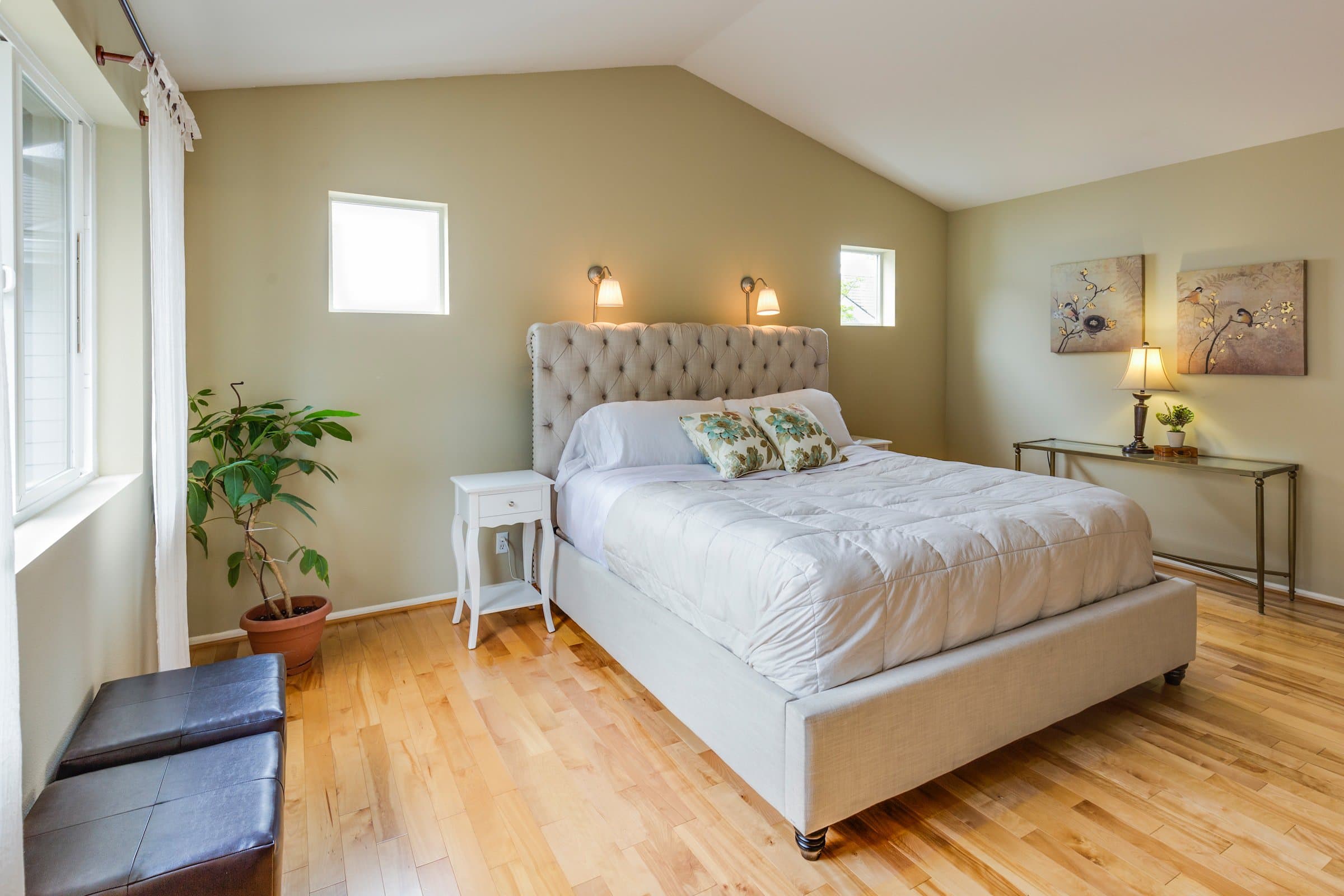 While sage green is a soothing color, using it in every corner of your home may make it appear cluttered and overly gaudy. Learn to use this color more mindfully if you want a harmonious space where you can relax. Using sage green accents in smaller doses rather than incorporating the color in voluminous proportions is the best way to achieve this.
Consider sage-green wainscoting as an accent wall. This will add a sophisticated touch to your room without being overpowering. Alternatively, you can begin with a sage-green tufted headboard, a pretty floral sage green bed sheet, or as simple as a sage green duvet cover with white accent walls.
As you feel more at ease in the space, you can add more tonal sage green variations to the mix.
Minimalist Dream
Sage green bedrooms do not have to be heavily ornamented to look good. Their neutral tones provide the ideal backdrop for minimalist designs too. A simple sage green wall can help you achieve this clean, minimalist look.
To set the tone, hang an unframed round mirror or a minimalist abstract painting on the wall. Keep the rest of the room in contrasting elements of white for an uncluttered look.
Tropical Touches
How can we not use sage green for the stunning tropical beauty that it is? With contrasting rich pink and coral hues, you can create postcard-perfect tropical vibes in your bedroom.
You can make your room feel light and breezy with just some sage-green botanical wallpaper or palm-print walls. Alternatively, cover your bed in a leafy green print and pair it with flamingo pink pillows. To add some oomph, consider a pink ottoman, a pink-and-minty green rug, or a large sage-green pendant lamp.
Sage Green With a Side of Moodiness
Because white works well with sage green, darker shades are not out of the question. Dark gray and matte black shades, for example, can give your bedroom a moody, noir-style vibe.
Place a wrought-iron bed frame against moody sage green walls, or hang classy dark gray filament lights over the bed to achieve this look. Sage green walls can also be combined with black furniture, such as a four-poster bed or a dark gray-stained chest of drawers.
Final Thoughts
There's no stopping you from achieving the desired look for your bedroom with a color as versatile as sage green. Depending on your preferences, you can keep this color simple or dramatic.
Don't be afraid to experiment, but be careful not to overdo it, as the color can become overwhelming if used liberally. You can also combine two or more of the ideas above to create an eclectic look. Sage green's soothing hues are here to stay, so embrace it fully for a relaxing space everyone will love!