Decorated Life is reader-supported. When you buy through links on our site, we may earn an affiliate commission. Learn More
10 Creative Staircase Lighting Ideas
Staircases are an important part of many homes. Since staircases are an area that you will pass by numerous times each day, they shouldn't be forgotten about when it comes to the interior design of your home.
Lighting your staircase can have many benefits. As well as helping to highlight the area, staircase lighting will help to make your staircase safer, allowing people to clearly see each step, and avoid any trips or falls.
We've gathered ten of our favorite staircase lighting ideas, to help you find your perfect stairway lighting.
Light Every Other Step With an LED Step Light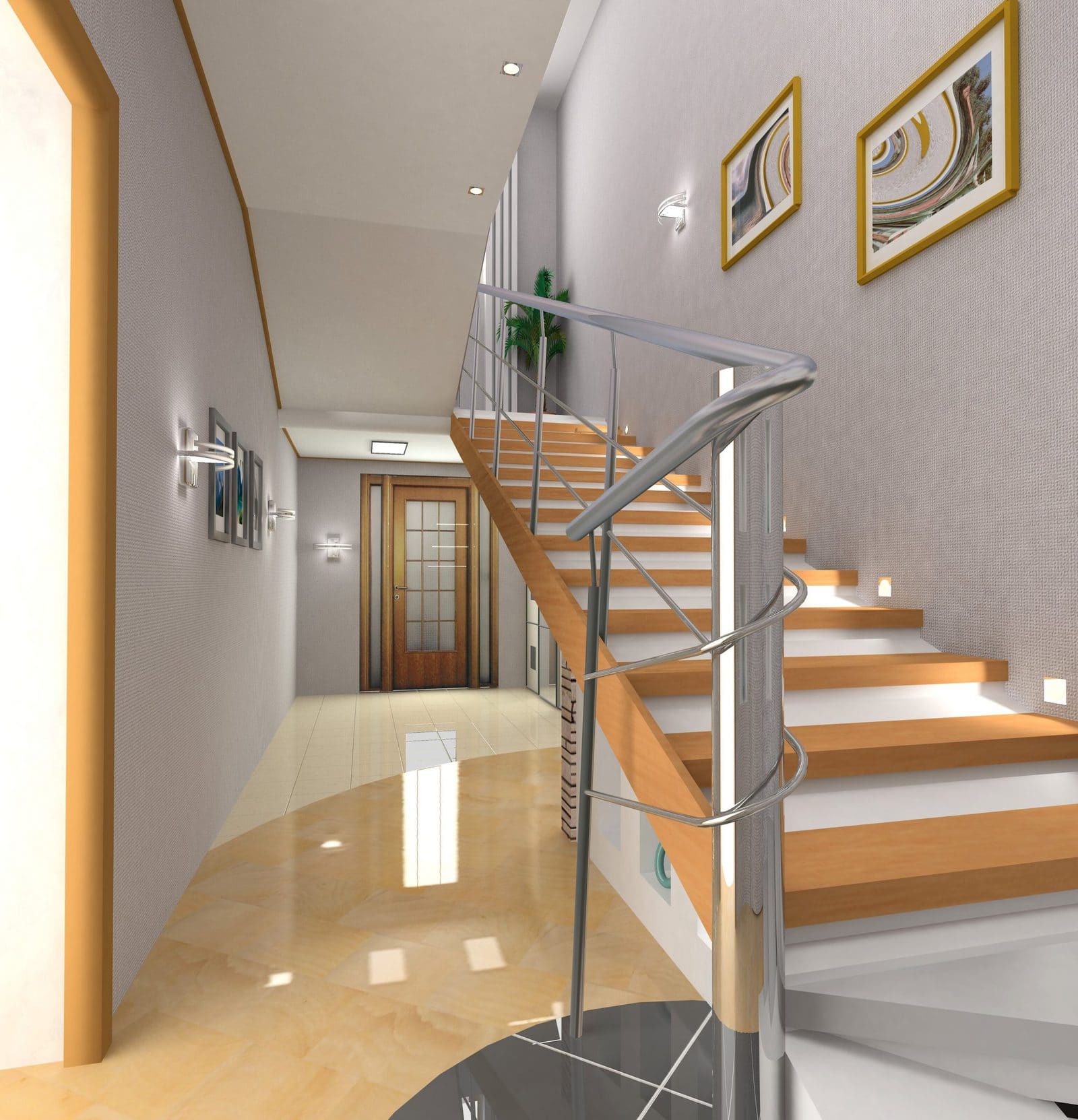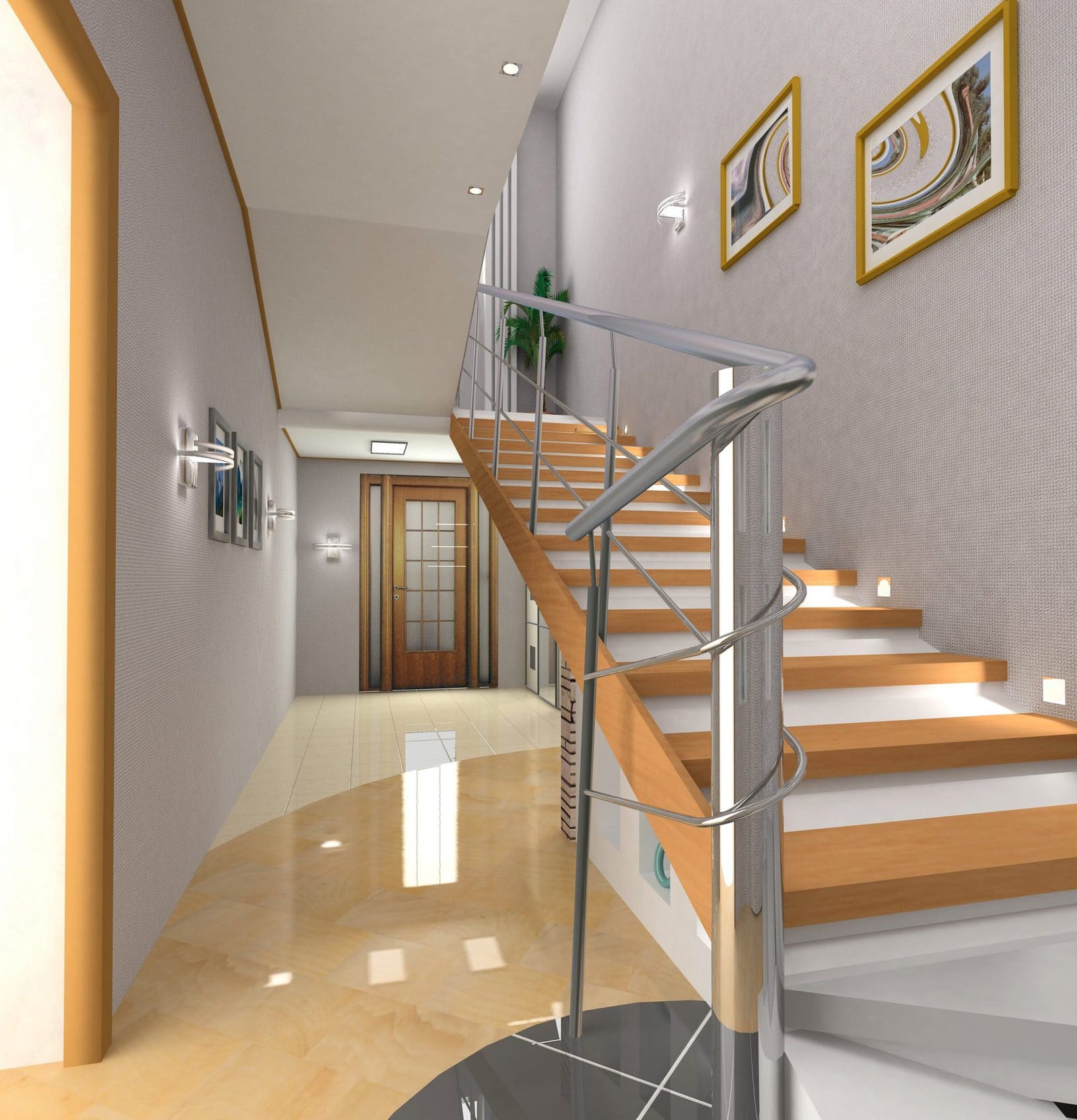 If you're looking for interior stairway lighting ideas that will blend into the wall, these white stair light fixtures are a great option. They come with a faceplate on the front that disperses the light and directs it downwards to illuminate your stairs in a subtle way.
When planning to add lights for staircases you should think about your particular needs, but lighting every other step is a great way to get the effect of illuminated stairs on a budget. They require some installation which you may need to hire someone for, but once they've been properly fitted they're supposed to last 50,000 hours so you can install them and forget about them for years!
Minimalist Rectangular Stair Lights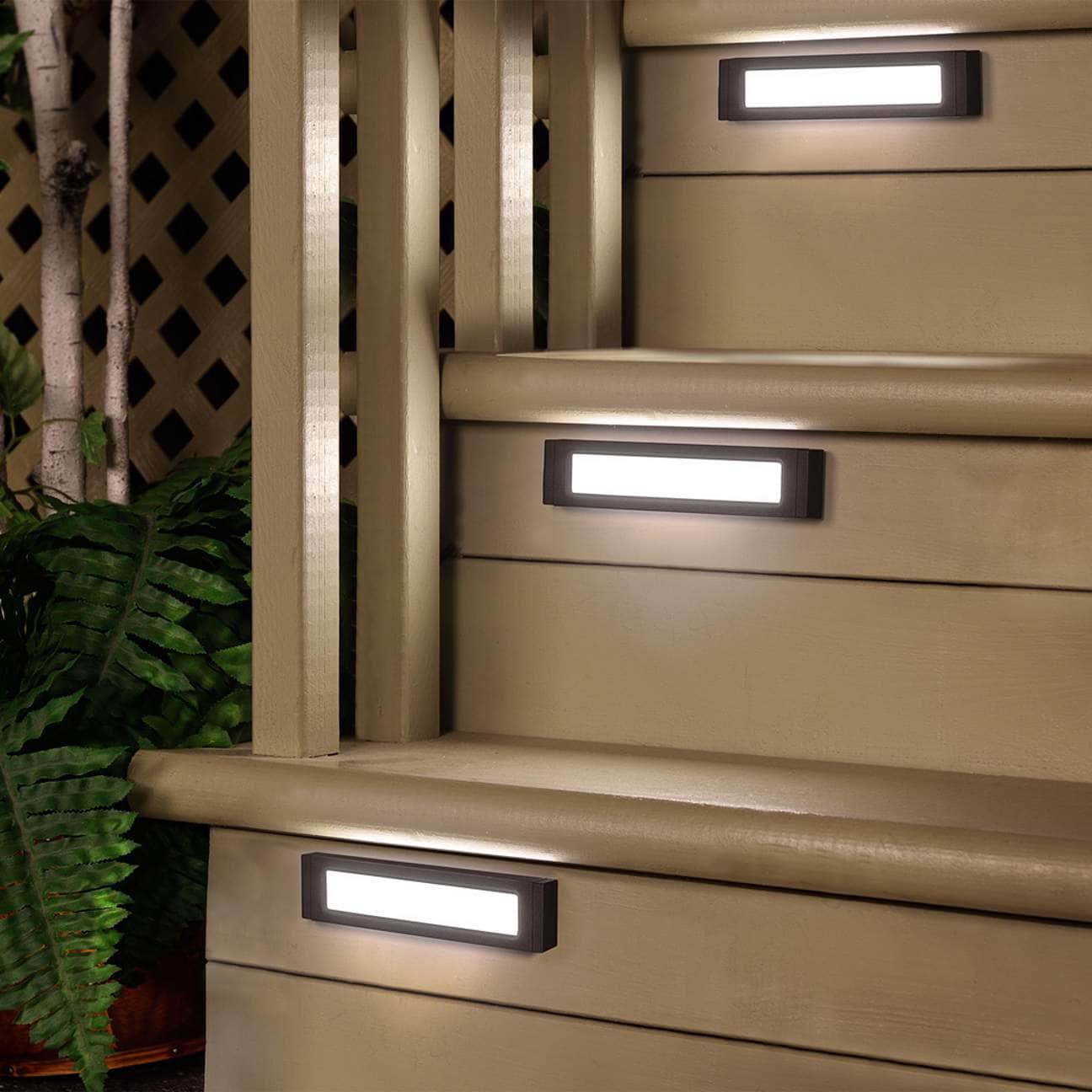 If you're looking for staircase lighting ideas that are a little more modern, these minimalist rectangle stair lights are the perfect solution. They're a little more visible than installing the white light fixtures in the wall but they would be the perfect fit if your home is more contemporary.
This staircase lighting option is is slightly easier to install because you don't need to cut holes in the wall and it's more of a feature so it can help to create more of a cohesive look if the rest of the room is also modern.
Install LED Stair Lights on The Walls Above Each Step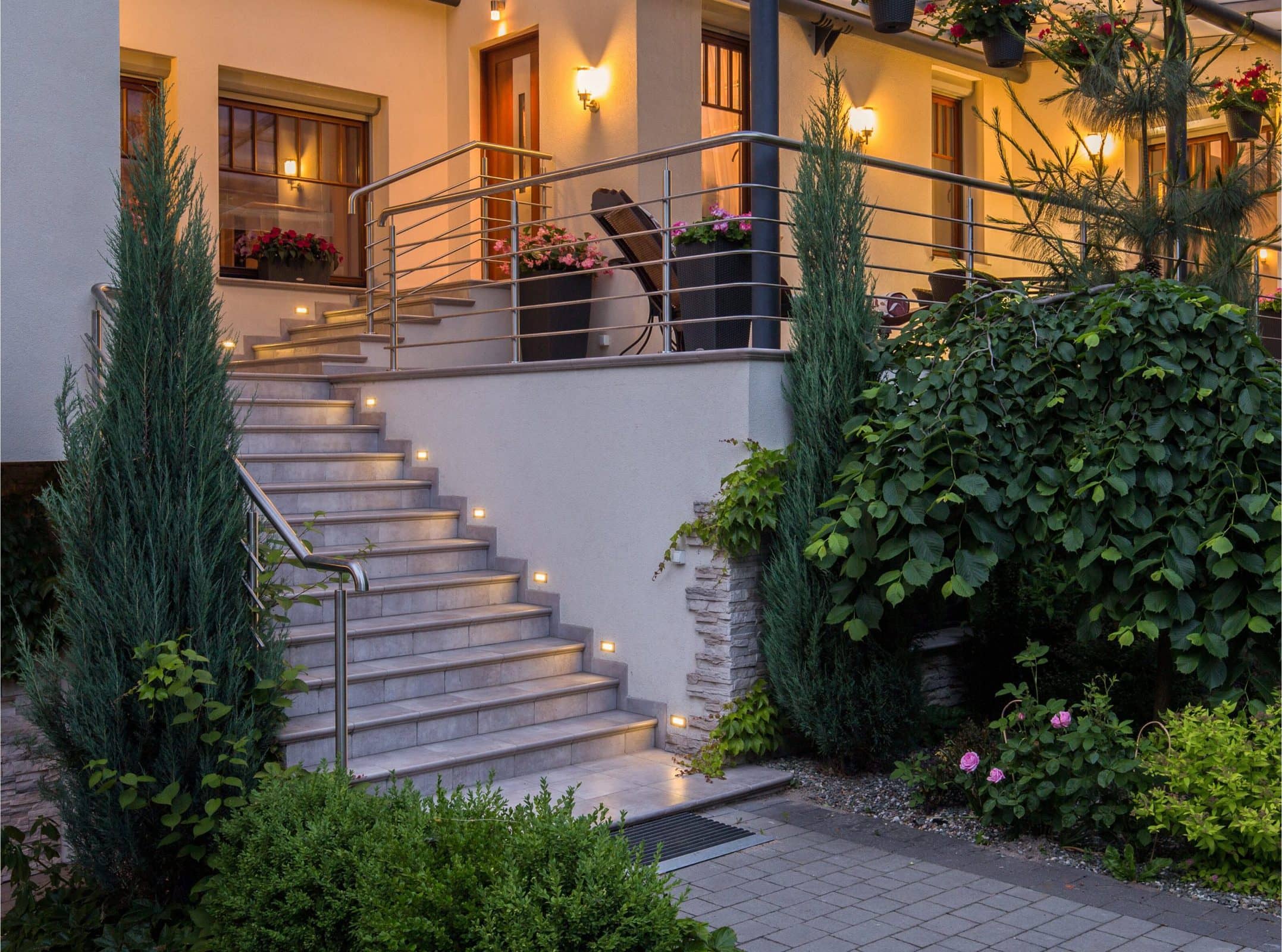 Lights for stairs aren't only limited to your interior hallways. Creating the perfect garden has become more important than ever with spending so much time at home, and you shouldn't be limited to only enjoying your garden when it's light.
These outdoor stair light fixtures are perfect to subtly create a path from your patio area back into the house, or as the perfect entryway into your front porch area. These lights are sensor-activated so are better for the environment and won't annoy your neighbors!
Change Things Up With Multicolored LED Step Lights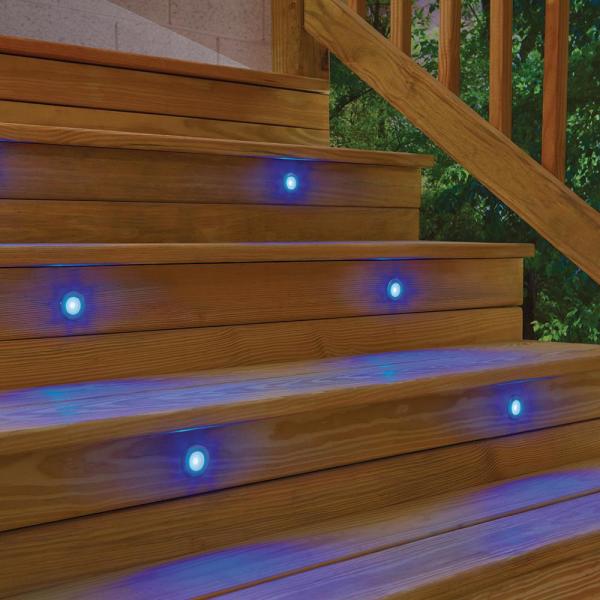 So many stairway lighting options are plain white, but if your style isn't minimalist then why not use this as an opportunity to add some personality into your hallway or patio area? If you're a lover of color then these multicolor stair lights are exactly what you need.
These lights allow you to choose between seven different colors depending on your mood, so you can change the colors to suit the time of day, or match them to your decor and change the mood without having to install new lights when you feel like something different.
Half Moon LED Stair Lights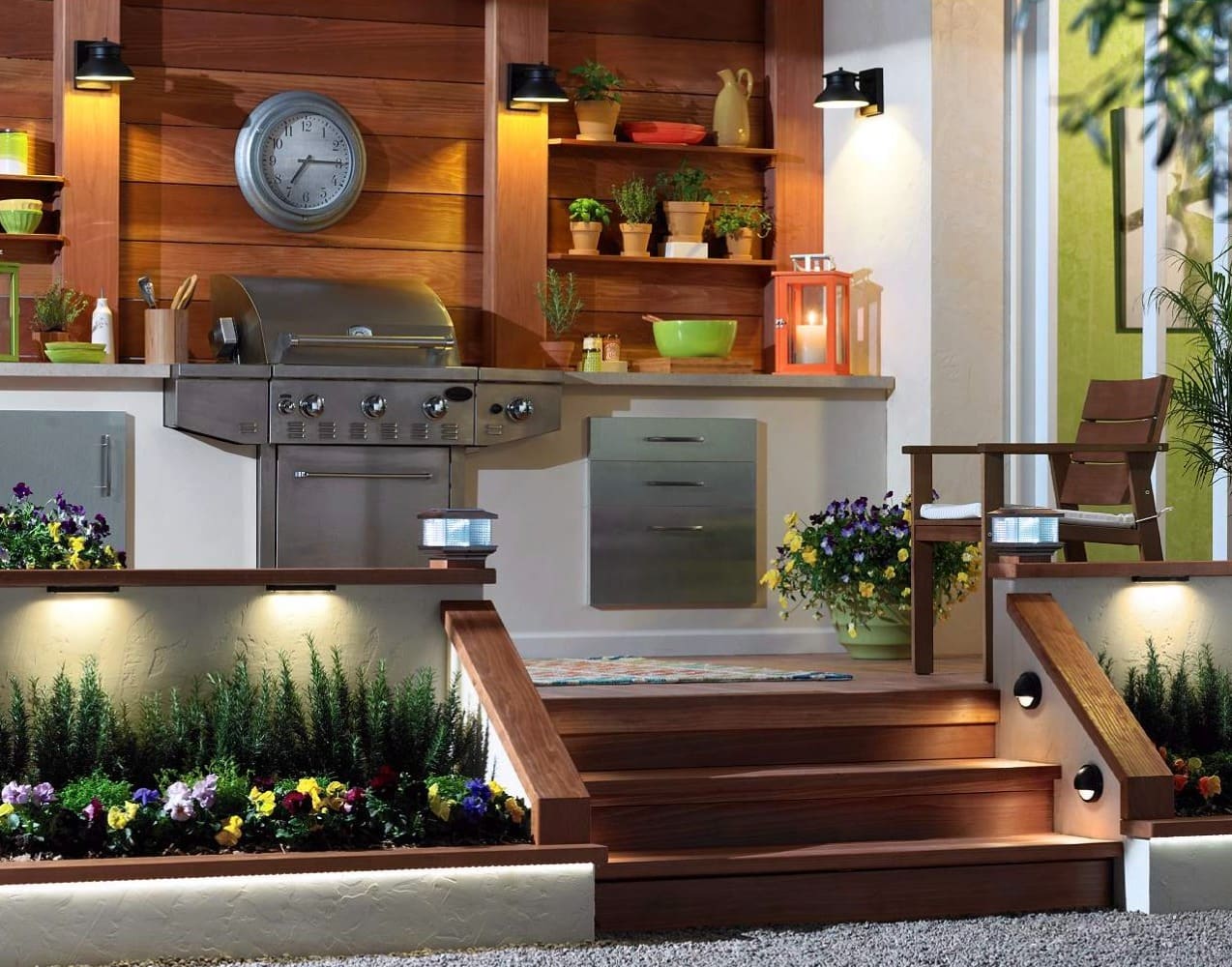 Half moon lights are the ultimate staple when looking at outdoor lights for stairs. You'll see them on just about every Pinterest board, garden furniture advert, and probably in a lot of friends' gardens too, and there's a good reason for that!
These half-moon stairway lights are a timeless classic and will look great with so many different styles which makes them a great choice if you're someone who likes to change your decor style more frequently.
Warm Bronze Stair Lights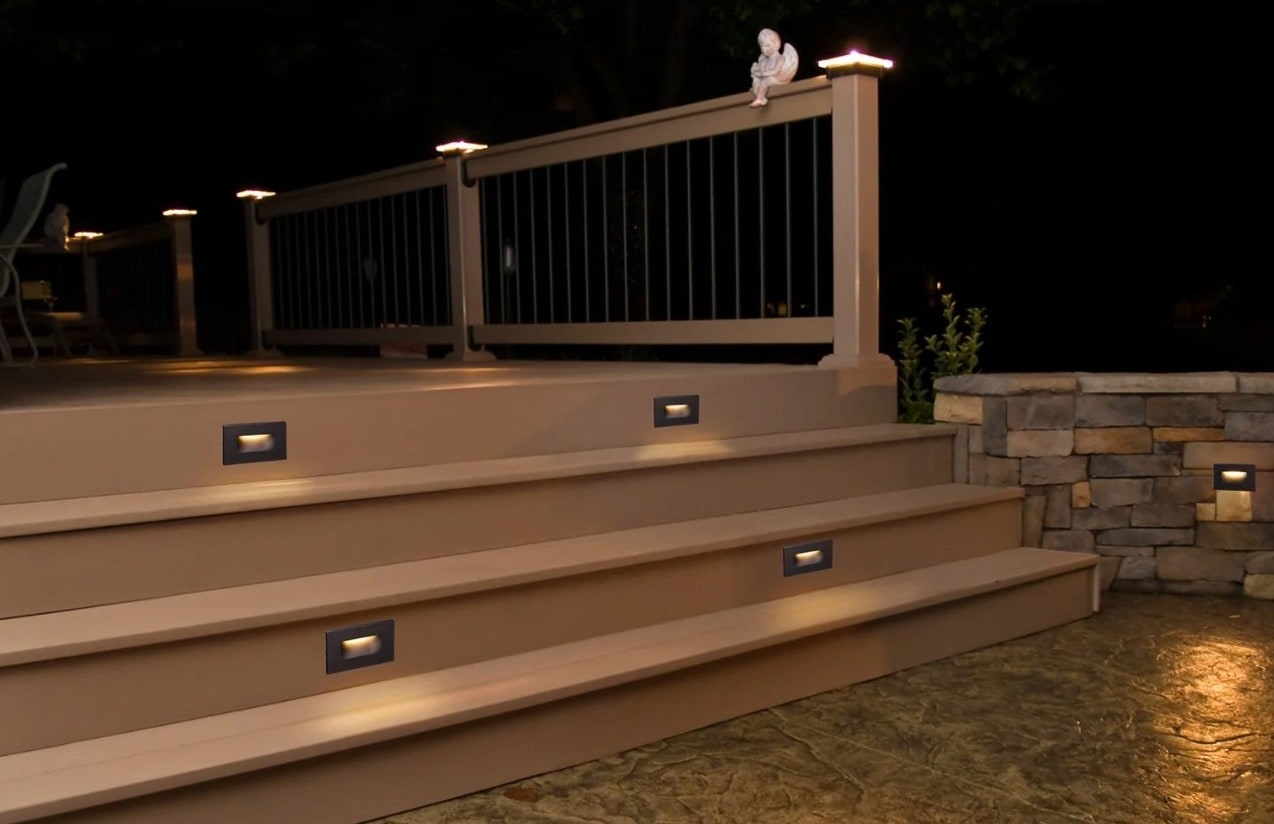 If you're looking for a stairway lighting option that ticks the box of modern opulence, these warm bronze stair lights are exactly what you need. These lights can be added to any staircase, inside or out, to add a little luxury to your space.
The bronze finish of the lights would look great in a dark wood staircase, or into painted black or white stairs. They would also very much suit a nautical-themed hallway, so you can be sure that if you decide to change your decor these lights will still be a great fit.
Color Changing Art Deco Stair Lights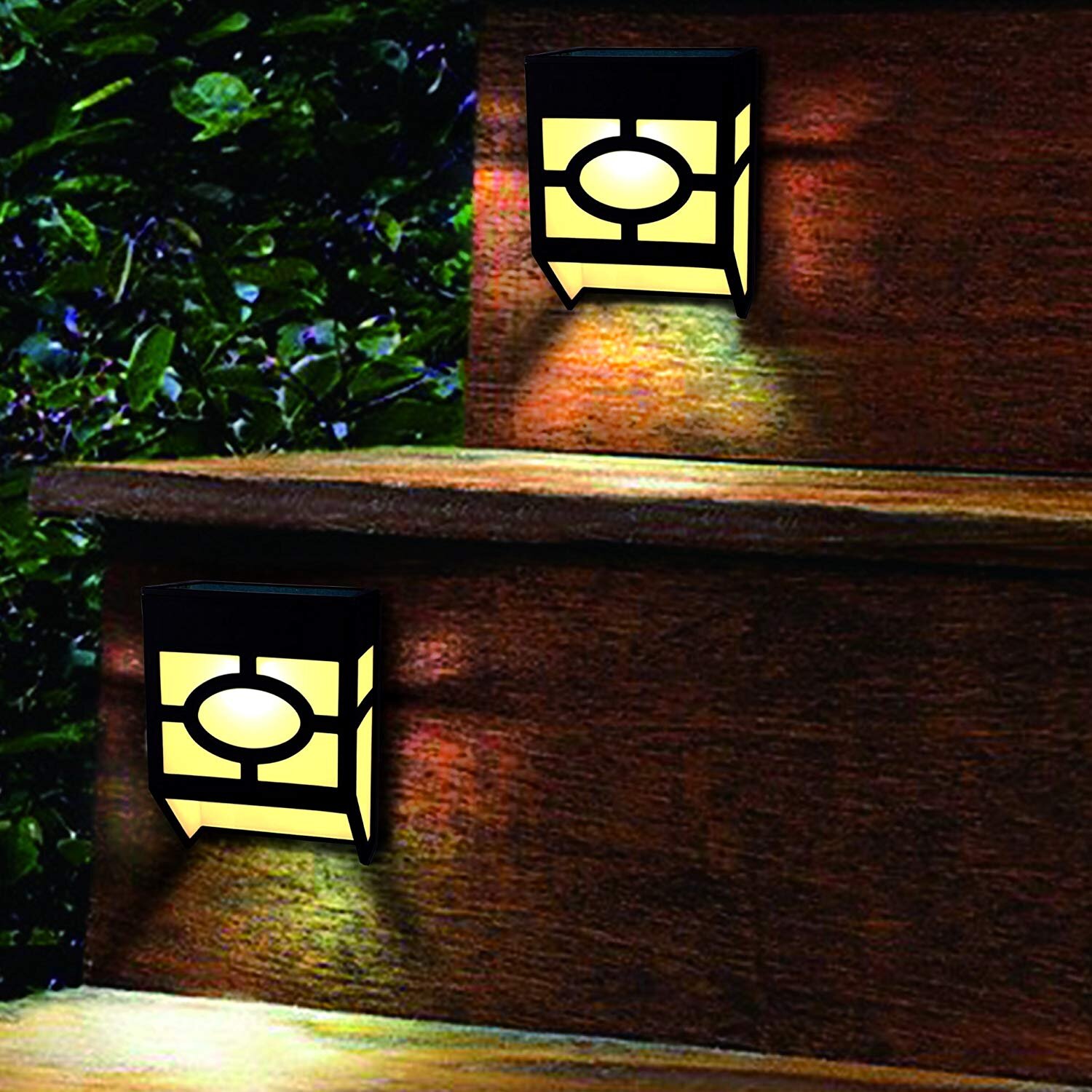 When looking for staircase lighting, it can be easy to feel like all of the options are the same. If you're looking for something really unique then these art deco lights for staircases are a brilliant option and would fit in perfectly with any vintage-themed garden.
They're incredibly easy to install, they're rated for outdoor use and they are solar-powered so you don't have to worry about needing to install any wiring in order to get power.
Simple White Step Lights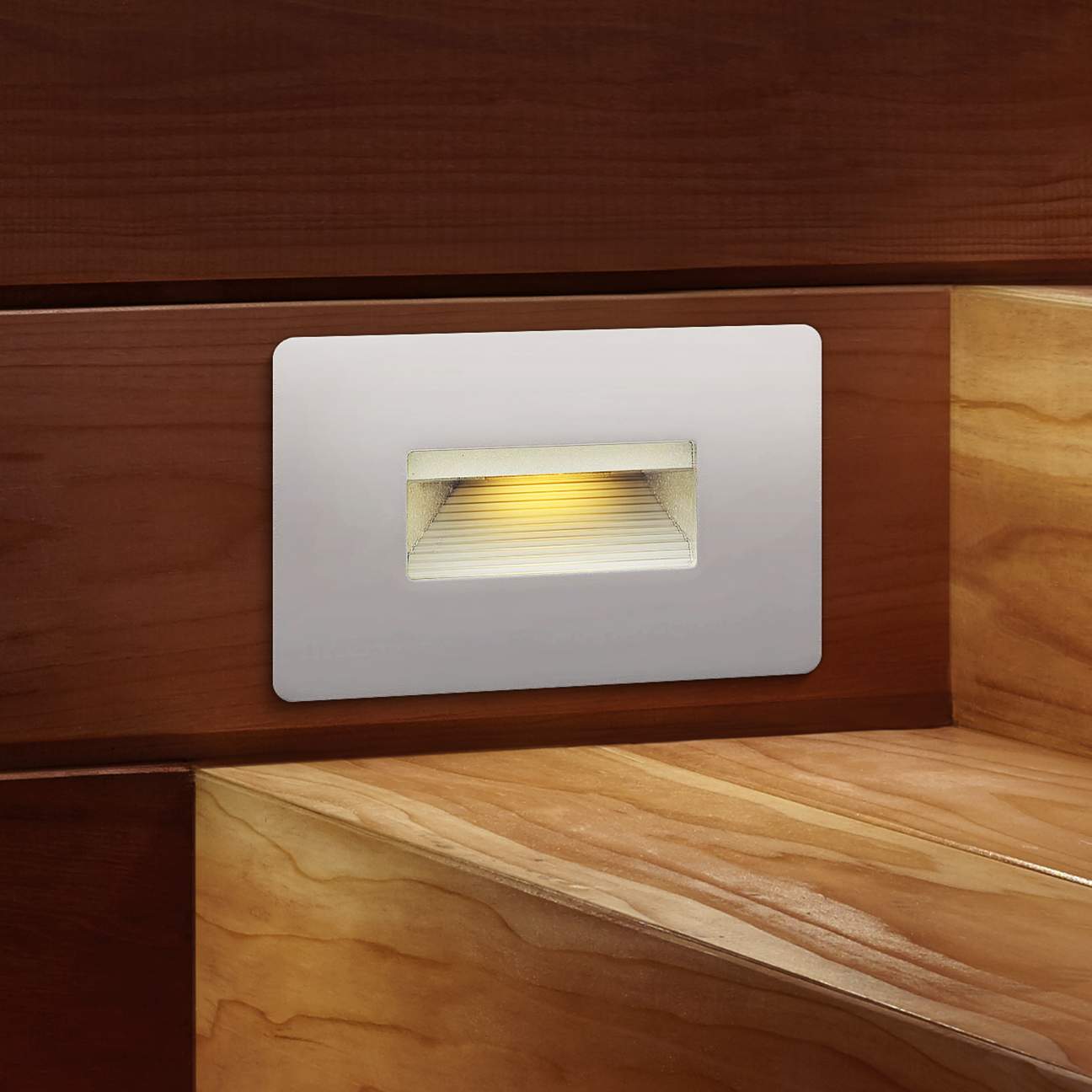 While there are some really unique designs to be found when you're looking for staircase lighting ideas, it can be just as challenging to find something that's really simple and adds to the overall look of the hallway, rather than drawing attention specifically to the lights on your staircase.
These simple white step lamps are a great option if you're looking for something to blend in. Adding one of these lights on every other step can create a really sleek design that would fit perfectly in any modern home.
Illuminate Underneath Your Steps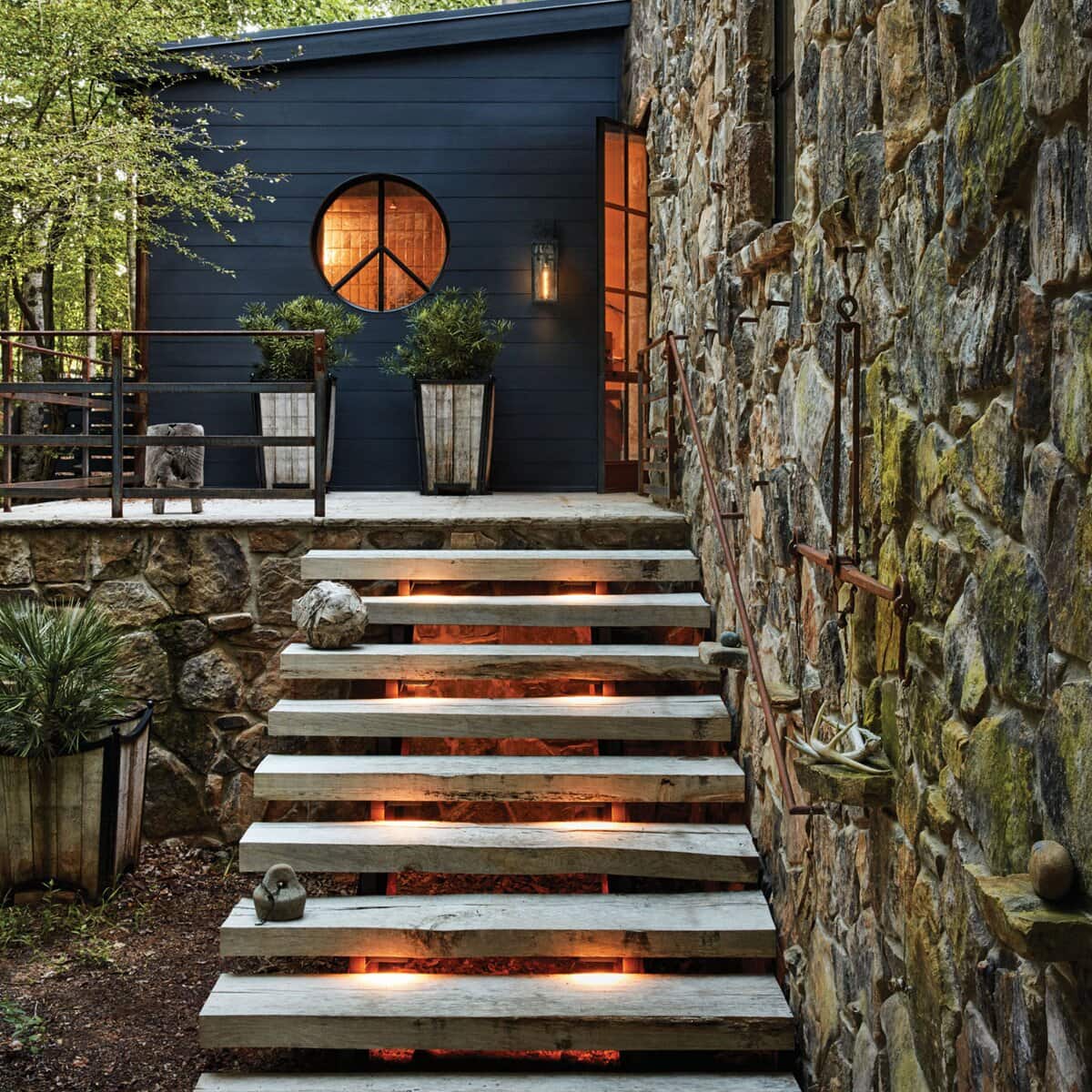 When looking for staircase lighting ideas, almost all of the options that come up first are the traditional style that stick into the wall and illuminate your stairs from the side. If you have an open or clear staircase, why not make the most of this and create a really unique design feature that will have all of your guests talking!
Lighting your staircase from underneath will make space feel bigger and give it a magical glow. This is easily something that would fit in well with either contemporary or more traditional home decor and can easily be adapted if you decide to change your style.
Contemporary Outdoor Step Lights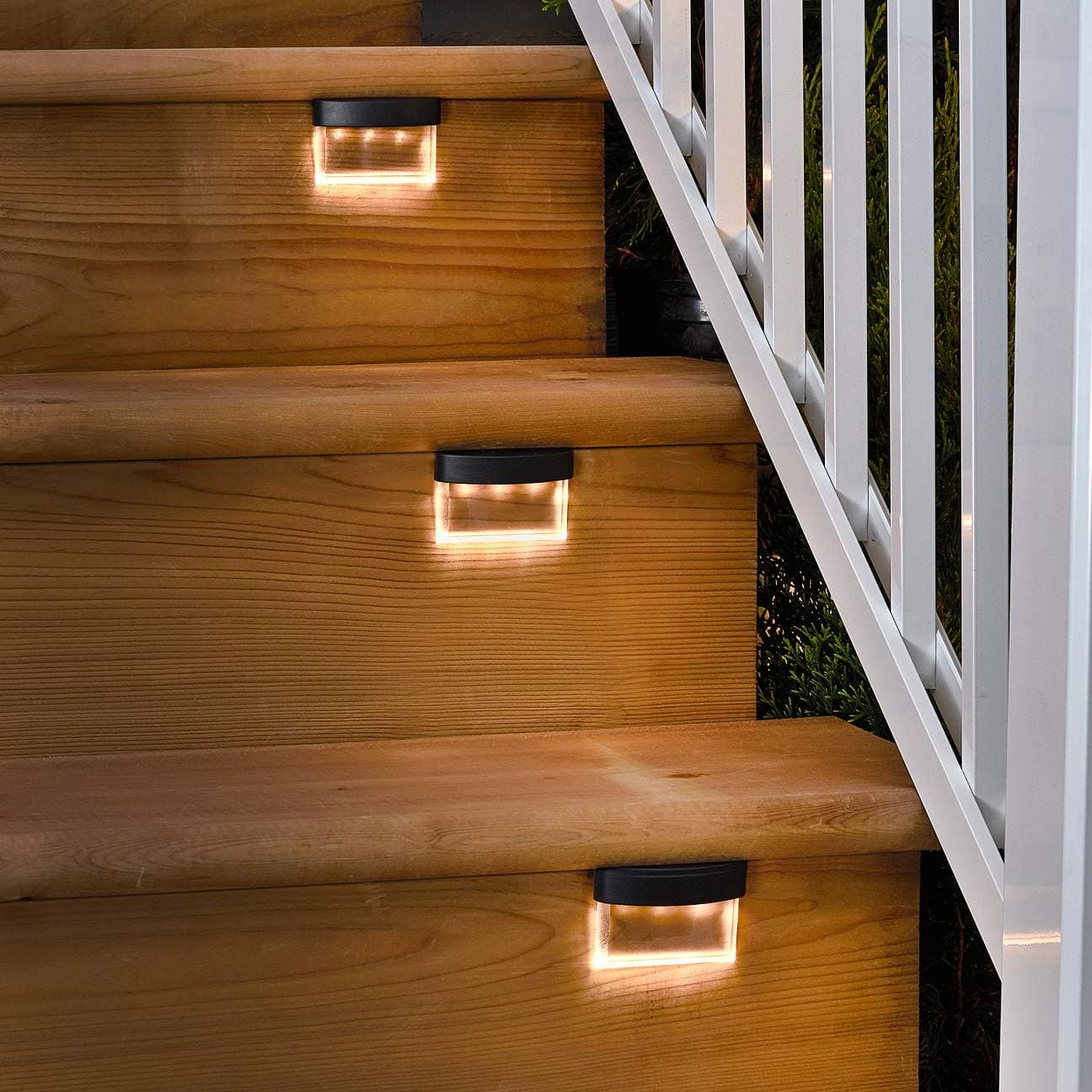 While all of these options are great, it can feel like a hassle to choose something to reflect your decor if you just want to light a staircase. Maybe it's the stairs down to the basement that no one ever sees, or you want to light your way into the attic.
If you just need simple staircase lighting, then these affordable lights are a great option. They illuminate your stairs perfectly without needing to stress about design choices and with no frills or fuss to distract from the rest of your home.
Final Thoughts…
When trying to find ways to make your home feel brighter, larger, and purposefully designed, you absolutely need to think about your staircase and how you will make it a stylish part of your home.
Stair light fixtures can be a quick way to add a huge amount of personality to your home, or even just give it a quick refresh. Whether you're looking to light the stairs to a dark basement or add some simple design features to the steps in your garden, there are so many options to choose from, so you're guaranteed to find something you love!