Decorated Life is reader-supported. When you buy through links on our site, we may earn an affiliate commission. Learn More
20 Front Porch Lighting Ideas
Lighting on the front porch is crucial, not just for your home's aesthetic but also for safety and convenience. Nothing is more difficult (or dangerous) than attempting to unlock your door in the dark.
We've amassed a collection of 20 front porch lighting ideas to inspire you on creative porch lighting. Whether you have a covered porch, small porch, or screened-in, this list will show you a bit of it all. We even get a bit wild with styles, with antique, modern, and everything in the middle.
And once you're done browsing our list of ideas for front porch lighting, be sure to drop us a line letting us know which lighting choice you prefer.
Make It Modern with a Steel Lantern in Black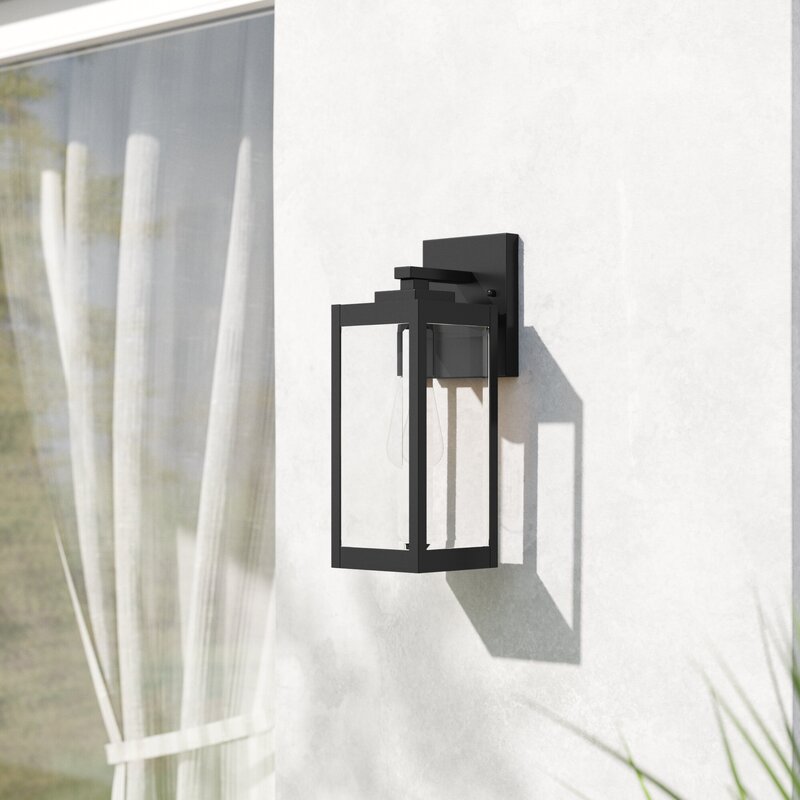 One front porch lighting choice you have available is to go with a wall-mounted porch lantern. We adore the look of this upscale, modern front porch lighting design.
Featuring sharp angles, a matte black finish, and glass-paned sides with an open bottom allowing for easy access to the bulb, this lantern can give your front porch major modern appeal.
Buy a Barn Light for Your Front Porch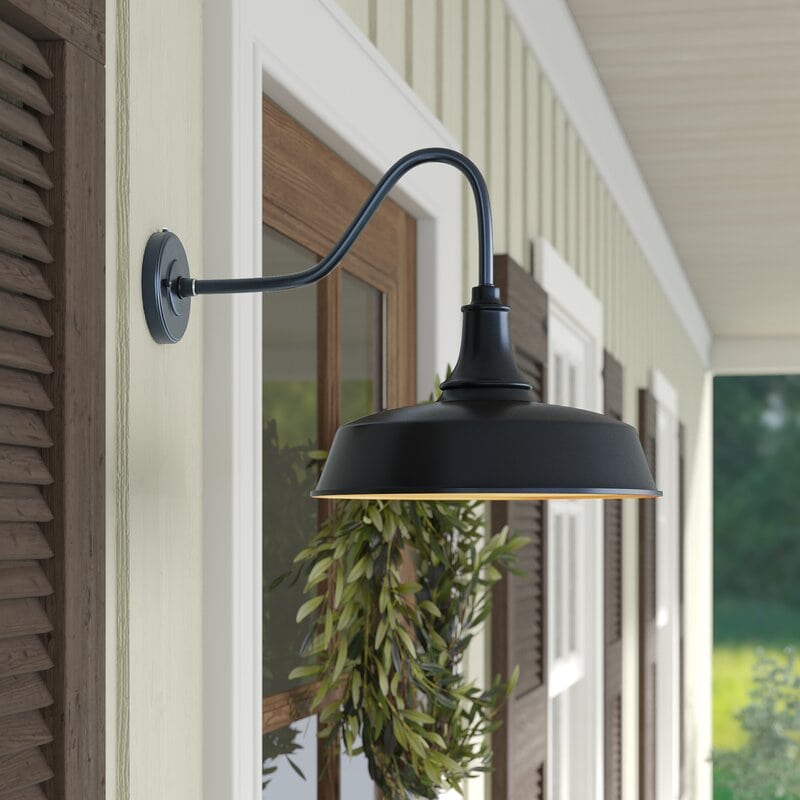 It's incredible how something as simple as a lighting fixture can influence the style of your home. For example, if you're into farmhouse themes, you can achieve the look with a rustic porch light.
We're nuts over this authentic barn light fixture, featuring a black metal frame with an extended arching neck and a large open bell shade. It's the perfect look for farmhouse-inspired covered porch lighting.
Add Some Drama with a Water Glass Lantern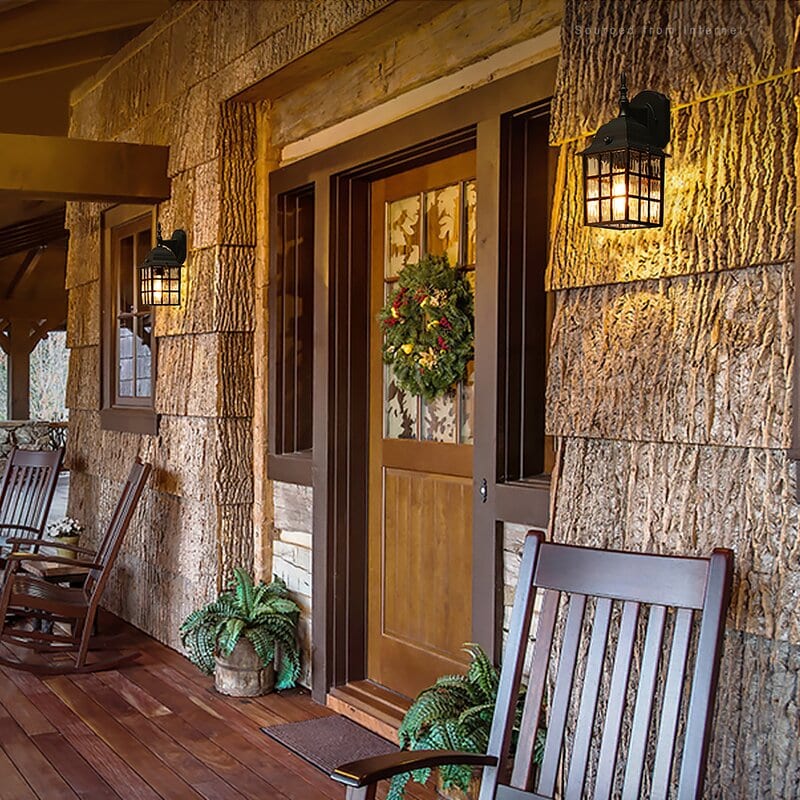 If you appreciate the drama and elegance of an early colonial lantern look, you're sure to love a front porch wall lantern in a classic square shape and a vintage grid pattern.
You get nods to the vintage style with the square base, watered glass grid panels, and beveled dome with an extended steeple that's attached to the mounting plate.
Super Sweet Short and Round in Black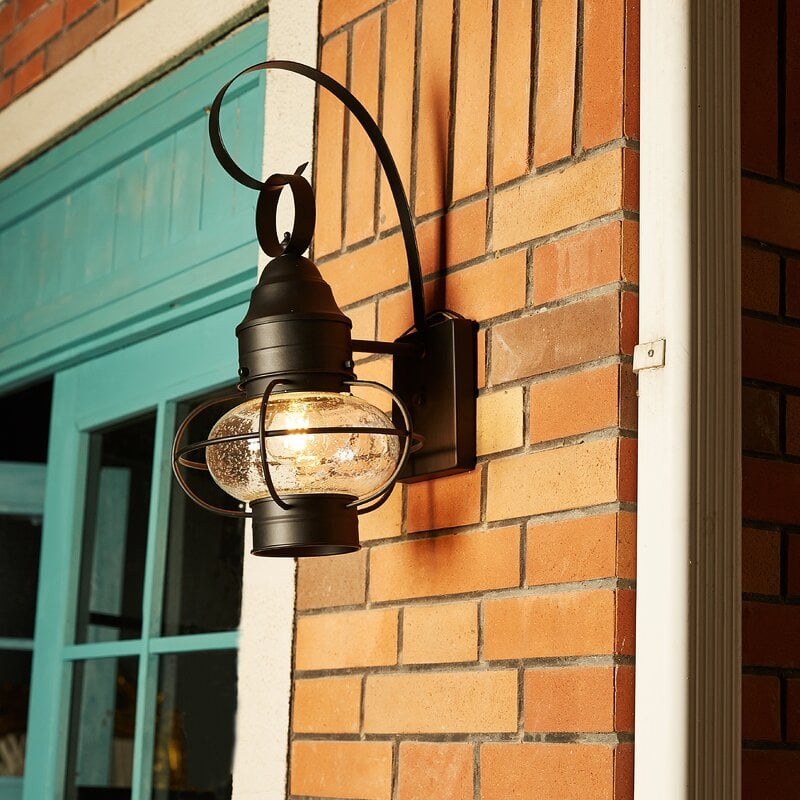 Give your front porch a minimalistic industrial feel with this small, elegant outdoor lantern. The onion-shaped shade in a seeded glass screams simple yet powerful.
While the thin metal frame protects the glass dome and attaches to the circular metal top. Then the broad metal ring overlapping the curved metal screams traditional vintage.
Shiny Silver Stainless Steel Rectangular Silhouette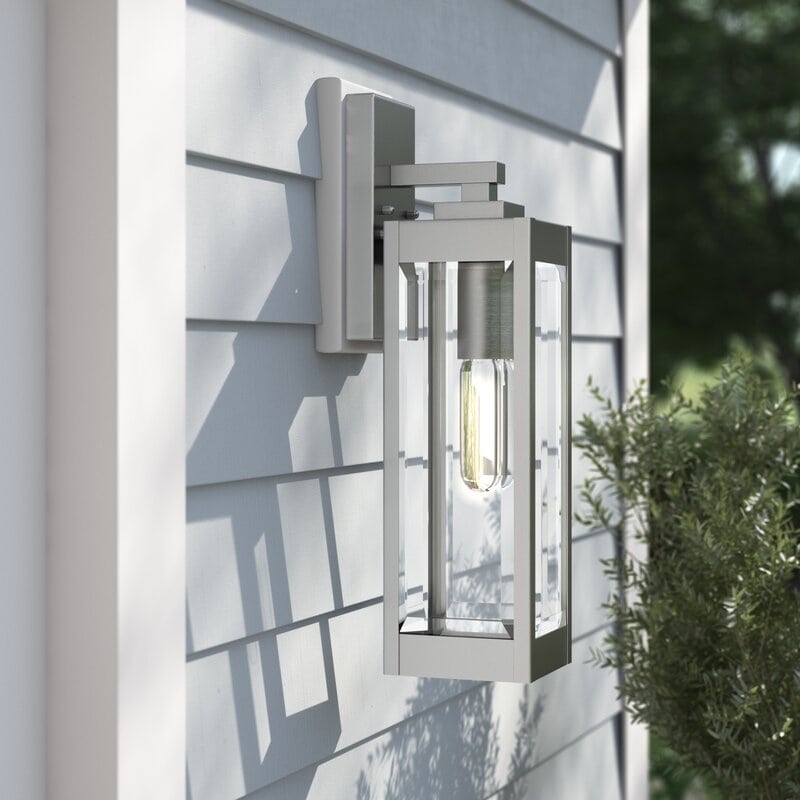 Picking a wall lantern in an open-frame rectangular shape gives you all the traditional feel you'd want, while choosing a shiny silver finish can make your front porch light look more modern.
This chic metal frame features a basic backplate, beveled glass panels, clean, sleek lines, and an open bottom. And adding a modern-looking bulb can enhance the feel of this outdoor lantern.
Start with a Set of Two Hogue Lanterns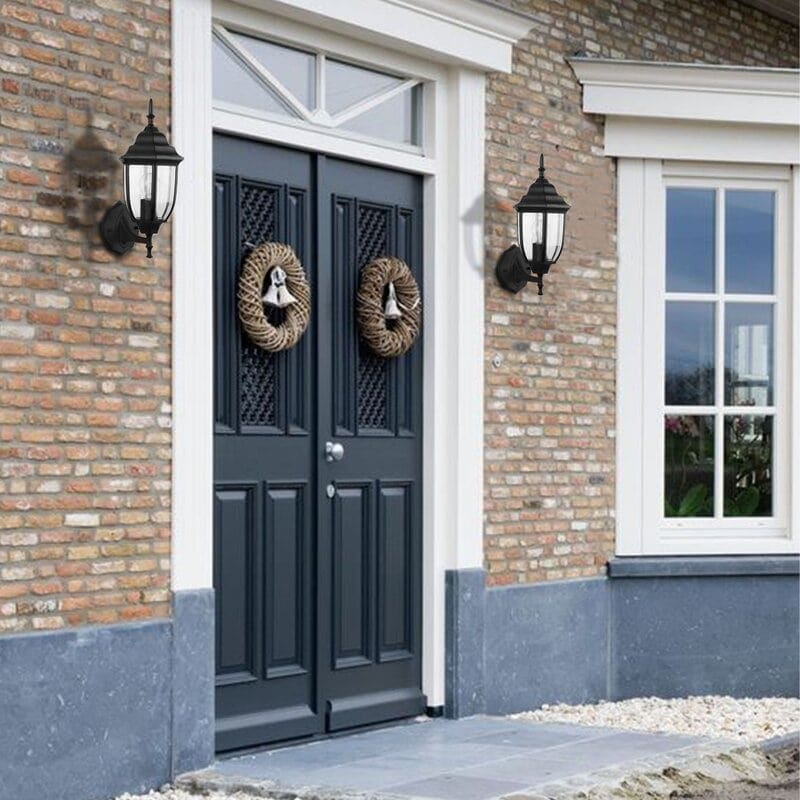 Some people appreciate the look of using two lights for the exterior of their homes. This set of two Hogue lanterns can give your home a formidable, upscale touch.
These lanterns feature lightly distressed black metal frames in a closed-shade design. On top, there are elegant ripple-stacked domes topped with thin, sharp-tipped steeples for a faint flare of French inspiration.
Add a Nod of Nautical with Lanterns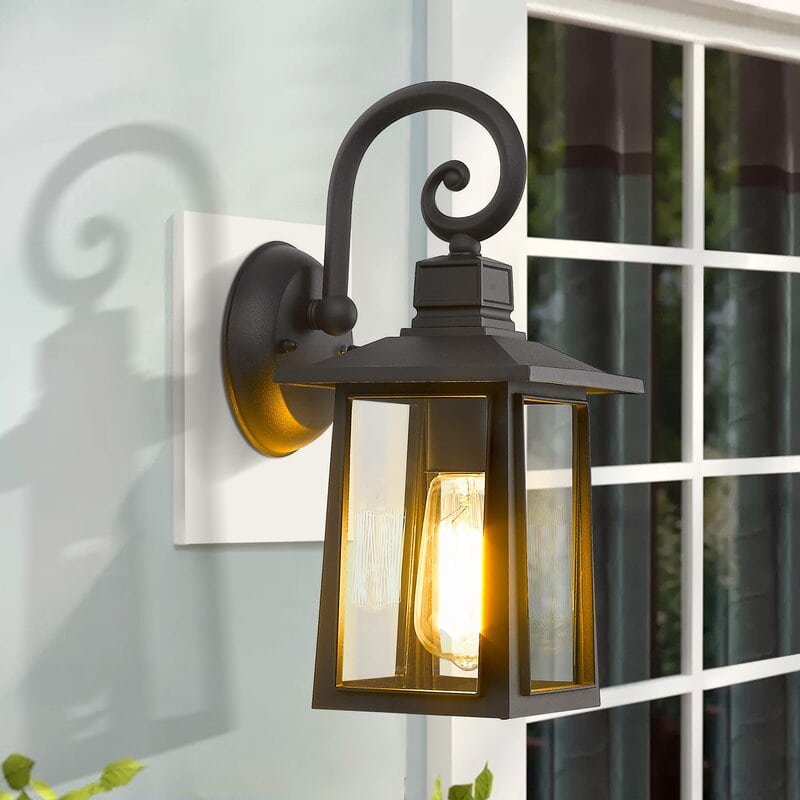 Lanterns are always a popular choice for front porch lighting due to their classic shape and signature features. And the fact that there are so many different types is another huge selling point.
To demonstrate, we've chosen another lantern style for front door entryways – nautical. This light has an aluminum metal frame in gorgeous matte black with simple, clear panels, an overlapping pitched dome, and a whimsical curled arm.
Light Up the Space with a Candlelight Lantern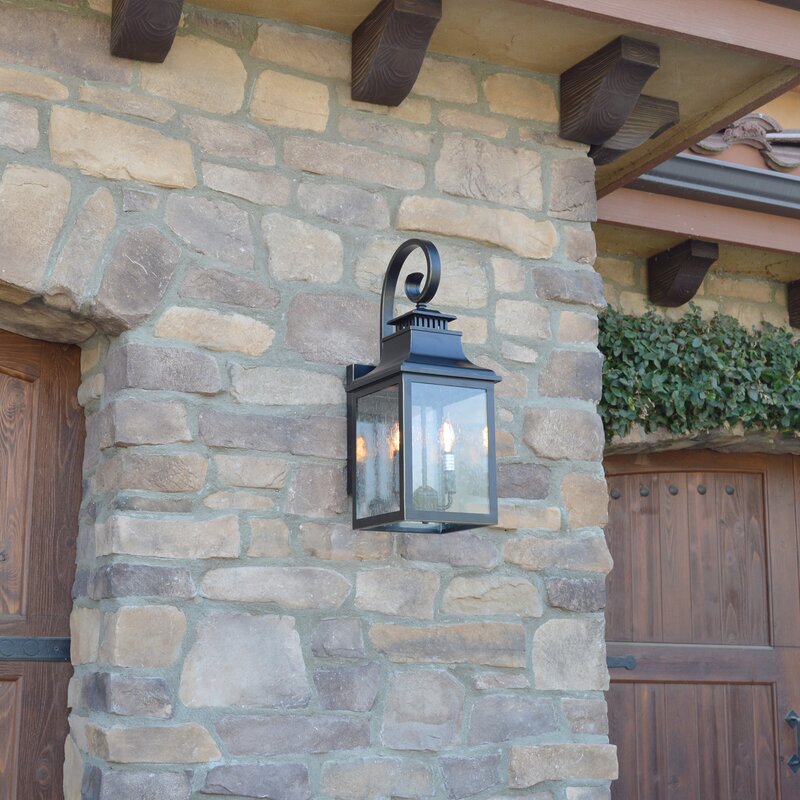 You can give your front porch major style and charm with the use of a lantern in an antique manner, including the look of candles.
This stylish lantern has a boxy rectangular shape with seeded glass panes protecting the two candelabra bases inside. And the scrolled shepherd's hook arm completes the vintage feel.
Fix Up a Flush Mount in Beautiful Bronze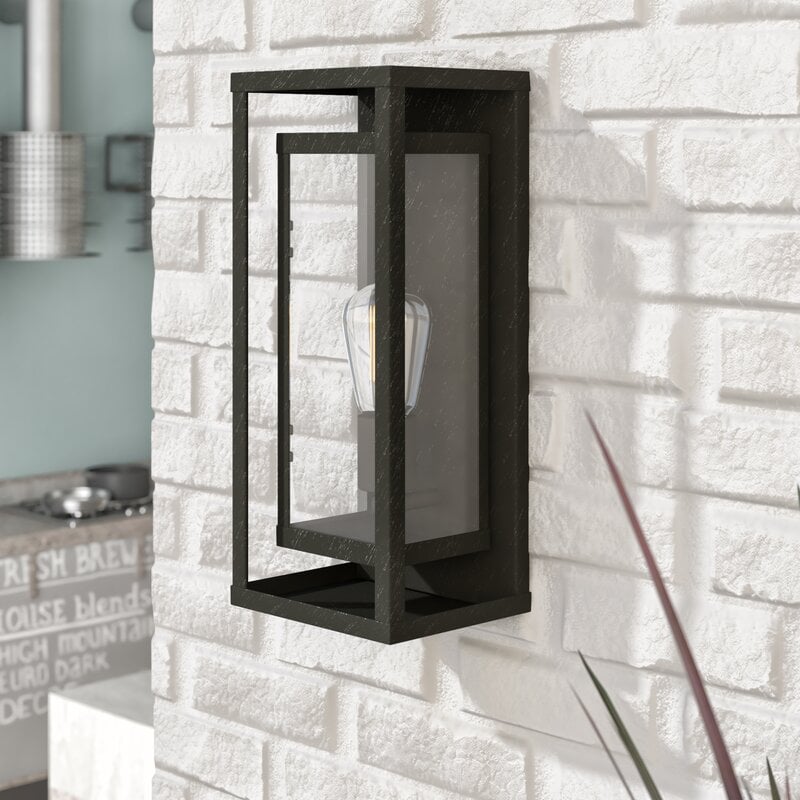 Give your front porch some major modern rustic flare with a flush mount fixture. This light has a double facade of rectangles with a clear inner glass shade and an open non-glassed outer frame and bottom.
The dark bronze color in a flat finish and the flush design that allows this fixture to rest flat on the wall make it an excellent design for small front porch lighting.
Mix It Up with a Modern Sconce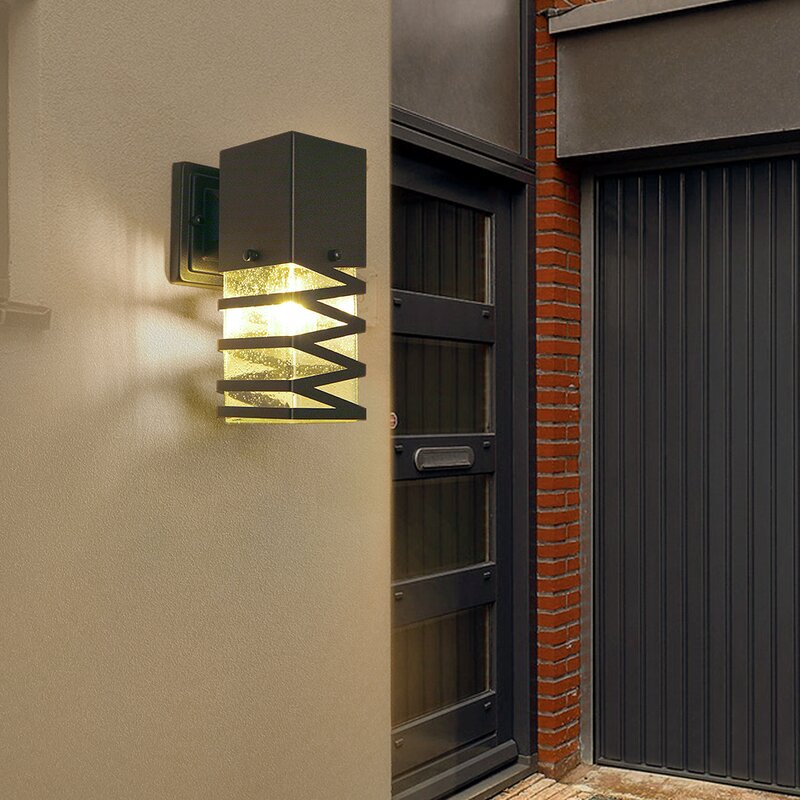 If none of the previous looks work for you and you're in the market for something more modern and different, this wall-mounted sconce might be up your alley.
Featuring a solid black metal base mounted on a simple backplate, this sconce goes outside the box with the dropped shade in a bubble glass design and black metal strips in a zig-zag pattern.
Run with a Rustic Bronze Flush Mount Ceiling Light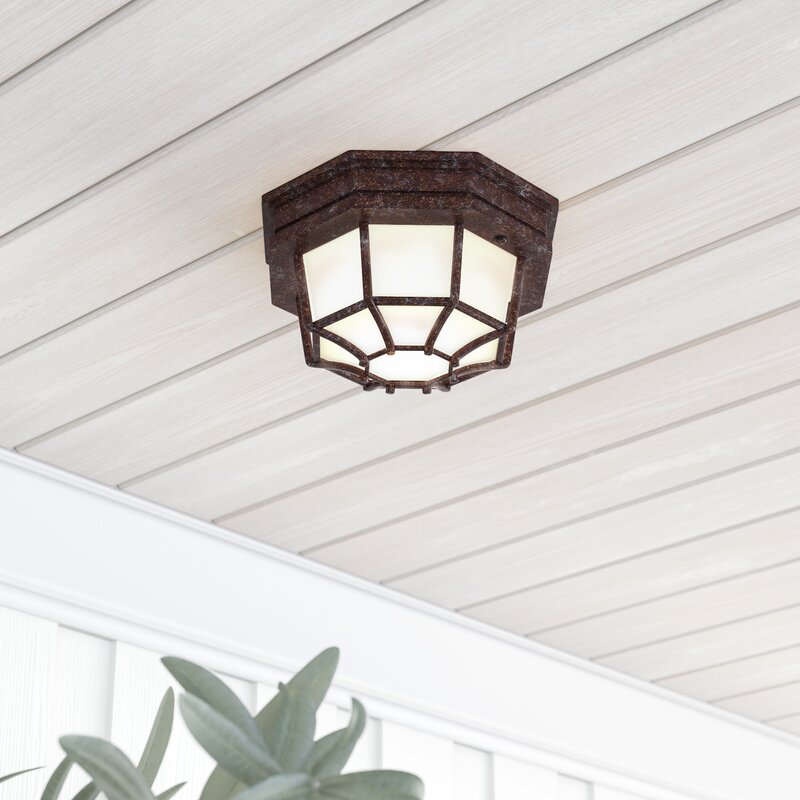 Front porches with a ceiling or overhang offer the perfect opportunity to try something different with your lighting choices, like a mix of contemporary and traditional styles.
A perfect choice for screened-in porch lighting is this rustic flush mount ceiling fixture in a simple aged bronzed metal bowl shape with a frosted glass shade and clean line silhouettes.
Try a Drop Down Armillary Framed Pendant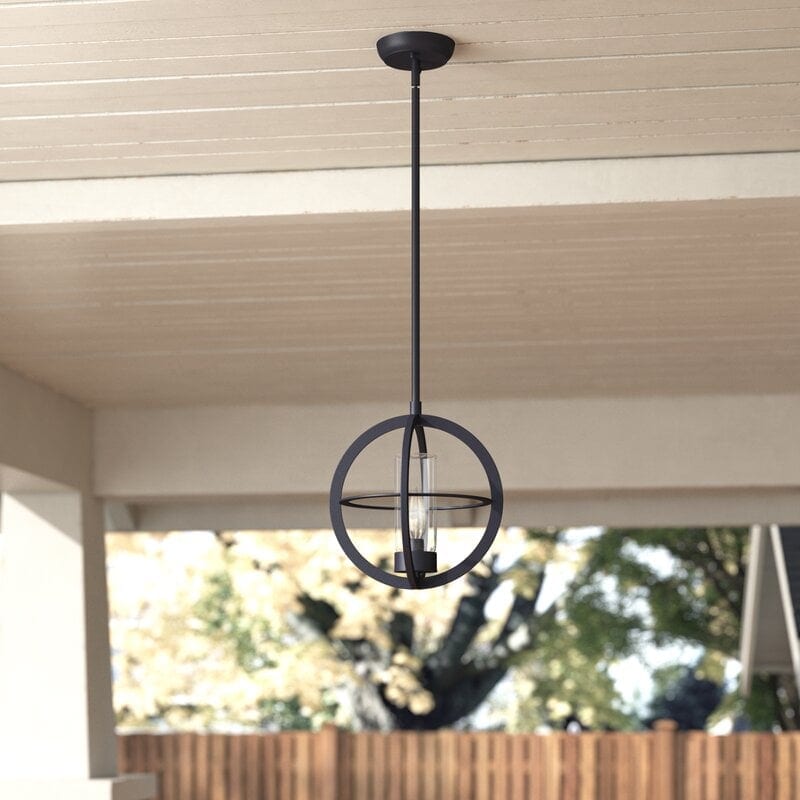 You're sure to get compliments and expressions of love when using a drop-down pendant as the lighting for your covered front porch.
This light is simple yet stylish, with a single light inside a cylindrical clear glass shade surrounded by three metal circles forming an armillary design.
Go for Major Minimalist with a Slim and Sleek Capsule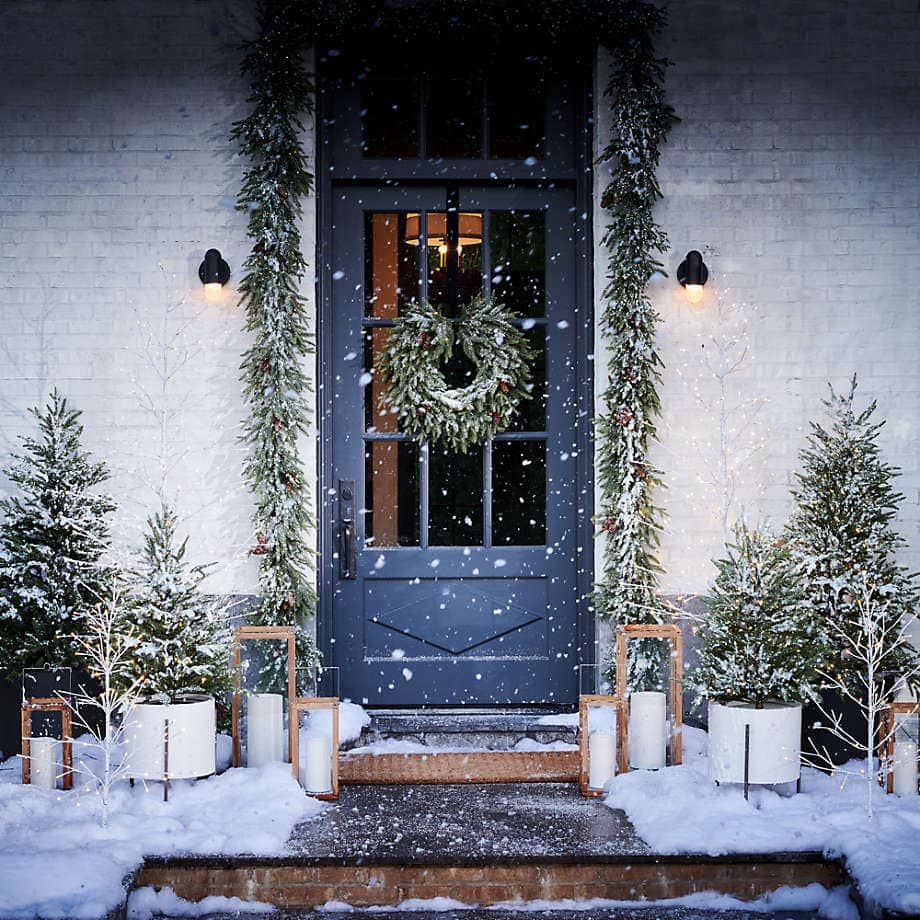 We've demonstrated a lot of in-your-face front porch lighting fixtures that can dominate your home's entry design. But now, we're going to try something a bit more laid-back and stylish – and even simplistic.
This light fixture has an interesting capsule-shaped sconce in two tones. At the top, you get the sleek feel in a modern black color, while the bottom features a frosted glass shade in a rounded shape.
Find Some Fun with a 3-Flame Sconce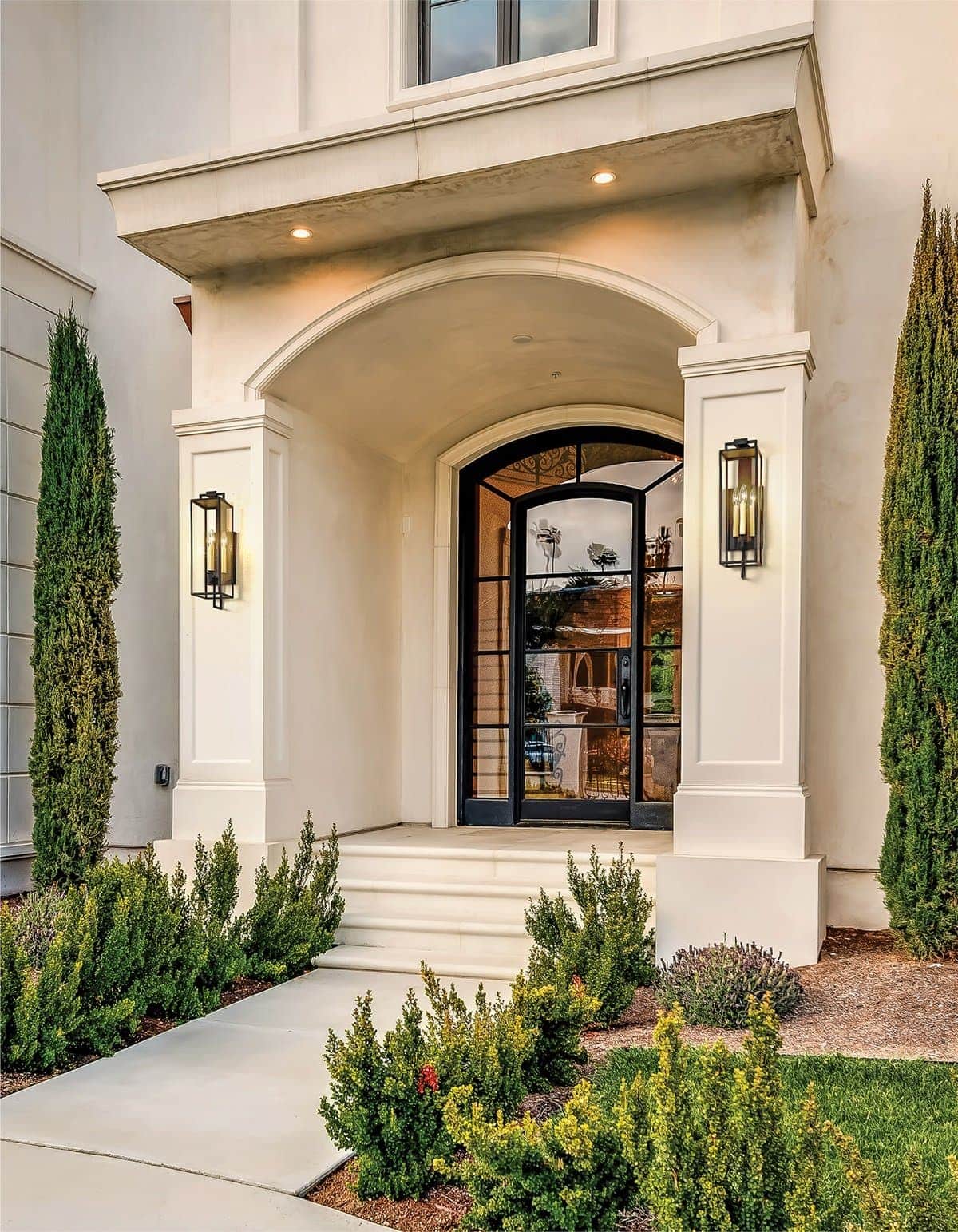 Your front porch can get extra elegance and appeal with a timeless iron metal lantern sconce in a classic black color that frames three extended white candelabras.
Then you can make it modern with sleek lines, clear glass paneling, and an open-frame design that gives this wall-mounted lantern impressive style.
Consider the Beauty of a Copper Industrial Sconce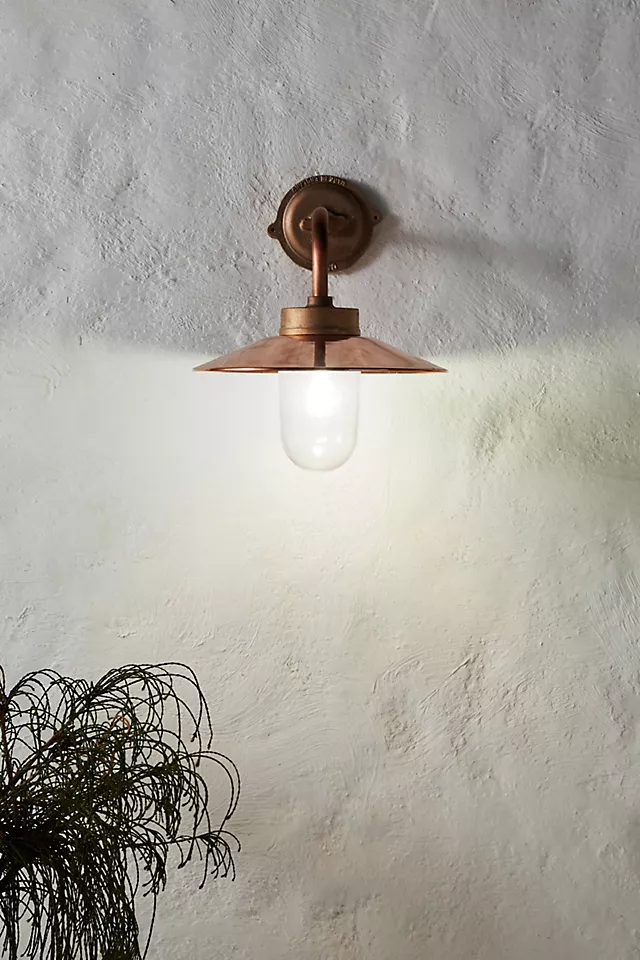 Not all front porch lights have to be dark-painted metal. We think you can get an incredible look with a simple wall-mounted, open dome light fixture in a beautiful brassy copper finish.
The shiny reflective surface helps bounce light around the space, while the raw metal material can create a minimalist, industrial vibe.
Hanging Cage Pendant Cuteness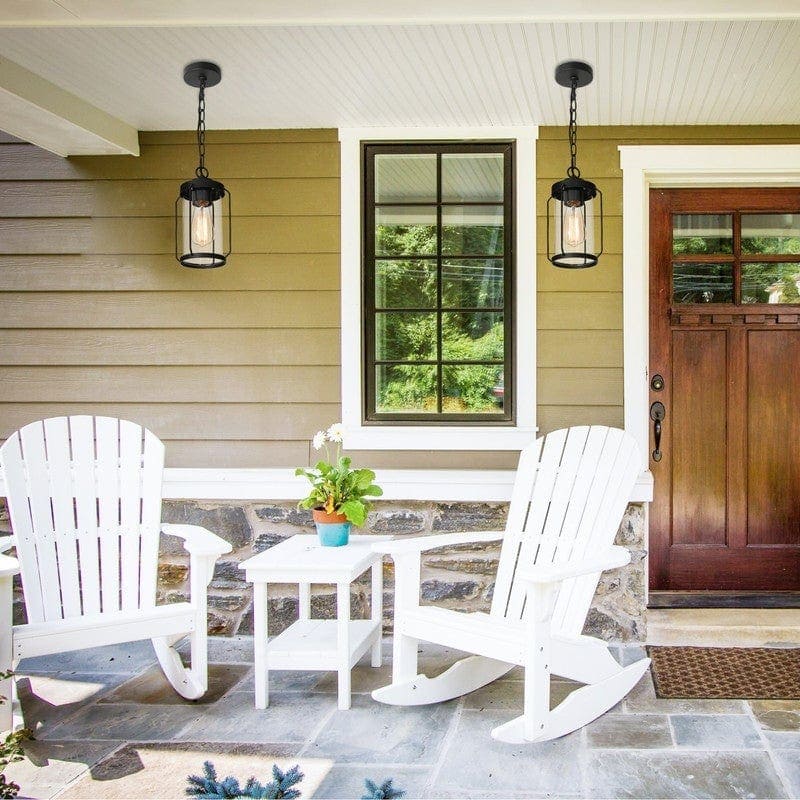 Some light fixtures have so many elements of different styles that it can become difficult to determine the exact look you can get.
This hanging pendant light is the perfect example. The metal frame resembles the traditional lantern look, while the linear shape and cylindrical glass shade scream modern.
Keep It Old-School with a Bronze Aluminium Pendant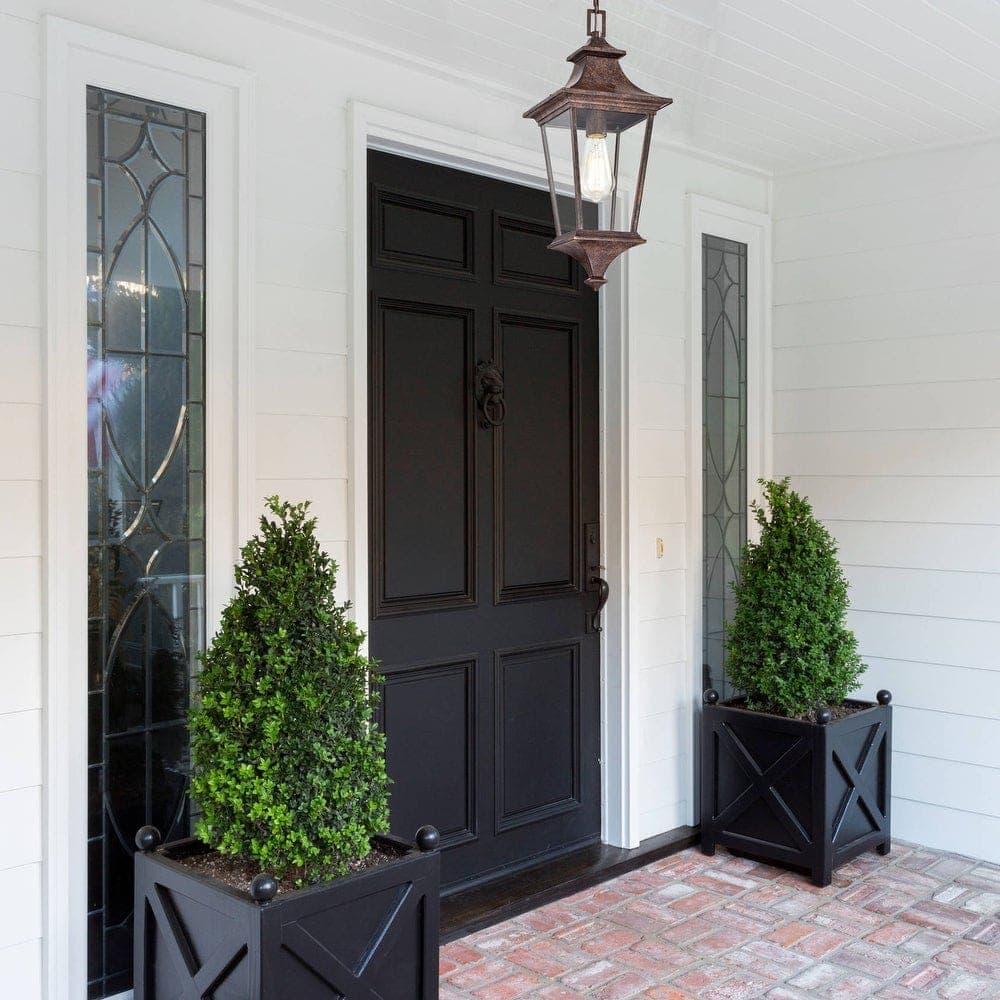 Give your front porch an elegantly traditional style with the use of a stately hanging pendant in an aged tannery die-cast rubbed bronze metal.
With a trapezoidal clear glass panel surround, an adjustable height chain link (10" to 42"), a square canopy, and an upside-down clear glass bulb, your covered front porch will have the benefit of bright light and elegance.
Get Crafty with Craftsman Tudor Style Detailing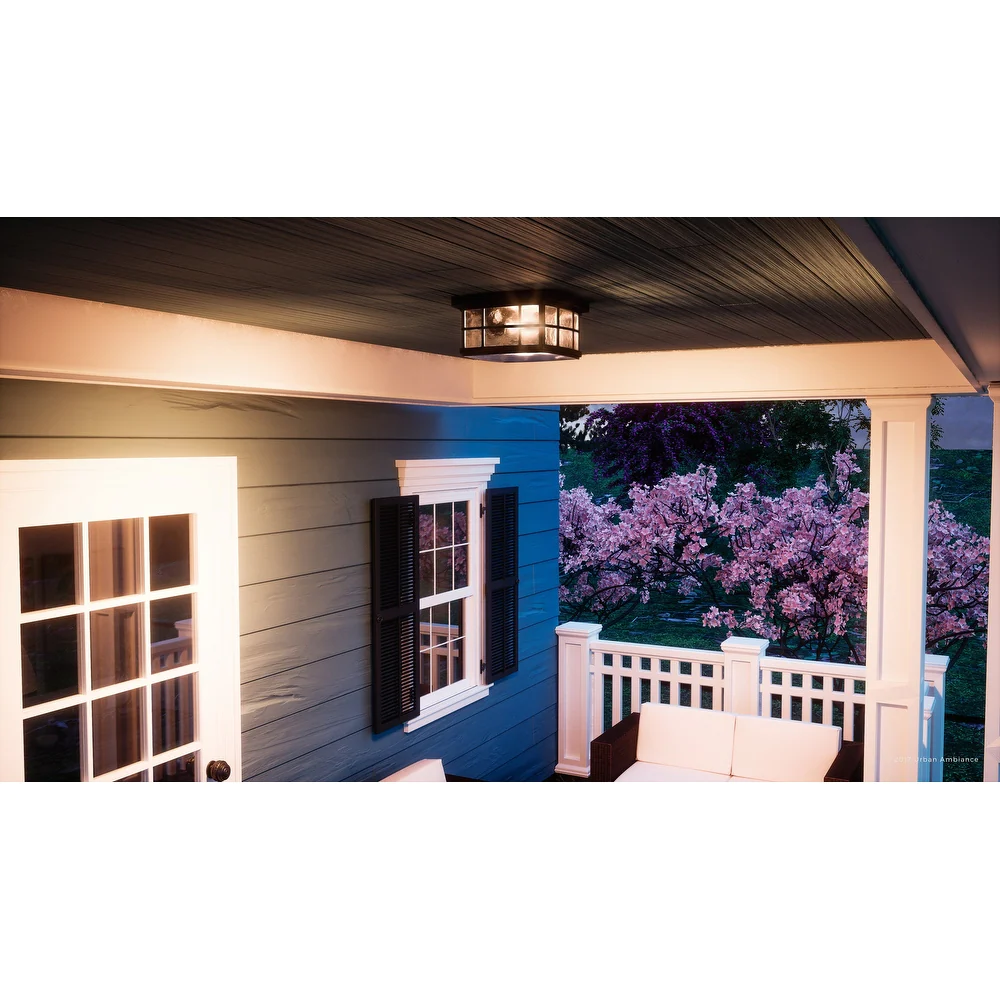 If you prefer the graceful, understated appeal of Craftsman designs, you'll appreciate the classy elegance of a flush-mounted ceiling light.
This porch light features a short boxy design with two rows of acrylic grids in a Black Silk finish with frosted panels on the sides and bottom.
Create an Updated Space with a Contemporary Sconce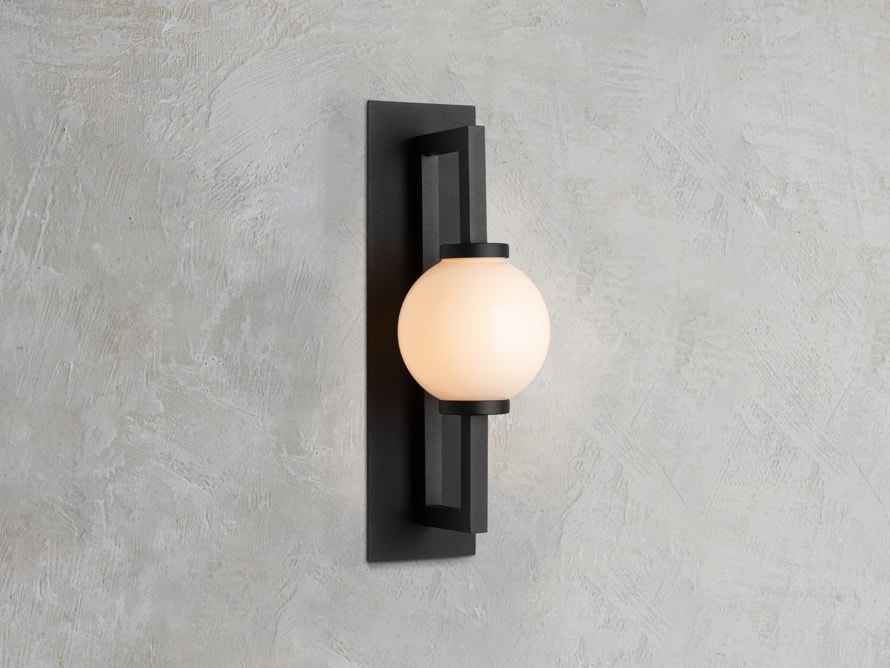 For a contemporary-looking wall mount light fixture that could pass as a work of art, try a stylish piece with mixed material.
This light features a flush mount backplate with a rectangular frame in a thick aluminum tube with a textured black finish and an intersecting frosted glass globe.
Fix-It Up with Flush Mount Hammered Glass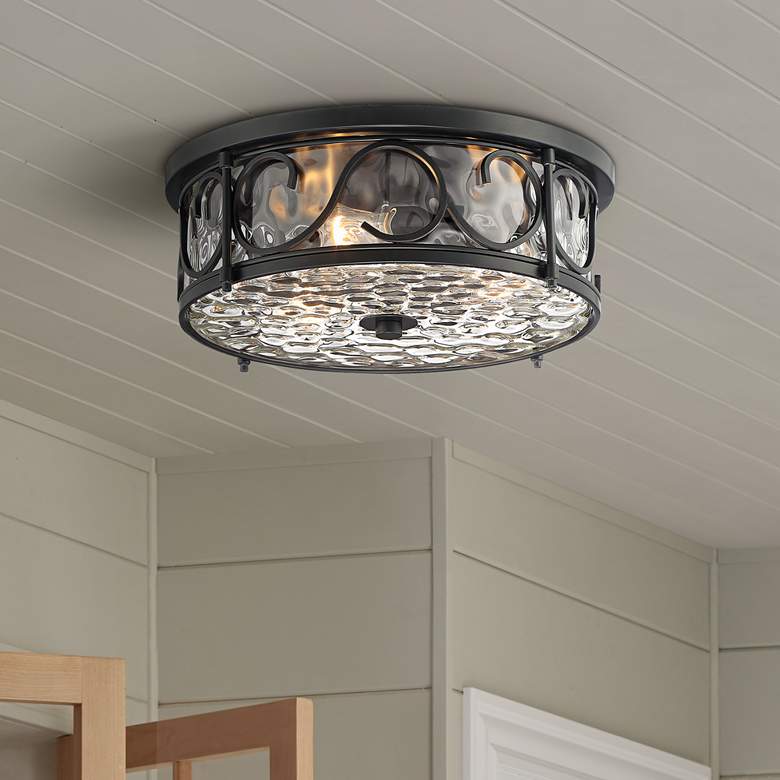 Look for design elements like a matte finish and textured glass for a simple traditional flush-mount ceiling fixture with European influences.
This three-bulb fixture offers Spanish and Mediterranean influences like decorative scrollwork, a matte black finish, and hammered glass.
In Closing
Picking the proper lighting for your front porch is a delicate balancing act. Naturally, you want to choose something stylish that will also provide enough light for safety and function. The great news is you have a lot of creative freedom in what type to choose.
Which of our front porch lighting ideas is your favorite? Do you use a different lighting fixture than the designs we listed? We'd love to see them, so don't be shy about showing us in the comment section.