Decorated Life is reader-supported. When you buy through links on our site, we may earn an affiliate commission. Learn More
17 Gorgeous Farmhouse Rug Ideas
Farmhouse style is known for being warm and cosy, and not too 'put together', instead it's a more relaxed style with a mix of antiques and thrifted items that have a sense of character and history. Sure, you will find a mix of modern items too, but you definitely won't be seeing any ikea furniture in a farmhouse style home!
A beautiful rug is the perfect finishing touch to your farmhouse decor, and today we're going to be sharing the best farmhouse rug ideas, to help you complete your look!
Jute Braided Rug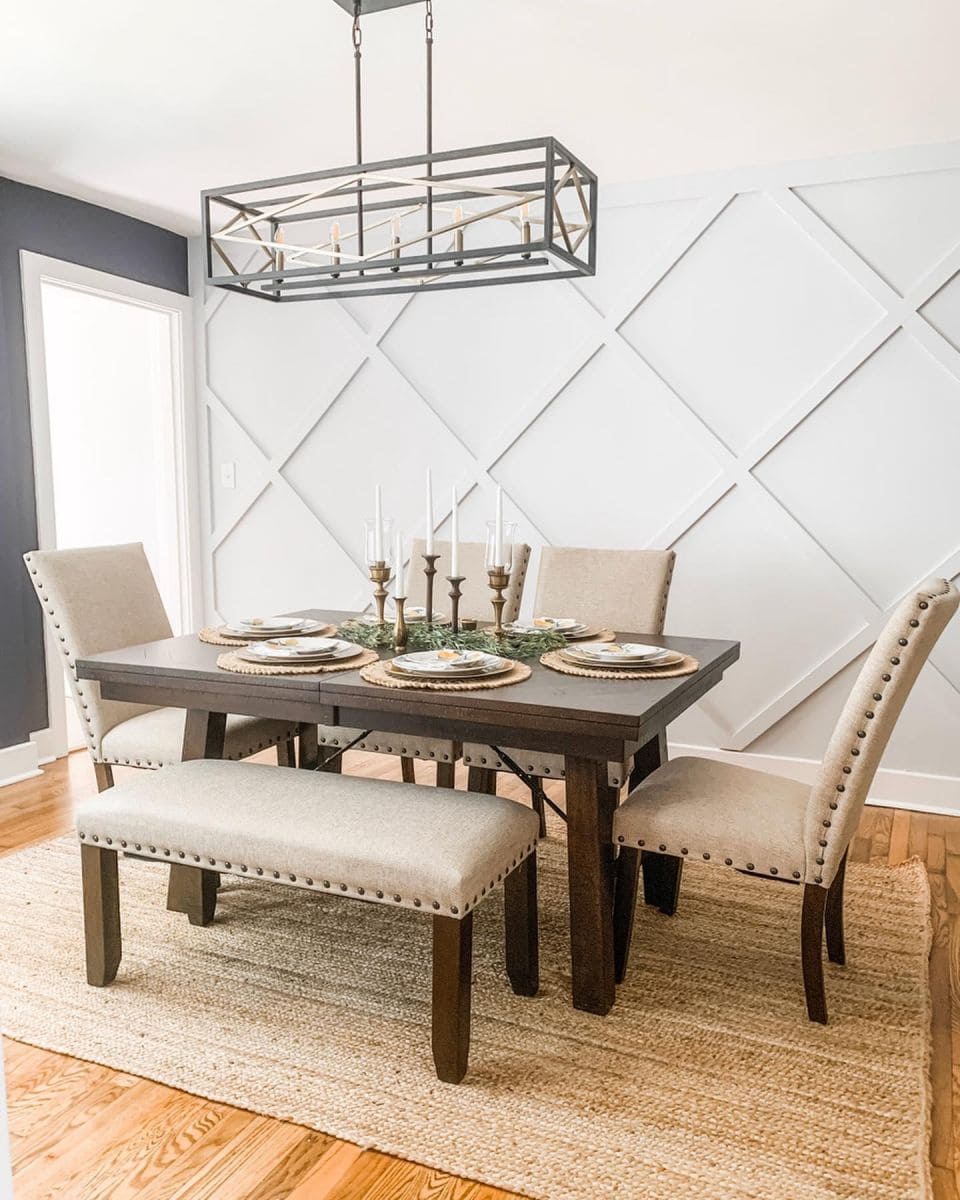 This 100% Jute braided rug is perfect for completing your farmhouse look. It's warm neutral color and heavy texture will complement any decor style, and because Jute is a natural fiber, it's an eco friendly choice too!
As well as looking gorgeous, Jute is a hard-wearing material, so this rug would be suitable for almost any area of your home, particularly those high traffic areas like the hallway or living room.
Ivory and Grey Oriental Area Rug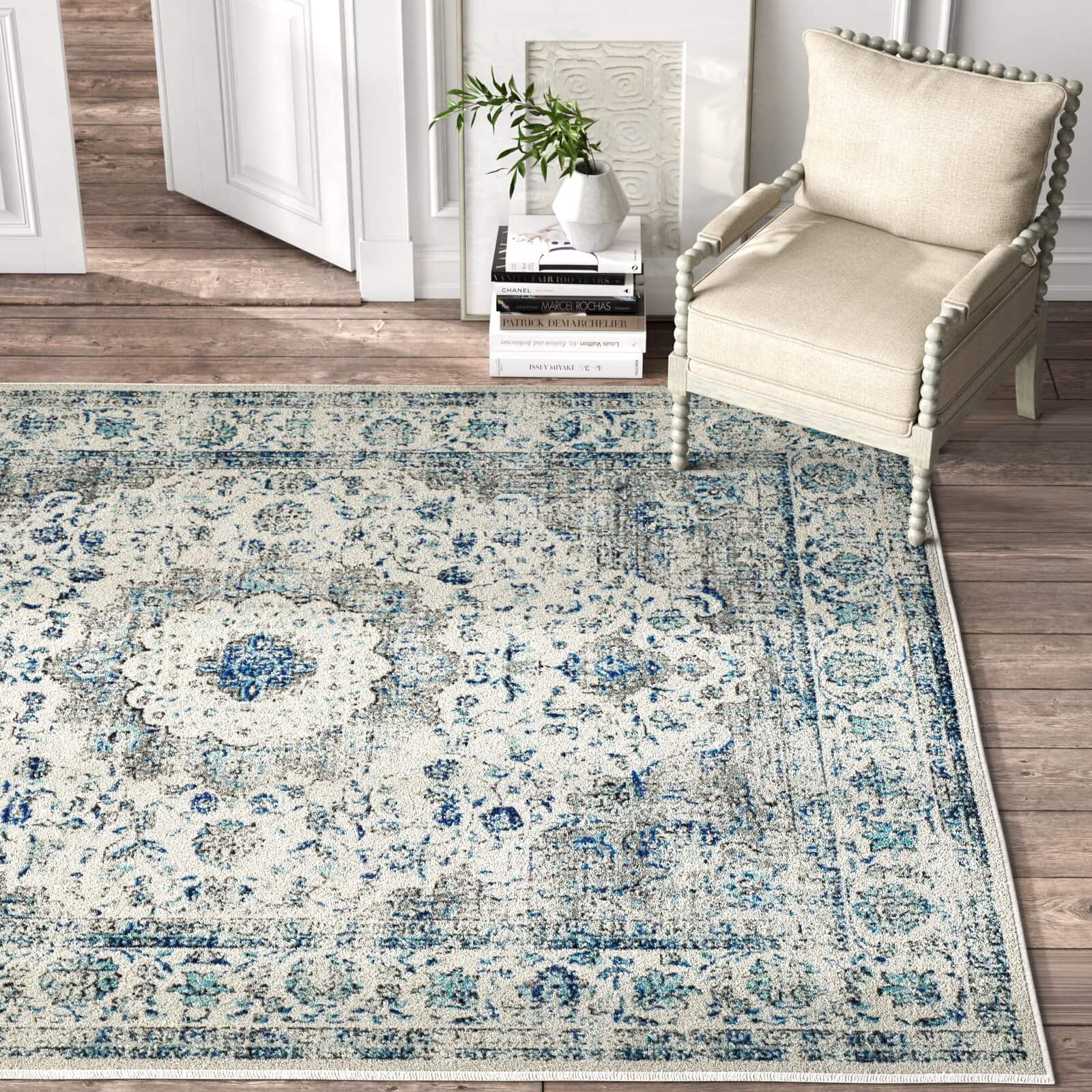 This ivory and grey area rug features a faded oriental medallion design, that is perfect for anyone who wants to achieve a french farmhouse look in their interior. It has specks of deep blue in the design adding a touch of color to this beautiful design.
This rug is hardwearing, so it would be suitable for use in high traffic areas such as living rooms and kitchens. It's also stain resistant so an ideal choice for families with pets and kids!
Natural Braided Treillage Area Rug With Tassels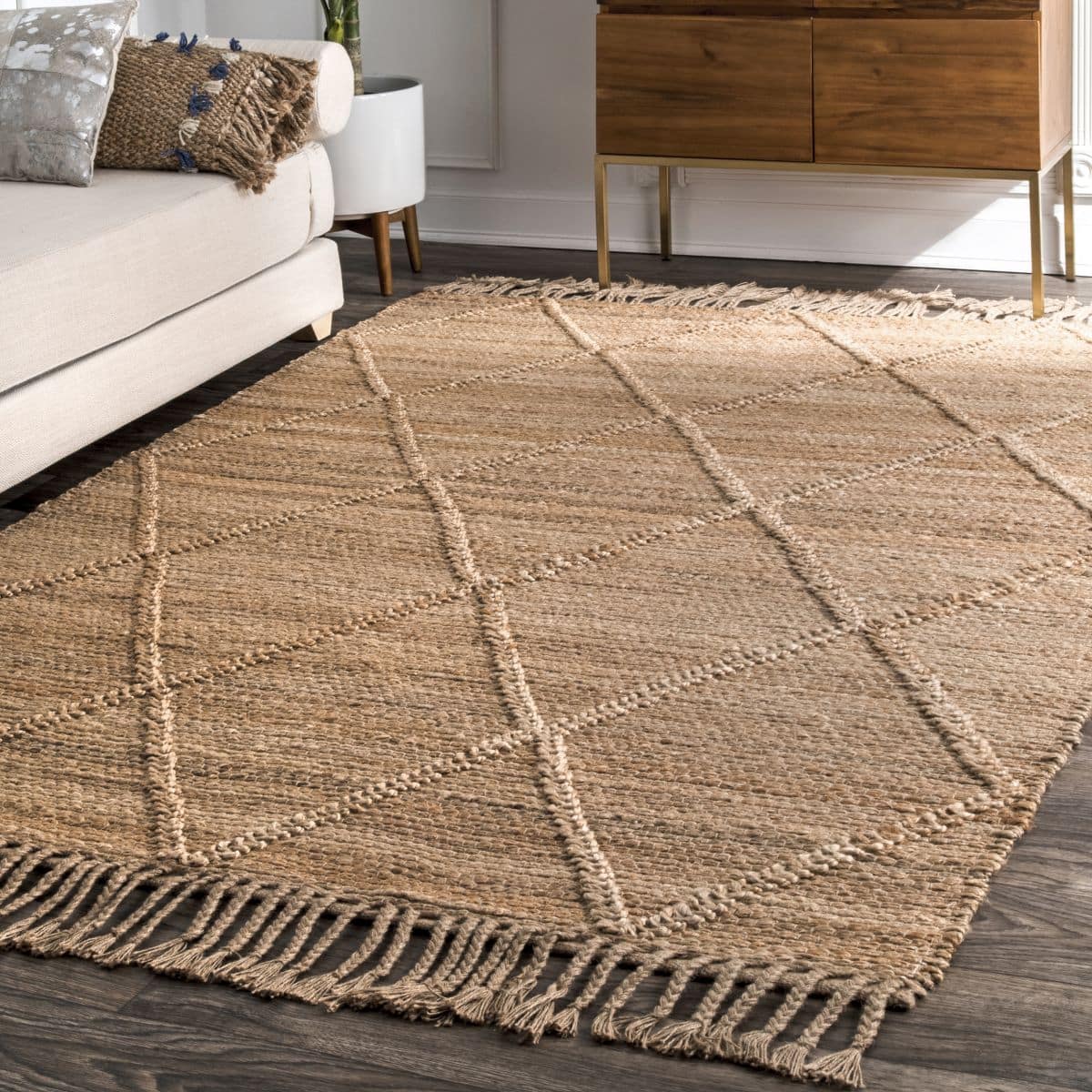 When it comes to rugs for farmhouse decor, natural colors tend to work really well. This natural braided area rug is hand woven from 100% Jute, bringing warm tones of brown, cream and tan to your interior.
It features a unique raised braided trellis style design, which adds more interest and texture to the design. It also has braided tassels at each end to complete the look.
Stylish Berber Shag Area Rug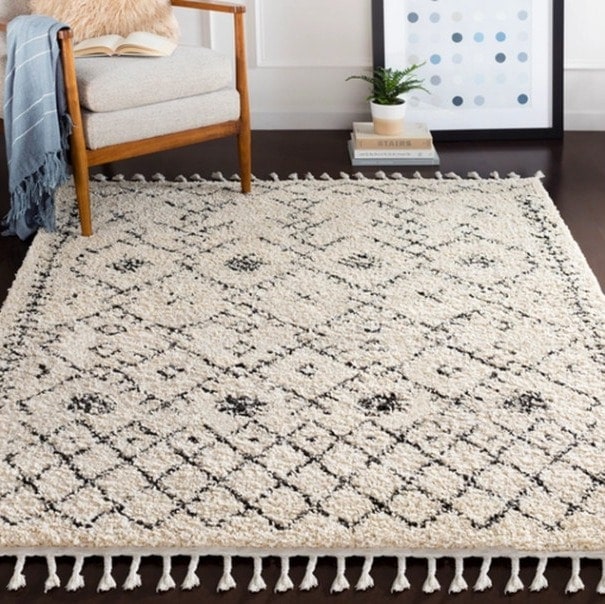 For an Instagram-worthy modern farmhouse area rug, it's got to be the Godalming berber shag area rug. This rug features a creamy off white plush pile with a criss-cross design in charcoal grey, and tassels at each end for the perfect finishing touch.
The material is plush and buttery soft underfoot, so no matter if you're planning to use it in the bedroom or a living area, it will feel like a treat each time you walk over it.
Vintage Inspired Floral Rug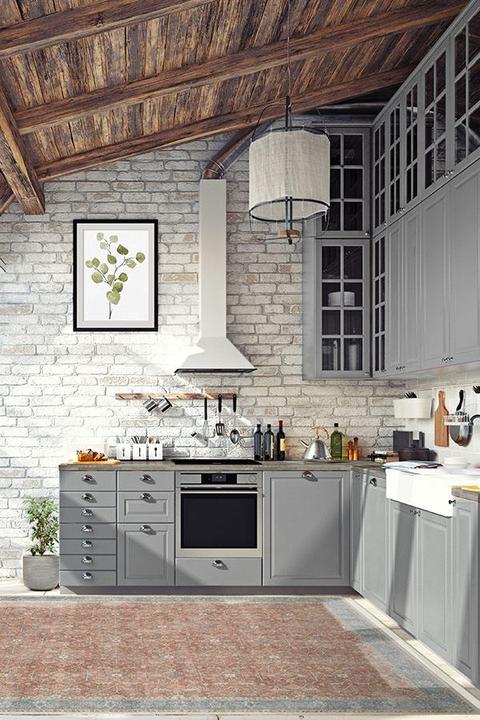 For an antique look in your farmhouse kitchen, this vintage inspired floral rug is the perfect choice. It features a classic floral design in coral and blue, and it has been artfully distressed to create just the right amount of wear, like it's been in your kitchen forever!
Ruggable rugs are machine washable, so this rug is a great choice for anywhere food might be spilled such as kitchens and farmhouse style dining rooms.
A Modern Classic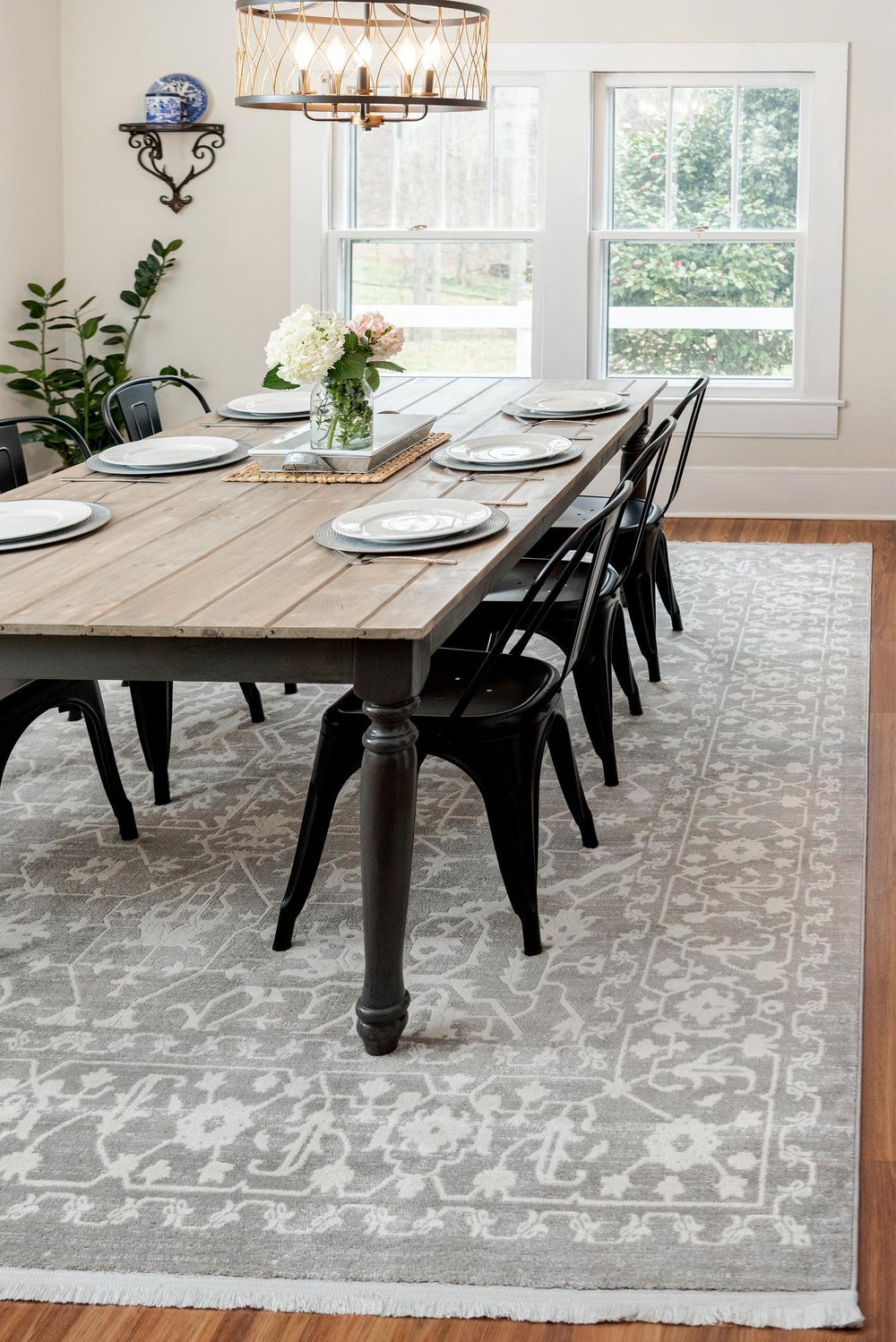 If you're looking for modern farmhouse rugs, then this is a great option. It features a classical design but with a modern color palette of white and grey, with a short fringe at each end.
This rug is thick and soft, so ideal for any area of the home, but absolutely stunning in the modern farmhouse dining room pictured, working beautifully with a light and bright color scheme.
A Thick, Soft, Handwoven Wool Rug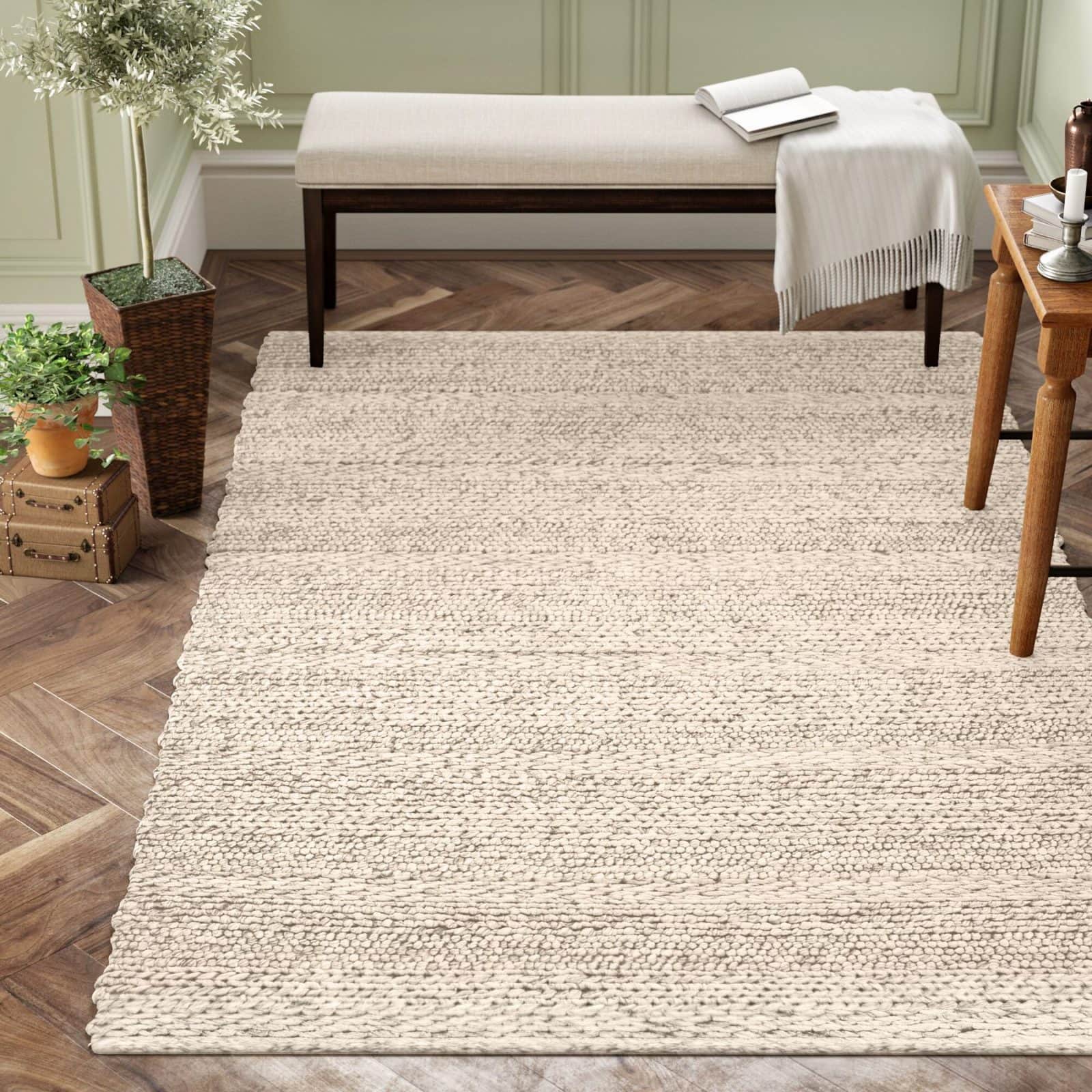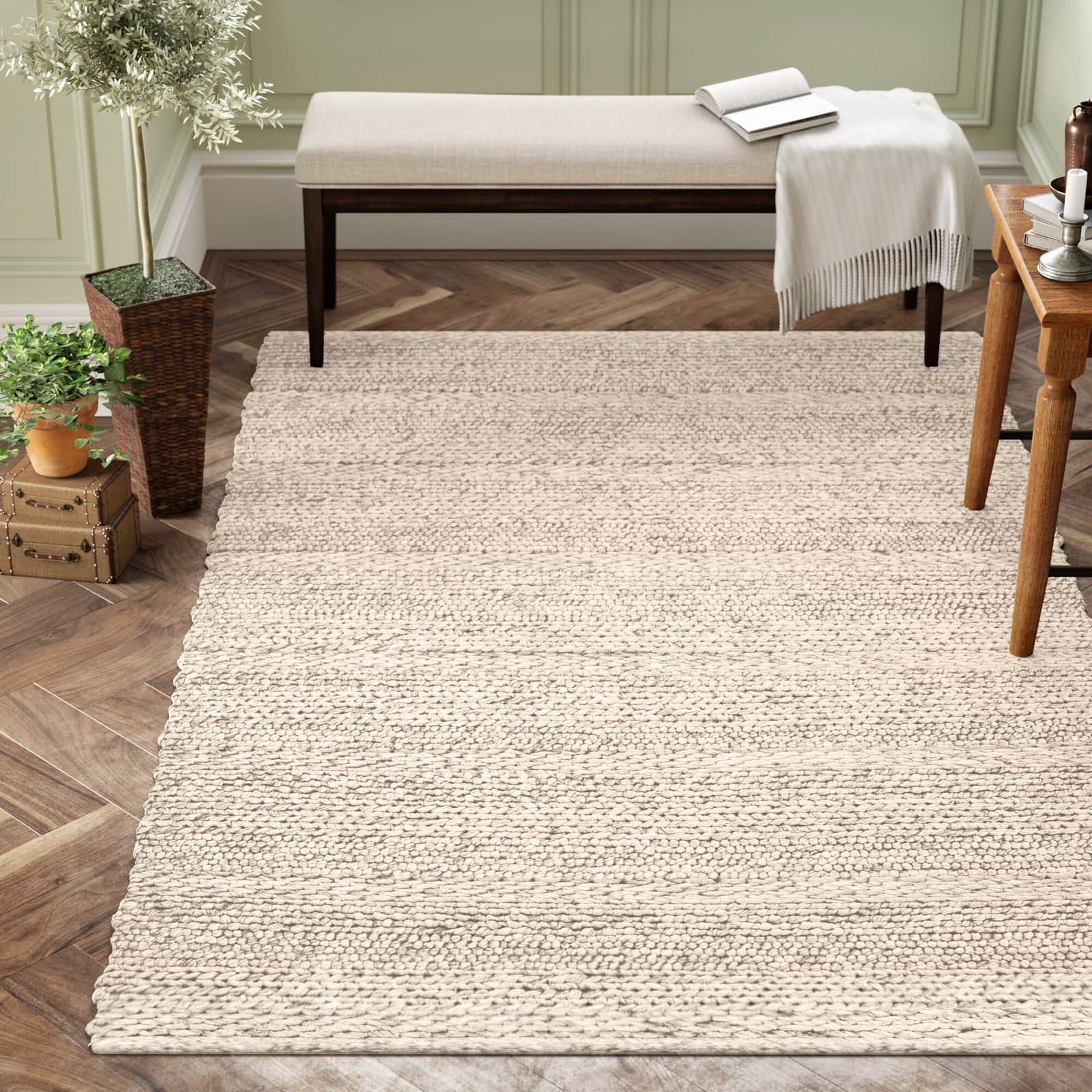 This beautiful cream handwoven wool rug would be the perfect finishing touch in any modern farmhouse living room or hallway. It's wonderfully thick and soft with a 0.98" pile, so it will give any room you choose to use it in a cosy feeling.
Since it's made of 100% wool, its a healthy choice, being naturally antibacterial and hypoallergenic. It's naturally a soft neutral color, so it will easily go with a variety of decor styles and color schemes, and can easily be moved to another room if you want to change things up.
Farmhouse Gabbeh Field Beige Area Rug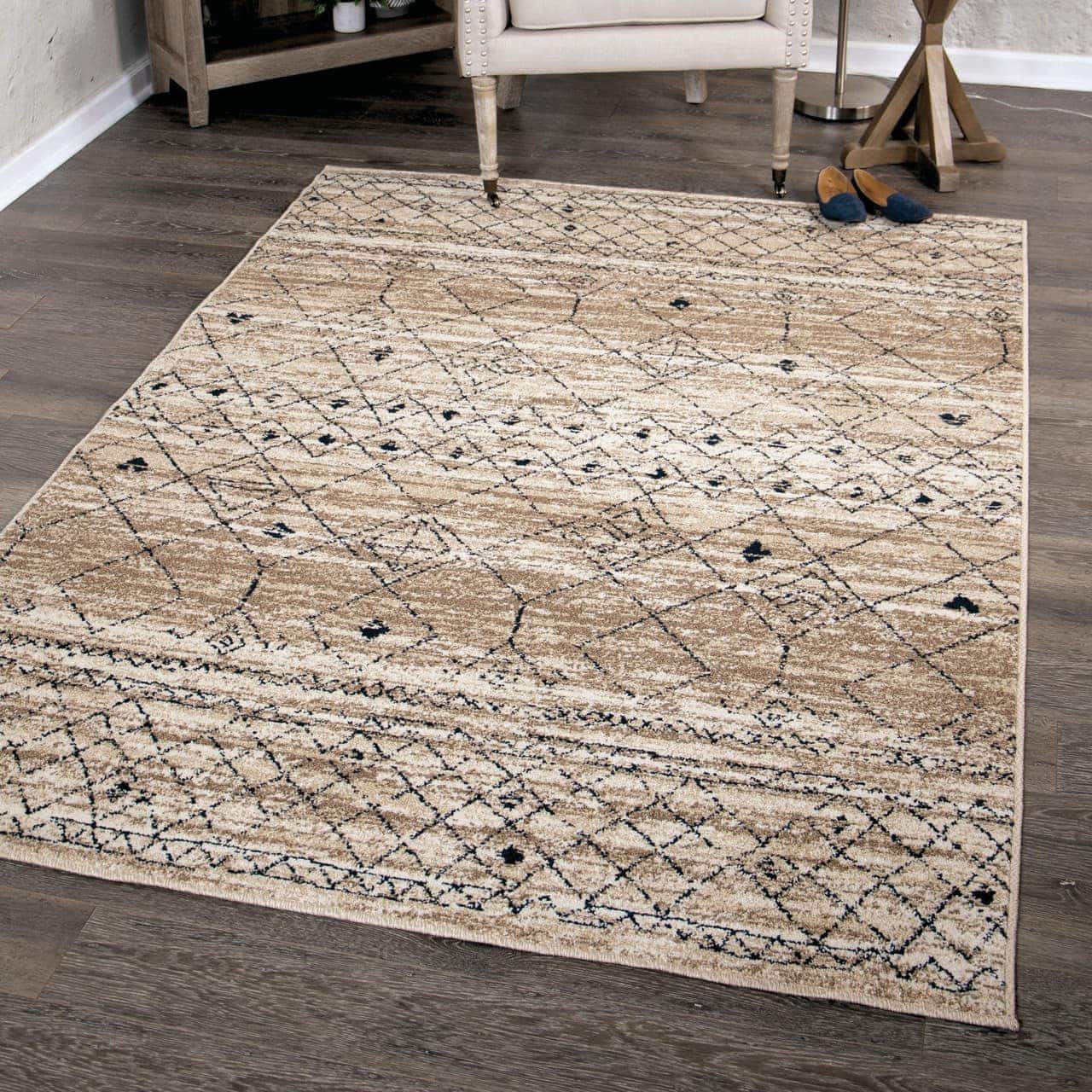 To complete a modern farmhouse look, this Gabbeh Field area rug is a great option. With a neutral color palette and a black trellis style design, this rug would suit a variety of different areas in your home.
The warm beige color of this rug is sure to warm up any interior, and it would be perfect against either wooden or tiles floors.
Hand Braided Jute and Sisal Round Area Rug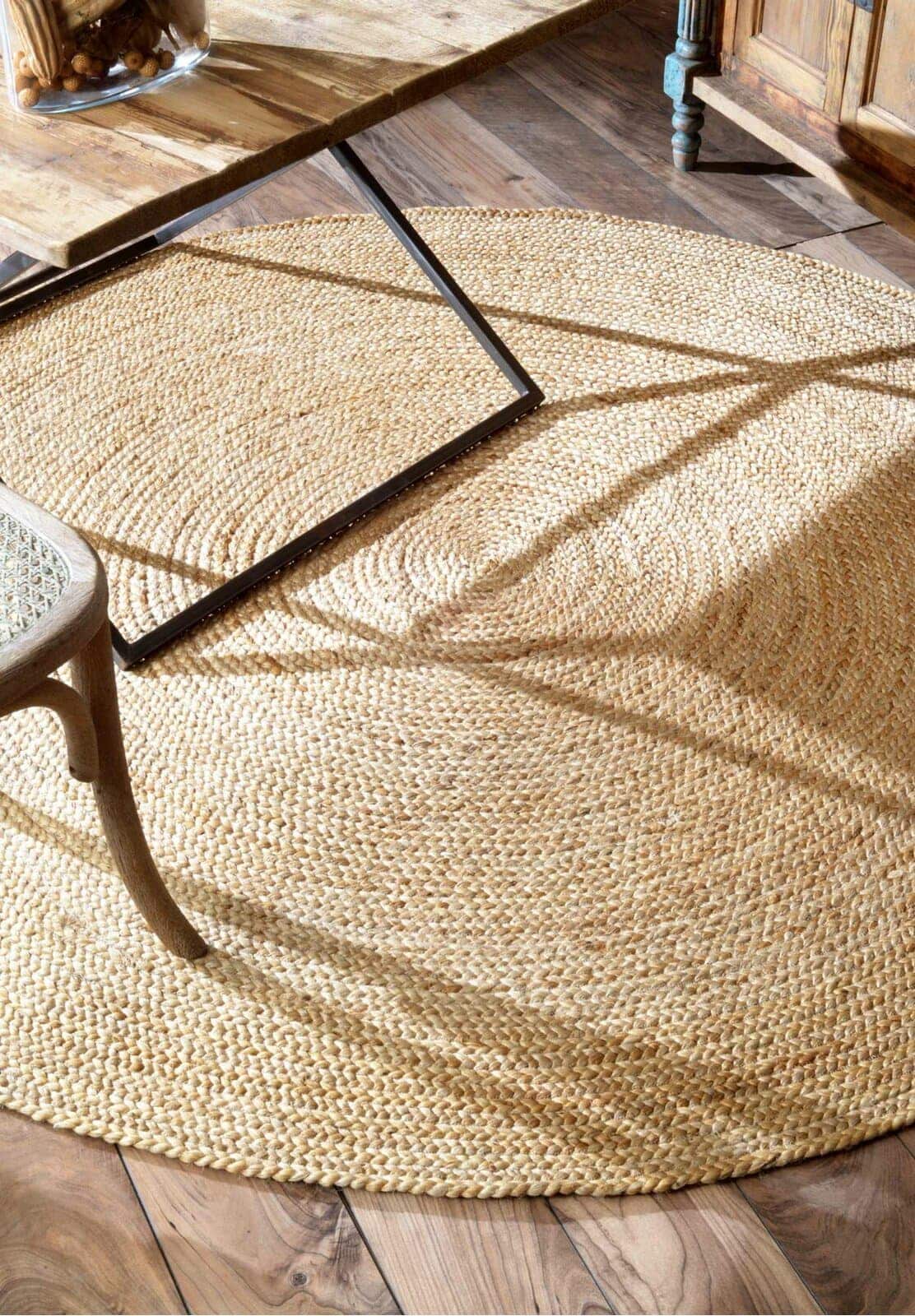 This round Jute and Sisal rug is a modern takeon the traditional jute rug, featuring beautiful curves and subtle stripes. The warm natural earth tones of the Jute and Sisal will brighten up any farmhouse interior, and will work best layered against hardwood or tiled flooring for a country feel.
Round rugs work well under coffee tables, in entrance halls, by the bed, and more. This versatile rug will be the perfect finishing touch to your modern or traditional farmhouse space.
Blue Honeycomb Labyrinth Patterned Rug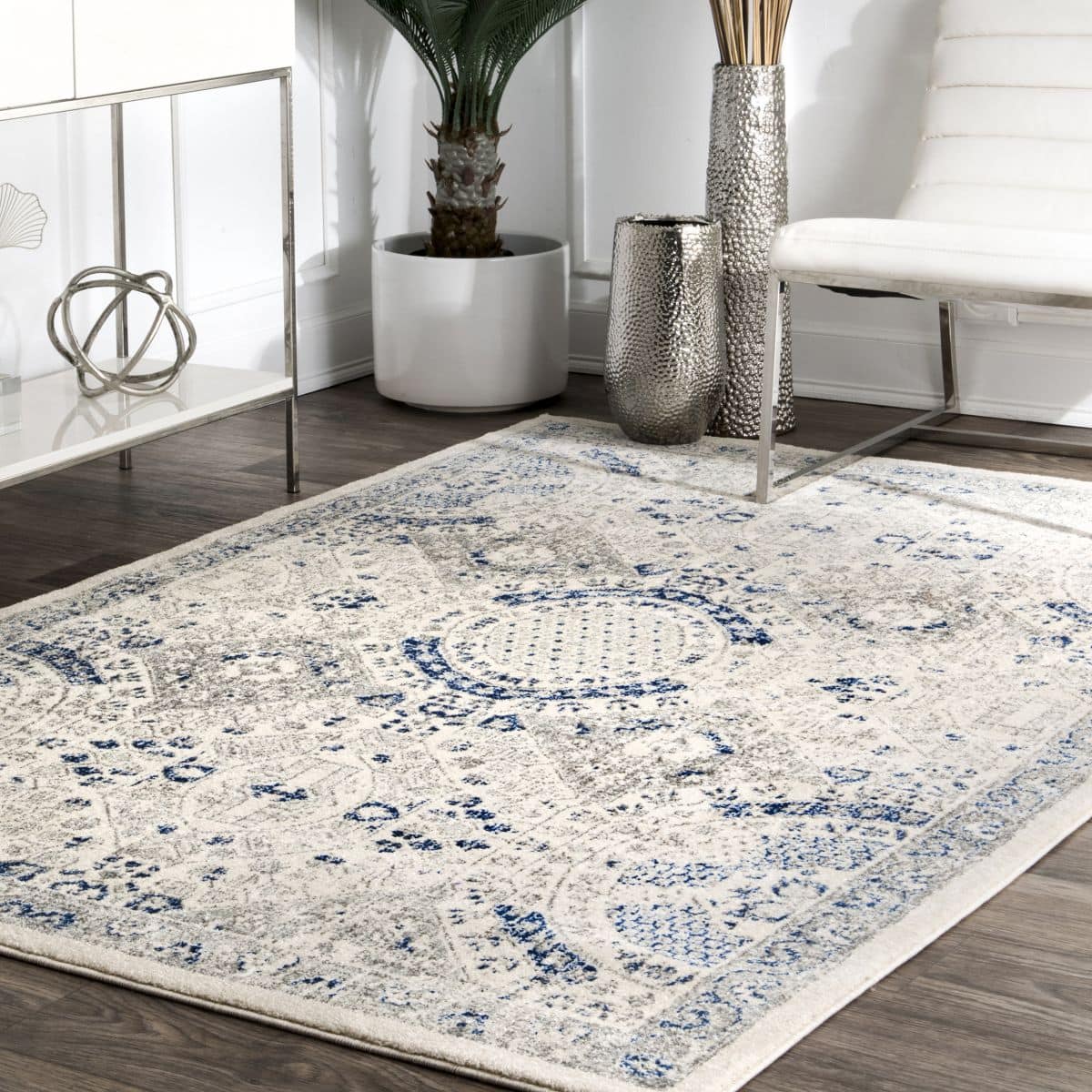 This has a delicious Labyrinthine pattern – perfect in the ivory/gray tone. The deep cobalt blue specks are not just pleasing on the eye, it has a soft cushioned pile that also manages to hide dirt well. This would suit a main living/dining room or den.
The approximate pile height is ⅛". Machine made in Turkey from 100% Polypropylene for durability and ease of cleaning. This will suit a high traffic area.
Terali Ash Grey Rug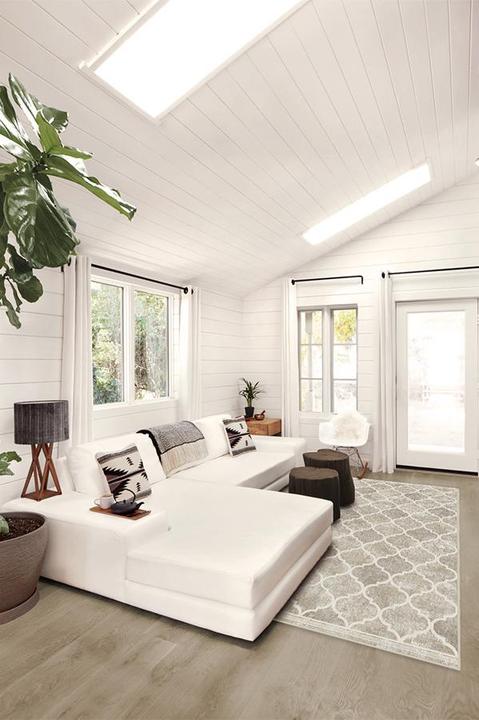 When it comes to modern farmhouse style rugs, you don't have to stick to the traditional patterns. This Terali ash grey rug features a moroccan style trellis pattern, but the muted colors of ash grey, taupe, and mascarpone white work beautifully with a modern farmhouse decor style.
This rug has a patented two piece system where the top of the rug easily detaches from the rug pad and can be washed in the washing machine – So although this rug is light in color, it's still perfect for any areas where spills and accidents might happen.
Sequinned Tribal Bands Area Rug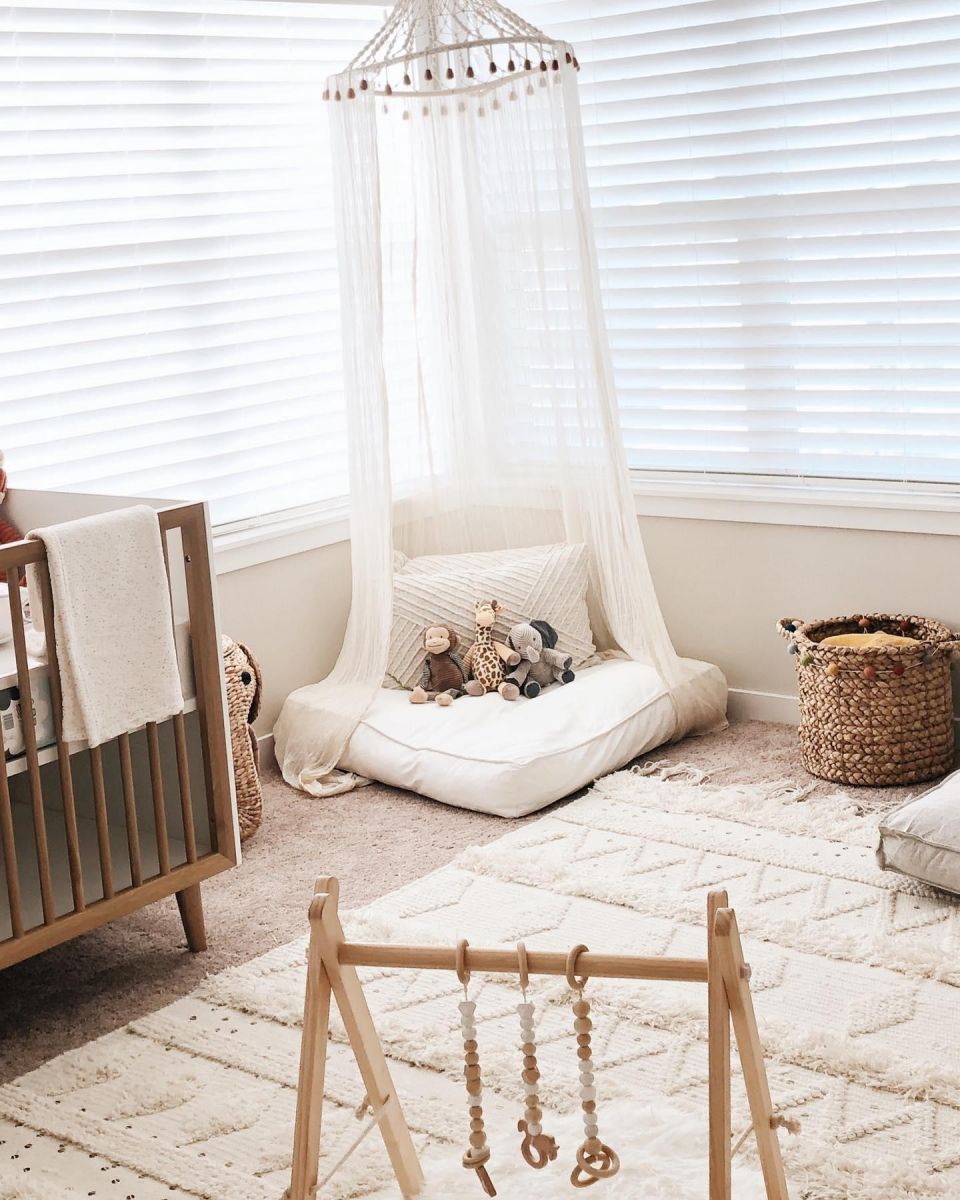 This fun take on a tribal stye area is the perfect choice for a kids bedroom in any modern farmhouse style home. There's gorgeous textural detail in this contrasting high-low pile rug, with added metal sequins (gold or black) and tassels because, why not?
Made with 100% wool and a hand-tufted weave. The shadows in the material add depth to the overall style of the room, ideal for the Bohemian, eclectic, natural style that gives a farmhouse look.
Herringbone Ash Grey Area Rug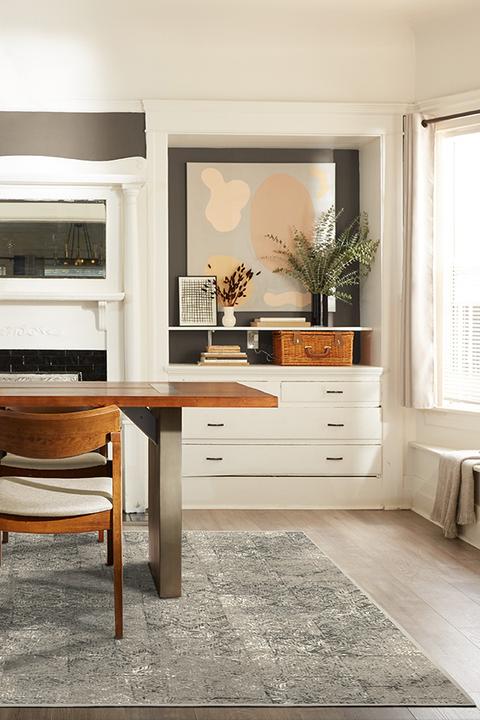 This globally inspired ash grey rug features a timeless herringbone design in a patchwork of neutral and grey shades. Not only gorgeous, but practical too, this rug is machine washable making it the perfect finishing touch for a farmhouse kitchen.
The color palette and subtle pattern will work well with a variety of styles, whether you are going for a traditional or modern farmhouse look.
Blue Chunky Loop Hand-Woven Rug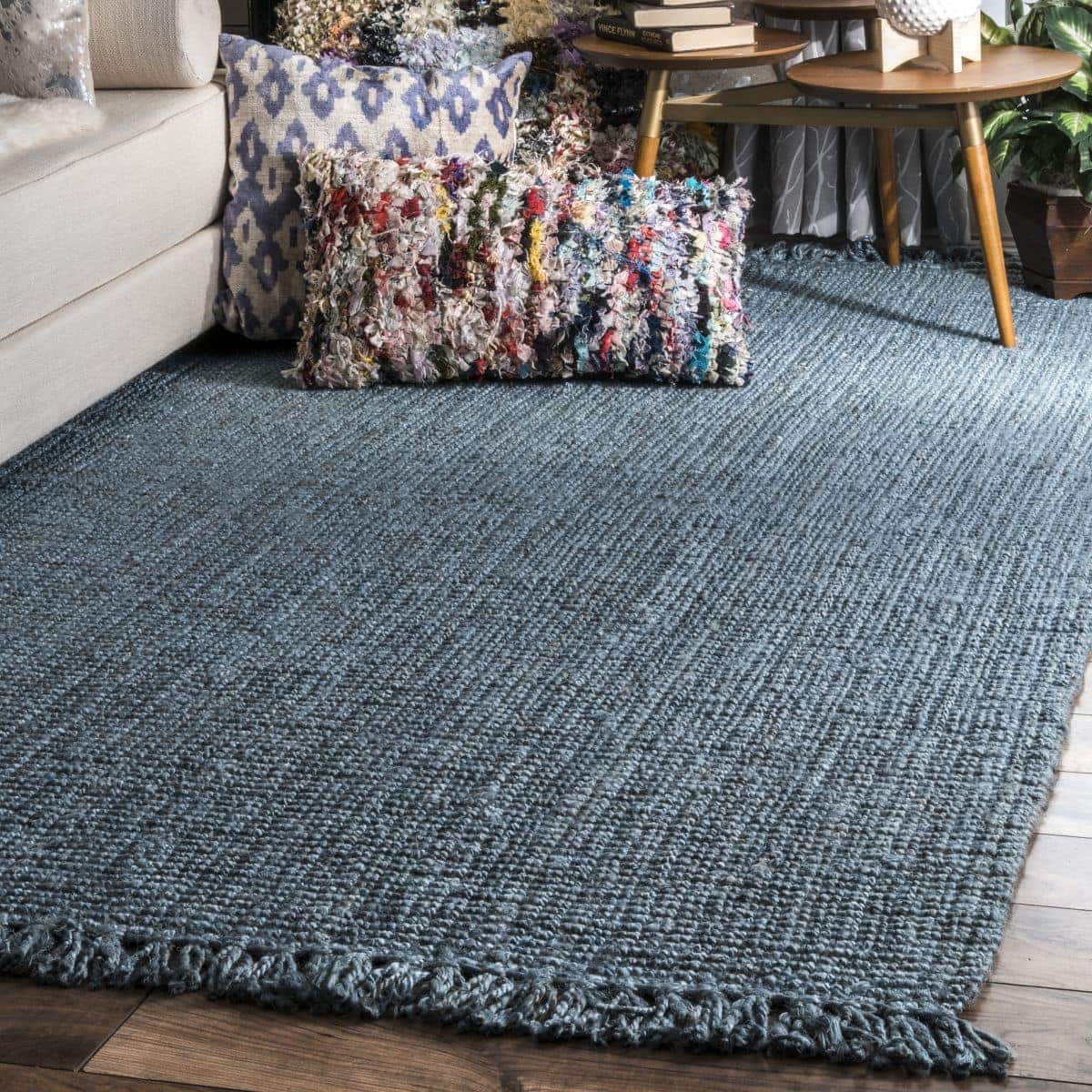 The thickness and durability of this rug make it perfect for any farmhouse interior. The deep loops give a warm and hearty texture in a variety of bold colors. The blue version combines wonderfully with any natural wood fixtures.
Its surprisingly soft underfoot for a Jute rug – and has the delicious earth scent that comes with this all natural material. This item is particularly popular for dining rooms, and performs well under a table.
A Traditional Floral Area Rug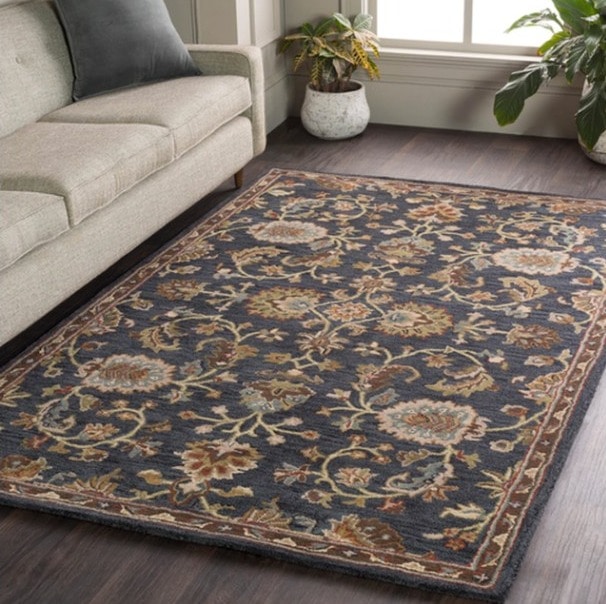 If you are a lover of traditional farmhouse style, then you will love the Kittredge area rug. With a bold retro floral design and a muted color palette of navy blue, brown, taupe, and olive green, this would be a stunning addition to a farmhouse living or dining area.
This beautiful rug is 100% wool, and hand tufted, so it's excellent quality. It has a medium pile so it's nice and squishy underfoot too!
Multi-Speckled Tribal Rug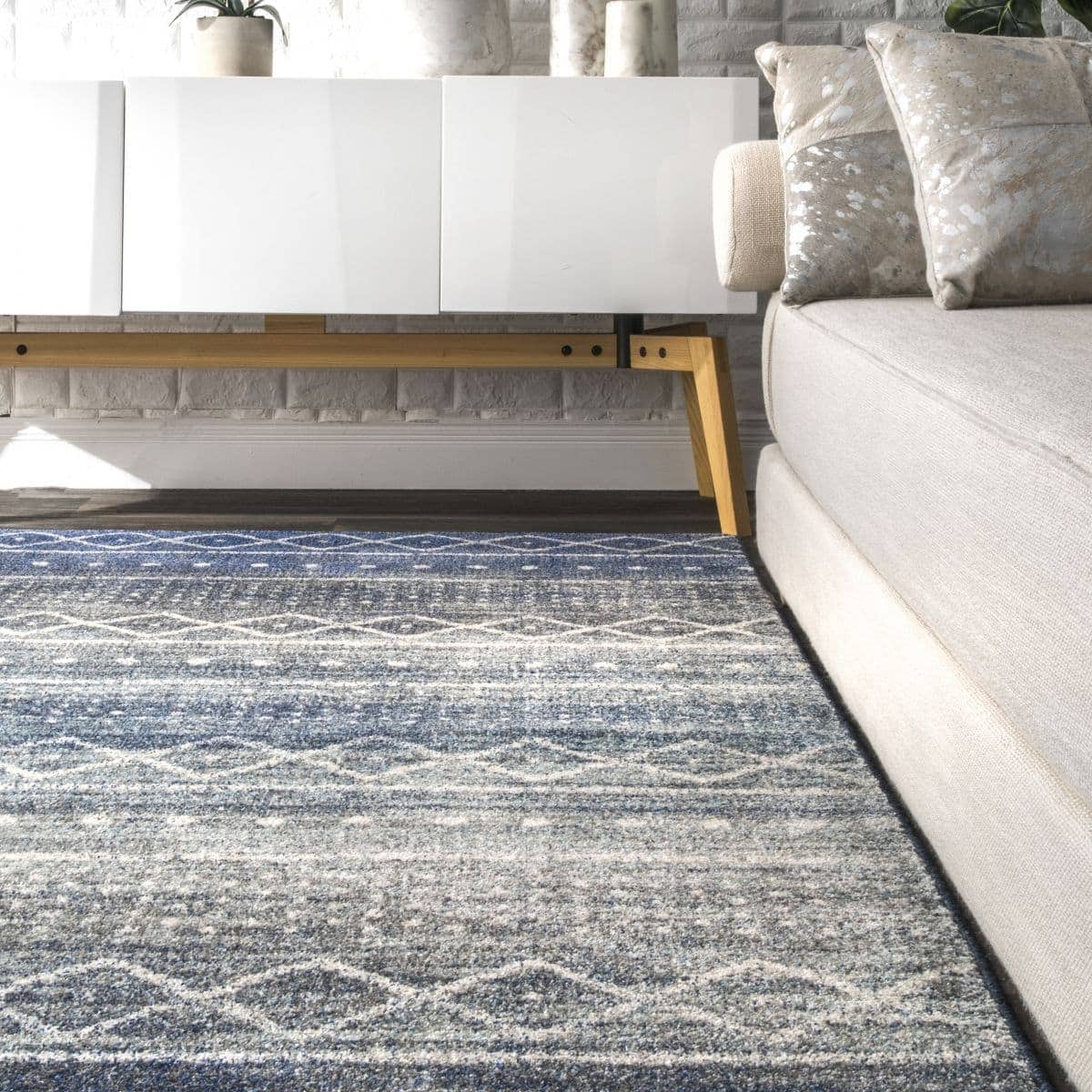 We love the clean and crisp edges to this beautifully patterned rug. The faded pattern and speckled effect give this an authentic feel – you can pretend you shipped it straight from a Turkish bazaar! No need to worry about UV fade in sunlit rooms.
It's super soft and durable too. It performs well in high traffic areas, and also with children and pets – somehow eluding the worst dirt and grime they can attack it with.
Whimsical Teal Blue Rug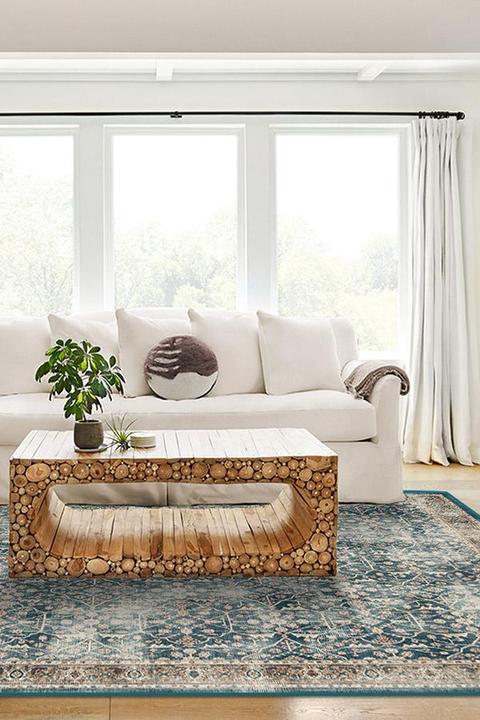 A sensational color palette of teal blue and coral orange, and whimsical floral design make this an exceptional addition to your home. A large field of floral vines climb through the lattice pattern giving a very pleasing effect. It also features a narrow border to add perspective.
This is a super durable item despite its high-end aesthetics, so can be used perfectly in all areas but why not add a WOW factor to your farmhouse Kitchen!
Summing it Up…
Whether you are on the hunt for rustic farmhouse rugs, or the perfect finishing touch for your modern farmhouse home, hopefully we have given you some inspiration!
Finding the perfect rug isn't easy, but if you're looking for farmhouse rugs, you can make it easier by sticking to a neutral or muted color palette, safe in the knowledge it will work well with most furniture and accessories!
When choosing a rug, think about how it will fit the space you need it for. Will it need to go under any furniture, or would a round rug work better? All of the rugs in this article come in a variety of sizes, so make sure you get the tape measure out to get the perfect fit!!