Decorated Life is reader-supported. When you buy through links on our site, we may earn an affiliate commission. Learn More
15 Great Decor Ideas for Kitchen Table Centerpieces
Do you find that your kitchen table looks bare? Is the room lacking a bit of decor? Luckily, it's quite easy to spice up the appearance of your kitchen by adding just a few nice pieces to your table and creating a stunning centerpiece.
Whether you want something gorgeous that will stand out for a special event or an everyday decoration idea that you can keep year-round, here are some of the top options for decorating your kitchen table.
Get a Seagrass Serving Tray for Decor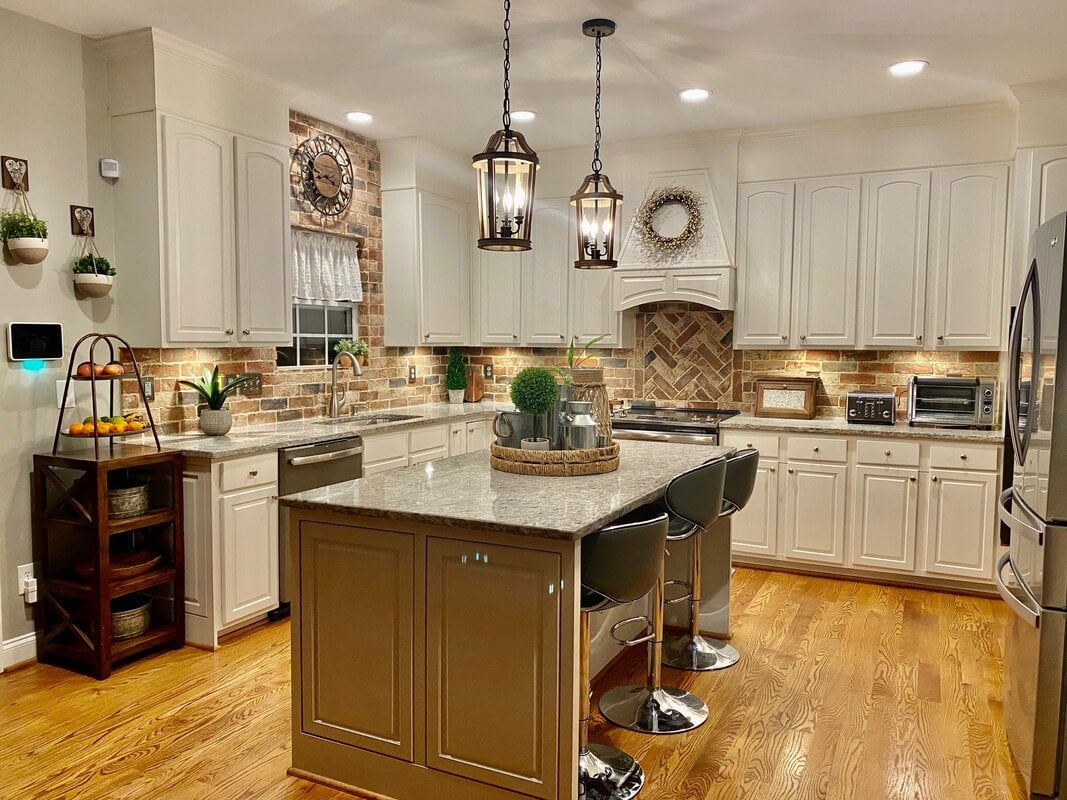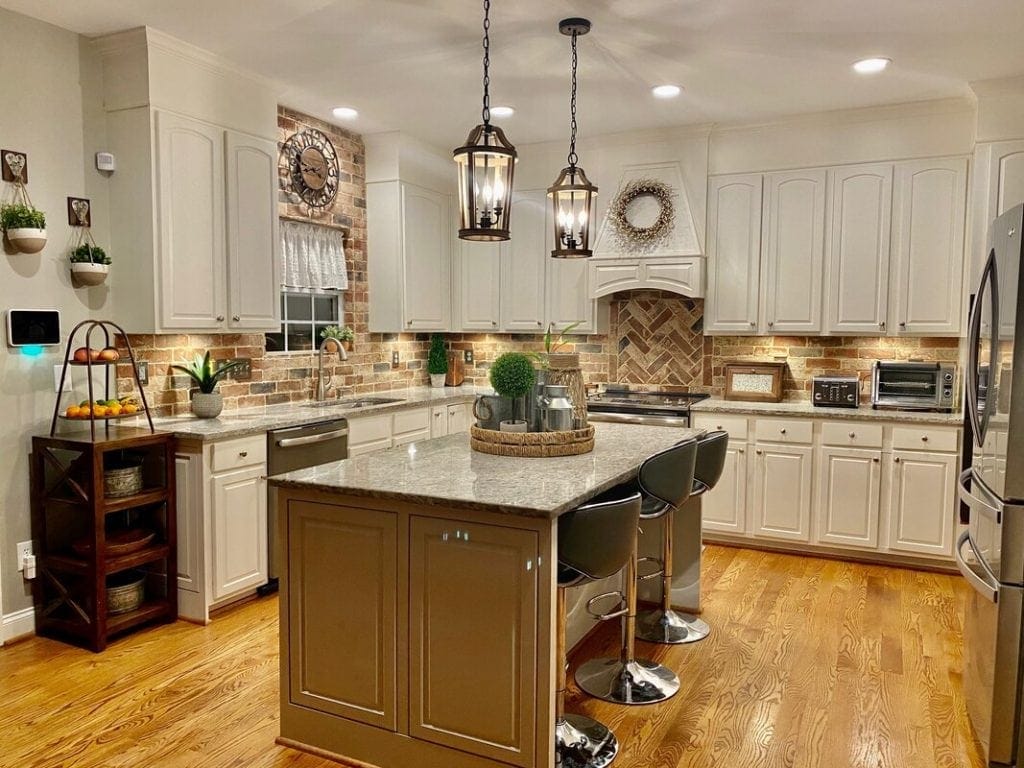 The seagrass serving tray on this kitchen island is an excellent piece to incorporate in a lot of different styles of decor. It works well in a rustic, farmhouse, or Tuscan style kitchen, but it can also be used in a more modern or traditional setting.
There are a lot of great ways to use serving trays for your centerpiece, whether you want to use it as a plant display, for serving items, or whatever decor you like.
Channel the Seasons With a Gold Flower Display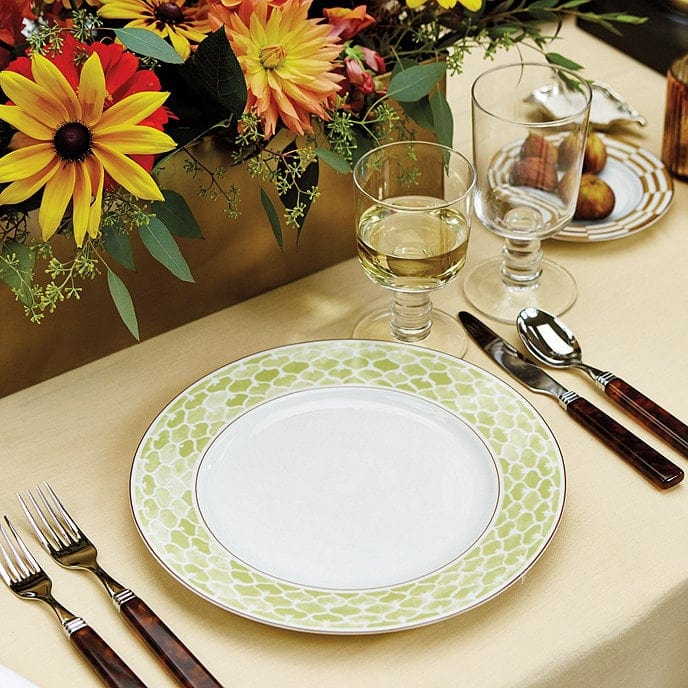 A seasonal display is another great kitchen table decoration idea and this long, rectangular golden flower box can work with a lot of seasonal displays. A long planter box like this can also fit multiple vases inside for different plants and flowers.
Fall colors like in this image, green, white, and red during the winter holidays and colorful pastels during springtime can all work well with this gold planter.
Look for a White Collection With a Farmhouse Table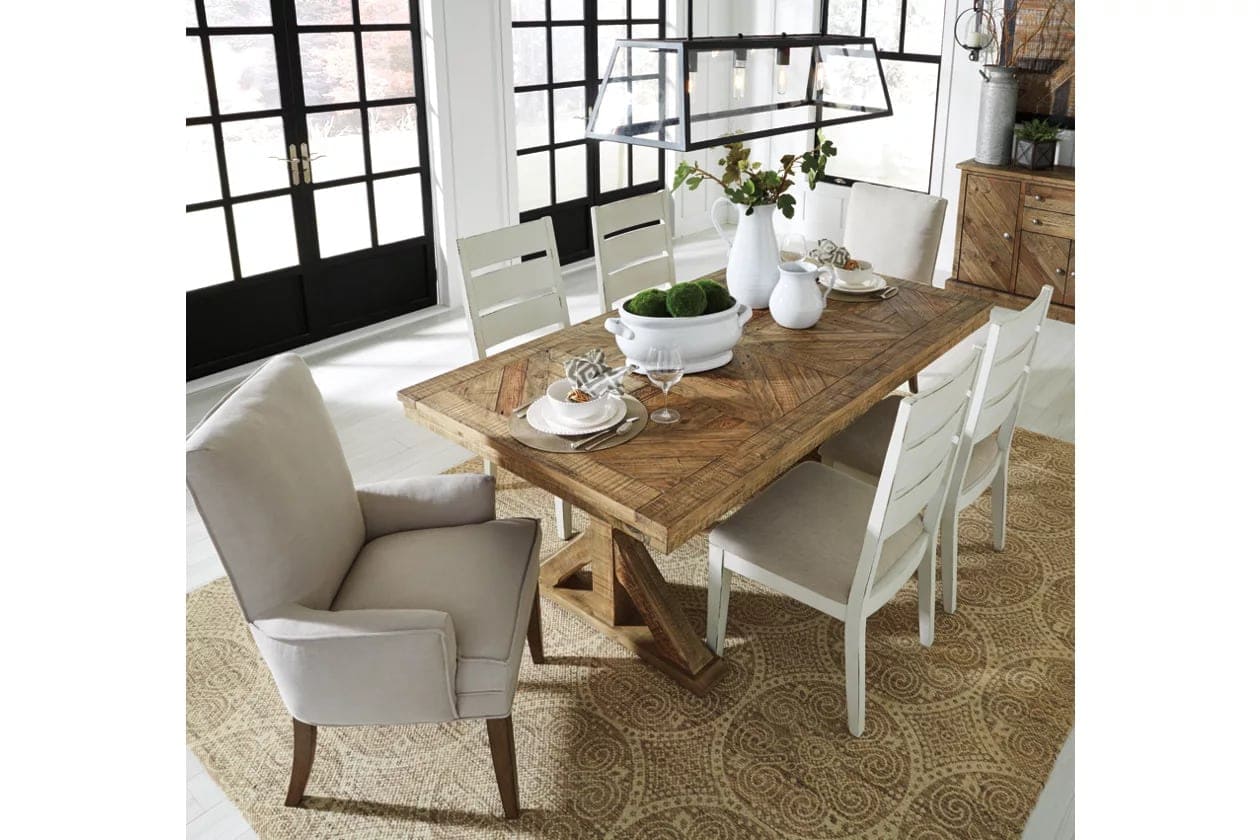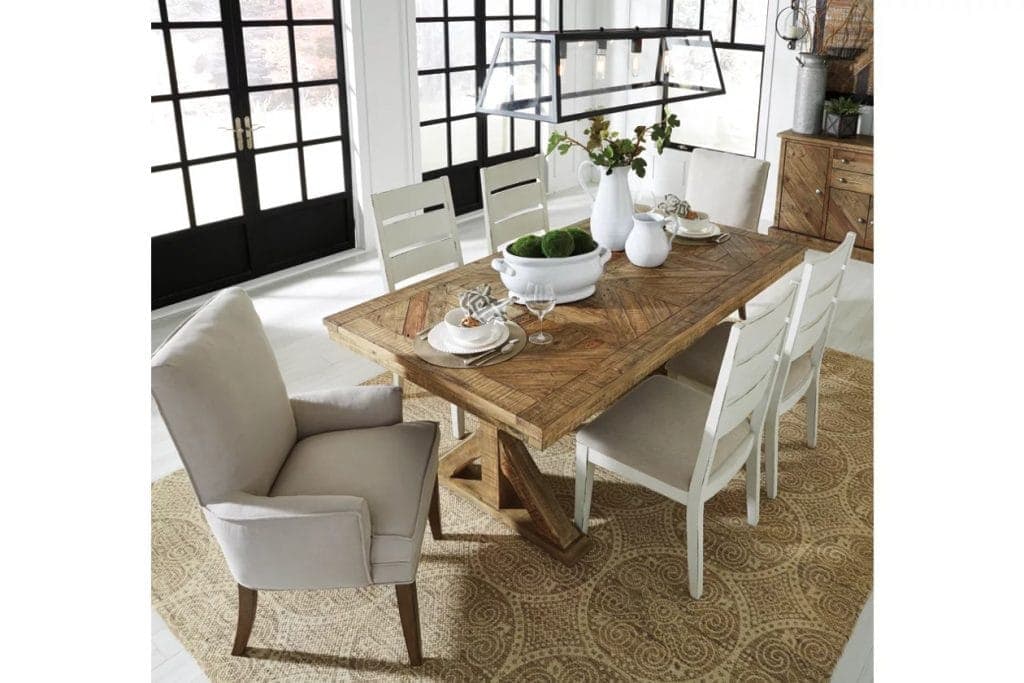 I love this gorgeous display and I'm a big fan of the rough farmhouse table combined with white decor pieces. If you're looking for ideas on how to decorate a kitchen table in the farmhouse style, look no further than this option.
The smooth white of the ceramic collection of a pitcher, vase, and fruit bowl is complemented perfectly by the rough, dark wood of the classic farmhouse table. The white chairs are a nice touch too.
Keep It Simple With a Smooth, Small Vase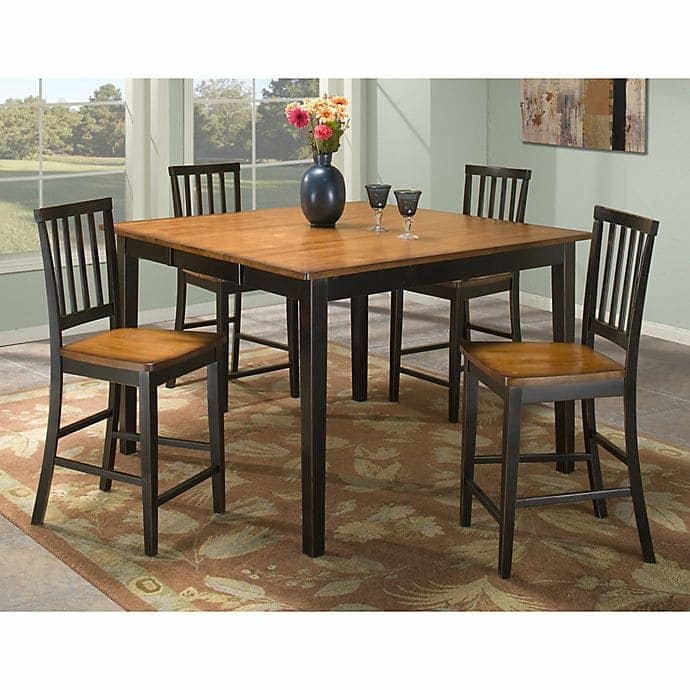 You can also have a centerpiece that doesn't create clutter if you prefer the minimalist approach. This smooth, black flower vase is simple and beautiful, especially paired with a kitchen table and chairs with black accents like this one.
This type of vase can also be used in a modern, black and white style of kitchen and is overall a good option for an everyday kitchen table centerpiece, especially one that won't break the budget.
Add Color and Freshness With a Fruit Bowl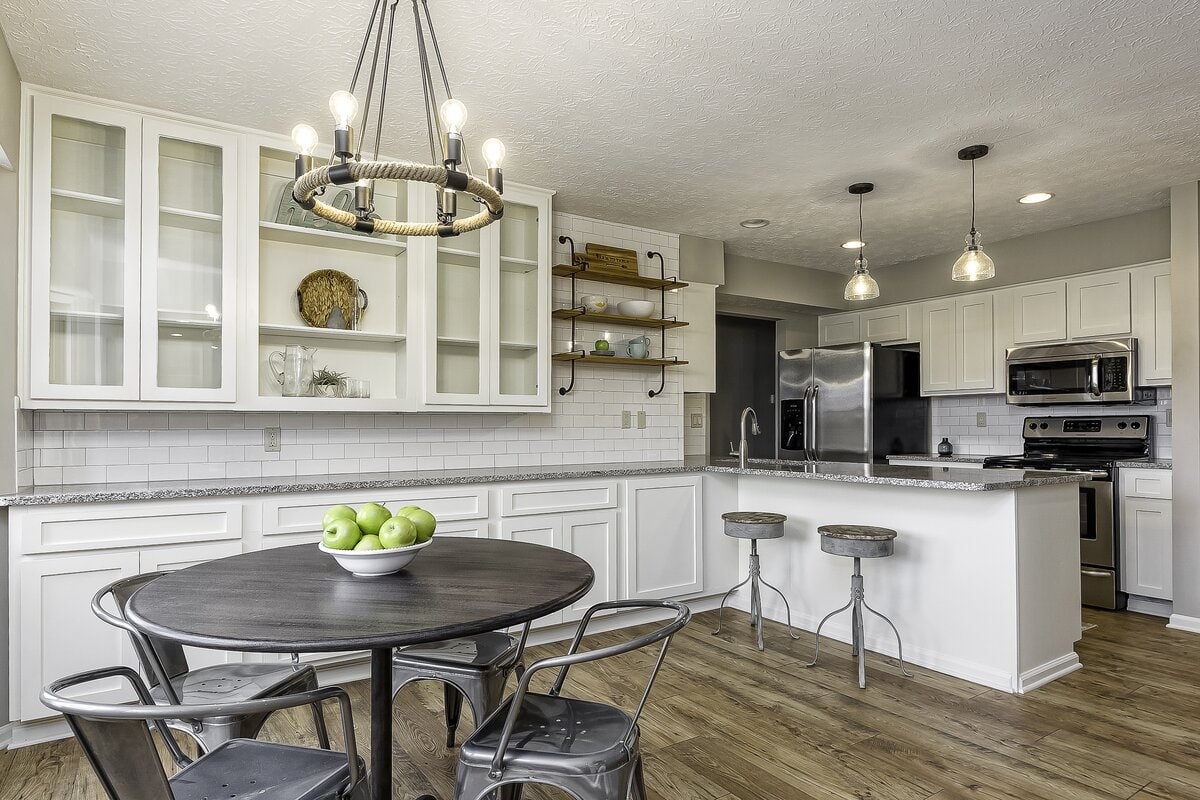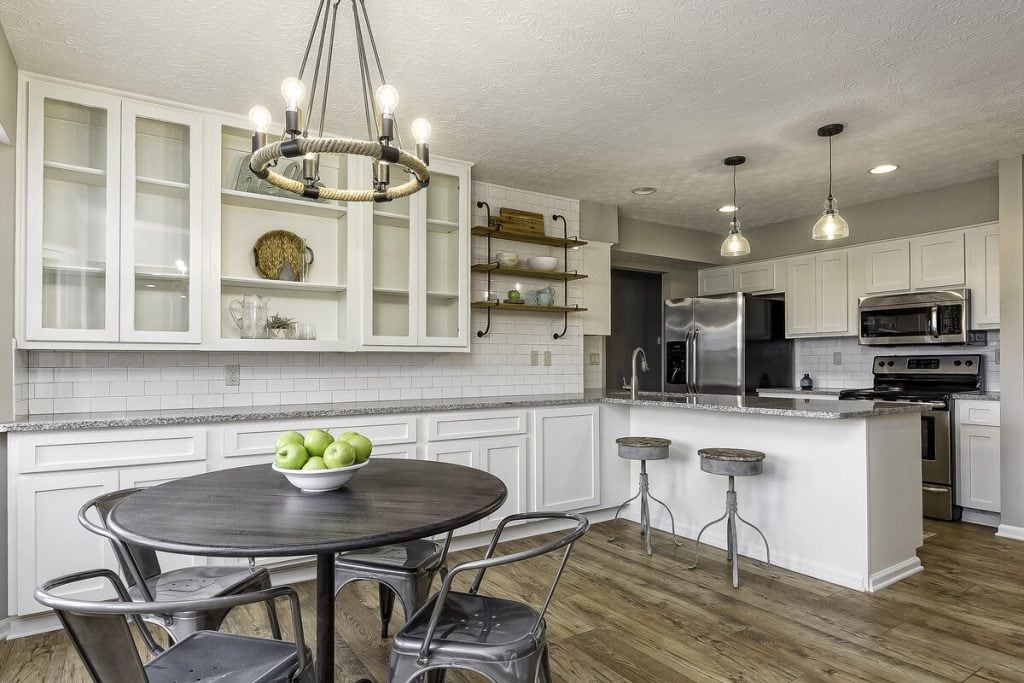 What's more classic and traditional as a kitchen centerpiece idea than a fruit bowl? There's something very fresh, wholesome and appealing about having a good old fruit bowl in the center of the table.
You can be artistic about it as well, such as using only one kind of fruit like the green apples in this photo to create a splash of color and a nice contrast with the white bowl and minimal decor pieces.
Get a Cute Set of Salt and Pepper Shakers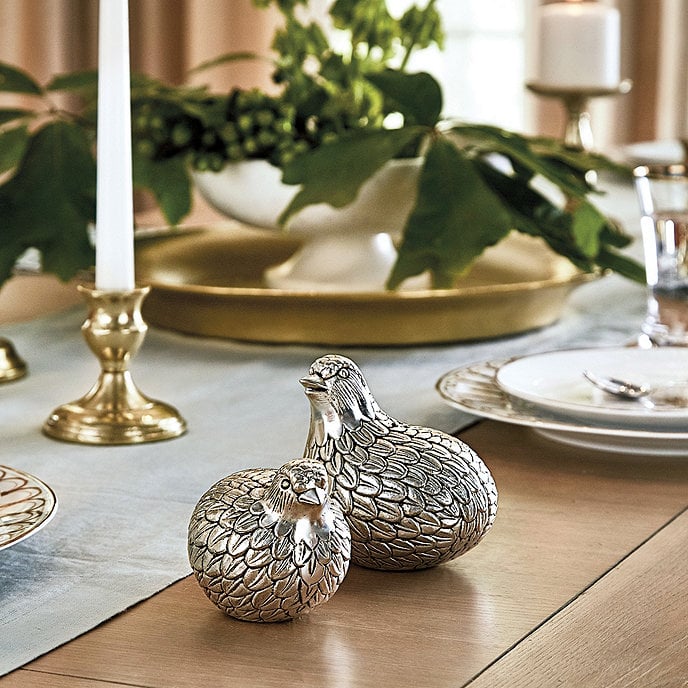 You don't have to hide your salt and pepper shakers away in a cupboard when they're not in use if you've got cute ones like these! These two silver bird shakers are adorable and they can fit in a table centerpiece whether you're going for a casual or formal look.
Look for a Tall, Tiered Display Tray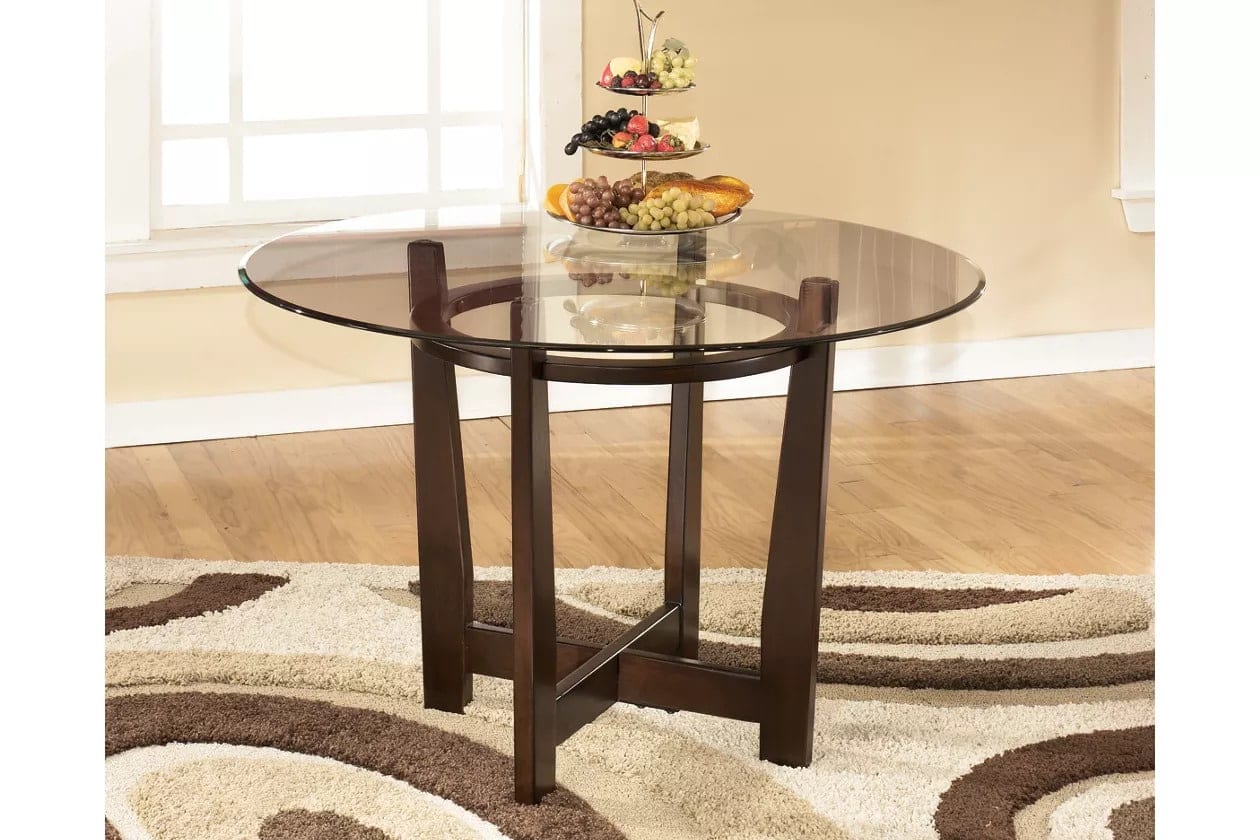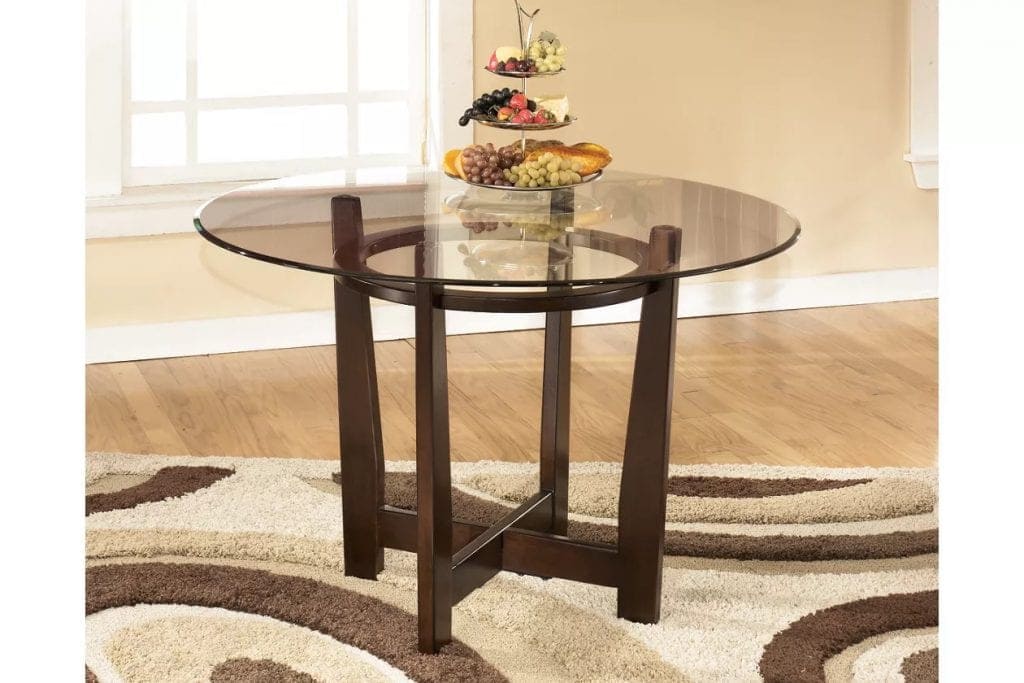 A tiered display tray like the one pictured here makes for a good kitchen table decor piece because it stands out and it's different than a lot of other people's centerpieces. Make sure your table is big enough to handle it to avoid the appearance of clutter.
If you're looking for clever ideas on how to style a tiered display tray, look no further than this Crisp Collective post that's full of great ideas.
Channel the Country Style With a Simple Yellow Bouquet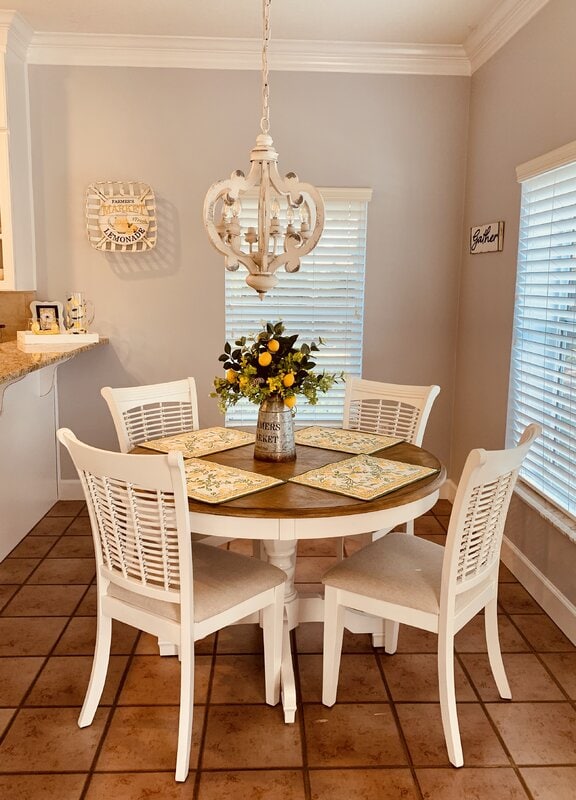 If you're not sure how to decorate a kitchen table, why not start simple, especially if you're looking for something charming and traditional. This small, country style of kitchen is immediately brightened up by the pretty yellow bouquet on the kitchen table.
The antique silver pot holding the flowers adds some vintage charm to the centerpiece and makes it different than just a standard vase.
Soften the Table Appearance With a Tablecloth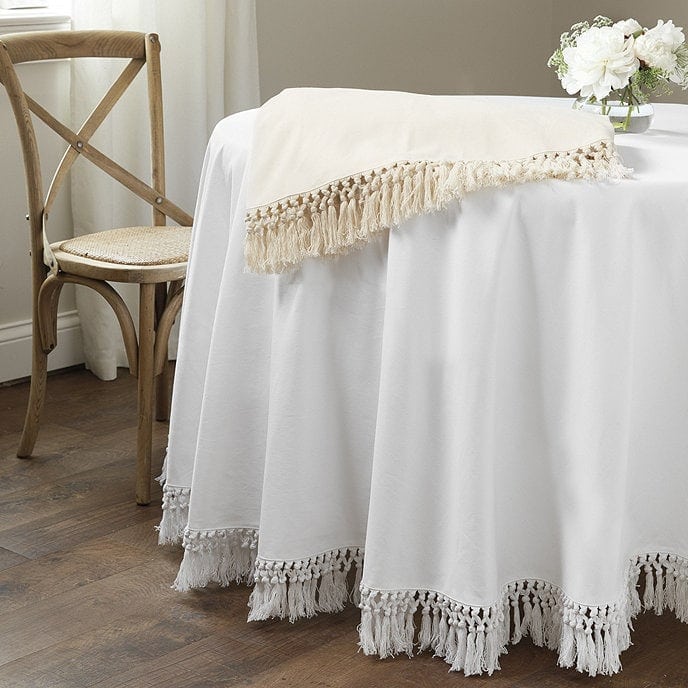 Not many tables use tablecloths anymore as an everyday table decoration, but it can really soften the appearance of a kitchen table.
In this example, we can see a lovely thick white tablecloth with a fringe and tassels alongside a country style chair. The ivory tablecloth option would also work well in the farmhouse style if you don't like the look of the pure white one.
Get a Large Vase for a Plant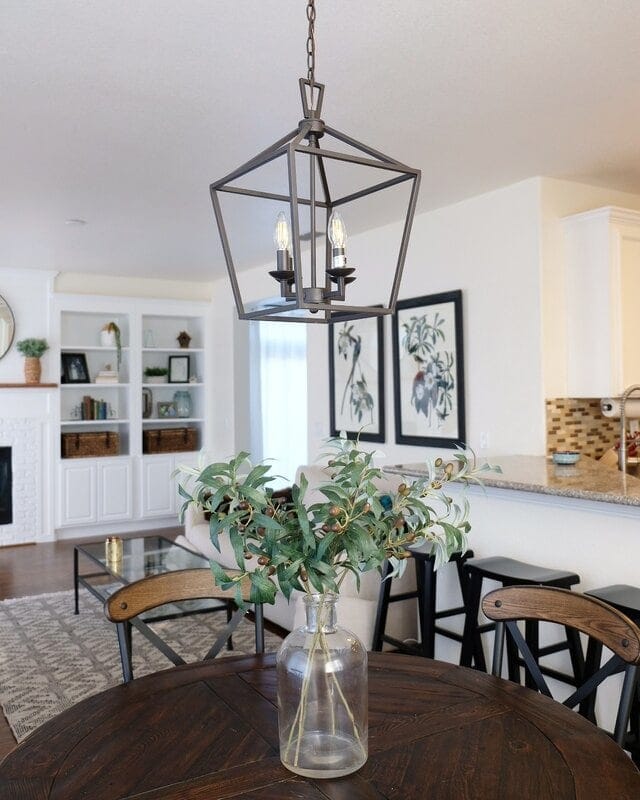 An oversize vase for plants is another great option for a kitchen table decoration, especially if you're using it for a large plant like this one. It's simple and minimal but also fits in well with the farmhouse look.
You don't need to get a real vase, either, simply a large glass container that can be reused or repurposed as a vase. That's a key aspect of the farmhouse design style.
Go Mid-Century Modern With a Splash of Yellow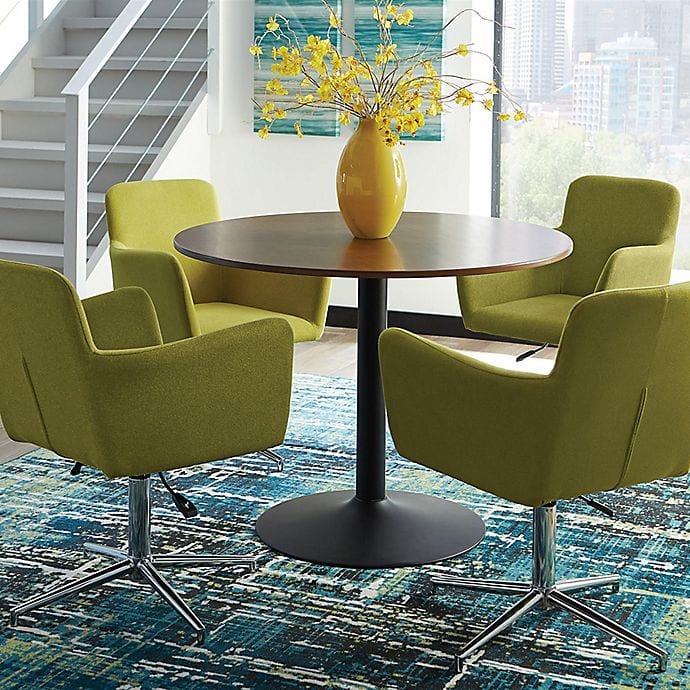 This mid-century modern dining or kitchen table uses a nice contrast of colors for decor, with the bright yellow vase and flowers contrasting with the green of the chairs.
The smooth, curved shape of the vase is a classic part of the mid-century modern look, and the color coordination of the plant and its vase makes for a good focal point in the room.
Set Up a Candle Display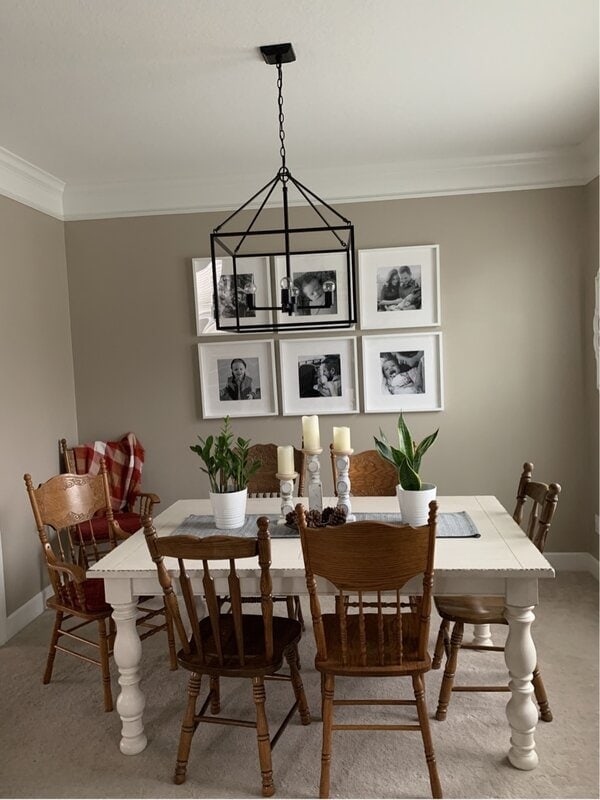 Many centerpieces at a kitchen table involve plants or fruits, but candles can also make good decoration options, especially candle holders. This table has gone for a symmetrical approach with two plants framing a display of three candles.
To avoid being too symmetrical, though, the three candlesticks are at varying heights. It's a good choice for not only an everyday kitchen table centerpiece but it's also useful for when you're hosting get-togethers on special occasions.
Add a Mix of Colorful Pieces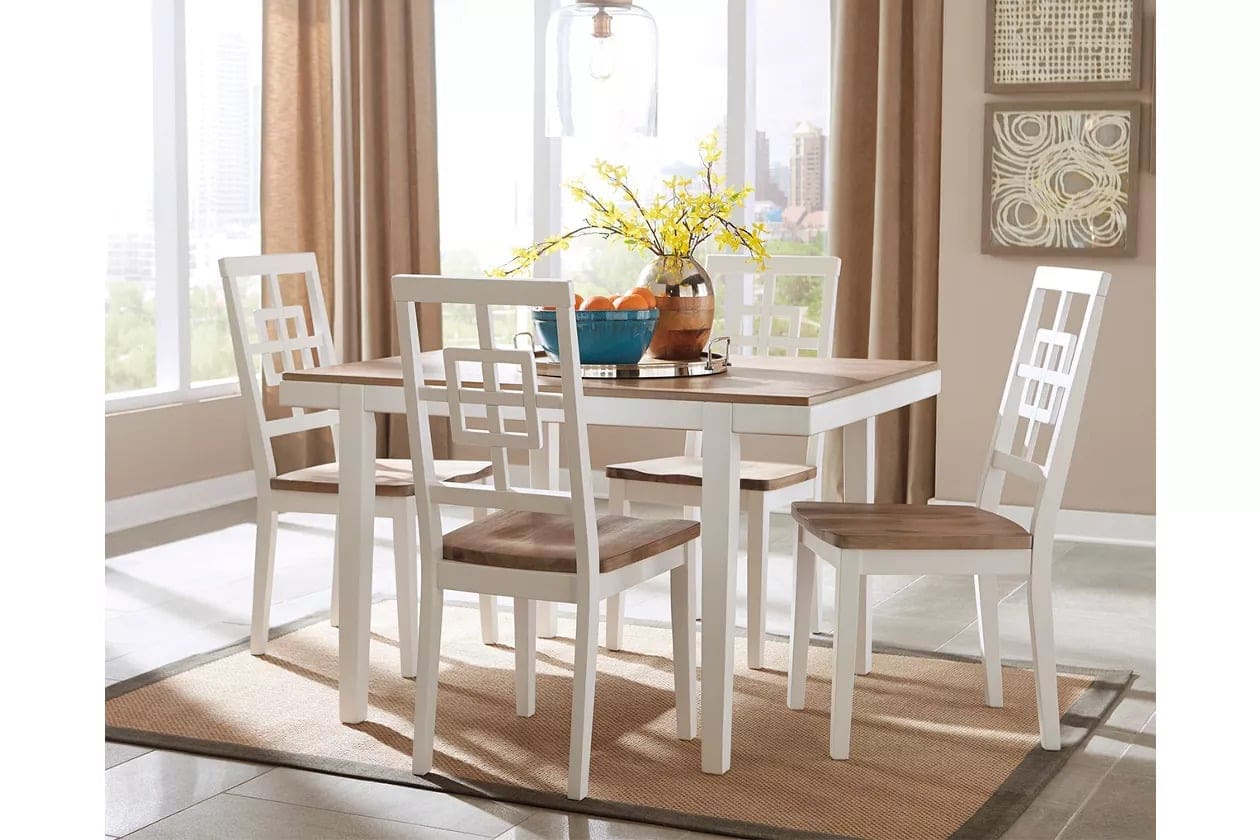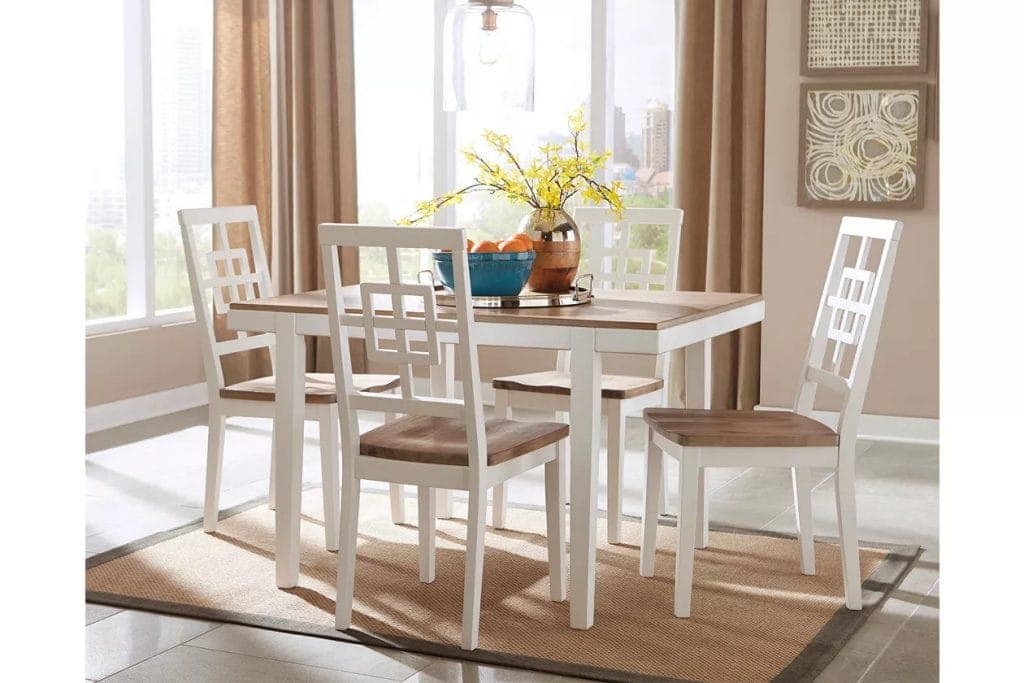 I love this look because it combines a lovely mix of different shapes, textures and colors to create a truly eye-popping kitchen table centerpiece. This look can work in a lot of traditional or modern kitchens.
The two-tone vase is sleek and shiny and pairs well with the bright yellow flowers, while the rich blue fruit bowl contrasts nicely with the oranges inside. The two pieces are brought together thanks to a nice serving tray display.
Spice Up the Table With a Runner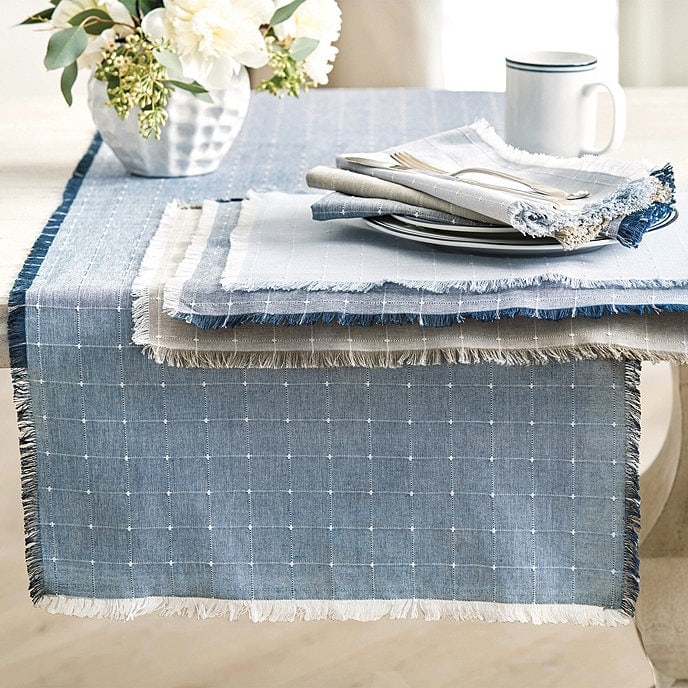 A table runner is a good compromise if you're not sure about a tablecloth or keeping the table bare. There are a lot of options with different shades or patterns. It's also easy to change runners depending on the occasion or the season.
If you like the look of a table runner, this article shows a few different clever ways to decorate a table with a runner, and how to pick the right one for you.
Look for a Narrow Display for Longer Tables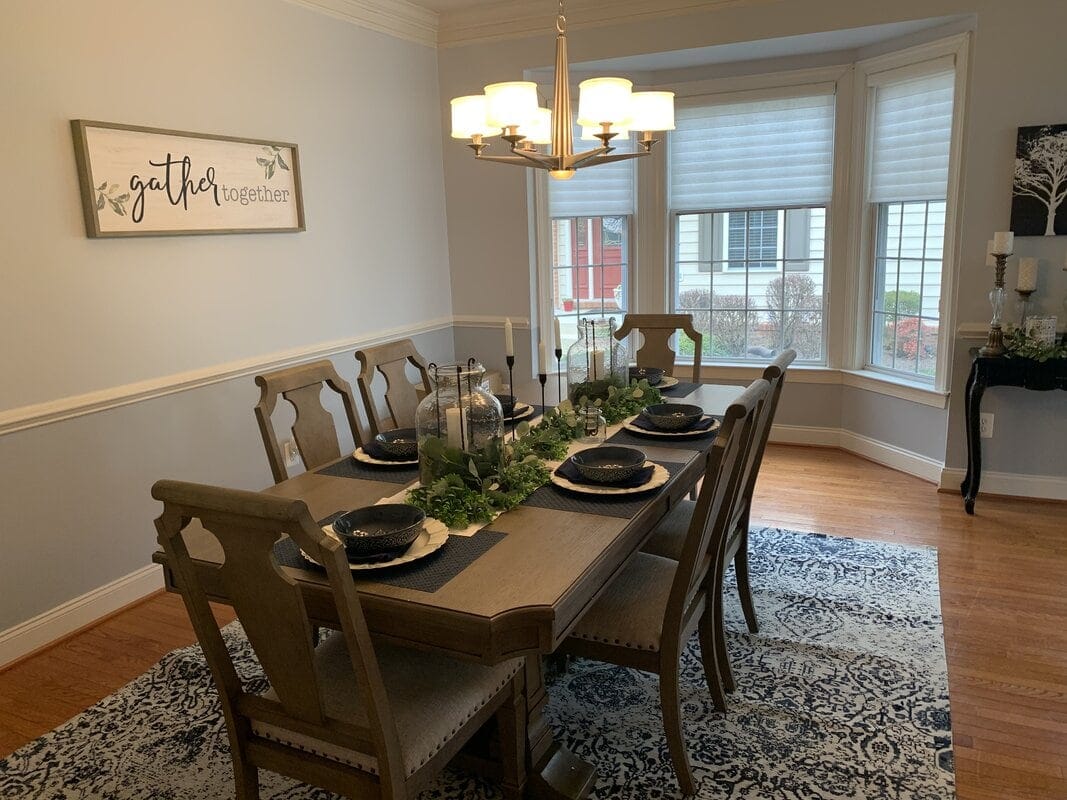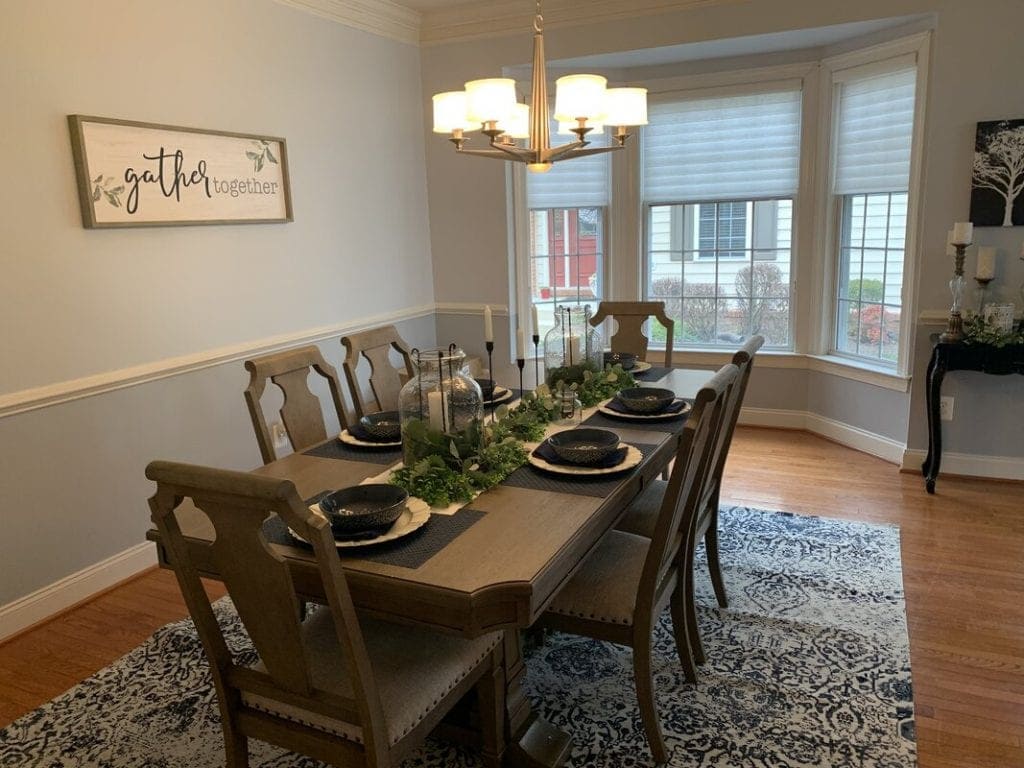 A long kitchen or dining room table may be better served in terms of a centerpiece decor idea with a long, narrow display. The idea pictured here is excellent because it combines small pieces like delicate black candlesticks of varying heights and two vases.
The whole look is tied together thanks to some greenery that's been wrapped around the centerpiece display.
Final Thoughts
There are so many different options for a centerpiece decoration for your kitchen table. Whether you want something small, simple, and traditional like a fruit bowl or bouquet of flowers or something more complex that can act as a focal point, the possibilities are there.
A kitchen table centerpiece is a useful and helpful piece of decor that can really spice up your kitchen and add some life and light to the room. The only problem is that you can't choose them all, even though each idea is so pretty!