Decorated Life is reader-supported. When you buy through links on our site, we may earn an affiliate commission. Learn More
How To Fill Empty Space in the Living Room  – 20 Ideas
The living room has the heart of your home. This is where you tend to spend most of your time with family while lounging, relaxing, and watching TV. Since this is the first space your guests look at, it has to be pleasing and welcoming. Whether you have an open concept plan or a dedicated space, your living room must be warm and cohesive.
Generally, larger living rooms have awkward corners to deal with. So, here is a guideline of 20 ideas to help you fill empty floor space, creatively. These simple tips and tricks will transform your home into absolute bliss. Let's have a look!
Place Indoor Plants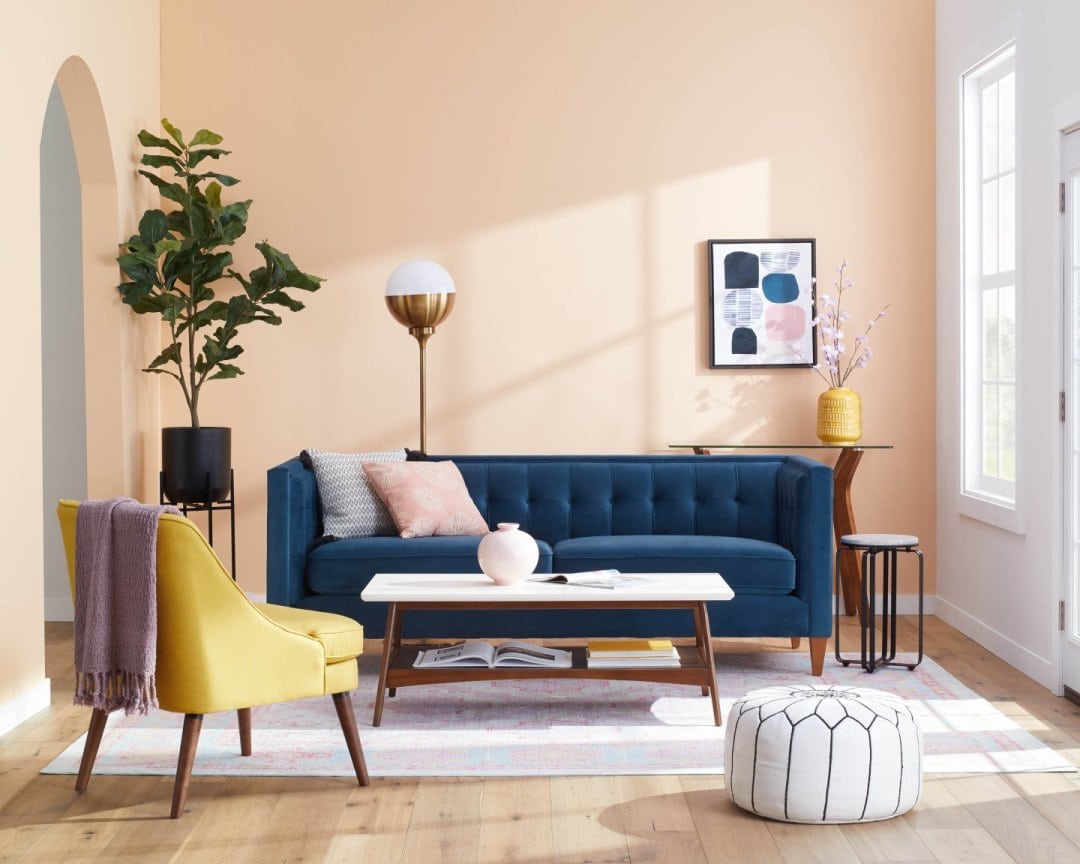 It's time to give that empty corner a vertical sense of perspective. Generally, some living rooms have negative spaces and empty corners – and that's why you can place a large indoor plant to give a refreshing and rejuvenated look.
Ensure that the indoor plant reaches up to a height of 6 to 7 feet in general. Some of the notable indoor plant examples are spider plants, fig-trees, and ZZ plants.
Style Floating Shelves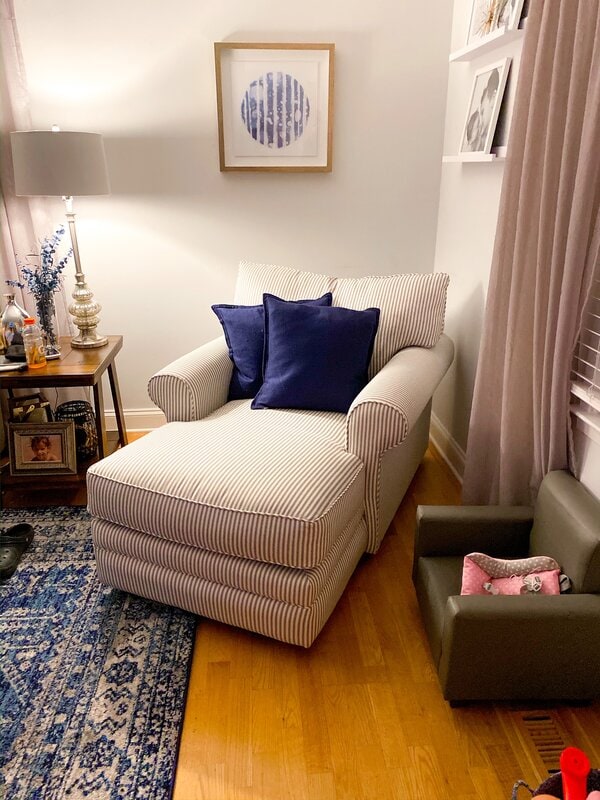 Floating shelves offer the best of both worlds – aesthetics as well as functionality. So, in case you have an empty living space corner to deal with – you can simply style with these floating shelves. It's time to flaunt off your favorite novels, indoor planters, and showpieces.
This is one of the most creative space filler ideas for the living room. Since you're free to be as innovative and imaginative as you want!
Create a Home Office Nook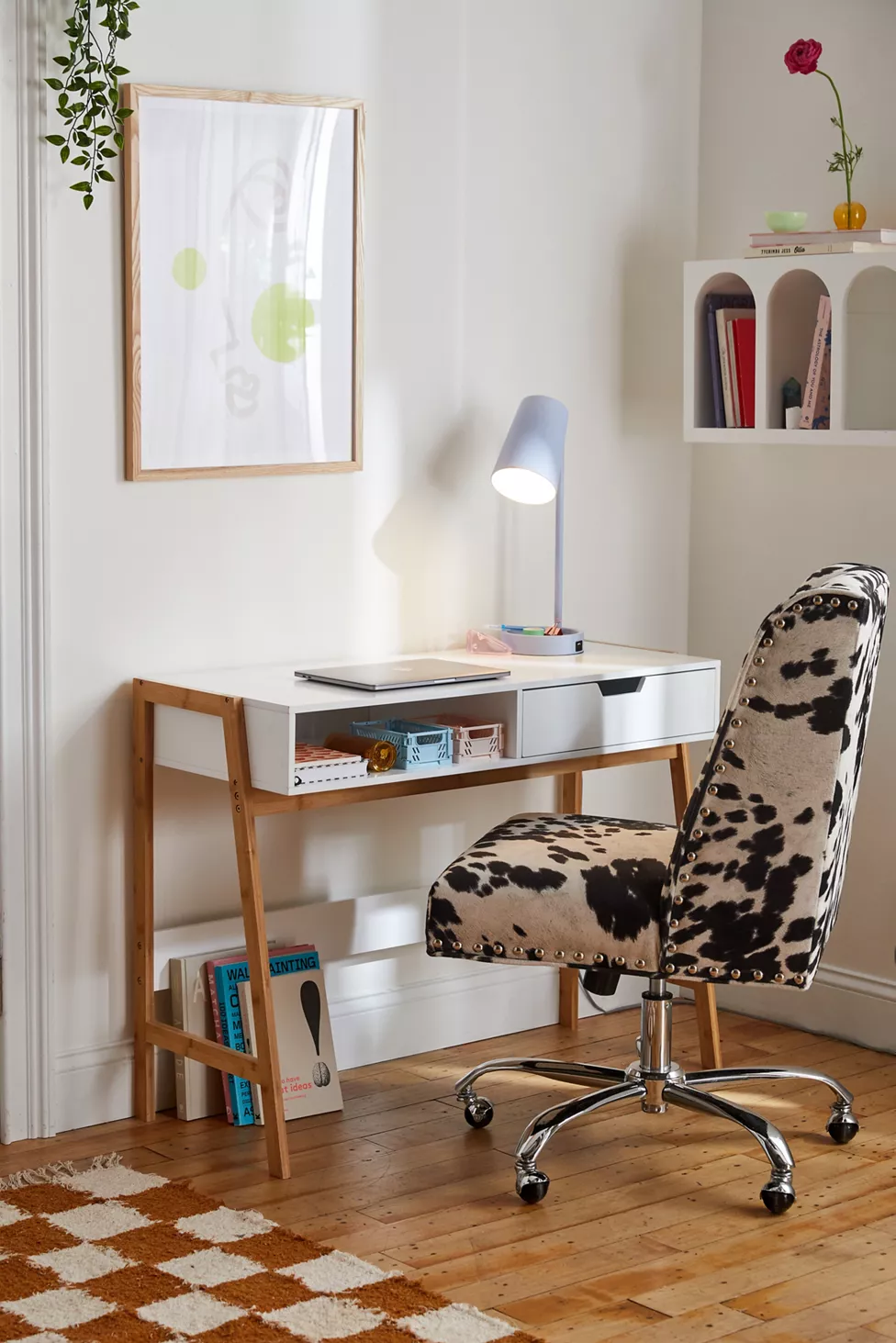 Ever since the deadly pandemic hit the world, more and more homeowners have been adapting to the concept of working from home. And if there isn't a dedicated room, you can have a home office corner right within your living room space.
All you need is a comfortable desk, an ergonomic chair, a laptop, and a few shelves for storage! And furthermore, placing the desk by the window is cherry on the top!
Play with Wallpaper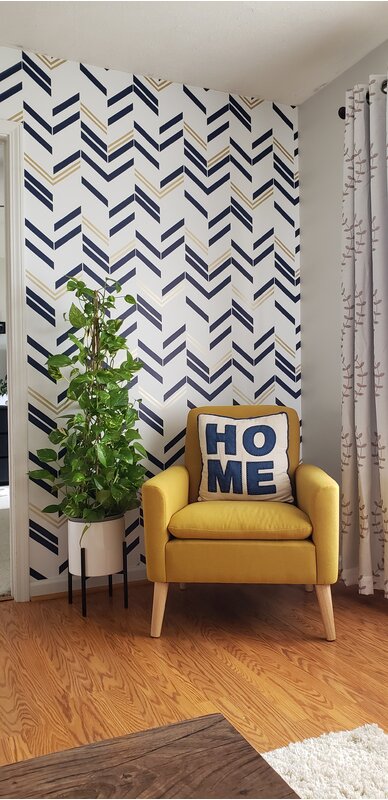 Just a little decoration can transform your empty and bland corner into creative bliss. In this case, a combination of abstract wallpaper, an accent chair, and an indoor plant is meant to take your breath away. A wallpaper in general will help you create an illusion of a larger or smaller space – thus, quite a smart trick to play!
Else, you can also pick a vibrant wallpaper like the florals or nature scenery to depict your style and design preference.
Choose an Arched Floor Lamp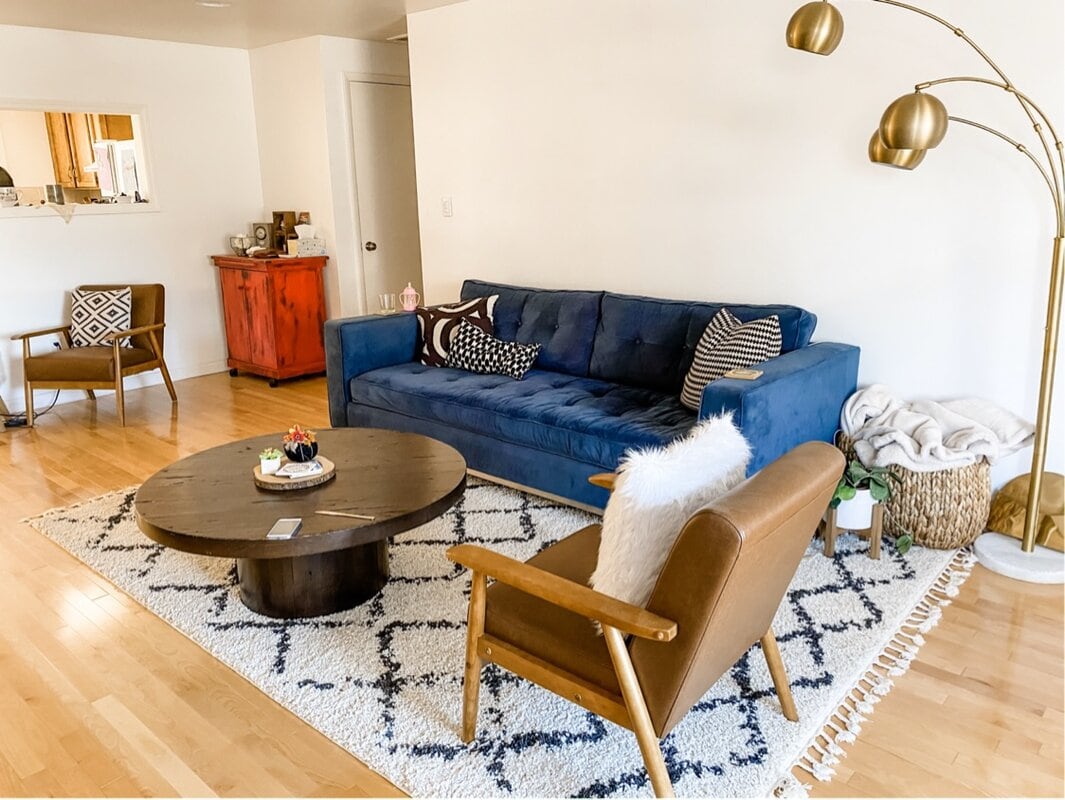 It's time to illuminate the empty space as well as fill it! Yes, with the help of an arched floor lamp – you can functionally kill that dead space in your living room, creatively. Generally, it's better to pick a floor lamp that has a significant height of 6 to 7 feet and a perspective to add a vertical dimension to the room.
And since this lamp casts significant light in the space, you can create a little reading nook on the couch.
Let the Bench Play Focal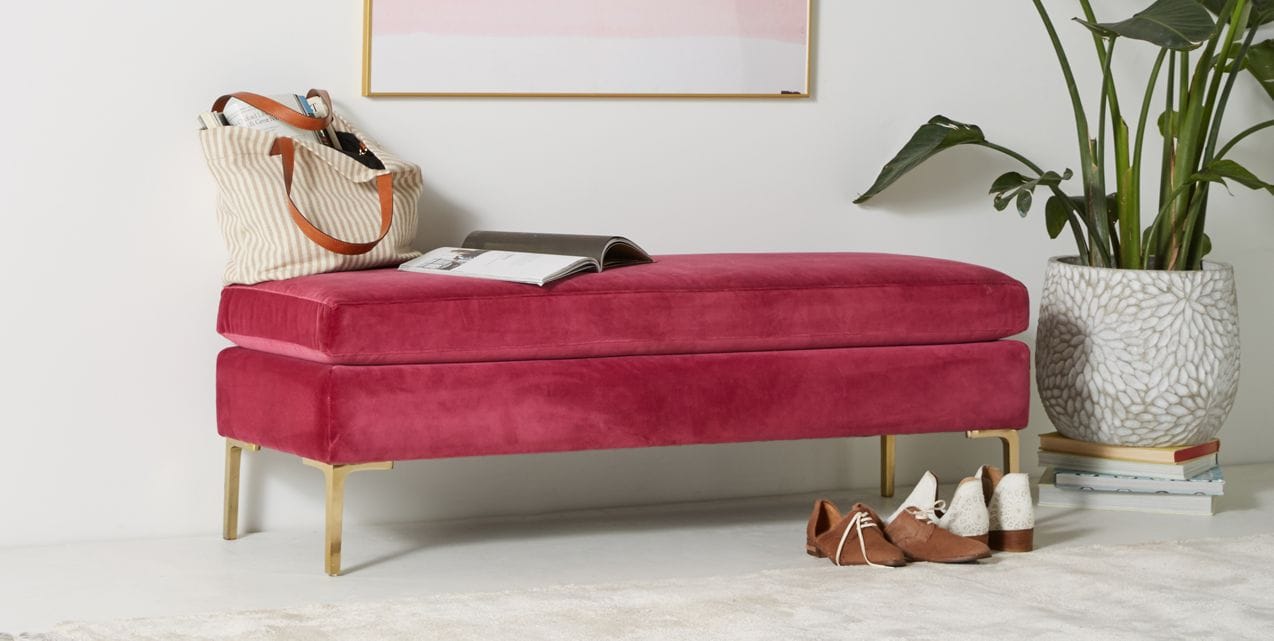 Benches play great space fillers in the living room. Not only do they add a stylish statement but also play quite productive and functional. Of course, they infuse color and character in the room, but also offer that little space to store the throw blankets and pillows.
Don't forget to style the bench with a couple of throw pillows and books. And for eclectic and maximalist styles, the starker the color, the better!
Embrace the Two in One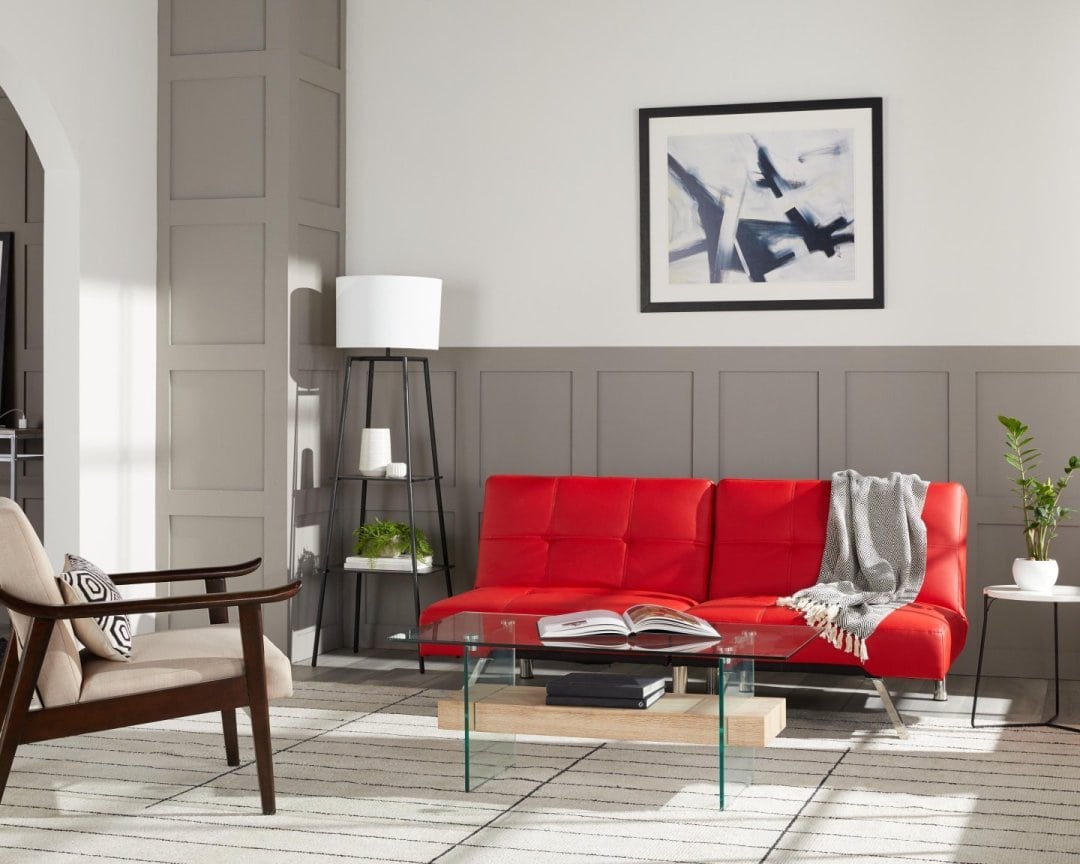 The empty corners of your living room deserve a spark of utility and creativity. So, it's time to merge the two – floor lamps and shelves to create a unique product that serves both functions. Apart from lighting the living room, this stand can also hold your showpieces, artifacts, and planters.
This home decor product is a great fit for modern, Scandinavian, and contemporary backdrops. Something to definitely own, right?
Wall Hangings Say it All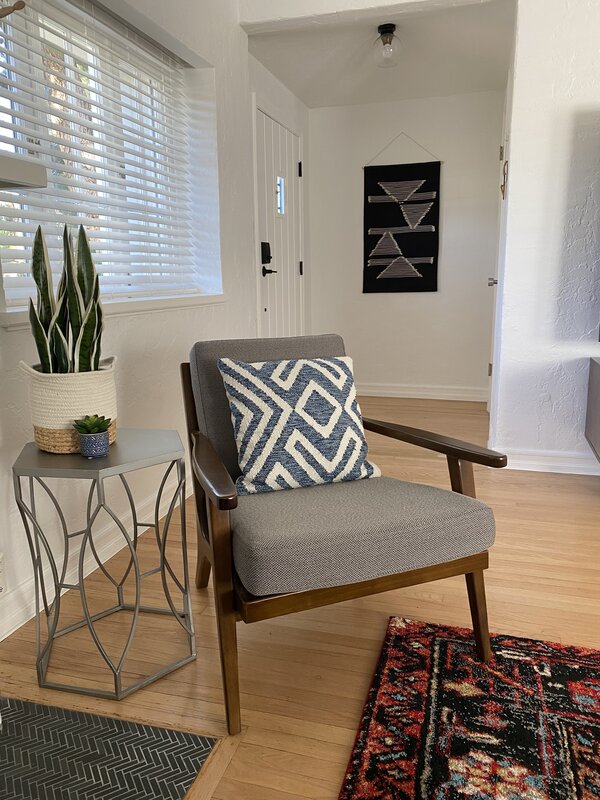 Sometimes, just a piece of artwork or wall hanging will say it all. So, if you've got that dead corner to style – you simply choose a large wall decal or hanging that can define the overall character and style.
However, you must also ensure to pick a piece that is large enough to accommodate the perspective and fill the vertical dimension of the wall.
Throw Some Floor Pillows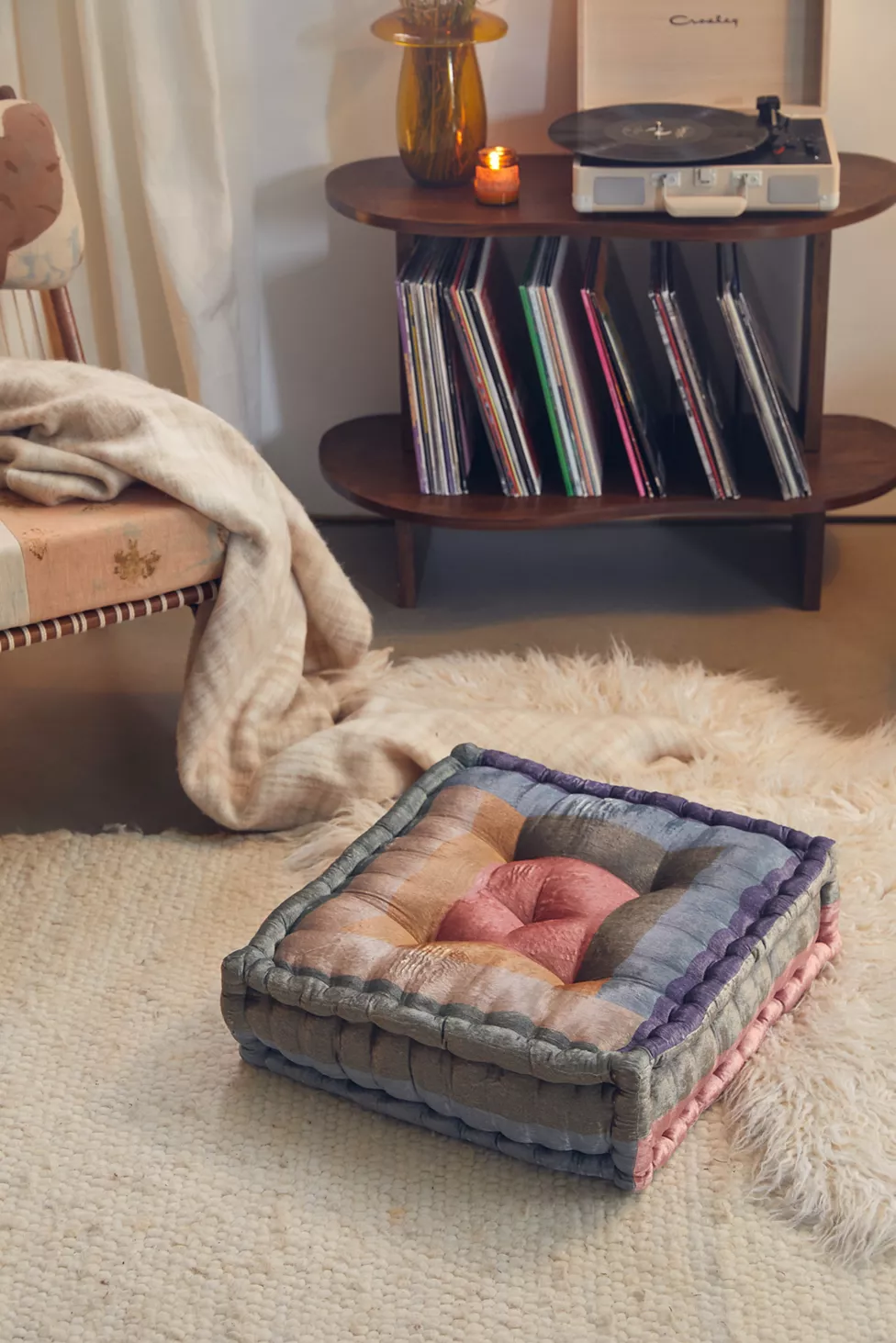 It's time to make that empty corner a statement of a welcoming and cozy aura. So, if you don't necessarily need storage space, you might as well transform the dead corner to a lounging zone. A zone where you can lay down and read books, play with kids, and practice your passions.
This is a great option for boho backdrops since you're adding layers and further fostering a carefree environment.
Create a Partition with Shelf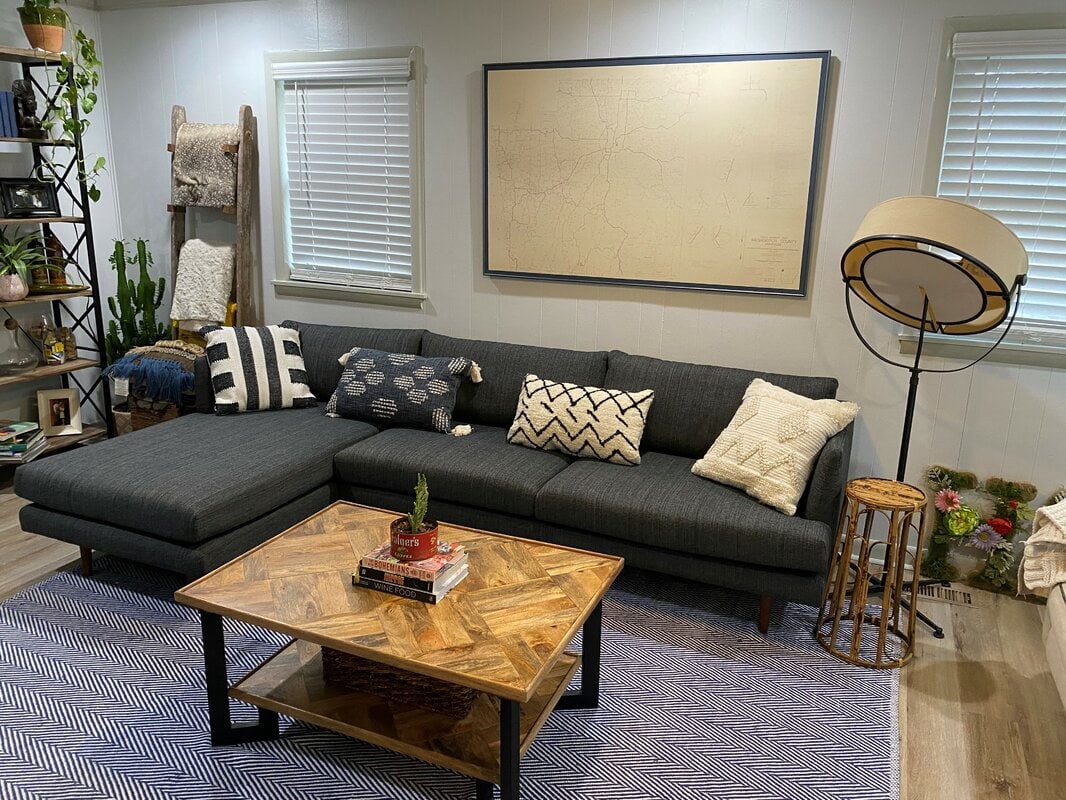 Larger living rooms can feel quite uncomfortable and awkward. And this is when you should exactly know how to plan the space in a way that it feels in-place and cohesive. One of the options is to creatively create a partition with bookcases or shelves.
This way, you're visually dividing the room without overpowering or overwhelming it! Moreover, bringing in ample space to style your fancy decorative accents as well.
Place a Storage Bed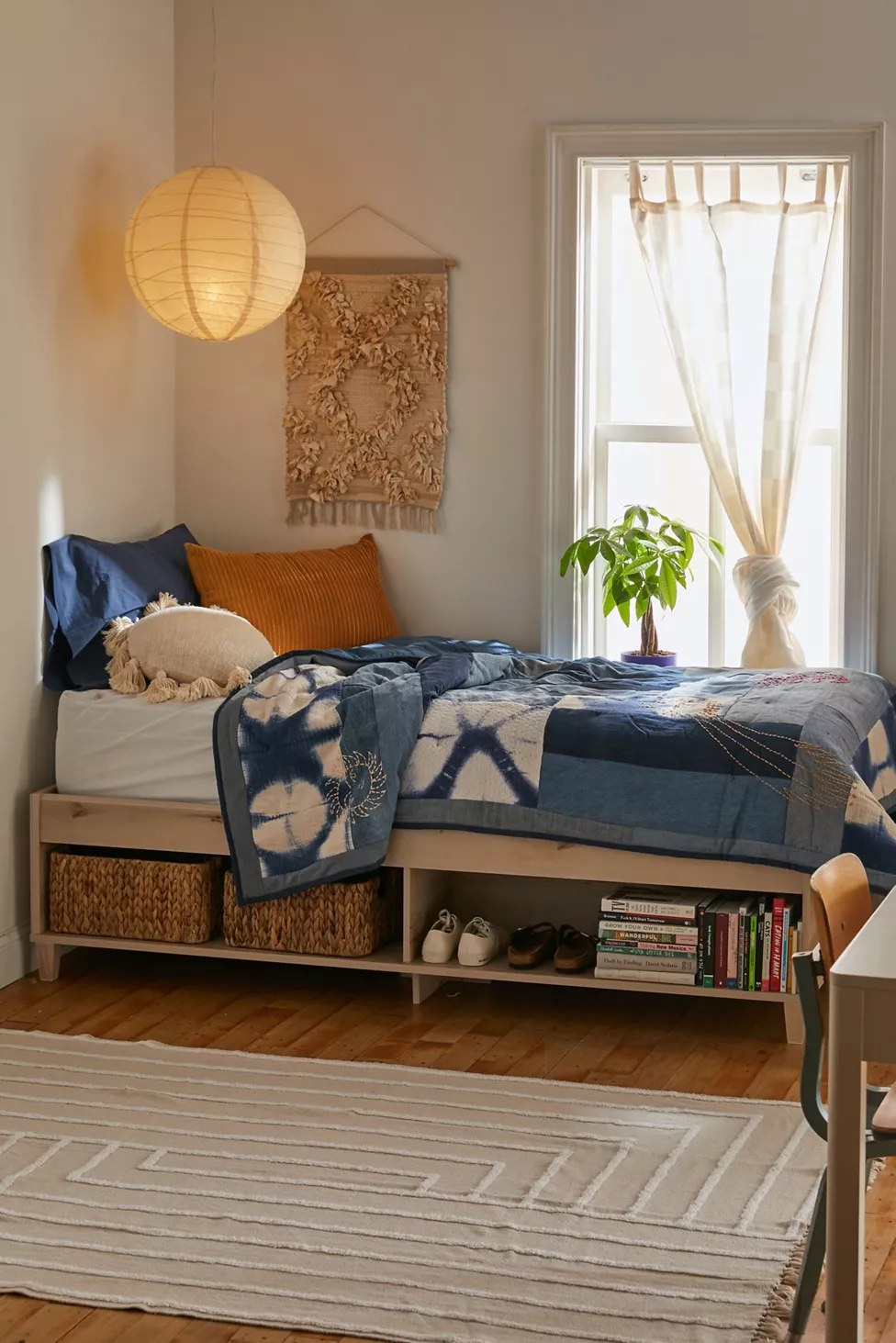 Do you have a studio apartment? Wondering how to plan out the various functional zones and deal with negative corners? Well, there's a creative solution right here! This storage bed offers you a comfortable space to relax while storing your everyday essentials.
That corner can be made to use efficiently without really stealing too much of the attention. Also, don't forget to style with woven baskets here! (You can consider a daybed too)
Style With Decorative Ladder
Homeowners often wonder what to do with the empty corners of their living room. Some tend to transform the space into a functional relaxing zone and some for storage – but one way that totally makes an eye-catchy statement is the styling!
Talking about distinctiveness, you can place this decorative ladder in the corner for a perfectly rustic and Farmhouse look. Maybe add a natural garland or hang the throw blanket for a tinge of style!
Lay Area Rug to Cover Floor Space
Area rugs have the potential to visually fill an empty space while exhibiting a warm and cozy experience. Hence, you can lay out fancy area rugs like sheepskin or faux rugs to add textural detail as well as cover the dead space in the living room.
However, laying just the rug can be quite awkward. And that's why you must pair it with an accent table, a tiny chair, and an artwork to go!
Make Use of Console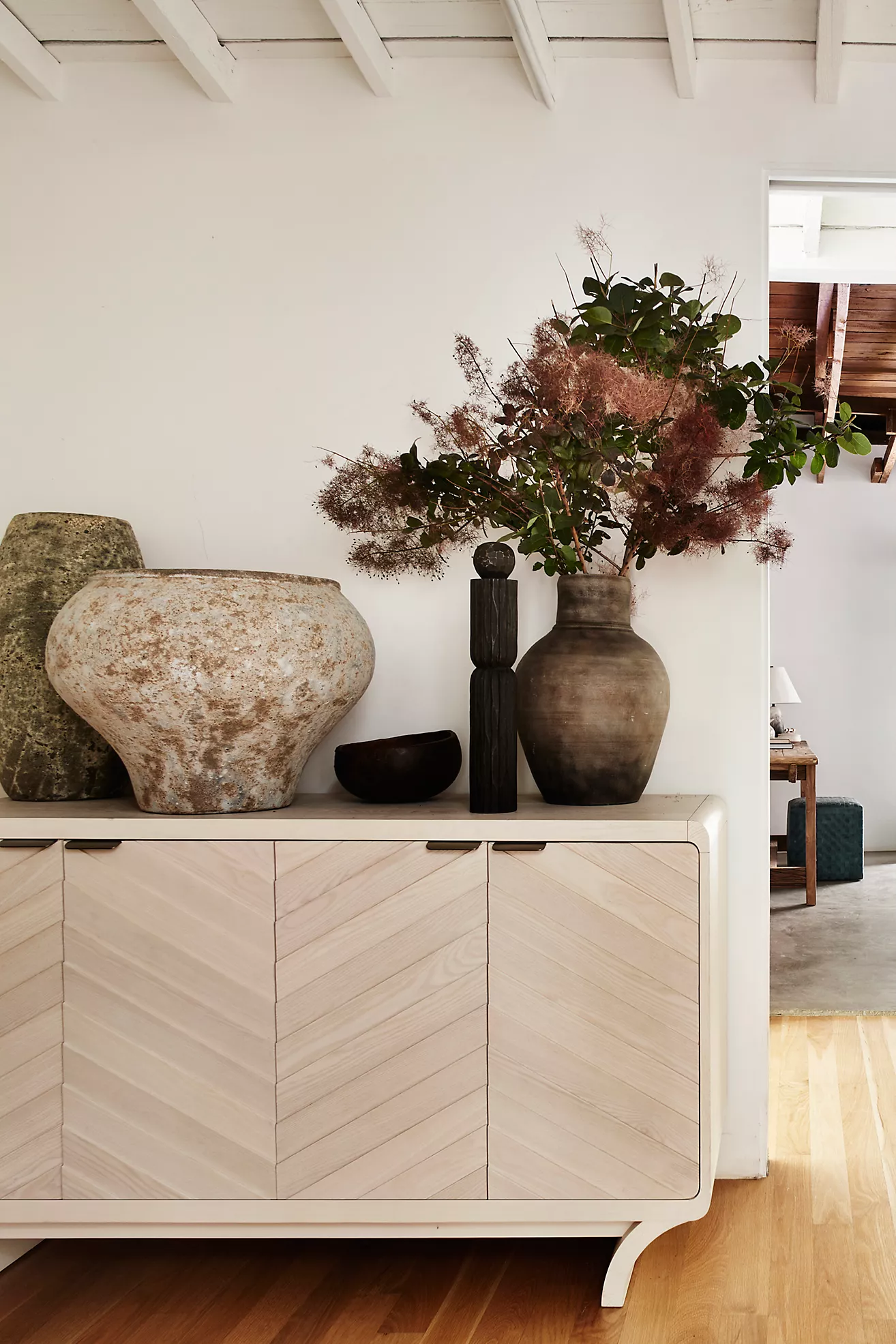 When in doubt, just simply place a console table in the empty space of your living room. You can store your everyday essentials on the hidden shelves and flaunt off some fancy decoratives on the top. So, make use of those antique artifacts and ceramic vases you always wanted to display!
Moreover, you can also style some artwork pieces on the adjacent wall. Even mirrors would play a flawless role.
A Gallery Wall Indeed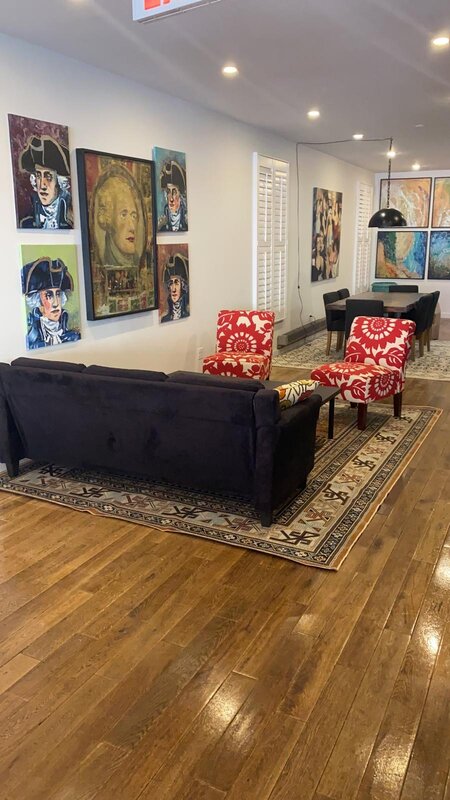 Want to create a simplistic and creative corner without raising your budget? Well, you must let the artwork play its significant role. It's time to hang a couple of canvases on the wall to create a gallery wall experience.
To further create a sense of visual interest, you must mix and merge the frames to align with your authentic design style. And yes, you can carefully pick colors to create rhythm and symmetry on the walls too!
Accent Lounging Chair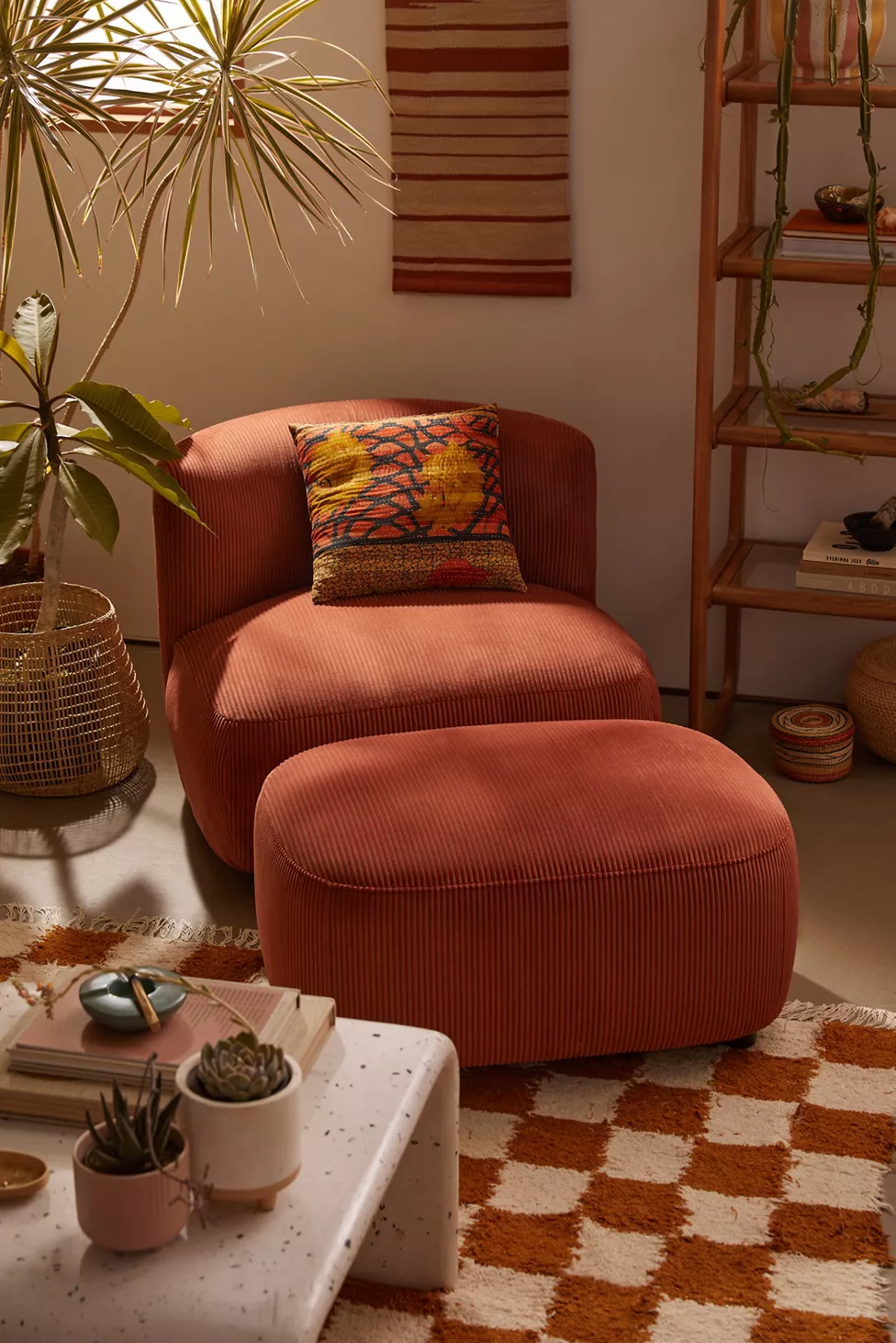 Use that corner for lounging and taking a nap in the afternoon! With this cozy and comfortable lounge chair – you're bound to feel extra lazy and relaxed. Featuring a notable minimalist profile with chunky cushions, this piece of furniture can be easily adjusted into any corner.
So now that you have this piece of extra comfort – are you excited to spend some lazy moments on a Sunday afternoon?
Spruce Up With Christmas Tree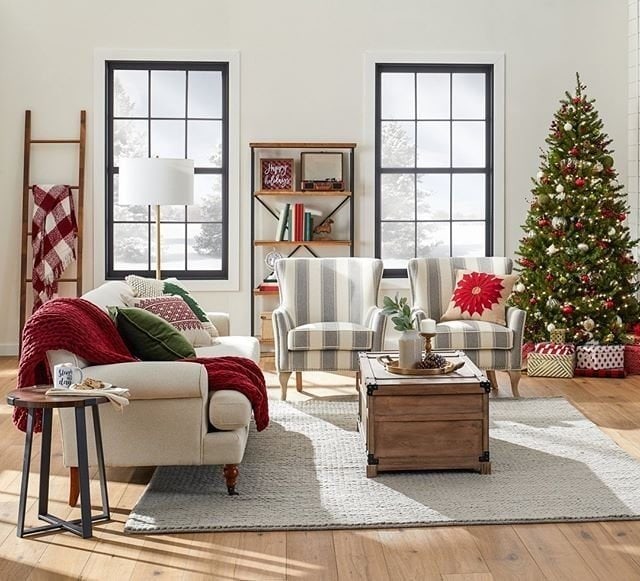 The holiday season is right around the corner! So, why not let that empty space have a beautiful piece of the Christmas tree, indeed? You can make your living room 'merrier' by placing this large piece of Christmas tree with surrounding gifts and hampers.
At other times of the year, you might as well want to replace the tree with indoor plants and planters!
Create Layers with Lighting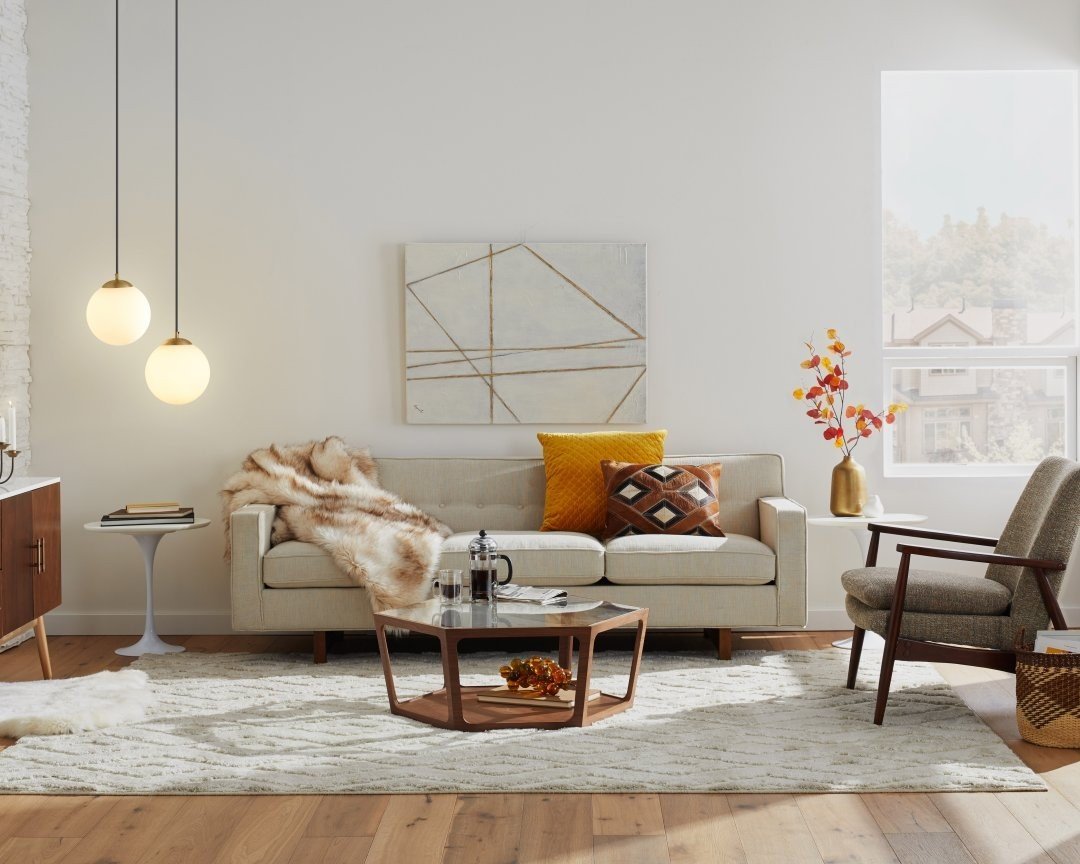 Every living room must have three types of lighting – ambient, accent, and task. Hence, if not the ambient, then you can always add task lighting with the help of table lamps or pendant lights in the empty corners of your living room.
These layers will further help imbibe a positive aura in the living room. And you can always equip this lighting with a piece of rocking chair to have a comfortable time reading and relaxing!
Fill that Empty Space with a Cozy Trio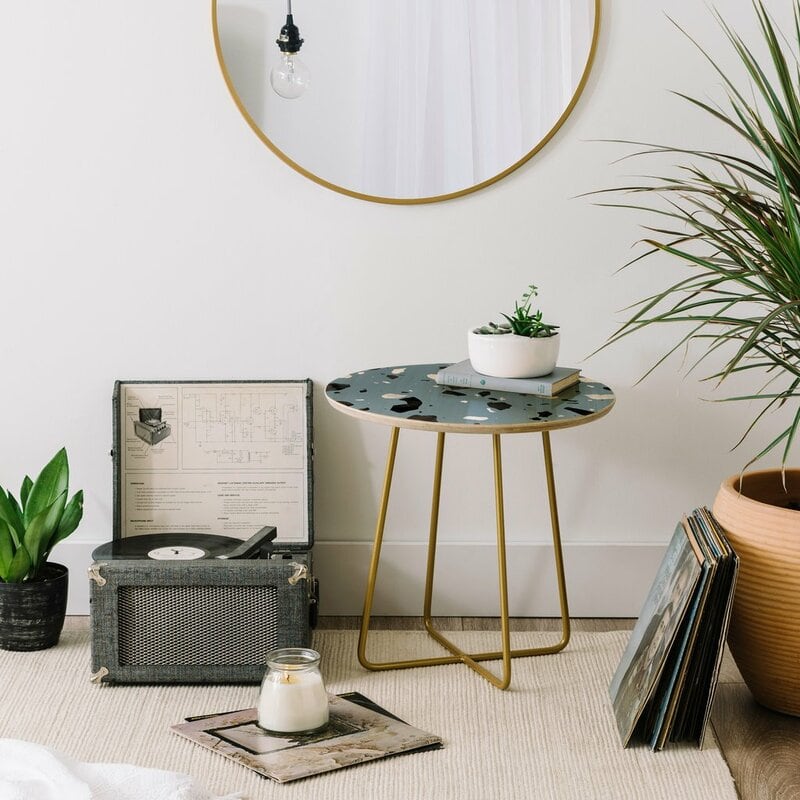 A blissful combination of a rug, mirror, and accent table would definitely do wonders. You can make use of that empty corner and place a large rectangular or round mirror for the space to feel enhanced while you can check yourself out without any obstruction!
Moreover, the rug in amalgamation with a side table will complete the overall look of the corner.
Stuff in a Dining Table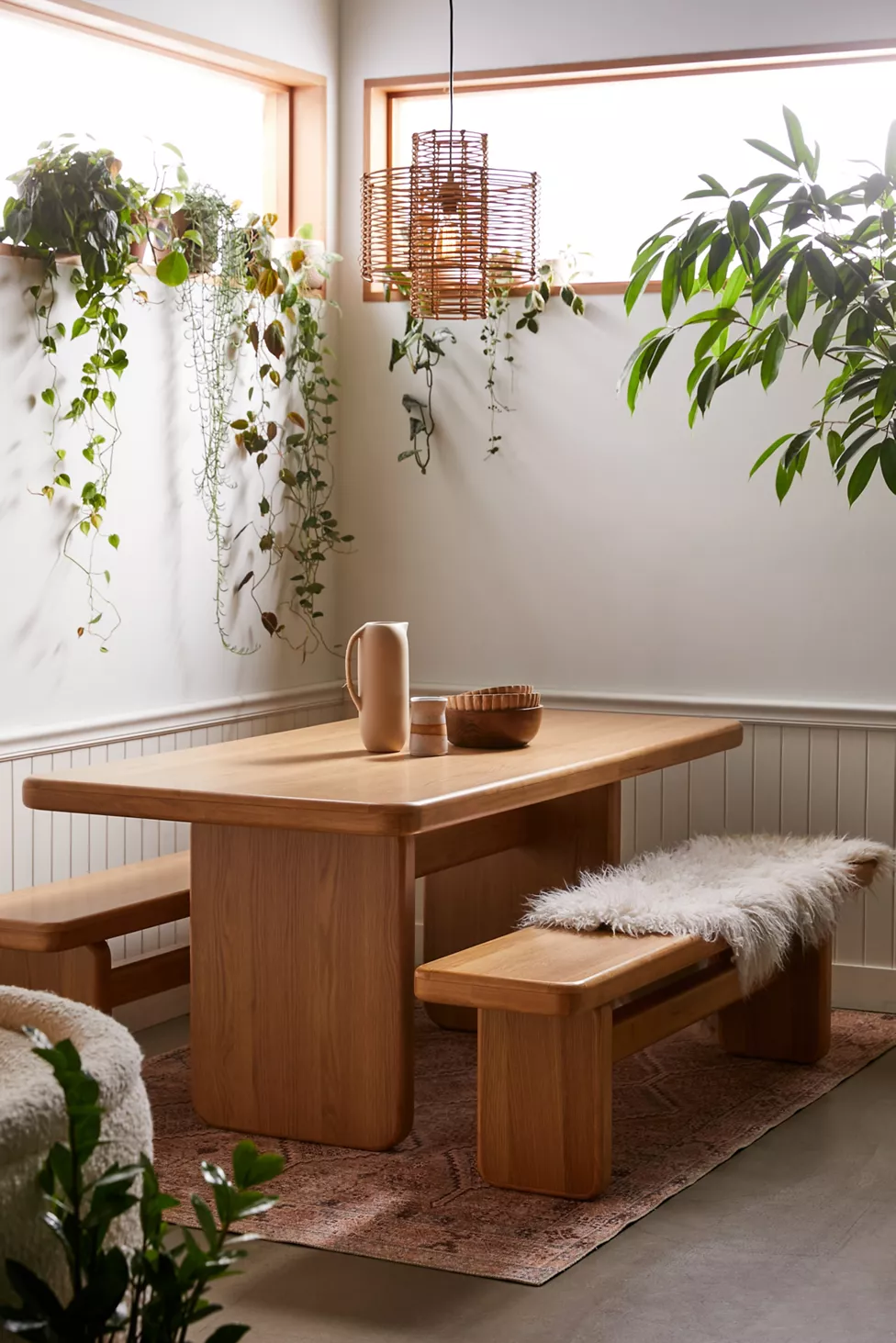 Doesn't this panorama look totally breathtaking? Well, who doesn't want a soothing corner like the one above, right? If the size of your corner space allows, you can incorporate this smooth and crisp dining table to make the most use.
Since it feels quite organic, light and airy, it makes a great statement in the Japandi, Scandinavian, modern, and contemporary interior design styles.
Summing It Up
Apart from the decoration, you can also paint the walls in a darker tone to fill the empty space and create a cohesive experience. Remember, you can be as creative and thoughtful as you want! And there are no restrictions involved when filing that empty corner. So, now that we have discussed various creative ways to fill the empty space – are you excited to incorporate any?