Decorated Life is reader-supported. When you buy through links on our site, we may earn an affiliate commission. Learn More
12 Lighting for Vaulted Ceilings Ideas
Vaulted ceilings are a beautiful design element. They draw the eye up, and since they make such a statement, you don't need to go crazy with the rest of your decor.
But, as pretty as these ceilings are, it can be hard to find the perfect light fixtures for them.
If you're on the hunt, here is the best lighting for vaulted ceilings.
Set the Tone with a Modern Chandelier
If you're designing a modern room, consider adding a sputnik chandelier. While these fixtures are best known for mid-century style, they work with all contemporary decor.
You can find this version at Wayfair. It has an adjustable height that ranges from 46 – 86 inches, making it great lighting for high-vaulted ceilings. You can get it in four color options.
Bring in Texture with a Jute Pendant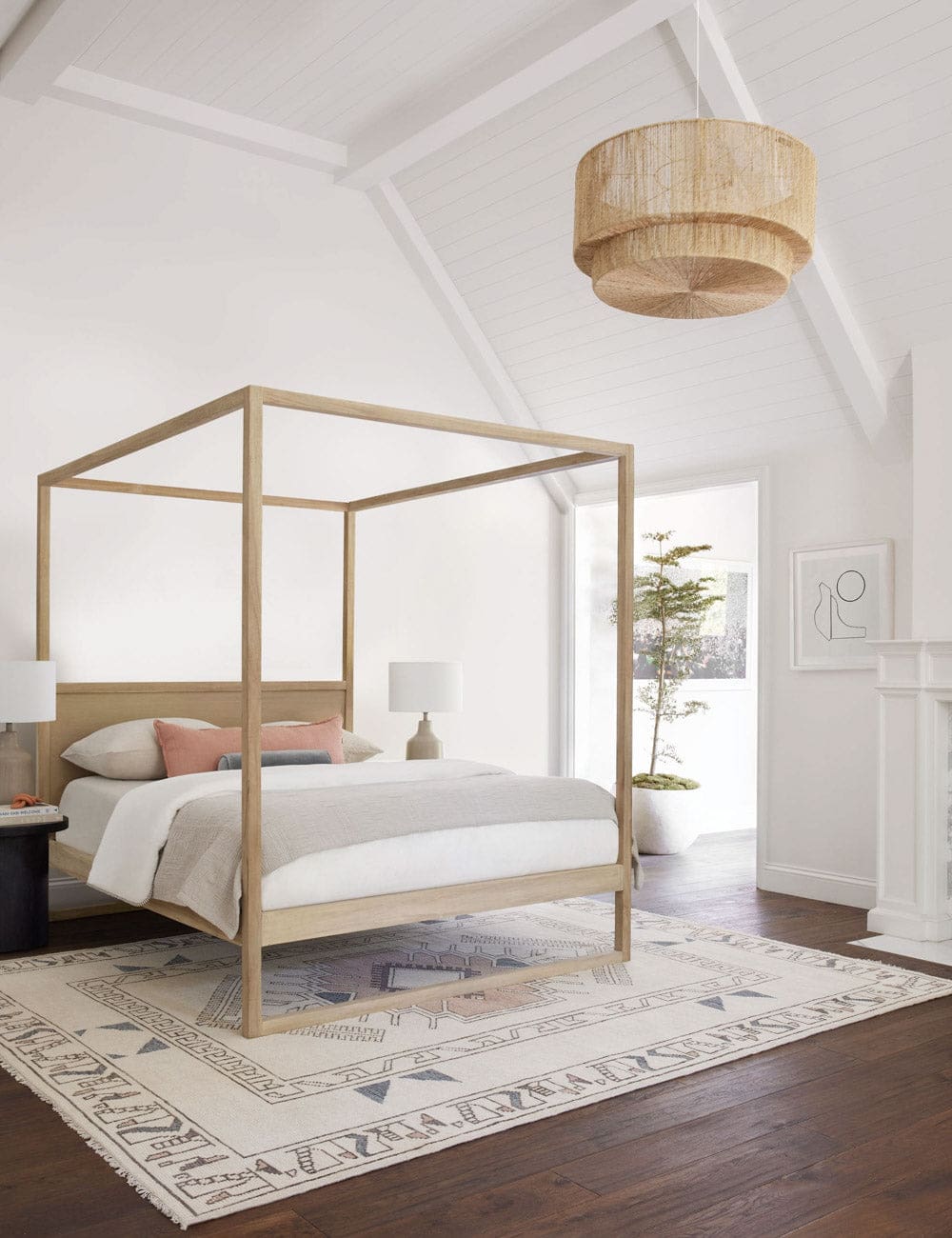 Do you need to bring a textural element to your room? Skip the glass chandelier and try this pendant.
From Lulu and Georgia, this pendant is a traditional drum style wrapped in jute. Because the shape is classic, it works with many styles. It has an adjustable hanging height of 18 to 60 inches.
Add Drama with a Black Twig Fixture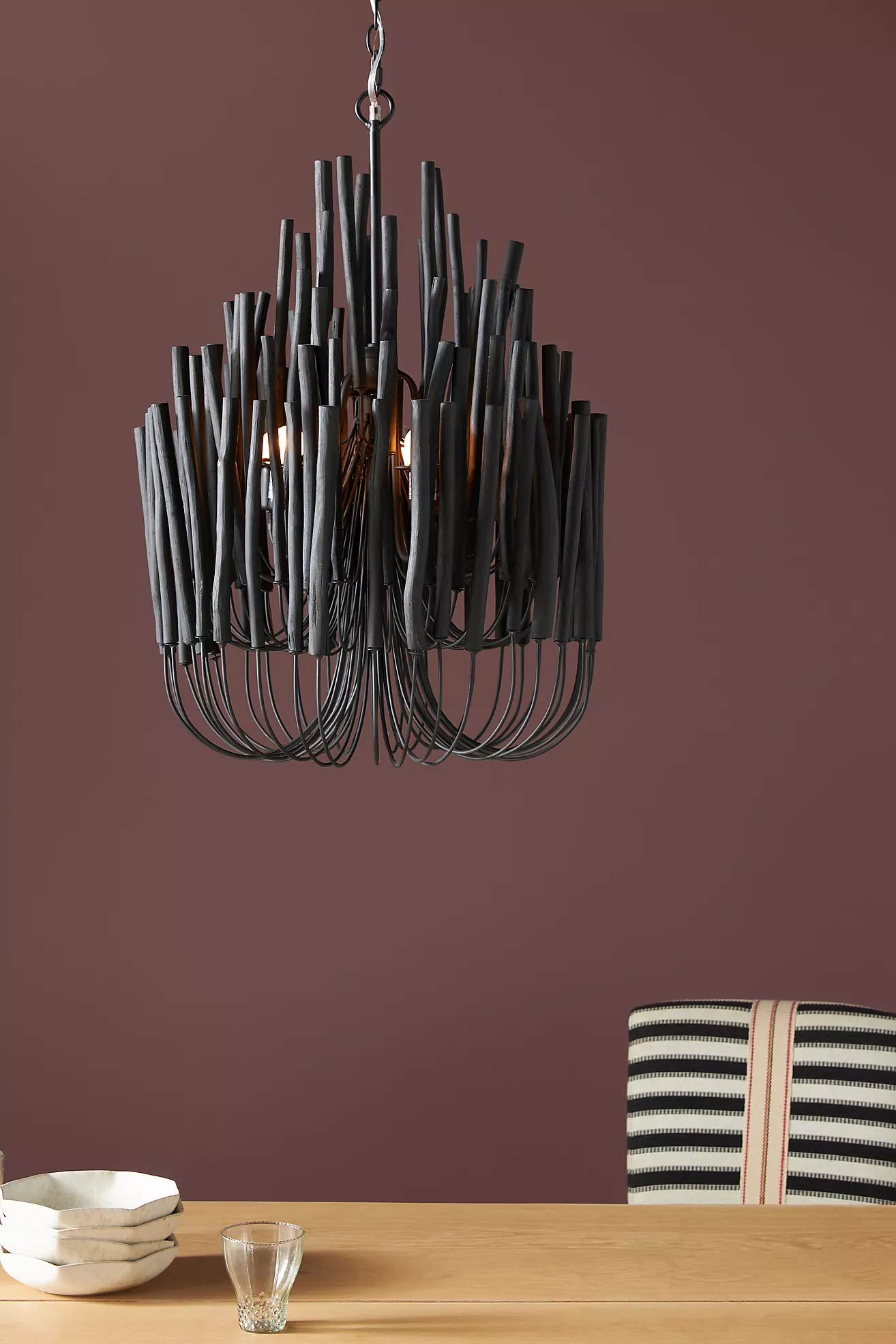 If you're wondering how to light vaulted ceilings, any adjustable pendant or chandelier will work. But, if you're looking for a way to add drama, consider this fixture from Anthropologie.
This chandelier has a metal frame with black wooden sticks. It's a great choice if you want all eyes toward your ceilings. You can get this in a small or large size.
Try Can Lights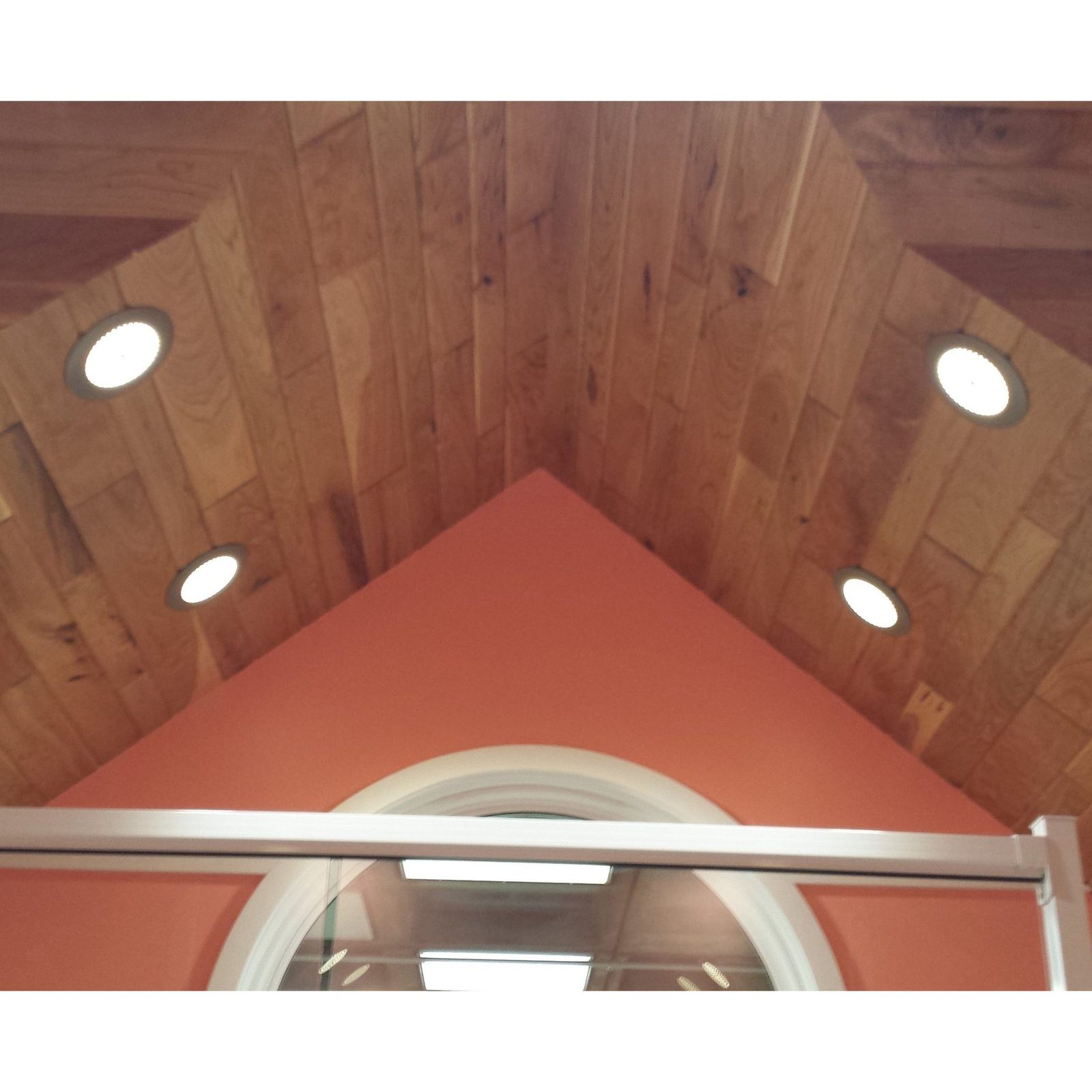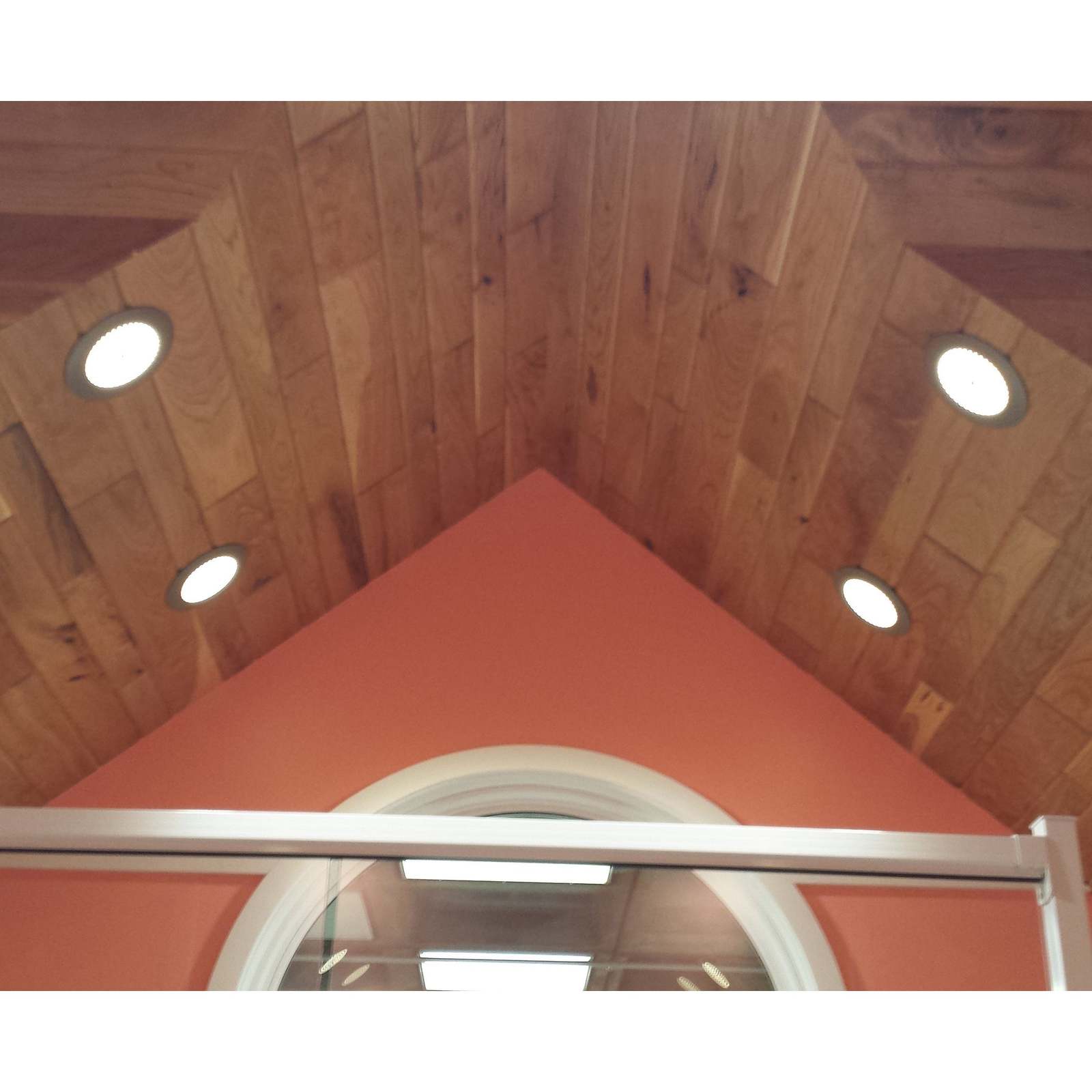 While chandeliers are beautiful, they aren't appropriate for every room. Instead, a simple lighting solution for vaulted ceilings is can lights.
Can lights recess into your ceiling, and you can add as few or as many as you'd like. You can find these dimmable versions at Overstock in five color options.
Make a Statement with a Large Wagon Wheel Fixture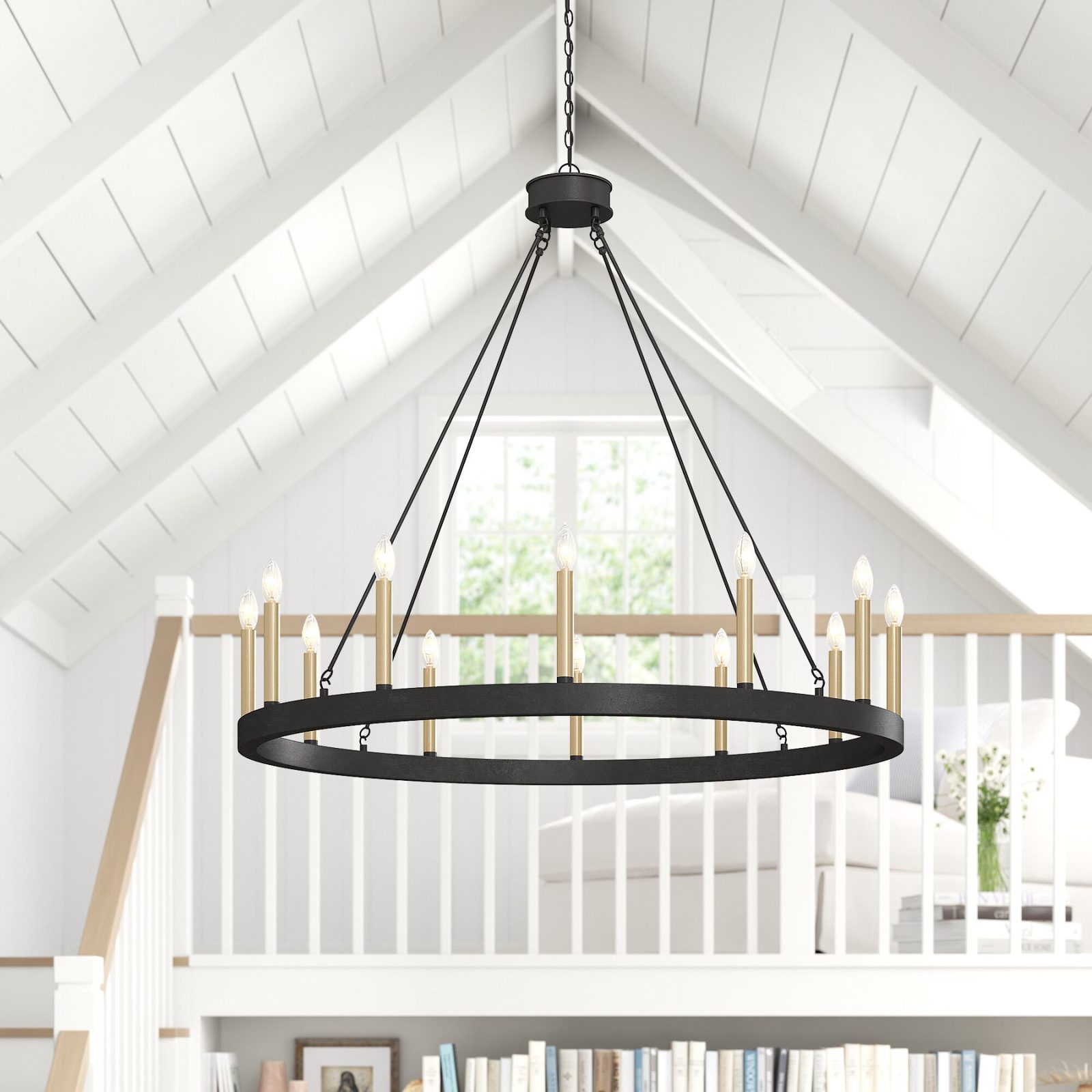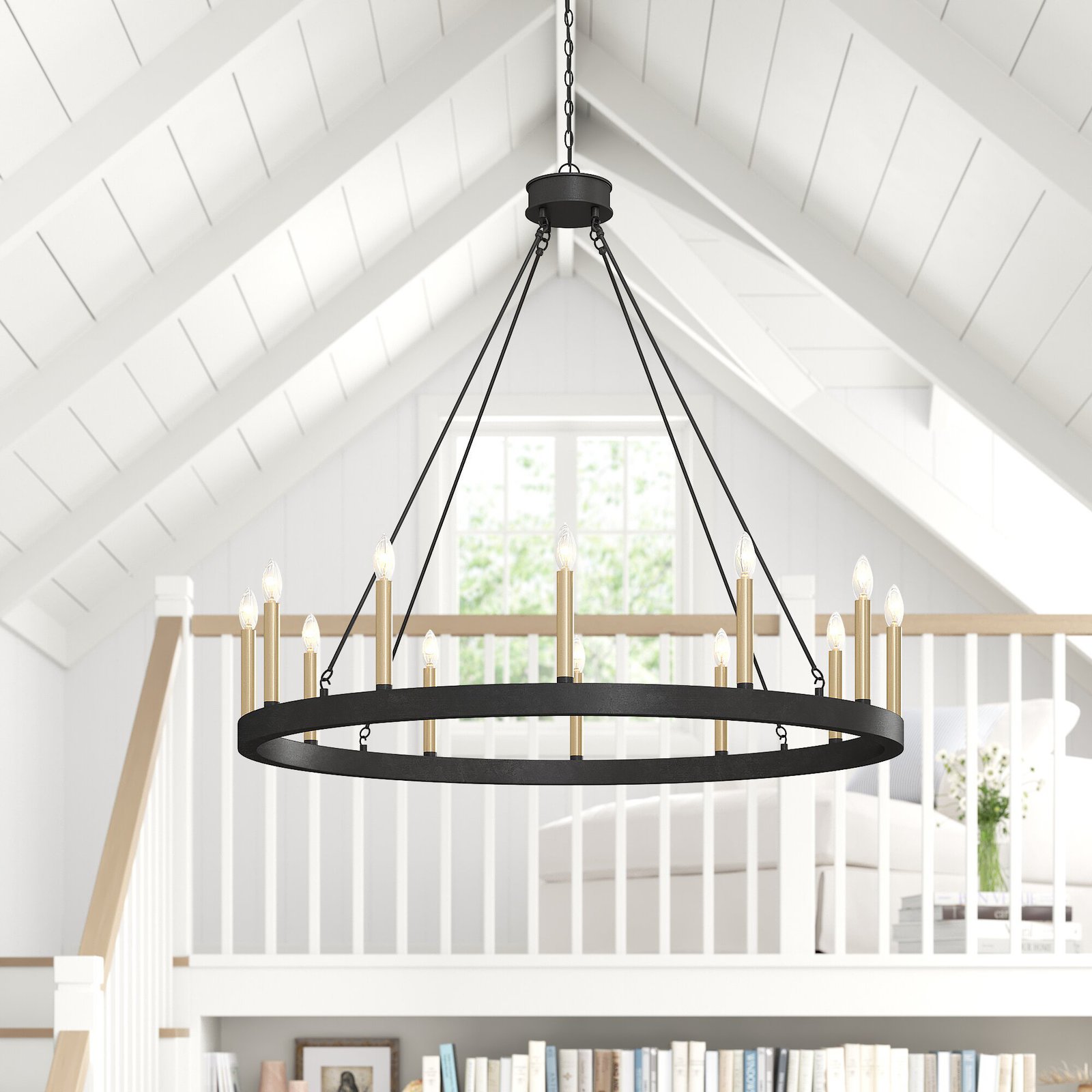 If you're looking for the best fixture for modern farmhouse or traditional decor styles, consider this large wagon wheel.
From Wayfair, this chandelier measures 40 inches in diameter and comes in six different finishes. It has a long adjustable 138-inch cord. Since this fixture is so prominent, it will draw the eye toward your ceiling.
Go Coastal with a Coral Chandelier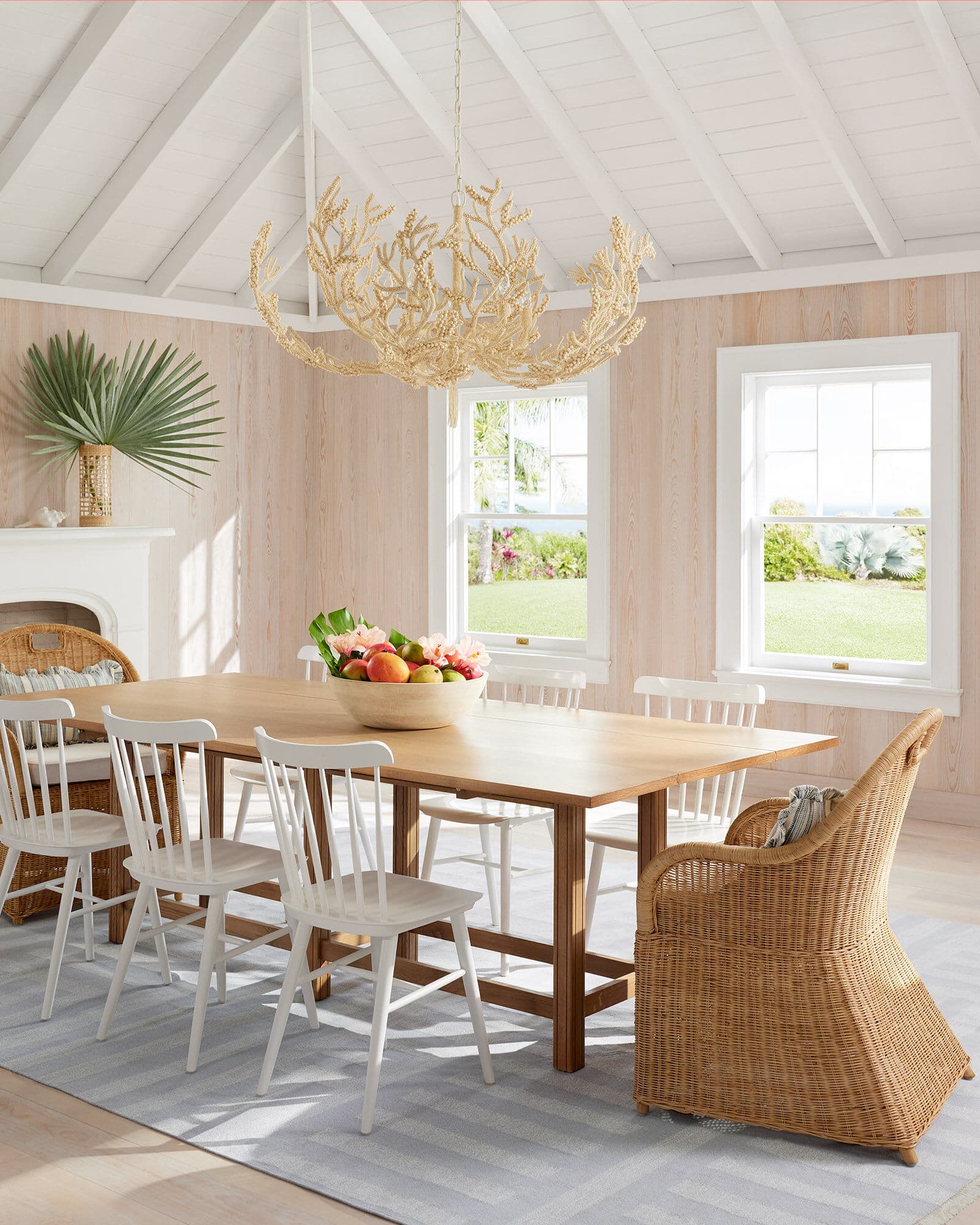 As a general rule of thumb, you should aim to work natural elements into your room design. Common choices are jute and wood, but try a coral look if you want something unique.
This chandelier is massive at 43 inches in diameter and 28 inches in height. The coral look comes from wood and coco beads intricately patterned. It also has an 8-foot adjustable cord, perfect for tall vaulted ceilings.
Get Casual Style with a Rope Pendant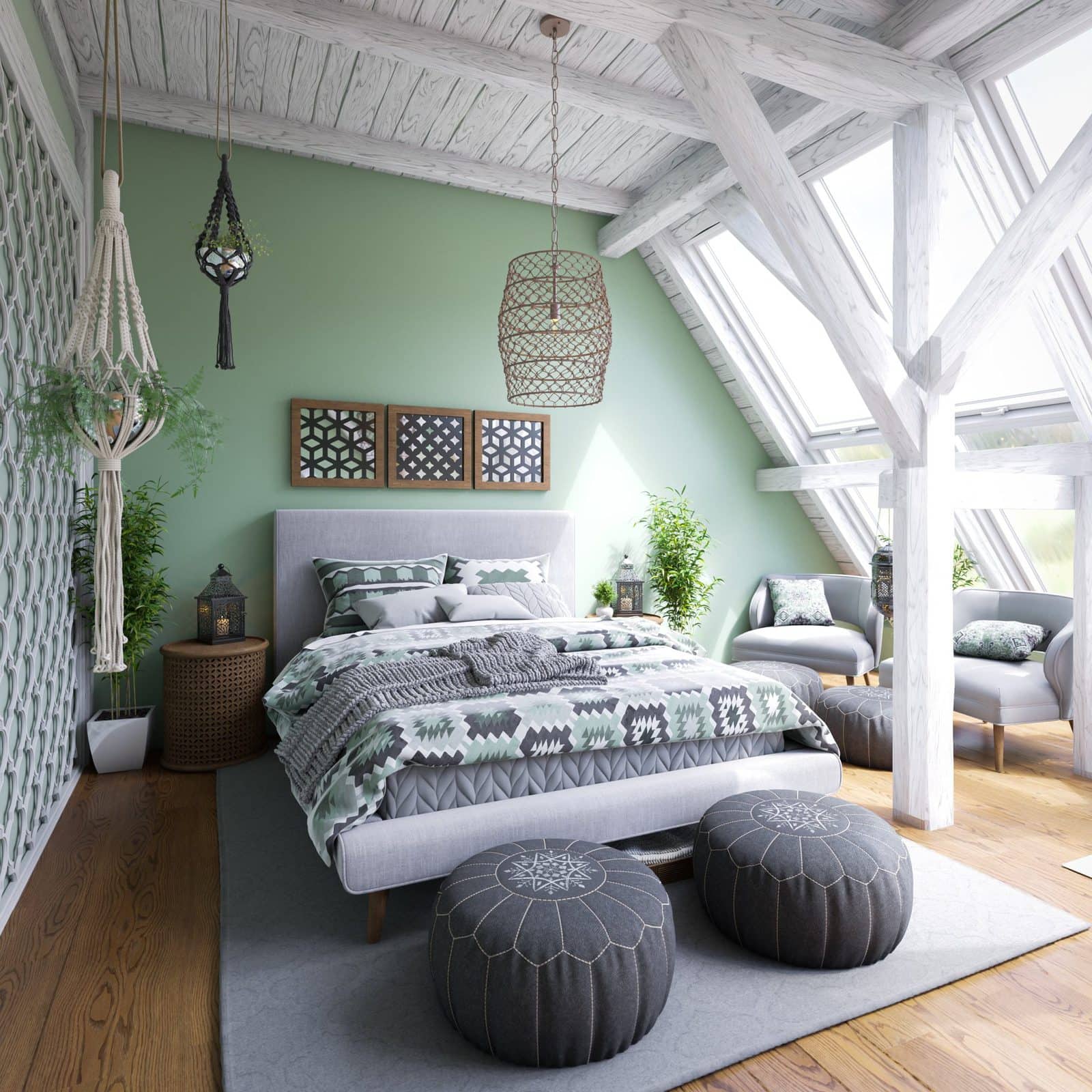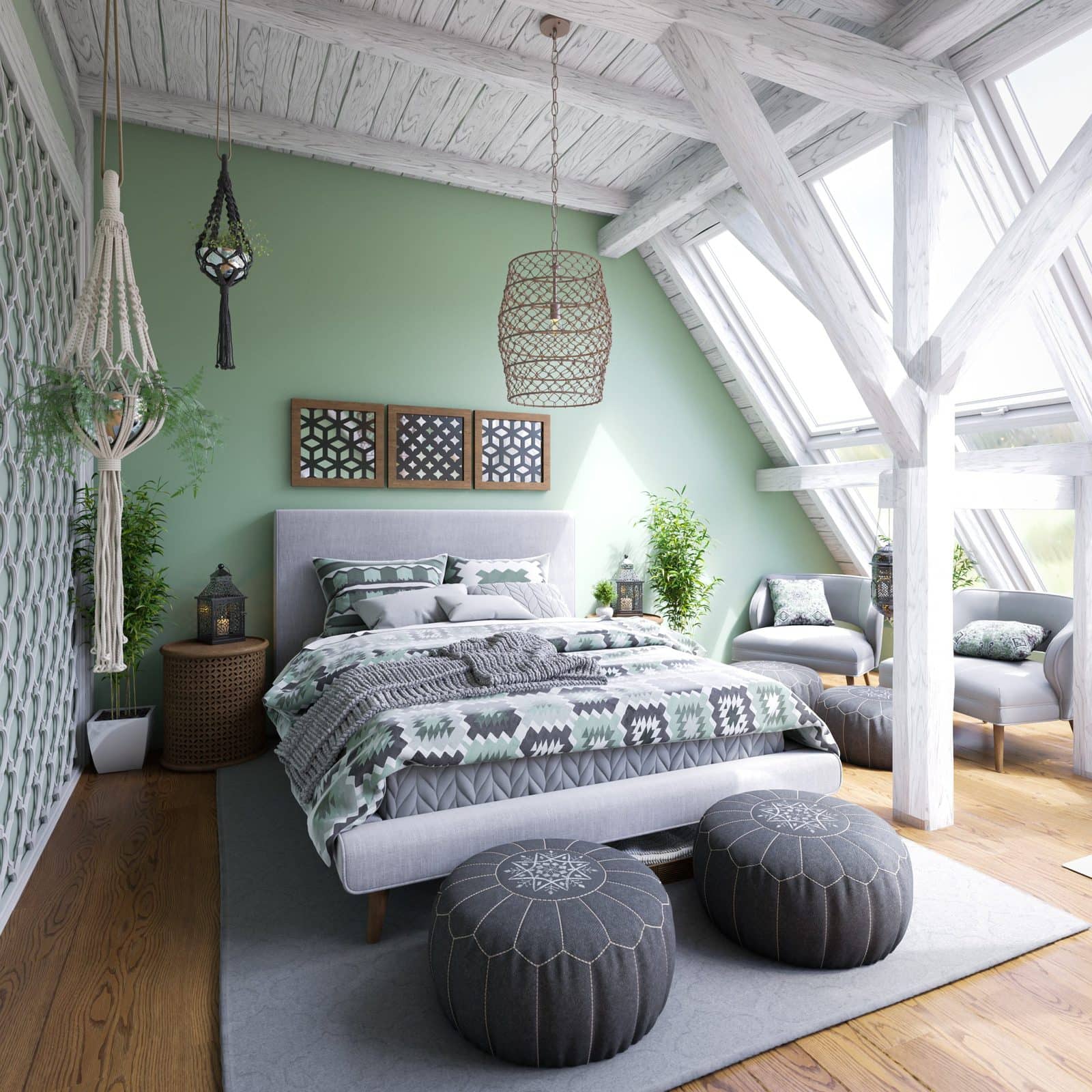 Looking for something more relaxed? This rope pendant is a great cathedral ceiling lighting choice if you prefer a casual style.
While appropriate for any room, you could use two of these in the bedroom positioned like bedside lamps. The style of this fixture works best for boho and casual spaces.
Soften the Room with a Fringe Pendant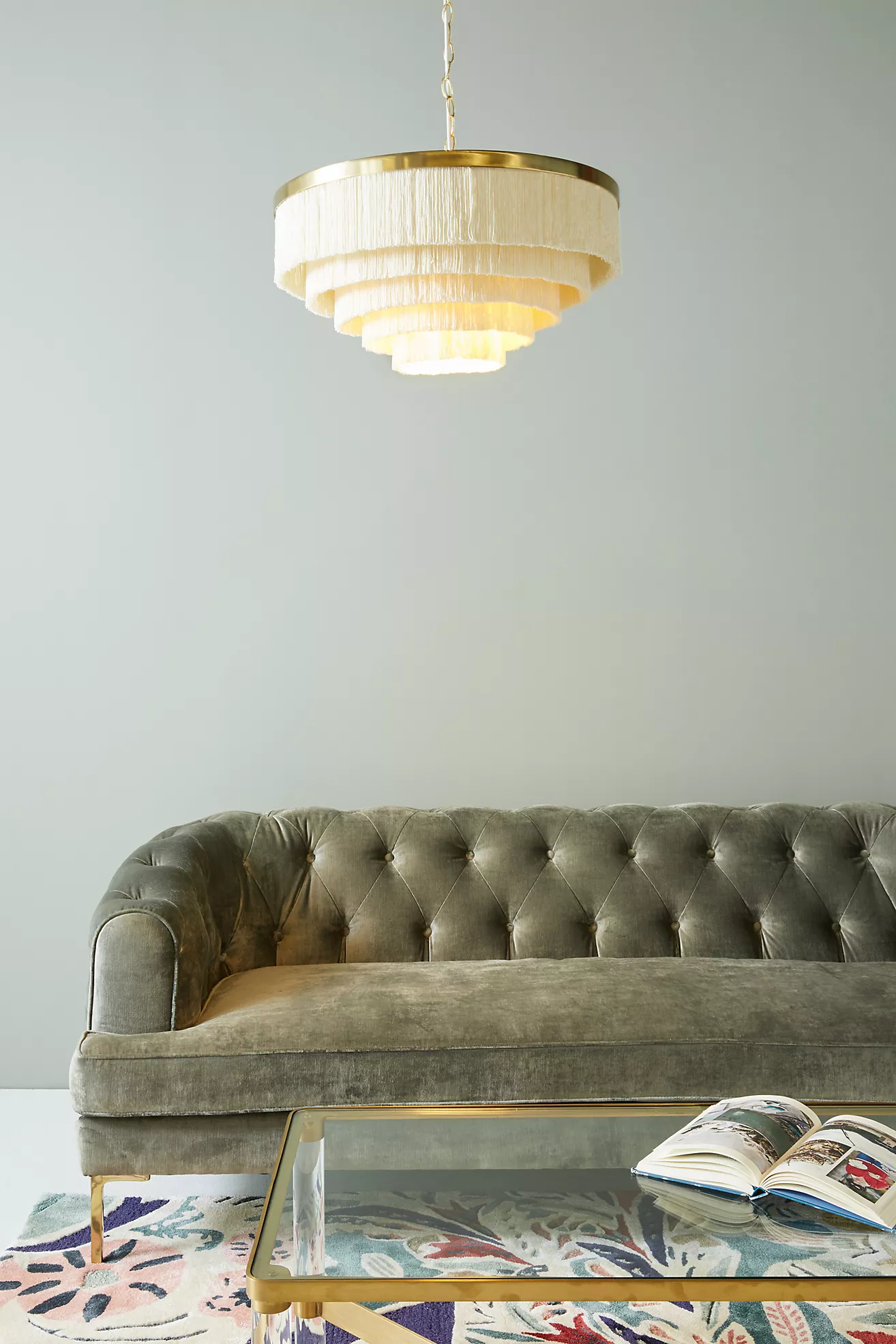 If you're decorating a modern glam space or need to soften up your room, try this fringe pendant from Anthropologie.
This fixture features a 20-foot cord and a 7-foot chain, perfect for high cathedral ceilings. It comes in cream, blush, and gray motif. Consider using this in a bedroom.
Attach a Ceiling Fan to a Beam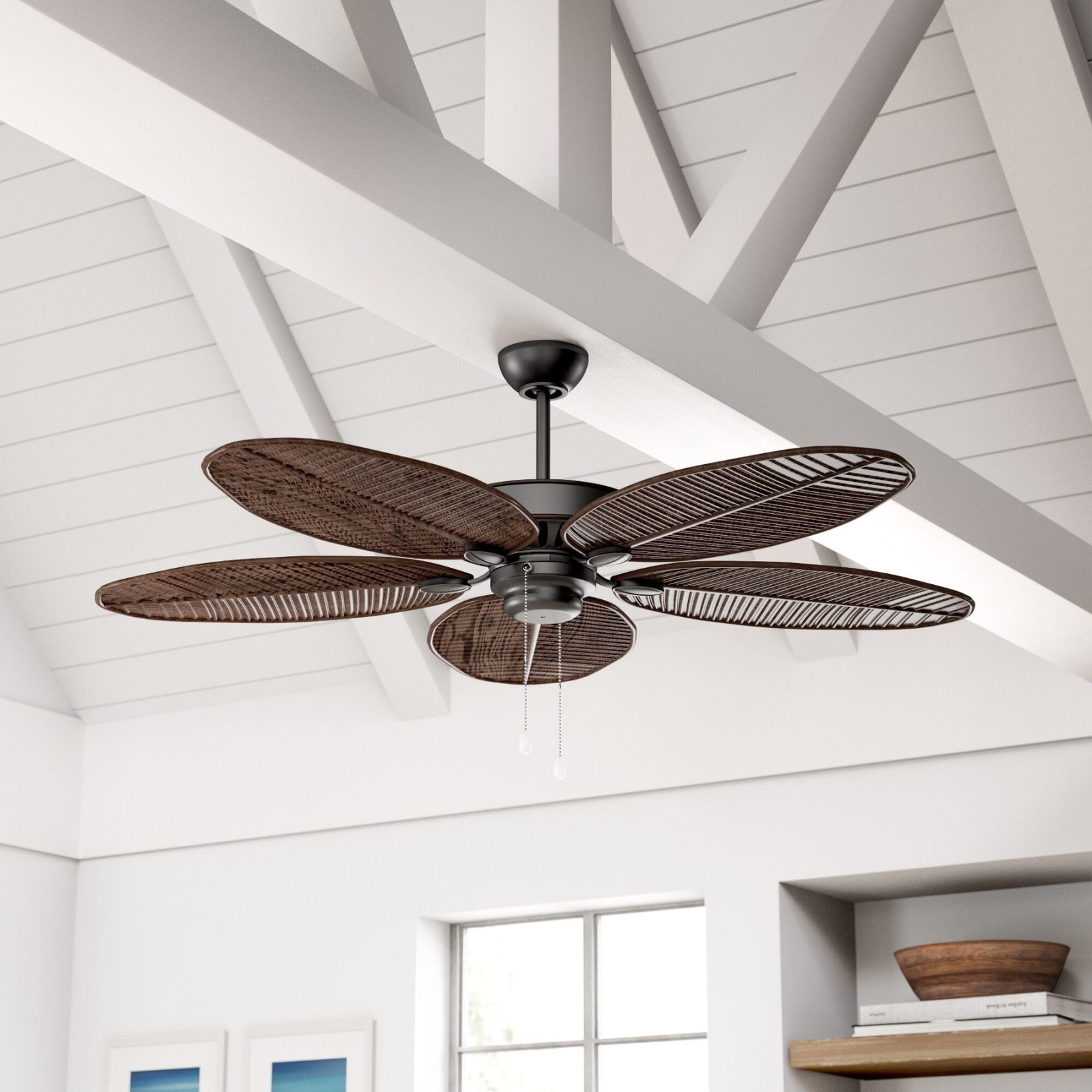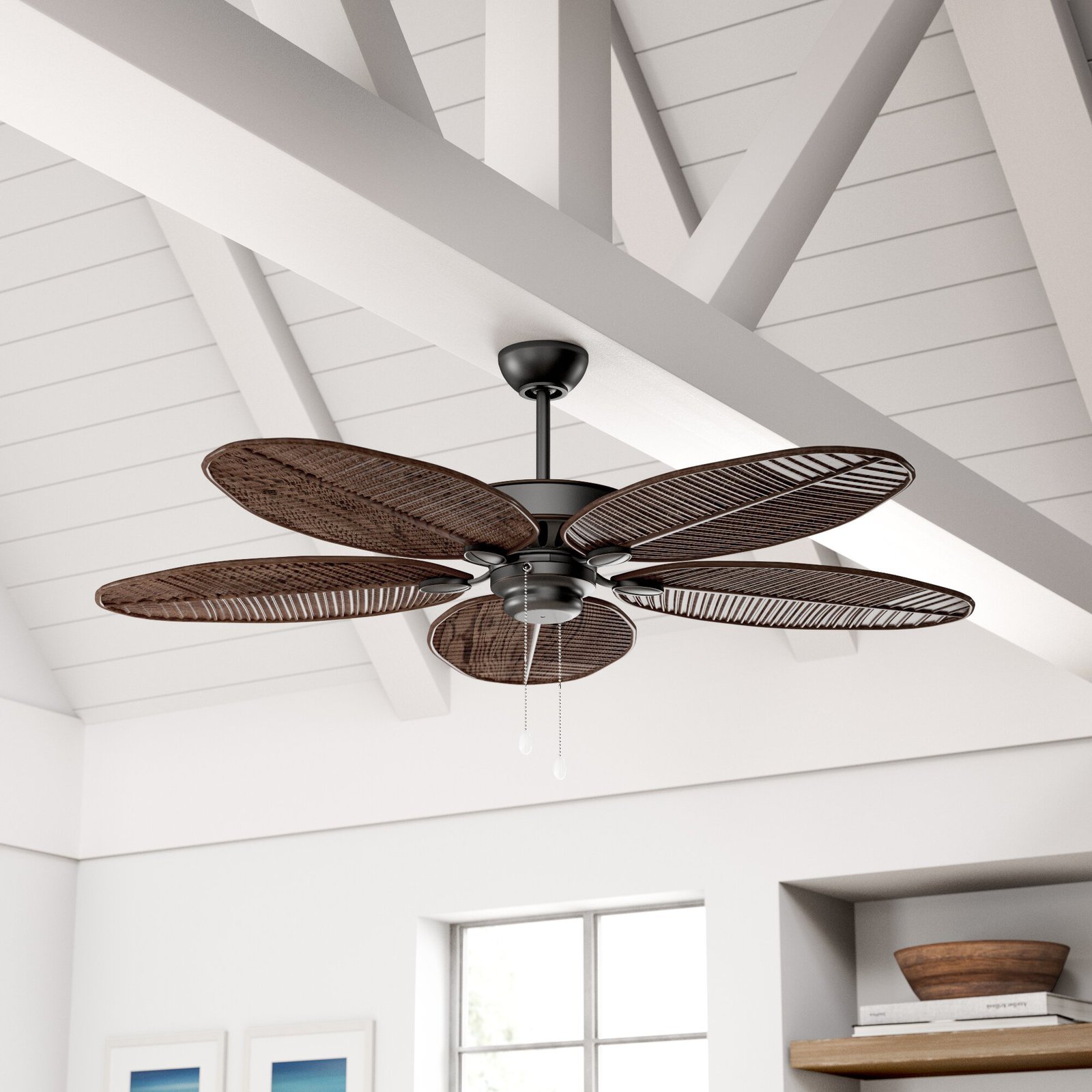 When it comes to ceiling fans, you have two options: find one with a long extendable arm or run wiring through a beam.
If you already have wiring through a ceiling beam, you can attach a fan like this. From Wayfair, this is an indoor/outdoor fan that works best with coastal and nature-inspired rooms. It comes in three colors, including Roman, black, and white.
Accent Your Room with a Versatile Woven Pendant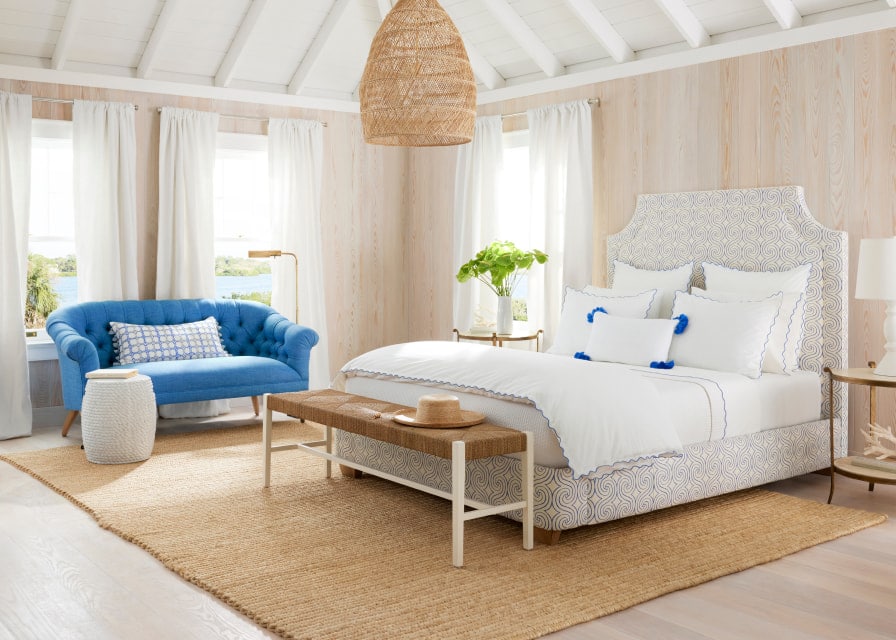 If you want to invest in a light fixture that will work with different style changes, this one from Serena and Lily is a top contender.
It's handwoven rattan and comes in small or large and in two color options: natural and black. This pendant has an eight-foot cord, which will work with very high ceilings.
Take Advantage of the Slope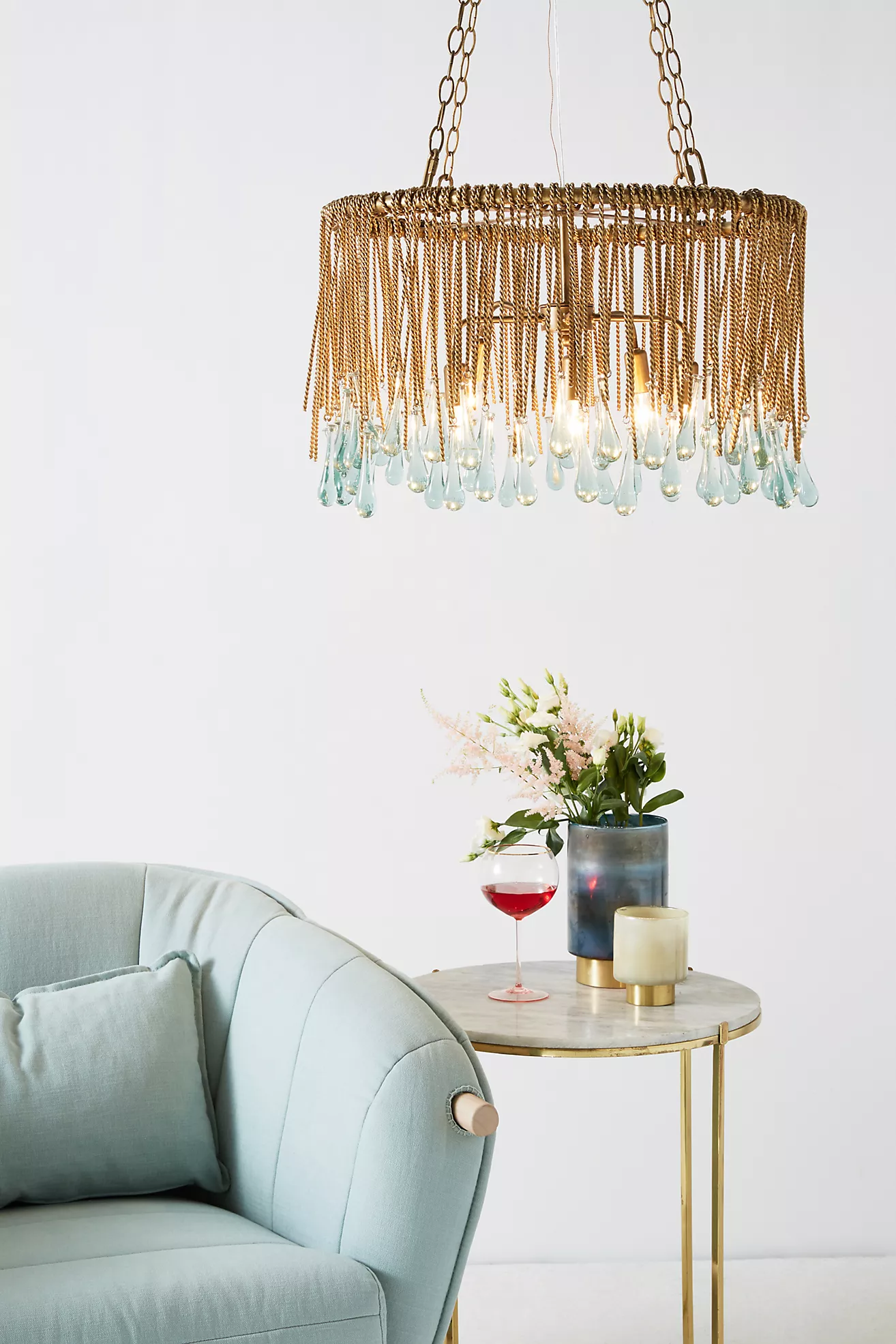 One of the best things about vaulted ceilings is that you can play around with the position of your lighting for a different look.
For example, if your vaulted ceilings aren't super high, you can place a chandelier on the lower part of a slope and use it as a lamp. But, of course, this chandelier would be just as pretty in the center of your ceiling.
Use Something with a Subtle Pattern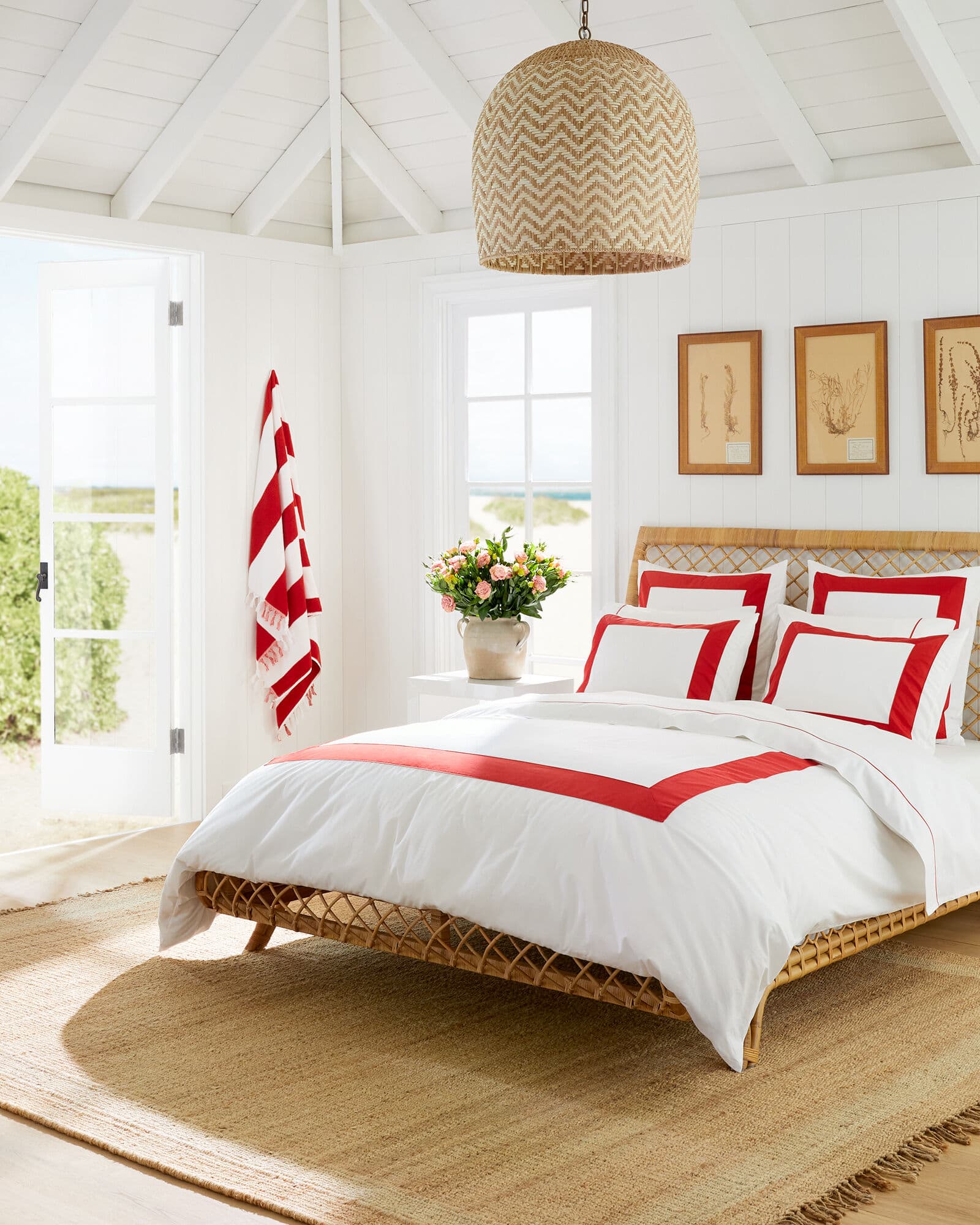 Do you need a modern vaulted ceiling light that's neutral without being boring? Try this chevron print from Serena and Lily.
This fixture has a fun basket shape and woven rattan and bleach rattan. It's versatile and would look great in a living room or bedroom.
Final Thoughts
The best lighting options for vaulted ceilings are fixtures with adjustable heights like pendants and chandeliers. These lights usually work on a slope, and you can adjust their cords to the perfect height.
Other top contenders include can lighting and ceiling fans. If you go with a ceiling fan, make sure it has an extendable arm long enough to work in your space.