Where to Put a Microwave in a Small Kitchen
If you have a small kitchen then you'll need some smart solutions to maximize your space. A microwave can be bulky and it'll need enough room around it for ventilation when you're using it.
You might think that placing it on the countertop is the only solution. But while this is the easiest, there are many other ways you can contain your microwave that are ergonomic and stylish, as well as freeing up space for you to use the rest of your kitchen.
Above Your Stove
One of the most popular choices for keeping a microwave off the countertop is to integrate it into your kitchen design.
One of the most common ways we see this is over the range, that is fitted above the stove. A practical spot as it's accessible while you're cooking and using multiple appliances. It also looks good with a logic to its positioning.
If you are installing a brand new kitchen then this might be an option you'll consider. Or if you already have a kitchen cabinet above the stove, then you might be able to make some alterations to reduce the cupboard size above so that you can house the microwave.
Under the Counter
If you have a kitchen island or good under the counter storage then a really clever solution is to put your microwave in a bottom cabinet.
Not so ideal if you have small children as you'll want to keep the heat away from tiny fingers. But if that is not a problem for you, this is a good way to keep a bulky microwave out of sight on an ordinary basis.
This is a fantastic answer for those with mobility issues who cannot reach up high and also works brilliantly for wheelchair users as it's easy to reach.
Create a Microwave Shelf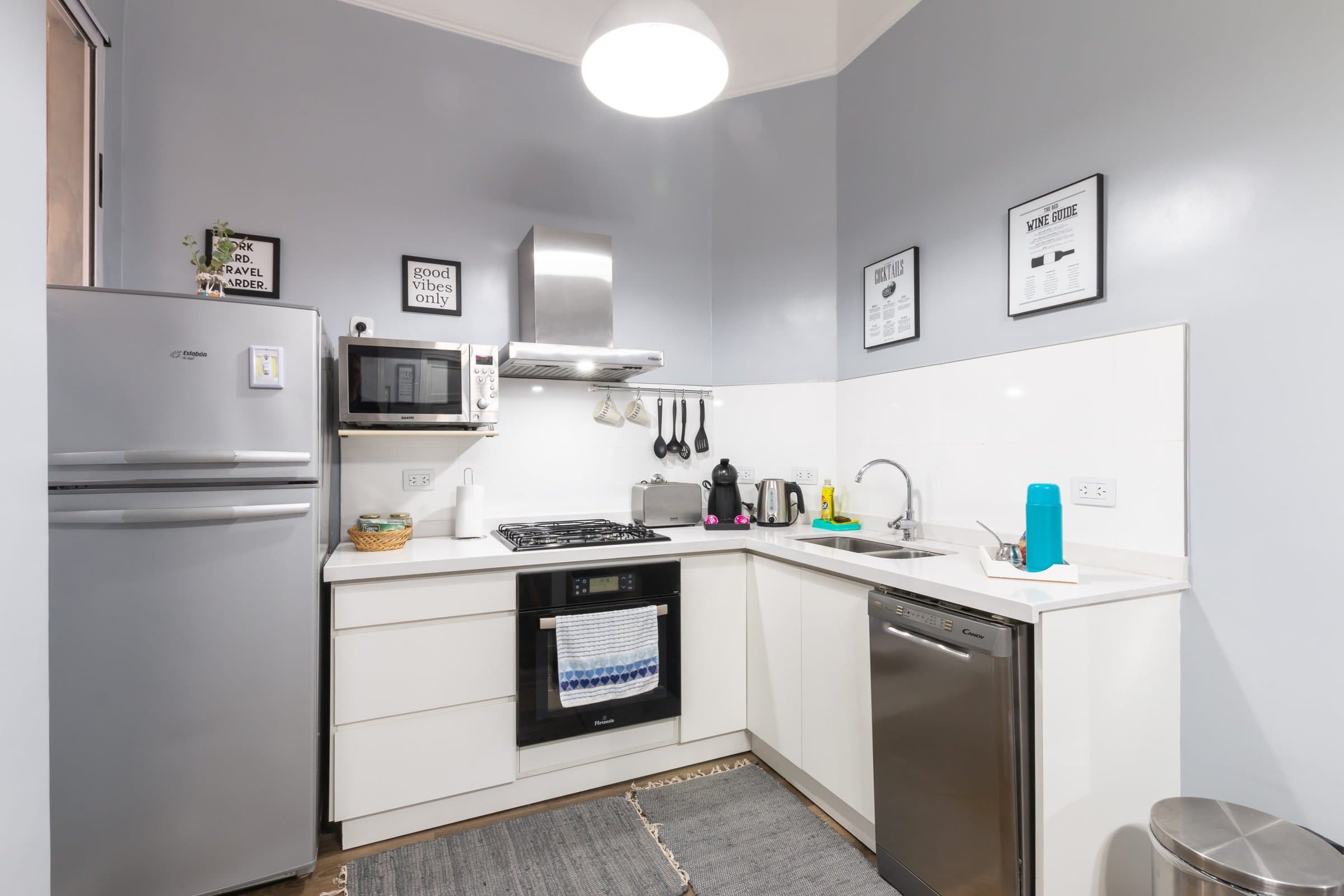 For those who don't have kitchen wall cabinets, a neat, practical solution for fitting your microwave is to build a shelf.
If you're running out of room on the countertop, this will give you back the space you need as well as looking like a bespoke choice. You can try to build a microwave shelf yourself.
Be sure to fit a secure shelf that will take the weight of the microwave. Ensure that cables are neatly channeled on the wall, or put the shelf up near to an electric socket.
Double Oven Option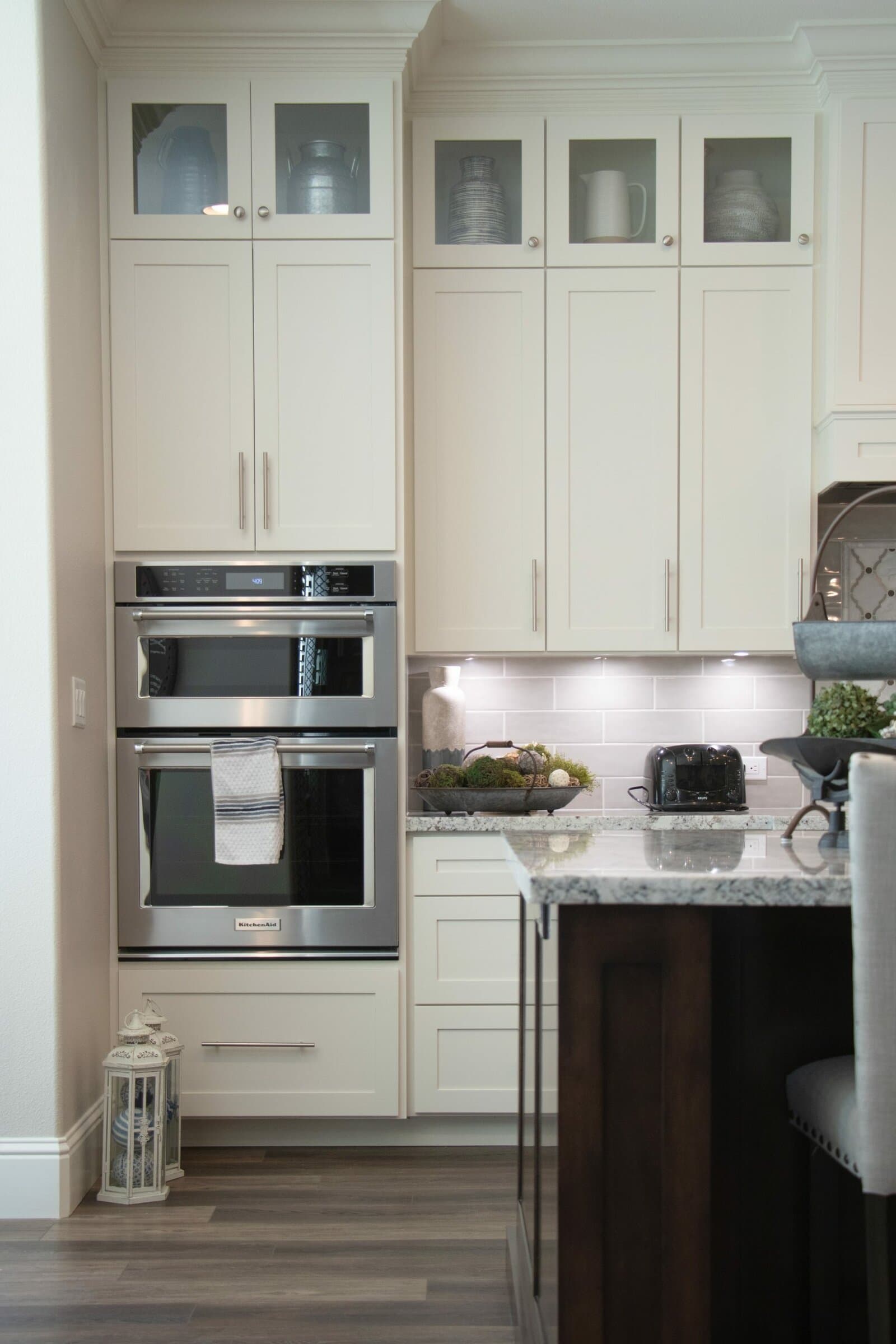 A conventional, stylish way to store your microwave, and this will need to be thought about when installing your kitchen, is to fit it directly above the oven.
This is highly practical if you're cooking with your oven and microwave for a meal. It also looks sleek and functional.
You can buy microwaves that integrate in your kitchen with your other appliances so this will match your oven and hob, for example.
For those who have trouble with their back and bending down to reach, this is a safe solution for fitting your microwave.
In Your Kitchen Cabinet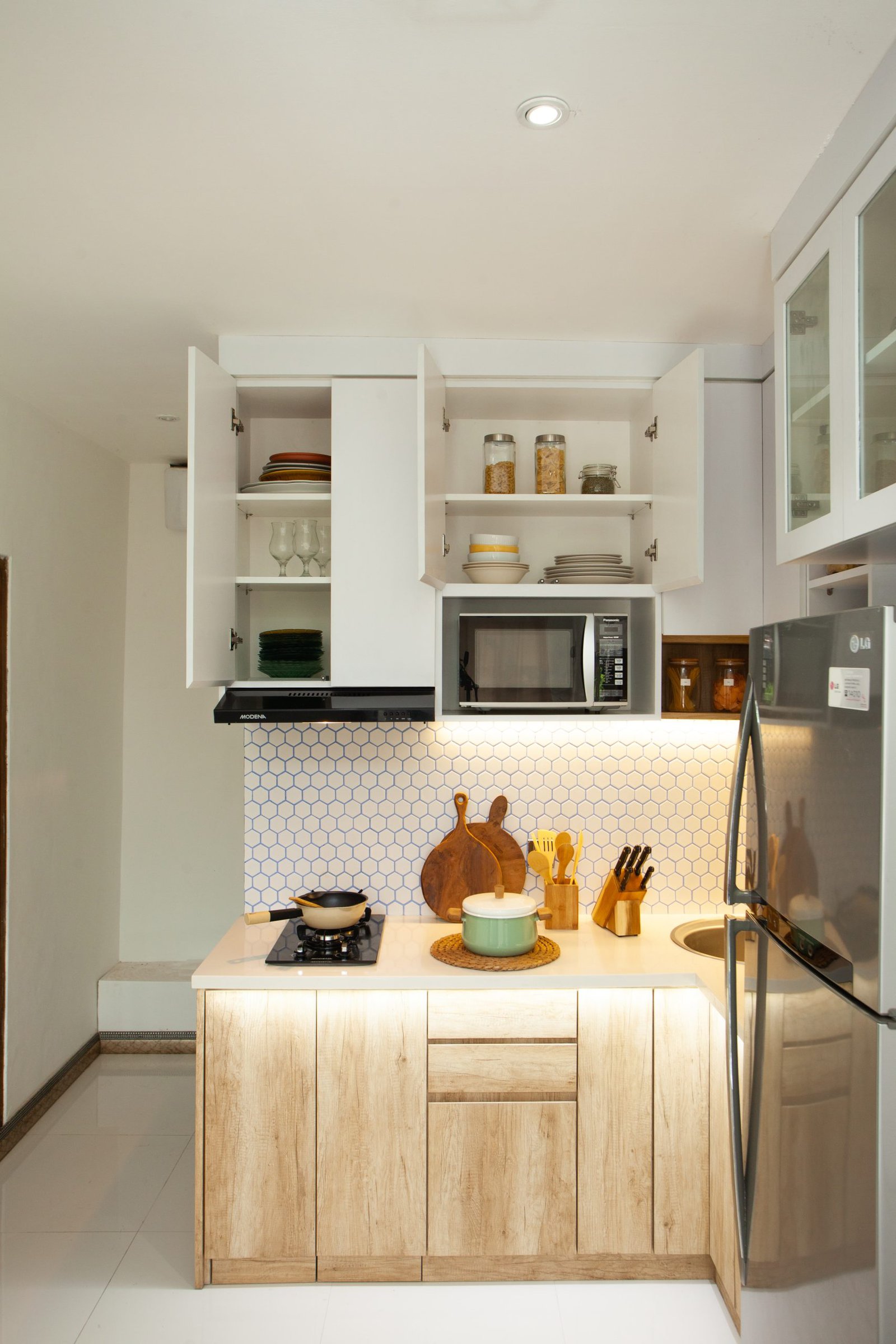 If you have a truly small kitchen you'll need to also have a small microwave but you'll want it up and off the countertop if you have minimal food preparation space.
Putting your microwave in a wall cabinet works well if you keep the doors open when you are using the microwave. Or fit smaller doors on the cabinet above to leave the microwave exposed and therefore easy to access.
On an Island
A smart place to keep your microwave if you have a kitchen island is within it. You'll maximize the rest of the area of the kitchen by using what would otherwise be empty space.
Again, this is not so good for those with sore backs or with children who would be able to reach the hot microwave. But this is a really good answer for those who are better off using lower kitchen cabinets.
Integrated into Your Pantry
For those who have a separate pantry, whether an old-fashioned larder in a period property, or state of the art in a new home, this is a great place to put your microwave.
You'll be able to use the kitchen countertops for cooking and for keeping smaller utensils and appliances. By keeping your microwave out of the way it's still easy enough to reach when you're using the kitchen.
If you have a larder cabinet, you can put your microwave here and even set up a console with a coffee maker and toaster. And when not in use you can close the doors to maintain your sleek kitchen design.
On top of Your Fridge
As long as it's not too high up, and you can safely reach hot dishes, then a practical place to put your microwave is on top of the refrigerator.
Whether that's freestanding on top of a small fridge or an integrated solution as part of a new kitchen design, this is handy as you will have a power outlet for the fridge you can plug into and it's very close to the food!
On the Countertop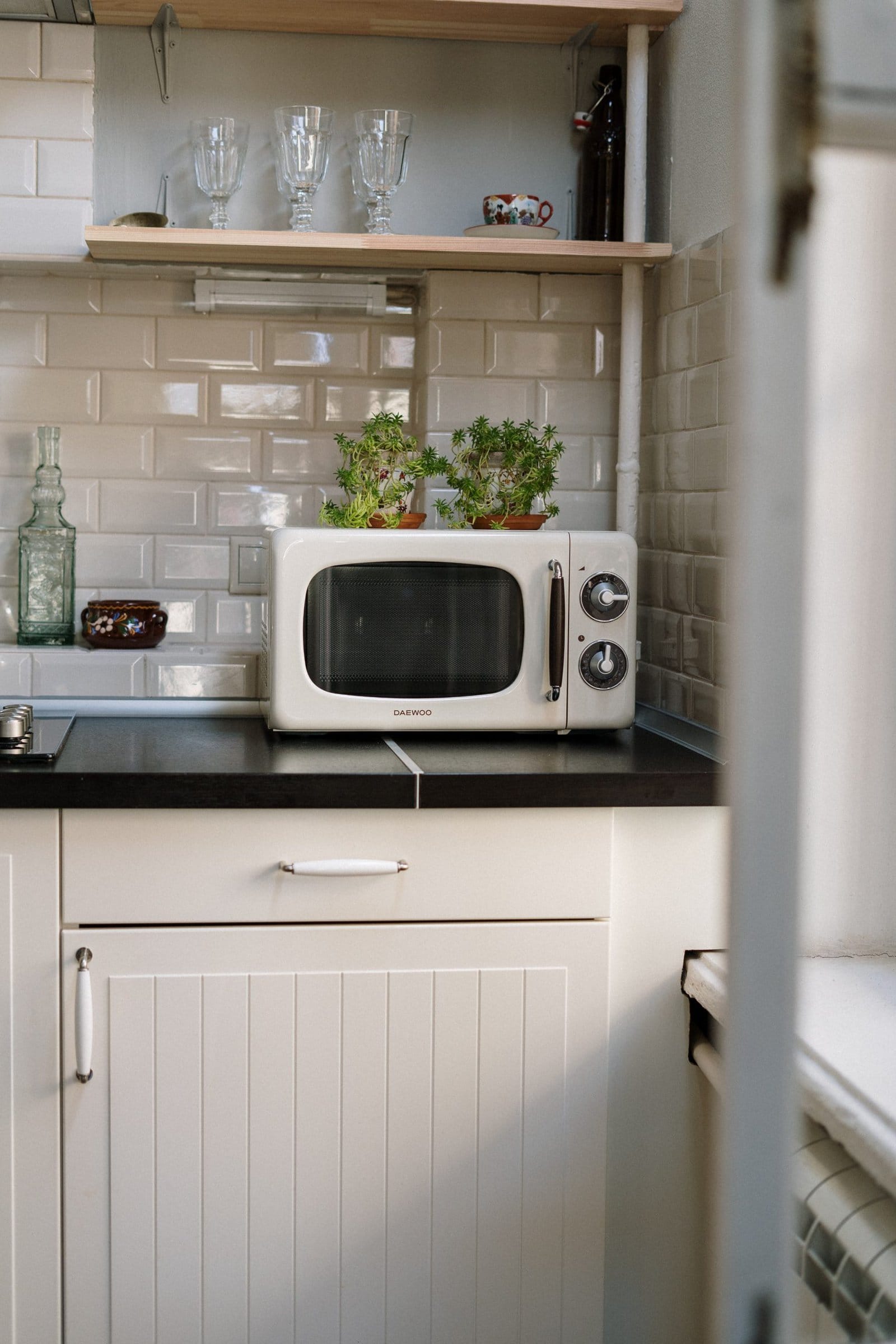 If you're on a budget and can't afford to make changes to your kitchen, or you're not confident at DIY, then the last solution is to place your microwave on the countertop.
You'll need to find the smallest microwave you can reasonably use for you or your family. And ideally one that looks good aesthetically. There are some nice retro style options available that don't cost the earth.
Then find a good spot on the countertop. If you have a corner or dead space, that is the best place to try. You can also, as long as you don't cover the vents on the microwave, place other items for storage on top or perhaps grow some delicious herbs.
In Summary
You might think because you have a small kitchen that you don't have the space for a microwave. But with a little planning and ingenuity it's possible to find a whole range of places to contain your microwave.
On a smaller budget you may need to put your microwave oven on top of other appliances or on the countertop. You can find small and attractive microwave oven options to take up minimal space while looking good.
You can creatively use other spaces, in kitchen cabinets, under counters, or build your own bespoke microwave shelf. There will be a great option to suit your own kitchen.