Microwave Cabinet Ideas for Every Kitchen Style
How many times a day do you think to yourself, "I'll just microwave it?" The microwave is an essential component of any kitchen. Its clever technology eliminates the need to turn on the stove on extremely busy days. You can use it for everything from heating ready-to-eat meals to prepping meals for a busy work week.
It's obvious then that this type of appliance requires a better location in your kitchen than the counter. To begin with, placing the microwave on the counter takes up valuable counter space that you may need for other kitchen tools.
Second, there are numerous areas of your kitchen that you could easily optimize to create a more efficient space for this oft-used appliance. How do you do that? We'll show you!
Upper Cabinetry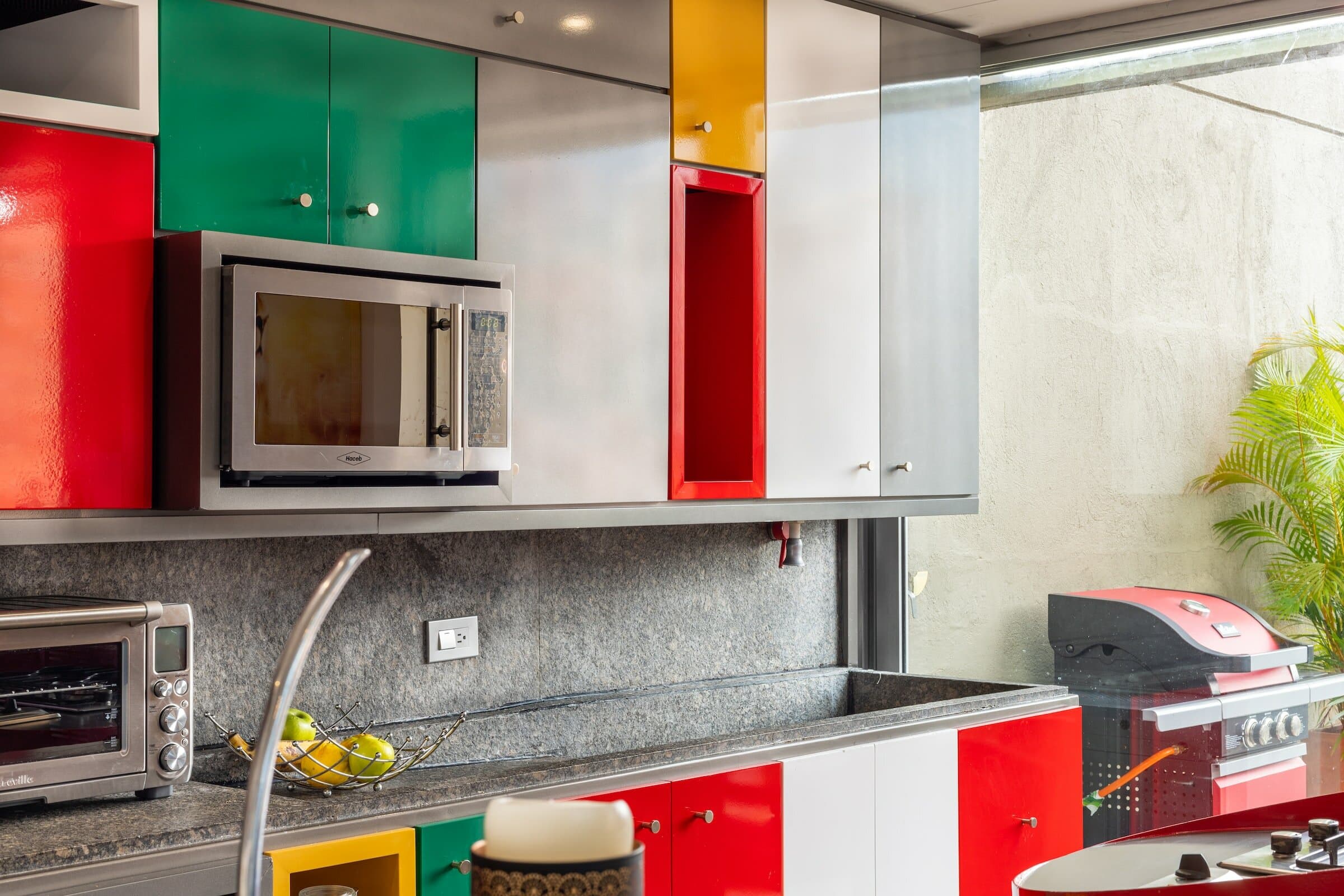 Given the convenience, this is one of the more obvious microwave placements. Your upper cabinetry range provides a good working space for positioning your microwave, keeping it away from valuable countertop space that can be used for other purposes.
You can easily access the microwave from your kitchen workstation, without needing to bend over or crane your neck. It's as simple as opening a cabinet. Before you carve out a space, make sure the microwave is at eye level or at least within easy reach.
While the exposed built-in microwave gives your kitchen a sleek focus, you can always go for a concealed look if you prefer it. If you're concealing the microwave, ensure that the door matches the rest of the cabinetry.
Above the Oven Range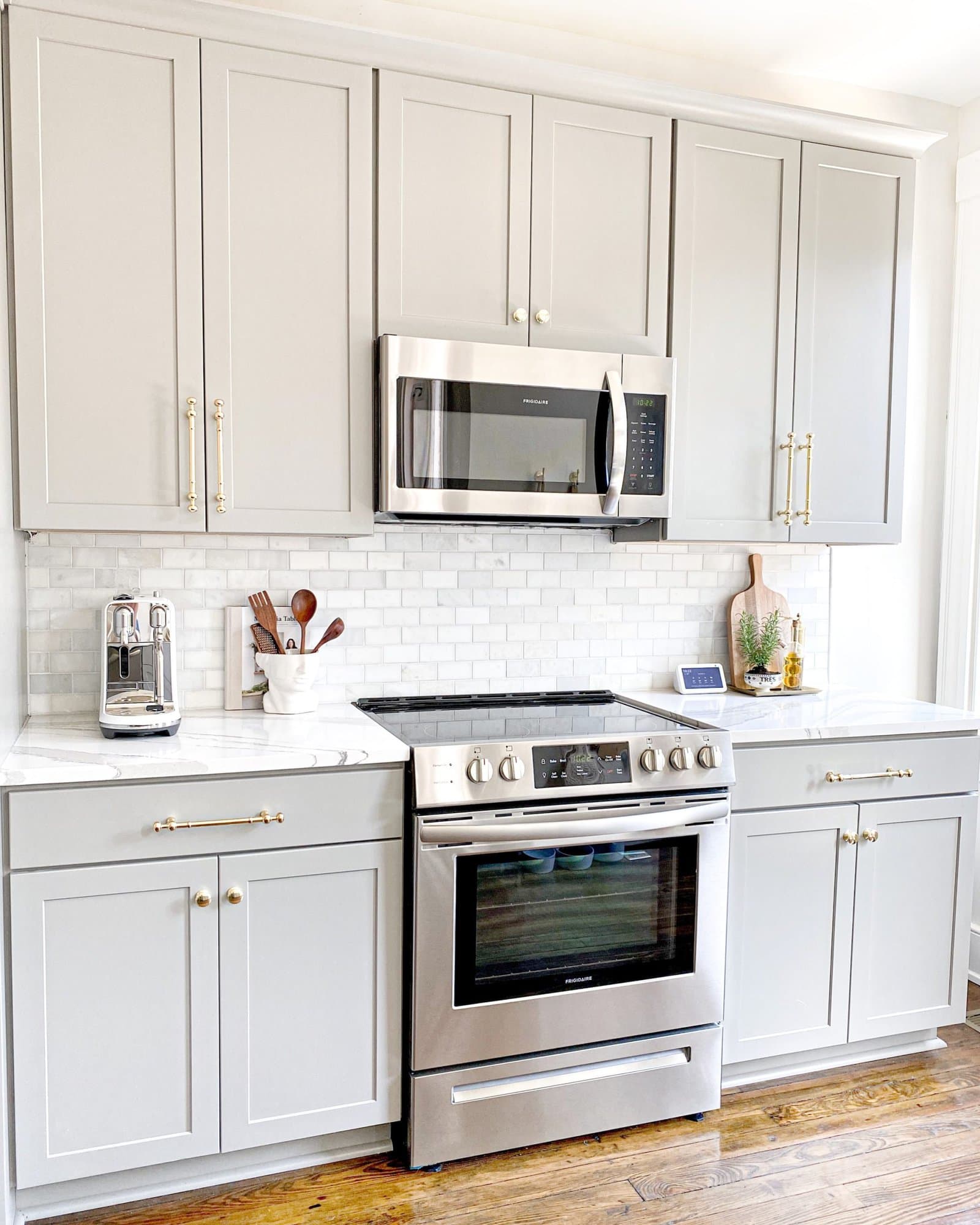 This is yet another microwave position that is both visually and practically appealing. Placing your microwave directly above the oven range visually centers your appliances and adds a symmetrical focus to the space. Aside from that, it allows for a more streamlined way of working while not taking up too much cabinet space.
A microwave above the oven range eliminates the need for a dedicated oven range hood in residential kitchens because the microwave includes ventilation below. However, keep in mind that installing this may be more expensive.
Placement of a microwave above a hot cooking range (despite ventilation) may also raise safety concerns, so consider this before diving in.
Under the Counter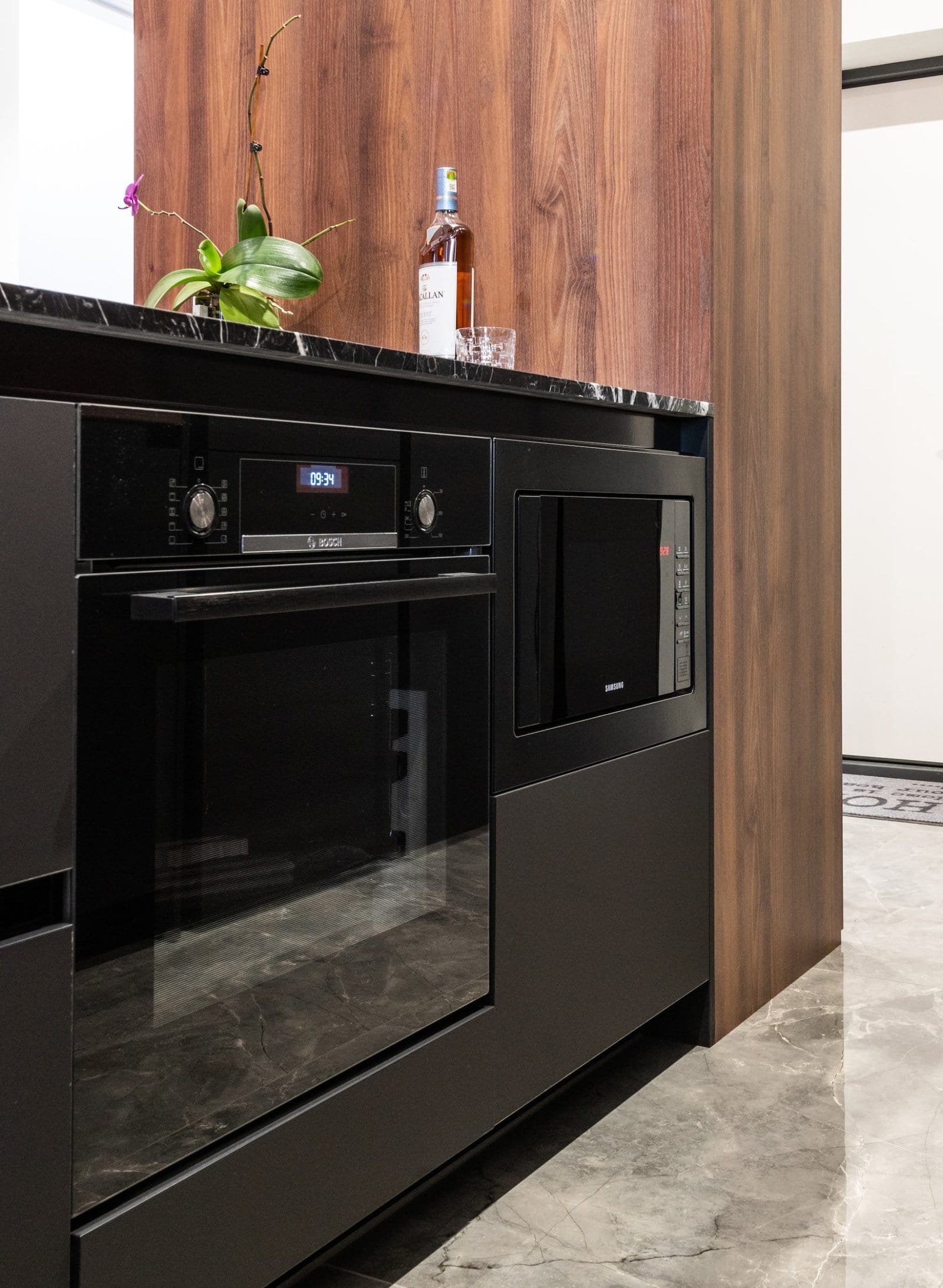 Many people would prefer to have plenty of space on their countertop as well as in their upper cabinetry. Thus, the lower cabinets would be the next best option for microwave placement.
There are two approaches to this. You can choose between a microwave drawer and a traditional built-in microwave that blends in with the rest of the cabinetry.
Microwave drawers are convenient because they allow you to quickly and efficiently move food from the counter to the microwave. It also gives your kitchen a more organized and integrated appearance, with plenty of counter space and uncluttered upper cabinetry.
Another advantage of this position is that it is more accessible to all household members, regardless of height. The disadvantage of the drawer concept is that installing them is typically costly.
Built-in microwaves, on the other hand, require a tightly carved out space in the lower cabinetry for a clean, streamlined look that doesn't detract from the overall appearance. In addition to freeing up counter space, this design also provides all-height access.
Fitted Into Kitchen Island
Larger kitchens can experiment with a microwave on their kitchen island. This gives you plenty of work space on the main counter while also freeing up cabinet space. It is possible to include a sleek and high-end drawer-style microwave in your kitchen island unit. If a drawer is not an option, consider a built-in unit in your kitchen island with a trim kit around the microwave.
Trim Kit Concept
You don't want the space you make for your microwave to be unnecessarily roomy. This not only detracts from the overall appearance of your kitchen, but it also takes up valuable cabinet space that could be used for something else.
You'll need a sleek and taut space for the microwave to appear built-in. This is where a trim kit can help. The majority of homeowners use a trim kit to give their microwave a built-in appearance that is centered, organized, and clean.
Keep in mind that this option may require additional charges and installation fees.
Microwave Cart
We know how much smaller kitchens rely on cabinet and counter space, so fitting in a microwave can be difficult. This is where the novel microwave cart concept comes into play.
These sturdy kitchen carts with wheels can be used to store any small kitchen appliance. You can simply prop up your microwave on one and place it wherever you want in the kitchen. If you don't need it at any given time, simply wheel it out of the way.
Freestanding Microwave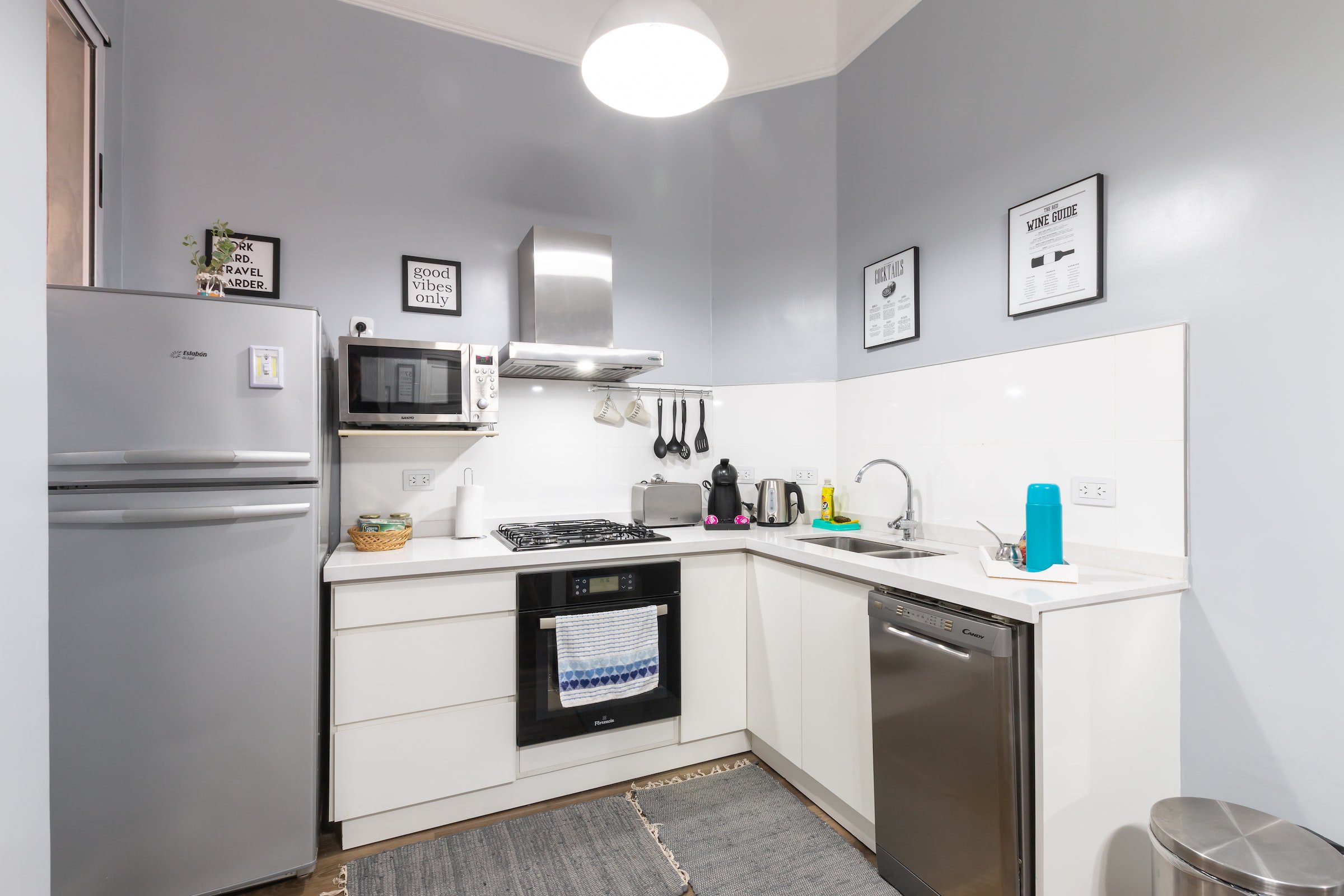 Some kitchens may choose a minimalist design and thus lack upper cabinet storage space. Such kitchens benefit from having a freestanding microwave.
Simply install a sturdy kitchen shelf or ledge above your counter and mount the microwave as a freestanding wall unit. This gives your kitchen a clean and customized look while still complementing your minimalist sensibilities.
Some Tips for Microwave Placement
Now that you're better aware of your options for microwave placement, you might want to consider some tips to help you in the upkeep of your microwave space.
It is important to regularly clean your microwave. Ensure that you keep the microwave cabinet area dust and grime-free. Because of the constant association with food, this space is prone to collecting crumbs and stray food elements, attracting unwanted pests as well as other dirt.
To prevent buildup, wipe down your cabinet at least once a week. You can also use cabinet liners to keep the space clean and free of dirt.
Avoid storing heavy items in your upper cabinet if your microwave sits on its lower portion. This will help avoid overloading the microwave, which could be harmful in the long run.
Finally, while installing a trim kit maximizes space, leave enough breathing space (at least three inches) for the microwave vent. A blocked vent could overheat and lead to a fire hazard.
Final Thoughts
It's a dream to have a fully optimized kitchen with easy access to most appliances and tools. This is particularly true for a microwave, which is so commonly used. With these suggestions, you can find the best microwave location in your kitchen that best suits your sensibilities!
Keep in mind your overall working style in the kitchen, any kitchen aesthetics you may wish to tackle, and, most importantly, safety concerns, before you zero in on a placement.