Decorated Life is reader-supported. When you buy through links on our site, we may earn an affiliate commission. Learn More
15 Backsplash Ideas for Granite Countertops
Backsplashes were one chosen primarily for function, with little thought for style. But those days are long past. And now, we rever the backsplash as an additional design element we get to use in our room design.
Backsplashes come in a huge range of designs, materials, colors, sizes, and finishes. While a huge selection may seem like intimidation, you'll be better ready to narrow your choice to the perfect backsplash for granite countertops when you know what options work for your situation.
Keep reading to see fifteen backsplash ideas for granite countertops, from simple, single-color subways to backsplashes composed of multiple colors or interesting patterns.
Select a Modernized Simple Subway Tile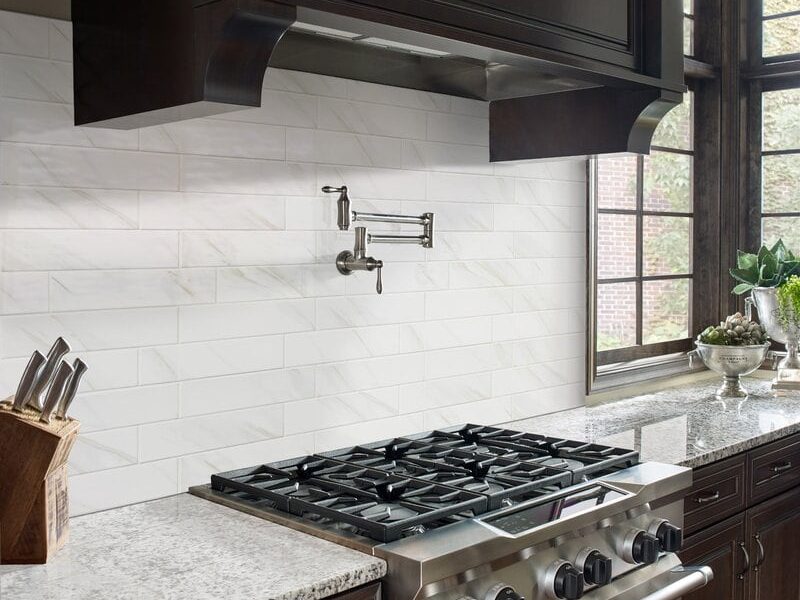 If you're looking for the simplest and most common sight for your kitchen, you gotta go with a classic subway tile backsplash with granite countertops. But you don't have to limit yourself to the basic look of a clean, stark white design.
We're head over heels for a subway tile in a mimicked marble, like these Calacatta tiles. You get a gorgeous white subway tile base, upgraded with beautiful gold and gray veining in an oversize format.
Go with a Glass Grid Mosaic in Retro Colors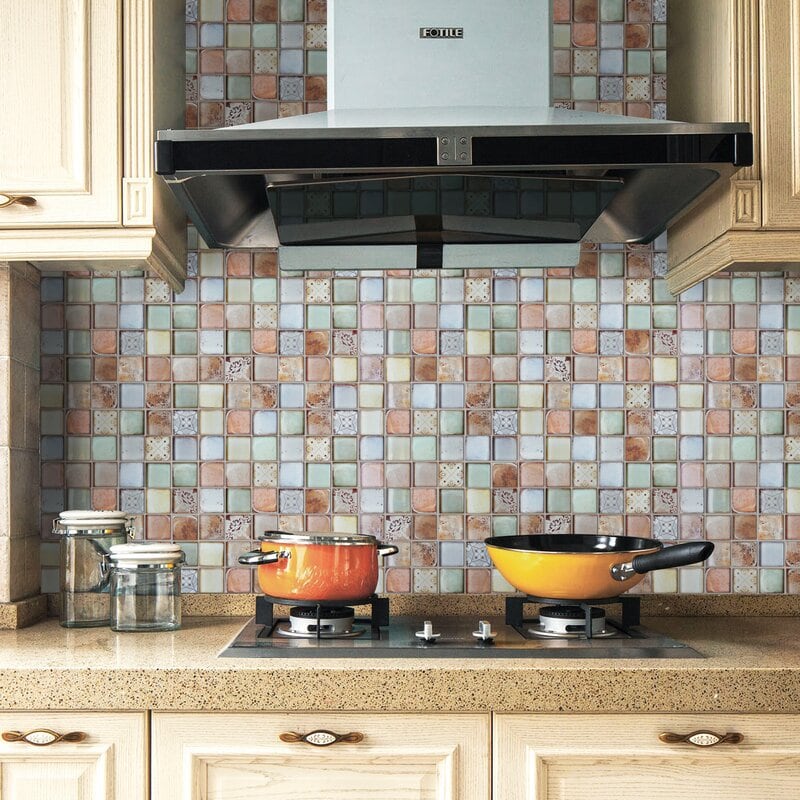 When you have earthy neutral colored granite, you have the perfect base for adding some color to your walls with a stylish backsplash.
With brown granite countertops, glass tile backsplash in earth tones like rusty reds, cool grays, off-whites, pale pinks, shiny browns, icy blues, and light greens. And this matte glass mosaic tile even offers subtle patterned tiles.
Be Bold with Black on Light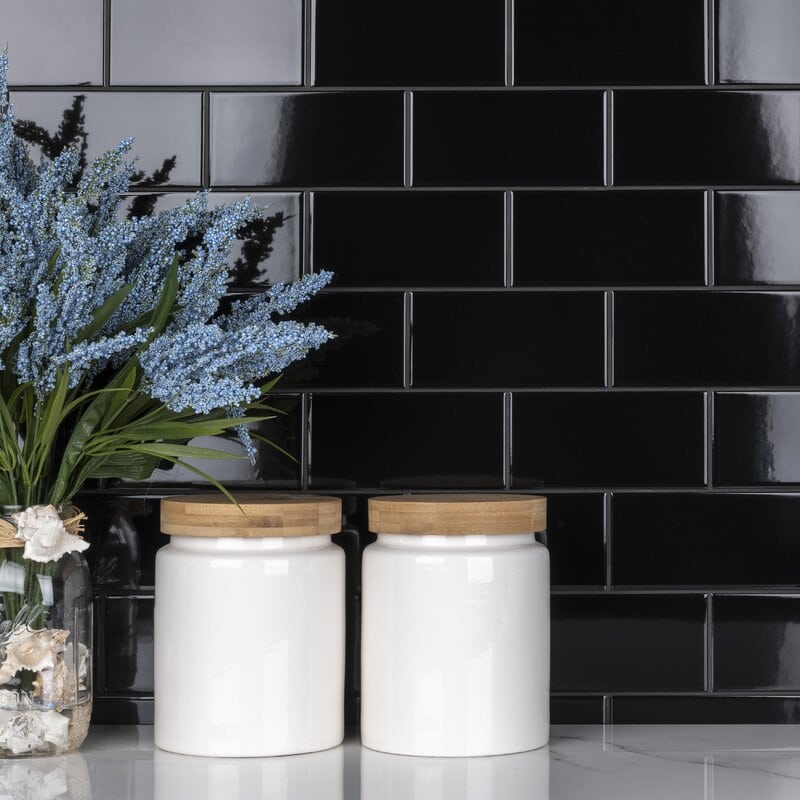 You can create a dramatic modern effect using a classic subway tile design in beautiful black when you have light granite countertops with dark veining.
We're obsessed with the look of glossy or matte black subway tile backsplash against the stark shininess of elegant white counters.
Pick a Pretty Patterned Print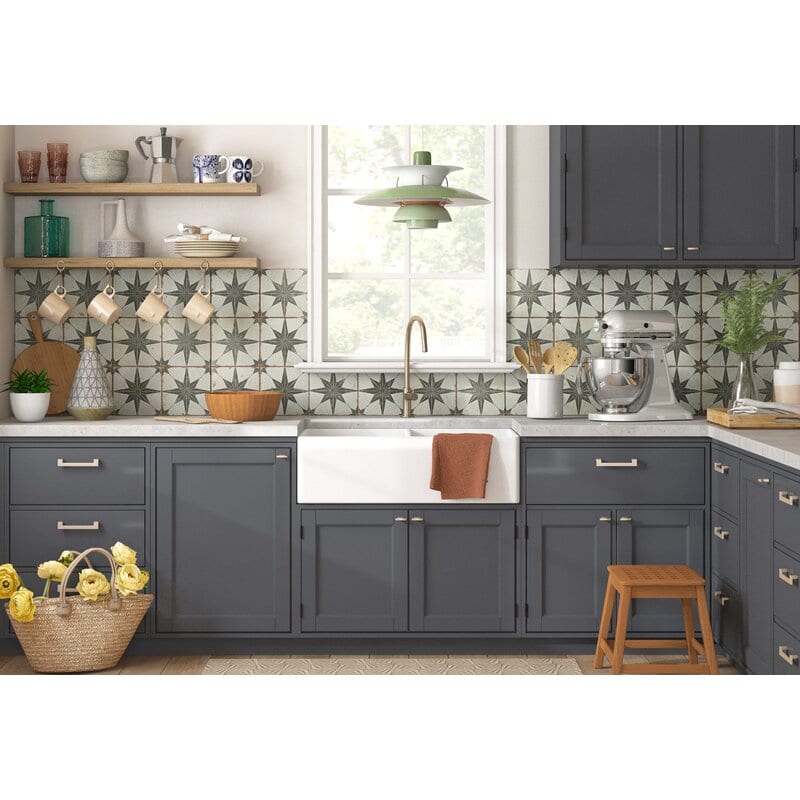 Patterned tiles are the perfect choice for a backsplash for granite countertops that are neutral in color. But it won't work for counters with many color variations since trying to pair a patterned backsplash with busy countertops can overpower the room.
We adore this simple yet stylish large square backsplash with a distressed, scuffed, and aged white base and charming nautical star print in a solid color. We love the idea of using the color of these stars for the accent colors for your cabinets and other decor pieces.
Play with a Two-Tone Porcelain Mosaic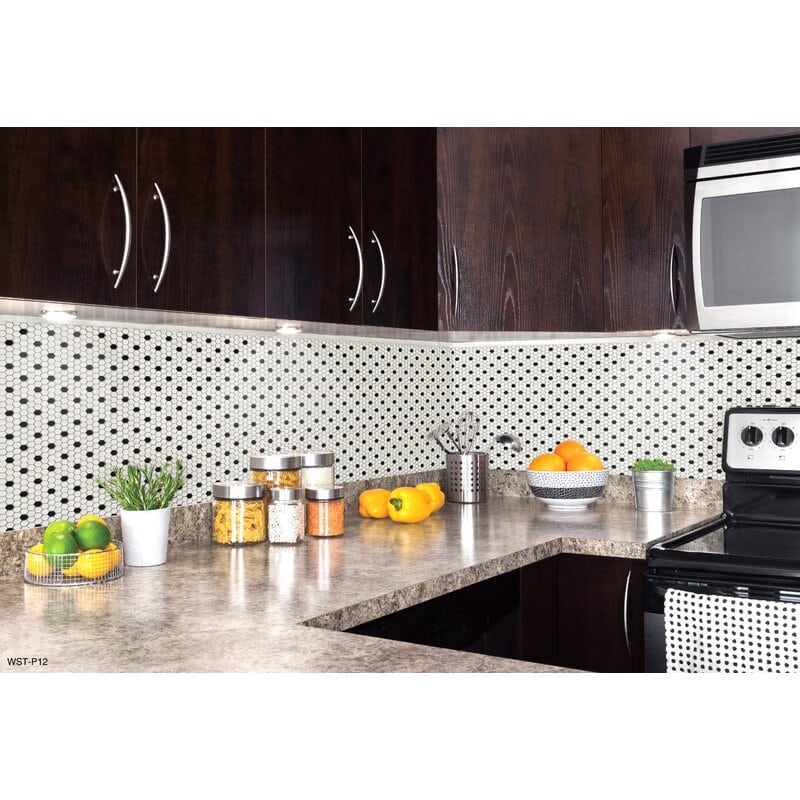 When you have busy granite countertops with dark coloring, you'll get a more put-together look by going with a backsplash in lighter tones.
We enjoy a black and white mosaic pattern backsplash for busy granite countertops. You can get a versatile look that can work for many designs with hexagon tiles in neutral tones with a matte finish.
Mix Marble Mosaic with Smooth Granite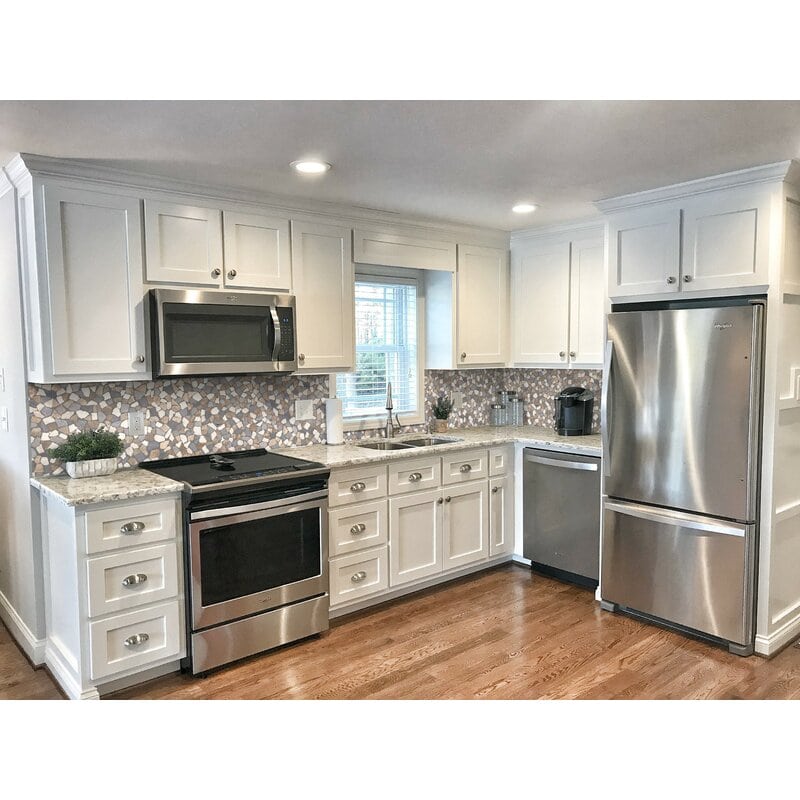 When you have clean, simple granite counters with a classic stone pattern of a light gray base with flecks of dark gray, white, and brown, you have many design choices for backsplashes.
You can give your kitchen a rustic, upscale feel by going with a backsplash made of marble, like this classic tile of gray, tan, and white stone pieces in a random mosaic pattern.
Keep a Consistent Style from Counters to Splash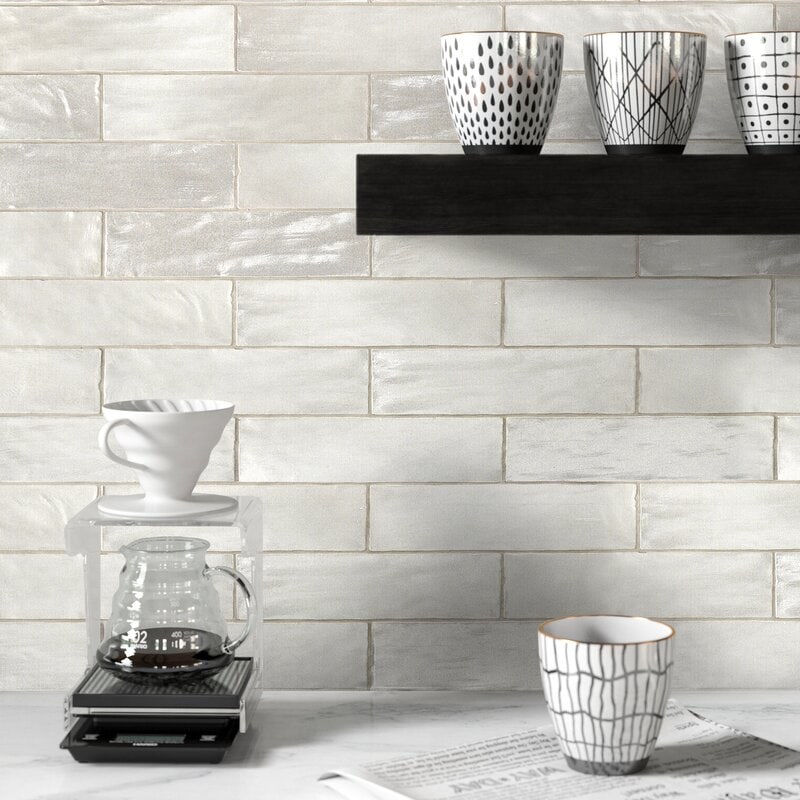 You can continue this style up the walls for a consistent look when you've got predominately white with gray veined counters.
These granite countertops with tile backsplash look exquisite with stormy gray and white colors and gray grout that reminds you of a storm rolling in off the coast.
Light It Up with a Lantern Pattern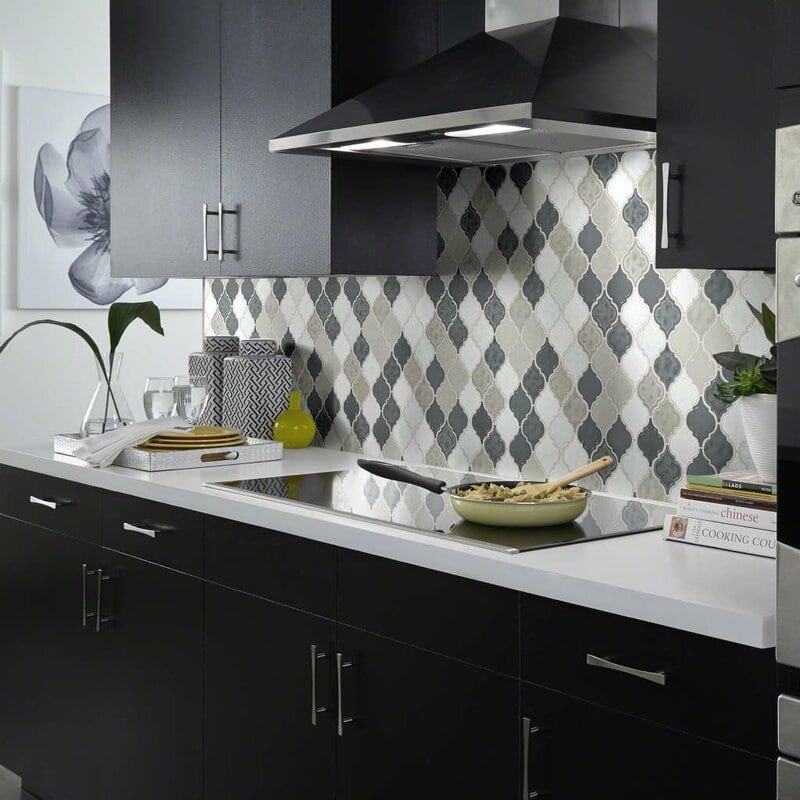 Add a multi-colored lantern pattern mosaic backsplash for an incredible transition between dark cabinetry and light granite countertops.
These unique novelty tiles in various shades of white, gray, tan, and cream bridge the design gap between traditional and modern.
Neutral Stone with Upscale Gold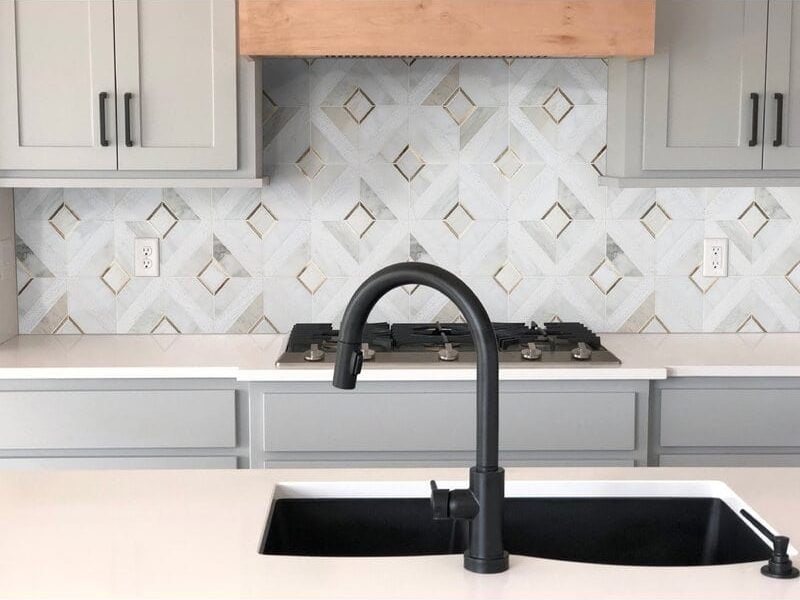 For an upgraded twist on a geometric print, try this novelty tile in a neutral cool gray with lines and shapes of varying lengths and colors to create contrast.
Gold accents and patterns make this modern ceramic backsplash feel more romantic and timelessly elegant to make the perfect companion for granite counters.
Show Out with Shiny Metallic Nickel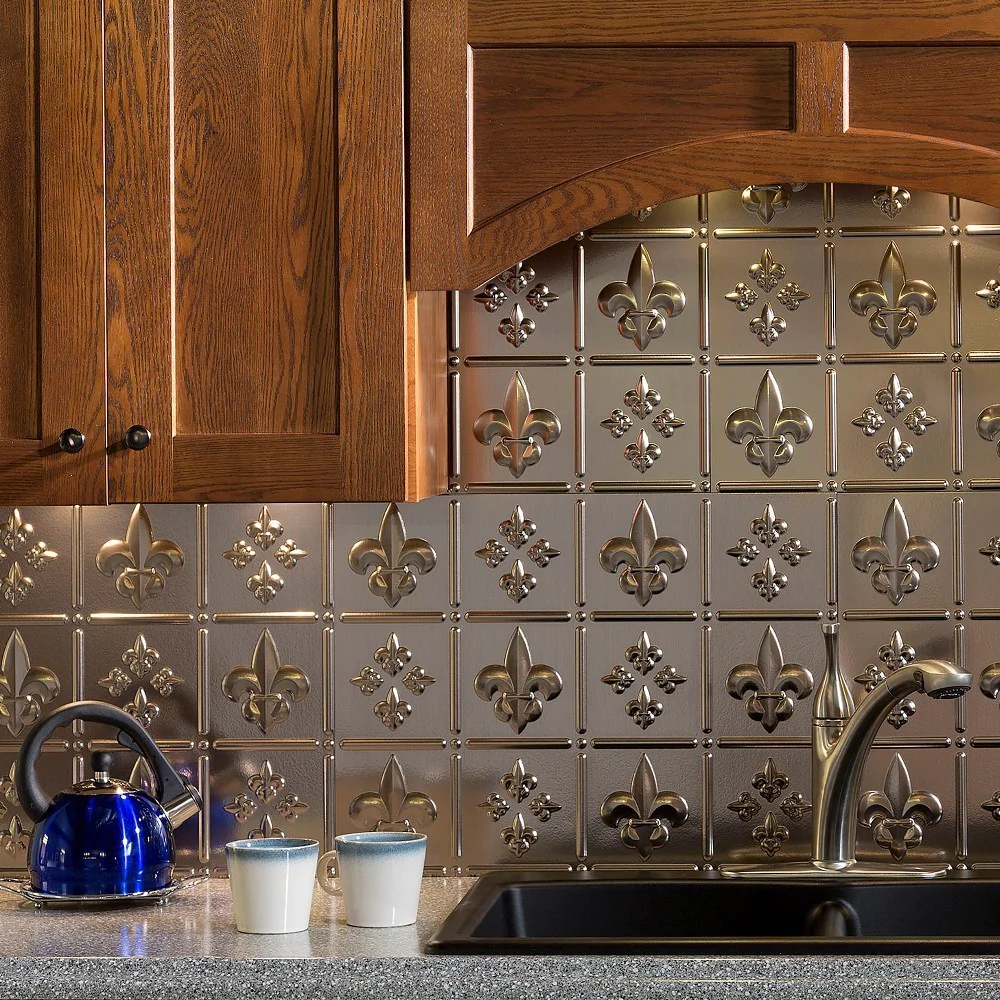 When you have heavy gray granite countertops with flecks of black and white, you can enjoy an impressive statement with a shiny metallic backsplash.
This brushed nickel backsplash offers a faux matte metal base spruced up with raised Fleur de Lis emblems and reflective silver trim that enhances the gray counters.
Try Adding Texture with Off-White Marble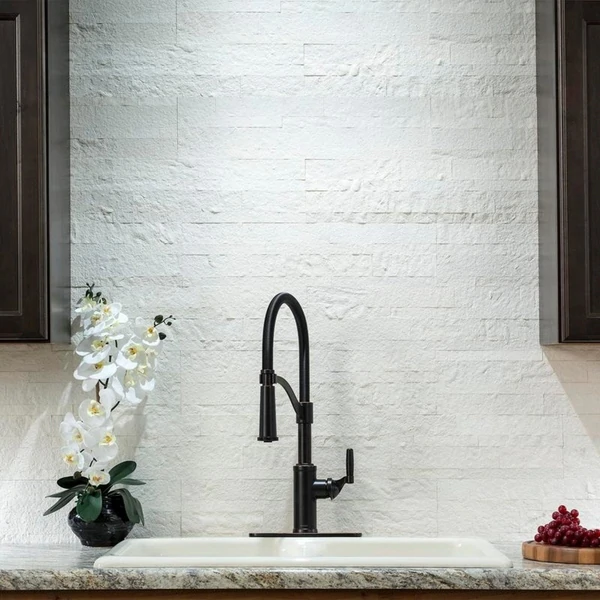 When your granite counters have a busy pattern with lots of marble veining and color variations, you can balance the look with a calming backsplash.
These peels and stick marble stone backsplash tiles give your walls a textured look that jazzes up the neutral ivory color.
Enjoy the Glow of a Golden Sandstone Brick Backsplash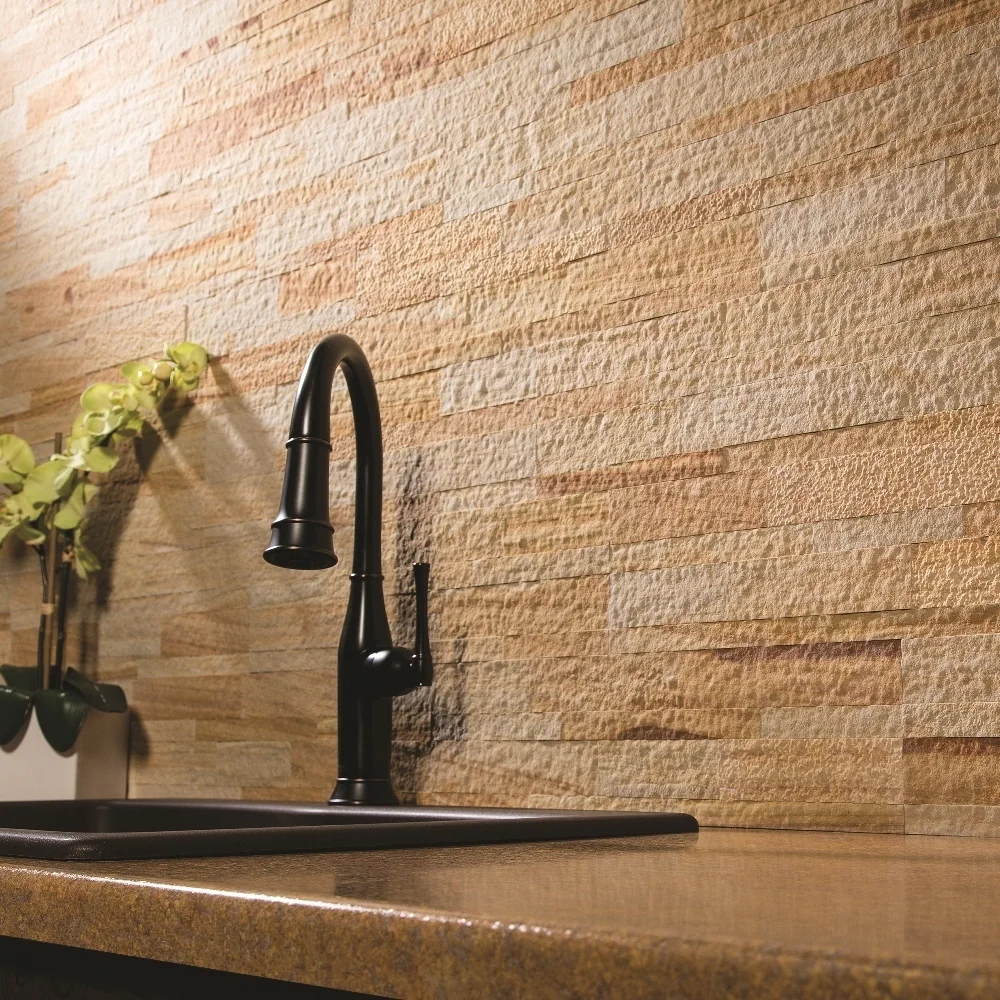 If your granite countertops are rich, earthy colors like a golden brown, you can continue the color scheme up the walls with a backsplash in golden quartz.
This peel-and-stick backsplash gives your walls texture and aesthetic appeal with stone tiles in variations of sandstone colors – red, cream, tan, brown, and ivory.
Add a Picket Mosaic for a Unique Upgrade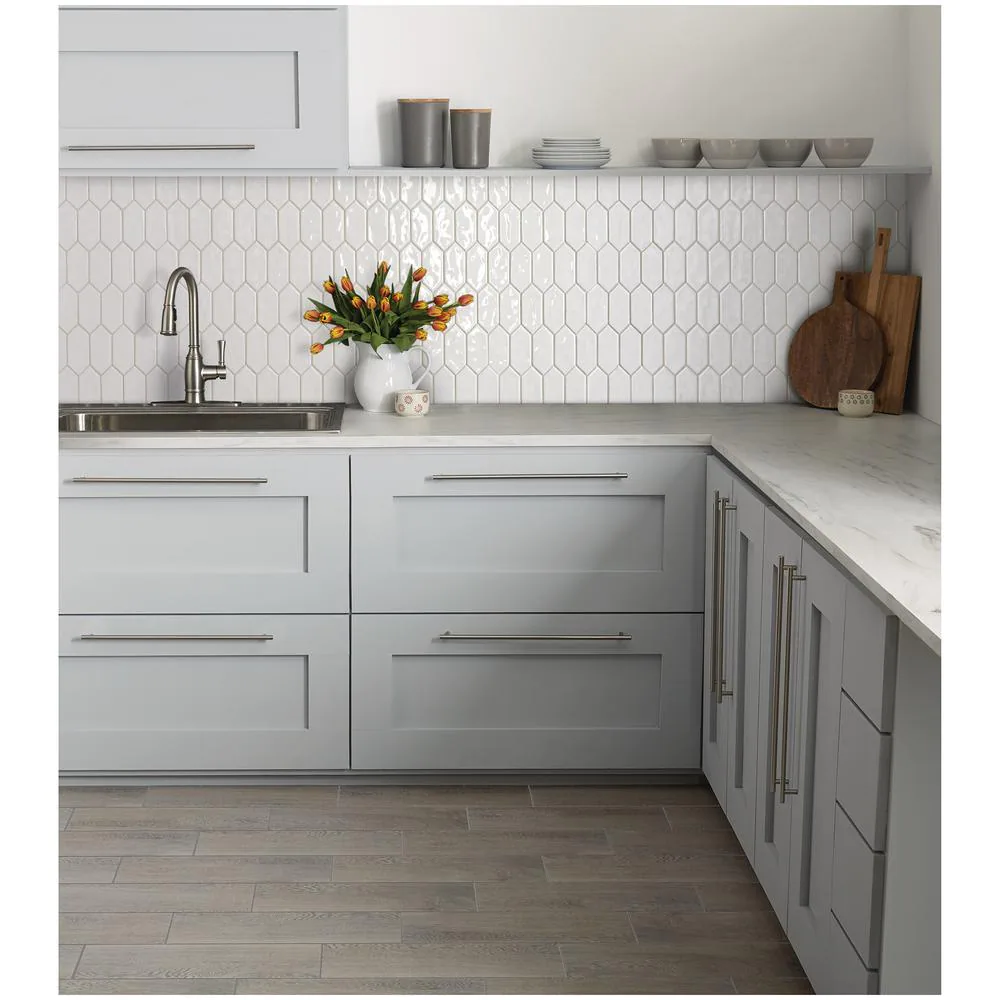 If you're looking for a unique design idea for a backsplash to go with white granite counters, try a glossy white ceramic tile in a picket shape.
The simple white color prevents distraction from the subtle, elegant gray veining of the granite. And the shiny, glossy finish and interesting shape make your space feel brighter, more modern, and one-of-a-kind.
Blue and Brown Mosaic Blows Our Minds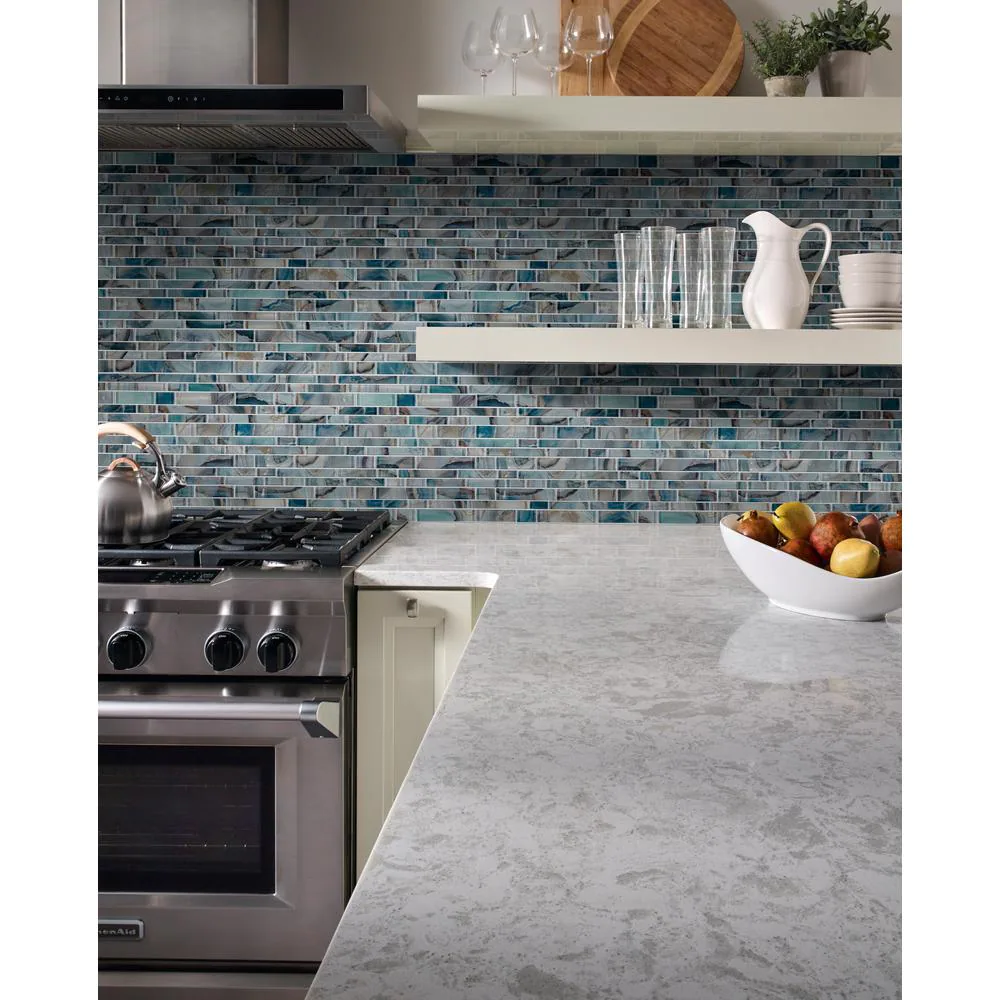 Choosing a small glass mosaic in an aqua blue palette with shades of brown, tan, turquoise, and neutrals is an excellent partner to modern kitchens with speckled granite countertops. 
The play of light and dark colors in a random pattern in a smooth, glossy finish reflects off the shine of the countertops to enhance the speckled colored flakes within the granite.
Dabble with Dark Stone with Some Beveling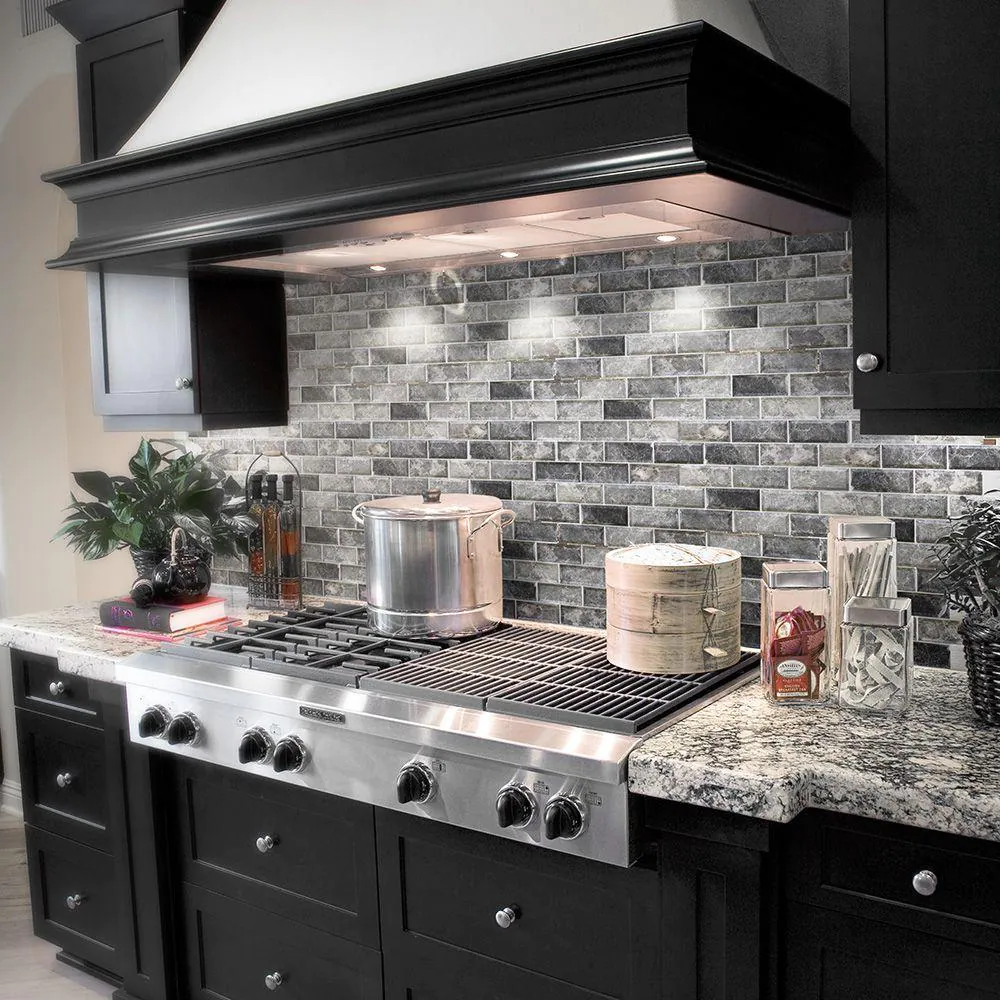 You can mix granite countertops with dark black veining with the rich boldness of black cabinets for a modern chromatic feel.
And to give your space even more of a powerful punch, complete the look with a marble subway tile in a dark color palette of varying tones of gray with raised beveled edges for more dimension and a polished surface to help reflect light.
And the Winner is – Any of These!
When you're decorating the kitchen and trying to color coordinate between granite countertops and the backsplash, your options are as vast as the different shades of granite you can find.
So, whether you like light or dark color schemes, traditional or unique shapes, one solid color or multiple shades, and smooth and shiny or textured and matte (flat), this list of backsplashes for granite countertops covered it all.