Modern Log Cabin Kitchen Ideas
Log cabins are magical places to stay. Nestled in the forest or high among mountains, these are the perfect retreat whether you're skiing, hiking or just in need of some good old R and R curled up in front of a roaring fire.
These days we want all the mod cons when we go away. So if you have a log cabin you may wonder the best way of kitting it out. You'll want to be sympathetic to the theme yet have it provide the practical benefits you need.
There may be more ideas than you knew. So have a look at some of the modern ideas for your log cabin kitchen.
Beige Elegance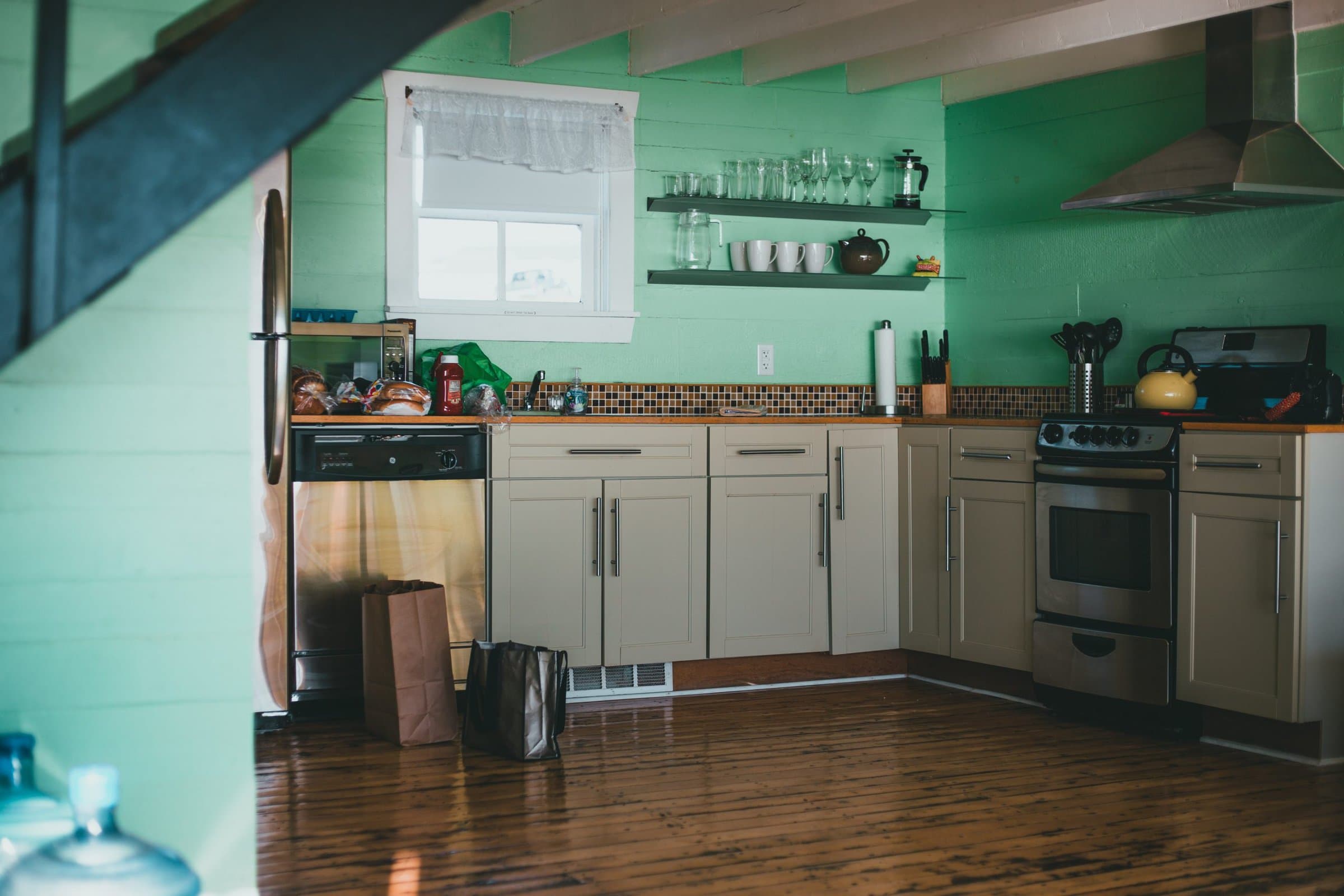 You may be hearing that the hot new neutrals for this year are warm beiges and earth tones. So for a modern kitchen in your cabin, why not go for a cool beige or taupe?
It's worth saying also that in this scheme you don't need to keep your walls in their natural timber state, but you can choose a gorgeous pastel to work with your cabinets. This will add a dash of inviting color.
Dark Green Kitchen Cabinets
Unexpected in a log cabin is a dark green kitchen and what's more, mosaic tile! Green cabinetry echoes forest foliage and therefore blends perfectly with wood walls and roof.
Add a modern detail like a mosaic tile and think about your hardware. Gold handles and knobs look fabulously decadent in your holiday cabin.
Breakfast Bar with Quartz Countertop
You don't have to live like old time pioneers in your cabin so you can install up-to-the-minute finishes. Not only can you invest in a huge state of the art fridge but also include a breakfast bar in your kitchen.
These have been popular in recent years when there isn't space for an island. And for a modern countertop material, choose a sparkly granite or light toned quartz. Not only are these surfaces hardwearing and practical but they last pretty much forever and are a nod to the contemporary.
Concrete Countertop in Your Log Cabin Kitchen
At first glance a wood kitchen may not seem all that modern in a log cabin. It's what you expect, right? If it's bespoke and gorgeously hand crafted then you can make it on-trend by adding black hardware.
But don't stop there! How about one of the most modern materials in kitchens? A concrete countertop. It's smooth yet robust and exquisitely cutting edge. It will show all your guests your great taste!
High Shine is Divine
Gleaming steel faucets and fridge are essential for a sleek modern kitchen and you can most certainly install them in your log cabin.
Black cabinets are also super cool, especially with gold knobs. Contrast with a white sink for a classic yet very modern look.
And the cherry on the cake? How about still life art on the wall. The height of refinement.
Show Your Metal
In a cabin kitchen that is uber modern, you can not only paint the wood cabinets of your kitchen island, and add on-trent black hardware but also go all out on metal accents.
How about a steel range and a modern faucet? With the rest of the decor muted, including a marble backsplash, these will show you know how to blend the old and the new. You have the best equipment that is happy to take a back seat to natural materials.
Log Cabin Kitchen Island
In any modern kitchen you would expect to find an island, so why not in your log cabin? Offering both a space to eat and making the kitchen a social area, an island is a good investment.
To modernize the look, you can add quartz or granite countertops and install inlay lights in the ceiling. You can also house your microwave within the island itself – very handy!
Natural Wood Finish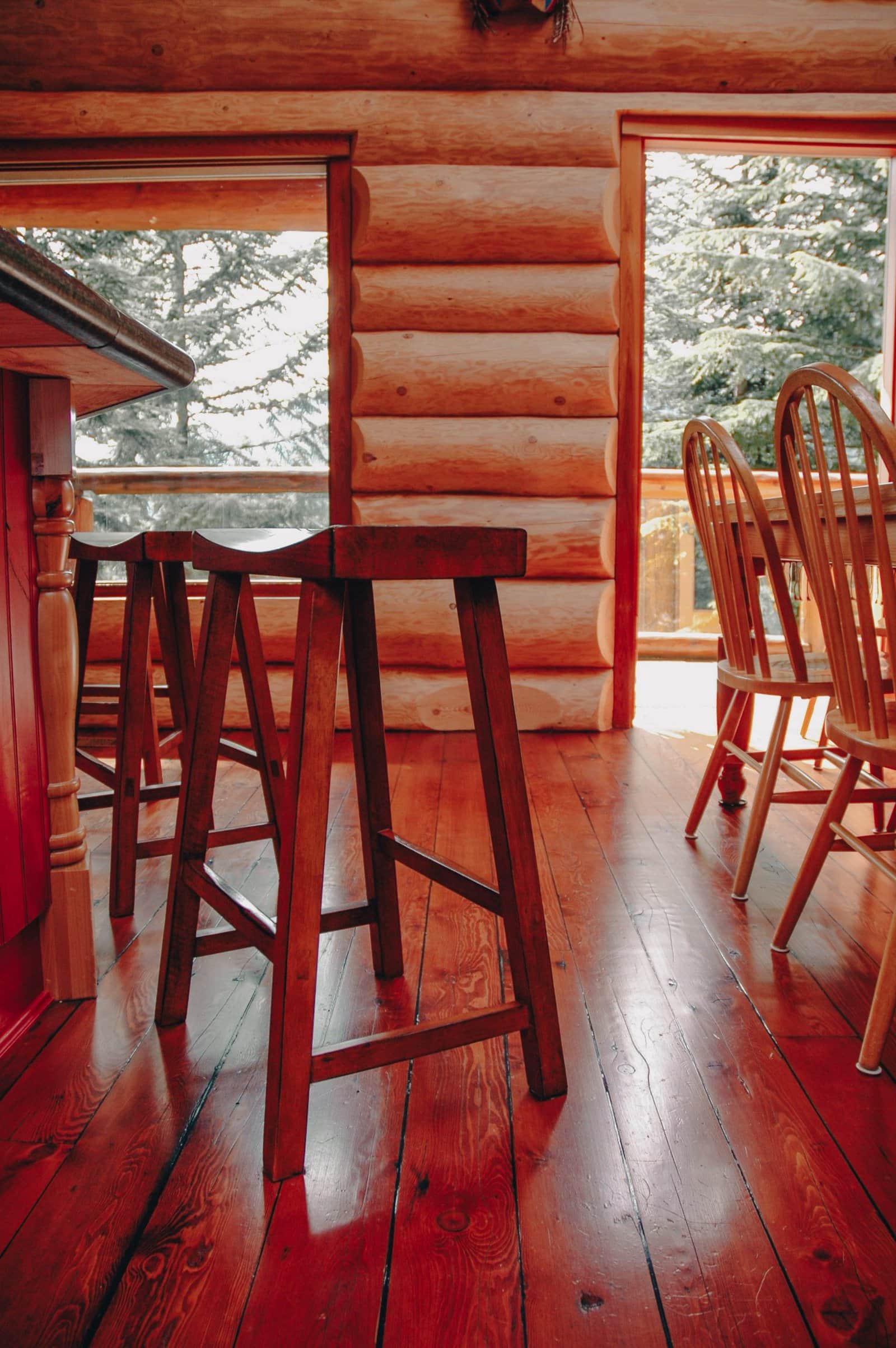 Of course, no self-respecting log cabin would be without a wood finish, whether that is log walls or large exposed beams. If you like a cabin, you'll want to enjoy the delicious, rustic appeal.
But you can have a simple modern look by extending the wood theme across your decor and including your kitchen. Gorgeously carved countertops and islands will look sleek against the rough lumber elsewhere.
In Summary
You may be surprised at how much style from your own modern kitchen you can transfer to a log cabin. While a crisp space-aged look would be going too far, you can add some of the modern touches from the rustic end of the design spectrum.
So, think black hardware and cabinets, colored cabinets in beiges and greens. And to modernize your cabin kitchen, add gold handles, silver faucets and large metal fridges.
When it comes to countertops, modernize a wood cabinet with quartz or concrete. And don't be shy about installing a breakfast bar or kitchen island. You can have a home from home that's still every inch the rustic getaway.