Decorated Life is reader-supported. When you buy through links on our site, we may earn an affiliate commission. Learn More
20 Best Boho Beds and Headboards
Looking to create a bohemian feel in your bedroom? One of the easiest ways to do so is with your bed.
While there are many styles of boho beds, some of the most popular are rattan, wicker, metal, and patterned upholstery.
If you're ready to find the best option for your room, we've rounded up the top 20 best boho beds and headboards for you to check out.
Bring in Some Glam with This Sleek Headboard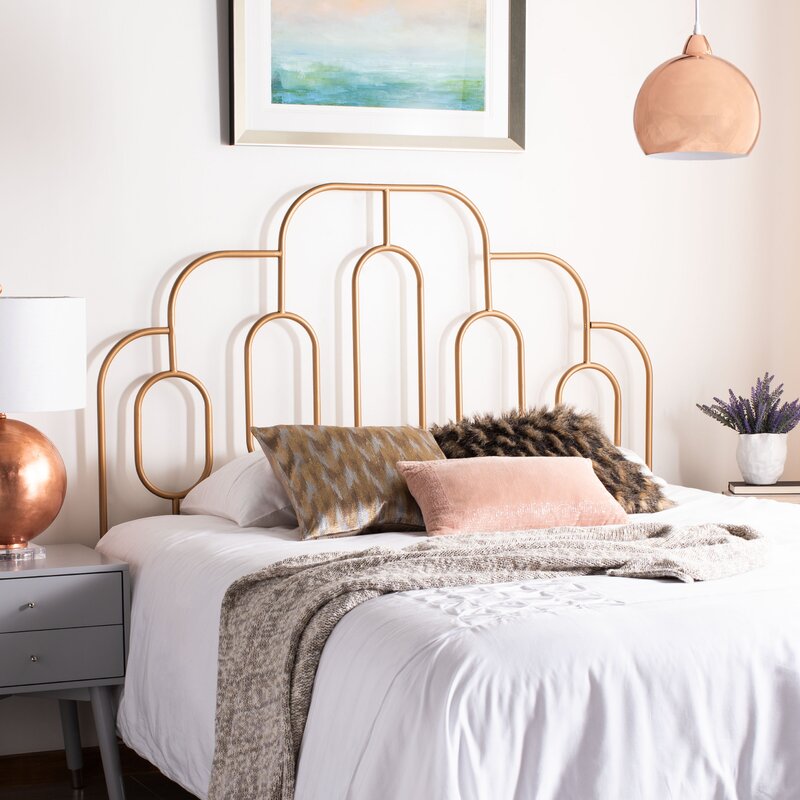 If you're looking to glam up your bedroom, try this geometric metal headboard. It comes in four different finishes, including antique bronze, black, gold, and white.
Although simple, this headboard has a regal feel and will instantly add style to your bedroom. You can pair it with a busy patterned comforter or go plain white and add a few pillows as fun accent pieces.
Layer in Texture with a Simple Boho Bed Frame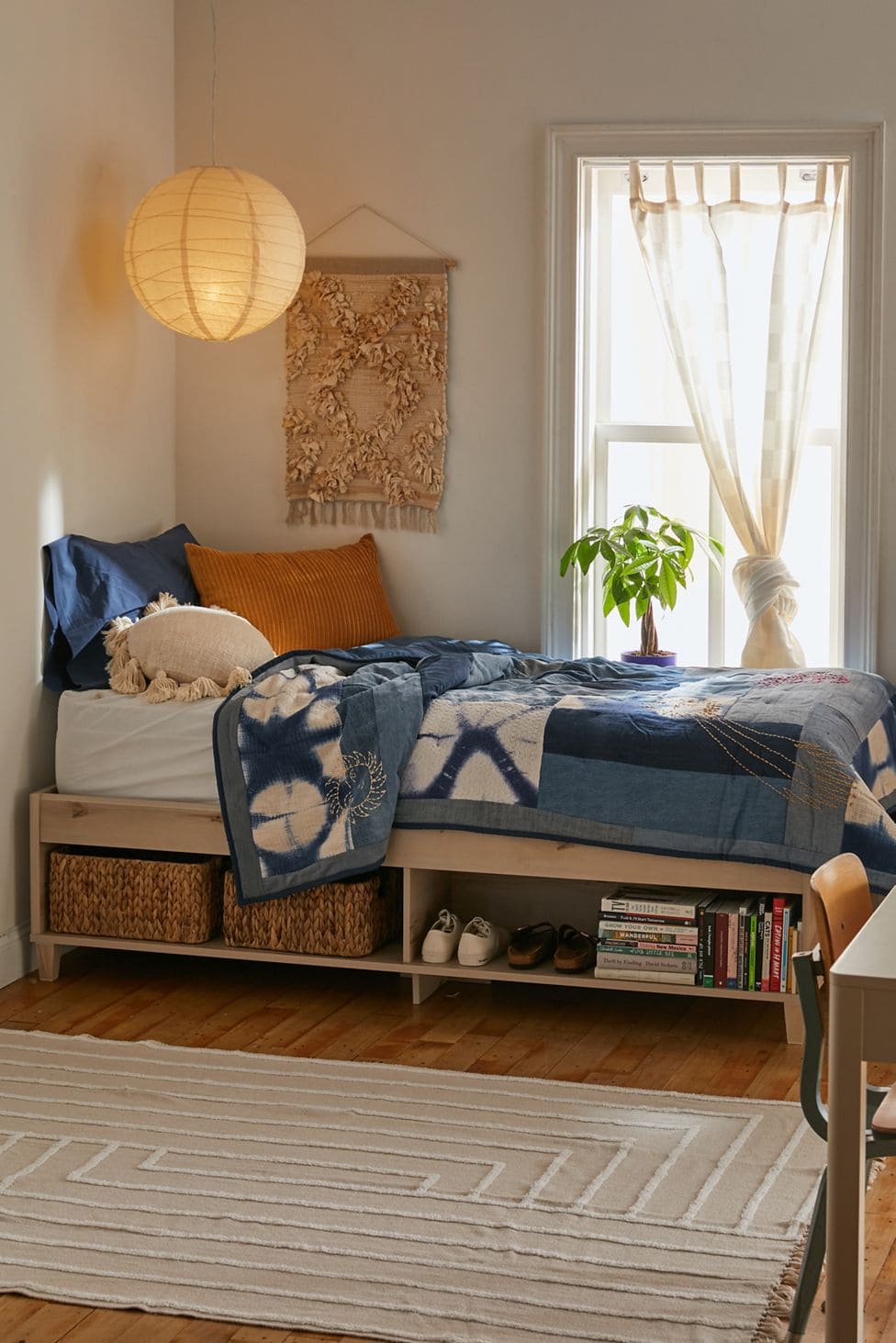 If you're looking for the perfect boho bed frame to fit a small space, this is it. This bed comes from Urban Outfitters and is engineered wood with a natural maple stain.
The shelving under the bed allows you to add wicker baskets for a touch of texture. Pair this bohemian platform bed with a printed quilt and a few pillows, and you've got effortless style.
Turn Up the Warmth with a Two-Toned Bed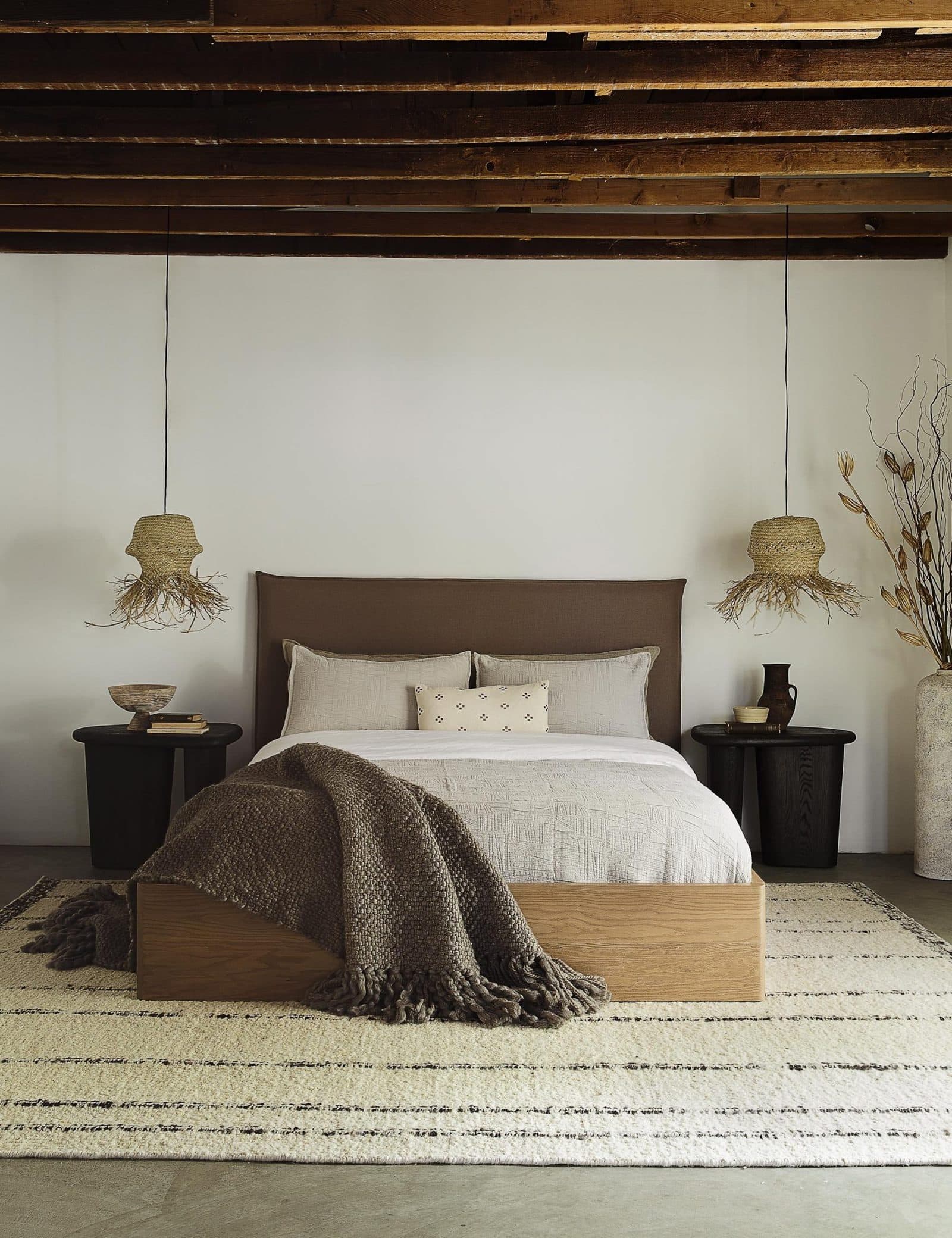 Do you like a simple boho look? If so, you can make this two-tone bed the focal point of your room.
The brown upholstered headboard and wooden frame add warmth without being too busy. This bed would look great with a plain or neutral patterned comforter and pillows in various fabrics.
Choose a Rattan Headboard for Instant Boho Feels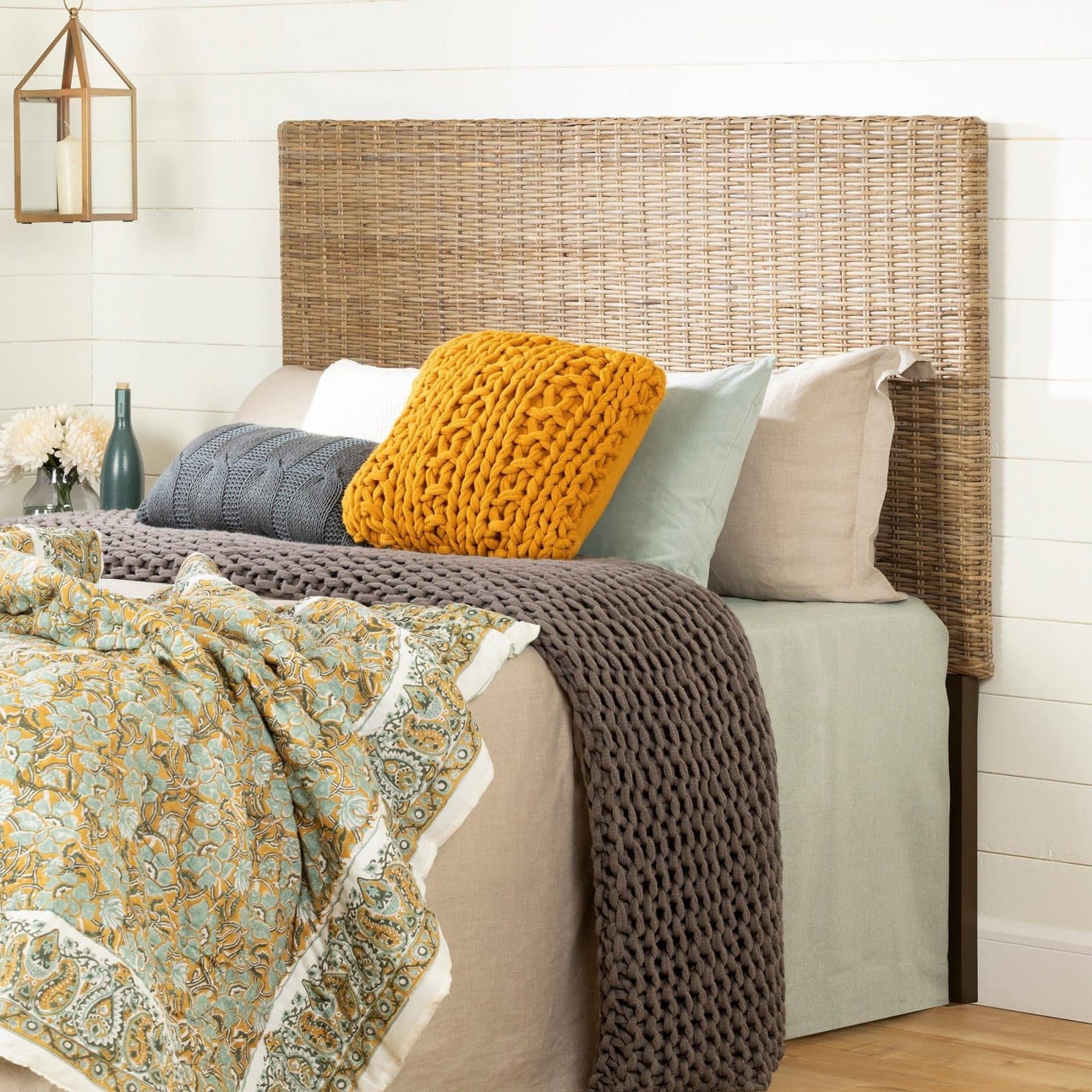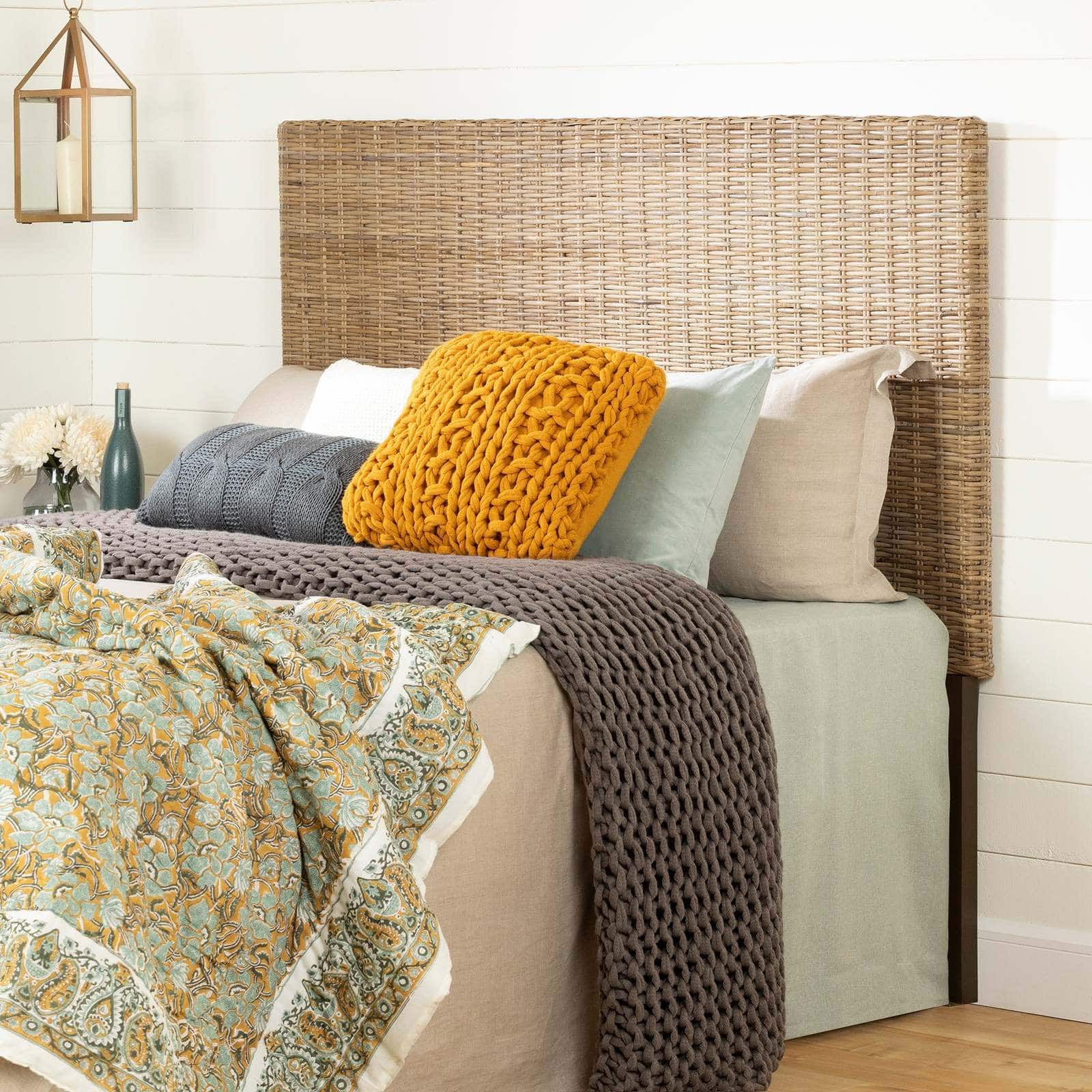 Rattan and wicker are two materials that scream boho. Fortunately, they're also two materials that go with pretty much any color palette.
If you want to bring a natural element into your room, try out one of these rattan headboards. They'll go perfectly with whatever quilts and pillows you already have.
Make a Statement with a Bold Pattern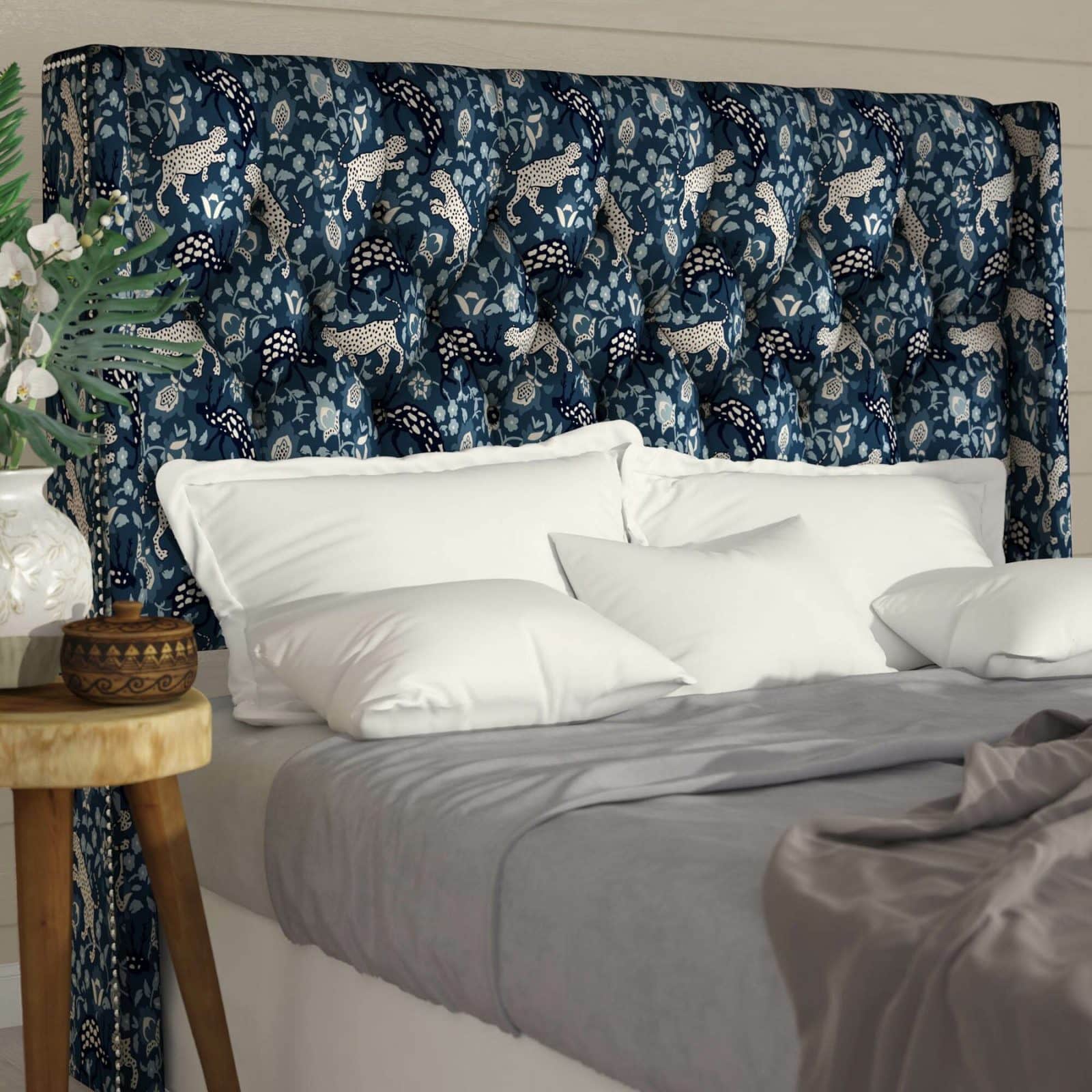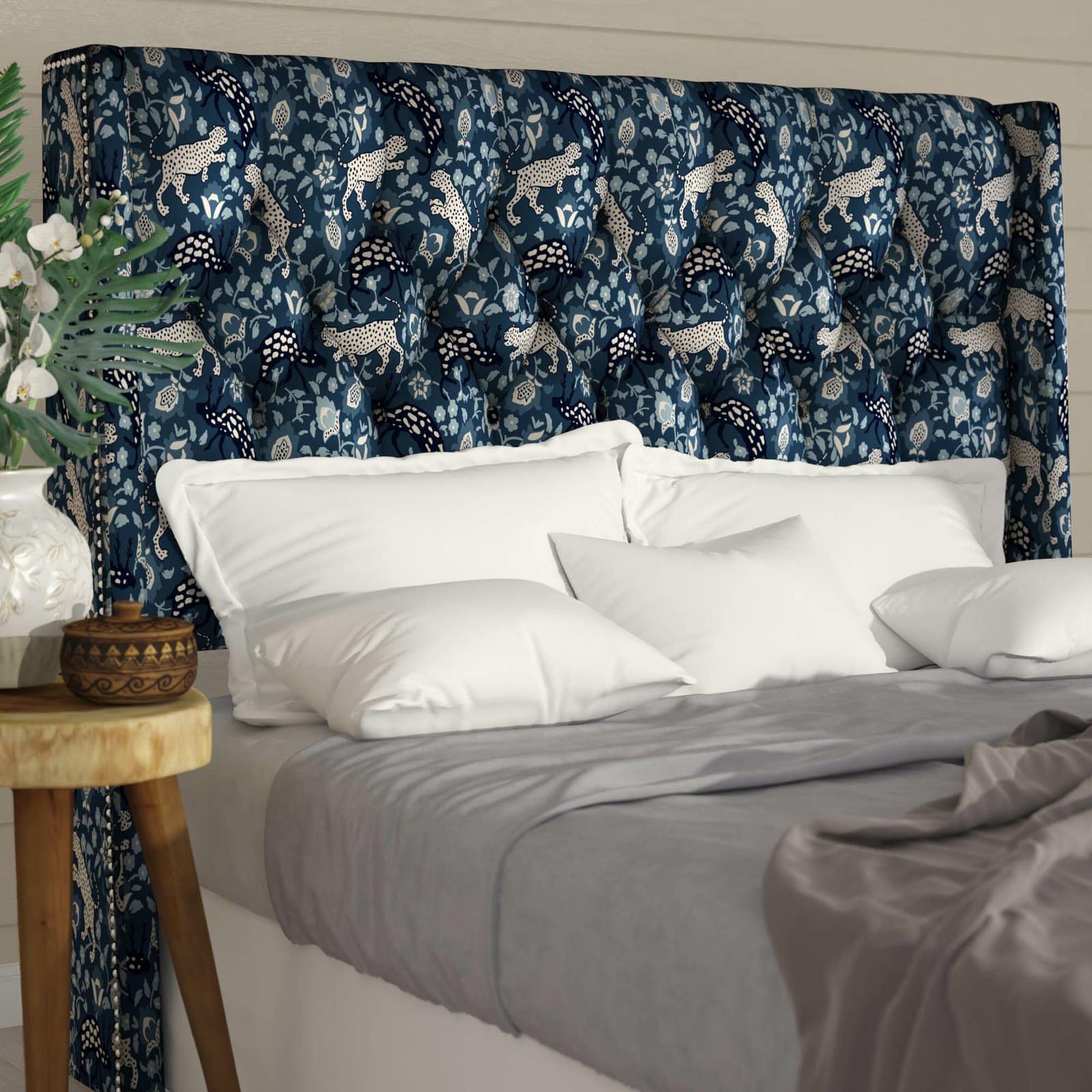 There's no doubt – boho is about the mixing of colors, patterns, and textures. And many times, those colors and patterns are bold. So, if you're into the bold look, bring it into your bedroom with a patterned headboard.
This headboard is a beautiful color of blue and goes best with simple bed dressing.
Go Retro with a Wood + Cane Bed Frame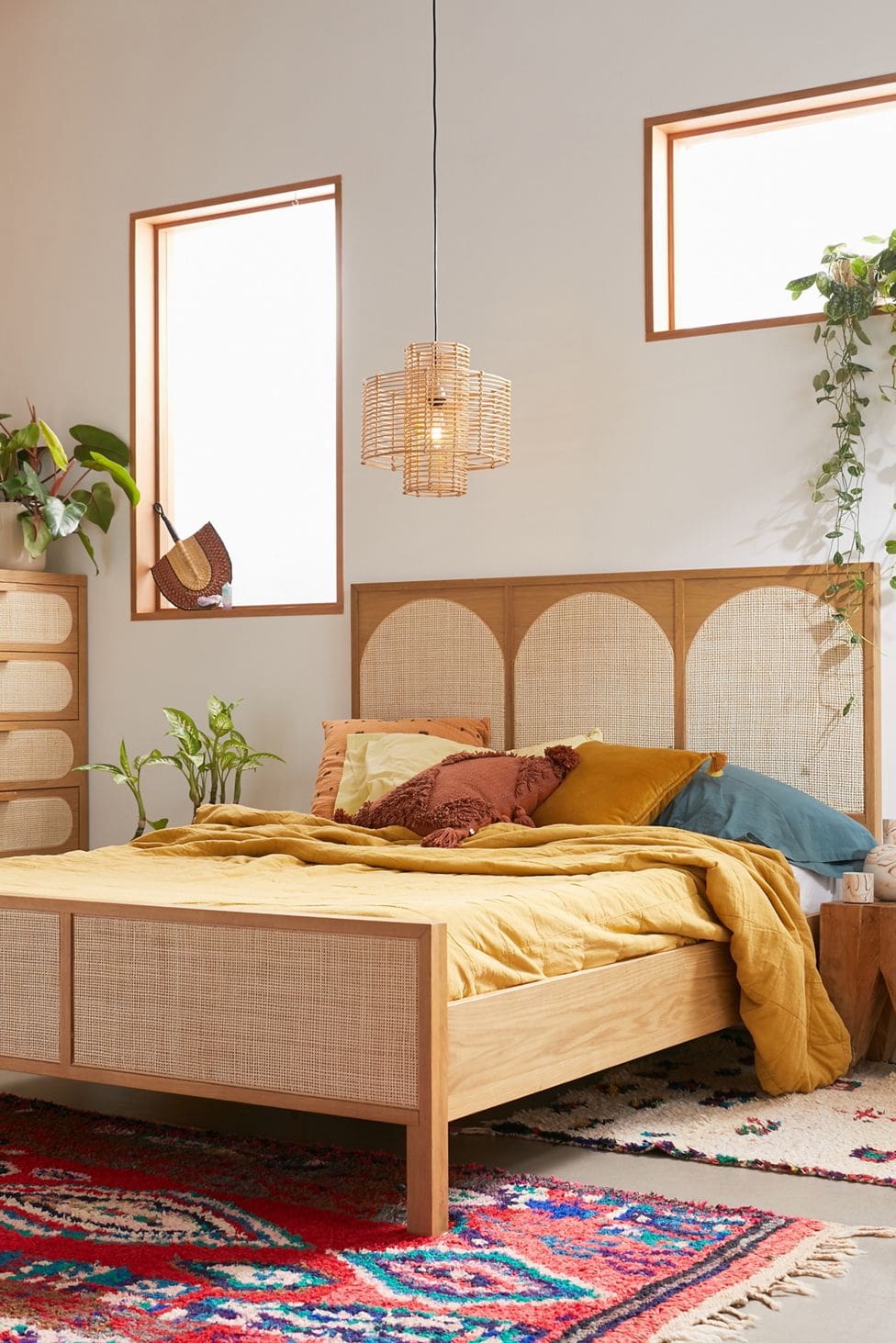 Whether you want to bring in a bit of retro or just love the texture, this bed is hard to beat. It's a beautiful oak with cane accents.
The bad news is that it only comes in queen size. The good news, though, is that this one is effortless to style – it will go with any color palette and any kind of bedding.
Bring Nature Vibes to the Bedroom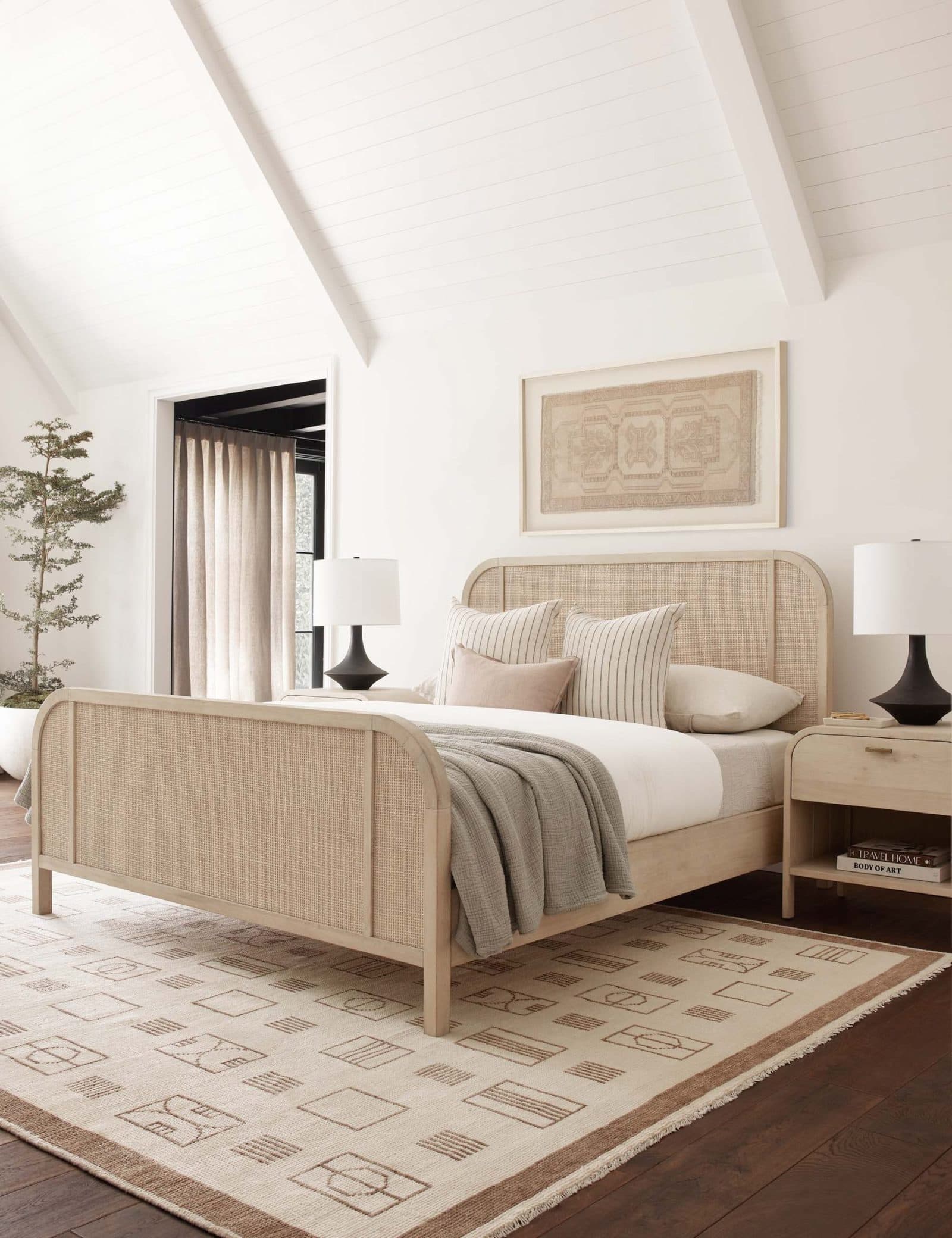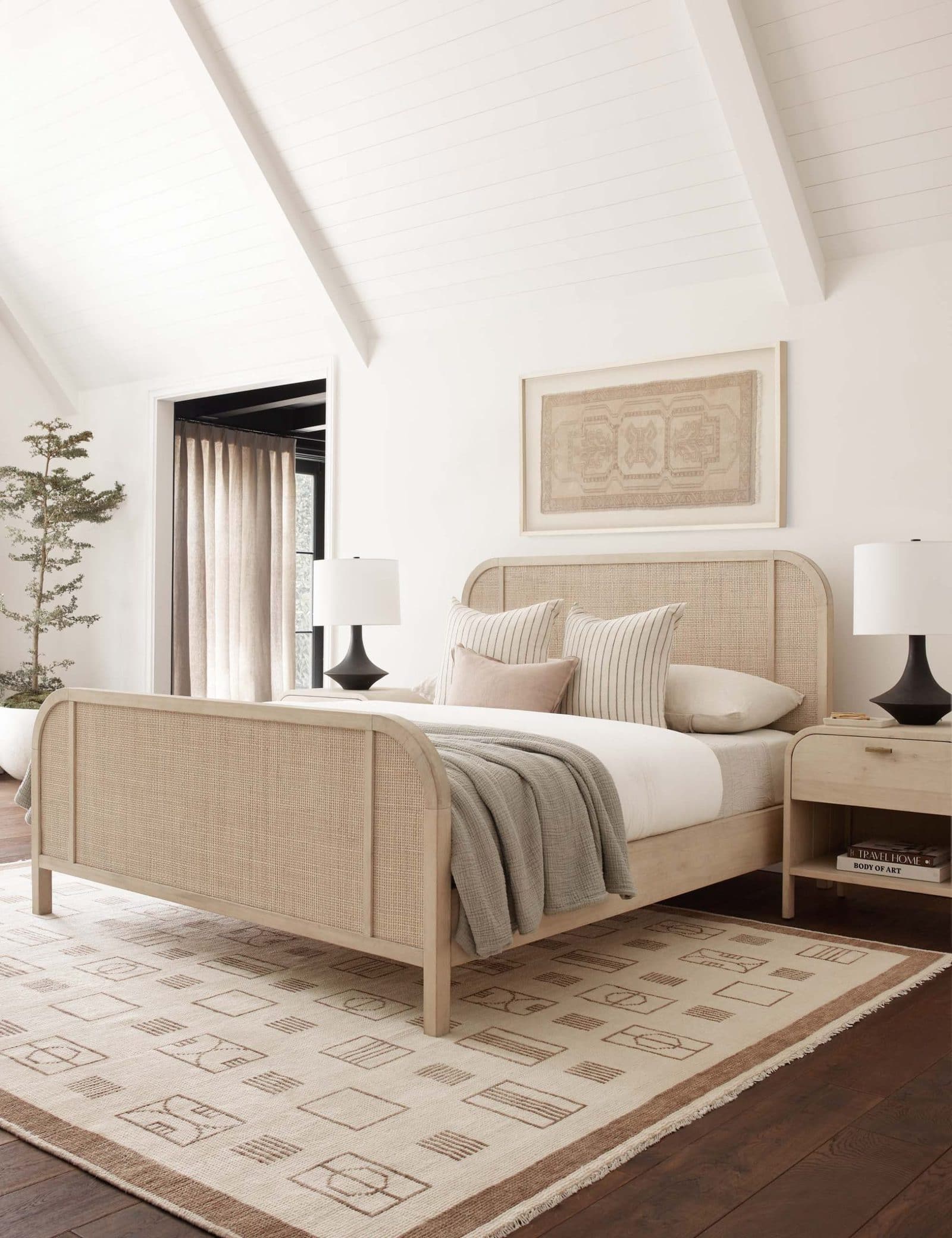 Here's another take on wood and cane, although this one is hugely different – instead of retro, it's soft and sweet. If you're looking for an understated, high-quality bed frame and headboard that will never go out of style, this is the one.
This boho king bed will stand the test of time and pair well with your decor, even as it changes throughout the years.
Dress Up This Simple Wooden Headboard Bed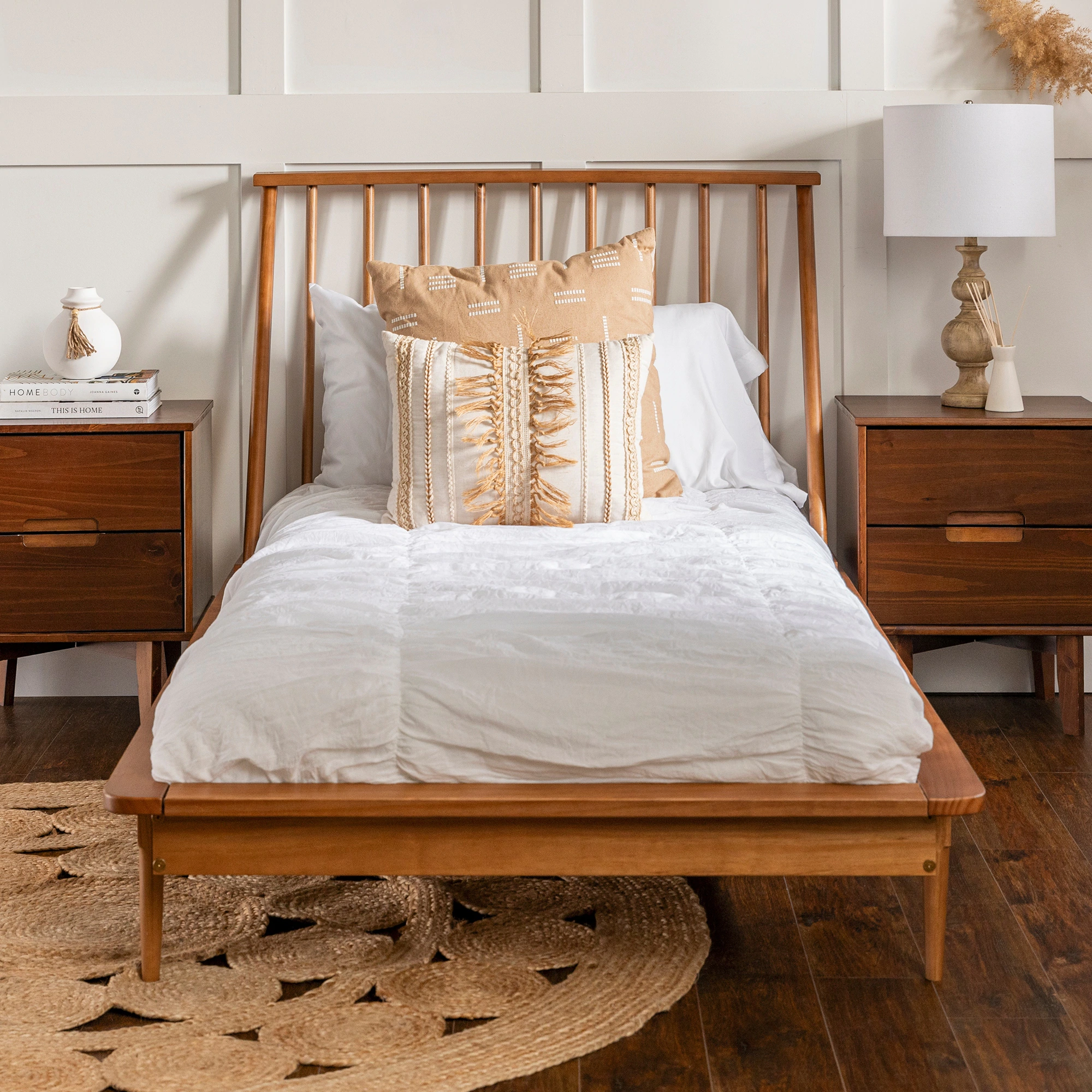 Sometimes the simplest pieces can make the loudest statements. And there's certainly no exception for this wooden headboard bed.
This bed is made of solid pine wood and has sturdy slats so that you won't need a box spring. Its neutral color and fun style will go with your bedroom decor, no matter how loud or simple it is.
Soften Your Room with a Pink Boho Headboard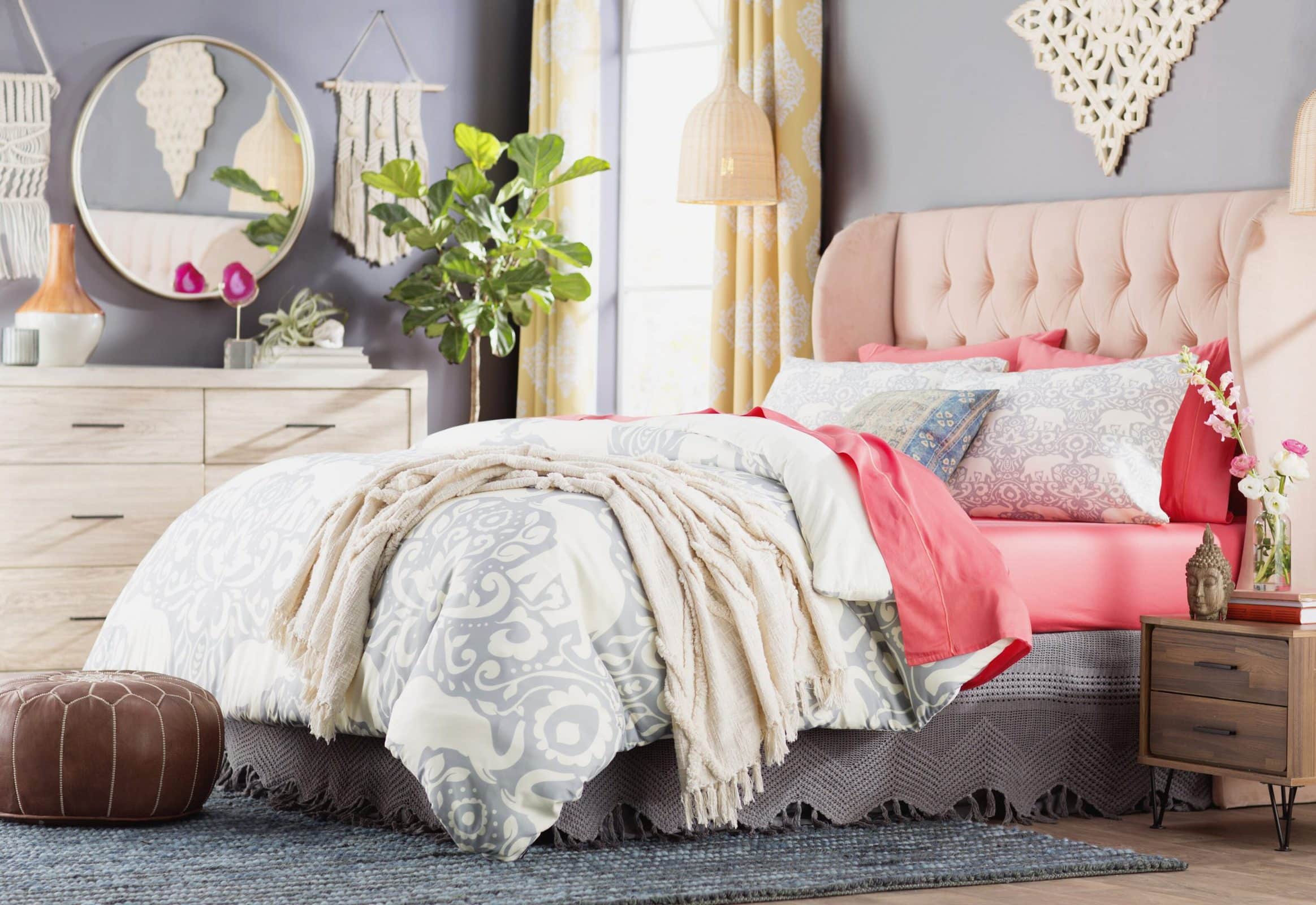 If you're looking to soften your room or bring in a bit of romance, consider a light pink headboard. Soft pink beds, like the one pictured, pair with many color schemes.
These tufted style headboards are also great for anyone who stays up late to read and needs a comfy headrest.
Play Double-Duty with this Rattan Daybed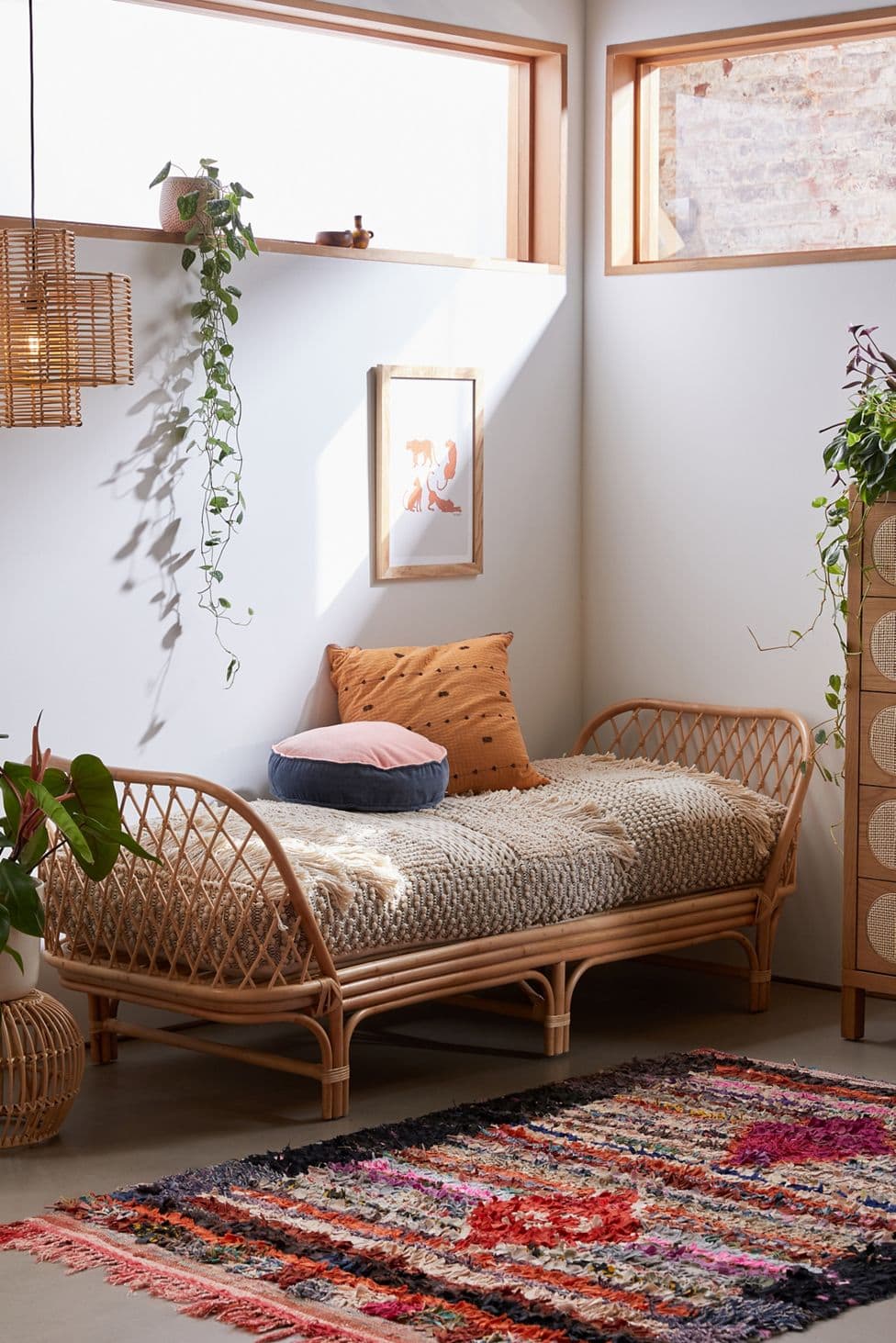 If you're working with a small space or are looking for the perfect boho daybed, this is it. This piece is from Urban Outfitters and features a rattan bed frame.
This bed would look stunning in a small apartment bedroom or a teenager's bedroom. Its natural design makes it easily go with all types of boho decor.
Add High-Style with this Bohemian Platform Bed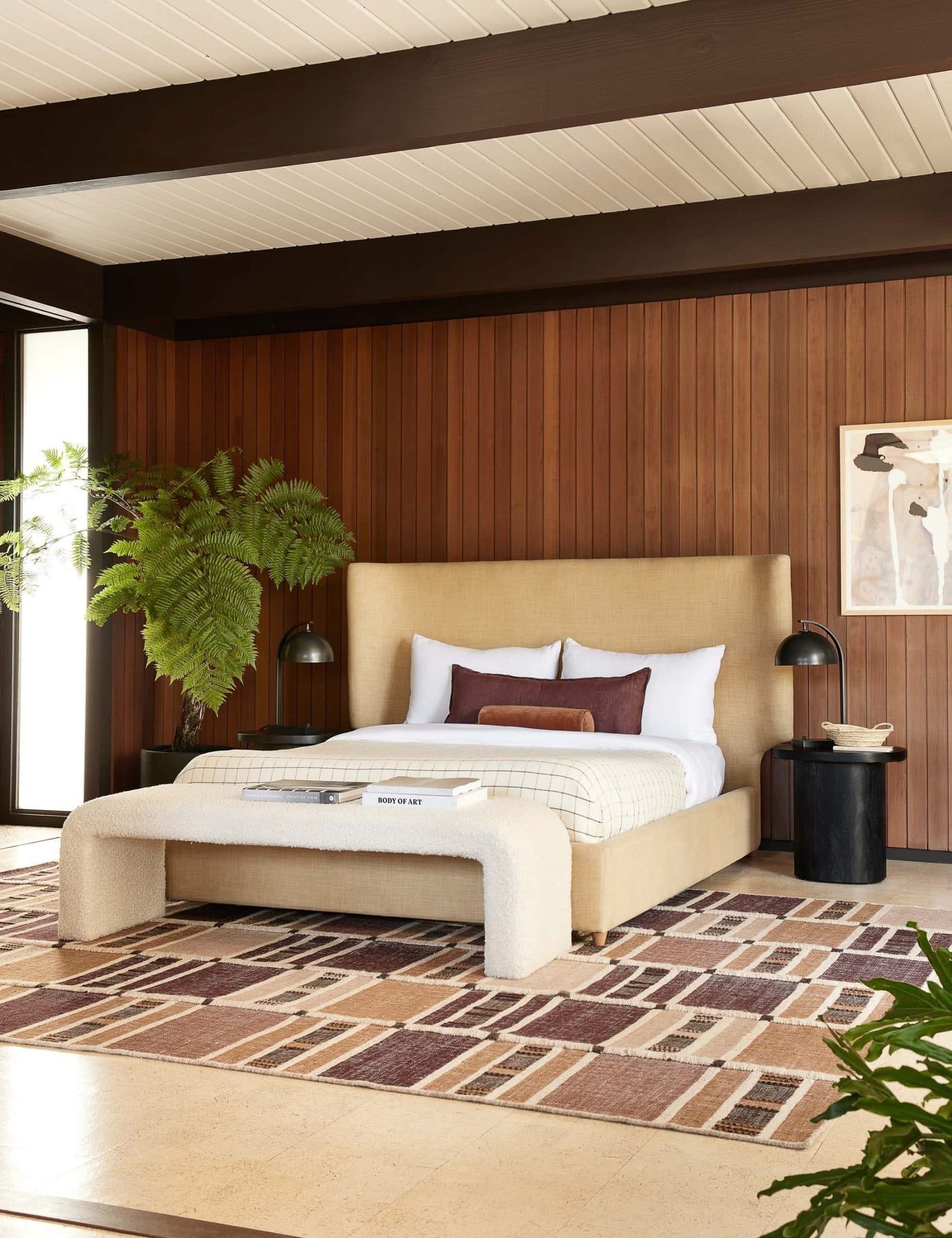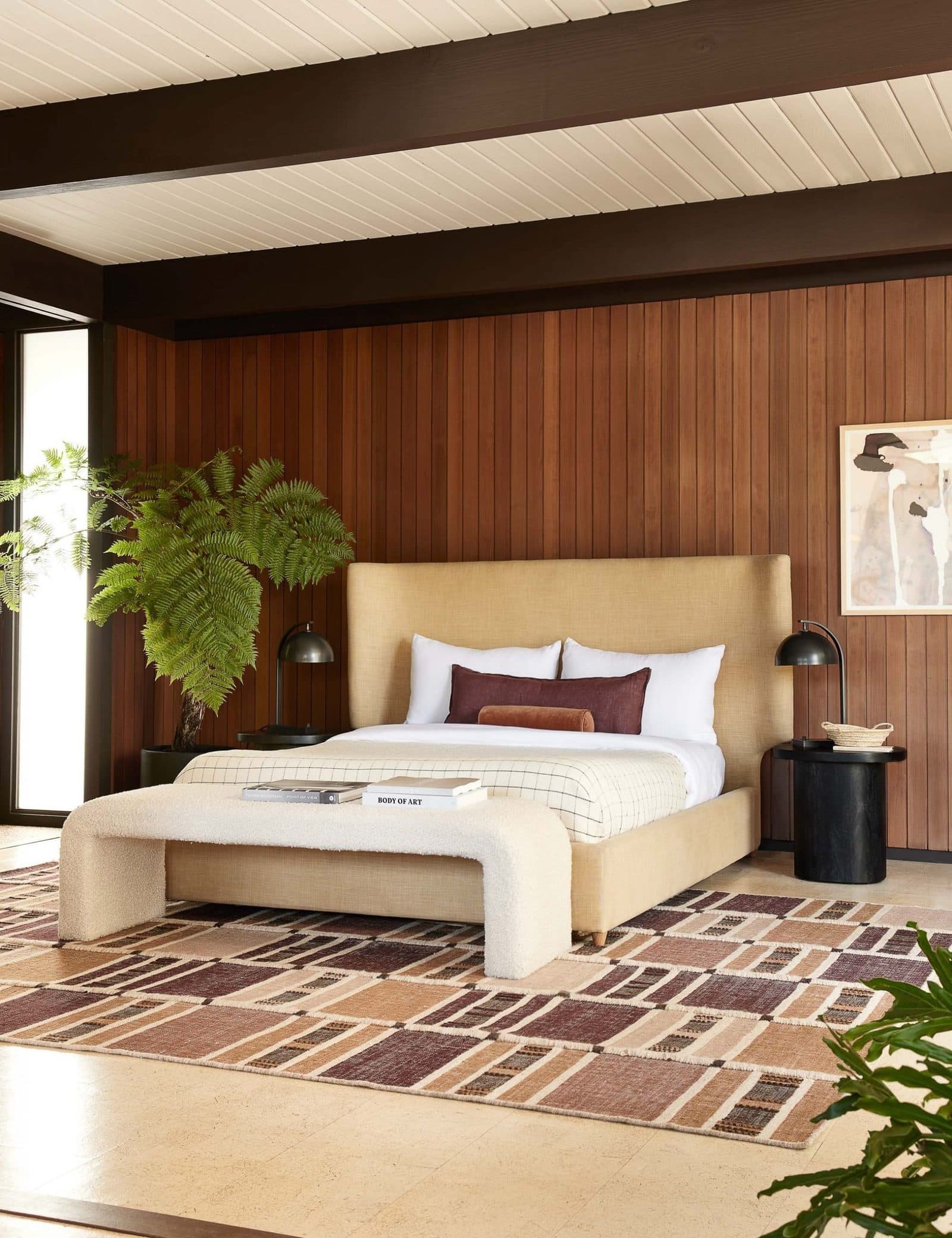 This bed is a stunner. And while it's not exclusively bohemian style, it definitely can be added to a boho-style room. This bed features a fun wing-backed headboard and a rich wheat color.
It would look amazing in a bedroom full of plants and would pair with solid or lightly patterned bedding.
Try a Wicker Headboard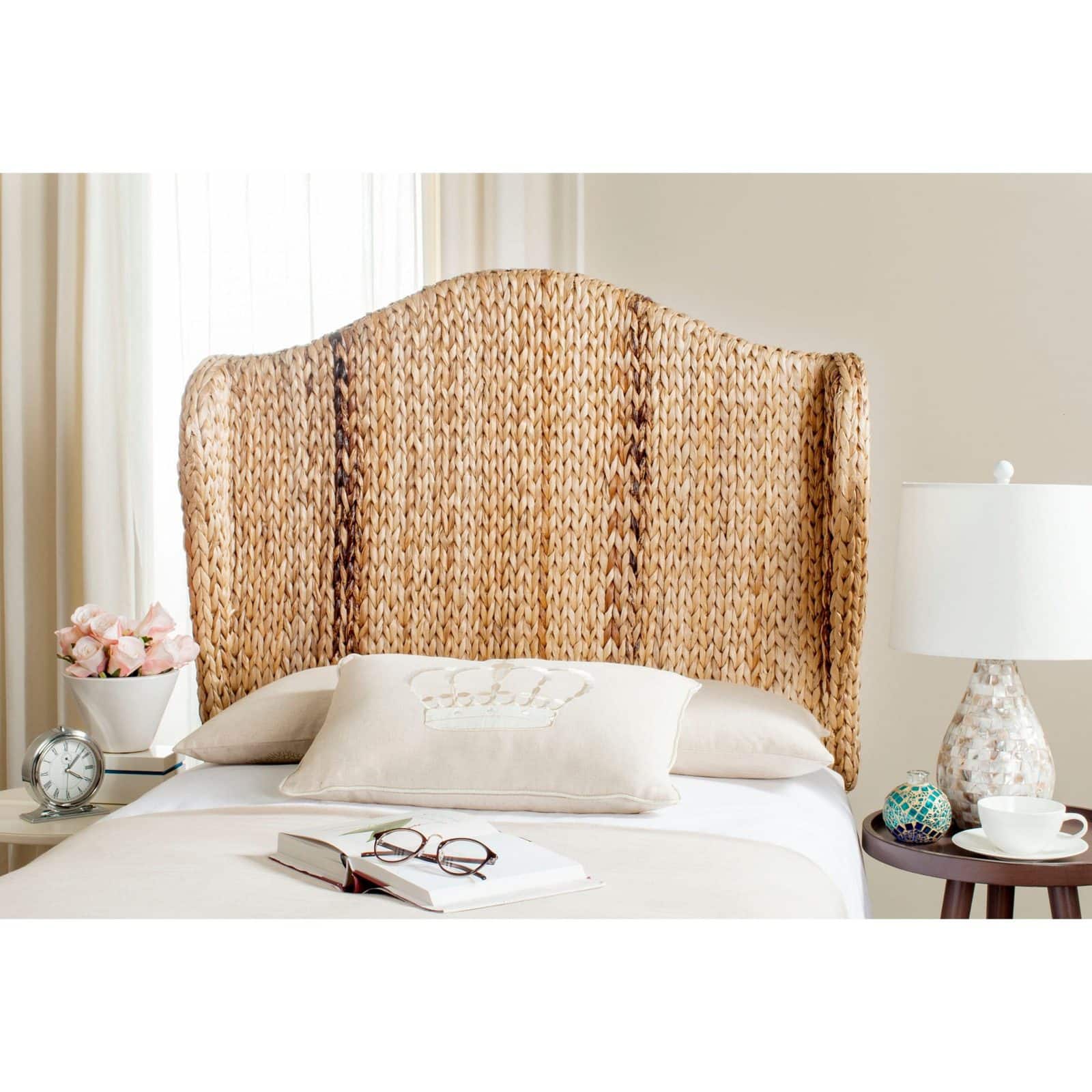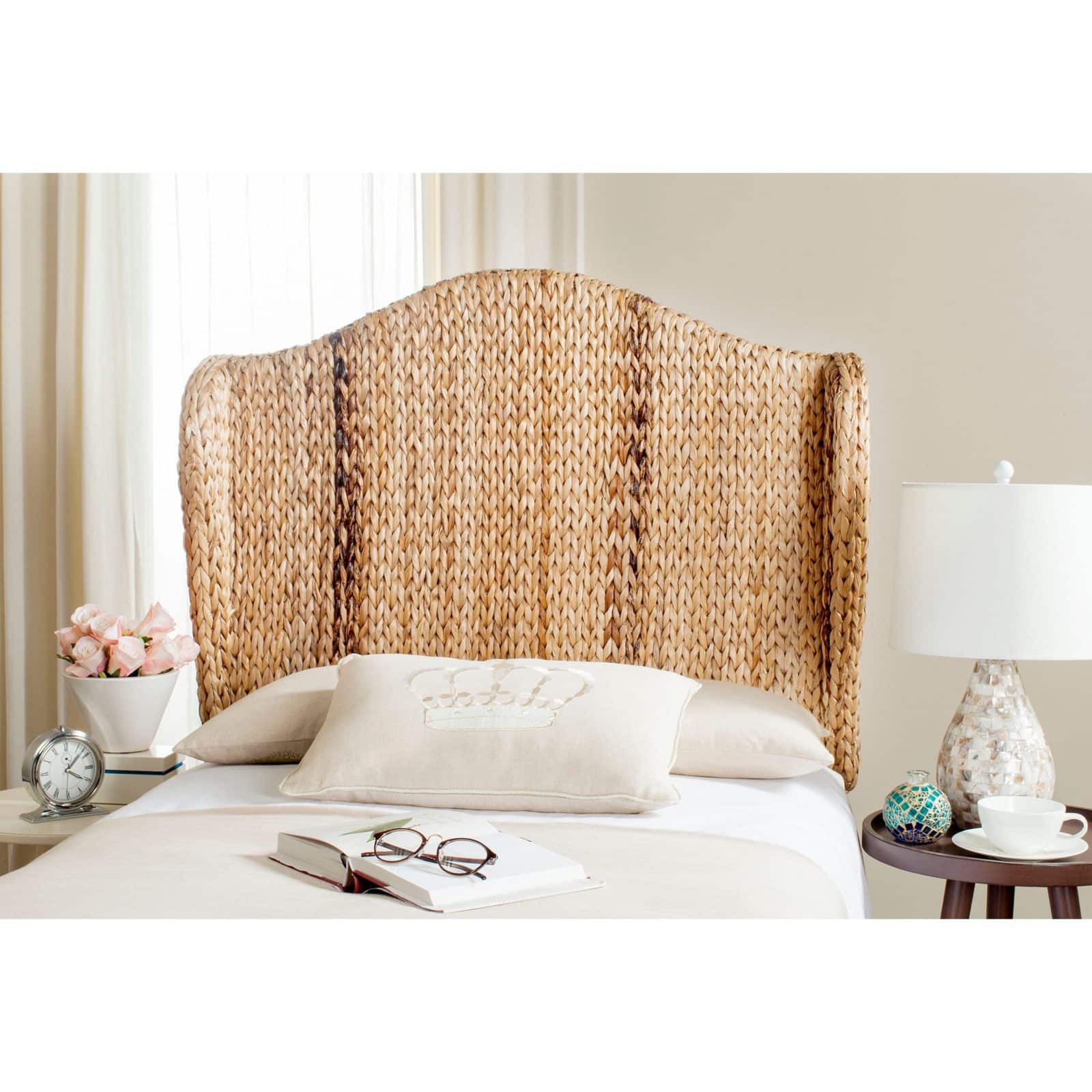 Need a wicker headboard for the bedroom? This one is beautifully crafted of banana leaf fibers and has a bit of a wing to it. You will need a bed frame, though, as wicker bed frames are tougher to find.
This headboard would look fabulous in a kid's bedroom or guest bedroom.
Create a Focal Point with a Patterned Headboard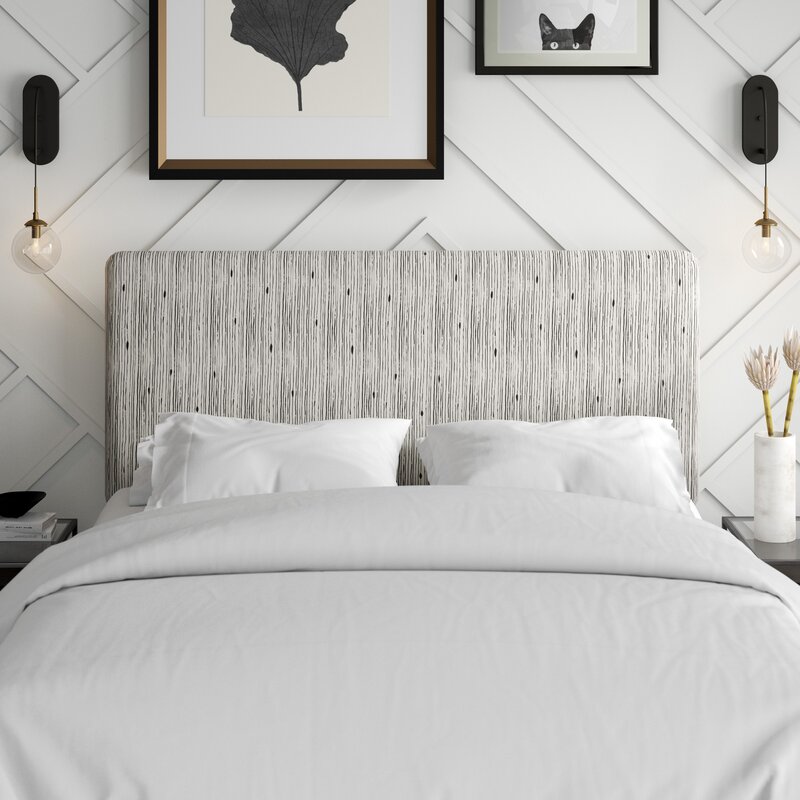 If you want your bed to be your focal point, consider bringing in a pattern like this. A simple and neutral design will be easy to pair with many different types of bedding but is still strong enough to draw the eye.
Of course, if you're more adventurous, you can choose a pattern with bolder and brighter colors.
Bring in the Sun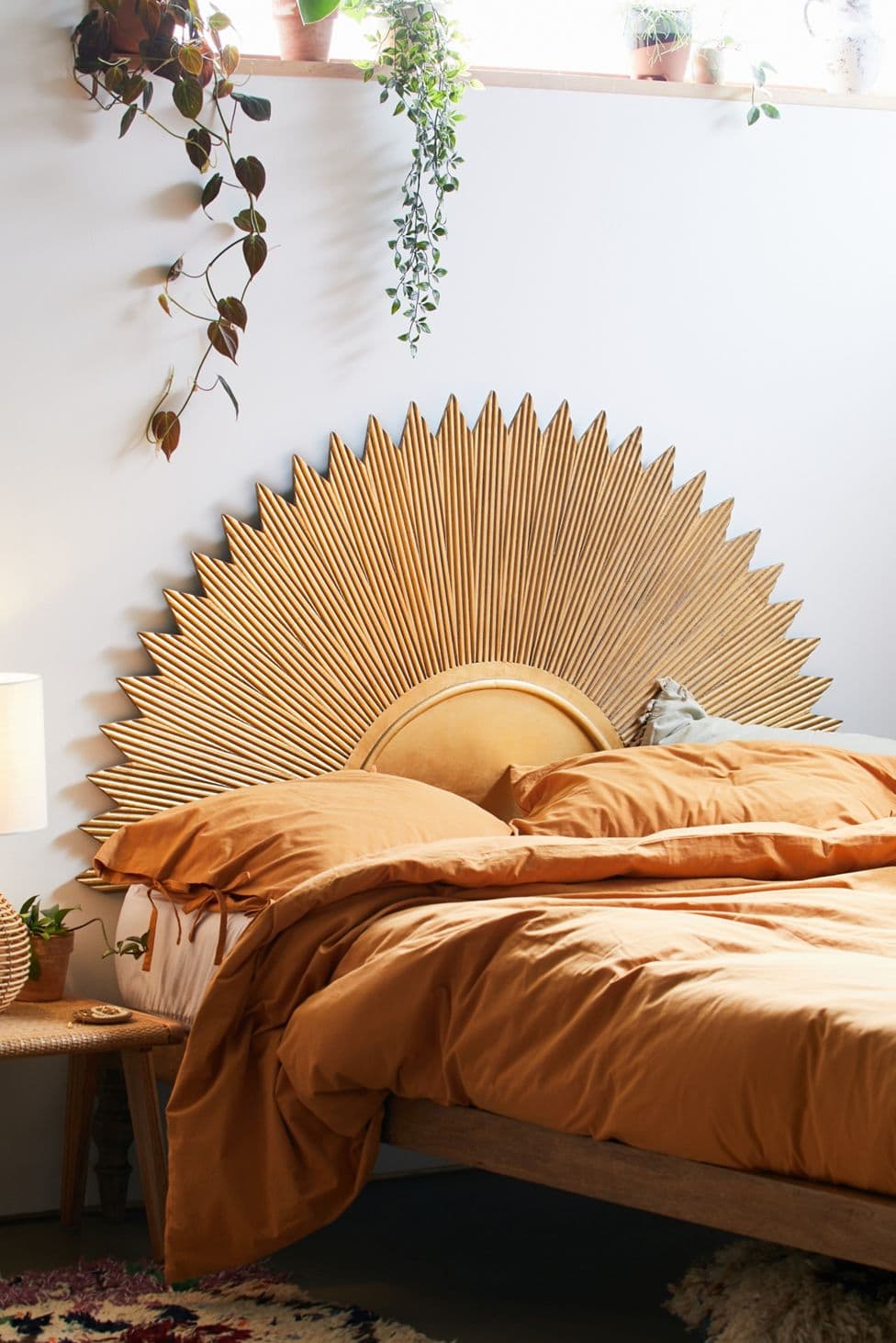 If you're ready to bring in the sun in a quite literal sense, this headboard from Urban Outfitters will do the trick. This piece doubles as both a headboard and wall art.
This headboard is made out of wood but has a metallic gold finish on it. It is 62 inches long, so it would work best for a queen bed but could also look good with a full-sized bed frame.
Make a Statement with an Updated Four Poster Bed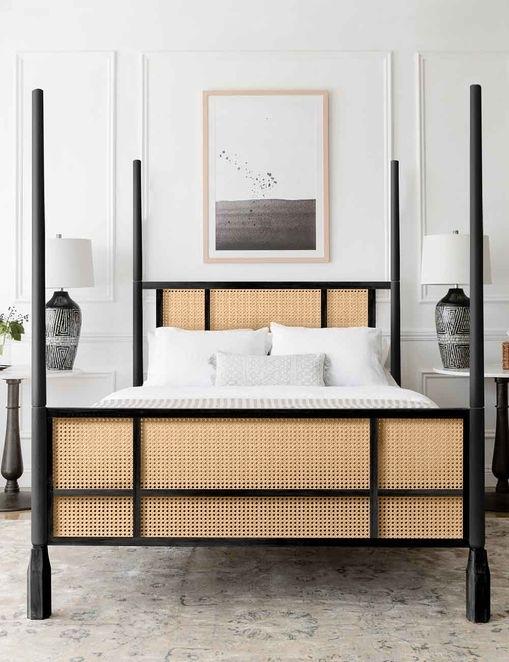 Who says four-poster beds can't be boho? This one certainly fits the bill.
This wooden framed bed is painted black and has natural cane accents for contrast and texture. This is another bed that can grow with you as your style changes. It will look good in many different color palettes and will shine in bedrooms full of plants.
Go for a Sleek Bed Frame with Headboard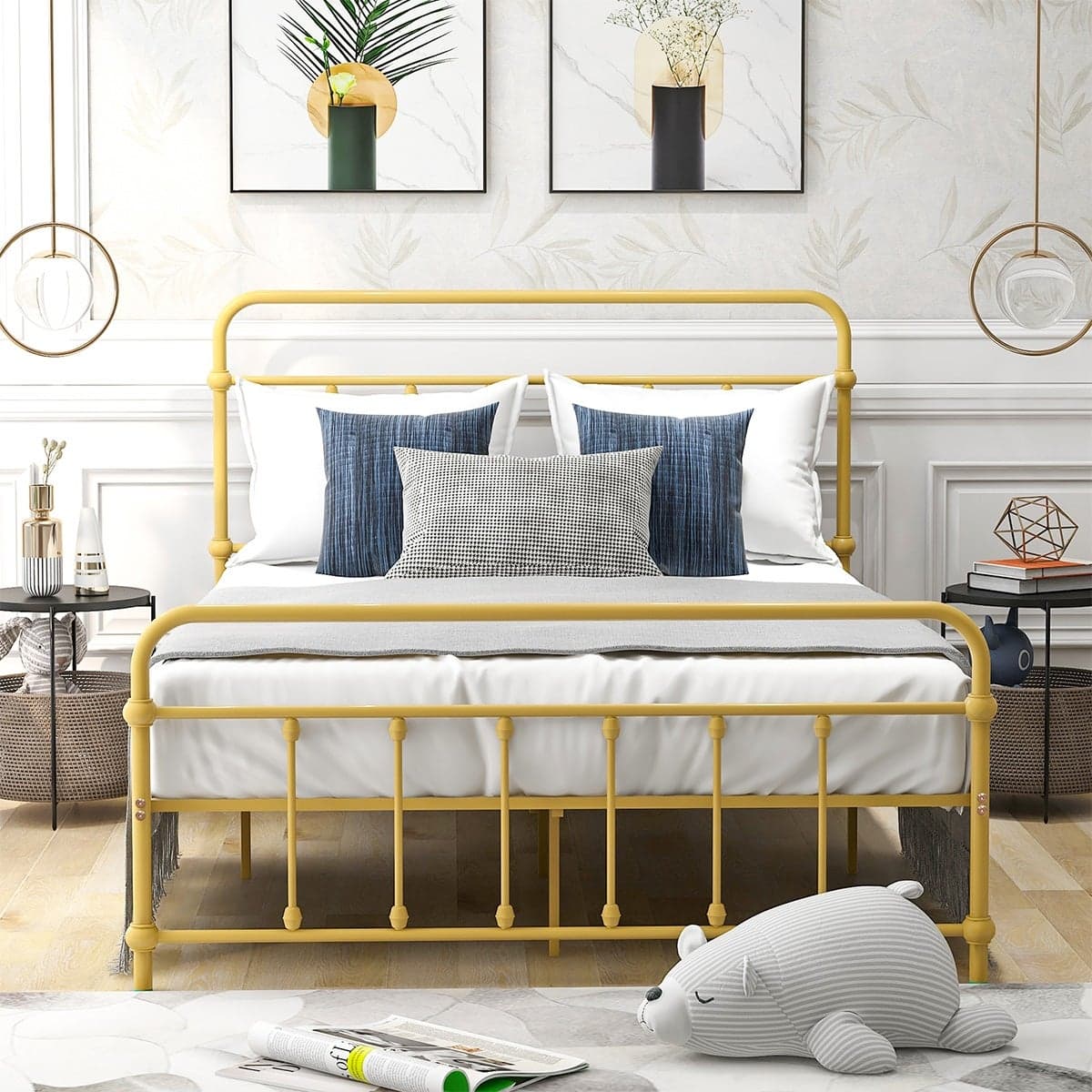 Simple designs can still pack a big punch – especially when they're as nice as this metal platform bed.
Metal tubing makes up this bed frame and headboard. It comes in four different finishes, including silver, yellow, white, and black. The yellow version gives very regal boho vibes, while the black one lends to a more simplistic bedroom.
Add Drama with This Black Rattan Headboard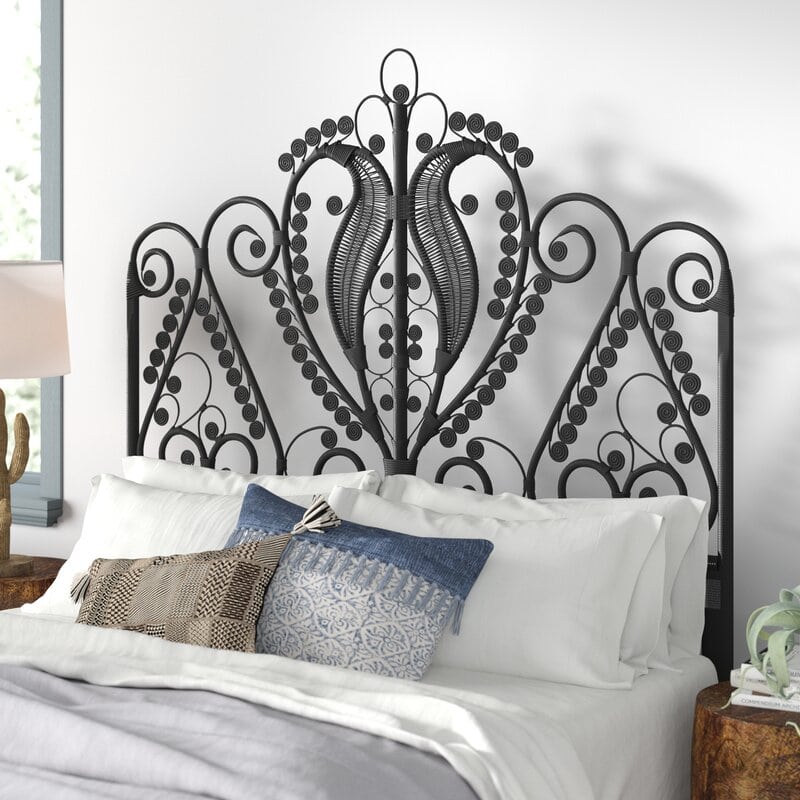 This headboard makes a statement. It's ornately constructed out of rattan and has a black finish. The neat thing about this boho-style headboard is that you don't even have to attach it to the bed – simply stick it between the bed and the wall.
This headboard also comes in mint.
Marry Boho and Vintage with This Bed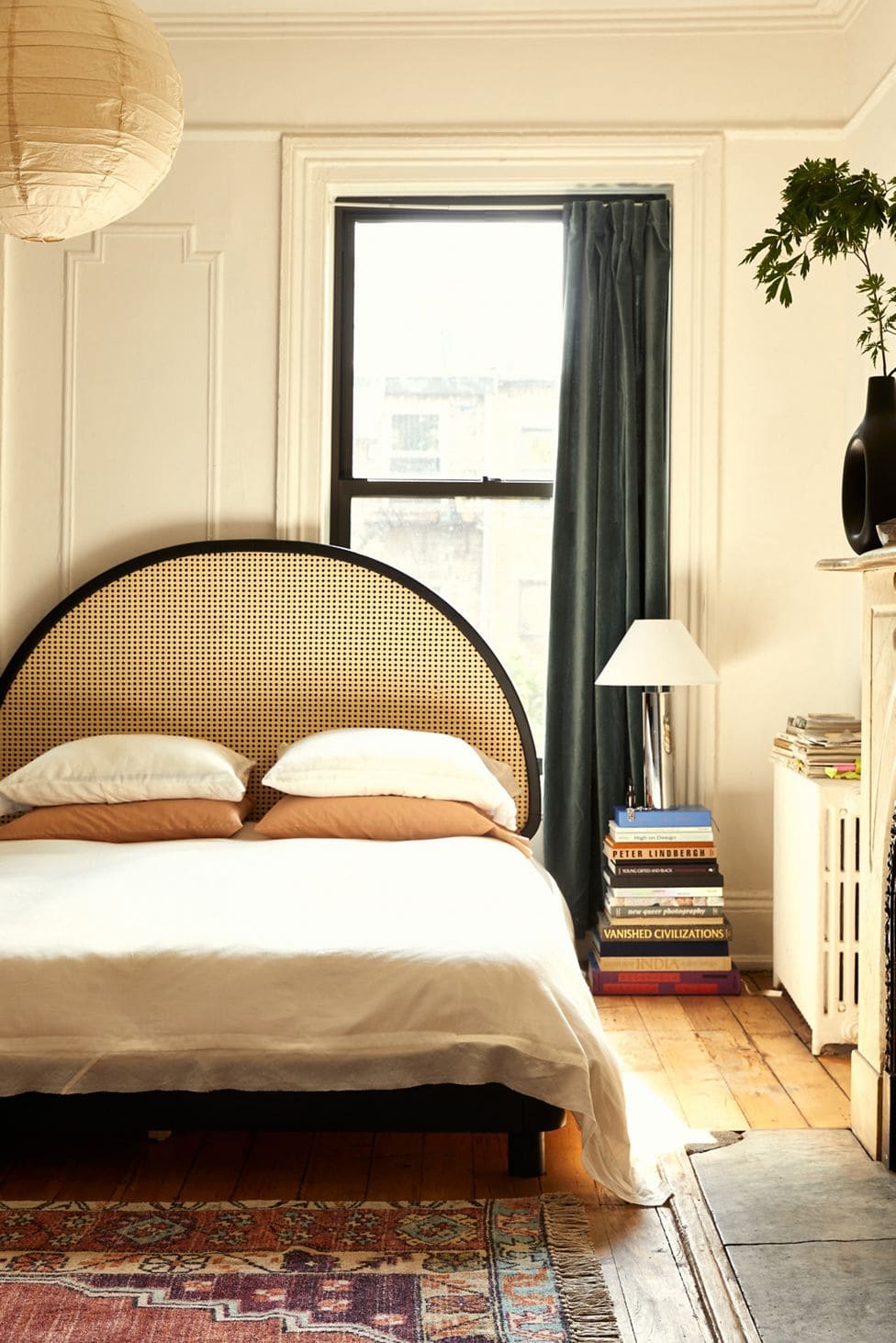 This bed is a standout – it has a wooden platform and arch with a lattice made of faux rattan. It brings in high contrast and texture for the perfect boho look.
This would look great with solid-colored bedding and pillows with fun textures and patterns.
Create Visual Interest By Bringing in This Linen Upholstered Bed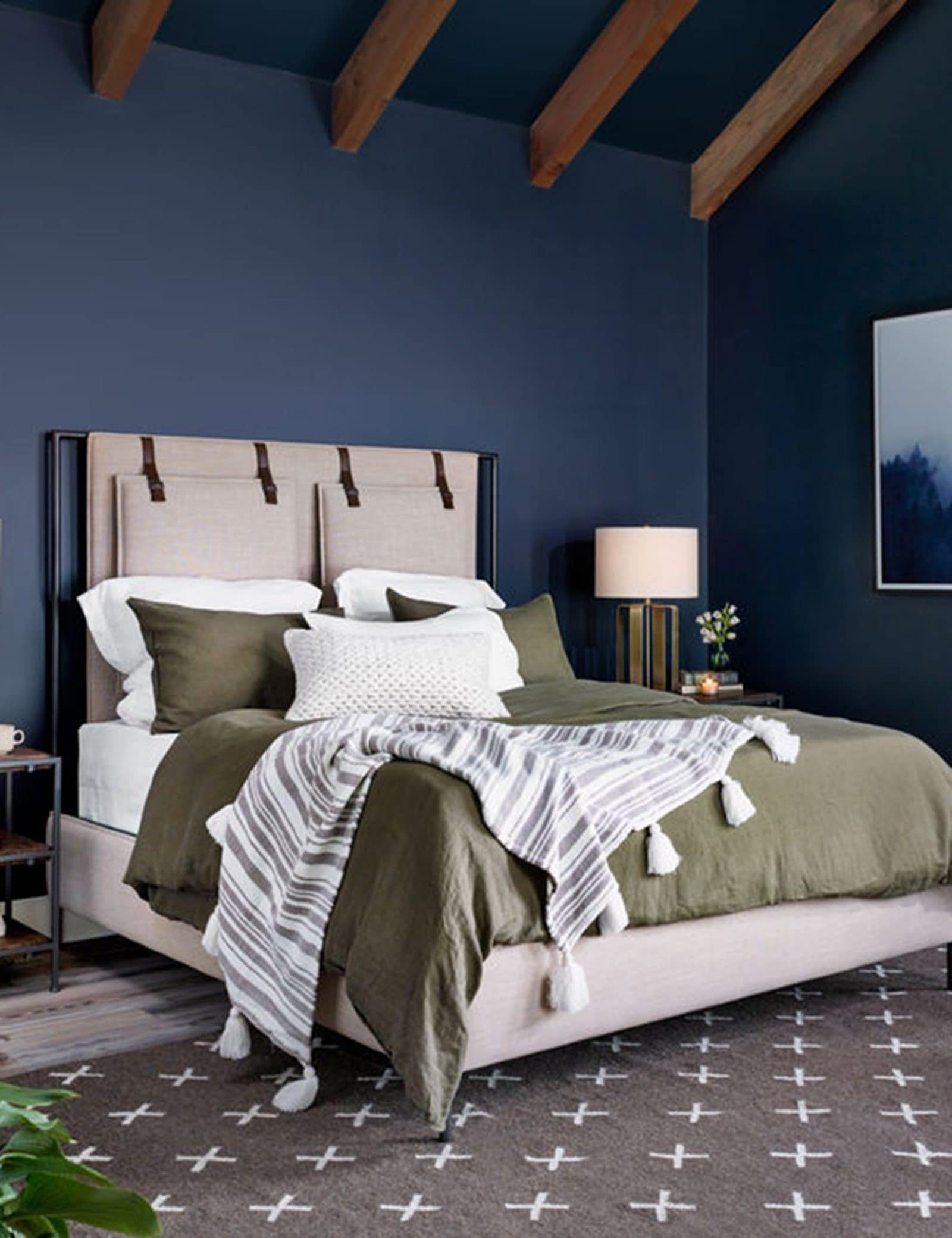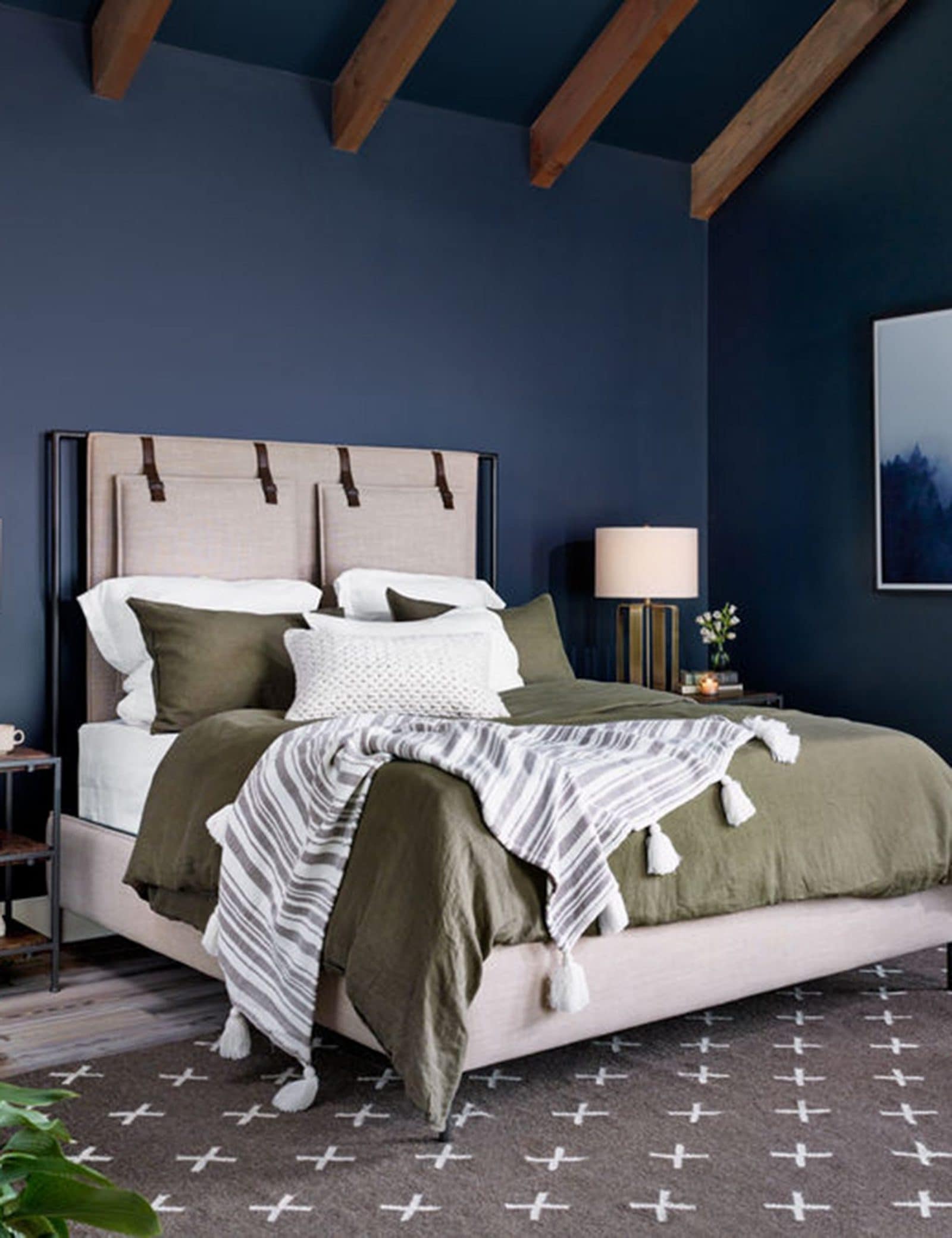 When you think of a linen upholstered bed, you probably think boring. Yet, this bed's design draws the eye.
It features an iron bed frame with a soft linen headboard and decorative pillows strapped onto it. It gives off an industrial vibe that can also work well with boho decor.
Class Up Your Room with This Canopy Bed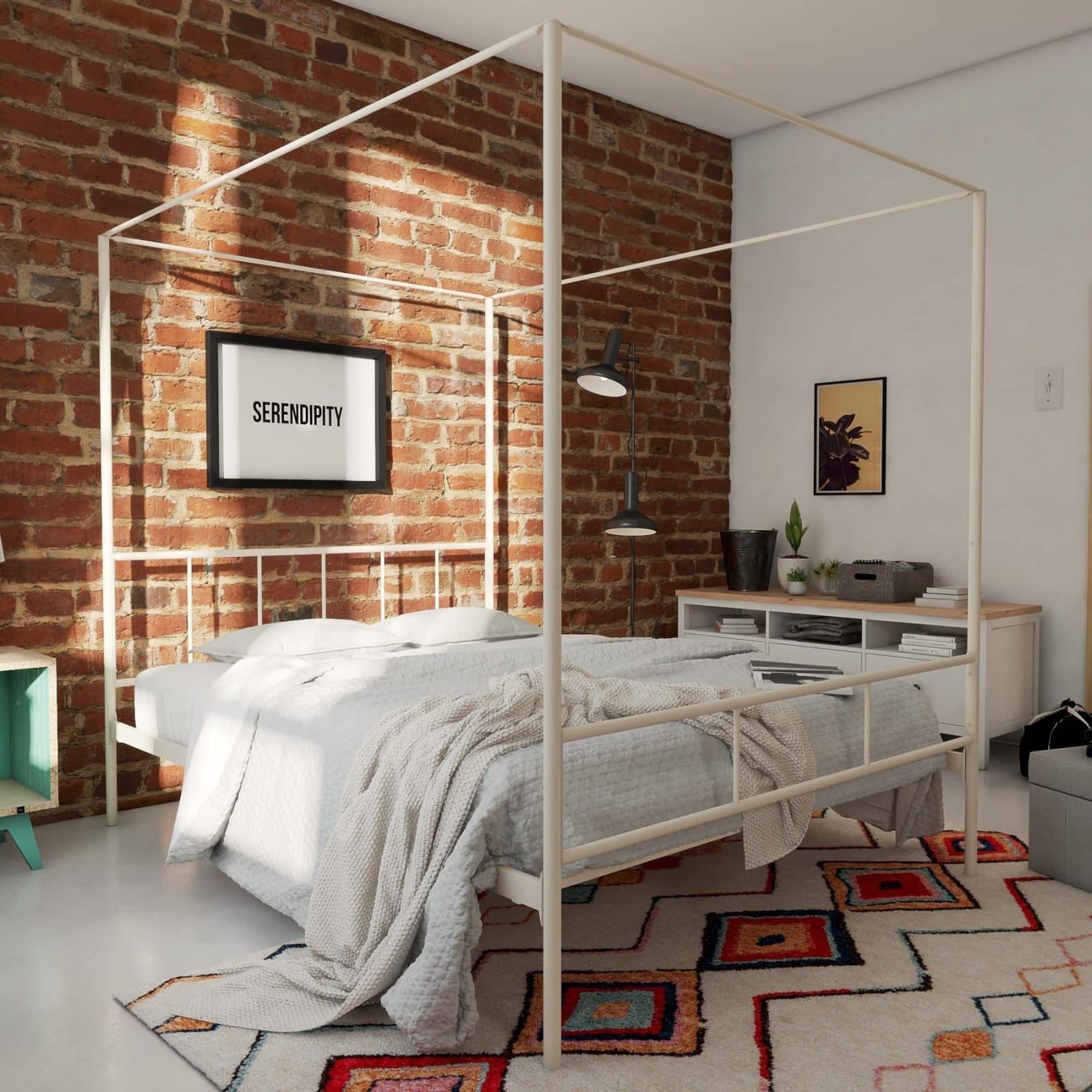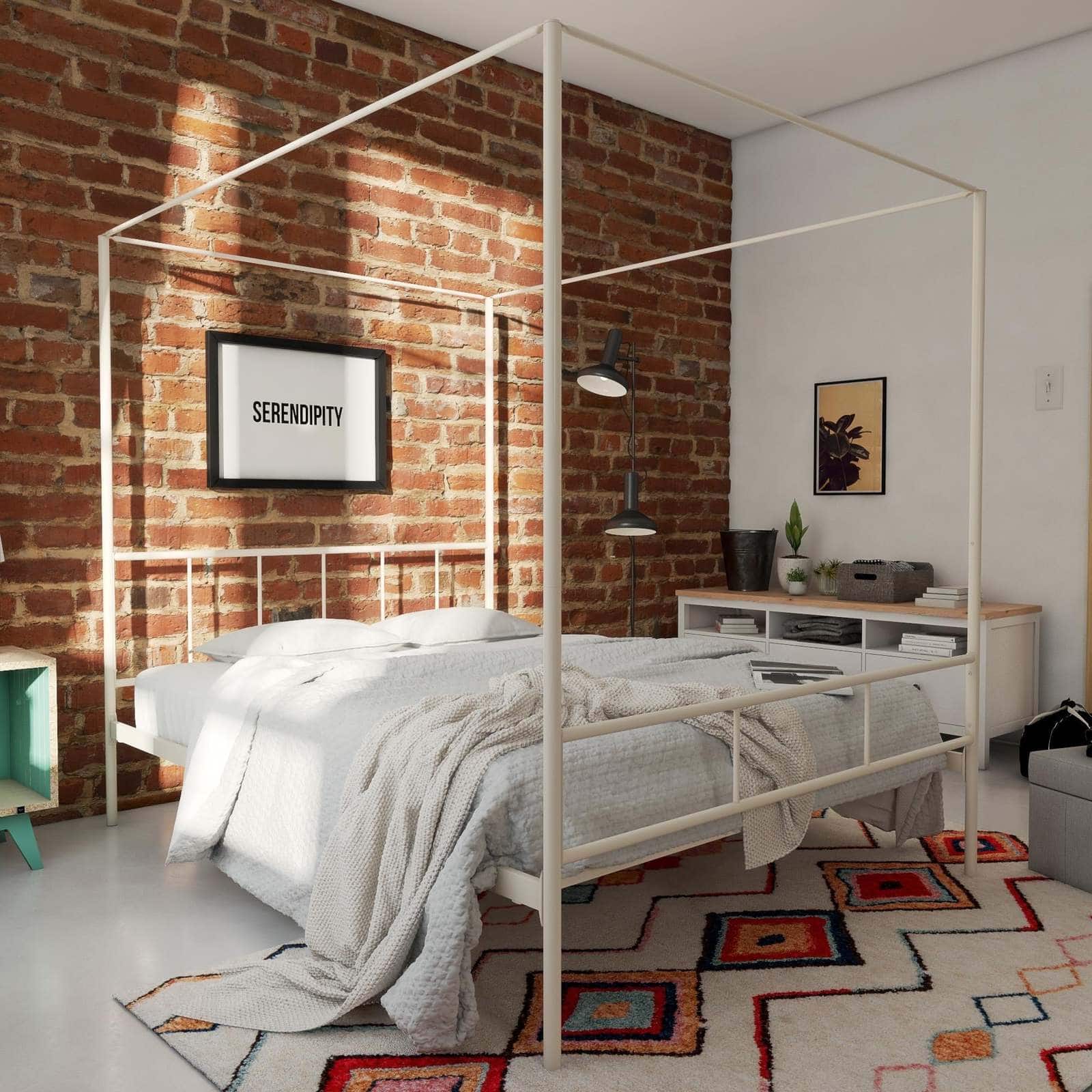 Canopy beds are always fun. They're a great way to draw the eye up and to add style to a bedroom.
This canopy bed comes in four color options: gold, white, black, and gray. No matter the color you choose, this bed will become the room's centerpiece.
Final Thoughts
If you want to find the best boho beds and headboards for your room, consider options made of wood, rattan, wicker, or metal.
You can also enhance your boho style by mixing and matching materials and adding layers of texture. Achieve this by opting for a wood and rattan bed or choosing a simple bed frame and bringing in the texture with your bedding and pillows.
Either option will help you create the perfect bohemian bedroom.