Decorated Life is reader-supported. When you buy through links on our site, we may earn an affiliate commission. Learn More
15 Best Sherwin Williams White Colors for Kitchen Cabinets
White cabinets are one of the most popular choices for various reasons. White is one of the easiest colors to decorate around, and it goes with anything. And white typically reflects light to make your kitchen look brighter and bigger.
Check out these Sherwin Williams whites for cabinets with countertops in black, brown, and natural wood. 
Black Countertops
Black counters are a bold choice usually preferred for a vintage, retro, industrial, modern, transitional, or industrial feel. When choosing a shade of white to go with black countertops, you have many options. White can have tinted pigments that give it shadows of almost every color.
Westhighland White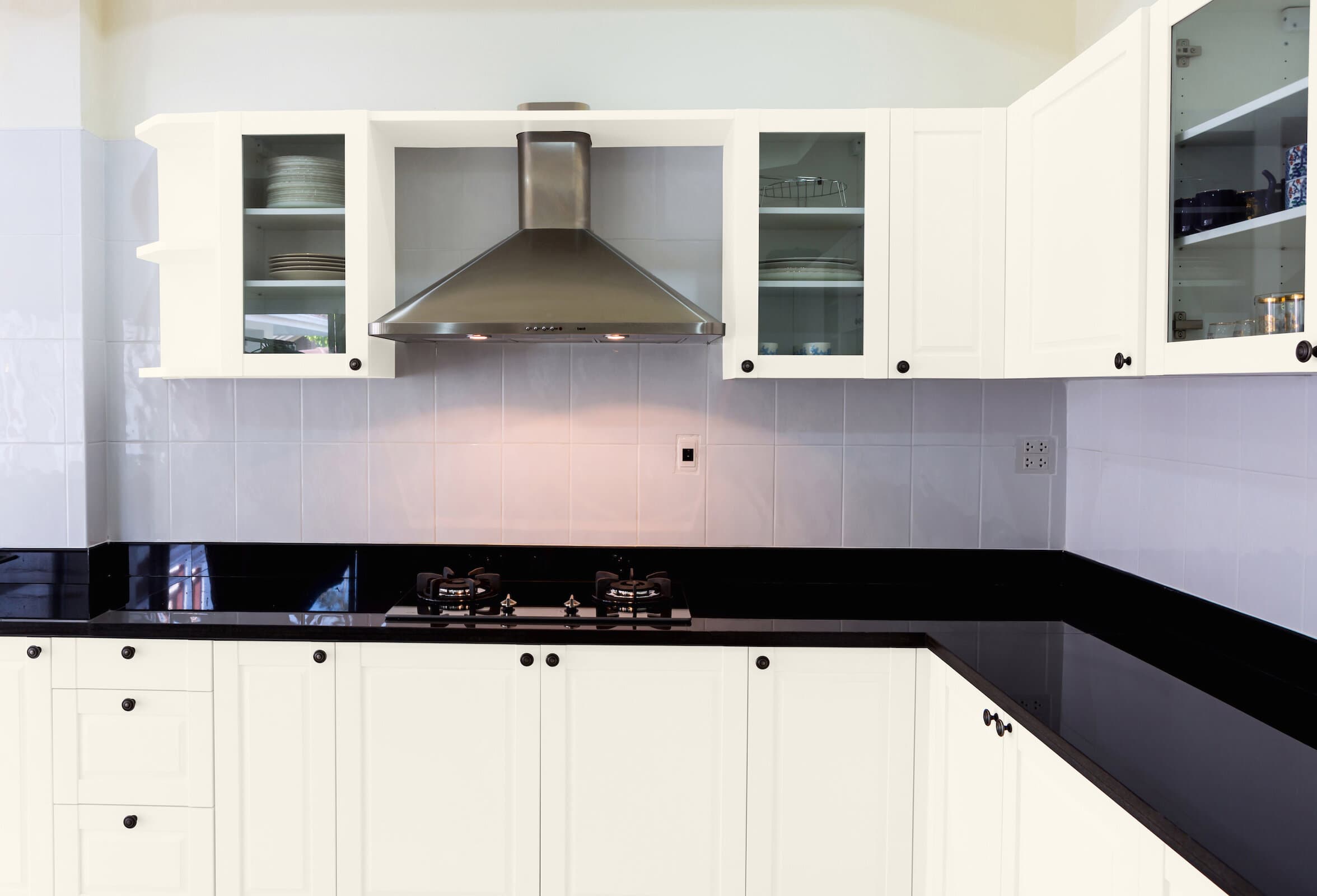 When you have dark glossy black countertops in your kitchen, you'll want the right tone of white to balance out the darkness.
Choosing a tinted white like Westhighland gives you slight cream pigmentation that warms your cabinets that a stark white wouldn't.
High Reflective White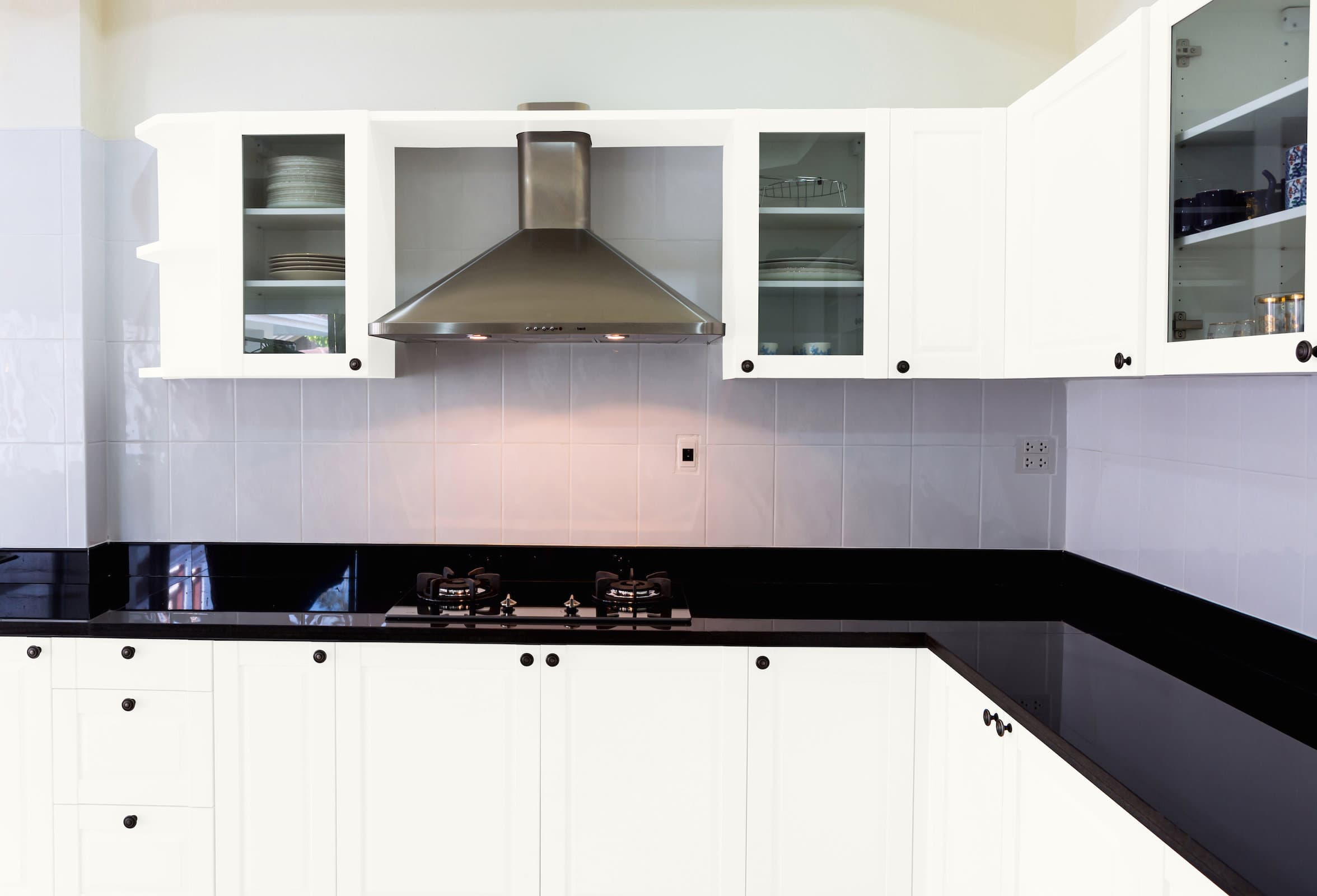 If you want more of a sharp contrast against light and dark, pair your black countertops with cabinets painted in a bright, non-tinted white like High Reflective.
This pure color guarantees to bounce light around your room, an excellent optical illusion for smaller, tight spaces. And the dark tones of the black add the perfect amount of color influence to create random shadows.
Snowdrop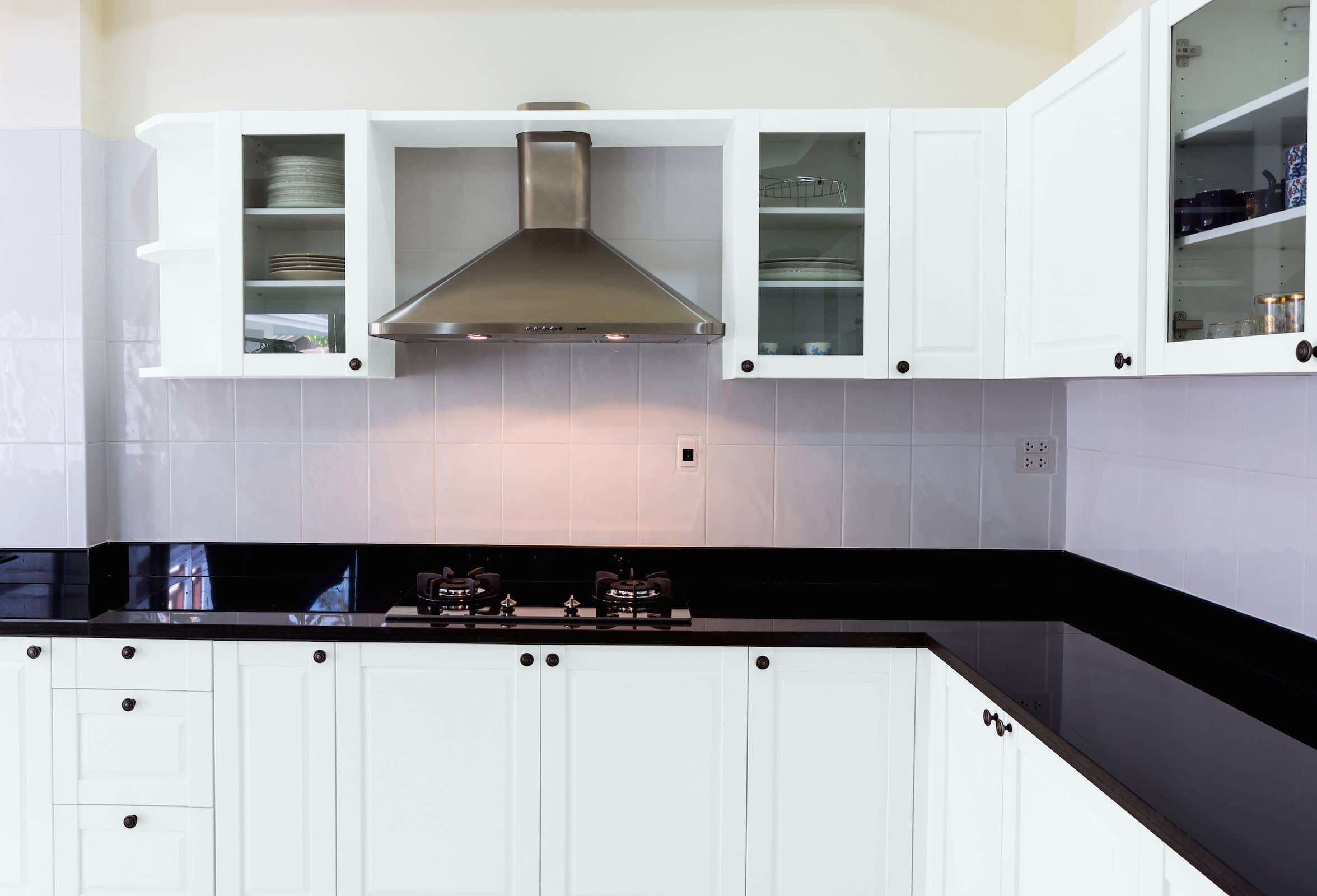 Snowdrop is a blue-tinted shade of white that can give your cabinets the perfect amount of faint color for a showstopping nuance.
When you use this color against black, the faint cool blue pigments in the white come to life, adding an extra layer of personality to create a trendy palette that will never go out of style.
Snowbound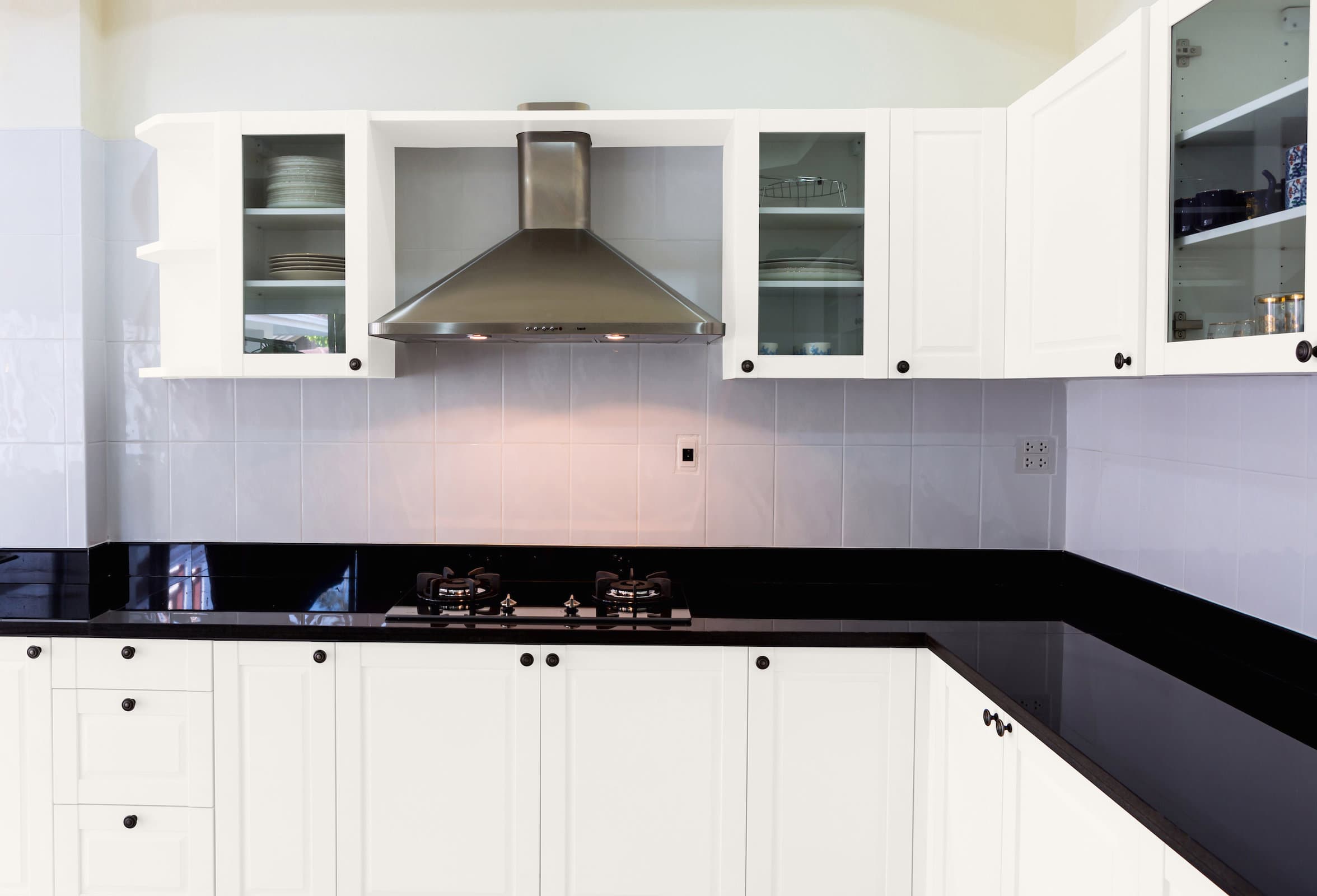 Snowbound is a delicately tinted shade of white that can have interesting pink, tan, and cream hues, depending on the room's lighting.
This shade with black countertops can give you a classic light and dark color palette for a retro, vintage, or modern aesthetic.
Snowfall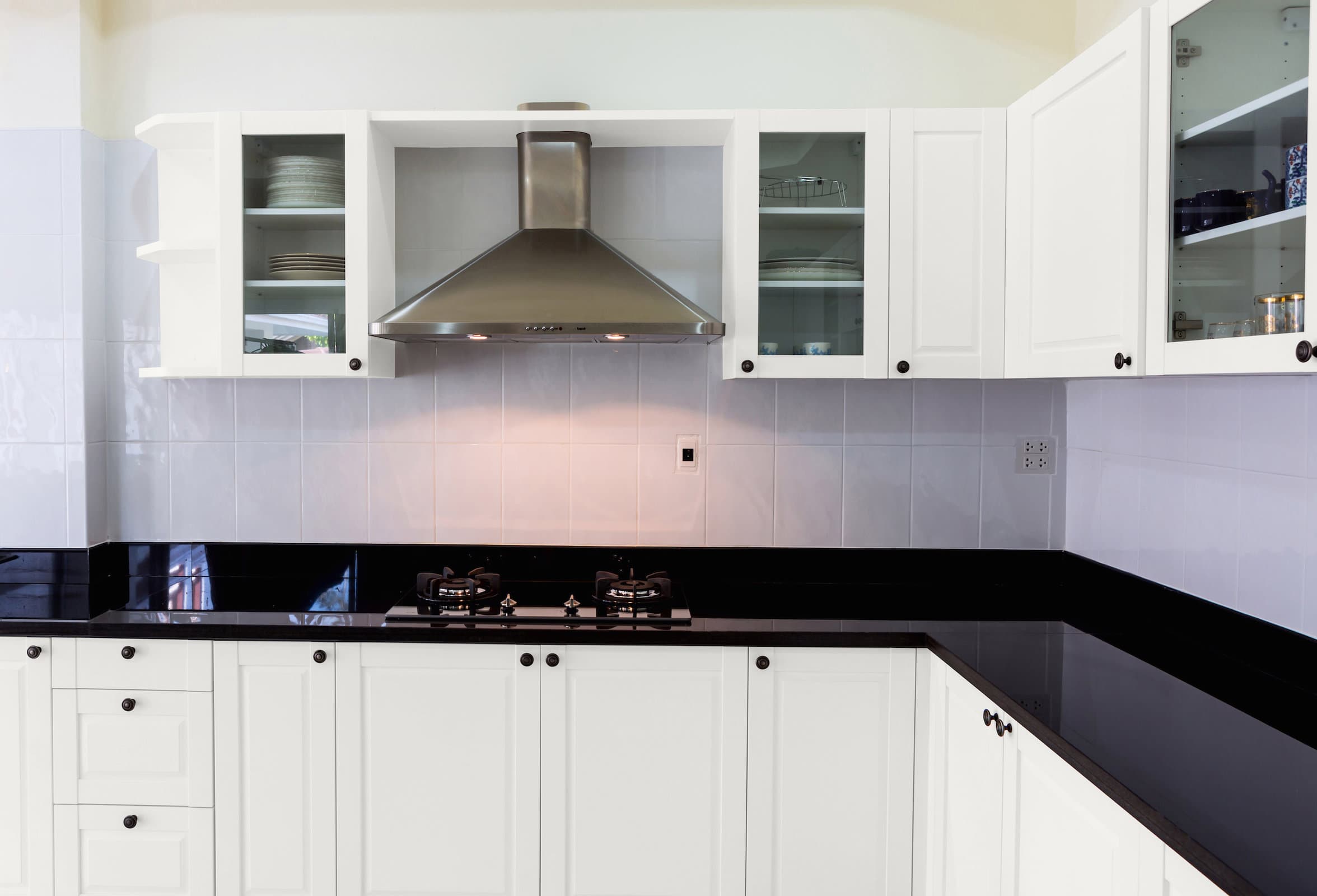 Keeping with the snow theme, you can choose Snowfall as a shade of white to go with your black kitchen countertops.
This white has a cool gray hue that gets deeper shadows from the reflection of the glossy black. It's the perfect color when you want a white with some depth.
Gray Countertops
You can look for white with earthy tints or bright blank white for a kitchen with gray countertops. Try these five shades of Sherwin Williams white.
Windfresh White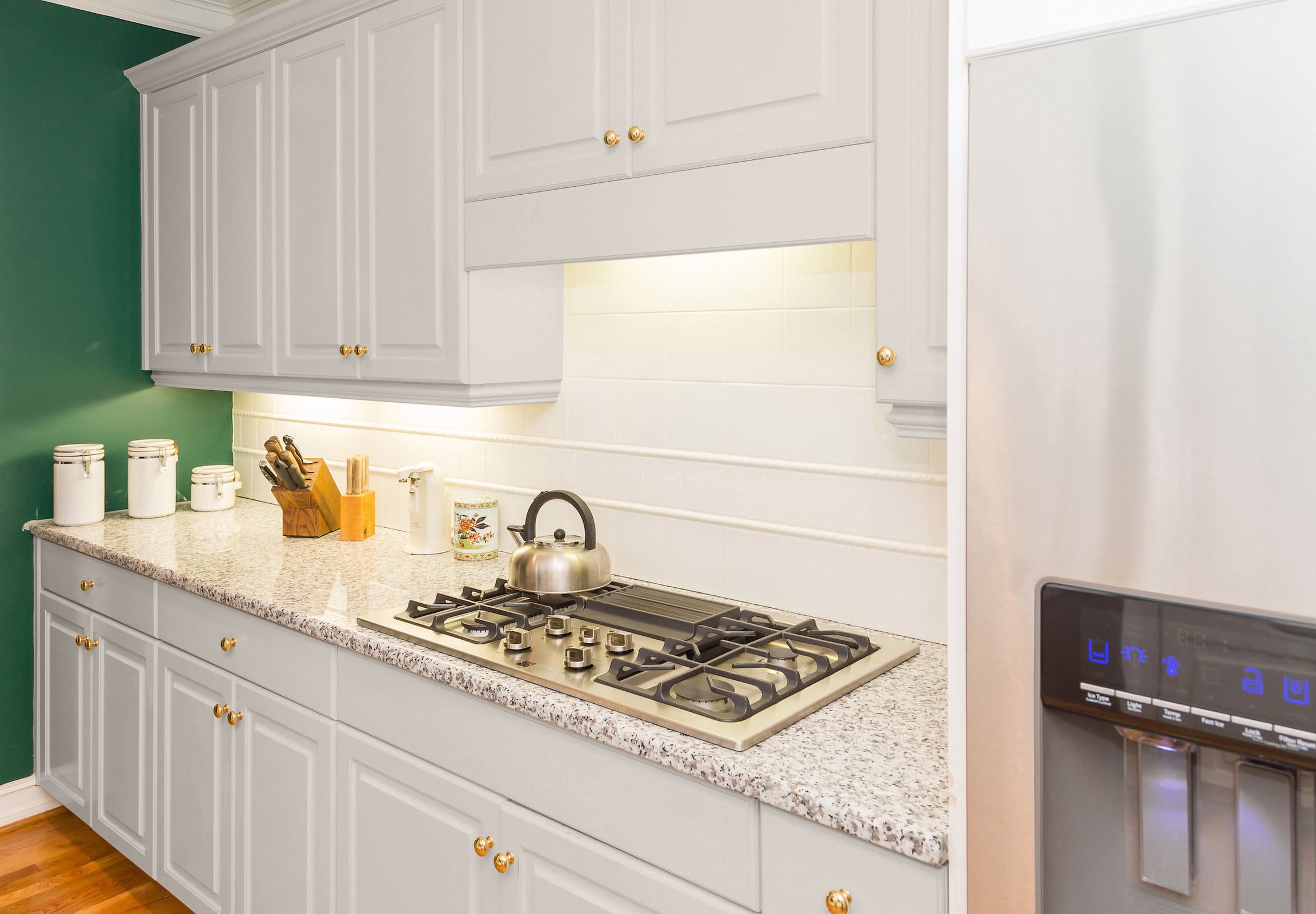 Windfresh White is a neutral tinted white that you pair with brown countertops for a color palette that works for any theme.
This refreshing shade of white is light and cool-toned, with subtle pigmentation that adds slight gray tinting that plays off the gray in the counters.
Dover White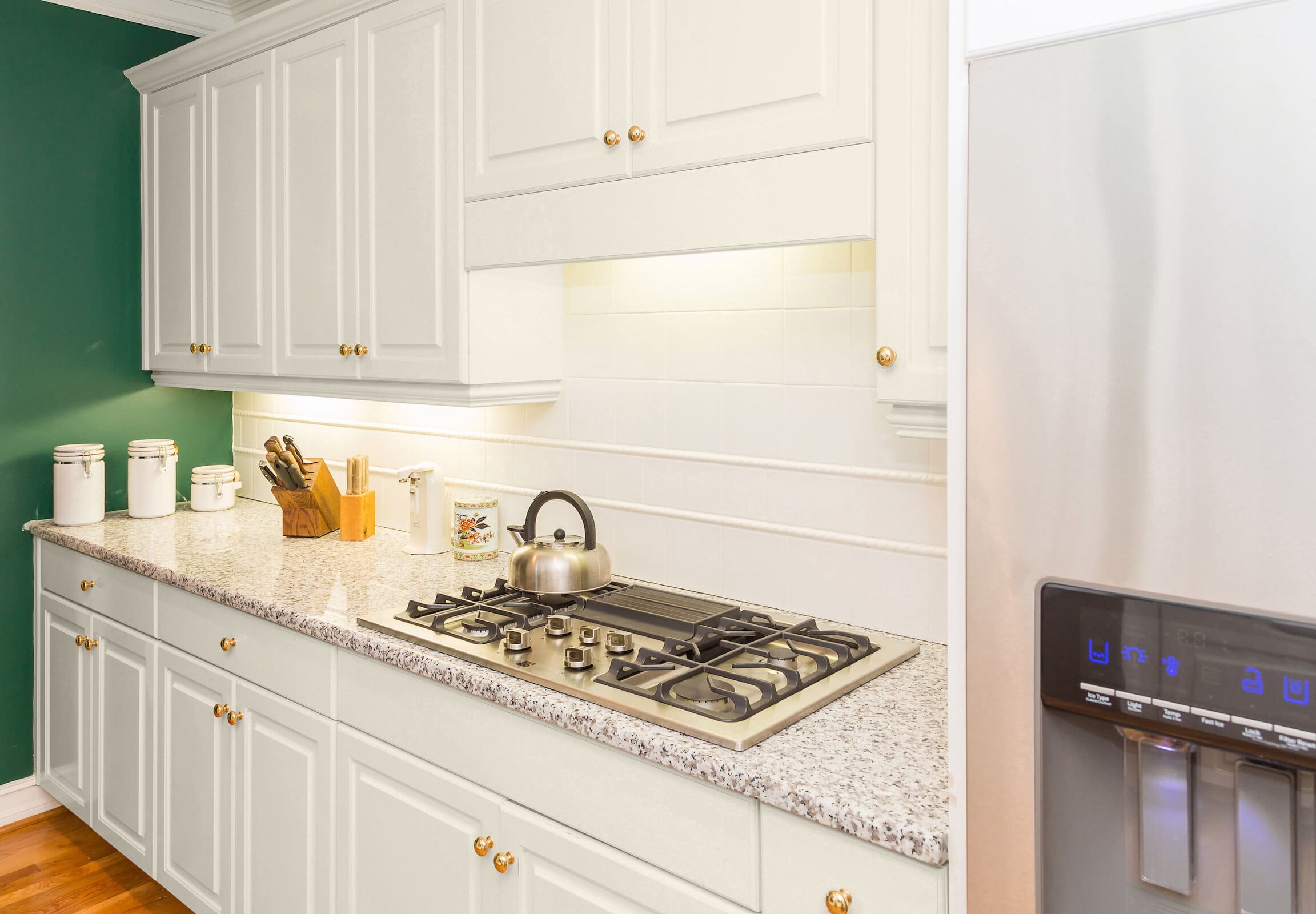 Dover White is a creamy shade that mellows out the darkness associated with speckled brown cabinets. This warm white brightens up your space, making your room feel more spacious and welcoming.
You can use this yellow-based white for any theme kitchen without worrying that this classic color will get outdated in a couple of years.
Pure White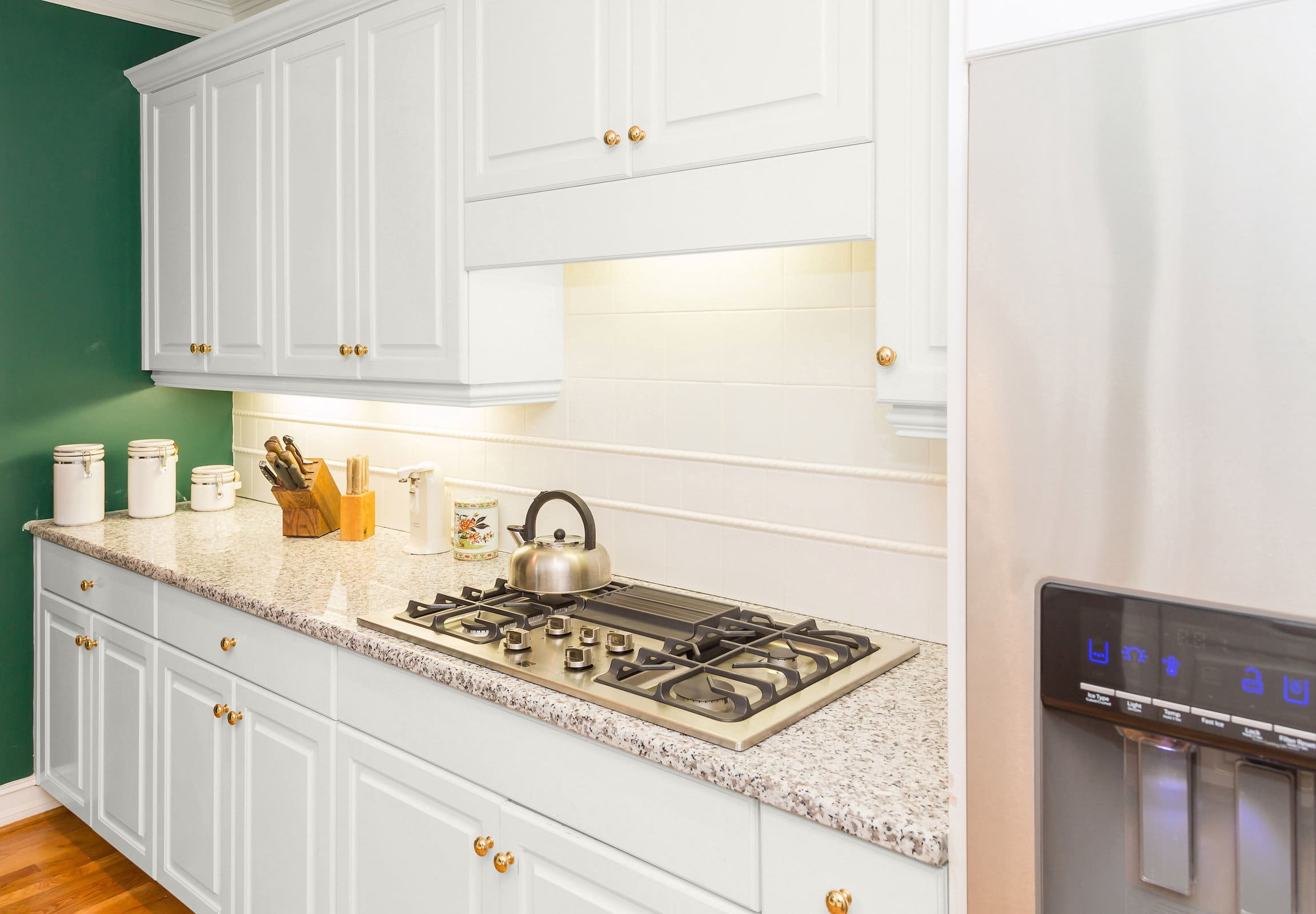 Try Pure White for your cabinet color with brown counters for a simple white with no extra fluff. This versatile shade of white is highly reflective and cool-toned for an energetic non-pigmented white.
The absence of color means that you can go with any accent colors in your decor. And it allows you to redecorate any time without having to repaint.
Fleur de Sel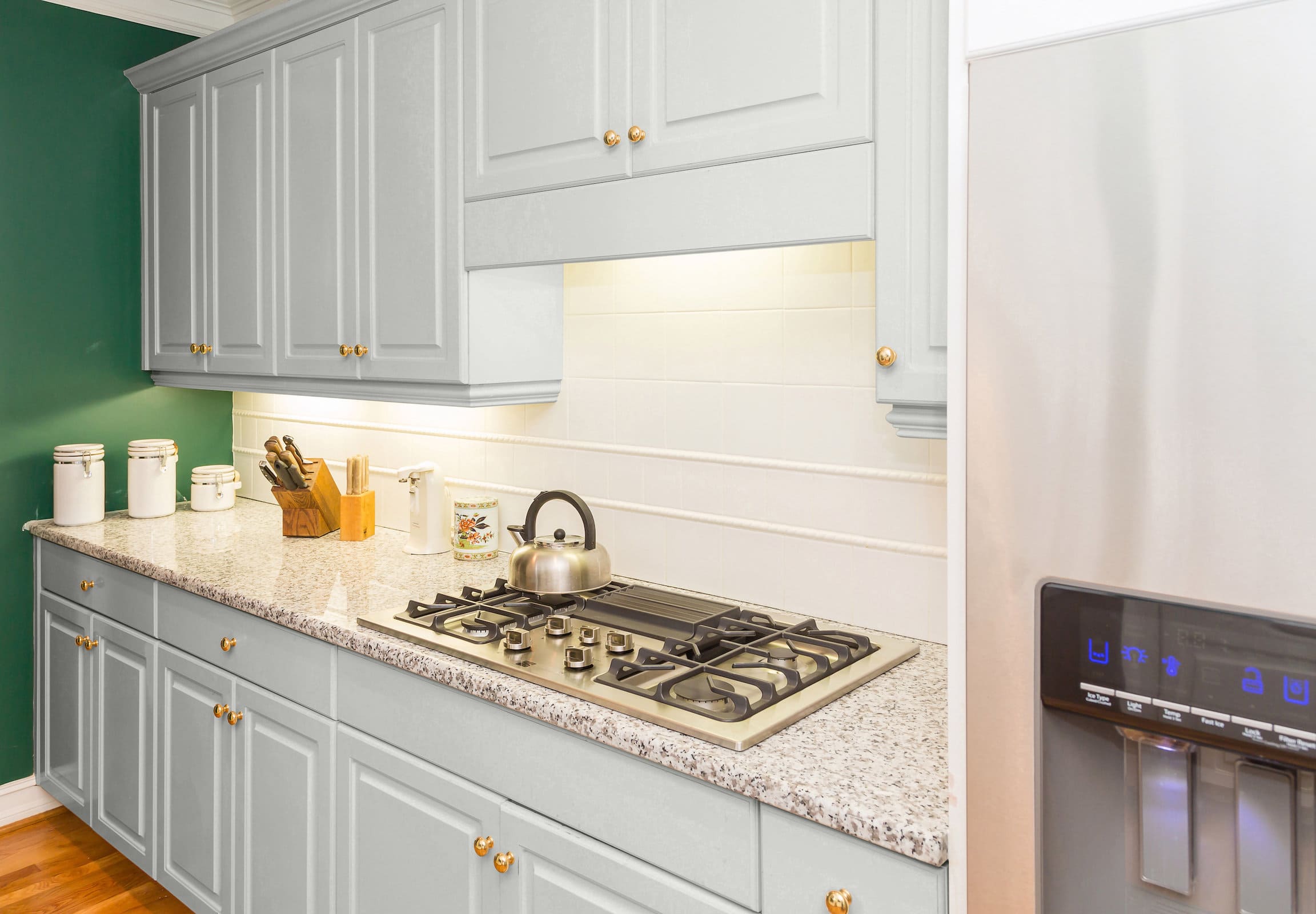 For a gray shaded white to go with brown counters, check out the soothing aesthetic of Fleur de Sel. Brown counters can darken the gray and barely-there lavender undernotes for a relaxing nuance.
In rooms without windows or bright lighting, this color can look cool and darker for an almost gray shade rather than white.
Nonchalant White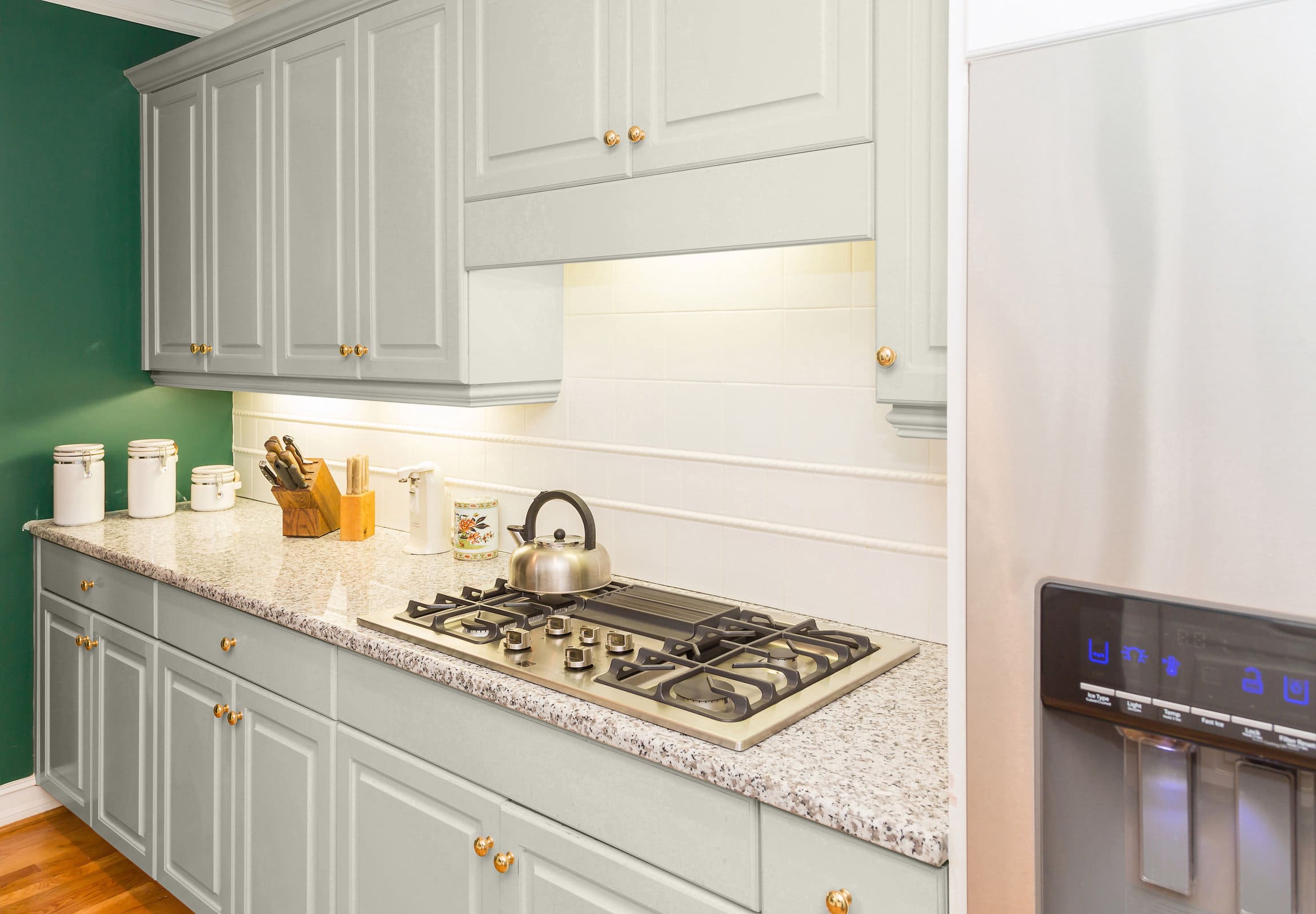 Nonchalant white is an aged, dark-tinted shade of white that adds a warm richness to cabinets. This color is great for country-chic, antique, vintage, and neutral themes.
The smoky undernotes of gray can take on an interesting brown nuance next to brown granite countertops. You may even be able to twist it into lavender or pink hints with the right accents.
Wood Countertops
Picking white cabinets can tone down the rustic look, jazz up the elegance, and brighten up the earthy grain when you have wood countertops. Try these five Sherwin William whites for wood counters.
Alabaster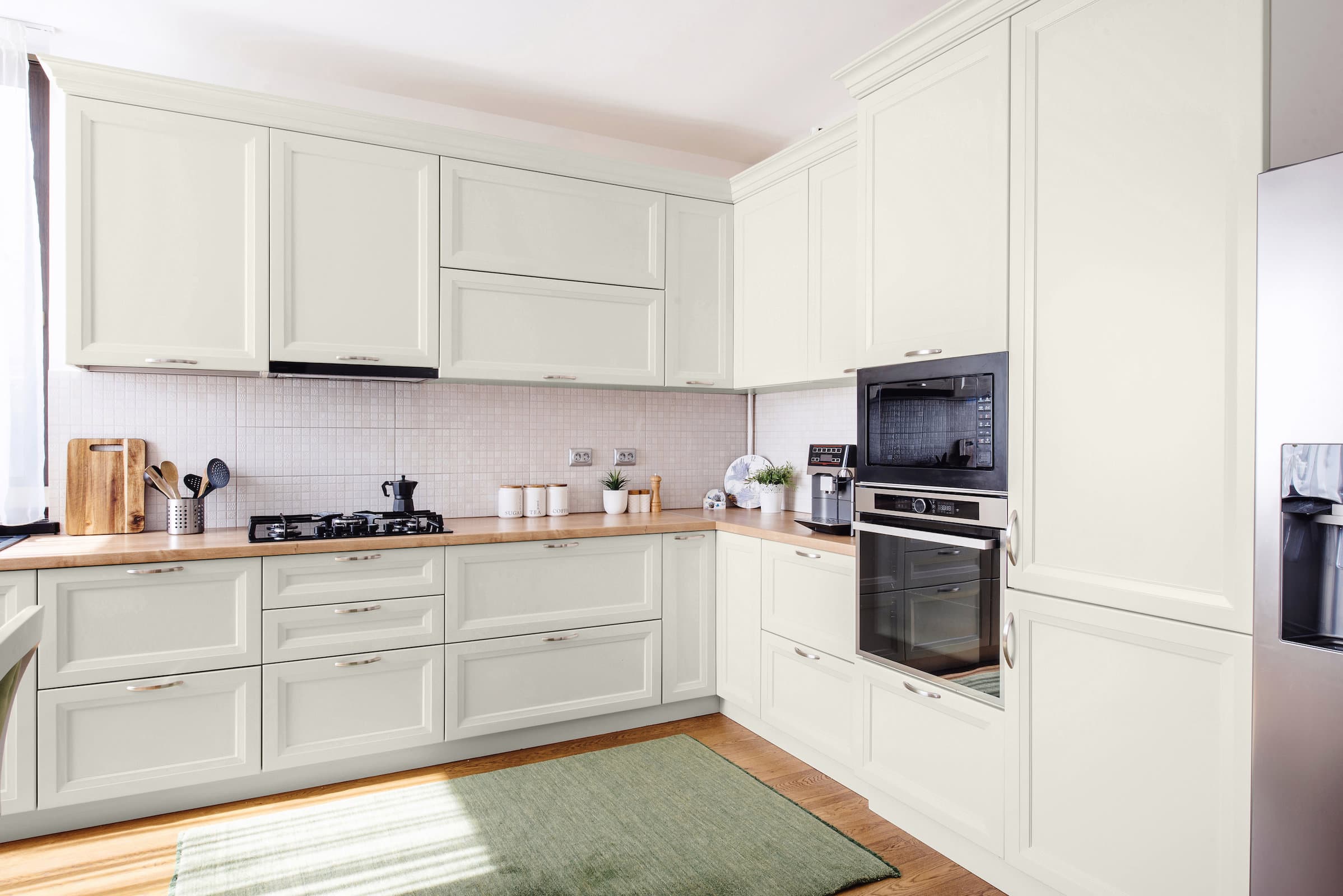 Alabaster is one of the best Sherwin Williams whites for cabinets with light wood counters. This tinted shade of white has beige and cream nuances.
Light brown wood countertops can play off the shadows of yellow buried in the white. In dark light, this color can look beige to tan. But in bright lighting, you'll see an elegant aged white.
Extra White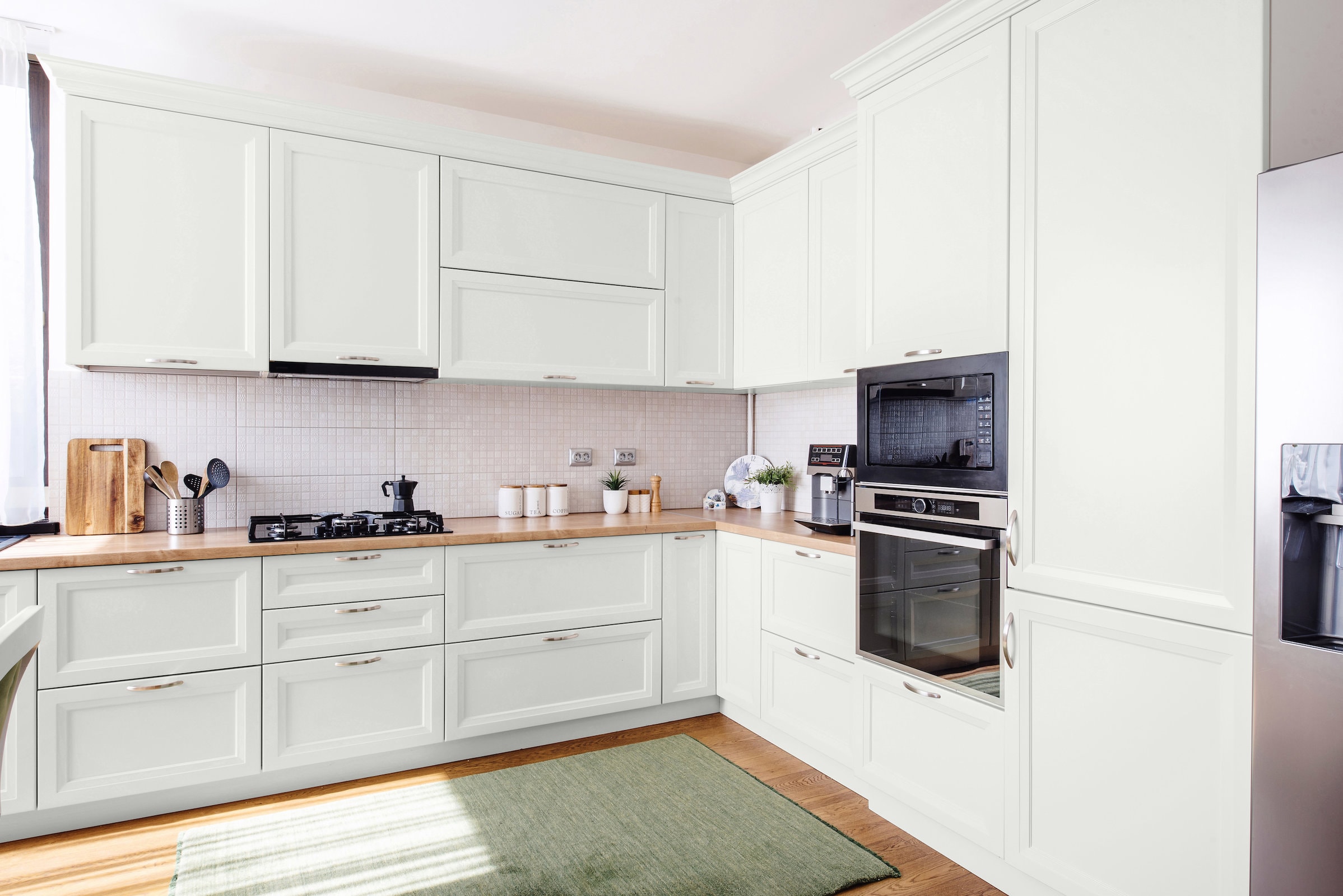 For pure white Sherwin Williams cabinets, try Extra White. This bright, pure white can brighten any kitchen, making your room feel spacious and welcoming.
Wood counters can highlight the faint tints in the white cabinets to make them look slightly gray or beige, depending on your room. It's an excellent earthy combo for any kitchen design.
Greek Villa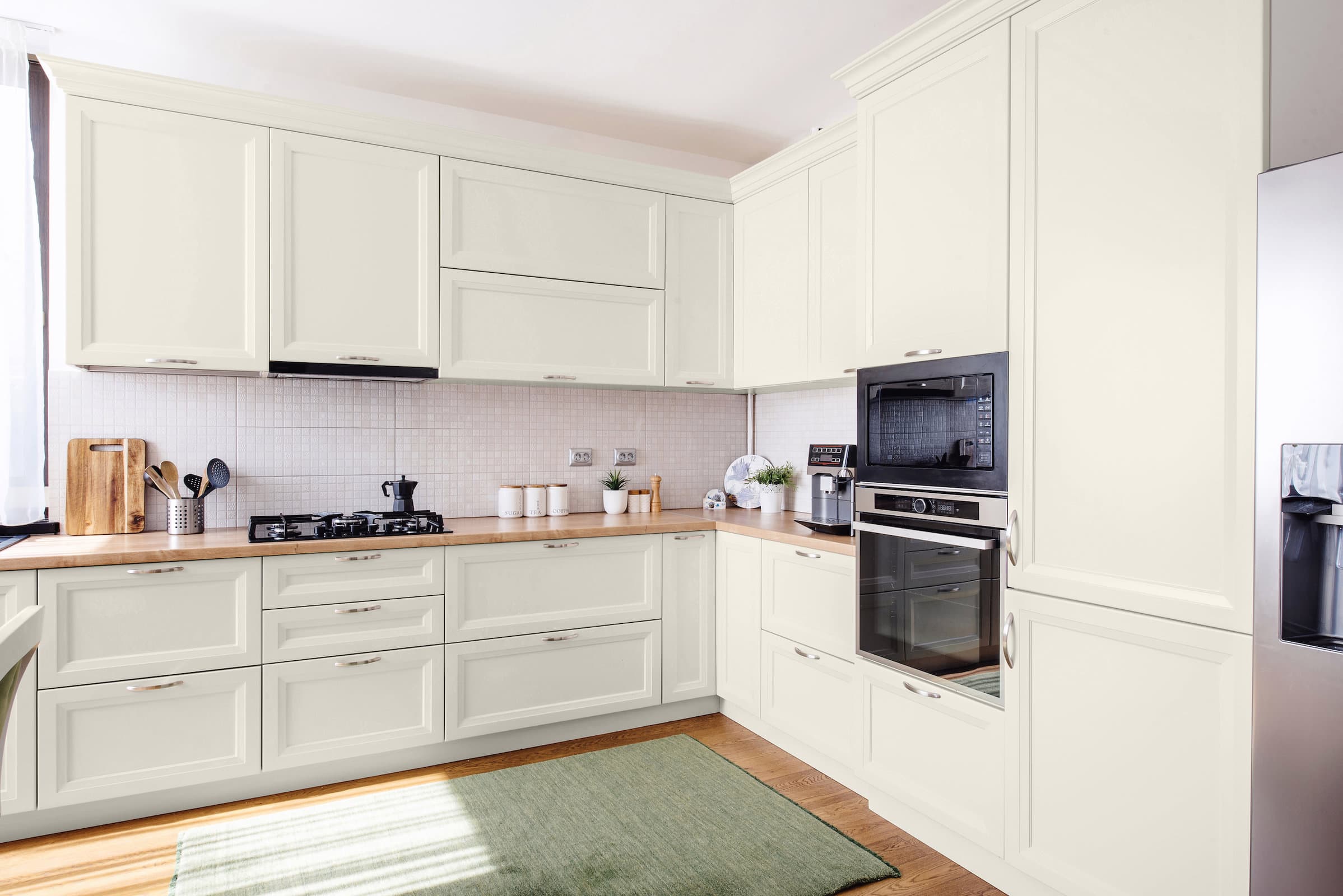 Greek Villa is a warm-tinted white that can give your kitchen an earthy, neutral vibe. The natural wood grain in the countertops plays on the undertones in the cabinets to provide this white with some warm shadows.
Your cabinets can turn from beige to tan to a creamy white or warm gray, depending on the lighting. This chameleon color is fantastic for years to come.
Paperwhite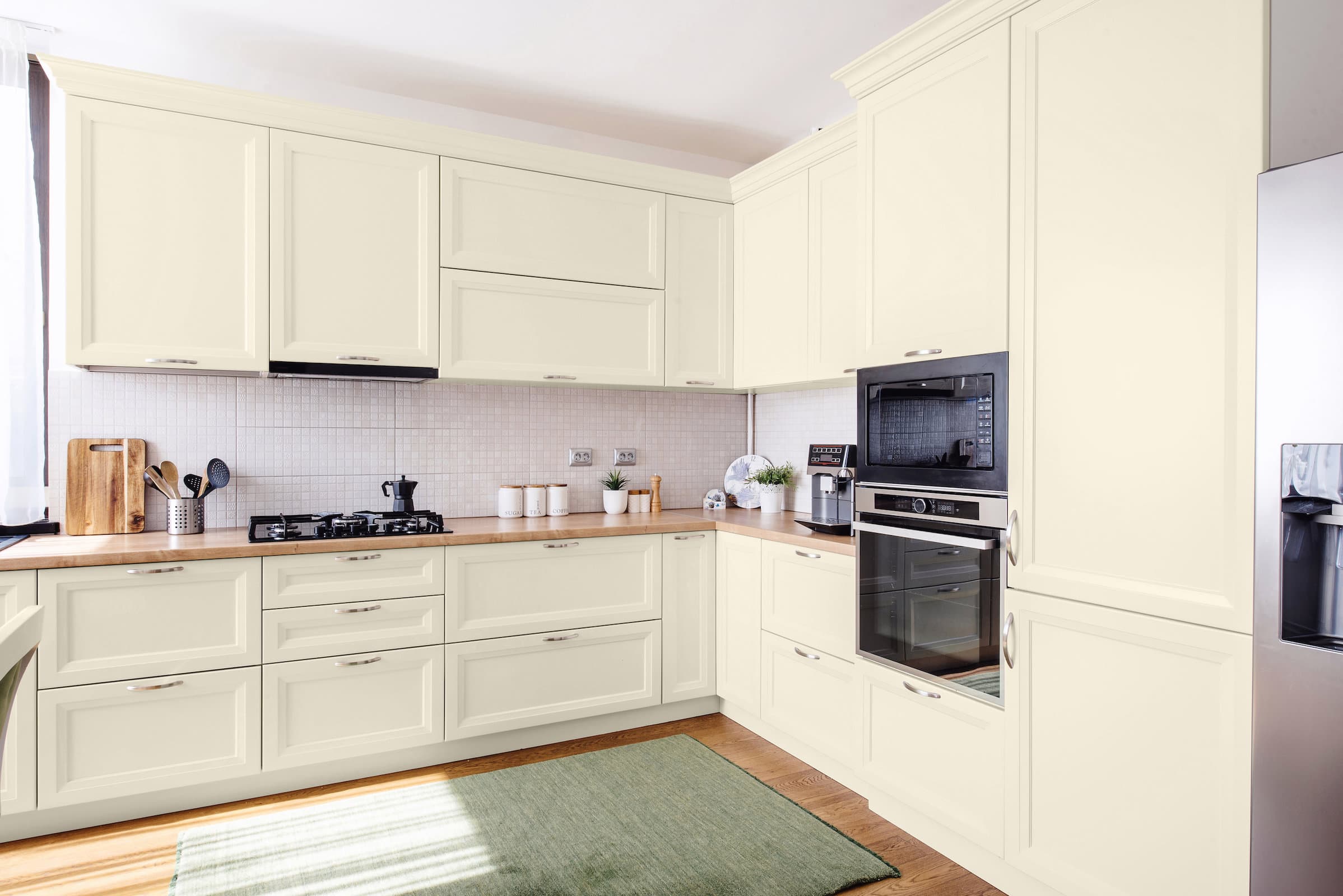 Paperwhite is a beige-tinted off-white with yellow and light brown pigments that can make your cabinets look like delicate aged paper.
The creamy mid-toned tints give this white body that's boosted by the warm natural notes of the counters. This color palette looks fab for rustic, modern, traditional, transitional, or minimalist vibes.
Cotton White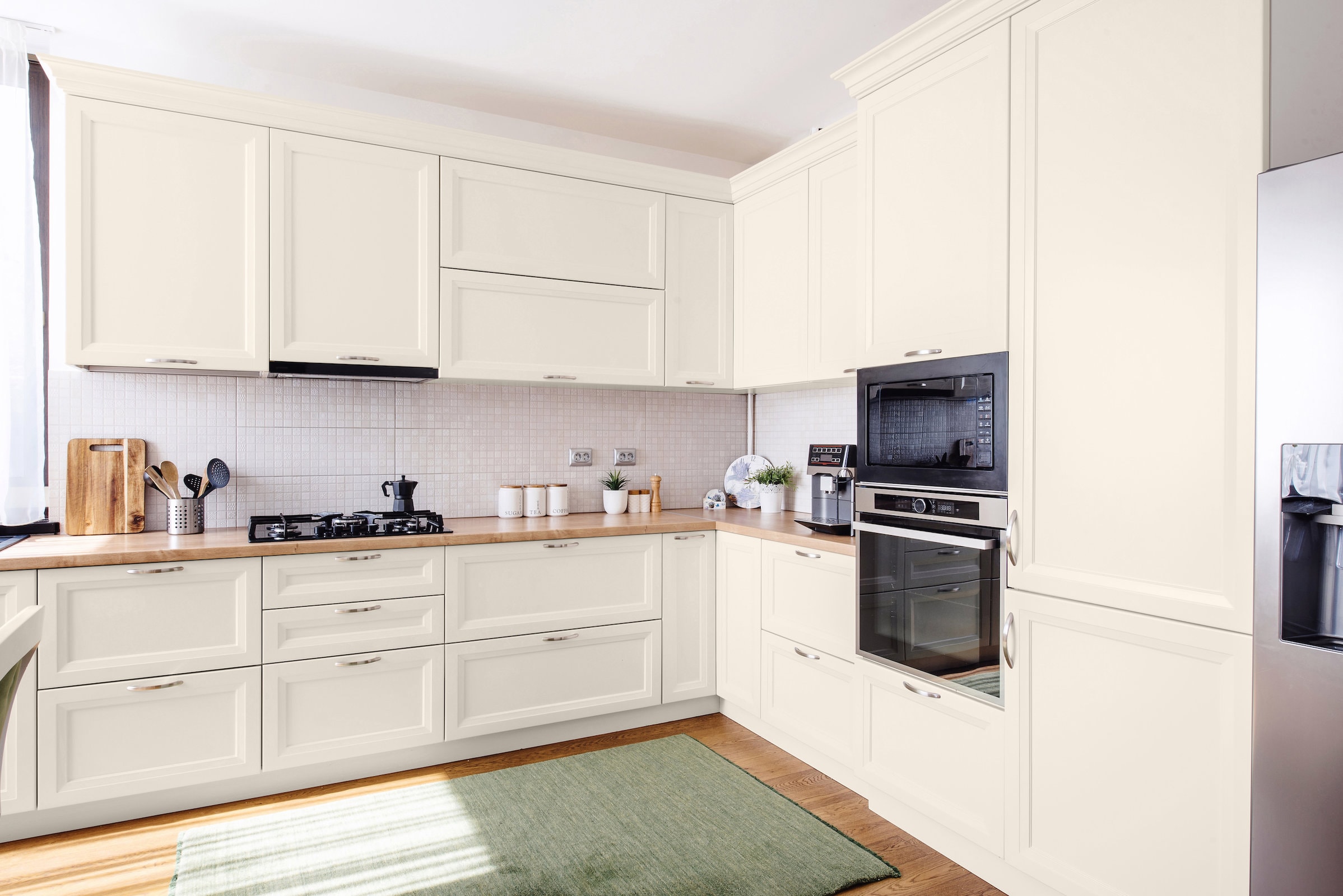 Cotton White is another warm-tinted white that gives your cabinets a boost of energy. This white has various color pigments that create shadows in different areas for altering cabinet colors.
Wood counters enhance the earthy brown, mauve, and yellow notes to create a white cabinet color that takes on a faint pink nuance.
Wrapping Up
Sherwin Williams is at the top of the pack regarding the best paint suppliers. However, you won't find a broader selection when it comes to white paint. White cabinets are a popular choice for kitchens of all themes. The best thing about choosing a neutral like white is that it has a huge variation of appearances depending on the undernotes.
Which of these Sherwin Williams white colors is your favorite choice?